When I interviewed Detroit-based artist Chido Johnson last month, I had planned on a short and timely discussion about his work Let's Talk About Love, Baby, which opened at the Museum of Contemporary Art (MoCAD) on February 10. As the conversation wandered, we began discussing a recent project, Jack's Vision, that had taken the artist back to Zimbabwe, the country where Johnson was raised, but from which he had been estranged since the early 90s. At the risk of stepping on Caroline's toes, (readers may be familiar with Caroline Picard's series of interviews for this blog exploring the nature of hybridity), Johnson and I likewise reflected on the concept of hybridity—a position that the artist has continued to negotiate in his art practice, reflecting on his European ancestry, African upbringing, and his current immersion in the hyper-American city of Detroit.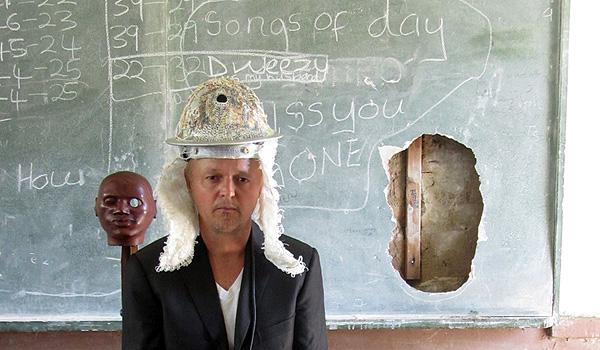 Sarah Margolis-Pineo: I'm interested in the idea of reenactment, particularly in Jack's Vision, where you reenacted a contentious narrative within the history of colonization while simultaneously reenacting your own biographical narrative. How do you view reenactment within your work?
Chido Johnson: For me, it's a process of rewriting or reclaiming. With Jack's Vision, I'm playing Jack (who is described as Kingsley Fairbridge's trusted helper) and myself, as well as embodying the role of Fairbridge, who was the white child of the European colonizers who had a vision of where the city should be relocated. My DNA relates to Fairbridge, but culturally, being raised in Zimbabwe, I relate to Jack. When I created the film Mutare Mangwana [part of the Jack's Vision project], I was creating a new monument for envisioning, which historically was limited to one vision, Fairbridge. There was a bronze statue of him that was unveiled by Queen Elizabeth at Christmas Pass in 1953 and removed following independence in 1982. Since then, it has just been a barren slab of stone with a small painted sign reading "scenic view." There was still a negative element despite the absence of the bronze—even the empty space signified a purely colonial condition.
The location marked the historical spot that led to a city being relocated. The original location of Mutare (now called Old Mutare) could not access the railway that the imperialist, Cecil Rhodes, was trying to build connecting the colonies. Fairbridge's was a surveyor Rhodes and entrusted his son to search across the mountains for a location where the city could relocate that had access to the south for a railway track. The young Fairbridge and Jack camped on this site as they build a campsite for his father to survey the new location, which is now the city of Mutare. Putting aside the colonial narrative, the site reminds us of the power of visions—the idea that both Jack and Kingsley stood looking down at the valley seeing visions as different as they may have been. I wanted to rewrite that moment—recognize that it was Jack who was from Mozambique, who very probably knew that path, and led Fairbridge up the mountain—but instead of undemocratically documenting one vision as was the case with Fairbridge, I wanted the diverse citizens of Mutare to claim their own multiple visions. So my collaborator, Naomie (Dr. Hleziphi Naomie Nyanungo, who is currently a professor at the Institute of Peace, Leadership, and Governance at Africa University in Old Mutare) and I invited people to that space to sit in a chair and record their visions. Originally it was going to be the chair I made for the performance chirem(b)a , but then I felt that it should be very minimal, because I wanted the subject to be the people not on the carved elements of what they're sitting on, so we chose one of those simple white, plastic chairs that you find in every back yard in every country and we had them sit on that. History is a very non-democratic narrative, and in this case, history is the single perception of a white child within a white settlement. What got us excited about the project was to democratisize history and subvert a site from its negative role into a positive one.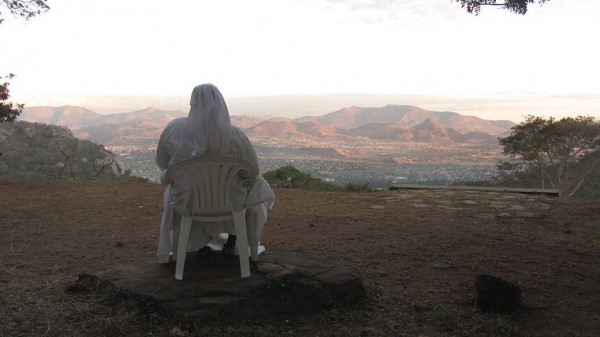 Artistically too, I made sure that there was more than one resolution to the problem. Instead of installing one monument, Jack's Vision included several parts: Mutare Mangwana, the participatory video; Chirem (b) a, the process of me climbing the mountain with a collection of objects that themselves were very symbolic; and the narrative contribution— Dear Sekuru Jack, a letter to Jack, by Naomie. And the project is still on-going —the video Mutare Mangwana is still growing and people are still contributing to the narrative… there are some key people who we need in the video, and to truly bring the performance to everyone, we want to have the white plastic chair cast in bronze so anyone could use their cell phones and document themselves on the site recording their vision. In doing so subverting the role of a monument as a fixed historical narrative into a constantly growing narrative. The monument in its physical form is a performative stage.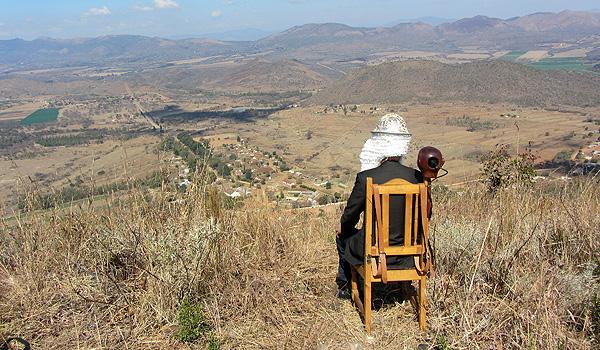 SMP: Do you consider yourself a performance artist? What is the relationship between performance and object making in your work?
CJ: I'm totally an object maker. To consider myself a performance artist, I am very naive performer, because it was more that I had to climb to the top of the mountain. It was a very raw, very direct experience. I wasn't thinking critically of performance art. Chirem(b)a, for example, was a raw need to connect with the experience of me as a kid climbing that mountain all the time. It was something that I was already connected to. I knew that in that case both Jack, Fairbridge, and I had climbed that mountain, so the project was to reenact those climbs… It seems like the older I get, the less I feel I need to intellectualize or appropriately position a thought but rather collaborate or stem new thought from an existing thought. The goal becomes less about its critical position and more about its honesty or realness. My process becomes less about whether the work is performance, installation, site specific but rather enacting my natural role as a little kid—the ways I used to play and the ways I would brainstorm and maintain curiosity about my role within daily life, connecting myself to the existence around me. I grew up in very political space, and the process of trying to find pleasures within it, and so I keep going back to puppets because that's what I used to do as a little kid. Maybe that's where the humor comes in, through the performance– not necessarily through its expression but maybe through its oddity. My background was in traditional figurative expression, carving in stone and wood, so I love the craft of things, but equally, I love the pleasure that comes from the interactions and activation between those "things" and people.  I am more interested in how the objects perform.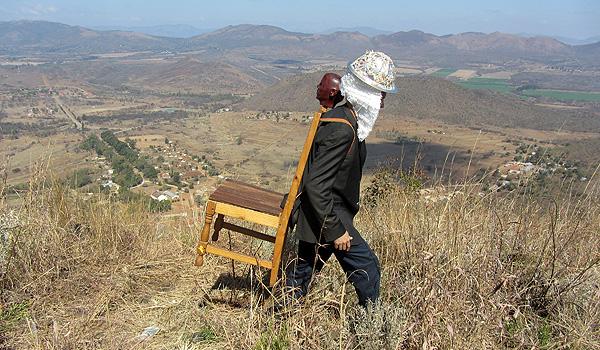 SMP: Had you worked in Zimbabwe as a professional artist before this project?
CJ: When I was 17, I came to the USA for school and had serious culture shock issues, so I went back to Zimbabwe for a year, and that's when I began carving stone with an amazing sculptor who became my mentor, Tapfuma Gutsa. I visited once more when I was an undergrad in 1994, and since then, I could not really afford to easily. When I was awarded the Kresge Fellowship, I was finally able to go back in 2010 and 2011. It was an amazing experience! I am presently collaborating with my friend Naomie I mentioned earlier and another friend who joined our project, Kumbulani Zamuchiya. Besides the economic struggle in Zimbabwe, the art scene is very much alive.
SMP: Hybridity is a term that is often applied to your practice. Given that so much of your work addresses your biography and childhood, I'm curious how you addressed your own hybridity presumably before you even knew what that meant? How did you address identity as a young person and how did you eventually realize that the in between-ness of your hybrid identity provides a productive place to work from?
CJ: I grew up always being the other. Someone from another place. As an adult, I have connected with friends who grew up similarly though on the flipside. It is more common then we imagine, yet culturally still slowly accepted. With me, the question of othering wasn't an issue until I came to the States. It was very simple growing up: the whites were fucked up. That was it. They had an unbalanced superiority complex, probably originating from the fact that the entire west was fucked up—President Reagan was in office when I came! As a child, I spoke Shona as my first language and it was later that I learned English.  It was only coming here that I realized that I'm white. Really white. It was shocking. It seemed much easier to drift between cultural spaces in Zimbabwe, in which I was already living in, and finding meaning or existence between complexities and tensions. It felt like as soon as I came to the USA I was immediately confined to my physical identity and not my social political or cultural perceptions. This is not to undermine my won personal struggles of being different growing up, but rather to embrace those struggles as well as the evident struggles of change existing around me. At the time Zimbabwe was a post-revolutionary state, a free country redefining itself from an oppressive minority rule that claimed a colonial cultural hierarchy. Subversive western culture that defied power systems such as hip-hop and reggae were really popular. Hell, I was into break-dance and basketball in high school in rural Zimbabwe.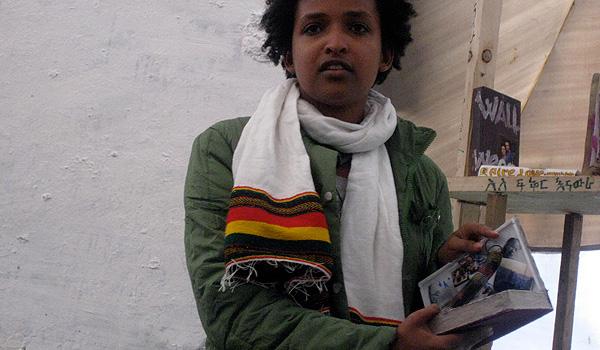 I guess what I am trying to emphasize is that I do not want to necessarily idealize the hybrid, like in music, its easy to talk about the mixing, but we have to remember it comes from cutting, which is a violent act. So the hybrid to me is like blues music, dancing to lyrics of struggle. We all experience how media, mass culture, and social political systems marginalize us – I'm interested in those spaces of conflict that divides us, and hopefully reveal the beauty that connects us. That point of tension can be the point that's exciting—full of possibility and new experiences of understanding.
SMP: Is this why you're drawn to collaboration and bringing together diverse viewpoints?
CJ: Very much so!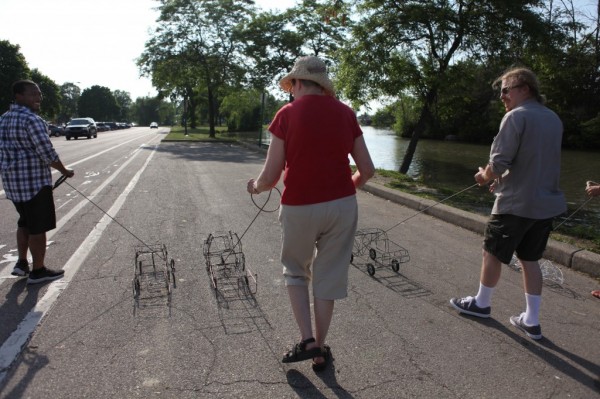 SMP: How do you see your role as an organizer? How do you control the chaos of collaborative projects?
CJ: I realize that doing this stuff, I can't plan everything. I need to be open or else I turn into a director, and I'm learning how to accept chaos. Some of my work has more of a sense of authorship and I do still craft objects, but it all comes back to the puppet and its role in the narrative. I did this show two years ago at Oakland University called Domestified Angst Second Recording, which was very rooted in my personal struggles of culturally assimilating. It was difficult to explain, as it was directly questioning here and there (Zimbabwe). I almost felt like I didn't have an audience that understood what "there" meant. Not everyone understood the statements I was making because you need someone who has really experienced both to connect the two positions as well as the in between. It turned into almost an educational or didactic thing— the process of unpacking the layers. Kresge really did help quite a bit by allowing me to go back [to Zimbabwe]. When I was there, I was able to look at "here" differently. The meaning of place became something very new to me. Another really being impact of that exhibit was I had studio assistants for the first time. The final install of the work was not done by me but by artists that I truly trusted with my work. During that install I was teaching in Sweden, so as much as we planned everything out ahead of time, then skyping while I was there, I still felt like an audience when I finally walked into the installation. I finally understood what Amar Kanwar meant when talking about his piece a year earlier titled The Lightning Testimonies, as what he learnt from the work. I finally felt I was able to listen to my work. A major part of that is the work already had an existing rich conversation before it was installed. Those conversations existed between these artists assisting me (Vince Troia, Nate Morgan, Kevin Beasley, Kurt Greene) the curator Dick Goody and I before it was open to a wider audience. As much as I was the author of the work, it had already expanded beyond my initial internalized conversation and externalized it. This was very enriching and I realized how rewording it was working with others. The work exists as a shared point of inquiry between things and between makers. I think soliciting this conversation among different identities became more rewarding to me as a searcher and as a quest. Here, I'm trying to pose and open questions whereas before I was giving out statements and telling people how I felt and presenting how I looked saw the world. Working collaboratively externalizes personal narratives and reveals shared perceptions.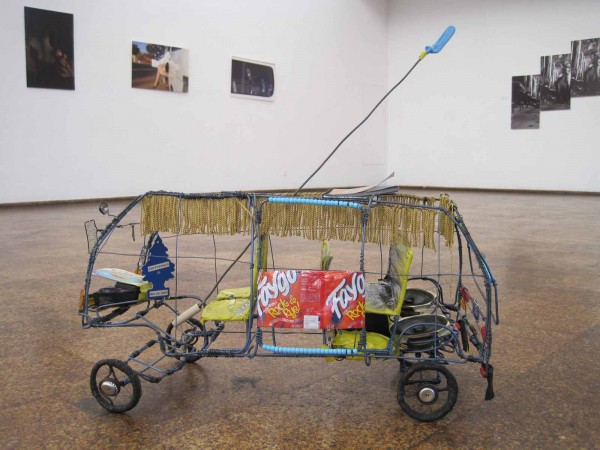 SMP: It seems as though the journey is a reoccurring theme in your work, thinking particularly of Jack's Vision and your Detroit-based project, Dance for Diego. At the conceptual level, how does the journey factor into your practice

 CJ: Detroit is the longest I've lived in one place, and even so, the spaces I physically occupy feel psychologically like a hotel—a comfort that feels transitional. It comes down to this idea of moving, not being rooted, and constantly searching for something. The Woodward Avenue projects are the most specific to the city. My Pink Caddi was about relocation, while the Woodward Avenue Wire Car Cruise was about a cultural celebration—it was about the phenomena of that performance and the poetry of the wheels rolling down that actual road, similar to the way that Jack's Vision is about being on that same sacred land. People looked at those cars like they were magic, and they weren't considering the economy at that moment. Diego [Rivera]'s mural depicting workers from diverse ethnic backgrounds working together on the assembly line was in reality bullshit. But it was this vision of a city whose diversity Diego saw represented the city that inspired me to work with many different communities in the city and get them to come and participate. It was about the diversity of Detroit—Detroit as Diego imagined and painted, and realizing that vision today with all of us together here. But back to your question, I realize I never really investigated the journey physically, or at least consciously. It has more been about a cultural psychological journey.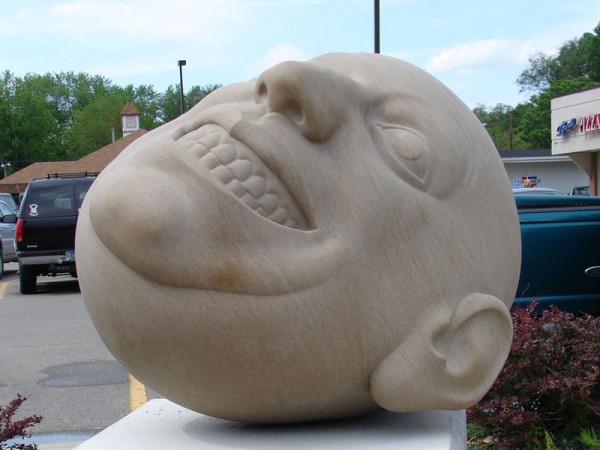 SMP: Do you have any plans to continue working in Africa?
CJ: Right now, I'm working very hard to bring two artists here from Zimbabwe by teaming up with Mitch and Gina with the Power House Project. Detroit has had rich interactions with artists predominantly the East and West coast, and Europe, it is about time we artists coming in with different cultural lenses. There are such assumptions about African artists, but so much of the work produced by friends and collaborators in Harare share certain similar aesthetics such as installations made from found material. There's a great deal of conversation about this type of work, but it all comes from a very western tradition. It's about time we had artists coming in who give a diverse perspective about Detroit and the experience of this city.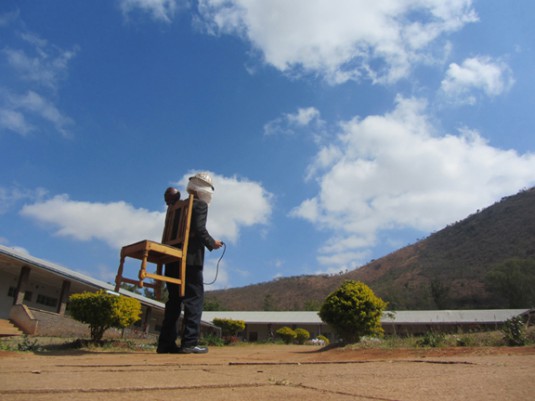 Chido Johnson is the head of sculpture at the College for Creative Studies in Detroit, and was a 2009 Kresge Fellow.
The Love Librarian is in. Another Valentine's Day may be behind us, but Detroit-based artist Chido Johnson still wants to talk about love. For the month of February, Johnson is the official Love Librarian of the Museum of Contemporary Art Detroit (MOCAD), cataloging, digitizing, and facilitating public engagement with his ongoing project, Let's Talk About Love Baby, a growing collection of artist-made romance novels. Since its founding in 2008, the Love Library has expanded from Detroit to include branches in Chicago, Zimbabwe, and Ethiopia. Each chapter has its own resident Love Librarian whose task is to invite a group of artists, (who in turn have invited additional artists), to contribute a book to the burgeoning collection.
The current Detroit archive consists of works from artists and collectives who cross all media and cultural demographics, and their variable portrayals of love and romance range from the steamily satirical to the unnervingly intimate. "Heart Abortion" by Suite42, (Danielle Julian Norton and Tarrah Krajnak), is an homage to art world-induced heartbreak bound in the pages of Artforum; Scott Johnson's "Guilty Love," is a volume whose pages literally reflect the reader-as-author bound in narcissistic self-love; and Ed Brown and Annie Reinhardt's dual volumes, "Birds + Shell," consist of a cassette and player housed in a pair of two unassuming covers of Danielle Steele paperbacks. Each book when ensconced en masse is equally compelling, and upon closer examination, the works reveal maker, collector, and reader as agents bound by an affection for, well, affection, in all its mysterious and salacious incarnations.
The Love Library was born from a time of crisis. Creator Chido Johnson sought to address the violence and devastation of the current moment with a project that could serve as a generative counterpoint—love being a force that similarly leads to undoing and affect. Exploring a subject that many would consider taboo in the context of academia and fine art, Johnson ventured beyond the pop precedent of Robert Indiana, the unsubstantive sparkle of Damien Hirst, and even the digitally-networked quotidian community of Miranda July and Harrell Fletcher's Learning to Love You More. Indeed, Let's Talk About Love Baby is a different brand of cheese altogether. Johnson's library reminds us that universality doesn't preclude difference, and sometimes quirkiness can be found in cliché.
I spoke with Chido Johnson, Love Librarian, in residence at MOCAD.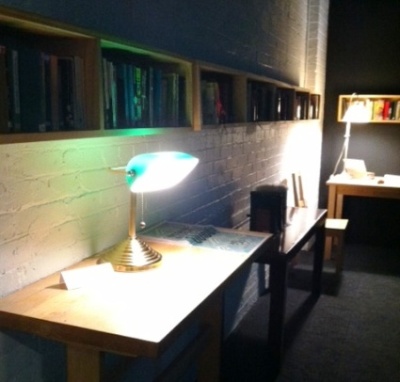 Sarah Margolis-Pineo: So, let's talk about love. How did this project begin, and how is love as a subject significant for you?
Chido Johnson: The idea for Love Library [Let's Talk About Love] began when I was teaching in Sweden in 2008. This was just when violence in the Gaza Strip was escalating, and when Zimbabwe—where I was born and raised, was going through a horrific time. An image that has stayed with me from that moment is news footage of a doctor amidst the shelling in Gaza being interviewed live by a friend who worked for the Israeli TV. While he was being interviewed about the conflict, he was told that his family—his daughters were just killed by Israeli shells. It was crazy. At that time, I was thinking that as an educator we don't talk about love, sex, or religion, and for whatever reason, these are all no-nos in an academic setting; instead, we talk about psychology and identity, and I felt like we were missing the meaty stuff of life. Later, talking about this issue with one of my colleagues in Sweden, I knew I wanted to address this idea. I was moved by it.
SMP: Why the form of the romance novel?
CJ: I was raised in rural Zimbabwe where we didn't have television. My mom was a medical doctor and for her downtime she would read Mills and Boons, which is the British version of Harlequin— novels that are more toned down and more romantic than the very hot, highly sexualized versions that are over here. Really, it was the only form of entertainment, and I used to read at least one romance book a week.
This romance novel project is a way to address the cheesiness of love—how it's perceived as a cheesy subject, packaged in cheesy formats like the Harlequin novel and the top-forty movie. I had to address the work in a totally cheesy way—I embraced the cheesiness. The thing about the romance novel is you tend to discount this shelf immediately for its cheap paperbacks—as a one-night stand kind of experience, but then, if you really let yourself go into the project, you can be caught. The love story is human.
My work has been always curious about othering and the formation of assumptions—assumptions of self and of other. The idea is to look down the shelf and see all of these homogenized objects. It's only when you pick one out and spend some time with it that you realize that it's so different. It was really important to the project that this work was not made by me, rather, I invite people to participate in it. It had to be about the collectivism, and it had to be about the assumptions of the similar and the shock of the differences. We are enriched by our differences, not by systemized similarities. That's what I really wanted to push with the project.
SMP: It's interesting, because as you rightly point out, there's a distinct stickiness between numerous elements within the work including: fantasy and reality, serial and singular, and ephemeral and eternal. Can you speak more to the objecthood of this work?
CJ: Yes, this project definitely speaks to the book and its perceived temporalness. These objects here are very much alive —in touch, caress, smell—yet in our present time, books have become the object of nostalgia almost similar to a hand written letter. So that physicalness was very important too, and I think that's why I specifically called out to artists who would approach work so differently, but are very conscious of the physical nature of objects. Each book is a very physical experience.
Growing up, my father was an artist—a political activist and a puppeteer. As a child, I really enjoyed making puppets, and for me, a puppet has a defined role and function. It has a purpose, a cultural function. So i see the work being very raw, naked to its actual role, thus very real, and not dependent on an existential narrative. It's an object that is what it is—it exists through a performative act, not through its fabricated narrative. I see traces of that here in the Love Library, and also in the project in the next gallery, [Laugh Detroit].
SMP: I'm also interested in the collaborative aspect of this project. Primarily, you solicit the participation of artists contributing to the work, but then you also have the continued activation of the project through the lending library and the physical interactions with the viewing/reading public. First, can you speak to the logistics of participation in this project—is there an open call, for example? And more generally, what does participation bring to your practice overall?
CJ: There's no open call, and it's up to the Love Librarians to extend the invitations to artists to participate. All the people who I initially called are people who I totally admire and respect. I called them individually, and then I told each one that they could in turn invite one person to participate. That's how it grew, and now in all the different chapters—Chicago, Addis Ababa, [Ethiopia], St. Louis, Harare, [Zimbabwe]—the librarians there can extend their own invitations to allow those chapters to grow. It's amazing how it slowly creeps and expands. Looking at these shelves, I know everyone here is so intimately connected and there's so much love and respect that exists here. I wanted to keep the project real that way, the feeling of a community.
On top of that, I guess, as any artist tries to do, I always try to question the ways we present work and how we interact with an audience. What I really enjoy about the idea of a library is that is that it's not an immediate, total experience—it's a changing space that has to be constantly interacted [with], and it's intimately interacted [with]. I like that it's not being perceived as art, so people can perform the work and have a natural experience rather than a trained experience. At first I thought that I would have the public check-out books, but right now, books are still coming, so I'm here every day cataloging. I've held back from checking-out books because now I'm very protective of all the books in the show.
I've been starting to think about that. It's gotten to the point now where it's a project that I feel honored to be a part of, but it's a lot of work. I do everything: run the website, self-sponsoring, ship books back and forth, so I've been starting to think of what to do in the long term. It's a responsibility I have now—it's not just a project, it's a responsibility, and these are really precious books.
SMP: What struck me immediately about this project is its seriousness. Despite the cliché fantasy of romance novel, by in large, these artists presented very real, very moving, very intimate narratives through making these objects.
CJ: That's what shakes me up! A friend of mine—that colleague in Sweden who I mentioned earlier, she passed away last year. Her book is a copy of Romeo and Juliet; she removed all the text except for the words that bind. The pages are sort of translucent, so as you flip through the experience of it is almost like a river—like water, but it's still mapped out as the pages were, so there is an internal order. She did this book in honor of a friend of hers in Sweden who was a Fluxus artist who passed away at that time, and since the artist's own passing, this has become a truly powerful piece. I remember sitting down in Ethiopia meeting a group of artists and introducing the project. In the beginning, I have my rap about the project: this is what it's about, it's all about love, etc. But then when the work actually happens, every time, it's totally moving. It's then that the realness occurs. People tell their stories. There's one couple: he's in Ethiopia, and she is attending school in Texas. Since the day they've been married, they've been separated by a great distance with no funds to travel. They're book is a collection of emails sent back and forth across the globe during their separation.
Love is something that's trapped in us. The world is in such a state now, that's it's almost like we have to hold on to something—some sense of realness. We're at the height of crisis, and people become overrun with emotion. Really, we need love.
Chido Johnson is the head of sculpture at the College for Creative Studies in Detroit, and was a 2009 Kresge Fellow. Currently, he is the Artist-in-Residence at the Museum of Contemporary Art Detroit (MOCAD) as part of the Department of Education and Public Engagement Space Residency, where the artist has installed his Love Library and will be serving as head librarian. On Sunday Feb. 19, 12-4pm, Johnson will facilitate "I Love You and Ha Ha Ha Ha Ha!" as part of Laugh Detroit, also on view at MOCAD.
This interview is part one of two. On Thursday March 2, Bad@Sports will post part two of Sarah Margolis-Pineo's interview with Chido Johnson.
1. Studio Audience (WEATHER PATTERNS) at Johalla Projects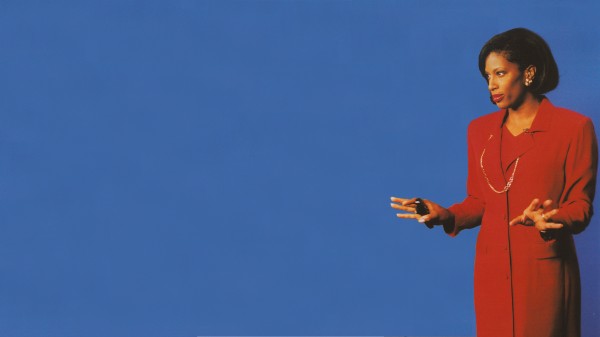 Work by Andrew Mausert-Mooney.
Johalla Projects is located at 1821 W. Hubbard St. Reception Friday, 8-10pm.
2. Returning to the Cave at The Mission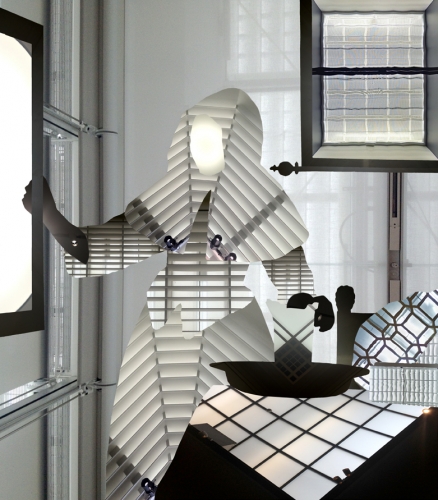 Work by Jeroen Nelemans.
The Mission is located at 1431 W. Chicago Ave. Reception Friday, 6-9pm.
3. The Unreliable Narrator at threewalls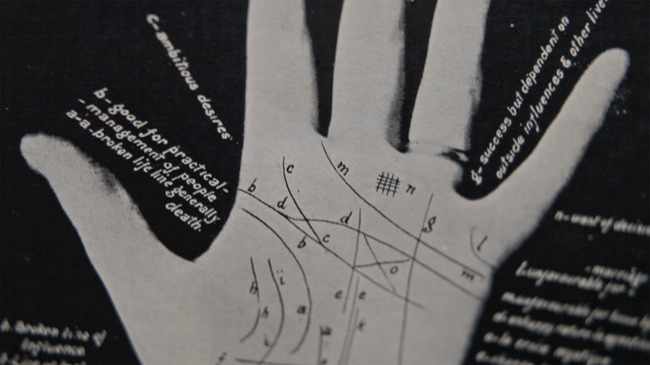 Work by Matthew Paul Jinks.
threewalls is located at 119 N. Peoria St. Reception Friday, 6-9pm.
4. Exchange: Chicago—Detroit at Chicago Artists' Coalition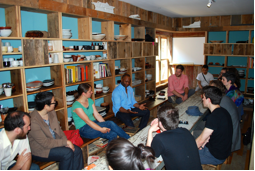 Work by Taurus Burns, Design 99, Jessica Frelinghuysen, Scott Hocking, Chido Johnson, Nicola Kuperus, Faina Lerman, Adam Lee Miller, Clinton Snider, Vince Troia and Graem Whyte.
Chicago Artists' Coalition is located at 217 N. Carpenter St. Reception Friday, 6-9pm.
5. The Dead of Winter at PSA Projects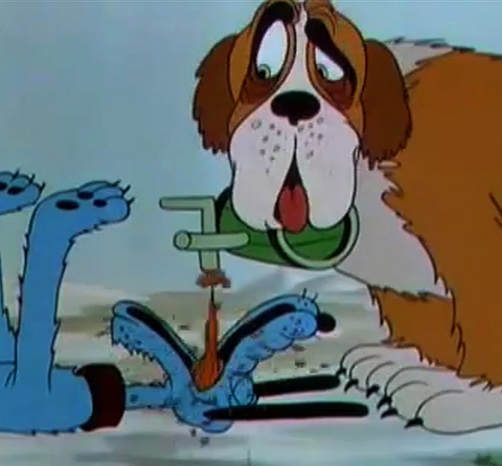 Work by Mike Schuh and Yuan-Chen Li.
PSA Projects is located at 2509 N. Lawndale Ave. Reception Sunday, 5-7pm.
UPDATED WITH CORRECTIONS:
We received an email from Carlie Dennis, the exhibitions assistant at MOCAD, containing a few corrections to the piece below concerning the number of visual artists represented in the Art X exhibition at MOCAD. The correct numbers have been noted in bold in the piece, and Dennis' letter to Bad at Sports containing further clarifying details, etc.  follows the post in an effort to ensure the corrections are clear.  In addition, please note the following exhibition sponsorship information provided to us by MOCAD: The Art X Detroit: Kresge Arts Experience is sponsored by The Kresge Foundation, in partnership with the College for Creative Studies, Artserve Michigan, the University Cultural Center Association (UCCA) and the Museum of Contemporary Art Detroit (MOCAD).
— Claudine Ise
GUEST POST BY SARAH MARGOLIS-PINEO
It was in 1909 that Marienetti first recounts his fated car crash in the pages of Le Figero. He describes an evening where late-night mythologizing veers poetically into an early morning drive. Three "snorting machines" are caressed and brought to life, and he writes, "a great sweep of madness brought us sharply back to ourselves and drove us through the streets, steep and deep, like dried up torrents." Torrents, indeed. Of course we know how this ends: one shiny, red roadster meets two cyclists, ("like two persuasive but contradictory arguments"), and crashes grill-first into a gutter filled with the muck of industrial runoff. Overcome by his encounter with the speed and power of mechanical ingenuity, Marienetti emerges from the factory sludge a Futurist—belligerently positioned towards a new era, first will and testament in hand.
Coincidentally, it was this same year that Henry Ford's Model T made its debut at the Detroit Auto Show, and thusly set into motion the chain of events that would result in the creation of Motor City—a figment of Detroit's identity that persists over a century later. Artists in Detroit are consumed by the context of the post-industrial, post-urban cityscape. Like Marienetti, they are influenced by the concrete motorways and roaring engines that have shaped the physical space, economy, and consciousness of the city for decades.
Art X Detroit, an exhibition featuring 19 17 of the 36 Kresge Fellowship recipients, opened April 6 at the Museum of Contemporary Art Detroit. Wire Car Cruse, an event and subsequent video work, (titled "a dance for Diego,") by Chido Johnson, deliberately mines the history and present of car culture in Detroit. The Woodward Dream Cruise, now in its 16th year, is an annual event, where more than 40,000 classic cars and roughly 1.5-million spectators assemble along the 16-mile stretch of Woodward Avenue to observe and tailgate, while restored antiques and custom muscle cars takeover the arterial. I will say, that from someone who is admittedly more of a public transportation enthusiast, this weekend-long spectacle does not disappoint. Beer, barbeque, and tricked-out mechanics?! Um, yes, please.
Johnson uses the performance of Dream Cruise as the foundation for his own event, which combines the ritual of the Detroit car cruise with the practice of creating wire cars, a pastime from Johnson's childhood in Zambia and Zimbabwe. The performance articulates a hybrid cultural activity, which represents the artist's own negations with subjectivity living between two cultures. Moreover, Johnson's event cultivated a community of wire car enthusiasts, and in so doing, opened up this history of Detroiters and their cars to new audiences who may have been previously excluded from this specific cultural phenomenon.
The video documenting Wire Car Cruise is juxtaposed with a sculpture entitled, "me me me," which is a self-portrait of the artist as a carved African statuette installed on a deconstructed cardboard box on the gallery floor. This work further accentuates the search for a sense of identity between cultural spaces—a literal unpacking of the artist as subject. What interests me most about the video, statuette, and their installation at floor level, is their child-scale. The overall impression of the work is a sense of playfulness that Johnson associates with the practice of making. The video work, "a dance for Diego," takes as its title a sentiment from Diego Rivera who said that the city of Detroit is of makers and dreamers. Johnson's work at its essence is about making, and reinvigorating this type of creative industry with a sense of joy and wonder.
Abigail Anne Newbold's work, "Home Maker," addresses the urban frontier as an expanse to be explored via bicycle and wagon. In the tradition of the pioneer settlement, the Airstream mobile trailer, and the popup house, this project is comprised of an intricate toolkit with which even the least adept outdoorsman can create a makeshift home. The foundation of the piece is a custom-made bicycle and covered wagon functioning like a rickshaw trailing behind. The accompanying toolkit is exhibited in an arrangement both in the wagon and on a gallery wall, which operates like a hybrid one-bike garage meets REI store display. The literal use of the tools is ambiguous; however, the rugged, weather-ready materials in hazard yellow and orange renders the objects explicitly for outdoor survival.
Perhaps this work is a statement on the changing nature of settlement and domesticity given the shifting housing market, or maybe Newbold is supplying tools, (such as a three-fingered pot holder, a bouquet of tent stakes, and wilted bow and quiver of arrows), to the urban ethnographer. Regardless, "Home Maker" is a response to a city in transition, where the untamed urban prairie is an opportunity to develop and implement re-imagined infrastructures for living for the coming century.
Photographer Corine Vermeulen is the spiritual offspring of Dorthea Lange and Buckminster Fuller. Her series, "Your Town Tomorrow, Detroit 2001-2011," explores the identity of place through portraiture of the everyday Detroiter. Vermeulen's imagery, through documentary, ventures beyond the sensation-hungry media snapshot of blighted landscape and broken home. In fact, Detroit as an urban, city-subject is barely recognizable. Her subjects are framed by a landscape that has an immediate, visual association with the southern rural rather than the rustbelt. Families and haphazard communities are depicted in the liminal spaces of Detroit—in front of ailing fences, amidst the tall grasses of overgrown urban lots, and on rebuilt bicycles. It is from this ambiguity of place that Vermeulen achieves the futuristic sensibility referenced in the title of the series.
The artists refers to her portrait series as "memories of the future." Like the work of Newbold, Vermeulen portrays a city in transition—its citizens picking up the broken detritus left in the wake of post-industrialzation to re-cultivate land, rebuild homes, and re-imagine communities. Her portraits contain the "new topographies of urban life," and function as an alter-narration of what urban space can be, and indeed, may be, in the uncertain future of Detroit.
Other artists featured in Art X Detroit at the Museum of Contemporary Art Detroit are Shiva Ahmadi, Hartmut Austen, Lynne Avadenka, Kristin Beaver, Susan Goethel Campbell, Ed Fraga, Tyree Guyton, Rod Klingelhofer, Gordon Newton, Russ Orlando, Senghor Reid, Michael E. Smith, Gilda Snowden, Cedric Tai, and Sioux Trujillo. The exhibition will be on view April 6-24, 2011.
Sarah Margolis-Pineo is a curator and writer. She is currently the Jeanne and Ralph Graham Collections Fellow at the Cranbrook Art Museum.
Corrections from Carlie Dennis, PR Coordinator/Exhibitions Assistant at MOCAD:

There are a few clarifications that I would like to highlight regarding the Art X Detroit exhibition that is currently on view at MOCAD.  First, there are a total of 18 Visual Arts Fellows, 19 if one includes Eminent Artist award recipient Charles McGee.  Neither Charles McGee, nor Tyree Guyton (one of the 18 Visual Arts Fellows) have work in the exhibition on view at MOCAD, as they each have public installations elsewhere in the Midtown neighborhood.  Additionally, it is misleading to say that the exhibition features 19 of the 36 Fellowship recipients, as the other Fellows are in the Literary and Performing arts fields, and are therefore not included in the exhibition but are included in the week's series of public programs and events.  This statement makes it appear as if the exhibition was curated, when in fact it is an artist-driven showcase and includes all of the Visual Arts Fellows (please click here to read a lengthier description of the context of the exhibition: http://mocadetroit.org/).  Finally, while MOCAD is the venue for this showcase, it is important that proper credit is given to those who produced, organized and funded the exhibition: The Art X Detroit: Kresge Arts Experience is sponsored by The Kresge Foundation, in partnership with the College for Creative Studies, Artserve Michigan, the University Cultural Center Association (UCCA) and the Museum of Contemporary Art Detroit (MOCAD)."