It has turned cold. Recent mornings here have felt more like February than November. The nights grow ever longer. As we prepare to turn inward, to tuck ourselves away during the coming winter months, I typically want to rest my oversaturated mind, find peace from the overwhelming and inescapable cavalcade of cultural production and consumption. I have instead found myself invigorated by and seeing anew through an analogy from Jean Cocteau.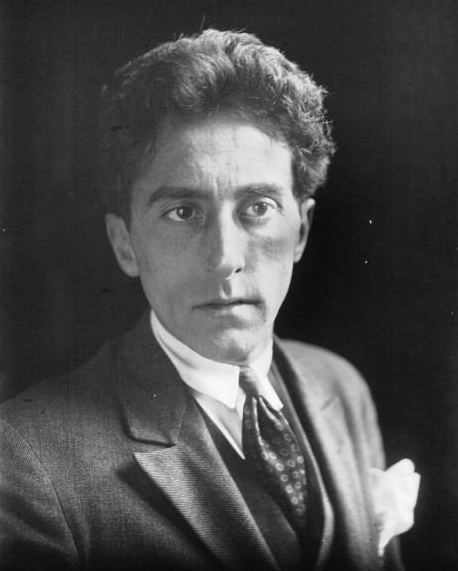 In a translation by Richard Howard, Cocteau writes:
The mechanism which imposes upon us the beauty of a picture, or, more correctly, the combination of lines and volumes capable of moving us, results from a phenomenon analogous to what triumphs over our intelligence when sexuality speaks. A kind of psychic sexuality provokes a moral erection comparable to the sexual one in that it functions without our control and gives immediate proof of the effectiveness of the forms and colors likely to convince a secret part of our organism.
I gravitate toward artwork that can only be consumed through time, that makes me think, that forces my mind in new directions and challenges my notions of what the world is. I know how to live with that work outside its context. I know how to carry it around with me as it informs the rest of my life because it has already existed in my mind through successive moments. I have a harder time knowing how to live with artworks that are immediate, nebeneinander. It might thrill me to my core, but where does it live in my brain when I leave? Why does it still influence me as I continue through my days? Its momentary nature belies its potential impact. The moral erection, the immediate, nonrational responses I have to those works shifts that impact away from my rational mind to a place I cannot see, a place all the more profound because it is unplumbable.
I can tell myself I love this video because I love doughnuts and state capitols, but my reaction lies beyond any simple intellectual explanation. I can tell myself that I love this recently completed mural for how it erases the Machado poem or that I can balance my sincere and ironic appreciation of the eagle, but, again, those explanations fall short of what happens when I see it.

I am, of course, reminded of other times I leave my rational mind behind. Cocteau sprang to mind as I was overwhelmed by the moonlight when I took the trash out last night, the light far more sublime and mortality-inducing than beautiful. He was with me as I woke from a dream that has haunted my days, my unconscious mind imprinting my waking life. He is with me as I sift through the numbing plenitude of the internet, finding flashes of light in the darkness that tug at something.
Humans have evolved to block out sensory inputs; unlike dogs we are no longer so overwhelmed by the smell on a tree that we drop everything to investigate it. We can use that saved brain power and energy to explore the mysteries of the universe, but, increasingly, we must develop ways of ignoring the hundreds of words, the thousand of sounds, the millions of things trying to grab our attention in order to know that mysteries still exist.
I hear Cocteau calling us back to a moment when we felt the psychic sexual thrill of seeing the first painting that called to us, the moral erection of that song that still stirs our heart. He reminds me to pay attention when I feel stirrings that work beyond my rational brain, past the barriers that I put in place to manage the onslaught. More than a silly or dismissive way to explain away what we like, he reminds us that the experiences that move us precisely because we cannot explain why they do are necessary and important to our complete health as mental, physical, emotional, and aesthetic beings, all the more so as the culture that confronts us screams that it is as profound and fundamental to our well being as that kind of experience.
At the very least, he sheds light on why I continually respond to and deeply love the mural I pass every day that for one reason or another hits me like a…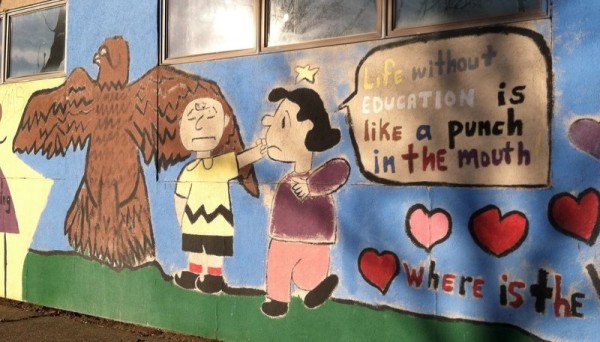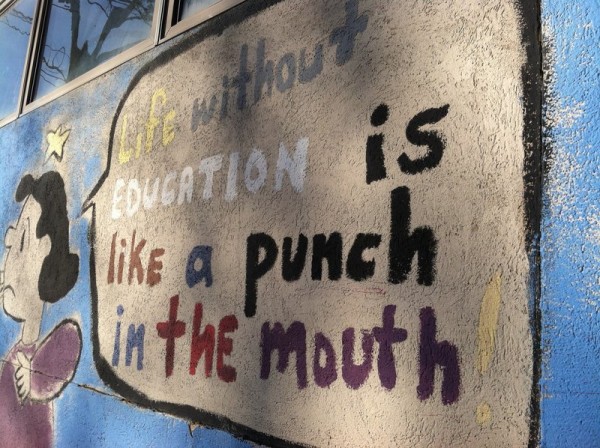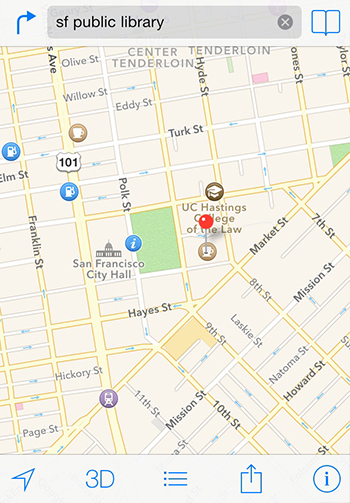 The best thing about living in San Francisco is that I can step out of my apartment and, without any planned route, find an art exhibition that I had no idea was happening.  At the beginning of every month, I like to walk my rent check to my property manager's office by the Civic Center.  The Civic Center is a cultural crown of jewels in this city with a symphony, ballet, opera, library, and museum surrounding City Hall.  SF is so cool that the city closes the Civic Center for massive events like a concert by Deadmau5 or the 2013 X Games Dew Tour complete with a skate park and dirt bike course.
On this particular rent-check-walk, I decided to check out the main branch of the SF Public Library at the Civic Center.  If you've seen the 1998 movie City of Angels starring Nicolas Cage and Meg Ryan, then you'll understand this: it's the same library that all the angels in black coats visit to read books and stand around looking creepy!  Little did I know that there would not only be one exhibition, but five!  Stumbling across these exhibitions in a space like a public library brought me back to undergrad and learning about the idea of curating.  It's an interesting position to be curating a show at a library — a local history and audience are engaged primarily with something else in the space (the books) but are somehow casually distracted, entertained, and educated by the exhibition.
The first exhibition I accidentally saw was called Three Artists Witness the Occupy Movement: A Plein Air Story.  If it weren't for the table jutting out in the middle of the walkway, I would have kept on going about my tour of the library, but I paused to see what the enclosed case had to offer.  It was lovely paintings by three different Oakland artists who documented the Occupy Oakland and Occupy San Francisco events.  The placard said "Exhibition continues in cafe wall display case, lower level," so I decided to see what else was in this show.
The painting show was a lot of fun.  It's unclear who curated the show based on the text provided, but a little googling on the Internet leads me to believe that the show was originally presented as Occupy: The Plein Air Story and curated by Eric Murphy at Oakland's Joyce Gordon Gallery last November.  This exhibition cleverly puts three different artists side-by-side for a comparison of the same subject depicted in varying styles. John Paul Marcelo's The Port Shutdown is an eerie march of shadowy dark figures, Anthony Holdsworth's Occupy the Port of Oakland (2011) is a bright pastel palette of folks walking towards the sunlight, and Jessica Jirsa's Closing of the Ports (2011) is a colorful cartoon-like gathering of characters.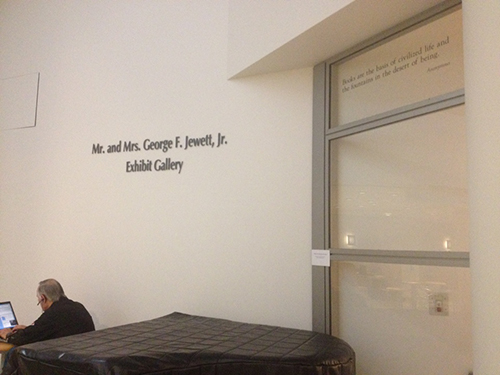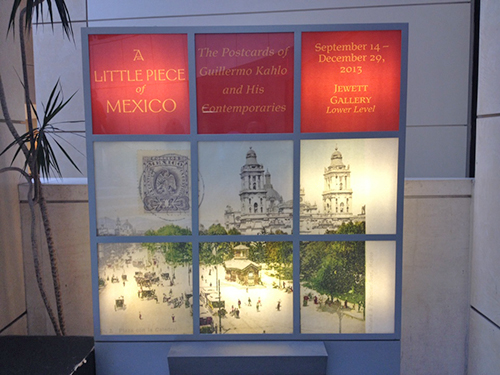 After looking at the painting show, I turned around to discover the Mr. and Mrs. George F. Jewett, Jr. Exhibit Gallery and an exhibit titled A Little Piece of Mexico: The Postcards of Guillermo Kahlo and His Contemporaries.  In a place like a library, the contributing parties to making the show possible are a paragraph in itself.  Here's who is billed as presenting the show: The San Francisco Public Library, the Consulate General of Mexico in San Francisco, the Department of Latina/Latino Studies in the College of Ethnic Studies and the Office of Research and Sponsored Programs of San Francisco State University, and City Lights Foundation.  Wow!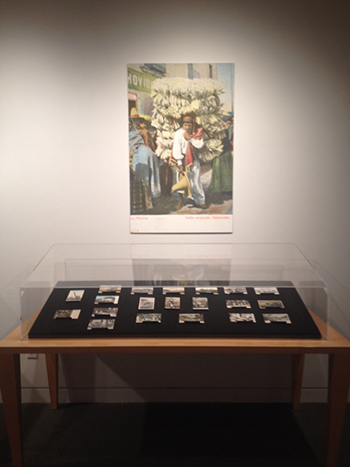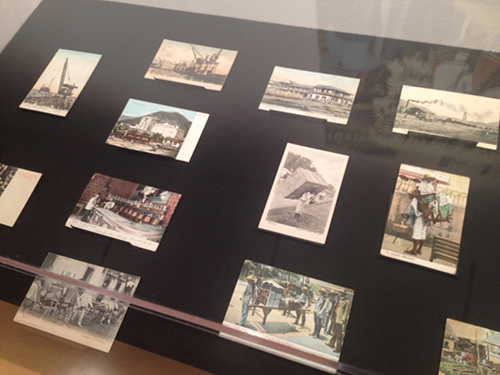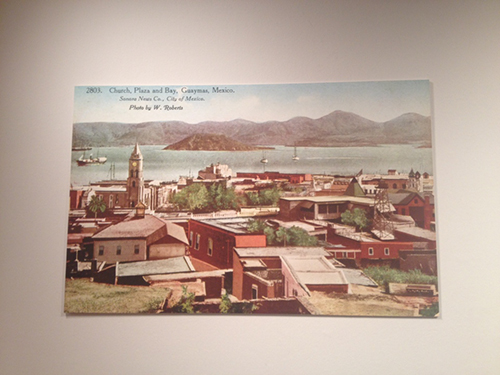 The exhibition makes a fantastic case that the cultural identity of Mexico was shaped by the popularity of the photo postcard at the turn of the 20th century.  With images from international photographers like Guillermo Kahlo, Abel Briquet, F. Leon, and CB Waite, the exhibition honors the iconic images that undoubtedly shaped the current contemporary branding of Mexico's visual identity.  The significance of this show to the local Mexican and Mexican-American population is palpable, while also revealing the country's heavy influence on San Francisco's own architecture and landscape design.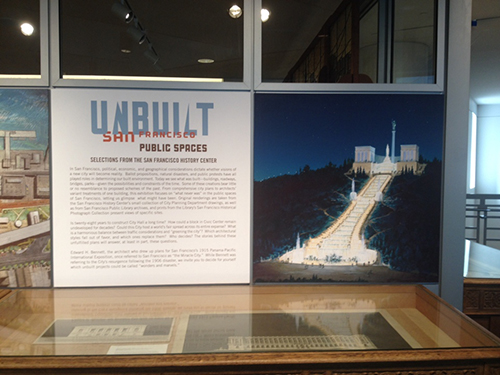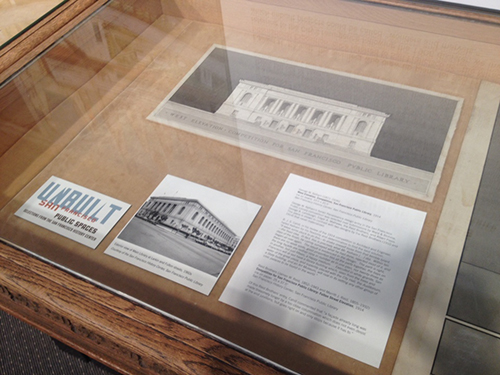 As I walked upstairs to check out a show about tennis, I noticed another show with fabulous architectural renderings.  An exhibition titled UNBUILT: San Francisco spans five venues throughout the city and presents proposals for various buildings and urban spaces within the city that were never realized.  My dad is an architect, so genetically so am I, and so this show was really interesting to me.  Architects also have the best handwriting in the world, so there's something about architecture and text that is always aesthetically amazing.  As a resident and avid walker of SF for almost five years, I genuinely appreciated seeing these renderings and sketches for spaces that I've come to call home — it's like walking into an artist's studio or flipping through your old sketch book and seeing thoughts and ideas for past work that just never made it off the page.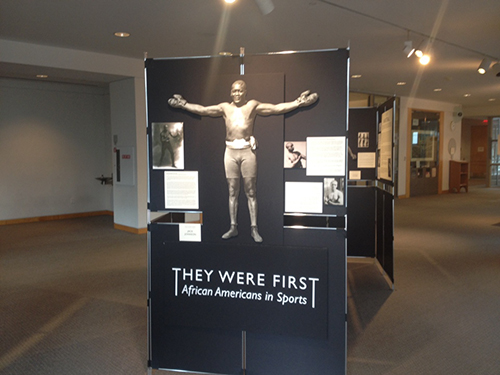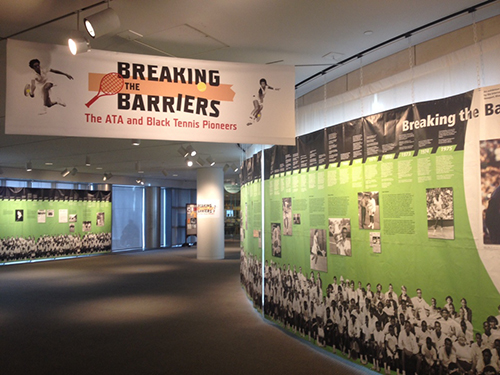 Finally, and coincidentally enough for me as a blogger for a blog called Bad at Sports, there were two exhibitions highlighting sports — They Were First: African Americans in Sports and Breaking the Barriers: The ATA and Black Tennis Pioneers.  Both exhibitions provide a more historical context (rather than visual) of the obstacles and triumphs of a marginalized group of athletes.  Simple timelines line the walls of the library with photos and text reminiscent of a history museum show or even the waiting lobby to the "Soarin' Over California" ride at Disneyland.
The best part of this entire SF Public Library multi-exhibition day was seeing artwork from the winners of an art contest for kids coinciding with Breaking the Barriers.  Northern California kids aged 7 to 18 were asked to portray how they have broken barriers.  As cynical as I've become now that I'm 30, there will always be a special place in my life in memory of the art opportunities I got when I was a kid.  Growing up, my suburban New Jersey town offered plenty of art opportunities for kids that I completely devoured: art classes at school, annual art exhibitions at the mall, and contests for different purposes like a banner at an elementary school or the yearbook cover or the town's New Year's Eve celebration logo.  How many high school students enroll in AP Art or go through the lengthy submission process for a college art application?  It's awesome that the library exhibition included this artistic component for the local kids, and its something I believe will be a special introduction for every participant, especially the winners.  Watch out Hugo Boss Prize 2035!
Conclusion?  Who knew a day at the library could be so fun and artsy!
 Guest post by Virginia Konchan
Cultural treatments of what Jeffrey Eugenides (qua Austen) termed the "marriage plot" of fiction include post-romantic polemics (Laura Kipnis' 2004 Against Love), arguments for and against biological and gender essentialism, chick lit and post-feminist writings, and queer and trans literature (as well as post-9/11 and world literatures reframing the metaphor of war as between cultures and races, rather than genders).   Keeping pace with the culture industry's manufacture of fantasy, Hollywood continues to churn out variations on the theme of marriage, whether representative, in the US, of market demand and actual statistics, or not, in reality TV (The Bachelor; Wife Swap) and, in film, such as the 2013 rom-com Austenland, directed by Jerusha Hess (an adaptation of Shannon Hale's novel, based off Pride and Prejudice, about a British resort recreating the Austen era, to fuel the obsession that every woman's platonic double—Mr. Darcy, aloof yet smoldering with passion—awaits us just around the corner).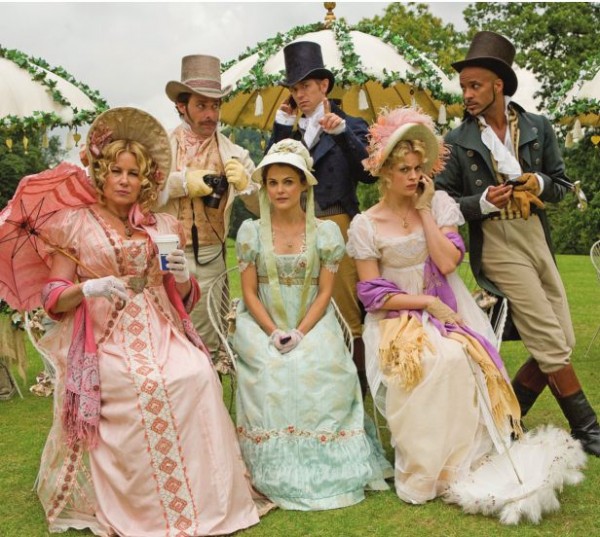 The timelessness of the marriage plot is today played out against the backdrop of radically transitive labor conditions for women, as the bar for accreditation (an industry's "terminal degree" or minimum standard of experience) are continually raised, in a post-manufacturing, service, and what Sarah Kendizor calls a "post-employment" economy, sealing the neo-pilgrim passage (noir version) from a welfare to a fully corporatized (i.e. neoliberal) state.
Today's resurgence of Darwinian logic, manifest in neo-Gladiator survivalist narratives such as The Hunger Games, undergirds global capitalism, with the exception of independently-owned businesses or careers (internally funded or reliant on patrons, philanthropy, and trustees).  A women who chooses to entreprenurialize (work independently, start a business or brand, freelance) adjusts not only to the rollercoaster cash flow, as Whitney Johnson, who left Merrill Lynch to co-found Rose Park Advisors with Clay Christensen, in the Harvard Business Review Blog Network, points out, while the recent global downturn fuels the American DIY rhetoric of entrepreneurial activity, such 'independence' isn't always volitional:  layoffs abound, and, despite soft stats of "productivity gains," job creation does not.  "Approximately 43 million people, or roughly 35%-40% of the private workforce in the U.S., are currently doing some type of contingent work; this number is expected to grow to 65-70 million within the decade, well ahead of the 1% rate at which the labor force is growing," Johnson notes, citing research from MBO Partners' State of Independence in America report, about "independent" U.S. laborers (an individual working 15+ hours per week whether as a freelancer, contractor, or owner of a micro-business):  "Stripping out the c. 25 million people who are working part-time and are potentially under-employed, MBO calculates there are currently about 17 million independents," a statistic expected to increase to 23 million by 2017, based on a 6.3% per year growth rate, that could easily swell to over 30+ million in the next decade as large and small corporations, as well as the government, continue to employ contingent labor (40% of the workforce is defined currently as contingent labor; that number is expected to rise).
Blue Jasmine, starring Cate Blanchett, is Woody Allen's 44th feature film:  his protagonist, Jasmine neé Jeanette, is a divorced socialite whose husband Hal, played by Alec Baldwin, after amassing millions the Bernie Madoff scandal, is caught, jailed, and commits suicide.  This female lead differs radically (in her labor situation and social rôle) from the female ingénue of Annie Hall, the irascible Diane Keaton.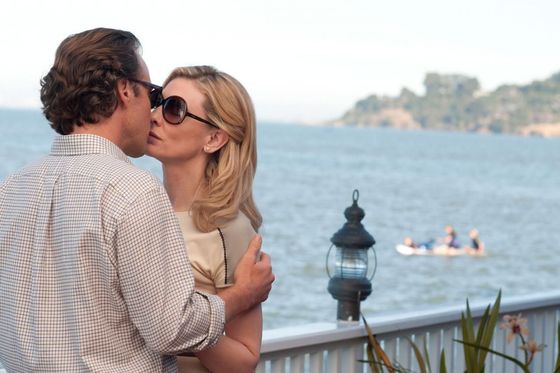 Jasmine struggles to accept her functional unemployment (she has virtually no job skills in a market where you can buy goods, but not survive, on credit) after her divorce, arriving on her working-class stepsister, Ginger's, doorstep in the Mission District of San Francisco with an equipage of Louis Vuitton luggage, perfectly-coiffed hair, and a desire to begin again (but not before polishing off several stiff martinis with Grey Goose).  The conversation Jasmine has with Ginger about her prospects, post-Hal are nothing short of comedic:  I was always good at design, she muses, and decides to take a day job as an assistant in a dental office to pay for online classes in interior decorating, a revelation of subdued hilarity echoing that of Aunt Bernie in George Saunders' story "Sea Oak," who, resurrecting from the dead, answers the call to neoliberal entrepreneurialism by directing male strippers.  Her advice, to evolve from sex work to a white collar career:  "Go show your cock! [ . . . ] That is the first part of Phase One.   After we get the new place, that's the end of the first part of Phase Two.  You'll still show your cock, but only three days a week. Because you'll start community college.  Pre-law. Pre-law is best. You'll be a whiz. You ain't dumb."
Jasmine's painful labor skills assessment doesn't stop her from catching the eye of a new money tycoon with coastal property.  She meets her second alluring husband prospect, played by Peter Sarsgaard, at a party—impressed by her Chanel digs, he asks her out, and she proceeds to play the part of a successful businesswoman to a hilt, offering to design his new home.  The following scene has them antiquing together, before looking at engagement rings.  The prize, if we follow the moral logic of Blue Jasmine (the rhetoric of American democracy) goes not necessarily to the hardest worker (Calvinism), smartest entrepreneur (meritocracy) or most monied sophisticate (philistine aristocracy), but the best con-man—or woman—the artful, or artless, swindler with a heart of gold.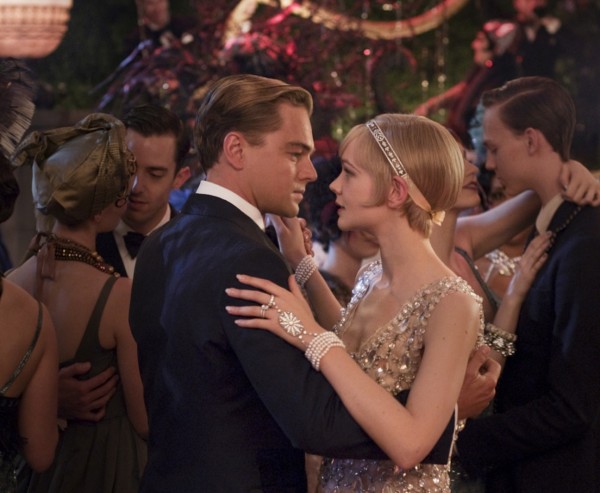 Jasmine's life, seen within Western cinematic (independent and mainstream) representations of women from David Lynch's doppelgangers, to besties escaping, by driving their car off a cliff, abusive spouses——Thelma and Louise—or for Madame Bovary,  what Jonathan Franzen calls "married person's (i.e. false) consciousness," reflects the fact that in today's contemporary novel, cinema, and pop culture, our "heroines" have more choices, but they are still often scripted, between the dangerous fiction of a woman that has, or does, it all (cinematized in 2011 feature film I Don't Know How She Does It, starring Sarah Jessica Parker), and the neo-confessional celebrity spectacle of a woman such as Gaga, who bares her struggles publically, usually receiving social grace upon delivering the now-ubiquitous message that celebrities (and royals) are people too.
Whether broadcasting happy-go-lucky debauchery (Chelsea Handler), sexscapades (Paris Hilton), gold-digging (Anna Nicole Simpson), infidelity (Elizabeth Hurley, Sandra Bullock), domestic violence (Rhianna, Halle Berry), addiction (Lindsay Lohan), or the everyday travails common to all women (childbearing, weight gain, marriage, divorce, and illness), in the public eye:  the more seemingly human the portrayal (Kate Middleton taking her time—two weeks—as reported in the media, to return to a size O, post-George), the more love from the public, despite the most basic incongruity of all:  celebrities and royals, unlike the average consumer of their self-representations, aren't forced to work a 9-5 job, or any job, beyond performing, to survive.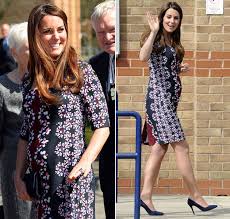 Never has the anti-logic of the privatization movement been more relevant as an extended metaphor, to domestic security—not for our homeland, but for women.  The rule of the market (liberating free or private enterprise from any bonds imposed by the government—the state—no matter how much social damage this causes), and, internationally, NAFTA, has resulted in widespread wage reduction, de-unionization, the elimination of workers' rights, no price controls, slashed public expenditure for social services:  deregulation, in short, of all protections (environmental, commercial, financial) allowing citizens a basic standard of protection beyond the right to file a lawsuit (after one's non-codified, and thus nonexistent, rights have been violated).  This state of non-rule leaves subjects or those without job skills vulnerable to market vicissitudes (governmental rule by the nation's media conglomerates—i.e., the 1%) backed, as we know, by International Monetary Fund (IMF), the World Bank and the Inter-American Development Bank.
Today, women receiving federal aid for supporting a child are cut off if living with or married to a man in the States, penalizing a working class woman's desire to raise a child with the child's father or other male figure, and making a two-family income, albeit with one income from Uncle Sam, an impossibility, and raising the question of how far we've come, as a gender, from being literal chattel or objects of tokenistic exchange (decried by Engels in his 1884 The Origin of the Family, Private Property, and the State) and today, when the  insecurity of all formerly stable institutions, including marriage and the family, underscores the fact that the market is the new head of state for Western women, just as the husband continues to be in many Islamic cultures, usurping law (husbands are allowed to beat their wives and children as long as they don't leave any physical marks, an Islamic court in the United Arab Emirates ruled in 2010), to say nothing of ongoing cultural epidemics of sexual violence, domestic abuse, public stonings, factory labor, sex trafficking, and labor exploitation, keeping women, worldwide, in a dangerous existential (i.e. labor) situation.
In short, the stress of financial survival, in neoliberal America, trumps life, liberty, and the pursuit of happiness, for men as well as women (the latter camp still on the outskirts of legal personhood, the Equal Rights Amendment not having yet passed).  The inequity of our child care and maternity leave policies are the source of international shame, women aren't being hired for executive positions, with obvious exceptions (New Zealand, Grenada, Barbados, and Andorra all have or have had female heads of state), and despite puncture holes in "the new glass ceiling" (the illusion that we occupy a DIY, may the best man win, meritocracy, innocent of structural inequities, as evidenced in Huff-Po writer Jeannette Cajide's endorsement of her boss Mark's neoliberal quip:  "If you want to overcome sexism and racism, be the best!") continues.   The Count by VIDA, documentaries such as Miss Representation, and other reports on the dearth of authorial and executive parity between men and women in the U.S. workplace underscore the facts:  but while the "new glass ceiling" for women may indeed be prevailing, media-driven misogyny, and a restructuring of service economy jobs, even in senior positions, or internalized and externalized locked doors to design, IT, and engineering fields, the fact remains that, as Gail Becker said in the Huffington Post, "firsts" set a precedent that can then be modeled for other women, as relationship and cultural standards (equality and freedom from abuse, violence, and intimidation), codified laws, and hiring authorities.  "Frankly, I look forward to the end of that necessary prepositional clause — a time when we don't need to define someone by the barrier they broke.  But until that day, my commas are standing by, ready to remember those who helped tear away barriers for me."   As a New Yorker cartoon character put it to her husband:  "I prefer the illusion of safety to the appearance of privacy":  reality, however painful, lying in wait beyond the illusory binary, for women, of marriage-cum-financial survival and self-fulfillment through career (Harlequin romance plots aside).
A neoliberal economy puts all subjects, particularly those whose commodity has historically been domestic labor or the sale of their flesh, in a precarious position, forced to choose between wage labor, sex labor, an unsalaried, uncontracted job in a helping profession, or, if lucky (possessing liquid capital or loan accreditation), entrepreneurial activity.  As Jasmine discovered before it was too late, women not independently wealthy must labor to survive, like men, either in a career or in a form of domestic or sexual service, to a husband, family or both.
What's needed now are not just rooms, but salaries of our own, in careers that don't bottom out upon our advancement, and domestic partnerships that don't bottom out when the human commodity (the wife) reaches her shelf life in consumer capitalism (i.e. mature age).  "Should Sancho Panza, Oroonoko, Moll Flanders, Frankenstein's monster, Queenqueg, Tom, Lily Bart, Josef K.., Lolita, and Om, in A Fine Balance, really have no say in their own fates?" asks Jane Smiley in Thirteen Ways of Looking at the Novel, broadening the live question, apropos to the health care crisis in America, of whether being able to cultivate the means to acquire needs, to echo Marx, let alone pursue one's teleological ends without bearing the stamp of manufacture from a husband, or suffering, in silence, an exploitative labor situation, is a privilege, or a right.
 
_______________________
Virginia Konchan's poems have appeared in Best New Poets, The Believer, The New Yorker, and The New Republic, her criticism in Workplace:  A Journal for Academic Labor, Quarterly Conversation, Barzakh Magazine, and Boston Review, and her fiction in StoryQuarterly and Joyland, among other places.  The recipient of grants and fellowships to Scuola Internazionale di Grafica, Ox-Bow, and Vermont Studio Center, Virginia is co-founder of Matter, a journal of poetry and political commentary.  Currently, she is pursuing her PhD in the Program for Writers at the University of Illinois at Chicago.

This week on the podcast: Duncan, Richard, and Jason Dunda talk to a cast of thousands led by Jen Delos Reyes!
Jen Delos Reyes is an artist originally from Winnipeg, MB, Canada. Her research interests include the history of socially engaged art, group work, band dynamics, folk music, and artists' social roles. Hear it all right here.
If you want to revisit costume convos again, Jeriah Hildwine discusses the dress of personas in every day (art) life:
Of course Halloween has just come and gone, and that is the first thing most people think of when they hear the word "costume." Costume, though, plays an important role in many aspects of life, including art. The word costume can be used to refer to any article of clothing or manner of dress. Usually, though, it implies something outside of the everyday. Depictions of historical costume is an important aspect of art history, whether it is the significance of the color of the Virgin Mary's dress in an icon, the meaning of the steel gorget in a Rembrandt portrait (e.g. the one hanging in the Art Institute), or the absolutely pippin' fur collar in Albrecht Durer's later self portrait (as well as that prison striped number with the lace on sleeves in his earlier one).
Get the skinny on art happenings of late via Edition #18 of Dana Bassett's "What's the T?" with costume awards and much much more…. 

New dispatch from Bloomington, Indiana courtesy of August Evans. Evans writes about  Bobcat Goldthwait's recent visit to IA, and the connections between Goldwait's film, God Bless America, and Lolita:
I was reminded of this particular exchange during the Q&A session following the film, when Goldthwait, in response to a question as to his rationale behind casting Barr as Roxy, said, "When she came in to read, she didn't play it too vampy. Other actresses were sexy, coquettish, doing the Lolita thing. Tara was wearing overalls."
Monica Westin interviewed Dieter Roelstraete about his latest curatorial project; it opened this Friday at the MCA:
Only the second exhibition at the MCA organized by Senior Curator Dieter Roelstraete, The Way of the Shovel, opening tomorrow, takes as its basis Roelstraete's ongoing observations about the centrality of the language of archaeology, archive, and history to art discourse over recent years. Spanning a wide grouping of artists and mediums (though, not surprisingly, focused in particular on photography and video), the show is ambitious conceptually as well, attempting to cover work that challenges histories, creates its own alternate histories (with starting points ranging from Robert Smithson to histories of Chicago), and takes up the tools and practices of archaeology both metaphorically and literally. I spoke with Roelstraete the week before the show opened about the archaeological imaginary, artistic research, Freud, and 9/11. 
Mark Sheering wrote about where Fish Mongery and contemporary art intersect:
To respond to the art world with a fish may be a surrealist gesture. But to respond with an entire fish counter, complete with fishmongers in white boots, ice and creative displays of the seafood itself, is surely pushing the 20th century genre to breaking point. Such is the effect of the so-called Centre for Innovative and Radical Fishmongery, spotted in public at Sluice Art Fair, London, late October. Amidst the plentiful art for sale, the wares at CIRF included a scrambling pile of langoustine and a sinister-looking hake chewing on a lemon. The artist behind the project is Sam Curtis who came to fishmongery by chance in 2006. A part time MFA at prestigious art school Goldsmiths necessitated finding work. By strange twist of fate, he found an opening on the fish counter at luxury department store Harrods.

We closed the week out with a list of endless opportunities — this one leaned heavy on teaching positions, though there is also a travel grant and a call for papers about European culture.

1. School Director and Professor of Art, Art History, or Graphic Design at Portland State University. Review of applications begins December 1, 2013; position is open until finalists are identified. 
The School of Art and Design in the College of the Arts at Portland State University invites applications for a Director of the School and Professor in any one of the fields of Art Practices, Art History, or Graphic Design. This is a tenured, 1.0 FTE, 12-month position, commencing fall 2014. The Director will provide creative leadership and vision as well as administrative oversight for a burgeoning School of 20 full-time and 70 part-time faculty, 32 M.F.A. students, and approximately 1100 undergraduate majors, while supervising 4 full-time and 7 part-time support staff and administering a budget of over $4 million. Comprised of Art Practices, Art History, and Graphic Design, the School seeks a dynamic Director to build cohesion among these areas; spearhead program assessment and strategic long-term planning initiatives; manage resources and, working with the Dean of the College of the Arts, help obtain additional resources; enhance facilities and/or improve ways to utilize current facilities; and represent the School energetically within the larger cultural community. Recently grown from a Department of Art, the School is poised to expand the unique potential of its interdisciplinary opportunities as well as possibilities for continuing community engagement. more info here. 

2a/2b. Colgate University seeks Art Historian and Studio Art, Photography Professor:
a. Art Historian—Kindler Chair in Global Contemporary Art: Full-time, Associate or Full Professor, tenure track

Develop and teach an array of undergraduate courses in transnational and global art and art institutions since 1970 in a coordinated art history and studio department. The candidate's research focus should be relevant to the shifting terrain of contemporary art and in particular to the interaction of aesthetic and cultural ideals across boundaries. Regular teaching contributions include an annual course in the development of art and theory since 1960 as well as participation in all levels of the curriculum. Responsibilities also include senior thesis advising and participation in Colgate's interdisciplinary programs, including the Liberal Arts Core Curriculum. Five-course load. Colgate's planned Center for Art and Culture will offer important opportunities for pedagogical, curatorial, and scholarly collaboration…go here for details

b. Studio Art, Photographer. Full-time tenure-track position at the assistant professor level in the Department of Art & Art History, beginning fall term 2014.

Teach beginning and advanced courses in photography as a studio practice within a joint studio and art history department equipped with both analog and digital facilities. Additional responsibilities include annual participation in the introductory studio course that spans theory and practice across artistic media, annual supervision of senior projects, periodic supervision of the department's senior project sequence in studio art, and regular contributions to Colgate's interdisciplinary programs, including the Liberal Arts Core Curriculum. The candidate is responsible for oversight of the photography facilities. Completion of the MFA is expected prior to or shortly after the date of hire. Five course load. Information here.
3. Open Books Seeks Teaching Artists for ReadThenWrite: 
We're looking for experienced educators to join our team as Teaching Artists for our ReadThenWrite program in the winter and spring of 2014. Teaching Artists will facilitate 8-12 week reading, writing, and publishing instruction for teens at schools across Chicago. Interested candidates should view the job descriptionand RSVP for the December 5th info session.
4. Â Journal of European Popular Culture 6.1 (late 2014) :Â Call for Papers on Gender and Sexuality in European Popular Culture
The field of gender and sexuality studies in European popular culture is, unsurprisingly, vast, yet research is often focused on Anglophone culture, encompassing the UK and North America, rather than taking a more trans-European approach. In an increasingly globalised society we consider that there is a need for discussion of Anglophone and non-Anglophone European popular texts to be infiltrated into British academic work.
This special issue of the Journal of European Popular Culture, due to be published in late 2014, will provide a timely snapshot of the rigorous and exciting scholarship currently being undertaken in Europe which deals with the widely relevant and popular field of gender and sexuality.

We invite articles (max 6000 words) exploring any aspect of gender and sexuality in any form of European popular culture, including but not limited to:

Queerness in popular culture
Transgenderism in popular culture
Sexualisation in popular culture
The body in popular culture
Historical approaches to popular gender and sexuality
Masculinity in popular culture
European sex media
Sex education in popular culture
Religious approaches to gender and sexuality
Gender, sexuality and race/ethnicity
Sexuality on the internet
Feminism in/and popular culture
Gender, sexuality and language
Gender, sexuality and power

Please send 100-200 word abstracts to genderandsex.jpec@gmail.com by 15 December. Ensure you include your full name and affiliation (if relevant), along with a brief (100-200 word) biography. Full chapters will be due by 1 March 2014.
5. Word Riot:Â Travel Grant Applications -Â 
Word Riot Inc. will award travel grants ranging from $100 to $500 to small press writers on a quarterly basis.
The number of grants and the amount awarded each quarter will depend on the quality and thoroughness of the applications received. A minimum of one grant of at least $100 will be awarded each quarter. Preference will be given to applicants who extend the reach of the arts to under-served populations by participating in readings or literary events in those communities. Deadline: Nov. 15, 2013 go here for details