Last month, in the midst of the crazy Expo Chicago extravaganza, I had the pleasure of going on a tour with Gallery Weekend Chicago. GWC was founded by Chicago gallerist Monique Meloche in 2011 and offers annually a weekend of private gallery and museum tours. I went on the Sunday tour which took us down to the Washington Park and Hyde Park neighborhoods on the South Side and made stops at the Arts Incubator, the Smart Museum, the Renaissance Society, and the Logan Arts Center.
The Arts Incubator in Washington Park was the first stop of the day. This space, part of the University of Chicago's Arts & Public Life Initiative, was conceptualized by Theaster Gates, who is now director of the project. The Incubator is home to an artist residency program, a community arts education program for teens, as well as an exhibition and performance space.
The Incubator currently hosts five resident artists. They have access to all of the facilities at the Logan Arts Center, where we headed later in the day, and have studio space at the Incubator. The Space Between, an exhibition of these artists' work, was installed at both the Incubator and the Logan. The work addressed the social differences between these two spaces – one located in the University-centric Hyde Park, the other in the adjacent Washington Park neighborhood.
Despite the early hour of our arrival four of the five artists were kind enough to meet us at the Incubator to show us around their studios and the exhibtion: Avery Young, Cecil McDonald, Cauleen Smith, and Tomeka Reid. We were also joined by the curators Allison Glenn and Monika Szewczyk.
Cauleen Smith created two "space stations" for the exhibition – one in her studio at the Incubator and the other in the gallery at the Logan. The installation in her studio played off the aesthetic of a work space with filing cabinets, a work table and a temporary wall made from screens that she used to screenprint wallpaper for the other space station at the Logan. There were also shelves with plants and small artifacts that she made from materials found in the surrounding neighborhood: chunks of cement and fragments of a road sign.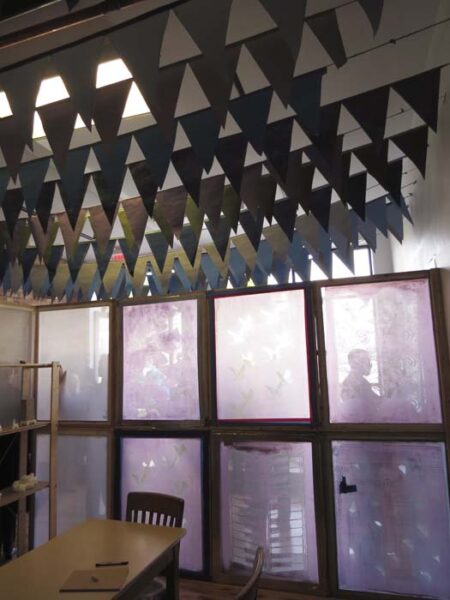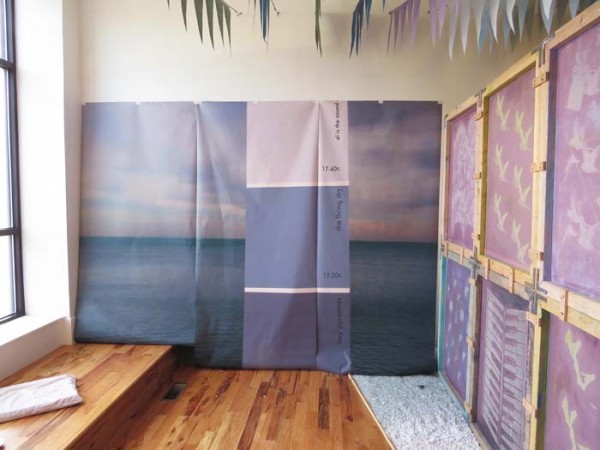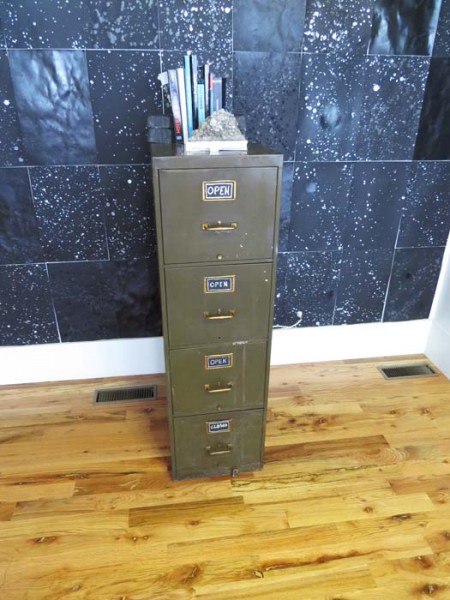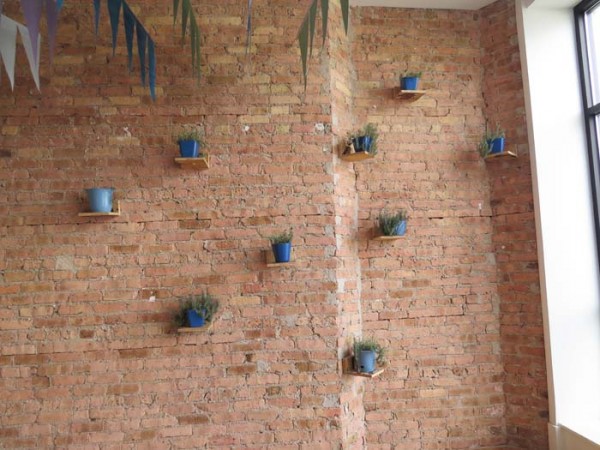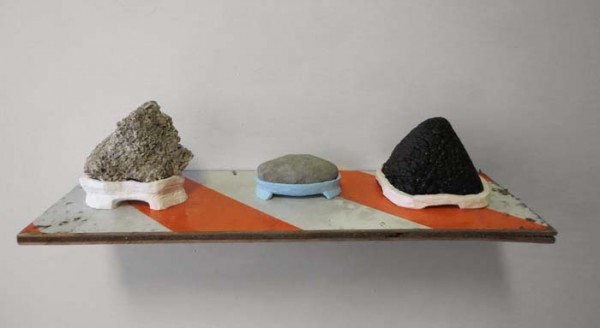 Avery Young and Cecil McDonald have a shared studio space, the floor of which was laid out with Avery's work for Groun(d), a solo show now up at the Incubator.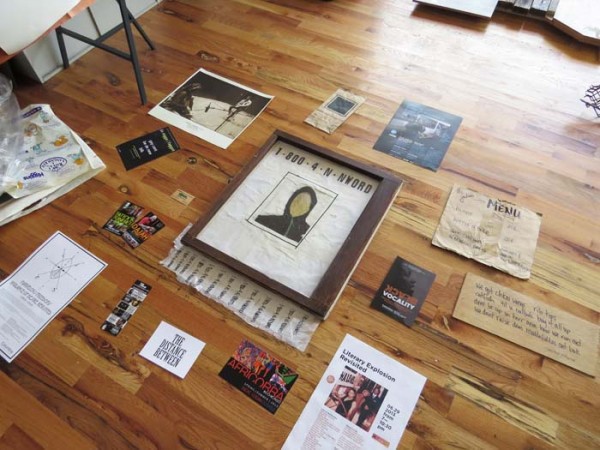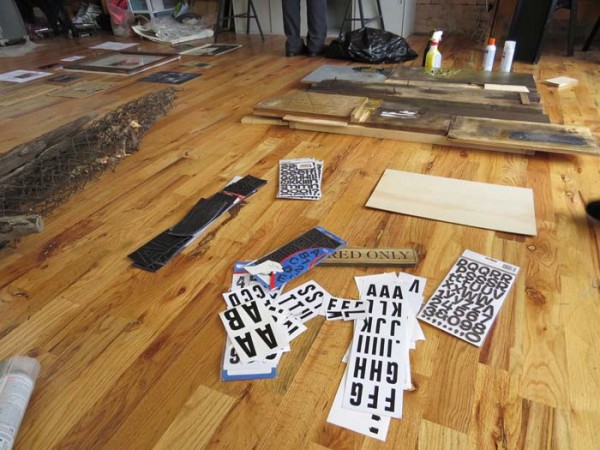 In the main exhibition space Avery Young, Tomeka Reid, and Cecil McDonald spoke to us about their work.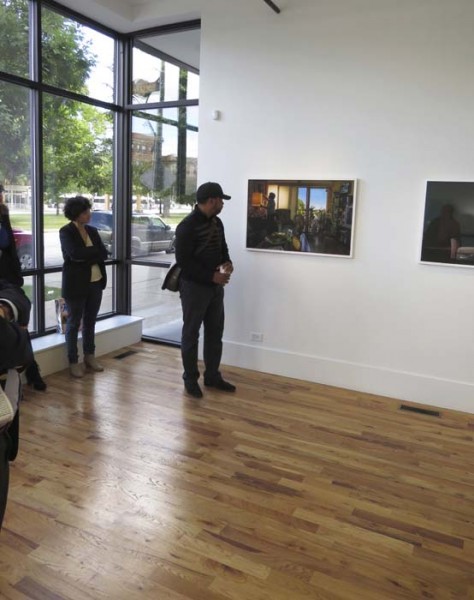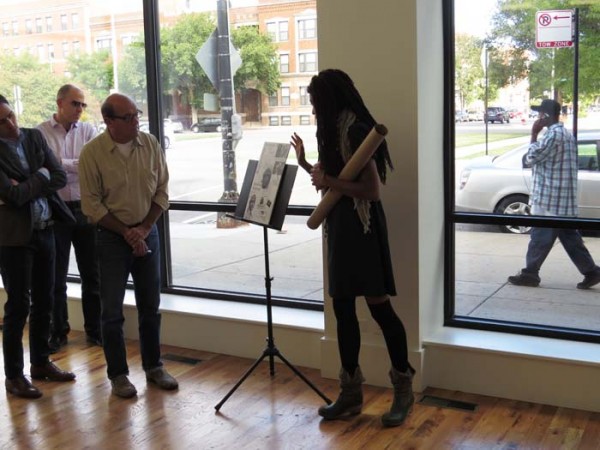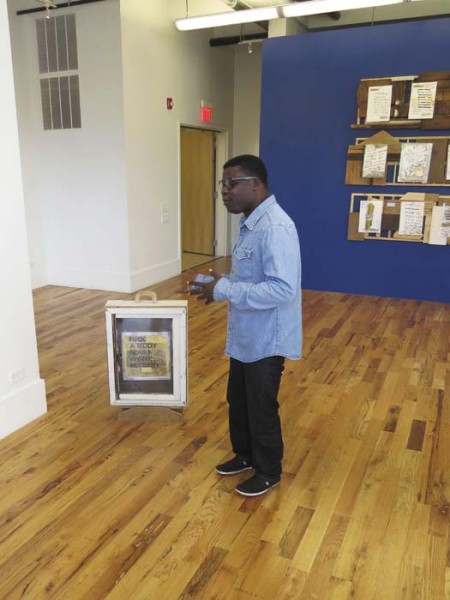 After going to the Smart Museum and the Renaissance Society (both of which have amazing shows up right now – Suicide Narcissus at the Renaissance Society blew me away.) we ended the day at the Logan where Monika Szewczyk showed us the other half of The Space Between, featuring Cauleen Smith's other space station, photographs by Cecil McDonald, assemblage works by Avery Young, and sound pieces by LeRoy Bach.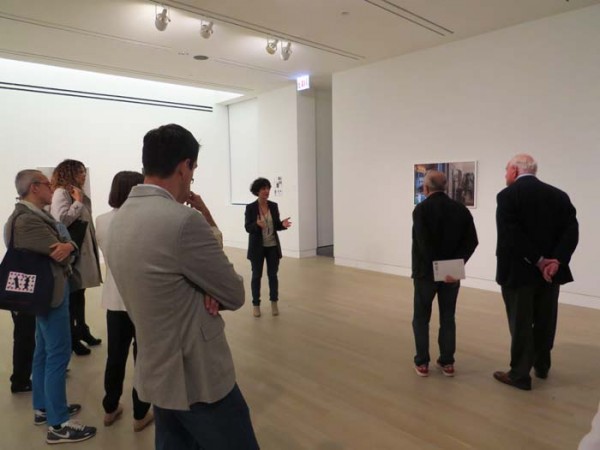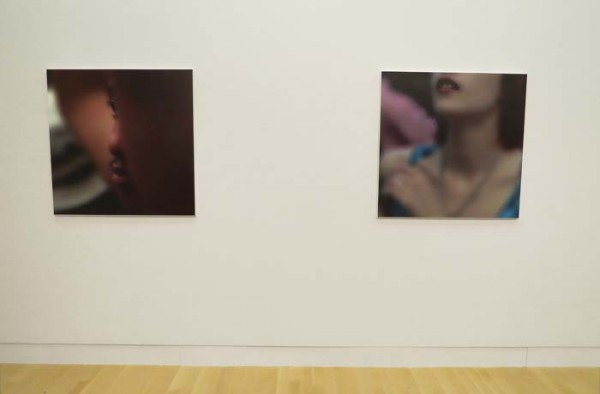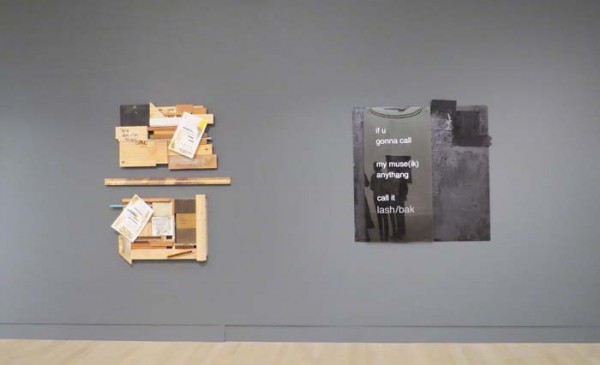 Monika also gave us a tour of building and, by the way, the view from the 10th floor is pretty phenomenal.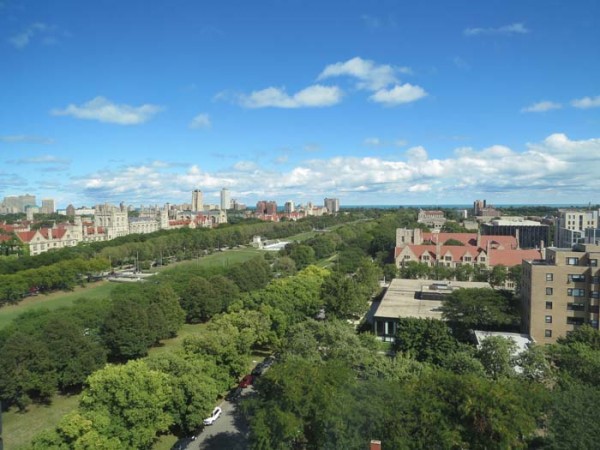 Bailey Romaine is an artist and bibliophile based in Chicago.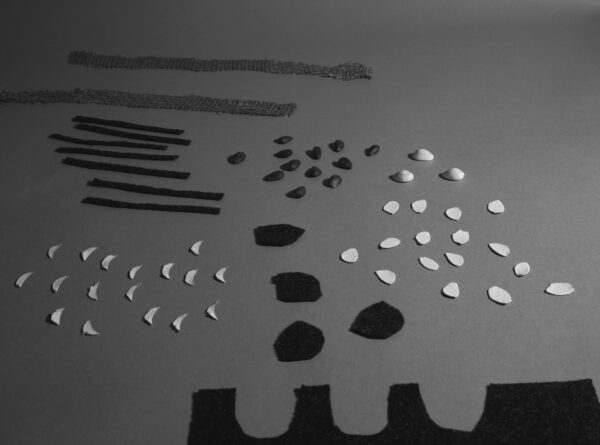 The podcast this week features Duncan live from LA! talking with artist Sarah Conaway. Conaway (b. 1972 York, Pennsylvania) makes seemingly straightforward photographs that invite us to think magically, imbuing mundane objects with mystery and potential. Her recent photographs—printed in a range of sizes and primarily in black and white, with an occasional work in vibrant color—capture a series of actions set up by the artist in her the studio. Beyond the objects or materials that they portray, they express a residue, aura, or presence that we sense but do not necessarily see depicted. All that and more here.
Jesse Malmed kicked off the week in blogland with a mix tape of video clips:
Is this ok? Is this a responsible use of this privilege? How much does Bad at Sports pay its writers? Its readers? I'm like you, reader. I'm in the weeds. I'm in the thick of it. Everyone is paying everyone else too much. Our government runs smoothly but we don't have any use for it. There are no trains and no one runs for anything, not even office.
Joan of Arc's Tim Kinsella sat down with me to talk about his participation inEvery house has a door's latest work, Testimonium. When asked if playing live music in a performance context felt different from playing at a music show, Kinsella replied:
Oh yeah. All the rituals of live music performance are undermined and we love it. The whole catharsis-spectacle is frustrated and maybe we're grizzled old cynics to find that liberating, but I promise that Testimonium will equally frustrate those expecting a rock show as it will irritate those expecting a performance piece. We've done 5 weeks of Joan of Arc regular rock club shows this fall. I just got home yesterday. And I am aware that I internalize certain shortcuts or tricks to keep count. Muscle memory is subconscious and essential — my weight is on my left foot for the 2 and 4 of this song and my hip knocks out on this accent. But the potential promise of a rock show is that everything can blow apart to smithereens at any second. It remains almost constantly on the verge of falling into chaos. Testimonium on the other hand is so controlled. The quiets so drawn out. The blocking so precise. It removes that essential sense of tension and by simply reframing how a band is set up on stage, the entire experience gets broken down to its core components. It's thrilling and perverse while also so simple.
I reposted a great interview with Wangechi Mutu, via Mother Jones:
"The power for me is to keep the story of the female in the center, to keep discussing and talking about women as protagonists," Wangechi Mutu said in a video introduction to A Fantastic Journey, her recent exhibition at Duke University's Nasher Museum of Art. For the casual art fancier who happens upon it, as I did this summer, the exhibition was like embedding in Mutu's mind: Black globes of crumpled plastic hang on strings suspended from the ceiling, a looping video of the artist devouring cake flickers on the floor, and triumphant warrior women occupy magnificent collage landscapes on the walls.
Thinking about the glutinous art market, Thomas Friel reflects on Lady Gaga and Koons:
Koons is in this rare position of being accessible to everyone but only collectable to a small handful of the richest in the world. As Carl Swanson recently stated in Vulture: "Koons can be the art world's great populist artisan, even as he operates as its most exclusive salesman." Everything about the work is right there, so there's nothing to get. It is perfection and simplicity, the kind of thing that mocks you for looking too hard at it. Since critics are trained to look hard at things, they tend to hate Koons. And its boring to write about art just by describing what it looks like, so people tend to write about his career, his collectors, his record breaking prices at the market, his studio and the process of making his work. This only helps to build a persona around the artist, giving him the superstar flair that these major collectors are after. (And with this week's art fair, London's Frieze officially bigger and more bloated than ever, superstars have never been more in vogue.)
Sarah Margolis-Pineo posted a conversation with art documentarians, Half Cut Tea:
A recent trip through LA gave me the opportunity to catch up with Matt Glass and Jordan Wayne Long, the two collaborators behind Half Cut Tea, an ongoing documentary video series featuring emerging artists across the US. Now in its second season, Half Cut Tea has traveled from Boston to Los Angeles and many cities in between, featuring soon-to-be-known artists including Jennifer Catron and Paul Outlaw (New York), Wesley Taylor (Detroit), Beverly Fre$h (Chicago), and Sean Joseph Patrick Carney (Portland). Both Glass and Long have temporarily suspended their individual art making to pursue this collaborative endeavor, which they plan to continue into a third season and beyond. Their motivation is two-fold: firstly, to bring visibility to a generation of younger makers who often are operating outside of traditional art centers; and secondly, to demystify the idea of the professional artist as an unattainable über-genius. Half Cut Tea brings a bit of day-to-day reality to the processes of art making, pursuing artists in their everyday habitats, which, in Glass and Long's experience, can include calcite mines and jumping out of planes in parachutes. According to Long, the project won't end until art making is perceived as an accessible occupation, unencumbered by the exclusivity and mind-numbing static of contemporary art speak.
From the world of performance, Hannah Verrill interviewed Michal Samama. When Verrill asks about the dynamic interplay between audience and peformer, "Would you say that there's a kind of feedback loop in place? A set of information that you receive from your audience by way of their presence, in a specific sense, that comes to influence how you are performing?" Samama replies:
Yes, or you could think of it as a dialogue. It's about questioning this idea of me as the performer being the authority. Or it's also about questioning what is your (the audience's) role here. I started to think more of this idea of performance as a collective event or social event. This is what is unique for performance. It puts into a laboratory this idea of the social event. I do remember one work from a few years ago when this question came up of if I wanted to take my gaze out into the audience or still be in this internal dance-y gaze, and at that point I chose not to. I was too afraid or I didn't know what to do with it. But now it's different, and I've started to make it more and more what I do. I'm interested in this kind of transformation of images happening during the performance. Part of the transformation of course is the homework that I worked on in the studio—the choreography—but of course part of it is like what you're saying, the feedback. So in the end there are many more transformations than what I initially thought of because of the presence of the audience.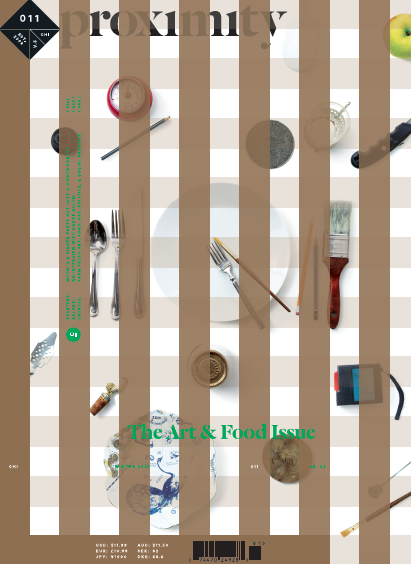 Proximity 11 got 2 shout outs this week — here and here — because we love art magazines. Especially ones dedicated to food.
Jacob Wick reflects on meaning via Juliana Paciulli's recent solo show at Greene Exhibitions, "Are you talking to me?", Andrew Choate's poetry, LA snickers, Ann Hamilton, and Agamben's interpretation of gesture:
It has been important, certainly since the turn of the 20th century, to ask what things – not just art, everything – mean. What does this abstract painting mean? What does this realist short story mean? What does this rock mean? I learned at the Santa Monica police station, from an incredibly chatty technician who gently rolled my finger on the scanner, that the print on my left index finger is of the sort that less than 1% of people have. I asked, laughing, but not really, I felt pretty serious about it – it was my first thought – "what does it mean?" She said, "oh, probably nothing." If I look it up online – I think it was a double loop or a Peacock's eye or maybe a tented arch, I wish I remembered or wrote it down, but I didn't – it might mean that I'm a perfectionist, that I'm indecisive or diplomatic, that I'm independent and inflexible, or that I am "fiery."

The trouble with asking what things mean is that they often mean nothing, and those things that don't mean nothing often could mean many things along a varying scale of possible validity.
To5 5 Shows-to-See by Stephanie Burke!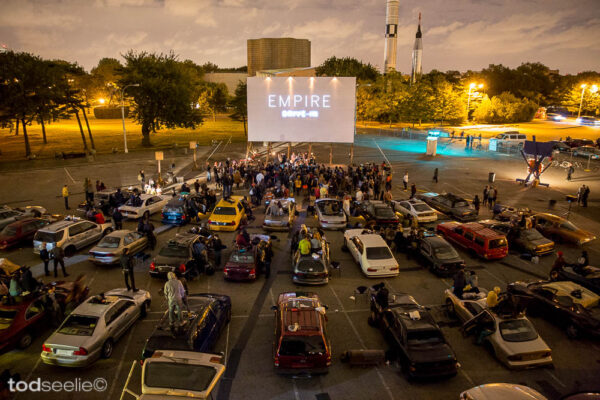 Juliana Driver wrote about the Empire Drive-In (which closes tonight btw):
Empire Drive-In is a full-scale, twelve-night, outdoor cinema and social spectacle. Hosted by the New York Hall of Science, and brilliantly programmed and designed by artists Todd Chandler and Jeff Stark, this project is an ambitious statement on upcycling and participatory culture seen through the defunct theater of suburban drive-in entertainment.

On the surface, Empire Drive-In has plenty of nostalgic charm, but it doesn't take long to see how the project redirects retro sentimentality into much more nuanced conditions of creative re-use. Made entirely from re-animated waste, including cast-off lumber and 60 wrecked cars salvaged from a Brooklyn scrapyard, the project's junk aesthetic offers up a critical interrogation of our culture's throw-away mentality, and the tremendous value that can be recaptured with artistic reconsideration and a little bit of elbow grease. Chandler and Stark offered their impressions this conceptual overtone:

Never fear, Saturday's endless opportunities are here.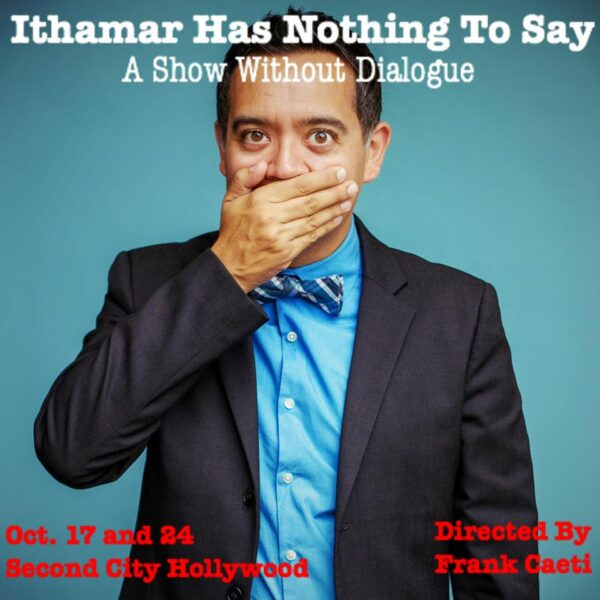 Sunday closed out with reflections on LA's comedy scene; Adrienne Harris wrote about two new productions, The Virginia Slims' Ronnie and Lorraine's Last Reunion Show IV, and Ithamar Enriquez's Ithamar has Nothing to Say. Conclusion?
…I've had to accept that L.A. is not just a film town where people like me are churning out gritty independent drug movies and big budget space films, but there are also tons of people making thoughtful committed comedy shows as well. This is probably not a surprise to anyone else, I mean, Andy Dick came out of The Second City Hollywood so… But for me, I feel lucky to have found some comedy to balance out the darkness of my Breaking Bad addiction.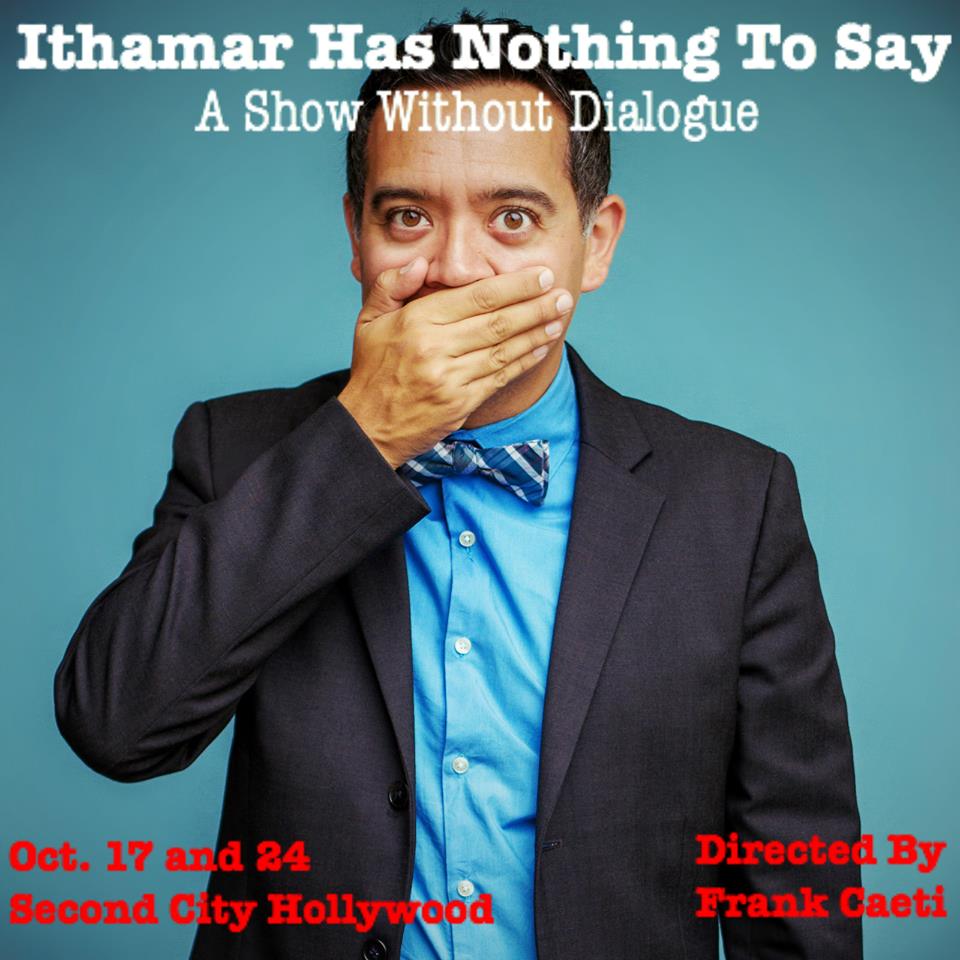 Ever heard of the The Second City ? Of course you have. This is a Chicago based arts and culture website, and Second City is "The" comedy theatre in Chicago, right? The Second City Chicago has turned out such comedy greats as Alan Arkin, Fred Willard, Tina Fey, Amy Poehler and Steven Colbert to name as small group. The Second City opened its doors in Chicago in December of 1959 as a small cabaret theatre. As the success of the Chicago company grew, it gave birth to off shoot companies and comedy schools in Toronto (John Candy, Dave Thomas, Catherine O'Hara and Martin Short  are all alumni as well), Los Angeles, and touring cast and a TV show called SCTV.
But I don't live in Chicago, I live in Los Angeles, and I am not a part of the comedy world. I watch Saturday Night Live (full of Second City alumnus), and I watch Arrested Development and 30 Rock on loop with my Appletv, but I have never been well versed in the art of sketch, stand-up and improvisational comedy. I work in film. Dark, gritty, independent film where people drink, cry and fight and have irresponsible sex with inappropriate partners…(I'm talking about the characters in my films, not the people in my real life…I swear.) However, recently I've had several friends who have very real interests and talents in comedy and so I've found myself at the Second City Hollywood theatre quite a few times in the last couple of years. This past month I saw two shows by which I was extremely impressed. And not just because the performers are my friends, but also because comedy is HARD and they are working HARD at it and their work pays off for the audience in a big way.
The Second City offers classes for performers from everything to beginners improvisation comedy, to sketch comedy, to comedy tv writing at various stages. I've attended several comedy tv pilot readings and, as a writer myself, am always impressed that people sat down and wrote a show. A whole episode of a show that they invented. They thought of characters, and jokes and silly scenarios that are sometimes totally relatable and sometimes absolutely ridiculous, but hopefully funny enough to make the audience laugh. Sometimes the pilots work, and sometimes they don't. As I mentioned, comedy is hard. At least, it seems hard to me. I've also watched a lot of improv comedy groups. I've learned that there are rules to improv comedy. Always say "Yes" to your improv teammate. Meaning, if your teammate says "hey, you're a cow" then you must say "yes, I'm a cow" and then play the part of a cow for the rest of the sketch. That is the best way to create a cohesive, smooth and funny scene. I've seen this work, and I've seen this implode (usually when the teammate says "I'm not a cow, I'm Matt Damon.") It seems to me that comedy is about commitment to a moment and a character, even if it is isn't the character that you would have wished to have to commit to.
Recently, I've sat in the audience for more sketch comedy. In the last couple of weeks I've seen two very different sketch shows that were all about commitment to character. The first was from a group called The Virgina Slims. They are a duo of performers who, in this show, played the roles of a duo of performers. Ha! The show is called Ronnie and Lorraine's Last Reunion Show IV. A high quality mock TV preview that played as the shows opening told the audience that Ronnie and Lorraine were once the America's Sweethearts of comedy couples (Think Lucy and Dessie or Donnie and Marie (but married)) In their heyday they had comedy specials and musical albums and toured around the world. But drugs, scandal, and divorce drove them apart, but now they are back for a reunion show! Then for the next 50 minutes or so the Virgina Slims (Laura Eichhorn and Pepper Berry) performed comic sketches and songs as Ronnie and Lorraine playing their old characters. It was very Shakespearean…the play within the play and all that. The sketches were swift and funny. Clever and physical. In between the sketches the characters of Ronnie and Lorraine talked directly to the audience about themselves, their struggling careers and occasionally their obviously strained relationship. The actors (Berry and Eichhorn) stayed very committed to their characters both in and out of the sketches, and that's why the show worked so well. These characters were silly and unglamorous but highly relatable. They wore gaudy 1970's outfits and wigs but so naturally that we as the audience were never distracted by them. At one point Eichhorn's Lorraine sang a dark, serious power ballad about hitting a deer with her car (if I remember correctly) while Berry's Ronnie popped up over and over behind her with different rhythm instruments. Because the performers took the moment so seriously, no winking at the audience, no acknowledgment of the silliness of their wigs and the subject matter of the song, the audience cheered. On the whole, the show was not only a great showcase of the Virgina Slims comedic performance talents, but also of their writing talents, and musical abilities.
The following week I saw a totally different kind of sketch show. Entitled, Ithamar has Nothing to Say, the comedian, Ithamar Enriquez, performed a series of non-verbal sketches to music. It was a mixture of pantomime, scene structure, and interpretive dance all in a one-man show (but that description doesn't do the performance justice.) The show opened by Enriquez (really in his 30's) as a crotchety old man with a cane shuffling on stage, taking out his teeth (pantomime, of course) and turning on a scratchy old record. Then as the old man fell asleep, Enriquez acted out the characters from the old man's dreams, depending on what song played from the record player (this is my interpretation.) Over the course of the next 30 minutes Enriquez silently became a sexy, elegant female prostitute and several of her drunk Johns, a trio of jazz lovers who can't help but dance when they listen to music, a Mexican wrestler who enthusiastically wrestles (and pins) a soft red blanket, and a hapless magician who you can't help but route for. In one sketch, he used a very weird half monkey/half man puppet to create an uncomfortable run in at a bus stop (we've all had those, if not with a half monkey man puppet) which showcased that this performer has puppetry skills as well. The show was light-hearted and hilarious and even sentimental at times. In the final sketch of his show, the Old Man returns and plays out the entire meeting, courtship, and marriage of he and his wife (the wife being played by the cane,) ending with the two, now old with grown children, relaxing together listening to the scratchy record player. It brought tears to my eyes, both of laughter and of emotion. The show was charming, and hilarious and (other than the creepy masturbating monkey man) completely family friendly. I think my parents would have loved it! I think Enriquez's parents would love it! I do know Ithamar Enriquez personally, and I always knew he was a talented comedian. He works a lot in the industry, in commercials, and TV including Arrested Development, Key and Peele, and The League to name a few recent appearances, and he is high enough in the company at The Second City that he is one of their staff members and teachers as well as a performer, but I thought this silent show showcased  talents I hadn't really considered. It harkened back to the brilliance of Charlie Chapman and the silent clowns at the circus (minus the pies in the face and the creepy make-up.) It was his commitment to each character that made you watch, believe, enjoy and most importantly…laugh!
So, The Second City Hollywood may not have the same long standing reputation for great comedy as its forefather The Second City Chicago, but it is in fact churning out great new comics all the time. So, I've had to accept that L.A. is not just a film town where people like me are churning out gritty independent drug movies and big budget space films, but there are also tons of people making thoughtful committed comedy shows as well. This is probably not a surprise to anyone else, I mean, Andy Dick came out of The Second City Hollywood so… But for me, I feel lucky to have found some comedy to balance out the darkness of my Breaking Bad addiction.
For more info on the Virgina Slims check out their Facebook page and follow them on twitter at @VSimprov and follow Ithamar Enriquez at @IthamarEnriquez and check out his website at www.Ithamarenriquez.com.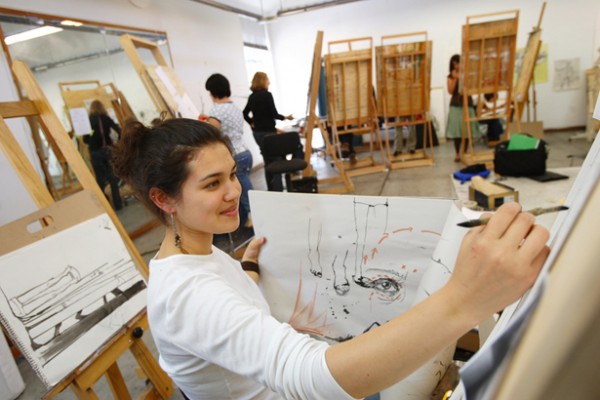 1. Mills College is looking for an Assistant Professor of Painting and Drawing. Review of applications will begin October 30, 2013, and will continue until the position is filled.
The Department of Art and Art History at Mills College seeks a full-time, tenure-track Assistant Professor of Painting and Drawing to teach graduate and undergraduate level courses. An MFA degree or equivalent is required. Candidates must be practicing artists with strong exhibition records, capable of conceptual criticism in all mediums including painting, sculpture, photography, video, intermedia, and new genres. They must be dedicated teachers and mentors at both the undergraduate and graduate levels. Teaching will include undergraduate studio courses; therefore candidates must demonstrate proficiency in the technical as well as theoretical and historical aspects of their fields. Full-time faculty must also advise students, participate in curriculum development, and serve on department and college committees. To apply, please go to mills.interviewexchange.com. About Mills College
Mills College is located in the San Francisco Bay Area on 135 beautiful acres in the foothills of Oakland, California. Additional information about Mills College can be obtained on our website at www.mills.edu.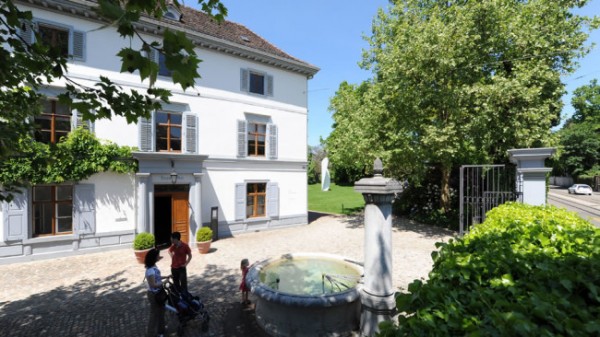 2. RU & GALAPAGOS: NATURAL SELECTION – 6 MONTH RESIDENCY FOR NYC ARTISTS IN SWITZERLAND (DEADLINE: OCT 21ST, 2013). 
RU and Galapagos has partnered with IAAB, the International Exchange and Studio Program of the Canton of Basel, Switzerland, to each year offer an artist from New York City the opportunity to spend six months near Basel, in the Swiss countryside town of Riehen. In turn, RU supports a Swiss artist in NYC for 6 months. The studio is situated in one of the old estate buildings on the "Berowergut", just next door to the Beyeler Foundation. When the barns located on the "Berowergut" have been renovated and the Kunst Raum Riehen has been installed, the old coach house at the back was converted into a two-storey live-in studio. The residency program is generously financed by private and public sponsors. The iaab offers a 700 square foot working and living space from January 1st to June 30th 2014, an allowance of $1,200 per month while in Switzerland to cover day to day living costs and a plane ticket to Switzerland with return to New York. In Switzerland the artist will also receive a 'half tarif' public transport card for all public transportation in Switzerland…and lots of chocolate! More info about iaab: www.iaab.ch

3.Chicago Alternative Comics Expo (CAKE) 2014 is now accepting exhibitor applications; the application process will close on 11: 59 P.M. CST on December 15, 2013
Starting Tuesday, October 15th, CAKE will be accepting artist's exhibitor applications for the 3rd Annual Chicago Alternative Comics Expo.  The event is a unique opportunity for artist exhibitor's to showcase and sell their art and last year's event hosted over 200 exhibiting artists, attracted over 2,000 attendees and featured award-winning comics guests such as Chris Ware and Phoebe Gloeckner. CAKE's 2014 event will take place on Saturday, May 31st and Sunday, June 1st at the Center on Halsted, 3656 N. Halsted Avenue. Confirmed special guests include Mexican cartoonist Inés Estrada and Chicago native Anya Davidson, with more announcements to come. All applications will be reviewed by a jury and applicants will be notified of the jury's results by January 20th via email. A guide to the 2014 Exhibitor Application process can be found here: http://www.cakechicago.com/2809/a-guide-to-our-2014-exhibitor-application/

4. High Concept Laboratories announces THE LIVING LOOP PERFORMING ARTS FESTIVAL APPLICATION:
We are accepting applications for performers and performances wishing to be considered for participation in a new festival to take place in the Loop, in the Summer of 2014. A $500 stipend and extensive visibility will be provided each of the 12 participating performances. The mission of the festival, presented by Chicago Loop Alliance and High Concept Laboratories,  is to showcase Chicago's diverse performing arts community in the heart of the city. The event will showcase a dynamic series of weekly performances in site-specific locations throughout the Loop. We're looking for exemplary performers and performances to participate in this one-of-a-kind inaugural festival, featuring one performance each week for a total of twelve weeks June-August 2014. Visit the website for more information. The deadline for submissions is January 1st, 2014.

5. Call for writing via Gaga Stigmata:
After nearly four years of intensive critical-creative output and interaction with popular culture, Gaga Stigmata, in its current journal incarnation, will be coming to an end at the strike of midnight on January 1, 2014.

In these final months, we are requesting submissions in the following three veins:

(1) Any new essays on Lady Gaga's ARTPOP era
(2) New essays on any pop cultural phenomenon that manifests what we call a "stigmata effect" – that is, the blurring of lines between superstar and fan, between high and low art, between art and interpretation, between the "original" and the "copy." In particular, we are interested in essays about about Miley Cyrus, Kanye West, Jay-Z, Ke$ha, Lana Del Rey, and Katy Perry, but you are not in any way limited by this list.
Additionally, we are also seeking essays that explore new pop cultural phenomena such as the aesthetics of new media forms (e.g. Twitter, Tumblr, YouTubers, .gifs, Vines, Instagrams, etc.)
We are also interested in essays that explore manifestations of the stigmata-esque intersection of the "art world" and the "pop world" in contemporary culture.
(3)Â Any essays about Lady Gaga that have previously been published elsewhere. (We would like to create a one-stop on-live archive of the best Lady Gaga scholarship and creative criticism ever published; we will of course give credit to the original source of publication).
You are welcome to write traditional essays, and/or to use a creative-critical format for your work. Youtube videos, photoshopped images, memes, and .gifs can all feature in your work. You are also welcome to submit more than one piece during this final incarnation of the journal, after which the journal aspect of the project will move into an archival stage. More info here.

6. If you're curious about how futures trade, check out Pocket-Guide-to-Hell's latest reenactment at The Chicago Board of Trade on Sunday, October 20th at 3pm:
THE PIT is a free and fun site-specific performance that uses costumes, props, music-and you-to tell the story of commodities trading and the futures markets in Chicago. THE PIT combines a scene from Frank Norris's 1903 novel The Pit, about an attempt to corner the wheat market, with the form of a sports event, an idea from Bertolt Brecht. Play-by-play announcer Alex Keefe (WBEZ) and color commentators Tim Samuelson (City of Chicago cultural historian) and Mike Gorham (economist at IIT) narrate the frenzied trading in the PIT. Reporter Niala Boodhoo (WBEZ) interviews traders and members of the public alike as the corner in wheat collapses. With marching band music by Justin Amolsch and concession-based commodities by Maggie Hennessy. And the national anthem sung by L. Wyatt. And 1890s commodities traders played by volunteers from SlowFood Chicago, Northwestern University Press, Paddy Long's, Public Media Institute, Civic Lab, Archeworks, MAKE magazine, the Hideout, and Architecture for Humanity. The PIT is part of the Chicago Architecture Foundation Open House event and has been co-planned by Ingrid Gladys Haftel. More on that here.
7. Speaking of reenactments — consider Town Bloody Hall: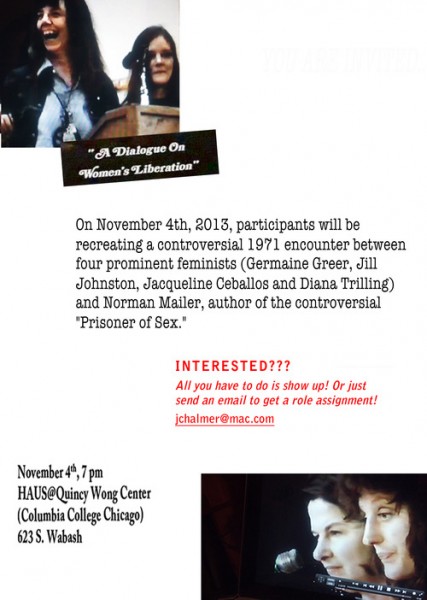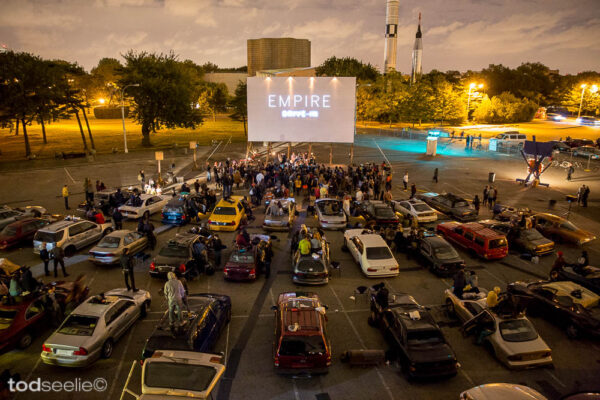 Photo: Tod Seelie
Empire Drive-In is a full-scale, twelve-night, outdoor cinema and social spectacle. Hosted by the New York Hall of Science, and brilliantly programmed and designed by artists Todd Chandler and Jeff Stark, this project is an ambitious statement on upcycling and participatory culture seen through the defunct theater of suburban drive-in entertainment.
On the surface, Empire Drive-In has plenty of nostalgic charm, but it doesn't take long to see how the project redirects retro sentimentality into much more nuanced conditions of creative re-use. Made entirely from re-animated waste, including cast-off lumber and 60 wrecked cars salvaged from a Brooklyn scrapyard, the project's junk aesthetic offers up a critical interrogation of our culture's throw-away mentality, and the tremendous value that can be recaptured with artistic reconsideration and a little bit of elbow grease. Chandler and Stark offered their impressions this conceptual overtone:
"One of the things that we're saying, or that we're trying to get at, is that this kind of place – a place that is built by hands and is brought alive by living artists and performers – offers a type of critical alternative to the safety of theme park nostalgia. […] People love nostalgia. A lot of us have an almost emotional attachment to the romantic idea of a drive-in theater. So we use that as kind of a set-up. People come to Empire with that romantic idea, and what they experience is on some level quite different: It's a bunch of dirty old cars in a parking lot. We're not trying to trick people, but we are deliberately looking for a little nuance – a little questioning."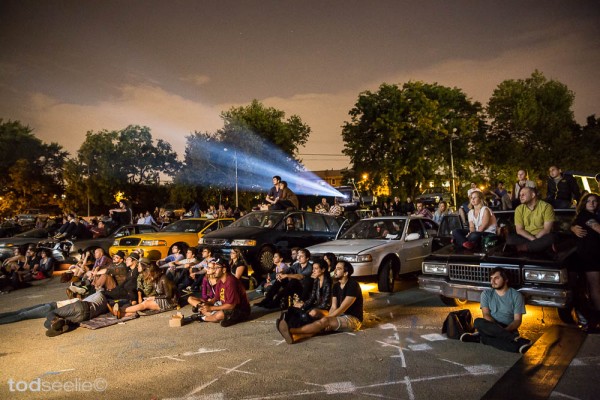 Photo: Tod Seelie
The creation of public and private space is another big picture idea that plays into the experience of Empire Drive-In. Sitting an early aughts BMW on the evening of my visit, I found traces of the previous owners scattered around the car, purposefully left behind by the artists. A wallet-size studio portrait of two young children and an ATM receipt with a balance for little more than $9.00 created a humanizing and intimate fantasy of these earlier occupants. The private narrative unfolding in the car was met on the other end with the larger, public narrative taking place outside, as people moved around, socialized, bought popcorn from the snack bar, and lounged on the hoods and roofs of cars. This division between public and private has always been part of the haphazard choreography of the drive-in theater, though here these narratives feel more direct and curated for personal discovery.
In addition to the social concepts it tackles, let's not forget that Empire is essentially a series of film screenings; a program that is thematic, collaborative, and diverse – including a Bollywood Bash, Jim Jarmusch's Night on Earth (1991), and silent films. I attended the Teenage Wasteland double feature, with screenings of Over the Edge (1979) and Suburbia (1983), both about the uprising of white youth in the face of oppressive and alienating suburban communities; a rebellious delight. The films were preceded by a presentation of Stephen Mallon's impressive documentary photographs of scrapped subway cars in the process of becoming artificial underwater reefs, tying into the space's larger theme of industrial re-use – though hanging somewhat awkwardly in relation to the rest of the evening's programming. RVIVR, an energetic punk foursome from Olympia, WA played a set during intermission, giving the crowd another opportunity to gather before heading back to our cars.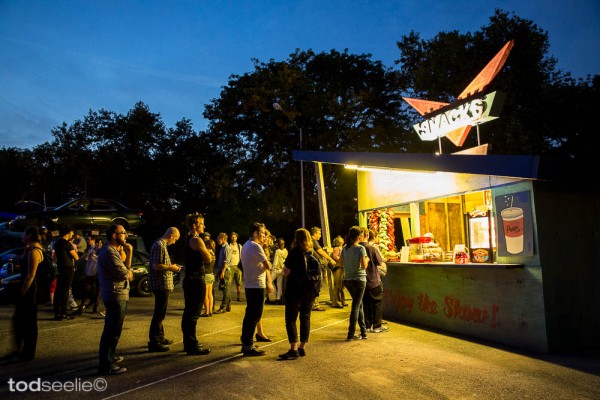 Photo: Tod Seelie
While participation plays heavily into the artists' thinking about this work – as it also does with Stark's other "unauthorized" events in which complicity is an unambiguous, horizontal requirement – true, active participation at Empire feels optional. Interaction is certainly encouraged here, but some may simply go for a controlled, car-bound experience. "There's been a lot of talk about the tyranny of participation, and yet it's true that Claire Bishop and a lot of ideas about social practice have influenced some of our thoughts about Empire Drive-In," remarked Chandler and Stark.
"What we're after is a space that compels participation in the face of spectacle – one that allows for both at the same time. We're hoping for an almost a civic impulse. But at the same time, we would never force people to join in a Bollywood dance lesson, or demand someone to climb up on top of a car. We talk a lot about the distinction between public and private space at Empire, and about how the drive-in is an American institution that allows for both. We often celebrate the public aspect, and work on encouraging it, but private space is important too."
There are several big, concurrent messages at Empire Drive-In. Perhaps this is an effect of it being a multivalent product of many collaborators, or perhaps it's a resistance of reductive categorization. One thing is for sure: if all art-going experiences were this inclusive, a wider public might start to recognize themselves in the visual culture that represents them. Museums take note.
Empire Drive-In at the New York Hall of Science closes on Sunday, October 20.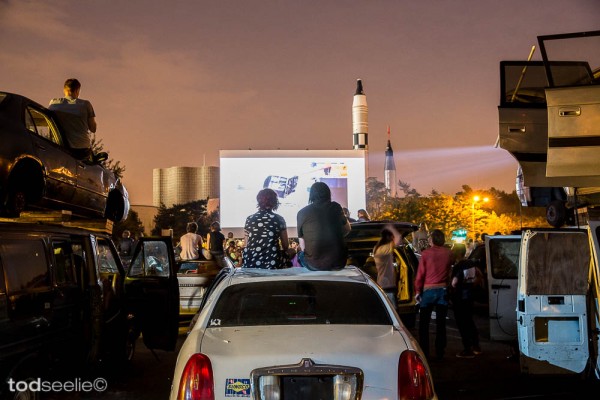 Photo: Tod Seelie