1. Chicago Printmakers! Check it out:Anchor Graphics Artist in Residency at Columbia College * Completed entries must be received by September 28, 2013 * Notice of acceptance will be emailed by November 4, 2013. * The residency dates will be scheduled by arrangement
Anchor Graphics is offering 9 three-week residencies this Fall/Winter/Spring from December, 2013 though August 31, 2014. The residency is intended to provide time and facilities for an artist to work on a specific project. This residency is directed towards emerging or mid-career artists proficient in print-media. The selected artist will be provided with shop time, space and some resources to work on projects as articulated in their proposal.  More info here.

2. Want to write for an LA art mag? Deadline for submissions: September 3, 2013. Publication date: Fall/Winter 2013 
VIA Publication is now accepting submissions for Issue 02. We are open to many forms of content: essays, photography and text, interviews, reviews, and bodies of work. We ask that all written submissions relate to contemporary art, music, and food culture in or around Los Angeles.  Please submit a 500 word proposal, supporting images and a writing sample to info@viapublication.com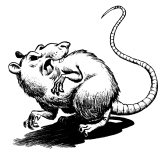 3. And another writing call (but you have to send pitches today) submit to Rattle – A Journal at the Convergence of Art and Writing
We are very pleased to now be inviting submissions for our fifth issue of Rattle — A Journal at the Convergence of Art and Writing.  For our fifth issue the submissions guidelines remain the same as previously, and can be found at our website: http://rattlejournal.org.uk/submissions/ Rattle is a journal of art, writing and thought. Submissions may include, but are by no means limited to, theoretical and critical writing, page-based artworks and projects, reviews, fictions and poetry. We are actively seeking innovative approaches to working on the page. Interesting and unusual submissions are encouraged regardless of their form or subject. In the true spirit of Rattle, we particularly encourage submissions of collaborative work, projects in series and pieces which develop innovative ways of bringing image and text together. Guidelines and past issues here.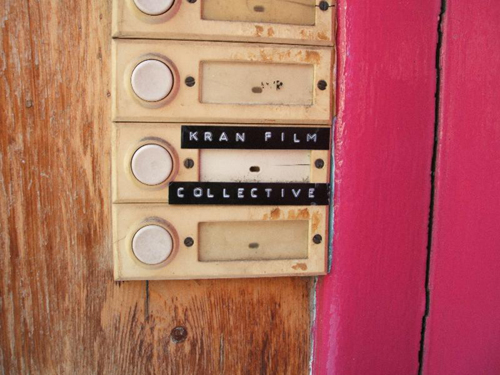 4. KRANFilm Resident: OPEN CALL for curators and researchers in video and film art. Deadlines 10th September 2013, and 24th September 2013.

In October and November 2013, KRAN Film is organising in Brussels two residencies for cultural operators, with a particular interest in independent, non-commercial video art and art films. During the period of 10 days, each resident will have the opportunity to visit Flemish film and video archives (Argos, VAF, Cinematek, Plus-tot te laat, Cinema Nova, Auguste Orts, 68septante, Kran Film); meet Flemish film makers and film professionals; deliver a lecture, debate or presentation at the RITS School of Arts; and present a screening programme at Beursschouwburg. In total, two residents will be selected – one for the October and another for the November residency. The residency offers travel costs to Brussels (return ticket – limited amount), accommodation, per diems, fee and a small budget for screening rights costs. check it out here.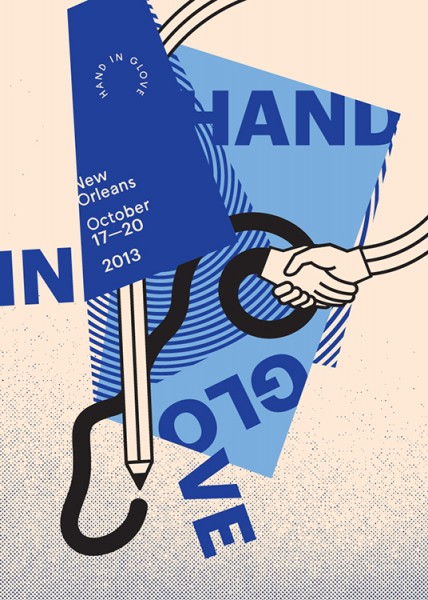 5. Registration has begun for the Hand-in-Glove 2013 Conference in New Orleans hand-in-glove.org
Press Street is proud to be the host organization for Hand-In-Glove 2013, a national conference for independent visual arts organizers working at the crossroads of creative administration and studio practice. Hand-in-Glove 2013 will take place in New Orleans Thursday, October 17 through Sunday, October 20, 2013. Hand-In Glove is an itinerant conference started in 2011 by ThreeWalls in Chicago, IL for artists and organizers participating in a national dialog on creative activity happening outside of traditional institutions. The conference aims to facilitate supportive and deepening conversations on the pragmatic realities and imaginative possibilities of organizing exhibitions, re-granting programs, publications, residencies, public programs, platforms for projects, and a variety of other programming that challenges traditional formats for the production and reception of art at the grassroots level. The conference welcomes spaces and projects that are self-organized, independent, and noncommercial. It also welcomes organizations that started small but have grown big, retaining the artist-run values and priorities that were a part of their founding. More on that on their website here.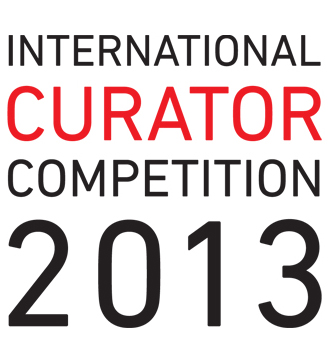 6. Akbank Sanat is pleased to announce the second edition of the International Curator Competition. Curators are invited to submit proposals by September 10, 2013.
Started in 2012, Akbank Sanat International Curator Competition has the goal to provide support for emerging curators, reinforce interest in curatorial practices, and encourage new projects in the field of contemporary art. The winning curator is given opportunities to realize the proposal as an exhibition that will take place in the first half of 2014 at Akbank Art Centre, Istanbul, accompanied by an exhibition catalogue and additional activities. The curatorial fee, the exhibition production, travel expenses of the curator/s and artists, the production of the catalogue and the additional activities will be covered by Akbank Sanat. Details can be found here.
 
Two years after the first iteration of his epic USSA 2012 project opened at threewalls in 2011 in the form of the hyper-conceptual "orphanage project" (after a controversial Bad at Sports podcast about an orphanage the artist had allegedly proposed on the South Side drew confused ire), Zachary Cahill brings the third and final installment of his world to the Smart Museum. USSA has grown up and outward over the years, its hallmark institutions morphing from orphanage to gift shop (the People's Palace Gift Shop at the Cultural Center last summer) and now a riff on a mountain sanatorium. Each iteration has also gotten even more ephemeral, diffuse, and challenging: the Smart Museum show, entitled USSA 2012: Wellness Center: Idyllic—affair of the heart, consists of a banner declaring "A Sea of Wellness," a number of watercolor paintings scattered in offices around the museum, and both analog and digital postcards from the Wellness Center. (There's also some heart-wrenching confessional poetry and estranging emoji, among other digital objects, on the show's website.) For Smart Curator Sarah Mendelsohn, the challenging evasiveness of the show, and Cahill's world, is part of the pleasure: "The difficulty of locating the USSA is part of what makes the conversation around this work so enjoyable," she reasons.
This kind of logic is certainly in line with Cahill's larger themes. USSA 2012 has taken on vast aesthetic, political, and increasingly personal topics for the artist over the years, and this latest iteration is no exception, with references to different kinds of modernisms within the history of painting, Thomas Mann, and the relationship between wellness and art, within his ever-present wide-ranging institutional and cultural critiques. I spoke with Cahill over email after the show's soft opening last week. (nb all strikethrough text is intentional)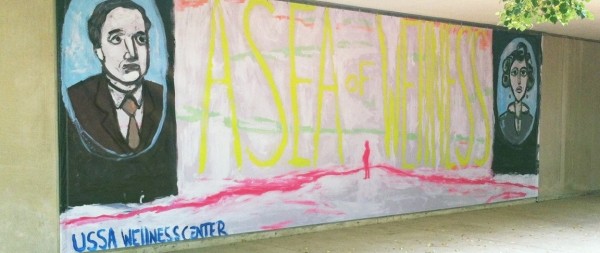 Idyllic—affair of the heart banner
MW: Can you write an introduction to an imaginary travel guide for USSA? The culture, the people, the flags, the scenery depicted in the postcards, the social institutions, the art, the vibe… Is it an Olympic village? Cosmopolitan (as I imagine sanatoriums to be, as the art world is?)
ZC: ok here goes:
Sochi 2014 Cultural Olympiad
2013 – The Year of the Museum
USSA 2012:Wellness Center
The fourth year of the Sochi 2014 Cultural Olympiad USSA 2012:Wellness Center is devoted to museums. As always, the organizers of the first Winter Games in the history of Russia USSA will present the public with hundreds of the best cultural events. They include dozens of exhibitions, shows, competitions, festivals, and special exhibitions, as well as forums, workshops and educational programs that will be held throughout the country.
The Sochi 2014 Cultural Olympiad Wellness Center is a unique project by the organizers of the USSA 2012, offering the best cultural events in the country. In 2014, visitors to the Olympic host city will not only be able to evaluate the sporting competitions, but also Russia's the USSA's cultural diversity at dozens of performance venues located in Sochi and Krasnaya Polyana. Therefore, since 2010, the Sochi 2014 Organizing Committee, along with dozens of regions throughout the country, has been carefully selecting the best of Russian USSA culture. Between 2010 and 2014, thousands of diverse cultural events have and will be taking place throughout the entire country. Each year, the Cultural Olympiad is dedicated to a different art form: 2010 was the Year of the Cinema, 2011 the Year of the Theater The Orphanage Project, 2012 the Year of Music The People's Palace's Gift Shop, and 2013 is the Year of the Museum/Wellness Center 2014.
The national scale of the project will make it possible to involve every resident of the country in this grand celebration of music wellness, maintaining and increasing the cultural riches of our country. All of the events of the Cultural Olympiad can be followed on www.culture.sochi2014.com ,
http://smartmuseum.uchicago.edu/exhibitions/zachary-cahill-ussa-2012-wellness-center/
That's kind of what I imagine it would sound like, but maybe written in the style of Thomas Mann (who is something of a spiritual grandfather to the wellness center-his book The Magic Mountain is especially important)…The artist Susan Hiller I think once said about her project From the Freud Museum…something like, "I think we all live inside the Freud Museum, metaphorically."..not meaning (obviously) that we live inside her installation but i think something along the lines that today we all are are living in and through the influence of Sigmund Freud and the life of the unconscious…possibly the Wellness Center is a bit like that…it's not something I made exactly…it's just something we all are living in…wellness as a perfume-y like presence that can't be nailed down to any one specific location…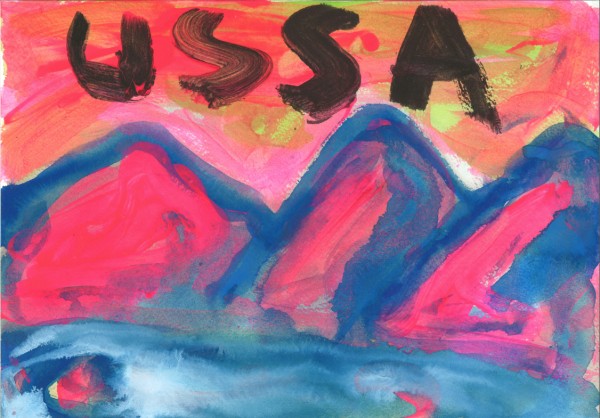 Wellness Center watercolor 13
MW: What do you think of USSA as a kind of "worlding"? What is its ontological status?
ZC: I am sure that is probably right but I feel like maybe the USSA isn't so much a form of "worlding" but rather marks the condition of being world-ed…moving in and by forces that are in many respects beyond our control…maybe the difference is negligible … I guess I'd say for me that the project…the totality of the USSA 2012 is really ontologically unstable and that's kind of the point…it's not that I am looking to create fiction….or create an alternate universe or what have you… it flickers…my understanding is that these alternate universes are what we all create and inhabit everyday…we can't stop doing it…even the most so-called unimaginative person is a hardcore world-builder and imagineer…they maybe even the best at it… seeing as it's their boring hum-drum world that we (for lack of a more credible option) seem to buy into and slog through most often….I guess everyone is worlding…so many worlds colliding…
MW: The project has reached the end of its lifespan–Â the orphanage story, childhood to adulthood, and now (after) the end. It's also getting arguably more conceptually challenging as well as seemingly more personal. Is it getting more permeable with the real world for you? Where do you leave the world?
ZC: I always hoped that the USSA 2012 project would have something like a life span that could be mapped onto the different iterations…youth (the orphanage project)…middle age (the gift shop) and old age (wellness center)…and maybe..who knows …an afterlife?
Yes, it is getting more overtly personal in a sense… and these different life phases are meant to reflect a kind of growth through time…
MW: Re: getting personal: is the painting genre as personal a genre for you here as the confessional poetry? What kinds of approaches do you take to both?
ZC: I think so…in each instance [painting and writing] for the Wellness Center Project I try to be as honest and forthcoming as I can…Still, the confessional poetry piece is difficult for me to talk about…I wrote it…It's out in the world and that's about all I can manage to comment on at this times….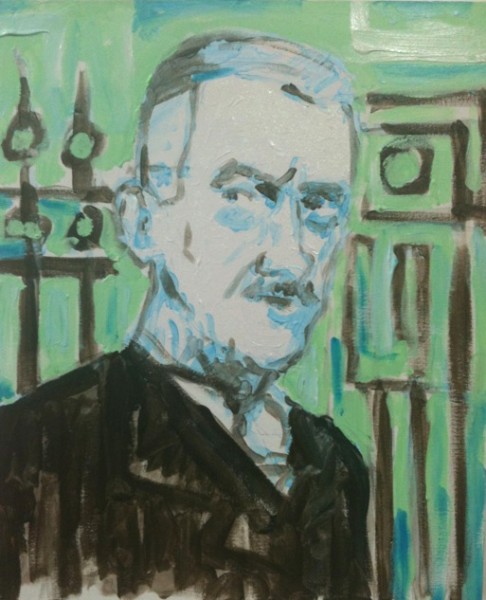 Iridescent Mann
Some of the paintings work this way too…but I suppose different modes of working are put to use for different parts of the project…so for example, with some paintings I try to imagine what the wellness center patients would make…what kind of paintings they would do as guests at an early 20th century European sanatorium…Of course, the imaginary is pretty close to the real in these efforts…I think the choice
of color gets at the personal for me…especially the use of fluorescent…I think if Munch were alive today…he'd probably use a lot of fluorescent paint…is that a way of answering the question?
MW: You have talked about the difference between internal and external experience, which also comes up in the curatorial writing for the show. Those experiences seem to map onto the painterly influences here: the small human figure in an overpowering landscape (Friedrich), the hugeness of subjectivity and interiority in expressionism. I guess this isn't really a question. Here's my question: is this hunch right? How is it more complicated than I suggested?
ZC: The blurring of the internal mind scape and the outside world is definitely an interest…In fact, I am teaching a class on the subject next year [Cahill is a Lecturer & Open Practice Committee Coordinator in the Department of Visual Arts at the University of Chicago]. I have been pretty influenced of late by a book a friend of mine recommended, Modern Painting and the Northern Romantic Tradition, by the art historian Robert Rosenblum, where he describes the psychic economy of painters like Van Gogh, Munch, and many others while tracing a Romantic lineage back to Caspar David Friedrich…It is a fantastic book of art history!…Illuminating sections abound. For instance,I had always wondered what is the opposite of the notorious commonplace "art for art sake"…Rosenblum points out that Van Gogh was interested in art for life's sake…I never heard it formulated so simply and that is something that interests me…
For the banner at the Smart Museum I was thinking about CDF…it is "after him" as they say, or some sort of perversion of his Monk by the Sea painting… which has always held a special place in my artistic heart because it so vividly merges an inscape with the landscape…I am sure you've experienced that feeling when…it's raining and somehow it just suits your mood perfectly and some kind of equilibrium is reached between your mood and your surroundings…that was what one of things I was going for in that painting…and how the psychic landscape might attach itself to the "real world" of human activity too.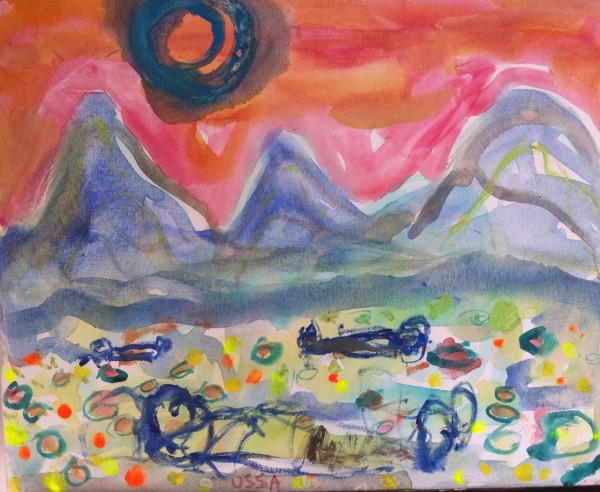 USSA Dreamers
MW: Past iterations of the USSA seemed more explicitly political than this one. How cynical or sincere are you politically in this show? Aesthetically?
ZC: Well I am sincere but I am not sure that matters much…my sense it is of little consequence to viewers whether I am sincere or not…they don't need me to be…that said the politics are there… in other projects of mine the political element has been pretty foregrounded and some might say strident…like nails on a chalk board (or so I hoped)… but this project for me has to do with psychology… a turning inward and trying to a concoct propaganda of the self…like what if your unconscious started to make banners and agitate… a revolution of the psyche…could that be political?
MW: What's with the flowers you've been posting on Facebook?
ZC: Slow to the party…I recently began to grasp the significance of flowers after talking about them with a couple of friends…and I started taking photos and looking closely at them over the summer around my neighborhood and discovered…shocker…flowers are amazing…they do all sorts of crazy things to light to get the colors they do…natural fluorescence…
I started thinking about bees and pollination…and how people use flowers in front of their homes, at weddings, funerals, …rituals…and I concluded that flowers must perform some apotropaic function….like a teddy bear or church gargoyle… they are meant to keep the bad vibes away…
and then I starting thinking of flowers in relation to propagation and propaganda..etymologically tied…and realized flowers are supremely political…so with all the NSA data collection going on I thought…well, if they want to know something about me…let them know that I love flowers..so the flowers on Facebook were a kind of protest but also a kind of advent calendar before the project at the Smart Museum opened.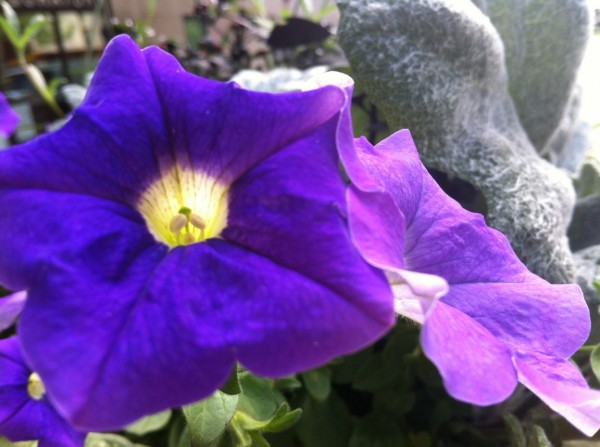 Flowers for Bad at Sports
MW: Art and mourning: these are the two huge driving themes for the show. What is art mourning? You've talked regarding previous USSA projects about economic depression, the way we're all "waiting for recovery," and healing from the trauma of the Bush era. Can art help us mourn? What is mourning?
ZC: I suppose I can only answer for myself here…But speaking in generalities (knowing I am going to say this all wrong and embarrass myself) …I think art is a very fundamental human thing… By that I mean art is a lot like one of the [5] senses…it's a way of apprehending the world around us…now Art clearly gets caught up in all other types of associations like the art market and folks tend to get hung up on that stuff but I think art is just something we do as people…market or not…
Therefore, I guess I'd say art can be an outlet for mourning …or that grief can pour out into your art …just
like it can pour out into any other aspect of your life…art might be a healthy outlet and also a way of sharing the experience…commiserating…when you suffer a major loss in your life you look for ways to cope …perhaps if you're an athlete your pour that energy into competition, or if you're a writer you write, but sometimes the grief can be so overwhelming that none of the things that once made you strong and "together" can fend off the sorrow…so if art fails it's a bit like having another part of your body cave in…but hopefully you find the resources to just hang in there…friends and family are important here and…well… so is therapy.
In terms of a larger geo-political situation that you mention…I do think art can have a similar function, it can help society recover, but it can no more make the world a better place than breathing…or sleeping… basic things humans do…true, when put to good practice things like breathing and sleeping and even art can make an enormous impact on the state of the body politic…that's encouraging and why I am big fan of political art and art that may or may not realize its political efficacy.
MW: People are going to be really confused about this show. At least I still find it ineffable and often difficult to parse symbolically, like a warren of rabbit holes. At lunch the other day you talked about an artist (I forget his name) who loved Apollinaire because his criticism was always wrong. You're interested in misinterpretation. Are you interested in critics getting this show wrong? Is this why so much of this project is oblique: to allow room for misinterpretation? What do you think about calling this show an inhibition instead of an exhibition?
ZC: The quote, if i remember right, was from Georges Braque, whose work I adore…and it's not so much that I am interested in people getting my work wrong or baffling the critics…it's just in some sense people will always get it right …even if I have no idea what they get out of it … my take on the project is simply one view among others…which is to say I am a tad mistrustful of artist's intentions (not that i unreservedly accept other interpretations)…It's just I think we often tell ourselves what the work is about for a whole host of reasons but there is (I think) always this weird secret cause behind the work…maybe it's not always secret exactly, but maybe some artists (myself included) have to look past that secret thing in order to create the work…it's a blind-spot that helps animate the work…this is a good thing…do people instinctually connect with that blind- spot…my guess is that they do…they don't know how or why they feel that blind-spot but when it gets to them if stuff is working right…maybe the rabbit hole analogy is a good one…I guess my work is made for the diggers…people who like to get down into things….and I hope that I create enough spaces for them to tunnel into….because I have that interest….I like being onto something too…
I mean I very much like the direct experience of being in front of an art work, but I enjoy being haunted by art works too…a visceral quality that occurs with the work of some of my favorite artists…they infect me and I can't stop thinking about it…Ideally, I'd like my work to do both: give off an affecting sensation for the viewer and to haunt them after they walk away from it… my work wants to have its cake and eat to….
To your last question…I am very much interested in what I think of as in-hibition, as a kind of balance to the idea of exhibition…perhaps stemming from a sense that we share a fatigue of living in public constantly…and wanting to create work for specific people that might not get seen by the "viewer"…this is why I made works to be displayed in the offices at the Smart…they are on view but just for the people that work there, not the generally audience…it's for the people that live and work at that institution everyday…or: the material posted to the Smart Museum's website, the post cards in the gift shop, the Smart phone performances… in each case I am looking for another type of connection to the viewer that play off one another….
So while i do think the traditional the exhibition setting of the gallery is great and the most efficient format for art— having potential to form something like a commons…which is how I hope the banner functions….I am interested in other ways people might encounter the wellness center too …live with it and in some sense make it their own… in-hibition and exhibition…perhaps it's a type of swinging door
Various exhibition and performance elements of the "USSA 2012: Wellness Center: Idyllic—affair of the heart"  show will take place between now and August of 2014 at the Smart Museum of Art. More information is available on the museum's website. 
Stephanie Cristello published an interview with Richard Holland and Duncan MacKenzie on The Seen recently to talk about Bad at Sports' plans for EXPO, including the upcoming print publication Dana Bassett is spearheading and the various interviews we will be conducting on site at the fair. 

BAD AT SPORTS // INTERVIEW
Duncan MacKenzie and Richard Holland of Bad at Sports are two of the best in town to talk with about art. Known for their witty commentary and contemporary art talk platform Bad at Sports, they are most admired for their weekly podcasts and blog. The three of us sat down to discuss their involvement with EXPO/2013 – the recent venture of a newspaper that will be distributed throughout the fair spearheaded by What's the T? columnist Dana Bassett entitled The EXPO Register, and the live interviews they will be fielding from their booth next to the /Dialogues stage. The lineup for this year's panel is impressive, titled "One-on-One," just one of many sports puns, MacKenzie and Holland will be in conversation with gallerists, directors, and curators, such as Solveig Øvstebø of the Renaissance Society, Elysia Borowy-Reeder of the MOCAD Detroit, and Director Charlie James, as well as artists William Powhida, José Lerma, and Sanford Biggers. While the details of these interviews are kept secret (you will just have to see them in person to find out), our conversation breaches the extent of Bad at Sports coverage at the fair, their plans for the paper, and MacKenzie and Holland's bucket list – like an interview about interviews, or something along those lines.
Stephanie Cristello: Let's start off by talking about some of the things you're doing for the fair. You're working with Dana Bassett to publish a newspaper reporting live?
Duncan MacKenzie: Yes, the newspaper is going to be called The EXPO Register and reflects our collective style – slightly goofy, a touch irreverent, yet fairly straight ahead. The great thing about working with Dana is that she has the same wry sense of humor as us, which will definitely be a part of it, but it will also be a sincere tool for the fair goers.
Richard Holland: At Bad at Sports we are slightly irreverent, but not extensively. We are respectful of our guests – we will make fun of them now and again, but at our core, we are the fan club newsletter. This newspaper will be a different side of that effort.
SC:Â So you will be reporting on trends, how much gossip is there going to be?
DM: 98% trash! No – there will be a chunk of it that's gossip, but it's light.
RH: We're just trying not to get sued, that's why we don't have comments on our site anymore. After the fourth time we got threatened with a lawsuit…
1. Self-Mythology at Roman Susan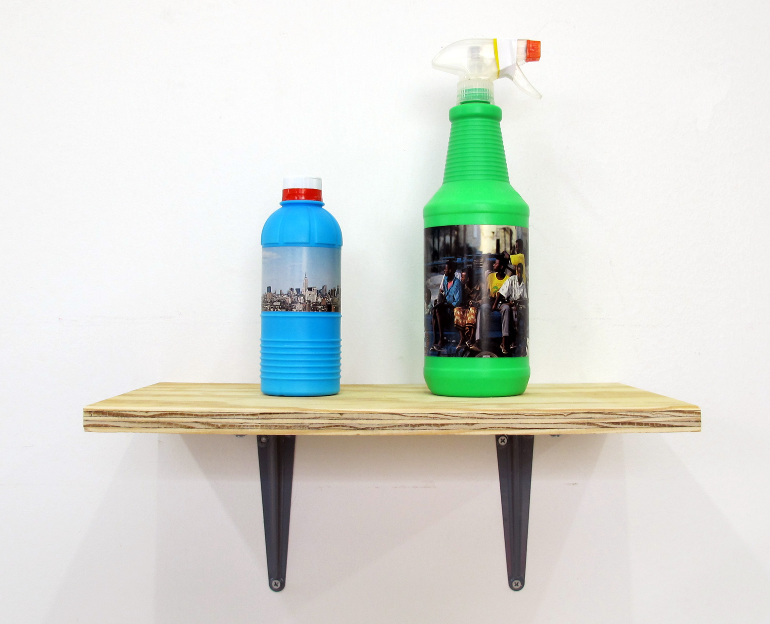 Work by Vincent Troia.
Roman Susan is located at 1224 W. Loyola Ave. Reception Saturday, 7-10pm.
2. Boulevard Dreamers at The Franklin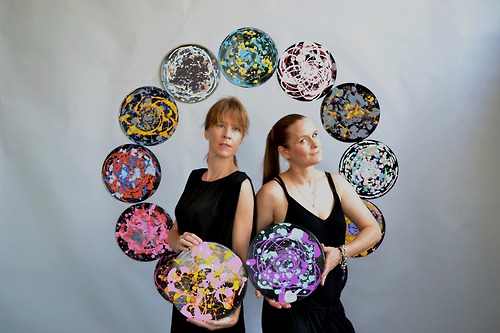 Work by Lise Baggesen and Kirsten Leenaars.
The Franklin is located at 3522 W. Franklin Blvd. Reception Saturday, 6-10pm.
3. #404 Not Found at Co-Prosperity Sphere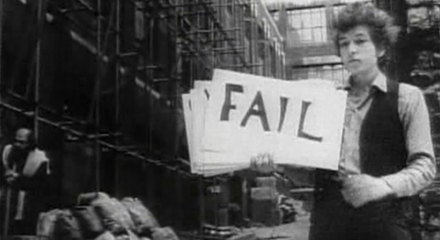 Work by Channel TWo (CH2), Jeff Kolar, Jon Satrom, Rob Ray, Patrick Lichty, Sarah Weis, Christopher Smith, Jake Myers, Amelia Winger-Bearskin, and Emilie Gervais.
Co-Prosperity Sphere is located at 3219 S. Morgan St. Reception Friday, 6-10pm.
4. Your Future Family at The Peanut Gallery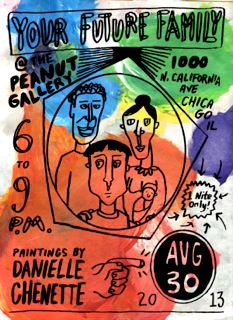 Work by Danielle Chenette.
The Peanut Gallery is located at 1000 N. California Ave. Reception Friday, 6-9pm.
Baltimore-born, and now, New York City-based, artist Chris Stain has been making use of the built environment as his canvas since the 1980s. His work stems from the simple printmaking method of hand-cut stencils, reflecting inner-city and working class themes, and relating closely to his own upbringing in Baltimore. Stain's characteristic large-scale murals evolved out of his practice as a graffiti writer, and stand today as a kind of contemporary nod to WPA-era portraiture, featuring the faces and plights of everyday people in all of their affecting, confrontational realism.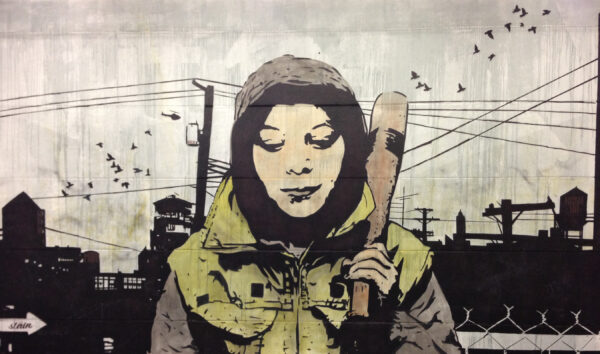 Image courtesy Chris Stain
When did you start writing graffiti? 
I started writing when I was eleven, right after I saw the movie Beat Street and picked up a copy of Subway Art. My first tag was SAVAGE. But it was long and I couldn't get it to flow in the Baltimore handstyle standard that was set by Billy ZEK TST/GS, so one year later I started writing STAIN.
Your work comes together through a characteristic stenciling and projection process. It's very precise work. When you're planning a mural, how much do you plan ahead?
I like to check out the neighborhood first and see what type of demographic is present. To me it's important to take into account who lives there and how they might feel about the mural. Of course you can't please everyone. Based on that information I come up with images that seem to fit. I start out with one or more central figures, then I add elements of urban landscape to tie it together. I have a variety of transparencies that I can experiment with until I get the feel I am looking for.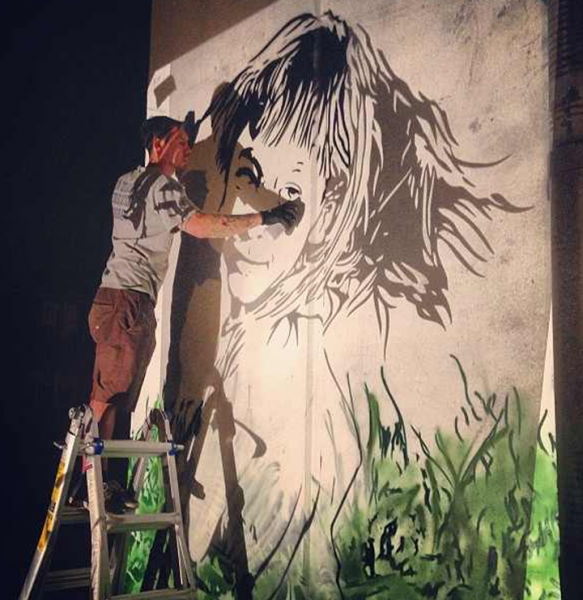 Image courtesy Chris Stain
Because you're using a projector to throw your images onto the site of your work, I assume this means that you can really only work at night. Was this a process you decided on because you prefer to work under the cover of night?
Working with the projector is just quicker for me. I can get an outline up in no time and come back the next day to add color. The older I get the harder it is to stay up all night painting then get up early the next day to fulfill my obligations. The other option is to cut huge stencils out of paper, cardboard, or plastic and paint the mural that way. Its very time consuming for me to work like that and I don't have the freedom that working free hand allows.
You very clearly favor storytelling in your work, often spotlighting culturally disadvantaged, underrepresented individuals and urban landscapes. What is the narrative yarn you're spinning?
In some ways it's biographical, somewhat nostalgic, and in others I feel like the children's book author Ezra Jack Keats just telling stories about inner city kids and common folk.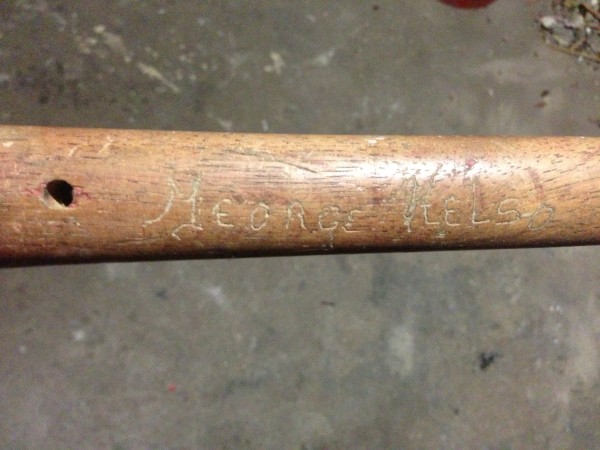 Image courtesy Chris Stain
How do you think about the relationship between image and text?
Together they give the observer more of a complete picture. Coming from a graffiti background I have always had a relationship with letters. In fact I first began to notice letters while spending time with my grandfather as a child. He carved his name, " George Kelso," into all of his tools in script and painted everything red. My mother use to say "If you stand still long enough, Poppie will paint you red."
Many of your murals include portraits. How do you select specific individuals as subjects?
I look for emotions in the person's face that I can relate to. One of my favorites is the boy on the bike. He is just staring out into the distance, sitting on his bike. From the image I get a sense of being on your own looking around for the next adventure; the kind of experiences you have at that age.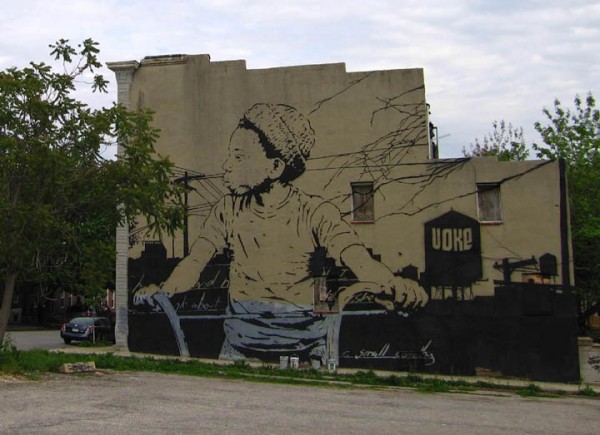 Image courtesy Chris Stain
Are all of your projects done with permission?
Yes. But even with permission and a signed and dated permit in NYC, you will be harassed. At one wall in Brooklyn I actually had the owner with me and the police wouldn't let up.  I was interrupted six times by different officers in one night while working legally. After they saw the permit they prodded me for information just wanting to see if I knew any of the graffiti writers they were looking for.
There's a particular kind of learning that happens through the passing down of knowledge in graffiti crews. You hang around, observe, practice, socialize. It's all part of the process. It's kind of like an urban folk art.
Yes. But that also happens with other art groups right? I am thinking of the Dadaists in particular.
Do you consider yourself self-taught?
As a graffiti artist, yes. I saw it and wanted to learn so I just practiced and practiced. I Hunted down publications, album covers, recorded music videos with the slightest hint of writing, like the Rolling Stones video "Waiting on a Friend" where for a brief second there is a Futura 2000 tag in-between some wheatpasted Stones advertisement. It sounds crazy but it was the creative spark that I was so attracted to that came by way of graffiti for me.  I actually haven't painted any lettering in quite some time. I miss it but there is a certain energy to it that I haven't been able to fully embrace in the past few years and that has held me back.  I learned stenciling as a part of the screen printing process back in high school in '86 or '87. Somewhere around 1998 I recalled that process when I was trying to work more figuratively. At that time I was very inspired by the work of Kathe Kollwitz and wanted to draw like her but I couldn't and didn't have the time to make the effort. Stenciling allowed me to work quickly and accurately while capturing the emotion of the photograph.
And, now you're an art teacher. How do you approach teaching?
I just try to share what I have learned and experienced. Graffiti, despite its negative connotations, was and still is my gateway to a broader world of self-expression and creativity. So in the classroom I first talk about my experience and how that ties into the various avenues of art. If it wasn't for graffiti the majority of the artwork I now appreciate would not make as much sense because I now understand the importance of having enough passion to dedicate so much time, what to speak of your personal freedom, to making art.
This is the second year in a row that you've been to the John Michael Kohler Arts Center through a partnership with the Wooster Collective for The Sheboygan Project. That means the city of Sheboygan now boasts two Chris Stain murals. What was the experience like?
The good folks at the Wooster Collective and The Kohler Arts Center have been very supportive and I have to say thank you again to everyone involved.  The arts center is a gold mine for vernacular art. This year I was given a special tour into their collections. It's one thing to see the work in a book but to see it in person, it radiates the artists mood and emotion much more. So I was blown away by the experience. The work housed in their collection by the likes of Emory Blagden and Eugene Von Bruchenhein, reveal creativity in a very pure form in my opinion. As far as my work there, last year I taught a stencil class and painted a mural. This year some of the people I met prior returned to help out on a large 40 x 20 foot mural on an underpass. It's nice to be able to share work and the process but even better when people take something away from it to the point that they begin the practice themselves.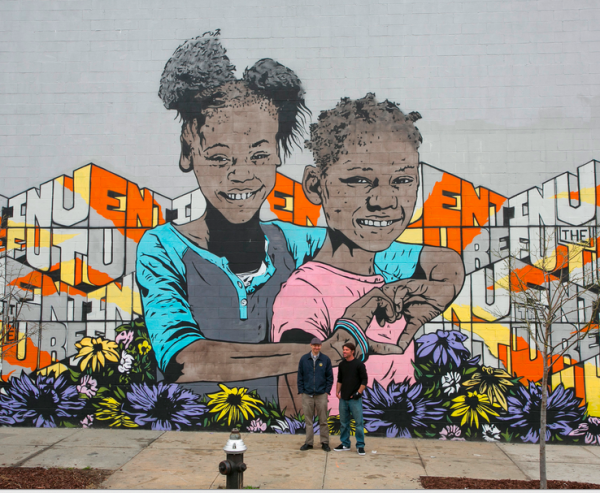 Photo by Caroline Voagen
How have you seen graffiti change since you started in the 80's? Do you differentiate graffiti from what is now being called "street art?"
In one sense it's all art but there are different energies to what is known as "graffiti," mostly lettering based primarily using aerosol paint, and "street art" which runs the gamut of various mediums. As for the letter-based movement, it has changed quite a bit since the 80's. Technically, its reached levels unimagined back then through the help of all the newer spray paints on the market with lower pressure and cap options. The introduction of the internet helped styles develop more rapidly as it was easier to access photos from all over the world, get new ideas, and spark creativity.
Can you talk a bit about the translation of graffiti and street murals into the gallery and museum context. As artists who typically use the street as their canvas move their work indoors, it seems to me that there is a very different kind of relationship to and experience of the work – for both the artist and the audience.
Again it comes down to the energy that goes into it. You can compare it to running. If you go running one morning in the park as your daily exercise it's one type of experience of running. On the other hand if you are being chased and you have to run from danger it's another type of experience of running, with different emotions and intensity. Both involve a need to accomplish the task but the energy and emotion that go into each are slightly different and produce different results.