1. The Forgiveness Beneath the Mountain or Sleep, Repose, and Duration in the Brokenhearted Year at Linda Warren Projects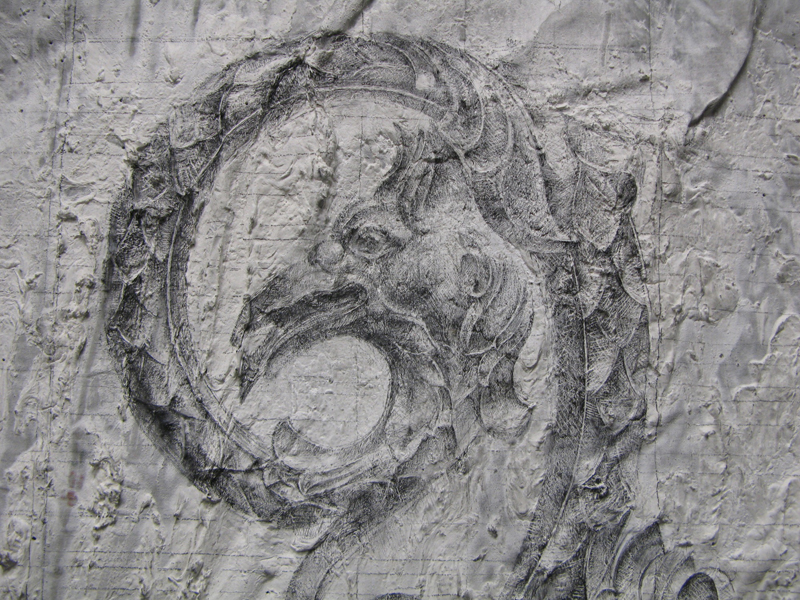 Work by Matthew Woodward.
Linda Warren Projects is located at 327 N. Aberdeen, Ste. 151. Reception Friday, 6-9pm.
2. Slow Fade to Black at Rhona Hoffman Gallery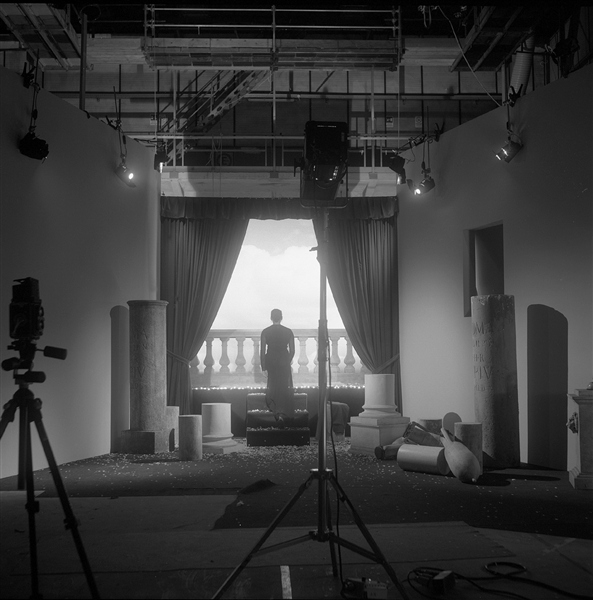 Work by Carrie Mae Weems.
Rhona Hoffman Gallery is located at 118 N. Peoria. Reception Saturday, 2-5pm.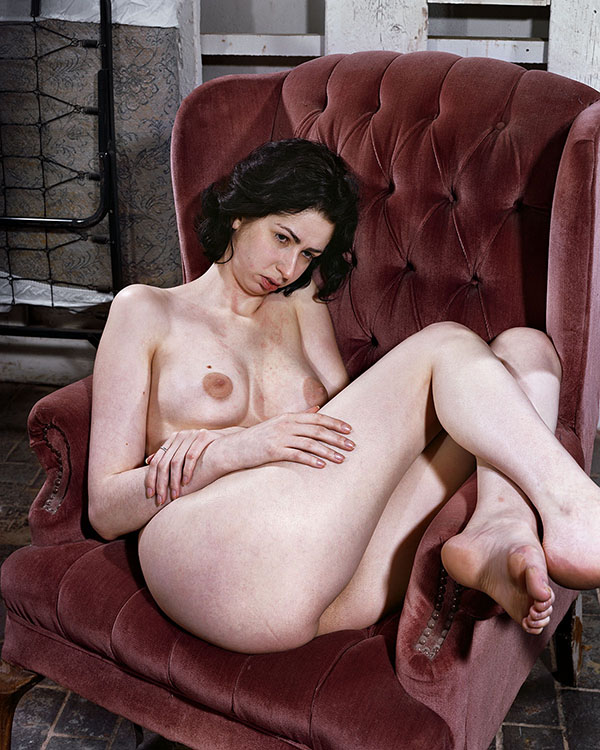 Work by Nick Johnson.
Document is located at 845 W Washington Blvd. 3rd Fl. Reception Friday, 5-8pm.
4. As Close As Near is Far at Adds Donna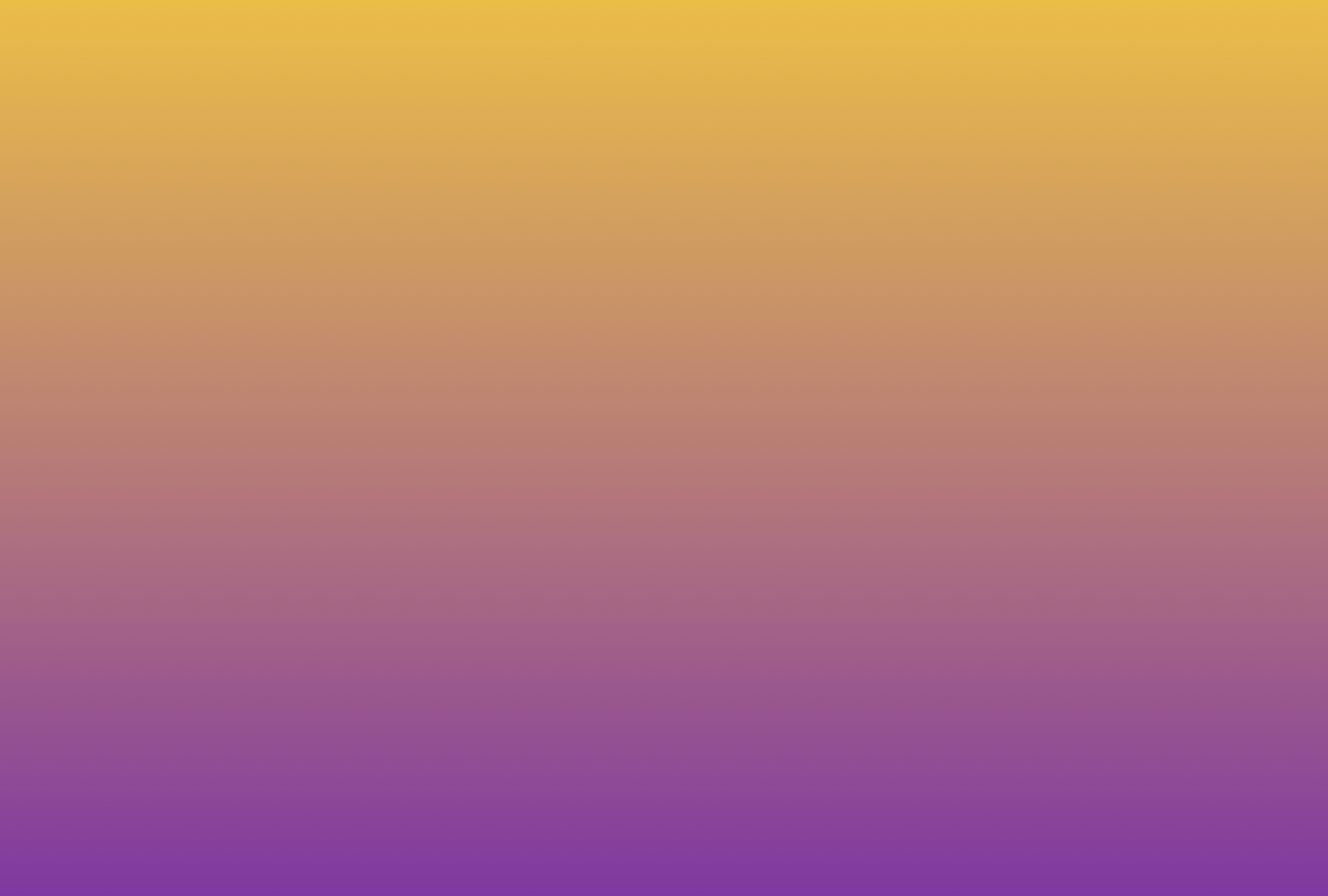 Work by Daniel Baird, Edmund Chia, and Laura Hart Newlon.
Adds Donna is located at 4223 W. Lake St. Reception Sunday, 3-6pm.
5. John Dillinger in Chicago at Firecat Projects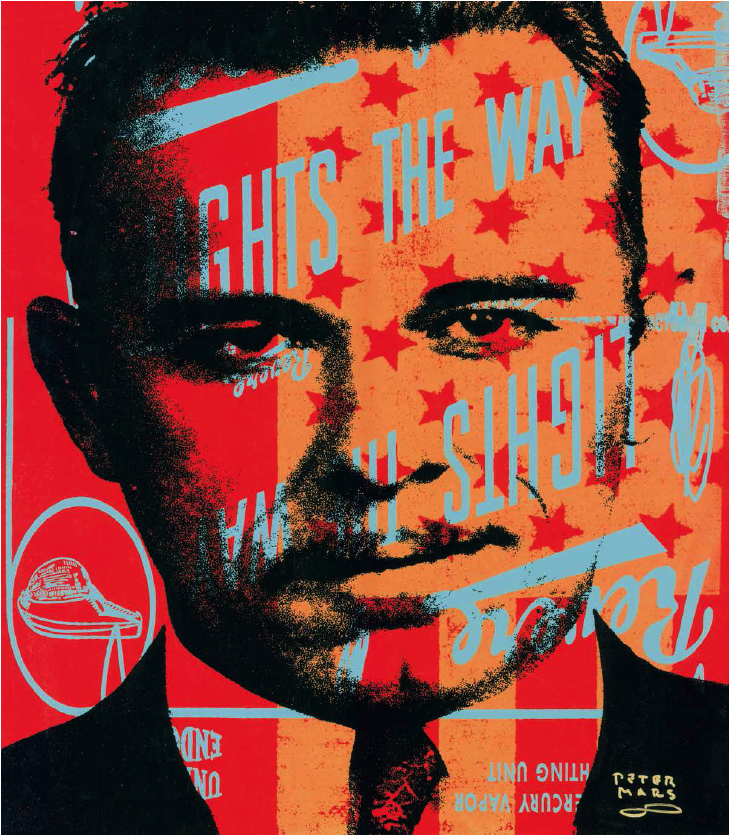 Work by Peter Mars.
Firecat Projects is located at 2124 N. Damen Ave. Reception Friday, 7-9pm.
Into Light
James Turrell's work has been everywhere recently. A retrospective of his at the Guggenheim just came down last month. A major retrospective of his work, James Turrell: A Retrospective is up at LACMA.  Other exhibitions include: James Turrell: The Light Inside at Museum of Fine Arts, Houston; Sooner Than Later, Roden Crater at Kayne Griffin Corcoran Gallery in LA; James Turrell at Almine Rech Gallery in Paris; James Turrell Perspectives at the Art Academy Museum, Easton Maryland; and Roden Crater and Autonomous Structures at Pace Gallery in New York – these are all from 2013. The year prior, the exhibition Phenomenal: California Light, Space, Surface was up at Museum Contemporary Art San Diego. This enormous retrospective spanning 3 major institutions (Guggenheim, LACMA, and Museum of Fine Arts Houston) and 92,000 sq. feet may have arrived at a fitting time. [1] What can we say about the experiences he creates for us and what does that mean for our world?
Martin Heidegger, the enormously influential 20th century continental philosopher, writes in his essay "The Origin of the Work of Art," that "to be a work means to set up a world." [2] At first blush, this statement seems to coincide with the work that Turrell provides for us as viewer. Then, the question becomes: what is a world, the world? For Heidegger, world is not just an accumulation of objects that exist in the world, a totality of beings, nor is it merely the "region" where these beings exist. Rather, Heidegger defines world as where a being whose being is of concern for it, Dasein, lives as Dasein. This world has various possibilities including that of "public" world and one's "own" world. [3] These questions of world are significant to Turrell's works. How do his installations world a world for us? Further, what is the relationship of his works to truth? Do his works enable us to gain access to truth of this world?
It may seem dry to delve into an examination of Turrell's installation work in terms of Heidegger, but that this may be a moment where the particular issues surrounding worldliness and truth should be addressed instead of the oft discussed perception, reality, and illusion themes. Turrell's work, whose material is that of light, space, and perception, can be easily read as illusion, that the works merely play with the frailty or faultiness of human perception. However, this cannot and should not be the main theme we grasp onto. Experiencing his work opens up the perceptual space that allows us to examine our being-in-the-world and our relational condition. What I'd like to argue briefly is that Turrell's works, particularly the early Projection Pieces, create situations of veiling and unveiling, which for Heidegger are tantamount to discovering and truth. These pieces, in their perceptual complexities, point to our relational nature, our being as Dasein.
Light Explained Away
In a general survey of the literature on Turrell, there are multiple mentions of perceptual psychology and phenomenology, with perceptual psychology, considered as science, taking precedence. When phenomenology is referenced, only Maurice Merleau-Ponty and Edmund Husserl are addressed. Martin Heidegger, a student of Husserl and a major figure in philosophical phenomenology is generally left out of these discussions.  Instead of grounding Turrell's work in the ontological foundation of Being, his work seems to be merely referenced as influenced by phenomenology, particularly of Merleau-Ponty. Turrell's work, however, can't just be taken as a product of phenomenology influence; his work participates in the  exploration of this philosophy as it relates to our existential being, our being-in-the-world as Dasein, translated literally as being there.
In Heidegger's Being and Time, he attempts to tackle the problem of being, of ontology. He says that in order to address this question, we first need to establish who is asking the question. This being is Dasein, the being whose being is of concern for her. Closing Division I of the book — "The Preparatory Fundamental Analysis of Dasein" — is §44, "Dasein, Disclosedness, and Truth." In this section, he lays out the traditional concept of truth, which relies on the statement's being in agreement with the object in the world that is external to us, and proposes a more primordial theory of truth which is unconcealing, or in Greek, ἀλήθεια. This formulation of truth as an unveiling, uncovering, unconcealing, depends upon Dasein; fundamentally, truth depends on the being whose being is of concern for it. He does warn, though, that this is not an arbitrary subjectivism. [4]
Before analyzing Turrell's work, especially Afrum (White), 1967 in relation to Heidegger's theory of truth, allow me to briefly outline a couple of terms: phenomenon, semblance, appearance.
Heidegger describes phenomenon as "what shows itself in itself," which is distinct from both semblance (the possibility of beings showing themselves as not themselves) and appearance ("something which does not show itself announces itself through something that does show itself"). [5] These are all made possible, however, by light, illumination: "'phenomena,' are thus the totality of what lies in the light of day or can be brought to light." [6]
In Being and Time, the figure of light takes on the meaning of Dasein's coming into disclosedness. Heidegger states that
"To say that it is "illuminated" means that it is cleared in itself as being-in-the-world, not by another being, but in such a way that it is itself the clearing [Lichtung]. Only for a being thus cleared existentially do objectively present things become possible in the light or concealed in darkness." [7]
In his marginal notes, the first "cleared" is marked with an asterisk, which adds "ἀλήθεια — openness — clearing, light, shining." [8]  Important to this discussion of light is the notion of "radiance" which figures prominently in Heidegger's essay that appeared ten years after Being and Time, "The Origin of the Work of Art." Radiance here entails a shining forth or an emanation, something in excess. [9]  Taken in relation to Turrell's work, his light becomes excessive; it points to its own immaterial limitations, a gesture that pushes us to consider the betweenness and limitations of being. Andrew Mitchell discusses this betweenness that arises in Heidegger's examinations of Ernst Barlach's sculpture: "Being takes place between presence and absence, at the surface where the being extends beyond itself and enters the world. Being takes place at the limit of the thing — understanding limit as Heidegger does, not as where something ends but where it begins." [10]
In the case of Turrell's Afrum (White), how do these terms of phenomenon, semblance, and appearance function? Where does illusion factor in? What of the truth in the perceptual experience? What about the spatial relations of the between and the limit? Many of these questions that Turrell's work poses get addressed through phenomenology, but, as mentioned above, it is normally that of Merleau-Ponty and Husserl. There is an easy case for these two phenomenologists, particularly Merleau-Ponty because of his explicit focus on the corporeality of perception and experience, which can easily address the structure of perceiving Turrell's installations. Merleau-Ponty's Phenomenology of Perception allows for the human body to actively participate in our experience and knowledge of the world. This sentiment echoes in Turrell's reply to the question: "Are your works primarily visual experiences for the person who visits the space, not translations of your experiences?":
"Yes. Of course, it takes somebody's vision to have set that up, so the artist does create and limit the universe of possibilities, and within that you're on your own. In that sense it is like any other art. But it does demand a certain decision to deal with it, which is this art's price of admission. But every art, I feel, has a price of admission, and often many people don't pay it.  They end up looking at the work rather than into it. I think that's the biggest problem with contemporary art for a large portion of America. America hasn't learned it has to pay the price of admission, to look into it rather than just at it." [11]
Something more may need to be accounted for, however. Is it a matter of what we can know about our experience or what we can discover about our being? Heidegger's ontological project, which may always be on the verge of falling into a metaphysics, should still remain an important aspect of our questions about art and experience. What we may need to consider when experiencing these installations is that they create conditions for Dasein's disclosedness. The installations don't just make us aware of the mechanics of perception, they make us aware of our being-in-the-world. The method of phenomenology leads us to ontological distinctions, and these distinctions shouldn't be ignored.
The Truth in Illusion
Dawna Schuld, along with many other critics, talk about Turrell's Afrum (White) as illusion; Schuld even juxtaposes the piece to the famous Necker Cube, the line drawing of a cube that switches orientations. In her essay for Phenomenal: California Light, Space, Surface, "Practically Nothing: Light, Space, and the Pragmatics of Phenomenology," she describes the perceptual experiences Turrell creates for the viewer in Acton (1976) and Afrum (White):
"What follows is the delightful awareness that one can return to the illusion simply by repositioning one's body vis-à -vis the sensing space. This ability to consciously hold perception in flux is also a characteristic of many of Turrell's projection pieces, notably the Afrum "cube," which like a Necker illusion can be cognitively manipulated to invert into its corner or revert into a projected cube that juts out toward us, while with a step to the left or the right it "rotates." Not one interpretation achieves primacy." [12]
Further, she claims that "[t]he intentional object is no longer the image on the wall but rather the ways in which we can manipulate our own perceptual mechanisms, within given circumstances." [13]  Though operative in the works, these claims keep us with the intentional structure of perception Husserl develops, which differ for Heidegger. In viewing Turrell's work, it is a being-toward, not necessarily a manipulation. Manipulation brings with it the structure of power and control, which isn't the same thing as unconcealing through the disclosedness of Dasein.
Nancy Marmer's 1981 review of Turrell's exhibition at the Whitney, James Turrell: Light and Space, focuses on the "chilling art of deception" which is Turrell's "more rigorous, even didactic, aspect to [his work] that tends to be ignored." [14]  This attention to illusion or deception isn't specific to Marmer. From that same year, Wolfgang Zimmer's review in ARTnews is titled "Now You See It, Now You…" [15]  This is important. Questions about being and truth are glossed over when the work is only described as illusion and deception, simple plays of perception. This is too simplistic to fully describe Turrell's work. Rather, it is the interplay of appearance, semblance, and phenomenon (in Heidegger's sense: of something showing itself from itself in itself). It is not a simple either/or situation, where you either see the illusion, or the "true" material conditions of the piece. The totality of this situation of being-with the piece is the truth of the work, its unconcealedness in the disclosure of Dasein, our being as being-in-the-world.
Turrell claims that "he is not trying to fool the viewer." [16]  Craig Adcock references Turrell's rejection of "illusion" to describe his work quoting Turrell: "People have talked about illusion in my work, but I don't feel it is an illusion because what you see alludes to what in fact it really is — a space where the light is markedly different." [17] This statement may coincide with one of Heidegger's from the work of art essay, that the "work lets the earth be earth," earth here meaning foundation of world that is not merely matter. [18]  Afrum (White) doesn't merely point to the way our perception may trick us, it instead opens up world as worldliness. In the measurement or, shall I say, rational description of Turrell's works, the work disappears. Only in remaining concealed as a totality can it allow for the disclosure of Dasein as being-in-the-world: "Color shines and wants only to shine. When we analyze it in rational terms by measuring its wavelengths, it is gone. It shows itself only when it remains undisclosed and unexplained." [19]
In a world where government shuts down and the NSA surveils our telecommunications because everyone is dissembling as a terrorist, what does it mean for us to consider the unveiling of the world? What is the relationship between surveil and unveil? The surveil, the on top of the veil, still maintains the veil of concealedness. Information-gathering does not get us any closer to truth. Maybe it's time to think of other ways to be in the world. Dancing with the projected light in the corner of the gallery allows me to experience the work of Afrum (White), with work meaning the "setting forth," which entails a setting to work of truth. I move around the piece, seeing it this way, seeing it that way. It clears the space for my being as a being in this space with this light and with these others that are also in this space with me. I am in this gallery, in this museum, in this city, in this country, in this world, choosing to move with this lighted corner that has unveiled itself as a work of art. Is this choice a narcissism or a solipsism? A nihilism? I would argue no; my perceptual experience with this work has to involve all others that participated in its making and those that are viewing it alongside me.
In the atrium of the Guggenheim, Turrell's Aten Reign, encourages us to sit together and decide upon the truth of what we are experiencing. This work has drawn some highly critical reception, comparing it poorly to the collective experience of Olafur Eliasson's The weather project for example. What both of these projects offer us is the sun, the ability to sit and stare at the sun, the light that burns us. "Aten" of Aten Reign, is Aten, or Aton, the highly controversial Egyptian god of the sun and refers to the disk/orb of the sun itself. This reference to the sun brings us to another important aspect of Turrell's work: his references to the Allegory of the Cave in Plato's Republic. In this allegory, prisoners are trapped in a cave and can only see objects of the world as shadows on the cave wall — puppets backlit by fire controlled by puppeteers. If a prisoner is set free, her first experience of the true sun beyond the darkness of the cave is so overpowering and blinding that "he [sic] will suffer sharp pains; the glare will distress [him], and he [sic] will be unable to see the realities of which in his [sic] former state he [sic] had seen the shadow." [20] This pain makes the prisoner turn away and seek refuge back in the cave where the shadows are more familiar.
What Aten Reign may give us is the space to look into the light without pain. It is a foggy light and may dissemble with its changing colors, but it shows itself in such a way that maybe we can spend the necessary time with it in order to let in unveil itself. Turrell may, in a sense, occupy the position of the puppeteer, but he also opens the opportunity for us to look at the blinding light. One could argue that his skyspaces do this better, and that may be true, but they are also indirect gazes at the sun.
I secretly took a photograph of the installation (I know I wasn't supposed to). Only later did I realize that a thin veneer of dust and grime had covered the camera lens on my phone. The image that I have of this experience of mine is blurry, foggy, a hazy memory that prompts me to consider what it was that I really experienced.
Notes
[1] Wil S. Hilton, "How James Turrell Knocked the Art World Off Its Feet," New York Times, (June 13, 2013), 1: http://www.nytimes.com/2013/06/16/magazine/how-james-turrell-knocked-the-art-world-off-its-feet.html
[2] Martin Heidegger, "The Origin of the Work of Art," in Basic Writings, ed. David Farrell Krell (San Francisco: HarperCollins, 1993), 170.
[3]Â Heidegger, Being and Time, trans. Joan Stambaugh with revisions by Dennis J. Schmidt (Albany, NY: State University of New York Press, 2010), 65.
[4]Â Ibid., 227.
[5]Â Ibid., 28-29.
[6]Â Ibid., 28.
[7]Â Ibid., 133.
[8]Â Ibid.
[9]Â Andrew Mitchell, Heidegger Among the Sculptors: Body, Space, and the Art of Dwelling (Stanford: Stanford University Press, 2010),10.
[10]Â Ibid., 23.
[11]Â Richard Andrews, James Turrell: Sensing Space (Seattle: Henry Gallery Association, 1992), 37.
[12] Dawna Schuld, "Practically Nothing: Light, Space, and the Pragmatics of Phenomenology," in Robin Clark (ed.), Phenomenal: California Light, Space, Surface (Berkeley and Los Angeles: University of California Press, 2011), 116-118.
[13]Â Ibid., 118.
[14] Nancy Marmer, "James Turrell: The Art of Deception," Art in America, vol. 69 (May 1981), 97.
[15] Wolfgang Zimmer, "Now you see it, Now you…," ARTnews, vol. 80 (Feb 1981): 225.
[16]Â Craig Adcock, James Turrell: The Art of Light and Space (Berkeley and Los Angeles: University of California Press, 1990), 12.
[17]Â Turrell interview with Julia Brown in Occluded Front, James Turrell, quoted in Adcock, 13.
[18] Heidegger, "Work of Art," 172.
[19]Â Ibid., 172.
[20] Plato, Republic, Book VII, lines 515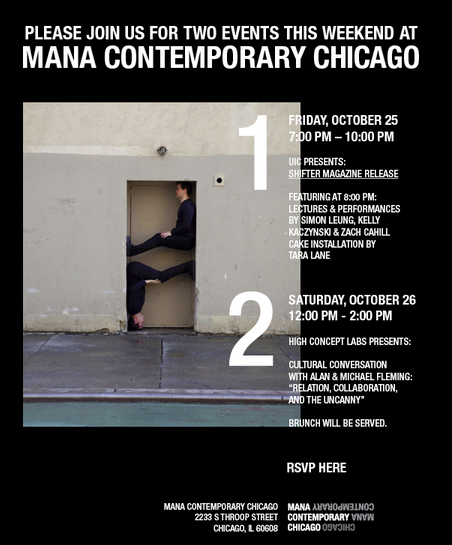 The latest issue of SHIFTER comes out this Friday with a launch at MANA Contemporary from 7-10pm, featuring lectures and performances by Simon Leung, Kelly Kaczynski and Zach Cahill, with a Cake Installation by Tara Lane. A Cultural Conversation with Alan and Michael Fleming on Saturday in case you want to sleep over. RSVP here.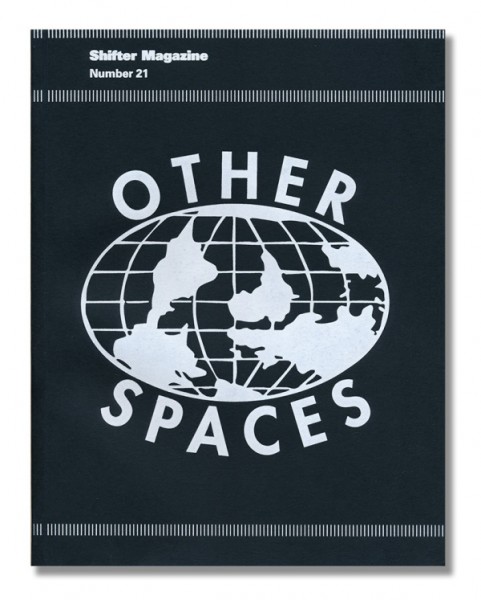 Shifter's 21st issue, Other Spaces, considers the body as a site where architecture's traditional polarities of private and public collapse. This polarity, mirrored in the distinctions we draw between individual and social freedoms and domestic and political action are challenged every day by spontaneous, collaborative re-imaginings of space.
In this issue artists, writers and critical thinkers reflect upon and imagine those other spaces that are coming to be and that are yet to be imagined in the social transformations of our present. While Other Spaces may appear to be an Atlas, it may just as well be read as a diary.
Number 21 features contributions from Jeremy Bolen, Luis Camnitzer, Tyler Coburn, Julia Fish, Beate Geissler & Oliver Sann, Sheela Gowda, Joanne Greenbaum, Tehching Hsieh, Kitty Kraus, Dan Levenson, Blank Noise, Alison O'Daniel, Sean Raspet, Blithe Riley, Jacolby Satterwhite, Greg Sholette & Agata Craftlove, Lise Soskolne, Mariam Suhail, and Josh Tonsfeldt.
Last month, in the midst of the crazy Expo Chicago extravaganza, I had the pleasure of going on a tour with Gallery Weekend Chicago. GWC was founded by Chicago gallerist Monique Meloche in 2011 and offers annually a weekend of private gallery and museum tours. I went on the Sunday tour which took us down to the Washington Park and Hyde Park neighborhoods on the South Side and made stops at the Arts Incubator, the Smart Museum, the Renaissance Society, and the Logan Arts Center.
The Arts Incubator in Washington Park was the first stop of the day. This space, part of the University of Chicago's Arts & Public Life Initiative, was conceptualized by Theaster Gates, who is now director of the project. The Incubator is home to an artist residency program, a community arts education program for teens, as well as an exhibition and performance space.
The Incubator currently hosts five resident artists. They have access to all of the facilities at the Logan Arts Center, where we headed later in the day, and have studio space at the Incubator. The Space Between, an exhibition of these artists' work, was installed at both the Incubator and the Logan. The work addressed the social differences between these two spaces – one located in the University-centric Hyde Park, the other in the adjacent Washington Park neighborhood.
Despite the early hour of our arrival four of the five artists were kind enough to meet us at the Incubator to show us around their studios and the exhibtion: Avery Young, Cecil McDonald, Cauleen Smith, and Tomeka Reid. We were also joined by the curators Allison Glenn and Monika Szewczyk.
Cauleen Smith created two "space stations" for the exhibition – one in her studio at the Incubator and the other in the gallery at the Logan. The installation in her studio played off the aesthetic of a work space with filing cabinets, a work table and a temporary wall made from screens that she used to screenprint wallpaper for the other space station at the Logan. There were also shelves with plants and small artifacts that she made from materials found in the surrounding neighborhood: chunks of cement and fragments of a road sign.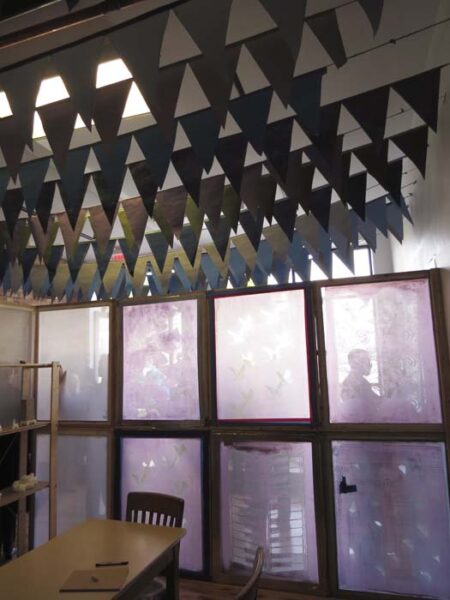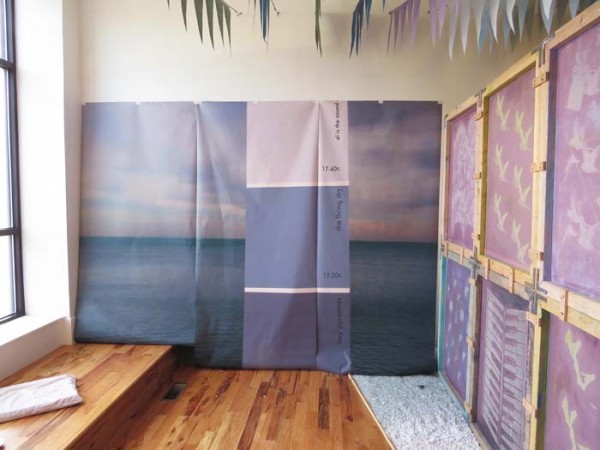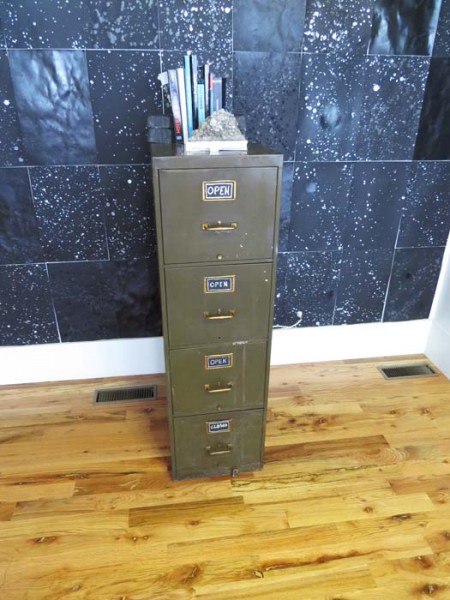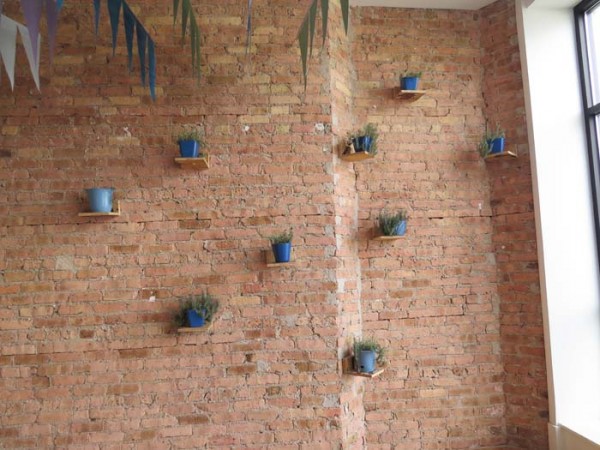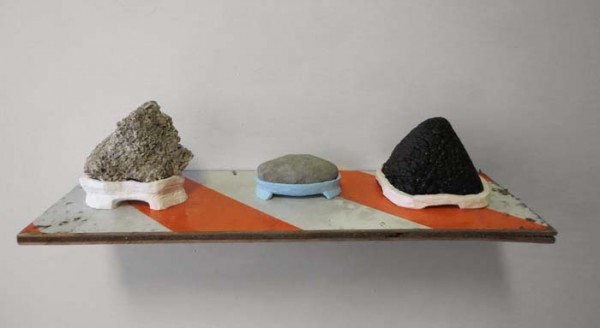 Avery Young and Cecil McDonald have a shared studio space, the floor of which was laid out with Avery's work for Groun(d), a solo show now up at the Incubator.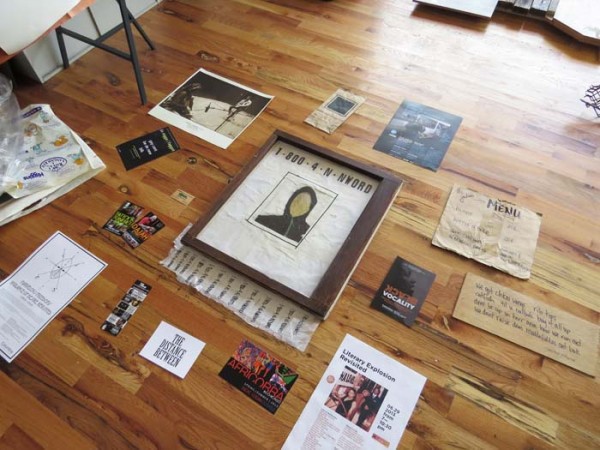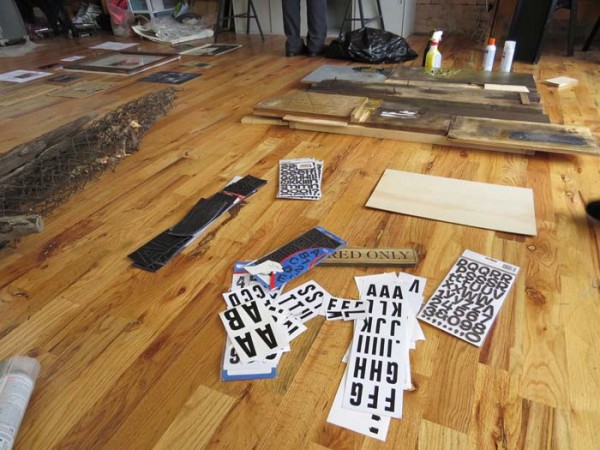 In the main exhibition space Avery Young, Tomeka Reid, and Cecil McDonald spoke to us about their work.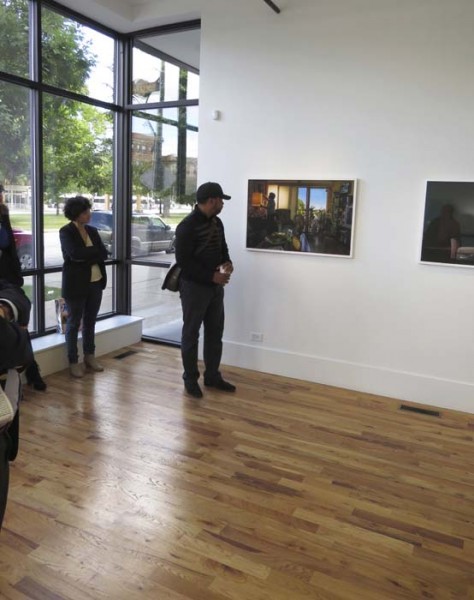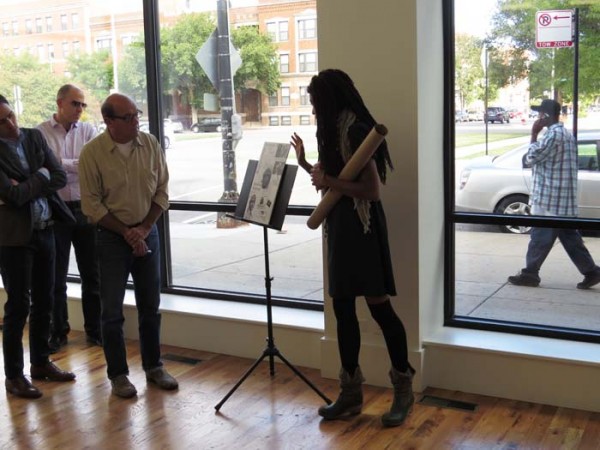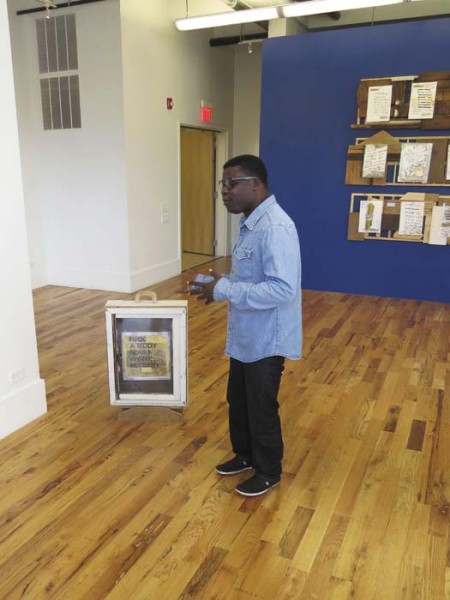 After going to the Smart Museum and the Renaissance Society (both of which have amazing shows up right now – Suicide Narcissus at the Renaissance Society blew me away.) we ended the day at the Logan where Monika Szewczyk showed us the other half of The Space Between, featuring Cauleen Smith's other space station, photographs by Cecil McDonald, assemblage works by Avery Young, and sound pieces by LeRoy Bach.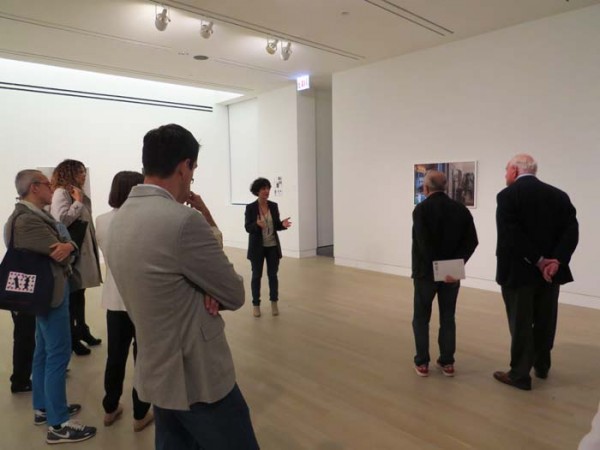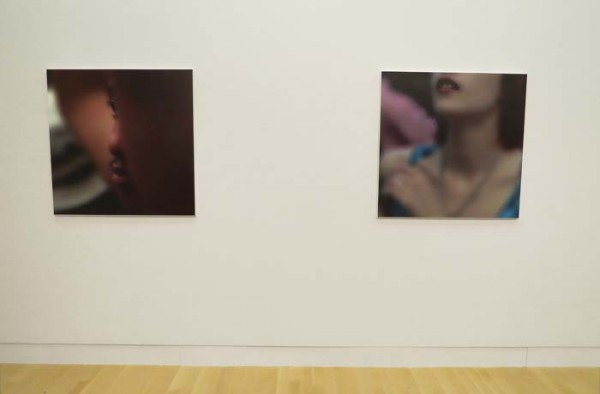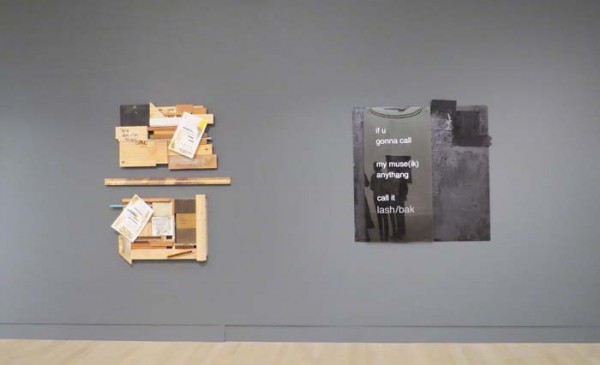 Monika also gave us a tour of building and, by the way, the view from the 10th floor is pretty phenomenal.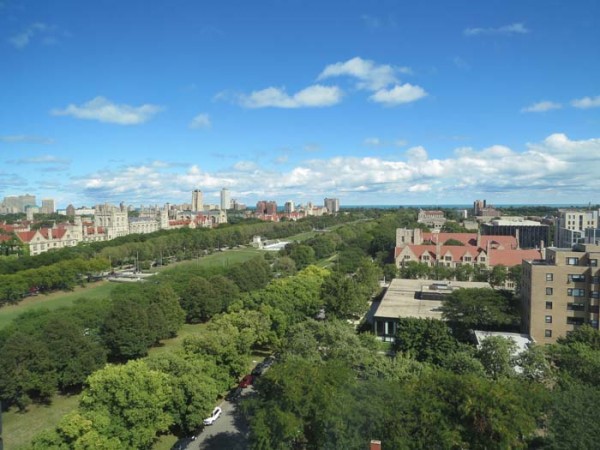 Bailey Romaine is an artist and bibliophile based in Chicago.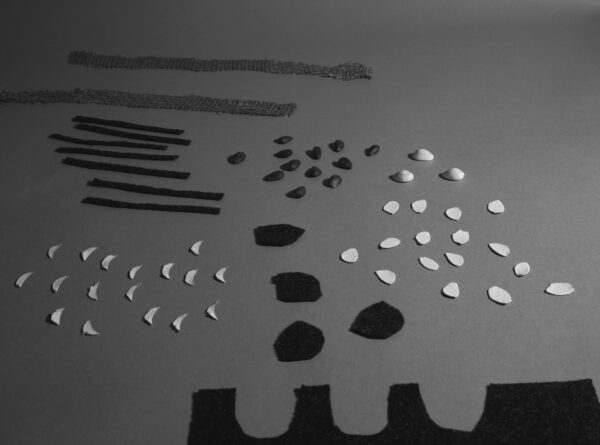 The podcast this week features Duncan live from LA! talking with artist Sarah Conaway. Conaway (b. 1972 York, Pennsylvania) makes seemingly straightforward photographs that invite us to think magically, imbuing mundane objects with mystery and potential. Her recent photographs—printed in a range of sizes and primarily in black and white, with an occasional work in vibrant color—capture a series of actions set up by the artist in her the studio. Beyond the objects or materials that they portray, they express a residue, aura, or presence that we sense but do not necessarily see depicted. All that and more here.
Jesse Malmed kicked off the week in blogland with a mix tape of video clips:
Is this ok? Is this a responsible use of this privilege? How much does Bad at Sports pay its writers? Its readers? I'm like you, reader. I'm in the weeds. I'm in the thick of it. Everyone is paying everyone else too much. Our government runs smoothly but we don't have any use for it. There are no trains and no one runs for anything, not even office.
Joan of Arc's Tim Kinsella sat down with me to talk about his participation inEvery house has a door's latest work, Testimonium. When asked if playing live music in a performance context felt different from playing at a music show, Kinsella replied:
Oh yeah. All the rituals of live music performance are undermined and we love it. The whole catharsis-spectacle is frustrated and maybe we're grizzled old cynics to find that liberating, but I promise that Testimonium will equally frustrate those expecting a rock show as it will irritate those expecting a performance piece. We've done 5 weeks of Joan of Arc regular rock club shows this fall. I just got home yesterday. And I am aware that I internalize certain shortcuts or tricks to keep count. Muscle memory is subconscious and essential — my weight is on my left foot for the 2 and 4 of this song and my hip knocks out on this accent. But the potential promise of a rock show is that everything can blow apart to smithereens at any second. It remains almost constantly on the verge of falling into chaos. Testimonium on the other hand is so controlled. The quiets so drawn out. The blocking so precise. It removes that essential sense of tension and by simply reframing how a band is set up on stage, the entire experience gets broken down to its core components. It's thrilling and perverse while also so simple.
I reposted a great interview with Wangechi Mutu, via Mother Jones:
"The power for me is to keep the story of the female in the center, to keep discussing and talking about women as protagonists," Wangechi Mutu said in a video introduction to A Fantastic Journey, her recent exhibition at Duke University's Nasher Museum of Art. For the casual art fancier who happens upon it, as I did this summer, the exhibition was like embedding in Mutu's mind: Black globes of crumpled plastic hang on strings suspended from the ceiling, a looping video of the artist devouring cake flickers on the floor, and triumphant warrior women occupy magnificent collage landscapes on the walls.
Thinking about the glutinous art market, Thomas Friel reflects on Lady Gaga and Koons:
Koons is in this rare position of being accessible to everyone but only collectable to a small handful of the richest in the world. As Carl Swanson recently stated in Vulture: "Koons can be the art world's great populist artisan, even as he operates as its most exclusive salesman." Everything about the work is right there, so there's nothing to get. It is perfection and simplicity, the kind of thing that mocks you for looking too hard at it. Since critics are trained to look hard at things, they tend to hate Koons. And its boring to write about art just by describing what it looks like, so people tend to write about his career, his collectors, his record breaking prices at the market, his studio and the process of making his work. This only helps to build a persona around the artist, giving him the superstar flair that these major collectors are after. (And with this week's art fair, London's Frieze officially bigger and more bloated than ever, superstars have never been more in vogue.)
Sarah Margolis-Pineo posted a conversation with art documentarians, Half Cut Tea:
A recent trip through LA gave me the opportunity to catch up with Matt Glass and Jordan Wayne Long, the two collaborators behind Half Cut Tea, an ongoing documentary video series featuring emerging artists across the US. Now in its second season, Half Cut Tea has traveled from Boston to Los Angeles and many cities in between, featuring soon-to-be-known artists including Jennifer Catron and Paul Outlaw (New York), Wesley Taylor (Detroit), Beverly Fre$h (Chicago), and Sean Joseph Patrick Carney (Portland). Both Glass and Long have temporarily suspended their individual art making to pursue this collaborative endeavor, which they plan to continue into a third season and beyond. Their motivation is two-fold: firstly, to bring visibility to a generation of younger makers who often are operating outside of traditional art centers; and secondly, to demystify the idea of the professional artist as an unattainable über-genius. Half Cut Tea brings a bit of day-to-day reality to the processes of art making, pursuing artists in their everyday habitats, which, in Glass and Long's experience, can include calcite mines and jumping out of planes in parachutes. According to Long, the project won't end until art making is perceived as an accessible occupation, unencumbered by the exclusivity and mind-numbing static of contemporary art speak.
From the world of performance, Hannah Verrill interviewed Michal Samama. When Verrill asks about the dynamic interplay between audience and peformer, "Would you say that there's a kind of feedback loop in place? A set of information that you receive from your audience by way of their presence, in a specific sense, that comes to influence how you are performing?" Samama replies:
Yes, or you could think of it as a dialogue. It's about questioning this idea of me as the performer being the authority. Or it's also about questioning what is your (the audience's) role here. I started to think more of this idea of performance as a collective event or social event. This is what is unique for performance. It puts into a laboratory this idea of the social event. I do remember one work from a few years ago when this question came up of if I wanted to take my gaze out into the audience or still be in this internal dance-y gaze, and at that point I chose not to. I was too afraid or I didn't know what to do with it. But now it's different, and I've started to make it more and more what I do. I'm interested in this kind of transformation of images happening during the performance. Part of the transformation of course is the homework that I worked on in the studio—the choreography—but of course part of it is like what you're saying, the feedback. So in the end there are many more transformations than what I initially thought of because of the presence of the audience.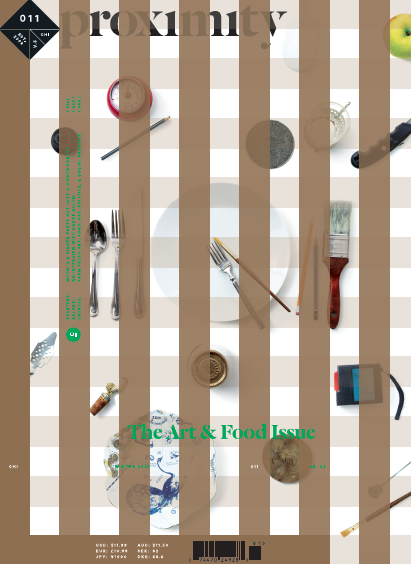 Proximity 11 got 2 shout outs this week — here and here — because we love art magazines. Especially ones dedicated to food.
Jacob Wick reflects on meaning via Juliana Paciulli's recent solo show at Greene Exhibitions, "Are you talking to me?", Andrew Choate's poetry, LA snickers, Ann Hamilton, and Agamben's interpretation of gesture:
It has been important, certainly since the turn of the 20th century, to ask what things – not just art, everything – mean. What does this abstract painting mean? What does this realist short story mean? What does this rock mean? I learned at the Santa Monica police station, from an incredibly chatty technician who gently rolled my finger on the scanner, that the print on my left index finger is of the sort that less than 1% of people have. I asked, laughing, but not really, I felt pretty serious about it – it was my first thought – "what does it mean?" She said, "oh, probably nothing." If I look it up online – I think it was a double loop or a Peacock's eye or maybe a tented arch, I wish I remembered or wrote it down, but I didn't – it might mean that I'm a perfectionist, that I'm indecisive or diplomatic, that I'm independent and inflexible, or that I am "fiery."

The trouble with asking what things mean is that they often mean nothing, and those things that don't mean nothing often could mean many things along a varying scale of possible validity.
To5 5 Shows-to-See by Stephanie Burke!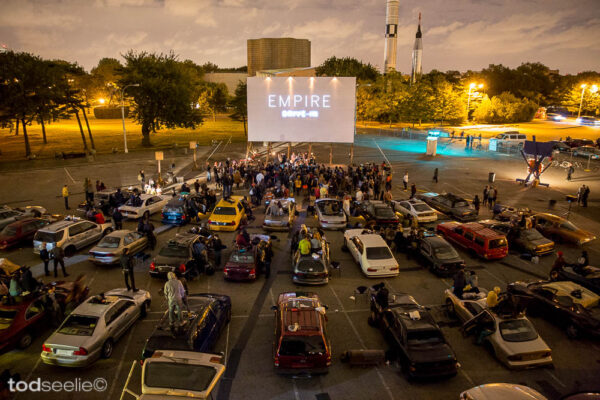 Juliana Driver wrote about the Empire Drive-In (which closes tonight btw):
Empire Drive-In is a full-scale, twelve-night, outdoor cinema and social spectacle. Hosted by the New York Hall of Science, and brilliantly programmed and designed by artists Todd Chandler and Jeff Stark, this project is an ambitious statement on upcycling and participatory culture seen through the defunct theater of suburban drive-in entertainment.

On the surface, Empire Drive-In has plenty of nostalgic charm, but it doesn't take long to see how the project redirects retro sentimentality into much more nuanced conditions of creative re-use. Made entirely from re-animated waste, including cast-off lumber and 60 wrecked cars salvaged from a Brooklyn scrapyard, the project's junk aesthetic offers up a critical interrogation of our culture's throw-away mentality, and the tremendous value that can be recaptured with artistic reconsideration and a little bit of elbow grease. Chandler and Stark offered their impressions this conceptual overtone:

Never fear, Saturday's endless opportunities are here.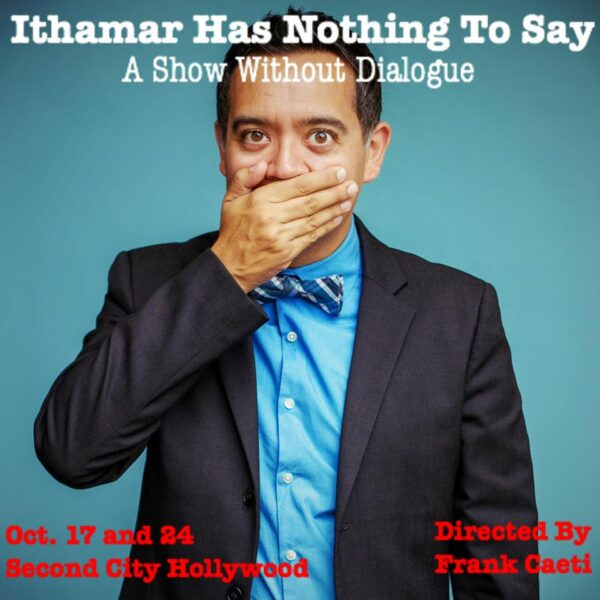 Sunday closed out with reflections on LA's comedy scene; Adrienne Harris wrote about two new productions, The Virginia Slims' Ronnie and Lorraine's Last Reunion Show IV, and Ithamar Enriquez's Ithamar has Nothing to Say. Conclusion?
…I've had to accept that L.A. is not just a film town where people like me are churning out gritty independent drug movies and big budget space films, but there are also tons of people making thoughtful committed comedy shows as well. This is probably not a surprise to anyone else, I mean, Andy Dick came out of The Second City Hollywood so… But for me, I feel lucky to have found some comedy to balance out the darkness of my Breaking Bad addiction.