It is our sad duty to report the untimely passing of Frances "Frannie" (nee Ronshausen) Dittmer, a giant in the world of art, philanthropy, and living life. Ms. Dittmer died when the airplane she was in went down over Puerta Vallarta, Mexico last week. Bad at Sports Co-Founder Richard Holland writes, "I had the pleasure to meet her several times, a long, long time ago and remember her as being a giant of both personality and intelligence." Ms. Dittmer was 72 and will be missed by two daughters, a son and four grandchildren, among many other loyal family and friends.
An obituary for Ms. Dittmer can be read in full in The Aspen Times:
A longtime former resident of Chicago and latterly of Aspen, Colorado, Mrs.Dittmer was a philanthropist and collector admired in preeminent art circles and beloved by family and friends of all stripes. "She was a force behind some of the most important institutions in this country," said Philippe Vergne, director of the Museum of Contemporary Art, Los Angeles. "Frannie's impact on our museum and museums across the country has been profound," said Aspen Art Museum Co-Presidents John Phelan and Paul Schoor. "We could count on Frannie to speak her mind and make sure we took the right direction. Her leadership, vision, and friendship will always be treasured, and we already miss her and her infectious laugh." And said James Rondeau, Dittmer Chair and Curator of Contemporary Art at the Art Institute of Chicago, "She was incisive and discerning, generous and glamorous, a radiant personality with a devilish sense of humor." Blonde and statuesque, Frannie was stylishly self-possessed, plainspoken, and prone to call a spade a shovel. She talked and laughed with a lilting twang that she never tried to lose, but it was the laugh that was her trademark. An exuberant and unmistakable chortle, it was audible from astonishing distances and once heard, was not forgotten. Born and raised in Port Arthur, Texas, she was a graduate of the University of Texas at Austin and a Kappa Kappa Gamma. From 1964 to 66 she worked on Capitol Hill as personal secretary to Democratic Texas Senator "Smilin" Ralph Yarborough, an extraordinary responsibility for someone in her early 20s. In Washington she caught the eye of Thomas Dittmer, a young lieutenant in the fabled Third Infantry and a White House Social Aide. In 1966, Frannie and Tom married and moved to Chicago, where they raised a family, built a business, and collected art. When Tom and stepfather founded R.E. Friedman commodities firm Refco in 1969, Frannie became one of the company's first five employees. Refco's success grew exponentially, and Frannie cultivated her passion and keen eye for art. In 1979 she met Sotheby's Vice Chairman Anthony Grant, then a young associate in contemporary art, and the two began a lifelong journey. Through the years the collection evolved and changed from Modern masters such as Pablo Picasso and Fernand Leger, to post war giants Willem DeKooning and Jackson Pollock, to the art of our time by Cy Twombly, Brice Marden, and Christoper Wool. Concurrently Frannie also built a world class portfolio at Refco, with Adam Brooks as curator. Grounded in contemporary photography and in the works of master printmakers such as Jasper Johns and Robert Rauschenberg, the collection was preserved after Tom sold the company to private shareholders in 1999. The Dittmers were involved in numerous Chicago civic and arts organizations, including the Chicago Lyric Opera and Providence St. Mel School, but Frannie's heart lay most fondly with the visual arts. In addition to her AIC trusteeship, she and Tom endowed there the Frances and Thomas Dittmer Chair of Modern and Contemporary Art. She was also a life trustee at the Museum of Contemporary Art Chicago where, together with Tom, she was one of six board members seminal to fundraising for that institution's expansion in 1991, leading to the first major museum building in Chicago in 65 years. Throughout her life, Frannie participated substantively in many of the nation's most prestigious arts organizations, including in New York the Metropolitan Museum of Art, Museum of Modern Art, the Whitney, the Drawing Center, Dia Art Foundation, the Menil collection in Houston, and the Aspen Art Museum. Her magnanimity extended to animals, dogs in particular, and she supported a number of shelters and rescue organizations. Her cherished Chihuahuas once graced the cover of the Aspen Animal Shelter calendar, which made her immensely proud. Generous as well in their spirited entertaining of friends and associates, the Dittmers hosted famously creative and occasionally lavish parties. Her houses were always comfortable and beautifully designed, befitting her longtime collaboration and friendship and with designer David Easton. Not everyone knew she had her pilot's license and played the piano by ear, but her reputation as a football aficionada and Bears fan was well established. In the early days she and Tom played flag football with friends, and she was invariably the first one picked. "She was a master of the quick kick," Tom boasts. "And hell, she could throw the ball 50 yards." More recently her children recall their fashionably clad mother loping across the lawn in Hermes sandals, manicured nails rasping on the pigskin as she threw perfectly spiraling passes to her grandsons. In 1994, as winds of business and finance shifted, the Dittmers left Chicago for New York, and after 33 years of marriage the formidable couple went their separate ways, divorcing amicably in 1999. Frannie moved permanently to Aspen, where they had long had a second home and where she was, not surprisingly, active in the community. The family nonetheless remained close and often spent holidays together. Surviving are son Jason and his wife Allison of Park City, Utah; grandsons Casey and Jesse; daughter Alexis Gaughan and her husband Chris of Santa Monica, California; and Chris's daughters Casey and Peyton. A sister, Marilyn, and her husband Warren "Dutch" Holland, live in Durango, Colorado. Frannie also counted as family Matthew Morris, who for 25 years faithfully headed her household staff. The family respectfully suggests that gifts in Frannie's memory go to a charity of the giver's choice. Afternoon services will be held both in Aspen on Wednesday, February 19, in Aspen, and in Chicago on Friday, February 21, details to be announced.
1. Take Aim at The Hills Esthetic Center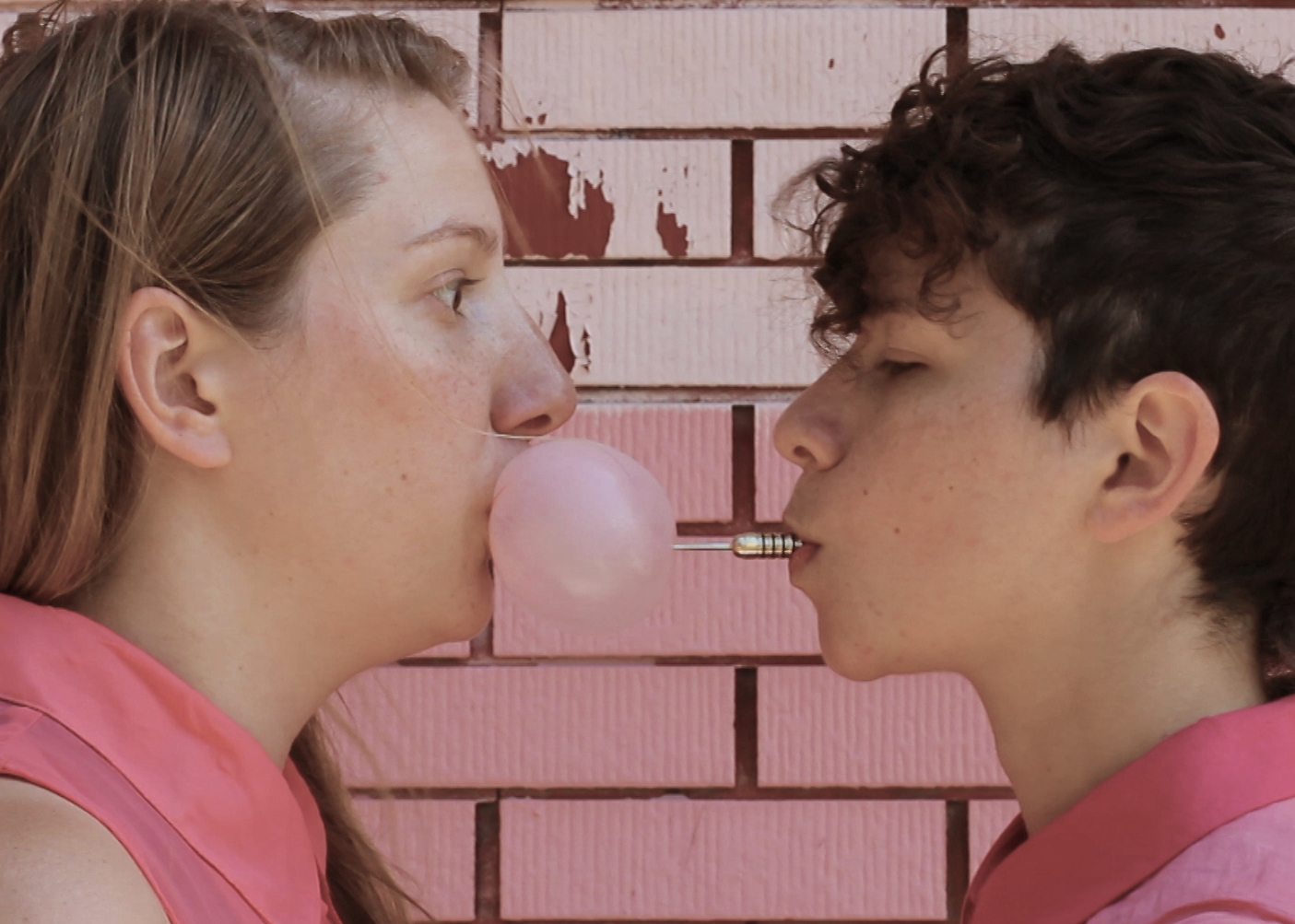 Work by Hope Esser and Daviel Shy.
The Hills Esthetic Center is located at 128 N. Campbell Ave. Reception Friday, 7pm-midnight.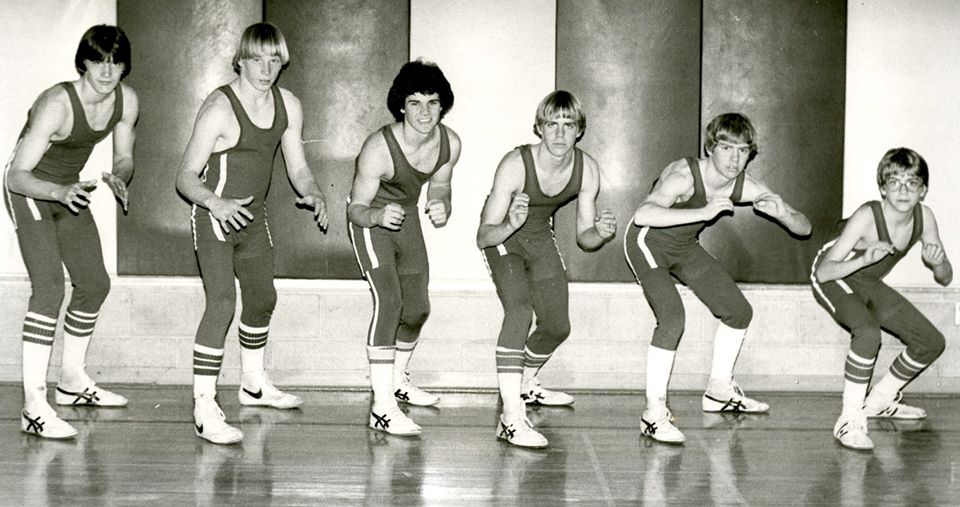 Curated by Molar Productions, with by work by Benjamin Bellas, Judith Brotman, CC Ann Chen, Meg Duguid, Andreas Fischer, Jeffrey Grauel, John Henley, Andrew Holmquist, Greyson Hong, Theodore Horner, International Chefs of Mystery!, Carol Jackson, Carron Little, Nicholas Lowe, Ryan Noble, Susannah Papish, Steve Reber, Oli Rodriguez, Joshua Slater, Rafael E. Vera, Rebecca Walz and Ryan Michael Pfeiffer.
slow is located at 2153 W. 21st St. Reception Friday, 6-9pm.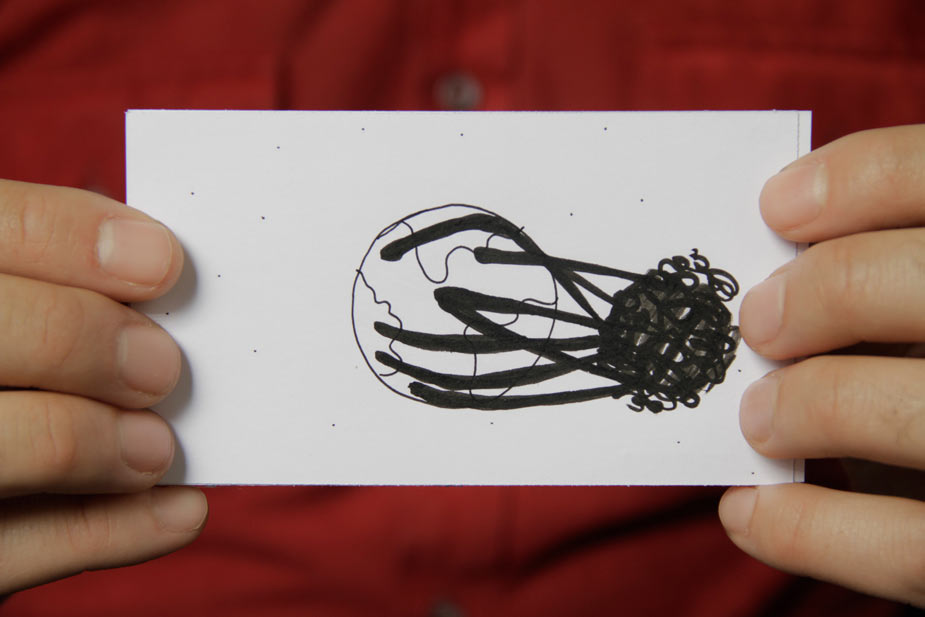 Work by Kendall Babl, Sarah Berkeley, Buki Bodunrin, Meg Dugid, Julia Klein, Nicole Marroquin, Mothergirl, Sabina Ott, and Erik L. Peterson.
DfbrL8r is located at 1136 N Milwaukee Ave. Reception Friday, 6-9pm.
4. Six Sigils for Saint Lucifer and Other Works at Peanut Gallery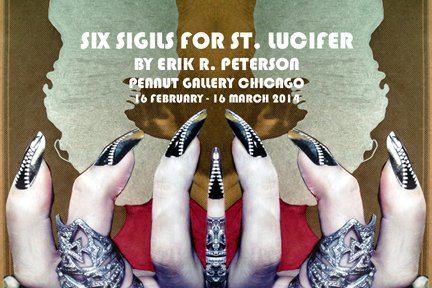 Work by Erik R. Peterson.
Peanut Gallery is located at 1000 N. California Ave. Reception Sunday, 5-9pm.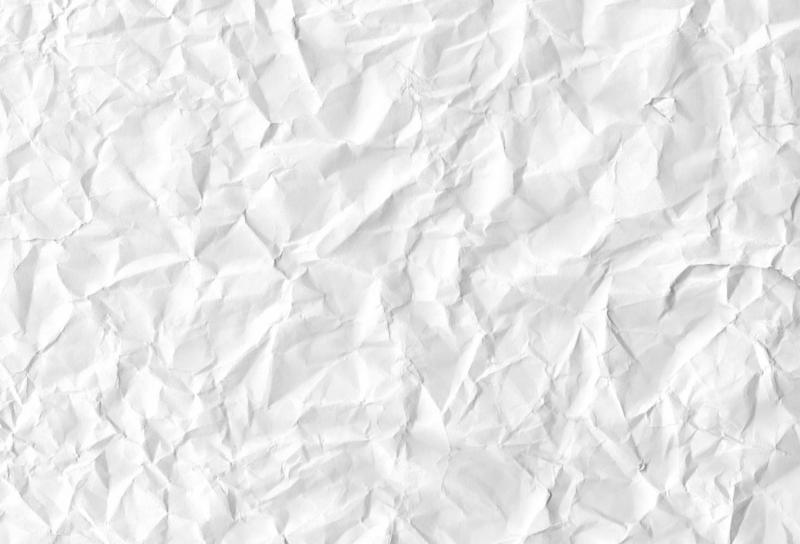 Work by Anastasia Samoylova and Julie Weber.
3433 is located at 3433 Kedvale Ave. Reception Saturday, 6-9pm.
It has been cold everywhere recently, colder than it has been in many years. The cold here has seeped into my bones. The days are lit by brittle sunlight, full of the illusion of warmth. The nights open to the icy vacuum of space, filled with the frigid, unblinking stars, and my mind, of course, turns to death.
Recently, I walked in from the cold, whitewashed world to Made in Minnesota at the Katherine E. Nash Gallery at the Regis Center for Art at the University of Minnesota, and I entered the gallery equivalent of a greenhouse teeming with orchids. The show was full of life, full of objects. The air was humid with production and the presence of artists' lives embodied in their work. The electric colors of Jay H. Isenberg's 6 Lil' Smokeys embraced the dreams of long summer afternoons. Kim Matthews's barnacle-like works are labor-intensive, tenacious holds on life. Eileen Cohen enlivens her flocked ceramic with organic forms. Rollin Marquette's Pear-Shaped lies seemingly incomplete, life-interrupted for the viewer to mentally assemble and imbue with new life. The show surges with an abundance of life, a force that has been packed into homes and studios, sealed away from the winter winds, yearning to get out, to express itself in any and every way.
That reminder of life is wonderful, a welcome respite from the cold. I was drawn, however, to the quieter moments of the show, buoyed by the spaces to breathe and reflect, invigorated by the explicit invocations of death. Mayumi Amada's startlingly large Doily of Foremothers, hidden around a blind corner, is a delicate reminder of the eternal cycles of life and death, a call to remember that we are here because of the lives that are no longer with us. Judy Onofrio's bone vessels remind us that "fertility and eroticism live side by side with mortality and fragility." They open a space between what we are and what we will become, holding the life we inhabit within the lives from which we arise, expanding out into the lives that will grow from our deaths. The show opens and closes with George Morrison's delicate, intimate postcards, small, powerful reminders of a life fully lived, a life shared with others and enriched by the living world around him.
Death surrounds us in all seasons. It is a natural and necessary part of our lives. It is in the food we eat, the air we breath, the leaves of grass beneath our feet. It confronts us more starkly in winter, in the seeming death of plants and the hibernation of animals. We know life is buried beneath the snow, waiting for the warmth of spring to awaken it, but these endlessly cold days make it difficult to see.
We cannot avoid the cold, and we cannot avoid death. We can let them overwhelm and control our lives, or we can rise each morning confident that we can face the cold, that our lives are full of beauty and meaning because they are finite.
Death is not frightening. It is comforting, full of hope, a blessing that allows us to thrive for our few moments. Spring is coming, and we will again see that life buried beneath the snow. When those shoots poke up through the warm soil, let us remember that death is still here, waiting to welcome us all into its quiet, its rest, its never-ending cycle that allows that birth to come forward for the living.
Made in Minnesota is on view until February 15.
The choreographic writings of performance and political theorist Randy Martin are rooted in an understanding of dance as an analytic with which to approach socio-political mobilizations. In "A Precarious Dance, a Derivative Sociality" he writes, "For dance to move the political beyond arrested development, its knowledge of how bodies are assembled, of how space and time are configured, of how interconnections are valued must be made legible beyond the ends of choreographic endeavor. Foregrounding the analytics of movement so redolent in dance can make for a richer evaluation of what is generated through political mobilization." The usefulness of dance then is as an analytic, a mode of theorization. What is particularly compelling to me about this approach are the ways in which it would seem to expand the notion of dance and call for an application beyond the already expanded definition of dance as a kind of "social inventiveness" or mobilization.
Martin's most recent work uses dance to think through risk, precarity, and the influence of financial judgment and calculations across our day to day experience. I recently had the pleasure of speaking to Martin about this work and dig into the logic of social derivatives together. For those unfamiliar, derivatives, within the realm of finance, "are the variable attributes of some underlying commodity such as interest rates on loans, expected rates of default on mortgages, or rates of exchanges between two different currencies." Martin continues, "When taken as a broader social logic, and not just as an activity that takes place within one sector or domain called the economy, the dynamics of the derivative can be seen across all manner of human activity in ways that engender mutual indebtedness, interdependencies across different times and places, and a swelling socialization of what people take to be and expect from life, history, and their future."
AR: It would seem that generative risk-based practices, like those that you've written and talked about, are a way of negotiating or reclaiming a climate of risk for those that might be described as "at-risk". There seems to be here a relationship between self-guidance and agency. Would you describe this reclamation as a way of accruing agency through a self-guidance that appropriates risk in order to revalue it as a reward unto itself? I am also thinking of remarks you have made concerning the legacy of self-management and governance at the Brooklyn Commune.
RM: Regarding risk, self-guidance and agency. The bailout left the general impression that finance had cornered the market on risk. Taking the longer view of decolonization in which the current financial regime emerged, we see that it is but one currency of risk and that the relation between danger and self-appreciation, which collaborative dance practices set in motion and make legible other principles of mutual indebtedness than those that cleave a few beneficiaries from the circulating populations that live through the efforts of one another without needing to move in unison. Specifically, these movement practices share a decentered social kinesthetic which reverberates globally and engenders capacities for self-production (the repurposing and revaluation of urban space); self-representation (the capacity to value, make sense from and assess the work being done); and self-dissemination (the use of capture technologies to spread the words, feelings and movements beyond locally inscribed sites of practice). Hopefully this is a more generative agenda for life opportunity and mutual engagement than a pursuit of perfectible techniques for managing, ranking, and accounting for oneself.
AR: It strikes me that dance and other kinds of ensemble based practices offer a way to simultaneously imagine and enact living alternatives. Something that I think is at the heart of your recent work. Could you talk a little bit more about the problem of aspiration and imagination under the logics of derivatives? Do you see either (imagination or aspiration) as being co-opted or consumed by these logics?
RM: To think finance as but one potent but partial manifestation of the social logic of derivatives means that it is not at the center of all social processes gobbling up each instance of risk initiative. Derivatives are assemblages of attributes that produce by circulating; make the far near, and the future actionable in the present and move us from externalizing difference and change to finding ways that volatilities generate modes of abundance rather than scarcity. This is the promise of the derivative logic and the countervailing tendency of turning security to precarity and austerity.
AR: Are derivative logics totalizing? Your recent work would seem to suggest a non-conscious acceptance and internalization of these logics.
RM: Derivative logics are pervasive but are also decolonizing ruptures of some prior enclosure and risk forms that emerge from some condition of ruins. In my movement examples these are the ruins of industrialization which provide postmodern dance with its Soho "ghost town"; the ruin of social housing and engineering that cannot contain the moving images that will become hip hop; and the ruins of suburban bliss that provide the landscape from which boarding culture emerges. Derivatives are by definition bits and pieces of whole entities and therefore always leave something behind–an underlier, volatility, gaps and spreads, contingent claims. In some ways they emerge from the failures to totalize even as they augur an ever-expanding horizon of new forms of wealth that we must learn to claim as our own if we are to move beyond the imposed austerity that is our current lot.
AR: I hope you will forgive me if this question seems to veer us away from the topics at hand. Reading over the article you sent (A Precarious Dance, a Derivative Sociality), I am struck by two things which appear to be interrelated. One is a question of speed and perhaps by extension duration. Certainly there is an element of speed to some of the practices you mentioned: postmodern dance in Soho, the emergence of hip hop, boarding culture. Speed is a preoccupation of the skateboarder and tagger alike, as it is speed that will give them the opportunity to hold their territory for the greatest length of time and speed that will enable them to flee from authority. The other is this sentence: "Utopia as an end we touch through our own means of intervention." I can begin to see these two things working in tandem. The speed through which those "at-risk" intervene into the discarded landscape, the means by which they begin to simultaneously imagine and enact living alternatives and the production of a utopia whose manifestation is produced by or through this sense of urgency. Do you have any thoughts on either of these of these two observations? Can you elaborate on the utopian implications of these practices?
RM: Speed and duration are indeed material entailments of what I am terming a social kinesthetic. The difference between the modernist kinestheme and the decentered and distributed lateral kinestheme that derivatives circulate in is that space and time are linear and directional and expressed socially as the values of progress, growth and development. Just as portfolios are constructed to make money whether the market goes up or down; decentered movement practices take pleasure from staying in the flow, flying low or transitioning from one orientation to another. This is a nondirectional agility in which staying in the zone, the spread, the liquid suggest different values of participation and co-presence. By placing together interventionist and utopian political temperaments, we undo the reform/revolution opposition and find ways to combine moving into a space in order to repurpose and reopen it and taking the future in the present as allowing us to act upon the contingent without awaiting a total break into a new moment or world. The derivative logic begins to give us access to how we might value and appraise these differences that are already in our midst.
Over the coming months, the Bad at Sports blog is featuring quick glimpses of the art world as it exists in smaller cities across the country and around the world. Each glimpse is byway of some of the said city's local characters, which include but are not limited to artists, curators, creative writers, and critics. This week, we take you to Kansas City, the state-stradding city that produced the likes of Robert Altman, Amelia Earhart, Robert Morris, and Charlie Parker, to name a few. 
Six Shows and a Paradox
Guest post by Will Meier
January's freezing wind blew into Kansas City more than a handful of interesting art shows, most of which fit into a conversation concerning the correlation between pictures of things and picturesque things. Six of these recent exhibitions feature crossbred sensibilities of both flat and dimensional work, seemingly split halfway along either side of a conceptual Möbius strip.
At City Ice Arts hang several of Miles Neidinger's drawings and mixed-media assemblages. The show's center of gravity is The Anatomy of the Palace of Wisdom, a creature-like storm of various vibrant plastic line-segments. Spanning the 20 or so feet from the ceiling to its sedan-sized footprint, the piece is definitely a sculpture in its verticality and volume. But Neidinger says he wishes we would consider beauty, rather than architecture; with that logic, Anatomy could also be thought of more like a canvas laid on its back, with frantic, sparkly brushstrokes swooping up into the room like an animated de Kooning.
Up-and-coming ceramicists with work in OBJET, a "pop-up boutique" at Charlotte Street Foundation's Paragraph Gallery + Project Space (part of the organization's Urban Culture Residency Program), extrude along three axes not just composite gestures but actual, concrete things. Assembled by Dean Roper (curator of Weed-Craft), OBJET is e-relevant, with a second-life on tumblr launched promotionally before the show's opening and outlasting it as a form of documentation. This in particular raises the big question (especially applicable to the physically remote "silicon prairie" of Kansas City): What is the value of the-real-deal next to its likeness? Around the room, a squiggly Kid-Pix-plus-crystals aesthetic comes to life, displayed on minimal, geometric structures reminiscent of web-design. But internet architecture aside, these artists are paying homage to the way printing (in both dimensions) has revolutionized the craft industry. Take any of Joey Watson's funky, futuristic Dope on a Rope necklaced rapid-prototypes, or shirts by Jennifer Wilkinson, featuring previously made and found objects flattened into digital images on fabric, which is then tailored and wrapped around the body like an IRL displacement map.
In the larger of Haw Contemporary's galleries, Del Harrow from Colorado also shows a spread of digital-come-ceramic work in Breath. There is a CAD-plotted drawing that flattens the many evolutions of a CNC-lathed vase. But at the back of the room sprawls the showstopper: an assembly of many organic and geometric forms that Harrow calls a "still-life." Motifs from some of the scenic arrangement's discrete objects are echoed in the structural "morphology" and surface treatment of others, like in one brilliant detail—a tiny slice of leafy shadow cast in gold paint, barely visible on the side of a giant Lemonhead. This sort of inter-object contingency forms a scenic, pictorial stew of three-dimensional abstract harmony.
As seems customary, Haw Contemporary features two concurrent shows. The doorway between them begins our Möbius twist into imagistic territory. Corey Antis' The Head on the Door presents mostly small paintings of wonky, boxy forms. Antis, who believes perception is "measured between the solidity of material and its image," plays a game with "twofoldness," where a painting is both a material plane and a representational portal. But his works are glitchy portals, residing in paradoxes of contradictory spatial cues. Take one of Antis' "proposals for…perception," like Untitled (Demo), where the void of the panel's white ground corrugates the sunnily stripy pattern of something seemingly solid. In the end, of course it's an image of that wedge-ish thing, whatever it is…sort of.
Inferable by the title of the ongoing SPECTRA film series' exhibition, Sculpties, guest-curated by artist David Rhoads, the five videos in the H&R Block Artspace gallery show us scenes of objects and phenomena, aimed at an experience "closer to sculpture than film." Here, rather than as a narrative vehicle, time functions as motion in space. Rhoads shows all the work at once in a considered layout, instead of in typical 'screening' format. Two painterly collaborative videos by Robert Heishman and Megan Schvaneveldt, who live and work in Chicago, are shown back-to-back on large flatscreens. The artists puppeteer colorful, textural materials and symbolic objects within a shallow depth-of-field, compressing props, natural forces like wind and gravity, and their own personas into dynamic images. During Sculpties' one-night opening, it was easy to forget that, despite being the two-dimensional medium that most closely mimics all the phenomena of the real world, video is still really, really flat.
Last but certainly not least, Scott Dickson's solo-show, We Are Not This Body, at PLUG Projects, is full of fantasy, providing portholes not just to non-spaces or our own reality, but to another surreally fictional world entirely. Using the transformative medium of collage to transplant peculiar forms from one image into the stage of another, his precise compositions read mostly as landscapes. Yet they are also LEGO-like, monumental science-fictions about humanity's screen-bound destiny.
As elucidated by the work in these six shows taken in totality, images of objects and imagistic objects, despite their surface distinctions, are just two sides of the same cyclical conversation. Take the staged picture of Wilkinson in one of her shirts: a ceramic nodule, photographed, printed, sewn, worn, seen anew as an image in your web browser. Screens and substrates (think Antis' surfaces) are tangible things even though we now primarily 'touch' them with our eyes (as we do with anything in the third dimension, including Neidinger's plastic abstract-expressionist tornado). It is our inclination to wish that images of our fantasies were real and that what's real would fit the images of our fantasies. It's a paradox. One that is gaining increasing relevance in proportion to the amount of our daily experience made up of pixels. And as the boundary between what is real and what is like-real continues to dissolve, one thing is certain—the most engaging way to explore these sorts of ideas is through the fluid forum of art.
Will Meier is an artist and writer living in Kansas City, Missouri. After completing his BFA in Painting and Creative Writing at the Kansas City Art Institute, he was awarded an inaugural studio writing residency through Charlotte Street Foundation's Urban Culture Project. His writing has been published in various Kansas City print publications and can be seen on his blog: willmeiertext.tumblr.com