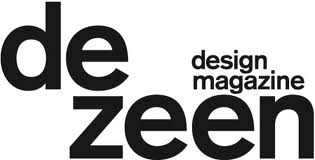 In the first of his monthly columns for Dezeen, V&A senior curator Kieran Long argues that today's obsession with authorship and celebrity "leads to serious imbalances in the way we see design in the world" and calls for an overhaul of the way design is curated in the twenty-first century.
Long, who was an architecture journalist before being appointed to curate design, architecture and digital at the V&A last year, points out that museums like the V&A focus on handmade, one-off objects at the expense of the mass-produced, anonymous objects that predominate in the real world. "The museum is more or less silent on the era of extraordinary Chinese manufacturing we are living through," he says.
Below he sets out "95 Theses" for contemporary curation, including provocative statements such as "Ugly and sinister objects demand the museum's attention just as much as beautiful and beneficial ones do" and "Museum curators have as much in common with investigative journalists as they do with university academics".
---
Every morning, on the way to my office, I pass a sign that reads: "Whatever thy hand findeth to do, do it with thy might." At the Victoria & Albert Museum, the building is always telling you to do something. The didactic, Victorian and Edwardian decoration asks you to pay attention to nature, to design and manufacture, to the provenance of objects, even where your food comes from. But this particular sign is deeply serious in its upper-case, gilded typeface. It can be seen only by V&A staff, and most often by the people who empty the bins in the service road at the back of the museum.
As a motivational slogan, it's espresso-strength, but it also betrays an emphasis at the V&A on the handmade, the artisanal and the one-off that design institutions, the media and designers themselves share. An object that an artist's or craftsperson's hand has touched has far more chance of making it into the V&A's collection than something mass-produced or anonymous.
In our China gallery, for very good institutional reasons, there are no contemporary, mass-produced objects. The twenty-first century is represented by artisanal glass and works of conceptual furniture design: the museum is more or less silent on the era of extraordinary Chinese manufacturing we are living through. Dezeen has a similar emphasis: while the site is catholic in its tastes, the anonymous, the mass-produced and the semi-designed are suppressed in favour of the work of a fairly coherent group of designers.
There are all sorts of pretty reasonable explanations for this. The most banal is, of course, that star designers are click bait: celebrity matters, especially in the media. On the other hand, some might argue that designers' work is simply better than the anonymous manufactured stuff that surrounds us. It's easier to love the milled aluminium monocoque of Jonathan Ive's Macbook than the awkward black plastic housing of a traffic light.
The emphasis on the authored leads to serious imbalances in the way we see design in the world. In future months, I will use this column to try to broaden the conversation about what design is, to try to move beyond a myopic interest in what designers and architects do, toward understanding what their work tells us about the world we live in. The others writing here (Sam, Alexandra, Justin and Dan) are all much better at this than me: I'm looking forward to reading their work. read more
The following article about Ana Mendieta has been circulating quite a bit lately, and as such I thought I'd repost it here. Bear in mind, I've copied an excerpt beginning a third of the way through the original. The original begins with a long description of her devastating death out of a 34th floor window in Manhattan. As her tragic end  seems so often to eclipse her narrative, I was especially excited to read more about her life (which is where this excerpt begins): 
by Sean O'Hagan
published on The Observer, 
Until recently, the question asked by those feminist protesters might have been amended to "Who is Ana Mendieta?", so unknown was her art outside the rarefied world of feminist art criticism. But, as the recent big show of her work at the Whitney Museum in New York and theimminent retrospective at the Hayward gallery in London attests, Mendieta is undergoing a reappraisal as a pioneering artist whose work, as the Hayward's artistic director, Ralph Rugoff, notes "ranged nomadically across practices associated with body art, land art, performance, sculpture, photography and film".
Cuban-born and American-raised, Mendieta described her work as "earth-body" art. From 1971, when she had her first solo show while an MA student at the University of Iowa, until her death, she created a diverse collection of work that included silhouettes of her body created in mud, earth, rocks, wild flowers and leaves, performance pieces that evoked the folk and occult traditions of her native Cuba as well as her beloved Mexico and subversive self-portraits that played with notions of beauty, belonging and gender. In her performance pieces, where she sometimes used blood "as a very, powerful magical thing", she evoked the power of female sexuality as well as the horror of male sexual violence. In her photographic self-portraits, she pressed her face against glass to distort her features or pictured herself dripping in blood or disguised as a man with glued-on facial hair.
Mendieta's art, like her spirit, was fuelled by a restlessness rooted in her exile from Cuba. Friends described her variously as "sparky", "provocative", "tempestuous", "outspoken" and "fiercely ambitious." After her death, many saw, in her often dark and ritualistic art, a foreshadowing of her fate – she once staged a performance in which visitors came upon her prone under a blood-splattered white sheet. Others claimed her as the freest of female free spirits in a male-dominated art world. The curator and scholar Irit Rogoff, her as "essentialised through an association of wild appetites and with unbounded female sexuality." It is only now that the power of her art is finally taking precedence over the stereotypes that were thrust upon her and the darkly dramatic manner of her death.
Mendieta was born in November 1948, the second of three children to Ignacio and Raquel Mendieta, a well-off, upper-middle-class couple. Her father, a supporter of Fidel Castro, was made an assistant in the post-revolutionary ministry of state in 1959 but, disillusioned with the anti-Catholicism of the new Cuba, later became involved in organising counter-revolutionary activities. As did his two daughters, Ana and Raquelin, aged 12 and 14. Fearing for their safety, he arranged for their passage to America, in 1961 through Operation Pedro Pan, a scheme organised by a priest in Miami that allowed around 14,000 children to leave the country and enter the US under the guardianship of the Catholic church. "For Ana, it was an adventurous thing," her sister Raquelin later remembered, "When we arrived in Miami, she kissed the ground."
Her euphoria was short-lived. After a time in which they were given over to the care of an Iowa reform school, where beatings and confinement were common punishments for the slightest misdemeanour, the sisters were separated and spent several years being shunted from one foster home to another. Ana felt abandoned by her family and isolated from her homeland. She did not see her mother and brother again until 1966, or her father, who was jailed for disloyalty to Castro, until 1979. He died soon after arriving in America.
"You have to understand she came to America with nothing," says Victoria. "That sense of exile was something she carried with her as well as a fierce independence of spirit. She would talk about it sometimes when she'd had a few drinks. I mean, coming from the heat and fire of Cuba to puritan Iowa would leave its mark on anyone and she had that survivor's spirit.
"She was driven in everything she did and that made her feisty and combative as well as great and generous company."
Mendieta began making art at the University of Iowa, where she had a decade-long affair with the artist and academic Hans Breder, perhaps her most important formative influence. It was Breder who drew her attention to the notion of cross-disciplinary practice, citing the likes of Marcel Duchamp, Yves Klein and the Viennese actionists as creative touchstones as well as organising visits by contemporary avant garde artists such as Hans Haacke and Vito Acconci. read more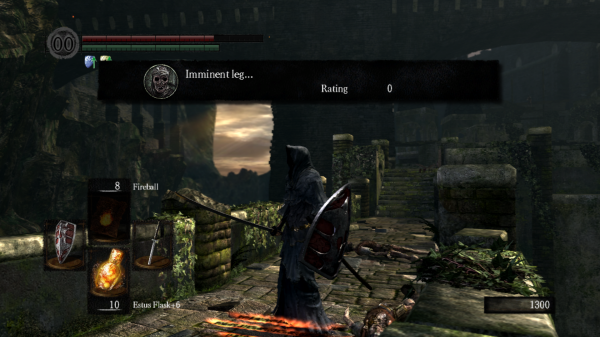 Guest Post by Paul King
The most recent time I loaded up the game Dark Souls, my character unsheathed a sword from her back and drew her shield. And then I noticed a message, written maybe two steps away: "Grief."
The world of Dark Souls is, as the title would suggest, dark. It's a classic, worn down fantasy world where everything is crumbling. Your character begins in a prison for the lost and undead; your default state is one of decay. Even as you continue to a city meant for gods, all is in dangerous, ruinous disrepair.
And most of the game is spent alone. Save a few neutral, stationary characters, any sort of dialogue is non-existent. Your hero never speaks, only grunts in the heat of battle, and these stationary merchants quickly run out of new phrases, things to sell you, or purposes to exist.
But at a certain point, your character may buy (or steal) a chunk of soapstone from one of these merchants. Once you obtain the soapstone, you may use it to write, coating the floor in incandescent orange scribbles that, upon interaction, reveal their text.
During the course of Dark Souls, no fix for the broken world emerges. At times, other characters hint that the universe has descended into darkness from a former glory, and your lone hero's quest might be the thing to restore it. But nothing you do on your journey really changes anything; felled enemies reappear upon your death and subsequent rebirth, and also upon the saving of your progress. But while your standard fantasy actions yield no change and are easily erased, the soapstone allows you to impact the game's world in a singular, everlasting way: through writing.
There's a multiplayer component of Dark Souls that allows players to enter the world of another. One can invade or be summoned, and these are adversarial or cooperative interactions, respectively. Both are temporary.
Messages penned with the soapstone, on the other hand, are permanent. Quit the game and return days later, they will still be there. And perhaps more importantly, while invasions and summons are constrained to a single instance of the game world—that of the invaded or summoning player—messages, instead, are universal. Write a message on the floor of a chapel within your game, and the same message appears in the same chapel of another person's game.
And there they sit, for any other player who happens by it. But much like the world of Dark Souls, the system in which messages are created is opaque and difficult.
The soapstone may be used to write a variety of messages, but only from a template. You choose a format—for instance, "Try _____" or "Be wary of ______." Once you've chosen a format, you can then choose from a list of categories to fill that blank. Options here include orientation ("Try left," "Be wary of right"), objects ("Try sword," "Be wary of chest"), and attributes ("Try fire").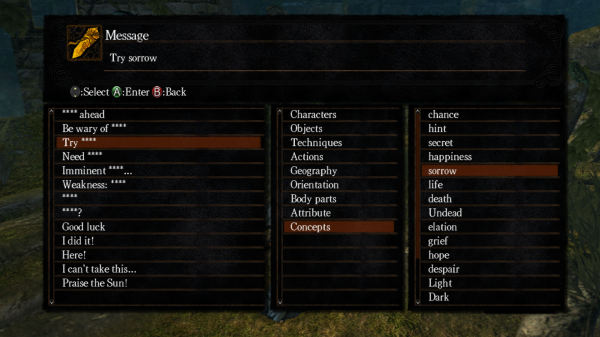 Because the messages are selected from a template, speech is limited, and as such, messages become muddied. As with the world, story, and mission of the game, the onus is on the player as a reader to determine the intent of a message. And as with the rest of the game, the system can be frustrating—authorial intent easily becomes unclear, especially in the wake of present danger due to the game's refusal to be paused. Pick the wrong moment to write a message, or linger too long on selecting the correct Mad-Libbian phrase and it might instead spell death.
And Dark Souls' closed language system isn't immune to classic video game juvenility. At a certain point, my character encountered the message "Amazing chest ahead," but instead of referring to what would make the most sense—a treasure chest—it was instead placed in front of a female character as an unfortunate reference to her anatomy.
While this example is depressing, it's fortunately rare. It also serves to underscore what is an even more important facet of the closed language: context. Not only may players choose what combinations of message to write, they may also choose where to place it within the world—for it to be a static element in the world of others. The same message becomes manifold depending on its placement.
A canned, writable phrase in the game is "Praise the Sun!" This is one of the only phrases that does not contain a mutable component (alongside "Good Job!" and "I did it!"). Its placement is intended in relation to one of the game's religions—meant to be written in a peaceful, brightly lit area upon which the sun shines. A prayer.
I found it once at the bottom of a sewer. Surrounded by the carcasses of massive, dead rats—think The Princess Bride—here it was: "Praise the Sun!" In this context it served as an entirely different message, rife with a sense of irony not possible if placed in a different area. Though the text said differently, the message was obviously one of despair.
Just before an encounter with a massive, angry beast, somebody had written "try jumping." And after dying to the creature several times—an event that happens with most encounters of the difficult game—the message clicked. And indeed, it was jumping from a ledge and plunging a sword into the monster's waiting back that proved to be the best strategy.
Elsewhere, I found the same message written on a set of uneven stone stairs, a crumbling railing beside it. "Try jumping." I angled my view downward, past the railing, and saw only an endless descent, one that would surely kill me.
It did. After I learned a lesson about trust, I discovered another message, not far away: "Beware liar."
And what begins to emerge from identical phrases is a changing language, one dependent entirely on a static world. While some messages are incredibly straightforward (my favorite is "Illusory wall ahead"), others are incredibly vague.
One of the more interesting categories to choose a "blank" from is "Concepts." The category sits at the bottom of the list, beneath "Characters," "Objects," and more, almost as if it were an afterthought. It is from this list some nameless stranger chose to pen "grief."
What strikes me especially about the use of "grief" is that it is wholly unnecessary—the entire world embodies "grief." Though "happiness" is present on the list of concepts, the use of the word makes little to no sense in the context of Dark Souls—there is, ultimately, nothing happy within the game.
But within the constraints of the language system, these awkward, single words can be used in new ways that don't necessarily pertain to the game. Before a particularly trying monster, instead of writing "Try lightning"—the monster's supposed weakness—one could instead place "Try hope," stepping outside of intended use.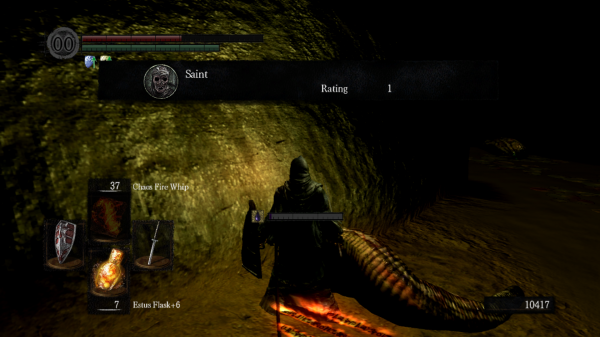 What's interesting about these concepts is that they were placed in an otherwise interesting and well-thought out system; one that plays to the same difficulties and themes of the game. It is only when we as players make a conscious decision to write a specific message does the system break down, distancing itself from in-game tips and evolving into something poetic. When the system breaks, it allows players to leave an effective mark on not only their game world, but the game worlds of others.
Because while all messages might be eternal, the ones that conform to a useful fantasy system—tips, locations, or secrets—ultimately interact with the world by blending into it, not changing it. The jumping tip about the monster led me to a strategic shortcut, while the deceitful note on the staircase created a new, interactive game experience. Those that reference nothing in the world but language concepts create new experiences entirely outside of the game.
Much of Dark Souls deals with the idea of immortality. Your character, like most video game characters, is seemingly tireless. Die, and be brought back again, and again, unceasingly until the game is done. The environments and enemies around you never change, and the latter is in seemingly endless supply. Even when your quest is over, the only option is to start over, either as a new character or the same one, this time in a harder difficulty.
Though the entirety of the game is caught up in this idea of perpetual fantasy, it promotes an unchanging stasis rather than an everlasting immortality. The player created messages—which ultimately exist outside of developer boundary or intent—are the only things that truly seem to point towards immortality. While standard, intentional messages quickly blend into the context of the game's world; those that break the mold escape the world and its shortfall. When a message references nothing external in the static game world—through the intentional or unintentional garbling of the closed system—it turns into a testament of itself. As a result, it transforms the writer from a player, into an author, leaving an indelible mark.
 Paul King is a poet, writer, and video game enthusiast currently living in Chicago, IL. He grew up in Austin, TX and graduated from Bard College with a BA in Liberal and Written Arts.
"I willingly was a participant in the lifestyle of the motorcycle club, and it is a lot like any other social scene, with it's own codes and mores, only perhaps faster and at times more violent. But at the same time, it is upfront, so in that sense you know what you are dealing with and it is clear what is expected from you… I have never been uncomfortable around the club and have never felt threatened in any way, if they like you, and most importantly, if the leader of the club likes you, they will treat you with absolute respect."      -Laura Stewart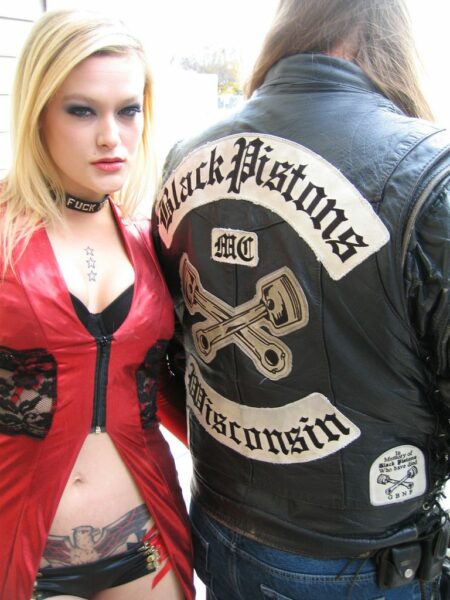 The two main protagonists of Laura Stewart's latest film are the titular "Shooter," motorcycle gang leader of Green Bay, Wisconsin's Black Pistons, and Whitley, a young woman who is both his partner in crime and charity project.
Shooter is an actual individual whom Stewart credits with sparking her interest in perusing the project in the first place; "I didn't even know what this film was going to be about when I started it, I had always liked Shooter and found him intriguing… he was the only subject that interested me enough to blow through all this film." From seven hours of footage, the final cut comes in at fifty-three minutes.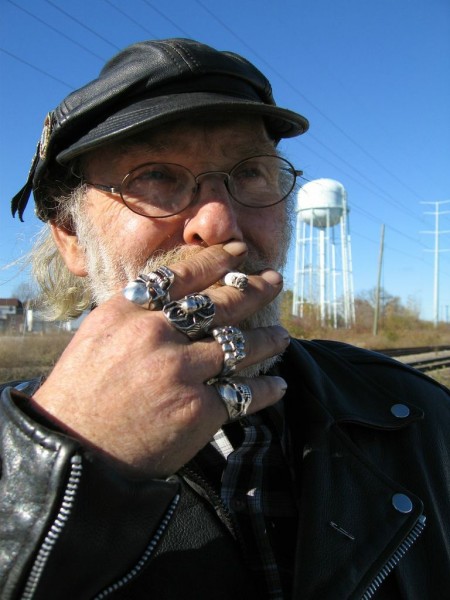 Shot without a script, the film uses voice-over narration to reveal the thoughts, fears and desires of Shooter and Whitley, and we experience the filmic world Stewart creates through the lense of their impressions and experiences. Although Stewart confesses that a typical days shoot would involve "having a general idea what I'd want to film," she cultivated a collaborative relationship with her actors and actresses wherein they would agree or decline to proceed given the premise she would establish. The goal was always to produce scenes that most realistically reflected their lives, so although the relationships and events of the film are all constructed, the characters had, "the freedom to expose the parts of their lives that they want(ed to)."
For Whitley, this entailed sound bites about coming from a broken home, learning how to cook crack by age eight, and getting thrown out of the house by fifteen. Shooter took a longer view about his romantic relationships over the years, and the protection and security he could provide Whitley for the price of obedience.
By giving them the "freedom to be who they want(ed) to be," Stewart felt she was able to better coax an authentic portrayal of their "lifestyle or soul" from them. Amidst the dancing, drugs, partying and prostitution that eventually entrap Whitley, and cloud her ultimate quest for comfort and security in the hands of Shooter, we find both characters blindly searching for home in a motel and bar, and referring to a biker gang family.
Without knowing the film is fiction, it is virtually impossible to perceive it as anything but documentary. This complex fusion of fiction and reality is what interests Stewarts, who feels that, "…all our lives are continually being made up every day in our heads anyway. There is no concrete documentary in my opinion."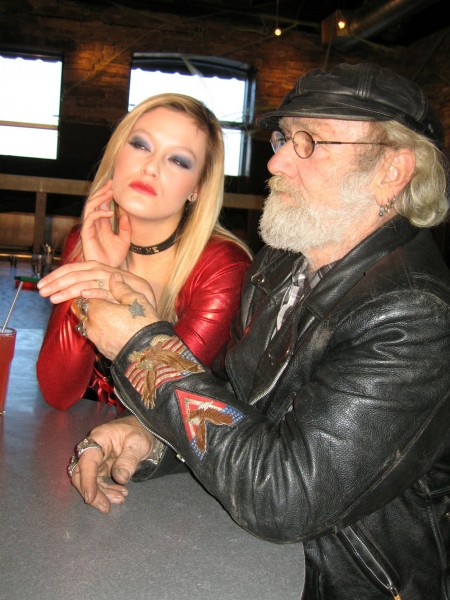 The non-diegetic mood music is eclectic and often jarring— it ranges from a song by the Dirty Three, to The Rolling Stones, to Franz Schubert. One scene in particular, shot on location at the Bourbon Street bar, pairs "Nacht und Träume" with lingering close-ups on Whitley's tightly bound bust and Shooter's grizzled, filthy looking paw stroking her upper thigh. The camera cannibalizes the image of Whitley, lingering on her chest and leg, chiefly without inclusion of her head or face in the frame, placing the viewer in the position of objectifying misogynist right alongside Shooter.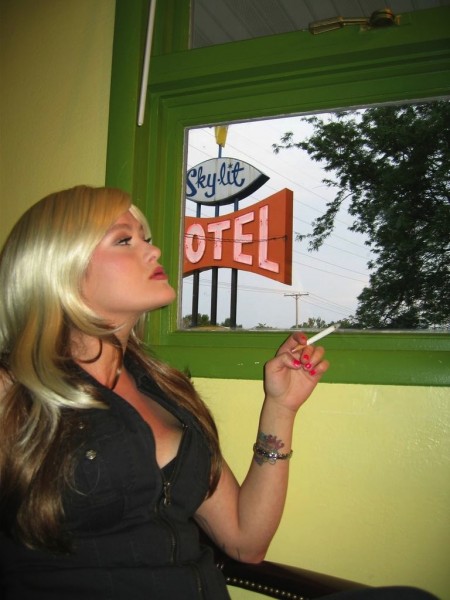 There were a handful of reasons why Stewart opted for filming in 16mm (with some Super 8)— some were practical, others were creative license. After recent run-ins with the law that Shooter and members of motorcycle club had just prior to filming, the analogue technology of 16mm, "let them know this was not some sort of surveillance, so (they) would be comfortable with a camera around." In addition, the film pays homage to seventies cult biker films which were also often shot quickly, using 16mm.
Stewart embraced the uncertainty that filming in 16mm comes with, stating, "That was part of what I liked best about (it), never having any idea how it would turn out until it came back from the lab in Seattle." She notes that, "the bikes and the chrome, and the Sky Lit motel with it's 50's sign where the M goes out after a lot of rain, this was something I felt needed to be on 16mm." While the quality of shooting with film goes a long way towards setting the stylized tone of the film, the rigid, traditional and conservative gender roles that both Shooter and Whitley personify also reinforce this feeling. The trance-like spell their gritty, sparse, and often desperate monologues invoke, incanted under the pulsing neon light of the Vegas-style motel sign transport the viewer to a bygone era, so much so that moments when a man in a recumbent bike pedals past the Bourbon Street bar, or a different man gets into his car in the parking lot of the Sky Lit while talking on his cell phone are unexpectedly shocking, standing out as wrinkles in the time warp.

Shooter and Whitley Trailer from Laura Stewart on Vimeo.
Stewart reports that the bikers like the film, and that, interestingly, "the guys all say it is more about relationships." Through an interesting blend of narrative and documentary, and improvisation and confessional, Stewart employs classic Hollywood filmic troupes alongside contemporary motorcycle club culture and aesthetics to create a film that navigates its own interesting path somewhere between the realms of hyper-reality and fan fiction.
All images courtesy of Laura Stewart.
Interview with Laura Stewart conducted by the author via email in September 2013.
The author would like to thank Laura Stewart.
To contact Stewart, please write to: shooterandwhitley@gmail.com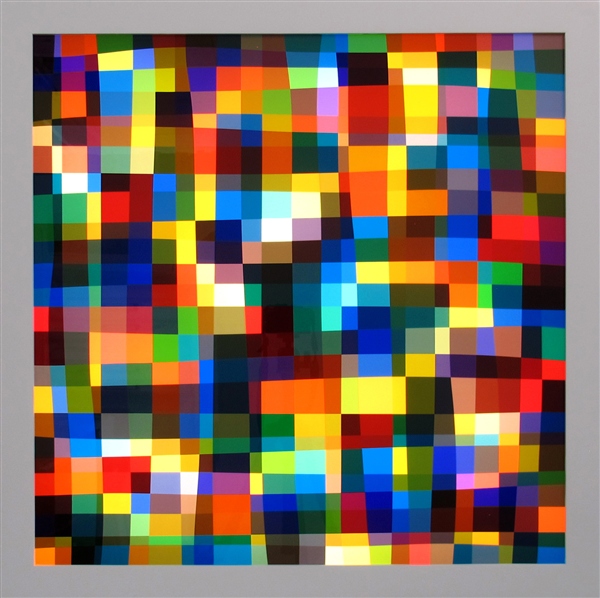 The podcast! This week: Duncan and Richard talk to Spencer Finch about his current exhibition "Study for Disappearance."
What is the color of the threshold – of that liminal space before day plunges into night? Spencer Finch attempts to answer this question through his most recent body of work created specifically for Study for Disappearance, his fourth solo exhibition at Rhona Hoffman Gallery.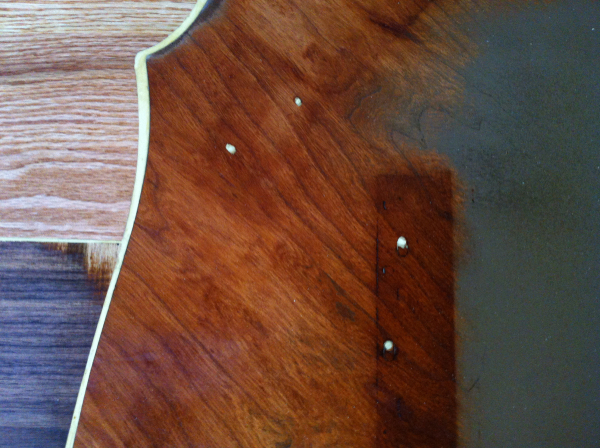 An essay by John Preus about making a table:
Quilting, a designation generally reserved for things made of fabric, is the result of surplus parts. It is not quite an assemblage or collage, although that history certainly relates to what is interesting to me about the table. An assemblage has to incorporate disparate parts, disruptions, things that were not meant to be together, a forced marriage, so to speak. Being that all of the table parts are wood, it isn't suitable to describe it as an assemblage or a collage. And it is not marquetry, which is an image or pattern-making technique using veneers of different colors to develop a picture. Quilting takes parts of other things to make a new thing. I would venture to guess that it comes out of a utilitarian folk tradition in which materials were limited and people had to make do with what was around. That may have been true long ago, but I am sure that quilting happens now more among folks with time to kill, than among low income folks trying to save material, textiles being as inexpensive as they are.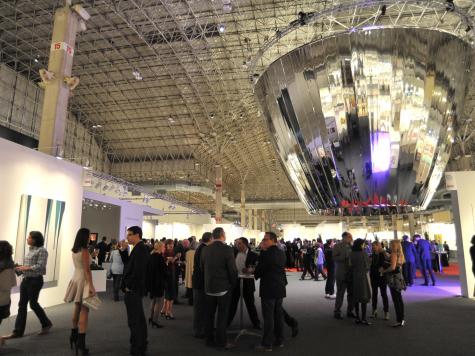 I put together a list of articles written about the Expo art fair spree here.
Britton Bertrand thinks back on 2005:
The years 2005 and 2006 were ok years for Chicago Art. It seemed to be an upswing couple of years when apartment galleries and art interest were peaking. (These things come in waves – I'd put us in a upward motion now after reaching the bottom in 2011.) The MCA was showing interesting work (a Dan Flavin Retrospective, Deb Sokolow and William J. O'Brien had 12 x 12's), blogs were percolating with critical activity (anyone remember panel-house.com or iconoduel.org?) and this new fandangled thing called a podcast had people sitting with their bulky desktops and REALLY listening.
Amanda Browder says GOOD MORNING New York:
"Good Morning!" is a fabric installation that will be draped on the facade of the building located at 72 East 4th Street, NYC. All the fabric is donated by people from the neighborhood, as well the generous support from Materials for the Arts. 
read an interview with Browder about the piece here.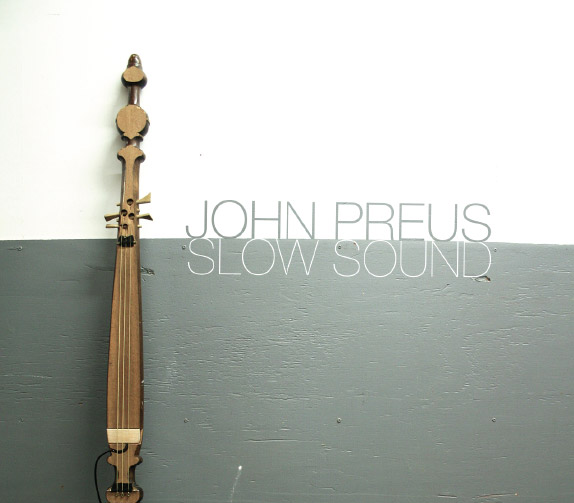 More on the subject of John Preus — Thea Liberty Nichols posted an incredible essay about Preus', who's work she recently curated at the Experimental Sound Studio:
John Preus is an artist, musician, carpenter, woodworker, and magpie. In the long-standing tradition of Chicago artists scavenging for "trash treasure," he lets serendipity and the thrill of the hunt guide him in sourcing discarded materials. Each new piece is a design challenge, contingent on entropy and surplus, to revive what others have cast-off or given up on. His materials offer up an infinite number of solutions which he is constantly attempting to "extract and exploit."
Juliana Driever posted an artist profile about  Ernesto Pujol:
Pujol is a site-specific public performance artist and social choreographer. He has a long record of intellectual and interdisciplinary art practices which have dealt with concepts of collective and individual and collective identity, the sacred, social and political issues, and public/private space. Since the late 90′s, Pujol has also been working on public group performances, where the focus has rested with action, movement, the journey – and the central concept of the "artist-as-citizen." Additionally, he is the founder of The Field School Project, where  young and emerging artists are individually mentored in site-specific practices.
Atlanta-based Meredith Kooi writes about a photo show curated around feminism, performativity, and photography organized by the Hagedorn Foundation Gallery:
The works in the show by the artists Jill Frank, Mónika Sziládi, and duo Double Zero (Hannah Ireland and Annie Vought) examine how to make a photograph of someone, a person, a woman (perhaps) and what that means. One of the organizing principles of the show – performativity, a buzz word indeed especially since the 1990s with Judith Butler's work on gender – finds itself in relation to photographs that draw attention to the process of their making. Alongside considerations of gender and femininity as performative gestures, the works in the show investigate the apparatus of photography and imagistic representation itself – Jill Frank's work in particular. Adding to this work by Frank is the Untitled (Projection) series by Steffani Jemison presented in her solo exhibition, When I Turn My Head, in the upstairs gallery at Hagedorn.
Stephanie Burke's TOP 5, baby.
Monica Westin posted an interview between Yolanda Cesta Cursach and Tolcachir about Tolcachir's upcoming performance at the MCA:
 Tercer Cuerpo is partly about labor and identity, particularly the disappearance of sustainable, meaningful jobs for people. What happens to these characters, and us, when we must find meaning in our lives apart from a career or calling? The always-already obsolescence of the form of theater makes the piece of interest to representing labor in contemporary performance and medium specificity in dealing with contemporary collapses of space and time. But the company Timbre 4 is also a landmark for contemporary Argentinan art practices; their home base in the working-class Boedo neighborhood of Buenos Aires has become a hotbed and model for independent, experimental theater and performance.
Saturday closed out, as per always, with some Endless Opportunities —