Guest post by Hannah Verrill
Michal Samama is a performance artist and choreographer from Israel.  She recently came to Chicago by way of New York to begin her MFA in studio art at The School of The Art Institute of Chicago. She is now focusing on the research and creation of movement based solo performances and multidisciplinary collaborations. A couple of weeks ago I spent time in the studio with Michal as she prepared for an upcoming performance at Northwestern University.  The following dialogue ensued:
Hannah Verrill: I'm thinking about a solo performance practice, and if it is distinct in the sense that you as the maker can never fully step outside of the work in order to witness it.  I am curious about how you come to 'know' the work that you are making as you are making it.  Do you use video as a reflective surface to see what you are making?
Michal Samama:  Now I find myself using video, but it didn't start that way.  I became so interested in the images, in creating images and then of course changing the images, transforming them into other images.  So in a way I feel that I have to see it. I guess I started to use video at some point, but before video I was using the mirror.  Over the past few years I've also started to take photos of my body and my movement in the studio.  I have tried to direct my body to a specific image but at the same time to be in the movement, or the position, or the expression while taking the photo.  Those moments that I've captured have helped me to develop the visual aspect of the performance.
So it starts from a visual image that I have, that I imagine, and then I start to explore it, to transform it, to do this whole research in the studio.  Video can tell me if the image or sometimes also the timing is right.  My question is what is that 'right'?  What is the right image?  What is the right timing?
HV: For me, time is something where video and live don't match up.  I can be watching a video of performance and something feels distinctly too long, but if I were with that body in space I could be having a completely different temporal experience of that same action occurring. 
MS:  It's interesting because when I look at the video, and again, it's a tool, it always seems for me that I don't take enough time.  That in live I push myself too fast, that it actually needs to be slower.
HV:Â  Right, and video helps you see that or know that.
MS:  Yes, even though it can be very boring to watch this stillness, but the way I sense the timing of my body through video is usually that I need to slow down and take more time.  It's something I'm trying to work on right now, but it can be very scary for me not to just move on and go to the next image.
So when it comes to performing in front of an audience there is this internal thing going on.   This other layer, the negotiation between the way I build or shape the external image with what's going on inside, and there is the encounter with the audience.
I remember the moment when I started look out.  I think there's a difference between this external artificial gaze into the audience versus really looking.  Of course it's a solo, like I am the performer and you are looking at me, but then I'm looking back at you and maybe you feel awkward or embarrassed, but maybe you are thinking about your next doctor's appointment or your surgery.
HV: Would you say that there's a kind of feedback loop in place? A set of information that you receive from your audience by way of their presence, in a specific sense, that comes to influence how you are performing?
MS:  Yes, or you could think of it as a dialogue. It's about questioning this idea of me as the performer being the authority.  Or it's also about questioning what is your (the audience's) role here.  I started to think more of this idea of performance as a collective event or social event. This is what is unique for performance.  It puts into a laboratory this idea of the social event.
I do remember one work from a few years ago when this question came up of if I wanted to take my gaze out into the audience or still be in this internal dance-y gaze, and at that point I chose not to.  I was too afraid or I didn't know what to do with it.  But now it's different, and I've started to make it more and more what I do.  I'm interested in this kind of transformation of images happening during the performance.  Part of the transformation of course is the homework that I worked on in the studio—the choreography—but of course part of it is like what you're saying, the feedback.  So in the end there are many more transformations than what I initially thought of because of the presence of the audience.
HV:  I wonder if you could talk about the process you're engaged in currently with this upcoming performance. 
MS:  In some ways this is the most difficult process to speak of because it is happening right now.  I'm working on this piece for a conference and the name of the piece is What Am I Paying You For? With the last few pieces I was more and more into this negotiation between the abstract of the body and the concrete of the body, and the idea of looking closely at body parts, zooming in on body parts.  But of course in performance you can't really do it.  I mean that's what I'm trying to do, but there is always the body as a whole.
HV: Right, and the space that the body is in.
MS:  The space, and the sound, and everything.  But the space and the sound are there in video, but in video we try to ignore it.
HV: But with video, with an actual zoom or various editing functions we can actually direct or focus attention.  I mean, with performance we can too, but it's very different. 
MS:  Yes, you can zoom in with a camera and show just this part, but how do I do it when my whole body is there, when the audience is there?  So I went into the studio taking this bag with me, with all of my materials in it. The rule that I set up for myself recently is that I don't do this theatrical thing of having a set stage, and then I perform, and then someone cleans it up.  I do it all myself as part of the performance, I guess to kind of blur this line between performance, life, when does it begin when does it end.  So I said OK, I'll just go to the space with the materials in my bag, but then I thought well this is not interesting enough. And then I decided to put the bag on my head.  I'm naked also.  So now I think that seventy percent of the performance is with the bag balanced on my head.
HV:  So you came to the studio with your bag of materials.  How is it that you decided to put the bag on your head? Is that an impulse or is that an example of an imagined image?  How did that happen?
MS: So that maybe was not an image, I mean when I did it I felt that maybe it could be an interesting image.  Putting the bag on my head immediately calls in a set of associations, connotations – I would like to play, at the same time, with the balance, the physical 'risk' or challenge but also with the associations, mine and those of the audience, sometimes they can also be risky especially when it comes to nudity… so I am on my knees, trying to balance the bag on my head, but I'm also a naked women on her knees.  You have to decide what to look at or what draws your attention. But I guess initially that gesture came from my desire to put myself in an uncomfortable or risky situation.
HV:  It's also a precarious situation because the bag could fall.  Does the bag fall?
MS:  It can, and in that sense there is a really different quality to rehearsal and performance, because things happen in performance because of the anxiety or excitement.  New things can happen.  For example I was working in an earlier piece with rocks, holding seven rocks.  During the first performance one of the rocks fell and it had never happened to me before, and it never happened after.  Just that first performance.  And yesterday my husband came to the studio to see this current piece for the first time, and I'm there standing with the bag on my head and I felt the weight of it on my neck and the tension in a way that I had never felt before in rehearsal.
HV:  Going back to the internal experience of the performer, and then there is the external image that you are creating with your body and various materials.  It occurs to me that the external image aside, you wouldn't know what's risky or vulnerable without feeling it, that it's a felt thing.  It's not exactly conceptual, but rather it seems as though it would need to feel legitimately risky for you. 
MS:  There is something very clear about the images, but then the risk is in the movement.  Otherwise it would be just like a photo.  A static image.
HV:  Does risk and vulnerability enter into the audience's experience of your work?
MS: Â We spoke about the gaze and how at a certain point in my work my gaze started to be directed out into the audience, and that is something I am working on, going more and more towards the audience and really bringing them into the situation.
But the whole idea of audience participation is such a cliché now.  It's a question of how to work with it.  With my body I try to ask: what are the possibilities of the body, what can the body be and how do we read each image that can be created with the body, or with the movement?  In working with audience, I want to give them a chance to respond in different ways, or to offer something that is a little disturbing maybe. I think no matter what you are always asking something from the audience, sometimes you are asking them to be very passive.  In my performances I think in a subtle way I try to ask them to be active.  What I don't want to do is to give instructions, this is not my way, I like that the way is more hidden.  To give more space, to create the space for negotiations.
HV:  And choice making as well, your audience can choose how and to what degree to participate.  But you're not letting them off the hook either. 
MS:  Yes.  This may be a solo, but don't be mistaken, you are here and you are apart of it.
For me, because I grew up on a kibbutz, I have these collective issues, and there is no solution for that, no answer.  It is just apart of what I am thinking through, or working through; this idea of performance as a collective experience, and creating space for individual responses. It's your choice, and it's a moment between us, and intimacy is a big word but I feel like there can be a kind of intimacy, something can happen there.
For example when I did the orange thing again at Judson Church, the first person was trying to take the orange from me, so it became this fight.  And then almost with everyone else they were imitating this.  So there's this kind of peer pressure, or how we follow what our peer just did.
HV:  It makes me think about what you were speaking to earlier, about how the presence or the feedback from the audience is a way to make the work improvisational to a degree.  It occurs to me that you cannot rehearse this aspect of the work, the interaction between you and your viewer(s).  So you are leaving space for your viewer to enter into the work, and also to determine the work, perhaps even make the work with you. 
MS:  That's the thing. I'm not so much into this idea of a closed production.  It's not just this thing where you come, and you see something, and you stay out of it.  It's more like a social experiment.  Of course I'm leading it and bringing the materials, the proposal.  I'm proposing something, and then it can change.  Parts of the work are very choreographed—there is a choreography in place—but still it is changing all the time.  There is an ongoing influence between you and I.
 
Hannah Verrill is an artist living and making work in Chicago, Illinois.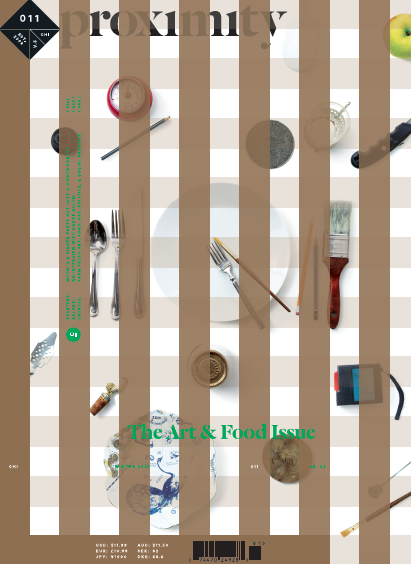 /////// details below:////////
LET'S DRINK, LET'S EAT, LET'S PLAY
A Proximity Art, Food and Radical Hospitality Mini Fest
October 18-20, 2013
@ Co-Prosperity Sphere, 3219 S Morgan Street, Chicago, IL
We are hosting three special events to celebrate the release of the
Food and Art Issue of Proximity. Our three course event takes place at
the Co-Prosperity Sphere which is being turned into a series of
installations and environments each day.
Join us for the potluck edition of Proximity Magazine, wherein we
investigate the intersections of art, food, politics and socially
engaged practices. In this issue we followed our noses and inhaled the
simmering pot of radical hospitality as a strategy for making art. Our
investigation into how the boundaries of art and food have been
blurred, smoothed out and ingested is revealed through the practices
of many local artists, activists and chefs. Our menu offers a survey
of projects that are presented as profiles and discussions about the
role of food in our lives. A veritable feast was found within
Chicago's art ecology, now lets sit down and eat.
LETS' DRINK
Friday, October 18, 2013, 8-11pm
Co-Prosperity Sphere, 3219-21 S Morgan St, Chicago, IL
Admission: $10
Come to our magazine release party and get a hot-off-the-press copy of
Proximity, meet some of the featured artists in the magazine and enjoy
some bread, and alchemical craft beer creations of your own choosing.
Features installations by PREP,Edra Soto, Â Hardcore Craft Beer
presents Alechemy, Bread & Beer and the return of the Hornswagglers!
Complementary beverages by Stone Brewing Company. Other beverages
provided by Founder's Brewing Company & special guest brewers. The
Hornswagglers bar will be coming out of retirement for the evening
serving their signature cocktails.
LETS EAT
Saturday, October 19, 2013, 7-10pm
Co-Prosperity Sphere, 3219-21 S Morgan St, Chicago, IL
Admission: $45 by RSVP Only ( Limited Seating)
Join us at our pop up eatery in the Co-Prosperity Sphere for a special
Prix fixe dinner with Chef Chris Reed from The Rice Table.
When the Dutch expanded their empire to Indonesia, they were enchanted
by the native cuisine it discovered. Excited by this new world of
creative cooking, their appetites increased, and so to the number of
dishes at the elaborate table. Thus began the birth of the Rijsttafel,
which highlights the various delicacies. The Rijsttafel was brought to
The Netherlands, and now this fascinating  culinary event in all it's
glory, can be enjoyed by you — right here in Chicago.
The Rijsttafel consists of a treasure trove of Old World delicacies,
brought to life and executed to perfection. For this special occasion
we have compiled a 12 dish dinner comprised of classical offerings
from the West Java province of Indonesia. This evening is a ticketed
event at $45.00 a seat and includes 2 complimentary drinks provided by
Maria's Community Bar, additional drinks
RSVP and purchase tickets here:Â http://proximity-ricetable.eventbrite.com/
Photography  by Ben Syverson
Beverages curated by Maria's Packaged Goods & Community Bar
Audio selections from: Dj Joe Bryl
Presented by The Rice Table & Maria's Packaged Goods & Community Bar
LET'S PLAY
Sunday October 20, 10:30am – 2pm
Co-Prosperity Sphere, 3219-21 S Morgan St, Chicago, IL
Admission: (Suggested admission $10 per family)
Our LET'S PLAY program is for kids and adults.
At this family-savvy happening, you will find the Kite Collective's
Shadow Forest installation, make visual poetry windchimes with the
Kite Collective to take home, boogie to the beats of a Future Hits
electric set, cross paths with SHoP's portatable Froebelian learning
center, learn more about Be the Change Charter School and play with
Cultural ReProducers. Eric May, a featured artist from Proximity's new
issue, will be serving his signature E-Dogz to attendees. This event
is part of Co-Prosperity Sphere's "Urban Operating System."
///
A recent trip through LA gave me the opportunity to catch up with Matt Glass and Jordan Wayne Long, the two collaborators behind Half Cut Tea, an ongoing documentary video series featuring emerging artists across the US. Now in its second season, Half Cut Tea has traveled from Boston to Los Angeles and many cities in between, featuring soon-to-be-known artists including Jennifer Catron and Paul Outlaw (New York), Wesley Taylor (Detroit), Beverly Fre$h (Chicago), and Sean Joseph Patrick Carney (Portland). Both Glass and Long have temporarily suspended their individual art making to pursue this collaborative endeavor, which they plan to continue into a third season and beyond. Their motivation is two-fold: firstly, to bring visibility to a generation of younger makers who often are operating outside of traditional art centers; and secondly, to demystify the idea of the professional artist as an unattainable über-genius. Half Cut Tea brings a bit of day-to-day reality to the processes of art making, pursuing artists in their everyday habitats, which, in Glass and Long's experience, can include calcite mines and jumping out of planes in parachutes. According to Long, the project won't end until art making is perceived as an accessible occupation, unencumbered by the exclusivity and mind-numbing static of contemporary art speak.
I spoke with Half Cut Tea in their Culver City studio, which doubles as Pretty Gallery.
Sarah Margolis-Pineo: What motivated you to put your individual art practices on hold—somewhat on hold—to collaborate on a series of documentary videos, which are a distinct derivation from your creative work?
Matt Glass: For me, I'm still using the same skills. Whether or not I'm actively making art, I'm still exercising those muscles. Especially with creating the music, the videos have really allowed me to build and expand on what I already do as an artist.
Jordan Wayne Long: I think, for me, being in the art world for a couple years doing performance art, I saw so many people making work who weren't getting exposure. Maybe they weren't making the best connections or meeting the right people. Regardless, this video series allows us to make something awesome for little known artists and show that they're as good or potentially better than those recognized by the mainstream art world. Also, when we started the series we had just came out of grad school and were so sick of art-speak. In mainstream art writing everyone just says the same damn thing! Just talking with people opens them up less formally. We'll shoot two hours of interview for a three-minute video, pulling out dialog that really gets to the heart of what they're doing.
MG: They say more about their art when they're not talking about it.
SMP: What is your relationship as collaborators?
MG: We're lucky because we have different strengths. I don't like talking to people and Jordan really likes talking to people. I like being in a dark room, and Jordan thinks that's kinda weird.
JWL: We've been friends since grad school, but I knew of the work Matt was doing even before that point and how crazily talented he is. He did so much work – so many things for people – and he's never gotten any credit for it. I am just thrilled that this series gives Matt a venue to exercise his skill and talent. It's just crazy that just the two of us are doing this project, and so much of it relies on Matt.
MG: That's very kind of you.
JWL: We were both in bands before and have been on tour, so we are both accustomed to dealing with different personalities. We work really well together. Even when we get frustrated – when something doesn't go right and we've had a bad shoot day – we both know when the other person needs to blow off some steam by being absolutely ridiculous. We'll be in the car singing in different voices and then be fine 30-minutes later. It's terrible doing something that you really enjoy and it's going poorly.
MG: Every video we make, there's always a point that I think: This sucks! I don't want to do this anymore. But then it's always fine.
SMP: How are you selecting the artists to feature?
JWL: When we first started, it was people we had already met. From there, the initial interviewees would know someone, so it was a rhizomic growth process. Now, we get sent submissions by colleagues or from artists themselves, and often, we'll seek out particular artists that we'd like to feature as part of the series – a puppeteer in Venice Beach, for example.
We don't make money doing this, so if we're going to create a video, we have to really like the artist that we're featuring. Each subject is heavily vetted. We have conversations by phone, over a meal – multiple times – just to make sure they're not an asshole. We've definitely had to turn a few people down.
SMP: What are your main considerations when producing the content?
JWL: We know we want to see each artist working. To be honest: the only thing that we ask for is that he/she/they do something that doesn't involve their art. When we shoot, we always want to do something entirely unrelated to art making, whether it be cliff jumping, playing Dominion, or playing with their dog.
SMP: Is this a way to expand the conversation beyond an artist's professional identity? Why is this an important emphasis for the series?
JWL: In grad school, our mentor really wanted us to cultivate who we are—our public personas—as a means of developing our careers. I was cast as a soft-spoken, Southern performance artist. I'm not going to live my life hoping that this myth of my personality will take off. I just don't think you have to fake this myth, hiding parts of yourself to embody some sort of monolithic identity. Part of Half Cut Tea is showing that people are just people. It's not about putting artists on a pedestal, it's about showing that professional art making is an attainable, everyday thing. Any kid from any small town can be an artist—there are so many different ways to be creative and be successful. If you don't come from a lineage of artists, that's a difficult thing to understand.
SMP: So Matt, it seems as though Jordan is really intent on shaping the diological content of the films, but I'm guessing you're the one who is behind the visual content. What are your main considerations when approaching each new project?
MG: Jordan is in charge of talking about the art, and I'm in charge of showing about the art. I like the quiet moments. This is something it took us a video or two for us to learn: there have to be some quiet moments. Some of my favorite clips are when you have a nice music queue and an artist is just carrying a box somewhere. It's in these short scenes that you're really let in on the process. The verbal interviews are one way to get at an artist's thinking, but it's in the quiet moments that you can see the wheels turning—you can see the artist really considering their art.
JWL: It's really funny. We'll shoot for an hour and a half doing a formal interview, and as soon as Matt turns his camera and begin to shoot b-roll, the good audio will begin to flow. As soon as I say "I think we're good," the artist begins saying what we were hoping they'd say the whole time – the guard is put down. Everyone is so afraid of looking bad on camera. We're not doing this to fuck with people; we're doing this to create documents that truly capture an artist's work.
SMP: The music seems really integral to the visual/aural texture of each video. How is it composed?
MG: I try to use instruments that match the videos and type of art that each individual is making. For example, the Nick [Olson] and Lilah [Horwitz] video features a lot of acoustic guitar, hurdy-gurdy, and violin. In a video we did recently, I put in more electronic elements than usual because the artist deals with mechanics – he's an inventor.
Sometimes, I go over the top. With each video, I like to create sound that would convey the same narrative arc even if there was no actual interview. There are distinct ups and downs. In a way, it's like a 5-minute film score.
SMP: Where has the journey of this project taken you geographically?
JWL: We hit… How many states did we hit?
MG: Six? Eight? Massachusetts, New York, West Virginia, Arkansas, Utah, Michigan, California, Oregon… And quite a few in between.
JWL: One of the main things was going outside of traditional art hubs and find people who are doing great stuff..
SMP: I'm guessing you've had a number of adventures through this project. Anything particularly memorable?
JWL: The cave. Matt was not a fan of the cave. We went and broke into calcite mine – that was cool. And, obviously, we only used 30-seconds of footage, but we shot for a couple hors in that mine. Matt only went about 100-feet in.
MG: I waited for the earthquake outside.
JWL: What about the time we dodged dozens of tornados? All the way from West Virginia to Detroit, we were avoiding a crazy storm system. We had to wait part of it out in an Olive Garden. Thank god for breadsticks.
SMP: Now that you're finishing up season two, are there plans for season three?
JWL: It's in preproduction. We're still locating artists, mapping the regions we'd like to travel to, and locating funding. I'd like to do the Deep South, and I'm trying to convince Matt to go overseas.
MG: But I don't even want to go to Florida.
SMP: How are you promoting your work?
JWL: We have a budget of about $40/month. It's pretty cool to be able to reach the audience that we have. We have about 250,000 hits for the whole season, which is impressive considering the budget. We're taking the grass roots approach. We pick our markets; for example, if an artist is from Wisconsin we promote in Wisconsin newspapers and hope that the thing will snowball. This is something that I have no experience with, but it's fun to play at it with such limited resources. It's so different than promoting your own art practice because there's a certain guilt with self-promotion. When you're promoting another artist, you're doing something great for them in addition to promoting your own work.
All photos and videos courtesy of Half Cut Tea.
Matt Glass is a photographer, filmmaker and musician from Utah with an MFA from Cranbrook Academy of Art. Matt's films are full of puppets and other oddities. His music has been featured on various television programs on NBC, CBS, FOX and more … and he likes pizza.
Jordan Wayne Long is a performance and video artist originally from Bald Knob, Arkansas. He graduated with his MFA from Cranbrook Academy of Art in 2011. His current work deals with trauma … and he loves sweet teas.
The Art Market is inflating out of control, making all but the wealthiest few cry foul. Like it or not, this is affecting the way contemporary art is viewed and thought about. Meanwhile, Jeff Koons continues to be the perfect Poster Boy for the inflation, and it just so happens he has work depicting the nothingness inside the bubble. Simultaneously, Banksy goes for a stroll in New York's neighborhoods proposing a different model. Is this the beginning of the end of the glutonous market? Or is this merely a long beginning?
Don't make the mistake of trying to analyze the Jeff Koons album cover work for Lady Gaga as if it were art. Think of it instead as a publicity stunt to drum up hype for his upcoming retrospective at the Whitney this summer. On the day the album cover was released, mtv.com ran a story with the headline: "Lady Gaga is Jeff Koons' Biggest Fan…But Who is He?" This collage of leftover studio remnants and a Botticelli print gets him access to a generation of people who are not likely looking at a lot of contemporary art, beefing up his celebrity status which he craves, at the same time adding to ticket sales. This, and the animosity from art enthusiasts will help make his retrospective THE BEST EVER!! Just a couple weeks before the Lady Garbage cover, T magazine – the glossy pulp supplement in the NY Times – had a stereotypically vapid conversation with the artist about his recent commission from Dom Perignon to made a limited edition DNA – shaped champagne bottle. Low end and high end commodity containers from ol' Koonie Balloonie. Not too different from anything he has done in the past, but the labeling becomes ever more irksome. Consider his output for the last decade, where most of his work is sold before its finished, and may only show at auction instead of a gallery or museum. Not that this is such a terrible thing. What has basically become a high end boutique practice is frustrating mostly because it is helping fuel the glut of the art market, and then regurgitated into the art world as important to the production and dissemination of art, to negative affect. As long as we wallow in the crystal palaces of Koons, Hirst and Murakami, we'll think that art is as uninspired as Gormley, Marden and  Whiteread.
Koons is in this rare position of being accessible to everyone but only collectable to a small handful of the richest in the world. As Carl Swanson recently stated in Vulture: "Koons can be the art world's great populist artisan, even as he operates as its most exclusive salesman."  Everything about the work is right there, so there's nothing to get. It is perfection and simplicity, the kind of thing that mocks you for looking too hard at it. Since critics are trained to look hard at things, they tend to hate Koons. And its boring to write about art just by describing what it looks like, so people tend to write about his career, his collectors, his record breaking prices at the market, his studio and the process of making his work. This only helps to build a persona around the artist, giving him the superstar flair that these major collectors are after. (And with this week's art fair, London's Frieze officially bigger and more bloated than ever, superstars have never been more in vogue.)
Both interesting and frustrating is how Jeff Koons' rise to the art commodity machine that he is may have helped shape the way the art market is an increasingly insiders game of fewer and fewer players more knowledgable about trading commodities than how to tell good work from bad. And with the auction prices soaring, the big named galleries just keep getting bigger in a kind of go-for-broke mentality* (not breaking them, just the artists they rep, in less of a financial type of broke and more of an artistic quality and integrity type.)
[*for a throughly depressing take on this, see Jerry Saltz's article on Vulture this week.]
At the same time all the grumbling about Koons' latest fart hit the web, Banksy has been doing a residency in NYC, creating work in the city in his typical fashion – covert and unannounced – the opposite of how you're supposed to make art. While seemingly on the other side of the art world, there are a lot of similarities between the two artists. Maybe Banksy isn't able to sell his graffiti work for 33 mil, but he is still operating inside the art market, selling regularly and at high prices. Lately, his work is often either garishly covered by a piece of plexiglass bolted to the wall he painted it on or is removed and sold, either way being seen by an enterprising public as separate from graffiti art and reborn as high art/commodity. His work is no stranger to auctions, museum and gallery shows, while being loved by mainstream society. His imagery is understood at first look, you don't need to read into it, and if you are, then you probably don't get it. Also like Koons, art critics hate writing about Banksy, saying there isn't enough to write about, because it is too surface and he isn't playing the game. But this game is being co opted by the wealthiest of collectors who have realized there is a market that won't burst and can't crash, so they've taken advantage of it. Buying a Koons gets you a ticket into  a very exclusive club. Buying the Banksy at auction though, means that you probably don't get it, because his work is to be freely viewed and is mocking the very lopsided system of capitalism that allowed you to buy it at auction in the first place. Getting it, though, is no longer important. Its having it.
As his position in the art world becomes more clear, Banksy's art frequently criticizes the market, and the latest example of this was a street sale of many of his iconic works on white canvases for $60 on the sidewalks of NYC. The work and the sale later appeared on his website, which is his way of providing provenance. These single color spray painted politically charged images lost all meaning shoved within the borders of these small store bought canvases, sold on the street among vendors hocking watercolors and prints of impressionist styled paintings. Subverted now to talk about the politics of class, taste and accessibility in a market that is more often hurting artists and keeping way too many people out of collecting art. It stifles artistic creativity to the point where every idea is either a recombination of greatest hits by the artist or an experiment to see how much money can prop up a bad idea. Artists start to flounder when they should be thriving. Shows are created for the specific tastes of the market and of a few clientele. Everything becomes dross and it feels like you are wading through a lake of effervescent puke whenever you go to a big exhibition, and anymore, they're all big. 'Cause if not, they may as well not happen at all. More and more, it sucks harder and harder to be a practicing artist in this climate. Unless, of course, you're Jeff Koons.
The acclaimed mixed-media creator on colonialism, women warriors, and the consumerism that pays her bills.
By Benjy Hansen-Bundy on Sat. October 12, 2013 3:00 AM PDT
Wangechi Mutu Photo: Kathryn Parker Almanas
"The power for me is to keep the story of the female in the center, to keep discussing and talking about women as protagonists," Wangechi Mutu said in a video introduction to A Fantastic Journey, her recent exhibition at Duke University's Nasher Museum of Art. For the casual art fancier who happens upon it, as I did this summer, the exhibition was like embedding in Mutu's mind: Black globes of crumpled plastic hang on strings suspended from the ceiling, a looping video of the artist devouring cake flickers on the floor, and triumphant warrior women occupy magnificent collage landscapes on the walls.
Mutu, a Brooklyn transplant via Nairobi, deploys mixed media to grapple with themes of consumerism and colonization, of gender and race—and war. Her large, lush collages draw from images familiar to us, such as magazine photos of bare flesh and car engines, which she transforms into works that are mysterious, beautiful, and somewhat terrifying. Her animated short, The End of eating Everything, done in collaboration with the singer Santigold, depicts a colossal machine/beast/planet feeding on black birds while floating in a vast industrial dead space. In an interview discussing the piece, Santigold praised Mutu for her "explosive renewal" of artistic expression at a time when vapid materialism dominates the popular culture.
A Shady Promise The Speyer Family Collection, New York. © Wangechi Mutu.\