Contact: Amanda Browder: NY Bureau Chief at Bad at Sports amandabrowder@gmail.com,
badatsports.com
voltashow.com
Bad at Sports at VOLTA NY
82 Mercer Street, NYC
March 6-9, 2014
FOR IMMEDIATE RELEASE
New York, NY (February 17, 2014) – Bad at Sports Art Podcast will be featured at VOLTA Art Fair 2014 in SoHo, NYC … in bed.
This year Bad at Sports will be snuggling up with an exciting list of interviewees In Bed for coverage of VOLTA NY. Located in the heart of SoHo, the Bad at Sports "bedroom booth" is a nod to the original 1969 Bed-In performance by Yoko Ono and John Lennon. Can peace and harmony be made in the art criticism world? Will the art fairs cause extensive napping and dream-like chatter?
While trying to steer clear of pillow fights, podcasters Amanda Browder, Duncan McKenzie, and Richard Holland will be conducting live interviews with a collection of local and international artists, critics, and curators. Stop by to catch the interviews in person, or tune in online at badatsports.com to listen to chatter with participants like Adam Parker Smith, Kristen Schiele, W.A.G.E, and Hajoe Maoderegger and Franziska Lamprecht (eteam). Get the dirt later on with guest critic Katy Hamer from the art blog Eyes Towards the Dove. We will be making peace, love, and naughty jokes around the art world and fairs … in bed.
####
Featuring bedside chats with:
Franklin Sirmans – Terri and Michael Smooke Department Head and Curator of Contemporary Art, LACMA and Artistic Director, Prospect.3 New Orleans
Hajoe Moderegger and Franziska Lamprecht (eteam) – artists, NYC
Judith Reddy Blum – artist, NYC
Kristen Schiele – artist, NYC
Rebecca Goyette – artist, NYC
Jeff Stark – Editor, Nonsense NYC and artist
Critical Practices Inc. – artists, NYC
Adam Parker Smith – artist, NYC
Carolyn Salas – artist, NYC
Katy Hamer – art writer and artist, NYC
Lise Soskolne – artist and core organizer, W.A.G.E.
Vincent Dermody – artist, NYC/Chicago
Casey Ruble – artist, NYC
Willie Cole – artist, New Jersey
Martin Bromirski – artist, New York
and more…
###
Read more about Bad at Sports at VOLTA NY here.
About Bad at Sports
Founded in 2005 by Duncan MacKenzie, Richard Holland, and Amanda Browder, Bad at Sports (B@S) now features over 20 principle collaborators and is a weekly podcast, a series of objects, events, and a daily blog produced in Chicago, San Francisco, Detroit and New York City that features artists and "art worlders" talking about art and the community that makes, reviews and participates in it.
B@S can be tricky to describe: it acts as a curious investigator, an archivist, oral historian, and occasionally as a provocateur. We produce content that lies somewhere on the venn diagram of art, journalism, media, intellectualism, and "the naughty bits."  We represent artists and their art world through an archive that is text, audio, physical, ephemeral, historical, and constantly evolving through ongoing and unique projects.
Bad at Sports has "done stuff" with apexart, The St Louis Contemporary Art Museum, the Museum of Contemporary Art Chicago, Baer Ridgeway, NADA Art Fair, Open Engagement, Cannonball and many others. We share collaborators with Art Forum, Art Practical, The Chicago Tribune, Chicago Magazine, Art21, BUST magazine, Proximity Magazine, Modern Painters, Beautiful Decay Magazine, Art in America and numerous other publications.
Our podcast has included approximately 450 interviewees/co-conspirators including Kerry James Marshall, Jeff Wall, Larry Rinder, Peter Saul, Liam Gillick, Mary Jane Jacob, Chris Ware, Tania Bruguera, Jeffrey Deitch, James Elkins, Meg Cranston, Carol Becker, and Polly Apfelbaum.
Bad At Sports has been a lot of different people but is currently Brian Andrews, Amanda Browder, Stephanie Burke, Terri Griffith, Richard Holland, Christopher Hudgens, Jamilee Polson Lacy, Duncan MacKenzie, Patricia Maloney, Sarah Margolis-Pineo, Nicholas O'Brien, Caroline Picard, Abraham Ritchie, and Abigail Satinsky.
###
Guest post by Jacob Wick.
A current exhibition at the Hammer Museum in Los Angeles, Take It or Leave It: Institution, Image, Ideology, is a deft rebuttal of Institutional Critique. Take It or Leave It mashes together a variety of well-known works by well-known IC artists, creating a confused jumble of brands intelligible only if viewed in the same spirit as one views a shoe rack at a department store. The message, delivered through the cunning mess organized by curators Anne Ellegood, senior curator at the Hammer Museum, and Johanna Burton, Keith Haring Director and Curator of Education and Public Engagement at the New Museum, seems to be: Institutional Critique, and by extension most current critical art, is irrelevant. Take it or leave it. I am tempted to agree.
Upon walking into the exhibition, on the second floor of the newly-free Hammer Museum, one encounters, first, and fittingly first, Andrea Fraser. She beams from a bulky television screen, leading a Gallery Talk (1989), a repeatable performance for which she is widely identified. As she primly leads us through a series of quotations lifted from museum brochures, reviews, and so on, highlighting an institutional language that has only intensified and become more isolated from everyday language in the last twenty to thirty years since Fraser led these tours—leading of course to that awful Institutional Art English article I hate so much, because honestly the everyday language of cricket fans or teenage YouTube enthusiasts is as unintelligible to me as Benjamin H.D. Buchloh might be to them, and you know, if you want to learn a sociolect, learn it, it's really not that hard—we glance to the right and are accosted by Renée Green's garish (but quite beautiful) Mise-en-Scène: Commemorative Toile (1992-1994), and a pair of bits of Mark Dion pieces, The Department of Marine Animal Identification of the City of New York (Chinatown Division) (1992) and New York State Bureau of Tropical Conservation (1992). This all in a room—a foyer, really—perhaps 8 ft x 20 ft. The trend continues throughout the rest of the show, with a bewildering oversaturation of work by easily recognizable IC artists organized room-by-room according to big dumb categories like THE MUSEUM or POLITICS. The POLITICS room, for instance, has two works by Felix Gonzalez-Torres, two works by Robert Gober, and three works each by Jenny Holzer and Fred Wilson! Wow! Oh, and a Glenn Ligon piece, if I remember right.
The aural confusion rivals the visual confusion, with sound bleeding from Andrea in front, a relatively innocuous guitar piece with very nice furniture by the only name I didn't recognize in the show (and which I didn't write down, but I probably should have laid down on the furniture, I have to admit I was a little tired while viewing, or attempting to view, this show), the arabesque from Dana Birnbaum's three-channel video installation Arabesque, and several other voices speaking from several other video installations. One can really only walk through the show saying, "oh, Andrea Fraser! oh, Alan McCollum! oh, Felix Gonzalez-Torres! oh, Adrian Piper!" and so on. Each work, regardless of its individual merit or its potentially radical past effect on the institutionalized art world of the 1980s and 1990s, becomes a calling card, a simple brand identifier, a shoe. The effect is to suggest a feeling that Institutional Critique should be, or has already been, laid to rest, that it has suffered the same fate as its preceding movements and morphed into a series of innocuous and critically irrelevant calling cards.
While Institutional Critique was certainly relevant—often many other things, including beautiful, shocking, and a variety of other adjectives, many of which are vinyled to the already-crammed walls of the show in the form of various historical derogatory reviews of IC artists—during its heyday, in the Internet age, where anyone looking at art or working in the art world probably has a smartphone and enjoys, or pretends to enjoy, a variety of privileges vis a vis the rest of the world, including the ability to very easily and quickly assemble a tawdry list of dirt surrounding any institution, from Hammer to the dollar, the opacity that once enshrouded institutions with a veneer of acceptability and inevitability has been replaced with an ironic remove that ensures the same effect. This ironic remove serves a very useful purpose insofar as it allows us to continue living lives of privilege without the persistent nag of horror at how and where our clothes were made, where the materials in our smartphones were mined and in what conditions (not to mention the conditions in which they were made), and the total unraveling of the environment that has recently become apparent. There is, almost without doubt, a legacy of horror in at least one object within 50 ft of you; there is, almost without doubt, a weather event without precedent that is currently occurring or has recently occurred in the region where in which you live. A lightly sneering ironic remove allow us to, in the words of a WWII propaganda designed by British intelligence in the event of catastrophic air attacks that tellingly became a meme so successful that it adorns dorm rooms everywhere, "Keep Calm and Carry On." This ironic remove is necessary to live life without succumbing to a deep and unshakeable sense of doom and should be embraced, unabashedly, as such. This selfsame remove, however, is what renders work like IC, that attempts to call us out on things that we are very likely already aware of but are making a decision to ignore to retain a certain degree of sanity, irrelevant, for being reminded of the knowledge we are trying to ignore strengthens, rather than weakens, our barriers against it.
Let us, like Paul Bettany's character in Dogville, consider an illustration. I am in a social situation with a friend. A party, perhaps, someone's house or apartment, a someone that neither of us know particularly well, but who has invited us, for whatever reason, over. The party is relatively low-key. At some point, my friend goes to the bathroom. When my friend returns, I notice their fly is unzipped and mention that hundreds of people recently died in a factory fire in a garment factory in Dhaka, a fire that is having relatively little effect on the efforts of anyone to regulate garment factories in countries like Bangladesh and Cambodia, where conditions are widely known to be unacceptable. I conclude by pointing out our party—our drinks, our clothes, our phones on which we take pictures and look up things on Wikipedia (or whatever), the iPad or iPod the music is playing off of, perhaps even the building we sit in, perhaps it is a house that was purchased and flipped after a predatory loan forced its foreclosure—is only possible because we are the privileged beneficiaries of a vicious and exploitative economic system so deeply pervasive that it is difficult, if not impossible, to imagine its alternatives. Have I performed Institutional Critique?
Insofar as a party is an institution—any party, regardless of its particular circumstances, contains both a normative protocol and an accompanying normative horizon of possible outcomes, just as any institution does—yes, I have. Formerly, institutions maintained credibility by disguising, with varying degrees of force, the aspects of their makeup that might damage that credibility. Institutional Critique directed its gaze, or rather our gaze, at these aspects. I can only assume that the effect was shocking and/or confusing, since I am too young to have experienced Institutional Critique during its era of relevance. In any case, were I to point out that to my friend that their pants were made in horrific conditions, etc, I would be highlighting an aspect of the institution that most parties try to leave out, namely that the objects that make the party fun were very likely produced in dire circumstances and as a result of great suffering.
While it is certainly possible that such a proclamation would have had an effect on a party pre-smartphone, it is almost impossible that such a proclamation, made now, would not be immediately dismissed or laughed off, or said, in the first place, with a degree of irony so as to neutralize its contents. Most people at the party, most people at any party of people that enjoy a certain level of privilege, likely already have heard about the Dhaka fire, or have heard the phrase "it's easier to imagine the end of the world than the end of capitalism" or something like it, and all of those people—those people who read Twitter or listen to NPR or the BBC or read the Guardian or whatever, who cares really—okay, us or we, not those people—choose to ignore these concrete facts of our own existences. We live in a constant state of dramatic irony, or something very close to the old Greek eirōneia.
Had we all been alive thousands of years ago, located in a relatively small area of the Mediterranean, and had the luck or circumstance to be a free or free-ish citizen of an antiquity-era Greek city-state, we might have, at some point, gone to a play. Regardless of whether or not this play was a tragedy or comedy, there would probably, at some point, be a character speaking from beneath us, down the stairs of the amphitheater onto the stage, a character who was speaking of something that we, the audience, knew was false. We would know it was false because of something else we had learned during the play, in another scene, a scene in which the character now speaking did not appear. We would know and the actor would know, probably, having been in rehearsals, spoken to other actors, and been aware of the general arc of the play. Everybody would know besides the character speaking, the character who has temporarily taken the place of the actor, who we—the audience and perhaps the actor, I don't really know about acting—temporarily identify with, moreso than our identification with what is real.
We are now, at this point, the actors and audience in our own scenes, which are not in amphitheaters, but instead are in living rooms, museums, concert halls, book fairs, art fairs, galleries, restaurants, bars, whatever.   At all of these times, in all of these places, we are ourselves, but we are different versions of ourselves: we are our house-party self, our museum self, our concert hall self, our book fair self, gallery self. Pablo Helguera, with droll precision, has highlighted this in his book Art Scenes: The Social Scripts of the Art World; Alex Galloway, much less drolly but no less precise, has highlighted this in his book Protocol: How Control Exists After Decentralization. Both authors point out that we act not in regard to dictates from sovereign power—the King, the state, whatever—but rather in regard to the protocols (for Helguera, scripts) we assume to be inherent and inevitable in a given situation. When briefly employed at a Hollywood gallery for which I was asked to write a press release for a show of paintings I found tedious and boring, I did not, for instance, write "this show is tedious and boring, but would probably look great above your designer furniture and that's why it's being shown here," but rather wrote a press release in the style of blue-chip gallery press releases ("We are pleased to present…"). I'm not sure if that's a particularly good example, but who cares? All saltwater fish will die off in 35 years.
For the 2012 Whitney Biennial, Andrea Fraser contributed a pair of essays: "There's No Place Like Home," in which she eloquently considers (and doubts) her own relevance; and "L'1% C'est Moi," a beautifully-researched, well-written account of the current art market and its inextricable ties with the very people many critical artists, whose livelihoods depend on the art market, love to hate. The latter, while very informative, is very clearly Institutional Critique, a highlighting of an institutional issue that was very likely already known, and if unknown certainly intuited, by whoever might have read it. The former, on the other hand, is an investigation into the nature of critique, in which Fraser wonders if
… by interpreting negations as critique, by responding to judgments of attribution with judgments of attribution, by aggressively attempting to expose conflicts and to strip away defenses in critiques of critiques and negations of negations, critical practices and discourses may often collude in the distancing of affect and the dissimulation of our immediate and active investments in our field.
Does critique, of the sort that pervaded Institutional Critique and that pervades critical art following IC, aid us in our collective pushing away of actual, real problems? Does it aid us in ignoring that the Whitney is funding by the financial institutions and executives who are responsible for the slow bleed-out of the world's environment, of global socio-economic mobility? Does it help us "Keep Calm and Carry On?" Sure it does, because we already know all that shit and we're ignoring it because we're alive and what else are we going to do!
In a conversation I had recently with Renzo Martens about the Institute for Human Activities, for which he is the Creative Director, while he was in town for a solo show at The BOX, he mentioned both that he is interested in redirecting critical art's "mandate" and that his work with the IHA is decidedly non-revolutionary. "We're just going to do what art does," he said. "Which is, like, create a really tiny alternative economy which rich people really like to have around, and see how it goes." The IHA is an institution that quite earnestly touts art as a means for revitalizing a town outside of Kinshasa in the war-torn, globally-exploited DRC and which operates off of the already well-established model of the global arts residency. The IHA will, and has already attempted to begin to, teach drawing and other arts-related classes to palm-oil plantation workers; a few of these workers will be particularly talented; the IHA will, with the local artists' permission, sell their drawings in the international art market; the proceeds from these sales will lift those few lucky artists out of poverty; other palm-oil workers may become more interested in art and work harder on drawings than on manufacturing palm oil; and so on. The settlement will offer an artists' residency for artists to engage with the local arts scene and teach classes to locals. Meanwhile, rich people, who love to be around the creature comforts that artists surround themselves with—nice bars, cappuccinos, good food, artists—will stay in an onsite hotel, increasing the settlements' real-estate value and general quality of life. Perhaps these people will buy or build houses near or on the settlement, as they have in places like Marfa, TX, raising the value of the property and ostensibly improving quality of life for everybody. In short, aside from the occasional swipe on its website, there is no critical component to the IHA at all. That said, the logical conclusion of the IHA—or one possible or believable conclusion, given that institutions function almost entirely on belief, as Adam Overton pointed out in my interview with him, not on logic—is that the palm-oil workers will stop working in the palm-oil plantation and start drawing, thereby robbing Unilever of the exploited underclass that it, like all capitalist enterprises, needs to survive.
If Martens is redirecting art's critical mandate, as he says he wishes to do, he is redirecting it towards creating art that is not critical at all, but that rather simply does what art does, or what capitalism does, or what whatever does. Perhaps what we need now, he is saying—and, again, I can't help but agree—is engagement, whether naïve or not, rather than negation, for only in our engagement can we, and whosoever has the (mis)fortune to surround our work, truly experience the absurd, hideous, exploitive nature of the institutions that structure our lives. As Danh Vo says in this hilariously uncomfortable YouTube interview with Bartholomew Ryan of the Walker Art Center: it is "very important to…exercise the bureaucracy."
Jacob Wick is an artist, writer, and improviser who lives in Los Angeles. For more information, visit jacobwick.info. Take It or Leave It: Institution, Image, Ideology is on view until May 18, 2014, at the Hammer Museum. Renzo Martens: Episode III is on view until March 1st, 2014, at the BOX Gallery.
1. The Call Is Coming From Inside the House at Roots & Culture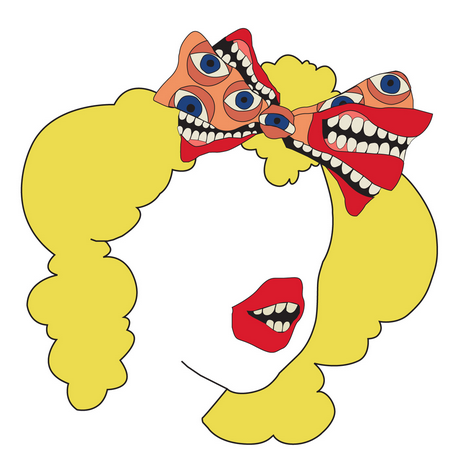 Work by Elizabeth Allen-Cannon, Rachel Mesplay Helm, Matt Roche, Pat Egger, and Danni Parelman.
Roots & Culture is located at 1034 N. Milwaukee Ave. Reception Friday from 6-9pm.
2. Coriolis Effect at ACRE Projects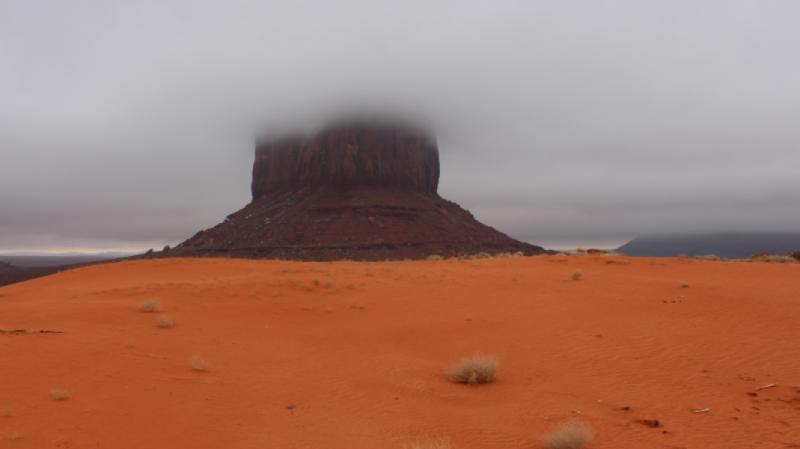 Work by Lisa Walcott, Sarah Mendelsohn and Fred Schmidt-Arenales.
ACRE Projects is located at 1913 W. 17th St. Reception Sunday from 4-8pm.
3. Layered and Exposed at Heaven Gallery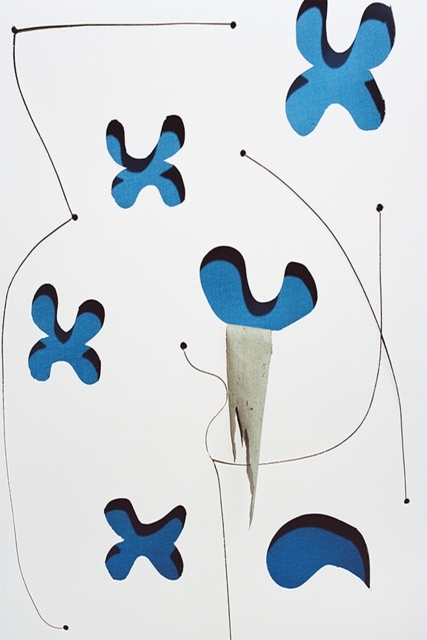 Work by Elizabeth Atterbury, Scott Cowan, Owen Kydd, Phillip Maisel and Erin Jane Nelson.
Heaven Gallery is located at 1550 N. Milwaukee Ave. 2nd Fl. Reception Friday from 7-11pm.
4. Thirty-Five Years of Public Art at the Chicago Cultural Center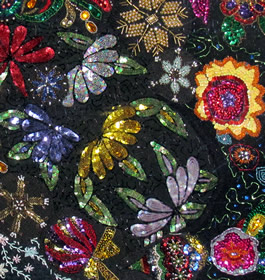 Work by Anish Kapoor, Jacob Lawrence, Mary Brogers, and Kerry James Marshall.
The Chicago Cultural Center is located at 78 E. Washington St. Reception from 5:30-7:30pm.
5. Happy Sunshine Rainbow Company at Linda Warren Projects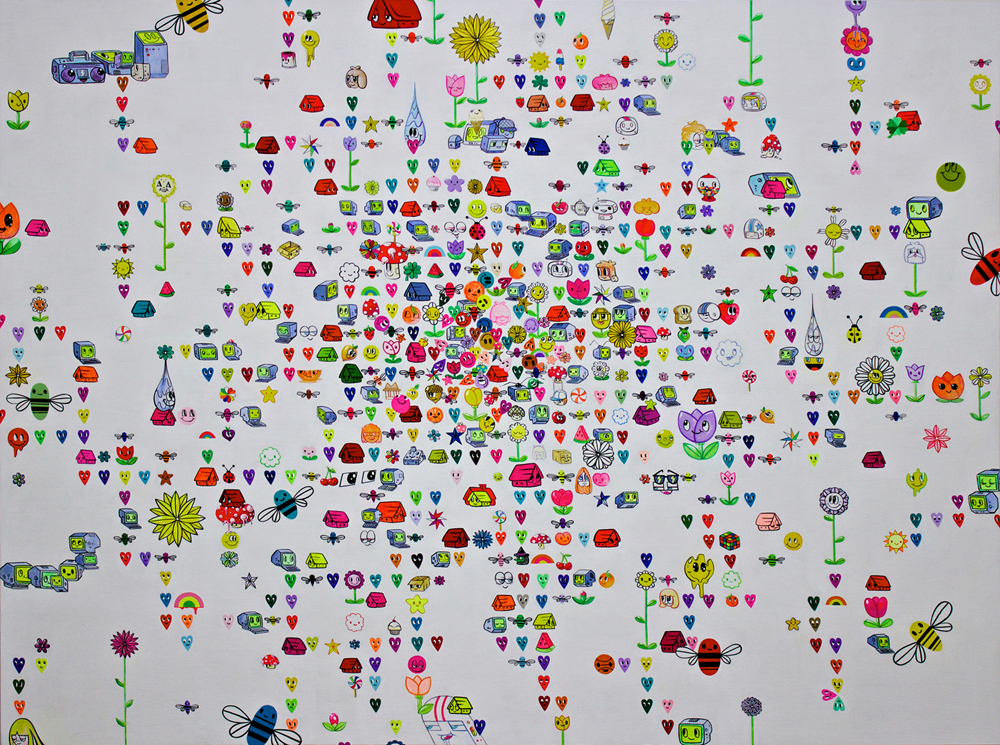 Work by Chris Uphues.
Linda Warren Projects is located at 327 N. Aberdeen St. Reception Friday from 6-9pm.
I received Polpo as a gift. When I first held it in my hands, I wasn't quite sure what it was. I thought it was an artbook about, I don't know, octopuses or something. The cover is a pale sand-colored hardboard with gold embossing. The spine is naked to reveal the smyth sewn pages. It appears to be a hybrid of manufactured and hand made. The overall result is an object lovely on its own. The surprising thing was it wasn't an artbook, it was a cookbook. But a cookbook this beautiful, well how good could it really be?
Before receiving this book, I had never heard of chef Russell Norman nor his restaurant called Polpo. And while this book is subtitled A Venetian Cook Book (of Sorts), the actual restaurant isn't in Venice at all, it's in London. The introduction takes the reader through Norman's process of deciding to open a Venetian restaurant. It becomes a little travel porn-y as we accompany Norman from one little restaurant to another tiny wine bar. Sometimes this kind of thing bothers me, but the general good-naturedness of the text makes it a pleasure. As you page through, the photographs of Venice are as enticing and illustrative as any travel book, but the subject is always ultimately the same, fine quality, regional food.
Venetian food is not something I am familiar with, but if Polpo is indeed accurate, I would describe it as simple, fresh Italian, with few ingredients, and often a seafood component. Despite its fancy exterior, the food within this book is quite simple. I've made many recipes from it. Every one turned out spectacular and definitely more than the sum of its parts. Much of the food is small plate, and if we are to believe the chef, what constitutes bar food in Venice. I made the "Bresaola, Rocket and Parmesan Wrap" for dinner one night. I served it with a salad and a bottle of wine. It was a huge hit and took about ten minutes. Seriously, it was impressive. Tonight I am making as a side dish, "Grilled Fennel and White Anchovy Skewers."
Polpo is successful on three fronts. First, it is an excellent introduction to Venetian cuisine. Honestly, I didn't know. Secondly, this is a well-written, well-tested cookbook. So far, everything I have made is just as tasty as the photo implies. And the photos are astounding. Check them out on Jenny Zarin's website. She changes the meaning of food photography. Lastly, while this clearly falls into the aspirational cookbook genre, it is successful in this, leading me to both make the recipes in book and to lie dreamily on the sofa dreaming about a trip to Venice.
Polpo: A Venetian Cook Book (of Sorts)
Russell Norman
Bloomsbury, 2012
$50
by Autumn Hays
Considered to be one of the most renowned performance artists, Ron Athey began his works in the 80s. They are notorious for including aspects of S&M culture and it's relation to the AIDS crisis. Athey's iconic pieces focus on a wide range of subjects including sexuality, religiosity, trauma, gay identity, loss, illness and ritualism. Raised with the expectation that he would become a Pentecostal minister, and after running away to L.A. and coming of age in the milieu of the punk rock underground, Athey's work grew out of a complex performativity that still informs his art practice today. In 2013 Ron's first book dedicated to his work was published entitled  Pleading in the Blood: The Art and Performance of Ron Athey, edited by Dominic Johnson. The book includes writings by peers and scholars such as Guillermo Gomez-Pena, Antony Hegarty, Robert Wilson, Lydia Lunch, Bruce LaBruce, Amelia Jones, Jennifer Doyle, Homi K. Bhabha and others. At the start of February, Chicago was host a legendary performance artist, Ron Athey visited Chicago. I was lucky enough to attend his performances, lectures and snag him for an interview. Here are some excerpts from our discussion.
—
AH: How it feels to be back in Chicago?
RA: I think I had more pre-anxiety about coming here, memories of staying here with Lawrence Steger and doing things with him. I was shocked and went into the shivers from the cold when got off the plane, not wearing long underwear. It's not like London is warm, it's moderate and miserable there. Where as here needing many layers, I dig it.
AH: Tell us about he last time you were here and the last performance you did.
RA: I had to look at my own notes, I was here twice in '99 doing Solar Anus so at Hot House and at Chris Kellner's gallery Hook Torture and I hadn't realized I haven't been here since then.
AH: Yeah it's been a while
RA:Yeah, I mean climates change. Randolph Street Gallery closed and all those places I would have went back to.
AH: I've actually been through the Randolph street archives and have seen videos of your work there and you really could feel its loss once it was gone here. I am interested as you are here working with Defibrillator a newer performance space what are the correlation and difference between these kinds of spaces in this new kind of art climate?
RA: I think it just takes energy to make things happen. It's not really that the climate is any different. A lot of spaces with the same history as Randolph Street that go back to NEA funded times, but really even before that these are artist run spaces and they don't, move with the times. So there was this gap and it takes someone high energy like Joseph (Ravens) to get people to work together. I mean even for these pieces I am doing this week and that he realized that Defibrillator itself would be a crunch and he found the right place off site, this is another way of working the art space because the space is so important. Some pieces I feel like I don't want to be in a place that shows work, like you know this site specific thing becomes a more neutral space than that black box or white wall hygiene kind of space.
AH: Your work is very versatile where you can perform in a lot of different kinds of spaces. I mean you can do that black box theater, the white-walled gallery, you can do performance art spaces or even S&M clubs so you have a versatility in where you can perform and also a little bit in your performativity, you engage various kinds of performance. What's the difference in working in these spaces? Is there a benefit to being flexible?
RA: Well, I wish I could still perform in clubs still, but I did evolve out of that scene. That allowed me to workshop before even any idea of funding to make the gig possible came up. For some pieces I think I might be precious about it being there. I tend, since I started doing the self-obliterations, I like being in with the audience. For the most controlling side of me, a perfect black box with the floors freshly painted and super duper lights, because you're not fighting the white wall sucking the light out from one minimal light that happens to be shining. It's a more controlled situation and I do work in lighting illusions and those sorts of things. So that's if I'm being precious but it's not necessarily the best feeling, the way I feel interactive with the audience or the space. But I think to get away from those white gallery walls I did start staging pieces in the middle of the room so that the people are the frontdrop and backdrop. You know I don't come out of this tradition of thinking of live art as an extension of gallery, my work doesn't come from there, I fully understand work that does but I'm not so keen on this… of course I love the perfect image, the perfect photograph but that's not the work. I'm always concerned with how many cameramen are in there. I thought we were watching a work.
AH: Especially nowadays with camera phones it's interesting to have that camera lens constantly there.
RA: I think you have to think about what you are not experiencing while looking for that shot and also, do you care about the work, or are you just documenting your own life?
AH: So we touched on your definitions of live art and performance art. There are always different definitions. What are your thoughts on that?
RA: I think you get this polarization. This is the gallery school, and this is the theater school, but actually my background was through the Pentecostal church, particularly woman evangelists who did illustrated sermons starting in the 20s with Amy Semple McPherson, who built Angelus Temple in Echo Park and later Miss Velma (Jaggers) who built the jeweled altar from the Book of Revelations and who would appear as the whore of Babylon swinging in on a crescent moon using all the 70s technology, like the echo box, strobe lights and fog machines. So, performance art is this other type of sacred theater without the belief system in it. In abstract terms I might still use a thing like the audience is the witness, and its not about second guessing what their boundaries are, what they will experience, what they come in the door with. It's impossible to know. It's a mix of things, which is what it should be.  Also it's about what mode you are in. It's obviously not acting, so it's just full of these triggers to go into, not an altered state where you look like your fitting or asleep but some heightened state. I like art that rides a line between art and not art at all.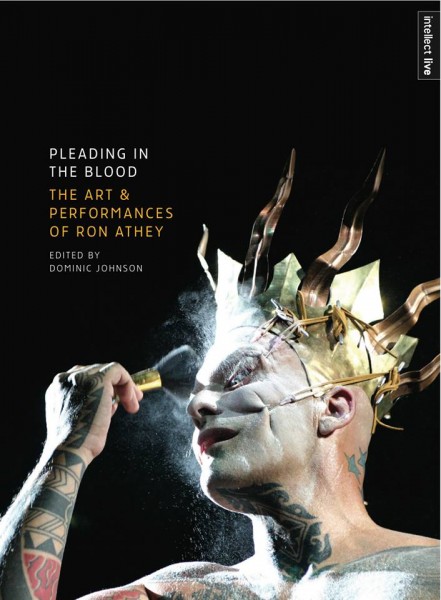 AH: I was wondering if you could tell us more about your book, "Pleading in the Blood", and your process of making it.
RA: To start out with the book, you have to open archives that you didn't even know existed. And here is where I have to give some kudos to social media. I am very linked in to people in LA, people from the late 70s and early 80s Goth and Punk scenes. So I was able to come up with materials, confirm dates, and stories through there, and then track down the photographers. All I ever had was the newspaper, the tabloids, the rough printed images, Xeroxed and scanned, you know that kind of thing. And then I started getting closer to the source of the original image. It felt like I was perusing someone from a David Lynch movie, you're in a hotel room with seven 5by7s in a brief case. So you track that down and try to flesh out some of those stories, which is a harder period for me to flesh out. And working with Dominic Johnson who is a young academic at Queen Mary University, London. He was clear about what heavy academics who we liked in common, but I was clear that I didn't want it to be one of those artist books with three academic essays in it and lots of pictures so that no one ever, except for people in school, ever read the writing because its inaccessible outside the bubble. I wanted to give it a testimonial voice not just an academic one.
AH: Do you have any advice for younger artists attempting to learn the craft of making performance art?
RA: The key element of making work is immersion. Rather than doing research as a strong guide, let it be something you soak up. There is nothing sane about making performance art.
—
Defibrillator, Hook Torture, and Mana Contemporary pooled their efforts to showcase Ron in Chicago this month. Each night was filled with a wide mix of viewers, from pierced punks and goths, old school Chicago underground, art students, and art academics, many eager to see Ron's work in person. He performed two works on two separate nights, "Incorruptible Flesh: Messianic Remains" and "Sebastian" featuring Jon John and Sage Charles.
Messianic Remains is part of Athey's Incorruptible Flesh series. The series started in 96' and references the dark reality of living with AIDS. Athey talks about the piece saying it stems from "still living but not living bodies". 10 years later in Glasgow, Athey did a solo individual piece, 6 hours long. The third part focused on the Mythological. Now this 4th and final chapter, was performed in Chicago at Mana Contemporary on January 31st. The work reveled in a religious grandiosity and explored Ron Athey's body as a post-AIDS entity: a survivor. The work also looks at Athey's own bodies ageing, and seems to shake hands with notions of death. The choreography is inspired by Kenneth Anger's short film, Lucifer Rising. 
The audience came in on to Ron laying down on ladder sitting on two wooden sawhorses with a baseball bat, swollen glands, and his head latched to a series of hooks in a crown of thorns style lining, his head connected to the wall. Though the preparations for this performance were not part of the audiences' viewing, many felt the preparations, though unseen, were a large part of the work. Clear gloves were handed out and the audience dipped their hands in a pale Vaseline before taking turns touching Athey's body as he laid on display. The offering of his flesh was both a gift and an obligation as viewers chose to experience the tension and pain up close. Ron than rises for a mythical, almost Egyptian dressing ceremony and moves to a new part of the gallery where he begins to read text from Our Lady of the Flowers, Jean Genet, specifically "Divine's Funeral."
The very next day Ron Athey, Jon John and Sage Charles preformed "Sebastian." While interviewing Ron I had asked him about Working with Jon John and Sage.
"We have this great chemistry where we trust each other, we don't have to plot out everything. You're going to do what you need to do with the goal of making this action happen. Easy directions within a choreographed frame. What is Sebastian? I don't know. I think that's where live work can be surprising. If you know what you want to prove rather than explore something you're just strong-arming a result. The potential of live experience is so beyond that outlined vision that I'm doing. It took me a long time to understand that."
In this work Athey is taking on the role of St. Sebastian, a saint that has also become a homoerotic icon. The event starts with Sage and Jon John making their way through the crowd in a procession towards Ron, who is already hung up on a ladder, tied with red rope. As Sage drums, Jon John climbs a second ladder to meet Athey and begins piercing him with arrows. Ron begins to scream and chant in performance's best ritualistic shamanism. Jon John then fills the role of St Irene and begins to heal Athey, spreading lotion on Athey's body, eventually removing the arrows and as Athey bleeds he helps him depose down from ladder and onto a table where they cover him in a white cloth. For the final and perhaps most touching part of the performance, one that had echoes of the NEA controversy, Jon John cuts sections of cloth-covered in Athey's blood and places them in tiny frames handing them to random audience members.
Ron Athey's work certainly isn't for the squeamish, but despite the inclusion of blood and body modification I didn't find the shock value of the work to be any kind of crutch or sympathetic tool. Rather is was a means of performativity that outwardly engaged Athey's body as a gay, post-AIDS, religicized, performative body. When looking at his work, the dense symbolism and actions, the controversy and the intense metaphoric value, I feel like ending this with one of my favorite quotes from my interview with Ron Athey that I feel addresses his work, process, and in a way the very practice of performance art.
"I'm actually at this place in performance art where I think everything is just an entry point. You can say this is about your mother, this is about this accident, this is about AIDS, but it's actually not what it's about. You don't know what it's about till you do it live, that's why it's live work. I have to bring something to life to make work. There has to be uncertain things within the framework of the piece that allow it to go as it will."