As a young art student in the late 90's, I attended a talk given by Ernesto Pujol at RISD, where he presented his then-current project: an installation of Nazi-era porcelain as a commentary on whiteness, purity, and the attendant relationship these meanings have to the atrocities of World War II. I was immediately struck and moved by his handling of materials and ideas; it was one of those projects that burned itself into my consciousness and stayed with me for a long time.
Fast forward to 2012, and once again I came into contact with Pujol through writing for A Blade of Grass Foundation, where we both had been contributing our thoughts and research. I reached out to let him know of my long-time admiration, and he reciprocated with an invitation to his home for afternoon tea. When we met, his charisma and generosity were just as disarming as that morning lecture at RISD so many years before.
Pujol is a site-specific public performance artist and social choreographer. He has a long record of intellectual and interdisciplinary art practices which have dealt with concepts of collective and individual and collective identity, the sacred, social and political issues, and public/private space. Since the late 90's, Pujol has also been working on public group performances, where the focus has rested with action, movement, the journey – and the central concept of the "artist-as-citizen." Additionally, he is the founder of The Field School Project, where  young and emerging artists are individually mentored in site-specific practices.
This fall, in conjunction with the French Institute Alliance Française, Pujol is bringing his first public group performance to New York City. Time After Us is an ambitious, 24-hour collaborative perambulation of the interior of St. Paul's Chapel in downtown Manhattan. By walking the space, animating it continuously from the morning of October 3rd through the morning of October 4th, Pujol and his twenty-three cohorts will produce a work about rest, second chances, and healing the past.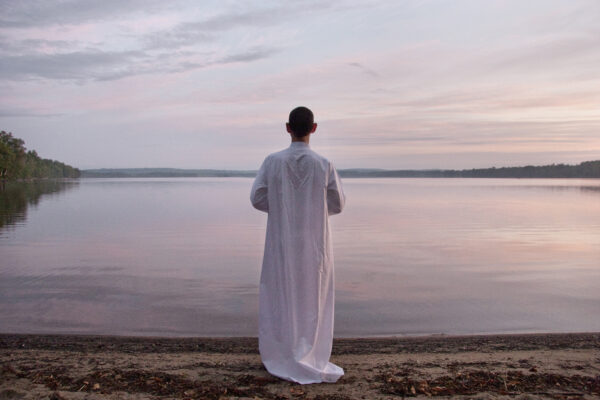 Catechumen (Baptism), Ernesto Pujol, 2009 (Photo by Ernesto Pujol)
You're currently getting ready for a major performance, Time After Us, at St. Paul's Chapel in downtown Manhattan, where you and a group of 23 collaborators will walk for 24 hours straight. Can you tell me a bit about how this project came together?
The curators of Crossing the Line 2013 contacted me last year, asking me to meet with them at the French Institute Alliance Française. They invited me to develop a new performance for the festival. This happened shortly after hurricane Sandy. They were moved by how New Yorkers united and responded to the catastrophe. They were also concerned about the future of the city, in terms of climate change. For the past two years, I had been quietly envisioning a performance that was constructed like a vortex, with performers walking a circle backwards and counterclockwise; combining vulnerability with the notion of the natural passage of time, time past and time to come, coexisting simultaneously in the now. I proposed it to them and they embraced my concept.
St. Paul's is an historic episcopal church, but became an important contemporary touchstone when it provided a center for relief and recovery workers during the period surrounding 9/11. Does its connection to the nearby Ground Zero site have a relationship to Time After Us?
I first developed the concept for the performance without a site. Initially, I wanted a vast interior, enough to hold a mighty river of people whirling, and hundreds of people surrounding them, watching silently. We considered the Armory and Saint John the divine, among other spaces. Curator Gideon Lester suggested Saint Paul's Chapel in Wall Street. Curator Simon Dove and I visited the site and fell in love with its interior and exterior. The third curator, Lili Chopra, approved it. The chapel feels like a little island within the larger island of Manhattan. It contains an amazing statement about mortality, with its green graveyard. There is no intended connection to 9/11, to Ground Zero. It is not a performance about loss and mourning, although a viewer may contribute that reading out of their own life story. For me, it is primarily a performance about rest and second chances; about revisiting the collective and individual past, and trying to heal it.
This will be your first public work in New York City. For someone who has made a conscious effort to satellite beyond the art world center, this feels like a very deliberate move. Why is it the right time to perform in NYC? 
I have had many solo exhibitions of images, objects and installations in galleries and museums in New York since the early 1990s. But this will be my first public performance, in terms of how I constructed my group performance practice since the late 1990s. Thus, this is not a "move," in the career sense. It was an unexpected invitation, which I accepted with humility, as a matter of public service. I believe in Carol Becker's notion of the artist as a citizen, a cultural worker. I simply seek to offer the city a place of psychic rest. I have lived and worked in this city for 28 years. I am 56 years-old. I have served as an educator in most of its art schools, as lecturer or adjunct instructor. There is no right time or wrong time. As a Zen Buddhist, I do not believe in human time. I am offering an ephemeral space-within-a-space for manifesting the intangible.
You've enacted many collaborative projects with diverse groups of people who are not necessarily artists.  How do you prepare someone – physically, intellectually, psychologically – who is not an active performance artist for an engagement like Time After Us?
As Rebecca Solnit said in her history of walking, one of my favorite texts, walking is one of the traits that made us human. Everyone walks. I believe that everyone yearns for moments of restful silence and creative solitude. They are a human right. I cannot imagine discerning one's individual or collective future, in terms of deep decision-making, without them. And slowness. One needs to protect moments of slowness. I believe that these basic yearnings are found within and shared by all human beings. My performance trainings simply name them, identify them, and encourage them out of bodies. I work like a midwife, unleashing remarkable human potential.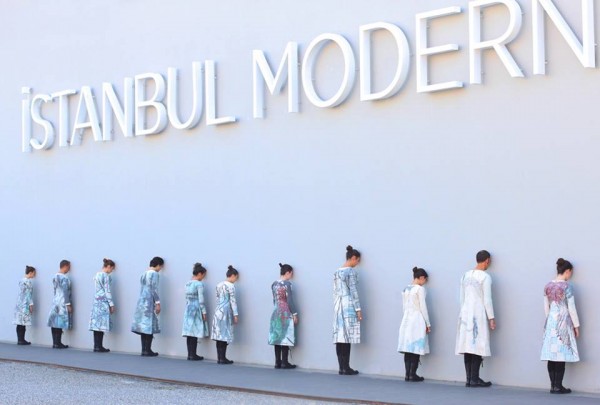 Flux, Ernesto Pujol with Jeffrey Baykal-Rollins & the Silsila Collective, Istanbul Modern, Turkey, 2013 (Photo by SC)
This summer, you choreographed FLUX at the Istanbul Modern Art Museum, a "reflection about our collective future," in collaboration with Jeffrey Baykal-Rollins and the Silsila Collective. This, of course, was taking place at the same time as the Gezi Park protests, during which the Istanbul public was also making a major push for their collective future. How do you feel this work resonated with this major cultural movement? What "publics" did it tap into?  
That was the second of two performances Jeffrey Baykal-Rollins asked me to collaborate on. We initially met in New York, where he did an internship with me one summer, at the end of which I strongly encouraged him to found a performance group in Istanbul. Turkey is undergoing great political changes. Its hybrid democratic tradition is under threat. The Turkish people are seeking many interventions and I was happy to support the use of metaphor in this cause. The silent group performance took place in the courtyard of Istanbul Modern. Many people came, professionals and students, young and old. They read through our encoded language and understood quite clearly that we were mourning the recent and ongoing violence, seeking to uphold the best of the Ottoman past, while also cathartically releasing anger and frustration, and finally finding a moment of rest before disappearing into their uncertain future. I experienced a humbling gratitude for being allowed to contribute my voice to the nation.
IT'S WITH MILD trepidation that I'm posting the essay I wrote for the upcoming John Preus show I curated for the Experimental Sound Studio (ESS) below. I say this chiefly because John's own lyrical prose, posted here yesterday, is a very tough act to follow.
As I was writing this text, conversations I had had with John, glimpses of work in progress I had stole at our studio visit, and fragments of phrases from email exchanges were all still marinating for me. You'll see some which percolated into the essay as quotations, but others are noiselessly wafting around and above it like a shimmering cloud of gnats.
This long-form approach to engaging with John's work is what draws me to it– I have the sense that it is both tightly bound, fitted and finely finished, while simultaneously being on the verge of a blow out, ready to burst back into all the little bits and pieces he used to put it together in the first place.
Hopefully you had a chance to take in some of his other handiwork at EXPO this past weekend, and experience the atmosphere his work can initiate even amidst the hustle and bang of a massive art fair. I liken it to several tenants of the growing Slow Food movement below, but again John has bested me, and I have come to prefer his term "temporary stasis" for how it marries the fleeting with the stable.
In a way, I feel that dichotomy reflects the relationship between my text and John's; mine being the former, his the later. I've used this introduction as a departure from my typical tone and mode of working in a nod to him, in gratitude for his art and writing which has inspired me, however cautiously, to adopt the gentle discomforts and bracing inscrutabilities of both lyrical prose, and long-lasting ideas built into short-lived experiments.
John Preus is an artist, musician, carpenter, woodworker, and magpie. In the
long-standing tradition of Chicago artists scavenging for "trash treasure," he lets
serendipity and the thrill of the hunt guide him in sourcing discarded materials. Each
new piece is a design challenge, contingent on entropy and surplus, to revive what
others have cast-off or given up on. His materials offer up an infinite number of
solutions which he is constantly attempting to "extract and exploit."
His built objects typically serve a functional purpose, and oftentimes they are made for
domestic spaces but comprised of cannibalized furniture. His work is Surreal in the
most basic sense that it de-familiarizes the familiar; we recognize a tabletop here or a
headboard there. Because of this, it occupies a liminal space between constituent
parts and compound whole.
At times, Preus foregrounds the beauty marks and scars of his material— a found,
hand-painted design becomes the focal point of a guitar, imbuing it with a certain
narrative quality. Other times, his material serves as a sort of visual pun— you've
heard of making bedposts metaphorically sing? Well, Preus does so literally, turning
one quarter of an old four-poster bed into an upright bass. By combining a fondness
for his material's embedded histories, with a craft person's skill at building, and an
artist's eye for shine, his pieces celebrate their past proudly, reveling in their physicality.
Oftentimes, this infuses them with a certain anthropomorphism. And yet, they are
incomplete without us— who will play them? Who will listen to them played? The
wistful air of the stray and the mutt also cloaks them, a perfect tragic foil to the
aforementioned comedy.
Slow Sound draws inspiration from the Slow Food movement, sparked in part by
Fergus Henderson's cult classic cookbook, "The Whole Beast: Nose to Tail Eating."
This call to eat not just the choice cuts "high" on the hog, but the whole hog, necessarily
means getting creative by saving bones for stocks, scraps for brines, and rendering
the rest. Henderson has famously stated; "If you're going to kill the animal it seems
only polite to use the whole thing." It's that mentality which resonates so strongly with
Preus's own practice, echoing his questioning of the contemporary consumerist
mantra, "Replacement is better then repair."
Closing loopholes by pulling items out of the waste stream is done not so much with
an overtly environmental thrust, although upcycling and net-zero philosophies are
applicable. Likewise, the importance of the locally sourced and the handcrafted factor
in, but aren't the main driver. When I imagine Preus spotting the corner of a legless
Formica table poking out of a dumpster in the alley, I bet he thinks about how the press
board hiding just underneath its laminate surface is comprised of the same wood that a
family heirloom is made from, and that in some factory somewhere, it was a person
who helped fabricate it. Preus understands that the materials he works with shape shift
as they move through the world, rising or falling in value due to changing tastes or
compromised functionality.
The importance of context then becomes paramount, and so viewing— and hearing,
these pieces at the Experimental Sound Studio is central. Preus's instruments are one-of-
a-kind— no two pieces are alike, the materials used to fabricate them are
unique, and their overall construction is unconventional. Simultaneously, however, they
produce relatively standard sounds. New Material, the band comprised of Mikel Avery,
Leroy Bach and Tadd Cowen, along with Preus, play straight ahead improvisations,
replete with melodic solos and quoted popular tunes. And so again, these pieces
shape shift, cultivating relationships across incongruities; they are accessible and
engaging while simultaneously surprising expectations of traditional instrument
construction, sound resonance and amplification.
Preus's practice conflates fine art, design, architecture, music, curating, writing, social
engagement and environmental studies, among other things— such as parenthood,
citizenship and faith. It transgresses commonly held notions of labor and value in favor
of a post-scarcity worldview. It questions industrialization's monocultural market place
and the planned obsolescence it perpetuates. It celebrates leisure time and recreational
activities in a loose sense, honoring unstructured deep play and creativity-sparking
boredom. It recognizes change as inevitable and speed as constant, but puckishly
messes with the variability of pace. More than anything, it is concerned with morphology,
how a given material might be used or re-used. Preus has referred to his work as
existing in "temporary stasis," which I must concede is a much more elegant term than
"slow." Like the Doppler effect, which explains why the frequency of a sound in motion
shifts in respect to its observer, Preus's work meets you where you are. It offers up its
past, points the way to a more sustainable future, and embroils you in the day-to-day
and the domestic through a practice heavily reliant on viewer involvement.
• • •
John Preus is a Chicago-based artist, musician and woodworker whose work explores
forms of attachment, craft, art, and community life. Preus holds an MFA from the
University of Chicago (2005), and his education in the trades includes a 2-year
apprenticeship with award-winning furniture maker John Nesset. With roughly 16 years
of building and design experience, Preus founded Dilettante Studios in 2010, which
creates and fabricates items for residential and commercial spaces, using predominantly
secondhand materials. He co-founded the art group Material Exchange
(2005-12) with Sara Black; and SHoP (Southside Hub of Production) with Laura
 Shaeffer (2010). He is former lead fabricator and project manager for Theaster Gates,
and oversaw production and installation of 12 Ballads for Huguenot House as part of
dOCUMENTA 13, Kassel, Germany. Additional exhibitions include the Museum of
Contemporary Art, Chicago; the Heilbronn Kunstverein; the Portland Museum of
Contemporary Craft; the Smart Museum of Art, Chicago; and the DeVos Museum of
Art, Marquette, Michigan. Preus's work will be featured in a solo exhibition at the Hyde
Park Art Center in Spring 2014.
 
My thanks go to John and the friendly, hard-working staff of ESS.  Please join us at The Experimental Sound Studio, located at 5925 North Ravenswood Ave. Chicago, IL 60660, for the opening reception of John Preus: Slow Sound, 9/27/13, 6-9pm. Special performance by New Material (Mikel Avery, Tadd Cowen, LeRoy Bach, John Preus) at around 7pm.
Please join Amanda Browder for the unveiling of her new fabric installation sponsored by Fourth Arts Block (FABnyc) www.fabnyc.org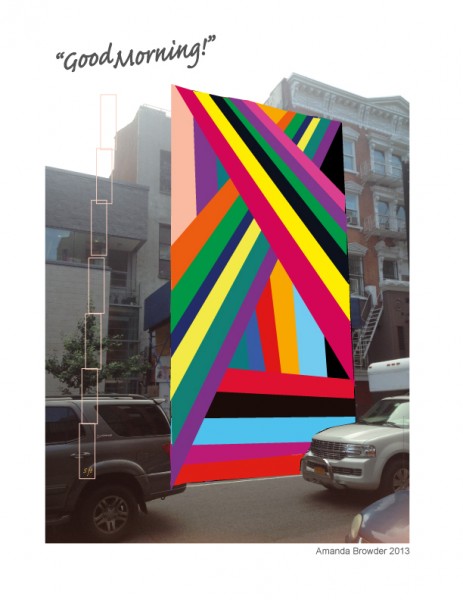 FAB FESTIVAL /Â OPENING
SATURDAY SEPT. 28th 1-5pm
LOCATION:Â  East 4th Street (btwn Bowery and 2nd Ave) -Â NYC
INSTALLED FRIDAY EVE til SUNDAY EVE
"Good Morning!" is a fabric installation that will be draped on the facade of the building located at 72 East 4th Street, NYC. All the fabric is donated by people from the neighborhood, as well the generous support from Materials for the Arts.
Big THANKSÂ to all the volunteers, neighbors, and donors of time and material. After all the PUBLIC SEWING DAYS we have made this amazing project come together. YOU MADE IT HAPPEN…I couldn't have done it without you.
http://goodmorningproject2013.tumblr.com/
The FAB! Festival is a celebration of arts and culture in the Lower East Side taking place on Saturday September 28, 2013 from 1-5pm with an annual attendance of over 3000 people. The event hosts multiple stages both indoors and outdoors, as well as food vendors, visual artists, activities and community partners on East 4th St. between Bowery and 2nd Ave.
This will be an exciting project to brighten up the street, bring attention to the neighborhood architecture, and bring together community members. It is important to take time to notice things and share them with others, especially in New York which is so full of creative individuals and energy.

"Good Morning" is being created for the FAB! Festival as part of FABnyc's SUSTAIN project, with generous support from the Rockefeller Foundation Cultural Innovation Fund: www.fabnyc.org/sustainability.php
Guest Post by Britton Bertran
I was there in 2005 at the beginning of Bad at Sports (Episode 4!) and I hope I'm not there at the end.  It was the year I opened my gallery, 40000. It was a good idea at the time. I was fed up with not seeing what I wanted to see and equally mesmerized by controlling my own destiny in a commercial sort of way. There were plenty of other interesting things happening and I figured – why the hell not.
The years 2005 and 2006 were ok years for Chicago Art. It seemed to be an upswing couple of years when apartment galleries and art interest were peaking. (These things come in waves – I'd put us in a upward motion now after reaching the bottom in 2011.) The MCA was showing interesting work (a Dan Flavin Retrospective, Deb Sokolow and William J. O'Brien had 12 x 12's), blogs were percolating with critical activity (anyone remember panel-house.com or iconoduel.org?) and this new fandangled thing called a podcast had people sitting with their bulky desktops and REALLY listening.
I took a leap of art faith and quit my job, borrowed some money from my mom and with the help of a couple close friends including a now-deceased bartender from Phyllis', rocked out a storefront space on Winchester and Augusta. A year and a half later, some guy bought the building and wanted to turn it in to a really small Italian restaurant. I moved the gallery in the summer of 2006 to the bustling 119 N. Peoria building (soon to be home to only one gallery in 2014.)
Like-minded nice folks like Corbett vs. Dempsey, The Green Lantern, 65GRAND, Fraction Workspace, Western Exhibitions, Lisa Boyle Gallery, Duchess and a couple of more spaces, were all blazing fiery paths outside the West Loop in WestTown (does anyone even know where this is now?). We even organized, set up a network, handed out flyer/maps and coordinated openings. It worked for the most part. I think.
There was no social media except for Friendster and then that thing called Myspace. My digital camera had something like 3 megapixels and took incredibly shitty pictures. It took a solid hour to update my clunky website. It was rough out there in a walking up the hill backwards in a snowstorm kind of way. But it was great. Lots of visitors – mostly artists – came, drank and stole beer during openings, I sold art here and there, got a few reviews in national art magazines, was invited to fancy pants museum openings, met not-so-nice individuals who essentially run the art world, shook hands with some artist heroes and even did the occasional art fair in and outside Chicago.
But mostly, having this gallery gave me some pretty solid insight into how artists work, what they think about and what really matters the most to them career-wise. Surprisingly, and thankfully for me, it wasn't money. 40000 was definitely a failure in that regard and the main reason I closed in 2009. I was also unable, and did not want to, secure a sugar daddy/momma, which I slowly realized was the only way to sustainability. [A little secret – there is less than a handful of galleries in Chicago that don't have one of these.]
I think it's pretty telling that almost half of the original West Town Gallery Network is still in effect.  Corbett vs. Dempsey just got admitted to the Main Fair of Art Basel Miami Beach (a big damn deal). Western Exhibitions is still cranking out shows with aplomb and has incredible dedication to it's artists. 65GRAND (all caps no gaps, please) is run by one of the smartest and nicest gallerists in Chicago. Only one of these galleries is still in West Town – though it's stretching it a bit. All of these spaces work so damn hard it's difficult for me to even comprehend how they're possibly doing it. Most of us are still here in Chicago, I think. Whether or not we are running galleries, we are all getting old, raising families, have "real" jobs, etcetera. I hope you won't forget us.
The artists I worked with are for the most part pretty successful in their careers. One or two I never hear from, a couple of others I never want to hear from. Nonetheless, it gives me great pleasure to know that I have a place in Chicago art history. It's funny though, I seriously often wonder what would have happened if I had at least a 10 megapixel camera back then.
A little addendum here: I was often asked, "What the hell does 40000 mean?"  In fact a couple of months ago a collector emailed me out of the blue and straight up asked.  So I told him.  I named the gallery after Joe "40,000" Murphy.  "40,000" was a Chicago outsider artist and events usher in the 1950's who either knew 40,000 famous people, or was renowned for saying "about…. 40,000 empty seats!" when asked how many people where coming to that day's event.  When people asked me, I made them guess. Nobody got it right.
Britton Bertran ran 40000 from 2005 to 2008. He currently is an Instructor at SAIC in the Arts Administration and Policy department and the Educational Programs Manager at Urban Gateways. An occasional guest-curator, he has organized exhibitions for the Hyde Park Art Center, the Loyola Museum of Art and several galleries. You can find him trying to be less cranky about the art world on twitter @br_tton. Stay tuned for a couple more guest posts where Britton will be discussing his tumblr-famous tumblr "Installator" and his take on what's wrong with the Chicago art world circa 2013 – while thinking out loud about how to fix it. 
In case you thought we maybe glossed over the epic amount of blood sweat and tears that went into last week's art fair extravaganza, I thought I'd repost a few articles that came out in the last few days including this one from Art in America: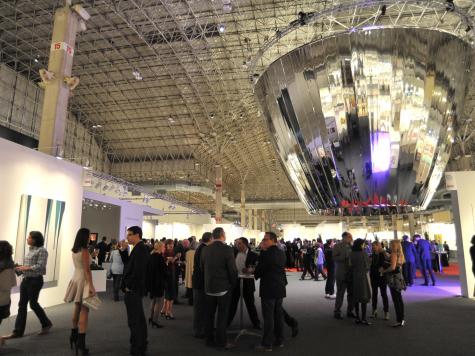 Strong Sophomore Outing for Expo Chicago
by Brian Boucher
"I'll tell you what distinguishes this year from last year," Expo Chicago director Tony Karman told A.i.A. at the fair's sophomore outing on Saturday, "and I'll tell you in one word—sales. It was very important that big dealers like David Zwirner and Marianne Boesky do well, and they have."
Featuring over 120 international galleries at the capacious Navy Piers (up from 100 last year), with views of Lake Michigan, Expo Chicago (Sept. 19-22) represented dealers from 17 countries and 36 cities. Some were returning, like Zwirner (New York and London), Matthew Marks (New York and Los Angeles), and Kavi Gupta (Chicago and Berlin). There were also many first-timers, including Marianne Boesky (New York), Cabinet (London), Massimo de Carlo (Milan and London) and Susanne Vielmetter Los Angeles Projects.
While almost every exhibitor acknowledged that sales were little to none in 2012, nearly all said that business was better this year. Dealers reported a range of sales, starting as low as $4,000 for works on paper by Chicago's own William J. O'Brien at Boesky. Works in a modest price range found the most ready buyers, but there were outliers. Boesky told A.i.A. of serious interest in an assemblage by Salvatore Scarpitta, Drummer Seargeant (1963), which was tagged at $750,000, and one dealer who declined to be named told A.i.A. that he had sold a million-dollar artwork—and to a walk-in customer, no less. read more
A handful of additional EXPO 2013 accounts can be found here: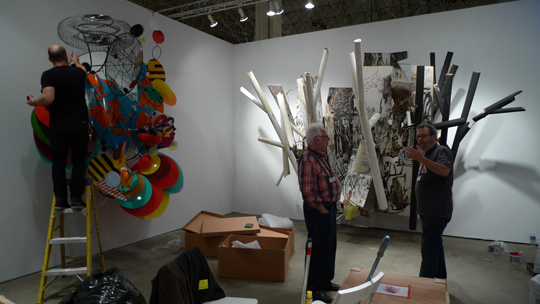 Paul Klein on The Huffington Post, with some lovely installations shots to boot:
This is the second year of this wonderful mid-sized art fair, with substantial galleries bringing some A quality art and almost enough cutting edge galleries showing off exciting artists to watch.There are some gorgeous treasures to be seen. 
More photos of favorite works via The Chicagoist.
Many reports via Art Fag City over the course of the week/end, beginning with from Paddy Johnson's mixed reaction:
Importantly, the fair seems an enormous step up from anything Merchandise Mart offered, a mega-fair corporation that's been largely unsuccessful at handling art. Much as the company does for Volta in New York, Merchandise Mart used their own real estate to house Next Art Chicago, even though its low ceilings were unsuited to showcasing art. Last year, when they closed, the organization claimed that collectors were only purchasing art on the coast lines.
A photo collection courtesy of Paddy Johnson, with "the good, the bad and the ugly:"
It's impossible to describe EXPO Chicago without offering a few images to tell the story. This slideshow with commentary do just that. Highlights, lowlights, and everything in between below.
And AFC'a closing word from Robin Dluzen:
A main concern for EXPO and the exhibiting galleries was last year's absence of collectors and museums from the wider midwest region and beyond, and this year, EXPO managed to draw them in. William Lieberman of Zolla/Lieberman Gallery (a veteran Chicago dealer, first time EXPO exhibitor) saw his clients from St. Louis and San Francisco; Monique Meloche, also exhibiting for the first time at EXPO and the founder of Gallery Weekend Chicago running concurrently with the fair, had museum groups from Kentucky and Denver buying for themselves and buying for the museums. "MoMA is not going to buy here," she explains, "But this can be a strong regional place." It's not just the out-of-towners making themselves known, but also the more reclusive local collectors. "I had Sanford Biggers in my windows for months," said Meloche of the artist's recent exhibition at her eponymous gallery, "I brought him here to the fair and there are Chicago collectors discovering the work for the first time."
Dmitry Samarov writes in Art on its Own Terms:
My strategy at these fairs has always been to run through the entire thing quickly, then return to anything that made my eye stop. Most years that amounts to four or five paintings or drawings and this year was no different. There was a good corner where a David Park portrait was next to an Elmer Bischoff figure painting, with a Richard Diebenkorn drawing round the corner. I was also happy to see a Leon Kossoff painting along with a couple of drawings. There was an Alice Neal children's portrait too, that made all the work around it look like newspaper clippings. The thing I liked best though were a couple small Harold Haydon cityscapes.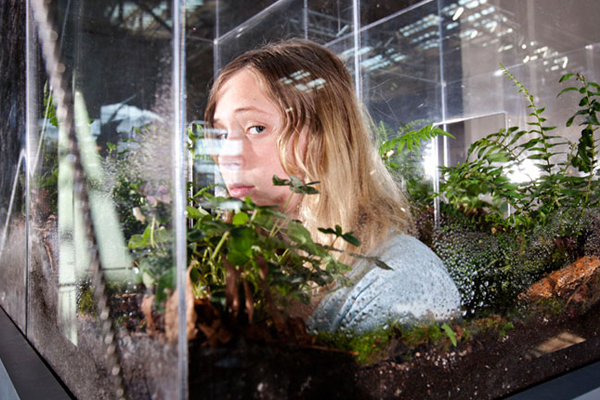 Chicago Magazine got a kick out of Seattle-based artist Vaughn Bell, mini earth-and-moss terrariums that were "available for adoption this weekend at the Expo Chicago art fair on Navy Pier." 


And finally — Artslant Thomas Connors interviewed Tony Karman:

TC: A fair of modern and contemporary work must be something of a balancing act. You've got the de Kooning collector on one hand and the Simon Starling fan on the other. And I'm guessing the blue chip collector isn't looking to acquire an emerging artist.

TK: Let me disagree with you. To some extent, there are certain collectors who will only want to buy that de Kooning. But other lifelong collectors want to be in the vanguard; they are going to look to the younger work because that is equally exciting to them. That's probably more the norm. A great collector likes to have a balance of contemporary work and historical material.