1. Unfortunately, It Was Paradise at City Gallery in the Historic Water Tower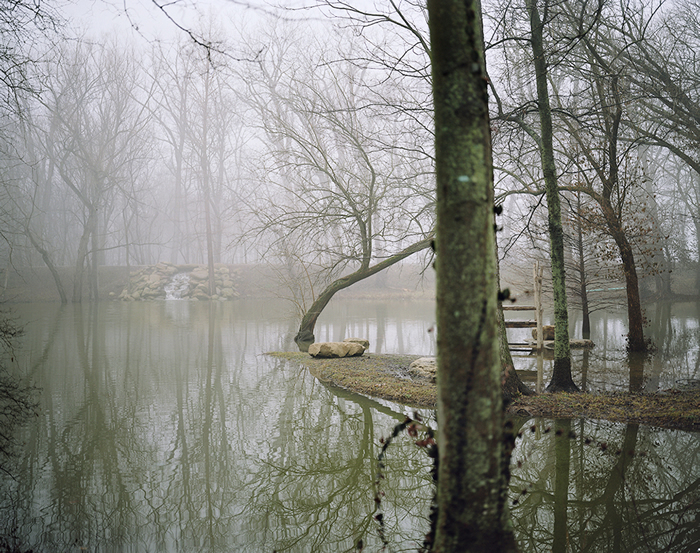 Work by Regina Mamou.
City Gallery in the Historic Water Tower is located at 806 N. Michigan Ave. Reception Friday, 5:30-7:30pm.
2. Your Everyday Art World Book Release Party at threewalls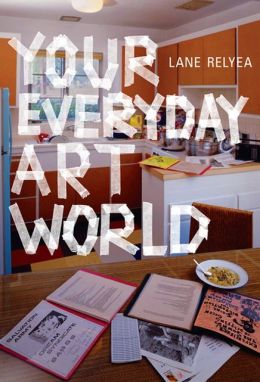 Conversation with author Lane Relyea, moderated by Duncan MacKenzie with Shannon Stratton and Abigail Satinsky.
threewalls is located at 119 N. Peoria Ave. Reception Friday, 6:30-8:30pm.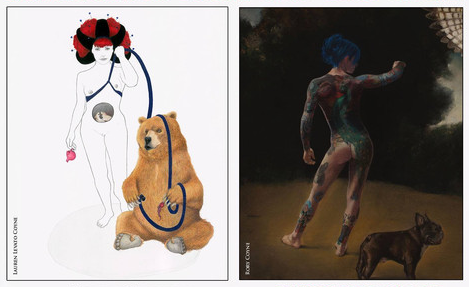 Work by Rory Coyne and Lauren Levato Coyne.
Century Guild is located at 2136 W. North Ave. Reception Saturday, 7-10pm.
4. Little Man Pee Pool Party: The Whiz Paddler's Lament at Antena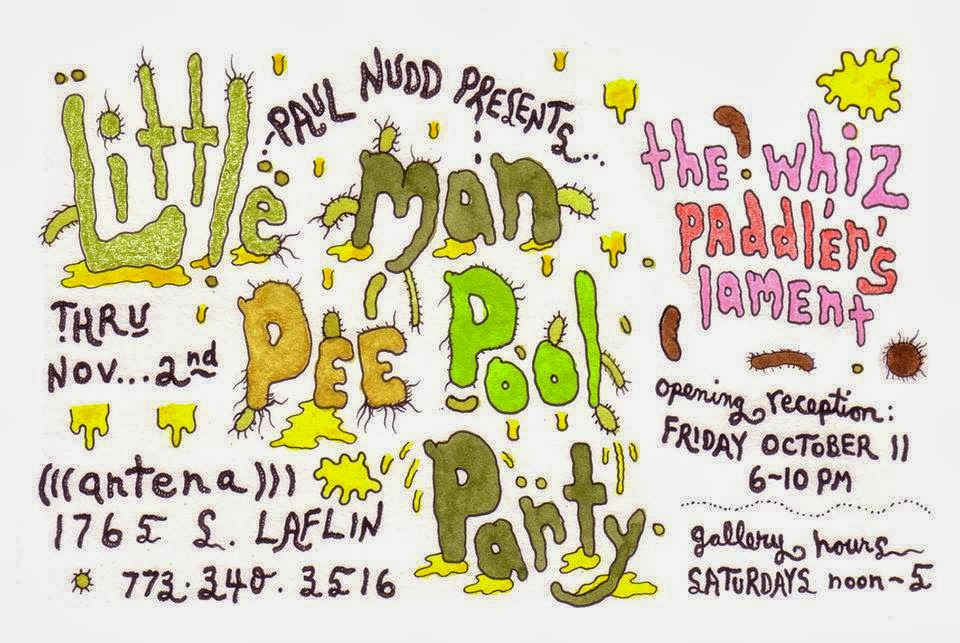 Work by Meg Duguid, Bruce Conkle, Micki Tschur, Paul Mack, Mariano Chavez, Sarah Beth Woods, Marie Walz, Scott Wolniak, Sabina Ott & Michelle Wasson, Catie Olson, Andy Pizz, Eyeball Mansion, Nick Drnaso, Sarah Leitten, Andy Gabrysiak, Scott Anderson, Taylor Hokanson, Paul Somers, Edra Soto, Ryan Standfest, Bert Stabler, Matthew Novak, Kevin Budnik, Jeffrey Boguslawski, Ryan Travis, Christian Lars, Bra Jim Zimpel, Tom Torluemke, Tim Ripley, Eric Lebofsky, Andy Burkholder, Erik Lundquist, Krystal Difronzo, Marieke McClendon, Lyra Hill, Alyssa Herlocher, Joe Tallarico, Chris Cilla, Andy Gabrysiak, Chris Kerr, Keith Herzik, Kevin Budnik, Jason Robert Bell, Abe Lampert, Ryan Travis Christian, Jo Dery, David Alvarado, Ryan Standfest, EC Brown, Grant Reynolds, Max Morris, Otto Splotch and Anonymous.
Antena is located at 1755 S. Laflin St. Reception Friday, 6-9pm.
5. Alive! Commodity, Zombie, Avatar, Fetish at Sullivan Galleries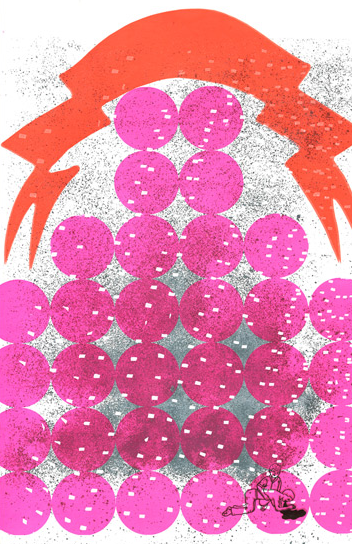 Curated by Ginger Krebs.
Sullivan Galleries is located at 33 S. State St. Reception Friday, 5-7pm.
The days have been warm recently. The last heat of summer is slowly entering the trees. The nights are growing longer, and when the wind is suddenly filled with the smell of decomposing leaves, I feel the call to be outside, to experience the changes and vibrancy of this time of year. I want to say, "Come out from indoors. Come out to experience the real world around us."
I went to the 2012/2013 Jerome Emerging Artist Fellowship Exhibition over the weekend, and I felt the same way. The Jerome Foundation Fellowships have supported emerging artists since 1981. The fellowship comes with $10,000, studio visits from professional critics, technical assistance, and a culminating exhibition. It is one of the premier individual artist awards in Minnesota. The opening was full of people wanting to see that work, to support that legacy of emerging artists, to see who the Jerome Foundation had selected as the artists to continue watching, but I wanted to say, "Come out from the gallery. Come out to experience the real world around us. The work in the exhibition is good and interesting within the gallery, but it has truly come to life as I have lived with it outside, in the real world."
The installation of One Another, Michael Hoyt's bicycle drawn mobile drawing table and drawings of community members he asks to sit with him in parks, playgrounds, and public spaces, is a small distillation of a project that can only exist outside the gallery. The drawings point to longer interactions and conversations that cannot exist in the static space of the exhibition. The questions of what those conversations were and why the participants did not draw have lingered. I have lived with the multitude of imagined portraits of Hoyt all week.
Amanda Hankerson's The Hankersons pulls me similarly into the lives of the many Hankerson families she has photographed. The physical presence of the large portraits reinforces the fact that the work is more than a tumblr of related images. Beyond the gallery, I can see into the lives of the other Hankerson families across the country, as they seem to contemplate the trajectory of their own lives more within the collective life of a group of strangers with the same name.
Melissa Loop pushes me away from the internet similarly. Her move away from her former landscapes inspired by endless internet images to the acid skies and dripping, decrepit buildings within the landscapes of the exhibition has inflected my own looking at the buildings we live in, the landscapes that decay around us. Her landscapes feel lived in, repopulated from the emptiness of place online with a flatness that I recall when I see the flickering blue of a television in a curtained room, a depth of life beneath the veneer of exterior walls.
Susannah Bielak's ongoing project Vientos investigates the wind, "a force made visible by its impact on other things." The video and static work she presents explore the visible impacts of wind, power, ideals of perfection, but they exist in an environment devoid of any atmospheric turbulence. The impacts of wind, the implications of its layered associations are mediated, but the associations have returned again and again as the wind rushes around me, as I hear wind chimes out my windows, as the piles of leaves change overnight. The ghostly hands of the wind are inescapable. We may grow inured to the way it shapes our lives, but I have started feeling its presence again in the way we talk, the way we interact.
The figures in Lauren Roche's paintings partially emerge from darkness, faces, hands, mouths, animals suffused with a palpable energy that is exponentially multiplied by the number of works in the exhibition. The figures are grounded in another reality that continues to speak to me beyond the gallery. I do not speak their language, but they tell me that their transformation from notebook page to finished painting is full of the answers to questions I do not know how to ask.
I often prefer work that forces me to spend time with it, durational works, books, music, film. My understanding of those works changes throughout my experience of them. One of the pleasures of visual art is its immediacy, its more instantaneous consumption. The deeper pleasure is in works that linger, that seed my mind with thoughts, explorations, and revelations that slowly unfold. As I put on sweaters and put up storm windows, I will rest assured that the outside world continues to exist within the indoors we are preparing.
Last week, I had a fascinating conversation with Lacey Haslam of Oakland-based BLOCK Gallery and artist Kari Marboe regarding their newest project titled Latham Memorial Fountain Unveiled.  Six months ago, they connected over email and by November, BLOCK will be presenting Kari's site-specific public artwork in Oakland's downtown area — specifically on the site known as Latham Square.
It wasn't until half way through our conversation that I realized that we were sitting in Latham Square, just a few feet away from the site-specific building windows that would house Kari's artwork.  Kari shared fascinating stories and trivia tidbits about the small section of the city known as Latham Square, which was named after the late-19th century pioneer family of James and Henrietta, and their children Milton and Edith.  The family had fueled money and programming into Oakland, including education for children on animal rights.  One hundred years ago, Milton and Edith created a memorial fountain to their parents that was for "both man and beast".  The incredibly historical Latham Fountain now sits in Latham Square – sans running water – as a source of inspiration for Kari's newest work.
Jeffrey: So what's BLOCK Gallery all about?
Lacey: BLOCK started experimenting in 2010, playing with the on-going question of what happens when we move artwork outside of the white wall gallery space — thinking about the function of art outside traditional institutions, whether that's museums or galleries.  What BLOCK aims to do is tap into the function of art, and activating art from a more inclusive and educational place.  What started as an experiment turned into site-specific exhibitions, meaning curating the work based on what's happening in the space and using the context of the space as the content of the exhibition.  What this approach ends up doing is providing an outlet for not only the artist to exhibit work — maybe it's a piece that they have already created or it's a piece that responds to the space — but exhibiting concepts the artists are already working with and putting it in a space that anyone can walk into or by and say, "oh this relates to me because I'm interested in this idea as well".
J: So where are you now, three years later?
L: BLOCK is now moving into public space.  It now has two different spaces — the alternative spaces with full-on rotating exhibitions and now the public space, and that's where Kari's coming in as an artist who also incorporates public spaces in her practice. These exhibitions are free, public, 24/7 — I mean, there are no hours associated with when you can view the work.  You are not walking into a well-lit cube between the hours of 10 AM and 6 PM; rather you are walking down the street or stumbling upon them by happenstance.
J: How did you meet Kari?  How did you guys hook up?
L: She actually reached out because she saw what BLOCK was doing.  She was interested in the program that BLOCK was building and said, "hey, here's my work, maybe we can pull together some projects".  I looked at her portfolio and it was exactly what I was looking for — she works site-specifically, in the public sphere, but she also draws on what's happening in that space. Since our first meeting she has been fully involved in the entire process.
J: So Kari, how did you get to know of the BLOCK sort of "thing" that was happening?
Kari: I first heard about BLOCK while I was just finishing up my MFA over at UC Berkeley. I had been creating site-specific text-based installations during my time there.
J: "Site-specific text-based"?
K: Artworks designed conceptually and physically for a particular space, and in my case made with text. For example, during our thesis exhibition I worked with Dena Beard to find a public and easily accessible spot outside of the Berkeley Art Museum to place a piece. She suggested taking over one of the panels outside of the museum on Bancroft which is normally used for internal advertising on upcoming exhibitions or events and found a 4'x4′ panel that was available during the time we needed. So I wrote a piece that talked about being exactly in that space, the motions of coming in and out of the museum, in poem form so people could sit down on one of the benches across from the work and enjoy it for a while. The label for the work was displayed right as you were walking out of the museum, so people were stopping and asking, "where is this piece of art, it's not the Calder, where is it".  Another piece I worked for that show was with the East Bay Express.
J: The newspaper?
K: Yep, the free newspaper that comes out weekly. They were so kind and donated rectangular advertising space to me for seven consecutive weeks. My collaborator Erin Johnson jumped on board and we made a series of seven squares that spoke about the nature and functions of a newspaper. That was a fun project, especially since it was free and available to everyone. While I was working on that, I also spent a lot of time online, seeing what other people were doing with sites and where my text work could fit in.  I somehow ran into BLOCK Gallery and it was exactly the type of thing I was looking for. I had never heard of a site-specific gallery before, or at least not one in the area, and was immediately interested in meeting the person behind it.
J: What was that advertising or marketing for BLOCK?
L: Gosh, at that point, it was very minimal.  It started by hooking up with Oakland event calendars and bare-bone sites to say, "hey, I'm a program in Oakland and this is what I do".  It hasn't been easy to put words to this type of program, instead I had to just do it, letting the installation images and the curatorial statements piece it all together.
J: So Kari, take me through that process of contacting Lacey.
K: After looking at BLOCK's website I decided to send her an email with some links to my work. We got together and brainstormed on the types of sites that would be exciting to work with. While looking around in downtown Oakland we stumbled across Latham Square just before the City of Oakland and ReBar started their Pilot Project there.
L: In our first meeting, I mentioned wanting to do something in that little triangle where Broadway and Telegraph spilt — we didn't know it had a name then. After seeing the Pilot Project and realizing that it did not involve any artwork — other than the street paintings — we started thinking about how to get in touch with the City, ReBar, what the logistics of doing a work there might be, what would a project there look like, and how could we help add to this newly pedestrian space.
J: So what is Latham Square?  Are the Lathams an Oakland-based family?
K: I'm glad you asked.
L: Yes, here it comes!
K: When we thought we might be interested in doing the project here I went to the Oakland History Room of the Oakland Public Library — wait, have you ever been in that room?
J: Nope.
K: Oh my goodness, it's worth a visit!  They have a specific room and librarian for all-things-Oakland on the second floor. The first librarian I met was already familiar with the Lathams and instantly pulled the files of James, the father, and Edith, the daughter.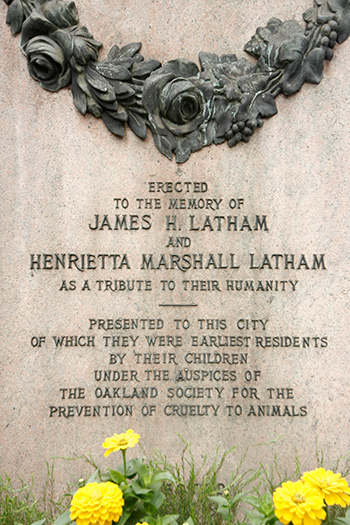 J: So interesting!  I just got the chills.
K: I know!  They also have a database with scanned articles from the Oakland Tribune. I was able to search around and found an amazing article from April 10, 1913, that described a great deal about the fountain and the dedication ceremony. I mean everything from the color of the granite to Mr. Latham's first job. The title of this piece – Latham Memorial Fountain Unveiled – is the same as the article's title.
Kari continues to share the fabulous history of the Lathams.  It is so fabulous that it has become the driving concept behind her installation.  Text here would do no justice, and rather, a visit to the work of art would be most appropriate.
K: What I'm interested in is taking this history and creating a piece that combines that story — specifically the desires of motives of the Latham children for building the fountain — with themes of how the memories of citizens are preserved within city structures over time. It's been just over a hundred years since the fountain was installed.
L: And at a certain point this piece will become part of Latham Square's history as well.
J: Can you talk about some of the logistics of the piece?
K: Oh, boy. Site-specific pieces are about eighty-percent logistics and twenty-percent art making.
L: It's been email after email, meeting after meeting.  It's an ongoing evolution. You don't want to start on finalizing the actual artwork because so much can change.
J: Any details of those emails or meetings?
K: Well, we knew we had to talk to the Downtown Oakland Association.
L: The Downtown Oakland Association oversees a lot of different departments.  Their main mission focuses on getting Oakland to be a more livable, more beautiful, more active, safer city.  For example, they do the hanging plants on the lights, they have solar integrated trash compactors — great solution to any city's trash management.
K: They have a certain amount of funding allocated for projects like ours. For instance, they helped Art Murmur get off the ground and have been sponsoring the Great Wall where large-scale video projections happen.
L: What's fascinating about Oakland is that there is so much energy around the city's re-identification through art, to position it as an exciting and relevant cultural hub. The crowds that turned out in the early days for the Art Murmur activated Oakland in a certain way, and now that First Friday has hit a plateau, I think there's a lot of room for growth at this point. There is a ballooning need to gather around art again.
J: What's BLOCK's position in the Oakland art scene?
L: BLOCK is designed to be fluid on every aspect.  When you're not tied to a space, you're not worried about the on-going programming of that one space. Being able to break away from that idea and bring art to a community or to places that people will frequent, and being able to use art as a sort of bridge for a new experience.  In essence, the program is about activating art, activating space to further the experience.  So, why is BLOCK in Oakland?  That's a fascinating question. There's something here, there's an energy here that San Francisco has, but it translates in a very different way.  Oakland is primed for growth, has a sense of opportunity.  The people we've come in contact with here have an authentic, raw enthusiasm for it. I haven' seen that in any other space or city.
Latham Memorial Fountain Unveiled will be presented from November 1, 2013 to April 2014.  For more information, visit http://www.block-gallery.com/locations/public-space/lathamunveiled
Guest Post by  Kevin Blake
As his upcoming show at Sidecar Gallery in Hammond, Indiana approaches, Carl Baratta is poised for a timely event that will delve into the world of ghosts and mythology–subjects in which he is well versed. From his home base, Baratta builds on a legend of narrative-based painting in Chicago, and lends insight as to how that structure is the driving force of his work.
Kevin Blake: I'd like to start by asking about your upcoming exhibition "Ghosts Don't Burn."  You are showing with another artist, Zack Wirsum, and the two of you seem to have some interesting parallels in your work. Can you talk about the title of the exhibition and how it reflects the works that will be on display?
Carl Baratta: 'Ghosts Don't Burn' is curated by Lucas Bucholtz and in addition to Zach Wirsum, the artists Lauren Ball, Mindy Rose Schwartz, Nathan Carder, Mariano Chavez, Karolina Gnatowski, Michael Kaysen, and Pedro Munoz will have work on the second floor.
Originally, the show centered around Gustav Flaubert's 'The Temptation of St. Anthony' and Ivan Albright's painting of the same name and myth. Since then a lot of the themes have evolved for us and the Temptation of St. Anthony is more of a departure point for the actual show.
We chose the title for the show because it's open to interpretation. Since this show is a collaboration between Luca, Zach and myself, we all agree it makes us think of how ghosts are emotionally tied to the things that they love and how one deals with this burden. Also the title is a fact. Ghosts don't burn. Try it. It's impossible.
Both Zach and I use narrative as an organizing structure in our work and we both seem to pick haunting moments with an unsettling relationship between shifting sometimes nightmarish landscapes and figures in duress. We both draw a lot of inspiration from different mythical/ art historical sources as well. For me, this is about caring for what you love the most, which is the art making version of being haunted.
KB:Â  Do you see a direct correlation between the evolution of the show's undercurrents and the fact that you are using the narrative form as the 'organizing structure' in your work? Does that structure require flexibility and a willingness to change gears, so to speak?
CB: In this case yes! Not always though. Depending on how the myth is used it can be pretty strict in terms of what imagery/ spacial configuration goes in and what stays out. Since this particular story is about hallucinating and being tempted by everything it's much more flexible and allows for the evolution of ideas.
It's a similar flexibility Bosch was drawn to when depicting a Christian Hell or Heaven. Basically it's an arena or stage where anything can happen under a very broad header. So really obvious imagery that everyone understands symbolically is limited but stream of conscious imagery can get a free pass, but just because stream of consciousness gets to be fancy free doesn't mean it's a good idea.
Another important aspect to understand about organizing imagery through myths is deciding on which moments are being depicted. For Bosch, it's an eternal moment during somewhere in the middle of all the action narratively speaking. Everything is going on at the same time and fixed. So as a viewer you can look at everything at your leisure.
But you can pick before or after as well. A good example is Goya's 'Witches Sabbath' for depicting after. Whatever the goat headed guy just said scared the crowd but as a viewer you come in right after he spoke. What did he say that would scare everyone so much? We'll never know.
Instead of depicting during an action where you can leisurely look and see everything happening, depicting afterward, in this case, lends some drama to the moment because as a viewer you will never know what you missed. As an artist, understanding which moment is best depicted for what you want to do, gives a bunch of freedom to the most stringent of narratives.
KB: So, as an artist using myths as a departure point, when do you depart? At what point does the paint dictate the outcome? It seems to me that your paintings are as much in dialogue with the painting language as they are with the language of mythology. Your work, at times, reminds me of David Hockney's landscapes of the early 90's in your mark-making strategies and it seems that you allow yourself enough intuitive moments to keep the paintings fresh and unaffected by a rigid narrative structure.
CB: Sometimes IÂ will set up vignettes and each area has literally big spaces between events that I leave open so it stays responsive when I get into color. Other times I'll take several images of paintings and want different aspects of each and in order to do so I have to have intermediary mark making that is totally different than what I'm drawing inspiration from.
I really love the colored mark making of David Hockney's landscapes in the 90's actually. To be honest, when I first saw them back then I didn't really get those crazy vibrating color paintings. Luckily I got to see a Van Gogh retrospect of his black and white landscape drawings. That was one of the missing pieces to the puzzle and helped put Hockney's color landscapes in perspective. The light and temperature of as well as Hockney's mark making was too much to see first. I guess seeing landscapes stripped down to bare bones helped me wrap my mind around the Hockney stuff.
It wasn't until I saw how Moghul painters used pattern and how Fauvist painters used color as light that I could even attempt to use it though. But for some reason those fit into place for me. I want them otherworldly but not so alien that it stops a viewer from entering them and getting lost.
KB:  A couple of your paintings seemed to me to operate at the edge of abstraction. To be clear, in some of the paintings, the landscape and the figures within it are not as concrete or traditionally composed (a painting like 'Double's Double 2′ comes to mind), and it is in these moments that the narrative seems secondary to paint, and for me, that is exciting. Can you talk about how you make that assessment–what sort of limits exist for the viewer's ability to digest your work? Is abstraction/representation the difference for the viewer? Is abstraction the ghost in the room for you?
CB: I was trained initially as an abstract artist. It's kind of weird because traditionally an art student gets trained in figurative stuff and then they are allowed to meander into other modes of painting. In undergrad, I had a bunch of former students of NYC AbEx painters as my professors (students of Al Held for example). The figurative painters I did end up taking taught me how to find and extrapolate forms from what was around me. So basically literal abstraction.
The work I'm doing now is me backing out of pure abstraction and color field painting into something more figurative. Navigating between these two things is a major theme in my studio. Paint is always first to me even when I'm trying to figure out the shape of a nose or a chicken, so it naturally is always first and foremost in my mind. I can't help it, I was brought up that way.
To answer the alien question directly though, if I'm painting a landscape and no ocular rules are followed at all, the piece becomes ungrounded. Things like temperature, weight, light, near and far, or flatness help ground a viewer. They can relate to a painting as a window into another space because they walk around a world that obeys those rules. Like good fiction, an author must suspend the readers disbelief so I guess the ghost in the room is the balancing act.
KB: One really learns by following one's curiosities and in that sense your approach to investigating those things that make you tick is enthusiastic. Can you talk about your curiosities outside the studio, and how those interests inevitably find a way into your paintings? Through your Facebook posts, I would assume film, particularly bad film, is one of these interests.
CB: Yes B-movies for sure. Although I mean it in the truest sense of the term. Not A-movies. I like lesser known stars, sad little budgets, and this feeling of wonky duct tape freedom. I mean yes I could say I love the fragility of them in the same way I appreciate a river-hobo-canoe made almost entirely out of Bondo, but honestly, the ones I love are the most apeshit, and the most apeshit are the ones that make me laugh the hardest. And I get bummed out so easily that watching them keeps me out of opium dens. So thank you B-movies.
I also love Shaw Brothers kung-fu movies. Actual ground fighting, that is to say visceral ass beating, will never be replaced by slow motion crying to piano music! Plus all the computer generated fighting in newer Chinese kung fu flicks? Come on. I make fists at them and throw my arms in the air! You suck!
Anyway, I try to mix all that up with art history stuff. I mean, all these movies come from retellings of history so might as well bring it back around. I also love comics, sci-fi novels, Skaldic poetry, trashy disco….. The list is as long as it is insane. Basically I will use anything I can get my hands on and if I can get the color and composition to hum and blush to my liking I will probably try and use it.
Kevin Blake is a Chicago based artist and writer.
Thursday of this week will mark an important moment in the history of digital art. Although the long and fruitful history of this medium will hardly be brought to a close, an important chapter in its narrative is about to unfold through the first ever digital art auction hosted by Phillips. The auction, entitled Paddles On!, Â is of particular significance because it is not only the first auction for Phillips, but also the first primary market auction to occur at any major international auction house to only feature digital art works.
When I had first heard the news that Phillips was teaming up with Tumblr to host an auction a couple of months ago, I was a bit skeptical. After hearing that Lindsay Howard (co-director of 319 Scholes and former Eyebeam Fellow) was coming on board to advise and curate the works for this sale, some of my reservations started to dissipate. But I didn't fully come around to appreciating this auction until I got a sneak peak of the exhibition and had a chance to sit down the three organizers of this project: Ms. Howard, Megan Newcome (Phillips Director of Digital Strategy), and Annie Werner (Arts Evangelist at Tumblr).
During my visit last Friday, I got a chance to see the final moments of installation, and was also given a guided tour of the broad yet considerate exhibition of the works on sale. The diversity of the work was not only presented in a near flawless manner, but it also showcased the breadth of pieces that all can directly and loosely be identified as digital art. I found myself "checking boxes" as Ms. Howard led me around the exhibition, noting familiar faces like Rafaël Rozendaal, Kate Steciw, and Alexandra Gorczynski. But as my tour continued, I was confounded when my curatorial and critical presumptions quickly dissolved upon noticing that the collection of makers presented in this auction was not pandering to a specific audience or community. Of course I wasn't expecting anything less of the organizers, but there was a part of me ready to criticize the exhibition for neglecting to include digital artists that otherwise wouldn't associate with one another. Instead, I found this group of artists to appropriately reflect the many facets of digital art – an assortment that all too often is presented in separate digital fiefdoms. Later, Ms. Howard commented that her intentions with this auction were to bring in as many voices within this sphere as possible:
When I'm curating in general – not just in this particular auction – I'm looking [at] who the nodes are in the network that are actually creating fresh work or creating fresh ideas. So I looked for artist for this auction who were nodes and are representative of larger movements in the field.
To that effect the artists represented do constitute many different subsections within the digital art moniker – interactive sculpture, generative code-based works, netart, webcam performance, experimental video, etc. But what surprised me the most was the way in which these different "nodes" seamlessly come together in the space. This is not to say that the artworks appear "samey" by any measure, but instead it is to comment on how these works share a common thread of turning contemporary technological experience into a refined aesthetic statement.
Perhaps part of this comes from the fact that I haven't seen many of the artists in this auction shown in spaces equal to the Phillips standard – often I've only experienced this work either on my personal computer or in artist run galleries operating on a shoestring budget. In a strange way, the pristine presentation of these works alone makes them appear worthy of sale. It was at once startling and refreshing to see work that I had admired for so long presented in the same way as a work for sale by an old master.
This being said, my admiration for the participants in this exhibition made me reflect on the content of these works in a way that I would otherwise take for granted in other contexts. I subsequently contended with the organizers that the look of these works shouldn't be their only selling point, and I pressed them to talk to me more about why this collection of artists seemed fitting for this auction. Ms. Werner responded by talking about how Molly Soda was a particularly fitting example to rebuke my inquiry:
While Molly [Soda] is obviously very important to tumblr – I think she's one of the first tumblr famous it girls – I think that she as an artist didn't really come into [her own] until someone was like "you're an artist." But I think for a longest time she was really a user that really informed the way that our platform grew and developed. [The auction] kind of elevates that entire culture that I think others felt was a little small or diluted. People didn't take it seriously but it's so huge and so vibrant. Molly's piece really gives a voice to this generation.
Although this specific work – a reading of letters and comments posted to her blog in a marathon 8 hour recorded performance – is indicative of a very contemporary conversation occurring through social media, the question kept arising regarding why this moment in particular seemed ripe for having an auction for this kind of work. Part of my initial skepticism came from observing the many previous attempts to sell digital art either going awry or else backfiring. In the past, the idea of taking online media and putting it into private collection has seemed rather antithetical to the ethos of the very platform that made their work possible (or else made the distribution of their work that much more accessible). But more recently, the thought of selling digital art has become more popular as the market seems better equipped to present these artists to collectors. I asked the organizers to talk about why this moment seemed most fitting, to which Ms. Newcome responded:
When I had first started talking to Lindsay, she asked me what was the Phillips angle in the auction world, and it is what is now? This is what Phillips sells, and I think that was inspiring for Lindsay. Once that was established that that's where we wanted to go – the vibe of the whole event – that became a point of no return… For this particular auction, Phillips couldn't have done this without Tumblr and Lindsay, and Lindsay couldn't have done this without us, and so on. We three together was what was so essential, and without one component… this auction would not be a reality.
All coincidence of overlapping interests and timing aside, what Paddles On! presents to audiences – both familiar and new – is that artwork made and distributed through digital networks must now become more vocalized and represented within a contemporary art market. Many recent signposts have been pointing to this moment – the heated conversation around Rhizome's booth at the Armory in 2011, the outrage of artists and academics railing against Claire Bishop's misinformed "Digital Divide" essay in Artforum, the development of the Art Micro Patronage project by The Present Group, the selling of digital art by AFC at NADA this past year, just to name a few. But now it is happening, and already over half of the works have been bid on through Paddle8 – a sign in and of itself that now seems to be the time.
But then what? Let's say a majority of the work sells at or above its reserve, what does this signal for both contemporary art and digital artists hoping to bring their work to a larger audience? My initial doubts and concerns for this auction is that it might shape a future aesthetic, or else inadvertently dictate a kind of digital art that is only interested in going to market. I realize that this concern cannot be reserved just for this medium, and instead should be a broader reflection on the ways in which market politics and finance can and will always influence the strategies of emerging artists. However the artists in this exhibition were specifically selected not only because of their contribution to the field, but also due in part to understanding their longevity within an ongoing conversation of art making beyond digital media. Again, my fears are further appeased by Ms. Newcome in reference to a studio visit she recently had with contributing artist Mark Tribe:
We don't call digital cameras, digital cameras anymore; we don't call digital watches, digital watches anymore. One day, we won't call digital art, digital art anymore…
Although I initially felt that this auction might seem somewhat opportune, the three organizers of this exhibition suggested that the more important consideration must come from how this auction will – at its heart – help bring digital art to an audience wanting to participate in a conversation that for too long has stood at the periphery. The resounding "finally!" that has come from many artists, curators, gallerists, and academic is a testament to Paddles On! working towards an overall positive goal. Although I hesitate to defend the auction based upon my own knee-jerk reaction against commercialization of work made online, I do laud the participants and organizers for putting their absolute best foot forward. It is a rare instance that many people get to witness a community come into its own, and I felt that when I walked through the exhibition of the 20 lots for sale on Friday that I was indeed witnessing an important moment for all those involved in this endeavor.
To that end, I feel as though Ms. Howard put it best when articulating her excitement for this event to unfold:
Even if no piece has sold, or if we got no bids… having all these people rally up support, educating collectors, having the conversation, bringing in more people into the loop, makes this all a success.
In this spirit I wish all the artists the best of luck on Thursday when the live auction kicks off at 8pm at Phillips' gallery on Park Avenue. I hope that the success of the event – as Ms. Howard eloquently suggests – will mark a new beginning for an ongoing relationship between the digital art community and the contemporary art market.