Winter is not yet over, but I have already felt the urge to start spring cleaning. I want to air out the bedroom and beat the rugs, to scrub the floors and clear the clutter hidden behind the heaviest winter clothes in the back of the closet and the last summery jars of canned vegetables in the far reaches of the pantry. My house is heavy with things, and I am ready to clear them out. I am ready for objects that play multiple roles, that open the doors to new thoughts, new worlds, new seasons.
EVEN IF IT KILLS YOU by Bryan Thomas Daly at White Page Gallery is an attempt to move away from the "library of Alexandria" he had amassed around himself, a purposely object-full attempt to transcend the physicality of the collections that maintain our place in consumer society while reinforcing the belief in our individuality. The modified vinyl and record covers revel in their identity as objects that contain the depths of content we know exist in their grooves. Daly levels their value, eliminating their use through his playful, spirited modifications. The work was made as part of a residency in the gallery, and it is in conversation with the objects that fill the corners, hallways, and studio spaces in the other half of White Page Gallery. The finished and in progress pieces, the raw materials, the tools, the giant, decades-old, fire hazard of a boiler all bear witness to the diverse studio practices, the collective experience of working and making decisions together. They are a testament to exploration and the opening of horizons.
Objects were also at the forefront of the first Sound.Art.MIA event at the Minneapolis Institute of Arts. Paul Metzger's sublime performance was mesmerizing. His 23-string banjo was inescapable as the visual locus of his plucking, strumming, bowing. Similarly, the Body/Head performance was centered around their guitars as objects, as unfamiliar extensions of their body to be explored by pushing, pulling, swinging, and hefting them through waves of feedback and mountains of sound. The video projected behind them distracted from their performance, pulling attention away from the objects they lovingly cradled, stroked, and manhandled. The night culminated in minutes of Kim Gordon exploring the crackling, scratching soundscape of the length of her output jack, flooding the room with the slightest adjustments of the very place her body flowed out into the rest of the room.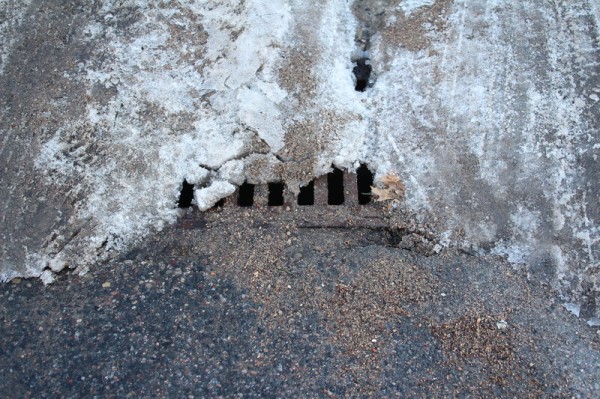 The recent few days of thaw have transformed the monochrome snowscape into the grey rainbows of exhaust-filled slush and ice. The receding snow reveals more than the objects hidden beneath it. It reveals the forgotten body of the city that surrounds us. It unleashes the vast symphony of drips and rushing torrents that arise from the barely visible stormdrains, and it opens windows onto the vast water system that has silently been working beneath our feet throughout the winter. It embues the objects that surround us, that care for us, with a new life, an unfolding wonder that will continue to expand as the weather warms and as I make more room for it in my less cluttered house.
Photograph of the artists who participated in the January Show
Photograph by Seth Siegelaub, 1969. Taken from Moma.org
From left: Robert Barry, Douglas Huebler, Joseph Kosuth, and Lawrence Weiner.
"In conceptual art the idea or concept is the most important aspect of the work. When an artist uses a conceptual form of art, it means that all of the planning and decisions are made beforehand and the execution is a perfunctory affair. The idea becomes a machine that makes the art. This kind of  art is not theoretical or illustrative of theories; it is intuitive, it is involved with all types of mental processes and it is purposeless."  –  Sol Lewitt, "Paragraphs on Conceptual Art"
Sol Lewitt goes on to write that conceptual art frees the artist of trade, skill, and any semblance of feeling. Instead, the responsibility of the conceptual artists is to leave the viewer with a kind of mental entertainment or novelty, some bit of cognitive candy, like solving a sudoku, or discovering that the vase you are looking it is in fact two human faces peering into each other.
It should be noted here that Lewitt would likely take me to task for confusing the perceptual and conceptual with that last example. In any case Lewitt is not my main concern and while parts of his text propel me occasionally they can do no more here than to haunt a certain regional tendency, what I am calling midwest conceptualism.
"When an artists uses a conceptual form of art, it means that all of the planning and decisions are made beforehand and the execution is a perfunctory affair."
What I have observed in the midwest is a kind of social conceptualism. Artists here do not arrive at an idea so much as invite each other into an elaborate system of responses that reveal the idea to everyone involved slowly and deliberately. Midwestern conceptualism enacts a human, read also as intuitive, structure that disperses authorship and catalyzes collaborative relationships best described as hospitable in that there is evident an element of hospitality.
An anecdote: the practice is always encountering interruption.
The studio is interrupted by the invitation. The invitation is interrupted by the curatorial frame. The frame is interrupted by the space. The space is interrupted by the viewer. Â And so on and so on.
Hospitality too is a kind of interruption, the knock at the door, the footsteps of the guest as they cross the threshold, echoes breaching the silence of the home. What follows is the clamor of hospitality as one sets oneself aside in service of a guest.
Hospitality is implicit in the service industry of art. An artists is invited by a host to make work for or take part in an exhibition or program. The artist in-turn invites a host of collaborators to occupy, program, or inhabit the space that has been allocated to them. Thereby creating a platform that extends the opportunity and the resources provided to their social network and various communities. Whether home or abroad artists from across the region are fond of making social spaces, forming temporary collectives, and opening up the individualistic terrain of the exhibition.
"I still insist on the social roots of the problem. "The group" forced to compete in an individualistic antagonistic self-interested (Adam Smith you Scottish Bastard) world. For example: "having a show" is a one or two man endeavor. You need impact and gestalt. The whole thing is epistemologically individualistic. That's that. One reason for the collapse of A&L [Art & Language] was that it moved from the journal (which was a "group effort") to gallery shows which suddenly meant 15 or 14 out of the 16 people were standing around pretending they knew what was going on. There's nothing wrong with leaders, it's just when others see them leading and you following that we get screwed up. Again, these problems are social, not "merely psychological." – Mel Ramsden in a letter to Joseph Kosuth, extracted from "1975" by Joseph Kosuth.
The nature of any given network and the quality of the relationships therein is a matter for critical faculties and human insight alike. How else is one to understand a practice that is both experiential and contextual if not with the mind and heart, that is with cool headed analytics running alongside lived experience (intuition again). Given that this kind of conceptual practice is social, invitational, and hospitable, the way towards understanding such a practice must come from a committed audience member. It is not enough to pass off some quick judgement after having poked one's head into the room. One has to set oneself aside, to give time to the work, it is as if the work is a knock on the door interrupting a busy host.
The relationship between host and guest, organizer to artist, artist to viewer, is one of reciprocity and generosity. Each becoming, at times, more or less the host or guest of the other, never fully inhabiting the other's place within the network but instead moving between hubs. This elaborate courtship proposes a way of being together and a context to occupy.
"There's nothing wrong with leaders, it's just when others see them leading and you following that we get screwed up."
Over the coming months, the Bad at Sports blog is featuring quick glimpses of the art world as it exists in smaller cities across the country and around the world. Each glimpse is byway of some of the said city's local characters, which include but are not limited to artists, curators, creative writers, and critics. In part 2 of this Oklahoma Day, curator Lauren Ross takes a spin around culturally revived Tulsa, Oklahoma. 
T-Town Transformation
Guest post by Lauren Ross
I moved to Tulsa in the summer of 2011.  As a relative newcomer (and New York City native), I may not be privy to the long view of the art scene in "T-Town," but the visual arts in Tulsa have gone through a transformative shift so recent that, even in my short time here, I have borne witness to the sea change.   I'm referring to the revitalization of the downtown neighborhood known as the Brady Arts District.  With its assortment of arts organizations, creative industries, music and performance venues, and overall cool and energetic vibe, this small, long-neglected neighborhood has become Tulsa's artistic nerve center.
Brady had already been dubbed with the arts district moniker due to the presence of a pioneering few organizations, but critical mass was achieved in 2012-13, primarily due to the efforts of the George Kaiser Family Foundation (GKFF).  Established by the eponymous local philanthropist, GKFF's main target is combating issues of urban poverty, but it also has done wonders for the civic enhancement of Tulsa.  Rather progressively, many of its efforts to improve the city have been focused specifically on developing arts and culture.  Simply put, the foundation bought up a good deal of dead space in Brady, fixed it up, and turned it over to various arts organizations.  Former empty warehouses now house museums, nonprofit spaces, and teaching facilities, and what was once a truck depot is now a public park and performance space.
Today this neighborhood features a vibrant mix of organizations.  Neighborhood pioneers include the Brady Theater, the legendary music venue Cain's Ballroom, the alternative space Living Arts, Tulsa Glassblowing School, and the cooperative gallery Tulsa Artists' Coalition.  More recent additions anchor Brady Street itself.  The Henry Zarrow Center for Art and Education is a three-story building housing classrooms, art studios, galleries and event spaces, jointly administered by the University of Tulsa's School of Art and Gilcrease Museum.  108Contemporary (formerly Brady Craft Alliance) is a nonprofit space dedicated to contemporary craft that showcases local and national artists.  The archives of Oklahoma son Woody Guthrie, recently relocated from New York, are housed at the Woody Guthrie Center, a museum and research center that also sponsors live music.  Philbrook Downtown, a satellite location for Philbrook Museum of Art, presents exhibitions and programming dominated by modern and contemporary art by Native American and non-Native artists, and houses the Adkins Study Center for Native American art.  Adjacent to these institutions, the Arts and Humanities Council built the Hardesty Arts Center (better known by the acronym, AHHA), a brand new Cor-Ten steel clad, 42,000-square-foot building that features exhibition spaces, artist studios, classrooms, and more.
The Brady renaissance wasn't achieved by the presence of arts organizations alone.  GKFF's revitalization of the neighborhood also included creating subsidized housing, street-scaping and tree planting.  Perhaps most significantly, the foundation created Guthrie Green, a public park with a stage area that serves as a venue for everything from farmer's markets and food festivals to movies and concerts, all free of charge.  GKFF's work was matched by a variety of efforts, funded by both public and private sources, which added such amenities as a baseball stadium, television station, and new hotel.  Together, these catalysts had an almost immediate effect.  Seemingly overnight, coffee shops, restaurants, bars and boutiques followed.  An area that used to feel post-apocalyptically deserted on evenings and weekends is now buzzing and humming.  And while the gentrification has spurred a small contingent to grumble over the area getting "too fancy," the economic benefits to the city have been palpable, and continue to accrue.
I don't want to imply that Brady is the only area of Tulsa with rich offerings.  Important players in Tulsa's art scene are scattered throughout the city: Philbrook Museum of Art and Gilcrease Museum, the two largest museums in town, serve as cultural anchors.  Commercial galleries and artist-run spaces are peppered across various neighborhoods, from Brookside to Cherry Street.  Fab Lab provides cutting-edge design and fabrication technologies.   Additionally, other neighborhoods are on the tipping point of Brady-like transformations, notably the Pearl District and the East Village, the latter home to the Creative Room, a collective workspace for people working in creative industries.
These recent pushes for public and private redevelopment with an eye towards culture and the creative class are healthy and productive.  But the city and state governments have far more work to do to make Tulsa a hospitable place for artists to live and work and nonprofits to thrive.  A bill currently in the state's House of Representatives threatens to eliminate the autonomy of the Oklahoma Arts Council and jeopardize significant amounts of funding for the arts.  Such eliminations could be devastating.  If funding and community support can survive, Tulsa's ability to enrich artists and audiences will continue to grow.
I have a personal wish for the arts in Tulsa, one that admittedly may stem from my status as a relative newcomer: to see more interaction with what is happening beyond the city's borders.  I believe local artists could benefit from increasing their awareness of what is being made, experienced, and discussed in other places.  Organizations can serve those same artists by opening up dialogues and exchanges with their counterparts in neighboring cities and states.  I see these efforts being done successfully by the Oklahoma Visual Arts Council (OVAC), one of the few organizations working hard to bridge gaps, for example, between Tulsa and Oklahoma City, two cities geographically close but psychically distant.   Tulsa is situated midway between Kansas City and Dallas, both centers of dynamic, cutting-edge arts scenes.  Engagement with places like that would not only broaden our horizons, but promote the great things that are going on here to others, not to mention move us towards raising the city's profile on a national stage.  Tulsa is closer than ever to being "discovered" as a hidden cultural jewel, and to showing the rest of the nation what many people here already know.
Lauren Ross is the Nancy E. Meinig Curator of Modern and Contemporary Art at Philbrook Museum of Art in Tulsa.
Over the coming months, the Bad at Sports blog is featuring quick glimpses of the art world as it exists in smaller cities across the country and around the world. Each glimpse is byway of some of the said city's local characters, which include but are not limited to artists, curators, creative writers, and critics. In part I of this Oklahoma Day, artist Romy Owens gives you a sense of the artist and arts culture in Oklahoma City and its namesake state at-large. 
Guest post by Romy Owens
My great grandmother grew up in a sod house in the side of a hill. Why? Why is this relevant? Oklahoma is young. We're 108 years old. We are not so removed from the reality that community equaled survival. We're still a highly community-minded state. That is not to imply that you live in a non-community-minded state, or that we're super special. (We are.) Unless you're meeting Sally Kern, when you meet someone from Oklahoma, you'll probably like him/her… because lots of us are friendly, and smart, and funny, and attractive.
So, with that said, we are also a state steeped in terrible statistics and stereotypes. We love football, basketball, rodeo, beef, pork, incarcerated women, pregnant teenagers, and energy. We cling to religion. We have extreme weather events. We have a majority conservative political representation. (FTR: I am part of the minority.)
However, thankfully, Oklahoma City is not a cultural dustbowl. (Oooh, Cultural Dustbowl is totally the name of my next body of work.) We love art too.
In Oklahoma City, we have institutional arts organizations that receive significant support from foundations, corporations, and individuals. More often than not it seems like the focus is on dead people's art, but recently all of the major art institutions have started to embrace contemporary art and artists. (Hooray!) I'm sure the ballet, philharmonic, museums, and theaters would say they need more money to do bigger and better and serve more people, and sure, they could use more money, and probably deserve more money, but in the big picture of arts institutions serving the public, they are all doing great. Thanks for asking.
We also have many small arts organizations (dance and theater companies, non-profit art spaces, arts districts) that receive financial support from foundations, corporations, and individuals. All of these agencies are providing contemporary art programming, often using Oklahoma playwrights, choreographers, performers, and artists. These organizations need money. They might need better organization as well, but to do that they need financial support.
And then we have the individual artists, and there are a lot of us, working diligently, and with a few exceptions, most of the time for less than minimum wage. (I know this isn't just an Oklahoma problem.)
I am a visual artist in Oklahoma City, and if Malcolm Gladwell's assessment of what makes an expert an expert, I am an expert regarding the contemporary art scene of Oklahoma City.
In Oklahoma City, I am part of a small, tight-knit community of contemporary artists. Among us, maybe two dozen work as full time artists. There are easily another 200 who self-identify as artists and consistently create, but work 40 hours a week at another job (many art related). Add to that another 1000 people who make art for an occasional group exhibition, but not necessarily professionally, and that makes up the visual art community in Oklahoma City (and probably in other small cities like Omaha, Louisville, Columbus, Birmingham…).
Like every other state, Oklahoma has decorative interior designer artists, conceptual artists, performance artists, safe festival artists, established name-brand crank-it-out artists, street artists, craft artists, eager experimental emerging artists, and weary-but-still-eager experimental established artists. We represent all media and movements. If you broke it down proportionately, I'm sure we are identical to the artistic fabric of the art meccas, just on a smaller scale. And like all artists everywhere, we have a lot of dialogue about art: my art, your art, that art, current art, past art, artistic practices, ideas, residencies, grants, fellowships, studios, patrons, opportunities, money, money, money.
For visual artists in Oklahoma City to make ends meet with part time contract gigs, there are numerous afterschool and seasonal school break art teaching opportunities, some art preparatory opportunities, and a few art administrator opportunities.
We only have one paid yearlong residency program at a historic downtown hotel. And we have one unpaid one month-long residency program for printmakers at a downtown art gallery.
There is an art walk happening in a different art district three weeks out of each month. We have two art festivals that occur each spring. Nearly every weekend, there is something new to see or attend. Scoff if you want, that wasn't always the case here.
We have a public art program at the city level. We have a quarterly crowd-sourced grant for artists of all disciplines modeled after the Brooklyn FEAST. And we are about to see the renovation of a historic building west of downtown for a new 21st century Museum Hotel. This has all really developed in the past ten years. I am certain that we wouldn't be where we are now if it weren't for OVAC.
Oh yeah, we have OVAC. The Oklahoma Visual Arts Coalition is the only arts organization that benefits individual visual artists exclusively. Before OVAC, there was no institution in Oklahoma providing financial support to individual Oklahoma artists, except art buying patrons. As many artists know, when the successful continuation of an artist's career is solely determined through patronage, the contemporary art changes and the voice becomes… decorative. OVAC empowers us to take risks, stray from the safety of the known, and to change the conversation as we deem necessary.
So in a state where prior to 1988, the only way to make a living as an artist was to 1) make art that people will purchase, 2) be independently wealthy, or 3) leave the state, having an organization provide grants to make art, or provide exhibition opportunities with honorariums is a game changer. (OVAC does so much more than that, but money talks.)
The contemporary art scene has been significantly improved by OVAC's work. It's one of the few art organizations in the city that has a zero censorship clause. The ideas are richer, the discourse is stronger, and the networks are wider. Its mission is to support visual arts and artists and their power to enrich communities. Done. And more please.
So back to the charm of Oklahomans, as a tightly knit art community—we are highly supportive of one another. Of course, as individual artists, we are competing over limited opportunities within our small cities and throughout the state, and competitive opportunities out of state, but we all know, when one succeeds, we all succeed.
I feel fortunate to be aware of what many of my contemporaries are doing. I also feel fortunate that for our size we have so many creative and talented artists contributing to the conversation of what is art. I couldn't begin to list everyone whose work I admire, but here are a few:
Deep down in my heart, I know there are many Oklahomans who understand the significance of what my contemporaries and I contribute to the cultural landscape of the state, and who understand the value of visual arts past the formal museum setting or the decorator showcase home. But in accessing the contemporary art scene of Oklahoma City and knowing what is happening even just five hours north in Kansas City, we still have a long way to go.
We still don't have enough galleries that exhibit and sell art. (I know this is a problem even for artists of the largest cities.) We cling to the art auction-as-fundraiser model like it's going to leave us for another city. Affordable studios aren't easy to secure. And more paid residency programs or professional opportunities could transform careers, but establishing and funding them seems challenging at best.
In a recent article in the city's mainstream newspaper, I was featured in a story about the Affordable Care Act, and the backlash regarding my receiving subsidized insurance (for the first time in eleven years) was hateful, mostly centered on the fact that I "should get a real job." Unfortunately, such phrases are proffered to artists regularly in Oklahoma and elsewhere. So, while we truly are a nurturing supportive community trying very earnestly to keep a diverse cultural experience viable, it's still a struggle for the individual artist in Oklahoma City.
Oklahoma does have a lower cost of living though. Like super low. Like maybe you should move here and join our art community. Consider that an invitation.
With all this said, personally, I myself am a thriving Oklahoma artist at a pivotal point in my own career, and I know that I need to find opportunities outside of Oklahoma. Ultimately, the outward extending success of my studio practice and well as those of my peers will make for a better cultural landscape in Oklahoma. So, hit me up if you have any leads. And of course, hit my fellow Oklahoma artists up, too. They're all making great work in Oklahoma.
—
Romy Owens is an interdisciplinary contemporary artist living and working in Oklahoma City, Oklahoma. www.romyowens.com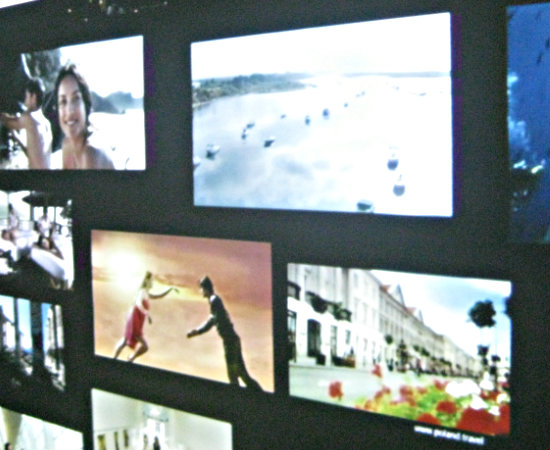 A biennale in a holiday destination can seem like icing on the cake, but a work at the 5th Biennale in Marrakech explores the baking recipe itself. Burak Arikan is a Turkish artist whose home country, like Morocco, numbers its visitors in the tens of millions. One question, which his Monovacation (2013) poses, is this: what do we expect from our annual getaways?
The answer varies, but not by much. Rowboats, mountains, bikinis and beaches are all high on our agendas, at least that's what the national offices of tourism believe to be the case. Arikan collates television commercials from around the world and uses bespoke software to analyse the patterns which emerge.
The result is a grid projection running every film the artist could get his hands on, (found footage and clips from YouTube) a nodular map of advertising motifs, and a six minute montage in which the ideas morph into one another. "You have concept morph," explains Arikan, "not image morph", pointing out the shifting occupants and surroundings of a lake.
"So the movie starts with a rowboat. You will see people doing rowboats from Italy through to China basically. All of which are very quick 1,2,3 seconds, and then it goes slowly into nature and then into the mountains and it works like that."
Biennale venue Bank Al Maghrib is full of surprises, but this presents you with some familiar scenarios: travel clichés, held at arm's length. The result is alienation, an effect of the computer code written by the artist in order to configure a detailed map of the most frequently advertised holiday activities.
"This is all for a vacation which you can have anywhere in the world," says the artist, most of whose projects benefit from his programming knowhow. In the past he has analysed data patterns in the art market, the higher education sector and the urban landscape of Istanbul.
The uber-commercial now concept-morphs into a passage featuring horses. "If you look at this you find a horse that crops up all the time: in Egypt, Turkey, Portugal and Spain; they've all got horses." It was this motif which inspired the current piece.
"A horse, what does that mean, you know?" he asks, finding a range of meanings in a host of countries, including the most interesting reading of the situation in his homeland: "In Turkey they show it, like, jumping on a bridge. I guess, Europe to Asia."
And while the overall effect of this installation may be one of monotony, there are differing nuances. "European countries usually advertise themselves as, 'You can rest here'. So say I'm a European from the UK, it has to be somewhere close: South Europe, Spain; I rest and then I go back to work." But a far-flung destination like Taiwan will advertise its potential for magical experiences.
Marrakech is magical too, the North African city lending plenty of relevance to Arikan's work. "Morocco has a big tourism issue," says the artist. "It's an economical engine but at the same time it's an issue for locals. Obviously you can see that everywhere." It's a fragile ecosystem. The vibrant square beyond the venue, Jamaa El Fna, is a UNESCO designated Masterpiece of the Oral and Intangible Heritage of Humanity.
Arikan laughs when I ask him if his research has put him off holidays for life. "I don't really do travel for tourism any more," he says. "Although I will travel a lot, I go for work mainly. I live in New York right now, but I'm based in Istanbul and New York." Hence the global outlook.
In a world where you can be a tourist just about anywhere, this data-crunching holiday of holidays could put you off as well. The perfect beach, bikini body, or sunlit lake are just so many simulacra, and thanks to our ubiquitous cameras, we are all filming and shooting our own commercials and ads wherever we go. It gets to be hard work.
Monovacation can be seen in Bank Al Maghrib at Marrakech Biennale 5 until March 31 2014.