Guest Post by Hannah Verrill
I'd like to use this bit of time-space to introduce a series of posts that will use process as a way of looking at and unpacking a handful of contemporary performance practices.
Each segment exists first as an encounter between an artist and myself. In the space between maker and observer, together we excavate a process, a series of actions that the artist is currently using to create performance material. Each exchange is specific to the work at hand, necessarily time-based, and unfixed in form.
The writing, produced in response to each exchange, seeks to mirror the kind of thinking that happens for a viewer after a performance has ended. The faulty and exuberant process of sifting through, assembling, and organizing the experience of such an ephemeral form.
Why focus on process? I'll take my cue from Gertrude Stein: in order to know we always have to go back. 
I grew up in Brooklyn, NY and it was through my mother and her involvement as a performer with Elise Long's amorphous dance-theater company Spoke The Hub that I began performing at the age of four. Long's performance projects were interdisciplinary, using movement as their main component but regularly incorporating visual art and spoken text.
In one of my earliest performance memories I am six years old on a large stage at the Brooklyn Academy of Music. I am hiding behind a set piece waiting for a cue and watching Elise Long, dressed in a magnificent red lobster-gown costume, deliver a monologue to an audience of hundreds.
Two years later I was cast in Meredith Monk's work The Politics of Quiet; an ensemble piece addressing the Bosnian war for independence and Sarajevo in the 1990's. I recall the intensity of the audition for this piece: my eight-year old body crossing a room slowly, picking up a vessel, feeling its weight and carrying it with me through space, and later being asked to sit as still as possible, my legs folded in front, focusing my attention on the air surrounding me.
In contrast to these kinds of engagements, my experience with performance as a kid was just as often marked by amateur experiments: strange dance-theater pieces thrown together in collaboration with cousins and staged for the family after thanksgiving dinner; solo dance numbers set to Fleetwood Mac and performed for my brothers, my dad, and a video camera; improvised movement by myself and for myself in the attic space of my home.
Three months ago I completed an MFA degree from The School of the Art Institute of Chicago focusing in performance. From where I stand now in relation to these childhood memories, I am aware not only of the performances themselves—events characterized by the work meeting an audience—but also of a much larger and more complex sea of experiences surrounding and generating the work. Time does its thing and I am still standing inside of the processes of those past works: the scaffolding comprised of auditions, rehearsals, trials, notes, periods of waiting, of watching, of thinking, of doing.
Performance theorists assert that in the instant of performance, the work experiences a kind of disappearance. With twenty-two years as a performer, I have felt time and time again the loss that comes with a performance's end. My experience of my body as a learning-thinking-moving-performing thing, never fully knowing or comprehending the work that I was just then putting forth towards an audience—a you. This repeated rehearsal of loss drives my desire to spend time with and examine rigorously the nature of a process that works towards a disappearance.
What remains and what comes next? In a disappearing present, the past and the future takes on considerable weight. Process asserts a present. If we can agree that as a form performance undercuts the value of a static or fixed product—an end result—the questions of what remains and what comes next persist. How can the weight of the past and future be leveraged, made light and moveable? I can commit to the present just like I can feel the weight of my feet on the floor, just like I can feel my breath as it rises and sinks through the space of my torso—through a focus of attention. I will practice that attention to the present by way of this series called Process Notes.
Hannah Verrill is an artist living and making work in Chicago, Illinois.
 
Over the last year Guerin has dedicated herself to a single shape. Every painting begins with the same premise — the same subject: an abstract shape originally derived from a chair, it has, over the course of its repetition developed other affinities as well. Sometimes it looks like a hat, or a four leaf clover, or a corporeal organ. Certainly it stands in for a figure. It is at once empty and pregnant with meaning.  By working exclusively with this shape, Guerin explores the medium of paint, focusing on its expansive possibilities, while remaining formally constricted. A collection of these works are presently on view at Columbia College's Glass Curtain Galley, in a group show called "Slow Read."  Painters Emiliano Cerna-Rios, Magalie Guerin, Brian Kapernekas, Nazafarin Lotfi and Tim Nickodemus  hang their work with accompanying, personally curated libraries. Guerin, for her part, includes a  journal with notes from studio visits, reflections on the history of paintings, the work of her peers and her romantic life.
Caroline Picard: You use a repeating shape or motif throughout this series of works. Can you talk about how you discovered this shape?
Magalie Guerin: Well, it's an invented shape loosely based on a chair design. As I worked with it, it ended up looking more like a hat, so I call it the Hat shape although now it seems to have morphed into an organ of some sorts… But really, it's a structural form onto which I apply the paint.
CP: When we met in your studio, I feel like there was a point where you started talking about the shape in terms of a relationship, as though each iteration of the shape is another portrait that offers new insight. Suddenly the shape seems less abstract and more personal — is that fair? Has your relationship to the shape changed over time? Do you ever fight with the shape?
MG: Yes, that's fair (perhaps a little strange too). The shape has become a kind of companion to me, a pet form. There's a strong association in my mind now between my studio practice and that particular shape. I'm not sure how I can let it go at this point; it's been a year. My relationship to it is very similar to any relationship—sometimes I'm bored stiff with it or I love it or I'm angry at it.
CP: I like thinking about how the shape somehow lives in your studio. Almost as though when you are in the studio you inhabit its space.
MG: Or it mine… it's all very symbiotic. 
CP: Does it feel like the shape exists as a thing that is separate and autonomous from you? Or do you feel like it is a projection of your own inner space?
MG: Hmmm, that's a hard question and it creeps me out a little! A Cronenberg-esque scenario… So let's think of the work— the paintings, not the shape itself. They wouldn't exist without me so it does start with a projection of some sorts. But once they leave the studio, they develop a relationship with others so I could say a life of their own.
CP: I'm also interested in the idea of repetition and practice — it seems at the core of this project somehow and very meditative also (if that's the right word). In other words, you return to paint the same shape again and again in different frames, with different colors and surfacing approaches — the shape remains the same, and yet I imagine your experience of the process changes dramatically depending on the day, the week, the month, depending on the peculiar challenges one composition demands, and depending on your own emotional landscape…what is that process like?
MG: I wish the process was meditative! It's way too hard to be. I did reduce the possibilities in the studio in terms of size and shape but everything else is wide open so there's a lot to attend to. Basically, I'm trying to create a focused practice and repetition has been helpful for that. I'm thinking a lot about what Morandi did with his 'bottles' and how, through sheer repetition, he was able to get to the essence of things—not the essence of the bottles but of life. It's so very moving.
CP: Which then makes me want to ask about painting also — you mention Morandi, and the way he was able to distill his subject to earth tone bottles. I've heard people talk about how that makes his work emphasize the medium of paint. Do you think that's accurate? Would you say The Shape does the same thing for you? By limiting your subject, you can focus on the materiality of your medium?
MG: Yes, I think that's true. When I was working with multiple shapes, each painting was a new one and I was getting caught up on how the form looked and its design within the picture plane. There was a kind of anxiety about getting it 'right' because I had one shot at it. By repeating it, it's more of an exploration of possibilities and subtleties—there's no right or wrong. I can't tell which painting is a better representation of it; they all blend in at this point. They are all the same.
CP: You often sand down your paintings between layers.  I'm interested in the labor and erasure this process employs. Can you talk about how you came to that technique? And what goes through your mind when you begin to sand a particular layer of your work?
MG: It comes from doubt—I'm never sure that the color I add is right so I sand it down each time. And what that does is uncover the previous layers. The process is about revealing the past, building a richness of surface by allowing time to be seen. I often finish the painting by veiling it all with a coat of transparent Zinc white, which I love.
CP: For some reason this strikes me as a kind of violent act — maybe both sanding and covering with white.
MG: Really? That's interesting, I've never thought of it being violent. Perhaps it is. Perhaps I hate them a little…
CP: It seems significant that you show these works with a journal, and like the paintings they are an amalgam of reflections on your studio practice, comments studio visitors have made, remarks you make about various aspects of the art historical cannon, your peers and then too your personal, romantic life. How did you decide to include this journal? And you've re-written it several times, by hand, for different exhibits — what was that re-writing process like?
MG: I write in the studio to help me understand what I'm doing (it's a mystery most of the time!). When I started the 'Hat project' last September, I was interested in rules and limitations so I made a rule that I had to write something every single time I came to the studio no matter what it was. I really wanted to find out specifically what I was asking of my work. But obviously, there are days when my head is elsewhere even when I'm in the studio, that's why the writing sometimes veers towards the weather of my romantic life. It was also a way to document how many times a week I was able to paint and how long the paintings take me to complete. Then what happened is that I was asked to make an 'artist book' for a show Sean Ward organized at Julius Caesar in Chicago. This opportunity came just after I heard the poet Kenneth Goldsmith talk about copying and organizing writing as his art form and I found that an interesting/conflicting activity for a writer to engage in. I thought—what if one copies oneself? If one also creates the original, does it change the nature of the copy?
So I took all the notebooks I've written in since moving to Chicago for grad school in 2009 and again, made a list of rules like 'don't add punctuation', 'delete dates' 'no chronology' 'repeat is ok' etc. I merged and copied everything by hand in a Moleskine book. As I was transcribing the entries, I was also writing in my current journal about what I thought, critically, of the Notes project, complaining about the look of my handwriting and such while simultaneously copying these thoughts as a copy. That process became very interesting to me. I wrote about what I would do differently if I was to make a second version of the book, an edited/revised copy of the first one. A few months later, this latest opportunity—the Slow Read show—presented itself.  We were asked to curate a selection of books to accompany our paintings. Nazafarin Lotfi contacted a few artists about making books for her space—that's when I did the second version. So my book is included with Nazy's work in the exhibition, not mine. I'm showing Anaïs Nin's Diaries.
CP: Would ever think about these journals — with each subsequent generation — as a practice that parallels your shape paintings? For instance, could we think of each shape as its own, non-semantic journal? Could each journal be a kind of non-painted Shape painting?
MG: Technically I'd say yes but I'm still confused about the place of writing in my art production. It's the first time I'm sharing it publicly. I mean, the questions are— how much writing of interest can I generate? How can I present writing as a visual artist? Should the books remain one-of-a-kind like a painting? How do I think of writing as a medium? Can I allow grammar mistakes and such? Is my writing too personal? So you see, it's all very complicated…
CP: It's interesting to think that an object in book form would demand a different aesthetic criteria than an object fashioned from paint and canvas.
MG: Maybe it's not different, or at least shouldn't be so, but it's all very new to me so I have a lot of questions about it.
CP: How did you end up selecting work to hang in your show, by the way? I remember you were having a hard time deciding which paintings to exhibit in Slow Read.
MG: Ha! That was hard because as I said, they all blend in now as one project. To have to select a few (I think there's 11 in the show) out of the 30 or so I've made seems irrational. Justin Witte, the curator, had some favorites so that helped. But most of it was trying to find a variety that would best represent the whole spectrum of the project as of yet––because, well, it's still going…
Guest Post by Young Joon Kwak
This edition of salon talk is a conversation with artist and educator Patrick Jackson.  Jackson was born in Los Angeles, CA, where he also currently resides.  Working primarily in sculpture, he's had exhibitions in galleries and institutions internationally, including François Ghebaly Gallery, and the Hammer Museum in Los Angeles, Nicole Klagsbrun Gallery in New York, The Soap Factory in Minneapolis, MN, and CAPC Musee d'Art Contemporain in Bordeaux, France.  His next solo show The Third Floor opens at François Ghebaly Gallery in November 2013.  Jackson got his MFA from USC, where he is currently the Sculpture Area Head.  I first got to know Patrick Jackson through Mutant Salon barber Marvin Astorga, so I thought I'd ask him to say a few introductory words about Patrick:
Patrick Jackson is a regular visitor of the salon. Apart from making cool stuff, he prefers a #3 clip guard, as he likes a bit more length in the back and sides than most of our clipper-inclined clients. I've tried the #1 and #2 guards on him before, and the result was perhaps a bit too flashy. Patrick understands that, while his hair type is very forgiving (it's thick with a well-behaved curl), it's important to know what you want out of your hair, your art, and your life.—Marvin Astorga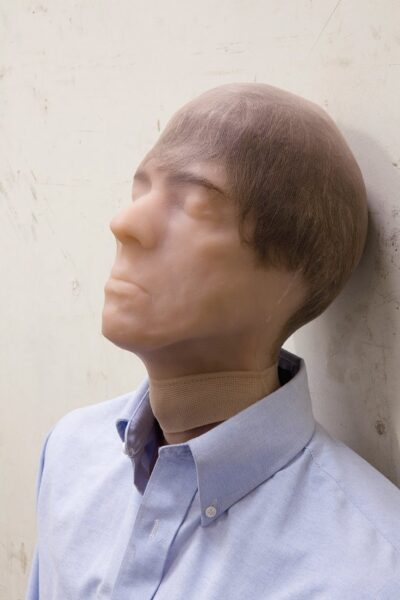 closeup of a sculpture from Jackson's All Cut Up, 2012
PJ:  Lately, I've been reading Philip Guston's writing and looking at his paintings.  I think his work is a good example of ideas and forms working off each other—clashing, in a productive way.  One can relate to it in a beyond-language kind of way, just thinking of objects like a clock and questioning it, taking it apart, and how it relates to us as an object and as an idea of time.
YJK:  Do you look at other sculptors or sculptures when you're starting a project?
PJ:  I look at a lot of sculpture, I like sculptors, but I feel like I sculpt mainly because that's what I'm good at and I enjoy it—it fits my personality.  I move slow—it's a contemplative medium by nature, I think.  But when it comes to looking at work, I'm more attracted to films and writing, just idea-wise.  Sculpture is not a thing where you can explore ideas in a really deep way.  I think if you wanted to do that, you'd turn to writing.
YJK:  What's a favorite film of yours?
PJ:  My favorite film is probably Terrence Malick's Badlands.  There's something about it similar to Guston's work, in a way.  They both deal with people's relationships to objects.  That's how I think about sculpture, as the study of relating to objects—from a rock, to something bought in a store …
YJK: Â How do you feel about a lot of sculptors today using stuff that they bought from stores, readymades?
PJ:  Some of it's too heavy on the "purchase and lay it on the ground" approach, without any alteration—or perspective.  But it's an important part of considering objects, I think—how we navigate the aisles.  I've always thought Rachel Harrison is good with that kind of stuff and I've flipped through her books, trying to figure out how to use them in my own work.  Her show, If I Did it, has been a big influence.  The title for the show came from OJ Simpson's book, by the same name, which I think is him telling how the murders would have gone, if he had done it—something like that.  But for Harrison, If I did it was the idea of the readymade and making.  If I buy something and put it in the gallery, am I the one who made it?  The whole show was really an open consideration of objects, how we relate to them, understand them, our connection to them, how we're involved with them …
YJK:  Yeah, I think it's interesting that you bring up Harrison.  There are so many different ways to engage with her work, so many entry points, like pop cultural references, a mixture of readymades, and there's a sense of play in her process and certainly in the experience of the work.  I'm also interested in the formal decisions she makes—her accumulation of material fragments and how she reconfigures to incite different interactions between materials, screwing around with hierarchies of different materials, and then how some of the same sculptures that she made continue to be reconfigured and shown in different ways for different shows, like the piece Green that she showed in the 1993 exhibition at the New Museum.
PJ:  Yeah, I've heard that she describes the way she makes work as similar to the way someone shops, where it's sort of like I'll try some of this, and try some of that, and like you described, a sort of movement through objects.
YJK:  Someone told me that John Kelsey thought of her sculptures as drag objects.  I'm also interested in your use of materials, and how you animate them, imbuing them with a sense of the body, but a sort of traumatized body or a precarious body, such as with your tchotchke stacks, and certainly the show where you had a body leaning against a wall, or the one with two bodies lying on the floor, or just kind of how they're positioned with their eyes closed—they do seem like they've been inflicted, like it's the aftermath of some sort of violence or disease or something like that. And then I thought that it was funny that one of the sculptures—I think there's a stocking pulled over the face…
PJ: That was from a body cast and the cast was made for the project in the apartment, House of Double, the one with the two figures lying down.  The one that has the stocking over its head is the same body, it's from the same molds, but it's made up of leftover pieces.  I sawed the body in half, so it could sit against the wall … ended up looking more like it's folded in half and crammed against the wall.
YJK: So was it a cast of your body?
PJ: Yeah.  When I first started working on House of Double I knew that I wanted to make a body, because other sculptures I'd made were more in relationship to the viewer's body, so I wanted to make a sculpture where this body would actually be the piece and then the viewer would have a relationship to this body, as opposed to their own.  I wanted to make it lying down, on the one hand because I felt like that's what would make it feel between object and person … then there's also this idea of violence.  Again, I was thinking a lot about Badlands, and there's this idea that goes through that film, a classic philosophical consideration, of one's relationship to the world—about what's an object and what's a subject.  The movie is based on the true story of Charles Starkweather, an American serial killer.  This character is continually considering what is worthy of living, and what's not, and then it gets applied to objects too, where he's sort of, "Well, what object is useful to me and which one is not?" And that's something all of us can enter into, like a more benign consideration of use, with animals, or the coffee cup you throw away.
YJK: I'm interested in knowing more about this sense of masochism I get from the work, I mean it's cast from your body, like you're enacting violence on yourself, or a projected self, or a surrogate self?
PJ: In the House of Double, there's a body in each bedroom, and the idea was they're supposed to be relatively identical, but in the experience of being in there, you can never see both of them at the same time, so it's sort of a memory comparison, or the idea that they existed somewhat in your head.  Of course when you look at them online you see both of those images at the same time, though … I guess that doesn't answer your question.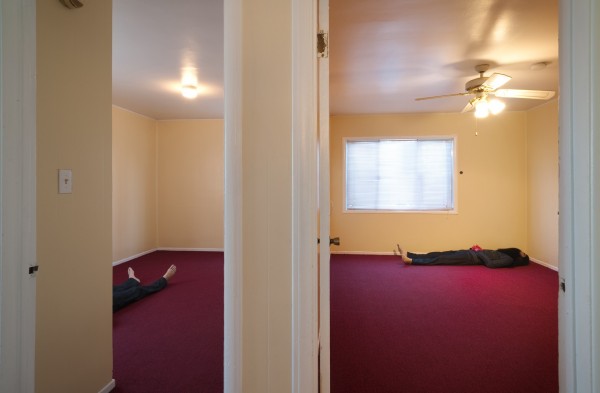 Installation view from House of Double, 2011
 YJK: I was thinking a lot about the relationship of yourself or your body, this body that you're creating in relationship to the viewer looking down at it, and there being this sort of hierarchy that's established between yourself and the viewer, so I was curious about your perspective of this body or your body or a more general idea of the self.
PJ:  A lot of ideas went into it: research, reading, movies, TV, and a lot of stuff I was going through in my own life.  It was a mix of a lot of things, and then it felt like it clicked in the end 'cause it took on a life of its own, it became something separate from my own ideas, but it was born from those. So what you're describing is really interesting and kind of true, but that's not the only thing that this piece is about.
YJK:  I think it's interesting that in relation to the work where you've created more representational bodies—you then have your Tchotchke Stacks, which are literally stacks of all these different kinds of statues and figurines, with their own histories, and the residue of their owners—They're also almost body height, but a bit taller maybe, more imposing, like a body that comprises a collectivity of varied parts. It's interesting to think about this collective body being composed of all these different little tchotchkes, and how that leads to questions of subjecthood and collective subjectivity, how we all relate to each other through objects, through tchotchkes.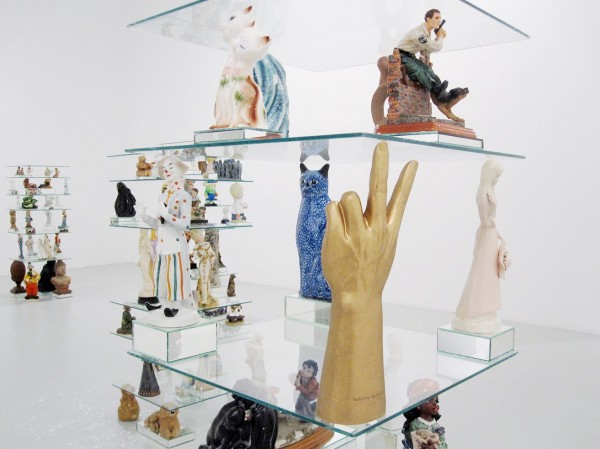 Detail view of one of Jackson's tchotchke stacks, 2010
PJ:  There's also just the fact that our relationship to our body is changing, it seems to me.   I'm a big Cronenberg fan, and he's someone who's thinking about our relationship to our own bodies and other bodies, all through changing media, from Videodrome to the availability of something on video, or through cable television, to eXistenZ and the internet.
YJK: Â With each project, does your conception of the body change or transform?
PJ:  I try to make individual projects, but as you start to make more work, it starts to add up and to turn into something on its own, like where they're not just completely divorced projects from each other, although that's usually how I try to start something, trying to make it autonomous—like a film or a book.  But before you know it, you've created this body of work, but also a reflection of yourself, basically. You see it differently than I do.  You come to the work and look at it as a whole, and you start to see these connections that I see too, when you bring them up, but I guess I don't try to approach it as this idea of "I make work about the body transforming."  But now when I hear you talk about the body transforming, I'm like, "Oh yeah, I think that makes sense."  Definitely with doing this sculpture that is partially based on my nephew for my show…
YJK:  Yeah, the scale of it's funny…
PJ:  Because I've seen him change a lot, knowing him since he's a little kid.  I've seen him go through life and that makes a lot of sense to me with thinking about that sculpture, and then also just him.  As a piece, it's just a boy, but what you're talking about … I can really see in relationship to this show.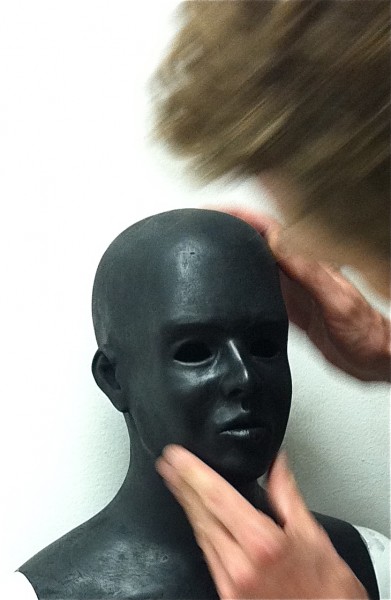 sculpture in process, 2013
YJK:  Can you tell me more about the other work you're making for your upcoming show at François Ghebaly Gallery, in the fall?
PJ:  Well, one of the things I was thinking about with the title of the show, The Third Floor, is a sort of relationship of one object to another object, or subject to subject, and this book Flatland, that classic book of circles or triangles that can only move through two dimensions of space—they can only go forward and backward, left to right.  And then us, being in the third dimension, we can see them and understand them in this really basic way, but they can't understand our world—our third vertical dimension.  And then there's an idea of the fourth dimension, where there are these eyes, this sort of knowledge that exists beyond us, that sees us as limited in movement and can observe us and can see all of time. I'm trying to do a similar thing with this show, where there's the narrative of the space where this boy's body is on the third floor, looking down, or sort of seeing everything as objects in relationship to him.  Then there's us as viewers, who come in and see him and everything else as an object in relationship to us. Also, I've been thinking of the idea of the uncanny, something like thinking that I just saw a person I'm attracted to, and then it's like, oh no, it's a 90-year old woman I just saw out of the corner of my eye, this feeling of like, "Oh, what's going on?"
YJK: How'd you end up working with ceramics for this show?
PJ: It came about because I didn't have any money.  I work at USC and I can use the facilities for free. On top of that, mold making can be really expensive, but slip molds and ceramic supplies, in general, are pretty cheap. Then I just got into the process, my hands in the clay and experimenting with the materials—especially the glazes.
YJK:  What's the relationship of your ceramics to the long history of ceramics in relation to contemporary art? Thinking particularly about how—I don't know whether it be right or wrong—ceramics occupies this place within sculpture discourse/greater art discourse of marginalization, this place of just being merely decoration?
PJ:  Well, it goes through stages.  I mean, ceramics is very popular right now, it's in every gallery, but it also has a history that you're talking about, which is, it's seen more as a craft and it's looked down upon, and there's also a certain form that I was really aware of when I was making it that I was trying to stay away from, which was just the look of something that was made in a parks and rec. course or in an elementary school, having that sort of "ceramic" look—which I think is fine, to maybe even harness, but for the look I was going for I tried to pick stuff that would look unceramic, in some ways. I've also added other materials: wax, epoxy and rocks.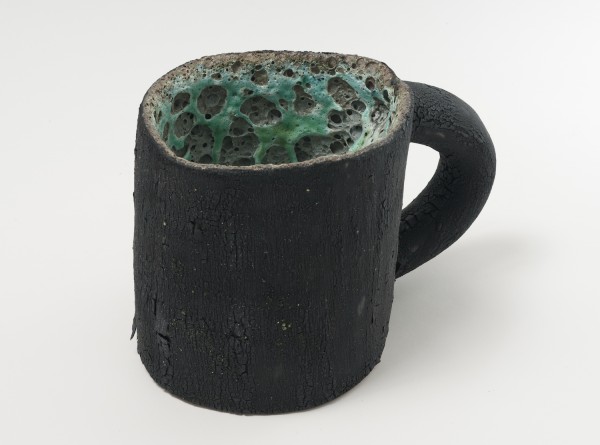 ceramic pieces from The Third Floor, 2013
YJK:  You've mentioned to me that the three floors of the space are three categories of sculpture, both in arrangement and form.  You're thinking of the lower level, where the ceramic vessels will be placed, as storage.  Do you feel like the ceramics, their importance or meaning arises more in relation to the other works that you create? Like in relation to the upper level, or more conceptual works, as you said?  And just the idea of these three floors…
PJ:  I think a big part of meaning comes from juxtaposition. It's like making a sentence, where words next to each other start taking on a different meaning instead of being autonomous. So that's part of the show, too.  I think this is something a lot of artists grapple with, nowadays.  You have the installation, which is however long, you know, six weeks, a few months, and things are arranged to be a certain way in relationship to each other and then they get broken up and they're never the same. So that's definitely what will happen to this show. And I'm trying to think about that a lot, as being part of it, of questioning what's an object alone? What is an object next to other things? But when I first started writing about the show, doing research—I have a notepad for every project I work on—I was thinking about this movie I'd seen about a girl who's discovered after being locked in her bedroom till she was like 11-years-old. So she had never learned to speak, and she hoarded.  One of the things that she did, that apparently is common with children who experience this sort of intense isolation and entrapment, is hoard water, usually containers of water, so when she lived with a therapist in her room she just had cups, she'd get cups of water in the kitchen and then leave them around her bed.
YJK:  Which makes sense with all of the ceramic vessels and cups you are making for your show…
PJ:  Yeah, it's like a hoarded kind of thing.  I looked in my notebook a few months after I started making these and I realized, "Oh yeah, I forgot about that, but that's what started it all.'
YJK: Â So is this show all about you being really isolated and trapped in the world?
PJ:  Ha-ha, no comment.  I don't know … It is what it is … I mean, it's about my family too. But it's also about thinking about a basic form, that everyone can relate to.  I've been thinking of Brancusi—he did a cup piece.  That's one of the fascinations with children like this. When children like this are discovered, it's like, every scientist, every therapist wants to work with them, because now we can get to the bottom of things, like how does language work? How do we develop it? When are you too old to learn how to speak and interact with another person? How is this person going to understand things? They're fresh, they've never been educated in anything. And so, to look at something that they do, like hoarding water, hoarding cups or … there's also the movie The Wild Child, which is about a child who was living out in the wild and was discovered by someone, a French scientist was studying him, and in that film there's a scene where he drinks from a glass of water while he looks out a window, it was one of his great joys and I think it was used as a reward when he was being trained how to read and stuff like that.  I'm just fascinated by that.  What is it about having a cup of water and looking outside?  Of connecting to nature, I guess, with water, this basic thing that we all need.
YJK:  We talked a bit about The Third Floor before, and how the unique architecture of the space—how on the second and third floors one can see the lower level—influenced formal decisions you made, such as extending the second floor with scaffolding, covering the lower level and making a basement of sorts.  I'm curious about your decision to have scaffolding, just thinking of all the exposed parts underneath.
PJ:  From underneath where one encounters t­he ceramics, it will look like regular scaffolding, and then from up top it will look like a wooden floor, or like an old wooden floor, 'cause you won't see any of the mechanics holding it up.  From underneath, it's more of what you would think of as an unfinished basement, where you see the structure of the house and everything that sort of holds things up, it's sort of the raw elements of things. So it seemed to just make sense that way and also, yeah, just sort of revealing the structure I think goes along with part of the narrative that basements have and of the show … I think of hidden things happening.
YJK: Â What keeps you going in your practice?
PJ:  I just want to make work that I like and that I feel like I changed because of it, like I had an experience out of doing it, where it affected me from making the work—it didn't feel like I was just going to a job and making stuff.  There's a Tarkovsky quote that I often think of and I have on a notecard, on my studio wall.  The Tarkovsky quote is something like … I'm gonna slaughter the quote, but it's something like, "Your work shouldn't be the next step in your career, but a turning point in your life." Like any quote that one pins up on their wall, it's a bit cheesy, but I think it's something that I agree with—and it's not practiced enough, these days.
Young Joon Kwak is resident Queen at Mutant Salon and performer in the band Xina Xurner.  Hailing from Chicago, she currently lives in Los Angeles while pursuing her MFA at USC.
Joel Sternfeld | McLean, Virginia, December 1978 | 1978. via participating gallery Luhring Augustine
Expo Chicago launches next week and I'm already preparing. So far that means reading the website schedule and mentally preparing myself for reporting on the fair. I'll be heading out to Chicago next Thursday to check out Expo and participate in "Dialogues", a series of panel discussions on contemporary art launched in partnership with The School of The Art Institute of Chicago. Contemporary Art Daily's Forrest Nash, The Baer Faxt's Josh Baer, and myself will speak on a panel about digital publication moderated by Bad at Sports Founders Richard Holland and Duncan MacKenzie.
Perhaps thanks to the fair's partnership with the institute, the panel discussions look a lot more interesting than the normal gamut of collector centric talks fairs normally launch. As such, I've put together a list of the discussions I'd most like to see. Check out Johnson's list here.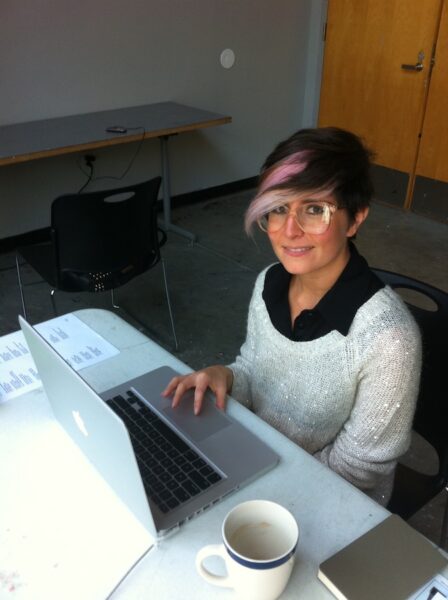 This week on the Podcast! BAS goes west coast! We talk to Adriana Salazar and John Spiak, director and chief curator of the Grand Central Art Center, which has an exhibition of Adriana's work up currently. Also, we talk to Sabina Ott about The Terrain Exhibitions Biennial which just happened. Plan your life around seeing us at EXPO!!! You know you want to.
Edition no. 17 kicked everything off last week with a reminder a) that fall is here and b) an account of fall's gallery opening festivities:
It's official, Chicago artists are back from their residencies and vision quests and it is time for the fall gallery season. Inaugurated this weekend with about a million openings from River North to the 'burbs and back again, we're still reeling.
On the subject of filmic experience, Jesse Malmed discusses durational works, specifically that of James Benning, with a later dash of Empire:
James Benning's Nightfall is a curious piece. His works are often challenging structurally, but saying the logic of this one is simple is like saying the simple logic of this is one. We watch the trees and they are still. We watch the light and it changes slowly. It would change more slowly, but the camera is doing what it can to keep up. Fauna haunts the aural space and I thought I even heard what sounded like human sounds. Mostly I floated in and out of the cinematic space (the seats, the people around me, my thirst, someone else quenching theirs, the size of the rectangle, the quality of this light) the represented space (the trees are so beautiful, there are fourteen main trees, there are an additional dozen supporting trees, the light coming through the branches looks like someone I know, the light through these branches looks like a stranger) and the space between (could I sit on the stump I'm imagining for this long?, when was the last time I spent this long seated with my head facing one direction?, when was the last time I spent this long seated with my head facing one direction outside?, how much better must this be to be there instead of here?, how has the concept of nature become so abstracted from [my own, at least] daily life?, what is that phrase about seeing forests and trees?, is this based on that?).
I posted an interview with Elizabeth Tully about the upcoming Fountain Art Fair, coming o so soon to a Chicago near you. In describing its origins, she says:
"Fountain was started in 2006 as a platform for three galleries (Capla Kesting Fine Art, McCaig Welles Gallery and Front Room Gallery) to access collectors, curators and critics during the New York Armory weekend. We have grown to represent over 100 international galleries, artists and collectives. Our model is "alternative" because we give free-reign to our exhibitors, and are not exclusive to just galleries, or just independent artists. Our mission is for people to come to Fountain and connect with whats happening inside through installations and performances that engage visitors and push boundaries. Of course, people want to sell art, and they do. But the overall vibe is one of community and goodwill as opposed to commercial frenzy."
Duncan MacKenzie gave a shout out to one of our own this week, as Tom Sanford's show just opened in NYC:
Something we don't do enough of here at Bad at Sports is trumpet the successes of our various contributors. It sort of happens piece meal, sometimes, but considering that the project is and always will be an artist run type thing – our collaborators are more then just the deep thinkers, aesthetes, and vulgarians you know them to be! Such is the case with our Tom Sanford and his new show at Kravets|Wehby in NYC.
Adventures in Union Square courtesy of SF resident, Jeffrey Songco:
Regardless of the weather, which is never a topic of conversation in SF until this very month, it was a delight to see paintings by Pamela Wilson-Ryckman in an exhibition titled GPS. From the exhibition statement: "Precise knowledge of location gives one the illusion of control but knowing exactly where you are doesn't necessarily mean you are in a good place. Rather than location it is often the experience of place that matters. How much information does one need to reconstruct a memory or sense of place? The answer is – not that much, imagination fills the gap". I was most interested in Geppetto's Jacket (2013) and it's glaring painterly techniques, creating so much dimension of space for that "imagination".
The third Minnesota Biennial opened at The Soap Factory this last weekend and Eric Asboe writes about it, and each work is a butterfly:
The flashiest, brightest butterflies do not need to fly past us to catch our attention. They overwhelm all of our senses. The Basketball Team's Sgt. Moore wafts the smell of whiskey throughout the gallery. The looping, Reichian patterns of Nate Young'sUntitled (Soul Clap no. 1) echo in the silence of the distant companion video Untitled (Soul Clap no. 2). The shuttering of the 16mm projector pulls us into Stefanie Motta'sSeeing. The drone of the prepared keyboard inside 7-Sided Room with Painted Floorby Andrew Mazorol and Tynan Kerr permeates the galleries and intensifies the rarefied air inside the room.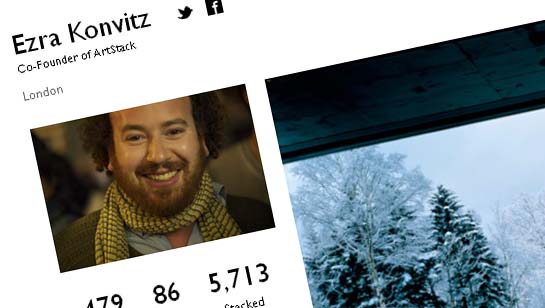 Dispatch from Brighton, UK this week, where Mark Sheerin talks (social) networks, contemporary art, and Artstack.com:
Art needs networks, and the 20th century testifies to that. There could never have been a lone fauvist, a solitary cubist, an isolated futurist, etc, etc. The avant garde loves company, and, without it, could never have made the great strides which came along with modernity. Now we live in a different landscape. Cafes have become corporate part-time creches and third place venues for business meetings. Cigarettes and pipes, both intellectual props, are banned. And just try paying for your triple shot latte with a sketch, it can't be done. The avant garde have been in retreat everywhere for decades now. So it is good news to have some networking technology which might serve as a focal point for new visual ideas.
Shane McAdams boldly begins with a nod to Kevin Costner's performance in Field of Dreams as he goes on to describe the Thelma Sadoff Center for the Arts and the "two moving and exceedingly complementary exhibitions" it contains by Novie Tremp and Hap Tivey:
In Fond du Lac last week the Thelma Sadoff Center for the Arts opened to the public. A hybrid of contemporary architecture and a Masonic temple that had previously housed the Windhover Art Center, the Sadoff Center is an impressive specimen: granite topped bars; a spacious terrace for live music; two large and gloriously lit art galleries, classrooms, workshops and a hall for lectures and performances. It's a cultural diamond in the heart of a pragmatic industrial town – an only slightly less quixotic enterprise than trying to lure the ghost of shoeless Joe Jackson out of a cornfield.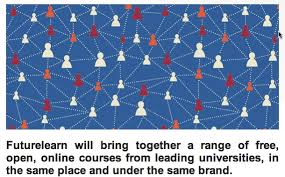 Terri Griffith talks MOOCS! (and how they affect the world of contemporary art):
Massive open online courses (MOOCs) are the future of education. I feel as certain of this as I am certain that one day cars will fly and that ironing will become obsolete. There's a Ted Talk with the co-founder of Coursera Daphne Koller and an episode of Charlie Rose with the CEO of EdEx Anant Agarwal that addresses this new way of teaching and learning. To summarize Agarwal on Charlie Rose, the thing that is fundamentally different about MOOCs versus the way traditional college works is that with traditional college all of the gatekeeping is at the front end. You have to apply. You have to be accepted. You have to have tuition. Sometimes you need to have prerequisites or test into the courses you want. With MOOCs it is different, at least for now. The gatekeeping occurs at the backend. Anyone can register for a course, but not everyone will finish. And for those who do, there is often the option of a certificate. With some courses there is even the option of credit…for a fee. This allows all kinds of learners to participate in a course. For example, some might only be interested in part of the course's curriculum. That student can participate in just that portion of the lectures, readings, and discussion, and ignore the rest. Of course, they will not receive a certificate, but then again, So what? Others might successfully complete all of the assignments for the entire sequence and receive a certificate. Both students got what they wanted from the course, but they dictated their level of involvement, not the instructor or the institution.
Speaking of the future: