Welcome to this month's edition of What You Should Have Noticed, wherein I try to hit the highlights of this month's art news, paying special attention to those stories that touch on our city on the lake. We've got plenty to talk abut, so let's get started:
United States Artists Comes to Chicago
In this month's biggest local story, the LA-based organization United States Artists has left the doldrum left coast for sunny Chicago. The organization, which is backed by an over twenty million dollar endowment from the Ford, Rockefeller, Prudential, and Rasmuson Foundations, will continue to distribute unrestricted grants of $50,000 each to individual artists. Past awardees include Theaster Games, Chris Ware, Martha Rosler, Catherine Sullivan, and Mark Bradford. Selection is by nomination, but don't let that stop you from buying drinks for new CEO Carolina Jayram, former executive director of the Chicago Artists Coalition, and the rest of the new staff at United States Artists: Meg Leary, Britton Bertran, Anna Harris, and Kipa L. Davis.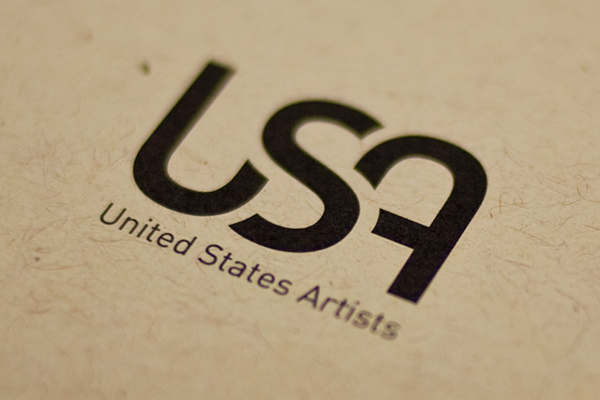 Union! Union! Art Handlers Win Big
It's no secret that the work of art rarely ends in the studio. The shipping, crating, boxing, handling, transportation, installation, conservation, and restoration of art takes money, work, and a lot of workers. Last year, London-based Frieze drew widespread criticism by refusing union labor at its Frieze Art Fair in New York. This year, the workers were ready with protests after the fair announced it would again refuse to hire union workers. Happily, the protests were successful, leading to a reversal of Frieze's labor position and an agreement to use Teamster labor at this year's fair. Meanwhile, in Chicago, 31 of our city's finest art handlers at Mana-Terry Dowd broke the company's allegedly militant anti-unionism and voted to join Teamsters Local 705. Here's hoping the movement spreads.
William J. O'Brien
This month's highlight Facebook discussion came from an observation made by Marc Fischer (of Public Collectors, and author of consistently excellent status updates) that much of William J. O'Brien's art at the MCA "very closely resemble the aesthetics of a number of African American folk artists, and developmentally challenged artists that the MCA (or the Renaissance Society) never exhibits," especially evoking folky face jug traditions and works by Judith Scott. Were you surprised that the ceramics and craft on display at the museum came from a tweedy white guy?
Theaster Gates Café in Logan Square
Not news to everyone, but Theaster Gates has joined the Elastic Arts Foundation on a project to build a café in the Hairpin Lofts building at the corner of Milwaukee and Diversey. We call that Avondale, but who cares – visitors will be able to walk a few more blocks to see the amazing Big Smile Dentist display at 2833 N. Milwaukee.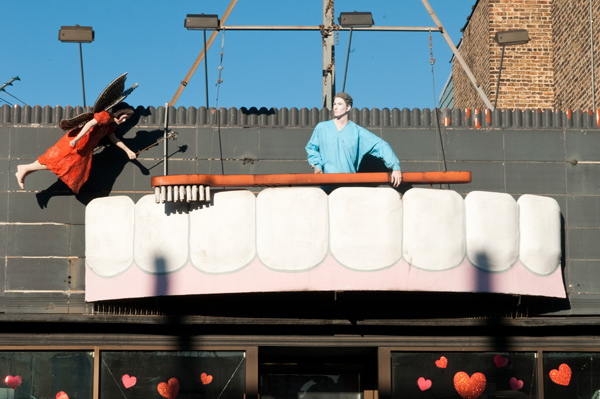 Roberta Smith on James Franco, George W. Bush, and Roberta Smith

Next time it comes up in conversation, you might cleverly comment that 'the worst part about celebrity invasion of the contemporary arts space is that it has only begun.' From Jay Z and Lady Gaga's collaborative works with (or riffs on) Marina Abramovic, to Wu-Tang's revelation – technically a March issue – that they'll be shopping around a single-copy exhibition of a new album at ticketed museum listening parties, the trend is gaining traction. Cue this month's exhibition at Pace Gallery of actor James Franco's recreations of Cindy Sherman's "Untitled Film Stills," described by Roberta Smith as embarrassing, clueless, narcissistic, desperate, confused, and (oddly) sympathetic; while Sherman herself describes the project as flattering, but not quite art. Somewhere in intellectual hell, Bourdieu pens appendices in disappearing ink.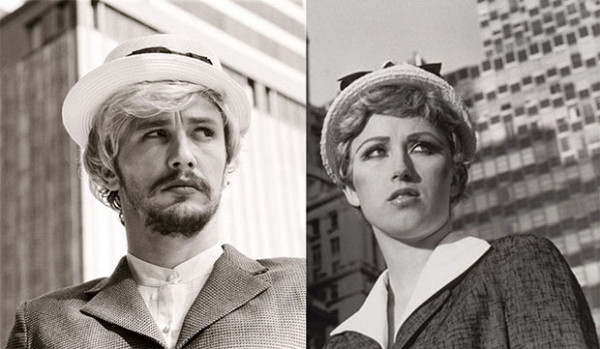 Speaking of clumsy celebrity forays into contemporary art: while Franco may be shooting for the peak of art's claim to cultural significance and landing somewhere in the zone of lame pretension, former president George W. Bush (two wars, etc.) is showing up on this month's art radar from the opposite direction. His paintings of things, places, and political leaders, exhibited this month at the Southern Methodist University's George Bush Presidential Library and Museum, are also shitty and interesting.
And – AND! – speaking of Smith herself, she gave a lecture this month at the School of the Art Institute of Chicago, in which she introduced her own history as an art writer, encouraged every artist capable of doing something other than art to do that instead, and handled some of the most god-awful audience questions this writer has ever suffered. These included representatives of the true conservative art camp in Chicago as well as the kinda-pretty-conservative-sounding New Art Examiner crowd (they're rebooting under the name New Art Examiner Now, so we'll see how that goes).
Tony Fitzpatrick Leaving Chicago
Tony Fitzpatrick – local artist, writer, and monument to a decades-past kind of Saul Bellows Maxwell Street Market broad shoulders hard working class dimestore sticker soda Chicago culture – is leaving Chicago for New Orleans. Aw, he'll be back.
Lamin 8 Buys Seaburg
Our favorite framer just got acquired. Bummer.
And that's it for this month! I probably skipped some important news, of course, such as the bevy of MFA shows opening this week or which have opened already, or the late but beautiful arrival of spring in Chicago (and accompanying murder statistics), but hey, I'm trying to keep this thing under 1000 words. Tune in next month for May's wrap-up.
1. It is Now a Matter of Learning Hope at Threewalls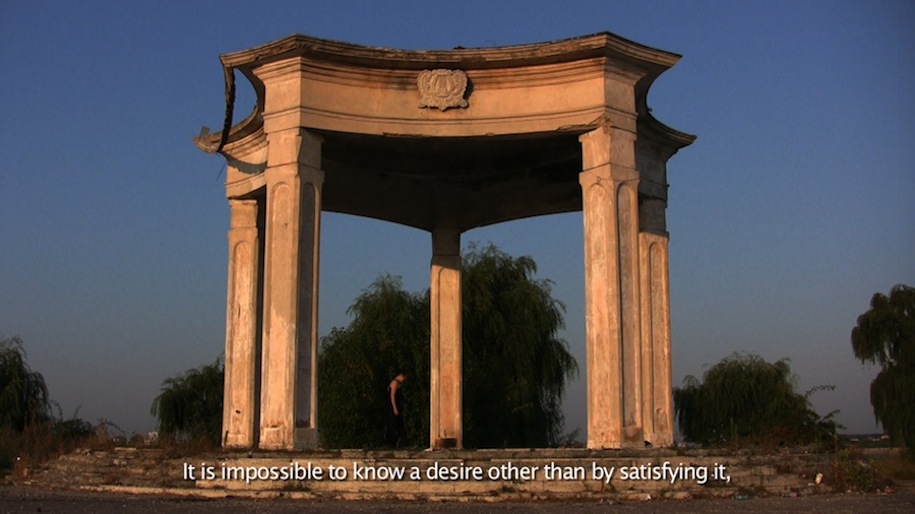 Work by Irina Botea.
Threewalls is located at 119 N. Peoria St. #2C. Reception Saturday, 6-9pm.
2. 100 100s on the One and a Half at the Chicago Cultural Center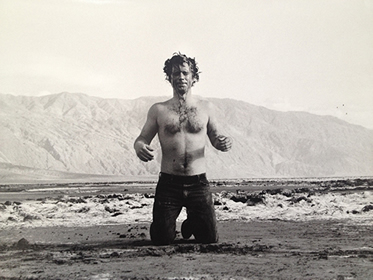 Work by Shane Huffman.
The Chicago Cultural Center is located at 78 E. Washington St. Reception Friday, 5:30-7:30pm.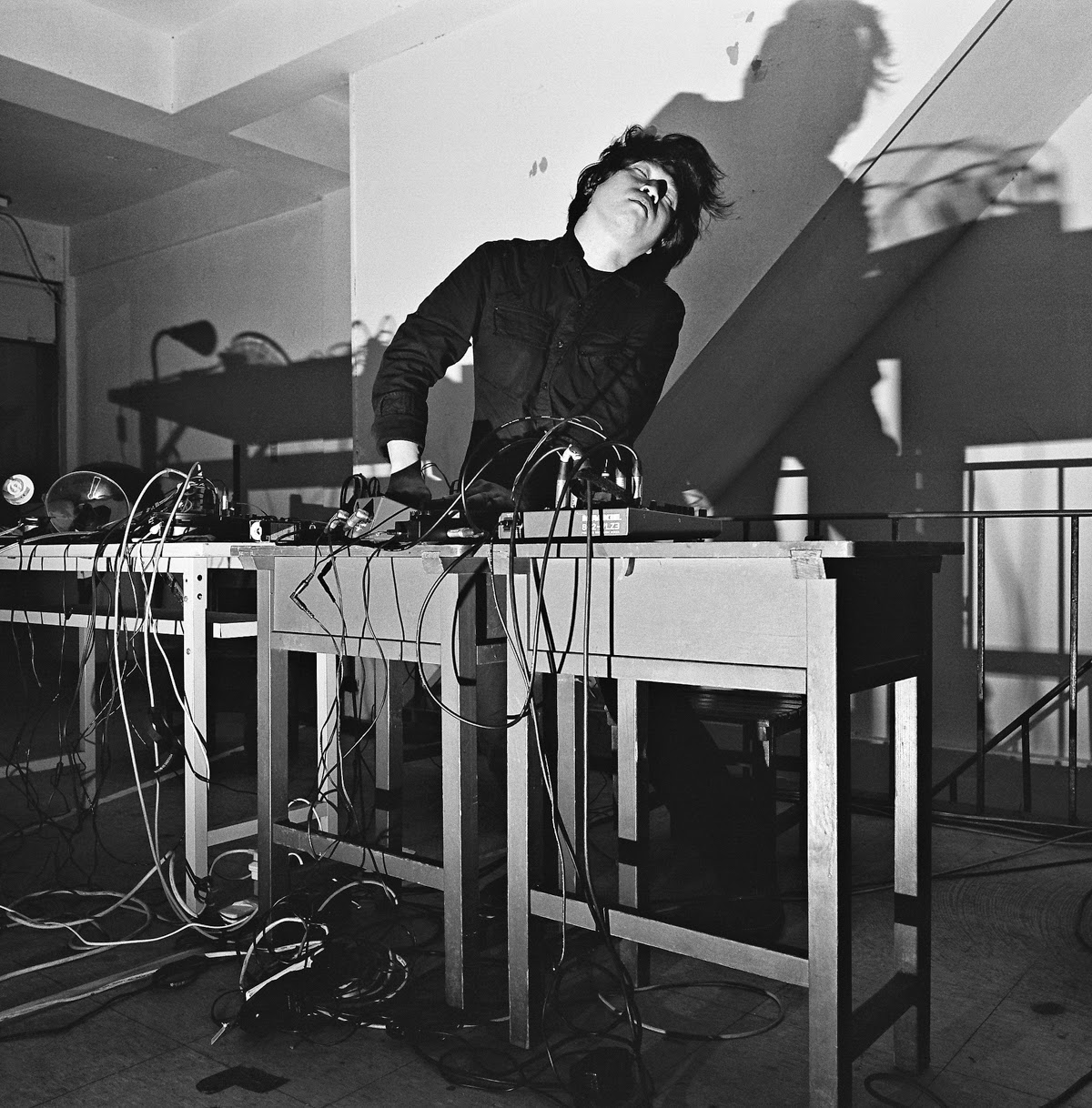 Performance by Fujui Wang.
Antena is located at 1755 S. Laflin St. Performance Saturday, 7-10pm.
4. Check Please at Western Exhibitions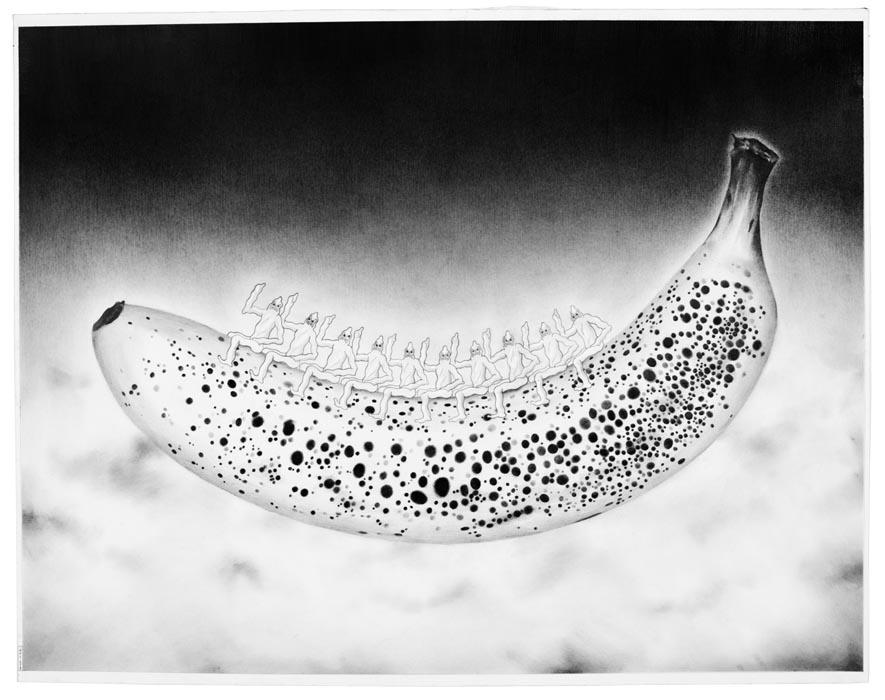 Work by Ryan Travis Christian.
Western Exhibitions is located at 845 W Washington Blvd. Reception Friday, 5-8pm.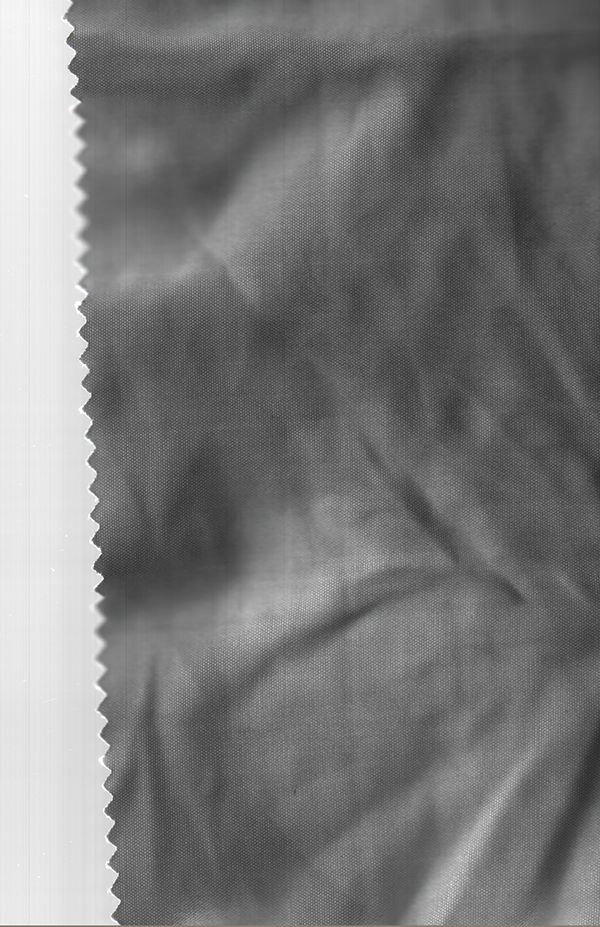 Work by Thomas Killian Roach.
Document is located at 845 W. Washington Blvd. Reception Friday, 5-8pm.
For Heidegger, the work of art is that which sets up a world and sets forth earth; "the work lets the earth be an earth" (Heidegger, "The Origin of the Work of Art," 1936, 172). He says that the temple that sits atop a hill shows us, for the first time, the stoniness of stone. In describing a Van Gogh, he claims that we must look at paint's color thus: "[c]olor shines and wants only to shine. When we analyze it in rational terms by measuring its wavelengths, it is gone. It shows itself only when it remains undisclosed and unexplained" (Heidegger 1936,172). The work of art is tied to the world and the earth from which is springs forth.
To continue my article last month that dealt with recent sculptural works made/shown in Atlanta that exemplify this setting to work the materials found in our urban environment, I'd like to address two recent image/photography-based projects by Atlanta-based artist Stephanie Dowda. Namely, her projects Topophilia and We Are All We've Got. These works, in their dealings with landscape and the cosmos, we find an intricate layering of space that spans prehistoric to astronomical time.
The Uncanniness of Topophilia
Dowda's Topophilia, which gets its name from philosopher-geographer Yi-Fu Tuan's 1974 book Topophilia: A Study of Environmental Perception, Attitudes, and Values, consists of 14 photographic works – all 20″ x 24″ silver gelatin prints. Made using an idiosyncratic medium-format camera, these soft, and often romantic, photographs are the material manifestations of energy emanations. Dowda states that the camera she uses "becomes a vessel [that] capture[s] the sensation" from and of the places she visits. Her process involves letting the camera decide how the light waves will write themselves onto the film. Dowda claims to be taking a step back during the process of making; she lets the landscape itself create and determine the exposure. For an artist intent on photography-based practice, the camera taking over can create an uncanny sort of situation.
Uncanny, unheimlich in the German as an adjective means eerie or frightening, though taken as Unheimlich, a noun, the term becomes an ontological condition, which for Heidegger means a not-being-at-home; in other words, a being-not-familiar-with (Being and Time, 1927, 182). In our everyday dealings, we become "tranquilized" by our familiarity with our habitual world. However, as Heidegger notes, the uncanny emerges when "everyday familiarity collapses."
Two of the photographs in Topophilia, Sense of Revenant and Sense of Breaking Apart, come from the Walter de Maria Lightning Field. Both of these photographs capture spectral energies – both human and nonhuman. Standing in front of Sense of Breaking Apart feels like splitting. The photograph's horizon disintegrates into the haze and so does my gaze. Without knowing where this photograph was taken, I felt the energetic pulsations of a place filled with electrical activity. Sense of Revenant combines a sense of the ghostly and the dreamy. Who is visiting this camera, filtering through its shutter? For Freud, the revenant figures as the dream visitor, a "reincarnation" of someone from the dreamer's life and past. (Freud, The Interpretation of Dreams 1899, 523). But the revenant is also a spectre (i.e., Roland Barthes' Spectrum).
Witnessing the ghost throws us into an unfamiliar yet familiar situation. We know this person, but this person should not be here now. The visitation is a strange rupture in our space-time experience. In his book The Memory of Place: A Phenomenology of the Uncanny, Dylan Trigg, writes that
"The relation between aesthetic experience and ontological disruption is not incidental. As an aesthetic gesture in itself, the freezing of the life-world means that, what is taken-for-granted is thus shown in its transcendental givenness. This, indeed, constitutes a necessary estrangement from the world, insofar as it is precisely the everyday world in its familiar assurance that is most susceptible to sudden reversal" (2012, 26).
For Dowda's photographs, there is this freezing, but also simultaneously a putting into motion. The energetic pulsations of past lightning and the visitor pass through the shutter and make their mark on the silver of the film. These emanations reach out to the camera. However, Dowda, as photographer, reciprocates this reaching. Trigg describes how "our bodies reach out into the world, so a mimetic interplay arises, in which our sense of self becomes fundamentally entwined with the fabric of the world" (2012, 9). For Dowda's photographs, we can see the camera as an extension of her world and thus it extends out into the world, becomes a sort of being itself.
Prehistorical Time and Astronomical Time
Lucy Lippard's 1983 book Overlay: Contemporary Art and the Art of Prehistory starts with her tripping over a stone – a stone she realized "had been placed there almost 4,000 years ago" (2). For Lippard, her interests do not lie in the use of "prehistoric images in contemporary art"; rather, she is interested in the relationship between the prehistoric and the contemporary. To do this, Lippard uses the figure of the "overlay," which for her has multiple meanings:
"It is temporal – human time on geologic time; contemporary notions of novelty and obsolescence on prehistoric notions of natural growth and cycles. The imposition of human habitation on the landscape is an overlay … so are the rhythms of the body transferred to the earth, those of the sky to the land or water … Artists working today from models of the distant past are consciously or unconsciously overlaying their knowledge of modern science and history on primal forms that remain mysterious to us despite this knowledge" (Lippard 1983, 3-4).
The stone in the landscape carries with it a richness through its slow accumulation of history. Over time, geologic material adds to material, rock formations develop then deteriorate and change. These stones always rest underfoot. The trip, a certain kind of temporal and spatial disruption, causes us to pay attention, bring us back to the stoniness of the stone. Our bodies, composed of the same material, are inherently part of this earth. Those who were there before us are also part of this landscape. When we step on this ground, we connect to the organic material underfoot.
Dowda's photograph Guardian, taken in Desolation Canyon, UT, allows us to position our present in a broader temporality, one that takes note of the years required to create a stone and what it might have meant for those before us. During Dowda's artist talk at Get This Gallery, Dowda described the sense of protection that these rock formations of the Canyon created for her. Some sort of energy emanated from this particular geology that affected her. Incidentally, those who inhabited this area before her also felt this energy; the rock formation contains a petroglyph depicting a man who is said to be the guardian of this valley. The particular shape of the formations serve as landmarks, guiding and orienting us in this landscape.
In another gesture towards spatial orientation, Dowda's installation We Are All We've Got, which was installed at Emory's Michael C. Carlos Museum for its event Veneralia, memorialized the extinct star constellations Antinous, Quardrans Muralis, and Argo Navis. Using slides culled from Emory's Physics Department that are no longer used, Dowda projected these constellations creating a layered human orientation. These projections constitute an "overlay" of our place in this universe.
Where we are at any particular point in time changes our view of the celestial bodies. Our vision is always contingent upon our position in space and time. Stars are born die. We are created from their dust. These cosmic beings provided our cartographic orientation as well as our bodily one. Socrates argues that the human head rests at the apex of the body so that it is closer to the heavens. From Plato's Timaeus:
"Now we ought to think of the most sovereign part of our soul as god's gift to us, given to be our guiding spirit. This, of course, is the type of soul that, as we maintain, resides in the top part of our bodies. It raises us up away from the earth and toward what is akin to us in heaven, as though we are plants grown not from the earth but from heaven" (90a). 
Considering Our Place
It may seem a strange move to discuss works that were not "made in" Atlanta in order to follow up a discussion of Atlanta as place. However, these works serve to broaden the horizon of our place in time and space. For phenomenology, the horizon is what allows us to perceive. According to philosopher Edmund Husserl, we perceive in terms of the horizon and background:
"What is now perceived and what is more or less clearly co-present and determinate (or at least somewhat determinate), are penetrated and surrounded by an obscurely intended to horizon of indeterminate actuality. I can send rays of the illuminative regard of attention into this horizon with varying results. Determining presentiations, obscure at first and then becoming alive, haul something out for me; a chain of such quasi-memories is linked together; the sphere of determinateness becomes wider and wider, perhaps so wide that connection is made with the field of actual perception as my central surroundings" (Husserl, Ideas I, 1913, 49).
In other words, the indeterminate haziness of the horizon gives determinacy to the object perceived; the object emerges from this horizon. For Dowda's photographs and projections, the horizons of time and space constitute the images that we are presented with. These images, of this world but completely otherworldy, throw us into uncanniness. Instead of being destroyed by this mood as anxiety, however, it provokes us to consider where we stand. Where we are. When we are. As Dylan Trigg states,
"[t]he uncanny is strange rather than shocking, weird rather than annihilating. Often, we fail to recognize the power of the uncanny, its workings registered only belatedly and in parched fragments. At that time, we turn to ourselves in order to ask the following question: What just happened to me? A feeling of disempowerment occurs. The unity of self-identity becomes vulnerable. No longer do we feel at ease within ourselves. The uncanny leaves us in a state of disquiet, unnerved precisely because we lack the conceptual scheme to put the uncanny in its rightful 'place.'" (2012, 28)
It would be too easy to deal with this uneasiness by passing it over, by claiming that there is no place that needs dealing with. I realize that the noplace of Noplaceness also gestures towards the duplicitous definition of utopia: utopia as good place and no place. However, since utopia holds within it a non-existence, it in fact is a nowhere, it is no place at all, it is the here, this place where we stand, that we must consider.
Guest post by Daniel G. Baird
Tony Tasset's artworks consistently aim to destabilize and question our understanding of value.  Often perceived as humorous, whimsical or playful, the works poetically allude toward confrontations with mortality, timelessness and cultural awareness through slick pop-art fused objects. With a keen eye toward popular culture and extra-ordinary moments, Tasset is able to create works that engage viewer's latent memories with familiar cultural and iconographic forms. In his use of the everyday and mainstream as artistic materials, the transient is able to transcend the boundaries of time, allowing us to enter into a reconsideration of the objective world.
In a 2004 piece, a pile of dirty Chicago snow sits like a time-capsule in a storefront window wearing the grime of the city on its tabula rasa-like surface while simultaneously celebrating the engagement that everyone necessarily has with this winter material. A handmade crushed cup sits at the base of the pile locating the works age through the Coca Cola logo that was used 10 years ago. In "Magnolias for Pittsburg," a pair of hyperreal faux magnolia trees sit motionless and forever in bloom as the world passes from season to season. That moment of rebirth and creation held perpetually in suspension like a photograph. Or in recent works where the moment of recognition is through the domestic kitchen or cleaning product. Utilizing these materials for their color, the works recall an accidental spill of material. Yet in these works the accidental lifts itself into the authority of a precisely calculated artistic gesture. Each of these works point toward a desire to commemorate and preserve a familiar moment by transcending the flow of time.
In a work from 2009, titled "My Empire," Tasset pokes fun at the prototypical self-portrait, that artistic trope that every artist wrestles with at least once. A chaotic accumulation of detritus, piled up and shimmering from an all over coating of resin sits on a found pallet. Upon closer inspection, it is revealed to be found objects and knick knacks that all hold personal associations to both Tasset and ourselves. Toy cardboard bricks commonly used to build forts as a kid, an old discarded cell phone, fragments of older projects, clown shoes and a cast plaster model of the artists hand are among the numerous objects covered in resin that pepper this accumulation. It is unabashedly abject in its presentation yet holds a sincerity in what it presents. We derive a feeling of nostalgia in the familiarity of the objects and can sympathize with the chaotic mess.
With "My Empire," Tassets world of symbolism, meaning and reference is presented on a single palleted unit and ready for movement through the world. It is a personal cosmology tethered to its transportation device. In the same way that the dirty  snow pile shows us the grime and debris under the facade of a smoothly operating city, "My Empire" shows us the messy creative process under the facade of a pristine art object.
For his inclusion in the 2014 Whitney Biennial, Tasset created "Artist Monument," a monument which is the vehicle of cultural commemoration and preservation, honoring artists who, like himself, work to capture a moment of time in an object. Affixed to two shipping containers docked at the base of Chelsea, the names of 392,486 artists are packed onto the surface of multi-colored acrylic panels. Alphabetized and etched in the same font size, any discernible form of hierarchical structure between the listed names is abolished. Recognition of the well known becomes blurred in a sea of information. Artists of historical significance and ones toiling in relative obscurity are equalized as one and the same gesture calling attention to the shared pursuit all artists have in the creative process. It is a monument to the heroic pursuit of becoming. At the root of the piece is the desire to be radically democratic by creating the  ultimate group exhibition of all the artists known on the date the list was sourced.
Like all monuments, the "Artist Monument" is a register of a historical moment. It functions as a time-capsule and an ark to the creative process of this moment.
Daniel G. Baird (b. 1984) received a BFA from the School of the Art Institute of Chicago and a MFA from the University of Illinois at Chicago. Recent Solo exhibitions include 'Strata' at Andrew Rafacz gallery, Chicago; 'Vestige' at the Institute of Jamais Vu, London; 'Has the World Already Been Made? X4? at both Roots and Culture, Chicago, and Hedah, Maastricht; 'Meridian' at Robert Bills Contemporary, Chicago; 'This New Ocean,' at Appendix Project Space, Portland. Recent Group exhibitions include Bowling Alone, Andrew Rafacz Gallery; Merge Visible, Prairie Productions, Chicago, and Panoptic Measures, Elizabeth Foundation, NY. He will present work at LVL3 this spring and at Leeds College of Art and Design in 2015.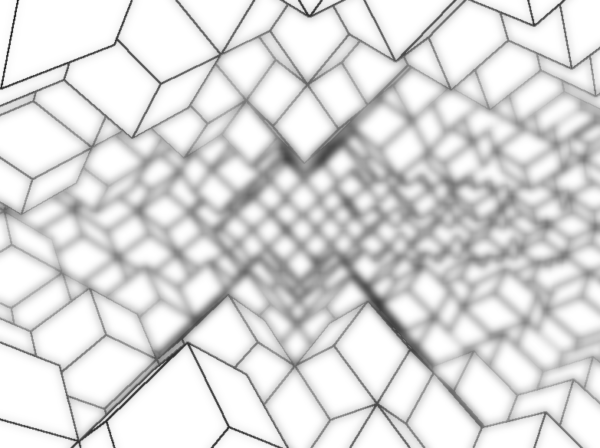 In Activate the Three Artefacts and then Leave, players are left without character; without avatar. Even in traditional first-person-shooters where the avatar is not necessarily shown at every opportunity, there's a sense of the body: glimpses in mirrors that reveal a self, a gun peeking into view as an extension of the hand, or movement that is defined by running, walking, and jumping. Artefacts instead exists solely in a space designed for the player, the person at his or her computer. It strips away the artifice of a designed world, of character, of setting, or of plot, and instead, like a math problem, is a task designed for completion, one contained within its title.
It proves to be similar to a constructed toy: a Rubik's cube, or a disentanglement puzzle (where two interlocked pieces must be made single). In simplicity, Artefacts is, like these, a parlor game: an object whose goal seems to be defined by its physical presence. With its goal laid bare, there is no universe at stake; there is no character needing rescue. There is only the player; there is only the object.
And it's both maddening and relaxing at the same time. As far as games go, it's relatively simple: the player moves at a slow, deliberate pace through three-dimensional space. Where in most first-person games one might walk or run, here you float in space, as though you were a calm, digital fly, surrounded only by an infinite, white space, its only inhabitant a massive globe of polygons. Move toward it and an entrance is revealed, a small hole not unlike the exhaust port on the Death Star. But instead of a large planet of pipes, metals, and clones, Artefacts' planet is made entirely of whitespace and black lines, a simplicity that comes together to form a great construction of geometric off-shapes, their corners never really touching at right angles, their walls never really indistinguishable upon exploration.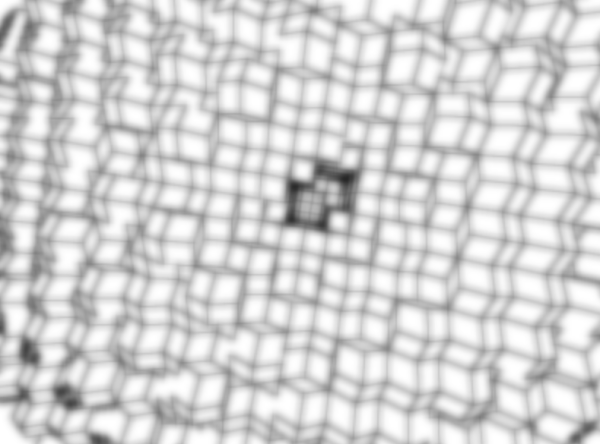 This is the main conceit of the game: one's eyes are practically useless, and it doesn't really set in until too late. I had just entered the great orb when I turned around and realized that the entrance would need to be an exit, and the great expanse of outer-white had blended into the same white surfaces that made up the walls which now contained me. After a panicky five minutes of bumping into every surface available, I found it, but realized it did not matter—I had to continue deeper. Deeper through great halls of jagged edges filled with floating boxes, their edges seemingly impossible. But the player isn't meant to navigate by sight; the player is meant to navigate by sound.
There's a secret area in the game Limbo—a moody and atmospheric platformer defined by a stark, deadly world of children portrayed in blacks and grays—that is entirely dark. The only visual cues there are the two white orbs that are the bright, scared eyes of the protagonist. While in the majority of the game, the player guides him (and his eyes) safely away from obstacles such as sawblades or giant, nightmarish spiders by visuals—in the same way one plays a Mario game—this stage is entirely unseen. Here, to avoid a sawblade isn't to jump over its sharp, rotating edges, it is to jump over its sound—the caustic, cutting hum as it moves from right to left across the stage. It's a lovely twist that subverts the dominant strategy of not only the game, but the visual medium, and moves a different sense—hearing—to the forefront of the experience.
Artefacts accomplishes the same not by putting the player in the darkness, but by offering a world that features no real features. In the same way James Turrell's pieces (such as Wide Out) play with perspective and a sense of space by subverting corners and joints, Artefacts does the same by offering so many of them. It's not an absence of walls; it's an abundance. And while sight is necessary to discover rooms and float about, getting lost isn't just easy, it's nigh unavoidable: the jaggy sphere is massive, continually unknown. You might recognize the same set piece, but there are no visual bearings.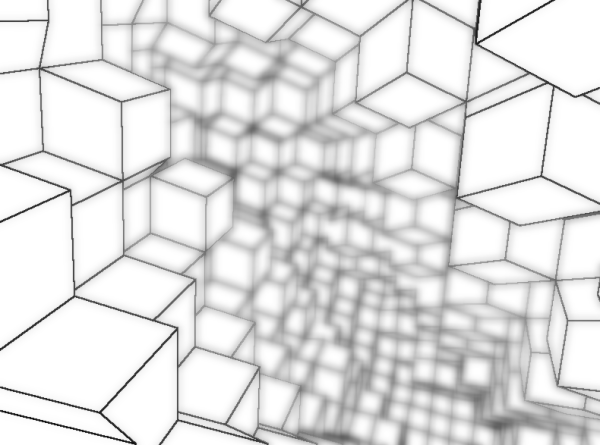 There are, however, audial ones. Depending on where the player is in the great sphere, they'll find themselves immersed in great pools of noise: statics, whites, pinks. It's a quick and obvious realization that in order to navigate in any real way, one has to be paying attention with their ears more than their eyes: to distinguish between a pure white noise, or a white noise blended with a gentle static, or the same static on its own, tiny crackles forming a recognizable beat that echoes within the skull.
After you find an Artefact—a gently floating object that stands out easily among the geometric sphere-scape—light, calming hues of color finally pop into being, only if to let you know that you've activated it, that you've taken a step towards the completion. It might seem like the only friendly system in an otherwise nightmarish world, but it's not. It's the statics that want to help bring you home, navigate the quadrants of a great, imperceptible object whose joints are needles against the eye, against spatial perception. They fill in like voices aware that they aren't saying anything, but still screaming as a constant landmark in a giant shape that seems to shift and catch you in a circle again and again. They're this strange, white world's equivalent of a street sign, or a friendly local pointing in the direction of a tourist attraction. Only here, you can't just look; you need to listen.
Like most of Increpare's games, Artefacts is free and available for a variety of platforms. Check it and them out here.