Is this ok? Is this a responsible use of this privilege? How much does Bad at Sports pay its writers? Its readers? I'm like you, reader. I'm in the weeds. I'm in the thick of it. Everyone is paying everyone else too much. Our government runs smoothly but we don't have any use for it. There are no trains and no one runs for anything, not even office.
It's been a month, but I'm saying it's been a week. This is what I've been thinking about recently: bpNICHOL wrote for Fraggle Rock.
This is a record of this moment but also a place to put open tabs. We should all share all the open tabs. The radio today told me social media was 2000 years old because we used to tell each other things too. I turned off the radio and listened to myself singing and chopping.
I'm excited about this project: MAI through FVNMA at SAIC as run by EF. 
Jim Davis (Princeton [but for this work: Chicago] filmmaker)
Jim Davis (Muncie visual artist, writer) (also excellent to see a sentence where both "artists" and "entertainment" are in quotation marks)
Jim Davis ("Dallas" actor)
Fugue State(s)
Also, this band, The Fugue, that I saw at Bard in 2002 or 3 (first year of college). They were friends of a friend and they played a good show. Then, this year, I found this funny clip on youtube (though my interest in television courtroom interruptions).

This led me to re-visit this.

And this.


(which is really part of that this)
I can pretend I'm not thinking about this pretty often. Especially when linked with this.

The re-release of Codex Seraphinianus by Luigi Serafini (which learned about from Bad at Sportsers PvZ and RH).

idyrself by Krystal South.
Editions and Additions by Jacob Edmund
Morgan Fisher on Ivor Cutler. Morgan Fisher of Mott the Hoople, not Morgan Fisher of Projection Instructions and ( ) and other marvelous films.
(Draft for) Infinite Black Flag 
This other medium inane idea I just made up.

A gif for every one of 1001 Nights.
A list of the dumbest lists on BuzzFeed.
Under 1 who is under 1 (part of a profile on an athlete/artist who is 8 months old).
Sibling Cinema (thanks to the Frameworks list-serv for responding so well to my query) :
George and Mike Kuchar,
Jonas and Adolfas Mekas,
James and John Whitney,
Mark and John Jr. and Michael Whitney,
Paul and Greg Sharits,
Peter and Kathy Rose,
The Lumière Brothers,
Jane and Louise Wilson,
The Brothers Quay,
Jem Cohen and Adam Grossman,
Dziga Vertov and Boris and Mikahil Kaufman,
Tom and Ed Bowes,
TwinArt Sisters,
Soda_Jerk,
Bruce and Norman Yonemoto,
Reggie and Warrington Hudlin,
The McDonagh Sisters,
Nadjoua and Linda Bansil,
The Cifuentes Sisters,
Albert and David Maysles,
These three, posted elsewhere, but that do something together:

Guy Sherwin — Man with Mirror (1976/2011)

Peter Campus — Three Transitions (1973)

The Marx Brothers — Duck Soup (1933, excerpt)
"Art world badass, gallerist, curator, writer, swell mofo" Mat Gleason brings in Episode 423 of the Bad at Sports podcast; during the show, people are called Ninny! Art school is shit-talked! TMZ! Lawsuits! Artists traded like sports players. All that and so much more here.
The week began with Edition #18 of What's the T? from our very own gossip columnist, Dana Bassett. Bassett begins with good advice about "How to stay relevant through the weekend", the weather report, the failure of Aiken's Station to Station, and Feminism in digital art. As Bassett says, "Just some light reading to distract you from the shutdown and Miley Cyrus."
For the first time in history, says Nicholas O'Brien, Phillips organized an art auction for Digital Art."The auction, entitled Paddles On!,  is of particular significance because it is not only the first auction for Phillips, but also the first primary market auction to occur at any major international auction house to only feature digital art works" :
All coincidence of overlapping interests and timing aside, what Paddles On! presents to audiences – both familiar and new – is that artwork made and distributed through digital networks must now become more vocalized and represented within a contemporary art market. Many recent signposts have been pointing to this moment – the heated conversation around Rhizome's booth at the Armory in 2011, the outrage of artists and academics railing against Claire Bishop's misinformed "Digital Divide" essay in Artforum, the development of the Art Micro Patronage project by The Present Group, the selling of digital art by AFC at NADA this past year, just to name a few. But now it is happening, and already over half of the works have been bid on through Paddle8 – a sign in and of itself that now seems to be the time.
Kevin Blake interviewed Carl Baratta in anticipation of Baratta's upcoming show at Sidecar Gallery. When asked about his relationship to abstraction, Baratta replies:
I was trained initially as an abstract artist. It's kind of weird because traditionally an art student gets trained in figurative stuff and then they are allowed to meander into other modes of painting. In undergrad, I had a bunch of former students of NYC AbEx painters as my professors (students of Al Held for example). The figurative painters I did end up taking taught me how to find and extrapolate forms from what was around me. So basically literal abstraction.The work I'm doing now is me backing out of pure abstraction and color field painting into something more figurative. Navigating between these two things is a major theme in my studio. Paint is always first to me even when I'm trying to figure out the shape of a nose or a chicken, so it naturally is always first and foremost in my mind. I can't help it, I was brought up that way.
This week Jeffrey Songco interviewed Lacey Haslam of Oakland-based BLOCK Gallery and artist Kari Marboe "regarding their newest project titled Latham Memorial Fountain Unveiled." When asked what "site specific text based work" was, Marboe replied:
Artworks designed conceptually and physically for a particular space, and in my case made with text. For example, during our thesis exhibition I worked with Dena Beard to find a public and easily accessible spot outside of the Berkeley Art Museum to place a piece. She suggested taking over one of the panels outside of the museum on Bancroft which is normally used for internal advertising on upcoming exhibitions or events and found a 4'x4' panel that was available during the time we needed. So I wrote a piece that talked about being exactly in that space, the motions of coming in and out of the museum, in poem form so people could sit down on one of the benches across from the work and enjoy it for a while. The label for the work was displayed right as you were walking out of the museum, so people were stopping and asking, "where is this piece of art, it's not the Calder, where is it".  Another piece I worked for that show was with the East Bay Express— 
Dispatch from Twin Cities via Eric Asboe who covered the Jerome Foundation Fellowships, discussing the work of  Michael Hoyt, Amanda Hankerson, Melissa Loop, Susannah Bielak, and Lauren Roche:
The Jerome Foundation Fellowships have supported emerging artists since 1981. The fellowship comes with $10,000, studio visits from professional critics, technical assistance, and a culminating exhibition. It is one of the premier individual artist awards in Minnesota. The opening was full of people wanting to see that work, to support that legacy of emerging artists, to see who the Jerome Foundation had selected as the artists to continue watching, but I wanted to say, "Come out from the gallery. Come out to experience the real world around us. The work in the exhibition is good and interesting within the gallery, but it has truly come to life as I have lived with it outside, in the real world."
TOP 5 shows to see courtesy of Stephanie Burke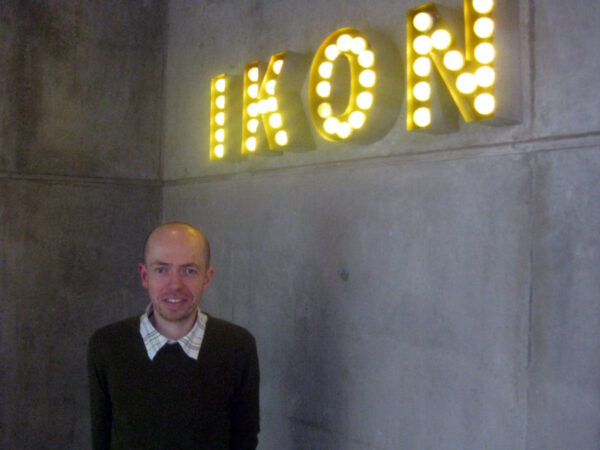 Curious about Birmingham? Mark Sheerin interviewed Ikon Gallery curator Stuart Tulloch:
"If you're in London, you're still thinking about people who are in London, and in a sense the angle's still provincial," he says. "London will think about what's relevant to be shown or to be seen within London, and in some ways Birmingham removes you from that…This is an amazing place, with an enviable reputation and an international reputation," he says with no hint of spin, "It can say 'This is interesting. Here's something you've never seen before. Let's bring this person from the other side of the world to share something with Birmingham'."




Terri Griffith waxes on life works via a $1.99 copy of Jonathan Biss' long essay about playing through the Beethoven catalogue:

If we are lucky, our work becomes larger than we are and takes on a life of its own. Sometimes we know this at the outset and sometimes we come to know as the work moves forward. I'm thinking here of Walt Whitman and his Leaves of Grass, which started as a slim and youthful volume of poems. Whitman revised this modest book until, on his deathbed, book had grown weighty, to over 400 poems. Over his lifetime, as Whitman had hoped, the work had grown with him. Pianist Jonathan Biss might similarly be embarking on this sort of life's work. At 33 he is undertaking to record all of Beethoven's Piano Sonatas, a project scheduled to take nearly a decade.

Sara Drake interviews the oh so lovely Anya Davidson who just released her first full length comic:

Chicago-based artist and musician, Anya Davidson, has recently debuted her first full-length comic book, School Spirits. Up until now, her modest print editions make her work difficult to come by outside of the defiantly small world of alternative comics. Davidson is probably one of the few artists for which it is appropriate to combine words like brush pen and bad-ass in the same gust. Her stories are often eclectic mash-ups of metal fantasies, female overlords, science fiction, collected vernacular and whatever else gets whirlpooled away into her consciousness. Her newest creation, a high school story that follows the friendship of two teen girls and their fanatical love of a metal band, is a keen understanding of comics as an art form synthesized with Davidson's own radical tendencies.

Opportunities y'all — with such delectables as a Full Time Tenure Track position at the University of Iowa's Film Department, APEX art's open season for curatorial projects, Emergency Grants (offering emergency funds to artists for art projects) and open calls for the Journal for Artistic Research and gomes. Blammo.




Chicago-based artist and musician, Anya Davidson, has recently debuted her first full-length comic book, School Spirits. Up until now, her modest print editions make her work difficult to come by outside of the defiantly small world of alternative comics. Davidson is probably one of the few artists for which it is appropriate to combine words like brush pen and bad-ass in the same gust. Her stories are often eclectic mash-ups of metal fantasies, female overlords, science fiction, collected vernacular and whatever else gets whirl-pooled away into her consciousness. Her newest creation, a high school story that follows the friendship of two teen girls and their fanatical love of a metal band, is a keen understanding of comics as an art form synthesized with Davidson's own radical tendencies.

She graciously took the time to give me a tour of her studio and working process and shed some light into the zany world(s) of School Spirits.

———————————————————————————————————–

How do you describe School Spirits to people unfamiliar with your work?

School Spirits is a story about two very unusual girls. Most of the narrative takes place over the course of a single school day. There's a large supporting cast of characters, some fantasy and some inter-dimensional travel as well

Why did you want to make a high school narrative?

I wanted to examine the friendship between women. I had done a zine called School Spirits years and years ago and it was basically the same idea. The comic was pretty crude. I was still figuring out how to draw and cartoon but the idea was very similar. It just didn't go away – that desire to explore gender and female friendships. That's something that has always felt alien to me. In terms of gender, I'm happy to be a woman I just feel like it was really hard for me to relate to other women growing up. I don't know how I missed a lot of the messages that other girls were getting. I grew up in rural Canada and I was always out riding horses and stuff. Really being confronted with, oh this is the norm, this is how women are supposed to behave. It just didn't jive with my personal experience. I think the friendships that I had as a kid, really intense friendships with other weird women, were very formative. So I wanted to delve into that.

Do you think of your characters as surrogates for yourself?

In fiction for sure. I'm not interested in making autobiographical work. They definitely are all surrogates for me. When it comes to making characters, part of it is because it's cathartic and part of it is that I don't know anyone else. I'm curious to examine all aspects of my personality and delve into them, create nasty characters out of the nasty parts. I heard George Saunders lecture and someone asked him if he wrote the characters of young girls so well in his book, the 10th of December, because he had two young daughters. And he said, "no, that young girl is an aspect of my personality."

How long did you work on School Spirits?

Two years.

I have a good friend of mine from high school who always wanted to be a Latin teacher. She's in a masters program right now to teach, but I watched her get thrown into a couple situations while she was in undergrad. She had a couple teaching jobs that were really really stressful and didn't feel ready or supported to teach at that moment. So I was thinking about her a lot too when I wrote the teacher characters.

Did she form the basis for the art teacher in the book?

Yea. Loves to teach, loves her subject, and loves her students but doesn't feel equipped to do the discipline stuff. I really like teenagers. I really care about them. In addition to not ever feeling that comfortable with gender norms, I really don't feel comfortable with norms in general in terms of how adults are supposed to behave. I feel like our culture is really stifling. I was big into punk and hardcore music as a teenager. I think that that ethos carried over. I do feel that society is fucked and you should do what you love. As tough as teenagers are, it's sort of socially acceptable for them to manifest dissatisfaction with power and just be a little moody, or on a voyage of self-discovery. But at a point that it's not socially acceptable to be on a voyage of self-discovery anymore. I think I will be on a voyage of self-discovery until I die.

What were you making as student work at SAIC? There were probably no comics classes when you were there.

I was in the painting department. I'm still a nut for painting. A good painting drives me crazy in a way that nothing else can. I'm a really big fan of painting and painters.

You can totally see that in your line work too.

Yea, it's really all over the place. It's really big. I work huge, and I've been obsessed with asking other cartoonists how big their originals are.

My boyfriend's work, Lane Milburn, is real tiny. He's part of a group of cartoonists originally from Baltimore. They all went to Mica together. They were putting out anthologies as Closed Caption Comics. Then recently, they are all branching out and becoming more independent with the stuff that they are making. He works tiny and he uses a tiny little nib pen. Everything is just so detailed and his pen control is so spectacular. And I'm just like making giant brush marks with a giant brush pen. I really envy people who have that kind of detail. But I don't think that will ever really work for me.

How big are you working?

The pages from my book were 13×18. I did a zine recently, that was maybe, 15×20. Pretty big!

The narrative of School Spirits is really unstable in an exciting way. While I was reading it, I wasn't sure when reality was happening or when the reader was in the realm of fantasy. Adolescence comes across as a fantastical space, which, I think it is for a lot of people.

The logic of the book is my own internal logic. The first three chapters are staging for the final chapter. You are meeting the characters and getting to know them. I think of it as one story, but the few short pieces are just build-up.

I was curious to experiment. The one narrative thing that I tried that is unlike the rest of the book, is the 30 page silent battle story. I was really curious to know how people would react to that because I thought, oh this is like playing a guitar solo alone in your room. It sounds cool and interesting to you but if anyone else were listening they would just be like, oh why is this person dicking around. It's fun while you're in it but not fun to listen to. I was wondering if that silent part of the story, if I would just lose people.

I wanted to do a piece where Oola and Garf visit the natural history museum and we see the entire creation myth of the peoples that they are coming to see. When you're in a place like a museum, you can see these totems that are just radiating power and energy and people are just like, where's the snack bar! I also worked at the planetarium for a while, so I'm pretty fascinated by museum culture or what putting something into a museum does to an object and wanted to examine that. But wasn't sure if anyone else would have any idea what it was about.

In School Spirits the reader is waiting for a magic love ritual to be performed. But the ritual never happens.

That was something that happened in the original School Spirits zine. I wanted to examine that. It's a laugh at the characters' expense. Grover is clearly unavailable to anyone. I wanted to magnify that. To make one character who was not giving off any sexual cues, totally off in their own world and this other character who's a puppy dog following them around. Grover is really unsexy.

You seem to have two distinctly different ways of approaching comics. You have a crazy, unstructured, stream of consciousness style of setting up a page and a more straight forward linear approach to comics like in School Spirits. I was wondering how you make the decision to set up a story?

For the more experimental stuff, it can take ten pages to tell a few pages of story because it's more of a stream of consciousness with me working around a theme. For Barbarian Bitch – I love like Kung Fu movies, I love trash cinema and I've always been obsessed with the idea of the righteous warrior. Somebody who has carte blanche from above to exterminate their foes in the name of something greater. How does that work? Because they seem so antithetical. I've been really fascinated with warrior priests. I'm really obsessed with discipline, what it takes for someone to master a craft. That piece in Kramers 8 was a meditation on that. It was me pulling threads of that all together. Whereas School Spirits is me attempting a storytelling approach. Even if I were to approach School Spirits in that way, it would have been a mediation on female friendship and then I just would have been pulling from my source material different threads but I wouldn't have been able to have those moments where characters have sustained conversations and I wouldn't have been able to develop the characters.

I like both of those ways of working, and I still reserve the right to work in both of those ways.

For the CAKE (Chicago Alternative Comics Expo) zine, I just googled The worst experience of my entire life, and it was fascinating and not what you'd expect. It was really weird. One person's rant about how they slept in a hotel room that was really dirty and they found a crack pipe in the ventilation system. Some angry bitch ranting about how, like a Motel Six or something, how the cleaning staff did a lousy job, and it's like, really? That's the worst experience of your entire life? Sleeping in an unclean motel room? There was one that was someone's middle school experience, but it was really evocatively written. The language was really fascinating. I just like those kinds of sources and pulling them together. For a graphic novel, I don't think that would really work. But for short story writing I think that's a fun avenue to explore.

Do you consider art making and discipline going hand in hand?

Absolutely. Creativity is a muscle. Also-cartooning is a craft. You have to be extremely disciplined to hone it.

Have you always been interested in writing dialogue? Your characters come across as very real.

I took some creative writing classes. I've never been able to keep a journal but I was always I'm really into listening to people speak and recording conversations.

You're a collector?

Yea, maybe at the cost of plot. That stuff interests me a lot more. Character development and dialogue more than building the skeleton of a story. What I will do is, I'll have scenes and scenarios in mind that are unconnected by a story. Then I will weave them together. I will have a character and I'll know more who they are than exactly what they are supposed to be doing. It grows organically out of knowing I want a scene.

There is a scene in School Spirits where Garf is at her job at a fast food restaurant with her co-worker who is complaining about his toe. He tells a story about how it was injured when he was young. That's the story that one of my co-workers told me. I thought, this is an incredible story, and I knew I wanted to incorporate it in the book and I knew I wanted to show this character at her after school job, because I had these vivid memories of my after school jobs. How weird they were and what a strange training ground it is for the real world. Your weird mall job that you have when you're 15. That's a lot of my process – collecting those moments, paying attention to the way people speak, and listening to other people's stories.

Are you worried about repeating yourself?

I repeat myself a lot. What I realized about most of the fiction writers that I love, is that they really like to riff on a theme. Sometimes it gets frustrating. John Irving has written the same book like 15 times. I really don't have the patience for that anymore. There is definitely a danger, but I do think that we live in our own bodies and our own minds.

You're also a very dedicated screen printer?

I do my screen printing at Spudnik Press. I do a lot of screen printing. That's my favorite thing to do. It sucks because they are so labor intensive. I can make 50 or 100 if I'm really busting my ass and then they're gone.I love Spudnik. I was on their board of directors for about four years. Angee Lennard, who runs the shop, was in the same year of college as me. She could charge like two times what she does for studio access, but it's really part of the mission to make screen-printing accessible to everyone.

You seem really excited about the prospect of teaching.

Yes I am. and I feel like Spudnik gave me the foundation to start doing that. I'm really pro Spudnik. I feel very grateful that I got a lot of the skills that I have. They gave me a lot of opportunities. I thanked them in the book.

In terms of influences, not necessarily limited to comics, who are you looking at?

The old masters. John Stanley, Milt Gross, Harvey Kurtzman, Wally Wood. A ton of E.C war, sci-fi and horror comics.  The underground heroes too: Crumb, Spain, S. Clay Wilson, Dori Seyda.  Some French Heavy Metal artists: Caza and Philippe Druillet.  Gilbert Hernandez. Osamu Tezuka and Jack Kirby. I looooove Carlos Ezquerra's Judge Dredd. Ross Andru and Mike Esposito.

Is there a soundtrack for School Spirits? What would be on it?

Yeah, it's pretty much the soundtrack of a gore obsessed kid in the early 90's. Carcass, Death, Morbid Angel, Cancer, the Misfits.

Where are you going next?

I do know where I'm going. I think it will be based on another zine that I made in my early 20s. I feel like, those ideas are ideas that I have not explored fully. And now that I have more discipline and focus I can flush them into full, bigger stories. I do want to play with color a lot. I'm committed to making the next thing exactly what I want and if someone will publish it that's great, and if not, I will publish it myself.

Updates about Anya's work can be found on her website.
School Spirits can be obtained through the PictureBox website.


School Spirits
PictureBox Inc. 2013
144 pages
8.5 x 10.75, b&w hardcover
ISBN 978-1-939799-02-9

*Many thank yous to Brian Nicholson.

1. University of Iowa Full Time Position Description: The Department of Cinema and Comparative Literature at The University of Iowa invites applications for a tenure-track position that will be filled at the Assistant or Associate Professor level, depending on qualifications and experience. The position will begin in August 2014. We are looking for a Film/Video maker with significant experience in digital documentary filmmaking. The successful candidate might also work in non-fiction and experimental modes of film and video production. This new faculty position is part of Iowa's Public Digital Arts Cluster initiative. (for more information see: http://now.uiowa.edu/2013/06/new-faculty-cluster-public-digital-arts ). New faculty with expertise in public digital arts will complement the University's considerable existing expertise in these areas to form the core of this innovative multidisciplinary initiative. Participation in the PDA Cluster will be an important component in performance evaluations. Candidates will be expected to teach courses in digital video production and post-production at all levels of the undergraduate and graduate curriculum. Possible courses may range from documentary filmmaking, digital cinematography, and new media to digital animation, 16mm, directing, and screenwriting. Screening begins November 15, 2013. More info here.

2. Unsolicited Proposal Program at APEX Art: Applications accepted Oct 11 – Nov 8, 2013 — online only Submit your idea for a curated exhibition.

Now in its 17th year, apexart's Unsolicited Proposal Program open call is accepting submissions for exhibition ideas starting October 11, 2013. Three winning proposals will receive funding and administrative support from apexart to present their show in its Tribeca space.  The Unsolicited Proposal Program asks for idea-based, 500-word proposals for curated shows of three or more artists that examine a compelling idea. Exhibitions can be about any topic that the organizer finds compelling—successful shows have been selected about everything from television to mapping to literature. No prior curatorial experience is required and we invite submissions from people of all backgrounds. Proposals are anonymously evaluated by an international jury of 150 people from all disciplines. Votes are processed through a unique apexart-developed crowd-sourcing computer script to determine which three proposals received the highest scores with no direction or interference from apexart or its staff.  The three winning exhibitions will be presented in apexart's 2014-15 season. Proposals are accepted online at apexart.org/unsolicited.php from October 11 – November 8, 2013. You may also visit this page for FAQs and other guideline details.

3. The Journal for Artistic Research (JAR) invites original submissions for future issues from artists worldwide, with or without academic affiliation. The journal is open to submission from all artists who wish to reflect on and expose artistic practice as research, who are interested in exchanging ideas and processes with a group of engaged peers and, thus willing to contribute to the ongoing debate about research in the arts. Submissions that should be considered for JAR5 need to be made before November 15, 2013.

JAR is a peer-reviewed journal, publishing original research from artists of all disciplines. Published twice a year, with currently four issues accessible online, the journal is unique in its field, marrying the rich-media and social networking capabilities of online publishing to peer-review and scholarly rigour.With the aim of displaying and documenting practice in a manner that respects artistic modes of presentation, the journal uses the Research Catalogue, a free-to-use online tool that allows the weaving together of text, image, audio and video material.JAR is open to all possible approaches to the publication of research including those that use little or no text. The Research Catalogue also enables collaboration, allowing multiple authors to work on the same document simultaneously and submit to the journal as a team. Articles that are not accepted for publication in JAR can be self-published, free of charge in the Research Catalogue.

JAR is a free open-access resource, with an international readership and a growing pool of renowned artistic and academic reviewers. The journal's issues are non-thematic and submissions are considered by an experienced editorial board, in a rolling fashion, as they are submitted. To submit an article, contributors are required to register for an account on the Research Catalogue, and use the writing space to layout and expose their research. JAR provides editorial guidance and technical help with these processes.

Interested contributors should first acquaint themselves with previous issues at www.jar-online.net (the inaugural issue JAR0is a good place to start) and then contact the journal to discuss the suitability of their material and receive advice on progressing towards submission.

The next issue, JAR4, will be published in November.

Send your correspondence to Barnaby Drabble, Managing Editor, Journal for Artistic Research:Â barnaby.drabble@jar-online.net

4. Call for Critical Writing Proposals:JARÂ is published by the Society for Artistic Research.

gorse's website will publish shorter pieces of criticism [1], narrative essays and interviews. We are not currently considering fiction or poetry. Please send a query, or the first 500 words of your proposed essay, to info [at] gorse [dot] ie. Work should be previously unpublished. Simultaneous submissions are acceptable as long as you tell us straightaway if your work is accepted for publication elsewhere. We will do our best to reply to all queries, but if you don't hear back from us within six weeks please feel free to submit to another venue. Please note that as our resources are limited, we are only in a position to offer contributors a token fee. Finished pieces for the website would ideally be between 500 to 3000 words.

We are interested in the potential of literature, in literature where lines between fiction, memoir and history blur (Sebald, Cendrars, Bolaño, Joyce), in experimental [2] writing, in fiction in translation, in the unconventional and the under recognised, in the personal essay (Sontag, Dyer). We are a literary journal equally interested in the arts (fine art, photography, architecture, film, music), in culture, in politics. We're looking for smart writing, not academic.

---

1. "I. The critic is the strategist in the literary battle. II He who cannot take sides should keep silent. III. The critic has nothing in common with the interpreter of past cultural epochs. IV. Criticism must talk the language of artists. For the terms of the cenacle are slogans. And only in slogans is the battle-cry heard…" Walter Benjamin ↩

2. We acknowledge the word 'experimental' is not without its problems. (See John O'Brien on this point: "If Sternewere writing today, he would be labeled a postmodernist, but what sense would that make, given when he was actually writing? As far as I am concerned, the history of fiction is one of invention, oftentimes playful and conscious of itself, but always pushing limits in terms of what it is and what else it can be. But I absolutely do not think of a Sterne or a Joyce as "experimenters": they didn't experiment, they made these remarkable books whose ingenuity and art are rarely seen in other writers or matched. Their works are finished and complete achievements, not experiments.") 'Experimental' is not weird for the sake of weird, it is innovation. ↩

5. Emergency Grants

Created in 1993, Emergency Grants provides speedy funding for visual and performing artists who have unanticipated, sudden opportunities to present their work to the public, or who incur unexpected or unbudgeted expenses for projects close to completion with committed exhibition or performance dates. The grants are intended to support the creation of innovative and experimental work, and are meant to assist individuals and groups when there is insufficient time to seek other sources of funding.

Requests are primarily granted to artists who are "emerging" and have few sources of financial support. Emergency Grants is the only active, multi-disciplinary program that offers immediate assistance of this kind to artists working anywhere in the United States.

Emergency Grants applications are accepted year round; there is no deadline. Applications are accepted online only; please refer to the application requirements below. Grants are determined on a monthly basis by the Emergency Grants Panel, a volunteer committee of established artists. In 2012, grants ranged in amount from $350 to $2,440; the average grant was $1,165. Go here for more information

If we are lucky, our work becomes larger than we are and takes on a life of its own. Sometimes we know this at the outset and sometimes we come to know as the work moves forward. I'm thinking here of Walt Whitman and his Leaves of Grass, which started as a slim and youthful volume of poems. Whitman revised this modest book until, on his deathbed, book had grown weighty, to over 400 poems. Over his lifetime, as Whitman had hoped, the work had grown with him. Pianist Jonathan Biss might similarly be embarking on this sort of life's work. At 33 he is undertaking to record all of Beethoven's Piano Sonatas, a project scheduled to take nearly a decade.

I was taking a MOOC on Beethoven's Piano Sonatas and thought I would do a little extra reading on my own. The simplest Google search brought me to a book written by course's instructor, Jonathan Biss. At $1.99 it didn't seem like much of a risk, so I downloaded it. I didn't know who Biss was before I took the course, so I had no idea what to expect. Beethoven's Shadow is an odd little book. It is not a full-length collection of essays; it is not a full-length book at all. Instead, it is a long essay, a meditation really, on what it feels like to play Beethoven. Biss opens the book with an anecdote about one day in the recording studio in which he became completely unmoored by the experience of recording Sonata Opus 109. Biss writes:

"The microphone is so often likened to a mirror not only because it exposes flaws, but because it is so passive in its judgment — it offers no response. An audience can be an intimidating thing, but it feels, and one can feel it feeling. But the microphone has no feelings, no agenda — it is merely one's own doubt reflected back."

The book continues in this vein, addressing what it is like to interpret a genius. I don't know if Beethoven was a genius or not. I don't really care. What is interesting, though, is reading the someone who experiences transcendence with Beethoven's work. This is a good thing, because Biss is scheduled to record all of the sonatas over the next nine years, a project he looks at with a bit of trepidation. To complete this task, Biss who is now only 33 will have to set aside nearly a whole decade to Beethoven. Our laser focus on certain things, perhaps we might call these our passions, by extension must exclude other experiences. Part of the subtext of the book is Biss's asking the reader to question our own choices. What is it that we love? What art moves us beyond reason? What is it that we exclude in our pursuit of that which we love? And lastly, is it worth it?

Biss is an excellent writer and does a great job of placing the reader somewhere they might not otherwise have been, like a recording studio or on the stage at a concert hall. At the end of this book, I knew a little more about Beethoven, but a lot more about the what it means to undertake a creative project that might truly end up being a life's work.

Beethoven's Shadow, by Jonathan Biss

Rosetta Books, Kindle Single

December 2011

56 print pages

$1.99