Guest post by Lise McKean
The Lightning Testimonies, Amar Kanwar (2007)
Art Institute of Chicago (Modern Wing, Gallery 291)
Extended until April 20, 2014

      All photographs courtesy of the Art Institute of Chicago
Lucky for us in Chicago that Amar Kanwar is no stranger to our city. The Renaissance Society brought him in 2003 after Susanne Ghez, a co-curator of Documenta 11 saw his video, A Season Outside. Like gallery goers here and elsewhere, I've been following Kanwar since his Documenta/Ren debut. The sensuality and aesthetics of his work intrigue me—along with the heart-mind that infuses it. A longue durée of roaming, studying, and living in India further whets my interest in Kanwar. The past four months I've shared this interest with over a dozen friends, arranging visits to see and talk together about The Lightning Testimonies along with Artemisia Gentileschi's formidable painting, Judith and Holofernes.
The Lightning Testimonies premiered in 2007 at Documenta 12, and since then it's traveled the world. The School of the Art Institute invited Kanwar to Chicago in 2011 for its visiting artist series. He spoke about and screened past and current work, including Torn Pages and The Sovereign Forest, an ongoing multimedia, multi-site project. The Chicago opening of The Lightning Testimonies in October 2013 coincided with Kanwar's delivery of the AIC's annual Speyer memorial lecture on contemporary art. In the lecture, Kanwar talked about the big ideas he explores through his work—the passage of time, loss, and memory, violence and its celebrations, crime, evidence, and the struggle for justice, nationalist ideology and state power, poetry and prophecy.
Viewers get to The Lightning Testimonies after walking through two bright white galleries adorned with colorful artwork. White text on a black wall announces Kanwar's piece. A dark passageway gives eyes a moment to adjust to the dim light. The Lightning Testimonies is a multi-channel video installation: 8 screens on 4 walls; color and black and white synchronized video running 33.5 minutes in a loop. As director, Kanwar gets the lion's share of credit, but he's quick to acknowledge editor Sameera Jain and Ranjan Palit on camera for their integral artistic role as long-time collaborators, and the whole crew's invaluable contributions.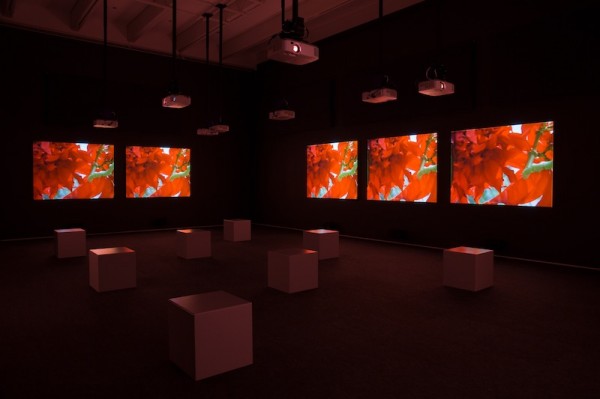 The work begins with the title page appearing on all 8 screens. Briefly a succession of images fills all the screens simultaneously. Then a dispersal begins as different images begin to fill each screen that consist of written fragments of spoken memories accompanied by footage, photos, drawings, and archival images that connect each memory to a specific place on the Indian subcontinent and to a particular moment in historical time. This multiplicity across the screens continues for about 20 minutes until 7 screens go black and the screen that's alone on its wall remains live until the title shot fills all the screens again.
Even if eyes can adjust quickly to the change in light, most viewers—myself repeatedly one of them—can't prepare for what's to come. Odds are that the viewer enters at a point when different images fill 8 screens. The absence of an obvious pathway through this work understandably challenges and unsettles those viewers who prefer more certainty about where to direct their attention.
The video formally starts with a short, stark black-and-white title shot. Soon comes the only time we hear Kanwar's voice. It asks, "How to remember what remains and what gets submerged?" The 8 screens blossom into a blaze of red poinsettias. Later the screens fill with yellow sunlight ricocheting off the window of a moving train. Throughout the work beautiful images come and go. We see the lush green perpendiculars of rice terraces, dewdrops balanced on tips of grass, delicate faces of young women. But it doesn't take long to realize the picture isn't pretty. Iconic black and white images of the subcontinent's 1947 partition appear that show a moving train bulging with people and a woman being pulled to its packed roof. On another rooftop under laundry fluttering in the breeze, a baby lies on its back vulnerable and alone.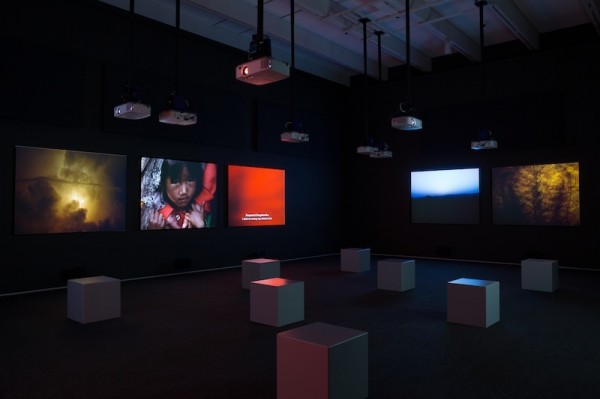 The Lightning Testimonies doesn't show images of the violence it interrogates. By citing the words of those who remember it, the work evokes a hair-raising sense of its pervasiveness, its lurking menace, and the impunity which it normally meets. For example, one witness rues, "Do you wonder sometimes how the attackers could be so brutal? Why they were not afraid. Is it because they knew they would not be prosecuted?" Images and words continue to pile up like survivors on a lifeboat. Just when you think it's going to capsize, the different fragments of testimony on the eight screens start here and there to loop. If the viewer stays long enough, this screen-specific looping might allay anxiety about where to look and how much is being missed.
Whether it's the rhythm of the rails, crackling fire, temple bells, plaintive saxophone, or the blood-curdling cry  "Ma Ho" by acclaimed Manipuri actor Sabitri Heisnam as she rehearses and then performs her role in Draupadi, the sound design by Suresh Rajamani gives viewers an aural guide. It also complements and augments the work's visual effects. Perhaps taking a cue from the grieving mother who wove an exquisite pattern into cloth to commemorate her daughter and the long struggle to bring her murderer to justice, image and sound are the warp and woof of The Lightning Testimonies.
The climax of the work—and this is where it especially resonates with the sure hand of Gentileschi and her Judith—is the unforgettable footage of women protesting in the northeastern state of Manipur outside the gate to an Assam Rifles post. The protest echoes Draupadi as the women decry both this paramilitary force for decades of criminal violence and the government of India that abets the violence by refusing to repeal the Armed Forces Special Powers Act (1958). The protesting women's rage and pain are even more searing than Indian poets and singers in Kanwar's Night of Prophecy (2003).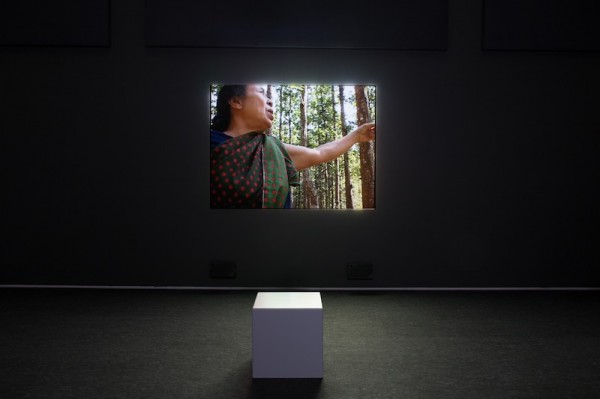 With so many ways for voices of authority to stake questionable claims—for example the Assam Rifles official website asserting, "Through its long deployment in the tribal belt, the Assam Rifles have developed an ethos primarily based on friendship with the people of the region and have earned their complete confidence," or a pair of Columbia University professors rehabilitating the reputation of Prime Minister hopeful Narendra Modi in a letter to the Economist—I'm immensely grateful for Kanwar's deliberative work. As for the relevance of the professors' letter, Kanwar attributes the explorations resulting in The Lightning Testimonies to his shock at the celebratory response to the rampage of rape, mutilation, and murder in Gujarat that took place in 2002 when Modi led the state as Chief Minister.
I've heard viewers criticize the work for being overwhelming, hard to follow, didactic, too documentary-like, and other aesthetic missteps. In the end our aesthetic judgments are based on our experiences of the work and mine tell me that this finely tuned team of artists succeeded in its complex, heart-rending, and hugely humane endeavor. Although Kanwar said he wasn't familiar with Images in Spite of All, The Lightning Testimonies breathes life into Didi-Huberman's ideas about montage and makes them visible: "Montage is valuable only when it doesn't hasten to conclude or to close: it is valuable when it opens up our apprehension of history and makes it more complex, not when it falsely schematizes; when it gives us access to the singularities of time and hence to its essential multiplicity."
In his Speyer lecture, Kanwar asked, "If a crime continues to occur is it invisible?" And later he said, "It does come down to the way we look, how we perceive." His montage starts in South Asia yet reaches wherever there are men and women. Whether we see them or not, signs of violence against women and girls are all around us all the time. Maybe it's a glamorous ingenue's broken forearm or a woman on Michigan Avenue the night of the Speyer lecture begging for bus fare to a domestic violence shelter. Or just possibly it's a trucking company forgoing its usual leprechaun and shamrocks to create a mobile testimonial: a truck painted the funereal purple of domestic violence awareness crawling through morning rush hour on the Eisenhower Expressway. It announces the name of a woman and the year of her birth and death. It's a co-worker's lament and memorial for his cherished friend whose life was stolen by a murderous man.
Lise McKean is a social anthropologist and writer based in Chicago. In 2013 she curated StreamLines, an exhibition of contemporary art in Vaishali, India.
Guest post by Jacob Wick.
The first time I went to Adam Overton's house, I sang a song. I don't remember what song, but I remember showing up, sitting down, and Adam turning on a song, a hit song, something that probably had just been on in the car, as we were driving – there were about twelve of us, maybe sixteen, five in my car – and beginning to sing along, very tentatively. By the end of the song, all of us were singing, without any prompt or encouragement from Adam, without any internal discussion, without consideration of who would sing what, without worrying about whether or not we knew the song or if it was in our range, without giving each other puzzled or encouraging looks, without giggling, without any hesitation or embarrassment or even any thought. It was one of the most magical musical experiences I've ever been part of. The second time I went to Adam's house, to conduct the interview that appears, with very little editing, below, he offered me some key limes – now is the time of year when citrus drops in southern California, baskets of oranges and limes and lemons everywhere – and some homemade ginger concentrate with seltzer water.
Adam's dog sat on my lap for most of the interview that follows, and contributes in a minor fashion to our dialogue. Adam's cat made a brief appearance to scuffle with the dog, but is not mentioned or referred to in the interview, although certainly at least one portion of our chat could be interpreted so as to refer to the cat. For instance, did you know that chat is cat in French?
This is the first in a series of interviews on the subject of listening.
JW:Â Hi Adam.
AO:Â Hi.
JW:Â Maybe we should just talk about your various projects before we get to anything else. Does that sound reasonable?
AO:Â Sure. Yeah, if there's any…
JW:Â And also, like, kind of how you…well good, I didn't bring my notes. So this will be less professional. Remember when like, the, uh, CCA social practice horde descended upon you?
AO:Â Oh so you were, oh so that's how you know Dave…
JW:Â Yeah, that's how I know Dave, and that's how I know you, yeah…
AO:Â Oh!
JW:Â I mean, I don't think I introduced myself then, umm, I don't know.
AO:Â See that's when I started loosening up about remembering faces was when I started teaching because it became so hard to keep track of…
JW:Â I think, yeah, I'm kind of losing my…yeah.
AO:Â Yeah. Don't start teaching.
JW:Â Yeah, ok.
AO:Â Or, if you want to loosen up.
JW:Â See, ok, maybe we can talk about that: what's been your, uh…maybe it's a grass is always greener thing, like I'm not teaching now so I'd really like to teach and I keep thinking about classes I want to teach and thinking like "oh, that'd be really fun," or interesting, or both, but you're saying you're tired of teaching…what's the…why?
AO:Â Why am I tired of teaching?
JW:Â Yeah.
AO:Â I'm sick of dealing with shitty employers, basically.
JW:Â Yeah.
AO:Â And that's ultimately what my regular, um, that's the typical experience that I'm having right now, is working with shitty employers. Like really shitty employers. And, uh, the places that are really steady, in terms of work, are the shittiest, or have been, at least for the kind of work that I get, and the ones that are better are ones where I only have electives, and I come in and I teach a class and they're like "wow that class was great, everyone really loved it, maybe you can come back and teach in in two or three years…" But there's a big unionizing push going on right now, in Los Angeles and Boston and potentially nationwide to unionize adjunct professors, so I'm getting really interested in seeing how that goes…
JW:Â I've heard a bit about that. Are you teaching at multiple schools right now or just one?
AO:Â Uhhh, right now I just had my classes reduced from three classes to half a class over the holidays by one of the schools that I teach at.
JW:Â That sucks. Are you teaching arts courses or are teaching more like skills, skill-based…
AO:Â At one place, at the for-profit that I teach at, I teach mostly web-related programming skills. So that's usually the steadiest stuff…I used to teach more like digital – like Adobe Suite – stuff at a community college, so that was also kind of steady, but more design-oriented than my background calls for…
JW:Â Yeah.
AO:Â And then the stuff that, uh, when I get to teach what I want to teach, or when schools offer me courses that are closer to the range of what I want to teach, typically it's somewhere in the range of sound art, performance art, and/or um..uh… I got to teach this one class that was pretty fantastic related to activism and education and media…like streaming and stuff, technologies like that. And there's one school that I teach at, that I get to teach about once a year and I get to teach an experimental video workshop there, and I hope they don't read this, but I have no experience – like I don't make video – but when I first signed on to work there about four years ago, I signed on and I realized I had this whole library of video art, and this whole background as a viewer of video art that was really influential on me as a performer, and it's ultimately just a class where we look at stuff, we talk about it, and then they have a loose assignment based around an experimental strategy, which could easily be, you know, a performance class or a sound class or whatever, it's loose enough that it's about strategies, it's not specifically about editing, and that class is probably the best class I've ever had my entire life, because it's talking to commercial film kids about non-entertainment based, non-commercial work, and I want to say they love it, but it's not that they love it…
JW:Â They love it!
AO:Â All the sudden they realize there's this other thing and they're hungry for something that's not just commercial narrative. And it's at a film school, so the students there are so much more interdisciplinary than any other school I've ever…
JW:Â In what way?
AO: At this film school, this is the only place – I mean, I've taught at other art schools, like Otis and elsewhere – but this is the only art school this is the only school that I've ever taught at where students will not only say "oh, I like to write," but many of them identify as writers, so you can talk about text and they won't rebel; almost all of them have experience editing video, of course, but because they've done that they also almost all have experience working with audio; and since some of them are coming out of an acting background, or have worked with actors, they also have connection to performance. And so you can come to them and do a movement-based workshop – like we always do a movement-based workshop based off on some Simone Forti and Hana Vanderkolk exercises – and they gobble it up. Whereas if you do something like that at Otis, I mean, sometimes half the class will really dig it, but I've had students come up to me and be like, wait, are you a sculptor, and I'll be like no, and someone actually said like, "well then why are you here?" and it's like "ok, because you're in the Sculpture/New Genres department?" But so, but I've never gotten flak for, I mean, anyways that interdisciplinarity, and kind of confusion of where one lies in the medium spectrum, is particularly strong at this film school, which is great.
JW:Â But it probably doesn't matter to them too much where they lie on the medium spectrum, I mean, am I generalizing too much, or…?
AO:Â Maybe a little bit? Just because it is a professional-track thing, and so they do identify as "I'm a director," "I'm an editor," "I'm a cinematographer," so they do have these professional kind of things that they hump down into. And on their evaluations every once in a while you get, you know, "was this class valuable to you?" and someone will say, "no, because I'm a director, I loved it but it wasn't useful because I'm a director," which I still don't understand. But anyways, yeah, I teach a lot of things at a lot of different places, and I'm trying to…ideally what would be best for me teaching-wise would be…what feels best is teaching classes where it's this awesome conversation and people are experimenting and trying things out, but unfortunately those classes are just electives in my schedule and not enough to live off of. They just feel like little rewards, like a a mini-grant for three months. And so the regular ones are these kind of shitty corporate places that don't give a fuck about you or the students. So that's really where I am – that's why I looking for other work. Other quote-unquote professional work. If anyone out there is looking for very talented uh…I'm really good at making cocktails…
JW:Â Have you considered applying at bars or anything?
AO:Â I'm really intimidated because I've never worked in restaurants or anything like that, but actually I'd be terribly interested to work as a barback or a cocktail apprentice, because I'm really into cocktails right now.
JW:Â I've been really thinking about, um…
AO:Â And I'm a night owl, so it would kind of work.
JW:Â I mean, I've been kind of getting into wine a bit more, and for a minute I was kind of thinking of opening a coffee shop, and now my pet dream is to open a cooperative grocery store, that would have maybe within it a coffeeshop/bar situatation, but I don't know, whatever. But like I feel like there's a lot of people – a lot of artists who are veering towards more service industry-related things…I mean, I don't know, we don't have to talk about that much, but I curious about that kind of transition of like, and it's often people whose practices I really identify with, where generosity or collaboration or like a concern…
AO:Â Well, I think the language in the social practice arena primarily goes towards generosity, and I think that's there, but I see it as desperation, like artists are trying to figure out how to fit in and find part-time and/or full-time work that feels useful or and is productive for them in some way, shape, or form. But there is a trend, because actually in the experimental music community in Los Angeles, what you're talking about is very common. In terms of people brainstorming, but not necessarily following through. I don't know if you know James Klopfleisch…
JW:Â No, but I was playing with Ted Byrnes on Monday and he mentioned James…
AO:Â Yeah, he's involved with the wulf., and the Southland Ensemble…I think that's what they're called. But he for a while had an idea for, um…he wanted to do like an ice cream truck, except it was like a coffee, like an iced coffee, and like experimental music coming out of the speakers…and he seemed really serious about it, but then he went off on a cruise ship for a couple years.
JW:Â To play?
AO:Â Yeah.
JW:Â Oh wow. I've heard that's like the worst thing to do…
AO:Â He loves it!
JW:Â I guess if you have the right kind of mindframe, it would be ok, but it just seems like…
AO:Â I think it fit his personality…he likes people, and talking to weird people…
JW:Â And yeah, that seems like a very weird place.
AO:Â Your background is as a musician, right? Did you do your undergraduate as a musician?
JW:Â I did, yeah. And a lot of people went to ships…
AO:Â Yeah, I was a jazz major in Atlanta, and a number of my friends did the ship thing. And I remember thinking about it…I never got the phone number. But it was very possible. It's either you go to New York or you go to the ship in the Caribbean.
JW:Â Or both.
AO:Â Or both, yeah.
JW:Â And then you give up somewhere.
AO:Â Yeah. Oh there was one other precedent though, too, that actually got really close, there was a composer named Gary Schultz, who lived here, who now lives in Berlin, but he was gonna start, well, we joke that it was going to be "Gary's Juice," but it was really gonna be more of like "Gary's Juiceteria," and he was going to be doing the juice selection at a place, some health food store in the West Side, and he got as far as the designs and was setting stuff up, but I think the store closed before it open.
JW:Â Yeah I feel like there's a pool of money that one has to have to open anything like that that I do not have access to that right now, but that's also ok.
AO:Â Yeah. But actually that's the next thing – it's just dawned on me in the last two months – there was like the big wave – I'm 34 now – there was the big wave of "all my friends are getting married" and now the big wave is "now all my friends are starting businesses," and it's weird because when they were getting married I was like "oh, I don't want to get married," and now that they're starting business I'm like "oh, should I start a business?" "no, I don't want to start a business," or maybe I should, or…you know, like…
JW: I think it's still a bit of this desperation thing that you were talking about. I think it's like "well, I don't know what to do now, so maybe I should just invent a job, or…" So did you go to Emory or something?
AO:Â No, Georgia State. Georgia State had a really good program, at least for Georgia. And it was situation downtown, which was the only place that jazz existed in the state of Georgia, except for Valdosta, I mean there was one other jazz program in Valdosta.
JW:Â Where is Valdosta?
AO:Â It's on the border with Florida.
JW:Â Are you from Georgia?
AO:Â Yeah, I'm from the suburbs of Atlanta.
JW:Â One of my best friends lives in Athens.
AO:Â I would never go to Athens.
JW:Â Oh.
AO:Â I mean, it was kind of like a high school angst-ridden principle, that UGA and Athens represented high school part II, and I was very anti-high school and that point, and so for me going to school in the city that was…
JW:Â He grew up in Athens, and I think he feels that way…he has a very clear marker, or at least he did until a couple of years ago, of a street that he would not cross, because that was the UGA side of Athens.
AO:Â Right, yeah. I'm much more grown up about it now, and I feel like I missed out on a really beautiful town that I could've visited more, and a music community that was probably worth checking out when I was there.
JW:Â It's still there, it's still good. So when did you move to California?
AO:Â In 2003 I came here, to go to grad school at CalArts.
JW:Â Was it all CalArts or partially the allure of California?
AO:Â Well I actually almost went to Mills…I thought I wanted to go to Mills more because I thought I wanted to go to the Bay more and I'd only ever heard bad things about Los Angeles, but in the end I ended up going to CalArts because I realized I wanted to go to an art school, not just a music school, and then when I got there I found out that LA is fucking incredible and I found out that San Francisco is really provincial and very un-integrated, so it ended up being a really fantastic decision for me.
JW:Â So did you go to grad school for music?
AO:Â Yeah, I was in the music school there. But I figured out really quick how to get out of the music school and into other departments, which was ultimately the most useful for me.
JW:Â Did you head to CalArts with an idea in your mind that you were going to move out of music?
AO:Â I know going into CalArts, or into grad school, that my practice was….that I considered myself…well one I didn't consider myself a composer heading in…
JW:Â [coughing]
AO:Â Do you need some water?
JW:Â Sure! Maybe I'll eat a mint, too, that's what my mom does when she starts coughing uncontrollably. I guess I'm just curious about the transition between, for you, the transition between, for you, the transition between being a composer and, sorry buddy…
AO:Â Is he getting annoying?
JW:Â No, I just sat on his tail.
AO:Â I didn't consider myself a composer. I mean, I had taken some composition classes and I was doing computer music, but you know I got to grad school and I met composers and they're the kind of people that could look at notes on a page and hear them in their head, and I didn't have that ability and I didn't have a background in harmony, and I knew I was going to an experimental school so that wasn't necessarily a requirement when I got in, but I thought of myself as a sound artist and even more so as a performance artist who was using sound.
JW:Â Ok.
AO:Â So I was doing work that involved attaching sensors to my body and the work that I was looking at was not sound art necessarily, but I was really attracted to body artists at that point, like Carolee Schneeman, Marina Abramovic, the Vienna Actionists, Fluxus, et cetera, like that was what I was looking to, at least right before I got into school. And doing my sound things as kind of like looking into the performance of the body.
JW:Â Yeah.
AO:Â My whole experience, though, is just one of transitioning from one medium to another and feeling like there's a thread running throughout all of it and therefore I don't know this thing anymore. So for instance, you know I was a jazz drummer, and there were many moments where I just realized once I got into the computer, doing computer music, that I don't need drums to do the thing that I want to do. And with jazz, one of the attractions was this notion of moment-form, like being in the moment, and this notion of working intuitively or even psychically with other people, and working within constraints or structures together and seeing what happens, and those sorts of things have continued in some shape or form throughout. So the mediums keep shifting, but…the general progression is like jazz drums, sensors attached to the body, then there was a big breakthrough halfway through grad school where it was, um, what I call biometric pieces, but minus the sensors where we used our fingers instead, where it was like checking someone's pulse at the neck and watching their blinks. And all the sudden the tunnel vision got like this because all the sudden you're staring into someone's eyes for sixteen minutes in a piece and it's really intimate and it was like "wow, this is amazing and it's so much fun and really weird and I'm falling love with people just looking at them," and it's really uncomfortable…so I dropped the electronics at that point and I was writing text scores, just instructions for how to perform things, and that brought in – you know, I've always enjoyed words, so – it was just like coming out of the closet as someone who likes text. And ever since then text and writing has been a really big part of my practice no matter what. There's a lot of different places we could pop into whatever…
JW:Â How do you view the relationship between writing and – because I too have a penchant for setting up bureaucratic entities or…I guess, yeah I don't know, I don't know how you want to talk about Guru Rugu, or the Bureau for Experimental Meditation, or…
AO:Â Well what were you just about to say, though, about your practice?
JW: That I have a penchant for creating these kind of bureaucratic organizations or pseudonyms or things like this and I always kind of wonder if that's tied to  an improvisational approach to composition where it's composing not as "here's this set thing that everyone has to this" but "here's this structure that a bunch of people can be part of"…I don't know, I've always just kind of wondered why I started doing that. And I'm wondering if there's anything that you can see…
AO:Â Well the kind of flippant answer for me would be that it's genetic. My dad's professional was that he was a copy-editor in the sports section of the newspaper, and I remember very vividly growing up and being little and him talking about headline writing as a form of haiku, you know, and it's not like we did exercises, but that kind of attention to what a few words can do, how they can resonate together…
JW:Â Have you ever read the book How to Do Things With Words?
AO:Â No.
JW:Â Neither have I, but it's a great title! And apparently it's also a really interesting book. It's by this Oxford philosopher and Judith Butler writes about it a lot…uhh, but it's sort of…there's the performative, there's the something else…like, you know, there's things that you say that you do while you're doing them, like "I name this ship blah blah blah" or "I now pronounce you man and wife" or blah blah blah and there's things that you say where they're referencing an action that happened before, or, whatever…I don't remember the terms so it's kind of not worth talking about.
AO:Â Yeah. Some other ways I think about it is, like, for me, coming into writing text scores…Text scores, ultimately in the tradition of them, they're like prompts, and especially Fluxus and that tradition it's like one-liners, it borders on humor or punchlines, and there's this sense that through a single command or prompt there can be…there's like an activity or process or group activity lying beyond that statement that's much more complex or interesting and fun, or just something to do. Another thing that you probably know from the realm of music is that it's really fun coming up with band names, that's a really big tradition, but also band names have a huge influence over…ultimately they can be prompts for a certain kind of action or performance demeanor…
JW:Â Or the people that are in a band can be sort of the limits of what that band is or what it can do or what direction it's going. Do you think of the Bureau of Experimental Meditation as a band?
AO:Â Well, it's actually the Experimental Meditation Center of Los Angeles, and the Bureau of Experimental Speech and Holy Theses.
JW:Â Right, sorry.
AO:Â They do, I mean when I started creating some of them, especially Experimental Meditation Center, cofounding it with Guru Rugu, or BESHT with Professor Padu-Paga, like, I didn't think of them as band names, but I don't know, it's just fun to invent names…or sometimes it's you invent a name and you're like "what does this thing do," but other times it's like "what sums up this thing that we want to do together?" and like you kind of said, with a band, when you create a band name the identities of the people in the band kind of get subsumed under this, so you can be a guitarist or a drummer in a band, or you could be in multiple bands, but it's not necessarily your band, it's that thing. And so these platforms – I think of them as platforms, ultimately, they're platforms, they're prompts, for people to come in and do things that they wouldn't normally…that might be part of their practice, but might not…one of the first ones where I consciously had an experience was that was with the Eternal Telethon. I don't know if you know them…
JW:Â No.
AO:Â It came out of CalArts, and it was a group who started doing these fundraisers, these telethons, of varying durations, at different locations, that were streamed online using Ustream when it first came out, and the goal was to raise money for a convalescent home for retired artists, and it would located be at the Salton Sea, and so the hope was that anybody who became part of it would then be a part of Telethon and would one day be able to retire along with us at the Salton Sea.
JW:Â That's a great idea.
AO:Â A lot of the people who got involved – it was basically a variety show with MCs ranting in between – and a lot of the people who participated were not performance artists. It was primarily a performance thing, but a lot of people were not performance artists. So you saw a lot of artists who didn't typically perform doing performances, you saw writers performing, you saw people – just creative people…and so that of course seemed really exciting. The stakes were really low, like it was broadcast online, but nobody's watching, and I'm interested in that phenomenon, and you can see it very clearly happening again in a much larger way at KCHUNG radio right now, because they're broadcasting, there might not be anybody listening, it's a radio/sound thing/phenomenon with primarily a lot of artists doing stuff, many of whom have never done anything with sound before, or even performed before, so I don't know, I like that kind of experiment or that kind of platform or that kind of theme-based thing. You see that happening with theme-based shows, theme-based group exhibitions, too, you know like, "hey Jacob, do you want to be in this show about dogs and cats?" and you're like "I don't really make work about dogs and cats, but sure."
JW:Â Well, I like this dog.
AO:Â Yeah.
JW:Â There's also something really interesting about having a broadcast that everyone is part of that brings people together to make this broadcast that everybody knows nobody is listening to.
AO:Â Well, some people do.
JW:Â Well, but something about the direction towards a public that doesn't exist that allows people to do something they wouldn't otherwise do.
AO: I mean, in LA too, there's a tradition of, like…like people here don't come out to performances the way they do in New York. In New York, or even Berlin, when I go see friends' performances, there are lots of people there watching who are not their friends, and the tradition that I've witnessed in LA, at least among experimental arts stuff, is that typically the people who are watching are your friends. And it's less and less so, places like the wulf. are growing, and people go there more regularly to see things by people they don't know, and same thing with Human Resources there'll be like a hundred people now for something, but my experience with it here in LA and in Atlanta is like "I'm doing this for and with my friends," and I'm neither for or against either model, but I come out of being interested in this kind of, what kind of things that can happen in that sort of space.  I mean, when you don't know people, there's a certain kind of vulnerability that can take place when things are more anonymous, which is similar to the kind of things that can happen on craigslist or on dating sites, because you can do certain things there that you wouldn't normally do. But there's also things you can do with friends that you wouldn't do with strangers.
JW:Â Yeah.
AO:Â A lot of my work, at least with the Experimental Meditation Center of Los Angeles, or Signify, Sanctify, Believe, the stuff that kind of focuses on ritual or religious or spiritual technology, kind of focuses on like what kind of things happen within the privacy of a concert hall or what I would call a magic circle or something.
JW:Â Well, maybe that's a good transition point to start actually talking about listening, which was sort of the pretext of our conversation. So I'm really excited about listening as a – we probably have like 10 minutes, right?
AO:Â No, well 10 minutes until the alarm, 20 minutes until I need to…25 minutes. Sorry about getting bookended.
JW: No, it's fine, it's really fine. So I'm really excited about listening as an aesthetic activity that places the agency to have an experience on the listener, the viewer, the participant…somebody else who's not like "here's this experience you're having," but also that's not a new thing, that's what really excited El Lissitsky about exhibition design, or what excited some conceptual artists about making non-existent work or whatever, it was always this excitement about bestowing upon the viewer this magical agency which is, you know, I think I have to think about it more to really kvetch about. I mean these spaces – the concert hall, magic circle, any kind of religious situation – there's a lot of ritual things happening, but there's always this practice of listening.
AO:Â Well I mean broadly, my notion of listening is not ear-based anymore. I would like to say that it's focus-based, like I would like to say that listening is about focusing on something, but even that is too narrow, like as someone with an undiagnosed form of ADD, some of my biggest breakthroughs in listening to experimental music have been when I let go of trying to focus and allowed my mind to bounce around the room and, you know, quote-unquote not pay attention, and release from the shackles of having to focus in what I thought was the right way.
JW:Â Yeah.
AO:Â So I'm definitely interested in a more embodied notion of listening. One that's maybe more about presence more than anything else. Which was actually my approach to Occupy…for Occupy LA or Occupy Wall Street, I didn't necessarily find all the entryways I wanted to in terms of political stances, but I felt it was really important just to be there, just to follow that prompt and to Occupy, be present, whether I agree or disagree or whatnot. But similarly, there's this…I don't know. I think that's a period there. I was going to say something else, but I forgot.
JW:Â Was it about…I was reading this, that you wrote for East of Borneo…and I really enjoyed it.
AO:Â Thanks, thanks for reading it.
JW:Â So you're talking a bunch of the intersection ritual practices and music and you say this one line in here that…what do you think about it? I mean it's really interesting to read and it's a very nice history of these practices, but you…
AO:Â What's the line?
JW: "LaVey's one-man band demonstrates satanism's infatuated embrace of uncompromising, self-satisfied, alienated individuality, similar in some ways to ahbez's lonely wanderer. These albums, then, are the egomaniacal satanic masterworks of one man in a recorded universe where he is finally the king of his own masturbatory, musical jungle." So it seems like you almost have a contempt for these practices that like…
AO:Â Contempt? No. Masturbation is great!
JW:Â Yeah, ok, that's true.
AO:Â No, yeah, that line in particular is about the embodiment of…like LaVey's thing – LaVey and Satanism – is this complete self-centered ego…like it's just about satisfying your own ego, not anybody else's, and it's about self-reliance, it's about DIY, it's about doing it yourself, not doing it together, doing it by yourself, potentially, unless you need someone else, and you get it from them, take it from them…it's very objectivist and it's very egoistic and egotistic. But I don't mean those necessarily in bad ways. I identify with those on certain days and on certain subjects. His thing is about selfishness, and not being ashamed of that. It's about the worship of being a sensuous being and about obeying these emotions and drives that you feel. That's the way he thinks and talks about it. And actually I used to be really interested in Ayn Rand's writing. Because in high school I loved her writing, because I had a lot of self-doubt and I had a lot of angst, and I had a lot of…what's the word…you know, I just didn't like myself. And her books actually helped me learn to like myself and to have pride, and so in that way that stuff was actually very useful, like for someone who's depressed, but later on I moved into Buddhist and other things, but Anton LaVey pulls out of the ultimate kind of selfishness of pride. Which becomes misanthropic and angry and…
JW:Â Maybe what was interesting…Whatever, I don't know what I was thinking when I brought that up. But maybe something that is interesting, that's even related to what we were talking about just before I brought that up, but it seems like…I've never listened to LaVey's music, I mean I've seen a YouTube video of him playing organ, which is incredible…
AO:Â He's an amazing musician.
JW:Â But it seems like that would be kind of a debilitating musical experience, like there would be no room to hear anything else besides Anton LaVey.
AO:Â You mean at one of the services he did?
JW:Â Or maybe just listening to the recording. But probably moreso at a service. Which I think points out a little bit of the silliness of my dream of listening as this radically active thing, where sometimes there's actual no other alternative but to hear what's enveloping you. But I feel the total opposite might be Pauline Oliveros…[loud noise]…oh, I think I got a text message. Yeah, I did.
AO:Â What I would say is…if we're just going to talk about listening, I would say that while yes I agree with the notion of like placing this agency in the listener, ultimately what I feel like is if we're still going to enjoy this division of the listener and the performer or the listener and the artist or the observer and the artist – which is fine, it's a fun kind of role-playing to do ultimately – it's not that the listener/viewer has all that agency, it's that the artist has the opportunity to facilitate a kind of listening, or a kind of framework to see things through, and for me listening has never just been about just sound, or sight has never been about light, it's always based on information that one has while one is listening to something, and by information you can also think of it as a framework, so this article is a framework through which you can listen to this music again. I have a very vivid memory, in high school, when I was first learning how to play jazz drums, my teacher gave me this jazz video, and I remember watching it – and we had been doing the ding-ding-da-ding thing on the cymbal – and I watched it and I literally cried out of frustration – tears down my face – because I could not follow a single beat of it.
JW:Â Was it a drum video where you were supposed to follow along?
AO:Â No it was a performance. And it was absolutely frustrating because what was happening was I had a little bit of the framework – I had the ding-ding-a-ding – but I didn't yet have the jazz framework of listening to that. And now…I mean, I can't remember if I ever listened to it a year or two later, but now I would be able to listen to that and I would probably be able to appreciate it, or not appreciate it, but still because I knew about the politics that it represented, within the jazz world or whatever. So Anton LaVey's work is actually really horrible to listen to if you're listening to it for sonic qualities, but if you know a little bit about his history and whatnot, and if you see him play, too, it kind of damns the music, you know what I mean? And so ultimately if you're talking about a framework of listening, you're talking ultimately about a belief system, right? And even if it's a temporary one, it's still like, "I believe that music is this right now, and because of this my constitution tells me that I need to listen for the harmonics." Because I'm listening to James Tenney or Cat Lamb, and if you're listening for the fundamental pitch – which I've done throughout all their concerts – you're missing the concert. But all the sudden if you believe in all these angelic harmonies, or these harmonics, or these weird physical things that are happening in your ears that aren't even in the room…and I've had that experience, like listening to music once and having no idea, or listening to the wrong part of it, and listening to it again, or listening to that kind of music again, and being like oh, duh, why didn't anyone tell me that before? It doesn't have to be a belief system, but it's related to one. Because a belief system gives you a way to view the world, a way to be an observer and an agent in the world, just as activism does, and politics does…
JW:Â That makes sense to me. The idea that listening allows for being aware that there are multiple different frameworks through which to have any kind of given experience.
AO:Â And it's totally fun subscribing to those things, too.
JW:Â Yeah, but I think what's exciting, that's maybe available in music, especially in improvised music, that might not be available everywhere else, is the constant knowledge that there might be something else you could be listening for, or another way to experience a given thing, so I'm much more open to intentionally having the wrong experience. I find it really generative. I mean, I don't know, Claire Fontaine came and talked to the CCA Social Practice class, and I don't know, I was late and a little hungover and they were tired and the discussion was not very good, but it was a really – because it's two of them and they have a child and for some reason the entire time they were at at CCA only Fulvia was talking and James wasn't saying anything and the baby was just screaming a lot – and I started experiencing the discussion as a performance rather than a discussion and it was infinitely more satisfying. I mean, it was great.
AO:Â I feel like there's no reason to be disappointed – I mean I get disappointed all the time – and I have a piece called Listening Performances, and it's just a list of different ways to be at a concert or whatever that you're not digging or whatever. When I teach I actually talk about this a lot, just as an introduction if someone's coming from one medium and moving to another, but there's this quote from Alan Kaprow where he says "what if I were to think that art is just paying attention?" and it's this notion of art begins with me focusing on something. I like to replace his "think" with "believe" and say "what if I were to believe art was just paying attention?" which moves it into this notion of that you're kind of creating this universe and through this process you're beginning to include things into what you're seeing, but you're also excluding things. For instance, to kind of wrap this around in a weird way, I have plenty of friends who are really angry about being brought up as Christian, like they were hardcore believers and really mean to people as a result, up to a certain point, and then they stopped. And when they stopped being mean to people they ultimately stopped being a certain kind of Christian, or Christian whatever. I kind of feel the same way about drums, like that was my religion growing up for ten years, and I love drumming, but I'm a little bit bitter because there was probably a period of four to six years where I only listened to drummers on recordings, and so there's this whole period of a half decade or more, where I witnessed so much amazing music and I totally lost out because I didn't even listen to the piano player, or I didn't listen to the trumpet player. There was a moment where I actually tried listening to a saxophone solo, maybe seven years in, and it really felt like I had never listened to a saxophone solo. So I don't know, I'm interested in that kind of focusing…
JW:Â Not just focus, but believing. Believe is a different verb than focus.
AO:Â No, exactly. For instance, we use the term belief, because at least in cinema, but in other things too, we talk about the suspension of disbelief, which I translate as temporary belief, belief that's bookended, potentially by your entering the space. And it is…you're becoming vulnerable, you're going into a suggestive state hypothetically, you allow yourself to listen, you go through the program, you see the title, maybe you listen to it based on what the title says, you look at the name under it…that's a huge thing actually, really interesting thing, actually, my friends love their friends music, and many of them hate strangers' music.
JW:Â I'm the same way.
AO:Â But as soon as they meet somebody and get to know them, they become huge fans of their music, when they hated it before, and you see how just a name can change the way someone listens to it, or knowing someone's background, studying their history – who was Anton LaVey, you know? – so listening is just so…what's the word…it's just so easy.
Jacob Wick is an artist, writer, and improviser who lives in Los Angeles.
Adam Overton is an experimental and conceptual artist based in Los Angeles who works between performance, writing, publishing, experimental music, workshops, event production, and massage.
Given the post-holiday lull and the unusually inhospitable weather – see: 'polar vortex' – I've been pessimistic about going art foraging lately. Fortunately, during a recent day of hibernation I loaded up Werner Herzog's "Happy People" about residents of Siberia living in Neolithic conditions, and my post-holiday disenchantment melted away.
"If these people can make snowshoes from fallen fir trees and catch mink with snare traps, I can't complain about how long it takes the interior of my car to heat up." So vortex be damned I drove to Milwaukee to attend the opening of Gavin Brown's exhibition at the Green Gallery.
Normally I wouldn't frontload a review with biographical information offering details of the artist's day job, but in some cases, ignoring such information is an even greater distraction than the alternative. Like when Jay Z went on his performance art jag. If you reviewed "Picasso Baby" without recognizing Him, the all-out genuflection of the art world in those ridiculous videos would seem especially absurd. Or when Dylan had his show at Gagosian, they had to begin the publicity release with an acknowledgement of his cultural significance outside the painting world if only to pacify the elephant in the room.
This is the case, if to a slightly lesser degree, with impresario, gallerist, taste-maker, and now artist, Gavin Brown, whose show, (which seems eponymously titled, though might not actually have a proper name??) runs through March 2. For someone crossing over, Brown appears to have a genuine sensitivity to the psychological possibilities of video. Though his installation is demonstrative and dramatic, it is deftly paced and masterfully controlled. "Gavin Brown," or whatever the show is called, is a subtle journey that leaves a far less subtle psychic residue.
But to get this resounding impact, one needs to bathe in his work without distraction. This happened to be an impossibility at the opening of the show, when the gallery teemed with revelers, forced inside by extreme cold. The installation features two independent projections: one on the shortest wall of the triangular interior, and another that 360's the gallery like a lighthouse beacon at about eye-level. This, along with its shrill soundtrack of screaming and pulsating alarms, made it impossible to totally escape the presence of the work at the opening, though visitors using the show as a social engagement tried anyway.
The Green Gallery's John Riepenhoff speculated that the clumsy Beckett-esque interaction with the audience might have been intentional, symbolic of the artist's own relationship between viewers and makers. To what degree this is purposeful, it happens to be an incredibly generous metaphor.
A review by Michael Horne in Milwaukee's, Third Coast Daily corroborates the tenor of the evening.
"At one point the projection was accompanied by many, many minutes of fire alarms or smoke detector signals, a bit hard on the ears in the whitebox gallery. People of a certain height (4'-7'') might also find the harsh glare of the rotating projector's lens a bit hard on the eyes as well…But this mattered not to the mostly young and enthusiastic audience. Plus, for escape, the back room of the gallery offered a sparse gathering space for networking, conversation and carbonated beverages."
More impressive than any statement about the awkward relationship between opening receptions and ideal art viewing, is the full, unadulterated experience of Brown's work, an opportunity I had several days later when I returned to the empty gallery.
One is prone, even if a veteran of non-narrative video art, to search for continuity. Even moreso in Brown's piece, as each of the videos is comprised of panning shots of a single domestic interior. A somewhat distressed woman's voice initiates the disquieting experience to come. One naturally assumes the perspective of this invisible presence and inhabits her throughout.
If the opening was a real model Panopticon, the projector chasing imprisoned spectators around an actual enclosure, the piece without an audience is a virtual prison, the viewer trapped and becoming ever more paranoid with each revolution of the swiveling projector.
One might call it suspense, but there's nothing building or changing. Besides a book whose cover reads "Keep Calm and Good Luck," and some devotional statues that might be on lookout, there's no sign of anything but comfort and safety. But the point of view and the scanning motion, that is, the form of the piece, does what one might normally expect from content. What one expects is some kind of a problem. Some kind of disruption. We grow fearful of what's outside. When an occasional car rolls up the streets outside the house, it feels sinister and phobic.
What is the relationship between the two shots? They're of the same prosaic interior, so one can't help but toggle nervously between the two searching for a sign of incongruity, which, in this context, would be problematic. This creation of this context is Brown's achievement. Why not expect a welcome guest? Why not a surprise birthday party or children coming from playing outside?
Because we assume the camera's point-of-view, which is scanning, not looking. And it feels defensive, so we feel paranoid.
Ten minutes in, the persistent continuity is finally broken on the main wall by a series of close-ups: a locked window; a staircase; an airvent; a leaking hot water faucet. Each is accompanied by its own irritating alarm sound. With the broken silence, anxiety redlines to the point that one locks up and comes to, finally resetting and reorienting with the real interior. The one that's been built out to hide any trace of natural light or hint of the outside world. The one that feels like a bunker that is closing in. And one wants out. At least I wanted out.
Out where it was 4 degrees and nearly as oppressive.
I don't know how many strata of meta Gavin Brown intentionally planned on laying down, but they worked to great effect, getting me just a few steps short of cabin fever.
Not a bad first effort for someone best known for showing other peoples' art.
1. Ghost Nature at Gallery 400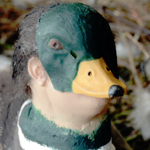 Work by Sebastian Alvarez, Jeremy Bolen, Irina Botea, Agnes Meyer-Brandis, Robert Burnier, Marcus Coates, Assaf Evron, Carrie Gundersdorf, Institute of Contemporary Zoology, Jenny Kendler, Devin King, Stephen Lapthisophon, Milan Metthey, Rebecca Mir, Heidi Norton, Okosua Adoma Owusu, Katie Patterson, Tessa Siddle, and Xaviera Simmons with AOO.
Gallery 400 is located at 400 S. Peoria St. Reception Friday, 5-8pm.
2. Center of the Circle at Heaven Gallery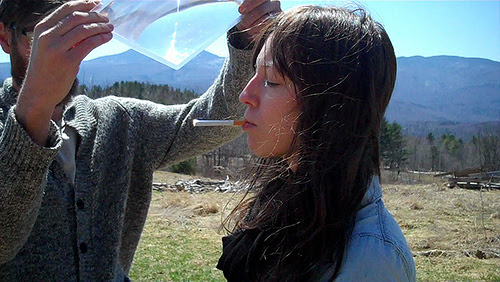 Work by Sarah and Joseph Belknap
Heaven Gallery is located at 1550 N. Milwaukee Ave. Reception Friday, 6-9pm.
3. Pictures and Places at Links Hall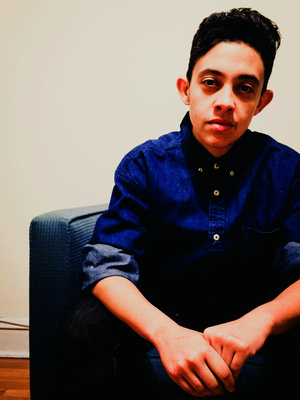 Work by Edie Fake.
Links Hall is located at 3111 N. Western Ave. Reception Friday, 7-9pm.
4. Walking Driftward at Spudnik Press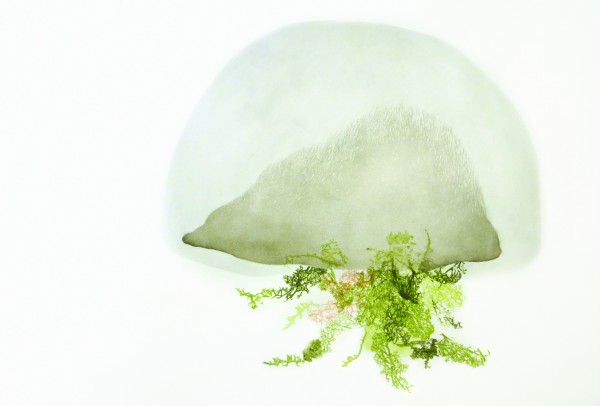 Work by Hannah Ireland.
Spudnik Pressis located at 1821 W. Hubbard St. Reception Saturday, 6-9pm.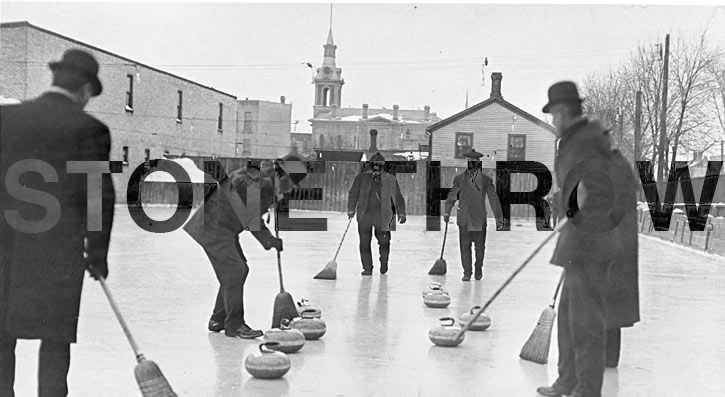 Work by Jake Myers.
TRITRIANGLE is located at 1550 N. Milwaukee Ave. 3rd Fl. Reception Friday, 7-11pm.
Just as divisions in artistic mediums and practices are blurring, so too are the distinctions between artists and designers. The farther we move away from the entrenchments of Modernism, the more this trend is likely to continue. This month, I spoke with three designers of diverse backgrounds working in and around Detroit as a place of inspiration, community and revival. From the elegant reworkings of Modernist forms emphasizing beauty in the handmade of Brian DuBois, to the decidedly analog textural surfaces adorning Chris Schanck's startling furniture, to the unexpected combination of industrial and natural materials to create incredibly organic and mesmerizing surfaces in the work of Jack Craig, designing on a small scale provides opportunities for spontaneity, chance, and individuality. During our recent conversation, we discussed how small production can return design to richer, more powerful connections with the user.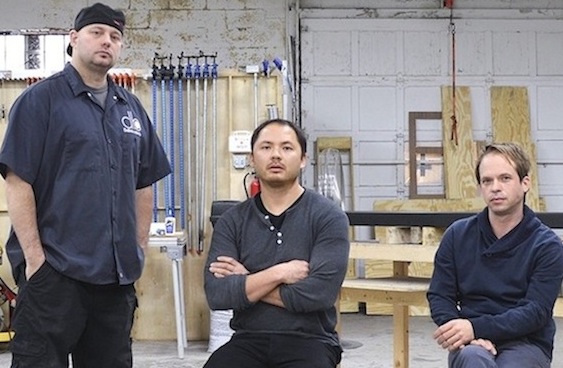 From left: Brian DuBois, Jack Craig and Chris Schanck in Brian's shop, Hazel Park, MI
We become disconnected to design through all the filters a product goes through, all the separate hands and intentions that shape the product. Not only does this remove the designer from their work, but it is somewhat antithetical to what design sets out to do: empowering our tangible and lived experience in the world. As the three of you largely manufacture your own designs, how does this inform your work, as well as the conversation around contemporary design?
 
Brian: The beauty of having a shop space and making your own work is that you're able to make decisions right there. You understand the materials and the fabrication, unlike if you were in a traditional firm where all you're doing are pretty renderings all day. Anyone can draw the fancy picture; but its not until you get your hands dirty that you say "oh man, I can't bend steel this way. I have to go to aluminum." And that changes up the whole game for your idea.
 
Chris: There's a difference in the way Brian works and the way you describe off the shelf mass produced industrial design, and it's that there's an unknown or distrust in the perfection of product design. They have no visual history. The way Brian works, there is room for imperfection. If you look at his "Detroit on a Platter": he walked through the streets of Detroit measuring, taking photographs, doing his citywide site analysis with eyes on the street, rather than fly by on Google Maps. So I trust in that process, although it may be full of errors. There is an authenticity there that you don't find in an off the shelf product.
 
B: When people know that you did it by hand, then there is the aura of the artist. When you look at Jack and Schanck's work, they can't be mass produced. We're not at that market of selling through Herman Miller or Knoll.
 
Jack: I have worked a little in industry. I would agree – the pure intentions of positively engaging the "lived experience" is undeniably diluted by the demands of market and the economics of production. And yes, to some degree, operating outside of industry allows you to preserve a more human agenda. It still has its limitations. I wouldn't say one is better – they are just different. Our lifestyles are completely dependent on the innovations of industry. Sure there is an over-saturation of product – mostly misplaced propositions for happiness. It is capitalistic and flawed.  But to an extent it is also largely self-policing and fundamentally optimistic. Good design has a way of surviving. The bigger issue is the colossal waste generated.
 
Would you find yourself in line with the designer, the craftsman and the fine artist equally, does it balance differently, or does this matter at all?
 
B: My background was in Architecture, so mostly (I made) rectilinear forms and hardly any organic stuff. I had to break out of that shell. The furniture I'm doing is more rectilinear, but other stuff I'm working on is a merging of both. But its also about trying to do everything in my shop by myself.
 
C: It's the blending of those disciplines and more that is defining the contemporary zeitgeist. Our world is too complex to work with it through only one discipline now. If art contextualizes ideas and design simplifies them it makes sense to find the common ground between our disciplines. If my limits are that it has to be reproducible and has to meet a standard of perfection, than how far can it go the other way if I don't have those same constraints? We're on the fringe of a traditional design practice. If it was designed for mass production it would have to meet certain criteria, but if we accept the idea that it doesn't have to be reproducible and doesn't have to mimic a commercial form, or process, then what are the limits of that?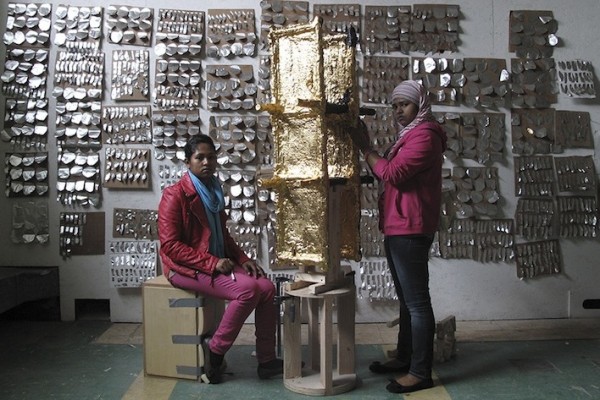 Studio assistants Neppa and Nirma applying gold tinted foil to Chris's furniture. Detroit, MI
B: There's still a lot of decent furniture makers that make their solid wood stuff by hand, but thats all high price point, so I guess its a matter of finding out where you want to be.
 
J: There is opportunity to operate outside of industry while not existing wholly independent of it. Industry is fine tuned for maximum efficiencies – the quickest and most economical means of production on a massive level. This is a kind of extreme. We're operating somewhere on the other end – possibly the least efficient means of production. But it is not traditional handmade – its craft imposed on hyper-engineered materials and processes.
 
C: There are new materials that don't have form yet, outside of their industrial form. In Jack's case, he takes industrial materials and makes them beautiful and mysterious. I mean they're waste pipes that carry our shit! And he turns them into show stopping work.
 
B: Its application too, like rethinking the functionality of a piece. So having the craft, the design… being able to bounce in all kinds of realms. A lot of it is: "If this is what I want the end product to be, how do I get there?"
 
Our relationship to materials is always changing, so thinking of certain types of wood or stone can seem like materials with a limited availability, while plastics, and other petroleum products appear to be limitless, even though they there are unsustainable and rely on our oil supply. Yet, the highly processed nature of them, requiring a lot of human intervention, makes them seem like they have no end, like there is an internet effect on them.
 
"CORK1 Series" by Brian DuBois. Coffee Table, side table, end table and LED light (not shown). Photo credit: PD Rearick
C: With new opportunities in material there is less precedent to draw from. It's exciting; I tightrope walk of sorts, long way to fall down but worth the risk. But like the Internet we pull from, sample and re-mix historical references in new contexts. My work is full of disparate historical art, design and film references, but I try and avoid any one dominant reference, leaving more room for interpretation.
 
B: Its important to take the materials and find out what their breaking points are. If you look at Jack's work, he heated up a (PVC) tube and started bending it and breaking it. In his "Broken Board" Series, he started breaking (the boards) with his bare hands [laughs]. So its also about what can we get from these forms without overly analyzing the fabrication process.
 
C: Maybe the pink foam is something easy that anyone can shape, so it takes less craft and skill at first. We've become babes in the woods when it comes to traditional materials and processes. We approach pink foam with the same naivety as we would primitive materials like stone or wood. I don't think this is necessarily good or bad, it just means our ways of understanding our world are shifting.
 
Is furniture design losing its relationship to the concerns of the middle and working classes? With all of the mass produced furniture available at giant retailers like IKEA, does the designer have to choose the market he or she wants to be a part of, or is there still room for all price brackets?
 
B: When you look at Mid Century Modern furniture, it really holds its value. Many people would hesitate to spend $2500 on a handcrafted coffee table, even though it could last your whole lifetime and be passed down to your children. At IKEA, the designs are OK, but their connections and workmanship are really poor. Its unsustainable and just gets thrown out in a year, goes to landfills and the cycle continues. If people are willing to spend $30 – 40K on a car which depreciates half its value as soon as they take it off the lot, why not spend a fraction of that on some really nice furniture that will last?
 
C: You must choose your market, and you can operate on a scale of price points. My work exists for two markets, the Art market and the Community market. One trades in the dollar the other in social currency.
As far as IKEA: My grandparents have had the same bedroom furniture suite for over 40 years.
I asked Grandma Schanck about it recently, she told me they bought it when they wed. She's like "I hate it. Your grandfather picked it out." So I say, "If you hate it, why did you have it for 40 years?" To me she says, "Because there's nothing wrong with it." What do you say to that?! Stubborn, love her to death.
So how important is taste in terms of function? Conceptually, I think IKEA is cool; it could do with more range in attitude but I like that you can change furnishings quickly and inexpensively as you change your identity. I don't operate in that market, but I love lingonberries, so it's all good. I would never deliberately try and make anything timeless. I expect my work could be outdated before we get through this interview.
 
J: I don't have anything against IKEA. In some ways, they offer an education. I don't think we tend to get the same design exposure in this country as you would elsewhere in the world. I grew up thinking that turned table legs would be something I wanted in my own home, until a couple of years ago when I started studying (design). I don't think anyone is at fault for the lack of exposure or education. These mass outlets where different types of furniture are being offered at a cheap level only does good, because its a gateway.
 
So its a starting point. Â As Brian said, most people would balk at the price of a handmade piece of furniture because we live in a disposable culture. But its a push and pull, right? Because some of it is a negative.
 
C: Sure, there is a relationship, but we all don't still dress in the dress of the 50's right? Everything changes and it's a good thing. I think we hold onto that modern look and ideal because of a time it symbolized, but really that time was shit if you weren't a white male. I'm bias but I prefer the time we live in now, so what does now look like? I mean It's all about variety isn't it? You can rock a Forever 21 top with Prada shoes, just as you can mix your interior with hi and low. The world's big enough for historical and contemporary worlds to co-exist, in fact it helps us locate ourselves in time.
 
J: None of us can afford our own furniture, so this conversation is a little funny. [laughs] We are on an extreme pole where we make things for a gallery, so its in the vein of an artist, and our endgame isn't to bring cheap, affordable furniture to the masses.
 
"PVC Series: Pressed" by Jack Craig. PVC water mains heated and pressured on stone.
Chris, you mentioned you had a project for a class you teach at Lawrence Tech (University), where you were trying to get your class to address "the failings of Modernism". Can the three of you elaborate on that idea?
 
C: Modernism doesn't address the tastes of individuals. We designers and artists alike are often guilty of making work with a perfect resting or display place in mind for our work. Whether an untarnished white cube, a compliant scenario or an empty level lot. But the world and our aging built environment is a messy and wonderfully imperfect place.
So as a class we locate our work in a very real context. I take my Furniture Design students into the home of a participating family in Banglatown, Detroit. The family welcomes the students and provides them with a specific cultural context for their designs. In addition to pragmatic needs, the students' work takes shape through a lens of feminine modernity. Where taste and decoration play as important a role as dimensional relationships. The student's work lives on in the interior of the family's home.
 
B: As designers, it's important to have that client contact, as they may have a whole new perspective. Sometimes you have to ask people what they want from a coffee table or a kitchen table. There has to be something else involved besides making it look cool. There has to be a functionality specific to the person… sometimes the function has more importance than the form, and sometimes meeting in the middle is really hard.
 
C: What I've learned from working with other people that Modernism doesn't address is that taste matters, no matter how much money you have. I went sofa shopping with the same clients for them to purchase a set of sofas at a second hand furniture shop and it came down to two sets. One was more comfortable but had the wrong aesthetic, and the other was less comfortable but looked the way they wanted. The decision was still made favoring aesthetics opposed to comfort. Theres a trade off made on one side of the spectrum. So when we design work for the couture market, there's a tradeoff there too, maybe with performance again over look. What's missing in IKEA furniture is the personality: the chips on the surfaces and being customizable, reflecting you and not just every other person that has the same thing. And thats what our work starts to do. The range of human experience and emotion is far too great for only one type of aspirational design. We want Mozart and Miley, at least I do.
 
What sort of trends are you seeing right now in design and working in Detroit that you hope continue this year?
 
C: I think the trends are really exciting right now. We live in a city where the roles of artist, citizen, designer and architect are all blurred into a maker culture. That culture is innovating with social entrepreneurship and practice. The community of makers here is my biggest inspiration, they're my creative heroes. There's nowhere else I'd rather be practicing.
 
"Gold Studio Desk" by Chris Schanck
B: Being here my whole life, you see it in waves. I'm just afraid that this movement doesn't die down in two years and then its back to totally talking shit about Detroit. The city was always set up for fabrication because of the auto industry, so I think its one of the only cities that has everything you need to make, from materials to labor. To be able to come to my shop and know I only have to drive up to a half hour to get anything I want is a good thing. Rent is cheap here, which is causing a lot of people from other cities to move here. You can get a lot of space for pennies on the dollar compared to NY or Chicago.
 
J: We are in the middle of a Memphis revival. It's all faux finishes, large geometric shapes, high saturated disparate colors, and squiggle lines. What does it mean now that we're seeing it again 30 years later? I'm not sure. The movement originally was characterized by a sort of exuberance, satire, and anti-good taste. I think these things are still present but now that it's being recycled it means something a little different. It is like because it's pulled from the '80s, it is somehow even more anti-taste. Maybe it's the design equivalent of the horror genre. It's pain crossed with pleasure.
 
What do you have in store for the coming year?
 
B: I'm downscaling things this year and focusing on smaller projects. I've got some lights I'm working on, some tableware, glasses, jewelry, coaster set — just little stuff this year. Its easier to ship that stuff out. I'm still working on my furniture, but I gotta keep scratchin at doors to get my products out there. Maybe this will lead to some larger manufacturing. I always have to be busy, otherwise I go crazy.
 
C: Jack and I are doing a show this May at Johnson Trading Gallery in NYC.
http://www.johnsontradinggallery.com/
Then I'm preparing for a show at Almine Rech this September in Paris.
Brian DuBois and Chris Schanck earned an MFA in 3D from Cranbrook Academy of Art in Bloomfield Hills, MI in 2011. Jack Craig earned an MFA in 3D from Cranbrook in 2012. Thanks to the three of them for taking the time to meet with me and discuss their work and ideas. Thanks also to Brian for hosting us in his shop. For more of their work, check out the following sites:
http://www.christopherschanck.com/
http://www.duboiscollection.com/Â