Over the coming months, the Bad at Sports blog is featuring quick glimpses of the art world as it exists in smaller cities across the country and around the world. Each glimpse is byway of some of the said city's local characters, which include but are not limited to artists, curators, creative writers, and critics. In part I of this Oklahoma Day, artist Romy Owens gives you a sense of the artist and arts culture in Oklahoma City and its namesake state at-large. 
Guest post by Romy Owens
My great grandmother grew up in a sod house in the side of a hill. Why? Why is this relevant? Oklahoma is young. We're 108 years old. We are not so removed from the reality that community equaled survival. We're still a highly community-minded state. That is not to imply that you live in a non-community-minded state, or that we're super special. (We are.) Unless you're meeting Sally Kern, when you meet someone from Oklahoma, you'll probably like him/her… because lots of us are friendly, and smart, and funny, and attractive.
So, with that said, we are also a state steeped in terrible statistics and stereotypes. We love football, basketball, rodeo, beef, pork, incarcerated women, pregnant teenagers, and energy. We cling to religion. We have extreme weather events. We have a majority conservative political representation. (FTR: I am part of the minority.)
However, thankfully, Oklahoma City is not a cultural dustbowl. (Oooh, Cultural Dustbowl is totally the name of my next body of work.) We love art too.
In Oklahoma City, we have institutional arts organizations that receive significant support from foundations, corporations, and individuals. More often than not it seems like the focus is on dead people's art, but recently all of the major art institutions have started to embrace contemporary art and artists. (Hooray!) I'm sure the ballet, philharmonic, museums, and theaters would say they need more money to do bigger and better and serve more people, and sure, they could use more money, and probably deserve more money, but in the big picture of arts institutions serving the public, they are all doing great. Thanks for asking.
We also have many small arts organizations (dance and theater companies, non-profit art spaces, arts districts) that receive financial support from foundations, corporations, and individuals. All of these agencies are providing contemporary art programming, often using Oklahoma playwrights, choreographers, performers, and artists. These organizations need money. They might need better organization as well, but to do that they need financial support.
And then we have the individual artists, and there are a lot of us, working diligently, and with a few exceptions, most of the time for less than minimum wage. (I know this isn't just an Oklahoma problem.)
I am a visual artist in Oklahoma City, and if Malcolm Gladwell's assessment of what makes an expert an expert, I am an expert regarding the contemporary art scene of Oklahoma City.
In Oklahoma City, I am part of a small, tight-knit community of contemporary artists. Among us, maybe two dozen work as full time artists. There are easily another 200 who self-identify as artists and consistently create, but work 40 hours a week at another job (many art related). Add to that another 1000 people who make art for an occasional group exhibition, but not necessarily professionally, and that makes up the visual art community in Oklahoma City (and probably in other small cities like Omaha, Louisville, Columbus, Birmingham…).
Like every other state, Oklahoma has decorative interior designer artists, conceptual artists, performance artists, safe festival artists, established name-brand crank-it-out artists, street artists, craft artists, eager experimental emerging artists, and weary-but-still-eager experimental established artists. We represent all media and movements. If you broke it down proportionately, I'm sure we are identical to the artistic fabric of the art meccas, just on a smaller scale. And like all artists everywhere, we have a lot of dialogue about art: my art, your art, that art, current art, past art, artistic practices, ideas, residencies, grants, fellowships, studios, patrons, opportunities, money, money, money.
For visual artists in Oklahoma City to make ends meet with part time contract gigs, there are numerous afterschool and seasonal school break art teaching opportunities, some art preparatory opportunities, and a few art administrator opportunities.
We only have one paid yearlong residency program at a historic downtown hotel. And we have one unpaid one month-long residency program for printmakers at a downtown art gallery.
There is an art walk happening in a different art district three weeks out of each month. We have two art festivals that occur each spring. Nearly every weekend, there is something new to see or attend. Scoff if you want, that wasn't always the case here.
We have a public art program at the city level. We have a quarterly crowd-sourced grant for artists of all disciplines modeled after the Brooklyn FEAST. And we are about to see the renovation of a historic building west of downtown for a new 21st century Museum Hotel. This has all really developed in the past ten years. I am certain that we wouldn't be where we are now if it weren't for OVAC.
Oh yeah, we have OVAC. The Oklahoma Visual Arts Coalition is the only arts organization that benefits individual visual artists exclusively. Before OVAC, there was no institution in Oklahoma providing financial support to individual Oklahoma artists, except art buying patrons. As many artists know, when the successful continuation of an artist's career is solely determined through patronage, the contemporary art changes and the voice becomes… decorative. OVAC empowers us to take risks, stray from the safety of the known, and to change the conversation as we deem necessary.
So in a state where prior to 1988, the only way to make a living as an artist was to 1) make art that people will purchase, 2) be independently wealthy, or 3) leave the state, having an organization provide grants to make art, or provide exhibition opportunities with honorariums is a game changer. (OVAC does so much more than that, but money talks.)
The contemporary art scene has been significantly improved by OVAC's work. It's one of the few art organizations in the city that has a zero censorship clause. The ideas are richer, the discourse is stronger, and the networks are wider. Its mission is to support visual arts and artists and their power to enrich communities. Done. And more please.
So back to the charm of Oklahomans, as a tightly knit art community—we are highly supportive of one another. Of course, as individual artists, we are competing over limited opportunities within our small cities and throughout the state, and competitive opportunities out of state, but we all know, when one succeeds, we all succeed.
I feel fortunate to be aware of what many of my contemporaries are doing. I also feel fortunate that for our size we have so many creative and talented artists contributing to the conversation of what is art. I couldn't begin to list everyone whose work I admire, but here are a few:
Deep down in my heart, I know there are many Oklahomans who understand the significance of what my contemporaries and I contribute to the cultural landscape of the state, and who understand the value of visual arts past the formal museum setting or the decorator showcase home. But in accessing the contemporary art scene of Oklahoma City and knowing what is happening even just five hours north in Kansas City, we still have a long way to go.
We still don't have enough galleries that exhibit and sell art. (I know this is a problem even for artists of the largest cities.) We cling to the art auction-as-fundraiser model like it's going to leave us for another city. Affordable studios aren't easy to secure. And more paid residency programs or professional opportunities could transform careers, but establishing and funding them seems challenging at best.
In a recent article in the city's mainstream newspaper, I was featured in a story about the Affordable Care Act, and the backlash regarding my receiving subsidized insurance (for the first time in eleven years) was hateful, mostly centered on the fact that I "should get a real job." Unfortunately, such phrases are proffered to artists regularly in Oklahoma and elsewhere. So, while we truly are a nurturing supportive community trying very earnestly to keep a diverse cultural experience viable, it's still a struggle for the individual artist in Oklahoma City.
Oklahoma does have a lower cost of living though. Like super low. Like maybe you should move here and join our art community. Consider that an invitation.
With all this said, personally, I myself am a thriving Oklahoma artist at a pivotal point in my own career, and I know that I need to find opportunities outside of Oklahoma. Ultimately, the outward extending success of my studio practice and well as those of my peers will make for a better cultural landscape in Oklahoma. So, hit me up if you have any leads. And of course, hit my fellow Oklahoma artists up, too. They're all making great work in Oklahoma.
—
Romy Owens is an interdisciplinary contemporary artist living and working in Oklahoma City, Oklahoma. www.romyowens.com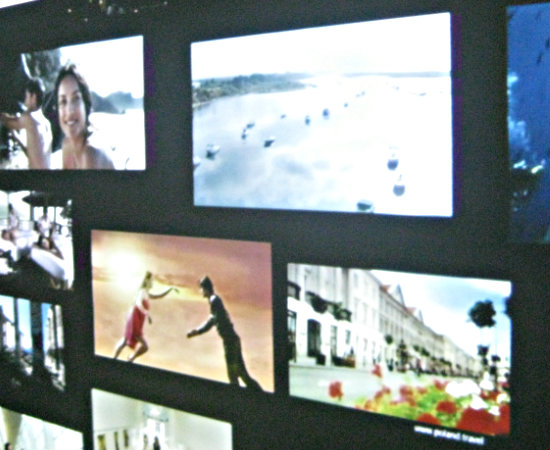 A biennale in a holiday destination can seem like icing on the cake, but a work at the 5th Biennale in Marrakech explores the baking recipe itself. Burak Arikan is a Turkish artist whose home country, like Morocco, numbers its visitors in the tens of millions. One question, which his Monovacation (2013) poses, is this: what do we expect from our annual getaways?
The answer varies, but not by much. Rowboats, mountains, bikinis and beaches are all high on our agendas, at least that's what the national offices of tourism believe to be the case. Arikan collates television commercials from around the world and uses bespoke software to analyse the patterns which emerge.
The result is a grid projection running every film the artist could get his hands on, (found footage and clips from YouTube) a nodular map of advertising motifs, and a six minute montage in which the ideas morph into one another. "You have concept morph," explains Arikan, "not image morph", pointing out the shifting occupants and surroundings of a lake.
"So the movie starts with a rowboat. You will see people doing rowboats from Italy through to China basically. All of which are very quick 1,2,3 seconds, and then it goes slowly into nature and then into the mountains and it works like that."
Biennale venue Bank Al Maghrib is full of surprises, but this presents you with some familiar scenarios: travel clichés, held at arm's length. The result is alienation, an effect of the computer code written by the artist in order to configure a detailed map of the most frequently advertised holiday activities.
"This is all for a vacation which you can have anywhere in the world," says the artist, most of whose projects benefit from his programming knowhow. In the past he has analysed data patterns in the art market, the higher education sector and the urban landscape of Istanbul.
The uber-commercial now concept-morphs into a passage featuring horses. "If you look at this you find a horse that crops up all the time: in Egypt, Turkey, Portugal and Spain; they've all got horses." It was this motif which inspired the current piece.
"A horse, what does that mean, you know?" he asks, finding a range of meanings in a host of countries, including the most interesting reading of the situation in his homeland: "In Turkey they show it, like, jumping on a bridge. I guess, Europe to Asia."
And while the overall effect of this installation may be one of monotony, there are differing nuances. "European countries usually advertise themselves as, 'You can rest here'. So say I'm a European from the UK, it has to be somewhere close: South Europe, Spain; I rest and then I go back to work." But a far-flung destination like Taiwan will advertise its potential for magical experiences.
Marrakech is magical too, the North African city lending plenty of relevance to Arikan's work. "Morocco has a big tourism issue," says the artist. "It's an economical engine but at the same time it's an issue for locals. Obviously you can see that everywhere." It's a fragile ecosystem. The vibrant square beyond the venue, Jamaa El Fna, is a UNESCO designated Masterpiece of the Oral and Intangible Heritage of Humanity.
Arikan laughs when I ask him if his research has put him off holidays for life. "I don't really do travel for tourism any more," he says. "Although I will travel a lot, I go for work mainly. I live in New York right now, but I'm based in Istanbul and New York." Hence the global outlook.
In a world where you can be a tourist just about anywhere, this data-crunching holiday of holidays could put you off as well. The perfect beach, bikini body, or sunlit lake are just so many simulacra, and thanks to our ubiquitous cameras, we are all filming and shooting our own commercials and ads wherever we go. It gets to be hard work.
Monovacation can be seen in Bank Al Maghrib at Marrakech Biennale 5 until March 31 2014.
But we ain't napping! Instead, we're working our smooth moves to get NYC into bed with us. Founding members Amanda Browder, Richard Holland and Duncan MacKenzie are leading by example as they keep the bed warm at the Volta NY fair, where they're making/recording dreamy segments for our loyal listeners. If you're in the big apple and you haven't been in bed with us yet, get over here to Volta NY for some action immediately!
For all the readers out there, look for coverage of the festivities rolling out on the blog in the days and weeks to come. We'll be giving mad props and nepotistic congratulations to the big Chicago presence at the fairs and the Whitney Biennial via slideshows, interviews and one-offs, while taking care to also bring in the thoughtful considerations and insightful reviews and breakdowns penned by our internationally-minded local and global correspondents.
By Kevin Blake
Molly Zuckerman-Hartung is armed and dangerous. Leary and suspicious. Soft and cuddly. She is as multiplicitous as her paintings–equally dynamic and smart. In her second solo exhibition currently on display at Corbett vs. Dempsey, Zuckerman-Hartung opens the door to her studio–to her life and work. She expands the space in the paintings while maintaining her aesthetic tendencies that are uniquely her own. Here is a glimpse at her perpetually expanding range and depth and a good indication of why she is one of seventeen artists from Chicago showing in the 2014 Whitney Biennial.
Kevin Blake:  In preparing to have a conversation with you, I reread your 95 Theses on Painting. I have read it many times, and like looking at a painting, something different stands out to me each time I read them. I read them until I arrive at the one thesis that holds me–that suffices my appetite. It is a beautiful sort of happenstance, that in reading these words about painting, I'm consuming them in the same way as I might consume a painting, very selfishly, very immediately, very directly, and only until I am satisfied. Almost never, do I read them through–a testament to their individual and collective wisdom.
Today, I stopped at thesis number 79. It reads, "The painter today is a fool." At this point, it occurred to me, that this thesis was both the end of one idea and the start of the next. The thought began at thesis 73, and evolved into the next thought. And the next. And the next. Thoughts folded atop one another. Leaving traces of its predecessor in each iteration. It is obvious that there is a harmony between the way you think about paintings, the way you write, and the way you make paintings. Can you talk about the necessity of your commitments, and how that may or may not influence what seems to manifest as a very feverish approach to making and thinking?
Molly Zuckerman-Hartung: I do think they are "folded" processes, in the writing and the painting. This process of folding is disorienting – the top is folded under, the underside becomes the top. Yet it maintains a continuous surface, an integrity or a wholeness–even as surfaces collapse, exchange, and reverse. I think a similar movement was happening in the 95 theses at number 79, the painter today is a fool. It is a pivot-point in the text, where a thought has been charging toward something, reaches the edge, teeters, pivots, and charges in a different direction, still holding the ball. The line traveled would be a sharp angle, much like the edge of a folded paper, or a zig-zag, or lightning bolt, which was Hans Hartung's signature. He believed the lightning bolt was especially for him. A flash of lightning is often used to symbolize dramatic, "flashes" or revelations. I think these are becoming commonplace in our culture, having to do with the internet, and speed of connections. As for "feverish" I used to look for a certain mood in writing, and I called it torpor. Chris Kraus called a novel Torpor recently. The ultimate torpor novel is The Immoralist by Gide. Kate Chopin's, The Awakening is also written in a strange, heat-soaked languor. It is sexy and dangerous. Paul Bowles wrote this mood too. It has something to do with sex. Necessity is more about belief. So maybe I am working out a sex-belief dialectic.
KB: In your most recent show, "Violent Fogs Azure Snot," at Corbett vs. Dempsey in Chicago, there seems to be a material economy in the paintings, at least in comparison to some of your earlier work. Can you talk about the reductive quality of this grouping, and how the work may or may not be a response to the contemporary deluge of imagery that you seem to reference in the catalog for the show?
MZH:In Violet Fogs Azure Snot I am thinking about the poem by Arthur Rimbaud, Le Bateau Ivre, or The Drunken Boat. The poem is a 100 line journey by a boat that has lost its haulers. The title of the show is pulled from this poem, and since it is already in translation, I allowed the words to unravel further, as homonyms multiply and collapse the original title. In the poem, the boat is the subject, but without a crew, the subject is absent. This is not reductive, but there are many absences in the show, many spaces charged with what is not there, in the catalog, the work and the installation. I was not thinking of the photographs in the catalog as a contemporary deluge of imagery. They are almost all photographs I took, with an iPhone, plus a few details of art historical work, and photos of me. I am thinking of them as a narrative collage of modes of vision operating in the paintings. How I look, what I choose to look at, from what angle.
KB: The first painting I spent time with at your current show, titled au in 2013, is the last color plate in the accompanying catalog. If my memory serves me well, this painting sits alone on a partition wall at the east end of the gallery space. For me, this painting set the stage for the show. Turning my back to it, I could see both walls on either side of me, lined with canvases. Standing in that spot, I could sense an intentional juxtaposition of painting varieties. Some contemporary painters undermine the idea of consistent authorship by showing a mixed bag of painting types within the same installation as you have in this show. However, the question of authorial consistency doesn't seem to be at play here. The variety seems to stem from a set of intuitive responses to the material demands within the work process, and the hand is ever present throughout the show. Are you consistently arriving at dilemmas in painting–dilemmas that create opportunities for intuitive response? How important are impulse and intuition to your outcomes?
MZH: I think the word "dilemmas" is more useful than impulse or intuition. As you said, there are a number of different paintings that serve as touchstones for these paintings, the large blue painting "Calif." is reminiscent of Matisse' blue paintings, in color, but also in his way of making space, and distributing objects through the picture plane. The phases of Matisse' work are also very important to me – he was able, over time, to balance color, line, space, but in particular moments he seems very out of balance, as he brings in too much pattern, color and complexity into his paintings. The blue paintings, like the red studio, propose a color field as a space, a blue space. The objects in that space then have to be compared in terms of scale, to determine distance from the viewer.
By "dilemma" I think you mean a kind of crisis, and I think the crisis for me is the flatness of the surface of the painting. With these paintings, I am finding ways to make the painting sculptural, to introduce space, but I don't want to do that with illusionistic depth. Instead, I am thinking about the spaces between the paintings, the way they respond to one another across the room, and the differing historical references as producing space. So Matisse with the blue one, Malevich with the smaller black painting, Barnett Newman in the painting with three broad vertical bands. The paintings made up of tick marks are actually made as continuous lines, while folded. Then, when unfolded, the effect is that of small marks. This would be another moment of crisis in the show. I think of that kind of painting – methodical mark-making, as a form of transparency in painting – each mark is made in time, and the viewer is able to follow the mark making of the maker in turn. As with, for example, Hanne Darboven, Michelle Grabner or Agnes Martin. In my paintings, the mark is not transparent. The folds, unfolded, produce a kind of schism in the communication, the "reading" of the painting. How I made the marks is not the same as how you read the marks. There is a breakdown in that kind of direct, frontal address. This produces, I think, a kind of space. Also, in Calif. the cloth was folded, then I drew the lines with bleach, then unfolded, then sewn, then stretched, and then paint was poured on the back of the painting. The seam blocks the paint from its natural desire to pool, to spread into soft puddles. Round puddles. Instead, the paint is held in columns. This series of steps, all quite deliberate, might produce an experience of accident or intuition for the viewer, but for me, these paintings are quite systematic. At least more so than in the past.
I will add that yes, I am also a very impulsive painter, I do what I want in the studio, and often this leads to messes, things I don't know how to handle, paintings that are too full, chaotic, unresolved, inept, ugly, awkward. I am comfortable with this, and increasingly I think of it as a strength. I have many unresolved or odd objects and paintings in my studio, which allows me to revisit again and again, finding new ideas, new ways of dealing with paint and surface, texture, color, space, line. I choose to learn from everything I do, accept it all as process. But I will say that this body of work is a very distinct and important show for me in terms of my ability to cull, control and limit that tumult. I am increasingly able to think in terms of bodies of work, phases, moments. I am developing a kind of poetics in my work – the poetics of this show is folding, a word I like. I like the softness of the word, of the feeling. I think of folding clothes or sheets, the drape, the crease, the seam – a language of sewing. The weight and drape of textiles is so important. I don't consider the textiles I use to be "found," because they are so specific to me. This might be what you mean by intuition. A lifetime of touching cloth, which we all do, we all wear clothing, makes for a deep material sense about textiles. This is a kind of intuition built from long experience. I hope that the viewer's experience of the paintings is informed by their memory of what it feels like to touch cloth.
KB: There is a tension in this space and I keep thinking of a Mexican standoff–the first to shoot is at a tactical disadvantage, so nobody shoots, but everybody has their hands on their guns, at the ready.There is a tension between these paintings. The paintings have a gendered quality like the men and women are separated in the space. The men are against the brick wall, the ladies opposite, and the painting, au, the antithesis, stands alone on the third wall–the tip of the triangle.
MZH: That is really rewarding to me to hear that a tension was produced in the space. Mutual hostilities being produced among such gentle materials. It's odd. I cried a lot over the past year while making this work. It is really really sad work for me. And the studio wasn't big enough to hold them, so they sat on either side of the studio, like big thick padded walls, holding me. I felt really held by these paintings. They just absorbed all the grief. And then installing them they started to change, to pull apart, into each wall, which is now such a dominant design – the verticals on one wall, the horizontals on the other, with "au," the blown out diagonal grid on the third wall, operating, perhaps, as the first gun firing in the standoff…
KB: Humans are made of gentle material–such gentle material that we cannot last forever. We age. We erode. We die. Unfortunately, it isn't that easy either, and the timetable, or limits of our individual materials, are very different. The sad part is that so much of our inevitable lives are spent in conflict, in one form or another. Conflict seems to be the elephant in the room. The paintings are the only ones who really know what they are about, and they remain stoic and silent. That tension builds from the vantage point of the third wall and radiates across the room. Are the walls intended to have a gendered specificity? Is the Mexican standoff an accurate metaphor for this silent conflict–this elephant in the room?
MZH: Regarding gender, I have been thinking about affective labor a lot. Affective labor is a recent term for service industry, or service economy, which is the turn our global economy has been taking for quite some time. Affective labor is the kind of labor more and more of us are being asked to do, and there is a slippery slope between that term, and the feminization of labor. I would like to be clear that I think gender is different from sex, and also different from a more Jungian notion of archetypes, as I think you are using them – the "masculine" and the "feminine." I am interested in all forms of discussion around gender, sex, and archetypes, but it's important to keep them separate.
I chose to frame the show Violet Fogs Azure Snot with the work of nine female painters – John [Corbett]Â and Jim [Dempsey] were kind enough to allow me to do this. The show is called "Sensitive Instruments" and I was trying to frame a conversation about the strain placed on women to be both highly sensitive – as caregivers, nurturers, and then the ways that care is instrumentalized. But also synesthesia – the musical instruments, and the long history of music and painting sharing a language of movement, color, and line. If possible, I am thinking about a charge, a tension, of gender politics, of economic demands, of painting that takes a hardline position, a stand. And simultaneously is fluid, is able to recover from damage, to absorb shock, to recover. As in Adrienne Rich's poem, Power, about Marie Curie. The poem ends with these lines,
It seems she denied to the end
the source of the cataracts on her eyes
the cracked and suppurating skin of her finger-ends
till she could no longer hold a test-tube or a pencil
She died a famous woman denying
her wounds
denying
her wounds came from the same source as her power
It serves as a warning to pay attention to our wounds. None of this is simple or easy, and in saying anything I fear reducing the paintings to rhetoric which they definitely are not. But the standoff you describe the conflict is deep in the work, and hopefully only at first glance are the men on one side and the women on the other. Hopefully all the paintings are very transgendered.
KB: As the Whitney Biennial opens this month, will you look to rest? What is next in the studio and beyond?
MZH: I just spent the past 18 hours lying in bed in silence. I definitely need some rest. But we all do. Its been a rough winter. Everyone, on the bus, in the classroom, is overextended, parched, raw. We need some gentleness. As for my studio, I just moved down the hall in my building, to a bigger space, and I am still adjusting to the change. I realize I was deeply adapted to the old space, so this space causes lots of new questions, as does the increase in attention and success. I am very slow to adapt to a change in audience, and the ways it changes my understanding of my own work, so I am just trying to stay low, and stay in touch with myself, by writing and drawing and reading, and avoiding studio visits. I have no shows planned, but I will be teaching in Knoxville, Tennessee for Fall semester.
Guest Post by Daniel Tucker
On February 12th, two new printmaking exhibitions opened at Art In These Times, an occasional exhibition venue in Chicago's Logan Square neighborhood that is situated in the offices of the 35-year-old progressive news magazine In These Times.  The exhibits, Stainlessness and Chicagoaxaca, combined together both create a shared context addressing the transformative power of human labor in mobilizing for social justice. Stainlessness includes four original etched metal printing plates and a set of prints that tell the story of labor movements in North America as these have shaped Sudbury, Chicago, Pittsburgh, and Detroit. Stainlessness was designed by Etienne Turpin with Captains of Industry, printed at the Cranbrook Academy of Art and Design with artists Sara Dean and Marnie Briggs and installed with Ryan Griffis.
Chicagoaxaca: Gender, Indigeneity & Social Justice includes woodblock prints created by the Assembly of Revolutionary Artists of Oaxaca (ASARO), a political street art group born during a grassroots social movement that shook Oaxaca, Mexico in 2006. Chicagoaxaca was curated by Iván Arenas, designed and installed with Jeremy Kreusch, and is brought to Art In These Times by the Social Justice Initiative at the University of Illinois at Chicago. This conversation with Iván Arenas focuses on the ongoing project of Chicagoaxaca. Arenas is a practicing artist and received his B.A. in Architecture and Anthropology at Columbia University and his Ph.D. in Anthropology from UC-Berkeley. He is currently working on articles and a book manuscript assessing how the art of protest from Oaxaca's popular uprising of 2006 reconfigured conceptions of public space, rights to the city, and redefined political participation by questioning the role of democratic government in Mexico's future.
Daniel Tucker (DT): Ivan, you have been and are continuing to tour this project throughout multiple sites within the city of Chicago – starting with the PUJA space that is a part of the University of Illinois at Chicago's Social Justice Initiative, for which you serve as a Visiting Scholar. The next spot is supposed to be the Centro Autonomo in Albany Park. It seems like a great idea, because as anyone working in cities is aware, spaces associated with certain neighborhoods or communities typically have a kind of pre-determined audience that may not overlap or draw people from throughout the city. Where did the idea for touring the exhibit locally come from and what are you learning from it about how audiences can be addressed or constructed throughout such a process?
Iván Arenas (IA): The idea to have the Chicagoaxaca exhibit occupy different sites came as a response to the fact that Chicago is a highly segregated city. An important part of Oaxaca's social movement was the way in which it united a broad cross-section of society, from committed socialists to democratic liberals to steadfast anarchists. The need to negotiate the different political, economic, and social positions of movement participants through participatory assemblies was a powerful way in which the social movement transformed Oaxacan society in 2006. This is reflected in the political street art group whose work is on display in the exhibit. While attending an art space in a particular neighborhood is different from participating in an assembly, the hope is that holding the exhibit in different locations and breaking it up into different themes will encourage people to go to neighborhoods and spaces that they might otherwise not find themselves in.
Perhaps the most important lesson gleaned from this process has been the way in which staging the exhibit in spaces that are not strictly or only art spaces offers encounters with an audience that does not realize it is about to come across the art. Much as a stencil found around a street corner, this has the possibility of interrupting our normative itinerary—producing what Walter Benjamin described as a kind of shock or what the Situationist International framed as a détournement, a spatial, temporal, political, and playful detour from a common, established course. Thus, while some might specifically seek out the exhibit, the audience that the exhibit engages is one that is more than likely one that has come to the exhibit by happenstance—even as the limits of this audience is most definitely framed by the parameters of the particular groups that typically work or participate in activities at the Social Justice Initiative's Pop Up Just Art space, the offices of In These Times magazine, and Centro Autónomo.
DT: This question is relevant for both bodies of work on display at Art In These Times. Both take on the power of humans to transform the world around them, but with slightly different emphasis. While there is some recognizable leftist imagery in Stainlessness, it is also about the impact of industrial capitalism. On the other hand, Ivan documented the visual culture and art of a social movement that had massive repercussions in social reorganization in Oaxaca just a few years ago. Chicagoaxaca rests much more firmly in a leftist social movement documentarian mode. What do you think about the relationship between these two approaches to dealing with humans transforming the physical and the social world around them?
IA: Though perhaps more explicit in the artworks of Stainlessness, both exhibits share an interest in the transformative encounter between materiality and social processes. At a simple level, they share this in the fact that both exhibits showcase forms of printmaking, an aesthetic process that transforms particular materials (metal and wood in this case) into images. In each case the limits and possibilities of the media's very materiality become part of the condition of possibility for artists to create their images. Having practiced as an architect, I was also very interested in Oaxaca in the way that the city's physicality mattered in the social protests: for example in the way that the city center's narrow streets and the region's hills magnified the effect of the thousands of people that marched through them or the way in which the porous green stones that the city is known for absorbed a stencil's spray-paint, rendering it nearly impossible to remove. The precarious and impoverished conditions of the majority of the city, where buildings are completed haphazardly as economic conditions allow, were also critical in framing the possibility of gathering the sandbags, cement, stones, logs, and other materials that went up to make the 1,500 or so neighborhood barricades that went up in the city nightly to guard against paramilitary forces in moving vehicles.
And, clearly, the material conditions resulting from the rise and fall of industrial capitalism have been critical forces in shaping the sites and cities that both exhibits look at (Sudbury, Chicago, Pittsburgh, Detroit, and Oaxaca). The backdrop of this material and economic history is inescapable in understanding the forces that have made Oaxaca one of the most impoverished states in all of Mexico. The struggle in Oaxaca to depose the authoritarian governor is framed by the history of these material conditions. Documenting and participating in the production of the social movement's visual culture offers insights into ways in which people coming together can and do find ways to interrupt—if not entirely escape—the material conditions that constrain them.
DT: You have a lot of experience dealing with disseminating and distributing yours and others production. There are plans for this project to turn into a book, where are those plans right now and what are your hopes for circulating the final publication?
IA: Through their images, the street artists were seeking to continue to motivate the people who were taking part in the social movement as well as looking to include more people in the dialogue about the problems facing everyone in Oaxaca and the collective search for solutions. As an academic, much of my work consists of interpreting this effort in relation to theoretical and historical strands whose purview stretches beyond Oaxaca—this effort is important, but its highly specialized language often renders its insights opaque and available to a select few. As a curator of Chicagoaxaca, one of the goals has been to use social justice as a bridge to connect the streets of Oaxaca to those of Chicago. This work of translation is expansive, requiring a different vocabulary from the highly narrow one of academic specialization. Curating Chicagoaxaca has meant utilizing the power of the images and corresponding narratives about art, social mobilization, and efforts to contest marginalization to connect with a broad number of people who, in their own way, are also questioning their contemporary reality and searching for transformative futures. The final publication of the project will support the effort to reach ever greater audiences by including a full catalog of the woodblock prints in the exhibit, photographs that flesh out the stencils, paintings, silkscreens and the practices of protest that the street artists and social movement practiced. Beyond narratives explaining and illuminating the insights that Oaxacan art and protest practices engendered, the text will include a series of conversations with people and groups in Chicago actively working for positive change; I am hoping that there will be both a published presence and an online archive of this work in English and Spanish and that this will allow Oaxacans, Chicagoans, and others who are mobilized to learn from each other.
–
Daniel Tucker is a Chicago-based artist, writer, and organizer. He works on the Never The Same oral history and archive project with Rebecca Zorach, and is currently editing the book Immersive Life Practices, and producing a new video/writing project about self-sufficiency and the right-wing imagination while in residence at Grand Central Art Center.