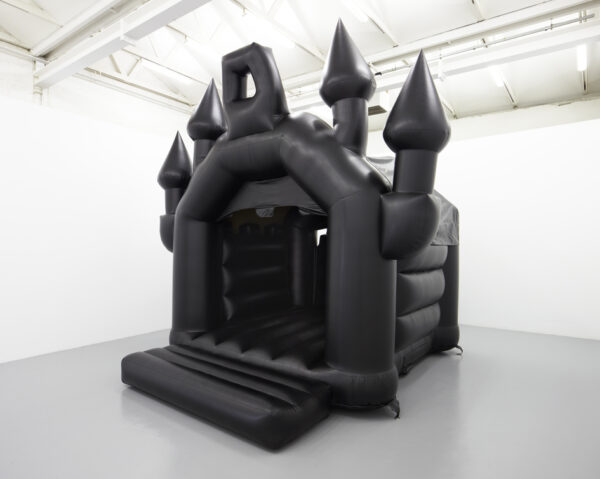 Photos will not prepare you for Department of the Interior by Tom Dale, nor will the description: a bouncy castle made from black leatherette. But stepping round a corner at Aid & Abet, Cambridge, UK, there it was, roaring with the sound of an air pump, trembling slightly, inviting allcomers.
"You can't access this piece," says Dale, "You have to imagine that you're bouncing on it, which is twitching the nerves between the brain and the fingertips." So black leather, as he acknowledges, has never promised so much fun.
This is troublesome. Dale describes the viewing experience as "algebra", in which you gauge your own reaction against those of other people. "What I'm interested in is an examination of yourself as well as what we see before us."
The London-based sculptor identifies two opposing pleasures at work here. Along with the idea of a kids' party, There are he points out "S&M overtones". One is a public activity, the other very private. "What I think is interesting about the work is it traps two opposing forces," he says.
In many ways it is this potential for the tasteless which led to the work's creation. Dale uses the word 'wrong' as if the castle is a moral error: "When something is wrong, we are drawn to engage with it. When things are wrong, we want to put them right," he says. "We want to put the house in order."
And yet bouncy castles are a fine metaphor for our current circumstances. They represent the soft power which governs most lives in the West. Bright colours and shrieking kids tend to obscure this, but in forbidden leather there's no mistaking the work of a hidden hand.
There was nearby another monumental piece in which power was hinted at rather than demonstrated. This was High Noon, a red carpet bearing the footprints of a missile launcher: a cruciform image from the crushed and oily outlines of a very heavy stand.
Research is critical for Dale, and he demonstrates as much with a knowledge of obsolete military hardware. He tells me the imprint of this launcher was for a Thunderbird, developed in the 1950s, the last surface-to-air missile that Britain produced.
The artist compares such technology to the convoluted mechanical fantasies of Victorian artist Heath Robinson. "You would fire it into space and press a button and the nose cap comes off and it throws a chain net over the airplane that it's nearby, which is kind of amazing."
"What working on this scale has taught me is that you need to do your research. You need to go to places. You need to visit people who supply the materials or the vehicles or the objects you need," he says. This lets Dale take resulting decisions on a level he calls, "Very microscopic."
As with Department of the Interior, High Noon invites and frustrates a desire to step on board. "It's kind of like a homeopathic pill," says Dale of his cold war trace. So perhaps what both pieces lead to, in their playful way, is an immunity to fear of power structures.
Armed with a recent PhD, Dale is ready with plenty of theories about the effects and the workings of his chosen art form. But according to this audacious sculptor, what he does relates less to philosophy than it does to knowledge.
"It's about how we organise, how we arrange things, how we fit into these things that we know," he says. "These works here are, if you like, knots or joints of culminations of a certain kind of knowledge, but then it becomes dissolved." So, again perhaps, an apparatus of knowledge cannot always stand up to critical engagement, certainly not to comical engagement.
In conversation with Dale, you find he moves nimbly from metaphor to metaphor, and never without a sense of humour. So he will also describe his works as, "being like a ventriloquist's dummy, but when I take my hand out they're still telling me things".
As for the contest between the monumental works he brings to the gallery, and the virtual realm in which we sometimes occupy, Dale states his intention to, "produce an object that releases ideas or discusses things in a different way at a different speed, with a different currency."
These are left field works from a left field talent. By way of an aside the artist puts forward his latest theory of mind: "I'm beginning to think that our brain exists outside of us as well, that it's almost like we have an invisible unicorn's horn type brain."
"I think there's a brain which only exists when we start to speak or when we start to act," he continues, "Maybe I need to work on the formal construction of that a bit". It does sound like the starting point for another push-me, pull-me sculpture, the visceral brain by Tom Dale.
1. The Dutch Don't Dance at Aspect/Ratio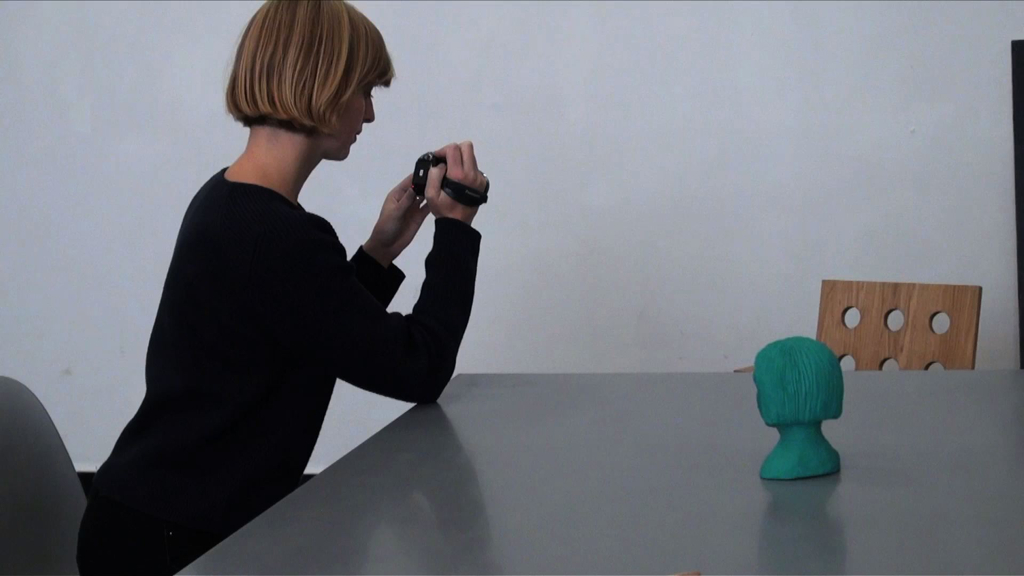 Curated by Kirsten Leenaars and Jeroen Nelemans.
Aspect/Ratio is located at 119 N. Peoria St. Reception Friday, 5-9pm.
2. The Age of Spontaneous Generation at The International Museum of Surgical Science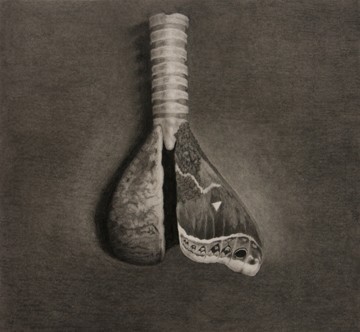 Work by Lauren Levato Coyne.
The International Museum of Surgical Science is located at 1524 N. Lake Shore Dr. Reception Saturday, 6-9pm.
3. The End of Absurdity at Linda Warren Gallery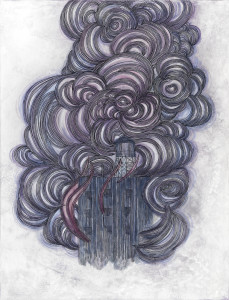 Work by Lora Fosberg.
Linda Warren Gallery is located at 327 N. Aberdeen. Reception Friday, 6-9pm.
4. Milk of Human Kindness at Queer Thoughts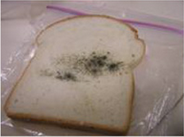 Work by Darja Bajagić, Michael Clifford, Maliea Croy, and Fraser Taylor.
Queer Thoughts is located at 1640 W. 18th St. Reception Friday, 7-10pm.
5. Height Down at Alcatraz Chicago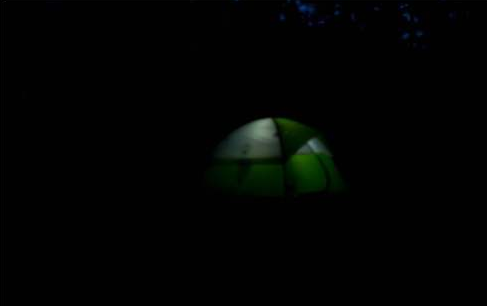 Work by Joseph Mault and Ben Regozin.
Alcatraz Chicago is located at 1000 N. Halsted St. Reception Saturday, 7-10:30pm.
A few weeks ago, I went to the Walker Art Center on a very busy night. A few new exhibitions had just opened; the Fritz Haeg residency was coming to an end; there was a live DJ; it was only the first snow of the season and the roads were still clear; admission was free. I walked through hundreds of people dancing and drinking to the pulsing DJ set. I elbowed my way through a crowd to see Natascha Sadr Haghighian's work. When I finally made it up to the real reason I came, the Lucky Dragons immersive/participatory experience/performance on the crocheted rug at the heart of Fritz Haeg's At Home in the City, it was quiet. People spoke in hushed tones, looked and read intently, gathered on the rug to crochet scarves and sweaters and commune over what they had brought. A small circle at one side of the rug sat with ribbon-like instruments, holding them to activate various sounds that morphed as you touched another person, formed chains with the others holding the ribbons, alternated who held the ribbons and where they were in the circle.
I had a great time at the Walker, but there was something missing, something that I had experienced the last time I saw Lucky Dragons. At that time, I was immersed in a basement full of people completely in sync with one another, aware of our bodies without speaking as we shaped the immersive sound and videoscape that enveloped us. Lucky Dragons eliminates the line between musician and audience, yet the people playing on the crocheted rug were not completely present. They were transient, ready to move on, to be pulled in the hundreds of other directions the busy night offered. Even the people who lingered the longest, who invited onlookers to join the circle, to commune with touch and sound, to experiment with creating the atmosphere of the room, could not make the circle hold. The Walker was incredibly successful at drawing people in to experience the multitude of events that night. The engagement I had hoped for, however, was pulled in the many directions of those events, and I was left wanting to find it in other ways.
I went to the Artists' Quarter last weekend to hear Happy Apple. The crowd had braved subzero temperatures for a standing room only show, and Happy Apple delivered what we had come to hear. They were in their stride before they began and ran further and faster than we could believe. They drew out their songs, opening doors through even their most bombastic pieces into quiet, minimal moments that never ended. They defied time, asking us to make the fleeting minutes we were together last all night, embodying the desire of everyone jammed in the tight, dark basement to keep that basement open forever. As we slowly peeled away at the end of the night, we knew we could not stop the Artists' Quarter from closing at the end of the year after decades of supporting young, experienced, local, and touring groups, but we were united in a joyful, music-filled affirmation of its power and importance.
Dave King, the drummer for Happy Apple and many other groups, recently spoke about the importance of quiet in music venues, the difficulty of playing and listening over the clank of caesar salads and clumsy servers, the noise of crowds and busy bars, the incessant distractions of large venues. The Artists' Quarter, however, provides "the environment to hear and play […] music without those interruptions." Every show I have seen at the Artists' Quarter has been quiet enough to hear a pin drop. Everyone from the front  of the stage to the back of the bar is there to listen, watch, completely engage with musicians. It is powerful and humbling to see musicians and audiences connect so deeply.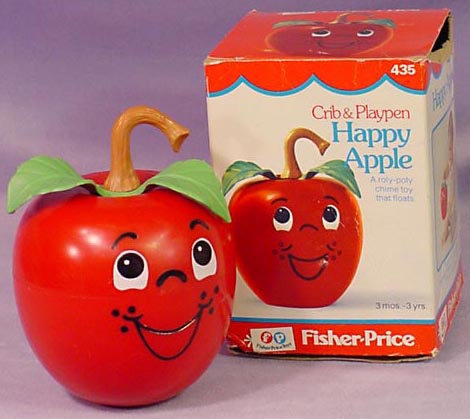 At the Happy Apple show, in that basement with no distractions, with nothing else pulling the crowd away, I found the engagement that I missed at the Walker. Everyone left the Artists' Quarter energized, amazed, and lamenting the loss of a great venue, an invaluable resource for artists and audiences, a place that will be sorely missed not just because it will be harder to see the musicians they supported but also because the loss of any arts venue is a loss to the entire arts ecosystem. King reminds us, "Whenever a place for art outside the commercial paradigm is lost, it becomes harder to sustain the more progressive stuff found off the straight and narrow." We all know that to be true, but we must sometimes be reminded. We can only hope that reminder does not come too late.
Go to the Walker, support its programs, but go to the Artists' Quarter too. We need both big and small art institutions, places to hold thousands of people and others to allow for moments of intimate engagement, venues where everyone can find something and others where a few can find a once in a lifetime experience. The Artists' Quarter has shows through the end of the month. If you are not in Saint Paul, go to your own local arts venues big and small; they need your presence too.
I'm still in the process of attending all those shows I recommended in my Wisconsin fall preview a few months ago. It's difficult for even the most dedicated art nerd to cover a state as large as Wisconsin. Because of this I've picked up the habit of turning my art excursions into comprehensive road trip experiences with an ever-evolving set of rituals: check the weather; load the podcasts; fill the travel mug with coffee; plug address into the GPS; pick up the jalapeno flavored beef jerky and two bottles of Dr. Pepper from the Speedway convenience store.
My most recent performance came en route to the Wisconsin Triennial at the Madison Museum of Contemporary Art (MMoCA.), when I listened to a podcast on medieval history from iTunes U and scorched my mouth on jerky – I think I forged a permanent association between a swollen, stingy tongue and Pepin the Short. I pulled into Madison on the one-year anniversary of seeing Leo Villareal's sensational show there last year and I hoped to match the pleasure again on that afternoon.
I immediately recognized the work of Madison local Derrick Buisch in the first floor gallery of the Overture Center, where MMoCA is housed. His wall grid of small paintings quickly goes from quirky illustration to chewy examination of the relationships between painting, graphics, gesture and text. The piece, called "77 Monsters", forces one to consider the subtle differences between seeing, looking, and reading. Adjacent to this, an eccentric construction by artist Paul Sacaridiz's complements Buisch's 2-D work nicely. It has the same formal sensibility as Buisch's, only in three-dimensions and with a touch of Vladimir Tatlin.
On the third floor, home to the majority of the show, I was especially moved by a video installation by Madison artist Chele Isaac, titled "The End of Angels". The surreal, dreamy work is reminiscent of Janet Cardiff's and George Bures Miller's moodiest dioramas. Around the corner, Justin Bitner's sculptural installation aroused my suspicion of sculpture made of tube televisions, though he sidestepped the oft-overdetermined application of the tube as a nostalgic bauble, or a naked symbol of media overload, by using its hissing analog snow as the soundtrack for a video of crashing waves. A rare and interesting use of television as a sonic rather than visual medium.
Nearby three photographs of hunting shelters by artist Jason Vaughn cheekily bring together the dissonant languages high-modernism and Wisconsin hunting culture. His photographic treatment of the structures gives them a personal, even sentimental feel, but his compositional framing of the them suggests something more monumental. The location of the work struck me as a superb curatorial counterpoint to Vaughn's growling TV sets which could be faintly heard on the other side of an enclosure.
I was asked to leave at closing by an attendant while I stared transfixed into a light box photograph of a cinder cone volcano (?) by Stephen Hilyard, wondering if and to what degree the image was digitally altered. I still don't know for sure.
I think one could do worse that to be prodded out of a museum satisfied but still looking for answers.
…
Two weeks later, I was checking the weather for Milwaukee on my iPhone. "Two degrees," said Siri in her tinny voice. I laughed smugly as I read the gauge on my rented Dodge Caliber. 82 degrees. Schadenfreude. I was heading to Miami Beach, and the yearly spectacle of the art fairs.
Art fairs in Miami have proliferated like Tribbles over the past decade. There are too many now to see over the entire week. One could spend days at the main Basel fair alone. I spent three hours there and can't tell you now if the images in my head are from this year's fair or last's …or from a visit to a museum prior to that. I spent hours at five other fairs as well, but I lost steam as each booth and tent passed. There's not enough space here to describe the full scope of the Miami circus, and plenty of others are taking on that task for me anyway. It's enough to say though that one couldn't have a great art experience under the conditions in Miami anymore than one could have a deep philosophical conversation at their own wedding reception: it's too fast, too disjunctive. The mind turns into a dispatcher of information rather than a feeler or processor of it.
Eventually, the absurd undertakings in plastic surgery take over and you start planning your trip the beach.
Which is where I lived out the final hours of my short trip.
…
When I was a kid, I lived in with my family in a pine forest in Window Rock, Arizona for a while. It was isolated and deprived of modern commercial pleasures. On the weekend we'd drive to Albuquerque and I would ritually indulge in the travel luxury of a bag of pine nuts sold to us from the side of the road. Albuquerque was a two hour drive, and if I extricated 11 nuts from their shell with my teeth during that time, I was lucky.
Now I can get a grocery sack-full of shelled pine nuts at Costco for 6 bucks. And I hate them. I don't even like them on salads.
I don't care what all the idealist critics say about the autonomy of art. Bullshit. Context and ritual matters.
Guest post by David Carl. 
This by way of introduction: we enjoy answering the question, "What's your favorite . . ." (fill in the blank here), because it give us a chance to talk about ourselves, and to tell others who we are by ostensibly talking about someone or something else (a favorite book, movie, author, artist, band, album, etc.). By telling others what we like, we try to tell them who we are. Perhaps it is even a manifestation of our higher impulse to obey the Delphic Oracle's injunction to strive for greater self-knowledge, for how often do we turn to art precisely to learn, not about the work in question, but from the work about ourselves and the world around us?
For those of us who care about art, literature, film, ("culture" as they used to call it), nothing says "who we are" more than the books we read, the movies we watch, the music we listen to . . . So when someone asked me recently who my favorite movie directors were, I responded with enthusiasm, despite the fact that the answer I gave was accompanied by the kind of unsubstantiated generalizations that generally drive me crazy when I hear other people spouting them: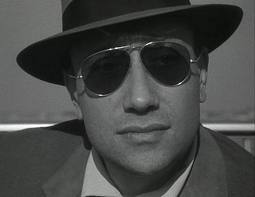 Jean-Pierre Melville, for his unfailing portrayal of "cool" in cinema.
Michelangelo Antonioni, for his relentless depictions of post-Marxist "alienation," not among the working class, but among the wealthy and privileged bourgeoisie of post-war Italy.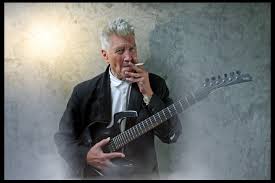 David Lynch, for just being plain weird in the most provocative ways.
Cool, alienated, weird. What else do we want from the movies?
It also occurred to me that Melville, Antonioni, and Lynch are all deeply western filmmakers, obsessed with a uniquely western response to the struggle between good and evil as a kind of spiritual crisis. Melville's heroes are often criminals, but they live by a code (like the bushido code of the samurai evoked in Melville's 1967 Le samouraï) which allows them to live with a sense of honor and distinguish right from wrong, even in the moral gray of the criminal underworld. Friendship, loyalty, courage—these are the virtues of Melville's heroes, and these qualities add up to a certain "cool" that he may derive from American actors like Bogart, Dean, and Brando, but to which he gives a uniquely French twist (different from the kind of "cool" we saw developed by later American actors like Steve McQueen and Paul Newman). It is within this sense of "cool" that Melville explores his own sense of spirituality, in the context of a kind of warrior ethic that is simultaneously an aesthetics of style. In Melville's hero the ethical and the aesthetic are gracefully blended in the notion of cool.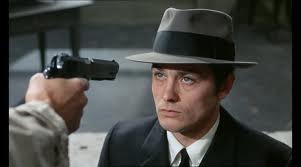 Antonioni's characters, on the other hand, although not criminals, are far less heroic; and while they occupy eminently aesthetic surroundings, they are wholly unethical—not because they are evil, but because they are weak. Melville's three virtues—friendship, loyalty, and courage—are wholly lacking in Antonioni's world. These characters are too close to pathetic to be tragic, but they are not contemptible because they are often too much like we are, and even in the fantasy world of the movies we find it difficult to hate ourselves. They are living through a kind of modern crisis from which all the heroics have been drained, and what is left behind is lush, indulgent, stylish and visually gorgeous, but spiritually bereft. It is in their response to this sense of bereavement that Antonioni's characters regain a kind of antiheroic charm, especially in the case of the female leads played by Monica Vitti in the four films she did with him between 1960 and 1964. Anything that can still be affirmed against this backdrop of modernity takes on a new significance.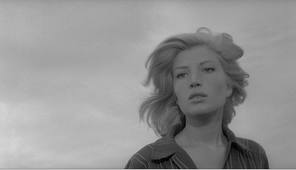 Finally, with Lynch, cool and despair join hands to occupy a landscape that is alien in direct proportion to how familiar it seems on the surface. Unreal things happen in familiar places (our homes, our neighborhoods, inside our own heads), proving that these landscapes are not so familiar after all. What we thought was the comfortably familiar is revealed as concealing dark, hidden corners. These may be the corners of our own imaginations, which tend to run away with themselves, at least if Lynch has anything to do with it. But here too there is a kind of spiritual struggle going on; and a struggle between good and evil that is very real for Lynch, even if it is a rather narrowly conceived western (it would be Manichean if it didn't keep doubling in on itself and implicating his films' various heroes with a sense of their own moral ambiguity) sense of good and evil. The devil, last seen in the works of Milton, Goethe and Dostoevsky, is still alive and well in the films of Melville, Antonioni, and Lynch. He is still charming, still tempting, and still leaves a wake of despair that demands some sort of spiritual response from those he encounters. For filmmakers, with all the resources of the visual at their disposal, these responses, no matter how ethically grounded, must always be aesthetic as well.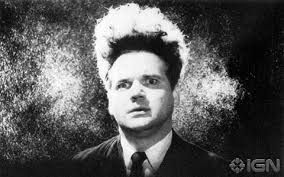 All this may or may not be true, but it isn't really what I want to say about these directors, or how I'd like to write about their films. These comments are marked by the kind of unsubstantiated generalizations that one expects to hear at cocktail parties (at least the kinds of cocktail parties I'm always hoping to be invited to—as long as they're serving good whiskey along with the small talk), but they are not really the stuff of careful observation of the visual details that makes watching great cinema a great pleasure. What I would like to be able to do is discipline myself to greater acts of seeing. I'd like to see more, when I look at a movie, in the hope that great movies would reciprocally teach me to see more when I look away from them.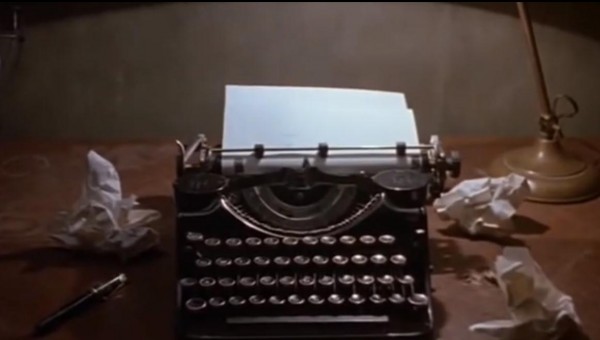 Also by way of introduction: I'm sure its curmudgeonly of me to admit I'm uncomfortable with the word "blog"—not because it makes me feel old, but because I am old, and it makes me feel like I should be doing something to compensate for that fact, rather than merely sitting back and enjoying it as the result of the long and laborious process of having stayed alive long enough to earn the dubious title. Instead of "blog" I prefer the old-fashioned word "essay," which is more dignified, more accurate etymologically, and more representative of something that someone has labored over and taken time and care with. Whether or not someone has something to say, they should say it thoughtfully. "Blog" sounds like a particularly unpleasant body function. Something that happens to you when you've put down too much ambrosia salad on a hot 4th of July afternoon after drinking flat beer and eating some baked beans that weren't quite right to begin with. An essay, on the other hand, is the record of an earnest attempt, the written vestige of an effort that calls on you to try your very best, no matter how embarrassing the results, or how inadequate to the hopes and ambitions we brought to them.
Any essay that is not, on one level, a failure, is an essay that stopped too soon, when we were still feeling safe and secure in our own thinking. Often the failure is where things get interesting, where risks are taken and uncertainty and insecurity allowed to crawl out from under the rock we'd like to hide them beneath. A "blog" on the other hand, sounds like what it too often is: a spewing forth of whatever comes to mind without thought or reflection, without the care of craft or the craft of care. (This, for the record, is neither a blog nor an essay, but merely a rant. An inferior but satisfying form of literary production much older than the blog and not nearly so interesting as the essay.)
And this idea of the interesting failure is germane to the movies as well. One distinguishing characteristic of a great movie director (and perhaps this is true of great artists in any area of production) is that there is as much to learn from their failures as from their successes. Along with their masterpieces, Antonioni, Melville, and Lynch all made bad movies; but they are bad movies I've learned a lot from watching and thinking about. There is such a thing as a provocative failure. (Who was it that said, "I would rather be a successful failure than a failed success"? I think it might have been a character in one of my novels, but perhaps it was the author consoling himself after the completed project.) Merely competent directors are capable of making good movies, but their bad ones will be devoid of interest.
There is such a thing as a "merely bad" work of art, one that is not even interesting in the way it fails. I care most about the work of those directors who not only risk going wrong, but actually precipitate themselves into the breach, knowing that the only alternative is to remain perpetually on the safe side of what they are comfortable and familiar with (what they are "good at"). The comfortable and familiar being antithetical to art however we choose to define it.
Next time: some thoughts about seeing in Francis Ford Coppola's The Godfather.
David Carl is a member of the teaching faculty at St. John's College in Santa Fe and a co-founder of the St. John's College Film Institute. He is the Director of the College's Graduate Institute, a Research Fellow at the Institute for the Study of Cultural Artifacts, teaches for The Curious Oyster (a private adult education project committed to Contemplation, Conversation and Conviviality) and has written several books, including Heraclitus in Sacramento, Fragments, Meditations on Initiating the Apocalypse, and Further Adventures in the Unsubconscious. He watches movies in his living room in Santa Fe, NM.