Even though I write about games critically here and other places, sometimes as a player I find it easy to tune out and become one with a keyboard and mouse or controller and just sit and stare, as though I were watching The Expendables on repeat several hours a day, several days in a row.  In that vein, I spent the past month playing terrible, huge-budget, blockbuster video games and not doing much else. I wanted to reboot myself and take a post to collectively detox by thinking about some stuff that was more artful, thought-provoking, and most importantly, free. As much as I could write full essays talking about each one, those would probably end up being longer than their respective experiences, so I think it's preferable to say that if one interests you, check it out—let's play our way out of The Expendables together.
I wrote about Increpare's Activate the Three Artefacts and then Leave last month, but the dude is so wildly prolific that it's hard not to always be thinking about at least one of his games. Universal History of Light came out in February and is already behind 3 newer games on his games page, but it's a sticker. Basically you play as a seeing eye dog accompanying a student to a lecture about the effects of laser pointers on the brains of dogs, which cannot smell the point of light and are driven insane. The professor then shines their own laser pointer too close to the dog, who is then sent by insanity to a dystopian island filled with even more strangeness. Items acquired after that point include a carpet beater and a hoodie.
Whenever I get into a weird conversation with somebody else's parents about how I write about video games, I inevitably end up telling them about a handful of the same games, like Gone Home or Proteus, both of which I've written about here before, in attempt to justify a hobby that seems to be filled with a lot of guns or grand theft auto or Pac-man. Another is Depression Quest, which is a text-styled game (built in Twine) that aims to promote awareness of depression, namely by putting the player into the shoes of somebody suffering from depression. As somebody who is no stranger to winter feelings and sun withdrawal, it's an incredibly effective, stark, and brave portrayal that is tough to play but also a shining example of an interactive medium. Check it out. (N.b.—while it can be played for free, it is also offered on a pay-what-you-want basis with a portion donated to charity.)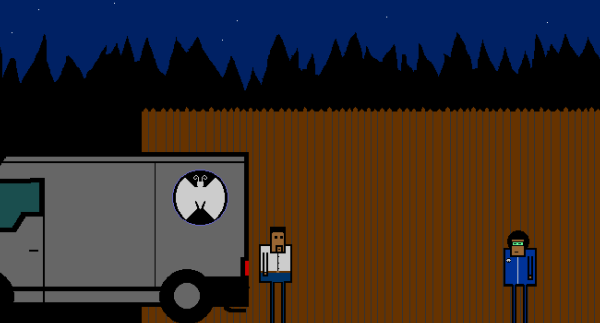 I just finished binge-watching Twin Peaks on Netflix, and Catachresis tickles my fancy in the same exact way that the show did. If a younger David Lynch were somehow transported into our present and the only way he could deal with his weird feelings about unexpected but short-range time travel were to make browser games, Catachresis would probably be one of them (The developer cites Lost Highway as an inspiration). It puts you into the shoes of a paranormal investigator, or as the main character puts it, "ghost plumbers." It's both creepy and funny, and rendered in an art style that lets you know there's not going to be a weird jump scare.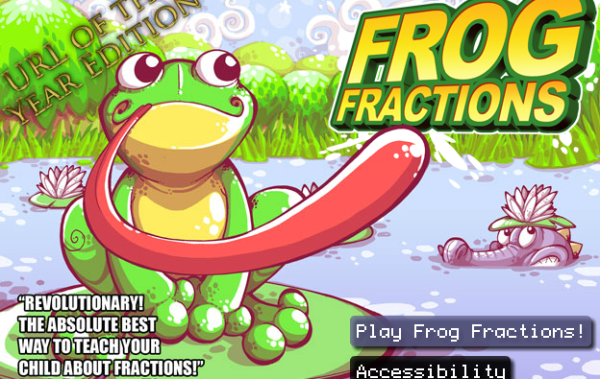 This is a game where the less said, the better. It starts out and you're a frog on a lily pad aiming your tongue and eating bugs and fractions are popping up everywhere. It's not actually edutainment, but the first few minutes do a really great job of pretending like it is. Get the turtle upgrade as soon as possible, and then move on to a variety of different segments (onet set to the soothing narration of a history show) that made people like the game so much that they pledged over 70 grand to a sequel on Kickstarter. (Seriously, if you ever play one video game in your life, play this one, and then reconsider that life decision and play the rest of these too.)
Guest post by Nicole Mauser
For their contribution to the 2014 Whitney Biennial, Valerie Snobeck and Catherine Sullivan use Northwestern University's Transportation Library Menu Collection donated by renowned anthropologist George M. Foster's as a springboard for a collaboratively made artwork. This extensive collection was accumulated during Foster's research travels and includes, "400 menus from 54 national and international airline carriers, cruise ships, and railroad companies, with coverage from 1929 to the present."[1] Image of Limited Good, the title of Sullivan and Snobeck's mixed media installation within Anthony Elms' curated section of the Biennial, directly refers to Foster's controversial 1965 essay, "Peasant Society and the Image of Limited Good," in which Foster outlines a theory of limited good as derived from observing traditional societies that, he asserts, believe goods are finite; according to this thinking, when one-person gains, another loses. This belief leads to a fragile sense of order and communal sustainability in light of the given society's 'competitive games' for survival, wherein value is a certitude based solely on supply's abundance or scarcity.
Snobeck and Sullivan's installation is comprised of sculptural objects, ready-mades, and delicate prints of barely discernable Swissair airline logos on tissue. A series of luggage racks are propped against improvised table surfaces, many of which are littered with antiquated suitcases filled with murky substances and embedded objects related to the gelatin-based printing process of hectography. This process of a bygone era could be easily dismantled to leave behind no evidence of production. Here, all the objects are carefully strewn and poised for disappearance, quickly tucked inside a suitcase or ready for disposal at a moment's notice. As a result, Image of Limited Good's individual parts are not inherently connected but have been carefully selected to imply a whole that is collapsible and infinitely reconfigurable. Each object acts as a clue that proposes questions for the viewer to slowly decode.
"The value of Mr. Foster's collection resides not only in its volume, but in the number of his hand-written comments regarding flight dates, airplane types, and food and wine ratings and descriptions," [2] reads Northwestern's collection didactics. These traces are evidence of a visual anthropologist who was an early hybrid of the multiple roles artists today play.  The materials in Snobeck and Sullivan's installation follow suit in that they carry a patina of secrecy and silence and re-enact antiquated modes of travel and reproduction. Accordingly, the installation can be interpreted as a quiet commentary on the entire premise of the Whitney Biennial, where the intent has historically been to illustrate the shifting patterns of artist alignment with curators, communities and conceptual trends moving in and out of vogue, all vying for relevancy. Thinking broadly about this artwork and the theory developed by Foster, can we then ask: does such in-depth research lead to error and misinterpretations? Is there a context where misinterpretation is actually valuable and lead to valuable discourse?
It is not Foster himself as a historical figure that is positioned at the center of this artistic collaboration; rather, it is the narrative fabricated around his practice as a by-product of the academic intent to develop, explain, and connect traditional societies to the current modern society or to the fabric of the ages. To create a universal theory that holds up decades beyond the maker/author(s) is still the ultimate ego-centric task in academic anthropology and also remains an aim of abstraction and, perhaps, in art as a whole (depending on the artist's intent). As a viewer, my question is, what do static fabricated objects accomplish in this context? They occupy a slippage between art object and art-object-as-artifact. The artist Allison Smith comes to mind—her work re-inhabits historical moments by fabricating sculptural 'historical' stand-in objects that are part fictionalized and part illustrative of historical fact, each component becoming incredibly didactic. Refreshingly, Snobeck and Sullivan's collaboration is the opposite. Discursive potential, nee momentum, is contained within each object, literally embedded in the gelatin or epoxy, yet refusing, even in print form, to transcend or act as a proxy between neither Foster's collection nor his theory and the viewer. However, Snobeck and Sullivan leave the viewer in the lurch to negotiate objects that, at face value, are meaningless without due research.
---
[1]
Link to Northwestern University Transportation Menu Collection:
Nicole Mauser (b. 1983, Indianapolis) is and artist and educator who lives/works in Chicago, Illinois. Currently, she is an adjunct professor of Studio Arts at The University of Illinois at Chicago in painting. She obtained an MFA from The University of Chicago (2010) and a BFA from Ringling College of Art & Design (2006). She was a recipient of a Post-MFA Teaching Fellowship at The University of Chicago in 2011. Her work is included in such collections as The Nerman Museum of Contemporary Art (Overland Park, KS) and The Alexander (Indianapolis, IN). 
Guest post by Jacob Wick
I met artist and musician Conrad Freiburg at his home/studio south of downtown Los Angeles with a mostly-full bottle of Malort in tow. I'd met him before, several times. The first time was at 8550 Ohio (née Harold Arts), probably in 2010 or 2011. The summer I moved from the east coast to the west one, I listened repeatedly to his album the Undecagon, which at the time I thought was a very poetic name about the mystery of geometry. I continued to think this until the night of this interview, when I discovered that an undecagon is any 11-sided polygon. I'm looking forward to seeing him play live, for the first time, on May 17th, in the lot outside of his home/studio, south of downtown LA. I left the bottle of Malort there—it's really terrible stuff—and I'm looking forward to reuniting with it. Anyway, I went to his studio with the intention of talking about a sign he had told me about a month earlier, which, when I arrived, it became apparent that he had not yet made. Then again…
JW: It's all the same. I could look at these sketches and say like wow, this sign is beautiful, I love the way the wood grain…you know? I'd say it's about six feet high by about eight feet wide, just like, uh, think about it.
CF: If you can imagine a national park sign that says "Welcome to not giving a fuck," that's the idea. It's got the handyman/weekend-warrior font, you know? The top of the sign has a little bit of a slope to it, and all the corners are rounded. And, you know, it says: "Welcome to not giving a fuck." Which I think is very important to getting anywhere worthwhile. There's some element of forgetting to give a fuck.
JW: Like unintentionally not giving a fuck? Where you suddenly start not giving a fuck but don't realize it?
CF: Unintentionally not giving a fuck. Maybe you stick your tongue out when you focus. You know? Maybe there's just some sort of weird thing you do…when you're focused on something, and you're in there, you don't give a fuck about your tongue. About looking like a dumbass. I mean, I speak really because when I really concentrate on something I stick my tongue out.
JW: I cock my head I think. It's confusing sometimes because I don't know what to give a fuck about and what not to give a fuck about. I really give a fuck about—like, to get really heavy—I really give a fuck about art. But I don't give a fuck about art. What am I supposed to do?
CF: Well, art has the advantage of being two things at once.
JW: What's the two things? Market and culture?
CF: Well, it could be something you both deeply give a fuck about and also think is a silly thing to give a fuck about. I forget where I heard this, some poet or another: it's as serious as your life. Which seems like an intense statement to make about a music or art. What level of seriousness does it really mean? Like quality or intensity? You can find the intensity that you're looking for in certain types of art or music, or you can find the calm or whatever zone. The subjective viewpoint is always part of the viewing experience.
JW: Like you're viewing it from the point of view of your own situation, and your history.
CF: And whether or not you care to give a fuck.
JW: Memorial Day is coming up.
CF: Yeah. I always remember it was very shocking to see my dad wearing jeans, because he just looked so weird wearing jeans to me. He always wore business attire: slacks, maybe even a suit. So when he was on vacation he would wear weird jeans—he would just look so silly in jeans.
JW: He was a salesman?
CF: Yeah, insurance salesman. His phrase, which I think is great, describing what insurance is: you're replacing an unknown with a known monthly payment.
JW: Like, "I don't know when I'm going to die, but I know I have a $24.99 monthly payment."
CF: Somehow making that payment alleviates the stress of whatever it is that is unknown for your car, or your house, or against theft. You can insure against almost anything, it just has to be some unknown thing that could happen and ruin your life. But I'm not an insurance salesman. I got my license to sell life insurance in the State of Illinois, as part of just trying to figure out how to make money while making art…
JW: Did you sell anyone life insurance?
CF: Hell no. Who's gonna go to an artist or musician to think about organizing their life and getting their shit together? They're not going to look to me.
JW: But I feel like artists kind of have–especially now—you really have to have your shit together because you have to figure out how you're going to structure your life so you have time to sit down and make art, or think about art for like a sustained period of time. How many days do you spend, you know, in the studio, so to speak?
CF: Well, I spent about three years. I didn't take any jobs, I didn't do anything, I just did art stuff. Recently.
JW: How?
CF: I just kind of thought like what is it that I value? What stage of my career am I in? I need to start making bigger stuff, so I had an opportunity to make some bigger stuff. And my rule for doing art stuff is, "if you want me to do art, you have to provide me the means for providing food and shelter or give me a place to sleep." I'm not talking about making money off the stuff; I'm talking about sustainable living. I don't like when people expect art or music to be free. I think it's disrespectful to people who have dedicated their lives to doing something. If you're a carpenter and you've been doing it for 20 years, you deserve a good rate. If you're an artist who's been doing it for 20 or 30 years, you deserve to get some money from your work—or some kind of value. I mean, if you look at art in terms of its monetary value, you miss its whole zone of power. Like with art, you want to make a thing or an experience that gives someone more than they expected. Something that lasts. An idea that sticks in your head, a piece of art that sticks in your head, a performance that sticks in your head. Like the first time I saw David Lynch's Blue Velvet, when I was a young wisenheimer—I don't know how young I was, early 20s?—it did not make sense. What does Mulholland Drive mean? I don't know what it means, but there's a thing that's significant about its meaninglessness, or its dreamlike associations. That scene where there's that opera singer that's lip-synching her own voice—that just sticks in your head. That disembodied voice that is your own voice. But I feel like that's a really great entry into how to see art, just get into the mindset of someone who would make such a thing—if you can. There's these clues that lead nowhere. In a way it keeps you going to back to it because it's never complete. Like that roller coaster at Linda Warren gallery that I built. I got tired of being in group shows so I just made a piece that wouldn't play well with others. It just had to be on its own, as a sculpture, nothing else around it. And that was the bowling ball roller coaster. It was called The Slipping Glimpser. There was an association in the research I was doing—which is one of these art tricks, you take a document and translate it into whatever form you work on, like if you're a theater person you're going to take MS-DOS catalog and make a play out of it and it's going to somehow be entertaining. You can take either a totally non-poetic tree catalogue or the biography of an abstract expressionist painter. You can take those two things and use those as your source material for the ups and downs of the rollercoaster.
JW: Like, this rollercoaster is about Mark Rothko and this rollercoaster is about MS-DOS are both equally believable at a certain point.
CF: Well, let's face it, abstraction has its advantages. Because you can retroactively or proactively give the thing language that it will be described as, through press releases and artist statements and titles.
JW: You have an album called The Undecagon, you have a bunch of sculptures that you've built or are building also called Undecagon…
CF: There's a whole category of work that's all undecagon-shaped. The woodshed, which is that big sculpture in Ohio—fully rotational celestrial observatory and musicians' practice space—
JW: How does it rotate? Does someone have to push it?
CF: Yeah, it's human-powered. I want to get one of those eccentric wheel-pump type things that you'd see on a train car? Like the old pump-cars on a train? A machine like that that makes it go.
JW: That'd be nice.
CF: Yeah, pretty funny.
JW: Is it on rails?
CF: It's got kind of like an upside-down tophat shape on the top, and then there's lateral wheels that pinch it in, so it's held in the middle and then it rolls along these 8×8 beams that are at the top of these 13-foot posts. So the whole structure pinches in, because the wood expands and contracts and does all this stuff, so when it does that, even if one goes way off, it's all linked together and it pulls itself tighter. Gravity, over time, tightens everything. There's a blind dovetail joint in the top of the post that keeps the header and the spoke joist…
JW: I feel like this is the point where carpentry is crossing over into magic for me.
CF: Sure, blind dovetail! It's a thing you don't know is there. Unless you really know to look. It's a little hidden zone, a little further hidden thing in that sculpture. But there's all kinds of other little fun stuff in there, too. One of things is that over time I'm accumulating this list of local designations for constellations.
JW: Oh really? In Ohio?
CF: Yeah, basically the rule is you have to be able to direct me from the North Star to the constellation. At some time of year. And it makes it on the wall of the upper portion of this rotating deck. So a little inlay, kind of.
JW: So is the idea that people can be practicing in it and people can be on the roof? Or are the people that are practicing intended to be the people who are in the celestial observatory?
CF: Yeah, you probably wouldn't be practicing and on the roof at the same time, but somebody could be up top listening to you practice. Or you could be up top. When you're up in the bowl of this thing, you'll feel closer to the sky. It eliminates the horizon, so when you lay down you can't see the trees. All you see is just above the wall-structure. So it's with those kind of sightlines in mind that you just lay down in the thing and get a tour around the stars. It's a beautiful thing. I feel so lucky to get to make the thing. I'm heading back there this summer to get the final roof on it. Working with some local craftsmen there to get it sealed up properly on the topside. And then really I'm anchored back here. I'm buckling down: I gotta just be here and get things started out here. Which is fun. Being a transplant to California, every day is a new adventure, which is kind of nice. I'm excited. I want to make earthquake powered sculpture. That's what I want to do. I have specific ideas about how this will happen. I don't want to say anything more about it, but there's some urns in the fire. But if anybody has any ideas about land that this thing could happen on, or some sculpture garden or private zone. You want to do our shots of Malort?
[JW & CF down their shots of Malort]
CF: Blech. Dandelion. It makes me think of when I ate a fucking dandelion as a five-year-old on the playground.
JW: God.
CF: That is so disgusting. It's amazing how disgusting it is! Ugh. Terrible.
JW: But I find it very enjoyable. It's so bad, but it's like a thing, there's nothing else that's quite like that.
CF: That's true. It's utterly distinct.
JW: Do you know about acoustic shit? Is the sculpture in Ohio acoustic? What's the acoustics in that space?
CF: I would describe it more as aural architecture than acoustic architecture. So aural has a little more cultural connotations and what have you–I'm not making claims of its purity, but the worst kind of room is the one that Human Resources—the cube. Acoustically in there, the way the sound bounces, there's one tone, there's gonna be one thing that you hear. You don't get the broad frequency response because of all the standing waves. Some frequencies cancel. With a structure like the one in Ohio that I've built, there's no parallel surfaces, so the sound scatters…so there's no standing waves that develop. So the frequency response is all the frequencies sound clear, as opposed to some sounding louder and some sounding softer. In theory. The room itself will have some resonant frequency, just the space of the room itself. The wood, the volume of the air in there is going to have some tone that makes it boom.
JW: Does an 11-sided object reflect sound differently than a circular space would?
CF: There's lots of corners. As an acoustic musician or any musician setting up to try to project sound to cover up talking or a room or whatever, you have to be in a corner because you're maximing the acoustic energy, the mphhah. You want to be in a corner if you want to give yourself more noise, or more amplitude. Or if you're trying to tune while somebody else is playing, you get as close to the corner as possible so you can hear your instrument over the noise. It's kind of like an acoustical mirror or something.
JW: Yeah, because it's a reflecting point. Aurally. Is that why you're so excited about undecagons?
CF: I like the idea of just making irregular objects that have some standard—a standard irregular object. It's a little wrong. Maybe this thinking of not giving a fuck is also a way of saying to not desire stability. There's a willingness to be uncomfortable.
JW: Yeah. I'm going to go for this feeling of—this thing that I thought I really cared about, let's see what happens when I don't care about it. That kind of thing?
CF: It could be. Yeah, you're trying on different attitudes regarding the world. I think there's this thing of unknowns that is important to what I mean. That you only learn from what you don't know. So if your objective is to learn or to live a good life or something, I think in some way thinking about the good life in the sort-of philosophical way requires that you are part of the world, but also requires that you have something to say, as a friend, to another person. You have to be experienced. You have to be willing to share, and be compassionate, and empathetic, and all these sort of social-type traits. But the thing that keeps me interested, and I think scientists interested, and I think explorers, is the unknown. In a broad cultural way, art is the unknown.
JW: It's where people go to find what they don't know.
CF: Or yeah, what doesn't make sense, or what doesn't need to make sense. Although I don't think a lot of people go to museums for that, if they're going to museums to look at art.
JW: What are they going to museums for?
CF: To impress a date? To see a thing that they remember seeing, back when they were a kid when they smelled the museum for the first time, or they're just going to be in a quiet place and be with some art objects. I'm thinking of the classical zones, now, the paintings and the furniture and the suits of armor and what-have-you…
JW: But about the readymade zones or the Rauschenberg zones?
CF: It's hard to describe it. It's an anecdotal thing. What we're describing is some newbie to art being frustrated with an art experience that it seems like you have to have a master's degree to understand it.
JW: But it's weird because sometimes you do.
CF: Yeah, it turns out that we humans are sophisticated types! And especially artists are complicated people who have to cloak everything in…
JW: Do you think it's a bad thing?
CF: I don't think it's a bad thing. I think there's advanced levels of thinking in any field. You can see so many dynamics through the knowledge of a thing. Expertise is really—it's good. That's how our medical system is set up now: there's experts. There's like a generalist who is a fielding agent for the experts.
JW: Your childhood doctor is not going to perform a quadruple bypass on you.
CF: No way! You're going to want the guy who's done it three thousand times before. Expertise is what's gotten into this advanced zone we're in now, in art. And there are art experts. There is such a thing as expertise. And I think one of things is there's also a parallel or hierarchical zones, like the community art center show of the tri-county plein air painters is a different places hierarchically in teh art world than the secondary auction market of living artists. It's an entirely different type of work, entirely different motives behind it, different values ascribed to it, but talking with plein air painters is kind of fun sometimes. You talk about color, you talk—this one woman at a conference I spoke with, she described it so beautifully. She was like I can't believe I didn't do this sooner in m life. I see things differently after painting. After looking, and trying to mimic the thing you see with goop. She said, I see things differently. And I was like, that is exactly what art is. On its base level. To see things differently you have to first know that there's another way of seeing. How do you know?
JW: You have to first know that you see things in the certain way that you see them and not everyone sees them in the exact same way. Which seems pretty basic, but it's not at all. Separate the world from the earth.
CF: The world from the earth? So the world is cultural, and the earth is material?
JW: I think so. If you ever read The Origin of the Work of Art, by Heidegger—it's a lecture that he gave, which is really insane because it must have taken an hour and a half and it's super dense and I can just imagine thirty students in 1934 Germany in a cold room listening to this maniac talk for an hour and a half straight—I feel like that's a viewpoint from which to approach shit like this—but anyway he's trying to differentiate like, here's a lamp and here's a pen and here's a painting, and why is the painting art and not the lamp or the pen? So he goes through the lampness of the lamp and what makes the lamp a lamp—like it has this thing that turns it on and off and it has this lightbulb in it and it has a circuit and a function—and the penness of the pen, and then he goes into the art and his conclusion is that what makes a work of art is that it contains within it the potential to make the viewer aware of the differentiation between the world, which is the world as perceived by the viewer, and the earth, which is this deeper zone that the self-perception of the world has come out of.
CF: So there's like the archetypal things that we share bubbles up in these standard pictures we have. Like the house-image, the tree, the lamp, the pen, the work of art. But this is the thing that I think is important to express to people who feel like they don't appreciate art, that art is how we know ourselves. That's what archeologists study. They study paintings on the wall, they study clay pots, they study things that humans made, you know? We look back into paintings and temples and all of these things that teach us about who we are as humans, culturally. If you don't look at art or understand art you're not human in some way, you have no access to this part of our existence that defines us.
JW: You define yourself in relief—you become aware that there is an entirely other way that you could be existing in the world. Which is what's nice about art, what art does.
CF: Yeah, I think so. That's where the joy of it comes. Instead of thinking about walking, thinking about how you're really just falling in a controlled way. It's a mind spot.
Conrad Freiburg is an American artist from the midwestern United States. Starting in the late 90s, his multi-disciplinary projects have engaged audiences with momentary danger, beauty, and lyricism. His work has been reviewed in magazines such as Art Forum, Art Ltd, Art in America, and he was once honored as Chicagoan of the Year by the Chicago Tribune. His work is in many prominent private collections including the MCA in Chicago. Recently, Conrad has completed an eleven-sided fully rotational celestial observatory and musician's practice space in rural Ohio and continues to tour as a musician offering an improvised approach to composition and song. He lives and works in Los Angeles, California.
Jacob Wick is an artist, writer, and improviser who lives in Los Angeles. In 2013, he coordinated Germantown City Hall, an installation of civic space in a disused structure in the Germantown neighborhood of Philadelphia, Pennsylvania. Germantown City Hall was a collaboration with Information Department and the Think Tank that has yet to be named…, and was commissioned by the 2013 Hidden City Festival with generous support from the Andy Warhol Foundation. What We Want is Free: Critical Exchange in Recent Art (2014), for which he was an associate editor, is published by SUNY Press.
On billboards, online ads, the exterior of the building, and the entrance to the gallery, the larger than life title of the ongoing Edward Hopper exhibition at the Walker Art Center, via the Whitney and the Dallas Museum of Art, Hopper Drawing: A Painter's Process, informs us that we will witness that process through which Hopper progressed as he made his paintings. The opportunity to see an artist's process is rare. We do not often see the fits and starts behind the works in galleries and museums unless we seek them out in the artist's studio or, like Hopper, after the artist is long ensconced on postcards and will safely draw a crowd.
The Walker's galleries are filled with drawings, sketches, studies, correspondence, photographs, and extensive explanatory text. These other materials are intended to bring the paintings to life, to reveal the technical depth, tremendous labor, and detailed forethought behind the surface of the paintings. They are elevated to the level of paintings; framed, carefully displayed in vitrines, they create a false narrative of a relatively linear progression from experience or idea through studies and sketches to the finished painting. Even in the particular pieces that show a direction Hopper did not ultimately pursue, there is no room for multiplicity in the narrative, no space to consider the failure of a particular sketch to capture the desired lighting within the crafted momentum toward the completed painting.
I have desired failure recently, wanted to see the failure of artists and the art world, the works that do not leave the mind to become reality, the realized projects that are never shown, the disastrous performances we do not record, the social engagement with zero participants. We must understand our failures and shortcomings, the false starts, the flops, the imperfections we cannot help but embody. Only then can we begin to understand and learn from the ways in which failure is defined for us.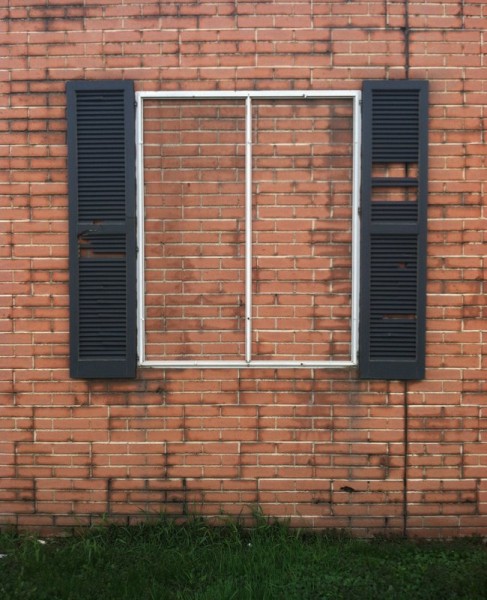 Saint Paul is one of the few cities to receive significant arts funding from the John S. and James L. Knight Foundation. As part of a larger investment in the arts this spring, the Knight Foundation announced that Saint Paul would be the fourth city to host a Knight Arts Challenge, with $4.5 million available over the next three years. The rules for submitting a proposal were open and meant to expand foundation funding to ideas from individual artists. The rules for the Knight Arts Challenge are simple:
The idea is about arts.
The project takes place in or benefits Saint Paul.
You find other funding to match the Knight Foundation grant.
The application was brief. They encouraged individual artists, collectives, and businesses to apply, specifically mentioning that the idea was of primary importance, not the future concerns about funding or sustainability. It was an open call to experiment, to bring forward the best and brightest ideas that will shape Saint Paul for years to come.

$9 million, including the matching funds, is a tremendous amount of money, even for the already generous Minnesota arts funding landscape, and it will inevitably shape the future of the arts in Saint Paul and the Twin Cities generally. That money, of course, will not fund the hundreds of proposals that do not meet the Knight Foundation's criteria for success.
As a community, we must ask ourselves how we can salvage those alternate futures, the failures we may not have the capacity to realize as millions of dollars and thousands of hours support the selected ideas. We need to capture and bring forward all of the ideas submitted to the Knight Arts Challenge and every other arts funding and exhibition opportunity. They will not all be perfect, but they contain the possibilities for reimagining and remaking the future we need. We can be ready to meet the real and pressing challenges of the future – growing inequality, the effects of climate change, lack of substantive communication between people – but to do so we must first learn together from our failures, from our imperfections, from our very human selves.
The ironies were too many to pass up writing about Pedro Vélez for Bad at Sports. Most immediately because I am a white male (no matter how I try, will this article be an episode of what Vélez constantly points out, neocolonialism?) who readily acknowledges the privilege within the system that's been set up around me. Ironic since I have not seen the Whitney Biennial yet and am not sure if my budget will allow me to fly out to New York City, so I haven't seen Vélez's piece in the Whitney. Doubly ironic again since at one point several years ago Vélez publicly announced that he would not show art in Chicago since the city and art scene could not handle someone operating as both an artist and a critic. He chose to operate as a critic in Chicago so the only artwork of his I've really seen is the work currently at monique meloche gallery (mmg) for the "On the Wall" series. And lastly, it was ironic since it wasn't so long ago that Dana Bassett made a gif of Vélez's Twitter avatar, morphing him into the Grinch for her "What's the T?" column on this same blog, in response to some comments she judged too harsh. They wouldn't be the last from him.
Despite and perhaps because of these ironies, I'll press on. If you've been following Pedro Vélez on Twitter, as indeed you should be, you can begin to see how linked his artwork is with his work as an art critic. Speech is a key element of Vélez's work in all senses, and it is frequently put under his microscope: he examines which artists get talked about, plus why and how are they talked about; curating as speech receives a similar treatment as does museum administration; and perhaps most importantly, Vélez regularly surveys what we (the art press and critics) aren't talking about and why, and what does that say about us and the larger art system? These notions and the questions they provoke are taken to Facebook and Twitter for quite lively discussions and debates that can join together like-minded individuals or result in some bruised feelings—both outcomes are equally likely.
It wasn't surprising to see the devices of speech that Vélez often uses on display in his #DrunkDictators installation at mmg.  Included on large poster-like sheets are the hashtags he refers to frequently, such as #neolibralism, along with less likely tags invented to roll together multiple points of critique like #Jame$Cunolialism, which is a pointed reference to the previous director of the Art Institute of Chicago. The iconic Twitter bird is included, drawn by hand, and appropriately, it's breathing fire. Vélez doesn't mince his words—that's what makes him a good critic, but because of that he is often accused of being angry, an accusation he notes is likely to be born out of stereotypes since his white counterparts often receive no such accusations. #angry is also included on a poster-like area of #DrunkDictators. Around these are hand-drawn picket signs with a letter style approaching a punk rock flyer crossed with early graffiti. The phrases here are more opaque, even if you follow his dialogue online, like "Rum Ruby Stato" or "#15."
These pickets and the hashtags (one picket just has #s on it) are the most overt reference to what has become called "hashtag activism," which is a horrible, condescending phrase that seeks to neutralize the incredible power that activism can have on social media as networks spontaneously link up for a common cause, bringing together what Vélez both facilitates and instigates on occasion. As I write, apparently Fox "News" is slamming #BringBackOurGirls while willfully and gleefully ignoring the fact that such a tag is intended to motivate the political action to bring back the kidnapped girls, not to get the kidnappers to give them up—but when it comes to #Benghazi, Fox News is all about tags. Digital activism is an extremely important political tool as is its continuous development, and Vélez is one of very few artists to take it seriously as an art inspiration.
The questions that Vélez brings up consistently are vitally important ones of representation, of power, of true, real equality, of freedom and agency. They are not questions only of interest to people of color; they are not narcissistic questions. They are of course questions that many people would prefer not to ask, or answer, or even find out the answer to. And people get upset when these questions are asked and answered. But they are central to moving our world in a more just direction, and therefore, these questions must be posed. Thank goodness Vélez is asking them—few other artists are.
Vélez's work is on view in the 2014 Whitney Biennial through May 25, and his #DrunkDictators is on view at monique meloche gallery through May 31.