Over the coming months, the Bad at Sports blog is featuring quick glimpses of the art world as it exists in smaller cities across the country and around the world. Each glimpse is byway of some of the said city's local characters, which include but are not limited to artists, curators, creative writers, and critics. This week, we take you to Kansas City, the state-stradding city that produced the likes of Robert Altman, Amelia Earhart, Robert Morris, and Charlie Parker, to name a few. 
Six Shows and a Paradox
Guest post by Will Meier
January's freezing wind blew into Kansas City more than a handful of interesting art shows, most of which fit into a conversation concerning the correlation between pictures of things and picturesque things. Six of these recent exhibitions feature crossbred sensibilities of both flat and dimensional work, seemingly split halfway along either side of a conceptual Möbius strip.
At City Ice Arts hang several of Miles Neidinger's drawings and mixed-media assemblages. The show's center of gravity is The Anatomy of the Palace of Wisdom, a creature-like storm of various vibrant plastic line-segments. Spanning the 20 or so feet from the ceiling to its sedan-sized footprint, the piece is definitely a sculpture in its verticality and volume. But Neidinger says he wishes we would consider beauty, rather than architecture; with that logic, Anatomy could also be thought of more like a canvas laid on its back, with frantic, sparkly brushstrokes swooping up into the room like an animated de Kooning.
Up-and-coming ceramicists with work in OBJET, a "pop-up boutique" at Charlotte Street Foundation's Paragraph Gallery + Project Space (part of the organization's Urban Culture Residency Program), extrude along three axes not just composite gestures but actual, concrete things. Assembled by Dean Roper (curator of Weed-Craft), OBJET is e-relevant, with a second-life on tumblr launched promotionally before the show's opening and outlasting it as a form of documentation. This in particular raises the big question (especially applicable to the physically remote "silicon prairie" of Kansas City): What is the value of the-real-deal next to its likeness? Around the room, a squiggly Kid-Pix-plus-crystals aesthetic comes to life, displayed on minimal, geometric structures reminiscent of web-design. But internet architecture aside, these artists are paying homage to the way printing (in both dimensions) has revolutionized the craft industry. Take any of Joey Watson's funky, futuristic Dope on a Rope necklaced rapid-prototypes, or shirts by Jennifer Wilkinson, featuring previously made and found objects flattened into digital images on fabric, which is then tailored and wrapped around the body like an IRL displacement map.
In the larger of Haw Contemporary's galleries, Del Harrow from Colorado also shows a spread of digital-come-ceramic work in Breath. There is a CAD-plotted drawing that flattens the many evolutions of a CNC-lathed vase. But at the back of the room sprawls the showstopper: an assembly of many organic and geometric forms that Harrow calls a "still-life." Motifs from some of the scenic arrangement's discrete objects are echoed in the structural "morphology" and surface treatment of others, like in one brilliant detail—a tiny slice of leafy shadow cast in gold paint, barely visible on the side of a giant Lemonhead. This sort of inter-object contingency forms a scenic, pictorial stew of three-dimensional abstract harmony.
As seems customary, Haw Contemporary features two concurrent shows. The doorway between them begins our Möbius twist into imagistic territory. Corey Antis' The Head on the Door presents mostly small paintings of wonky, boxy forms. Antis, who believes perception is "measured between the solidity of material and its image," plays a game with "twofoldness," where a painting is both a material plane and a representational portal. But his works are glitchy portals, residing in paradoxes of contradictory spatial cues. Take one of Antis' "proposals for…perception," like Untitled (Demo), where the void of the panel's white ground corrugates the sunnily stripy pattern of something seemingly solid. In the end, of course it's an image of that wedge-ish thing, whatever it is…sort of.
Inferable by the title of the ongoing SPECTRA film series' exhibition, Sculpties, guest-curated by artist David Rhoads, the five videos in the H&R Block Artspace gallery show us scenes of objects and phenomena, aimed at an experience "closer to sculpture than film." Here, rather than as a narrative vehicle, time functions as motion in space. Rhoads shows all the work at once in a considered layout, instead of in typical 'screening' format. Two painterly collaborative videos by Robert Heishman and Megan Schvaneveldt, who live and work in Chicago, are shown back-to-back on large flatscreens. The artists puppeteer colorful, textural materials and symbolic objects within a shallow depth-of-field, compressing props, natural forces like wind and gravity, and their own personas into dynamic images. During Sculpties' one-night opening, it was easy to forget that, despite being the two-dimensional medium that most closely mimics all the phenomena of the real world, video is still really, really flat.
Last but certainly not least, Scott Dickson's solo-show, We Are Not This Body, at PLUG Projects, is full of fantasy, providing portholes not just to non-spaces or our own reality, but to another surreally fictional world entirely. Using the transformative medium of collage to transplant peculiar forms from one image into the stage of another, his precise compositions read mostly as landscapes. Yet they are also LEGO-like, monumental science-fictions about humanity's screen-bound destiny.
As elucidated by the work in these six shows taken in totality, images of objects and imagistic objects, despite their surface distinctions, are just two sides of the same cyclical conversation. Take the staged picture of Wilkinson in one of her shirts: a ceramic nodule, photographed, printed, sewn, worn, seen anew as an image in your web browser. Screens and substrates (think Antis' surfaces) are tangible things even though we now primarily 'touch' them with our eyes (as we do with anything in the third dimension, including Neidinger's plastic abstract-expressionist tornado). It is our inclination to wish that images of our fantasies were real and that what's real would fit the images of our fantasies. It's a paradox. One that is gaining increasing relevance in proportion to the amount of our daily experience made up of pixels. And as the boundary between what is real and what is like-real continues to dissolve, one thing is certain—the most engaging way to explore these sorts of ideas is through the fluid forum of art.
Will Meier is an artist and writer living in Kansas City, Missouri. After completing his BFA in Painting and Creative Writing at the Kansas City Art Institute, he was awarded an inaugural studio writing residency through Charlotte Street Foundation's Urban Culture Project. His writing has been published in various Kansas City print publications and can be seen on his blog: willmeiertext.tumblr.com
Over the coming months, the Bad at Sports blog is featuring quick glimpses of the art world as it exists in smaller cities across the country and around the world. Each glimpse is byway of some of the said city's local characters, which include but are not limited to artists, curators, creative writers, and critics. This week, we take you to Kansas City, the state-stradding city that produced the likes of Robert Altman, Amelia Earhart, Robert Morris, and Charlie Parker, to name a few. 
Every City's Second City
Guest Post by Garry Noland
When I was asked by Bad at Sports to write this article, the request focused on what it has been like to be an artist in Kansas City for "however many years it has been."
I've been making things since I was a boy but started thinking about the context of my work in 1980.  I knew going in that artists didn't make any money. That's why I thought art history would be a good career move in 1976; it seemed like doing research on Frederick Law Olmsted, for example, would be an easier job.  I've had factory work slagging welds and jackhammering frozen coal piles.  That didn't work out either.  Along with a series of day jobs I've thrown together a studio career that's gone from the kitchen table to a 3,000 sq. ft. studio and back again. I feel successful if I don't factor in money. I'm grateful for the support of my family and artist colleagues here and around the country.
In 1977 I was a student assistant for Hollister Sturges, who was in Chicago curating for a show at the University of Missouri – Kansas City (UMKC).  The show, titled Chicago Abstractionists: Romanticized Structures, allowed me into the studios of John Henry, Paul Slepak, Dan Ramirez, Miyoko Ito and others. Ted Argeropolos had passed by then, but his work was unforgettable. We had dinner at Vera Klement's place and a few too many drinks at a Greek restaurant with Jane Allan, founder of New Art Examiner and Derek Guthrie, a painter and NAE's publisher.
Flash forward to 1993.  I hailed a taxi at Midway.  I was in town for a show at Deson-Saunders Gallery. Mark Saunders had seen my work at the NIU Chicago Gallery and then included a few of my pieces in a group show. I was amazed by the activity in the Chicago galleries and knew there was nothing back home like this.
The driver asked me where I was from. "Kansas City," I said. Eyes up in the rearview driver says, "you know they call KC 'Little Chicago'."  It had something to do with the mob, he said, and if it got too hot in Chicago, "the boys hightailed it to KC."  Nice to know.  It doesn't happen that way, probably, anymore.
So this was the SECOND City?  Driving back to KC with a load of paintings and sculpture I wondered….if Chicago's the Second City, how good was the First City? And like Dorothy's Emerald City, what happened when the curtain was pulled aside? Where did KC rank in all this?
The truth is every city's the second city. Being an artist carries with it a cruel joke. We pursue beauty, achieve it sometimes, but nothing's ever enough. At least it shouldn't be; it's how we move forward. The grass is always greener on the other side of the fence or in another gallery.
There's a lot more activity in KC these days compared to 1977, or even 1993.  About the only chance for a Kansas City artist in 1977 to gain a little traction was to be chosen for the Nelson-Atkins Museum of Art's "Thirty Miles of Art" or to teach at the Kansas City Art Institute (KCAI) or UMKC. "Thirty Miles of Art" (for which my work was rejected twice) was a local, less vigorous version of the Museum of Contemporary Art's "Chicago Works" series.  Another alternative was to get involved with the Kansas City Artist's Coalition (KCAC), an artist-run space that formed coincidentally with Chicago's N.A.M.E. and ARC.
What's better now in 2014 stems from one thing:
Millenials are coming to town and sticking around.  The Charlotte Street Foundation's (CSF) sustained programming, supporting the work of Kansas City artists, has not gone unnoticed by recent classes of art school and university art department graduates.  Kansas City is a viable alternative to more expensive locations—such as Chicago, New York, Los Angeles and San Francisco, to name a few—in which to set up a studio, develop and show new work.
The result is young people working in the studio—even if it's a kitchen table, opening exhibition venues, writing poetry and scripts, publishing blogs and creating choreography.
In artspeak, these people are called emerging artists. Truth is, if you're not emerging, you're not an artist.  The inherent problem is: if an artist's always emerging (code for not producing commodity), how can the collecting class count on a stable, value-enhancing product?  For the commodity art you'll have to go to New York and that's exactly what the collecting class of places like Kansas City does. That will always be the problem in Kansas City. Artists in Indianapolis, Pittsburgh, Williamsburg and Red Hook are likely to tell the same story. 
CSF is not the only institution that's supporting and motivating this new, broader generation:
The H & R Block Artspace at the Kansas City Art Institute sponsors a biennial of works on paper called KC Flatfile, a project that archives into several large flat files scores of area artists' drawings, collages, prints and more. The Artspace, led by director and chief curator Raechelle Smith, makes a point of involving local and visiting curators to create short-run installations featuring works culled from these flat files. Furthermore, Smith and her Artspace team actively support experimental presentations by local curatorial and studio projects.
The Nerman Museum of Contemporary Art at Johnson County Community College regularly hosts artist talks for the student population. Director Bruce Hartman is a booster of KC artists by making sure that the museum's collection represents KC diversely. Dylan Mortimer, a local artist, is currently having a solo exhibition at the Nerman.
The Kemper Museum of Contemporary Art's newish curator and educator (she's been on the job for a little more than a year) Erin Dziedzic is becoming known for making studio visits and is planning a series of group exhibitions focusing on artists in the metropolitan area.
PLUG Projects is an artist-operated storefront gallery.  PLUG focuses on exhibitions by local and national artists. Its exhibitions are supplemented by a film series, critique night, and 8 ½ x 11, a printed venue for art writing in KC.
UMKC's Fine Arts Gallery has been remodeled and, under artist Davin Watne's guidance, is kicking up the energy several notches with multi-disciplinary programming and projects by emerging artists.
Artist Inc., in conjunction with UMKC, CSF and ArtsKC, a city arts council, provides networking resources and entrepreneurial workshops for artists, writers and actors in an effort to help them build a sustained professional career in KC.
There are others, too: KCAC, Rockhurst University's Greenlease Gallery, Fishtank Theater, The Living Room, Cupcakes in Regalia, Blue Room's Jazz Poetry Series, The Writer's Place, Garcia Squared and Studios Inc.
How have all these millenials affected me, someone who just turned 60?  I am amazed at their work ethic and dedication to studio practice.  It makes me work harder. Conversations about work and ideas are exchanged in organized critiques, and sometimes one on one.  They've raised the temperature and sophistication of the dialogue. They seem interested in the older generation and the history of KC, thus the paybacks seem reciprocal.
There's pressure too: to perform… to attain or retain some semblance of relevance locally and nationally.  It'­­­­­s common to hear fellow artists comparing and contrasting colleagues' work.  A context is established and all boats rise. Artists want to do "8 for 8." They want fair value for their work. It sounds middle class and that's a good thing.  We all want to work and we all do work.  There's ample trade in doing what artists do: (cliché alert) asking and answering questions, questioning the status quo and blurring jobs and job descriptions. Maybe the country's new creative class is the country's new emergent middle class.
That's my city.  I know though, in the larger picture, if there are 50 artists here working their asses off, there are 100 in St. Louis, 500 in Chicago, 5000 in New York and who knows how many in Dehli or Shanghai.
Turns out, every city's the second city.
Garry Noland graduated from UMKC in 1978 with a BA-History of Art. He contributed regularly to New Art Examiner, Forum (the monthly of Kansas City Artists Coalition) and Art Extra, a publication from Wichita, KS. He won a NEA Fellowship in Paintings and Works on Paper in 1994 and was awarded a Studios Inc Artist Residency in 2011. Noland's work has been exhibited recently at Bemis Center for Contemporary Arts, Indianapolis Art Center, Hardesty Art Center and la Esquina. Upcoming exhibits include The Center is a Moving Target at Kemper Crossroads (Kansas City) and exhibitions at Zarrow Gallery (University of Tulsa) and Beverly (St. Louis) with his daughter, Peggy Noland.
This interview has been long in the making — it began months ago after I visited Robert Burnier's solo show at Design Cloud in the West Loop. It began because I'd seen Burnier's work over the preceding summer at Andrew Rafacz Gallery, and again at Chicago Art EXPO; it began because I kept wondering about his crumpled aluminum wall sculptures — what to me have always seemed like the wreckage of a minimalist object, still pristine, still auratic, and yet all the more difficult to resolve somehow. The following interview, conducted largely by email, paralleled other conversations we had begun about what is and is not considered natural — a conversation embedded in my own curatorial research at the moment — and how our understanding of digital space is influencing our understanding of a material landscape. Not surprisingly, Burnier yielded a wealth of insight and I'm happy to share at least some of that dialogue here.
Caroline Picard: How do you think about landscape? Does that question emerge when you're composing your abstract aluminum works?


Robert Burnier: I definitely have to be conscious of landscape in the sense that anything for the wall can be seen in that way. Beyond this, though, I've often made work that hovers or vibrates between the categories of landscape and figure, or landscape and terrain. By "landscape and terrain" I mean a difference between pictorial space and experiential space.
 For the sculptures, specifically, the idea of terrain is very important. As opposed to a more direct kind of construction and mark making, I think about operating within something that comes with its own history and peculiar spatial configuration. As I move through these spaces, I look for something interesting to emerge. They also essentially operate on me as they proscribe certain actions through their boundaries and character, and by how every move simultaneously closes some pathways as it opens others. And yet they don't completely dictate what I will actually do with them as a whole.
CP: You've mentioned the situationist dérive in conjunction with your aluminum pieces — as though to suggest that the ways in which you improvise, negotiate, fold and crumple the material is a kind psychogeographical exploration of that same material. Would you agree with that?
RB: Yes, I would agree with that to a large extent. In retrospect, I think I've been interested in something like that for a long time, actually. I've always had a penchant for wandering urban spaces in a way reminiscent of what Guy Debord describes in his essay on the theory of dérive. So it's made its way into my practice more or less consciously. While dérive was a response to physical urban spaces, we also experience our contemporary urban geography through virtual structures, with populations acting in concert with communications networks and sets of common interfaces and devices, etc.

In my work, I've put virtual and physical spaces on par in certain ways. They are both material for use. I might use off the shelf CAD systems, readily available physical materials and commercial paints. What I do with them resembles a dérive in the sense that I "walk" through prefigured fields of shapes — or terrains as described above — while translating between virtual and physical mediums. Certain complexities play out on their differences. For example, a form in a CAD system may be contradictory or at least untenable in the physical incarnation. So I'm discovering certain things as I "test" them [those digital systems] in, say, sheet metal. I start out by following the lines, by scoring and cutting by the potentially "problematic" drawing, but then I take detours and make other choices that go against the line, and ultimately still produces something that contains and expresses that original trajectory. In a very general way, I like to think that whenever I use a CAD system, a can of spray paint, or a gel pen, I'm definitely handing a lot of what happens over to the nature of that system or material. Its not exactly collaboration, but its a kind of acceptance of mass technological culture in the work. At the same time I try to make these things go beyond themselves rather than have them pass unfiltered.

CP: Is your background in computer science present to you when you are working artistically?
RB: More than anything right now, certain states of mind that come from working with computer technology and software have a bearing on what I do. I am focused on process and algorithms as ways of approaching art where the steps I lay out matter to me as much as whatever actually happens. I should add: "as much as", but "not more than". Often what I'm trying to do is come at these things from a decidedly different vantage — by taking something precisely, mathematically defined and putting it through the vagaries of some physical challenge, or employing techniques that are at cross purposes with straightforward execution, or by making two things interfere with each other somehow. But its also critical that I be me in the studio doing something. Its not just about a fascination with wreckage or a glitch, or winding up elaborate systems that plays themselves out.

CP: How has minimalist sculpture influenced you?
RB: The direct and experiential aspect of minimalism always attracted me. One thing I take from it is the idea of art as a demonstration; a thing put forward as a concrete suggestion. But I never think about this concrete presence as some completely stable, impenetrable unity. 

I like to see what is real, in front of us being what it is and also something else. It can be a material that is made to appear like a different material, for instance — something that creates an impression that goes beyond itself. I get excited when a sculpture appears simple or decisive in some way, while being difficult to add up. Minimalism often worked to achieve a kind of wholeness that I sympathize with, and at the same time I try to complicate that.
CP: Do you worry about scale at all?
RB: There are current tendencies toward the non-monumental I can identify with, though I don't feel especially constrained by them. Right now I am making generally smaller work that enters painting dialogue and exists in a somewhat more intimate individual space. I like to think someone can enter into a piece and follow me when they are presented with what happened as much or more than they would if they were confronted by something especially sizable.

What a minimalist approach does for me is increase my focus on small moves and their potential significance. Of the few elements I do bring together in the work, however, I like them to play against each other subtly rather then be simply aiming toward the same whole.
CP: Do have expectations for what a work of art should do? Where do those come from?
RB: Minimalism turned over a lot of fundamental things about what constitutes a work of art. Is it supposed to absorb or repel a viewer? Be autonomous or relative to its environment? Instantaneous or durational? However I answer those kinds of questions now, thinking about Minimalism has made an indelible mark on the way I approach my work even if only in the kinds of questions I ask of it.
CP: You work in other mediums as well, which require their own strategies…
RB: 

I like the term "strategy", which implies a consideration of means to an end. I like to try different things out. Hans Haacke's "project based" approach comes to mind. But I also have a thing for the ineffable surprises to be found in the arrangements of an artist like Richard Tuttle and how he can burrow in on an investigation through as series of objects. When it comes down to it, though, I actually think in a very physical and experiential way about what I do and source things from experimentation and a process of discovery. I remember Terry Myers telling me of his impression that I was "tinkering" around in the best possible sense. That sticks with me.


CP: You have  series of line drawings on plywood where you reproduce wood grain. Where did that body of work came from?
RB: So with the drawings on plywood panel, I wanted to see what would happen if I took a few elements, thoughts and actions and wove them together. Plywood is interesting as a kind of hybrid, something natural that has been made artificially stable through geometry and chemistry, like a prepared and preserved food. And yet it has this natural wood grain. I thought the most direct approach would be to have a square of the material, and to work within the boundaries of that space by drawing something equally basic — a series of lines from edge to edge. The lines get very complex when you draw enough of them next to each other freehand. I could have predicted the moire pattern, and I chose a color that was a really good not-quite-match for the Baltic Birch, hoping it would "sink" into the wood visually. But it turned out even better than I imagined, judging by the way you read the lines as virtual wood grain.
CP: Do you feel, regardless of medium, that your work addresses related themes? Is that important to you?
RB: Yes. A culturally situated identity or a logically constrained action are important touchstones, for example. Mediated marks, subsumed images and ruptured natures are important, such as in the plywood drawings or a fully representational, painted sky scape I separated onto multiple panels and turned sideways to transform into a minimal color grade. I always try to confuse and mix these things. In all of it I hope a little bit of expression will sneak out from under a pile of process, enter through the back door of an algorithm, or emerge from a bunch of repetitive doing. On the subject of constrained identity, I've been thinking about and talking with a number of Chicago artists who may share some of my mixed cultural and racial background. The more time I spend on that the more I think there's something I have to find in that. Along those lines, choices like the use of Baltic Birch and African Mahogany plywood for my drawings resonate, given my 50/50 Northern European and African genetics. African Mahogany, I've discovered, also has something called chatoyancy which causes its color to  change appearance depending on the angle of view.
In comics in the US, there is a prevailing stigma of creators being misanthropic shut-ins. A stereotype that afflicts not only content but creators' self-hood alike, and an identity which is defensibly bunk.
I first met Lyra Hill during a class we had together at the School of the Art Institute. Hill is a filmmaker, cartoonist, and the producer behind the experimental comics reading series Brain Frame. Since it's conception in 2011, Brain Frame has served as a storytelling platform for a mash-up of emerging and more established artists (myself included).
Every other month audiences are invited to a celebration of strangeness and a showcase of eccentric ambition. In it's many iterations, the event has become a beloved happening among independent artist communities in Chicago. What began as an exploration into what a comics reading could be, has become a site of social engagement within a medium still haunted by rigid versions of its self.
Lyra and I sat down recently to draw upon and reflect on Brain Frame's final year.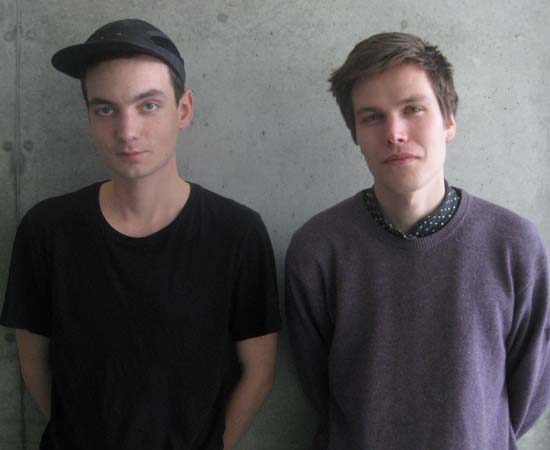 Eastbourne is a quiet town, perhaps too quiet. The fading resort on the South coast of England is a popular destination with old age pensioners, who come to fade out in their turn, amidst tea shops, guest houses and an appealing promenade.
But something sinister is afoot, thanks to a pair of artists from the new home of Noir, Scandinavia. Indeed John Skoog and Bjarke Hvass Kure come from Sweden, where you get the impression that criminal corruption can happily co-exist with outward calm.
So, this overseas team have come to Eastbourne's fantastic Towner Gallery with a sceptical eye. Having been invited to curate a show based on the permanent collection, they have called it Near Dark and now liken the four rooms it occupies to a crime scene.
"We were just clicking through the database and then we started talking about . . . Agatha Christie, this small town British detective story," says Skoog who, together with Kure, has rifled through the permanent collection for evidence of misbehaviour.
Kure picks up the thread: "It is a mystery and it can be solved, or maybe it can't. Sometimes what's interesting about a crime is not necessarily finding out who did it, but more about actually the interpretation or deducing a meaning from images".
Some of those images will be familiar to visitors, some less so.  Both artists report a sense of near déjà vu as local landmarks appeared and reappeared in the vaults of the gallery. And Towner has a monopoly on images from the adjacent South Downs National Park.
But less familiar will be the unfinished works by Eric Ravilious. Eastbourne's famous son is perhaps best known for his charming watercolours of the rolling hills which form the backdrop to the town. Now visitors have a chance to see him stripped bare, as it were.
Skoog and Kure are exhibiting a previously unseen colour test. The loamy shades of green and brown could only belong to him. Nearby is his incomplete view of Beachy Head, a nearby cliff with the sad distinction of being the country's most infamous suicide spot.
And no one is above suspicion. Though both artists insist this show is not a whodunnit, they lay a bold accusation at the Gallery's door. "In some strange way, it's Ravilious – but it's also Sherlock Holmes," says Skoog. "He's the one, who's maybe like Sherlock Holmes turned bad or something. "
Well, if Holmes had his violin, surely the world is ready for a painting detective, even a rogue one if it comes to that. "It's really super exciting to see what people think, especially as Ravilious is The Man here," adds the artist.
Rest assured, as the show was shaping up Monday, there's was nothing too sacrilegious in the offing. Kure specialises in hanging arty shows like this: "We're trying to use the museum exhibition format," he tells me. "We we're really trying to be very sensitive to a lot of the details, a lot of the traditions, of how you make a museum exhibition."
"The exhibition is a narrative," he continues, explaining that variable lighting will give the visitor a sense this story is a cyclical one, from light to dark and back again: "You're an interpreter or a reader going through what's happened".
Skoog meanwhile brings a filmmaker's talents to the display: "There's all these filmic terms, like zooming, a pan, a tracking shot. We wanted to use all these terms, to use them as tools for making an exhibition instead of a film."
But while those techniques have made the final cut, the artist admits that the visitor may not even notice. Flashback is another technique, and the same local street crops up by two different artists in two different rooms, Skoog describes the slow realisation of this as "silently spectacular."
"The crime scene can also be read on a more metaphorical level ," says the filmmaker who intends the show to have the atmosphere of a good thriller rather than the payoff of a classic crime novel. But in a town where the thrills might be limited to chips on the pier, Near Dark should still deliver.
Near Dark can be seen at Towner Gallery, Eastbourne, UK, from February 8 until May 4 2014. The Gallery are also showing new film by John Skoog entitled Redoubt.