Guest post by Erin Leland
Staged inside the 2014 Whitney Biennial, three operas, originally written and scored by American composer Robert Ashley, and currently directed by Alex Waterman, took place: Vidas Perfectas, The Trial of Anne Opie Wehrer, and Crash.
A floor to ceiling mirror forms part of the stage backdrop in both Vidas Perfectas and The Trial of Anne Opie Wehrer, and in Vidas, video cameras shoot around and behind the actors through mirror reflection for in-camera image overlays. E.S.P. TV, an organization dedicated to live studio broadcast, real-time edits the multiple camera angles and transformations into the live-feed television taping in front of the audience. The live feed composition changes according to a written score, melding shots of the performers with scenic footage from a town, coordinated in time with the language spoken on stage.Vidas Perfectas is the seven episode Spanish version of opera-for-television, Perfect Lives, performed live in varying incarnations since 1978. In July, Vidas Perfectas will be performed in El Paso, Texas; Ciudad Juarez, Mexico; and Marfa, Texas.
Actors enter the scene with their lines printed in hand. Strict memorization is never a part. Memorization of lines might be impossible. Plot premises are visible right away, however hypnotic the scripted effect. In Vidas Perfectas, there is a bank robbery, a marriage, a getaway, a distraction – the plot endlessly ropes. Yet, the plot twists fall away, and as it seems – none of it ever mattered. Only the plot's textured details are omniscient: the returning Bartender, virtuoso piano playing, gossip. Plot is a regurgitation of a television drama through a border town.
I interviewed a performer in Vidas Perfectas, Raul de Nieves, and asked: "Originally, Perfect Lives was set on the Illinois and Indiana border. Is Vidas Perfectas set in a particular place on the Mexican border, or is it anywhere or everywhere on the border?"
Raul: "I think it's anywhere and everywhere on the border. Vidas Perfectas, the Spanish version of Perfect Lives, to me is more like songs. I remember the first time I crossed the border here, when I moved from Mexico to California. Once you cross, you can't go back, or you could, if you have papers. Borders, they do exist. It's a very important piece of land that divides everything."
I also spoke to Elisa Santiago, a performer alongside Raul in Vidas, "You played more than one character in the play?"
Elisa: "Everyone plays a few voices. Sometimes more percussive, sometimes more airy, sometimes more determined. And Alex (Waterman) always insisted that sometimes we are speaking from the character's voice, but sometimes we are speaking from the landscape."
Raul played several characters – the Captain of the Football Team, the Bartender, and as he said, "the way it was explained to me was, I was one of these voices that are supposed to not be there – "
Erin: "Part of a chorus?"
Raul: "Like those voices in the back of your head that are telling you what to do or what not to do."
Qualities in common between the three operas are slowed speech in stark surroundings, an onslaught of talking. Intermittent information leaks into the set from the world – a discussion of statistics, footage of a rolling highway, photographs of talent agency advertisements, and questions, like, "Have you ever used the telephone to falsify your identity?"
Ashley writes operas about being ill at ease. The scripts are composed largely of conversations. Either the plot or the conversation, depending on the opera, becomes hard to follow. For example, The Trial of Anne Opie Wehrer presents a person on trial – in the original it was performed by Anne Opie Wehrer, a friend and collaborator of Ashley's. The new version put four distinct personalities on trial over four performances during which the tone changed from combative to manic to squeamish. Elisa: "In the Trial, for instance, there are proxy characters and interrogators – the proxies could answer real answers from their own lives, or answers through Anne's story. They had really researched Anne's biography and her answers, and they could give her answers."
Interrogators sit behind the person on trial and ask questions, until, at some point the question-askers begin to become the answer-givers, forming a interrogative chorus from behind. An interrogative meditation.
Elisa Santiago described Ashley's method for writing scores, "Some thoughts are very short within a longer thought. There is the thought, and the reaction to the thought, in one line. It's almost like he is asking something and answering it in the the same line. Almost talking to himself."
Robert Ashley scripts are speech patterns built, at times, from Ashley's own, real-life speech impediment. Ashley learned to speak slowly in order to calm a stutter. He replicated his own mannerisms in written scripts for actors to perform. The performers learn to speak by beats.
A most pronounced example comes from Crash: 
The Journal [Year 2]
At two years old I got e—
electrocuted.
I was a baby sitting in water in an iron tub on a metal t—
table.
There's an electric wall plug right there and wh—
wham.
Next thing is that some part of me is up in the up—
upper southwest corner of the room,
watching my mother and my grandmother
shaking my body and c—
crying.
I keep wondering why the up—
upper southwest corner.
The other day I read about a man w—
who got electrocuted by accident.
He says he was in the up—
upper southwest corner.
"Our safe anchor is the page," said Elisa, "but you can be a little open. Even though time is very specific – you never want to lose that beat, if a piece is in 5 or in 7, we don't want to lose the 7, but sometimes things get more circular. It's always not so sharp. If we drift a little in this thing, becoming a little more open, then as a listener, you don't know where the 7 goes, and that's when I love it the most. As a dancer and as an improviser, I always loved that moment when you have time so in you, when you've been counting a little too much, almost you can stop counting. The beat – it's inside. And you can be above it."
I asked Raul, "You were usually speaking in time with another performer, Elisa. Did it help you to keep time with someone else?"
Raul: "It's actually harder. If either of us jumped a page or a couple of paragraphs, I'd wonder, how do we get back? You have to silence yourself to get back."
Erin: "And then did it have a lasting impression on you to have learned how to speak someone else's voice?"
Raul: "Yes, I'll be doing my own work and then suddenly my voice starts sounding different. You know, especially when I'm just performing in front of someone, it's almost like it's already in my head, and it wants to come out again."
Ashley's final, autobiographically-derived opera, Crash, debuted in the Whitney Biennial shortly after Robert Ashley died this year at 83. Three kinds of dialogue form the script: a catalog of each year of Ashley's life, from age one until age eighty-four, each year journaled in a two or three sentence summary; a telephone conversation about researched superstitions, for example, a person's height as it relates to success, or the female – ten, and male – fourteen, year life cycles; and finally, a melodic and detached retelling of a man's collapsing spells in social settings, especially around people thought to be important.
At the time of Robert Ashley's death, numerous memorial postings appeared on the internet featuring remembrances. One in particular brought to mind an image of Robert Ashley standing on the border of a crowd – composer Alvin Lucier wrote, "I remember standing with him at gatherings in the Midwest, simply listening to people talking. He once remarked that, to his ears, the dull roar of many people talking was symphonic."
—
Based in New York, Erin Leland is an artist using photography, writing and video. She has recently exhibited in the group exhibition, White Petals Surround Your Yellow Heart at the ICA in Philadelphia and in her solo exhibition, Everything is Everything at Michael Strogoff Gallery in Marfa, Texas. A new series of photographs is included in the group show, Psychic Panic, in Pittsburgh, on view through June 29.
Guest post by Jessica Cochran
"I like the term project," he remarked in 1969, "because it is never clear what exactly is meant by it…it covers lots of different things; it is more open and full of possibilities." Seth Sieglaub (as quoted in Your Everyday Art World by Lane Relyea, 2013)[1]
As I wrote in a previous guest post, artists who have passed have a marked presence in this year's Whitney Biennial, which is more typically known as a survey for the living. Such is the case with curator Anthony Elms' inclusion of Academy Records / Matt Hanner. Hanner (whose work was also included in the Dallas Biennial), a much loved member of Chicago's art community, passed away unexpectedly in 2011, and so Elms asked Academy Records, led by Hanner's close friend and frequent collaborator Stephen Lacy, to work with Hanner's archive to develop a presentation demonstrative of the many connections between the late artist and Academy Records. Lacy dug into Hanner's large trove of works, which includes "sound verite," forms of mail art and ephemera, such as photographs and slides, among other works.
The Spectre, the resulting "cumulative work" on view at the Biennial, consists of a large black and white graphic wall drawing called The Spectre (the stars are falling) shown alongside Hanner's recorded sound and print ephemera, and a neon sculpture called Tomorrow is still above you, hung precociously over the entrance to the gallery (which Lacy referred to as an "in addition to" a clever revelation of artistic / curatorial decision making).  This gallery presentation is supplemented by The Bower, a 16mm film (screened over several days, not shown in the gallery) loop of blossoming cherry trees, set to the three-hour audio work No Jets, Hanner's field recording of the flight path to Chicago's O'Hare airport during the flight delay after the September 11, 2001 attacks. Academy Records has released the audio (compiled from four individual cds) as a vinyl record called No Jets, an artist's multiple, with the sleeve artfully and curiously designed, complete with liner notes. The film's cherry trees were filmed by Lacy outside the apartment where Hanner made the field recording. As Anthony Elms has written, this "system-specific" (a term coined by artist Stephen Prina)manner of working is typical for Academy Records. And as he wrote a number of years ago in the publication Cakewalk, "Asking Academy Records to do a project is like hiring a general contractor. A plan is in place; who shows up, how, and when is a bit of a surprise."
Platforms are distinguished by their looseness. Rather than bounded and fixed, they are traversable, permeable, and responsive, constituted by dialogue with an outside. Whatever profile of boundary they do possess is only the one their interfaces actively conjure. In this sense they can be considered performative; only through and within acts of coordination with peripherals and externalities does their existence as entities come into focus.[2]
I recently read that an "installation exists somewhere between the exhibition and the making of art."[3] I suppose that's as good of a definition as any. With this multi-faceted, dimensional work(s), Academy Records exploits that, with an added focus on labor and distribution, or "systems of delivery." More than an installation, this work hovers between project and platform, because it serves, as Lacy suggested in our studio visit, "[as an] abstract layering of poetic imagery" that creates a sort of "thru-line" between "works so quiet you could miss them altogether."
Needing to be experienced from within the gallery and the museum screening room to the record itself, The Spectre's many pieces fit together like gestures; they are conceived and responsive "acts of coordination with peripherals and externalities" that cross time and space. It's not didacticism, but a hidden logic, or mystery poetics that link elements, such as the wall drawing, which, as Lacy articulated, "falls away from the wall," to the other works in the gallery as well as to those that are distributed in a different time and place. To borrow an odd and wonderful term coined by Lygia Clark to describe her own abstract drawings, the work is "empty-full"—while it allows me (the viewer) to go where I need to go, it is loaded with a host of possible meanings, as I feel the weight of the work move with me through the space and back out into the world.
Since learning of this Academy Records/Matt Hanner project, its images, ideas and implications have followed me closely. It has hovered over my psyche the past few days in New York as I scrambled (and failed) to see the biennial again in person, colliding with my own distant memories of my grandmother (an artist, now gone) and her small ranch home in the earth shaking, jet-laced shadows of O'Hare airport; scrambling with loud 24-hour news cycle headlines lamenting the just opened 9/11 Memorial Museum; and filtering through the blossoming trees in Central Park and back home in front of my house in Chicago.
The following images constitute a curatorial response or a personal context for the work of Academy Records / Matt Hanner. Some are considerations of death; others share similar attention to distribution and labor; others employ drawing, video, the vinyl record, audio, or the archive.
For me as well, it represents a moment in time—this response in images would be different if I did it tomorrow, or the next day, or if I had done it yesterday.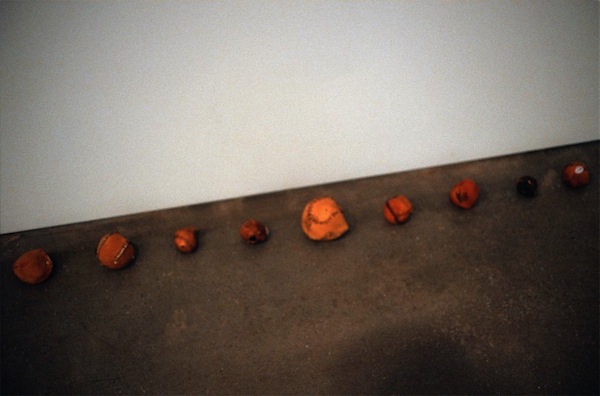 Zoe Leonard, "Strange Fruit," detail (1992 – 1996); exhibited at Paula Cooper Gallery, Fall 1996, 67 orange and grapefruit skins, thread, buttons, zippers and wax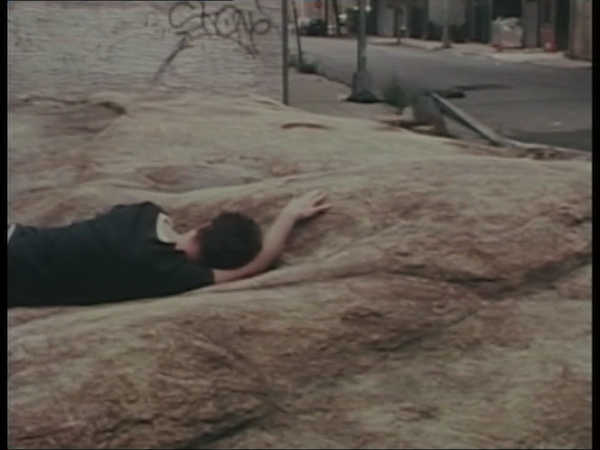 Ulrike Müller, "Mock Rock," 2004; 3 minutes, Super8 film transferred to video; view video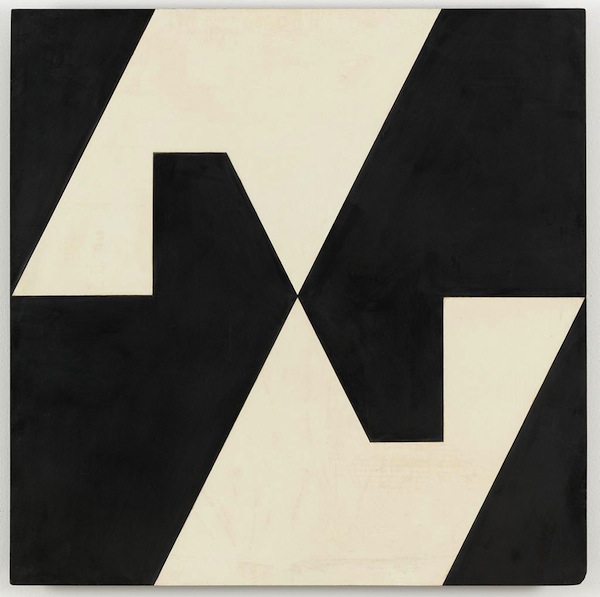 Lygia Clark, "Planes in Modulated Surface 4," 1957, Formica and industrial paint on wood, 39 1/4 x 39 1/4 inches; The Museum of Modern Art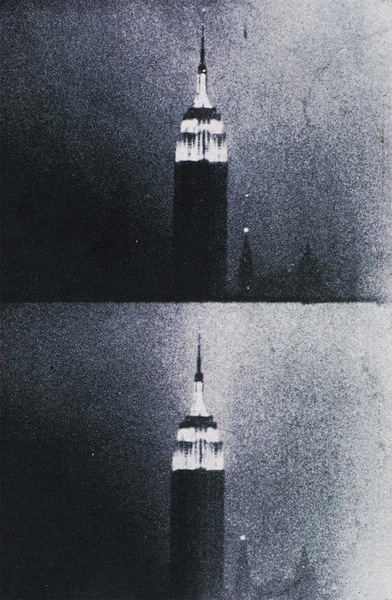 Andy Warhol, "Empire," 1964; film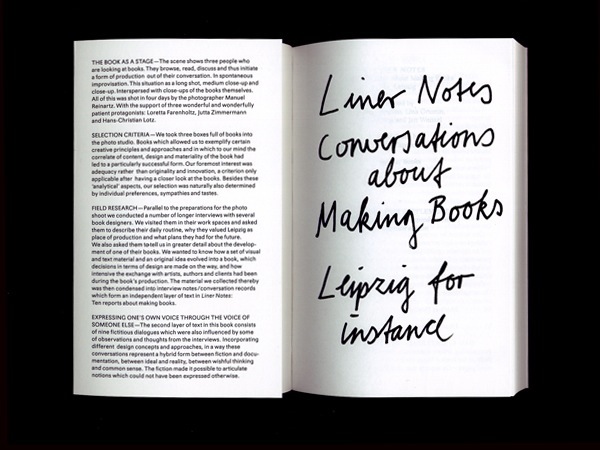 Liner Notes – Conversations about Making Books, Leipzig for Example; ed., Anne König, Jan Wenzel, Lina Grumm, Markus Dreßen, 2009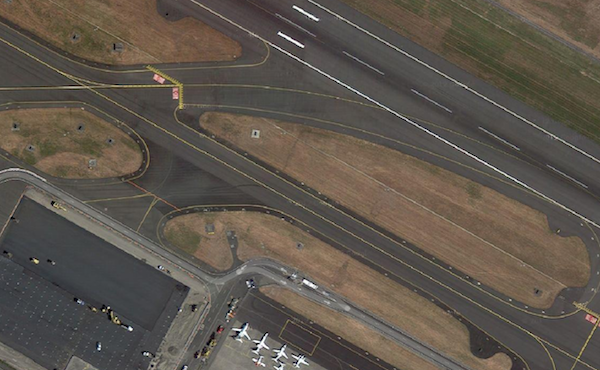 Nicholas Sagan, airport screenshots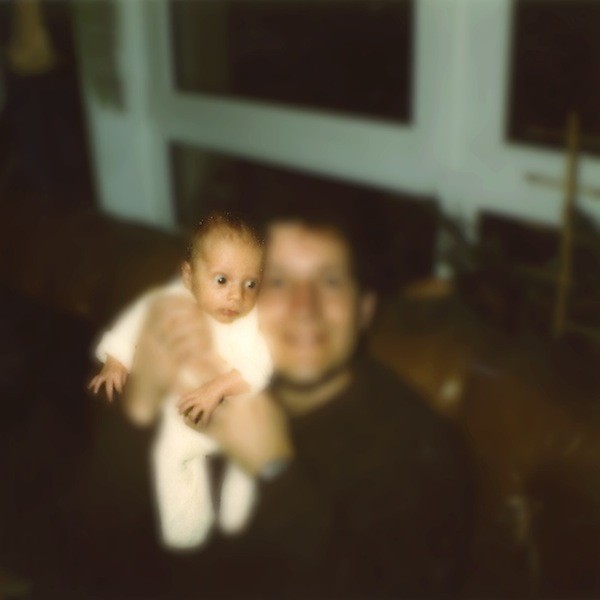 Pamela Bannos, "Baby Paul and his Dad," Scanned and Altered Vintage Polaroid, 2011; archival inkjet print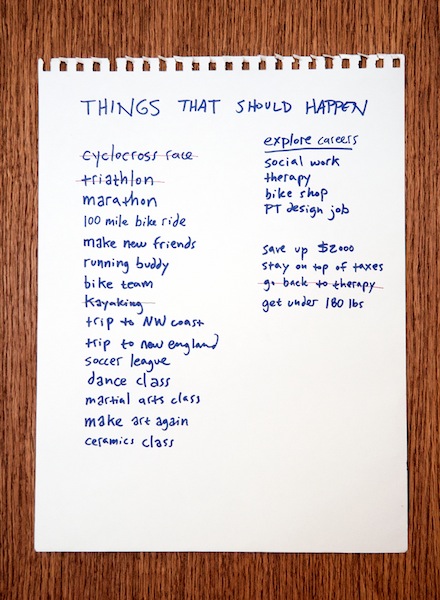 Pamela Bannos, "Things that should happen," 2011; archival inkjet print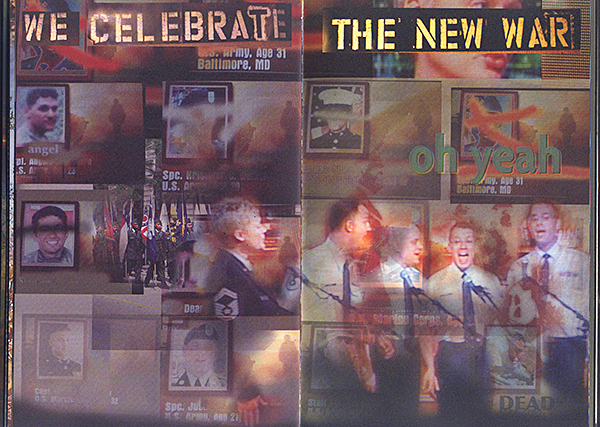 Brad Freeman, "Wrong Size Fits All," 2010; offset printed artist's book; 8 3/4" x 5 3/4", 112 pages, edition size 200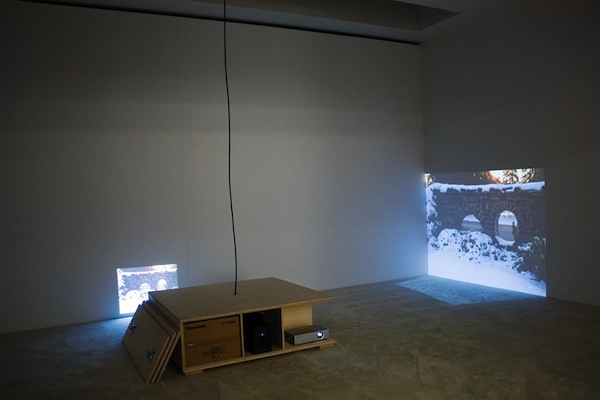 Stephen Prina, "The Way He Always Wanted It III," 2009; exhibited at Friedrich Petzel Gallery, Spring 2009; 33 mm film transferred to DVD; 3 Panasonic PT-LB800 projectors, 2 M-Audio Bx5a speakers, 1 Kramer Audio splitter, 1 Pioneer Pro DVD V7400 player, Monster audio cable, Baltic birch plywood, carpet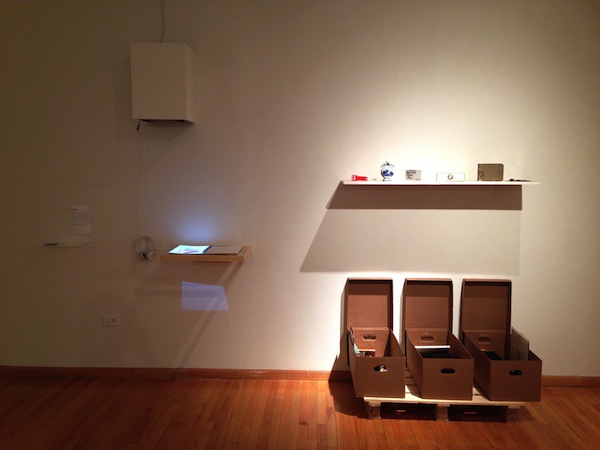 Kate Morgan, "Passages" installation, 2014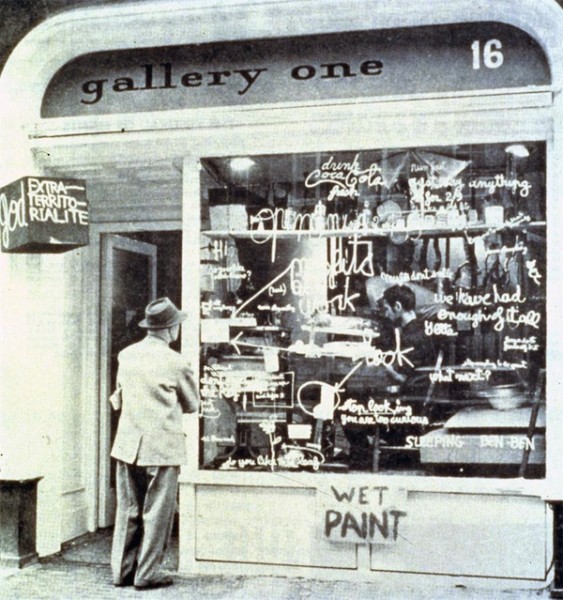 Ben Vautier, "Living Sculpture," 1962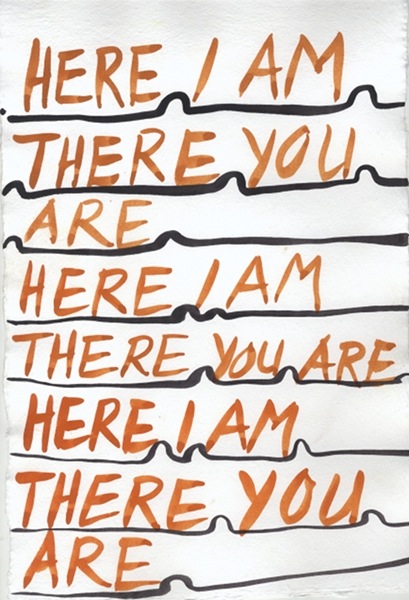 Deborah Boardman, "Spring Text 26," Gouache on Handmade Paper, 2012, 12″ x 20″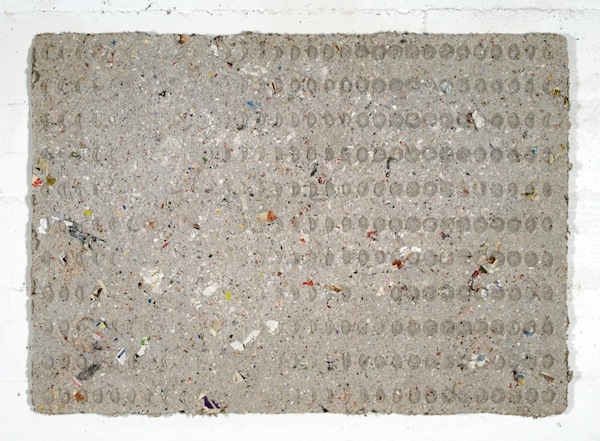 Julia Goodman, "Eleven Months Mourning: August 19, 2007 – July 14, 2008," mixed media and handmade paper. Image courtesy the artist.
Footnotes:
[1] Lane Relyea, Your Everyday Art World (Cambridge: MIT Press, 2013), 18.
[2] Ibid, 21
[3] Margina Pugliese, "A Medium in Evolution: A Critical History of Installations," in Ephemeral Monuments: History and Conservation of Installation Art , ed. Barbara Ferriani and Marina Pugliese (Los Angeles: The Getty Installation Institute, 2009), 23.
—
Jessica Cochran is a writer and curator in Chicago
As thick as the phone book of the town I grew up in, the catalogue for the 2014 Whitney Biennial is a whopper, coming in at 419 pages. But seeing as how this year's Biennial was an impressive three floors, the attendant corridors, stairwells, random outside spaces, and more than 100 artists, maybe it's not so big after all. Like the Biennial itself, the body of the catalogue is dived into three sections, one for each of the three curators: Stuart Comer, Anthony Elms, and Michelle Grabner. Each of these sections contains a contextualizing essay by the respective curator. In an interesting formal note is that the three sections are printed on different paper, which has the effect of making each section literally feel distinct.
Evaluating a catalogue is difficult; the success depends on what the reader is looking for. As preparatory material for viewing the exhibition, the catalogue is perhaps most successful. I doubt I would have enjoyed the exhibition as much if I had not read all of the essays beforehand. These essays proved invaluable to my visit to the Whitney. I previewed the artwork and made notations about the works with which I wanted to spend a little time. This method is itself flawed, because we all know that seeing a work in person is a very different experience from looking at pictures, no matter how lovely. It also mostly rules out the element of surprise. But honestly, the Whitney Biennial is such a massive undertaking for me as a viewer; this seemed to be my only method of making sense of this large and incongruent collection of artworks.
As a thorough record of the exhibition, the catalogue also succeeds, which in this case is important because the Biennial is nearing its close. When I read a catalogue that is little more than reproductions of the art, with the wall text on the following page, I am disappointed. A person is lucky to view a show once, let alone twice, but a book is different. There's no end to a textual exhibition. We can visit anytime we want. This is where the catalogue succeeds. The 2014 Biennial contains a substantial amount of performance, audio, and video work. These are notoriously hard to capture on the page. Stuart Comer's section is rife with essaylettes on selected works. There are writings on the performance works, which is great because although I visited twice, I didn't manage to coincide with a single performance. Although all of the curators included text-based work, it is most noticeable in Anthony Elms' section. I missed much of this text during my visit. It was crowded. It was hard to see. Text takes a lot of time. At home with a book, I have all the time in the world.
As an accurate reflection of the 2014 Whitney Biennial, I am less sure of the success of the catalogue. In the introduction the authors state, "If there is any central point of cohesion, it may be the slipperiness of authorship that threads through each of our programs… In many ways, it has simply become inefficient to slow down and figure out who is responsible for a specific idea or action, opening up interesting areas of collaboration." While the authors are describing the discrete works in the show, perhaps this whole idea might be applied to the Biennial itself; it is very slippery. But the catalogue is intentionally less so, with its Roman numeraled sections, and three different paper stocks, the catalogue makes clearer distinctions than the curators do. The final section is by Michelle Grabner is marked by the inclusion of numerous conversations between artists, including Dawoud Bey, Christopher Williams, Rochelle Feinstein, Gaylen Gerber, to name a few. While all this focus on process seems as if it should make this section feel more slippery, it does the opposite—it concretizes the final section of the book. Real people, real artists, talking to other real people. The overall effect is humanizing, and intimate, a feeling that was impossible experience at the show.
Ultimately, I recommend this catalogue for those who want a serious look at the 2014 Whitney Biennial. This is not a coffee table book, nor is it a casual exhibition catalogue that one can leave on their bedside, to casually flip though before dropping off to sleep. No, this is the kind of catalogue you need to read while sitting up, with a cup of coffee. You might want to take some notes. If you have reading glasses, you better get 'em.
Whitney Biennial Catalogue 2014
paperback, 416 pages
Yale, $55
Guest video post made for Bad at Sports by John Neff
Steve Reinke is an artist and writer best known for his work in video. His work is in many collections including the Museum of Modern Art (New York), the Centre Pompidou (Paris) and the National Gallery (Ottawa), and has screened at many festivals including Sundance, Rotterdam, Oberhausen and the New York Video Festival. In 2006 he received the Bell Canada Video Award. A book of his scripts, "Everybody Loves Nothing," was recently published by Coach House. He has also edited several books, most recently (with Chris Gehman) "The Sharpest Point: Animation at the End of Cinema." Reinke's video Rib Gets In The Way, 2014, which includes hand-drawn animations by Chicago artist Jessie Mott, is included in this year's Whitney Biennial.  
John Neff lives and works Chicago. A digital document of his work from 1999 to 2009 is available for download (154 Mb) at: http://www.nightclubchicago.org/img/shows/06/JohnNeff_CollectedReleases.pdf
Most of the time we want meaning to be immediately clear to us. Things should not be ambivalent. The glass should be see-through. The two-way mirror makes us uneasy; those on the other side can see us, but we can't see them – when we look into the glass, we are only given our own image back to us. If we are sighted, when darkness covers the world, we become anxious.
In a sense, objects remain opaque to us even though we can perceive them, know what they are composed of, and how they are produced. The object will always exceed our perception; we can only experience one side at a time. We surround ourselves with things. We feel that they are part of us. We attribute aspects of ourselves and particular sentimental histories to them. Still, they withhold something from us. When the hammer breaks, its usefulness dissolves and the tool becomes an impenetrable object taking up space in our world.
Places can be evasive to us as well. We land in an unfamiliar territory and the world has indeed become different. Even when we inhabit a place, get to know its streets, idiosyncratic landmarks, and affects, at some point, it shows us something of itself that we hadn't yet noticed. Parts of it remain hidden from us.
The oscillation between the veiled and the disclosed resonates in a particular way within the context of the South. Here in Atlanta, something about the city is so open and accessible but, at the same time, closed off and enigmatic. Same goes for a certain kind of beauty that I've experienced amongst many works here. Vibrant colors entice. Beauty can be deceptive. Southern hospitality can be misleading.
Multiple works either currently or recently on view in Atlanta engage in the interplay of opacity and transparency. These works open themselves to the viewer while simultaneously refusing her gaze.
Absent Bees
Most of the works in Morgan Alexander's solo show remembering, forgetting, and remembering again at Swan Coach House hide themselves behind a translucent veil; panes of etched glass create a barrier between the viewer and the materials underneath. For the works in the series no title – are these the voices of our departed, or is it just the gramophone?, the underlying material is reclaimed wood from out-of-commission beehives. At first I thought the title strange – what did the gramophone have to do with anything? However, at some point, I began to hear a buzzing in my head; maybe the bees had returned from their disappearance.
Alexander mentioned that for honey bees, empty space provokes anxiety. If there are unwanted gaps, the worker bees will fill them with bee glue, or propolis. Using this material, the hive seals itself off from the outside. The traces of propolis found in the works no title – are these the voices of our departed, or is it just the gramophone? signal space denied. Similarly, the sculptural works in the show, where have they gone? where are they going?, are closed off from their environment. Using a Japanese method of wood charring in order to preserve the wood from insects and fire, Alexander's cypress beehives attempt to stand apart from what lies outside them; these hives want to rest in impermeability. However, no bees live here. Colonies have been vanishing. In a gesture towards insular preservation, these sculptures stand empty.
Alexander's work that is moving in a new direction, away from the focus on the beehive, opens up space while withholding it. The works in the series no title – tokonoma are influenced by tokonoma, which means room and describes a particular practice in Japanese interior design. In this room, the homeowner displays aesthetic objects, but the tokonoma is not meant to be inhabited by people. no title – tokonoma (constructed drawing in three parts) seems to be these rooms in miniature. no title – tokonoma (constructed drawing in two parts) confronts the viewer with two kinds of voids. One is the darkness that swallows you. The other is almost celestial. This work is reminiscent of a painterly tradition which could include Ad Reinhardt's black paintings or Robert Ryman's white paintings, but witnessing these may be more akin to the paintings that live in the Rothko Chapel. Each of these parts invites the viewer into their depths while also pushing her out.
Familiarity Denied
Micah and Whitney Stansell's show Scarlet Air at Whitespace seduces the viewer into its multi-channel video and sound installation. Spliced between open-ended narrative scenes, displays of various objects resting on a bare mattress fade into vibrant pink, orange, red, purple, and turquoise hues. Rotary phones, VHS tapes from the 90s, a cassette walkman, an ashtray with a still smoking cigarette, John Steinbeck's East of Eden. We are familiar with these objects, though they appear out of place and are taken from our view. The color tones obscure these objects and they recede into a horizon of pure digital color. The void of the blue projector screen takes over. 
Some of these objects pictured have become or are on their way to becoming obsolete. Channeling the 1990s, the Stansells present us with the heyday of late capitalism and disposability. The walkman replaced by the iPod, the rotary phone replaced by the cell phone and/or computer with internet access a la Skype/video chats.
Grounding these obscured and obsolete objects are picturesque and pastoral places. Many viewers attempt to identify the places that appear in the Stansells' works, and I wonder why this is. What is it about these places that drives Atlantan viewers to locate them? The Stansells say that many people say that the places feel like where the grew up. These locations are familiar to people.
However, a few moments of disorientation disturb the narrative. The woman takes a walk with a man in the woods. On one of the soundtracks accompanying the film, their conversation is disrupted by tones. We get a glimpse into their dialogue, but we are denied full access. At another moment, a sharp jump from reality occurs. The protagonist lays back on a wrapped mattress, seemingly irritated by her job at a Value Village. When she hits the mattress, we cut to an aerial view; the mattress rests in a section of broken pavement in a parking lot. The woman looks up.
These are the compelling moments; perhaps what the voiceover soundtrack intends when she states "This is a falling action." The narrative we've constructed in the particular place while watching the film breaks for a moment and we have to regather. The objects recede into the horizon and we are left with nothing to hold onto.
Framed Forests
Abelardo Morell's newly commissioned work for the High Museum's photography series "Picturing the South" simultaneously summons into and rejects the viewer from the image and the imaged landscape. Using mirrors and other framing devices Morell creates a surreal environment. These techniques trick the viewer into thinking she is seeing the thing itself, though, she discovers, she is indeed not. Morell's focus on the dense landscape of trees, different from many of the expansive shots the Stansells include in their film, disallows the viewer from entering the scene. As opposed to the woods walk in Scarlet Air, the viewer can't picture herself in this environment. She is denied access. The trees stand apart from her. Layers of trees infiltrate each other – an interplay of inside and outside within the frame. 
Southern Persuasions
For each of these projects, the South appears as the aesthetic impetus. The Stansells claim that they couldn't ignore the southern landscape and narrative; the countryside and the ways in which stories are told have forced the artists to consider them in their film and installation projects. For Alexander, both the cultivation and destruction of the land and traditions of the South beckon for a certain kind of aesthetic. He describes his interest in yugen, an element discussed in Japanese aesthetics meaning obscurity, dimness, mysteriousness. Perhaps in a more superficial connection, Morell was given the task of "picturing the South." That said, the photographs making up that series vacillate between inside/outside and various layers in peculiarly different ways from the ones represented in the rest of his retrospective, suggesting that there is something about this place that calls for a different method of image-making. 
I am still trying to decide what the aesthetically beautiful does for me. I am taken in by it though I usually prefer the raw and transgressive. Something that both repels and compels you.  However, there is something to be said about the delicate and enchanting; it has the ability to keep more viewers within its throes. But, what does it mean to be seduced by a work? Instead of shaken by it? Which is more potent? Does it depend on what needs to be said?