As thick as the phone book of the town I grew up in, the catalogue for the 2014 Whitney Biennial is a whopper, coming in at 419 pages. But seeing as how this year's Biennial was an impressive three floors, the attendant corridors, stairwells, random outside spaces, and more than 100 artists, maybe it's not so big after all. Like the Biennial itself, the body of the catalogue is dived into three sections, one for each of the three curators: Stuart Comer, Anthony Elms, and Michelle Grabner. Each of these sections contains a contextualizing essay by the respective curator. In an interesting formal note is that the three sections are printed on different paper, which has the effect of making each section literally feel distinct.
Evaluating a catalogue is difficult; the success depends on what the reader is looking for. As preparatory material for viewing the exhibition, the catalogue is perhaps most successful. I doubt I would have enjoyed the exhibition as much if I had not read all of the essays beforehand. These essays proved invaluable to my visit to the Whitney. I previewed the artwork and made notations about the works with which I wanted to spend a little time. This method is itself flawed, because we all know that seeing a work in person is a very different experience from looking at pictures, no matter how lovely. It also mostly rules out the element of surprise. But honestly, the Whitney Biennial is such a massive undertaking for me as a viewer; this seemed to be my only method of making sense of this large and incongruent collection of artworks.
As a thorough record of the exhibition, the catalogue also succeeds, which in this case is important because the Biennial is nearing its close. When I read a catalogue that is little more than reproductions of the art, with the wall text on the following page, I am disappointed. A person is lucky to view a show once, let alone twice, but a book is different. There's no end to a textual exhibition. We can visit anytime we want. This is where the catalogue succeeds. The 2014 Biennial contains a substantial amount of performance, audio, and video work. These are notoriously hard to capture on the page. Stuart Comer's section is rife with essaylettes on selected works. There are writings on the performance works, which is great because although I visited twice, I didn't manage to coincide with a single performance. Although all of the curators included text-based work, it is most noticeable in Anthony Elms' section. I missed much of this text during my visit. It was crowded. It was hard to see. Text takes a lot of time. At home with a book, I have all the time in the world.
As an accurate reflection of the 2014 Whitney Biennial, I am less sure of the success of the catalogue. In the introduction the authors state, "If there is any central point of cohesion, it may be the slipperiness of authorship that threads through each of our programs… In many ways, it has simply become inefficient to slow down and figure out who is responsible for a specific idea or action, opening up interesting areas of collaboration." While the authors are describing the discrete works in the show, perhaps this whole idea might be applied to the Biennial itself; it is very slippery. But the catalogue is intentionally less so, with its Roman numeraled sections, and three different paper stocks, the catalogue makes clearer distinctions than the curators do. The final section is by Michelle Grabner is marked by the inclusion of numerous conversations between artists, including Dawoud Bey, Christopher Williams, Rochelle Feinstein, Gaylen Gerber, to name a few. While all this focus on process seems as if it should make this section feel more slippery, it does the opposite—it concretizes the final section of the book. Real people, real artists, talking to other real people. The overall effect is humanizing, and intimate, a feeling that was impossible experience at the show.
Ultimately, I recommend this catalogue for those who want a serious look at the 2014 Whitney Biennial. This is not a coffee table book, nor is it a casual exhibition catalogue that one can leave on their bedside, to casually flip though before dropping off to sleep. No, this is the kind of catalogue you need to read while sitting up, with a cup of coffee. You might want to take some notes. If you have reading glasses, you better get 'em.
Whitney Biennial Catalogue 2014
paperback, 416 pages
Yale, $55
Guest video post made for Bad at Sports by John Neff
Steve Reinke is an artist and writer best known for his work in video. His work is in many collections including the Museum of Modern Art (New York), the Centre Pompidou (Paris) and the National Gallery (Ottawa), and has screened at many festivals including Sundance, Rotterdam, Oberhausen and the New York Video Festival. In 2006 he received the Bell Canada Video Award. A book of his scripts, "Everybody Loves Nothing," was recently published by Coach House. He has also edited several books, most recently (with Chris Gehman) "The Sharpest Point: Animation at the End of Cinema." Reinke's video Rib Gets In The Way, 2014, which includes hand-drawn animations by Chicago artist Jessie Mott, is included in this year's Whitney Biennial.  
John Neff lives and works Chicago. A digital document of his work from 1999 to 2009 is available for download (154 Mb) at: http://www.nightclubchicago.org/img/shows/06/JohnNeff_CollectedReleases.pdf
Most of the time we want meaning to be immediately clear to us. Things should not be ambivalent. The glass should be see-through. The two-way mirror makes us uneasy; those on the other side can see us, but we can't see them – when we look into the glass, we are only given our own image back to us. If we are sighted, when darkness covers the world, we become anxious.
In a sense, objects remain opaque to us even though we can perceive them, know what they are composed of, and how they are produced. The object will always exceed our perception; we can only experience one side at a time. We surround ourselves with things. We feel that they are part of us. We attribute aspects of ourselves and particular sentimental histories to them. Still, they withhold something from us. When the hammer breaks, its usefulness dissolves and the tool becomes an impenetrable object taking up space in our world.
Places can be evasive to us as well. We land in an unfamiliar territory and the world has indeed become different. Even when we inhabit a place, get to know its streets, idiosyncratic landmarks, and affects, at some point, it shows us something of itself that we hadn't yet noticed. Parts of it remain hidden from us.
The oscillation between the veiled and the disclosed resonates in a particular way within the context of the South. Here in Atlanta, something about the city is so open and accessible but, at the same time, closed off and enigmatic. Same goes for a certain kind of beauty that I've experienced amongst many works here. Vibrant colors entice. Beauty can be deceptive. Southern hospitality can be misleading.
Multiple works either currently or recently on view in Atlanta engage in the interplay of opacity and transparency. These works open themselves to the viewer while simultaneously refusing her gaze.
Absent Bees
Most of the works in Morgan Alexander's solo show remembering, forgetting, and remembering again at Swan Coach House hide themselves behind a translucent veil; panes of etched glass create a barrier between the viewer and the materials underneath. For the works in the series no title – are these the voices of our departed, or is it just the gramophone?, the underlying material is reclaimed wood from out-of-commission beehives. At first I thought the title strange – what did the gramophone have to do with anything? However, at some point, I began to hear a buzzing in my head; maybe the bees had returned from their disappearance.
Alexander mentioned that for honey bees, empty space provokes anxiety. If there are unwanted gaps, the worker bees will fill them with bee glue, or propolis. Using this material, the hive seals itself off from the outside. The traces of propolis found in the works no title – are these the voices of our departed, or is it just the gramophone? signal space denied. Similarly, the sculptural works in the show, where have they gone? where are they going?, are closed off from their environment. Using a Japanese method of wood charring in order to preserve the wood from insects and fire, Alexander's cypress beehives attempt to stand apart from what lies outside them; these hives want to rest in impermeability. However, no bees live here. Colonies have been vanishing. In a gesture towards insular preservation, these sculptures stand empty.
Alexander's work that is moving in a new direction, away from the focus on the beehive, opens up space while withholding it. The works in the series no title – tokonoma are influenced by tokonoma, which means room and describes a particular practice in Japanese interior design. In this room, the homeowner displays aesthetic objects, but the tokonoma is not meant to be inhabited by people. no title – tokonoma (constructed drawing in three parts) seems to be these rooms in miniature. no title – tokonoma (constructed drawing in two parts) confronts the viewer with two kinds of voids. One is the darkness that swallows you. The other is almost celestial. This work is reminiscent of a painterly tradition which could include Ad Reinhardt's black paintings or Robert Ryman's white paintings, but witnessing these may be more akin to the paintings that live in the Rothko Chapel. Each of these parts invites the viewer into their depths while also pushing her out.
Familiarity Denied
Micah and Whitney Stansell's show Scarlet Air at Whitespace seduces the viewer into its multi-channel video and sound installation. Spliced between open-ended narrative scenes, displays of various objects resting on a bare mattress fade into vibrant pink, orange, red, purple, and turquoise hues. Rotary phones, VHS tapes from the 90s, a cassette walkman, an ashtray with a still smoking cigarette, John Steinbeck's East of Eden. We are familiar with these objects, though they appear out of place and are taken from our view. The color tones obscure these objects and they recede into a horizon of pure digital color. The void of the blue projector screen takes over. 
Some of these objects pictured have become or are on their way to becoming obsolete. Channeling the 1990s, the Stansells present us with the heyday of late capitalism and disposability. The walkman replaced by the iPod, the rotary phone replaced by the cell phone and/or computer with internet access a la Skype/video chats.
Grounding these obscured and obsolete objects are picturesque and pastoral places. Many viewers attempt to identify the places that appear in the Stansells' works, and I wonder why this is. What is it about these places that drives Atlantan viewers to locate them? The Stansells say that many people say that the places feel like where the grew up. These locations are familiar to people.
However, a few moments of disorientation disturb the narrative. The woman takes a walk with a man in the woods. On one of the soundtracks accompanying the film, their conversation is disrupted by tones. We get a glimpse into their dialogue, but we are denied full access. At another moment, a sharp jump from reality occurs. The protagonist lays back on a wrapped mattress, seemingly irritated by her job at a Value Village. When she hits the mattress, we cut to an aerial view; the mattress rests in a section of broken pavement in a parking lot. The woman looks up.
These are the compelling moments; perhaps what the voiceover soundtrack intends when she states "This is a falling action." The narrative we've constructed in the particular place while watching the film breaks for a moment and we have to regather. The objects recede into the horizon and we are left with nothing to hold onto.
Framed Forests
Abelardo Morell's newly commissioned work for the High Museum's photography series "Picturing the South" simultaneously summons into and rejects the viewer from the image and the imaged landscape. Using mirrors and other framing devices Morell creates a surreal environment. These techniques trick the viewer into thinking she is seeing the thing itself, though, she discovers, she is indeed not. Morell's focus on the dense landscape of trees, different from many of the expansive shots the Stansells include in their film, disallows the viewer from entering the scene. As opposed to the woods walk in Scarlet Air, the viewer can't picture herself in this environment. She is denied access. The trees stand apart from her. Layers of trees infiltrate each other – an interplay of inside and outside within the frame. 
Southern Persuasions
For each of these projects, the South appears as the aesthetic impetus. The Stansells claim that they couldn't ignore the southern landscape and narrative; the countryside and the ways in which stories are told have forced the artists to consider them in their film and installation projects. For Alexander, both the cultivation and destruction of the land and traditions of the South beckon for a certain kind of aesthetic. He describes his interest in yugen, an element discussed in Japanese aesthetics meaning obscurity, dimness, mysteriousness. Perhaps in a more superficial connection, Morell was given the task of "picturing the South." That said, the photographs making up that series vacillate between inside/outside and various layers in peculiarly different ways from the ones represented in the rest of his retrospective, suggesting that there is something about this place that calls for a different method of image-making. 
I am still trying to decide what the aesthetically beautiful does for me. I am taken in by it though I usually prefer the raw and transgressive. Something that both repels and compels you.  However, there is something to be said about the delicate and enchanting; it has the ability to keep more viewers within its throes. But, what does it mean to be seduced by a work? Instead of shaken by it? Which is more potent? Does it depend on what needs to be said?
Even though I write about games critically here and other places, sometimes as a player I find it easy to tune out and become one with a keyboard and mouse or controller and just sit and stare, as though I were watching The Expendables on repeat several hours a day, several days in a row.  In that vein, I spent the past month playing terrible, huge-budget, blockbuster video games and not doing much else. I wanted to reboot myself and take a post to collectively detox by thinking about some stuff that was more artful, thought-provoking, and most importantly, free. As much as I could write full essays talking about each one, those would probably end up being longer than their respective experiences, so I think it's preferable to say that if one interests you, check it out—let's play our way out of The Expendables together.
I wrote about Increpare's Activate the Three Artefacts and then Leave last month, but the dude is so wildly prolific that it's hard not to always be thinking about at least one of his games. Universal History of Light came out in February and is already behind 3 newer games on his games page, but it's a sticker. Basically you play as a seeing eye dog accompanying a student to a lecture about the effects of laser pointers on the brains of dogs, which cannot smell the point of light and are driven insane. The professor then shines their own laser pointer too close to the dog, who is then sent by insanity to a dystopian island filled with even more strangeness. Items acquired after that point include a carpet beater and a hoodie.
Whenever I get into a weird conversation with somebody else's parents about how I write about video games, I inevitably end up telling them about a handful of the same games, like Gone Home or Proteus, both of which I've written about here before, in attempt to justify a hobby that seems to be filled with a lot of guns or grand theft auto or Pac-man. Another is Depression Quest, which is a text-styled game (built in Twine) that aims to promote awareness of depression, namely by putting the player into the shoes of somebody suffering from depression. As somebody who is no stranger to winter feelings and sun withdrawal, it's an incredibly effective, stark, and brave portrayal that is tough to play but also a shining example of an interactive medium. Check it out. (N.b.—while it can be played for free, it is also offered on a pay-what-you-want basis with a portion donated to charity.)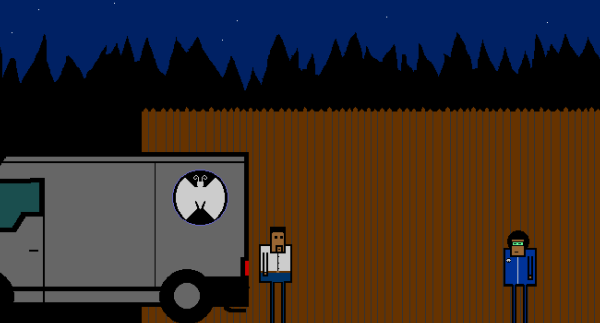 I just finished binge-watching Twin Peaks on Netflix, and Catachresis tickles my fancy in the same exact way that the show did. If a younger David Lynch were somehow transported into our present and the only way he could deal with his weird feelings about unexpected but short-range time travel were to make browser games, Catachresis would probably be one of them (The developer cites Lost Highway as an inspiration). It puts you into the shoes of a paranormal investigator, or as the main character puts it, "ghost plumbers." It's both creepy and funny, and rendered in an art style that lets you know there's not going to be a weird jump scare.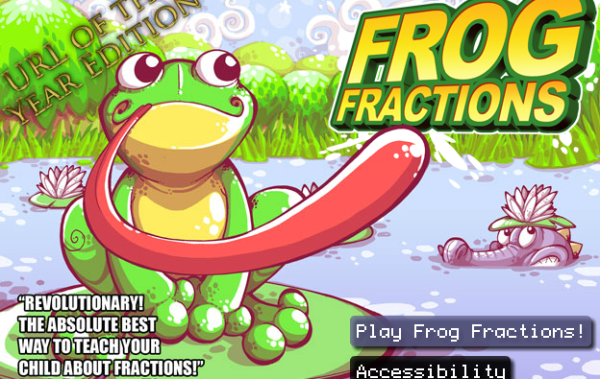 This is a game where the less said, the better. It starts out and you're a frog on a lily pad aiming your tongue and eating bugs and fractions are popping up everywhere. It's not actually edutainment, but the first few minutes do a really great job of pretending like it is. Get the turtle upgrade as soon as possible, and then move on to a variety of different segments (onet set to the soothing narration of a history show) that made people like the game so much that they pledged over 70 grand to a sequel on Kickstarter. (Seriously, if you ever play one video game in your life, play this one, and then reconsider that life decision and play the rest of these too.)
Guest post by Nicole Mauser
For their contribution to the 2014 Whitney Biennial, Valerie Snobeck and Catherine Sullivan use Northwestern University's Transportation Library Menu Collection donated by renowned anthropologist George M. Foster's as a springboard for a collaboratively made artwork. This extensive collection was accumulated during Foster's research travels and includes, "400 menus from 54 national and international airline carriers, cruise ships, and railroad companies, with coverage from 1929 to the present."[1] Image of Limited Good, the title of Sullivan and Snobeck's mixed media installation within Anthony Elms' curated section of the Biennial, directly refers to Foster's controversial 1965 essay, "Peasant Society and the Image of Limited Good," in which Foster outlines a theory of limited good as derived from observing traditional societies that, he asserts, believe goods are finite; according to this thinking, when one-person gains, another loses. This belief leads to a fragile sense of order and communal sustainability in light of the given society's 'competitive games' for survival, wherein value is a certitude based solely on supply's abundance or scarcity.
Snobeck and Sullivan's installation is comprised of sculptural objects, ready-mades, and delicate prints of barely discernable Swissair airline logos on tissue. A series of luggage racks are propped against improvised table surfaces, many of which are littered with antiquated suitcases filled with murky substances and embedded objects related to the gelatin-based printing process of hectography. This process of a bygone era could be easily dismantled to leave behind no evidence of production. Here, all the objects are carefully strewn and poised for disappearance, quickly tucked inside a suitcase or ready for disposal at a moment's notice. As a result, Image of Limited Good's individual parts are not inherently connected but have been carefully selected to imply a whole that is collapsible and infinitely reconfigurable. Each object acts as a clue that proposes questions for the viewer to slowly decode.
"The value of Mr. Foster's collection resides not only in its volume, but in the number of his hand-written comments regarding flight dates, airplane types, and food and wine ratings and descriptions," [2] reads Northwestern's collection didactics. These traces are evidence of a visual anthropologist who was an early hybrid of the multiple roles artists today play.  The materials in Snobeck and Sullivan's installation follow suit in that they carry a patina of secrecy and silence and re-enact antiquated modes of travel and reproduction. Accordingly, the installation can be interpreted as a quiet commentary on the entire premise of the Whitney Biennial, where the intent has historically been to illustrate the shifting patterns of artist alignment with curators, communities and conceptual trends moving in and out of vogue, all vying for relevancy. Thinking broadly about this artwork and the theory developed by Foster, can we then ask: does such in-depth research lead to error and misinterpretations? Is there a context where misinterpretation is actually valuable and lead to valuable discourse?
It is not Foster himself as a historical figure that is positioned at the center of this artistic collaboration; rather, it is the narrative fabricated around his practice as a by-product of the academic intent to develop, explain, and connect traditional societies to the current modern society or to the fabric of the ages. To create a universal theory that holds up decades beyond the maker/author(s) is still the ultimate ego-centric task in academic anthropology and also remains an aim of abstraction and, perhaps, in art as a whole (depending on the artist's intent). As a viewer, my question is, what do static fabricated objects accomplish in this context? They occupy a slippage between art object and art-object-as-artifact. The artist Allison Smith comes to mind—her work re-inhabits historical moments by fabricating sculptural 'historical' stand-in objects that are part fictionalized and part illustrative of historical fact, each component becoming incredibly didactic. Refreshingly, Snobeck and Sullivan's collaboration is the opposite. Discursive potential, nee momentum, is contained within each object, literally embedded in the gelatin or epoxy, yet refusing, even in print form, to transcend or act as a proxy between neither Foster's collection nor his theory and the viewer. However, Snobeck and Sullivan leave the viewer in the lurch to negotiate objects that, at face value, are meaningless without due research.
---
[1]
Link to Northwestern University Transportation Menu Collection:
Nicole Mauser (b. 1983, Indianapolis) is and artist and educator who lives/works in Chicago, Illinois. Currently, she is an adjunct professor of Studio Arts at The University of Illinois at Chicago in painting. She obtained an MFA from The University of Chicago (2010) and a BFA from Ringling College of Art & Design (2006). She was a recipient of a Post-MFA Teaching Fellowship at The University of Chicago in 2011. Her work is included in such collections as The Nerman Museum of Contemporary Art (Overland Park, KS) and The Alexander (Indianapolis, IN).