The Garry Winogrand retrospective had been full of images chosen and printed in Winogrand's lifetime, as well as chosen and printed posthumously without Winogrand's permission; he, who can only be assumed to have been a city person, had the reputation of being an aggressive photographer. Standing among the milling people outside of the Metropolitan Museum, I wondered about that word, aggressive.
The photograph that came to mind, not present in the exhibition but emblematic of the predatory approach, is the image of Winogrand's shadow elongated onto the back of a woman, onto her fur hat possibly. Somewhere, every photographer shooting strangers has a version of this shadow.
But Winogrand chose to print it. Look at that picture. He has to be right in it – in the middle of it – of the situation, and in the center of the crowd, to take the picture.
Isn't that the premise of most street photography? "If the picture wasn't good enough, the photographer wasn't close enough," I think the old saying goes.
Not so with Robert Frank photographs, which are close to the action but idealistic.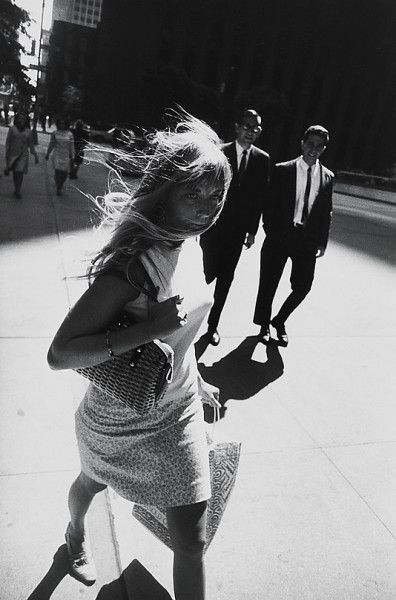 New York, 1965, Gelatin silver print, Collection of Randi and Bob Fisher
Winogrand rarely took pictures of celebrities other than political figures, or even inherently glamorous people, but his photographs are glamorous. Born in the Bronx, Garry Winogrand frequently photographed Manhattan and grew up in a big city, where in the 60s people came and still come, to be photographed. His photographs show bodies against bodies in only the way a city can force them together.
Aggressive. I think of Wegee listening to the police wire for reports of homicides. I think of Cindy Sherman staging herself as seen by a predator through her bathroom door. I think of Diane Arbus approaching misfits spotted in the park –
But Diane Arbus is empathetic with her subjects. 
I've never believed someone's asked permission is necessarily empathetic. 
And, Cindy Sherman could never be called aggressive. Her pictures are staged. The viewer observes not the action, but the staging. 
The city and those who fill it. Groups of people clamoring – clamoring around each other, anonymous people gathered around and whispering, around some action, the president's arrival, or more so, anonymous people drawn to the center of Winogrand's attention – like a woman head thrown back in front of a store laughing. If a person in a Winogrand photograph is alone, the person is usually a drifter skirting a scene. Or a fragment of a larger pocket. A photographer directs our attention: cast in the afternoon light, women on their lunch breaks are enshrined.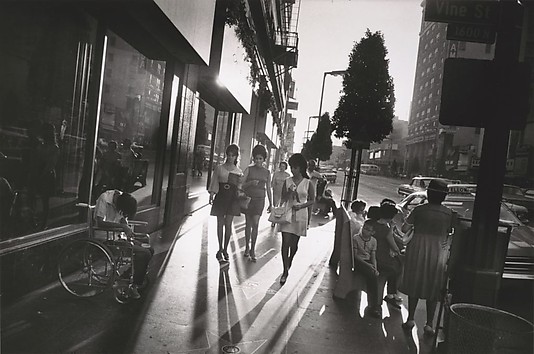 Los Angeles, 1969, Gelatin silver print, Fraenkel Gallery, San Francisco
Reading and re-reading descriptions of social groups taking forming across the Atlantic Ocean at the same time, in the 1970s, in the Parisian clans of Yves Saint Laurent and Karl Lagerfeld, the question occurs: What would it have looked like for Winogrand to photograph out-right exhibitionism of the fashion world, rather than the unidentified cast of the street? Seen by Winogrand, what would a photograph have looked like where Warhol is adjusting his wig, and in mimicry of the accessorized wig, Karl Lagerfeld fanning himself with a fold-out fan?
A viewer of the exhibition wandered through, saying, "He is unemotional. I was never a fanatic – although Winogrand captured his time."
One of the most alone photographs – one not marked to be printed by Winogrand but selected from contact sheets after his death – is the picture of a woman lying in the gutter of a passed automobile, a discarded person. Shot between 1980 and 1983, the woman looks like the remains of the previous era's photographs, that era full of political conventions, post-war tuxedo balls, and bouffant hair. Lying in the gutter, the highest rides dropping the lowest afterward, the woman embodies this quote by Winogrand, "Literal description, or the illusion of literal description, is what the tools and materials of still photography do better than any other medium."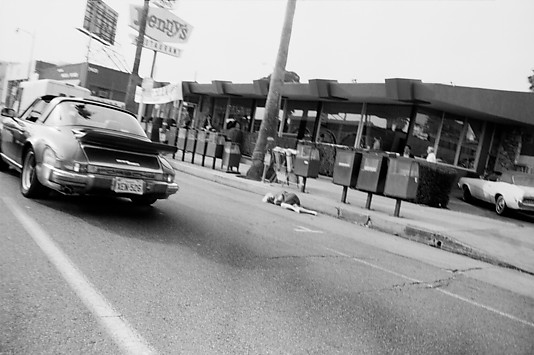 Los Angeles, 1980 – 1983, Gelatin silver print, Posthumous print (frame not marked by Winogrand on contact sheet), courtesy The Garry Winogrand Archive, Center for Creative Photography, The University of Arizona
In his grant application to the Guggenheim Foundation, Winogrand wrote that he could not accept the evidence collected within his own photographs, and this was the reason in fact to keep photographing, to find something other than – a dystopic American life.
He must have loved to have been downtown. Not prone to leaving the sidewalks, the businessman cigar-in-mouth, and the automobile. He sought the intrusions most easily found in public. He did not want to be intruded upon, but wanted to look at by-chance encounters between groups of people. Sometimes the encounter existed between Winogrand and a stranger, and the term aggressive is applied, because Winogrand is expectant, and the other person unexpectant. Sometimes divergent groups are observing each other, or even more, encroaching upon each other.
Another remembered anecdote about photographers, paraphrased I think from Diane Arbus, "Photographers like to be around people and alone at the same time."
Some photographers meet a person outside and bring them inside, but Winogrand was not interested in knowing more. He was intent on knowing what could be found in a split second. Winogrand's photographs are a belief that all important information will be provided in an encounter. Not a performance and not a staging. By definition, a photographer likes to encounter.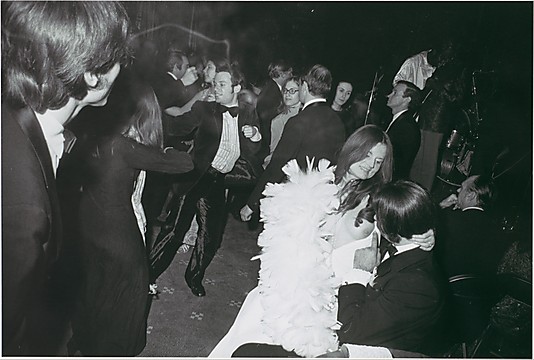 Metropolitan Museum of Art Centennial Ball, New York City, New York, 1969, printed 1974, Gelatin silver print, Gift of William Berley (1978), © The Estate of Garry Winogrand, courtesy Fraenkel Gallery, San Francisco
Favorite Winogrand pictures: some of the lascivious Ball pictures. And actually, all of the automobile images, though I usually dislike pictures taken in cars. Plus a picture taken from above, looking onto an afloat swimmer. What about you?
The detail of the chain linked inside a man's blazer and the picture of sock and loafer feet lying to the side of a gathered crowd. And car pictures, yes, mostly one of a man shouting, or yawning, in the driver's seat.
The detachment of observation is not unemotional but – 
emotion appears as a brusque welcome.
The Metropolitan Museum of Art was flooded on a Saturday, the remains of the museum emptied onto the stairs at closing. People rubbed elbows with one another in a rush to reach the sidewalk first.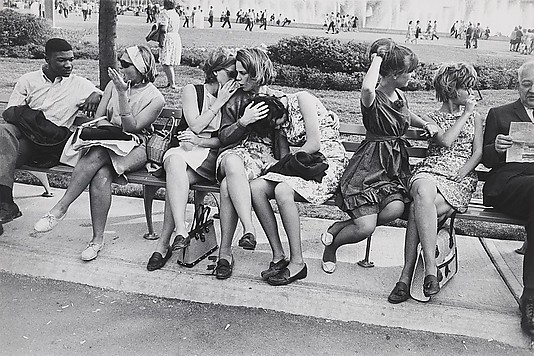 New York World's Fair, 1964, Gelatin silver print, San Francisco Museum of Modern Art, Gift of Dr. L.F. Peede, Jr.
By Kevin Blake
It doesn't feel right to report on this exhibition in a digital format–a piece of writing that will likely never be tangible evidence of its existence. The only proper way to engage with this work seems to be on a typewriter, with words scratched out and penciled-in corrections. Next to me, should be a waste basket overflowing with crumpled up pieces of disregarded words in a room only half-filled with light from a blinded window. I should wear spectacles too–the ones that magnify my own words to inexorable sizes and hang on the precipice at the bridge of my nose. I should chain smoke cigarettes and smash half-smoked butts into a circular plastic ashtray–a relic in its own right–that is as sated as my trash can. There should be an industrial era lamp hanging over my workbench where the smoke pools in its conical mouth piece. This work transports me to another place, and another time–indistinctly not my own. Yet somehow, I feel like I know it well.
Walter Hamady's most recent show entitled, "Merit Badge" at Corbett vs. Dempsey is a colossal exhibition with meteors of information contained within small vessels. It serves as a miniature survey of a man's career–though after reading the exhibition catalog, I get the impression that this show is but a small sample of a lifetime of prolific production in a variety of media. Whether working in collage, assemblage, bookmaking (in its own infinite capacities), or his personal diary, Hamady seems to have relentlessly recorded his life. His perspective. His place in space.
When looking at the work, I read each individual object as a beginning, a rudiment, or a part of a whole which has not yet materialized. The work is suspended between ideas and does not admit the viewer beyond its physicality, nor does it posit answers to proposed questions. The total procedure forms a well-articulated system of knowledge for the maker, that seems to be independent of the histories that would claim a stake in its material manifestations. This work is not about art. It is art. It is not about an art-historical vernacular that co-opts an object's meaning and intention. To me, this work is about magical thought and the type of operations that this way of thinking requires: adventure, risk taking, and an aloof position to the world in which it exists, while maintaining an acute awareness of it.
Magical thought should not be reduced here to the immediate associations that it may suggest–a peripheral and imaginative realm that may create only flippant trajectories of reason, that solely exist outside of tangible reality. Walter Hamady's life work, seems to be a parallel form of acquiring knowledge–a distinctly individual methodology for understanding one's position in the world. He seems to constantly question his own worth, the value of the work he makes, and the institutions in which the works seeks to gain acceptance with striking affect.
Hamady's work exemplifies a relentless production schematic that operates as forced attrition seeking to thwart an inherit skepticism of all that aims to discourage him. It is a tale well-known by artists–one of denial, rejection, exclusion and the occasional acceptance. In the rare moments of approval, the artist acquires critical nourishment that helps propel their operations. In the exhibition catalog, there are several journal entries included as a glimpse into the way this artist recorded his life. One such entry is from April 15, 1964 in which Hamady alludes to the gravity of acknowledgement from artists whom he admired: "…and Robert Creeley was standing right behind me and had heard everything that I said and Keith introduced me as a 'good, young poet'…and Bob put his arm around me and said, "Come on in I'll buy you a drink." And I went in, and of course, he signed my book and we talked…and I told him I was doing a book…and he said he would like to see it. So it was a very, very, very moving day for me…very critical."
I get the sense that Hamady gathered an equal amount of critical sustenance from objects and solitary moments of engagement that provided him with the impetus to make something, to write something, or to simply etch a moment into permanence by jotting into his diary. On February 10, 1974 Hamady recorded a moment that may have required such permanence: "Coming in from sawing that oak I took the trail we cleared and came by the place in the drifts where we had fallen in (on purpose) that night of the full moon when we were out walking. That was a pleasure indeed to just fall with abandon & be surrounded by the enveloping coolness, firm holding you in the random position of the drop, the light of the moon, the invisible push of wind through the oaks tinkling the leaves. I think I would like to die this way."
In almost every sculptural work that is included in this exhibition there is an eye. A critical eye that is staring at the viewer. I can't help imagining these eyes as staring first and foremost at Hamady himself–as a reflection of a person looking within to describe what is without. This self-reflexivity makes this exhibition a monumental description of time and of the sense of control that can be acquired through an articulate understanding of one's capacity to record it. Walter Hamady is constantly striving for life's merit badge, or more simply, the feeling of accomplishment one might have from doing something well. To me, "Merit Badge," is about the constant inner dialogue every artist seems to have–a back and forth battle about the merit of one's own endeavors. To earn that badge, one needs a little magic and Walter Hamady seems to have a surplus of it. See the show. See it twice. Grab a catalog.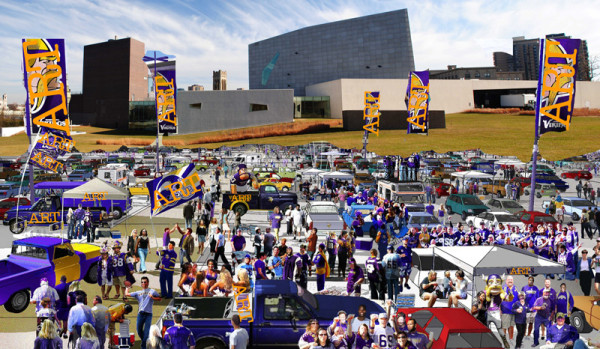 Fans of culture and brats, this THURSDAY (5-8pm) we come into our own, and we tailgate in appreciation of art.
Bring your foam fingers, tailgating supplies, beverages and a radio. We will be micro broadcasting with  David Rathman, Brian Frink, and Amy Toscani. Together we are going to chat up the MN art scene and bask in the glory of an institution one can only really love.
Bad at Sports and Cargo Space appear courtesy of mnartists.org and the Walker Art Center's Open Field project.
PS. I will let you know the frequency tomorrow!
It has been one year since I left Chicago for Flagstaff, Arizona, after accepting a position as a full-time lecturer of foundations at Northern Arizona University. Many other Chicago-based artists and educators, some with roots and connections to Chicago's art scene far deeper and stronger than my own, have made the same choice. Some leave for personal reasons, but for the most part, artists leave Chicago to find work, or, more accurately, they leave as I did, to accept an offer of employment from a college or university located elsewhere.
Most recently, Chicago painter Molly Zuckerman Hartung announced (on Facebook) that she's leaving Chicago: first to Knoxville, TN, to teach for the fall semester, then to Miami for a residency for the spring, then back to Chicago to teach next summer, and finally, fall of 2015, to New York City for, presumably, all the usual reasons that artists go there. Molly cut her way through everything that stood in her way to get where she is, left an indelible mark on Chicago, and if anybody can pull the rock star Hail Mary of the New York scene, it's her. I wish her all the luck in the world, not that she needs it.
Earlier this year, Tony Fitzpatrick closed up shop in Chicago to head down to New Orleans, a place that had been dear to his heart for many years. I remember him telling a story once, I hope he doesn't mind my repeating it, about how he used to fly down to New Orleans all the time, and he used to carry a gun. He'd just mail it to himself. So one time he was walking along the levee in the French Quarter, gun in his shoulder bag, and a couple of teenagers who looked like trouble walked up on him, maybe said something, asked what was in his bag, whatever. Tony put his hand in the bag, on the butt of the gun, and told the kids to walk on. I guess they figured he was serious, because they did as he asked, walked on. But then Tony's thinking about it, thinking about if they hadn't, and then Tony'd have shot the kids, and he'd have that on his conscience, all for what, his wallet? Nothing, to Tony's mind, worth shooting a couple of kids over. So after that he stopped carrying a gun. In my memory, the story ends with him pitching the gun into a canal, but I'm probably mapping that over from another story another guy told me about accidentally flying to Germany with his dad's forgotten pistol in a pocket of a suitcase he'd borrowed from his dad. Anyway, Tony's in New Orleans, but Tony can do anything, anywhere, and he surely will.
Adam Benjamin Fung, a painter who shows with Zolla-Lieberman Gallery in River North, left last summer to teach at Texas Christian University. Sweet gig, good for him. Amy Mayfield, another Zolla-Lieberman painter, returned to her home town of San Diego, I think more for family reasons than for a job. This was a couple years ago I think. Photographer Adam Ekberg, who I worked with at Hyde Park Art Center, moved to Florida to teach, along with Noelle Mason, who continues to show with Thomas Robertello. Liz Nielson and Carolina Wheat, artists who formerly ran Swimming Pool Project Space, moved to New York for a job; Stephanie and I adopted Carolina's son's ball python, Homestar Runner, whom we immediately renamed Snake. Dayton Castleman moved to Arkansas. And many more.
The reason these artists keep leaving, with one or two exceptions, is almost always employment. Chicago generates an amazing diversity of artists, not just SAIC kids, but Columbia, Northwestern, UIC, and of course the self-taught, the non-academic, and the artists who, like I did, move to Chicago after school and set up a practice. But Chicago can't keep these artists, because it can't afford to feed them. Some move to other metropolises, and do very well for themselves as exhibiting artists: Chicago's loss.
Others move for a teaching job and do well for themselves in that regard, and hopefully (I'm hoping for myself here) can maintain something of a practice. But it's a challenge, that last bit, one that I've been wrestling with for the past year. A lot has happened, I've got every excuse in the book, but the fact is, in some ways it's been a pretty dry year for me, as far as painting goes. The move and the job are part of it, but honestly buying a house and fixing it up was the bigger part. I got some stuff done, did the Walking to Mordor project, that was pretty sweet. Did a few paintings but honestly none that are any good. I've got some ideas but they're slow in getting going.
The gallery thing is rough out here. There's one gig in town, Beaver Street Gallery, that's pretty legit. If I play my cards right, make some decent new work, I've got a shot at showing there, I'd bet. And I'd love to. But, if you think Chicago lacks collectors, you should check out Flagstaff. The occasional Phoenician rolls through, but they mostly buy plein aire landscapes, or the kind of silver coyote regionalism that's all over out here. Maybe things are better down in Phoenix. I've got some work up in a restaurant called The Bordello of Jerome, in the little town of that name, not far from here. Maynard from Tool has a winery out there; maybe he'll buy a painting. We have another ball python named (by his previous owner) Maynard, in his honor.
Of course one hopes to leave Chicago with some connections intact, and I've been back and done a few group shows in the past year. The big deal of course is still the idea of having gallery representation in the city. I'd bet most of the artists I named above held on to their Chicago gallery connections. I think I pretty much shit the bed on that one. I had a solo show at Linda Warren Projects back in May of 2012, and was stoked to do another one. I had some good work going in the studio in Chicago. I made it back a few times, worked on the paintings a little. We kept trying to schedule a studio visit to line up the next show, shit kept coming up, it never happened. Why? Well, it's tough when I'm only in town once a month or so. So I just picked up the last of my work from the gallery, packed up the studio, and drove it all down here in a Uhaul. I'm still hoping to do another show with Linda in the future, of course, but again, it's tough to do, long-distance like this. It's not all bad, of course. The job is decent, full time at least, though not tenure track. I've got a pretty sweet house I bought, nice yard, garden, bird feeder, all that. I've got a good studio space in what used to be the garage, all finished now, carpet and a wood stove and all. Of course it's pretty full of stuff from the move, got to get it cleared out a bit, so I can maybe make some damned work again. So we'll see.
And that's what happens. That's what's waiting for you, on the other end of all those teaching job applications you fill out. Maybe. Depends where you end up, I guess, and your attitude, and your work ethic. But a new job and a move like that can really knock the wind out of you. A year without making a decent painting really does a number on your pride. So you get up, you get back on the horse, and hope for the best.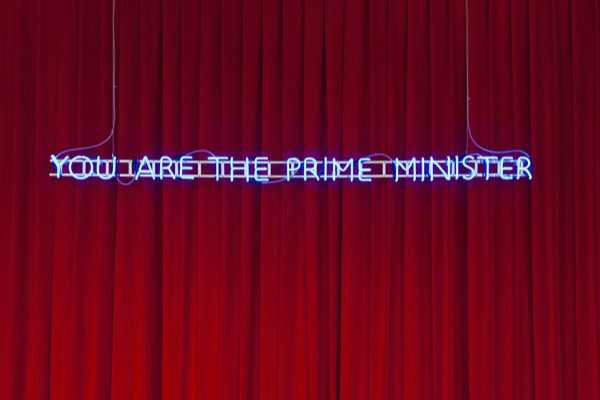 On their entrance exam, would-be students to Eton College are presented with a fictional scenario and asked, in the face of civil unrest, what they would do, as UK Prime Minister. Under normal circumstances you might dismiss this as a bit of pedagogical fun. But facts remain that David Cameron, the real PM, attended this school along with a number of his closest advisors.
Eton College is commonly thought to be the best education money can buy. And in Britain it currently seems as if money can buy your way to the top. But, strangely, despite their roll call of 19 prime ministers, the Berkshire school has produced few notable artists. And one imagines, rightly or wrongly, that an old Etonian would make traditional, reactionary art.
Such an accusation could never be levelled at Karen Mirza and Brad Butler. The duo make films you might call incendiary. They are building a body of work known as the Museum of Non Participation, making art at "pivotal moments of change, protest, non-alignment and debate". Take,for example, 2009 film The Exception and the Rule.
Neither a documentary nor a work of fiction, this film draws Mirza and Butler from the vibrant streets of Karachi towards a scene of angry economic protest, a landscape in flames and a lone figure who sleeps by a roadside and could be dead. But the distance between here and there is collapsed by the final shot of a multi-cultural estate in Britain.
"If all art is political, how can you make a political film?" asks one of the narrators. They are answered shortly: "A worker who buys a small camera and films his vacation is making a political film". But there are so many places you can't film in Pakistan (much like the UK/US), and the team collaborate with one of two local filmmakers who appear to get what the Museum of Non Participation might be about.
Mirza and Butler film everyday crowds on street corners and roadsides, then speed up the results to create an exhilarating time lapse. They film the India-Pakistan border ceremony, call it an Intermission, and ghost out the military participants. At no point do they succumb to the traveller's temptation to render this distant land like a picture story from National Geographic Magazine.
As a result, this is a successful political film. At one point the artists suggest, "Positioning the camera is to take sides", in which case it sides with the 'people'. That's if we can still talk about the 'people' in this atomised new media age. The Exception and the Rule will allow you to travel, so long as you forego your status as a tourist.
The work can be found at Waterside Contemporary in East London in what, remarkably, is only Mirza and Butler's first solo show in Britain. It shares a gallery with a timely sculptural installation; "You are the Prime Minister" is both title and a phrase picked out in neon. You can see it from the street outside. Savvy kids cycle past and laugh at the notion. This is not the grounds of Eton college but an inner city estate.
Should any of them take up the challenge/invitation they will discover school desks set out in a row and duplicates of a genuine admission exam for Eton. The hypothetical question at the top of the paper begins "You are the Prime Minister" and goes on to question how you might send in the army to deal with rioters. Never mind providing work and prospects for the urban poor, at Eton these days politics is all about keeping the population in line.
Karen Mirza and Brad Butler: The Unreliable Narrator can be seen at Waterside Contemporary, London until August 9 2014