Closed for a decade, the Rijksmuseum, Amsterdam's national jewel, finally reopened in mid-2013. The extensive restoration returned the massive building's interior to its original 1885 charm. We started our visit with the "Gallery of Honour," which is where you will find all of the paintings you might think would be in the Rijksmuseum. This is my favorite gallery, not because of the Vermeers and Rembrandts, but because it contains many lush Dutch still lifes that I am startled to find I've come to love after decades of thinking, "So what?" Pheasants, rabbits, random game, all dead. Dogs, both hunting and companion types, all living. Fruits and vegetables, featuring most spectacularly white asparagus. Fruit, much of which I cannot recognize. No surprise here, but tulips. And I would be remiss if I forgot to mention the lemons. Really, it's like no one had ever painted a lemon before the Dutch.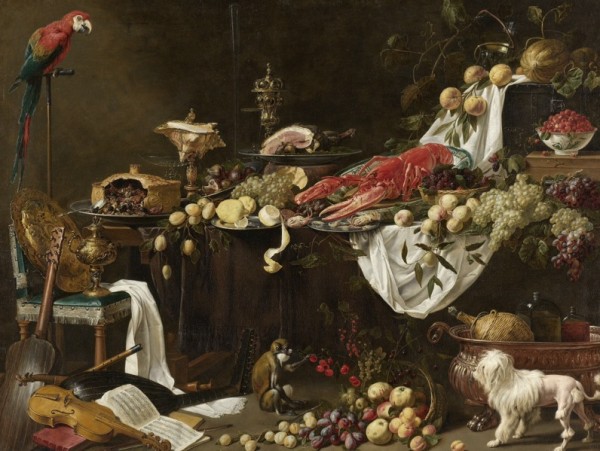 We returned to the Rijksmuseum the next day to see the exhibit Art is Therapy by practical philosopher Alain de Botton and philosopher art historian John Armstrong. Really, this is best described as a meta-exhibit, essentially a contemporary show overlaying selected works from the permanent collection. The Post-Its start as soon as you enter the museum. At first, I didn't even identify them as the exhibit I was there to see–that is, until I started reading. As you walk through the museum, you'll occasionally see large Post-It notes next to an artwork. They are jarring, especially in contrast to the old masters. For me, this incongruity of oversized office products in the midst of a museum drew me to them, but I noticed that many other people simply ignored them.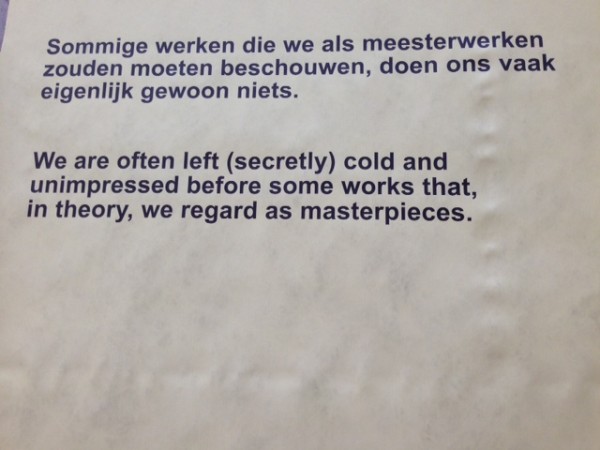 These yellow notes provide, not factual information, but instead philosophical insights into the nature of art itself. I suppose this shouldn't be surprising considering de Botton might be best known for his book How Proust Can Save Your Life. Still, it was an odd experience to read commentary on the purpose of art as well the experience of viewing art right there next in the museum. For example next to Vermeer's View of Houses in Delft (1658) the Post-It reads: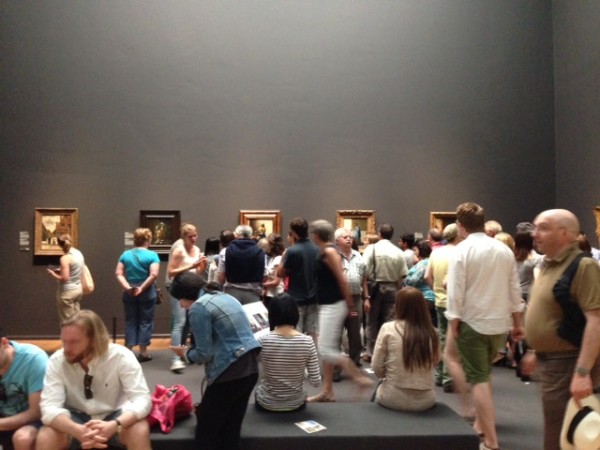 "In one of the side galleries of the Rijksmueusm's Gallery of Honour, probably behind three rows of people, hangs one of the most famous works of art in the world.
"This is bad news. The extreme fame of a work of art is almost always unhelpful because, to touch us, art has to elicit a personal response–and that's hard when a painting is said to be so distinguished. This painting is quite out of synch with its status in any case because, above all else, it wants to show us that the ordinary can be very special. The picture says that looking after a simple but beautiful home, cleaning the yard, watching over the children, darning clothes–and doing these things faithfully and without despair–is life's real duty…"
It is a great gift to be yanked from the malay of Vermeer fans right into the work itself. I suppose the painting alone should do that, but it didn't. For me, it took these words to place me in the picture. For that alone, I am impressed.
The Rijksmuseum offered up all the Dutch Masters I anticipated and I wasn't disappointed. What I wasn't expecting was an historic museum to be so thoroughly modern. Art is Therapy prods the museum-goer into engaging with the works in a more authentic way. This contemporary way of thinking about art does not end with the physical museum and its works. More than 120,000 images from the collection are available at the Rijksmuseum website with the ultimate goal of eventually having the complete collection online. These high-resolution images can be downloaded to do with what you will. Also available are many guided tours that you can load onto your phone through the Rijksmuseum app to help you navigate the, quite honestly, intimidatingly large collection. They offer free wi-fi throughout the building, which makes it easy to use your phone for the tours. We took the tour for Art is Therapy, narrated by Alain de Botton himself. I'm glad I took advantage of this offering because it brought me to sections of the museum I likely would have forgone, like the room of Asian ceramics, the suit of armor, or the room of nautical miniatures. As I finished the tour, I realized that with the tour app and the high-res images, it was possible to take this tour from ones home computer. Of course, it isn't the same, but I think it would be worthwhile anyway. Besides, you'll probably get a better up-close view of that Vermeer from your livingroom than packed behind three rows of people.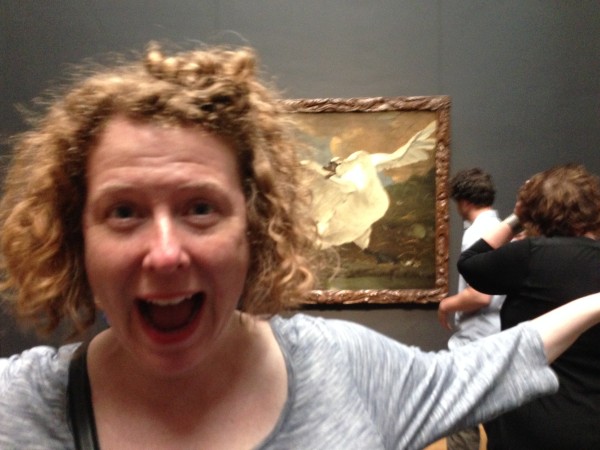 "Out of the Mouths of Artists" is a new bi-monthly series on the Bad at Sports blog. The series presents a space for guest artist bloggers–of varying career statuses–to write, to reflect, to pontificate on their current situations, failures and/or successes, and ideas on what it means to be an artist. "Out of the Mouths of Artists" also gives readers a glimpse into artists' portfolios and studios.
The Man who saw the Man who saw the Bear
Guest Post by Michael Gimenez
For my first trip to the United States in the summer of 2000, I accompanied a contemporary dance company on tour in several Michigan towns as their photographer. I was afraid to live this journey through the visual prism of thousands of hours of American television series and movies that had saturated my mental images. I promised myself that I would look at each thing with virgin eyes, cleaned of any cinematographic references. Upon landing in Chicago, the view offered up and framed by the plane window struck me: I clearly remember having the impression of traveling through a TV screen, materialized by a yellowish haze and a myriad of swimming pools.
My very first vision of the American territory was exactly like a thousand other shots I had seen on television series. An aerial shot above a sunny metropolis.
Baseball fields. Traffic. Highways. Reflections. Skyscrapers. That was a bad start.
Twelve years later, some of which were spent in the School of Fine Arts of Montpellier in France and some producing art in Prague in Czech Republic, I planned a second trip to the United States. I had decided to fulfill a desire growing inside of me since first viewing motion pictures that had been made in the U.S.A.—a desire that 95% of French boys from my generation secretly wished to achieve. A road-trip across America. Skyscrapers. Spanish moss. Dusty roads. Red sunsets. Close encounters?
July 2012: Before I leave, my friends tell me that during their stay in a campsite a few hours from New York, they saw bears sneaking around their tent and eating their food. They tell me to be careful because I will probably cross paths with some during my trek.
For this trip, I also aimed to start a film project questioning why we still want to see and represent Native Americans as imaginary Indians. For this reason, I decided to stay a few days on the Pine Ridge reservation in Wounded Knee, which would be my last stop before dropping the car off that I had borrowed in Chicago. Wounded Knee is a highly symbolic place within Native history. It's where more than 150 men, women and children were massacred in 1890, and it later became the catalyst of the American Indian Movement. The day before I hit the road to Wounded Knee, I looked at one of the movement leaders' Wikipedia page—born in Pine Ridge, activist but also movie actor, Russell Means. I was surprised to see a date of death beside his name, thinking that it was a mistake. I was immediately stupefied to learn he had died that very day. For lack of meeting Russell Means in person, I would go to his funeral. He had returned to the reservation to die. A missed encounter.
September 2012: While I'm stopped in Marfa, Texas, the young French girl who is hosting me tells me all about the beauties of Big Bend Park, where she and her friends had met a bear, and how it was wonderful.
I recently started creating 3D models of edifices and monuments to incorporate into Google Earth. I started it somewhat spontaneously after finding out that the factory chimney towering over my hometown of Rive-de-Gier, which is classified as an historical monument, didn't exist in this virtual world. The chimney is more than a century old and is as high as the hills that surround the industrial valley where I grew up. At one point in history, it was the tallest chimney in all of Europe, standing 360 feet tall. The landmark is visible from many spots over town, even from my parent's house. My dad worked in the metallurgic factory connected to the chimney for 45 years.
Currently, I am finishing a model for the gate and memorial of the Wounded Knee cemetery. Next, I will make the Haymarket Square Memorial. On May 1st of this year, I found out that International Workers' Day originates from the workers' struggle to install an eight-hour shift right here in Chicago, back in 1886. Many of them were killed. These types of edifices also need to exist on the virtual globe.
Mid-September 2012: While crossing the Navajo Reservation in Arizona, I give a ride to Native hitchhiker who is going back home to Kayenta. When he gets out of the car, he tells me to be careful because there are a lot of wild animals on the road. I won't see a single one.
For the past three months, I have been working on a documentary about a movie that made a mark on me when I saw it in the nineties, and didn't receive fair recognition. Clearcut is a great thriller, but it primarily presents an unseen and non-stereotypical characterization of Natives. The Canadian film was actually made by Polish director Ryszard Bugajski. In April of this year, just before leaving for Chicago, I met and interviewed Ryszard in Warsaw. His analysis regarding the way his film was received in North America—very well by Native people, very badly by Canadians—was revealing for me. He defended the proposition that a European person would actually be in a better position to depict a sensitive and typically American issue like Native genocide. Ryszard himself had to flee Poland to Canada to escape the Communist regime; he knows about oppression. Empathetic, but impartial. Free of guilt.
End of September 2012: I'm in California, halfway into my road trip. The grizzly waving on the state flag is the only bear I have seen so far.
The more I learn about the United States, the better understanding I have of European history. Because I lived in Central Europe for several years, I can now see the Polish, the Czech and the Hungarian influence on the construction of American history (especially on cinema) and on Chicago, which houses the largest Polish community in the U.S. and the artists' neighborhood Pilsen.
October 2012: I stay for a few days in Yellowstone Park, set on seeing a bear. Bears are extremely active in the fall because they have to fill up before going into hibernation. The park is overpopulated… with warning signs explaining how to hide your food and stay alert, et cetera. Instead, I venture off treks with my camera as my only weapon. Not a single fur.
I also approach my work by focusing on new formats generated by what we call "the Internets". I make use of different on-line media (comments, forums, YouTube, Google Earth, newspapers, etc.) as raw material to incorporate in my installations. For instance, in the installation Punctum Remotum, I wrote a short novel narrating various YouTube videos. And in the video Drammatical, I transformed the user-comments of an online USA Today article into a multi-dialogued video.
November 2012: Just before I return to Europe, a friend takes me to the Chicago Zoo so I can at least see a real-life bear on American soil. It's already very cold, and the zoo seems to be asleep. Most of the animals are trying to keep warm. We finally reach the bear neighborhood to find the other side of the fences completely deserted. We run to the polar bears' swimming pool—it's empty. Even the polar bears are cold in Chicago? Anyway, they're invisible. At least until spring.
Today, two months after landing in the Windy City for the fourth time, I'm starting to seriously get used to the idea of living, working and creating in this city. Then my girlfriend is offered her dream job—a job that will take us away for three years to Glasgow. Scotland. Back to Europe.
I look at the red carnation that has been poised in a glass jar on the kitchen table for more than two weeks. Its petals haven't quivered. In this country, flowers don't rot. The red flower is mocking me as if she knew she was just a picture. Eternal. Virtual.
Now, I think back to a typically French expression used to define a person who speaks of things about which he doesn't know: "the man who saw the man who saw the bear."
Michael Gimenez (b. 1977) received a MFA from the School of Fine Arts of Montpellier, France. Recent exhibitions include 'Rio, Ano Zero' at 37a Mostra Internacional de Cinéma, São Paulo; 'Global Locals' at Galerie NTK, Prague; 'Drammatical' at ETC gallery, Prague; 'Exuvies' at Galerie 35, French Institute, Prague; 'Punctum Remotum' at Galerie Living-Room, Montpellier; and 'C'est mieux si on reste amis.' at Galerie Saint-Ravy, Montpellier. See more of Giminez's work at www.michaelgimenez.com.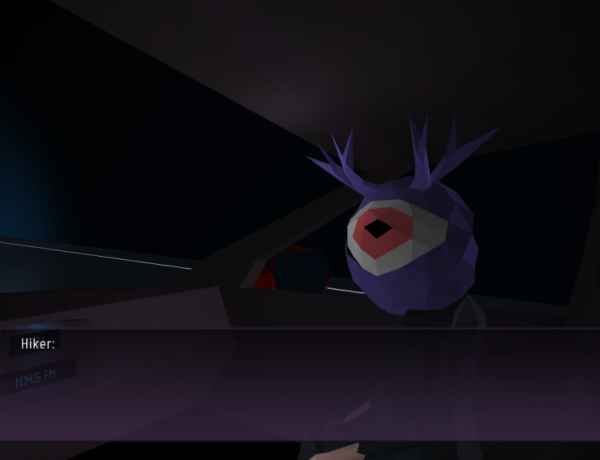 Several years ago a friend of mine was going through the intense heartbreak at the end of a lengthy relationship and I was younger and ill-equipped to offer the right kind of support, so we drove. In my heart I knew it was a terrible idea because gas prices had just reached their all-time high—a price that now, much later, feels downright reasonable. We lived in Texas, where you drive long enough in one direction and the landscape doesn't change but the things that define it do: buildings and sidewalks turn to great expanses of trees, sky, and fences, which in the daylight you can look past to see cows grazing on burnt, unloved grass. I gave my friend the option of the four cardinal directions and we drove, as far as we could stomach, towards each individual arm on a compass, first west, then north, then east, then finally, south, back to where she lived.
##############
I don't remember picking up a hitchhiker but there she/he/it is, a presence in my car, asking me questions—like why was I driving—and prompting me to choose responses that float up over my windshield, remain even in the face of the wind as the car hits a 100 km. This is the steady ephemera of Glitchhikers, a driving simulator in the loosest sense. Hold forward to speed your car up, hold back to slow your car down. Once you let go of either you'll return to the same pace, in the same way that letting go of the buttons that allow you to look left or right out of the windows will return your view to the center. You can switch lanes to avoid traffic, but there's not much point; the only cars on the road with you tonight are tiny red taillights in the distance, which seem to ebb back and forth and always stay out of reach.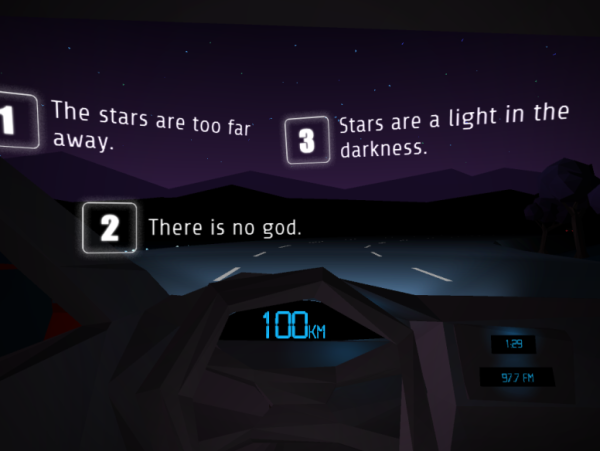 ##############
I remember taking a family road trip north to stay with my grandparents in Wisconsin and also visit college campuses for my brother, who would be out of high school soon. Nothing stands out about the experience except that in Arkansas, after driving on roads that weren't even paved we arrived at a campus I've forgotten and he refused to get out of the car. At the time I wasn't really old enough to consider the ramifications, but I didn't really blame him; the lack of paved roads seemed to be at the time the ultimate evidence that this wasn't a good place. My parents grew frustrated and we drove on, and his feet never touched ground in the state. Now, I wonder if subconsciously he was worried that if he left the car, he would never be able to go back home.
##############
In Glitchhikers, a sign rolls past telling me it's 49 kilometers to Phanteron, a place which I never really intended to go to. My first passenger disappeared just as quickly as they'd appeared, after talking briefly about drugs, driving, and the other kinds of topics that can feel utterly significant in the small talk that occurs on a highway after midnight. A new one is in my car, decidedly alien, from a place where a star exploded and destroyed her home, creating so much of the universe in the process. She's pregnant, she says, and asks if I would drop her at the hospital. Not many of my species seemed willing to take her, she says. I speed up as fast as the game will allow me and the next time I look over, she's gone, but I don't remember passing a hospital. On the other hand, it's late, and my eyelids grow heavier and stay closed longer with each passing blink.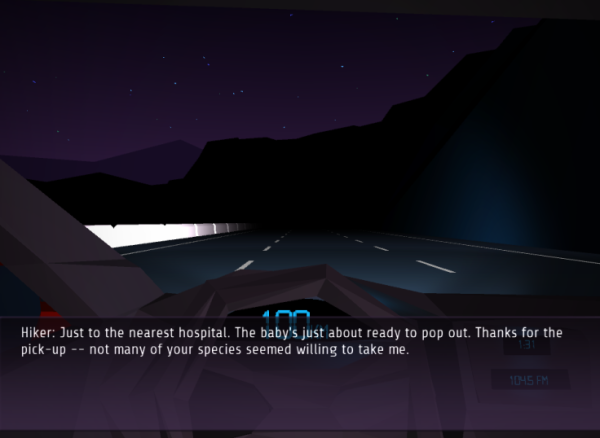 ##############
I didn't learn to drive until I was 18. At the DMV to get my learner's permit the person behind the counter was aghast. He asked me if I was sure I didn't want to just take the driver's test and get it over with. I didn't know how to drive, I told him. It wasn't that hard, he said. Later, I would fail the parallel-parking portion of the driver's exam, rolling my rear right tire over the surface of the curb as the woman sitting next to me sighed, checked a box, and told me to move on.
##############
There are several different passengers in Glitchhikers—they seem to occur based on the responses you choose to their questions. Before one appeared in my car, I saw them sitting on the edge of a bridge above me as I drove under it, their legs dangling down and over the lip. We talked about suicide; how almost everybody who had attempted it regretted it, how it actually hurt more people than the person attempting it assumed. How easy it would be to drive straight into a concrete divider, or over a cliff, careening at high speeds. How something in this world, or within ourselves, always stopped us. Next, a small, goat-like ghost appeared as I passed what seemed like a canopy of dead trees. It hated its parents; it didn't seem like it owed them anything. I agreed, and then it asked me why I was driving.
##############
It's easy to think of the car as the ultimate American symbol of freedom. So much of our legacy is entrenched in this idea of the highway, the vein that draws a line across the surface of the nation and leads to infinite places and nowheres. Even as the environmentalist in me loves Chicago's public transportation, there's that piece buried within the self that longs for the easy option of the car, the ability to drive until night turns to early morning and watch as the scenery around you speeds by and changes without consequence. I guess at some point deep within me I long for an easy illusion of progress, one where I only have to turn a key and press down on a pedal to feel as though I am exerting some change on my environment. Really though, when it comes down to it, I am trapped in the car, and the feeling is fleeting—I must always return to the point at which I began.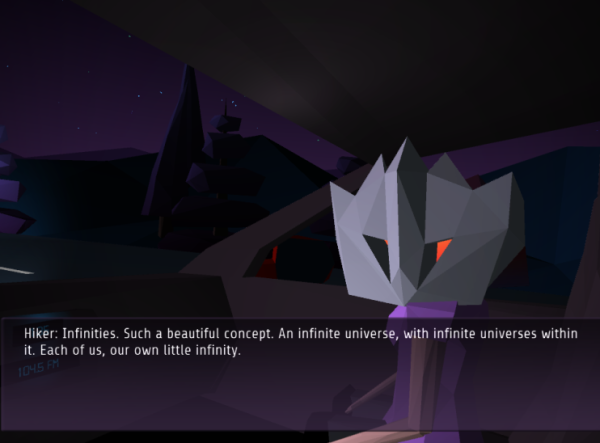 ##############
Glitchhikers is as much about choice as it is about a lack of choice. In dialogue with its eponymous passengers, you can choose from a handful of responses, which then go on to influence that conversation and which passengers occur next. But at the same time, the car here is not so much a symbol of freedom or choice as it is a vessel of inevitability, taking you forward on this unnamed highway until the game decides that it is time to end. Going faster or going slower doesn't ultimately affect your journey; what does is how quickly you answer questions and click through responses. Your travel time is your reading speed. Eventually, after a stretch of alien, angular trees, a blocky city will approach in the distance, and a series of signs will warn you that the left-hand lane is for exiting only. No matter which lane you stay in, the game ends and your digital eyelids close, either in sleep, death, or something else.
##############
Just like driving, Glitchhikers isn't about the destination, it's about the journey. Even in the wake of similar questions from different passengers and a road that goes nowhere, it's an intensely personal experience, one that begs the player to take part in difficult thoughts and conversations. The game isn't so much a game as it is a setting, in the same way that a car is not necessarily a mode of transportation but a singular place in which to exist, even as the world around you changes and falls into the perimeter. And while both may be personal experiences, they're by no means unique ones. One passenger—purple headed with a large, singular eye—explains to me the concept of "sonder," or the realization that every other person around you is a fully conscious being with their own life, story, existence. The power of this statement isn't so much reflected in the digital cars around you—which do not exist—nor in the actual, theoretical cars around while driving in reality. Instead, it feels more like a comment on the other people that might also play Glitchhikers, ponder the oddly deep questions presented to them by aliens, and consider, what it is to talk to strangers, and what it is to drive after midnight, both in here and out there. "Millions of distinct bacteria share your body," the radio host quips at one point. "You're never alone."
Glitchhikers can be bought or downloaded for free here.
Two books share versions of the same photographs. 8 1/2 Women is a limited edition artist book bound in a blank red plastic cover, bound in the style of a script. It is a rarer, more secondary book, than 8 Women. It is 8 1/2 Women that I write mostly about: an entire photocopy bootleg of the source material, including photographic contact sheets and multiple croppings, that lie behind the final cut: 8 Women by Collier Schorr. An American photographer, Schorr published both books this year in conjunction with her 303 Gallery exhibition, "8 Women".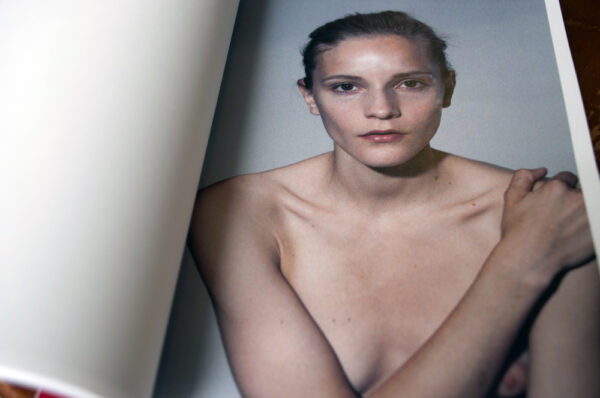 Untitled image from 8 1/2 Women
I am flipping through the pages fast; scanning, trying to recognize someone in 8 1/2 Women. Looking fast, at that musician, at that artist. At a woman from my favorite advertisement. A Robert Mapplethorpe look-alike. A rendering of an actress. Bodies are isolated on pages, and men and women are looking back at the camera. 8 1/2 Women is a lot longer than 8 Women and offers the possibility of being rapidly consumed – one page catches my eye and I stop. It is a photograph that is itself a frozen-motion embodiment of flipping: of feet cascading back into the air, of a person falling away from the camera. A girl, a boy, a person upside-down.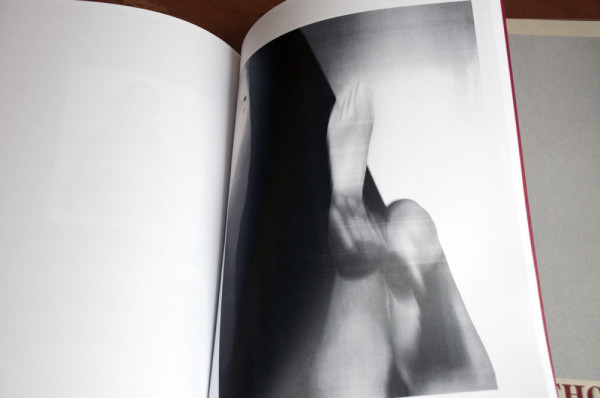 Untitled image from 8 1/2 Women
We are seeing the same thing over and over, at close range: a torso. There is no head attached to the torso. It is a photocopied stomach and chest in 8 1/2 Women. There are three images of this torso: the first version is a black and white photocopy of a color photograph. It shows a torso wearing a nipple ring. And in the second photocopy, a solarized torso displays a neck tattoo, negative and positive values inverted. The last picture has the most contrast. Heavy grain of the copier turns scattered freckles the darkest, this photocopy the grainiest and showing only a hint of the neck tattoo. It is this tattoo that connects the torso to a real person, its language and handwriting, the swoop of the last letter: famous, Freja Beha Erichsen is one of Collier Schorr's repeated subjects, and she is notoriously tattooed.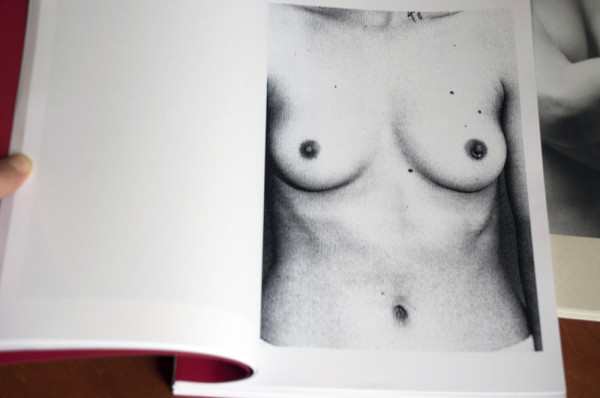 Untitled image in 8 1/2 Women
She is a supposedly difficult model to photograph. She is often more in control than the photographer. Freja Beha Erichsen is aware of the ways "Freja" should not look, what she would not do, how she would not sit, how she would not be, in an advertisement. In both 8 Women and 8 1/2 Women, Collier photographs the model just before or after a Chanel fashion shoot took place. She catches the model slightly out of character, before her characteristic nipple ring is re-inserted, as the ring does not exist in the advertisement photograph. This portrait is a before-and-after shot. This and most of Collier's portraits are before-and-afters, picturing bodies at odds, as these bodies prepare to become their image, which might or might not be synonymous with becoming themselves. Many look alone on a stage.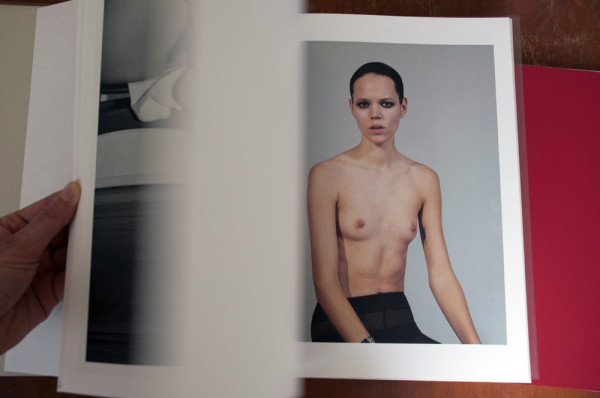 Camera Work, 2013, from 8 Women
The girls, women, boys and almost never men, that Collier photographs are for the most part, good-looking. Sometimes they are nude. Some are professionally confirmed as beautiful; they are models. And some look a little bit like Collier. At least six self-portraits exist in 8 1/2 Women, nearing 200 pages. Picture after picture builds a catalogue of repeated subjects. One self-portrait appears in both 8 Women and 8 1/2 Women called "Self-Portrait (Mimic)". In the photograph, Collier sits in a chair, and a woman stands behind, pulling the creases of Collier's eyes backward towards her ears. Is she trying to look like a photograph of herself? Like a photograph of someone else? More likely, she is reconciling herself with a stranger. Reconciling with a photograph of a stranger wherein she recognized something of herself.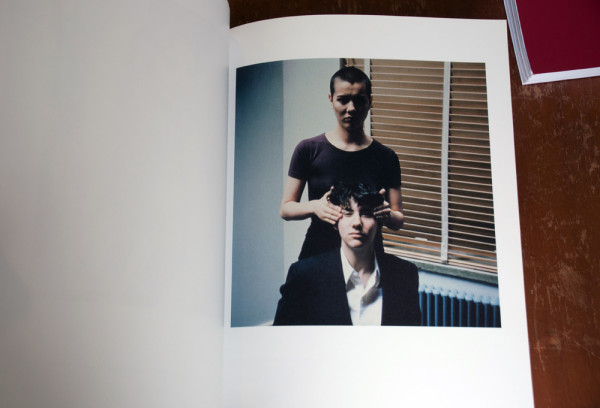 Self-Portrait (Mimic), 1996, from 8 Women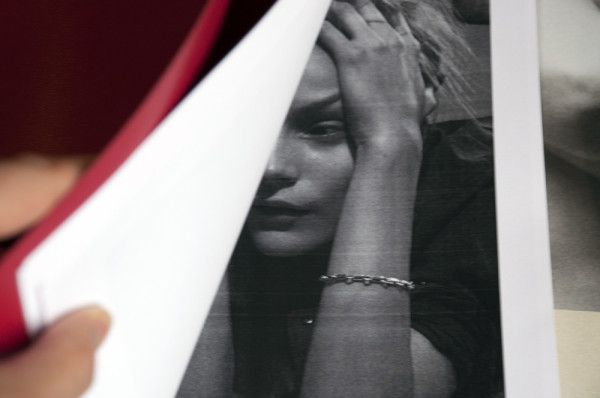 Untitled image from 8 1/2 Women
We are getting closer and closer and closer. To what? To a person sitting in a chair. No. To a v-neck white short sleeved t-shirt. Not exactly. To the v-neck itself, the stitched white cloth V. Still no. To a freckle, slightly left of and below a nipple, visible through a white v-neck short sleeved t-shirt adorning a person sitting in a chair. Adorning a man or a woman? Undetermined, I am looking at a person in a series of three photographs, each image cropped tighter than the last. The person's arm rests over the back of the chair. At its most liberal view, the camera crops the head nearly out of the frame, except for an unexpressive mouth. Claustrophobic crops serve to make us closer.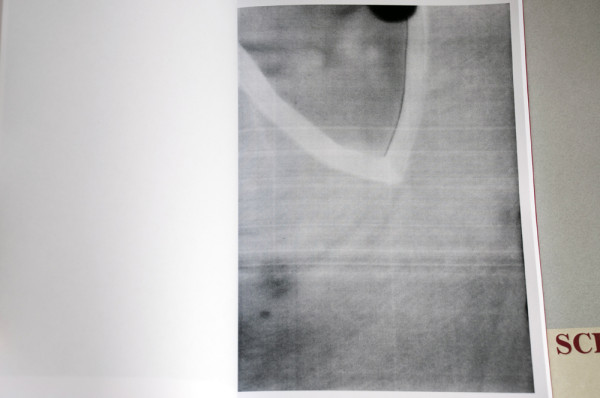 Untitled image from 8 1/2 Women
Without photographs, are there fantasies? I am looking at a collage. Well, mostly a drawing, of Nicole Kidman. When she had short hair. The edge of the drawing contains a snippet of a photograph, a section of skin collaged into the pencil-drawn neck. The photographic snippet might or might not be from a photograph of Kidman's neck. Maybe the skin is taken from a photograph of someone Collier knows, or maybe cut from a body in a magazine. The occasional drawings that appear in 8 1/2 Women and 8 Women are drawings from photographs, by a photographer, of women initially encountered as photographic images, consumed over and over as photographs, who are more likely to be mistaken on the street for no one, than to be mistaken in a photograph.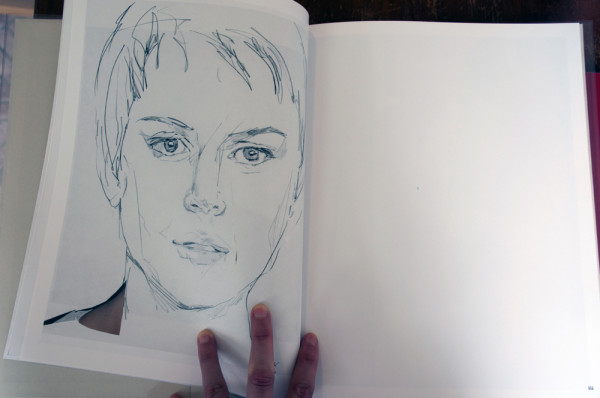 N.K., 2013, from 8 Women
1. Black Cauliflower at Roots and Culture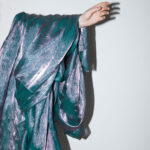 Work by Corkey Sinks and Jamie Steele.
Roots and Culture is located at 1034 N. Milwaukee Ave. Reception Saturday, 6-9pm.
2. #BRUTEFORCEFIELD at The Hills Esthetic Center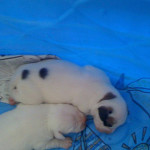 Work by Christopher Meerdo.
The Hills Esthetic Center is located at 128 N. Campbell Ave. Reception Saturday, 7-11pm.
3. Stephen Reber and Anders Ruhwald at Threewalls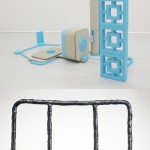 Two solo exhibitions.
Threewalls is located at 119 N. Peoria St. #2C. Reception Sunday, 2-5pm.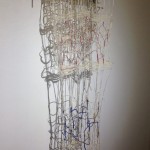 Work by Nicole Pyles.
Kitchen Space is located at 2716 N. Monticello Ave. #1F. Reception Sunday, 1-5pm.
5. Sharing the Stories of the Elders at Chicago Art Department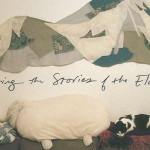 Work by Cassie Hamrick.
Chicago Art Department is located at 1932 S. Halsted St. Reception Friday, 6-10pm.