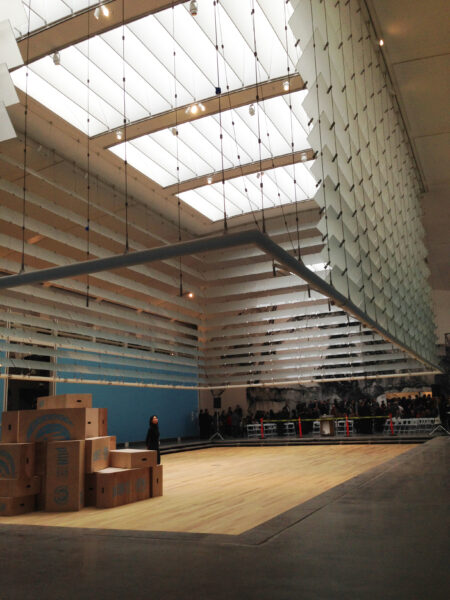 Queens Museum
This has been a pretty great fall in the borough of Queens.
From the NY Art Book Fair and Maker Faire earlier this season, to the ambitious Empire Drive-In that just closed 10 days ago, Queens – typically perceived as the dowdy counterpart to Brooklyn's thriving culture of creative professionals – is loudly staking its claim as a cultural destination in NYC.
And now the icing on the cake: the Queens Museum will open its newly renovated and designed facility on November 9th. Doubling in size to 100,000 square feet, the building, which was originally conceived as the New York City pavilion for the 1939 World's Fair, has expanded to include the space of a former ice skating rink, with a soaring, light-filled, 48-foot ceiling atrium.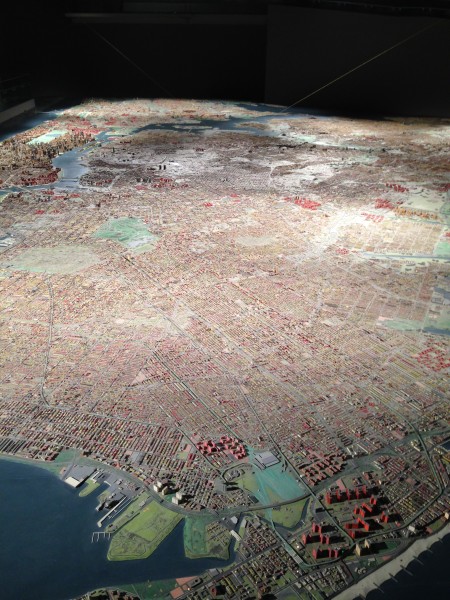 Panorama of New York City
The inaugural season at the QM includes solo exhibitions by Bread and Puppet Theater Founder, Peter Schumann, Pedro Reyes and Jeff Chien-Hsing Liao, as well as the sixth installment of the Queens International. New installations of the permanent collection galleries impress – including, of course the panorama of New York City, easily one of the museum's greatest assets.
Peter Schumann: The Shatterer is incredibly staggering, both in scale and aesthetic prowess – and in the museum's visionary curatorial decision to highlight work that is often dismissed by the mainstream, as their blockbuster opener no less.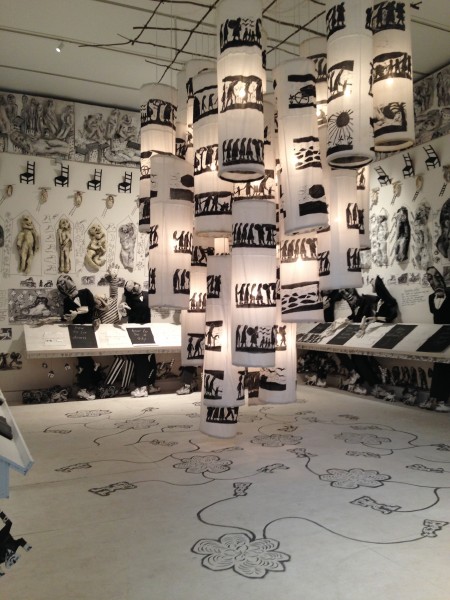 Peter Schumann: The Shatterer
Other galleries featured works representative of the rainbow of cultures in Queens including an exhibition of Cuban artists from the collection of Don and Shelly Rubin (major benefactors of the museum), and a gallery dedicated to the work of artists from Taiwan.
The museum – which has also changed its identity from the Queens Museum of Art to simply the Queens Museum – follows a one-word mission statement: Openness. As an ideology, the museum has been pursuing this purpose aggressively during the tenure of Executive Director, Tom Finkelpearl. Now, it has the physical space to complement it.
The museum will also include a branch of the Queens Borough Public Library, planned to open in 2015. This smart partnership is indicative both of the radically shifting roles that museums and libraries are evolving toward, and the leading role the QM has taken in creating a hybrid, inclusive, social space that will soon become the model for cultural institutions. From their characteristically large focus on service-based public programming and community involvement, to their collaboration with Queens College (CUNY) and the community of Corona on Social Practice Queens (SPQ) — an MFA with a concentration in socially-engaged practices — the QM is setting a high bar a new museum standard.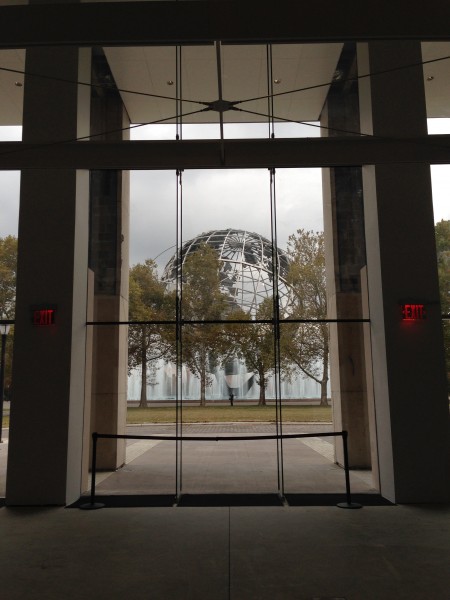 The view from the atrium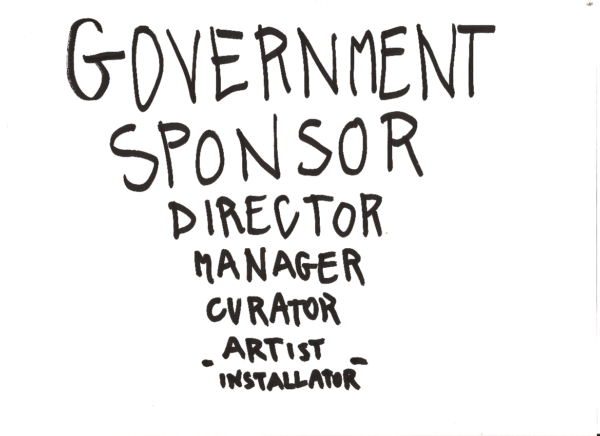 "Tumblr is a great way for people who don't create content to share content thus lending their life some kind of creative import."  This is the somewhat omniscient Jayson Musson's tweet from a couple of weeks ago.  The more I think about it – and I have been thinking about it way too much – the more I realize that he's probably right.  There are a lot of people on Tumblr and I am one of them.  And I cannot get enough.  But you know what, I don't care if these people haven't created the content they're posting, at least they're posting content – which, in of itself, is a creative act.  And it's visual, and I personally am constantly learning from it.  It's a visual literacy of the highest import.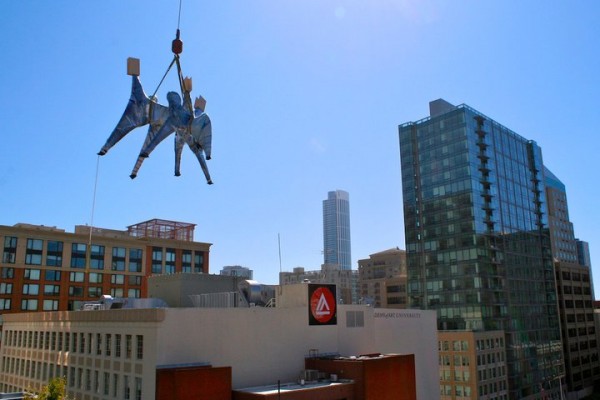 My own Tumblr, Installator, is a curated (for lack of a better term) blog of other people's content.    Installator (wrapit-tapeit-walkit-placeit) is essentially a compendium of art in a state of movement – being installed, de-installed, moved, crated, knocked down, hung, lifted, cleaned, screwed together, and on and on.  It's about art as an object, but decidedly not the object that most people understand it to be.  Not precious, or in some cases priceless, well-lit aesthetic nuggets that just seems to appear on walls, or pedestals, in fields, on buildings and above couches.  These are images of artworks that are not static.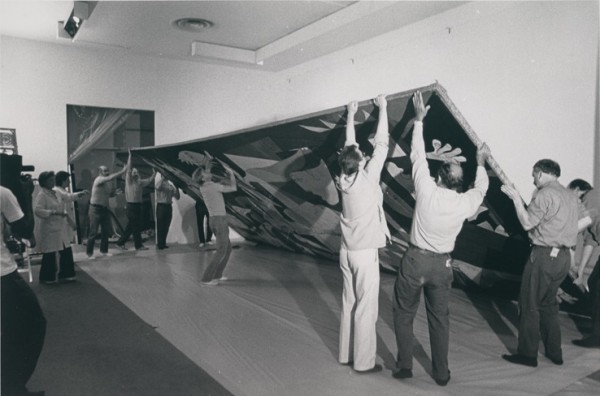 Sometimes I wonder if people who go to museums or galleries think these things just kind of magically appear overnight – like some sort of aesthetic fairy flitting down to delicately place a painting on a wall with their sparkly fairy-dusted level.  Well they don't, and there is a magical coterie of individuals who do make it happen: art handlers/preparators/riggers/etcetera.  I am not an art handler, though I have done my fair share of handling art (I'm also married to a former preparator).  It is with the utmost respect for these folks that I showcase them in the photos that make up Installator.  Other people are impressed too.  Of the many comments I do get on one photo or another – a common one is some form or another of: "I want to do this for living!"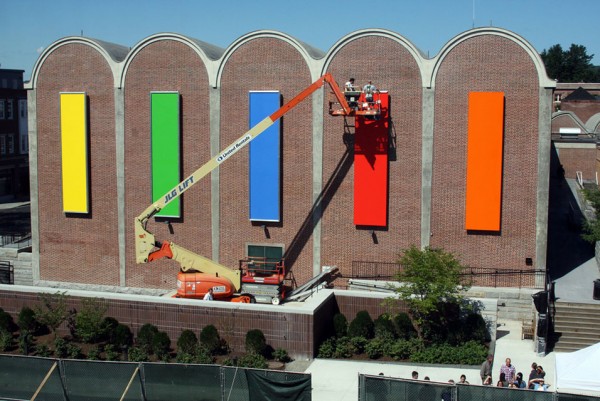 Looking for images can be a pain in the ass, but when I find a good one I get really excited.  I have a loose set of criteria that I stick to when finding them; ideally it's a large jpeg; includes an image of a person(s); is of an artwork or artist that I admire; is visually representative of the act of installing or de-installing and has to be stimulating to look at.  Funny pictures help, as do process-oriented sets of images.  I mostly start with a Google image search including an artist's name (or sometimes an artwork) and the word "installing".  Another route I take is plundering the Facebook photo albums of museums.  I find that European museums do the best job of documenting their behind-the-scenes, but there are a few museums with their own oft-updated Tumblrs, blogs and websites (the Dallas Museum of Art, Contemporary Museum of Art, Houston and the Walker Art Center are tops.)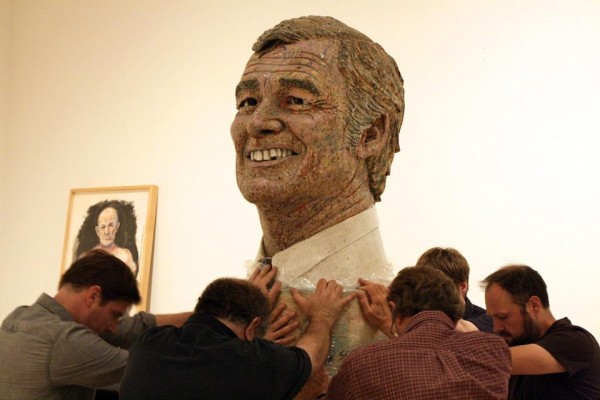 At this point it seems as though a lot of Museums are catching onto this peeking-behind-the-curtain-thrill.  Many of them are sharing much of the work that goes into setting up an exhibition, not only by posting more and more images for the public, but also using it as a form of education about the lives of artworks.  This can only be healthy.  It humanizes the pricelessness that these objects are assumed to have once they enter the institution.  It also showcases the care for these objects from a preservation standpoint.  I thought this quote from the Chrysler Museum of Art was interesting, even though the images they did post were some of the most beautiful I've come across: "We generally do not discuss anything related to the movement of art. There are lots of reasons for this, ranging from the obvious (security) to the obscure (proper protocols and handling).  …. We rarely if ever actually photograph art being moved. This is [a] field where mistakes are not an option, and a great work of art being damaged because somebody tripped over a photographer just can't happen."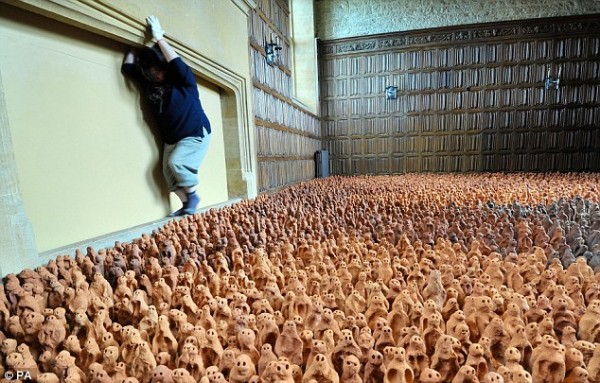 There is also what I cannot find.  I have a mental list of artists whose work I would very much like to see installed.  There are also museums that simply aren't interested in showing how work travels from the bowels of their storage to the walls of their galleries.  Outside of Instagram, commercial galleries very rarely show images of their artists work being installed (though Salon94 has a great blog that features this).  Along the same lines, it's often difficult to find images of art fairs being loaded in.  Artists who have their own websites also rarely show images of their work from this viewpoint (Sterling Ruby and Martin Eder (?) are a couple of exceptions).  Holy Grail images would include almost anything pre-1980, better yet pre-1950.   The Smithsonian's Archives of American Art (watermarks excluded) is by far one of the best resources I've found.  As far as mediums go, who knew it was so hard to find images of drawings and photographs being installed?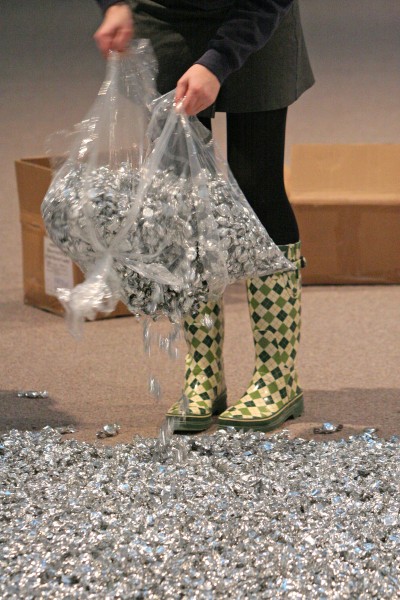 A short wish list, in case anyone was inclined to do some of their own digging and submit: Morris Louis (a good one, though this one is pretty good), Allan McCollum, Eve Hesse, Cady Noland and On Kawara.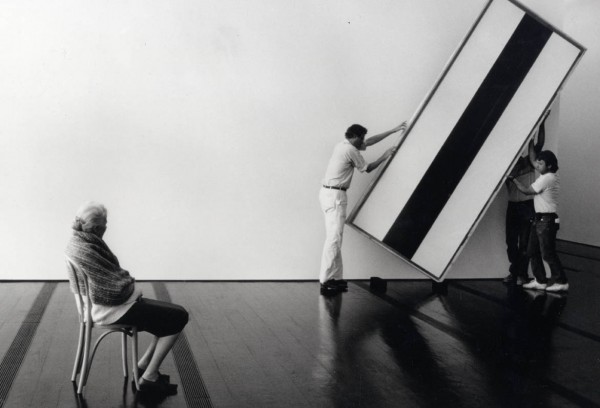 What's next? I thought an old fashion artbook might be a good way to harness a lot of what's happening on the Installator tumblr.  There is more to mine here: from the relational aesthetics of it all to the art historical precedents of installing art.  However, after looking into it and making a couple of inquiries, I realized that it would never happen.  I don't own these images and I certainly wouldn't want to deal with the red tape (from artist to gallery to museum) about ownership and rights.  Nonetheless, I do worry that with the fleeting nature of screen-scrolling, people aren't really looking.  Good old fashion page-turning sounds nice to me – maybe one of these days.  For now, I'll still be looking for content and posting it for my 137,507 "followers".
Bio: Britton Bertran ran 40000 from 2005 to 2008. He currently is an Instructor at SAIC in the Arts Administration and Policy department and the Educational Programs Manager at Urban Gateways. An occasional guest-curator, he has organized exhibitions for the Hyde Park Art Center, the Loyola Museum of Art and several galleries. You can find him trying to be less cranky about the art world on twitter @br_tton.  Stay tuned for a couple more guest posts where Britton will be waxing poetic on what's wrong with the Chicago art world circa 2013, while thinking out loud about how to fix it and another post about looking forward to 2014 (and maybe a top 10 list of sorts too.)
Above images:
"KULTÚRA NAPJAINKBAN, dan perjovschi után szabadon" (via richardlivesus)
"The Acrobatic Sculptures of the Rooftop Garden". Alexander Calder's "Man" being installed at SFMOMA
MoMA staff dismantling Pablo Picasso's "Guernica" (1937) for shipment to Spain. Photo taken on September 8, 1981 by Mali Olatunji. Image © The Museum of Modern Art, New York
"Monumental wall sculpture by Ellsworth Kelly installed on Dartmouth campus.  This major site-specific work, titled Dartmouth Panels, was commissioned by longtime arts patrons Leon Black '73 and his wife Debra, who contributed $48 million towards the creation of the center." (artdaily.org)
"This piece is made of ceramics, a medium which Robert Arneson helped bring to a full-fledged, independent art form. Typically, large-scale works such as this would be made out of bronze or marble. Luckily for our installation crew, this piece is hollow, meaning it only weighs between 500-700 lbs. Heave-ho!" (SFMOMA)
"This incredible sculpture by Turner Prize-winning artist Anthony Gormley, consisting of 40,000 clay figures, has been put on display at an empty Tudor manor house…. It took five days to place the humanoid characters into position across the ground floor of Barrington Court, a National Trust Property near Ilminster in Somerset. The installation 'Field for the British Isles', was originally created in 1993 and has been loaned to the property by the Arts Council Collection through its Trust New Art Programme."
Felix Gonzalez-Torres, Untitled (Placebo), 1991. Installation process. Image courtesy of the Williams College Museum of Art; photo by Roman Iwasiwk (curatedobject.us)
Dominique de Ménil supervise l'acrochage d'une toile de Barnett Newman en 1991. | Dominique de Ménil oversees the hanging of a Barnett Newman's painting in 1991. (Marc Riboud, circa 1991, 38 x 52 cm via Galerie Verdeau, via tongue depressors; via bruvu)
A dispatch from the Creative Time Summit (NYC), The Association of American Cultures (Providence, RI), and Hand in Glove (New Orleans): August – October 2013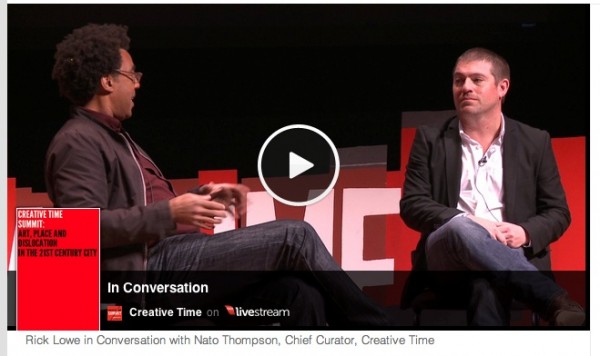 "Is Social Practice Gentrifying Community Arts?": This question posed by Rick Lowe of Project Row Houses in conversation with Nato Thompson at this years Creative Time Summit, Art, Place & Dislocation in the 21st Century, was a crystallizing moment in a series of gatherings and convening I've been part of the last few months. Addressing "gentrification," the thematic buzz word of this year's Creative Time convening, Lowe said that to really talk through the issue of gentrification, we must also address our issues with race. As he put it, communities of color are talking about race all the time as part of inescapable component of everyday experience, whereas conversations with white people results in a sort of "shadowboxing" in which one dances around the issue without addressing it head-on. To illustrate, he brought up the media coverage around the Trayvon Martin/George Zimmerman case in which Juror B37 said on Anderson Cooper that the case had nothing at all to do with race, a sentiment echoed by many commentators in our mainstream media outlets. This in stark contrast to the conversations he was having (as many were) where race was the central issue in how that case was tried and decided and which had vast implications for communities of color.
And how does this play out in the cultural context of presenters at the Creative Time summit? Well, for place-making initiatives, another buzzword running through many Creative Time presentations, he cautioned that we must be careful to not obfuscate what is really at stake. It's easy for well-meaning place-makers and artists to reach out to places in need, it's a lot harder to reach the actual people because, understandably, not everyone wants to join the vibrancy index. As arts advocate Roberto Bedoya pointed out in his presentation, place-making has a colonizing history as well, lest we forget Japanese internment camps during World War II, the Chinese exclusionary act of 1882 and the current militarization of the border near where he lives in Arizona. In addition to that, strategies of community engagement and participatory art have a long history in community arts, albeit with an explicit social justice mission that is often missing in the language around creative place-making today. Recent social practice MFA-ers and platemaking gurus be warned, these strategies have long been employed by the field of community arts, and though they may not fit all the current buzzwords we would do well to heed their experiences.
Not to knock MFA-ers because students deserve the generosity of being taught without always being criticized for their naivete, but the Creative Time Summit shows that there is a startling shift in the field where socially engaged artist initiatives (student ones as well) are walking the walk and talking the talk of community arts, without necessarily the community investment or social change mission. As Risë Wilson, founder of The Laundromat Project and moderator of the "My Brooklyn" panel at the summit, says, race is also a question of power and privilege. And if, as she asks, our larger goal is social, political and economic equity, then we each must ask ourselves, what is our privilege and what would we be willing to give up in the name of that equity? How does the often explicit social justice mission of community arts and grassroots political organizing square with contemporary artists, seeking to be relevant outside the arts and inside "communities" while at the same time retaining authorship and cultural capital at the same time? And for the MFA student, with their rising cost of education, crippling debt, and precarious jobs waiting on the other hand, the less advantaged are often not the ones inside schools getting to know those buzzwords to leverage those new opportunities for funding.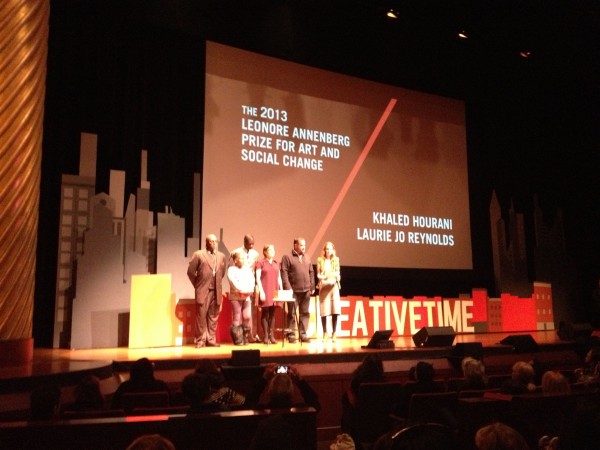 The Creative Time Summit has a "big tent" solution to bridging these divide. In other words, if you place all these working methods alongside each other, then maybe a new audience is articulated that sees cultural work outside of disciplinary silos and finds ways to talk to each other. And I'm not the biggest fan of TED Talks eight minute format but there is an agenda smuggled in there that I recognize, in which Creative Time occupies an interesting, contradictory, paradoxical position between the people in the grassroots arts and social justice sector and those in power and tries to act as a pipeline between those worlds. In other words, the TED Talks are an amplification technique to make these complex projects accessible. One can debate whether or not that should be the goal, but it's also a goal worth addressing. For instance, this year's Leonore Annenberg Prize For Art and Social Change of unrestricted funds, which was awarded to the well-deserving Laurie Jo Reynolds/Tamms Year Ten and Khaled Hourani, also comes with a think-tank retreat facilitated by Creative Time and the Annenberg Retreat at Sunnylands that will bring together policy-makers, lawyers, other artists, philanthropists, to discuss how to work towards solving the issues of injustice that these artists address. So along with the ceremony and pizazz of the summit, Creative Time is also engaging in our other form of contemporary power-broking, the invitational retreat. President Barack Obama himself hosted President Xi Jinping of the People's Republic of China for an official working meeting at Sunnylands last June.
What will result from there remains to be seen, but it is clear that scaling-up these political art projects is the goal. Unfortunately what also results from such a tactic of accessibility at the actual summit is that often presentations slide into pitch mode, in which social good is promoted, great work is being done, and we can all go home inspired. But admittedly, I actually was inspired by some of the presenters. Lucy Lippard, Torolab, Antanas Mockus Å ivickas, Tamms Year Ten crew, to name a few, are totally amazing. And there were some confusing bits too. I was looking for some substantiative connections between documentary activism and socially engaged artist projects on the "My Brooklyn" section and the "Flaneurs" panel was an odd mismatch of projects. But I assume, this is all about throwing people together and seeing what sticks.
So why do we need all these entrepreneurial sales pitches? Why is Creative Time one of the only ones out there madly facilitating between all these huge gaps? Or are they the only ones thinking big? I've been thinking through these questions of diversity and relationships between socially engaged art/place-making rhetoric of today and community art's history through two other recent gatherings that I've also been a part of. In August of 2013, I moderated a panel at The Association of American Cultures conference (TAAC) in Providence, RI and in October 17-20, I spoke on a panel as part of the second Hand in Glove conference, which I co-founded with many others in Chicago in 2011, this time in New Orleans and organized and hosted by Bob Snead of Press Street/Antena Gallery and his team.
TAAC was founded in 1985 on the values of multiculturalism and social equity in the arts and today by and large encompasses culturally specific community arts organizations, as well as the funders and arts councils that seek to support them (there is a summary of the proceedings here). After a three year hiatus, they are gathering again as a national dialogue and much of that conversation was about that issue of redefining multiculturalism for a 21st century audience. The logic goes, multiculturalism brought new voices to the table through the 1990s, but at this point, who's table is it? What is the fate of the community arts and cultural specific institutions when the dominant language of creative economies and creative place-making are telling them to innovate or die?
At these different kinds of gatherings, I am fascinated by the similarity of languages that are now used across contemporary art gatherings and nonprofit community arts. For instance, one of the activities of TAAC was a walking tour of downtown Providence with the founder of AS220, Umberto Crenca. Founded as a one-room alternative space in 1985, AS220 has played a major role in the revitalization of downtown as a cultural district, encompassing multiple buildings with small-business incubators, artist live/work spaces, youth programs including for those in custody of the state, a gallery, music space, and its own bar and restaurant. It's staggering what they have been able to accomplish, all the while paying all full-time workers (including the Executive Director) the same salary and sustaining themselves for many years without major foundation support. But also their goals of downtown expansion have been able to align with the rhetoric around creative economies. Closer to home, it's hard not to draw comparisons between a project like this and Theaster Gates' Rebuild Foundation, both led by charismatic hometown boys with goals of social empowerment and benevolent capitalism while drawing their entrepreneurial chutzpah from radically different traditions and being held up as success stories by different venues. Is this a time for that big tent? What about those that don't have such a great sales pitch?
In New Orleans at Hand in Glove, a gathering of artist organizers and artist-centered non-profits addressing at the national level the pragmatic and conceptual challenges faced by alternative spaces and artist-run initiatives, a similar question of ambiguity and belonging emerges. Who sees themselves as part of this particular conversation? What do artist-run galleries, socially engaged artist platforms, and nonprofits have to say to each other? And what about community arts, are they part of our field as well? When Hand in Glove met in New Orleans to hold panel discussions on ways of organizing and sustaining ourselves on October 17-20, Free Southern Theater  (one of the most amazing socially-engaged artist organized projects of all time) was also having their 50th anniversary gathering that same weekend. Our gathering was amazing, generative community-building and too complex to go into here, but for the context of this musing on bridging the divide, I found myself questioning if there was some substantiative way of bringing the worlds of Hand in Glove and Free Southern Theater together to talk about what's really at stake and how to support the work of artists that are truly challenging and experimental in form. That in addition to acknowledging the legacy and knowledge of my own field. I'm looking for too much I realize, but as our Hand in Glove group is interested in building national networks around arts organizing and bringing in a diverse set of practitioners and we can see the disciplinary boundaries become shifting ground between our feet, we have to ask what we share with these other traditions and where do we diverge. We owe it ourselves, especially at places like the Creative Time Summit, at Hand in Glove, at TAAC, to not merely applaud our efforts but to actually challenge our own terms.
As part of a recent symposium on the legacy of Culture in Action, artist Daniel Joseph Martinez commented that two heydays have passed: the alternative space and the culturally specific institution and with that an alternative life course for the non-commercial artist. This is admittedly hyperbolic, but I think what he was getting at was that there was a certain moment when operating outside of the mainstream was a viable choice and a great promise, and then the Culture Wars hit big and in a way we're still recovering. With the steady encroachment of the razzle-dazzle of place-making, creative economies, and social practice, we're in a moment where seemingly alike projects get radically different receptions and resources, legacies are in danger of being overlooked, and underneath all these TED talks and success stories we need to squint really hard to find the ethos and values being articulated.
In one of PC gaming's most famous series, Half-Life, players take on the role of Gordon Freeman.  Across numerous games, the Half-Life series sees its hero traipse through dangerous environments, mostly as a result of an initial scientific accident that calls forth alien hordes. Throughout all this, Gordon is an obvious example of the "silent protagonist." The silent protagonist is one who, quite literally, remains silent. Even in conversation with another character or the face of apparent death, Freeman makes no sounds.
The opening sequence of Half-Life is famous for an engaging establishment of its environment. The player, as Freeman, is transported via a futuristic railcar to a desert facility named Black Mesa, an amalgamation of shadowy government experimentation. As Freeman, the player takes in vague sights and listens to the monotonous drone of a pre-recorded speech extolling safety procedures. The first character Gordon Freeman interacts—and I use the term loosely—with is a security guard. The guard, upon opening the railcar door, greets him: "Morning Mr. Freeman. Looks like you're running late."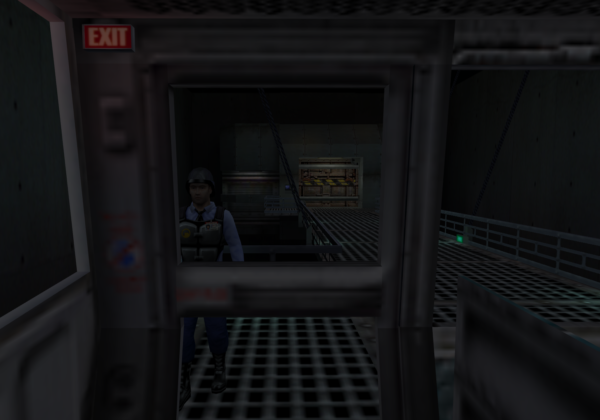 This bit of dialogue is one of a small collection of identifying information about Gordon, but ultimately, it doesn't reveal much. All the player knows is that he has a prior line of history and existence with this facility. In essence, the player knows he is returning to his day job. The comment is an allusion to this character's constant existence, his place in the game's narrative.
In games, characters, narratives, and environments are essentially defined through two aspects. The first is that which already exists, coloring the history and environments that define the in-game world and people within it. The second is that which colors the player-character's present, which is intrinsically tied to the game's action—essentially what we as players see and experience. A more important distinction between the two is that the history and narrative are defined by the developer or creator, while the present of the game and the character's present, is defined by the player and his or her actions.
As he is silent, Gordon's interactions with other characters are defined solely by the dialogue and intent of those that interact with him. Freeman meets a variety of characters on his journey through the games, and some even develop close relationships with him. Just as the security guard's comment solidified his history as a scientist, those interactions which occur during the actual game fill out his nature as perceived by both the characters around him, and the environment in which they exist—all as predicated by the developer. Developer-dictated detail and narrative is that which the player cannot affect, but only know and learn passively.
This is the opposite of that narrative detail which is defined by action, and as a result, the player. A large part of what begins to define the character relies upon and is determined by player action—and this action sometimes occurs in direct opposition to character history.
When a player plays as an established hero—say, Batman—the action that occurs during the player-defined portion is usually entirely in agreement with that character's history. That is, when a player controls Batman and beats up a gang of thugs, this action is fully in line with what players expect from Batman's colorful and storied history. His historical, developer-defined narrative transitions seamlessly into the player-defined action.
What's perhaps most odd about Gordon Freeman is though his established history is scarce, what shines through results in direct opposition with his player-controlled present. Gordon's day job is that of a theoretical physicist. His physicality—prominently displayed only on some editions of the box art, in the game's menu, and briefly during spin-off games—paints him as an obvious ectomorph. Yet his player-defined narrative has him leaping over pools of caustic acid, wielding numerous firearms with incredible accuracy, and dispatching hordes of aliens and marines alike.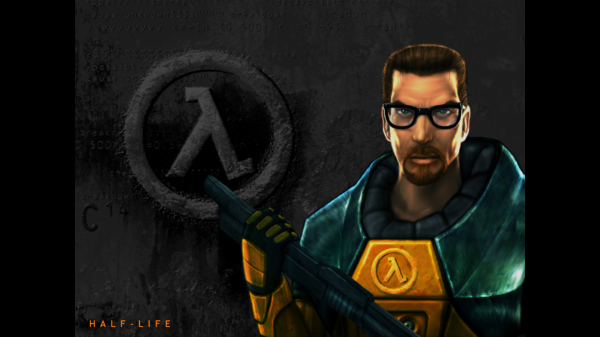 This isn't an argument that the game should have been a scientist simulator—one that, given the events of the game, would have probably ended in premature death or hiding in a reinforced closet. But the developer-defined aspects of Freeman as a character—his history and his relationships—don't come together with the player-driven narrative to create a complete, acceptable portrait. And when this happens, the relationship between the protagonist and player is not as fulfilling. Rather than portraying Freeman, the player is portraying a fantasy, and Freeman is merely a replaceable vessel.
This year saw the release of The Fullbright Company's Gone Home. Much has been written about Gone Home, and for good reason—the game deals eagerly with a non-violent plot and consists of relatable family life complete with uncomfortable discovery, a 1995 setting with a Riot Grrl soundtrack, and celebration of sexual identity.
But in addition to that—which alone makes the game worth exploring, ten times over—it offers a refreshing version of the player-defined narrative, one that creates a unique relationship between player, protagonist, and environment. One of the geniuses of Gone Home is that its environment is not only entirely unknown to its player, but that its environment is also entirely unknown to its protagonist. The protagonist, Kaitlin (or Katie) is an elder daughter returning from an extended overseas trip. In the meantime, her family (a father, mother, and younger sister) have moved into a house willed to them from the father's estranged uncle. Her return finds the house empty, leaving her and the player without a guide or character with which to interact.
This single aspect defines the environment an exciting way: one that is entirely unknown to both the player and the protagonist. This allows for the player to more closely identify with Katie as a protagonist, sharpening the relationship. And when the relationship is a closer one, the player-driven action becomes more relevant in moving towards meaningfully defining a character and world.
Gone Home is essentially a story about relationships, told via intelligent discovery and modern archaeology. As the player-as-Katie moves through the home, mysteries unfold via papers left out. Notes from Katie's younger sister Sam provide the central narrative, while crumpled notes, pamphlets, and other documents fill out the mother and father in addition.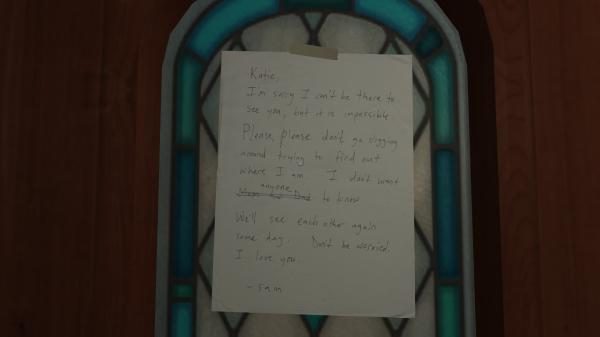 What's interesting about Gone Home isn't just the unified developer-defined narrative, but the narrative that develops as defined through the player's action. Rather than shooting aliens or (gleefully) breaking crates as in Half-Life, Gone Home's interactivity is defined by searching and discovering. While the player's actions on a most basic level defines Kaitlin as a snoop without any sort of respect for boundaries, they, perhaps more importantly, serve to define the environment around them. Much of the game's content is bound up in secrecy, waiting to be unleashed, and only with careful searching does the world come into focus.
Historically—and in games such as Half-Life—the environment and the characters within it are developer-defined, and as a result, the protagonist's history is as well. But in Gone Home, the lack of external characters ultimately means a lack of active developer-driven meaning, and instead the player finds something that feels more personal.
And while of course, all of the content in Gone Home has been placed there by the developer—they are still the writer and creator of the game, after all—the player's action is what actually serves as the access point. Though the player in most games propels the action simply by playing—in the same way a reader reveals the action by reading—the player in Gone Home serves as a more active propellant of the slow reveal of the environment and its characters.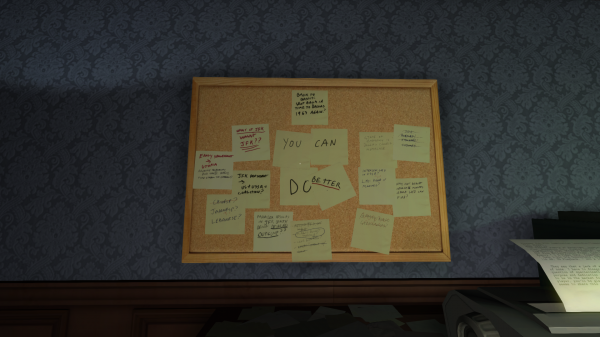 What begins to develop, then, is a picture of Gone Home as a game where the player-as-protagonist is the driving force for the narrative. This is because Gone Home's player-action is one that paints a picture of the protagonist and the relationships around her in the exact way the protagonist would on her own. This allows the protagonist, and the resulting player/protagonist relationship, to feel incredibly powerful. Because when the player-as-protagonist defines the narrative or the environment, the player/protagonist's action defines the way in which that entity interacts with them. In a sense, they become the driving force behind the game's emotional impact. When a player-as-protagonist feels as though they have the power to drive forth the narrative, defining the environment and protagonist through their discoveries and actions, gaming as a medium truly shines.
But perhaps more importantly, as the player gains control and the ability to define the narrative through the interactivity of the medium, the developer appears to exert less control. And when the developer wields less control, they fade from the experience of the game, allowing it to stand on its own. While the relationship between the player and the developer is an interesting one (and well worth exploring at another time), they happen to be at direct odds with either's direct relationship to the game and the protagonist. In a sense, the developer must be able to release full control of their creation, their child, to the player, and allow them to determine the protagonist's existence and relation to the game as a whole.

James Elkins' does it again! Listen to this week's podcast! Episode 425 yall.
Bailey Romaine wrote about her experience during on a South Side gallery tour with Monique Meloche:
Last month, in the midst of the crazy Expo Chicago extravaganza, I had the pleasure of going on a tour with Gallery Weekend Chicago. GWC was founded by Chicago gallerist Monique Meloche in 2011 and offers annually a weekend of private gallery and museum tours. I went on the Sunday tour which took us down to the Washington Park and Hyde Park neighborhoods on the South Side and made stops at the Arts Incubator, the Smart Museum, the Renaissance Society, and the Logan Arts Center.

The Arts Incubator in Washington Park was the first stop of the day. This space, part of the University of Chicago's Arts & Public Life Initiative, was conceptualized by Theaster Gates, who is now director of the project. The Incubator is home to an artist residency program, a community arts education program for teens, as well as an exhibition and performance space.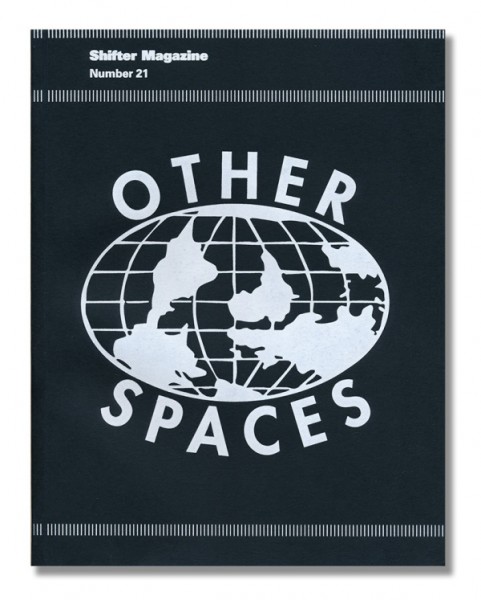 Shifter Magazine's latest issue, Other Spaces came out this week. Which is exciting.
Meredith Kooi reflects on James Turrell using Heideggar as a lens:
Nancy Marmer's 1981 review of Turrell's exhibition at the Whitney, James Turrell: Light and Space, focuses on the "chilling art of deception" which is Turrell's "more rigorous, even didactic, aspect to [his work] that tends to be ignored." [14]  This attention to illusion or deception isn't specific to Marmer. From that same year, Wolfgang Zimmer's review in ARTnews is titled "Now You See It, Now You…" [15]  This is important. Questions about being and truth are glossed over when the work is only described as illusion and deception, simple plays of perception. This is too simplistic to fully describe Turrell's work. Rather, it is the interplay of appearance, semblance, and phenomenon (in Heidegger's sense: of something showing itself from itself in itself). It is not a simple either/or situation, where you either see the illusion, or the "true" material conditions of the piece. The totality of this situation of being-with the piece is the truth of the work, its unconcealedness in the disclosure of Dasein, our being as being-in-the-world.
Stephanie Burke's Top 5 Weekend Picks!
Shane McAdams discusses a painting show in Milwaukee curated by Shane Walsh; on the way, however, he ruminates on the Renaissance with a call for letters from any and all of You:
And once again, the week closed out with a list of job-and-writing type opportunities.