I cannot read the news at night any more. I lay awake in the fading heat filled with outrage, sadness, my heart breaking with lives destroyed, communities torn apart, people disempowered and displaced. I have been dreaming of death, loved ones suddenly gone as I sit next to their hospital bed, the charred remains of buses and cars. As summer roars into its last gasp, I need relief, escape from heat, humidity, simmering tensions. Instead, I read the news in the morning, a bitter taste lingering, a veil on my daily activities that hazes my coffee, blurs my to do list, turns food into ashes.
I am privileged. I am privileged to be aware of and called to action by the multitude of crises happening in my neighborhood and around the world. I am removed enough and have enough leisure and access to knowledge of events that surround me and that take place across the globe to choose what I consume and how I act. I am privileged to sit and write these words.
Invoking Adorno again, we must ask what is possible in the face of daily crises? What is tenable when confronting the contemporary world? How can we continue to create when the world seems to crumble around us?
There is a reason we need art. We do not need art because it expresses the experiences of people in terrifying situations or because it brings escape or comfort, although we must remember its ability to do so. We need art because we are told there is a solution to the problems we face by people who have power, who want to maintain and restore a sense that they are in control in an increasingly uncertain world, who fear their power crumbling away from them. There is not a simple or easy solution. Real change takes longer than we can conceive and cannot happen within the frameworks that surround us. We need art to help us abandon the idea that there is even a solution to be found. We need art to push boundaries, not by imagining or creating alternatives that reinforce or are co-opted by existing conditions, but by shocking us into new ways of envisioning ourselves and our power in this tragic world, by opening doors to us that we did not realize were closed.
It is not enough to read the news and be outraged, although we must be aware. It is not enough to protest, although we must make our voices heard. It is not enough to sit down to dinner with your neighbor, although we must build meaningful connections between us as individuals before we see connections between us as communities. It is not enough to be radically local, although our work here ripples beyond our sight.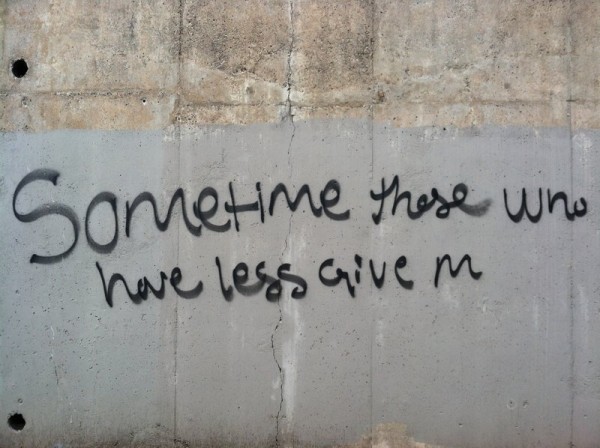 Contemporary art must be that which is inextricable from the hour it was made, the neighborhood where it was conceived, the global panorama from which it arises. With the exponential expansion of information, evidence, visual records, we must be aware of what we make, what we put out into the world, the context it enters. We must pay close attention to who we are, where we come from, the privilege we embody, the impact our actions have, and we must continue to create.
Read the news. Be outraged. Protest. Eat dinner with your neighbor. Be radically local. And continue making work that pushes the boundaries of what we know to be desirable. Art and artists are not a way to fix the broken systems that surround us, but they may be one way to begin a future we cannot foresee.
I am for an art that admits and proudly wears its context. I am for an art that is inextricable from the world which shaped it.
I awake from my dreams. I push aside the veil of of despair and apathy. I rise to meet the challenges of the day. They do not decrease.
In his 2012 essay "Saving Zelda," Tevis Thompson takes the Legend of Zelda series—of which he is a lifelong fan—to task. "Zelda sucks, and it has sucked for a long time," he writes, not so much as to incite fan rage, but to lay what we all maybe suspect on the table: "modern Zeldas are broken at their core."
He's right, in a sense, and his long missive does a better job of explaining it than I ever could: that it retreads the same territory it's covered since the halcyon days of the N64. Each new entry has its detractors and defenders, and while the most recent, handheld title into the series attempts to return to its roots (a certain excitement in the idea of unfettered exploration), there's still something in its heart that fails:
"Modern Zeldas do not offer worlds.  They offer elaborate contraptions reskinned with a nature theme, a giant nest of interconnected locks.  A lock is not only something opened with a silver key.  A grapple point is a lock; a hookshot is the key.  A cracked rock wall is a lock; a bomb is the key.  That wondrous array of items you collect is little more than a building manager's jangly keyring."
The first time I discovered Thompson's essay I was in the middle of playing Super Metroid, which is a part of one of Nintendo's other famed franchises. While Thompson castigates Zelda for offering keys in the form of action—for instance, a grappling hook that will let you climb ledges or stick to walls, accessing areas you couldn't before, in the same way that a key opens a door—Metroid doesn't even attempt to hide the item/key comparison. In Metroid, weapons are keys: in addition to dispatching specific enemies, each weapon corresponds to a specific color-coded type of door, and you must shoot it until it gives way. The world is locked, and destruction is the only way to open it. The difference, ultimately, appears to be in the spaces in-between, in Metroid's (literally) alien landscapes, its empty areas, filled with unpredictable landscapes, unpredictable rhythms.
Zelda's issue, I think, isn't so much in the keys,—it's in the rhythm. So much of Zelda relies on a predictable formula—block until an enemy attacks, then counter attack—that even the bosses, great, exciting monoliths they may be, are reduced into a pattern, usually performed three times. Avoid attacks, wait for a weakness to open, and use whatever item/key you received most recently to attack that weakness. It will be covered up again, but it will once again be revealed after a similar pattern (if not the same but faster), usually twice over, or more, if the boss is meant to be more important. If Metroid's patterns are unpredictable and exciting, an odd song, Zelda has become a top 40 pop-hit, regurgitated over and over, continually sampling itself. Instead of hitting a large boss 3 times on the belly, we're hitting him on the head (or sometimes, the butt), or vice versa, ad infinitum.
The rhythm is stale. In the past couple of years there's been a popular trend in which people, usually digital artists, sometimes programmers, create what they call "demakes." These are often presented as single screenshots, or maybe title screens that depict modern day games as how they might have been had they come out on the consoles of yesteryear—for instance, a first-person shooter might be rendered in the side-scrolling manner of an Super Nintendo game, or so on.
But, overwhelmingly, the idea of the demake is entirely graphical, or technological—what if this game was made within these constraints. Rarely, if ever, does a demake ask: what would this game be like if the interactive system of playing was reduced? In the case of Metroid, you could take out the empty space between each door, reduce the weapons to keys—it could be one long hallway, moving back and forth and unlocking doors in a straightforward progression. Same with Zelda's exploration—weapons could become keys, large areas could be reduced to whatever specific encounters defined them. Large fields to run across could simply disappear.
Or in the case of Zelda's fighting—the 3-hit beat—it'd be easiest to reduce it into a genre that is already alive and well: the rhythm game. It's easiest to define this genre by pointing to its well-known examples, namely games like Guitar Hero (or Rock Band) or even Dance Dance Revolution. These are games that exist as a series of button prompts that demand buttons be pressed in a specific order, with specific timing. But even this is not exactly new, nor are GH and DDR their first demonstrators: I remember spending time in an arcade plugging away at the scripted sequences of a Die Hard video game, where on-screen prompts demanded that I hit jump or directional buttons at the right time, or perish in a spectacularly visual fashion.
But even then, before it: my family owned an old Simon machine, whose four colored buttons would light up and beep in progressively faster and longer sequences, demanding the player to return the order, the rhythm, existing on a plane without screens. It's this sort of action—and games like Pattycake before it—that ultimately give birth to the idea of the music/rhythm/button-press combo that moves to the forefront of games like Guitar Hero—where it stands as a delightfully singular purpose—or in Zelda, where the rut is evident with each new hero that demands the same exact tactic, but presented in a different visual manner.
I think at their cores, most games may be easily reduced into the rhythm genre. Since games and their enemies are programmed into familiar patterns, it makes sense for the player to learn them as musical phrases, as loops, so that they may easily step into the pattern whenever it's most comfortable and easy for them. All they need to do is wait for the right moment to step, press a button, or whatever, and they fit into the game world's rhythm, move on to the next phrase, be it in the form of shooting an enemy while he is reloading, to jumping on a flying turtle when they reach their rhythmic low point, to parrying a predictable sword attack and returning the favor.
I've been playing a lot of this game, OlliOlli, which is a skateboarding game, but also—and maybe predominantly—a rhythm game.  The most obvious comparison is the Tony Hawk series, but I can't help but wonder if the comparison is specious and only obvious because of the subject matter: they are both skating games, but are they really siblings as games? While they're both about skating the perfect line and doing spins and tricks to rack up point combos, OlliOlli often feels like an authentic and realistic demake of Tony Hawk, and I think has a sort of privilege because it came afterwards. As though if a modern Zelda were to predate an original Zelda, the latter might be seen as a demake, removing the superfluous, returning to Thompson's praisable roots.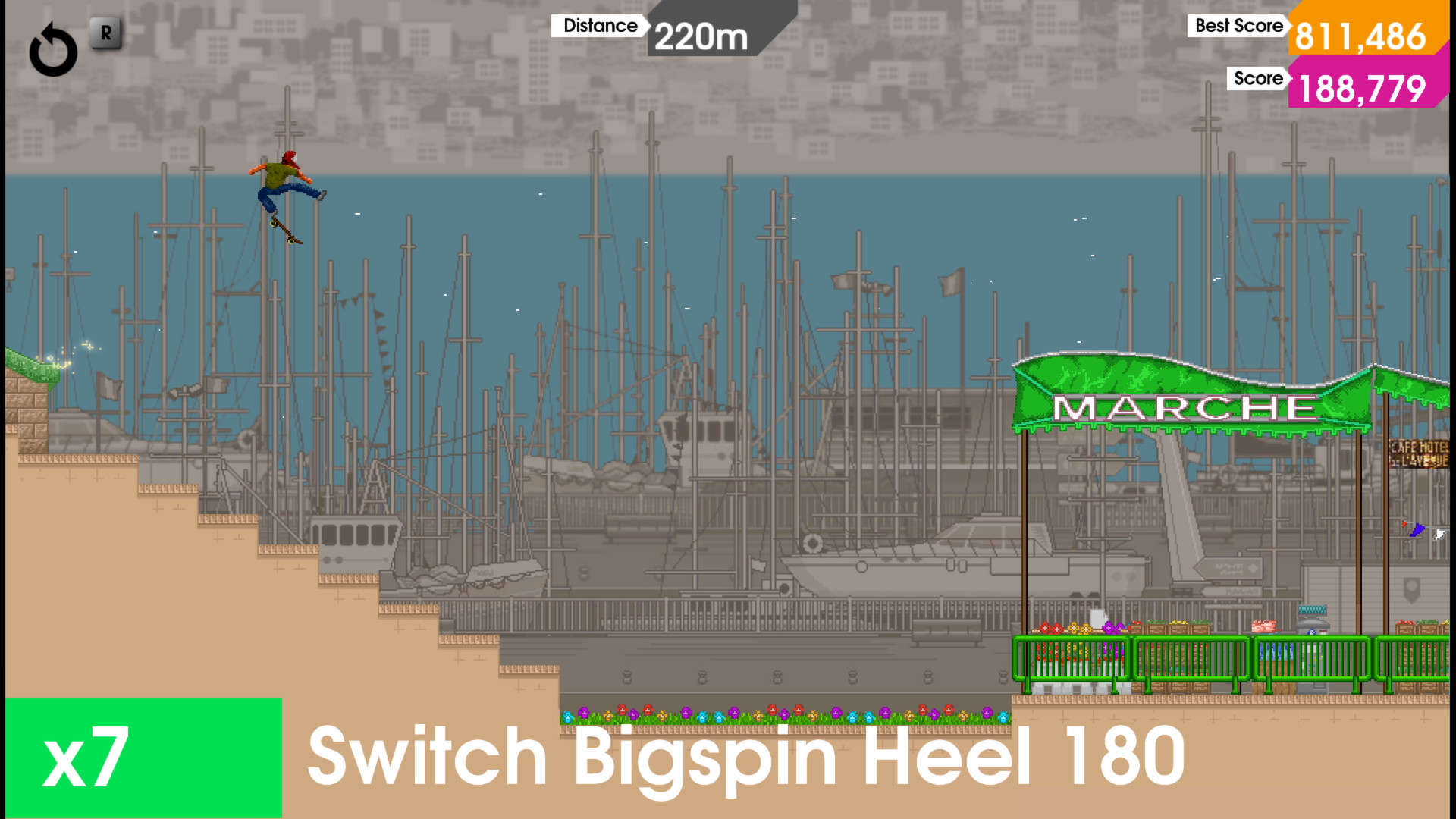 OlliOlli is pure skating: where Tony Hawk's missed tricks and accidents merely pause the action until your character gets back up on his board, they spell the end of a run in OlliOlli; the level resets in total. (In this way, it takes inspiration from auto-running mobile games like Canabalt, Flappy Bird, or Temple Run.) But the resets are so quickly that the game feels fuller, more defined: it is a more distilled skating experience, even though it is limited to a two-dimensional plane, limited solely to skating. It takes Tony Hawk's punk mentality and refines it with rhythmic stimuli: release the jump button when stairs appear. Hold down when a railing appears. Press the landing button when the ground appears. While Guitar Hero and Dance Dance Revolution use actual buttons scrolling vertically on the screen to make the player act, OlliOlli substitutes physical objects that have a corresponding button to be pressed, with player-affected tweaks within—similar to Guitar Hero's pointless but fun whammy bar. The action is refined, distilled in the core parts that are so memorable about other skating games. It removes skating around in 3D space to find obstacles, and the extras that sprouted out of that space. It removes the chaff.
Which makes me wonder: when we rail about sequels, either in games or movies or whatever, are we railing against the muddying of pure concepts? Thompson's annoyance might seem propelled by nostalgia, but it's not just that these older games came out when we were younger, it's that they came out against technological limitations that made them simpler. And as games grew, their concepts grew, consoles grew more buttons, and the modern era became defined by a lack of simplicity. Which is why it's exciting to visit the idea of the conceptual demake, not just for art's sake, but for gameplay. If we've hit a peak technological level—graphics might be as good as they ever need to be—then the only thing left to fine tune isn't visual crispness, but the snap of gameplay mechanics. If rhythm is the purest form of a video game–and in someways, I think it is: the back and forth of a pong paddle, the block and strike of a sword game, the ebb and flow of Mario and Sonic–a return to that can be seen as the same sort of limitation as writing in a poetic form. If modern Zelda's problem is a false open world, then maybe game design's problem is also that idea of unlimited potential that ultimately falls flat.
Just as not every button needs a purpose, not every game design element needs to show up in the same spot. While older games were groundbreaking technologically, they were also purer, more focused, prime examples of what can happen on a limited plane, both design-wise and visually. OlliOlli seems like another entrant into a space that realizes greater graphics bring with them more complicated action, because bigger, more bombastic spaces call for bigger action lest the spaces or worlds feel empty or overdrawn. A player can feel frustrated if they're limited too harshly by a seemingly-open world, but if the world itself acknowledges those limitations and welcomes them, it shows the player to do the same, and the experience becomes more focused, more pure, more less.
Guest post by Sofia Leiby
In early 2014 Chicago-based painters Sofia Leiby and Josh Dihle had a conversation about painting, about Dihle's painting in particular, at Adult Contemporary, an artist-run apartment gallery in Logan Square.
Sofia Leiby: So, how did you come to paint plants?
Josh Dihle: The plants are the things I do while I'm making the painting. They are the scenery, what populate the space. So whether I'm making a bunch of paper mâché groceries (as with Roger's Grocery in 2011), or I'm painting little ferns, it's about the act, the irrational act, that propels the image which makes the painting. And there's a labor component, not as a display of labor, but labor towards a density.
SL: What sort of density?
JD: A density like the framing of the painting that points to itself, as in Dark Moss. It's about the creation of a black hole for attention… Not attention in the theatrical sense, but a kind of focus. That one hung in my bedroom across from my bed for a while.
SL: What's your painting timeline? When do you work?
JD: I just left one job [at an art gallery] because I wanted more time in the studio, so I have four days a week to myself. Among other things, I had done Miami Basel [art fair in Miami Beach] and talked to people about paintings in a kind of sales-y atmosphere.
SL: "Sales-y," that's a really cute way to talk about Art Basel. I worked there in 2012. I thought I'd go and think "Oh my god, this isn't the world I want to be in." But that wasn't my reaction. It was more like, "Wow! Look at this Chris Wool from 2013!"
JD: There's a lot of good stuff to see. The best times for the fairs are when no one has arrived or everyone has left. I was there for eight days and my show was going to open the next week, so I made this painting while I was there. I'd go back to my Air BnB studio apartment and work on this painting at night, and I called it How to Get Fancy with the King because I was thinking about the power relationships at play between buyers, sellers, makers, and viewers.
SL: You're the king?
JD: The king is the power holder. For me, this is a silly and obnoxious painting, as I was thinking about the airs one puts on for the ones in power. The plants are too big, they are falling over and they're all pointy and kind of unpleasant, the colors are a little nauseating: I saw myself as the court fool who is having to wear a lot of bells and silly things in order to get into the fancy place, wherever that might be.
SL: That's funny. You're going back to your hotel and painting. It's like the opposite of what an artist normally does during Art Basel.
JD: I know.
SL: With a lot of this melding of art and life and having to have a career, these things get really muddy. It's two kinds of productivity. The productivity of making, versus the painting, versus networking around the painting. There's this thing about artists working for galleries, is it problematic, does it help, is it good for making connections… You're purposefully putting up a wall, saying, "I don't want to engage my job at the gallery in that way."
It's curious to me, and really admirable. It's almost like you were a musician working in a chemistry lab. Like you have nothing to gain from your profession but you do at the same time.
JD: It's not that I don't want to network; I'm just not interested in it. I have to think about the fact that making the paintings is something of personal necessity. But I actually am paying close attention to what is happening out there. These paintings attest to that attentiveness, but they are still of a personal nature and are reflective of my own tendencies and peculiarities. Not that they are all so unique. I don't even think the whole originality thing is part of the rubric for me.
It's funny, in one of the first episodes of [art podcast] Bad at Sports, Michelle Grabner, talking about young artists, says she wouldn't put her approach [as a curator, writer, artist and educator] up as an exemplary model for everyone, advising that some people should just make their art. I'm somebody who has curated, and I do write, it just doesn't go out the door… I'd love to be the polymath that she is. But she said to just make the work. I thought that was pretty great advice.
SL: What about the black painting [Dead Elephant]?
JD: Oddly, How to Get in Fancy with the King has the most going on in it and it was by far the quickest painting in the show. Everything else was months of work. In Dead Elephant, you can see all the background stuff, the scoring into it. I continued to winnow everything down and glaze in and add these folds on top of it until the last visible part was the elephant's head. The elephant is the closest I've come to the figure in a while. It represents the eternal innocent to me. It can be the stand-in for a relationship, or something you don't want to lose steam around. It also carries a lot of cultural references.
SL: The elephant seems to be in contrast, then, to the plants, which are something to do whilst you paint. It seems more symbolic. Do you think about it differently?
JD: I started thinking about the elephant when I got out of a long relationship, and needed something more concrete to hang this weight on.
SL: Right. And the heaviest thing you can think of? A dead elephant!
JD: Right. So without having the seismic-level shifts [like a breakup] going on, I deal with the day-to-day freneticism that I feel in my life in the studio. The plants or obsessively worked abstract paintings become became the alternative mode to something like the elephant. But it's not like I'm trying to make that one plant stand directly for every human woe.
When I first painted the elephant, it was part of a more complex, lush jungle. It didn't assume that singular spotlight role until later. It was a decision making that happened more additively.
SL: I like that your decision making, adding to the painting and darkening the stage, so to speak, by adding the foliage around the elephant, is part of the life or narrative of the painting. It contains both process and symbolism.
JD: Yes, exactly. I love that you're saying stage. I think it was [Philip] Guston who said his paintings are like a stage after all the actors walk off. I have been thinking about these paintings as depopulated. They're nothing but the scenery; in this case, it's the scenery around an elephant, but the viewer provides the figure. You yourself are there.
SL: This is a bit of a deviation, but I've been thinking about this idea of "virtual space." Looking at this painting by a friend of mine the other day, I was trying to describe the space between these two layers. There's this thing, and there's this thing behind it. Can I measure the distance [between those two]? I thought about it as analogous to when I'm holding my phone. This distance between the screen and my face, I don't know how to measure it because my head is there and the screen fills my space. And the same thing with a laptop, where does your body start interacting with a device and where does it stop? Are you interacting here, or here [at different proximities between body and machine]?
JD: Painting is a thing of the mind. That's the saying. So that type of space contributes to the nebulous, ambiguous bodily relationship to a painting that proves that you don't need to be completely inside of it to experience it.
SL: Although, these may be too flat for me to enter. The space is so tight that I'm not really there, but I do experience a tilting forward wherever the horizon line is, that it's falling onto me.
JD: As far as my formal space in these works, it's not like the curve of space in a Lucian Freud painting, like when his model is spilling down off the couch in front of you and gravity is sucking her down. These paintings are more about a space where there's only one part of the horizon that recedes, and you understand everything else to be flat. But from top to bottom there is no scale shift. I have a big one in the studio that's five and half feet tall and it's painted very much in this way. The shadows, the way the light sits, this plant is casting a shadow straight down, but this plant here, the shadow is going straight back from it. So there's that Cubist goofiness and then it's also like wallpaper, without a plot. If there were deep space, there would be more of a plot to it. It's more about the performance of the painting.
SL: Formally, I also just love those aloe plants. Plants do that sometimes, grow one long arm and somehow, it's so disgusting. Or sometimes the sun is over there and it points toward it. You're like, you're not supposed to do that! You forget that plants are not decoration but are living things.
JD: Plants do not have their own sentience, but they are heliotropic, they grow toward light. It's like a formal consciousness. Maybe this is how my consciousness resides in the paintings. The thing to remember about these plants is that I'm making them all up.
SL: So you don't draw them from life. You don't have plants in your studio?
JD: I have a plant in my studio; it's rapidly dying. But no, in this case, no. There is no real plant like that. And if you look at them, they all have the same form, they all have this star with an elaboration coming out of this central point.
SL: They disappear into that little hole. It's disturbing. Because you [wonder] where is the part where it descends into the ground. And it's not even a whole, it's a point; it's empty in the middle. It's almost like it came together underneath and then sprouted, breaking through the plane.
JD: Yes, so it's the outgrowth of an isolated studio behavior, not the outgrowth of a rational, observed reality. That's the distinction. So, no, these plants are not conscious in the way that you or I am conscious but they are heliotropic…there is an awareness, there is some kind of responsiveness in their being.
SL: Right. They are reaching toward each other but just missing. I like the cherry-blossom colors of this one [Meridian, 2013].
JD: They used to be dark trees, but I painted everything out and repositioned them, so there are ghost trees underneath. It disrupts the presumed sequence of the narrative. You assume that this painting was a linear march toward its completion, but it was a total Clyfford Still abstraction for a long time.
SL: It's like if you took a Clyfford Still and put seeds all over it and then waited for two months. You left it in an abandoned lot.
JD: He would have hated that, too.
SL: I really like the thought of this being an abstract painting that weeds just started growing on, like it was outside for too long.
JD: It's fair to say that if I happen to switch into the gear where I get really obsessive and repetitive, then there's a very good chance that it will become a representational painting with the plant form in it. It's bearing down. I'm a fucking worrier and I'm obsessive. That's my nature and I'm finding it to be irrepressible in my studio.
SL: "Obsessive" is such a subjective formal qualifier though. We're talking about a fairly airy painting for example.
JD: The decision-making is what's obsessive for me. But the actual look of the thing can be pretty open. It's not obsessive like a [Michelle] Grabner.
SL: People deal with obsession in different ways. You obsess over decisions; she obsesses over forms.
It must have been some late summer day, when there was finally enough to eat and most of the larger predators were sleeping in the shade still digesting lunch, that some enterprising neanderthal looking for a new hovel chanced upon something exciting and new, yet strangely familiar, the whole of which stopped him cold. It was this image, stained on a cave wall and linked to his life and the place, in his position in the neanderthal community and relation to larger game that held him captive. It was not the realism, as at this time realism was a bit too frightening. Instead it was the sensitivity, the unconscious awareness that touched his soul ­­ made him even consider such a thing as soul, Not just any painting, but the best painting ever to grace a cave wall, better than the Lascaux ones 100 times over. Stuck with such beauty from human hands, an instinct for ownership kicked in. Surely he could convince the artist to move to a smaller cave in the ever increasing slums of the neanderthal community, perhaps something in its commercial farming district? Filled with views of majestic mastodons being felled by hunters, or images of open fields, which will surely inspire generations of painters, from madness of Van Gogh to the rigidity of Grant Wood. A few days after the Studio was born, so was the Art Collector. (Although, at this time, they were referred to as Art Gatherers.)
In the Middle Ages, an abundance of artists meant specialization had to happen. Credibility already became more important than style, and as Lane Relyea said in regards to artists of the 21st century, the studio "gives the artist a mailing address and a doorstep"1, enabling apprentices to find him as "master" and patrons to buy the work by the stacks. His vision of art could proliferate and survive and later mutate, thanks to the studio. During the Renaissance these spaces became an integral part in the life and production of art and artists. Before the ateliers were replaced by the academy, EVERYTHING was linked to the place of creation.
Despite what any "studio­based" program may claim, the academy and the studio have always been at odds. Strict adherence within the art world to keeping the academy intact is important for the survival of so many within it. The academy takes the studio's place for learning in order to continue some pedagogy and profit from an unending and ever increasing line of hopefuls. These schools usually advertise the amenities of space and equipment at hand for the learning artist. But the student is always aware that upon graduating, that studio will no longer be available to him or her. Artists working in their studios are romanticized, and the elusive space becomes mythologized.
To create work inside the institution walls provides the kind of affirmation most artists struggle for, so to work on projects as the venue and funding becomes available as opposed to paying monthly rent hoping for an exhibition solves a lot of problems. Post Studio approaches also allow the artist a certain nomadic ability, able to shed the baggage of their own half­wrought and failed art cluttering their studio. Able to constantly see with fresh eyes, artists working in this way can potentially advance their own work further than if they were tethered to one location, surrounded by the last works they made. The post studio is also at home in the digital age, where physical space seems to shrink while at the same time we experience an expanding of virtual space. In the real world, this virtual space can take place as flexible real estate: a space that is available not as a permanent residence but as a temporary space. One that is not specialized but an open floor plan to accommodate many uses. Pop up, mobile, nomadic, freelancer, etc., all seem to correlate to this approach, yet within a post studio practice one is quite likely to have a permanent studio of some sort, and the idea of working within the public or real world as opposed to the isolation and comfort of a fabricated world is what often separates the two. They are not at odds as much as they seems as they still hinge upon 1) having or taking the time to think about art's creation, and 2) the execution of an artwork(s) for display and/or sale.
In 1971, Daniel Buren wrote "The Function of the Studio" a polemical essay which not only defined his practice since, but has influenced many artists to move away from the traditional studio. Perhaps its worth the read, but contains holes. If, as Buren seems to say, that the work of art loses "its 'truth', its relationship to its creator and place of creation"2 when it leaves the studio, than photography would be nothing but lies unless the photograph was always and only shown where it was taken; film would be nothing but a series of lies, reinforcing each shot as a deeper falsification, and that the art collector merely enables the artist to justify stripping their work of any truth or "essence".
Also in the essay, he asserts that the studio, mimicking the shape, lighting and proportions of the gallery and museum, attempts to ready or position the art to be produced for this framework. As the neutralized space of the institution is completely sterile, the work that is produced with it in mind is reduced to the same banality and sterility. The artist is forced to go to this generic space in their mind while creating the work to allow it to occupy just about any space. A residency is one example of a studio that challenges his assertions. It is a transient space for the artist, aligned with the workings of a post studio approach, but often incorporates the artist's modes of production through a proposal to attend. It is by nature also linked to the incubation network of the academy, often connected to the art world through curatorial scouts or exhibition opportunities. Artwork made at a residency may stay at the space through lack of resources to move it or as a site specific piece to mark one's time in the place. The work may return with the artist, or it may have been produced for an exhibition already in the works. Depending on the residency, the studios an artist may encounter may be the sterile imitations of the exhibition spaces Buren derides. They can easily be more ad­hoc spaces with as much charm as function. They may be the woods, the desert, the ocean, etc., so that while Buren could be right that the work takes its form from the spaces in which it is made, these spaces need not be sterile or banal at all. Everything is STILL connected to its place of creation, but we understand that place is experiential and movable.
Studios are a place for quiet contemplation, where artists can escape the pressures of everyday life to create and dream, become or forge something new; a bourgeois space for leisure time. Historically, we find master artists working with many assistants, apprentices and journeymen in order to meet the demand of their collectors and patrons. Buren states that the studio is a place for the production of art as a commodity, as a "convenience to the organizer"3 and a "boutique where we find ready­to­wear art."4 These functions are both linked to functioning within, or aspiring to the middle class. Ben Davis clarifies class distinctions quite brilliantly in "9.5 Theses on Art and Class": "class position relates not to how much one happens to be paid but to the kind of labor [sic] one does and how this labor relates to the economy"5. The Middle Class would then include people whose labor gives them authority over others and themselves. It is the desire of the Middle class to "maintain [sic] their autonomy"6. This desire is not linked to monetary gain but to a set of ideals within the execution and formation of their labor. It is by creating or developing a certain product or output that is unique that this autonomy can be best sustained, allowing one to be the sole keeper of his or her commodifiable talent. The artist is part of the middle class by creating work that is to have a life outside of their studio ­­ in a collection or exhibition ­­ that affirms their uniqueness and position as well as (hopefully) feeding them. When their leisure time (perhaps as members of the working class as an employee of someone else) is manifests itself in consumable works, they enter the middle class. The studio then could be an entryway into the middle class.
A studio and formal education are similar, in that they confer authority on those who have them. As artists we use each for our desire to be taken seriously, just as we hope they will help us make the work we want to make. We take on the studio in transient forms from the start of our education, because it doesn't matter as much to where we are, but that we are. Responding to a set of circumstances or constructed parameters like rules in a game, we negotiate our lives with our art, looking for ease of movement between the concerns of our stomachs and the desires of our spirit. No surprise, then, that we will move between classes multiple times. We'll get kicked out of studios just as we got booted from that cave 40,000 years ago, but we can also build again.
If some dank cave dimly lit by a fire served as the first studio, future studios may be strictly digital, the art illuminated by LED pixels created not in a "space" at all but between two or more computers communicating together. A world will be reflected, and in the flickering of the light, the incompleteness of awareness, mixed with the details of contemplation and discovery, the reflected world will be totally new, yet familiar. The objects of that world will work together to create a language around everything vital to it, what is known and what is not. In the reflection we find ourselves, and in the transmutation of matter, or light, whatever, we discover more about ourselves and existence as reality. Regardless of form, the studio is an opportunity we allow ourselves to reflect on an ever present, fluid, wholly immersed, infinite reality transcending time, matter and consciousness.
___________________________________________________
1 Lane Relyea, "Studio Unbound" in The Studio Reader: On the space of Artists ed. Mary Jane Jacob and Michelle Grabner, (University of Chicago Press, 2010) 349
2 Daniel Buren, "The Function of a Studio", first published in October (Fall 1979), 57
3 Ibid, 52
4 Ibid, 52
5 Ben Davis, 9.5 Theses on Art and Class, (Haymarket Books, Chicago, 2013), 13
6 Ibid, 14
Guest post by Sonja Hornung
If Manifesta 10 has a curatorial focus, it came into being through conflict. Dubbed the 'Manifesta without a Manifesto', Europe's roving biennale opened late June in St Petersburg. Manifesta 10 has been shaped by conflict: not only armed conflict between Pro-Russian Separatists and the Ukrainian government, but also an oppressive set of homophobic laws introduced last year in Russia, compounded by rising rates of violence against its LGBT community. Amidst calls for boycotts from the international, Russian and Ukrainian artists and activists, Manifesta 10's curatorial agenda arose out of a series of on-the-fly statements from curator Kasper König, parallel responses from its director Hedwig Fijen and side-notes from Mikhail Piotrowsky, host of Manifesta 10 in St. Petersburg's legendary Winter Palace, the Hermitage Museum.
The whole situation is a public relations disaster. Kasper König underlined the importance of 'artistic freedom', complexity and richness, urging participating artists to sidestep 'cheap provocations' and avoid 'just making a particular political statement'. Hedwig Fijen, on the other hand, used a rhetoric of 'engagement', seeing the work of Manifesta as one of 'debate, negotiation, mediation, and diplomacy.' Compressing König's and Fijen's arguments together is a little like forcing together two misfit pieces of a jigsaw puzzle. The pressure of the boycott situation forced some skillful PR cement gun action. The subtext of the press releases was something like this: in Manifesta 10, contemporary art comes from a place of autonomy, complexity and freedom, but at the same time, it justifies its presence by provoking some sort of dialogue, by pushing change on the ground.
Previously I have discussed the reasons for boycotting the Sydney Biennale, suggesting that although it may not have immediate concrete outcomes, the boycott interrupted the art world's publicity machine and addressed the disgust many artists felt when it was revealed the Biennale's private sponsor was making business out of the detention of refugees. In St. Petersburg I was surprised to learn that Manifesta 10 and Sydney Biennale share the same PR team. They certainly didn't have an easy job in either case.
PR disasters are great. They're the only time when advertising possesses the rare quality of honesty. The fine line strung between by König's instistence on artistic (and curatorial) autonomy and Fijen's push for a more site specific approach is a tightrope walked by all biennales. Global art events must maintain the freedom demanded by global contemporary art, but they must also address the local scene. Without local relevance for St. Petersburg, Manifesta 10 would just be about power: the implementation of power within the art world, and the instrumentalisation of cultural freedom to legitimise Russian state power. In order to avoid this, contemporary art must promise change on a local level. It must have an emancipation project.
This is why press on Manifesta 10 tends to focus on the overtly political art, regardless on whether it approves of or damns the biennale's presence in St. Petersburg. Nicole Eisenman's paintings of lesbian sex. Marlene Dumas' portraits of Great Gay Men, tastefully retitled Great Men for the St. Petersburg authorities. The reenactment of Marilyn Monroe's death, impersonated by Vladislav Mamyshev-Monroe in delightfully trashy drag. Wofgang Tilman's suggestively homoerotic photographs. Images of these works were distributed in the lead-up to the Biennale via the press mailing-list. Such works touch pressure points relating to gender politics inside Russia rather than the war outside – with the exception of Boris Mikhailov's social realist snaps of the Euromaidan protests. Yet in the scheme of the sprawling exhibition, political provocations appear as carefully placed afterthoughts.
Far more present in my thoughts as I left St. Petersburg was a work by Belgian artist Joëlle Tuerlinkckx, who painted sheets of paper red and then stuck them face-down to every available wall surface, a wistfully hermetic gesture. In her statement, the artist wrote: 'Art and power have nothing to do with each other.'
The tension between autonomous and emancipatory art is no stranger to Western art. It has its origins in the role of the artist in the Enlightenment, perhaps most lucidly expressed by German playwright Friedrich Schiller. In a series of letters written in a state of utter disappointment about the failure of the French Revolution, Schiller argued that humanity, constrained by the necessity of having to feed so many mouths, was simply not yet ready for freedom. When Kasper König calls for the importance of artistic freedom, he is (knowingly or unknowingly) drawing on the Schillerean tradition. For Schiller, freedom is play, and play is the true expression of what it is to be naturally human – before necessity and law intervene. Pure, purposeless play is the activity of the artist, who occupies a state of 'aesthetic liberty' autonomous from the necessity for survival, the daily grind. Accordingly, many states, Russia included, have legislation protecting artistic freedom of expression, allowing artists (in theory) to say and do things that are not permitted in normal circumstances to the average citizen. Most artists, when you ask them, consider artistic freedom to be different from the political freedom of the everyperson. The rest of humanity can only aspire towards this state by contemplating art, the product of pure play. Thus the freedom of the artist becomes a pedagogical tool for anticipating the universal state of liberty to come.
In the post-post-modern condition embraced by the artworld mainstream, Enlightenment thinkers such as Schiller (and by association König) may appear old-fashioned, elitist or patronising. However, Schiller's conception of the pedagogical role of art remains embedded in the Western conception of artistic freedom. In this line of thinking, art's apparent ability to sit outside of power justifies its appeal to the ethical betterment of humanity. Piotrowsky, who invited the Biennale to the Hermitage, reiterates this thinking when he says: 'a person's conduct is usually regulated, not by the prosecution office or the police, but by the person's good taste. And good taste is often defined precisely by art'
Perhaps art might define good taste, but more often than not, good taste defines art, and the most controversial works of art are tamed by the most controlling narratives of taste, the signifier of cultivation. Estonian/Russian artist Kristina Norman's work Souvenir was commissioned by Manifesta 10 for its Public Program, curated by Joanna Warsza. Norman has made a giant steel Christmas tree, a copycat monument citing the Christmas tree left half-built during the Euromaidan protests in Kiev last November. Out of place and out of time, the sculpture stands awkwardly in the quiet of the Winter Palace square, impeding on St. Petersburg's own civilised silence about the escalating situation in Ukraine. Norman's gesture brings the symbol of resistance against Russian expansionism back to the symbolic heart of Russian power. However, on the day the Christmas tree appeared in front of the Hermitage, the museum posted the following incredible misinterpretation on its website: 'Maidan caused chaos. We hear the alert spoken in the language of art: be aware! Disturbances can be borne (sic) out of innocent entertainments…The unfinished Christmas tree near the festive holiday is an alert, a reminder…how a merry square has turned into a plug-ugly dump.'
What happens to Norman's tree throughout the duration of Manifesta remains to be seen. As an uprooted symbol it is volatile: it may provide the empty framework for protests to come, or perhaps it stands in for the impossibility of protest at all. The Hermitage's response shows that the moment artistic freedom is claimed on a platform provided by oppressive power, it courts being instrumentalised by that power.
In the above-mentioned interview, which was first published in Russia's Money Journal, Piotrowsky continues: 'I believe Manifesta in St. Petersburg will help to improve the global image of Russia.' If the emancipatory mission of Manifesta 10 relies on a set of assumptions drawing on the Schillerean role of the artist, this mission is invested in the flailing legacy of liberal ideals, and their link to state power. The historical legacy of the Enlightenment has gained new currency as it is subsumed to the PR campaigns of governments. In a June report about the ramifications of the Ukraine conflict, the ECFR noted that Putin 'presents an essentially illiberal vision of world order that he claims to be more realistic, based on spheres of influence…a direct opposite of Western ideas of liberal order.' Meanwhile, other non-Western countries perceived that 'the West enjoys an unjustified position of privilege in the international system', simply using Liberal ideals as a front while it pushes its own interests through international financial institutions and outsourced conflicts. This narrative is having an impact: it forecloses the slow but steady rearrangement of global finance, with the BRICS nations recently forming their own, smallscale version of the West-dominated IMF and WTO banks. Discourse of a Western liberalism debauched by territorial and economic interests is also shared by the intellectual Left in Europe, North America, and Australia.
So long as its appearance is controlled in the right way, the freedom represented by the artist can be put on a pedestal to divert a crisis about the nature of political freedom itself, in both non-Western and Western states. As we look to Sao Paolo for the next biennale and to UAE for the opening of a complex of international museums on Saadiyat Island, questions raised by the instrumentalisation of art are only going to become more urgent.
While the art system is certainly affected by such ideological shifts, it seems it is only half-aware of them. Manifesta 10's firm belief in the infallibility of artistic freedom appears to be a mutual and willfully naïve cover-up in the context of Russia's ambivalent (to say the least) attitude to the catastrophic war in Ukraine and the EU's slowness to react. Either that, or Manifesta is clinging to a nostalgic reiteration of the emancipatory vision of liberalism. The fact that so many art critics have swallowed Manifesta's PR campaign, despite its contradictions, suggests such nostalgia is certainly rife in the art world. However, as Ekaterina Degot points out in her recent text on the fetishization of freedom and censorship in Manifesta 10, in reality 'this whole system of mutually beneficial relations between several social and political groups is based on a mutual understanding shared by all sides involved of the rules of the game.'
The boycott itself, the ultimate act of refusal, is indicative of artists' wishes to remain separate from corporate power and the whitewashing of crimes of the state. This stands true not only of Manifesta, but also of the Sydney Biennale and Creative Time's Living as Form exhibition at Israel's Technion Institute. Boycotts, in this final sense, are the last cry for a clean platform for artistic expression. But although Manifesta 10 proposes to open dialogue about change in Russia, it hardly expects itself to be changed by the local Russian scene. The one reliable promise of Manifesta is continuity itself: the two-yearly rhythmic institutional blip of the biennale. Boycotts might therefore best be understood as an opportunity for contemporary art to revise not its PR, but its fundamental self-understanding. Perhaps it is possible to build a 'clean platform' yet. Or, perhaps the notion of contemporary art needs to be reformulated so that the 'clean platform' is no longer required.
Tired Atlas is the name of the performance made by Russian collective Chto Delat's School for Socially Engaged Art. The School provides a group of outspoken young artists and activists with an unorthodox education in an underground antifascist bar in the heart of St. Petersburg. Although Chto Delat withdrew from Manifesta 10, its students decided to participate, in an irregular sort of spontaneous, last-minute manner, in the Biennale's Public and Parallel Programs. For their performance, the students chose the portico of the New Hermitage, an imposing piece of neo-Baroque architecture. A row of enormous, black figures hold up the roof of the portico, mimicking the pose of the Greek Titan Atlas, who was condemned by Zeus to bear the celestial bodies. The Atlasses tower over the street, blocked by around 250 onlookers who gathered in anticipation of the performance. This was the only time I saw a large public gathering during my week-and-a-half-long stay in St. Petersburg. Each student came forward, took the position of an Atlas, shouted out their experience of the oppression of the state, and then joined their colleagues, forming a massive, trembling orgy of unstable Atlasses: a crumbling pedestal. The performance was nervy and rough and nobody cared, because it was honest. The sense of collective trust was palpable. Strength in anonymity. No PR.