I'm typing this on my phone, the only possible way at the moment, so apologizes for its brutish nature. Apologizes because I'm in the middle of the woods, 30 + miles from even a small town, and it seems like I've left it all behind but the clicky clack on the LED screen tells me otherwise. Some people are getting ready for school, to attend or teach, but my partner and I are trying to enjoy the last bit of summer away from our jobs
and society. So we've got ourselves on a small lake in the woods with a one room cabin and water that smells like farts, and everything is nice and comfy. On the walls are prints from the direct category of hotel art: bleeding kitsch, soft pastel colors to brighten the room, even the meta print of what you are doing hanging near the door in case you would forget that you are not at home afraid of life, you are out here afraid of life.
"Majestic Lion" by Sylvia Duran is a loose, blobby portrait of a male lion, culled from both French Impressionism and supermarket romance novels. The subject stands hesitant with mane and fur waving in the breeze,  either dusk in the plains of Africa or the set of a shampoo commercial. The lion's legs taper to the ground with the delicacy of tree trunks. From his perch of  slab rock he surveys his kingdom – a vague smear of gray and umber barely established on the canvas. And so with its uncertainty, it becomes an apocalyptic wasteland. The resulting carnage of light paint splatters completely engulfing the scene, bathing the lion in a snowstorm of ash. Or dandruff, since it really may be an ad for shampoo.
To to the left of this, the big cat theme continues with "Bengal Tiger" by Don Balke. Surrounded by tall grass and immersive reflecting water, Balke's portrait is a highly skilled colored pencil meets water color portrayal of one of the worlds fiercest predators doing an impression of Falcor, the Luck Dragon.  To note is  Balke's use of abstraction, taking full advantage of the tigers stripes and how they map the water while melting in it. The aspiring indie band should seek this image out, rotate the tiger and his reflection 90•, so his orientation is vertical and they would have a sweet album cover to go with their sweet, sweet sound.
Theres also also a cartoon of some mice bathing in a tea cup hanging above the toilet which is far cuter than the act of me peeing while viewing it. A small painting of fat geese, painstakingly rendered, standing in a bombed out green and straw colored nowhere. A total mind game while washing your hands, this unassuming meditation ties Duran's apocalyptic scene with Balke's "Never Ending Story" reference, as we must all confront The Nothing.
The most impoverished of all is the small print mounted on wood near a couple bunkbeds, which everyone, from the artist, to the mall sales clerk, to the Innkeeper / curator had the intelligence to see that glass and a frame would be wasted. Here, a panther suffering from a belly ache is trying to shit in the trees amidst Renaissance laser light shows from the sun.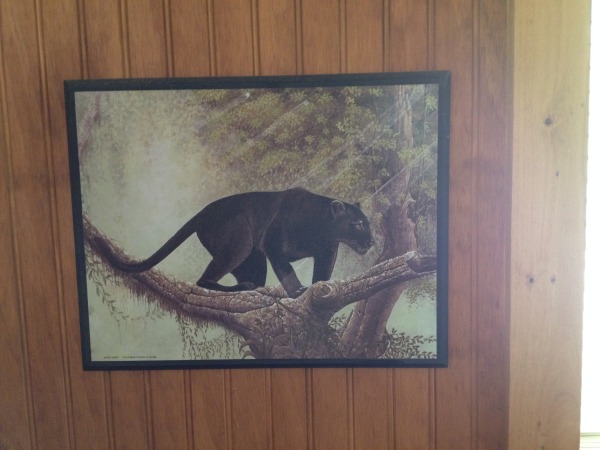 Shooting fish is a barrel, you say. It's not fair to discuss this work in the context of an art blog, nor is it right to hold the innkeeper to the same task as the curator, of course. But I don't just write for the sheer pleasure of destroying. The print I haven't mentioned yet is my favorite. In it, two decoy ducks sit on a table with a jug and a small jewelry box. The wood grain of the box allow the wooden ducks a place of hiding. While the jug itself pushes the sense of country home, the bird painted on the jug speaks with the decoy facing it, crafting humor within the frame. Kathleen Cope Ruoss loses mastery over the jug, which flattens to the point of uncertainty, becoming a bluish gray mass without distinction. But the wood stays true, and looks tangible. The hard smooth surface reflecting the craft store heart plank wood, stained a light amber at home, or here in the cabin.
In hotel art, is it honesty or escape that we look for more? Wall accents or inspiration? To be noticed but unseen, the innocuous predators of tranquility. Even the shame-crapping panther knows he is just a bit player in your experience. His humility is hard to find in the art fair art we are about to be inundated with at Expo or Detroit Design week. Anyone who may be showing in the rooms and hallways in the hotels rooms at (e)merge take note. It is easy to surpass the quality of the art found on the wood grain paneling of B&B's, or the sterile pastel walls of the Days Inns, HoJos and Hilton Expresses around the country. What hotel art offers us is our own level of kitsch. Comfort within the sterile and alien. A sense of peace even when the very work threatens our sensibilities of good taste. It is not meant to be looked at for long. But there are much worse things we see everyday.
I met Carla Herrera-Prats—artist and co-founder of Camel Collective—at SOMA in the San Pedro de los Pinos neighborhood of Mexico City, near the Mercado San Pedro de los Pinos, famous for its fish. SOMA, a space for reflection and discussion of contemporary art, runs two pedagogical programs: the first, an inexpensive two-year program directed at Mexican artists; the second, a relatively costly 8-week summer program directed towards international artists. Carla Herrera-Prats plays a central role in organizing and executing SOMA Summer. This year's SOMA Summer, which carried the theme "participation and collaboration in art," closed on August 20th, 2014. I asked her how participants of SOMA Summer find their lodgings.
CHP: The participants find their own places. We bring them lists of people, friends of SOMA, who have told us they have rooms available. I don't know how it has happened, but we've never had a problem of someone not finding a place to stay.
JW: Really? In five years?
CHP: Yeah! The administration is tiny, which makes it very flexible. In other institutions, it has happened lately that administration has taken over faculty and students. Here, our administration is very minimal. It means that we have a lot of work, because we're definitely understaffed, but at the same time it makes things incredibly easy. For instance, we do not have the administrative capacity to individually match each summer participant with housing, so instead we send an e-mail to friends of SOMA asking who has space and when, then we forward these details to participants. It's very organic.
JW: Do you think there's a SOMA identity? Is there a thing that SOMA is trying to do with this 8 weeks of SOMA Summer or with its 2-year program?
CHP: In terms of forming our participants ideologically? We try to stress the most is pushing participants to understand the consequences of what they do, how they can situate their work in a context. I can speak more specifically about the choices I've been making for SOMA Summer. There are not necessarily univocal decisions, there is an artist council that is involved in decisions, but definitely I am in charge of deciding the practicalities: who's going to come, who's going to lecture, and how that happens.
JW: Are you in charge of assigning the themes?
CHP: Those get discussed by the group of people we work closely with every year .
JW: How did the theme for this year come about?
CHP: I work in a collective. And collective practices have been very important to me for a long time. Also, the theme has to be relevant to the Mexican context, and we prefer themes that function intergenerationally, that allow us to invite artists from the generations that precede the current generation of Mexican artists. If we understand mural painting as a collective activity, Mexican artists have been working collectively since the 1920s—the generation of artists who were active in the 60s and 70s is referred to as the generation of "Los Grupos." It was exciting to be able to invite some of these artists to contribute to the program.
JW: Correct me if I'm wrong, but it seems like SOMA Summer is directed towards a more global art audience: the language is English, the language in which it's presented is very in-tune with the global art discourse, and the cost is prohibitive to those who aren't already wealthy or who can't apply to their respective governments for assistance. So is the idea here to bring these people to Mexico to show them what's going on in Mexico, and then they'll go back to wherever and…
CHP: Yes, we want to bring young artists from all over the world to Mexico, because we believe this opens up the local dialogue and is very helpful to the local scene. And yes, we do need to charge tuition, but we do provide partial grants to more than 60% of the participants every summer.
JW: How is SOMA Summer different than SOMA's 2-year academic program, besides that one is in English and the other in Spanish? And the cost, of course—the Spanish program is much less expensive.
CHP: The expectations are different. Obviously if you are here for 8 weeks, the expectation is not at all that you will produce a work of art. We insist on calling it a program as opposed to a residency. I mean, the way that most residencies across the world are defined is as a time for production, you enter into this new context and make something out of it. The academic program is structured more like an MFA.
JW: I like that you call SOMA Summer a program. In a way, it seems like the idea here is to have this program, like a computer program, that inserts a local art discourse—like the language and concerns that surround art here in Mexico City—into the larger global art discourse.
CHP: Yes, in a way, but I think it is more of an exchange than the sort of parasitic thing you're describing. Many people who came to SOMA Summer end up coming back and staying here. It's nurturing the local scene in a way that I did not expect. We can also see the influence of the so-called "Mexican contemporary art scene" in the work of some of the participants who have left and not come back.
JW: What was the original intent of SOMA Summer? Was there one?
CHP: In Mexico there is are very few possibilities for artists to continue their studies after undergrad. What gets lost is the ability for peer groups and dialogues to get developed locally. We wanted to make a space for people to find their peers. For SOMA Summer in particular, we were thinking about two things. First, if we're encouraging these local artists to have a local dialogue, how can we bring the global contemporary art dialogue in to interact with it? And second, how can we provide a place in Mexico for artists who are interested in teaching to have a forum to teach without necessarily being a full-time faculty? How can we can use the energy and knowledge of someone like Carlos Amorales or Mario García Torres? There's no way Carlos or Mario could be full-time teachers, they're too busy for that, but they can do a very good one- or two-week long seminar or workshop. It is really important for SOMA to use the human capital available to us in a very productive way for everyone.
JW: There's an argument that art schools or pedagogical programs such as SOMA are turning into a new prescriptive institution for art, that instead of museums being the institution that scripts and reproduces what art is and means on a massive scale, it's now art schools. Or that, on a more general scale, graduate institutions or professional in general are becoming the tool with which subjects are ideologically produced. In your piece Transactions, for instance…
CHP: The piece you're talking about was in my thesis show at CalArts, a few years before SOMA started. I became very aware of the fact that so many people in Mexico that hold power positions were educated in the United States, which is of course problematic. There is a very specific way of understanding Mexican society through an American lens, and this is the lens that the people who hold power in Mexico are looking through.
JW: Yeah, my boyfriend was telling me that almost every Mexican president has gone to Harvard…
CHP: Yes, many Presidents and many cabinet members have gone through the American graduate system, specifically Harvard, Yale, the University of Chicago, and so on. Mexico's not the only place where this happens, though. The United States Master's Degree is a very sophisticated ideological apparatus. That, to me, is one of the reasons why SOMA needed to be in Mexico. Even if it's in English, even if there's a lot of people coming from abroad, even though it responds to the international contemporary art scene, the fact that participants have to take the subway and adapt to the way of living of DF nurtures their work in a very different way. This goes hand-in-hand with what I was saying earlier: what is crucial at SOMA Summer is to assist the participants in becoming aware of the context in which they produce. We also try to make lectures happen in a very horizontal way.
JW: How? Are there specific things that you're trying to do or ways in which you organize things to be more horizontal?
CHP: By choosing people who are willing to dialogue that way, by not inviting people who will shut down the conversation or who will not allow for dialogue. Further, every year at the end of SOMA Summer we have an intense discussion with the participants of what went wrong and what went well. We've changed the program in very specific ways due to these conversations. For instance, up to last year the program was six weeks. For a couple of years participants were saying that they didn't have enough time, that they needed to be in Mexico for longer to be able develop their ideas further. So we changed the program to eight weeks, beginning this summer.
[Carla stands up and turns the light on]
JW: What happens at the end? Open Studios?
CHP: Yes, on the 20th of August. It is a closure event.
JW: Wait a minute, the idea here is to not pressure people to produce but there's an Open Studios?
CHP: Calling it Open Studios would be a contradiction because they don't work in studio per se. But as in a traditional Open Studio, participants present whatever they want; mostly work in progress. There is a curator who comes every year who helps them try to make clever translations of what they're working on into this event. I think in most residencies they treat the artist as a kind of thermometer—you're supposed to be able to assess the temperature of a place and present a response very quickly. I don't like that.
JW: Why?
CHP: Because you are forced to make a decision in a moment that maybe you're not ready. But we need to have a conclusion. One needs to have a moment of saying, "ok, I need to wrap up." You need to clean your table. It's important to have that moment, it's important to think about that moment, and it's important that you feel you can clean your table without having necessarily to finish your project. But calling it an, Open Studios…it's not a great thing: it doesn't even translate well into Spanish.
Carla Herrera-Prats' work comments on the cultural and economic transactions that flow, often invisibly, in the context of a transnational world. Her projects juxtapose photography and material from different sources questioning the documentary value of both images and text. Herrera-Prats works is co-founder of Camel Collective, a group of artists and activists who work together since 2005. She has shown her individual work in Canada, Colombia, Japan, Mexico, Philippines, Puerto Rico, and the United States, Egypt and Dennmark in venues such as Sala de Arte Publico Siqueiros, Darb, MUAC, Centro de la Imagen, Museo Dolores Olmedo, Centre Vu, Artists Space, Art in General, and The Contemporary Museum of Baltimore, among others. She received her BFA at "La Esmeralda" in Mexico City, and her MFA in Photography at CalArts in Los Angeles. She has been a participant at the Whitney Independent Study Program in New York.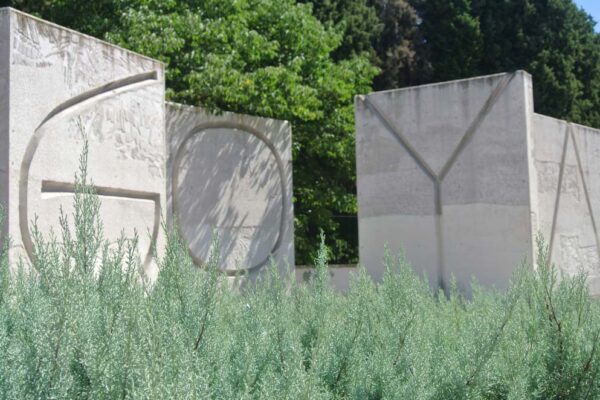 The Ermita de San Antonio de la Florida is a neo-classical chapel in the centre of Madrid. The city has grander buildings, but few can be so stunning once you step into the cool interior. This one bears the handiwork of Francisco de Goya, and shows that, like any baroque master worth his salt, the Spanish painter was quite capable of IMAX-style entertainment avant la letrre.
Like Michelangelo, Andrea Pozzo and Rubens before him, Goya here produces a work which rewards the development of a crick in the neck. Ignore the mirrors provided, the painted scene demands that you consider your distance from the heavens in real physical terms. It might even be a blasphemy, in the presence of this divine intervention, to be gazing downwards.
Saint Anthony of Padua's greatest trick was to resurrect a murder victim, doing so in order to clear a man accused of murder. The twist in the tale is that the reluctant defendant was the formerly dead man's father. This all took place in 13th century Lisbon. Goya updates the wardrobe department to bring to life the drama in 18th century Madrid. But they could be wearing pelts for all the difference this makes. The miracle is Fresh, as the vivid expressions attest.
Sadly, it's not possible to share fresh pictures with Bad at Sports readers. St. Tony might have broken all the laws of nature. Goya might have bent a few perspectival rules. But today, when taking photos has become as reflexive as breathing, visitors to this shrine in Montcloa will be met with a frustrating ban on photography. This strikes one as odd for at least two reasons.
Firstly, you have to be careful not to trip over Goya's tomb in the apse. This proves that the artist who brought you here will suffer no loss of earnings from the proliferation of poor images of his tromp l'oeil feat. Secondly, photos can only increase the desire to come here. No one ever saw a mere photo of a show stopping chapel like this and thought, 'I've seen all I need to'.
It's the same story across town at the Prado. You can spend as long as you can bear it, gazing at one of Goya's black paintings. But can you take a photo? Well, no. You might console yourself that these dim and undefined panoramas would probably photograph horribly. You might even be happy to buy a guidebook, if you want these memories as keepers.
I'm sure there are less commercial considerations for the widespread veto of Goya-inspired pics. For starters, there's less danger of denigrating his great genius with a selfie next to his droning dog. To a large extent, one can even believe that the aura of these breathtaking works is protected, unlike say that of the holdings of the Louvre.
But as we visit galleries and connect with paintings in our own ways and build our own stories about trips we took, days out we enjoyed or pilgrimages we made, it's a real handicap to find photography blocked. Gone are the days when a sketchbook would have sufficed. The genie is out of the bottle to use a phrase which could itself inspire a pretty black painting.
Outside the chapel, we cross the train tracks and make our way back up into the adjacent park. Four monoliths, which we missed on the way down here, now realign themselves for a perfect view. They spell out the heavy debt we owe in four of the most evocative letters in both classical and modern art. Those are of course G, O,Y, A. Here, at least, we can snap away.
Real Ermita de San Antonio de la Florida can be found on Glorieta de San Antonio de la Florida, s/n, 28008 Madrid, Spain.
1. Various Fades at Johalla Projects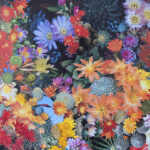 Work by Stephen Eichhorn.
Johalla Projects is located at 1821 W. Hubbard St. Reception is Friday, 7-10pm.
2. The Passenger at Aspect/Ratio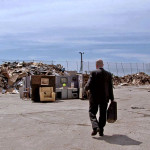 Work by Bryan Zanisnik.
Aspect/Ratio is located at 119 N. Peoria St. Reception is Friday, 5-8pm.
3. Burn It Down at Heaven Gallery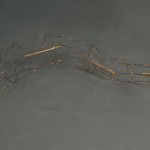 Work by Academy Records, Benjamin Zellmer Bellas, Judith Brotman, Ann Chen, Laura Davis, Meg Duguid, Jason Dunda, Andreas Fischer, Charles Fogarty, Jeffrey Grauel, John Henley, Andrew Holmquist, Carol Jackson, Kevin Jennings, Larry Lee, Jinn Bronwen Lee, Steve Reber, Daniel Schmid and Mindy Rose Schwartz.
Heaven Gallery is located at 1550 N. Milwaukee Ave. Reception is Friday, 7-11pm.
4. Universal Declaration of Infantile Anxiety Situations Reflected in the Creative Impulse at Gallery 400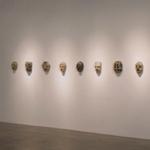 Work by the Los Angeles art collective My Barbarian.
Gallery 400 is located at 400 S. Peoria St. Reception is Friday, 5-8pm.
5. DESIRE(D) at Mana Contemporary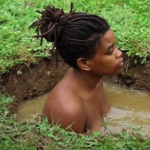 Work by the Industry of the Ordinary 2014 Summer School: Lucas Ballester, Tory Cheney, Allana Clarke, Andi L. Crist, Marlo Koch, Rian Lussier, Cynthia Post Hunt, Emma Saperstein, Emerson D'Artagnan Sigman and Valentina Vella.
Mana Contemporary is located at 2233 S Throop St. Reception is Friday, 7-10pm.
6. This May Have Happened at David Weinberg Photography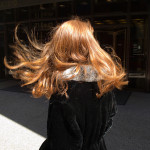 Work by Daniel W. Coburn, Susan Annable, Robert Shults, Matthieu Brouillard, Stacy Kranitz, Shannon Benine, Joey Potter, Paul Thulin, Elaine Miller, Larry Chait, Jessica Sladek, Eileen Keator, Amy Friend, Rachel Loischild, Joyce P. Lopez, Amy Becker, Kurt Simonson, Mateusz Sarello, Dan Streeting, Kevin E. Lyle, Matt Rahner, Ben Altman, Stefan Petranek, Lex Thompson, Amiko Wenjia Li, Cynthia Henebry and Jaclyn Wright.
David Weinberg Photography is located at 300 W. Superior St. Reception is Friday, 5-8pm.
7. Wolf Peach at Packer Schopf Gallery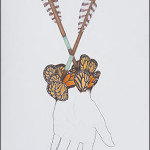 Work by Lauren Levato Coyne.
Packer Schopf Gallery is located at 942 W. Lake St. Reception is Friday, 6-9pm.
By Kevin Blake
I have an incredible ability to scare myself. To retreat from my ideas. To sprint in the opposite direction of responsibilities I don't care to recognize. I have an incredible ability to demobilize myself. To put my action at bay. To halt my creative process. To suffer from external fears without hope of escape. These fears are a construction–a product of institutionalized art making and thinking–yet that knowledge does not offer freedom from its grasp.
Reality is a difficult reality. The reality of being an artist today is one I'm perpetually trying to negotiate. Beyond the much publicized and widely discussed art school debate and the massive debts these requirements accrue, there are myriad legitimate reasons to grow leery when met with the decision to keep making art in fear of things not working out. Its not only artists, however, whom are dealing with the economic conundrum that forces them into careers they never imagined due to overpriced corporate educations whose products often transport its patrons into saturated fields of under-paid positions that result in the inability to crawl out from underneath the oppression of student loan debt. This is a viral condition and an alarming state of affairs. It is also not a revelation–we know the facts and statistics before we sign the dotted lines and do so with that special kind of hope that the success stories of others and our egos will instill in us.
This phenomena poses questions that create debilitating anxieties for an artist–for me. Though unlike other specialized fields, artists are expected–even taught–to understand that they will be broke, busted, and holding onto coattails until the pieces magically fall into place. Conversely, it is also stressed that if your career is to be a success, magic will have nothing to do with it. Statistically speaking, the reality is this: its not going to work out–not the way you had hoped, but thats not the worst of it, nor does that assume there will be no highlights. Its just the reality.
I am not alone. My anxiousness is something shared. In Chicago, this collective anxiety is amplified through the idea of geographical displacement from a centralized art world, the lack of collectors, the shortage of funding, and the scarcity of opportunities–to name a few. Yet, artists in Chicago press on or move on. They create their own opportunities, or abandon this place in hopes of more on either coast. Chicago artists watch their creations grow to a ceiling–a roof that represents the limits of possibility in this part of the world. That canopy is clear from afar and can cripple you. Or it can help you discover ways around it. Through it. To raise the bar.
In Chicago, this anxiety is in the work. It is in the air. It is underscored, coded, subliminal, and refined to resemble a product suitable for trending discourse somewhere else in the world. In Chicago, the narrative dominates–it always has. Even work that seems overtly formal–like Michelle Grabner's for instance–still emits a story. Her story is one of carving out space and time to devote to an artistic life in the face of a reality that probably encouraged her (at one point or another) to quit and pursue something more practical for the good of her family. I can see that story in her work. I can see the anxiety in the obsessively handled paintings and in the domestic quality of the patterned works. I can relate to how those exercises in formal abstraction can be a departure as well as a response to being a parent with an impractical pursuit and the guilt that may accompany such a seemingly narcissistic endeavor. However, her persistence prevailed. Her hard work won out. Her relentless commitment will be her legacy.
I understand that this is my reading of her work–one aligned with the web I'm spinning–and that to Grabner, the work is probably something entirely different, and could take place under completely different conditions. Though, there is the possibility that the work is exactly what I think it is, and either way it doesn't matter. What does matter is that her background is her foreground. That's what we talk about. The multi-tasker. The teacher. The mother. The spouse. The writer. The curator. The entrepreneur. The artist.
Deb Sokolow is another Chicago artist whose works seem to exude anxiety.  Sokolow, to me, is like a small mouse living in a world full of big rats–quietly maneuvering through a complicated network with great tact and professionalism. It is partly her personality, her physical stature, and friendly nature. However, it is mostly her work that makes my metaphor more real–to me anyway. She is a voyeur of grand narratives made small by her fiction. Her anxieties are amplified and delineated in humor and conjecture of grandiose scale. She seems to trust her anxieties as the stew from which she extracts and distills her stories.  It is her way of understanding the world and ultimately herself. Whether the story she tells is about some kind of conspiracy theory or a salisbury steak–for me–they are representations of anxious thoughts and of the productive possibilities that can result from mining them.
In the recent show Figurative vs Abstract, at the Hyde Park Art Center, Anne Harris–a Chicago artist and teacher at the School of the Art Institute of Chicago–exhibited a group of paintings that at first glance are a departure from the type of work that one might expect to see, given her history. Though a closer reading would suggest that this work is a sensical extension of previous paintings. Going against the grain and venturing into uncharted territory, for an established artist, can be a scary prospect. Anne Harris weighed in on this idea on her Facebook page:
Struggling with change–reaction to a death, reaction to the sense of invisibility, fear of vanishing, work unseen, me unseen. Fear that doing this will tank my career, such as it is (What the hell is she doing? Says anyone who has every expected a particular something out of me.). And if something feels risky for me, is it risky for real, or just risky in my own little world? The fear of being another woman making "modest work" (thank you for that term, Altoon), the desperate desire to be seen, respected, challenged. How much of being unseen has to do with personal reticence? How much has to do with the work? How much has to do with being a women? Voice too soft, body too soft, too small, not trained to advocate for me, no self-promotion, making "difficult work" but not up to the difficult task of defending it. Now what?
A lengthy conversation ensued, revolving around the idea of fear and anxiety in the production of art and how these traits were almost universally felt amongst those peers involved in the dialogue. In the work, Harris' vulnerability is ever present. She is succinct. She is clear. She is anxious. I think this work is top notch. Anne Harris appears to have an incredibly introspective practice but the work is strong enough to communicate that her self-reflexivity is likely a way of life extending beyond the studio. Her work, like the work of most artists (the artists that interest me anyway) is a blueprint. A method for understanding the types of things that scare her. That make her worry. That influence the way she lives her life and ultimately makes her work.
I heard the artist Tony Cokes speak, whose production foregrounds social critique, at Boston University a few years ago and he opened his talk saying, "I am not original. I do not have original thoughts. I am not special." He was right, in every sense of his words. His videos were so repulsively mundane that I couldn't help but retain his message: Practicality is a construction. It is created by markets. Markets that control consumption by creating necessity. Necessity by creating beliefs. Beliefs through messages. Messages through the senses. These created necessities are consumed through every orifice of the human body–everyday for everyone. The human body is an absorbent machine–soaking up anything in range–including his videos.
I hated Tony Cokes' work that day. It was hard for me to watch. A friend of mine that sat next to me during the lecture loved it–probably because he understood what was happening in the moment. It washed right over me like a tidal wave–drowning me with images and text. Dazzling advertisements and jarring transitions. Disjointed sound affects and miscued music. I couldn't help the flashbacks to Stanley Kubrick's  A Clockwork Orange's 'aversion therapy' scene, where a man is forced to watch a similar video with his eyeballs clamped open. I absolutely could not take anymore–I felt assaulted by his work. I say this now, as I reconsider the work, and reevaluate its permanence in my memory. It lasted. That is rare. I not only remember it vividly, but I remembered the words that accompanied the videos. His words. "I am not original. I do not have original thoughts…" This work resonated. This work had value. I hated it and it was just as good, if not better, than so much art that I adore.
Tony Cokes, whether his intention or not, embraces our collective anxieties. He points to the systems that oppress us–that tame us. He forces us to look at those things we know about the world that we typically repress because they are either too painful or too difficult to approach. He points to the structures that limit us from reaching our boundaries. Post-modernism told us–unequivocally–that we weren't very special at all–that our boundaries were no longer made by an internal schematic that was constantly evolving. Tony Cokes reminds us that the parameters that identify you at present, are created by systems that are beyond singular control.
Despite all of this, however, there are infinite reasons to keep plugging away–to keep producing art.  While the world grows fearful, artists are meeting anxiety–some collective anxieties–with productive reproach. They reject those fears or accept them by seeking their origin and expounding upon the energy that anxiety creates. They respond to their chosen territories by investing their lives into exploring the depths of themselves–a product of today's world in addition to the inherited and transcendent qualities of yesterday.  Instinctually we are compelled to understand our inabilities–our flaws, our incapacities. An investigation that maps our boundaries is our intuitions telling us how to understand those faculties that ultimately aid in our survival. Creating the capability to discern between the two is our eternal calamity and our providence–if one invests their time in attempting to achieve it, despite knowing it is an impossible feat. We will not survive no matter what we know.  The point of our efforts are to grow–to learn about ourselves. The point is to learn how we exist in the world, by understanding how we make objects. The "why" of things is simply the anxiety that drives us, and the location of new ideas. It is essential–anxiety is utterly contemporary. It always will be. What is important, is the object. The object tells the tale and the tale teaches.