Guest post by Daniel G. Baird
Tony Tasset's artworks consistently aim to destabilize and question our understanding of value.  Often perceived as humorous, whimsical or playful, the works poetically allude toward confrontations with mortality, timelessness and cultural awareness through slick pop-art fused objects. With a keen eye toward popular culture and extra-ordinary moments, Tasset is able to create works that engage viewer's latent memories with familiar cultural and iconographic forms. In his use of the everyday and mainstream as artistic materials, the transient is able to transcend the boundaries of time, allowing us to enter into a reconsideration of the objective world.
In a 2004 piece, a pile of dirty Chicago snow sits like a time-capsule in a storefront window wearing the grime of the city on its tabula rasa-like surface while simultaneously celebrating the engagement that everyone necessarily has with this winter material. A handmade crushed cup sits at the base of the pile locating the works age through the Coca Cola logo that was used 10 years ago. In "Magnolias for Pittsburg," a pair of hyperreal faux magnolia trees sit motionless and forever in bloom as the world passes from season to season. That moment of rebirth and creation held perpetually in suspension like a photograph. Or in recent works where the moment of recognition is through the domestic kitchen or cleaning product. Utilizing these materials for their color, the works recall an accidental spill of material. Yet in these works the accidental lifts itself into the authority of a precisely calculated artistic gesture. Each of these works point toward a desire to commemorate and preserve a familiar moment by transcending the flow of time.
In a work from 2009, titled "My Empire," Tasset pokes fun at the prototypical self-portrait, that artistic trope that every artist wrestles with at least once. A chaotic accumulation of detritus, piled up and shimmering from an all over coating of resin sits on a found pallet. Upon closer inspection, it is revealed to be found objects and knick knacks that all hold personal associations to both Tasset and ourselves. Toy cardboard bricks commonly used to build forts as a kid, an old discarded cell phone, fragments of older projects, clown shoes and a cast plaster model of the artists hand are among the numerous objects covered in resin that pepper this accumulation. It is unabashedly abject in its presentation yet holds a sincerity in what it presents. We derive a feeling of nostalgia in the familiarity of the objects and can sympathize with the chaotic mess.
With "My Empire," Tassets world of symbolism, meaning and reference is presented on a single palleted unit and ready for movement through the world. It is a personal cosmology tethered to its transportation device. In the same way that the dirty  snow pile shows us the grime and debris under the facade of a smoothly operating city, "My Empire" shows us the messy creative process under the facade of a pristine art object.
For his inclusion in the 2014 Whitney Biennial, Tasset created "Artist Monument," a monument which is the vehicle of cultural commemoration and preservation, honoring artists who, like himself, work to capture a moment of time in an object. Affixed to two shipping containers docked at the base of Chelsea, the names of 392,486 artists are packed onto the surface of multi-colored acrylic panels. Alphabetized and etched in the same font size, any discernible form of hierarchical structure between the listed names is abolished. Recognition of the well known becomes blurred in a sea of information. Artists of historical significance and ones toiling in relative obscurity are equalized as one and the same gesture calling attention to the shared pursuit all artists have in the creative process. It is a monument to the heroic pursuit of becoming. At the root of the piece is the desire to be radically democratic by creating the  ultimate group exhibition of all the artists known on the date the list was sourced.
Like all monuments, the "Artist Monument" is a register of a historical moment. It functions as a time-capsule and an ark to the creative process of this moment.
Daniel G. Baird (b. 1984) received a BFA from the School of the Art Institute of Chicago and a MFA from the University of Illinois at Chicago. Recent Solo exhibitions include 'Strata' at Andrew Rafacz gallery, Chicago; 'Vestige' at the Institute of Jamais Vu, London; 'Has the World Already Been Made? X4? at both Roots and Culture, Chicago, and Hedah, Maastricht; 'Meridian' at Robert Bills Contemporary, Chicago; 'This New Ocean,' at Appendix Project Space, Portland. Recent Group exhibitions include Bowling Alone, Andrew Rafacz Gallery; Merge Visible, Prairie Productions, Chicago, and Panoptic Measures, Elizabeth Foundation, NY. He will present work at LVL3 this spring and at Leeds College of Art and Design in 2015.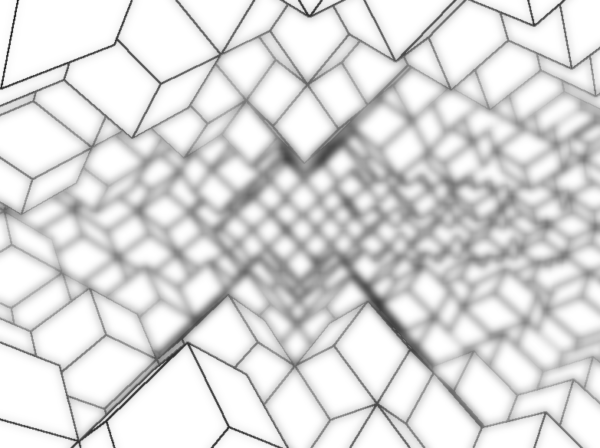 In Activate the Three Artefacts and then Leave, players are left without character; without avatar. Even in traditional first-person-shooters where the avatar is not necessarily shown at every opportunity, there's a sense of the body: glimpses in mirrors that reveal a self, a gun peeking into view as an extension of the hand, or movement that is defined by running, walking, and jumping. Artefacts instead exists solely in a space designed for the player, the person at his or her computer. It strips away the artifice of a designed world, of character, of setting, or of plot, and instead, like a math problem, is a task designed for completion, one contained within its title.
It proves to be similar to a constructed toy: a Rubik's cube, or a disentanglement puzzle (where two interlocked pieces must be made single). In simplicity, Artefacts is, like these, a parlor game: an object whose goal seems to be defined by its physical presence. With its goal laid bare, there is no universe at stake; there is no character needing rescue. There is only the player; there is only the object.
And it's both maddening and relaxing at the same time. As far as games go, it's relatively simple: the player moves at a slow, deliberate pace through three-dimensional space. Where in most first-person games one might walk or run, here you float in space, as though you were a calm, digital fly, surrounded only by an infinite, white space, its only inhabitant a massive globe of polygons. Move toward it and an entrance is revealed, a small hole not unlike the exhaust port on the Death Star. But instead of a large planet of pipes, metals, and clones, Artefacts' planet is made entirely of whitespace and black lines, a simplicity that comes together to form a great construction of geometric off-shapes, their corners never really touching at right angles, their walls never really indistinguishable upon exploration.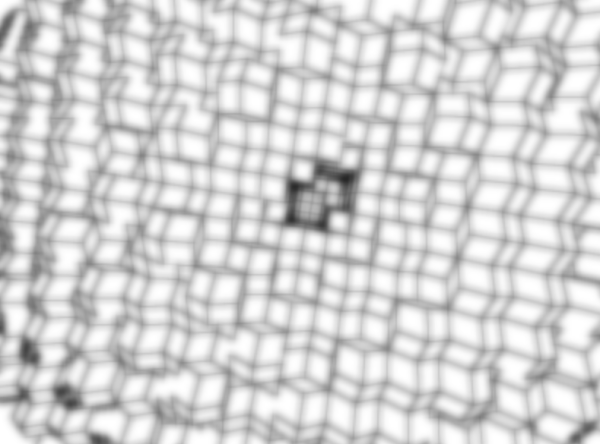 This is the main conceit of the game: one's eyes are practically useless, and it doesn't really set in until too late. I had just entered the great orb when I turned around and realized that the entrance would need to be an exit, and the great expanse of outer-white had blended into the same white surfaces that made up the walls which now contained me. After a panicky five minutes of bumping into every surface available, I found it, but realized it did not matter—I had to continue deeper. Deeper through great halls of jagged edges filled with floating boxes, their edges seemingly impossible. But the player isn't meant to navigate by sight; the player is meant to navigate by sound.
There's a secret area in the game Limbo—a moody and atmospheric platformer defined by a stark, deadly world of children portrayed in blacks and grays—that is entirely dark. The only visual cues there are the two white orbs that are the bright, scared eyes of the protagonist. While in the majority of the game, the player guides him (and his eyes) safely away from obstacles such as sawblades or giant, nightmarish spiders by visuals—in the same way one plays a Mario game—this stage is entirely unseen. Here, to avoid a sawblade isn't to jump over its sharp, rotating edges, it is to jump over its sound—the caustic, cutting hum as it moves from right to left across the stage. It's a lovely twist that subverts the dominant strategy of not only the game, but the visual medium, and moves a different sense—hearing—to the forefront of the experience.
Artefacts accomplishes the same not by putting the player in the darkness, but by offering a world that features no real features. In the same way James Turrell's pieces (such as Wide Out) play with perspective and a sense of space by subverting corners and joints, Artefacts does the same by offering so many of them. It's not an absence of walls; it's an abundance. And while sight is necessary to discover rooms and float about, getting lost isn't just easy, it's nigh unavoidable: the jaggy sphere is massive, continually unknown. You might recognize the same set piece, but there are no visual bearings.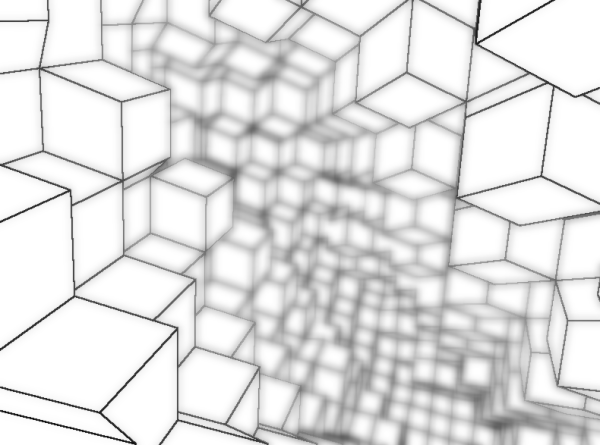 There are, however, audial ones. Depending on where the player is in the great sphere, they'll find themselves immersed in great pools of noise: statics, whites, pinks. It's a quick and obvious realization that in order to navigate in any real way, one has to be paying attention with their ears more than their eyes: to distinguish between a pure white noise, or a white noise blended with a gentle static, or the same static on its own, tiny crackles forming a recognizable beat that echoes within the skull.
After you find an Artefact—a gently floating object that stands out easily among the geometric sphere-scape—light, calming hues of color finally pop into being, only if to let you know that you've activated it, that you've taken a step towards the completion. It might seem like the only friendly system in an otherwise nightmarish world, but it's not. It's the statics that want to help bring you home, navigate the quadrants of a great, imperceptible object whose joints are needles against the eye, against spatial perception. They fill in like voices aware that they aren't saying anything, but still screaming as a constant landmark in a giant shape that seems to shift and catch you in a circle again and again. They're this strange, white world's equivalent of a street sign, or a friendly local pointing in the direction of a tourist attraction. Only here, you can't just look; you need to listen.
Like most of Increpare's games, Artefacts is free and available for a variety of platforms. Check it and them out here.
Changes are coming to the Twin Cities. Spring is slowly arriving. Daylight lingers. I can look up and around when walking outside. I notice the holes from trees felled in last summer's storms, but I find the tulips poking through in their place. We need this renewal. We need these moments to gather strength after winter's long cold nights before heading out into the rush of spring. I have seen great shows throughout the Twin Cities, great works of art, openings and closings left and right, an embarrassment of riches. I am, however, still lingering in the quiet moments, the eddies in the cultural stream rushing around us.
I have been consistently impressed with the Minneapolis Institute of Art's New Pictures exhibition series. Last year's Stan Douglas and Sarah Jones's exhibitions were excellent, expanding into multiple places throughout the MIA, engaging other works in the collection, rewarding multiple viewings. Tucked into a small gallery, next to flashy 20th century design and big name artists, New Pictures 9 features Rinko Kawauchi's works from Illuminance. They are quiet, thoughtful moments that stretch into deep concentration and surprising connections
Kawauchi's investigations of light, as the title suggests, come forth in large individual prints and clustered groups of smaller images. The arresting images of a dead deer with livid blood, a cluster of fish eyes, a sparkling diamond are quickly lost in the iterations of light. The exhibition builds a language of light, but there is no need to become fluent to be absorbed in depth of her process, her exploration as end not as means.
The looping video, Illuminance, extends and enlivens the process, endlessly teasing out the subtleties of light in the everyday situations it presents. The subtle, ambient audio soundtrack was barely audible at times, but the suddenly louder rushing of water or rustling of leaves brought her abstracted process back from the realm of static image making to the world around us. The beauty of the exhibition is that Kawauchi presents no conclusions, but it prepares us to see the world differently. I left full of questions. I struggled to distinguish the works in the rest of the museum from the play of gallery lighting, the wash of grey, clouded light from the windows, the sudden shadows of people walking past.
Whenever I visit the MIA, I am drawn to the period rooms, sparsely populated, austere, in sharp contrast to the lines for the cafe and the children running between family activities. They are moments of concentrated attention and time. They simultaneously hold the past of their objects and the past of their meticulous reconstruction in one moment. I entered the period rooms to consider the light they would have seen, the electric light that illuminated it now never envisioned in their original homes.
As I exited The Providence Parlor, I saw a little girl pull on her father's hand, point excitedly to a portrait of George Washington, and exclaim, "Dad, look! It's President Obama." I could not have said it better. The world is new with spring, with refreshed eyes that allow us to see our future in our past, to see our presidents for who they really are.
1. This is Where It Felt Like at Gallery 400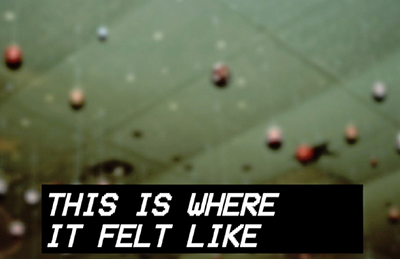 Work by Elena Feijoo, Jesse Malmed, Julie Potratz and Jonathan Loïc Rogers.
Gallery 400 is located at 400 S. Peoria St. Reception Friday, 5-8pm.
2. Tenebris at Spudnik Press Cooperative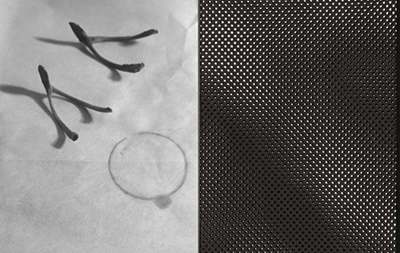 Work by James Bouché and Kyle Tata.
Spudnik Press Cooperative is located at 1821 W Hubbard, Suite 302. Reception Friday, 7-9pm.
3. Past Future Perfect at Maxwell Colette Gallery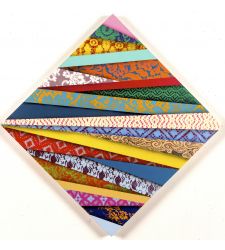 Work by J. Mikal Davis.
Maxwell Colette Gallery is located at 908 N. Ashland Ave. Reception Friday, 6-10pm.
4. Fixation at Zhou B Art Center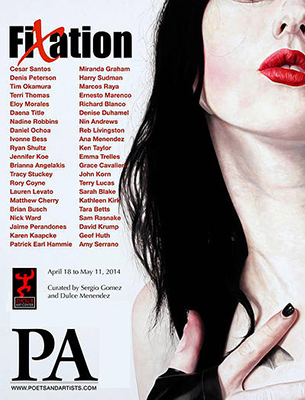 Work by Brianna Angelakis, Eloy Morales, Ivonne Bess, Daniel Ochoa, Tara Betts, Tim Okamura, Brian Busch, Jaime Perandones, Grace Cavalieri, Marcos Raya, Matthew Cherry, Nadene Robbins, Rory Coyne, Cesar Santos, Miranda Graham, Ryan Schultz, Patrick Earl Hammie, Tracy Stuckey, Karen Kaapcke, Harry Sudman, Jennifer Koe, Torri Thomas, Lauren Levato, Daena Title, Earnesto Marenco and Nick Ward.
Zhou B Art Center is located at 1029 W. 35th St. Reception Friday, 7-10pm.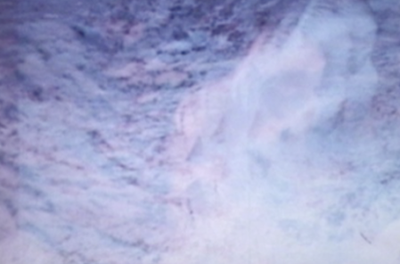 Work by Derek Weber.
Peanut Gallery is located at 1000 N. California St. Reception Sunday, 5-9pm.
This article is part 3 in a series of stand alone kvetching about the state of the artworld. The opinions expressed within are held by a big baby, and not the blogs they are found on. There is no need to read them all, but if your beverage of choice is Haterade, then part 1 can be found here, while part 2 can be found here.
…And if you don't like Haterade, then this one is totally positive, dude.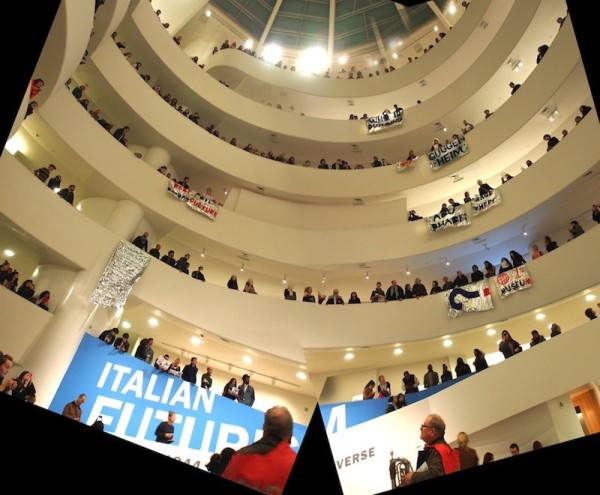 G.U.L.F. (Gulf Ultra Luxury Faction) protestors intervention in the Guggenheim, February 22, 2014. With intrepid planning, the coalition drew attention to the Guggenheim's direct, yet denied involvement to the promotion of debt bondage in the Middle East.
"Art is an antidote to consumerism…. At a fair, art is connected to the weakest part about it… the fact that it has to sell." — Matthew Collings, during a the Saatchi Gallery Debate: Art Fairs Are About Money Not Art  (billed as a partisan debate by one of the biggest money making galleries in the world, whose namesake gained his fortune in advertising, and whose moderator, Simon de Pury, is both chairman and co-founder of the art auction house Phillips de Pury & Company, one of the largest in the world. Just sayin.)
We have become so obsessed with the money revolving around art that it has become a part of contemporary art. Often, when writing about art, we are writing about money. We look at art and we are looking at someone else's accumulated wealth. Art no longer expresses ideas and possibilities, but also speculations and commodities. We exist in a system that exchanges money for services and goods for money. To say art must be free from the trappings of money says that artists should never get paid for their work. Art and money will always be connected in a capitalist system, and even most artists would not have it any other way.
But what happens when, increasingly, the art work loses its meaning and autonomy and becomes a status symbol for the rich and uber rich? It turns the artist into a stock which can be dumped at any time at the whim of a few collectors. It can draw hundreds of thousands or even millions of dollars overnight. Most of the money does not go to the very few artists showing at this capacity, but towards the building of worldwide art institutions and vanity museums, promoting the monumental legacies of a few rich douchebags. The bulk of the cash stays circulating in the hands of the super rich, like a global game of Keep Away, where Big Money always wins. The few artists that can participate in this market become instant celebrities — images of people instead of actual people — their art, no longer truly representing anything other than the continuation of extreme capitalism, becomes the measure to which all other contemporary artists must relate their work to, and the greasy environment where art exists.
We tolerate these excesses and abuses within the art world because we see it to be the defender of the truth — the faith that is art history; a white male dominated Eurocentric history that means nothing at all in the real world. Denying the importance of Germany invading Poland in 1939 would be criminal, as arguing the importance of Jackson Pollock creating Action Painting would be just as ridiculous. That Pollock revolutionized Painting, or that Marcel Duchamp did the same for the object, matters little in understanding the world. What is part of art history is as much anthropological as it is a collection of tastes and values by those with the money and moral authority to maintain such collections, further edited by subsequent generations of taste. Every artwork must position itself somewhere among all other "important" art of all time, even though this is an incomplete picture built on the individual and collective tastes of the past. A past that is far removed from our present. It is beautiful, rich and moving for sure, but is just one purposefully incomplete story, and so is just fiction.
We will not be able to erase Art History, nor would we really want to, as we come to art in seriousness drawn by its history. Gaining the title of artist takes for granted the likelihood of a degree or multiple degrees in the practice, so the academic, by definition, relies on history — separating this is impossible. Instead, what I imply is a freedom to move alongside the history, conventions, dealings, markets, establishments and modes of art. Because if art history, no matter how grand, doesn't matter, then neither does the rest.
While Social Practice is often some white asshole trying to help minority communities by their assessment of what "these communities" need to relieve their own guilt (liberal imperialism). But there is something within Social Practice that still offers a possibility of a freer art, a freer artist and a more inclusive public. It is within its socialist spirit, within a redefining of ownership, and the fluctuation of time and space. To be clear — there is nothing wrong with objects or images. To describe my love for a perfectly strange object or image as anything less then every neuron firing at once, effectively liquidating my brain, so that the pink goo drips out of my skull, down my spine and into my feet; the tingling sensation of this confused with the pissing and shitting of my art pants, while my eyes bug out and tongue extends to the floor, drooling like a cartoonish wolf over abandoned lambs; time stopping as I am taken out of my mortal body and able to claw at some other realm beyond comprehension just to be thrown back into reality– still does not adequately state my feelings towards the visceral power in the physicality of art. I am fortunate that I am consistently in the presence of great art, from established to emerging artists, who create work in this form. These are visceral responses we have to color, form and composition, becoming even more meaningful in their cultural context. The sprawling utility of much social practice tends to ignore aesthetics or, at the very least, subjugate them to the back burner. (Not that all art need be aesthetic.)
A revolutionary tool of Social Practice has quickly been diffused by the art establishment — that art can exist outside of the constructs of a capitalist white walled art environment — quickly became subjected to the art environment in order to give the work authority. No longer a revolutionary tool, it is instead a case study. Why can't the next wave of Social Practice address this need for object and image? Completely within its reach, it has not through its determination of institutional critique while trying to court the institution. Socially engaging works with more interesting stand alone artifacts, not documents, may provide this. Keeping to the revolutionary fervor within the core of Social Practice is really what allows for its potential, and that is why, in general I am so frustrated by it. The key to this new art world may lie there: an art world with a stronger relationship between artist and audience, both able to fluctuate to the needs of the work.
Instead of molotov cocktails, what is needed is backroom maneuvering for the proletariat. Like minded collectives with a purpose. Alternative spaces without fixed addresses. Fine art blending with design and craft and consumer objects. Price ranges for the masses, marketing at a small scale. More art shares, art lending libraries. Personal networks that build the backbone of a new art community. Community involvement and investment through education, public programming, parties, entertainment. Invest in audiences if you want them to invest in you. Realize that you are going to be turned into a product against your will in the art world so you should brand yourself instead. Stage your own biennial. Crash fairs. Create new art spaces, like The Suburban was or Good Weather is, both suburban garages which bring great art to the average person. Trunk Shows, internet only galleries existing on facebook, and other ephemeral spaces that question the nature of art space and geographic space in the 21st Century.
If we can even make small advances with the public, we'd gain more viewers and supporters. We would find new markets and create new demand. We would sell more modest priced works more frequently. Instead of the nearly impossible goal of selling in the 5 and 6 digits exclusively, we'd find the more attainable goal of being able to put food on the table and clothes on our backs from the sale of our art, instead of a job we don't care about. It would offer younger critics and curators to gain recognition for their work. Art would still be a joy, but it would be a joy shared by many instead of the few. Perhaps this art would look vastly different than art today. Perhaps this more democratic art would present new alternatives, new perspectives and new ideas, perhaps its influence could extend into politics and social justice. How much effect can art have in a closed off niche group being bought by the people within power in order to control its ideas and subvert them in to a high end commodity? The spectacle that is swallowing the art world could start to disappear. Money would still be a part of art in this alternate art world, but it would spread out a little more evenly with a lot less glare distracting one from the work. It would actually address some of the real debt that most artists have found themselves in, instead of floating around the Blue Chip Gallery satalite branches showing the same product worldwide. Maybe I'm just dreaming, but it seems to me that it is time to affect real meaning in art.