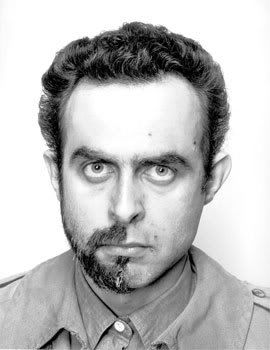 Francisco Bonami Defends His New Show
via Georgina Adam for The Art Newspaper:
"VENICE. Curator, writer and critic Francesco Bonami is running into trouble. His current exhibition at the Palazzo Grassi in Venice, 'Italics: Italian art between Tradition and Revolution, 1968-2008'—running until 22 March, and from 11 July to 25 October at the Museum of Contemporary Art (MCA), Chicago—is causing something of a stir among artists and critics alike.
Mr Bonami is no stranger to negative press—as director of the 2003 Venice Biennale he was criticised for its sprawling lack of focus. Urbane, gregarious and unconventional, his outspokenness does not always win him friends. Born in Florence in 1955, Mr Bonami has lived in New York since 1987. He is guest curator at the MCA, as well as being artistic director at the Fondazione Sandretto Re Rebaudengo in Turin and the Fondazione Pitti Immagine Discovery in Florence. He curates the monograph series 'Supercontemporary' (Electa Books) and is published widely."
Read the rest of the article here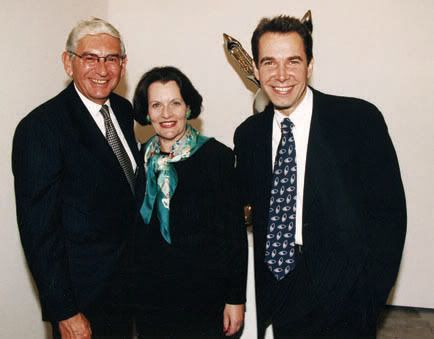 Eli Broad's New Museum
via Edward Wyatt for the New York Times:
"LOS ANGELES — Less than a year after the Los Angeles County Museum of Art opened a $56 million museum for contemporary art named for Eli Broad, the billionaire philanthropist who is its largest benefactor, Mr. Broad has decided to build his own museum and is considering a site just down the street.
In an Oct. 20 letter to the city manager of Beverly Hills, a lawyer representing Mr. Broad said he was interested 'in bringing a first-class public art museum and adjacent foundation offices to the City of Beverly Hills.'
The letter says he is considering a site at the corner of Santa Monica and Wilshire Boulevards, roughly three miles west of the Los Angeles County Museum, whose 20-acre campus sits on Wilshire Boulevard next to the famed La Brea tar pits.
The decision appears to be another reversal for Mr. Broad, who had said he did not intend to build his own museum. In January, he shocked many in the art world when he said he had decided to retain permanent control of his art collection in a private foundation rather than give much of it away."
Read the rest of the article here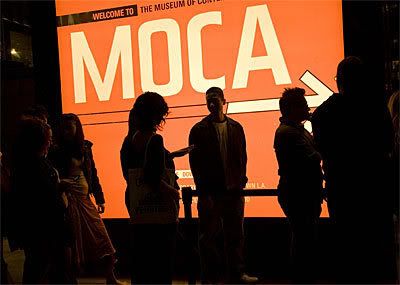 Yesterday Mike Boehm reported that LA's MOCA is having some serious financial problems. It's going to be interesting to see how they are going to remedy this. When LACMA opened BCAM many people wished that a institution that had as much land as LACMA would boost their collection to the size of MOCA. So maybe we will see a merger of the two or with The Getty.
via Mike Boehm for the Los Angeles Times:
"Los Angeles' prestigious but chronically underfunded Museum of Contemporary Art has fallen into crisis. Museum Director Jeremy Strick said MOCA is seeking large cash infusions from donors, and this week he did not rule out the possibility of merging with another institution or sharing its collection of almost 6,000 artworks.
Federal tax returns show that even before the current national crisis, MOCA had been draining its reserves to pay operating expenses. In the meantime, the museum's staff has grown.
Unlike the Los Angeles County Museum of Art, which is partly controlled by the county, MOCA receives minimal government funding. Its annual budget has grown to exceed $20 million, but it relies on donors to pay about 80% of its expenses. When the gifts have fallen short, as they have more often than not during Strick's nine-year tenure, the museum has gone into its savings.
In recent years, the museum has averaged 250,000 visits annually to view critically acclaimed exhibitions and a collection boasting works by such post-World War II masters as Jackson Pollock, Robert Rauschenberg and Mark Rothko.
By one important measure — "unrestricted assets," money that can be used for any purpose — MOCA is in dire straits. Its federal tax returns show that early in this decade the museum had spent all $20 million of its unrestricted funds to meet routine operating costs. By mid-2007, it had borrowed an additional $7.5 million from "restricted" accounts, even though those are designated by donors for specific uses, such as education or buying art.
In an interview this week, Strick would not disclose more recent financial figures. But he acknowledged that the national economic crisis had further flattened the museum's cushion. MOCA's investment portfolio was worth $20.4 million in mid-2007, down from $36.2 million in mid-2000.
Most investment portfolios have lost significant value this fall."
Read the rest of the article here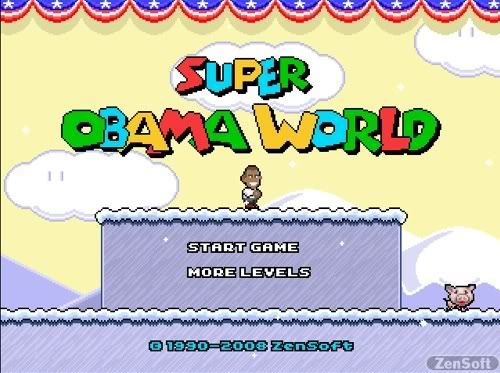 Updates have been a little scarce as of late. My life has been either consumed by work or by Super Obama World. (I don't know why I haven't beaten it yet) Anyway, here are some highlights from the past three days.
Kim Light/Lightbox Gallery
The L.A. Times' Culture Monster has posted a shot of Kim Light/Lightbox Gallery's post prop 8 warning. It reads:
"WARNING: This area may contain homosexuals, which are known by the State of California to be harmful to the sanctity of heterosexual marriage."
That is awesome.
To view the image please click here
The Art Institute's Modern Wing
I am sure many of you have probably read the Chicago Tribune's article on the new modern wing of the Art Institute. If not, check it out.
Damien Hirst New Music Video
I usually steer away from posting most things about Damien Hirst but I had to link to The Hours new video "See the Light". With shots of splattered paint, dead cows, and medical cabinets its not to hard to guess that Hirst was art director. Best part of the video happens at 3:30. And I don't mean best as in good.
View the video here.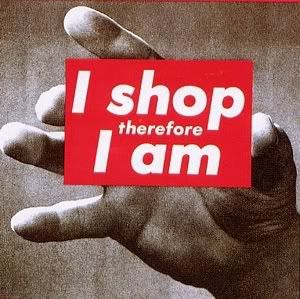 The kind folks at Cinema Libre Studio has hooked us up with two copies of their latest release American Shopper to be given away. Directors Tamas Bojtor and Sybil Dessau's hybrid documentary follows 8 contestants and the founder of aisling as they prepare for the first ever National Aisling Championship.Throughout the film we dive into the characters motivations and inspirations for aisling as they prepare themselves for the big competition. The highlight of the film is most definitely the Star Trek shopping cart. If you are not one of the lucky two to get a copy, American Shopper is being released today and should be available on Netflix or through Cinema Libre Studio.
So, here is the deal. The first two people to email me (megonli@gmail) with AMERICAN SHOPPER as the subject will win one of two copies plus the new BAS buttons and some stickers.
Thanks again to Beth & Giedre for the hookup.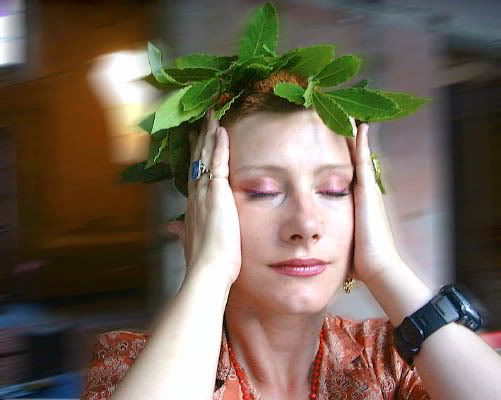 In the soon to be released issue of bootprint (Vol. 2, Issue 2) Danyel Ferrari interviews Clementine Deliss. Assistant Editor Tim Ridlen sent me an excerpt which coincides with Deliss' lecture tomorrow, Tuesday, November 18th at 3pm.
The lecture will be held at:
The Franke Institute for the Humanities
The University of Chicago
1100 East 57th Street, JRL S-102
Chicago, Illinois 60637
via bootprint
"Danyel Ferrari: Questions of space and mobility were often discussed as a part of Future Academy. What do you think about the place of architecture in the architecture of ideas, should there be walls?
Clementine Deliss: I might have a different perspective on that than, say, the students I have worked with in Future Academy. For the students I have worked with, this was actually one of the clearest issues and it came up very early on with regard to future buildings. The majority of students, whether they were based in Mumbai, Bangalore, Dakar or Edinburgh generally felt that they didn't need buildings in the first instance. They sought more face-to-face contact in the sense that they wanted field studies in locations and therefore a kind of plug-in system to enable contact to be played out. So they proposed the "shack academy," built on existing tea shops, usually roadside venues where more discussions took place than within the walls of the academy buildings. They effectively wanted a more informal location for the production of ideas. The Bangalore group felt that it wouldn't be advantageous at this stage to invest in a large amount of technology, but safer to wait a while and test out the conditions that might develop over the next few years. So it wasn't just about buying computers and various technology that would allow for this kind of plug-in mobility, it was something else. What they felt needed to be created was a quasi-business model where information, contacts and networks between these students could be developed into an economic set of relations as they became professionalized and entered into various careers. They wanted to build on the structures that they were already developing through Future Academy and create "roving colleges" that might provide a more equitable framework for them than the type of expansionism that we have known from the colonial period and that is in some cases, though not everywhere, being reformulated today.
Personally, I think one should be more careful and more sensitive to the fact that artists, if they work in the art college context, are actually moving into a back-stage condition. And this back-stage condition is enormously enriching for students. So sure they will teach, they're always teaching, but they do not need to do courses so much as to be able to mediate what it is they are working on. In an art college, everybody is in a research context and for that purpose they need space. So I would argue that if you invite an artist to work within the art college, as much as possible you need to provide a certain space, a notion of "studio," rather than creating staff rooms where they all check their emails and then go home. So I'm quite old fashioned in that I favor the artist's studio within the art school context. And that is something that is either being reduced or is, in some parts of the world, utterly nonexistent."
Read the full article when the latest issue of bootprint drops in December.