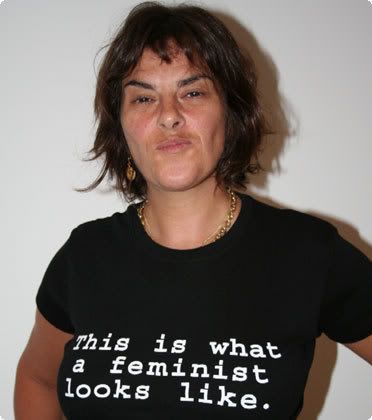 It seems as if I am only going to make posts about Tracy Emin. Here is the most recent news of Emin's escapades .
"Artist Tracey Emin has spent millions on buying a large part of a historic quarter of East London, in an attempt to halt the tide of commercial and corporate development of the area, reports Vanessa Thorpe in The Guardian.
Despite the fact Emin calls it a 'stupid project, in a way,' her total investment will amount to just under four million pounds (eight million dollars), half of which will be spent on returning a former weaving works, known as Tenter Ground, in Spitalfields, to its original form. She plans to use the area as a vast studio when restoration work is complete in two and a half years' time. 'It is a listed building, and it is important to me to keep artists working in the area and keep it in artisan use.
And also not to have it turned into a hotel or restaurant,' she told The Observer.
Link
Based out of the University of Wisconsin-Madison "The Onion" is one of the leading, if not now the leading weekly satire publications and has now seen fit to give the spiritual sequel to "The Kentucky Fried Movie" which if you have not yet seen let your fingers do the walking to the nearest phonebook and find a video rental place.
[Read more]

Pop artist Claes Oldenburg best known for his simple and iconic works of 4 story clothes pins and cherry laden spoons is appearing in court as one of the defendants in a lawsuit placed by the House of Mouse.
Back in 2003 the Disney Co. contracted Mr. Oldenburg, his manufacturers Carlson & Co (a San Fernando art fabrication company best know for building Jeff Koons "Balloon Dog") and his partner Coosje van Bruggen to build a metal statue of a black bow and tie surrounded by a white wing collar to be placed outside the newly constructed Walt Disney Concert Hall in Los Angeles; a building which was designed by friend of the artist Frank Gehry.
Gehry personally promoted the idea of Oldenburg doing the peice and thought that a swanky collar and tie, looking as if they had been tossed on the sidewalk by some colossus, would sound a playfully artful keynote for concert goers and passersby. "Collar and Bow" as it would be called was contracted in May of 2003 for $2.2 million and scheduled to be delivered by Aug. 15, 2004. Donations of $1.85 million from Music Center patrons Richard and Geri Brawerman and $1 million from the J. Paul Getty Trust were expected to cover the cost.
[Read more]

Umanita (or humanity in Italian) is… or was six feet (1.8 meters) high and weighed over 170 pounds (77 kilograms). It stood outside the Newberry Library on the north side of the city of Chicago. That was until it was stolen late Feb. 16 and the afternoon of Feb. 18. Torn from its base and lugged away, Umanita is worth as much as $70,000, said Virginio Ferrari, who created Umanita in 1987 by cutting, shaping and welding stainless steel.
Sadly with steel prices near all time highs there is a real fear that the work is no more and has been melted down into a $300 cube easily sold on the open scrap market.
"The price of steel and metal is very high right now and historically when that happens people remove art," said Elizabeth Kelly, director of Chicago's Public Art Program. "Scrappers seize the opportunity."
Police spokesman Marcel Bright said he can't recall a work as big as Umanita getting snatched in the city, sometimes called the museum without walls because of its more than 700 pieces of outdoor art.