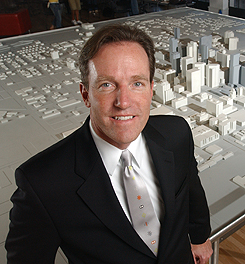 From Chicago Tribune
On Thursday, The School of the Art Institute of Chicago named Wellington Reiter, an architect and urban designer as its next president, a choice reflecting the broadened scope of its disciplines.
After considering candidates since the fall, the school selected Wellington Reiter, dean of the college of design and an architecture professor at Arizona State University in Tempe, Ariz., for the last five years. Before that he was an associate professor at the Massachusetts Institute of Technology. He is to start Aug. 25, four days before his 51st birthday.
Reiter will succeed Tony Jones, who has led the school for 18 years, a period of great expansion in enrollment, programs and Loop real estate for the school. Jones will become chancellor for a year and then retire.
Jones said the school sought the best candidate, not necessarily one with a design background. He said he thought Reiter would further efforts to "rebalance" a curriculum that once was weighted toward the fine arts but that now includes fashion, design and architecture, media and technology, and the humanities.
Reiter said he would try to smooth the relationship between art and design and would consider literally breaking down walls if more-open settings facilitated instruction and discourse.
The private school's reputation has spread widely—18 percent of last fall's 2,932 undergraduate and graduate students were from outside the U.S. But Reiter said the school needs to raise its profile in and "deepen its engagement" with Chicago.
He said he plans to introduce himself to all the design firms here. He said he met Mayor Richard Daley in April when they both spoke at a conference in Phoenix. Reiter's topic: the 1909 Burnham Plan of Chicago.
The School of the Art Institute has about the same enrollment as the college of design at Arizona State. As that school's dean, Reiter helped shape a major expansion of ASU's Phoenix campus, a project transforming the downtown. He also lobbied for a $879 million bond issue passed by Phoenix voters in 2006 that allocated about $232 million to the new campus.
"That project is under way and, frankly, doesn't need my supervision," he said. "I am not leaving anyone in the lurch."
ASU President Michael Crow said Reiter "has been a force within ASU and in metropolitan Phoenix. It is no wonder that other institutions have had their eye on him."
Reiter also has worked on projects in Boston, Philadelphia, Pittsburgh and Ft. Worth, Texas. He has designed public art, buildings and museum installations, and his architectural drawings are in the collections of several museums.
Reiter has architecture degrees from Tulane and Harvard Universities. He is married and has two sons, ages 20 and 17.
On Monday July, 7th at 9pm EST on HBO "The Art of Failure: Chuck Connelly Not for Sale" Documentary airs and you can watch a reportedly embittered, drunk, divorced burn out try to make himself even more unappealing by rehashing his life in film step by step showing how he became the embittered, drunk, divorced burn out he is today……
Or
You can watch the Rocka Fire Explosion Band (the animatronic group from showbiz pizza) perform "Love in This Club" by Usher.
This is one of those decisions that says a lot about a person. It's a kind of Elvis or Beatles question. Or I could be full of…….
In conjunction with "Open for Business", Brian and Patrica will interview René de Guzman live in public at Triple Base Gallery on Thursday, July 10th at 5:00 PM. The raw interview will then be posted to the site as that week's show.
René de Guzman is the senior curator of art at the Oakland Museum of California. Previously, he was the director of visual arts at San Francisco's Yerba Buena Center for the Arts (YBCA).
UPDATE: The interview will be held at 5:00 PM, not 6:00 PM as previously listed.
See you there!
Bad at Sports is participating in "Open for Business" at Triple Base Gallery from July 10th – 13th. The west coast team will be there with stickers, custom BAS Audio CDs, MP3s and more schwag. Come by and barter for the goodies. Check out lowdown from Triple Base after the jump…
Outside the Loop Radio which reportedly broadcasts from it's (for our benefit) 100-watt artsy-fartsy radio station took time to interview Richard and DMac and ask about the birth and direction of Bad at Sports. If you want to listen to the entire episode click here for the direct link.
Duncan & Richard appear at 6 min 20 seconds into the show. Richard geeks out over audio tech, Duncan tells the back story with eloquence. They both have a jaw drop moment when the hosts ask how you could get hate mail doing a art audio program.
Check it out.