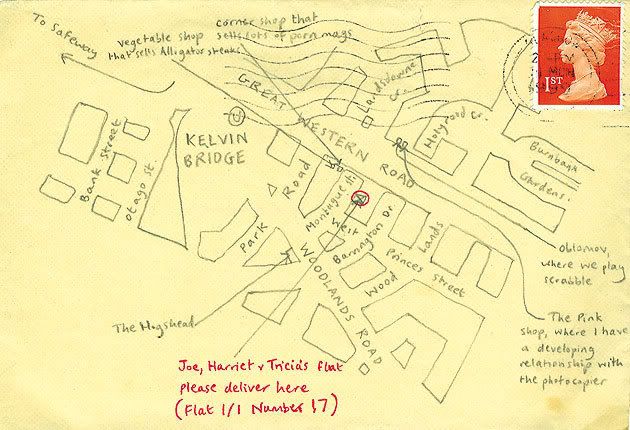 via The Independent:
We may be living in the era of the email, but one young illustrator has proved that the art of correspondence is far from dead. While working for her degree at Glasgow School of Art Harriet Russell decided to find out exactly what lengths the men and women of the Royal Mail were willing to go to to ensure the safe delivery of her missives.
To put them to the test she concealed the addresses of 130 letters to herself in a series of increasingly complex puzzles and ciphers. Among the disguises she employed were dot-to-dot drawings, anagrams and cartoons. The answer, it seems, was very far indeed. Amazingly, only 10 failed to complete their journey back to her.
In another pleasing twist to the story, Ms Russell was unwittingly resurrecting a family tradition first begun by her great-great grandfather Henry Ponsonby, a private secretary to Queen Victoria and a veteran of the Crimean War. This eminent forebear embellished letters to his children at Eton with a series of illustrations in which he concealed the school's address. It was a family quirk continued by his son, Arthur Ponsonby, a pacifist who went on to be Labour MP for Sheffield Brightside before his elevation to the House of Lords.
However, neither quite set about their task with the degree of invention employed by their 21st-century descendant who over the course of a year went to ever greater lengths to disguise her address.
These, it seemed gripped the imagination of Clydeside Royal Mail sorting workers as much as they did their author. Now the results of this unique and anonymous collaboration form the basis of a new book, Envelopes: A Puzzling Journey Through the Royal Mail, published by Allison & Busby, and hotly tipped as a stocking-filler hit this Christmas.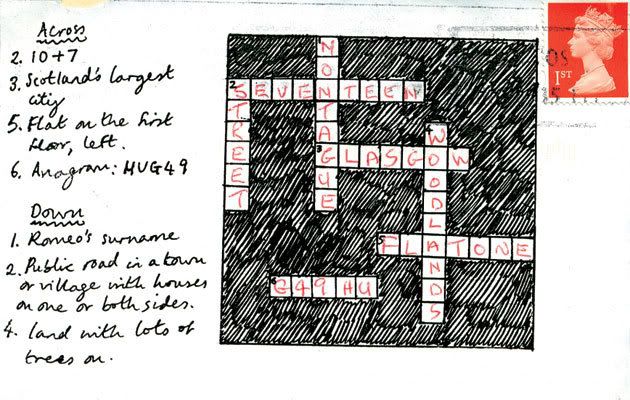 Ms Russell, 31, who now works from a studio in Wapping, east London, confesses that she had no idea her family had preceded her when it came to teasing the postman. She also admits she is no great letter writer, preferring to communicate by email: all the envelopes she sent contained nothing but blank sheets of paper.
She said: "It is an odd coincidence. We used to get a lot of wrongly addressed mail sent to our home, which was Shulbrede Priory in Surrey and that got me thinking about the postal system. The first one started as an experiment to see if it could get through."
Among the initial batch of envelopes was a letter with the address written in mirror writing. But it was not until sorting office staff forwarded one in which her street name and number were the answer to a series of crossword clues that she realised someone was taking their job very seriously indeed. Especially when the letter eventually flopped on to her mat with the boxes filled in and bearing the proud message: "Solved by the Glasgow Mail Centre."
She admits there were times when she worried that she might be in trouble for wasting Royal Mail time but still the letters continued to find their way back. "I was really quite amazed. I didn't know who was doing it. I imagined there was a small group of them and I think they must have caught on because a lot of them were to the same address." The identities of the sleuthing Royal Mail staff have never been established and Ms Russell, who also counts Hubert Parry, the composer of "Jerusalem" among her illustrious forebears, believes it is most likely they have moved on.
"I have never spoken to anyone and no one has come forward," she said. "But it is clear they were taking part and involving themselves in it."
The book, with its periodic tables, colour-blindness test and eye-chart addresses has already caused something of a stir in the United States although it is expected to do even better in the UK. The Bookseller has already described it as "a little treasure waiting to be discovered".
Ms Russell said: "I started out not knowing anything about my relatives doing this so my family dug out some of their old letters to show me."
For his part, Henry Ponsonby preferred whimsy to ciphers and cryptic clues. His letters bore addresses appearing as doodled signposts in snowstorms or as huge envelopes shouldered by tiny people.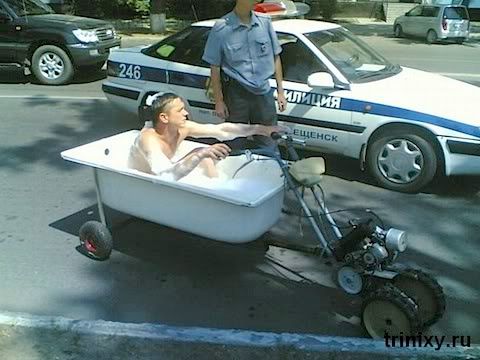 via Boing Boing:
Russian biker busted for driving a non street legal bathtub.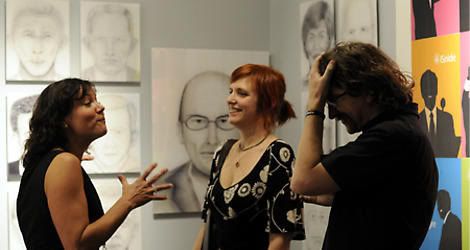 via Art Fag City:
GEISAI Miami, an art fair hosted by PULSE in which artists represent themselves was pretty weak last year, but if visibility and perhaps a few sales is all you seek it may not be such a bad opportunity. Hopefully the fair can continue to coast on the laurels of PULSE. The application deadline is October 15th, so that's not a lot of time to put together material. Additional details from the press release below.
Kaikai Kiki is calling for entries for GEISAI Miami, the second U.S. edition of the art fair conceived by Takashi Murakami. GEISAI is an art fair model that allows artists to represent themselves in a professional art fair setting and present their work directly to an audience of collectors, art professionals and art enthusiasts. Artists of all nationalities without gallery representation are invited to apply, with no restrictions on the medium, at www.geisai.us. A jury of art professionals will review all applications and select a limited number of artists to receive free booths. Applicants must be able to present original artworks on-site in Miami during all five days of the fair. GEISAI Miami will be held Wednesday, December 3 through Sunday, December 7, 2008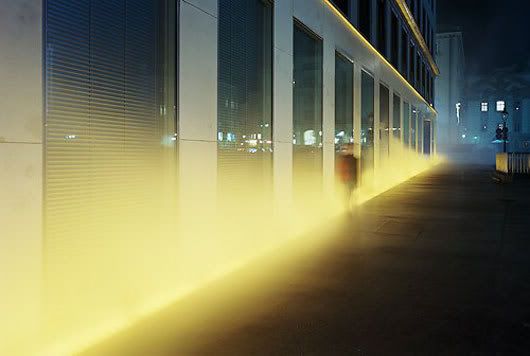 via Life Without Buildings:
Olafur Eliasson's Yellowfog debuts today in Vienna on the facade of its new home, Verbund's Am Hof building. Yellowfog was originally installed at the Jewish Museum in New York way back in 1999, where it was meant to evoke the Icelandic artist's homeland, but I prefer to think that the building is slowly—and beautifully—dissolving in some sort of fantastical toxic haze. No stranger to architectural collaboration and intervention, Eliasson has previously worked with architects such as David Adjaye and Snohetta.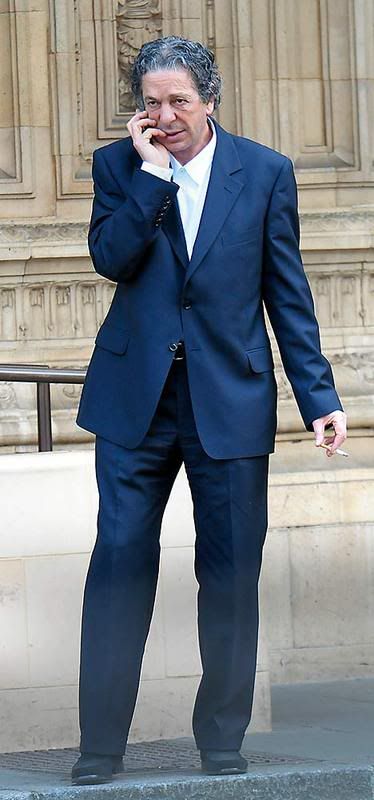 via Mark Brown for the Guardian
It is fair to say the 205-year-old military barracks in Chelsea, the Duke of York's headquarters, have never housed anything quite like it.
Behind the tall doric columns of the building's grand entrance yesterday were large skeletons of imaginary mutant monsters and models of naked migrant workers hanging from the ceiling. The installations were at Charles Saatchi's much delayed, but undeniably ambitious, gallery which will open to the public on Thursday.
It is the art collector's third London venue: the first Saatchi gallery in a disused paint factory in St John's Wood opened in 1985 and often showcased Young British Artists. The second, in County Hall on the South Bank, ended in rancourous eviction after two years in 2005.
The third gallery has taken three years to get right, about a year longer than planned, and opens with an exhibition devoted to contemporary Chinese art – all of it new to the UK.
Saatchi has clearly spent a small fortune – one which he refuses to put a figure on publicly – and has been involved in all aspects of the building and the art in it.
He was there yesterday despite the presence of so many of the types he normally tries to avoid: journalists. But exactly where, was another question.
"He's around yes, but no Charles won't be talking to the press," said Rebecca Wilson, the gallery's director. "That's what I'm here for."
Wilson accepted the gallery had taken longer than planned. "There have been quite a few delays, she said.
"Because it's a Georgian building there were all sorts of things we had to respect and couldn't do but actually the great thing about Georgian architecture is that its perfect for displaying art.
"There are very clean lines, it's very unfussy, so we've maintained the proportions."
It certainly is a big space, about 70,000sq ft, with 15 gallery spaces.
"It's absolutely massive, it really is, you feel like you're walking into a museum," said Wilson. "It's like walking in to the Guggenheim and if you think of what Boundary Road [Saatchi's St John's Wood space] and County Hall were like, it is has gone up several layers in terms of the scale of it and what we can actually do here."
Saatchi has supervised all the hanging. In a Q&A for the Sunday Times, earlier this week, he revealed how he does it. "I just go by what shapes and colours work together in a room," he said. "The poncey way some curators try to demonstrate their 'vision' by highlighting connections gives me the collywobbles."
Wilson was slightly more diplomatic. "The rooms have been curated by Charles. He really hangs everything, it's all his eye," she said. "There is a feeling now that curators almost see themselves as on a par with artists don't they? It's the curator's vision which is meant to lend some great kind of light and often it's a really spurious illumination of the work. It's much more about the work. There's no message except these are 24 really interesting artists from China."
All the work comes from Saatchi's collection of about 2,500 pieces and the next 10 or so exhibitions are already being organised. The next show will be an exhibition of Middle Eastern art and in the pipeline are a big sculpture show next year and others featuring new American and British artists.
Wilson admitted it was a relief to be open and the final hurdle is in sight. There is a party for London's great and good tonight. Saatchi is not expected but his wife Nigella Lawson is – and the public will enter for free from Thursday.
While many have fond memories of Saatchi's Boundary Road gallery (he hosted exhibitions by the likes of Cy Twombly, Richard Serra and Jeff Koons as well as the YBAs), not many have good memories of County Hall. It was not a good exhibition space and the tenancy ended when a judge ruled that Saatchi's company had shown a "deliberate disregard" to the rights of the landlord.