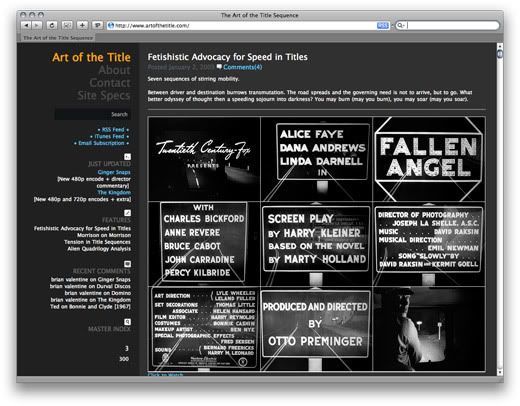 Things have been a little slow around here. I don't have many pressing news to reblog so here is a roundup of the things I did not post while on vacation.
I Love Typography reflected on the abundence of posts relating to the typography in film titles. I've noticed a bunch of sites and even segments in NPR mentioning it. Art of the Title (screen shot above) seems to have a pretty good selection.
Reference Library shows us the inside of Donal Judd's kitchen and Le Corbusier's Studio
The Met's new director, Thomas Campbell, makes a YouTube video.

MOCA names Charles E. Young new CEO, for now.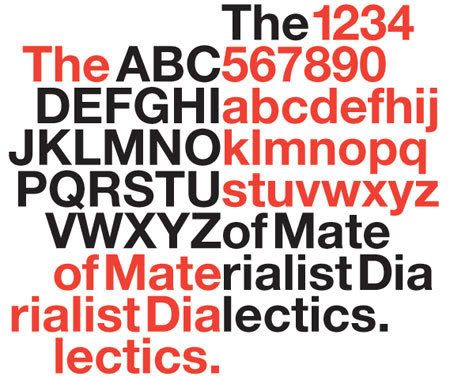 PBS will be showing Gary Hustwit's documentary Helvetica tonight. The film is a documentary that gives the viewer a history and a wide array of opinions on the font. I saw Hustwit premier the film in Chicago last year at the Gene Siskel Film Center. As a fan of typography I really enjoyed the movie and is worth checking out if you have a television.
via PBS Independent Lens
"The Helvetica font was developed by Max Miedinger with Edüard Hoffmann in 1957 for the Haas Type Foundry in Münchenstein, Switzerland and quickly became an international hit in the graphic arts world. With its clean, smooth lines, it reflected a modern look that many designers were seeking. At a time when many European countries were recovering from the ravages of war, Helvetica presented a way to express newness and modernity. Once it caught on, the typeface began to be used extensively in signage, in package labeling, in poster art, in advertising—in short, everywhere. Inclusion of the font in home computer systems, such as the Apple Macintosh in 1984, only further cemented its ubiquity."
Please check PBS for local listings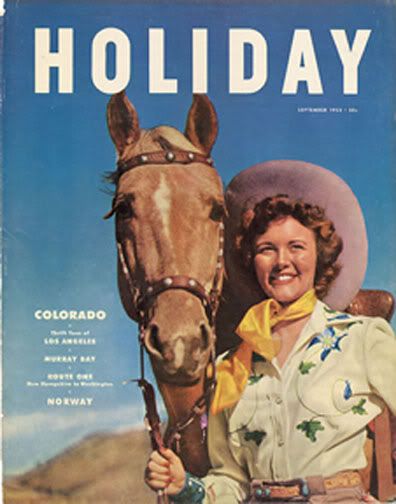 Everyone at the BAS blog would like to wish you a happy holiday. We won't be back until the new year. Hopefully we will have some new things in store.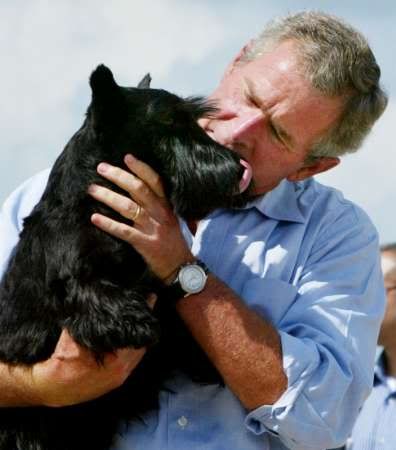 I wasn't aware of any previous videos, but this is President Bush's dog Barny's final Christmas video. I was too bored to finish watching all of it but I had to ask who paid for this? If it's tax payers money I am outraged that the quality could not have been better. Also, with the economy tanking did they really have to go hog wild with that tree?
watch the video here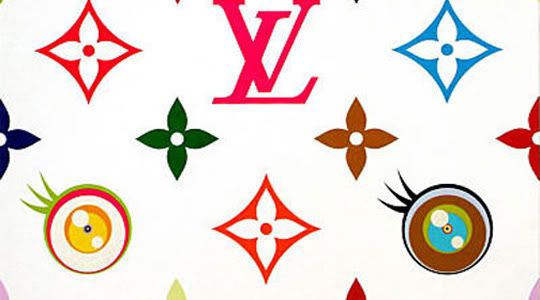 We all saw this coming: Jeremy Strick to resign…or not?
"One member of the museum's Board of Trustees, speaking on condition of anonymity, said Strick had resigned during a 'tearful' scene at a meeting of the board. A MOCA spokeswoman, however, denied that…"
It sounds as if the board might accept Eli Broads offer.
"The agreement, which the board voted on at a long meeting Thursday afternoon, is not final and is subject to numerous conditions, including Mr. Broad's examinations of the museum's financial accounts, according to the people, two of whom attended the meeting on Thursday."
Los Angeles mayor Villaraigosa makes a plea to MOCA
"His letter to board co-chairmen Tom Unterman and David Johnson asks that the board take time to thoroughly review its options and set aside 30 days to allow the public an opportunity to provide input before a decision is made."
Eli Broad asks LACMA to show him the money.
"The question, he said, is which bailout carries a stronger guarantee of secure funding for MOCA's endowment and exhibitions: his $30-million offer or LACMA's merger proposal, to which no price tag has been publicly attached."