Everyone at Bad at Sports wants to congrats The Post Family on their new site and everyone should check it out.
Matt Hooks put a lot of time into it, it looks great and I wanted to say good job.
So to Alex, Chad, Davey, David, Rod, Sam & Scott keep up the good work and say hi to your mother for me, ok….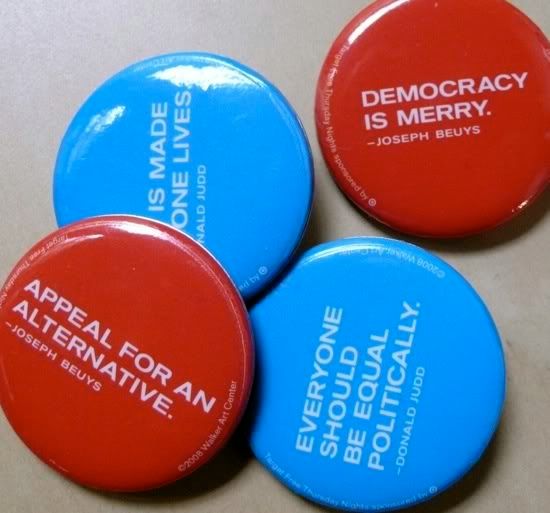 via Off Center
While the "statements" on view in the exhibition Statements: Beuys, Flavin, Judd may seem less-than-political at first glance, all three artists — Joseph Beuys, Dan Flavin, and Donald Judd — were deeply engaged in political matters. According to exhibition curator Yasmil Raymond, all three men, who were adult artists working in the turbulent 1960s, were both military veterans and pacifists and had bold views on politics of their day. Of course, theirs wasn't politics in the traditional sense. As Beuys once said, "I have nothing to do with with politics — I know only art." Yet he and environmentalist Likas Beckmann founded Germany's Green Party. And Judd, who was bitterly opposed to war of all kinds, wrote the seminal essay "Art and Internationalism" in protest of imperialism; his withdrawal to Marfa, Texas, some say, was a response to the war in Vietnam.
With a contentious and historic election three weeks away, the Walker has taken some of the political quotations by artists in the show and reproduced them on simple red and blue buttons, to be given away free at each Target Free Thursday Night. The statements, selected by Raymond and Education's Sarah Peters, are bold, positive and quirky — like Beuys' quizzical "Democracy is Merry" — serving as either a welcome respite from the clichés of modern horserace politics or a transcendent view of a different possibility for democracy.
Weekly art news roundup with all the news that we're too busy to cover, but still talk about around the chuck wagon water cooler. Yeeehaaw lets get started:
Pulitzer widow donates art, $45M to Harvard art museum:
The Harvard Art Museum has received a gift of 31 works of art and $45 million US from Emily Rauh Pulitzer, a former assistant curator, 1963 Harvard graduate, spouse of Joseph Pulitzer Jr., and also was assistant curator of drawings at the museum from 1957 to 1964. This marks the largest gift in the history of the museum.

3 Canadian projects recognized for sustainable design:
The Swiss-based Holcim Foundation for Sustainable Construction has recognized three Canadian projects in its annual awards for the most environmentally responsible construction projects. The winners: The Living With Lakes Centre in Sudbury, Ont. – The Evergreen Brick Works project in Toronto. – The North Vancouver Outdoor School.
National Gallery exhibit designed to interact with viewers:
The National Gallery of Canada opens an exhibition Friday that's designed to display how much impact a viewer can have on a work of art, rather than the other way around. Caught in the Act: The Viewer as Performer is made up of 17 large works, many of which interact with the viewer.
Birmingham Named Britain's Ugliest City:
More than a third of 1,111 people surveyed thought Birmingham had the ugliest buildings in the country. Ugliest building? Birmingham's Bullring shopping centre has "won" that prize.
Roman Sim City Brought To Life:
A team of archaeologists, scientists and software programmers has created a 3D virtual model of the city of Cologne as it was 2,000 years ago. Though not yet online, the software allows visitors to fly through the city in its Roman glory, just in time for Gladiator 2: Chariots of Fire.
Damien Hirst Tops Art Review's Power 100:
The uber-seller is no. 1 on the British magazine's list of the art world's most powerful people for the second time; runners-up include dealer Larry Gagosian and MoMA's Kathy Halbreich. With the art world conquered he next shoots for Nickelodeon's Kids' Choice Award.
Southern Illinois To Get Major Art Gift
New Yorkers Herbert and Dorothy Vogel… working with the National Gallery of Art in Washington and federal arts agencies, chose the University Museum at Southern Illinois University to receive 50 pieces [of the Vogel collection.] The gift is part of a plan announced in April to donate 50 works from the Vogels to one art institution in each state. Ten recipients were named then, and announcements about the remaining 40 are expected this week. Forget Harvard like it needs the money!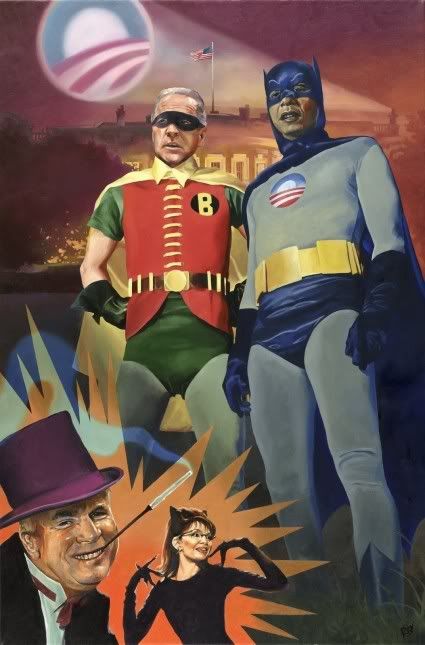 Available Here
As a special treat for all you Bad At Sports listeners, Around the Coyote would like to offer discount admission to our 2008 Fall Arts Festival October 17-19 at Plumbers Hall (1340 W. Washington St.) in the West Loop neighborhood of Chicago. Â Go to
www.going.com/aroundthecoyotevip to get half-price daily admission as well as half-price tickets to the opening night party which includes food, beer and a weekend pass for the entire festival weekend!"