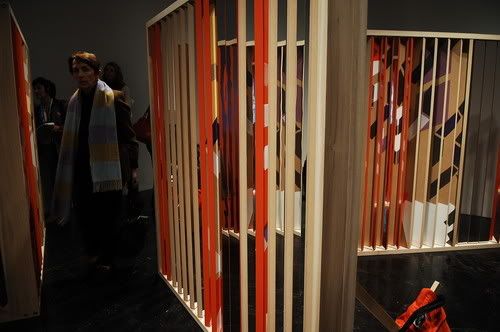 The New York Times recently posted selections of this years Whitney Biennial as interactive 360 panoramic installation shots. It's pretty similar to Google's street view but without the zoom feature. Check it out here.

With less then 10 months left to his term in office President Bush made an unexpected performance at his last attendance of the annual Gridiron Club Dinner.
Donning a Stetson hat he proceeded to sing a cowboy's lament in the tune of "Green Green Grass of Home" to the amazement of the audience which included more than 600, including Supreme Court justices, Cabinet members and lawmakers. Sadly since this is a closed door function and no one would dare record it with their cell phone ( who knows time might show that to be wrong? ) the most we have to go on is the segmented reported lyrics of the performance.
"And there to meet me is my mama and my papa, down the lane I look and here comes Barney, heart of gold and breath like honey; it's good to touch the brown brown grass of home."
"For there's Condi and Dick, my old compadre, talking to me about some oil rich Saudi, but soon I'll touch the brown brown grass of home."
"That old White house is behind me, I am once again carefree, don't have to worry 'bout a crisis in Pyongyang. Down the lane I look, Dick Cheney is strolling with documents he'd been withholding, it's good to touch the brown brown grass of home."
Bush told the audience, which erupted in applause and gave him a standing ovation, that they had witnessed "the first and final performance of George Bush and the Busharoos."
Forget tickets to the Super Bowl, imagine being there for this or even the White House Correspondents' Dinner from two years ago?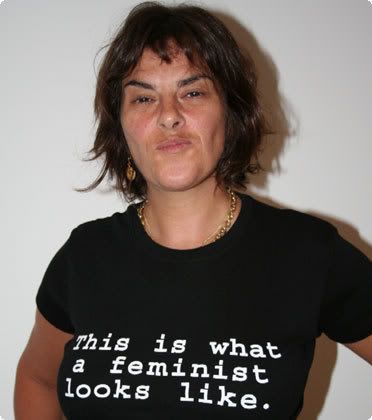 It seems as if I am only going to make posts about Tracy Emin. Here is the most recent news of Emin's escapades .
"Artist Tracey Emin has spent millions on buying a large part of a historic quarter of East London, in an attempt to halt the tide of commercial and corporate development of the area, reports Vanessa Thorpe in The Guardian.
Despite the fact Emin calls it a 'stupid project, in a way,' her total investment will amount to just under four million pounds (eight million dollars), half of which will be spent on returning a former weaving works, known as Tenter Ground, in Spitalfields, to its original form. She plans to use the area as a vast studio when restoration work is complete in two and a half years' time. 'It is a listed building, and it is important to me to keep artists working in the area and keep it in artisan use.
And also not to have it turned into a hotel or restaurant,' she told The Observer.
Link
Based out of the University of Wisconsin-Madison "The Onion" is one of the leading, if not now the leading weekly satire publications and has now seen fit to give the spiritual sequel to "The Kentucky Fried Movie" which if you have not yet seen let your fingers do the walking to the nearest phonebook and find a video rental place.
[Read more]