Hey, kids and other young-people types: what looks like a super-fun zine workshop will take place this Saturday afternoon at ThreeWalls with Anne Elizabeth Moore, based on the Cambodian zines featured in her current project Holle Cambodia. Moore's website indicates it's a youth program that's free for kids; adults (who are welcome to participate, too) should be prepared to donate 5 bucks. More details, below.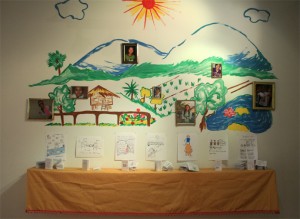 Zine Workshop with Anne Elizabeth Moore at ThreeWalls
Join us on Saturday, March 7, 2009 from 3:00 pm – 5:30 pm for a zine workshop with writer, artist and activist Anne Elizabeth Moore. We'll provide the supplies and refreshments.
"Staunch critic of consumerism and media activist Anne Elizabeth Moore has been writing, publishing, and interceding in culture since the age of 15. The indomitable author of Unmarketable: Brandalism, Copyfighting, Mocketing, and the Erosion of Integrity, founding editor of the Best American Comics series, and former editor of now-defunct Punk Planet has seen her work exhibited in major museums, praised by the business press, and forcibly ejected from retail establishments.
Recently, Moore went to Cambodia to teach the first generation of feminists in the country self publishing as a way of combating governmental oppression and self-censorship, and co-founded the Anti-Advertising Agency's Foundation For Freedom, an organization that aims to limit advertising in the public sphere by offering cash incentives and giant novelty checks to ad pros in exchange for quitting their jobs. She currently teaches at the School of the Art Institute of Chicago and travels throughout the globe to lecture on corporate and governmental oppression and freedom of expression."
A five dollar donation is suggested at the door.
www.three-walls.org/calendar/openings
www.anneelizabethmoore.com camblogdia.blogspot.com
ThreeWalls
119 n. peoria #2d
Chicago, IL 60607
312.432.3972
info@three-walls.org
There's some interesting Robert Mapplethorpe-related programming happening this weekend at The Block Museum in conjunction with their Polaroids: Mapplethorpe exhibition. On Friday night, they're screening "Still Moving," one of only two films directed by Mapplethorpe along with "Blacke, White + Gray," a documentary about Sam Wagstaff, Mapplethorpe's lover and a formative influence. On Saturday afternoon, the Block hosts a panel discussion featuring Cathie Opie and others on Mapplethorpe's art and activism, moderated by Lane Relyea. Details on both programs below.
Date: March 6, 2009
Time: 8:00 PM – 10:00 PM
Title: Double Feature: 'Still Moving' & 'Blacke, White + Grey'
Description: One of two films directed by Robert Mapplethorpe, Still Moving is in the words of its creators "a homage to William Blake" made in collaboration with Patti Smith. Courtesy of the Robert Mapplethorpe Foundation. Introduced by Block Museum of Art Senior Curator Deb Wood. Black, White + Gray is a documentary about Sam Wagstaff, who was a formative influence on Robert Mapplethorpe. A Yale graduate and naval ensign in WWII, Wagstaff went on to work as an advertising man during the heyday of Madison Avenue and then as an art curator and photography collector. Perhaps best known as Mapplethorpe's lover and patron, Wagstaff gave Mapplethorpe his first large format camera. This documentary traces his remarkable life from its conventional beginnings through his fascinating career in the arts to his death in 1987 of AIDS. Introduced by Block Museum of Art Senior Curator Deb Wood.
Date: March 7, 2009
Time: 2:00 PM – 4:00 PM
Title: Robert Mapplethorpe: Artist and Activist
Description: A panel discussion exploring Robert Mapplethorpe's influence on contemporary photography, activism, and issues of the body and sexuality. Participants include photographer Catherine Opie, "Polaroids: Mapplethorpe" exhibition curator Syliva Wolf, former Robert Mapplethorpe Foundation collections consultant Marisa Cardinale, and University of Maryland American studies and women's studies professor Jeffrey McCune Jr. Moderated by Northwestern University art theory and practice professor Lane Relyea. A reception follows. Sponsored by Gender Studies Program, Northwestern University. This event is part of Three American Photographers: In-Depth, a series of educational programs at the Block Museum generously sponsored by the Terra Foundation for American Art and the Alice Kaplan Institute for the Humanities, Northwestern University.
This is a great idea. There's not enough information out there about how to cook tasty and nutritious meals for very little money, and God knows a lot of us could use some help in this area. Screw McDonald's and learn how to prepare great meals that will last all week with Lucia Fabio this Saturday from 5-7 at mini dutch. It's the first in a new program she's starting devoted to food in a recession (um, how about depression?) economy. Details below, and on the gallery's website. Check it out, mmmmm!
Saturday, March 7th from 5-7pm
mini dutch gallery presents…
Walk-in Pantry (WIP): a place of consumption
A new program of food and conversation
WIP invites presenters into mini dutch's kitchen to cook, and share their knowledge and love for food, while the community is encouraged to come and eat. Multiple themes will be explored, including, but not limited to: "Food as Performance," "Eating Locally" and "mini dutch Grill Outs" during the summer months. Every theme will have several presentations, and eventually, all of the recipes will be bound together and made available in the form of a cookbook with documentation of events and writings.
All events are suggested donation with price depending on the ingredients used and are byob.
The first Event:
Cooking on the Cheap: Anything but Ramen
Presenter: Lucia Fabio
Saturday, March 7th from 5-7pm
This series starts out with mini dutch gallery director Lucia Fabio presenting her favorite cheap eats. Eating cheap doesn't mean food high in sodium in brightly colored packaging. By spending an afternoon preparing a large pot of soup or stew, one can make at least 5 meals. Freeze the leftovers and enjoy homemade food at any time.
Conversation will include our economic crises and its effect on our diet. Fast food companies are enjoying their highest profit margins during this recession- but it can be cheaper to make food from scratch. How time and money play a part in cooking, and tips on how to make a practice of cooking.
Menu includes:
Lentil Soup
Beef Stew
Roasted Potatoes with garlic and rosemary
Spinach with garlic and ginger
M.F.K. Fisher's Tomato Soup Cake (adapted from How to Cook a Wolf by M.F.K. Fisher)
1937 Chocolate Mayonnaise Cake
(everything except the Beef Stew and Cakes is vegan)
$3 suggested donation
BYOB
3111 W. Diversey first floor, Chicago. IL 60647
773.235.5687 :: minidutchgallery@gmail.com :: www.minidutchgallery.org
gallery open Sunday 11am-3pm or call/email for appointment
In January I had posted about the Renaissance Society's roundtable "Is there such a thing as a Chicago artist anymore?". I was unable to attend but I just stumbled on The Ren's Youtube page. They have not only the full panel separated in 12 segments but also a bunch of interviews that they have done over the course of this year. The panel includes: Elizabeth Chodos, Director of Three Walls; Paul Klein, critic; Chuck Thurow, Director of The Hyde Park Art Center; Philip Von Zweck, artist; and Lynne Warren, Curator at The Museum of Contemporary Art. I haven't had a chance to finish the series but it seems worth checking out.
view video here
For the sake of introduction, here's a project that kicked off last Saturday in New York City's Coney Island and on the Lower East Side at MWNM. The Box Game is the traveling stage of a larger artwork called 'What's in the Box'. In the month of March a black box will be taken to various locations throughout the United States and Canada by Lukas Geronimas and David Horvitz. At each location they will set up a game that asks people what they think is in the box.
As a sort of real life meme, this project will be interesting as it develops.  Also check out the website. It is much in the same spirit as the artist David Horvitz's other Internet activities both on his own site and the co-curated ASDF Makes.  One can purchase editions of this work in the form of tanks of gas to help these two drive the box across North America.