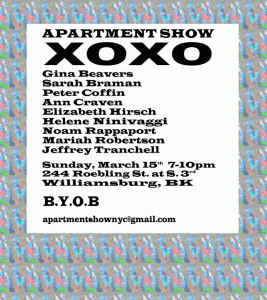 This past weekend I went to an "apartment show" here in New York. I was expecting the younger crowd, and of course, cheap beer instead of wine, a slightly later and over exuberant crowd, but I've got to pull out the Chicago street cred when I say that New York does not know how to run an apartment gallery like the Second City. Chicago has a long standing reputation of succesful alternatives to commercial gallery spaces, but they are in no way a sideshow to the main event.
What I saw here in New York is clearly respectable in the Tom Marioni sense, but I've got to stand my ground. Some things are better left to the midwest.
For those of you who've been following MOCA's meltdown (see sidebar links to Meg's previous posts on this subject)Â  and the Rose Art Museum's deaccessioning debacle at Brandeis, there are a few interesting updates of the linkie sort I'd like to draw your attention to, in case you haven't already seen them.
First, in the 'where are they now' category: two extensive, multi-part interviews with major MOCA players, one still hanging in there, the other out the door in a flash, have appeared within the last couple of weeks over at the Arts Journal blogs. Tyler Green of Modern Art Notes posts a four (!)-part interview with MOCA senior curator Paul Schimmel on the future of the institution, which sounds super-rosy and no less ambitious than before, according to Mr. Schimmel. Find 'em here: Part one, part two, part three, and part four.
Next, there's CultureGrrl aka Lee Rosenbaum's two-part interview with Jeremy Strick about his post-MOCA post as the new director of the Nasher Museum: part one of her interview can be found here; part two, here. Strick seems to have landed very well, I must say; there's hardly a speck of dust on him.
Lastly, the latest on The Rose Art Museum. From my understanding of the state of things now (mostly via this post on The Art Law Blog, which I got to via this one on Art Fag City), Brandeis has backpedaled from its original plans to sell off the Museum's collection–now they're saying that only "a limited number" of pieces will be sold "if the need arises in the future." It's anyone's guess as to what's true and what's p.r. spin, but tonight, Monday March 16th, a symposium titled "Preserving Trust: Art and the Art Museum amidst Financial Crisis" will take place from 6:30 – 8:00 pm at The Rose Art Museum. You can view the discussion in real time, as it will also be streamed live, and posted on YouTube afterwards.  Here's an excerpt from the Symposium blurb:
This symposium is prompted by the global controversy over the recently proposed closing of Brandeis University's Rose Art Museum and the selling of some or all of its permanent collection of modern and contemporary art, in order to meet general university financial needs. At a time of financial crisis, what is the utility of art and of museums, in universities and in other contexts? Is art the most dispensable and disposable of assets when times are tough? Conversely, might art and museums be understood as especially valuable at moments of economic and social distress, helping to remind a society of its core values, exposing citizens to cultural difference, and providing vital spaces for community-building and democratic debate?

Panelists include:

Claire Messud
Robert Pinsky
Stephen Greenblatt

Commentators include:

Katy Graddy
Dirck Roosevelt
Andreas Teuber
Brian Friedberg and Liz McDonough

Moderator: Mark Auslander
Note: The proceedings will be streamed live on the Cultural Production ustream channel, and also posted on YouTube. Co-coordinators: Mark Auslander, Dirck Roosevelt, Ramie Targoff, Andreas Teuber
Someone alerted me to this photo they saw of me in the gossip column of ArtForum (better known as "Scene and Herd") and I thought I would use it to illustrate the magic of cropping: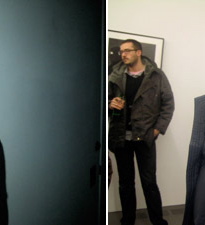 There I am standing in front of that photograph at the opening of Walead Beshty's show at Wallspace just on the other side of that wall that cuts into the left of the picture…

Psych, actually I'm standing behind that other more important looking guy (happens to be the Director of White Columns) at the edge of the photograph.
I found this mildly entertaining in the context of conceptual photography, a popular brand in which Beshty always has one foot.    This show where I happened to be "scene" follows two veins of Beshty's work, although I imagine they are meant to be taken together as a record of the process.  The first is the prominently featured abstract photograms.  These large sheets of color photo paper are somehow folded or rolled in the exposure process.  This is only gleaned from looking at them, so I'm not sure what the process is actually, but it seems sufficient to take away that these colors and shapes are not chosen but rather arbitrarily arrived at through a photographic process.  In the other works — black and white portraits of the people, places, and machines that have helped Besthy along the way to producing his work — he likewise lets his process do all the decision making. Notice here the photogram that actually hangs off of the center wall.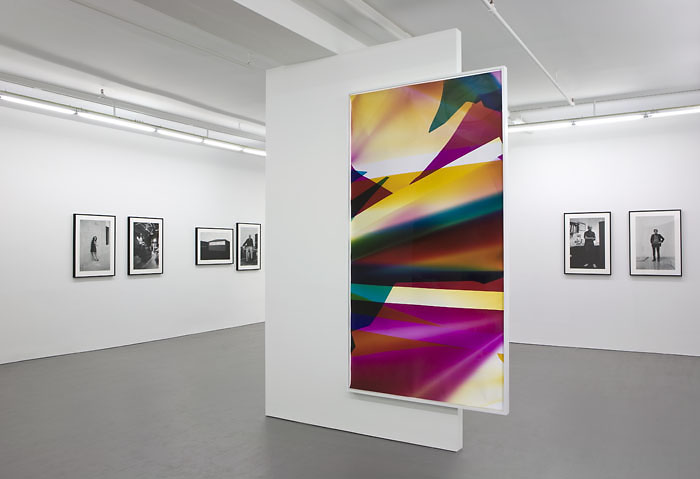 This placement was arrived at again by some system of finding the center of walls… I don't think the point is actually to understand the system in place, but rather to see that there is a system, and recognize it as arbitrarily imposed… After all I think that is the underlying critique even found in this rhyming press release:
Whatever Marxist schadenfreude might be gleaned from black-and-white
Effectively reclaims the found object as a multivalent political site

Of the show's relaxed attitude toward lines of demarcation
which, sexy as it sounded, felt like little more than rhetorical lubrication

Among the most special is Walead Beshty's photo-slide meditation
Here flashy surface need not come at the cost of art historical, conceptual, and
socio-political elaboration
After my brush with the art world paparazzi I've decided to lay low, but I will be venturing out tonight to see two openings that look promising.  First, "It's You. Not me" at Andrew Kreps in Chelsea.  Second, and honestly more exciting, is the first solo show in four years for the painter Richard Phillips at Gagosian uptown.  I'll leave you with some enticing words from Phillips himself and follow up later with my conclusions on the show:
"At its core, this show is the conflict between capitalism, fascism, and communism. It looks into the nature of representation, propaganda, and misinformation, and how they redirect the ideologies of institutions."
Remember the days of the email love letter? I do. They were lovely–you could secretly compose long screeds to your beloved while at work and pretend it was just business. I'll bet a lot of you kids are nodding your heads right now and saying, well, yeah…but for me textual flirtation was all about instant messaging. Perish the thought, I say. A proper love letter should be lengthy, sometimes even ridiculously so, filling pages of loose-leaf paper, scrolls of screen, however long it takes to come even an iota closer to capturing in words that ineffable feeling that you're shyly, determinedly, bursting to convey.
To me, writing about art is a lot like writing a love letter. I'm sure many of you are snorting with derision at that statement, but I don't care; I really mean it. Why else would those of us who still bother to write about art keep doing it, if not for the sheer stupid pleasure of using exorbitant language to capture that which words can never adequately convey?
That's why I'm kind of aghast at the rise of Twitter and Facebook as a growing forum for art criticism these days. Now, I totally get the social aspects and benefits of these applications, and to the way they provide increased and enriched  opportunities for argument and back-talk, along with a gossipy sort of zing to art discourse in general, I say right on. But I mourn the passage of long-form art criticism (can we please just call it art writing? The term 'criticism' always feels much too, well, critical to me). The blogosphere still allows people to write about an artwork or a show at some length, but even that is changing: some bloggers who've held their fingers to the wind for far longer than I are noting (in decidedly hopeful tones, I should add) the drastic streamlining of  the blog form, or even, as Deanna Isaacs surmised a few weeks ago in the Reader, the death of text itself.
Art, like any object of affection, deserves extravagant prose devoted to it, damn the word count. Even work that may not be all that great is worthy of elaboration in my book. Do we really want Peter Schjeldahl and the museum curators to be the only ones given the space and opportunity to write about art at length? Personally, I think that would be a fucking shame.
That being said, I'm not against Twittering art reviews at Bad At Sports–IÂ  think we should try it. I'm well aware that blogs are not the place to try and resuscitate long-form criticism, and I'm continually fascinated with the different ways people use words to grapple with art. The — what is it — 140 words? — that Twitter allows can provide a good exercise in summing up a work of art or an exhibition concisely and with, as the genre seems to require, just the right amount of deadpan irony. I myself possess none of the pith required to Twitter well, but I genuinely look forward to seeing what those who have a knack for it will do with this emerging form.
There's some good stuff happening in my 'hood this weekend, starting with tonight's opening for Michael Stickrod's project over at Pamela Fraser and Randall Szott's space He Said/She Said, in Oak Park.
A quick blurb on Stickrod, from the He Said/She Said website and via The New Museum:
"Michael Stickrod addresses the psychology of human ties by cutting to the center of his familial circle. He uses scanned photographs and found audio to create nearly abstract sequences embedded between incising confessions and footage of his family. The videos on view take his mother and father as his subject matter, painting a landscape of Middle America that oscillates between bleak and hopeful" (New Museum website).
Stickrod will screen films, play sound works, and show related objects. The opening is from 6-9, with the film screening at 8pm. On Sunday afternoon from 2-4pm, The Suburban opens its exhibitions of Cameron Martin and Dave Hullfish Bailey. Of Martin, The New York Times has said,
"Formally, Cameron Martin's sleekly distilled, medium-large landscapes have a flattened, hard-edged cyber-Pop snap. The young Brooklynite's satiny smooth, subtly hued paintings of placid, reflective water; snaky, slightly rounded trees mottled black and white; or seashore rocks surrounded by metallic fields are not descriptions of perceptual experience — not like the paintings of Alex Katz or Neil Welliver. They are, rather, what the professors call cultural signifiers, contemporary icons that stand for deep-running collective urges, like the fantasy of an intimate connection with nature."
Critic Michael Darling says of Bailey,
"Just as theologians attempt to read scripture every which way in order to discern the intentions and directives of religious tracts, Bailey homes in on relatively innocuous words that when prodded and pulled, prove to be extraordinarily supple. Not averse to strategic mis-readings, or at the very least, possessed of an openness to explore interpretive avenues that don't readily spring from looking at words in their most familiar context, the artist has generated fascinating strands of discourse just by examining common language in a different light."
Martin and Bailey will be in attendance, and as usual you can pick up a free copy of X-TRA. Hey, if you go, come on over and say hi to me. I'll be the one standing in the corner by myself, as is my wont at these sorts of things.
He Said/She Said, 831 South Grove Avenue, Oak Park, IL 60304, 708-310-2607
The Suburban, 125 North Harvey Avenue, Oak Park, Illinois 60302,  708-763-8554