Guest post by A.Martinez
Kate Ruggeri is a Chicago-based artist, DJ, and curator who has shown at Roots & Culture (Chicago), Green Gallery East (Milwaukee), Western Exhibitions (Chicago), and Important Projects (Oakland). She is one of those people who exudes a humble cool, yet is enthusiastic about all she's committed to, and excited about life and the people and things in it. After a handful of years of staying in touch from afar, I wanted to connect more closely to ask Kate some questions about her life and her work before she moves to New Haven in July to pursue her MFA at Yale.
A.Martinez: Were art and making art important to you from a young age?
Kate Ruggeri: Oh, yeah. Totally. My parents were always really encouraging. In elementary school I started taking drawing classes outside of school. I won a few poster contests. I used to do this thing every year called The Olympics of The Visual Arts, which is a New York State program. Pretty much you assemble a team, work on a year long project, and then compete against other teams. When I got a little older I got really into dark room photography. You know, carrying a camera around all the time and developing film in your bathroom. My mom and I took figure drawing classes together. A lot of colleges have art classes for kids during the summer, so I was always doing that too.
Martinez: How long have you kept a journal? And what does this practice of journaling do for you and your art practice?
Ruggeri: Since elementary school. I think my first one has a little lock on it. I never really stopped. It's actually super important, to clear your head, to drain it. I try to write every day. I feel very scattered if I don't. For art making, it's good for me to work through ideas and to understand impulses I have. Often I make something and I'm not sure why I made that decision or was drawn to that form. Writing brings everything to the surface. It brings clarity. Studio work is one way of thinking and writing is how I detangle everything. Not just artwise, but life wise. It's all the same, of course.
Martinez: How long have you had your own studio space? What does it look like?
Ruggeri: After school I had a tiny studio in a building across from Moonshine on Division. It's been torn down since. I've been in the spot I'm at now for a little over a year. It's a co-op at Damen and Fulton. I moved in there after my old spot on Elston burned down. We have an entire floor that is divided amongst us. My studio's a mess. I see other people's studios sometimes, and they have a turntable and little plants and it's very cozy. My place is like a construction zone. I like that better. It lets me focus on the work.
Martinez: What is a typical day in the studio like for you?
Ruggeri: Nights are better. I like working when no one is around. You can play music loud. I believe in a witching hour. It really depends, though. I usually am working on one sculpture and 4-5 paintings at the same time. If I just finished something big or just installed a show, I draw and watch movies at home. I don't really have a routine. Ben Medansky once described his ceramic studio as being around a million crying babies. That's how I feel in there. I work a lot in series, so I just treat 6 pieces at the same time, and then have some experiments going. Right now I have some exercise balls I've been sort of doodling on. Then I'll carve on these wood paintings until my hand hurts. Then I'll cut some wood shapes out to paint. Or dump plaster on something. It's a mix of working on very planned pieces and experiments. Everything always changes though.
Martinez: How do you begin a painting?
Ruggeri: Putting something down, anything! I break it in. I try not to think about it too much and just get the ball rolling. Usually it's a good color.
Martinez: You work in both 2D and 3D- how does a piece become one or the other?
Ruggeri: When I was in school I used to trip myself up with that question. I can say now that they're all paintings. I'm a painter that has sculptural impulses. I try to feed both ways of making. I try to be democratic about it. The larger sculptures can be exhausting to make, so there is often a down period of just painting and drawing before starting one again. Material, color, and mark making can drive a piece to be 3D or 2D. Finding a good object. Seeing a particularly inspiring show of painting or sculpture.
Martinez: What artists inspire you?
Ruggeri: Philip Guston, Mike Kelley, Matisse, Picasso, Claes Oldenberg, Cy Twombly, Franz West, Rauschenberg, Joan Miro, Giacometti, Sterling Ruby, William J. O'Brien, Jonathan Meese,  Mary Heilmann, Huma Bhabha, Gerhard Richter, Howard Fonda
Martinez: You have a pretty extensive record collection and DJ monthly at Danny's. Do you feel there's a connection between your music endeavors and your art-making?
Ruggeri: Yes. It feels very connected.
Martinez: What musicians inspire you?
Ruggeri: Parliament/Funkadelic, Dead Moon, Congos, Minutemen, Bad Brains, Robert Wyatt, Brian Eno, Miles Davis, Captain Beefheart, Sparks, Beach Boys, Lee Scratch Perry, Roxy Music, De La Soul, Neil Young, Patrick Cowley, Big Star
Martinez: What do you typically listen to while in the studio working?
Ruggeri: It's different every time, chosen for the day and mood. But Nas "Illmatic" gets played a lot. J.Dilla, Shuggie Otis, Pastor T.L. Barrett, Skip Spence, Velvet Underground. Mixes from friends. Jorge Ben, Milton Nascimento, Witch, Amanaz are all good…
Martinez: Do you do collaborations with other artists?
Ruggeri: Sure, I've done it a few times. Right now I'm working on a collaboration with Alex Valentine. He gave me these plates to draw on, and then we'll print them together on newsprint, and then use them to paper mache a sculpture. It's great because Alex is primarily a printmaker and I know barely anything about the process. I love the idea of making a sculpture made out of drawing. A perfect hybrid.
Martinez: In 2012, you co-curated a show, "Quarterly Site 11: Line-of-Site",  at Western Exhibitions. How did you land this opportunity? What was the experience like for you? And do you think you'll curate more shows in the future?
Ruggeri: Jamilee Polson Lacy asked me to do it. She's been doing these curatorial series for a while now, asking artists to curate a show at a different gallery. It was great. I got to work with Alicia Chester and Karolina Gnatowski. It's fun to be on the other side of things, and it gave me an opportunity to create a show entirely different from my practice. I really wanted to see a show of top notch performance work. Curating is a lot of work, but I would love to do it again. I think the trick is when you start to think, "Why isn't ___ kind of work being shown? Why hasn't someone curated a show about ____?" is when you should get on curating a show. I'm starting to feel that, but I would need the right time and space.
Martinez: You and I actually met while undergrads at the School of the Art Institute of Chicago. What is something that has stuck with you from your education and experience there about being a painter, artist, or person?
Ruggeri: Something that always stuck with me is remembering how I felt there: supported, invigorated, and that changing the world was definitely possible. It's good to protect that enthusiasm, even when you're working 9 to 5 and feel too tired to go to the studio.
Martinez: How has your experience at Ox-Bow School of Art as student and then again as a fellow affect your art? How long were you there total?
Ruggeri: Ox-Bow. Oh, man. I first went in 2007 as a student, and pretty much tried to take as many classes there as I could. If you got work study, you just had to pay for the credits, which I needed anyway. I went three consecutive Summers and one Winter. The Summer of 2010 was great, I took a class with Jose Lerma called "Expanded Painting, Expanded Sculpture." Not hard to see it was a big influence on me. I was really lucky to receive a Joan Mitchell Fellowship this past Fall and I was an artist-in-residence for 5 weeks. As a student, classes meet everyday. I also had to wake up every morning to clean toilets for work study. This time, as a resident, it was like being at a beautiful retreat. There were only other residents, I had my own studio, and I got to structure my own day. It was incredible.
Martinez: Congratulations on your acceptance to the MFA Painting program at Yale!  What are you most excited about in starting this program in the fall?
Ruggeri: Thanks! I'm most excited about a fresh start. And making better art.
Martinez: What do you think are some interesting things happening around the city of Chicago art-wise?
Ruggeri: Ryan Travis Christian has a show up at Western Exhibitions that I need to get over to. William J. O'Brien at the MCA. Isa Genzken at the MCA. Alexander Valentine has a show at 3433 coming up.
Martinez: What are you currently working on?
Ruggeri: I'm finishing up a re-make of a sculpture I lost in the fire. It's a harp. I just wrapped up these brooches I made for the Three Walls Gala coming up in June. Starting some new paintings. I keep thinking I need to stop because I'm moving, but I have some projects I want to do before I leave. I have an ongoing series of fake album covers, and I have a photo shoot coming up for the next installment.
Martinez: Your recent show, "Tropical Depression" at LVL3 just closed May 4th. Do you have any other openings coming up?
Ruggeri: No, thankfully! I'm moving to New Haven end of July. I'm trying to tie up loose ends.
Martinez: Is there a piece of advice, art related or not that you think of often?
Ruggeri: Say yes to all opportunities offered to you. Avoid excessive thinking about the past and future.

To find out more about Kate, her artwork and her upcoming shows go to http://kate-ruggeri.com/ 
All photos courtesy of the artist.
A.Martinez is a freelance art and music organizer living in Chicago, IL. She is currently working on a performing arts summer festival called The Living Loop, and will release her first book of poetry this summer.
Related articles across the web
Keith Mayerson is a painter, born in 1966 in Cincinnati, Ohio. Stuart Comer curated Keith into the 2014 Whitney Biennial, where we stood in his third floor hanging of My American Dream for this interview on May 4th. The night before our interview, I dreamt of musical interludes throughout the conversation, and in real life there were musical interludes – broad, brass instrumental sounds from the installation next door and distant vocalizations from the museum stairwell.
Leland: How many years ago did you come to New York?
Mayerson: Not to age myself and make my hair fall out but '88.5 is when I graduated from Brown and traveled around and I got here in the Fall of '89 and I was submitting ten cartoons a week to the New Yorker. My second job was at Robert Miller Gallery when they were in the Fuller building on 57th Street and Cheim and Read were the directors. Getting to talk to Alex Katz and stepping over Basquiats and Alice Neels in the back, I realized that fine art was about bringing up ideas aesthetically just like cartoons were.
With a comic, I think about a single image that's distilled and repeated and refined over three to four frames, or maybe thirty frames. Is there a repeated image in that sense that you work with? Or a painting that you've made maybe five times in slightly different ways?
When you have one panel next to another panel, and your mind creates the ultimate content between those two panels – your mind becomes an accomplice. I do have repeated motifs – I painted James Dean a whole bunch of times –
But he appears one time here.
No, three! This is the James Dean crash site here. He died when he was 24 after making only three films. As a method actor what's really important for me about him is that he would really be able to cathect his own life into his role. I also always loved the Beatles, always feel that they were sort of the first post-modern band because they always spoke through avatars – they weren't The Beatles, they were Sgt. Pepper, they weren't depressed, it was Eleanor Rigby.
So like a method actor, is this new for you to base your work on your own life, in the last few years?
I realized there was one moment I looked around my studio and thought "You know the source images for all of these came from somewhere else. Hopefully, I'm putting my own spin on them." Ingrid Sischy at Interview hired me to cover the haute couture shows in Paris, and they move so fast, I couldn't be merely a sketch artist, I had to take a lot of photos. And so from those photos I ended up doing paintings that ended up in her last issue. I realized that having that connection with the images that I took was really amazing and having the autonomy of authorship, of being able to create that image, and directly work from the image that I made gave me a great feeling.
The first time I came into this room was also the first time I saw your work, and my first thought was "Oh, several people painted these paintings."
They're mostly from the last ten years, but a few earlier works – this police painting. This Jesus Christ Superstar. This circle painting. And this Ty Cash painting in the corner were from my first ten years. I've been exhibiting about twenty years, but you know Picasso said if you draw a circle without the aid of a compass, it's imperfection is your style, or if you copy old masters, how it's not like the old masters is your style.
That's what I noticed looking at them longer – a worked-over, back and forth painted mark, and I wondered, is that your primary language? Is that the way that you've made marks since you've started painting?
When I broke out in the early nineties, I was appropriating different styles, via different eras. An epiphany really for me was seeing the Rembrandt Caravaggio show at the Van Gogh Museum and realizing the old masters were able to micromanage a lot and then in little pockets have their subconscious spill out. I think style to me is about painting something, or rendering something, however you render something, the best way that you can, and it comes out looking like that.
It comes out like what you imagine.
 Yeah, and that's your style – I published this graphic novel in the early 90s with Dennis Cooper called Horror Hospital Unplugged and it was really neat to get the graphic novel out and, you know back at that day, it was very queer and so on and then I was googling myself one late night of insomnia and found out some people in the Netherlands had made a movie of it, and I was like oh my gosh, you know, I could use a film still –
This film still was a recreation of your graphic image?
Mm hm. It's at the end where Trevor the Machine kind of falls, he collapses on the stage, at the end of their version of the book. It was a fold-over book, so on the right hand side it would just say "Some Else" and maybe just look like a kid collapsed on the stage but then if you unfold it, it becomes sort of an angel, and you see – if you just read the back it says "I Is One" but as an angel it says "I Is Some One Else" and it actually emulates an angel if you wave it back and forth, but I love that quote, because Rimbaud is saying "Woe to the piece of wood that finds itself a violin, or woe to the piece of metal that finds itself a trumpet."
It's a disregard of language, or detachment from language.
Right, and of course, speaking through avatars all the time, in my own work and especially in this installation, I felt that would be a great way to begin it. If My American Dream is somewhat autobiographical, which of course in the micro-managed narrative it is, "I Is Some One Else" begins it.
Had you always intended to hang this many paintings in the Biennial?
Stuart Comer had known my salons in the past. It's posing as a salon, but it really is like a giant comic on the wall.
That's a painting of Louis Bourgeoise, right?
That's correct.
Did you go to her salon?
Yes, I did. A bunch of times. When I was teaching at NYU, I felt like, you know, if we were alive in the 50s in Paris, we would visit Giacometti with plaster in his hair. And they were exquisitely boring kind of long days that would start at three and they would kick everybody out at seven, and they'd always be a little over warm with over warm liqueur being passed around and chocolate that she liked, but you would come up and present to her, and if she liked it, she would say "Very good," and would send you to the moon for weeks, you know, and I would go there on my own for gratification. I asked her if I could take her photo to make a painting and luckily she acquiesced and I got to do that while she was still alive. You know, in the background is her whole cosmology.
When I first asked you for the interview, I mentioned that I was also really interested in the David Foster Wallace interview written for tennis player, Roger Federer, on the fourth floor, about Federer's physical tactics in tennis, and I have one favorite question that he asked: "There is a thing you do at the start of service motion – you place the ball only for a split second in the fork of your racket's throat. Are you aware of this? Do you know when you started doing it?" Is there a comparable action, a physical or personal tick, that you've become aware of through painting?
Sure. I lay out my pallet, you know I use CMYK colors, only primaries, but a whole bunch of the primaries, light yellows and dark yellows, reds and dark reds and so on and the violets, and I want to set up a scenario where I'm looking at my photo and letting my hand go where it wants. And so, I hold my photo in such a manner that it's almost like a music stand, where it's right in front of me, and I find, that a lot of times my brush is almost like a brush behind the photo. I don't perceive my hand. There's a sense of remove. And I find that my hand is just moving, and it's working, and it's doing its thing, and kind of like a state of dreaming, I find myself watching myself paint.
—
Based in New York, Erin Leland is an artist using photography, writing and video. She has recently exhibited in the group exhibition, White Petals Surround Your Yellow Heart at the ICA in Philadelphia and in her solo exhibition, Everything is Everything at Michael Strogoff Gallery in Marfa, Texas. Upcoming, a new series of photographs will be included in the group show, Psychic Panic, in Pittsburgh, opening May 16.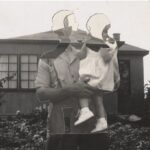 Work by Polly Yates.
Roman Susan is located at 1224 W. Loyola Ave. Reception Saturday, 5-8pm.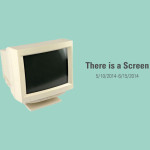 Work by Daniel Baird and Ryan Lauderdale.
LVL3 is located at 1542 N. Mikwaukee Ave. Reception Saturday, 6-10pm.
3. Anonymous Women: Draped at Schneider Gallery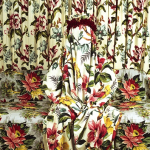 Work by Patty Carroll.
Schneider Gallery is located at 230 W. Superior St. Reception Friday, 5-7:30pm.
4. In the Valley at LivingRoom Gallery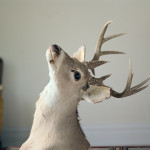 Work by Barbara Diener.
LivingRoom Gallery is located at 1530 W Superior St. Reception Friday, 6-9pm.
5. Miss Kilman and She Were Terrible Together at The Hills Esthetic Center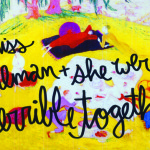 Curated by by Matt Morris, with work by Shinsuke Aso, Luis Miguel Bendaña, Poy Born, Alex da Corte, Dana DeGiulio, Hunter Foster, Jesse Harrod, Richard Hawkins, Matthew Landry, Tony Luensman, Miller/Shellabarger, Ulrike Müller, William J. O'Brien, BD Pack, Daisy Palma, Eric Ruschman, Ryan Shubert, Amy Sillman, and Joan Snyder.
The Hills Esthetic Center is located at 128 N. Campbell Ave. Reception Saturday, 7-11pm.
Guest Post by Lise McKean
Nilima Sheikh
Each Night Put Kashmir in Your Dreams
Art Institute of Chicago (Modern Wing, Galleries 182-184)
Until May 18, 2014
In Nilima Sheikh's exhibition, Each Night Put Kashmir in Your Dreams, 10 scroll paintings hang throughout the galleries from ceiling to inches off the floor (10 x 6 feet). The scrolls (casein tempera on canvas) are painted and stenciled with figurative, decorative, and verbal evocations of Kashmir past and present, of daily life during times of violence and peace. They fill the galleries with color, form, and movement, with sorrow and delight.
Over decades of artistic practice Sheikh's initial modernist orientation accrued layers of contemporary and art historical references. Engagement with South Asian regional painting practices as well as with artistic production including textiles, stencils, and calligraphy further enriches her visual and technical repertoire. From the start Sheikh's work beat with pulse of its times and environs. For example, the murder of a girl she knew gave rise to When Champa Grew Up (1984). This series of 12 works brought image together with Gujarati poetry, making visible—and felt—in a new way the realities of child marriage, extortionate dowry demands, and the burning to death of brides by husbands and in-laws.
Sheikh's work in her 2003 exhibition at Gallery Chemould in Mumbai, The Country without a Post Office: Reading Agha Shahid Ali, was inspired by Ali's poetry. That is, readings of Ali fostered her development of a visual language for Kashmir. For example, her use of the bhand, a narrator-like figure of satire and buffoonery in Kashmiri folk theatre. The title of the Art Institute's exhibition, Each Night Put Kashmir in Your Dreams, is drawn from a line in Ali's poem, "I See Kashmir from New Delhi at Midnight." Eight of the show's scrolls were created between 2003 and their 2010 exhibition at Gallery Chemould. Sheikh created an additional two, We Must Bear and Hunarmand (one with a talent or gift) for this 2014 exhibition.
When talking with me about her work, Sheikh said she prefers "sizes and scales that have potential for extension and openness." She added that this potential is not linked to size alone, and noted that miniature painting has structures within it that allow for adding on, extending, and moving from one pictorial space to another. In her view, the scrolls' life-size scale allows the space to be traversed as in mural painting and set design.
About her methods, Sheikh said that sometimes she made preparatory sketches and studies for the scrolls, but that the process of painting them was improvisational, adding, "I make changes as I go along." Collaboration is vital to Sheikh's approach. She has longstanding artistic partnerships with sign painters and stencil makers, particularly sahji stencil makers Sanjoy Soni and the family of Vishnu Prasad of Mathura. She also spoke about the "workshop" character of her studio, in which current and former students provide "people power" for the labor intensive work of preparing, stenciling, and lettering the large scrolls.
Valley is the first painting the visitor sees when entering the gallery and was Sheikh's first work in this series. Valley is a lyric portrait of Kashmir, gorgeous and green with meandering rivers, lapis blue lakes, evergreens flanking a tall plane tree, and hills rising to distant mountain peaks. Ornamental geometric and floral stenciling whispers its presence like the rustle of silk.
Contrasting with Valley's visual harmony, the narrative and pictorial structure and use of color in the scroll, Each Night Put Kashmir in Your Dreams, brings to mind the syncopated rhythms and fragments of dreams. Here, rectangles and squares frame figures—the bhand, two musicians beneath a golden tree, an elongated woman looking over her shoulder—slices of landscape, and textile-like stenciling. A vertical swathe of midnight blue encompasses a domed building with darkened doors, an abode of sleep, dreams, and cauchemar.
Hanging from the ceiling rather than up against the wall, Sheikh's two-sided scrolls descend into the galleries. The viewer can circumambulate each one, moving from its image-filled front to textual materials on the back drawn from poetry, myth, legend, and historical archives. The text on each scroll introduces viewers to diverse undercurrents in Sheikh's historical imagination—ideas, experiences, and memories that animate and flow through the work. Yet textual reference is not a formal basis for her image-making. She develops her own vocabulary of image, material, and technique in response to specific visual and aesthetic concerns.
Sheikh's scrolls pose complex questions about present and past, about what is lived, dreamt, suppressed and forgotten, and about what needs to be seen, remembered, and felt. She is as leery of historical interpretations that invoke Eurocentric views of progress as she is of those invoking timeless tradition and undying enmity. When speaking of the ideas and concerns underlying the series Each Night Put Kashmir in Your Dreams, Sheikh told me, "The work has been a learning process to make visible various worlds."
The scenes on some of the scrolls evoke the violence assailing Kashmir in recent decades and centuries past. She shows violence stalking daily life and prowling in myth and legend. Weapons abound—demonic claws, daggers, ax, mace, sword, and guns. A goddess hurls a mountain to destroy the demon menacing Kashmir. Nearby a lion's claws tear into the underbelly of a bull. Elsewhere a demon dangles a sword over a picnicking family. Pearl-like tears stream down delicate faces of cloud goddesses as they mourn Kashmir's lost paradise. A kneeling woman weeps red tears in a corpse-strewn field.
A few days before writing this, I made a refresher visit to the exhibition. A South Asian family was sitting on bench outside the gallery—a man and woman with their two-month-old daughter sleeping in her carriage and the man's grey-haired parents. When I asked if they had seen the Sheikh exhibition, the son took charge and answered yes. He had heard about it and since they were coming downtown for an immigration appointment, they came together to see it. He told me they're from Pakistan and he has Kashmiri friends at home. For him Sheikh's exhibition shows how Kashmiris in India are suffering. After a moment he added that the dispute over Kashmir hurts everyone in both countries because they're neighbors and it keeps them from being at peace.
Indeed, Sheikh doesn't avert her gaze or ours from Kashmir's plague of violence, loss, and sorrow. Yet she refuses to reduce Kashmir's present to violence or its history to battles and brigands. Her scrolls also make visible other histories of Kashmir—times when antagonism between Hindu and Muslim, India and Pakistan, did not afflict Kashmir. Imagining other possible presents and futures for Kashmir, Sheikh alludes to Kashmiriyat, a centuries-old belief in the possibility of peaceful coexistence among the region's ethnic and religious groups. Construction Site, with its scenes of making and building presided over by the towering bhand, extols another vision of Kashmir. Anonymous laborers build cities and terrace hillsides using their intelligence, energy, skill, and tools. Here, constructive collaboration has the upper hand over violent conflict and destruction.
The reverse side of Hunarmand is visible outside of the gallery, and its size and curious detail might beckon visitors into the exhibition. This work also is closest to the exit, and thus positioned as the exhibition's final scroll. This scroll echoes Sheikh's Rozgar series (2011), which draws on a nineteenth century manuscript illustrating Kashmir's professions. Hunarmand celebrates the many ways that Kashmiris manifest their talent and skill: as ironsmiths, farmers, weavers, embroiderers, papier mâché makers and painters, carpenters, dancers, musicians, boatmen—and even a scribe. Unlike the other scrolls, the relaxed grid structuring the space on Hunarmand's front side includes large chunks of text alongside its images.
The reverse side of Hunarmand is a painting inspired by legendary Kashmiri works of art commissioned by the king to be bestowed as royal gifts. Teams of artists took years to create incomparably beautiful shawls embroidered with a map of the Vale of Kashmir. History tells us these precious gifts brought prestige to their recipients and acclaim to the king and gifted artists of Kashmir.
Sheikh's scrolls and their details photograph beautifully. However, the vitality and complexity—and yes, aura—of these works of contemporary art exceed digital or verbal capture. Each Night Put Kashmir in Your Dreams generously rewards face-to-face viewers, and especially those who slow down and look closely. When talking about the aesthetic sensibility that infuses her work, Sheikh commented, "Beauty isn't an end in itself. Within every language, a work comes together to make beauty possible. Created by a hunarmand whose talents are at full strength, Sheikh's scrolls make visible nuanced and moving worlds while giving rise to others in the imagination. In response to my question about the conjunction of beauty and violence in the scrolls, she replied, "You don't have to use violent forms for violent things. You can talk about pain tenderly."
Lise McKean is a social anthropologist and writer based in Chicago. In 2013 she curated StreamLines, an exhibition of contemporary art in Vaishali, India.
By Kevin Blake 
Most visitors ride the oversized elevator up to the fourth floor and work their way down at The Whitney Museum of American Art. Most people prefer this method of viewing because most people, including myself, are too lazy to climb the stairs. Descent is much less daunting, however, there are benches for resting if this task becomes overwhelming. Most people don't want to work to experience visual art.
When the elevator dings and the doors spread open on the fourth floor, visitors to the 2014 Whitney Biennial are faced with Gaylen Gerber's contribution. Mr. Gerber is perpetually risking having his work go unnoticed. He concedes the center stage to other artist's work as a means of activating his Backdrops. Often a delicate grey monochrome, his canvases mimic the architecture of the institutional spaces within which the work is shown, and can easily be mistaken for a painted wall. It is in this potentiality that Mr. Gerber's work shines. His conceptual framework is rooted in potential and critique. He seems to be interested in the conversation between works of art that occur in the wake of their physical juxtapositions to each other and how those normative relationships are grounded in institutional critique. Understanding his aims requires a bit of work on the part of the viewer.
For over two decades, Gaylen Gerber has been working with a set of self-imposed restrictions that convey a minimalist trajectory but operate in an entirely different arena. By employing the work of other artists in front of or on top of his Backdrops, Gerber seems to ask himself the same questions that may be evoked within his audience. Our response to his work is predicated on the fact that Gerber understands how to be the audience and artist. He is aware of the possibility that his work could be unseen–that the audience will see the work that hangs on top his work and move on. He is also aware that one may round the corner as if to pass by his piece and notice the side of his canvas and stretcher bars–only by chance–that they had earlier mistaken for a wall. That viewer may, in turn, come back to the work and consider it anew. That is the potential that exists for every viewer–the possibility of dialogue spurred from intervention.
The potential for critical consideration and the ability of conversation to amplify meaning within physical objects are paramount in Gerber's schematics, but the work feels genuinely concerned with the content of those prospective dialogues. The artists whom Gerber chooses to work with are a carefully selected bunch that act as the conduit that links his conceptual rigor with his sincerity and curiosity. In this iteration of his ever-evolving project at the 2014 Whitney Biennial, Gerber chose Trevor Shimizu, David Hammons, and Sherrie Levine to hang their work on top of his Backdrop. The first half of the exhibition opened with two paintings by Trevor Shimizu, and the second half saw work by David Hammons and Sherrie Levine–both later artists Gerber had worked with in years past.
It is through these works that one might distill meaning in his object, which is the backdrop and the pieces on top of it. The work by Trevor Shimizu is figurative, gestural, and two-dimensional and refers to a specific type of art historical conversation that alludes to the figure/ground relationship. Gerber understands the figure/ground relationship in Trevor Shimizu's work as a way of activating the same dialogue with regards to the same relationship between Trevor's work as "figure" and his own Backdrop as the "ground."
In using Sherrie Levine and David Hammons' work, which appears to represent two different art historical methodologies for dealing with abstraction, Gerber alludes to another interest of his own and spurs another new dialogue.  Among other possibilities, this specific pairing suggests that the idea of what an expression may be is multiplicitous. Expression may manifest as a material investigation through intuition and impulse, it may assert itself in a minimalist projection of time through a labor intensive application of paint, or it may be found in a grey monochrome painting that serves as the springboard for opportunity.
Gaylen Gerber has developed an artistic practice that manages to concern itself with his immediate interests while maintaining a strong relationship to the audience. His work blends an overtly skeptical view of how things work while accepting those parameters and making work to reflect his discomfort with normative boundaries. With this strategy Gaylen Gerber achieves new opportunities on old grey grounds that beg you to do a little work.