Friday
Lloyd Dobler Gallery: Case-By-Case Basis
March 6 – April 11, 2009
1545 W. Division 2nd floor
Chicago, IL 60642
Regular Hours:
Thursdays 6-9pm
Saturdays 12-5pm
The work gathered for Case-By-Case Basis will address instances where the relationship between an individual and an institution are in flux. More info over at Lloyd Dobler's
website
.
Western Exhibitions: Geoffrey Todd Smith
Opening: Friday, April 3, 2009
5:00pm – 8:00pm
119 N Peoria St, #2A
Chicago, IL"Geoffrey Todd Smith relentlessly (and patiently) seeks to discover
beauty in his abstract painting/drawing hybrids amid the ceaseless
interruptions and distractions of daily life. Using a limited
vocabulary, he delineates a seemingly impenetrable field of optical
buzz and hiss. Beginning with a grid of painted dots, he adorns his
color fields in a "horror vaccui" fizz of zigzags while directing the
viewer through densely hand-drawn patterns and painted elements that
optically mix and integrate colors. In each of Smith's works, small
painted dots and ellipses become embedded in the structure of a grid
or interfere with it, depending on absorption or reflection of light,
while also reinforcing the rhythm and direction of the zigzags." via
Western Exhibitions
ThreeWalls: Judith Brotman: Captive Audience
April 3rd – May 8th, 2009
Opening: April 3rd, 6-9pm
119 n. Peoria #2d
Chicago, IL
"Working in industrial felt, miscellaneous hardware and materials
culled from the everyday, Judith Brotman sculpts an abstract tableaux
of traps and teasers, prosthetics and instruments. Her sculptural
installation practice combines an exercised restraint with a sense of
elegant craftsmanship in service to arrangements that both invite our
intimacy and confound our sense of modesty." via ThreeWalls
Saturday
Recesselation:

"The Foolish Toys"
Spoke: at the intersection of ideas, dialogue, and change
119 N Peoria street #3D
Chicago, IL 60607
March 29th – April 9th
"The Foolish Toys" will build a post-decadent shrine or memorial to our excessive past. Materials, objects, sounds, actions, and images, will be incorporated into one large sculptural form that evolves over time. Viewers are invited to leave a remembrance of things past: useless, excessive, non-essential items.  Check out their website for more information.
The Renaissance Society: Paul Chan: "My laws are my whores"
March 01 – April 12, 2009
5811 S. Ellis Avenue
Bergman Gallery, Cobb Hall 418
Chicago, Illinois 60637
"My laws are my whores marks the premiere of a new ensemble of works by Paul Chan. Using the writer and philosopher Marquis De Sade (1740–1814) as a point of departure, Chan has created moving image works, ink and charcoal drawings, a sculpture, and a set of computer fonts that evoke what the Sadean legacy might look like today and how his obsessions with forms of sex, violence, freedom, and reason echo in the 21st century." The fonts that Chan has created are also available for free download via the Ren's website.
Sunday
Spertus: Black Like Us
Lecture/Multimedia Presentation
Sunday, April 5, 2009
2pm
Spertus
610 S Michigan Ave
Chicago, IL 60605
$20/$15 members/$10 students
"The fates of African Americans and Jewish Americans have often been seen as entwined, as an index of the nation's capacity to live up to its democratic ideals. With audio and visual examples, Dr. Stephen J. Whitfield lectures on stories of both minorities-separately and together-overcoming barriers and speaking out through literature and the arts." More information at the museum website
Are re-blogged links the blogger's version of the sitcom flashback episode? Uh, maybe, but in any case, here's a partial and purely subjective roundup of the past week in art, culture, etc. in Chicago and beyond, via a whole mess o' handy links, of course….
*Artists selected for the 53rd Annual Venice Biennale have been announced; find the list here.
*New City art editor Jason Foumberg has a nice recap along with some thoughtful analysis of last week's "The Invisible Artist: Creators from Chicago's Southside" panel discussion at the School of the Art Institute. UPDATE 4/4: There is some very interesting, enlightening, and pretty damn sharp back-and-forth going on in the comments section of this article by panel participants and others who strongly disagree with (or have misunderstood) Foumberg's assessment of the panel and the issues it addressed.
*The mass firings of adjunct fine art faculty at Parsons The New School for Design: blogger Hrag Vartanian's coverage has been some of the most thorough thus far. Check out his posts here, here and here as a start.
*Time Out Chicago writer Lauren Weinberg has a piece this week on the ways in which Musuems in Chicago and elsewhere are using social media.
*Big yawn: on the Twitter front, an update on @platea's Twitter happening I blogged about a few weeks ago. UPDATE 4/4: NewCity reported on what happened during the Twitter Island project discussed in that same blog post, here.
*A huge Pose slideshow available on The World's Best Ever.
*Tyler Green of Modern Art Notes provides an excellent, two-part summary of a rare Robert Frank public talk this week with National Gallery of Art curator Sarah Greenough; part one and two.
*Via C-Monster: The Architecture of the Drug Trade. A fascinating look at  the landscape of weed and the architecture of the grow house. Especially loved the comparison of the latter to Max's bedroom in Where the Wild Things Are.
*Paddy Johnson of Art Fag City writes for The L Magazine on why Jenny Holzer is not the patron saint of Twitter in her review of Holzer's Protect Protect Project, which originated at the MCA and is now at The Whitney.
*Via ArchitectureChicago: iTunes offering free download of the first movement of John Cage's 4'33".
* Get your art on at Chicago Artist's Resource (CAR)'s Creative Chicago Expo tomorrow (Saturday) from 10-4. Workshops and Consult-a-thons galore for individuals and arts organizations.
*And finally, the hermeneutics of "pin diplomacy": via Artnet Magazine, Madeleine Albright's pin collection to be shown at the Museum of Arts & Design in New York.  Pins weren't mere jewelry for Albright, they added a subtle layer to her diplomatic efforts.  She wore a bee pin when talks were getting pointed, a balloon pin when she felt hopeful, and a snake pin after Sadaam Hussein's people called her a serpent. I'm so there!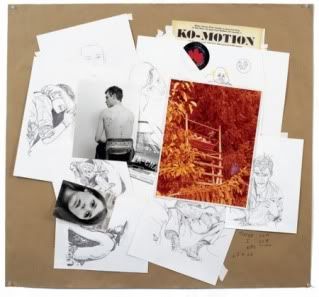 Yesterday, Collier Schorr had a book signing at Dashwood Books for her latest release "There I Was". In the fall of 2007 I had a chance to see "There I was" at 303 gallery. The show was a departure from Schorr's photographic work. Through drawings, photographs, source images, and letters Schorr retells the vivid story of Charlie -Astoria Chas' Synder. While accompanying her father on a interview in 1967 , Schorr met the 19 year old drag racer and his "Ko-Motion" Corvette. By the time the article was released Synder had already been killed while fighting in Vietnam. Based on both facts and fantasy Schorr retells the last days of – Astoria Chas'.
The Long Century has a small musing from Schorr about Synder and war films.
"I was talking to a friend about a scene in Full Metal Jacket and he said "that is my favourite war movie." Later, I thought, what does that mean? What does a favourite war movie satisfy? What makes it so desirable? All narrative cinema pivots on the transformation of a protagonist and so most war movies satisfy this requirement in spades. From An Officer and a Gentleman to Platoon, the young soldier is transformed into a man, either ruined by brutality or recused by structure, there is a simple pleasure in watching someone (other than oneself) abused into a potential killing machine.
…When I starting making drawing's based on a young friend of my father's who was killed after just on month of serving in Vietnam, I re-engaged with all those Vietnam movies I thought I loved and I no longer could love them. The fact that they were a fetish for me, and an ideal about masculinity that I couldn't afford to indulge."
Read the full article at This Long Century.
For more information and to pre-order a signed copy please visit Dashwood Books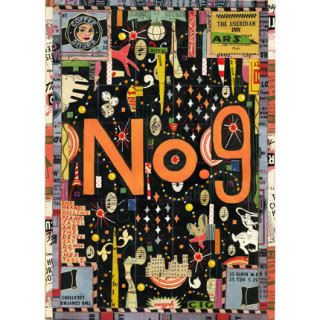 Big Rock Candy Mountain
New work by Tony Fitzpatrick
Dieu Donné
315 West 36th Street New York, NY
Apr. 1 – May 16
Opening reception for the artist April 1, from 6-8PM.
"Tony Fitzpatrick's collages are cobbled together from vintage print ephemera and handmade paper with splendor and precision; they are visual poems, reflecting on matters of place, history, and sense of being. Big Rock Candy Mountain delves deep into the transient nature of Depression-era hobos. Here, their language, ideograms, battles, and songs resound throughout Fitzpatrick's intimate works. His voice references both the historic and current, as the culture surrounding hobo lore may now become parallel to our own. The exhibition is a culmination of the artist's Lab Grant residency at Dieu Donné, and is on view from April 1st through May 16th, 2009."
For more information or to see some of the work visit Dieu Donné.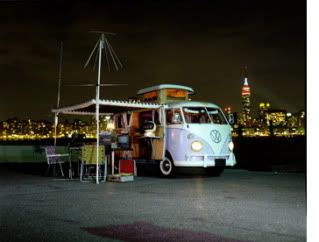 Broadcast Yourself
6:30 p.m. Wednesday, April 1, 2009
Lecture Hall 213,
next to Pratt Manhattan Gallery
144 West 14th Street, 2nd Floor
"Pratt Manhattan Gallery will present 'Broadcast Yourself,' a free public symposium in conjunction with the gallery's 'Broadcast' exhibition…Speakers will include NPR 'On The Media' host Brooke Gladstone, 'Broadcast' curator Irene Hofmann, and 'Broadcast' participating artists Gregory Green, Angel Nevarez and Valarie Tevere of neuroTransmitter, and Siebren Versteeg.
'Broadcast Yourself' will address the issues of power and control extended by traditional media outlets in contrast with the do-it-yourself attitude pervasive in the tech-savvy younger generation. Symposium panelists will also speak to the impact that radio and television can have in shaping the events of our time; how artists can directly engage, challenge, or subvert the structure and authority of broadcast media; and how our culture is shaped by the actions of individuals and artists."
For more information please visit Pratt's site.
Image above:
Gregory Green, M.I.T.A.R.B.U. (Mobile internet, television, and radio broadcast unit), Mixed media with 35-watt pirate FM broadcast system, 100-watt pirate television broadcast system, and internet broadcast system, 2000.