Incubate (Institute for Community Understanding Between Art and the Everyday) has awarded its $250 March "Sunday Soup Grant" to new Chicago-based magazine Two With Water, a still-developing publication with a focus on "self-realization and urban life" run by Amy Ganser and Rebecca Roberts. The magazine features work by emerging writers and visual artists; click links above to learn more about the grant program and the magazine's submission guidelines. That Sunday Soup Grant program sounds like a pretty darn nice idea to me: modest, yes, but sometimes small cash infusions (and the community support that comes with it) can make a surprisingly big difference in those early days when a project is still finding its way.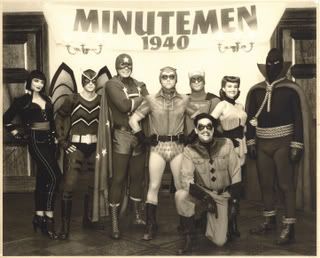 I went in with low expectations of The Watchmen after reading reviews and speaking with my sister, who saw a midnight showing in LA. Her review was "Eh". Typically I am really anal about showing up on time to movies. I forced my girlfriend to show up about an hour and a half early expecting a line for the 7:00 Saturday showing. No line was to be found. We began to realize that not even half of the theater was going to be filled. At around the end of the pre show countdown (approx 6:45) a mother and her brood of toddlers not only showed up to this rated R film but decided to sit next to us. Not exactly next to us, but I could see the whites of their eyes as they peered at me during violent parts of the film.
If you have read the comic you already know what is going to happen within the first ten minutes of the film. I did enjoy the alternate reality flashbacks accompanied by Bob Dylan's "The Times They Are A-Changin'". This point marks when my viewing experienced was ruined, as the kiddos began to scream and tell each other to shut up. I will save you the details of their other antics but after about half way through the movie security came in to escort the toddlers out and deny the mother a refund.
As for the film, I say less romance, less slo-mo, less action. Alan More is clearly a genius when it comes to comics (excluding Promethia) but in the film something was lost in the dialogue even though much of it was lifted directly from the book.
I left the theater (approx 9:45) feeling similar to my sister, but wondering what the meetings were like when they decided what size Doctor Manhattan's penis would be and how much it would sway as he walked.
One thing that remains true across most markets is that its all about the buzz, so I feel compelled to weigh in on my experience at this years Armory and satellite fairs.  Perhaps ironically, I appreciate the crass commercialism of art fairs for the discussions and contextualization they bring about.  Hypothetically, one doesn't even need to see the work in the gallery booths to get the most out of the fair.  The difference between a worthwhile contemporary art fair and a superfluous one is their ability to provoke conversations around art, and that often comes down to programming, programming, programming, (the same often remains true for contemporary art museums).  With this in mind, I made it a point to check out the two Open Forum discussions at the Armory and Volta on Friday, making these the main event and lofty excuse to visit these otherworldly candy stores in downtrodden times.
The first of the day at Pier 92 in the Armory was "Museums Speak! Funding, Exhibitions, Collecting and the Future" featuring Arnold Lehman, Director of The Brooklyn Museum of Art, Thelma Golden, Director and Chief Curator of the Studio Museum in Harlem, and Claudia Gould, The Daniel W. Dietrich, II Director, Institute of Contemporary Art, University of Pennsylvania.   Of course the obvious topic of conversation was the economic recession's effect on museums large and small.  This amounted to amplified fretting and  hand wringing about poor endowment returns, staff cuts, and pressure to sell off artworks for those collecting institutions.  Ultimately this inside baseball failed to peek my interest as the average art enthusiast, but by no fault of the participants or others whose jobs might depend on the future funding of museums.
Next up was Volta, a more engaging fair simply for its concentration on individual artists.  Part of the same Open Forum programming was the panel "Re-Inventing Non-Profits in NYC" featuring Anne J. Barlow, Executive Director of Art in General, Mary Ceruti, Executive Director of Sculpture Center and Gianni Jetzer, Director of Swiss Institute.  The discussion was far more reaching in its implications for the future of artist, which automatically perked up my ears as the tendency in these circles is to forget that without artists there is no art.  Again the discussion was set to the doom and gloom tune of economic woes, but fortunately geared towards adjusting and moving forward.  Artists take note, it appears these non-profits are foregoing extravagant exhibitions in favor of funding and facilitating projects that might not otherwise be feasible for emerging artists.  The level of succes for these spaces is refreshingly difficult to quantify relative to the museums — which ultimately just want to get bodies through the door –  but issues such as branding still came up as a stategy of shear survival.  Gianni Jetzer seems to think the Swiss Institute has no branding, but he fails to notice that Switzerland itself is a brand, and a damn good one as his performance confirms.  Of the three non-profits, SI seems to be the most willing to take chances and perhaps it's that godmother country's loose purse strings on top of her sex appeal that keeps SI not truly in any position to worry.
A closing note from this last discussion was the divisive question about whether tough economic times will be good for art, as some have suggested.  There seemed to be some consensus that any such idea is a myth, but I have to say I'm not quite convinced.  My hunch is that the playing field is a little more level and its hard not to notice the change in the air that has inevitably come from the powerful having a little less power.
Deanna Isaacs reports in The Reader this week that Flatfile Galleries will close their doors on March 27. This comes on the heels of Rowland Contemporary's demise last December. Are these the first of many deaths to come? Most likely. But there's a bright side to this undeniably sad news, and it lies in Chicago's thriving apartment and alternative gallery scene. Although I haven't been living in these parts for long, and I'm definitely still feeling my way around,  it seems to me that Chicago's art world is uniquely primed not only to weather these disastrous economic times but to thrive in the midst of them. Now, I'm not trying to get all Holland Carter on your asses (see Carter's Feb. 15th essay in the New York Times for what I'm referring to; earlier this week New York magazine writer Alexandra Peers offered a gloomier rebuttal of Carter's sunny outlook for recession-era art). My point is that Chicago's artists, indie curators and writers have been doing their own thing for a long time: running tiny galleries and think-tank type workshops out of spare rooms in their homes and apartments, creating flexible art and cultural storefront spaces whose content isn't solely object- or market-driven–eh, you're all BAS listeners, you don't need me to tell you this.  I'm not denying that a crap art market has seriously bad ripple effects on everyone; but in these times the Chicago art world–especially the one that's a bit harder to find and is usually only open on Saturdays, Sundays, or by appointment–offers a powerful and creative model of how to carry on with the business of art when the art business is going down the tubes. I, for one, am glad I'm here right now.
Hey, kids and other young-people types: what looks like a super-fun zine workshop will take place this Saturday afternoon at ThreeWalls with Anne Elizabeth Moore, based on the Cambodian zines featured in her current project Holle Cambodia. Moore's website indicates it's a youth program that's free for kids; adults (who are welcome to participate, too) should be prepared to donate 5 bucks. More details, below.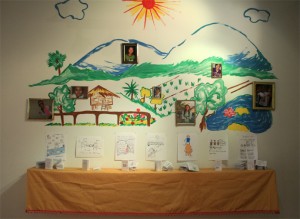 Zine Workshop with Anne Elizabeth Moore at ThreeWalls
Join us on Saturday, March 7, 2009 from 3:00 pm – 5:30 pm for a zine workshop with writer, artist and activist Anne Elizabeth Moore. We'll provide the supplies and refreshments.
"Staunch critic of consumerism and media activist Anne Elizabeth Moore has been writing, publishing, and interceding in culture since the age of 15. The indomitable author of Unmarketable: Brandalism, Copyfighting, Mocketing, and the Erosion of Integrity, founding editor of the Best American Comics series, and former editor of now-defunct Punk Planet has seen her work exhibited in major museums, praised by the business press, and forcibly ejected from retail establishments.
Recently, Moore went to Cambodia to teach the first generation of feminists in the country self publishing as a way of combating governmental oppression and self-censorship, and co-founded the Anti-Advertising Agency's Foundation For Freedom, an organization that aims to limit advertising in the public sphere by offering cash incentives and giant novelty checks to ad pros in exchange for quitting their jobs. She currently teaches at the School of the Art Institute of Chicago and travels throughout the globe to lecture on corporate and governmental oppression and freedom of expression."
A five dollar donation is suggested at the door.
www.three-walls.org/calendar/openings
www.anneelizabethmoore.com
camblogdia.blogspot.com
ThreeWalls
119 n. peoria #2d
Chicago, IL 60607
312.432.3972
info@three-walls.org