Wow. I thought this story might be cooling down, but instead it's exploding! Check out this link-filled update by Hrag Vartanian on the occupation & arrests at The New School over the mass firings of adjunct fine art faculty calling for New School President Bob Kerrey's resignation. UPDATE: (check out this website for statements issued directly by students and others involved in or sympathetic to the protests, rallies, occupation and other recent New School-related events).
Vartanian's following the events closely via news, blogs, and Twitter updates from those on the ground. The New York Times has background on the story, plus video of the arrests and photos of the protest.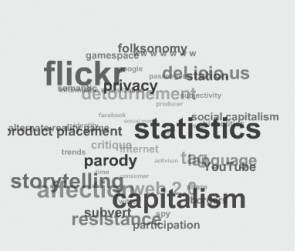 On the social networking front….The National Museum of Contemporary Art (EMET) in Athens, Greece, presents Tag ties & effective spies, an online exhibition of internet art that takes a critical look at social networking. From the exhibition website:
Tag ties & affective spies is a critical approach on the social media of our times. What happens  when we are "tagging", "posting" and "sharing" our experiences and opinions in platforms such as those of Facebook, YouTube, flickr or del.icio.us? Are we really connecting and interacting or are we also forming the content and the structure of the social web itself? The online works included, highlight the controversies of the web 2.0, commenting on the constant balancing between order and chaos, democracy and adhocracy, exposure and exploitation that it presents.
Curated by Daphne Dragona, the exhibition features works by Alessandro Ludovico , Christophe Bruno , Daphne Dragona, Gregory Chatonsky, Jodi, Jonathan Harris, Juan Martin Prada, Les Liens Invisibles, Paolo Cirio, Personal Cinema, Ramsay Stirling, Sep Kamvar, The erasers, and Wayne Clements. (Via Rhizome).
Marisa Olsen at Rhizome has a useful and generously-linked write-up on the show.
A subjective round-up of the week's art-world events, news stories, blog links and other happenings in Chicago and beyond that are of note or otherwise got me thinkin'.
*Deathtoll of L'Aquila earthquake in Italy is at 189; the earthquake injured over 1,000 and left thousands more homeless; extensive damage to architectural monuments and artworks in the area deal a severe blow to Italy's cultural heritage.

*Salander Gallery Director Steven Harvey pleads guilty to falsifying records (via ArtsJournal).
*Robert Delford Brown, performance artist and founder of The First National Church of the Exquisite Panic has died at the age of 78. (New York Times).
*Museum ethics smackdown: Donn Zaretsky's "What's Wrong with the AAMD's Deaccessioning Policy" vs. Christopher Knight's "What's Wrong with the Argument Attacking AAMD Policy." Go Christopher!
*Mies' Test Cell aka The Gunnery aka The Watchtower: whatever you call it, the Metra wants to tear it down. Edward Lifson tells us why we shouldn't.
*Economy hurting museum but attendance is up; Museums Do More With Less (Chicago Tribune).
*The Geography of Buzz. (New York Times).
*"I've Seen the Future, and It Belongs to the Dead": Edward Winkleman on whether deceased artists can bring the art market back to life.
*Getty Research Institute Acquires Guerrilla Girl Archives (Culture Monster).
*Ball-Nogues Studio (based in L.A.'s Echo Park) to design Elastic Plastic Sponge for Coachella this year.  It's a 250 x 25 foot sculpture made of plastic tubing that will mist water on overheated festival-goers, made in collaboration with students at the Southern California Institute of Architecture (Sci Arc). (via Culture Monster).
*Attention all K-12 art and media educators in Chicago, New York, and Los Angeles: applications for Art21's Art Educators 2009/10, "a yearlong professional development initiative designed to cultivate and support K-12 art educators interested in bringing contemporary art, artists, and themes into their classrooms," are available now.
Thursday (today!)
Mechanisms for Validation (Please, please just love me, or at least tell me I'm pretty, but I'll settle for confirmation that I'm smart)
April 9th, 7pm
threewalls
119 n. peoria #2d
Chicago, IL  60607
Moderated by our very own Duncan Mackenzie
"Join us for this threewallsSALON to discuss the means by which artists and practices are validated in the contemporary art world, where that validation comes from and how it is bestowed." via their website
The Generational: Younger Than Jesus
4/8/09 – 7/5/09
New Museum
235 Bowery
New York, NY 10002
"For "Younger Than Jesus," the first edition of "The Generational," the New Museum's new signature triennial, fifty artists from twenty-five countries will be presented. The only exhibition of its kind in the United States, "The Generational: Younger Than Jesus" will offer a rich, intricate, multidisciplinary exploration of the work being produced by a new generation of artists born after 1976." Via the New Museum website
[Tim says] This show opened earlier this week, but I did not get a chance to see it.  Billed as the "signature triennial," the New Museum still seems to be in heavy competition for attention amongst the heavy hitters at Whitney and P.S.1.
Friday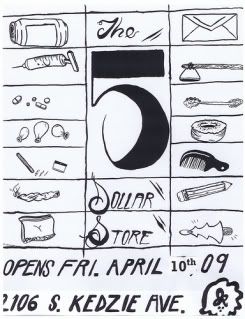 April 10, 2009
7-12 pm
2106 S. Kedzie Flr. 3
Chicago, IL 60623
One night-only special event – Artists make items for a convenience store, most cost 5 bucks or less. Yay cheap art! [Claudine]
Intervals: Julieta Aranda
April 10 – July 19, 2009
The Guggenheim
1071 Fifth Avenue
New York, NY USA 10128
In Aranda's presentation, four conceptually related works propose an alternative notion of temporal experience as a shifting and unquantifiable state, liberated from rigid conventions of measurement.
[Tim says]
In case you can't tell yet, my event calendar is usually determined by the artists that surround me.  Julieta Aranda is one of the artists behind e-flux and an editor for their journal, although I have not seen much of her given that she has been installing this show, finally opening on Friday.  Tyler Coburn mentioned Julieta Aranda as an artist to watch in the March issue of Art Review.
You are Young: New Sculptures by Ali Bailey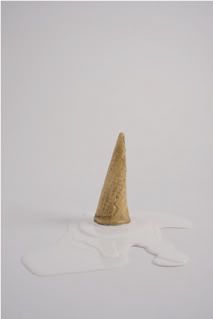 7-10pm
GOLDEN
816 W Newport
Chicago, IL 60657
"Ali Bailey's most recent work describes fictional scenarios that hint to a collective memory or experience while addressing multiple themes of chance, failure, melancholy and loss. Bailey's body of work utilizes a wide range of materials from industrial plastics and polyurethanes, to plaster, oil paint, and found materials. In a similar vein as Chicago artist Tony Tasset, Bailey forces one to consider the history of sculpture: carving, forming, molding, and the ready-made. Bailey uses his own symbols of adolescence and transience to reveal a tension between a unique experience and a shared consciousness." via the gallery's press release
Saturday
Unbuilt Roads Presented by Hans Ulrich Obrist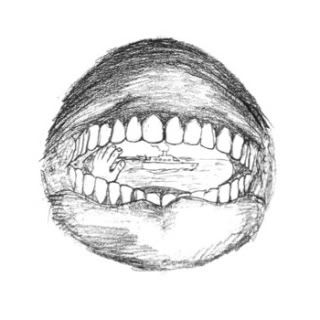 OPENING Sat. April 11, 2009
6-8PM
e-flux
41 Essex Street
NYC NY 10002
Based on the book Unbuilt Roads:107 Unrealised Projects, Hatje Cantz (1997)
edited by Hans Ulrich Obrist and Guy Tortosa
From the e-flux announcement:
From April 10 to July 19, 2009, the Guggenheim Museum will inaugurate Intervals, a new contemporary art series, with a multipart installation by Julieta Aranda (b. 1975, Mexico City).
[Tim says] This is the first official exhibition opening in E-flux's new project space at 41 Essex street.  This is also the first time in a few years Hans Ulrich Obrist has done a project in New York.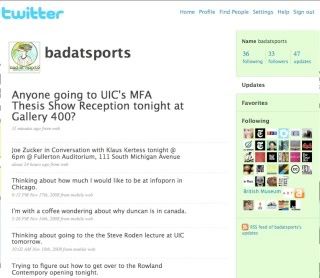 We've been on twitter for a while but yesterday we "relaunched" our twitter site. You can either get updates from the text bubble on our main page or follow us. Let us know what shows are worth checking out.
View our twitter page here