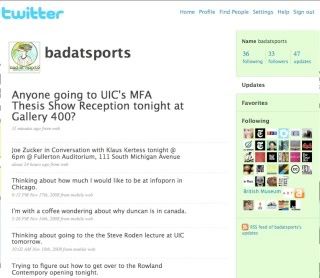 We've been on twitter for a while but yesterday we "relaunched" our twitter site. You can either get updates from the text bubble on our main page or follow us. Let us know what shows are worth checking out.
View our twitter page here
Well that's not true, in the end both of the new Millennium Park pavilions will be deconstructed and recycled. The Burnham Plan in Chicago has announced two new pavilions that are going to be installed June 19 through October 31, 2009 in Millennium Park.
The First is by Zaha Hadid and described as:

"A tent-like structure made of light weight aluminum and dressed in a tensile fabric. The exterior skin rises and falls along its aluminum ribs—the lines for which were derived from the diagonal lines and avenues in Burnham and Bennett's 1909 Plan. Louvers in the pavilion's ceiling will bring an interplay of light and shadow into the space as the sun changes position during the day. Exterior lighting will highlight the pavilion at night.
The interior of the Hadid Pavilion will serve as a screen for an immersive video installation created by UIC-trained and London-based artist Thomas Gray for The Gray Circle. This film will tell the story of Chicago's transformation, including visions for Chicago's future by local architects."
It then goes on to mention the sinuous discourse and usual puffery.
The Second pavilion is by UNStudio and is listed as:

"Highly accessible and functions as an urban activator. Framed by Lake Michigan on one side and Michigan Avenue on the other, it relates to diverse city-contexts and scales. The edges of the roof are parallel, but toward the center there is more complexity in the form.
At night, UNStudio's pavilion becomes a responsive architecture with LED lights that change color and pattern. These lights will be in constant flux as the number of visitors to the pavilion changes. Programmatically the pavilion invites people to gather, walk around and through the space—to explore and observe. It's sculptural form and reactive lights will spark curiosity and wonder in its visitors.
The UNStudio pavilion is made of steel, clad in plywood, and is covered in high-gloss white paint to reflect the city and pavilion visitors."
Now we ask you in both comment form and poll, who will survive? The winner will go one on one in a death match with a pavilion built to look like Tony Fitzpatrick.
power Station
) will thanks to the architectural design firm
Herzog & de Meuron
actually have a look that resembles the inside.
The £100 million-plus expansion is designed to increase the space by up to 60 per cent for more displays and to help relieve overcrowding. The wing is scheduled to be completed by 2011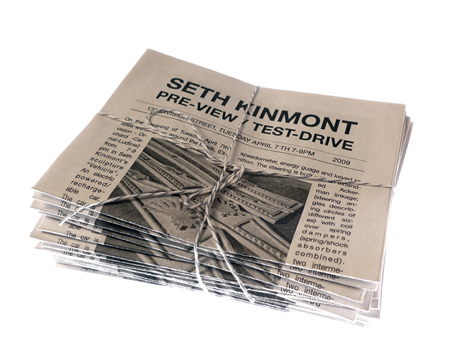 It's not very often that I actually pick up the postcards and flyers I see on the counter of the local coffee shop.  This one, however, caught my eye as it sat there and mocked the New York Times sitting next to it.  Apparently the artist Seth Kinmont knows how to grab the attention of his audience: give them lots of text and images in a clever package.  I expect the same from his electric car.
The car is powered by four twelve volt batteries and sports a set of other familiar amenities, you know, the usual disc brakes, rack and pinion stirring, headlights, air conditioning(!).  And just to throw in a little bit of a challenge, he's built the whole thing out of wood.  From the invite:
Tuesday, April 7th 7-9 pm 138 Division Street (Orchard/Ludlow)
On April 7th, the first in a series of three wooden electric cars will be on view and will be giving rides around the block during the opening hours. Space is limited, so if you are interested a ride, please arrive early to place yourself on the ride list.
On a related note, I objectively love the Project No. 8 website.
ArtBabble, the Indianapolis Museum of Art's new online site for videos about art and artists, goes public tomorrow (Tuesday, April 7th). The Beta site has been up for a few months by invitation only (which were not hard to get), and so far it looks pretty great.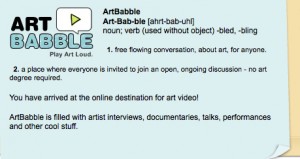 The Indianapolis Museum asked institutions including the New York Public Library, the Los Angeles County Museum of Art and the San Francisco Museum of Modern Art to contribute content that includes interviews with artists, profiles of museum professionals, and videos of exhibition works in situ. The strength of ArtBabble lies in its collaborations with other institutions–the more shared content, the greater its use-potential. It's a genius example of how centralized online content can benefit multiple institutions. It'll be interesting to see whether other museums clamor to join in, or choose instead to use ArtBabble as a model for their own online presences.