Those of you who were inspired by Mike Benedetto's interview with Steve Walters and Jay Ryan last week — the Chicago Public Library has announced that it's holding a poster design competition inspired by the library and using the URL chipublib.org. The idea is to "bring attention to a hip, shortened version of the library's official website address."
Ryan is one of the esteemed judges for this event, along with award-winning photographer Brian Willette, Creative Director at All Terrain/Chicago, and Chicago Public Library Commissioner Mary Dempsey. The winners will be announced at a free public event on April 23, 2009, at the Harold Washington Library Center in downtown Chicago.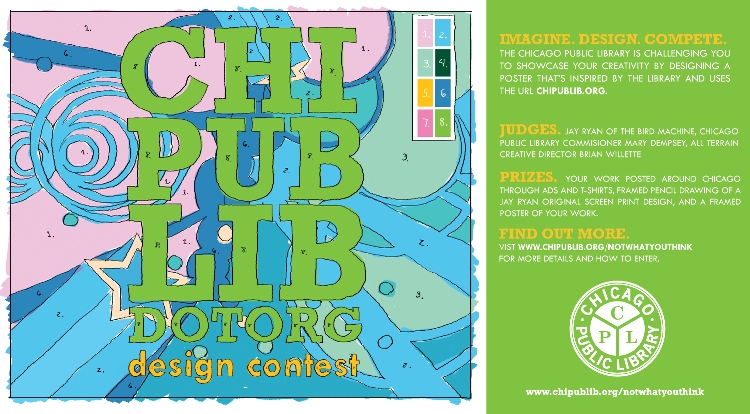 The contest runs from March 5th to April 9th, so if you're interested in participating, chop chop! For more info and rules, visit the library's website (you'll need to scroll down just a bit to get to the contest info).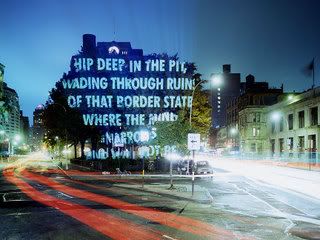 Yesterday Art21 posted a video of Jenny Holzer's projection on Chicago's Lyric Opera House from November of last year. As part of her exhibition Protect Protect, soon to be at the Whitney, Holzer projected on the MCA, The Lyric Opera, the Tribune Tower and the Merchandise Mart. I had a chance to catch the Lyric and Merchandise Mart projections and really enjoyed them. The projection across the river onto the back of the Lyric Opera was pretty rad, way more so than at the Merchandise Mart. So far it doesn't look like there will be any projections to accompany the show in New York.
via Art21:
"Jenny Holzer discusses the process behind her series of Xenon Projections as part of the exhibition PROTECT PROTECT at the Museum of Contemporary Art, Chicago. Featured works include Projection for Chicago (2008), a multi-part projection of the texts of Polish poet Wislawa Szymborska on building facades around the city…"
Check out the video here: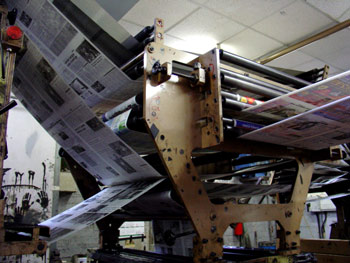 For those who don't subscribe to the e-flux announcements, or have stopped paying attention to them, there was an intriguing round table discussion going down over the weekend at their New York City space on the Lower East Side.  With the launch of issue #4 of e-flux journal, they set out to ask:
How do art journals reflect what is currently available or possible in terms of content and distribution?
What forms of practice or engagement do they propose?
And how do they produce and reflect readerships?
And, at the end of the day, why produce or publish (an art journal)?
In the interest of disclosure, I must mention that I have been working with e-flux on their e-flux video rental project, but hopefully that doesn't undermine my saying that their approach towards producing a journal is an all around forward-thinking one.  As an online, freely available, print-on-demand effort, the issue of physical production is not negated but rather deferred.  The publication's production not only lies in wait for the individual, but also the potential producer/distributor.  From what I understood, e-flux seems to be daring someone to actually take up the task of producing the thing, while they focus on what is surely more rewarding.
As far as the participants in Saturday's round table, AA Bronson brought a lovely smattering of rare and out-of-print journals for show and tell, dot dot dot's Stuart Bailey dropped the Deleuze references ("P" is for professor), Silvia Kolbowski valiantly stuck up for October, and Gareth James took a ribbing for the yet-unpublished Scorched Earth. Other participants were Sara G. Rafferty from North Drive Press, Sina Najafi from Cabinet, and of course the three editors of e-flux journal, Brian Kuan Wood, Julieta Aranda, and Anton Vidokle. This was the dynamic that led to the most interesting line of questioning regarding the pedagogical role of a journal, the construction of an audience (otherwise just a phantasm), and the need to publish a journal at all. Look for the recording at e-flux.com, I know there was one.

Incubate (Institute for Community Understanding Between Art and the Everyday) has awarded its $250 March "Sunday Soup Grant" to new Chicago-based magazine Two With Water, a still-developing publication with a focus on "self-realization and urban life" run by Amy Ganser and Rebecca Roberts. The magazine features work by emerging writers and visual artists; click links above to learn more about the grant program and the magazine's submission guidelines. That Sunday Soup Grant program sounds like a pretty darn nice idea to me: modest, yes, but sometimes small cash infusions (and the community support that comes with it) can make a surprisingly big difference in those early days when a project is still finding its way.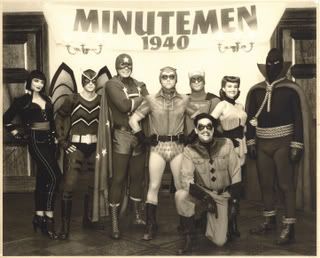 I went in with low expectations of The Watchmen after reading reviews and speaking with my sister, who saw a midnight showing in LA. Her review was "Eh". Typically I am really anal about showing up on time to movies. I forced my girlfriend to show up about an hour and a half early expecting a line for the 7:00 Saturday showing. No line was to be found. We began to realize that not even half of the theater was going to be filled. At around the end of the pre show countdown (approx 6:45) a mother and her brood of toddlers not only showed up to this rated R film but decided to sit next to us. Not exactly next to us, but I could see the whites of their eyes as they peered at me during violent parts of the film.
If you have read the comic you already know what is going to happen within the first ten minutes of the film. I did enjoy the alternate reality flashbacks accompanied by Bob Dylan's "The Times They Are A-Changin'". This point marks when my viewing experienced was ruined, as the kiddos began to scream and tell each other to shut up. I will save you the details of their other antics but after about half way through the movie security came in to escort the toddlers out and deny the mother a refund.
As for the film, I say less romance, less slo-mo, less action. Alan More is clearly a genius when it comes to comics (excluding Promethia) but in the film something was lost in the dialogue even though much of it was lifted directly from the book.
I left the theater (approx 9:45) feeling similar to my sister, but wondering what the meetings were like when they decided what size Doctor Manhattan's penis would be and how much it would sway as he walked.