A partial and subjective round-up of art-world events, news stories, blog links and other happenings in Chicago and beyond that got me thinkin' this week.
*Art critic Alan Artner laid off from Chicago Tribune (Time Out Chicago).
*Rose Art Museum to remain open, but compromised (Art in America, via Art Fag City).
*New City reports that the Chicago Tribune narrowly avoided a planned protest event after the Trib's Associate Managing Editor Geoff Brown agreed to meet with artists Lowell Thompson, Ashley Moy-Wooten and gallerist Andre Guichard to discuss the paper's lack of coverage of African American artists and the South Side's art scene. (Read the full article in this week's Newcity Art).
*Collector sues Luis Vuitton and L.A.'s Museum of Contemporary Art over fraudulent Takashi Murakami art prints–or handbags–or something (Los Angeles Times).
*New School Apologizes for its handling of adjunct faculty firings (New York Times). Also see Hrag Vartanian's ongoing coverage of what's happening with the New School/Parsons protests and controversies – his coverage offers some of the most comprehensive, blog-wise.
*Two online interviews with Chicago's InCUBATE spotted this week: Art21 blogger Beth Capper interviews the collective's Abigail Satinsky here; Rhizome's Ceci Moss talks to the group collectively here.
*Blair Kamin reviews new Holocaust Museum in Skokie (The Skyline).
*Cody Hudson blogs at fecal face about his and Corey Arnold's shows up now at Andrew Rafacz Gallery.
*Marina Vendrell Renaut's knitted innards at Johansson Projects in San Francisco (via C-Monster).
*Roberta Smith interviewed in April issue of the Brooklyn Rail (via Two Coats of Paint; I read the full text earlier this week, however, as of this writing the Brooklyn Rail's website seems to be down).
*Dr. Horrible lives again! (L.A. Times).
Can we talk about this?
I just read (via Meg's Twitter– I've been away from my computer for almost a full day, so this is fresh news to me) that the Chicago Tribune laid off its sole art critic, Alan Artner (sources: Time Out Chicago; Chicago Reader blog). Wow. I don't know Mr. Artner personally but I am really sorry to hear about this. He seems to have been widely respected — a few detractors, of course, but my sense is that he did his job very well and has made a major contribution to art coverage in this city during his decades at the Tribune.
When I moved to Chicago last year I was really surprised at the lack of, let's call it "mainstream press" art criticism in Chicago, including at the Tribune. I don't think a major city daily should have only one art critic on staff like the Trib did (look at the L.A.Times–at least for now, they have chief art critic Christopher Knight plus David Pagel and several other longstanding freelance art critics who've made names for themselves over the years), but at least they had someone.  I was shocked that the Chicago Reader, this supposedly nationally recognized alternative weekly, doesn't do regular art reviews and only occasionally covers the business end of what's happening in art here. And relieved to discover New City's extensive coverage of Chicago art – that thin little weekly entertainment rag does a hell of a lot for the art scene in this city, no? But I'm blown away to learn that the city's most prominent newspaper critic has been cut. We all know the Trib is bankrupt (and whither the Trib goes, so too the LA Times?). But this decision has symbolic ramifications too.
Since I'm new to Chicago, with not a lot of personal history with the art scene behind me to fully contextualize this news (or to allow me to feel cynical about it, frankly), I'd like to hear your thoughts and comments on this development.  How will the absence of regular, critical art coverage in the city's major daily paper impact Chicago's visual arts community (if at all)? Are there outlets in this city big enough to absorb someone with Artner's experience and talents, or will he be forced to go elsewhere?
This is indeed sad news for the visual arts in Chicago; especially as we are gearing up for the Version and Art Chicago/Artropolis events taking place here over the next few weeks, when more eyes than usual will be upon us. Just not any from the Tribune.
This is a slightly abbreviated edition of our weekly post, due to the craziness that is VersionFest happening all weekend long. So much to see/do!
Thursday: (tonight!)
The Society for Contemporary Art presents: Cameron Jamie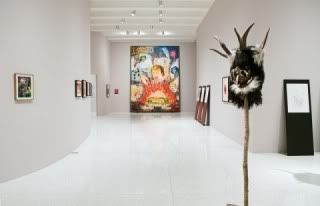 Artist Talk
April 23, 2009 6-7 p.m.
Price Auditorium
The Art Institute of Chicago
(312) 443-3630
$20/$15 for Society for Contemporary Art members, free for staff and students. Please call for more information.
From the press release: "Cameron Jamie investigates ritualistic practices, mythologies, and folkloric traditions that lie at the fringe of popular culture. Best known for his films, Jamie works across media, incorporating drawing, sculpture, photography, and performance in his exhibitions."
Friday:
Response: Art and the Art of Criticism
Opening!
Friday April 24th 5-7pm
I space
230 West Superior St.,
Chicago, IL 60654
Work by Fred Camper and Adelheid Mers; Janina Ciezadlo and Silvia Malagrino; Alicia Eler and Carrie Schneider; Jason Foumberg and Carol Jackson; Claire Wolf Krantz and Claire Prussian; Corey Postiglione and Duncan MacKenzie with Christian Kuras; Lane Relyea and Conrad Bakker; Polly Ullrich and Christopher Meerdo; Lori Waxman and Dianna Frid.
Sunday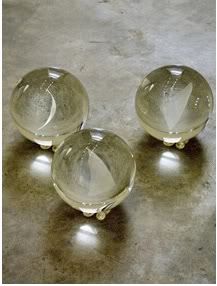 Opening!
April 26th, 2009 at 4 pm, discussion from 5-6pm
Renaissance Society
5811 S. Ellis Avenue
Bergman Gallery, Cobb Hall 418
Chicago, Illinois 60637
Via the Ren's
website
: "Titled after an essay by the late philosopher and literary theoretician Jean-Francois Lyotard, Several Silences is a group exhibition exploring various kinds of silence. As a discourse, the aesthetic of silence has been thoroughly domesticated within the visual arts. Although silence as a discourse in art arose out of conditions calling for the negation of art, it has subsequently become familiar subject matter no longer operating as the avant-garde ideal it once was. This is not to say silence has lost significance. If anything, it has become a more potent antidote to a culture of distraction. Silence, however, is not the absence of communication. It is dialectically opposed to communication, so that one sustains and supports the other. Inextricably bound to communication, which it tacitly evokes, silence itself is a form of communication with many meanings. There are voluntary and involuntary silences–some comfortable, others not. There is Cage's silence, which calls for the distinction between clinical and ambient silences. There is silence as conscious omission or redaction. And then there is memorial silence."
There will be a talk between Hamza Walker, curator of the exhibition, and Thomas Trummer, curator and Project Manager for the Siemens Arts Program, Munich, Germany, from 5 – 6 pm.

View Bad at Sports Guide to Version 09 in a larger map
Version Fest 09 begins today Thursday April, 23rd. There are a bunch of events that are going on for the next ten days. Here is a guide to what I will be checking out this weekend and next. This is not a list of all of the events, just a selected few. Be sure to check out Version's website for a full list of events. Sunday I will be posting a recap of Saturday's events.
For more information please visit Version's site
First there was Hevetica, the documentary about the font and typography in general. It was all the rage in art circles for a week and now comes the spiritual sequel Objectified which promises to do the same for industrial design.
Check out the trailer below.