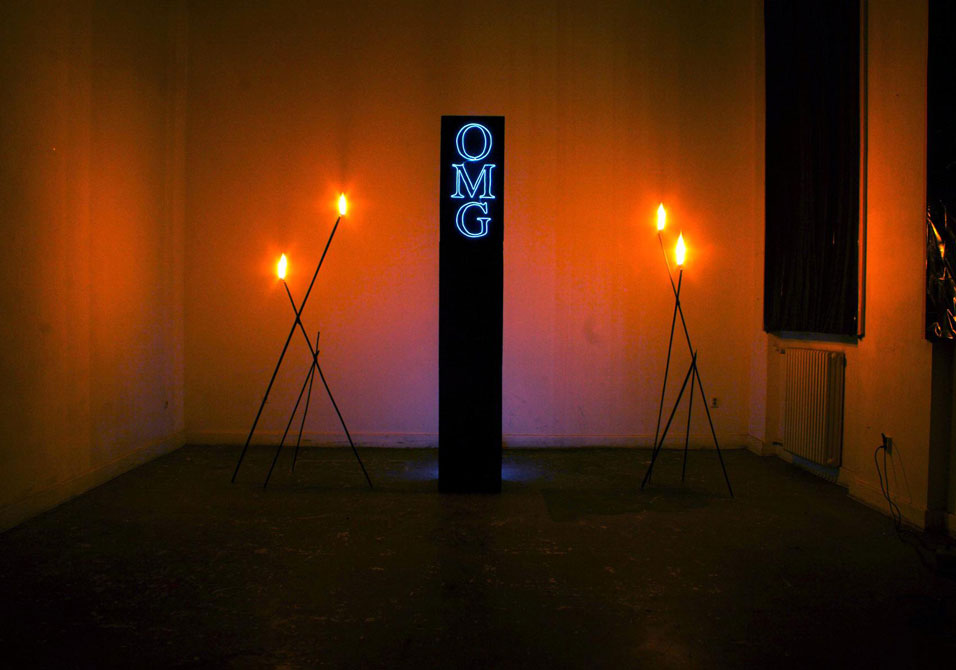 Is it sacrilegious to open a show titled "Younger Then Jesus" the week of Easter?  Presumably that was the provocation, along with the very idea of a generational show for artists under 33 at the New Museum.  After seeing the show, I can't say there's a strong argument for a generation of like-minded artists, but I believe we've come to expect pluralism.  For that very reason, most still shoot arrows in the dark towards some answer about what artists of the present moment are doing.  Everyone hits a different target.
My projection about our generation — I myself am younger than Jesus — was not even to be found in the New Museum exhibition.  The only thing that the New Museum seems to deserve some credit for is posing a question about the present moment at an opportune time. Coupled with the collapse of the art market, it is not inappropriate to be thinking, "What now?"  And that can very easily translate into "What IS now?" The New Museum, however, did not seem to have the answer.  (Which is actually just fine).
Here's how others summed up Generation OMG as represented by the New Museum show:
By now most people who are interested in architecture have learned that the Swiss architect Peter Zumthor has been named the 2009 Pritzker Architecture Prize Laureate.  I was psyched to hear this — I don't know a whole lot about architecture, but I did do some research on Zumthor awhile back for a project on the Slow movement that never came to pass, and I found his buildings, his ideas, and his focus on locality to be quite compelling. From Zumthor's book Thinking Architecture:
"I believe that architecture today needs to reflect on the tasks and possibilities which are inherently its own. Architecture is not a vehicle or a symbol for things that do not belong to its essence. In a society that celebrates the inessential, architecture can put up a resistance, counteract the waste of forms and meanings, and speak its own language. I believe that the language of architecture is not a question of a specific style. Every building is built for a specific use in a specific place and for a specific society. My buildings try to answer the questions that emerge from these simple facts as precisely and critically as they can."
The Pritzger Prize is being amply covered elsewhere, and I won't pretend to have fresh insight to add other than this small offshoot. While reading through the many well-deserved Zumthor accolades today, I was reminded of a photographer named Helene Binet whose work I have always admired but haven't thought about in awhile.
Binet is a celebrated architectural photographer. She's worked repeatedly with Zumthor and Zaha Hadid, Daniel Liebeskind, and Coop Himmelb(l)au among many many others. Interestingly most of the images of Zumthor-designed spaces on the Pritzker website that immediately drew me in were the ones that were photographed by Binet. She has a remarkable ability to capture the emotional and spiritual qualities of a given architectural space — a skill that's particularly important when it comes to an architect like Zumthor.
Of her own work, Binet has said,
"In the end, what I do is about feeling. Certain buildings, certain architects generate a strong emotion. It is hard to explain, but, if am I lucky, I can find this feeling, these emotions, slowly and quietly in the darkroom when my pictures come to light." (from Dream Life of Buildings: Helene Binet's Pictures, The Guardian, April 15, 2002)
In many ways architectural photography is an "invisible" genre because we tend to look right through it, forgetting that someone other than the architect is framing our view of the building. Photographers like Binet play a vital role in communicating architectural meaning, especially to the great unwashed like myself who don't know how to read a blueprint or schematic and who find scale models boring to look at. I might never get to see a Zumthor building in real life (and god knows could I use a trip to that spa right now), but Binet's pictures, and those of other equally gifted photographers, make me see what all the fuss is about.
In order to understand a work of architecture, we have to be physically present in the building or space itself. Or do we? Great architectural photography makes you wonder.
For access to (way better-looking than they are on this post) high-res photographic images of Zumthor's projects by Binet and other architectural photographers, visit this page on the Pritzker Prize website.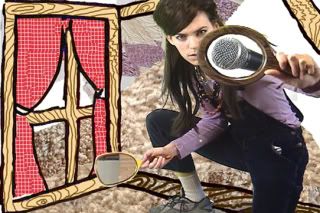 This Wednesday night kicks off a new performance from Wynne Greenwood in Seattle, WA. Her new piece entitled Sister Taking Nap: A Meditation About Human Evolution will be performed at On the Boards. Greenwood is best known for her Tracy + the Plastics performances where she performed as all three members, Tracy, Nikki, and Cola. In the video portion of the Culture for Pigeon album the band mates create music by opening Pringles cans or by waving a cape. After several years of performing as the band including performances at the Whitney Biennale and for Miami Basel Greenwood called it quits.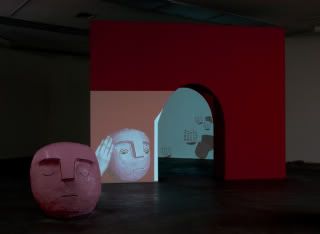 In the Spring of 08 Greenwood unveiled a new series of work at Susanne Vielmetter in Los Angeles that incorporated sculptures and installations into her "music" video, Big Candy. "Sister Taking Nap" is a one-act about human evolution where objects such as an animal cage, a suitcase and a TV double as small stages for posing the question: What must we give up in order to survive?" Recently Greenwood spoke with Miriam Katz for Artforum's 500 words:
"I'm interested in sculptures as sites of performance and interaction, and sculptures as performers. The suitcase, the TV, the animal cage, and the sleeping sister are set pieces that are to be stood on–I see them as personal stages. I started making the sculptural set pieces before I began to conceive the narrative of the performance. I wanted to make objects that had an objective and that had a role in determining how and even why someone interacted with them, moved around them, and had a relationship with them. The set pieces and narrative developed together, informing each other. The language that I use to talk about (and to) these pieces also helps determine their worlds. This is a sister taking a nap. Not just a woman taking a nap, or a person taking a nap, or a person sleeping. To me, a nap offers different, possibly conflicting realities. It suggests having time for a nap, but also need for one. A privilege and a right. Escape and renewal. A place between deep sleep and awake. Where dream and reality can get confused."
On the Boards
100 West Roy Street
Seattle Center (Queen Anne), Seattle
Opening Night: Wednesday, April 15, 2009
Closes: Sunday, April 19, 2009
Tickets: $18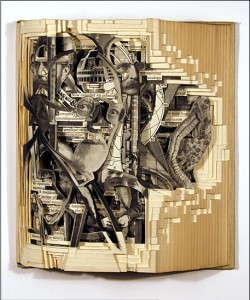 Brian Dettmer's sculptures are like steampunk versions of data clouds. Treating books as if they were bodies under investigation (the word 'autopsy' comes up frequently in discussions of this artist's work), Dettmer expertly fillets them, foregrounding certain pictures, words, and illustrations while excising others in order to highlight previously unnoticed relationships. The results are densely layered bibliophilic wunderkammer that are truly incredible to behold.
Dettmer's cuts are surgically precise, but they're also curatorial in nature. By transforming books into objects of pure contemplation and display, Dettmer destroys their ability to be useful in the manner they once were. At the same time, he invests them with new signifying potential. In this case, bodies of knowledge are made to display their own viscera in a simultaneous rather than sequential manner; it's not exactly like how we experience the Internet, but it certainly evokes it.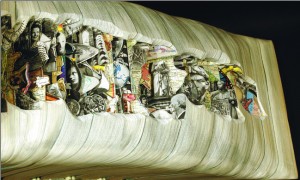 Dettmer's books can be surprisingly provocative, too, stirring up all kinds of nostalgia, reverence, and even guilt about the fate of printed matter in the age of the iPhone, the Kindle, and the Vook. In the catalogue essay, portions of which have been excerpted in the gallery's press release, Antonia Pocock argues that Dettmer's book carvings "represent an impulse to resuscitate the tangible records of information that appear dead when faced with the dynamic, instantly adaptable media of the information era. Under Dettmer's hand, the rigid rectangle of the book dissolves into a chaos of new data connections."
Dettmer focus isn't solely on text, however. It's equally enamored of illustration, which in Dettmer's preferred choice of books–mostly of the encyclopedic or instructional kind–take the form of intricate woodcuts, line drawings, and schematics along with various forms of cartography. The Web is filled with images, but it's not an illustrator's medium. The three dimensionality of Dettmer's sculpturalized books reminds us of how the internet and the computer screen tend to flatten images, obliterating shadow and fine detail and making hand-drawn efforts largely irrelevant.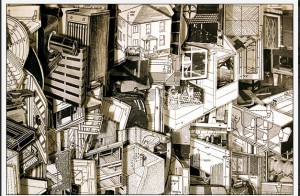 The exhibition also includes a two-channel video downstairs which provides insight into Dettmer's painstaking working process. Thankfully, the videos leave a lot of the how-to's unanswered, which keeps the mystery of it all alive. I didn't want Dettmer's process to be totally transparent –where's the fun in that? Instead, they remain, for me at least, Carrollian follies so strange and alluring I wanted to shrink myself down, crawl inside them, and explore.
Brian Dettmer's "Adaptations" will be on view at Packer Schopf Gallery through May 9th.
Wow. I thought this story might be cooling down, but instead it's exploding! Check out this link-filled update by Hrag Vartanian on the occupation & arrests at The New School over the mass firings of adjunct fine art faculty calling for New School President Bob Kerrey's resignation. UPDATE: (check out this website for statements issued directly by students and others involved in or sympathetic to the protests, rallies, occupation and other recent New School-related events).
Vartanian's following the events closely via news, blogs, and Twitter updates from those on the ground. The New York Times has background on the story, plus video of the arrests and photos of the protest.