I recently came across MW Capacity, Chris Lowrance and Sam King's "painter blog for no-coasters," and if you're not already among its readers I encourage you to start checking it out on a regular basis.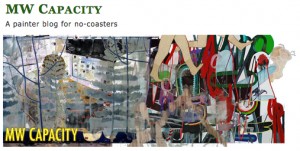 MW Capacity focuses on painting in the Midwest, and I love their approach: lots of images, very brief write-ups on the artists (and sometimes none at all, just pictures) and that's it. The blogs' readers take over from there in the comments, resulting in an online version of group crit that's surprisingly respectful and considered given our tendency on the internet to let the s*&t fly first and think about it later.
Today MW Capacity posted on Angelina Gualdoni's new work at Kavi Gupta (and have also covered her in the past, with a relatively large number of comments on the work in response). They also had an interesting group discussion on Jim Lutes. But no gang rapes allowed: the blog's policy is to take down posts if an artist doesn't want to be there. It seems to be a pretty friendly and laid back atmosphere, so I imagine having one's work featured would be something to feel excited about, not fear.
Artist, performer, and director of the School of the Art Institute's graduate fashion program Nick Cave had a big profile in last Sunday's New York Times. Cave's Soundsuits–wearable mixed-media sculptures that incorporate every material imaginable to make sounds unique to each garment–are on view in a large-scale exhibition at the Yerba Buena Center for the Arts from March 28th through July 5th; the show will travel to UCLA's Fowler Museum in 2010.
In the Times profile, Cave recalls what he was thinking when he made his first Soundsuit out of fallen twigs gathered from Chicago's Grant Park.
"It was a very hard year for me because of everything that came out of the Rodney King beating," he said. "I started thinking about myself more and more as a black man — as someone who was discarded, devalued, viewed as less than."

One day, sitting on a bench in Grant Park in Chicago, he saw twigs on the ground in a new light: they looked forsaken too. He gathered them by the armful and cut them into three-inch sticks. He drilled holes through the sticks, so he could wire them to an undergarment of his own creation, completely covering the fabric.

As soon as the twig sculpture was finished, he said, he realized that he could wear it as a second skin: "I put it on and jumped around and was just amazed. It made this fabulous rustling sound. And because it was so heavy, I had to stand very erect, and that alone brought the idea of dance back into my head."
Cave, you'll remember, had a show at the Chicago Cultural Center in 2006. I really wish I'd been living in this city at the time so I could have seen it–Cave's stuff is blowing my mind, and I need to know more about it, look at it up close and in person, watch the fur fly, so to speak.
My own lack of familiarity  with Cave's work makes me wonder, though: Why is Cave's show traveling to the Fowler Museum, which is a museum of cultural history, and not an art museum that has an equally strong ability to support and exhibit interdisciplinary art of this nature, like, say, the Los Angeles County Museum of Art (LACMA) or even UCLA's "other" arts institution, the white-hot Hammer Museum*? From the Fowler's online mission statement:
The Fowler Museum explores art and material culture primarily from Africa, Asia and the Pacific, and the Americas, past and present. The Fowler seeks to enhance understanding and appreciation of the diverse peoples, cultures, and religions of the world through highly contextualized interpretive exhibitions, publications, and public programming, informed by interdisciplinary approaches and the perspectives of the cultures represented.
Don't get me wrong: the Fowler is a fantastic institution and will do a superb job with this show. My quibble is with what seems a questionable location of Cave's work in terms of "material culture" when it really is better understood in terms of contemporary artistic practice–which is, you know, highly interdisciplinary itself nowadays, and which is why institutions like Yerba Buena's are an ideal context for it.
The NYT piece notes that in his catalogue essay for the Yerba Buena show, Dan Cameron "cites the 'social sculpture' of the artist Joseph Beuys, the legacy of the drag queen Leigh Bowery in the London underground performance scene and the ornate costumes of African-American Mardi Gras Indians in New Orleans" as associative touchstones for Cage's fashion/sculpture/performance mash-up. So why emphasize only the last part of that description?
Cave shows his Soundsuits at Jack Shainman alongside Kerry James Marshall, Carrie Mae Weems, Michael Snow, Odil Donald Odita, Bob Knox, Tim Bavington–a diverse stable of artists involved in a wide range of practices, some interdisciplinary in nature, some less so. Check out Cage's bio: He's had solo exhibitions at the Museum of Contemporary Art in Jacksonville and a bunch of other smaller contemporary art venues. That the Los Angeles venue of his biggest exhibition to date will be a cultural history museum rather than a contemporary art center seems a little out of context given where Cage has shown previously.
I've sat in the conference rooms where the decisions to greenlight exhibitions are made–the choices are complicated and involve a mutitude of factors, and believe me, I know that outside observers (like myself) often have an overly simplistic view of how it all goes down. Maybe it's as simple as the show wasn't offered to anyone but the Fowler. But I've also witnessed firsthand how certain exhibition proposals get tossed aside with hardly a second glance because it belongs "somewhere else," often that conveniently located cultural history museum that's right down the street, practically next door, maybe we can collaborate with them on something or maybe not…whatever, "it's not for us."
This is not about the relative value of cultural history museums. It's about context, the meaning of "culture," and museological responsibility. Is the Fowler's role, and by extension the role of other cultural history museums, to pick up the slack and plug up the holes left by the fine arts institutions in their city? I haven't lived in L.A. for awhile now, so I can't do more than broach the question. But the institutional journey that Nick Cave's Soundsuits have taken and will take in the future would seem to provide a provocative case study in what qualifies as "contemporary art," what's deemed "material culture," and why that distinction even matters.
*(Is this the part where I'm supposed to do the "due diligence/ full disclosure" thing and report that I was once an assistant curator at the Hammer? Well, then, consider it done.)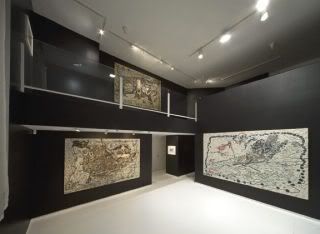 Tuesday, April 7, 6pm
Fullerton Auditorium, 111 South Michigan Avenue
FREE Admission
via the Visiting Artist Program at SAIC
"For the past four decades, SAIC alumnus Joe Zucker (BFA 1964, MFA 1966) has made idiosyncratic and humorous paintings and drawings that have mined and remixed the territory between the formal achievement of modernism and the allegorical potential of postmodernism. Zucker will discuss his career with New York-based curator and writer Klaus Kertess, who founded the Bykert Gallery with John Byers in 1966 and served as its director until 1975, representing Chuck Close, Ralph Humphrey, Barry Le Va, Brice Marden, and Dorothea Rockburn, among others.
In collaboration with the SAIC Office of Development and Alumni Affairs & the Department of Painting and Drawing."
For more information please visiting VAP.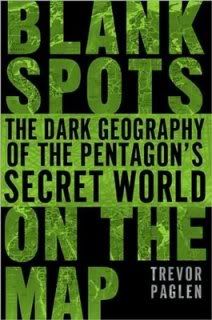 Last Sunday was the start of our Trevor Paglen giveaway. Congrats to Emilie S for winning a copy of Blank Spots on the Map: The Dark Geography of the Pentagon's Secret World.
Emilie's answer to where Duncan has been hiding was:
"Duncan's hiding out at Bernie Madoff's penthouse. (Now that Bernie's in prison, no one cares about the building and no one would notice him…)"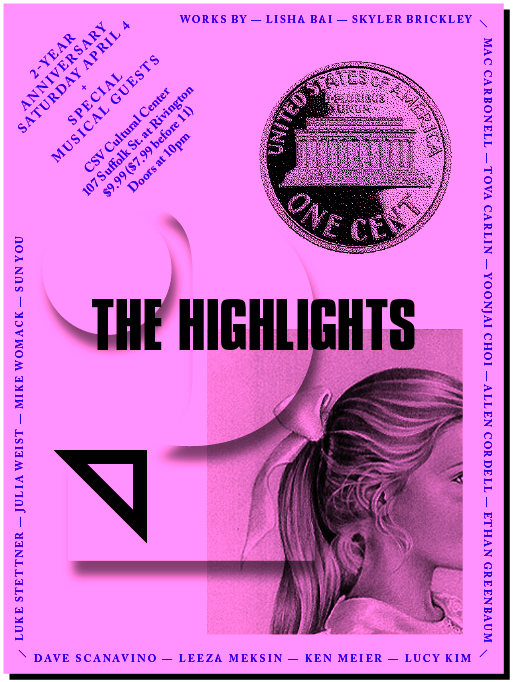 Tonight I'll be giving my 8 dollars to a wonderful web publication and receive in return a burnished penny (before 11pm) and a full night of excitement.  The Highlights is an online arts journal started in 2007 consisting of web-based projects and essays by artists. My current favorite is the Blind Carbon Copy interview between Steve Cairns and Isla Leaver-Yap.  No surprise these folks were included in the recently closed exhibition IRL (In Real Life) at Capricious Space in Brooklyn.  From the email invite:
The Highlights is having its two-year anniversary event, happening Saturday, April 4 at CSV Cultural Center (107 Suffolk at Rivington). Please join us in celebrating two glorious years of salacious commentary on the world-wide web with drinks, DJs, live music, and installations. Featuring artwork by Lisha Bai, Skyler Brickley, Mac Carbonell, Tova Carlin, Yoonjai Choi, Allen Cordell, Ethan Greenbaum, Lucy Kim, Ken Meier, Leeza Meksin, Dave Scanavino, Luke Stettner, Julia Weist, Mike Womack, and Sun You, plus a very special musical guest at midnight.