I met Roberto Cruz Arzabal, Cinthya García Leyva, and Susana González Aktories at a corner café in Coyoacan, a neighborhood adjacent to UNAM. Cruz, García, and González are three of six members of the laboratory of extended literature and other materialities (lleom), a roving and expansive group that presents walks, talks, readings, exhibitions, and other events around emergent forms of writing. Although I am usually wary of talking about art in cafes, I was encouraged by what I perceived as similarities between this café and the café I talked to Renzo Martens in back in April. I ordered a matcha cake, which for some reason I did not expect to be giant and neon green. I began by asking what lleom is.

*This interview was conducted in English.
CGL: It's a space of experimentation. We met in school, in the Faculty of Philosophy and Letters at UNAM, and we share some similar questions about literature in general: how literature literally expands its forms, its communications, and its relations. We try to exercise these expansions, and we try to invite people to experiment with us. We are developing research, seminars, sound walks, very different ways of approaching experimental literature.
RCA: lleom is not a physical space. It's a cognitive space with cognitive experiments. We want to try to new concepts and new approaches, both to the old media, to the old literature, as well as to the new literature, the new ways and territories in which literature is operating in this moment.
JW: What do you mean by the new literature?
SGA: Emergent ways of creation, mainly. "New" is a difficult term to define.
RCA: Yes. What is emerging may not be new. We are in a very wide space, which I think allows us to look for other encounters between artists, writers, web artists, and even traditional, or almost-traditional, poets.
JW: I'm really interested in the last half of your acronym, the "other materialities." What are some other materialities?
SGA: Vocal traditions, for instance. Not only oral ways of communication in ancient cultures, but also in contemporary ways, which often include new technologies. Sound poetry and all of its different derivations is fascinating. Our viewpoint starts from the avant-garde movements and comes back to almost yesterday. We're looking around at new publications and trying to discuss how they are evolving. Are they actually new? What is "new"? What does recreation mean? Of course, we get back to the figure of the Author, of the Original, of how we read. The distinction between reading out loud and singing, the distinction between imagining the text in silence and reading it in silence: these are different materialities which lead you to a different literary object. The approach, the theoretical approach at least, has to change.
RCA: The traditional approach in academia is the text as a text. We don't see the text just as a text; we see it in an oral way, in a printed way, in a digital way. We are trying to understand the text as a process, the book as a process, the book as an interface for the text. We also have a few studies about the social context of the text: publishing, the relation between writers and other artists. That's another materiality, the social materiality of literature. We can think the text before or after it is published, before or after it is reviewed or made an object for critical discussion. These are conditions of existence for the text. We don't read a text. We read a material and we integrate that material into our experience—in our living experience, in our aesthetic experience.
JW: Why "laboratory," and not workshop or thinktank or any of those other words?
RCA: Because workshop, at least in Mexico, has two connotations. One is the handmade, as in crafts; but also it's the way in which writers work on writing, in a very professional, material way. We are trying to get out of this idea and to think in a more cognitive space, to be able to really experiment with ideas. We don't work with material; we work more with ideas and experiments.
CGL: A laboratory also allows for a free way of studying. We try to ask questions about academic work: how we approach academic work, what we understand as academic work.
SGA: Literary matters or other cultural matters are always discussed as things that have already passed. Concluded matters: that's what makes them objective. Very few people have the courage—I don't know if it's courage, but maybe it is—to approach things that are in process, because you can't know what's going to come out of them. Here in Mexico, and everywhere, the tendency is to work with writers who have already died. It is much safer to work with dead writers than to work with writers who are still alive. We are letting ourselves be creative a little bit, not just a researchers who stand beside the matter itself, who are always a third element in all the processes and equations, but rather allowing ourselves to experience some kind of creative situation ourselves. It gives us a whole perspective. This is what is generally lacking, at least here in Mexico.
JW: Is lleom this a goal-oriented organization? Is it reaching towards some kind of conclusion or is it fanning out?
SGA: I have my own personal answer for this. We have all these different interests: people decide they want to pursue one thing or another, and we support them. I hope that we, as intellectuals, as an academic group, do not always recreate this same kind of discourse that is always saying that literature is not important to society, that culture is in the periphery of things. I truly believe that culture, literature, and literary studies as such should be considered as the center of many other things that are not only literary, including sociopolitical matters.
RCA: There are a lot of museums, a lot of centers, a lot of schools in Mexico, and they all have that attitude that everything is wrong, that everything is catastrophic.
SGA: Mainly regarding culture: culture is always marginal, culture is never interesting…
JW: What is important if culture is not?
RCL: Money, the economy, the government, the traditional political sphere, traditional media, pop stars, and so on. We are living in a global country, in a global space. We are in an ideological space, in the center of society. If we don't think that, we are lying to ourselves. That's the political importance of our work. In the center of the laboratory there are two main interests. One is objects and materiality; the other is the experience and the experience as a process. The experience can make us see reality—the arts, the political—in another way. If we see the experience and the objects, we can think not only the traditional materiality of the book, the poem, but also the way in which the society is thinking itself around those objects right now.
CGL: That's why we also have an interest in the way the Internet works, in our experience as users of the Internet, literary works that exist in digital space, and also as users of literary works that exist in material or physical space. We return to the book in the second degree. We visualize the book after the Internet.
JW: I noticed on your website that one of the many interests of lleom is "post-Internet." Is that what you mean? The book after the Internet?
SGA: The question is actually the physical object: the Internet can make you make decisions more consciously. If you decide to make a book object today, it doesn't mean the same thing as it did at the beginning of the twentieth century, even if it is almost the same. That's what makes it so fascinating and so exuberant. The last talk, with Leonardo [Valencia, a Ecuadorian author], was about this. He had had the experience of making a digital book, but he realized after this experience that he wanted to turn back to a more conscious way of making, writing, and editing physical books. That gives it a whole new meaning, a whole new experience of writing and of reading.
RCA: The important thing is that it's conscious. "I want to write in handwriting, I want to publish on the Internet, I want to publish a print book." These should be conscious decisions. Why are you doing it?
CGL: How we read, and how we write, in the most literal way: we are touching the screen, we are touching the book, we are writing in a screen that we don't know what it is exactly, or we are writing with ink—
JW: It seems to me the most important thing we can do as academics or artists or anything is to make people aware that they are making a decision. What is this book? Where did it come from? Where was it printed? What was it printed on? These are all questions we should be asking. Where does this paper come from? The answers aren't always necessarily good ones, or are often horrifying, but it's important to ask the question and to reconcile yourself to the answer, somehow.
[A server delivers two Americanos, one for Jacob, one for Cinthya.]
JW: When we sat down, I was saying that part of the reason I moved to Mexico City was that I kept on hearing, from other expats, from other foreigners living in Mexico or who had visited Mexico, that it is such an exciting place, that there is so much happening here, and your response was, "yeah, I've been hearing that a lot." Is it true? As people who live in Mexico City, who have been living in Mexico City, is now exciting? Are things different than they were 10 years ago, for instance?
SGA: Definitely. For me, yes. I see it almost in the everyday way of life. Things are changing—not always in a positive way, but often in a positive way. In my case, having come back from Spain just now, I again realized, while talking to my friends, and while having had the opportunity to stay actually abroad—my mother is German, I studied in Germany and then got my doctorate degree in Spain—there are many things that can still be done. The structures are not so stable. There are so many ways in which you can reinvent things.
RCA: Yes. We have a very interesting city and a very interesting university, for example, and I'd like to say that good things are happening in the city, in the country, in the university. I think that if we are a neoliberal lab, we can answer some things from here, because we are in a very particular space.
JW: Did you say "neoliberal lab"?
RCA: Yes, yes. We are not Ciudad Juarez, and we are not Chile, which was the first neoliberal lab in Latin America, but we are nonetheless a neoliberal lab. We have to think local reality and global reality from our particular position. I think we can find, if not some answers, at least some perspectives. Some different ways of thinking, of organizing. As a lab, as an academic lab, as a cultural lab, we have a possibility to exist in a different way. Which is political, also.
CGL: Also, just to think together. That's really important.
RCA: That is very important to our work. To think together, to talk about reality together, that's a very important thing.
SGA: I mean, that's our infrastructure. Thought. That's the only thing we have so far. That's why we haven't asked for any financial support from any institutions, that's why we also decided to make this lab outside of the realm of our institution, UNAM, which could probably give us some sort of support, but would also bind us to all sorts of administrative things. That would be very difficult: we would be judged according to parameters that are not related to what we do.
Roberto Cruz Arzabal is a PhD candidate in the Faculty of Philosophy and Letters at UNAM and a member of lleom. His research interests include post-digital literature, object-oriented ontology, conceptualisms, materiality and virtuality of poetry, material culture, and intermediality.
Cinthya García Leyva is a Masters candidate in the Faculty of Philosophy and Letters at UNAM, a member of lleom, and a curator. Her research interests include intermediality, sound art, materiality and virtuality of poetry, and objects.
Susana González Aktories teaches in the Faculty of Philosophy and Letters at UNAM and is a member of lleom. Her research interests include intermediality, experimental sound and/or visual poetry, applied semiotics, and materiality and virtuality of poetry.
1. NO MEDIA at High Concept Laboratories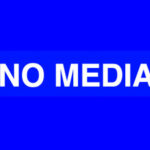 Organized by Jason Soliday, Nick Briz and Jeff Kolar.
High Concept Laboratories os located at 2233 S. Throop St. Performances Saturday 8-10pm.
2. Looking for You in the Mirror at Linda Warren Gallery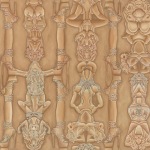 Work by Paula Henderson.
Linda Warren Gallery is located at 327 N. Aberdeen. Reception Friday 6-9pm.
3. Old Work-About Face at Domus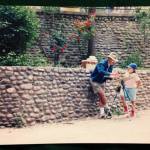 Work by Danica Favorito.
Domus is located at 653 W. 28th St. Reception Friday 6-9pm.
We are in the midst of a warm snap. The snow has receded. The ice has left the lakes and rivers. I dig out the fall clothes I had packed away, reluctant to leave warm hats and scarves at home. I know the cold is waiting just around the corner for me to let down my guard again, but I do not want to miss the brief reprieve. I walk through warm days and nights, trying to understand this seasonal contradiction, as I struggle to hold the contradictions that surround me.
I support and enjoy the art installed in the long waiting room of Union Depot. I often eat lunch there. I linger with people in transition, crosstown bus riders and Amtrak passengers traveling to Chicago, and I am drawn to the gentle, rippling, summery reminder of Jim Campbell's suspended 8 ½ x 11.
I simultaneously struggle to understand why the largest and most visible artworks are by artists from outside the Twin Cities (Campbell is based in San Francisco) and why artists from outside these communities and the legacies and present realities of injustice in those communities, like Ralph Gilbert from Atlanta, whose six large murals were recently installed, are asked to "reference the railroads' impact on the Dakota tribes and their land; [and] the importance of railroad jobs for African Americans, especially in St. Paul's Rondo neighborhood."
I want to support the artists and makers whose work fills the overwhelming number of recent and upcoming holiday markets, popup shops, and art fairs. I love and would love to take home their work. I want to support artists trying to make a living and their desire to do so through their artwork, through forging and finding new ways to economically support themselves.
I simultaneously struggle with the fact that economic survival in and economic diversification of the artworld often shore up the neoliberal, capitalist systems that benefit a handful of people and visit violence on the earth and the people outside of that small minority.
I am filled with the deep pain, anger, frustration, hopefulness and solidarity of Million March MN and protests around the country over the weekend. I felt power dynamics being exposed when the march stopped traffic and stunned holiday shoppers looked on in disbelief and confusion. I believe the affirmation embodied in those marches that artists, that all people can come together to make change here and in cities across the country.
I simultaneously struggle with the fact that Midway Contemporary Art's Monster Drawing Rally fundraiser took place hours after the march. I support Midway, and the Monster Drawing Rally is an inventive, exciting way to bring together artists, collectors, and supporters to raise money. It was difficult, however, to watch hundreds of people pack in to watch artists make drawings and snatch up the drawings before they were hung on the walls. Consumption was conspicuous as people surged through crowds to be the first in line to buy a drawing, to buy drinks, to see and be seen, seemingly unaware of the larger issues and inequities in the world outside the white walls, deaf to the rallying cries still ringing in my ears.
I am leaving the Twin Cities soon, moving to warmer, greener climates. I have learned so much from and in this place, but I clearly have a lot more to learn. These paradoxes in the artworld and in the rest of the world happen everywhere. I must remember that I am not alone in trying to understand and make sense of these worlds, that we all must struggle to make meaning of the contradictions that surround us. I am reminded as I enter a new place, a new art community that all of the knowledge and experience I think I have is simply a place from which to start learning and growing.
I can hold complexity and contradiction; I can move with and through and around that uncomfortable unresolvability. I remember that I am privileged in ways I know and in ways I cannot see. I will continue learning. I will continue making. I will continue to use the privilege and access I have to reflect and shine light on the inequalities and injustice around me.
Daily, as a ritual, I read a book on the train entering and returning from the city. Usually I read a book set in the past, and usually fiction, although this month it is Christian Dior's autobiography: Dior by Dior.
The train delivers me to one of two jobs. At one, I volunteer to construct Victorian sets for early 20th century plays. I am surrounded with petroleum oil lamps and a costume closet of lace petticoats. With a thrust towards being elsewhere, I try on a pair of above-the-elbow gloves.
"One of the strangest facts about a couturier's profession – which the uninitiated find the most incomprehensible – is that a fashion is always decidedly out of season. The winter collection is worked upon in the season of lilac and cherry-blossom, the summer collection when the leaves or the first snow is falling. We couturiers are like poets. A little nostalgia is necessary for us. We like to dream of summer in the middle of winter and vice versa." – Christian Dior
Dior is filled with strategies of being elsewhere. The book details the life of a humble man designing a fashion line, his name becoming synonymous with the industry after his first ever collection called The New Look, designed at the age of forty.
Christian Dior is an old fashioned man. This is known from his opinion about hats, for example. At a time, even 1946, when hats were worn less, Dior refused to show a collection without them. "Personally I consider a woman without a hat is not completely dressed…'How pretty you look today!' often means no more than: 'How well your hat suits you!'"
A structural backbone to the fashion collection is described: from the first brainstormed sketches to the final runway showing and later, appointments conducted with department store buyers. The autobiography is a diaristic preservation of decorum. Sacred rules punctuate the book, from how to scent the couture salon before a runway show, to a seating arrangement, to correct proportion of vacation in the country to industriousness in the city, enumerated by threats of throwing this or that dress into the waste paper basket.
Even the dresses live by ceremonious rules.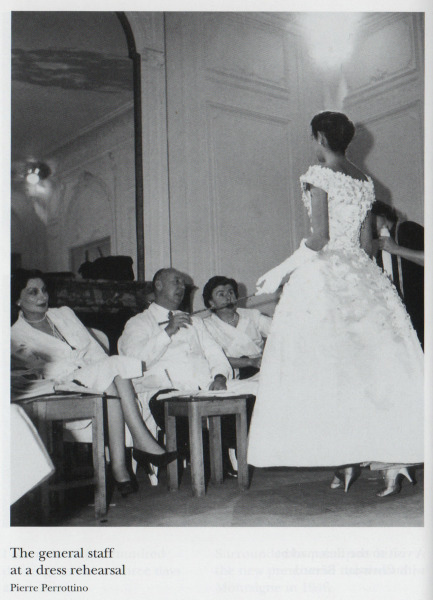 "I scribble everywhere, in bed, in my bath, at meals, in my car, on foot, in the sun, in electric light, by day, and by night. Bed and bath, where one is not conscious, so to speak, of one's body, are particularly favourable to inspiration; here one's spirit is at ease." – Christian Dior
The decorum of writing struck me recently in a folded image of orange-gloved hands, holding pencil and paper, within a crowded subway car as part of Moyra Davey's ongoing photographic series called Subway Writers from 2011. The series documents people writing in the subway. From the slight blur and close crop, the image has a covert nature. Photographs also appear within Davey's oeuvre of readers in transit. Sometimes, her work operates through the sending and receiving of mailed photographs and letters, as well as the reading and displaying of these correspondences.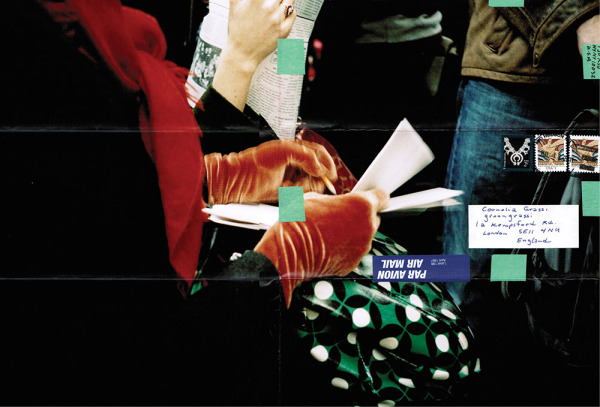 Moyra Davey, Orange Gloves, 2012, From the Subway Writers, C-print, 12 x 17.5 inches, tape, postage ink
Christian Dior knows best that images have the possibility of bringing lost details into new circulation, a dropped hemline, a padded waist. And until the final showing of a new collection – partially resurrected past – he guards his world against prying eyes.
He writes, "In every direction, there are signs that the new collection is being prepared. This happy world of wool and silk is sternly guarded against intruders. Whenever there is a rumor that a stranger is approaching, veils of white toile are flung over everything, covering the new materials and obscuring the accessories. The busy workroom is transformed in an instant into a peaceful deserted salon."
At one point in the autobiography, Dior stops short of describing a dress rehearsal and allows a stranger's perspective. The chosen stranger was a person who had never entered the couture world before. It is to this outsider that Dior submits his white toile and muslin secrecy.
The narrative continues from this outside voice. "When I first reached the landing on the first floor, I lost myself in white muslin. Successfully evading this first barrage of snow, I had to overcome a second, through which I was firmly but courteously rebuffed by a disembodied hand."
In Davey's photographs writers and readers are seen existing elsewhere, their head in a book or correspondence. The outsider's voice is not shared, we are rebuffed. To see a photograph of a letter being written, no matter on what and to whom, reminds me that I would like to write a letter. Whether or not I really have the desire to write, the image provides a homesickness obliquely resonant with its original definition. Nostalgia originated as a purportedly deadly medical condition from the English Civil War, the term with which soldiers were diagnosed when suffering symptoms of endlessly audible echo leftover from the clamorous battle.
1. Ground Floor at Hyde Park Art Center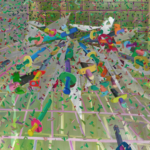 Co-curated by Dawoud Bey, Michelle Grabner, Caroline Picard, and Daniel Sauter, Allison Peters Quinn and Kate Lorenz, with work by Evan Baden, Hannah Barco, Greg Browe, Houston Cofield, Maggie Crowley, Barbara Diener, Assaf Evron, Andrew Holmquist, Kelly Lloyd, Jesse Malmed, Esau McGhee, Ben Murray, Celeste Rapone, Kyle Schlie, Tina Tahir, Keijaun Thomas, Daniel Tucker, Ramyar Vala, Julie Weber and Nicole Wilson
Hyde Park Art Center is located at 5020 S. Cornell Ave. Reception Friday, 6-8pm.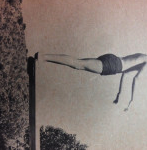 Work by Alex Chitty.
Adds Donna is located at 4223 W. Lake St. Reception Sunday, 2-5pm.
3. Double Cherry at Threewalls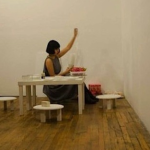 Curated by Katie Vota, Jonathan Kusnerek, Megan Cline, Abbey Muzatko, and Meredith Donnelly.
Threewalls is located at 119 N. Peoria St. Reception Friday, 8-11pm.
4. Hold Together at Johalla Projects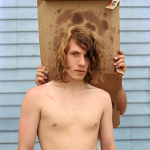 Work by Lisa Lindvay.
Johalla Projects is located at 1821 W. Hubbard St. Reception Friday, 6-9pm.
5. Effeminaries at Western Exhibitions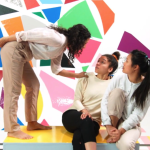 Curated by Matt Morris with work by Cameron Crawford, Danielle Dean, Chris Edwards, Greg Ito, Kacie Lambert and Joel Parsons.
Western Exhibitions is located at 845 W. Washington Blvd. Reception Friday, 5-8pm.