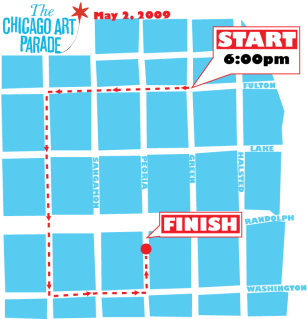 I first met Kevin Stanton several years ago at the old Western Exhibition's space. He was wearing a pair of gold Adidas Forest Hills. This detail probably doesn't matter but I was impressed with someone that could pull off a pair of gold shoes. Kevin has consistently organized awesome projects in both New York and Chicago so I was really excited to see what he had in store for the Chicago Art Parade.
Could you tell me a little bit about what one might see from the Art Parade on Saturday? Are there going to be floats? Can the audience participate?
The Chicago Art Parade will feature a huge array of art and performances created by over 170 local and regional artists. Don't be surprised to see two radical marching bands, Mucca Pazza and Environmental Encroachment, a small army of freak bikes, mermaids and pirates, fluxus performances, and some amazing sculptures. Not to mention the art cars in attendance, including a double-decker moster bus with a kitchen on the first floor and party on the roof, a U.F.O. drawn covered wagon, and a car that can be best described as a "magic laser." More than a few of the presentations will have audience participation.
How did the Art Parade come about? I saw that it was inspired by Deitch Project's Art Parade.
After collaborating with Dread Scott on a float for the Deitch Art Parade in New York, Ed Marszewski and I met to discuss this year's Version Festival. It was at those initial meetings in December of 2008 that the plan of producing an art parade in Chicago were worked out. The Chicago Art Parade differs from the Deitch Art Parade quite a bit. While the Deitch Projects hosts superstar New York artists, Chicago's parade is more interested in bringing local art communities together.
Is it at all connected with 2007's Carnival of Art on the River?
In the wake of The Carnival of Art of the River (also known as Art War), everything is influenced by the months of planning and community building that brought that project together. The Chicago Art Parade is the well mannered sibling of the Art War. However, we have some surprises planned!
The Chicago Art Parade
Saturday May 2, 2009 6pm
Begins at Fulton and Green
For more information please visit the Chicago Art Parade's site.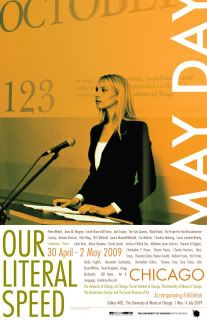 Our Literal Speed began last night. Finding a solid schedule has been semi difficult but below is a description of the series and some of the events I am hoping to attend. I think anything that is going to have Hal Foster with a drill team is probably worth checking out
"Our Literal Speed manifests the imperatives that materialize the theoretical and the pedagogical. No longer can we interpret forms of academic and artistic professionalism as neutral, abstract backgrounds to the aesthetic and performative. These activities have produced their own distinctive surfaces and procedures: the "aesthetic" has become discursive and "discourse" has become aesthetic.
Rather than a series of academic lectures, the conference/event is imagined as a kind of 'media pop opera' or 'administrative gesamtkunstwerk' that includes fluid and/or jagged transitions among scholarly presentations, panel discussions, artist's talks, performances, and an art exhibition within an academic conference. These emerging, hybrid forms demand a synthesis of collective activity (OUR), a self-reflexive examination of art history and its constitutive technologies (LITERAL), and an intense concern for the pace and texture of our movement through institutional mediation (SPEED). The project offers a temporary laboratory in which a concerned public can investigate non-formulaic, experientially vibrant and theoretically precise responses to the modes of distribution, consumption, and circulation that drive contemporary art."
Friday, May 1st
1:30pm – 4pm
Panel featuring Gregg Bordowitz, Julia Bryan-Wilson, Hannah B.
Higgins, Alison Knowles, and Joel Snyder
107 Kent Hall, University of Chicago
Exhibition opens at 8pm/Performances begin at 8:30pm
Works by: Academy Records, Gregg Bordowitz, Rainer Ganahl, Sharon Hayes, Jackson Pollock Bar, Hila Peleg, The Project for the New American Century, and The Size Queens
Gallery 400, University of Illinois at Chicago
400 South Peoria
Saturday, May 2nd
1:30pm – 4:30pm
Panel featuring Thomas Crow, Andrea Fraser, Boris Groys, Christine Mehring, and WJT Mitchell
Fullerton Hall, The Art Institute of Chicago
7pm – 9pm
Event featuring the South Shore Drill Team, Theaster Gates, Hal Foster, and Anne M. Wagner
107 Kent Hall, University of Chicago
9:30pm
Sharon Hayes will present "micro" "small" "phone" "voice" and other works in the lobby of the Smart Museum
For more information please check out Our Literal Speed's website.
If you are on Twitter makes sure to check out our page for updates of all the events we are attending this weekend. Hope to see you guys out at the fairs.
Here is just a slice of what I'm planning to see at this weekend's Artropolis/Art Chicago events. There is so much going on, make sure to click through to the Fair's website to check out everything on offer for yourself.
At NEXT, The Invitational Exhibition of Emerging Art:
GOFFO
"GOFFO, a special section that debuted at NEXT 2008, focuses on multiples, editions, artist books, prints and handmade objects. GOFFO returns to NEXT 2009 with an exceptional curated selection of presses, artist collectives and small galleries. Find it on the 7th floor of the Merchandise Mart."
At Art Chicago:
Partisan
"Curated by Mary Jane Jacob, executive director of exhibitions at the School of the Art Institute of Chicago, Partisan is a special exhibition of works culled from Art Chicago galleries that are dedicated to the artistic exploration of social and political ideas. With hopes of initiating dialogue about art, activism and social change, Partisan provides a critical and challenging space of thought provoking and project-oriented works within an art fair context."
The Hairy Who and Imagist Legacy in Contemporary Art
"To honor Chicago's legendary Hairy Who and Chicago Imagists, artists best known for a colorful and subversive aesthetic, Art Chicago will present an exhibition of works by contemporary artists whose work demonstrates an Imagist influence, whether it is for an unusual approach to representation, rebellious technique or link to the Imagist lineage. This exhibition, featuring work by artists represented in the fair, will be curated for Art Chicago by Lynne Warren, curator at the Museum of Contemporary Art, Chicago and expert on the history of artistic practice in Chicago. The Hairy Who and Imagist Legacy will be accompanied by a display of works by original Hairy Who and Imagist artists including Roger Brown, Ed Paschke, Karl Wirsum, Barbara Rossi, Gladys Nilsson, Art Green and others."
New Insight
"An exhibition of top MFA students from some of the country's most influential graduate art programs, New Insight is curated by Susanne Ghez, director of the Renaissance Society at the University of Chicago. A platform for new talent and innovative ideas, New Insight provides the opportunity to view work by some of the brightest young minds working in diverse graduate programs across the country."
JELLY ROLL : The Spectacle
An ongoing performance presented by Tara Strickstein of Bloodshed Event.
Artropolis Panels/Discussions/Talks:
There are also so many good panels planned for Art Chicago Speaks that I'm worried I won't have enough time to see all the art; these are just a few of the many talks I'm hoping to attend, but make sure and click the link about and check out the full diverse roster of conversational topics, it's really pretty incredible.
11am – 12:30pm: Friday, May 1
Crisis and Opportunity: Programming and Exhibitions in the New Economy
A CONVERGE Chicago: Contemporary Curators Forum program
In recent months, museums and art centers have been forced to shave budgets, reduce programs and exhibitions, and even cut hours and staff. Many curators, however, are successfully and creatively mounting ambitious and well-executed projects. In this panel, curators discuss innovative uses of the exhibition space and fresh approaches to programming that are fueled by big ideas rather than big budgets. Moderated by Brian Sholis, Artforum, this panel includes Ruba Katrib, Museum of Contemporary Art, North Miami, Dean Sobel, the Clyfford Still Museum and Benjamin Godsill, The New Museum.
Location: NEXT Talk Shop
2:30-4pm, Saturday, May 2
Museums on the Line: Cutbacks, Closures and Opportunities
A CONVERGE Chicago: Contemporary Curators Forum program
Michael Rush, director of the Rose Museum of Art at Brandeis University, a discussion about how recent and dramatic shifts in the economic and political climate have profoundly affected virtually every aspect of museum practice. Panelists include Anthony Hirschel, director of the Smart Museum of Art at the University of Chicago and artist Mary Lucier. Using Rose Museum de-accessioning controversy as a starting point for an extended dialogue, this panel will address museum de-accessioning practices; the symbolic value of public collections; institutional transparency; and the role of the museum in tough times.
Location: Merchandise Mart Conference Center
11-12:30pm: Sunday, May 3
Art and the New Economy
Presented by ArtTable
Join Paul Morris, Vice President of the MMPI Art Group, for a discussion about art and the changing economy. Focusing on positive and effective ways to navigate challenging times, this discussion will explore funding, collecting and the market. Panelists include Sarah Herda, executive director of the Graham Foundation, Rhona Hoffman, Rhona Hoffman Gallery, and Dominic Molon, MCA Chicago.
Location: Merchandise Mart Conference Center
1-2:30pm, Monday, May 4
Response: Art and the Art of Criticism
Presented by I Space Gallery, University of Illinois at Urbana Champaign in conjunction with the Chicago Art Critics Association
This panel addresses art criticism as the center of a resonant, disorderly and critical cultural conversation that fosters dialogue about the place of visual art in the contemporary world. Based on a related exhibition at I Space, this panel will feature Chicago-based critics from the show hich includes Fred Camper, Janina Ciezadlo, Alicia Eler, Jason Foumberg, Claire Wolf Krantz, Corey Postiglione, Lane Relyea, Polly Ullrich and Lori Waxman.
Location: Merchandise Mart Conference Center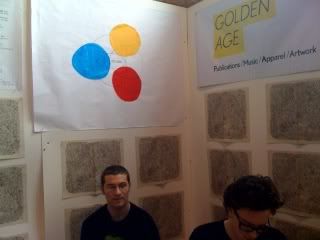 Saturday Lauren and I went to the Co Prosperity Sphere to check out the NFO XPO. In all honesty I hadn't been to a Version festival in three years. Three years ago both myself and several friends were stranded in Bridgeport at 2am in the rain and miles from the train (no taxis would come pick us up and the bus had stopped running). So, with that incident behind me, I returned to Version Fest in a car and with a fresh amount of optimism.
The layout of the fair looked liked most art fairs in the sense that each artist/organization/gallery had an individual booth and objects were either being sold/bartered/given away.
Golden Age, manned by the always rad Marco Kane Braunschweiler (pictured right), was one of my favorite booths. They carried work by Robin Camron.  I was really into Camron's "Mind Maps" and picked up her most recent book also titled "Mind Maps" which maps the artist's thoughts through extended Venn diagrams.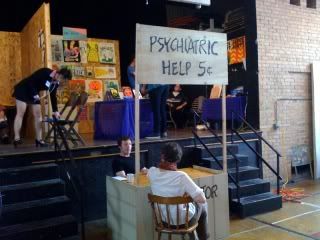 Green Lantern and Three Walls held it down in usual fashion. Aaron Delehanty had a psychiatric help booth set up which resembled "Peanuts".  I did not get a chance get Aaron's advice but I did hear him tell a woman that she needed to "go get a job".  I was also sort of taken with Daniel Mellis'  Institute for Socioaesthetic Research. According to a pamphlet, "the institute is dedicated to discovering the aesthetic possibilities inherent in the research and observation of social structures." To be honest I was initially attracted to the stock of paper that their pamphlet and business cards were printed on (I spend all day at work talking about paper) but also became interested in some of the services they offered. "The Fourth Amendment on Paper (Bags) Learn about your constitutional rights while enjoying a refreshing beverage at Maria's (Kaplan's Liquors),960 w. 31st street. Every purchase comes with the Fourth Amendment and instructions for use on a paper bag. Remember, bags at a liquor store are no substitute for legal advice."
My overall feeling when I left was that I liked some portions of Version but wished there were more participants. And being the optimist that I surprisingly am, I think that more participation will come over time.