Yesterday afternoon I read Virginia Heffernan's essay, "Let Them Eat Tweets: Why Twitter is a trap," in the New York Times Magazine, and so interesting did I find it that for a good part of this morning and afternoon I bounced around the internet trying to find a podcast or YouTube video or any other web-style recording of Bruce Sterling's speech at this year's South by Southwest Interactive conference so I could listen to his words in context–to no freakin' avail, I might add.
Heffernan wrote about feeling a certain sense of personal status anxiety ever since she heard Sterling (whose rants are an annual highlight of SXSW Interactive) declare at this year's conference that, as Heffernan paraphrased it,
"the clearest symbol of poverty is dependence on 'connections' like the Internet, Skype and texting. 'Poor folk love their cellphones!' (Sterling) said."
Or in other words, as "a friend" quoted in Heffernan's essay put it, "connectivity is poverty." Heffernan elaborates on Sterling's ideas as follows:
"Only the poor — defined broadly as those without better options — are obsessed with their connections. Anyone with a strong soul or a fat wallet turns his ringer off for good and cultivates private gardens that keep the hectic Web far away. The man of leisure, Sterling suggested, savors solitude, or intimacy with friends, presumably surrounded by books and film and paintings and wine and vinyl — original things that stay where they are and cannot be copied and corrupted and shot around the globe with a few clicks of a keyboard."
Although I've yet to find a recording or even a transcript of Sterling's talk, I did find one blog entry that provided some partial notes on the beginning of the speech (in which Sterling apparently munched on chips and cookies to mirror back what he saw as the inattentive twittering (m)asses in his audience), and that of another blogger named Jim Groom, whose Bavatuesdays blog was referenced in the print version of Heffernan's article (I think he might have been the author of the "connectivity is poverty" quote, based on the header of his below-referenced blog post), and who summarized Sterling's argument thusly:
Bruce Sterling's rant was right on. I was hoping to listen to it again before I talked about it in more detail. In fact, I'll have to do that cause I can only recall bits and pieces, but there was a point in his stream of thought that really impressed me (well, besides his discussion of the future of publishing as epitomized by survivalist bookstores like Brave New Books—which I loved). He went off about how much we had miscalculated the digital divide theories of the 90s that were to define the digital world of haves and have-nots by whether they were or weren't connected. It seemed logical to assume that the impoverished would not be connected, whereas the rich would be decadently consuming all the bandwidth.

Well, as he pointed out, it didn't quite work out that way, connectivity became cheap with cellphones, and he comically noted that "poor folk love their cellphones!" What's happening is that this increased dependence upon connectivity, rather than being some kind of indicator of privilege, is actually a sign of our increased impoverishment. The fact is that the wealthy are those who can afford not to be connected, not to be pimping their "online brand" so shamelessly, not twittering their asses off at all hours of the day for a quick networking fix.
Note that Groom couldn't get his hands on Sterling's talk either, although at least he got to see it in person before writing about it.
Continuing my own search for the elusive Bruce talk brought me to the very, very cool sketchnotes of one Mike Rohde.  Here is a page from Rohde's sketchnotes on the talk in question:
Cool, no? I like how he got all the good pull quotes from the speech. Note too that Rohde's notes have Sterling saying, "connectivity will be an indicator of poverty rather than an indicator of wealth," and not connectivity = poverty.
What Rohde is doing is partly a tweak on Twitter (he even live sketchnoted during one  panel) but look at the difference — the drawing/handmade font aspect of Rohde's notes make it seem so friendly and, well, readable, but also human and therefore subjective.  (You can find all of Rohde's sketchnotes on Sterling's talk (they're sketchnotes 51-56) here, and sketchnotes for the entire SXSW interactive conference here.)
So, from the high of discovering Rohde's hand-written sketchnotes I descended to the low of Twitter itself, to see what would come up if I searched "Bruce Sterling." Ooh, now this is kind of interesting. Lots of initial reaction to the Heffernan piece, many seem to be wrongly assuming that the article was written by Sterling himself. Here are a few examples of Tweets related specifically to the Heffernan piece and/or the talk itself (make sure to follow the link to Dan's blog given in the first Tweet – it gets a comment that's apparently from Sterling himself, criticizing the blogger for critiquing a talk he didn't actually attend):
jedibunny
:
good grief, tweeting makes me feel so impoverished now. darn you bruce sterling.
jtzl
:
great article about twitter is for poor people http://tr.im/poortwits – reeks of insecurity. bruce sterling is the ultimate troll.
marcad
:
"Futurists" like Bruce Sterling who live high on foppish universities, city budgets, & grand pronouncements are just another symbol.
Argh, I didn't realize you can only search the past 7 days of Twitter, so recent chatter is all I get, that sucks. So no Tweet-notes on Sterling's talk, just some quick (and often ill-informed) reactions to the "Poor folks love their cellphones!" quote from Heffernan's piece.
And last, via Google, I come up with this little sketch, from what I think may be Bruce Sterling's own flickr stream, though I'm not really sure. The caption under the photo reads: "In Austin, even the 12-year-olds get it about Twitter."
So what does this all mean? Heck if I know. But I do find it incredibly ironic and stupid and maybe brilliant–but maybe not so much–that Sterling gave this talked-about talk at one of the biggest freaking INTERACTIVE conferences in the country, he's one of the cultural cognoscenti whose opinion, on certain issues anyway, drives the discourse forward. He puts ideas on people's agendas, makes writers like Heffernan rethink their assumptions and publicly question them, etc. But I can't even find audio or video of his talk anywhere online that would allow me to form my *own* opinion about what he said firsthand (well, a recording would make it sorta second-hand, but you know what I mean). As a result I'm forced to depend on other people's truncated versions, reliable though they may at first appear. Maybe SXSW will eventually post a podcast of Sterling's 2009 talk, although the conference took place over a month ago, which is an eternity in internet time. Even I probably won't care about it anymore by the time they post it. Who knows, maybe Sterling didn't want to give them permission to reproduce his talk in the first place, in an effort to preserve some semblance of 'the old days' of which he is said to have spoken.  From live talk to magazine editorializing to blogger's notes to Tweets…social networking isn't worth much if all it comes down to is gossip. I want access to the real stuff, not just everyone's opinion, commentary and tweets about it.  In other words, if anyone finds a link to Sterling's speech at the 2009 SXSW Interactive conference, please let me know! Thank you.
The NYT's Holland Cotter beats out Inga Saffron of The Philadelphia Inquirer and Sebastian Smee of The Boston Globe for the Pulitzah Prize (and its $10,000 award) for "distinguished criticism, in print or online, or both." Only 10 grand?? I always imagined an award like that would score you more.
Read more about it directly from The Pulizer Prize website and also at the New York Times.
Updated: whoops, rushing to get this post out pronto and misspelled Cotter's last name! My bad!
Update #2: My snark about paltry prize money aside, this is a big deal for Cotter and for newspaper art critics in general. As the L.A. Times' art critic Christopher Knight points out, Cotter is the first art critic to win a Pulitzer in 35 years, "since the late Emily Genauer of Newsday won in 1974." So bravo to Cotter. Newspaper art criticism may well be in its death throes, but at least not before one of the best of them has received this kind of recognition.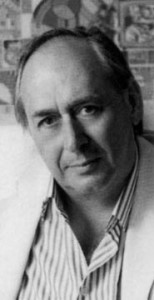 Renowned novelist J.G. Ballard died yesterday at the age of 78, after a lengthy battle with cancer. From the (U.K.'s) Times Online:
"(Ballard's) influence stretched across a modern world that he seemed to see coming years in advance.

His dark, often shocking fiction predicted the melting of the ice caps, the rise of Ronald Reagan, terrorism against tourists and the alienation of a society obsessed with new technology.

As Martin Amis once said of him: "Ballard is quite unlike anyone else; indeed, he seems to address a different – a disused – part of the reader's brain."

The bands Joy Division, Radiohead, The Normal, Klaxons and Buggles all wrote records inspired by Ballard stories.

Empire of the Sun, his best known book, was something of an anomaly for being an apparently straightforward account of his childhood in a Japanese internment camp during the Second World War, where he endured near starvation, death marches and regularly bore witness to death and brutality."
Read his obituary in the New York Times here.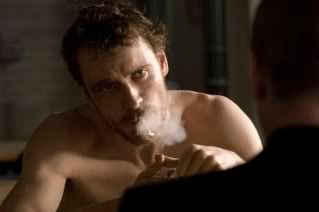 Last weekend I was able to check out Steven McQeen's highly acclaimed film Hunger. This is the first feature length film by the Turner prize winner, and it won the Caméra d'Or at Cannes this year. Although a re-examination of a deeply political history and event, I would say that the film itself is not overtly political. McQueen said about the film, "Hero or villain, that's for other people to decide. For me, it's one of those situations where I'm a filmmaker, and this is actually what happened in history, this is a true event. For me, this is what happened. I'm not here to judge the situation; I'm here to examine and document it." I really enjoyed how you were shown the consequences of the inmate's actions not just on the political level, but on a personal level. It wasn't purely about the political protest of smearing shit on the walls of the cell, but also about the man who was made to clean the shit off of the walls. Although the content of the film somewhat agonizing to watch on a human level, it was hard to miss how beautifully composed each frame was. At one point we see Sand's cellmate playing with a fly for several minutes. In other films the attention given to this could be jarring or to slow but it kept with the sense of slowness in the film that focused on the small gestures made by its characters. The film shifts perspective from Sand's cellmate to Sand's himself while he endures an excruciating 66-day hunger strike which ends his life. In a 17-minute long single take we see Sand's discuss his plan for a hunger strike with a minister.
Via Jeff Reichert for indieWIRE
"That 'Hunger' forces us to so openly speak about the rigor of its specific filmmaking choices is perhaps the thrust of its value as a work of art, especially in a sea of films and filmmakers that either claim to approach creaky realism via the unplanned moment or efface their creation entirely. 'Hunger' is coolly artificial, and openly betrays its creator's background in the art world—one could almost pull apart specific images (urine flooding from underneath the cell doors of Maze prison steadily joining into a single stream, the repeated superimpositions of birds flying through a grey sky, the constantly exposed flesh of the inmates) and array them on monitors around the walls of a gallery to near similar effect. Yet by narrativizing this collection, McQueen forces a discussion of his own stratagems (as would splitting it into pieces), a discussion that can't help but mirror the lengthy conversation around methods and message which anchors the film. McQueen's radical aesthetic and structuring decisions subtly re-politicizes 'Hunger' as a work intimately concerned with choices and consequences, the personal and political."
Check for screening and dvd release here
View the trailer here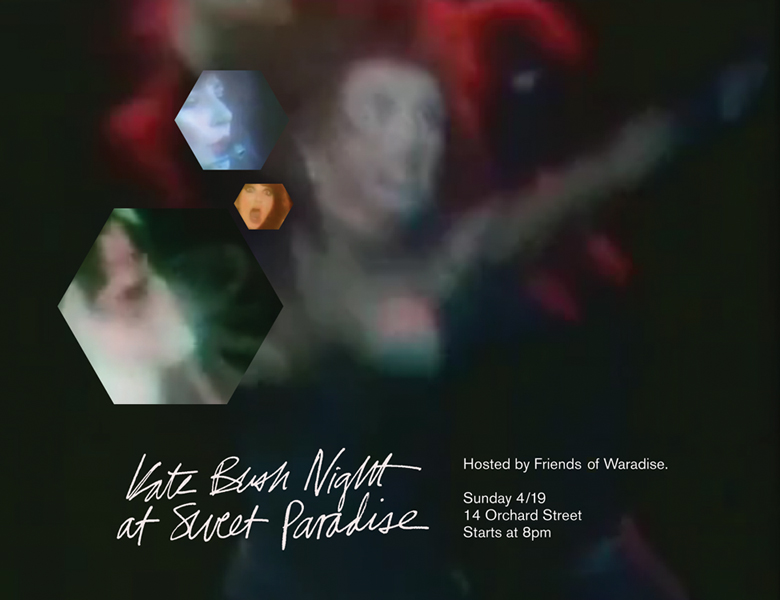 I have to take a moment of BAS time to mention this amazing way to spend a Sunday night.
Via Paper Mag:
"Several of us are banding together to start a new party – Kate Bush Night @ Sweet Paradise. We don't know if it will be weekly, monthly, or a one time thing, but we're giving it a test run this Sunday. We're positioning it as a semi-tongue in cheek counter to Sway's Morrissey night. And any excuse is a good excuse to listen to Kate Bush…"