Unless you're Jerry Saltz, art critics are rarely the center of attention, and I strongly suspect that most prefer it that way. There's something unseemly about referring to oneself when writing about the work of others, isn't there? That's the conventional wisdom, anyway. So I was really curious about the physical form that the exhibition "Response: Art and the Art of Criticism" (at I Space through May 30th) would take. The show is ostensibly about the relationship between artistic practice and the critical discourse that frames it. Its organizers—critics who are members of the Chicago Art Critics Association–aim to open up a discursive interplay between artists and the critics who are tasked with writing about their work (and, let's not forget, with assessing its successes and failures). I wondered how its organizers might play around with the exhibition design, how they would choose to foreground that which usually remains in the background; most of all, I wanted to see how successful they would be at objectifying their own practices by making what are normally private thought-processes public while at the same time engaging audiences within a traditional white-cube gallery setting.
Although I didn't attend the opening, I rushed out to see the exhibition the day after, as I am sort of a geek when it comes to things like art criticism and the general issue of cultural writing, and I'd been looking forward to this show ever since I heard about it a few months ago.  Further fueling my excitement was the fact that Chicago art people can get really fired up around questions of criticism, validation, aesthetic judgment, issues of power and how one goes about garnering cultural capital, and that interest, coupled with the no-bullshit, straight-shooting style of discourse I have also observed both conversationally and occasionally in print led me to anticipate something deliciously juicy—maybe even bloody—from this exhibition. Something raw, not cooked.
Suffice it to say what I actually encountered in the gallery was disappointing. I saw a very conventional-looking exhibition of art objects, all of which were accompanied by the standard wall labels that, save for Conrad Bakker's, contained no explanatory text or any other critical framing devices other than object information. Clearly the organizers were at some pains to keep things kosher: to let the artists have their space, and the critics theirs, and then put the mix-it-up-part yet someplace else.  Aesthetically and pretty much on every other level however the works themselves don't play well together -  it's not that they clash, they just don't speak or, as the case may be, 'respond' to one another in any way. I gather they're not supposed to, as the show wasn't curated along thematic or formal lines but instead according to the idiosyncratic selection process of each participating critic.
Indeed, the catalogue's introduction posits the role of the art critic as central to this exhibition, and describes the show's purpose as investigating "the critical process itself, by opening up the crucial ways that critics engage with artists' work….The essays are not meant to be typical reviews, but rather self-reflexive expositions of the writing process and on the art that inspires them." In this way "Response" is structured in a layered fashion, with the first layer of encounter (for viewers, anyway) being the work on display in the gallery itself, the second layer the exhibition catalogue, where criticality, writing, and aesthetic judgment are allowed to re-assert themselves, and the third layer taking place off stage, so to speak, and re-presented online via a series of recorded conversations that are available on the I Space website (and I think on cd as well).
But the problem is that that there is no actual 'criticism' per se and not much self-reflexivity happening anywhere in the exhibition—not in the catalogue, and not really in the online conversations either.  Really, the only thing that makes this show different from any other is that the so-called "responsive" material has been discursively incorporated into the 'exhibition proper' –but there isn't any alchemy happening within that exhibition space with the potential to create new models of understanding or thought-provoking bits of exchange.
In order to assume the role of curators, the critics abandoned their role as critics, instead of—and this is where I thought it could have gone differently—figuring out a way, as uncomfortable though it surely would have been, to simultaneously inhabit both roles. It's not like I wanted venomous exchange—that's just as bad as being overly solicitous. But what if, instead of choosing artists whose work they admired, some of the critics had selected an artist whose work has in their opinion been uneven over the years, or about whom they've written critically in the past but have subsequently revised their opinion, or maybe even an artist whose work they've always avoided writing about because, embarrassed though they may be to admit it, they've never really 'gotten it' and so could never bring themselves to write about it?
To me, that would be really interesting, that would be sexy. I was expecting something sloppier, but this is all so darn polite. To be sure, there are a few revelatory moments. I liked how in the essay artist Adelheid Mers admits that she envies "quick witted historians and philosophers" and that her own work—"slow and clumsy"– is made in an effort to make sense of concepts that initially befuddle her.  Alicia Eler's opening statement: "I never meant to be an art critic," hints at a reluctance to embrace the role both professionally and personally, as if there is something slightly humiliating about admitting your identity as this schlumpy homely person that's called an art critic as opposed to an artist, who is by definition a hottie. Lane Relyea's rundown of Artforum's descent into little more than punditry is illuminating, but there's nothing personally revealing about it. How does he feel about the role that he himself plays in all this, as an educator, a critic himself, and a writer for that magazine? Relyea remains conspicuously silent on this point, preferring instead to swathe his words in the comfortably familiar rhetoric of the academician-as-critic.
My own words here may come off as snarky, but truly, I speak from love. I think art criticism is a dying form, hell, it's probably already dead, Saltz and Roberta Smith notwithstanding. Professional art critics are the auto workers of the culture industry, as a friend of mine put it over a beer last weekend: outdated, irrelevant, and almost certainly on their way out. I'm not happy about this, and I surely do hope that criticism morphs into something new and exciting and, most importantly, equally valid and as relevant as it once was, a long time ago, as it tries uneasily to find a place in online discourse. But I still kinda think 'the art of criticism' is going down in flames. And if that's the case, why not go down in style? This was supposed to be the critics' moment in the limelight – why not loosen up a little—or maybe a lot? Use the "I" word more often? Embarrass yourself with your enthusiasms, confused lusts, and occasional flights of fancy, even if it means feeling a twinge of regret the next day (and also maybe a little thrill of relief)? An exhibition like this is your chance to get shitfaced at the office party and cry on the janitor's shoulder, spill red wine on your pinstripe suit–hell, fuck your boss in the supply closet, nobody really cares what you do anyway.
Everyone's so afraid of offending each other, and I don't blame them. Chicago, I gather, has a small and friendly art scene where everyone knows everyone. Maybe that's the problem with criticism in this city—no one really wants to do it right because what do you say to that person when you inevitably run into them at an opening the following week? It's an argument for remaining friendless if there ever was one.
A panel discussion on this exhibition will take place at Art Chicago a week from today, Monday May 4th, 1-2:30 pm at the Merchandise Mart Conference Center. In spite of myself, I can't wait to see it.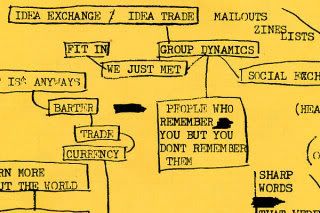 I picked up a copy of Robin Cameron's Mind Maps from Golden Age while I was checking out the NFO XPO.
The fifth person to email me (megonli@badatsports.com) will receive a copy.
via Golden Age
"Mind Maps is a foray into the mind of the artist. A brilliant exposé showing the polarities that keep the artist working; happiness vs. sadness, aesthetic vs. the anti aesthetic, life vs. death and everything in between. With thoughts being the material for everyday life, Cameron's Mind Maps allows the reader a vivid and cathartic introspection.
Robin Cameron is a Canadian artist living in New York whose work has been widely shown in galleries, magazines and books. With a five year bookmaking career yielding over 10 titles her work elegantly and humanly blends drawing, graphic design, and visual poetry. "
If you have never been to Golden Age you definitely should check it out.
Golden Age
1744 W. 18th Street
Chicago, IL 60608
Thurs-Sun 12-6pm
A partial and subjective round-up of art-world events, news stories, blog links and other happenings in Chicago and beyond that got me thinkin' this week.
*Art critic Alan Artner laid off from Chicago Tribune (Time Out Chicago).
*Rose Art Museum to remain open, but compromised (Art in America, via Art Fag City).
*New City reports that the Chicago Tribune narrowly avoided a planned protest event after the Trib's Associate Managing Editor Geoff Brown agreed to meet with artists Lowell Thompson, Ashley Moy-Wooten and gallerist Andre Guichard to discuss the paper's lack of coverage of African American artists and the South Side's art scene. (Read the full article in this week's Newcity Art).
*Collector sues Luis Vuitton and L.A.'s Museum of Contemporary Art over fraudulent Takashi Murakami art prints–or handbags–or something (Los Angeles Times).
*New School Apologizes for its handling of adjunct faculty firings (New York Times). Also see Hrag Vartanian's ongoing coverage of what's happening with the New School/Parsons protests and controversies – his coverage offers some of the most comprehensive, blog-wise.
*Two online interviews with Chicago's InCUBATE spotted this week: Art21 blogger Beth Capper interviews the collective's Abigail Satinsky here; Rhizome's Ceci Moss talks to the group collectively here.
*Blair Kamin reviews new Holocaust Museum in Skokie (The Skyline).
*Cody Hudson blogs at fecal face about his and Corey Arnold's shows up now at Andrew Rafacz Gallery.
*Marina Vendrell Renaut's knitted innards at Johansson Projects in San Francisco (via C-Monster).
*Roberta Smith interviewed in April issue of the Brooklyn Rail (via Two Coats of Paint; I read the full text earlier this week, however, as of this writing the Brooklyn Rail's website seems to be down).
*Dr. Horrible lives again! (L.A. Times).
Can we talk about this?
I just read (via Meg's Twitter– I've been away from my computer for almost a full day, so this is fresh news to me) that the Chicago Tribune laid off its sole art critic, Alan Artner (sources: Time Out Chicago; Chicago Reader blog). Wow. I don't know Mr. Artner personally but I am really sorry to hear about this. He seems to have been widely respected — a few detractors, of course, but my sense is that he did his job very well and has made a major contribution to art coverage in this city during his decades at the Tribune.
When I moved to Chicago last year I was really surprised at the lack of, let's call it "mainstream press" art criticism in Chicago, including at the Tribune. I don't think a major city daily should have only one art critic on staff like the Trib did (look at the L.A.Times–at least for now, they have chief art critic Christopher Knight plus David Pagel and several other longstanding freelance art critics who've made names for themselves over the years), but at least they had someone.  I was shocked that the Chicago Reader, this supposedly nationally recognized alternative weekly, doesn't do regular art reviews and only occasionally covers the business end of what's happening in art here. And relieved to discover New City's extensive coverage of Chicago art – that thin little weekly entertainment rag does a hell of a lot for the art scene in this city, no? But I'm blown away to learn that the city's most prominent newspaper critic has been cut. We all know the Trib is bankrupt (and whither the Trib goes, so too the LA Times?). But this decision has symbolic ramifications too.
Since I'm new to Chicago, with not a lot of personal history with the art scene behind me to fully contextualize this news (or to allow me to feel cynical about it, frankly), I'd like to hear your thoughts and comments on this development.  How will the absence of regular, critical art coverage in the city's major daily paper impact Chicago's visual arts community (if at all)? Are there outlets in this city big enough to absorb someone with Artner's experience and talents, or will he be forced to go elsewhere?
This is indeed sad news for the visual arts in Chicago; especially as we are gearing up for the Version and Art Chicago/Artropolis events taking place here over the next few weeks, when more eyes than usual will be upon us. Just not any from the Tribune.
This is a slightly abbreviated edition of our weekly post, due to the craziness that is VersionFest  happening all weekend long. So much to see/do! 
Thursday: (tonight!)
The Society for Contemporary Art presents:Â Cameron Jamie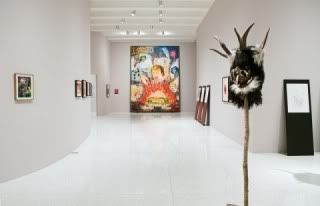 Artist Talk
April 23, 2009 Â 6-7 p.m.
Price Auditorium
The Art Institute of Chicago
(312) 443-3630
$20/$15 for Society for Contemporary Art members, free for staff and students. Please call for more information.
 
From the press release: "Cameron Jamie investigates ritualistic practices, mythologies, and folkloric traditions that lie at the fringe of popular culture. Best known for his films, Jamie works across media, incorporating drawing, sculpture, photography, and performance in his exhibitions."
 
Friday:
Response: Art and the Art of Criticism
Opening! 
Friday April 24th 5-7pm
 
I space
230 West Superior St.,
Chicago, IL 60654
Work by Fred Camper and Adelheid Mers; Janina Ciezadlo and Silvia Malagrino; Alicia Eler and Carrie Schneider; Jason Foumberg and Carol Jackson; Claire Wolf Krantz and Claire Prussian; Corey Postiglione and Duncan MacKenzie with Christian Kuras; Lane Relyea and Conrad Bakker; Polly Ullrich and Christopher Meerdo; Lori Waxman and Dianna Frid.
 
Sunday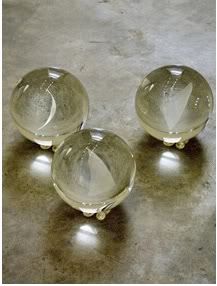 Opening!
April 26th, 2009 Â at 4 pm, discussion from 5-6pm
Renaissance Society
5811 S. Ellis Avenue
Bergman Gallery, Cobb Hall 418
Chicago, Illinois 60637
Via the Ren's
website
: "Titled after an essay by the late philosopher and literary theoretician Jean-Francois Lyotard, Several Silences is a group exhibition exploring various kinds of silence. As a discourse, the aesthetic of silence has been thoroughly domesticated within the visual arts. Although silence as a discourse in art arose out of conditions calling for the negation of art, it has subsequently become familiar subject matter no longer operating as the avant-garde ideal it once was. This is not to say silence has lost significance. If anything, it has become a more potent antidote to a culture of distraction. Silence, however, is not the absence of communication. It is dialectically opposed to communication, so that one sustains and supports the other. Inextricably bound to communication, which it tacitly evokes, silence itself is a form of communication with many meanings. There are voluntary and involuntary silences–some comfortable, others not. There is Cage's silence, which calls for the distinction between clinical and ambient silences. There is silence as conscious omission or redaction. And then there is memorial silence." 
There will be a talk between Hamza Walker, curator of the exhibition, and Thomas Trummer, curator and Project Manager for the Siemens Arts Program, Munich, Germany, from 5 – 6 pm.