Today I'll be posting some images and brief commentary on this past weekend's Artropolis/Art Chicago/NEXT fairs. There was a lot to see and unfortunately I couldn't adequately document it all, so consider these posts in terms of what they're meant to be:  snapshot images of work that intrigued me, some of which has stayed with me long enough to want to find out more about the artist in the future. In a number of instances the pictures I took were poorly lit or otherwise crappy, and it would have been a disservice to the artist to post them,  so take this as a partial and anecdotal summation, not as some sort of Top 10 -type list which I pretty much detest anyway.
All of the Special Exhibitions were very well done, although I think calling out certain works in the booths as part of the Fair's so-called "Salute to Realism" was a bit strange. As I mentioned in a previous post, I personally liked Lynn Warren's Hairy Who presentations the best, but I learned something from every exhibition on view and in general thought they all worked pretty well in an art fair context. There was a lot to see, and my picture-taking skills are at level zero, but here's what I was able to capture while on the 12th floor.
New Insight (I think this was actually at NEXT, on the 7th floor, but whatever): This was an exhibition of  MFA students from some of the country's top graduate art programs, curated by Renaissance Society director Susanne Ghez. The pool of art schools included Cal Arts, Carnegie Mellon, Cranbrook, Hunter, Maryland Institute College of Art, Rhode Island School of Design, School of the Art Institute of Chicago, San Francisco Art Institute, UCLA, University of Illinois at Chicago, University of Illinois at Urbana, and Yale. Some interesting work here; ironically I never got a photo of Jesse Mclean's 6 min. video of reality show losers "Somewhere Only We Know," although I think it was probably the best work in that show.
Society for Contemporary Art's Acquisition Selection for 2009
Members of the
Society for Contemporary Art of Chicago
met last Sunday to choose from works by Paul Chan, Rebecca Morris, Nancy Spero, Matt Mullican, and Martin Barre. Apologies, but I could not get a half-way decent shot of Barre's "76-77-C," oil on canvas painting, nor could I find an image of it online.
Partisan: Another special exhibition was the Mary Jane Jacob-curated Partisan, a group show of work selected from galleries exhibiting at Art Chicago "dedicated to the artistic exploration of social and political ideas." You know, take what you will from a show of political art at an art fair. It's a brave thing to attempt and I respect the effort, I'm just not sure how much attention viewers are willing to pay to a show like this one when there's so much distraction surrounding them.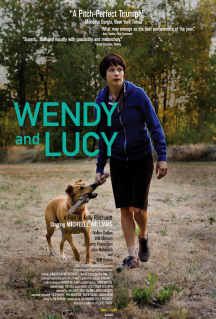 On Sunday I went to Doc Films to check out Kelly Reichardt's ("Old Joy", "River of Grass") latest film "Wendy and Lucy". The film is only 120 minutes. In that time we wander through a Pacific Northwest town as Wendy (Michelle Williams) attempts to find her dog, fix her car, and continue her way to Alaska. I went into the film thinking of it as a classic road trip movie. When I left I felt like the film was much more about the struggles that people face when interacting with strangers.
Both the film and Williams have received a lot of critical acclaim. I found it easy to believe the situations that Wendy faced and the amount of strength the character had to gather in order to make it through the 3 days that we see. I also liked the ambiguity of the previous circumstances that led her to where she is. As a character Wendy is rather solemn, for obvious reasons, while Lucy, her golden dog with floppy ears, appears to be one of the few things that actually holds her together.
The plot is a little sparse which I think gives Williams the opportunity to shine. One of the more pivotal scenes in the film is when a friendly security guard hands Wendy a wad of money and insists that she takes it. Once he leaves, its hard not to feel the devastating blow that what had looked like a lot of money was actually only $7.
A. O. Scott summed up the poignancy of the film, "But underneath this plain narrative surface – or rather, resting on it the way a smooth stone rests in your palm – is a lucid and melancholy inquiry into the current state of American society. Much as "Old Joy" turned a simple encounter between two longtime friends into a meditation on manhood and responsibility at a time of war and political confusion, so does "Wendy and Lucy" find, in one woman's partly self-created hard luck, an intimation of more widespread hard times ahead."
Wendy and Lucy is available today, May 5th on dvd.
From the opening shot of Isaach de Bankole waving Tai Chi gestures in a bathroom stall, I could see this was a beautifully composed film.  From the first line, "You don't speak Spanish, right?" it was also clear that this would be a Jarmush film.  Beyond these two facts, I'm not sure what to make of it.  Has the legacy of European Cinema in America unraveled itself so much that a Lone Man finds his purpose in vengeance against some toupée-wearing Philistine?  It seems Jarmusch has taken the best of mentors and contemporaries such as Wim Wenders and Claire Denis, along with the worst from the Hollywood echo chamber of happy endings and pretentious self-indulgences.  Aside from the words of bad reviews, however, I would like to say that it is a risky film.  It's a film to take in pieces, just as each clue is delivered to the Lone Man.  My sense is that those who too heavily criticize the sense of the narrative miss the point, but those that indulge in the inner world of Jarmush fail to see the forest for the trees.  Can you tell the difference?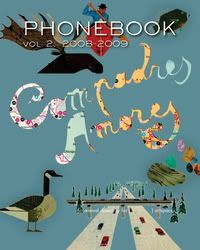 Up for grabs this week is PHONEBOOK vol.2 published by threewalls and Green Lantern Press. Third person to email me (megonli@badatsports.com) gets the copy. Thanks Caroline for hooking us up!
via threewalls:
"Back by popular demand, PHONEBOOK is the essential travel guide to artist-run centers, small not-for-profit, fringe galleries and other exhibition and presentation projects.
This new edition adds over 50 news spaces in the United States and over 40 Canadian centers alongside updated entries, periodical listings, a series of essays from across the country and some road-trip tips from the editors.
PHONEBOOK is a valuable resource for artist and audience alike, connecting a web of makers and projects while acting as an archive of work by smaller organizations and groups throughout the visual arts community. Use PHONEBOOK as a research tool, as a travel guide to the visual arts, for networking, for exhibition proposals or to facilitate artistic exchanges."
Get your copy here.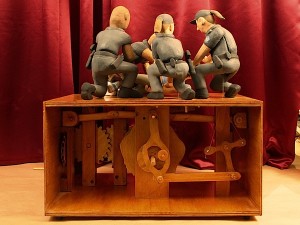 From the "Don't Tase me Bro" incident to the Raping and murder of Abeer Qassim al-Janabi by Pte. Green, Automata can capture a moment unlike anything else. Jon Haddock's work does that better then anything I have seen in a long while.