Here is just a slice of what I'm planning to see at this weekend's Artropolis/Art Chicago events. There is so much going on, make sure to click through to the Fair's website to check out everything on offer for yourself.
At NEXT, The Invitational Exhibition of Emerging Art:
GOFFO
"GOFFO, a special section that debuted at NEXT 2008, focuses on multiples, editions, artist books, prints and handmade objects. GOFFO returns to NEXT 2009 with an exceptional curated selection of presses, artist collectives and small galleries. Find it on the 7th floor of the Merchandise Mart."
At Art Chicago:
Partisan
"Curated by Mary Jane Jacob, executive director of exhibitions at the School of the Art Institute of Chicago, Partisan is a special exhibition of works culled from Art Chicago galleries that are dedicated to the artistic exploration of social and political ideas.  With hopes of initiating dialogue about art, activism and social change, Partisan provides a critical and challenging space of thought provoking and project-oriented works within an art fair context. "
The Hairy Who and Imagist Legacy in Contemporary Art
"To honor Chicago's legendary Hairy Who and Chicago Imagists, artists best known for a colorful and subversive aesthetic, Art Chicago will present an exhibition of works by contemporary artists whose work demonstrates an Imagist influence, whether it is for an unusual approach to representation, rebellious technique or link to the Imagist lineage.  This exhibition, featuring work by artists represented in the fair, will be curated for Art Chicago by Lynne Warren, curator at the Museum of Contemporary Art, Chicago and expert on the history of artistic practice in Chicago. The Hairy Who and Imagist Legacy will be accompanied by a display of works by original Hairy Who and Imagist artists including Roger Brown, Ed Paschke, Karl Wirsum, Barbara Rossi, Gladys Nilsson, Art Green and others."
New Insight
"An exhibition of top MFA students from some of the country's most influential graduate art programs, New Insight is curated by Susanne Ghez, director of the Renaissance Society at the University of Chicago.  A platform for new talent and innovative ideas, New Insight provides the opportunity to view work by some of the brightest young minds working in diverse graduate programs across the country."
JELLY ROLL : The Spectacle
An ongoing performance presented by Tara Strickstein of Bloodshed Event.
Artropolis Panels/Discussions/Talks:
There are also so many good panels planned for Art Chicago Speaks that I'm worried I won't have enough time to see all the art; these are just a few of the many talks I'm hoping to attend, but make sure and click the link about and check out the full diverse roster of conversational topics, it's really pretty incredible.
11am – 12:30pm: Friday, May 1
Crisis and Opportunity: Programming and Exhibitions in the New Economy
A CONVERGE Chicago: Contemporary Curators Forum program
In recent months, museums and art centers have been forced to shave budgets, reduce programs and exhibitions, and even cut hours and staff.  Many curators, however, are successfully and creatively mounting ambitious and well-executed projects.  In this panel, curators discuss innovative uses of the exhibition space and fresh approaches to programming that are fueled by big ideas rather than big budgets.  Moderated by Brian Sholis, Artforum, this panel includes Ruba Katrib, Museum of Contemporary Art, North Miami, Dean Sobel, the Clyfford Still Museum and Benjamin Godsill, The New Museum.
Location: NEXT Talk Shop
2:30-4pm, Saturday, May 2
Museums on the Line: Cutbacks, Closures and Opportunities
A CONVERGE Chicago: Contemporary Curators Forum program
Michael Rush, director of the Rose Museum of Art at Brandeis University, a discussion about how recent and dramatic shifts in the economic and political climate have profoundly affected virtually every aspect of museum practice. Panelists include Anthony Hirschel, director of the Smart Museum of Art at the University of Chicago and artist Mary Lucier.  Using Rose Museum de-accessioning controversy as a starting point for an extended dialogue, this panel will address museum de-accessioning practices; the symbolic value of public collections; institutional transparency; and the role of the museum in tough times.
Location: Merchandise Mart Conference Center
11-12:30pm: Sunday, May 3
Art and the New Economy
Presented by ArtTable
Join Paul Morris, Vice President of the MMPI Art Group, for a discussion about art and the changing economy.  Focusing on positive and effective ways to navigate challenging times, this discussion will explore funding, collecting and the market.  Panelists include Sarah Herda, executive director of the Graham Foundation, Rhona Hoffman, Rhona Hoffman Gallery, and Dominic Molon, MCA Chicago.
Location: Merchandise Mart Conference Center
1-2:30pm, Monday, May 4
Response: Art and the Art of Criticism
Presented by I Space Gallery, University of Illinois at Urbana Champaign in conjunction with the Chicago Art Critics Association
This panel addresses art criticism as the center of a resonant, disorderly and critical cultural conversation that fosters dialogue about the place of visual art in the contemporary world.  Based on a related exhibition at I Space, this panel will feature Chicago-based critics from the show hich includes Fred Camper, Janina Ciezadlo, Alicia Eler, Jason Foumberg, Claire Wolf Krantz, Corey Postiglione, Lane Relyea, Polly Ullrich and Lori Waxman.
Location: Merchandise Mart Conference Center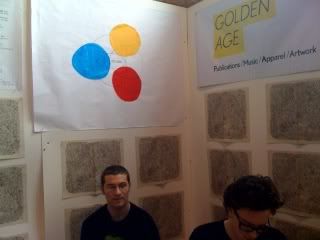 Saturday Lauren and I went to the Co Prosperity Sphere to check out the NFO XPO. In all honesty I hadn't been to a Version festival in three years. Three years ago both myself and several friends were stranded in Bridgeport at 2am in the rain and miles from the train (no taxis would come pick us up and the bus had stopped running). So, with that incident behind me, I returned to Version Fest in a car and with a fresh amount of optimism.
The layout of the fair looked liked most art fairs in the sense that each artist/organization/gallery had an individual booth and objects were either being sold/bartered/given away.
Golden Age, manned by the always rad Marco Kane Braunschweiler (pictured right), was one of my favorite booths. They carried work by Robin Camron.  I was really into Camron's "Mind Maps" and picked up her most recent book also titled "Mind Maps" which maps the artist's thoughts through extended ven diagrams.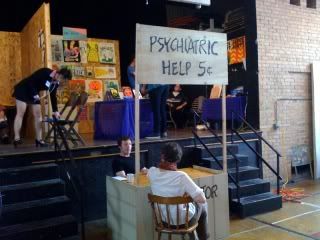 Green Lantern and Three Walls held it down in usual fashion. Aaron Delehanty had a psychiatric help booth set up which resembled "Peanuts".  I did not get a chance get Aaron's advice but I did hear him tell a woman that she needed to "go get a job".  I was also sort of taken with Daniel Mellis'  Institute for Socioaesthetic Research. According to a pamphlet, "the institute is dedicated to discovering the aesthetic possibilities inherent in the research and observation of social structures." To be honest I was initially attracted to the stock of paper that their pamphlet and business cards were printed on (I spend all day at work talking about paper) but also became interested in some of the services they offered. "The Fourth Amendment on Paper (Bags) Learn about your constitutional rights while enjoying a refreshing beverage at Maria's (Kaplan's Liquors),960 w. 31st street. Every purchase comes with the Fourth Amendment and instructions for use on a paper bag. Remember, bags at a liquor store are no substitute for legal advice."
My overall feeling when I left was that I liked some portions of Version but wished there were more participants. And being the optimist that I surprisingly am, I think that more participation will come over time.
It is unknown when exactly the hack was added but on Monday 4/27 it was discovered that entering the Konami cheat code (up, up, down, down, left, right, left, right, B, A, enter) at the official ESPN Web site made glittery pink unicorns with rainbow manes and tails pop up all over the site. And more clicks led to more unicorns.
In addition to this visitors also got their headlines in hot pink and the Comic Sans font (every designers fav font).
We at Bad at Sports want to officially deny any rummer that Duncan MacKenzie was behind this in any way whatsoever. Yes we may be horrible at everything ESPN reports on and yes we all love some glitter loaded unicorns but that by no means implicates Mr. MacKenzie in this act. As for the mountain of MySQL & Javascript training books that were found at his residence after tracing an IP address to his billing address we have been informed to say "No Comment" and hope this suffices.
The hack has since been removed but Cnet caught a screenshot of it before the takedown.
Predicting the Art Stars of the Future: "William Powhida cheekily predicted which of his fellow artists would still be star properties in the future. We asked other art-world types to weigh in, anonymously." (New York Magazine).
This is a fun piece, if you're into this type of gossipy stuff (which, sadly, IÂ  am). The handwritten text is hard to read, so make sure to click through to the original article to read anonymous artists' assessments of Powhida's bets.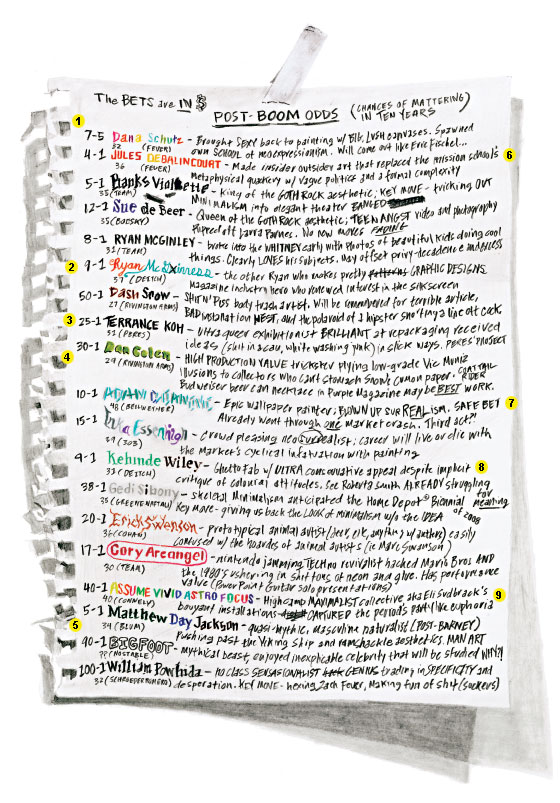 Unless you're Jerry Saltz, art critics are rarely the center of attention, and I strongly suspect that most prefer it that way. There's something unseemly about referring to oneself when writing about the work of others, isn't there? That's the conventional wisdom, anyway. So I was really curious about the physical form that the exhibition "Response: Art and the Art of Criticism" (at I Space through May 30th) would take. The show is ostensibly about the relationship between artistic practice and the critical discourse that frames it. Its organizers—critics who are members of the Chicago Art Critics Association–aim to open up a discursive interplay between artists and the critics who are tasked with writing about their work (and, let's not forget, with assessing its successes and failures). I wondered how its organizers might play around with the exhibition design, how they would choose to foreground that which usually remains in the background; most of all, I wanted to see how successful they would be at objectifying their own practices by making what are normally private thought-processes public while at the same time engaging audiences within a traditional white-cube gallery setting.
Although I didn't attend the opening, I rushed out to see the exhibition the day after, as I am sort of a geek when it comes to things like art criticism and the general issue of cultural writing, and I'd been looking forward to this show ever since I heard about it a few months ago.  Further fueling my excitement was the fact that Chicago art people can get really fired up around questions of criticism, validation, aesthetic judgment, issues of power and how one goes about garnering cultural capital, and that interest, coupled with the no-bullshit, straight-shooting style of discourse I have also observed both conversationally and occasionally in print led me to anticipate something deliciously juicy—maybe even bloody—from this exhibition. Something raw, not cooked.
Suffice it to say what I actually encountered in the gallery was disappointing. I saw a very conventional-looking exhibition of art objects, all of which were accompanied by the standard wall labels that, save for Conrad Bakker's, contained no explanatory text or any other critical framing devices other than object information. Clearly the organizers were at some pains to keep things kosher: to let the artists have their space, and the critics theirs, and then put the mix-it-up-part yet someplace else.  Aesthetically and pretty much on every other level however the works themselves don't play well together -  it's not that they clash, they just don't speak or, as the case may be, 'respond' to one another in any way. I gather they're not supposed to, as the show wasn't curated along thematic or formal lines but instead according to the idiosyncratic selection process of each participating critic.
Indeed, the catalogue's introduction posits the role of the art critic as central to this exhibition, and describes the show's purpose as investigating "the critical process itself, by opening up the crucial ways that critics engage with artists' work….The essays are not meant to be typical reviews, but rather self-reflexive expositions of the writing process and on the art that inspires them." In this way "Response" is structured in a layered fashion, with the first layer of encounter (for viewers, anyway) being the work on display in the gallery itself, the second layer the exhibition catalogue, where criticality, writing, and aesthetic judgment are allowed to re-assert themselves, and the third layer taking place off stage, so to speak, and re-presented online via a series of recorded conversations that are available on the I Space website (and I think on cd as well).
But the problem is that that there is no actual 'criticism' per se and not much self-reflexivity happening anywhere in the exhibition—not in the catalogue, and not really in the online conversations either.  Really, the only thing that makes this show different from any other is that the so-called "responsive" material has been discursively incorporated into the 'exhibition proper' –but there isn't any alchemy happening within that exhibition space with the potential to create new models of understanding or thought-provoking bits of exchange.
In order to assume the role of curators, the critics abandoned their role as critics, instead of—and this is where I thought it could have gone differently—figuring out a way, as uncomfortable though it surely would have been, to simultaneously inhabit both roles. It's not like I wanted venomous exchange—that's just as bad as being overly solicitous. But what if, instead of choosing artists whose work they admired, some of the critics had selected an artist whose work has in their opinion been uneven over the years, or about whom they've written critically in the past but have subsequently revised their opinion, or maybe even an artist whose work they've always avoided writing about because, embarrassed though they may be to admit it, they've never really 'gotten it' and so could never bring themselves to write about it?
To me, that would be really interesting, that would be sexy. I was expecting something sloppier, but this is all so darn polite. To be sure, there are a few revelatory moments. I liked how in the essay artist Adelheid Mers admits that she envies "quick witted historians and philosophers" and that her own work—"slow and clumsy"– is made in an effort to make sense of concepts that initially befuddle her.  Alicia Eler's opening statement: "I never meant to be an art critic," hints at a reluctance to embrace the role both professionally and personally, as if there is something slightly humiliating about admitting your identity as this schlumpy homely person that's called an art critic as opposed to an artist, who is by definition a hottie. Lane Relyea's rundown of Artforum's descent into little more than punditry is illuminating, but there's nothing personally revealing about it. How does he feel about the role that he himself plays in all this, as an educator, a critic himself, and a writer for that magazine? Relyea remains conspicuously silent on this point, preferring instead to swathe his words in the comfortably familiar rhetoric of the academician-as-critic.
My own words here may come off as snarky, but truly, I speak from love. I think art criticism is a dying form, hell, it's probably already dead, Saltz and Roberta Smith notwithstanding. Professional art critics are the auto workers of the culture industry, as a friend of mine put it over a beer last weekend: outdated, irrelevant, and almost certainly on their way out. I'm not happy about this, and I surely do hope that criticism morphs into something new and exciting and, most importantly, equally valid and as relevant as it once was, a long time ago, as it tries uneasily to find a place in online discourse. But I still kinda think 'the art of criticism' is going down in flames. And if that's the case, why not go down in style? This was supposed to be the critics' moment in the limelight – why not loosen up a little—or maybe a lot? Use the "I" word more often? Embarrass yourself with your enthusiasms, confused lusts, and occasional flights of fancy, even if it means feeling a twinge of regret the next day (and also maybe a little thrill of relief)? An exhibition like this is your chance to get shitfaced at the office party and cry on the janitor's shoulder, spill red wine on your pinstripe suit–hell, fuck your boss in the supply closet, nobody really cares what you do anyway.
Everyone's so afraid of offending each other, and I don't blame them. Chicago, I gather, has a small and friendly art scene where everyone knows everyone. Maybe that's the problem with criticism in this city—no one really wants to do it right because what do you say to that person when you inevitably run into them at an opening the following week? It's an argument for remaining friendless if there ever was one.
A panel discussion on this exhibition will take place at Art Chicago a week from today, Monday May 4th, 1-2:30 pm at the Merchandise Mart Conference Center. In spite of myself, I can't wait to see it.