Bad at Sports has realized that society is doomed and is now accepting applications for it's Ayn Randian compound in the mountains where we will build a new society cleansed of the truly icky.
This week, the Art-School Grad Student who's sleeping around: 26, female, Upper East Side, straight, single.
1:50 a.m.: Making out with Tattoo Guy. Have bad spins. Tell him I need water and to sober up before hooking up again. He gives me a line of his own stuff.
10 a.m.: Know this is going to be one hell of week as feeling in love with Tattoo Guy, and now super-depressed. Make appointment with school shrink.
11:30 p.m.: In bathroom, I notice prescription bottle. Shouldn't look, but who wouldn't? Suddenly sick-feeling. Valtrex. Shit. Could I have contracted from five-minute intercourse with condom?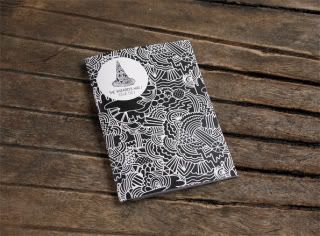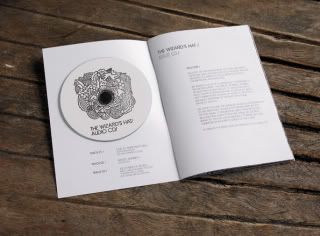 The kind folks across the pond at The Wizard's Hat sent me two copies of Issue 03 (The Magic Number) of their illustration zine to give away. "The Wizard's Hat is an illustration house & zine created by Jeffrey Bowman and Andy.J Miller as the platform for producing collaborative projects under one name. The house focuses itself on self initiated projects involving many of today's most established illustrators as well as producing its own body of projects based on their love of illustration."
Illustrations By:
Jim Stoten, Olimpia Zagnoli, Gemma Correll, Will Bryant, Nick Deakin, Nousvous, Robert Loeber, MrGauky, James Gulliver Hancock, C86, HeyHeyHey, Zeptonn vs. Welmoet, Kipi Ka Popo, Edward McGowan, Ashkahn Shahparnia, John Ringhofer, Andy J.Miller, Jeffrey Bowman
Music By:
John Ringhofer,  Half Handed Cloud, Jim Stoten, Jimtheillustrator, Andy J.Miller, 'Ponstinople Clones' feat Nick Philpin
Hit me up if you want a copy. First two people will get one.
megonli@badatsports.com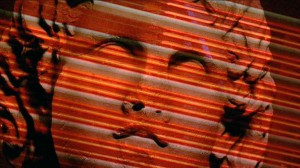 Something tells me that when Jerry Saltz said, "It's a cool school, admired by jargon-wielding academics who write barely readable rhetoric explaining why looking at next to nothing is good for you." He meant something like this:
From the Press Release for Transfers:
Untitled, a 16-millimeter film first screened as part of an exhibition at the Friedrich Petzel Gallery in 2006, emerged from Price's observation that abstraction was rarely seen in film or video presented in art-world settings, despite a strong tradition in experimental film in general. Price purchased a 6-second video loop from a company that makes "empty" background images for corporate use, then added color effects, looped it, and transferred it to film, yielding a hypnotic, emptied-out work that looks back to structuralist and early film experiments even as it presents an image of degraded and détourned digital junk, threatening at each instant to collapse into compression artifacts.

Perhaps out of stubbornness, I still plan to attend.  Although it's an intriguing proposition that we'll see less of this type of work rather than more.
Transfers: Three Works by

Seth

Price
Tuesday, April 14, 2009 at 7:30pm

220 36th Street, 5th Floor
Brooklyn, New York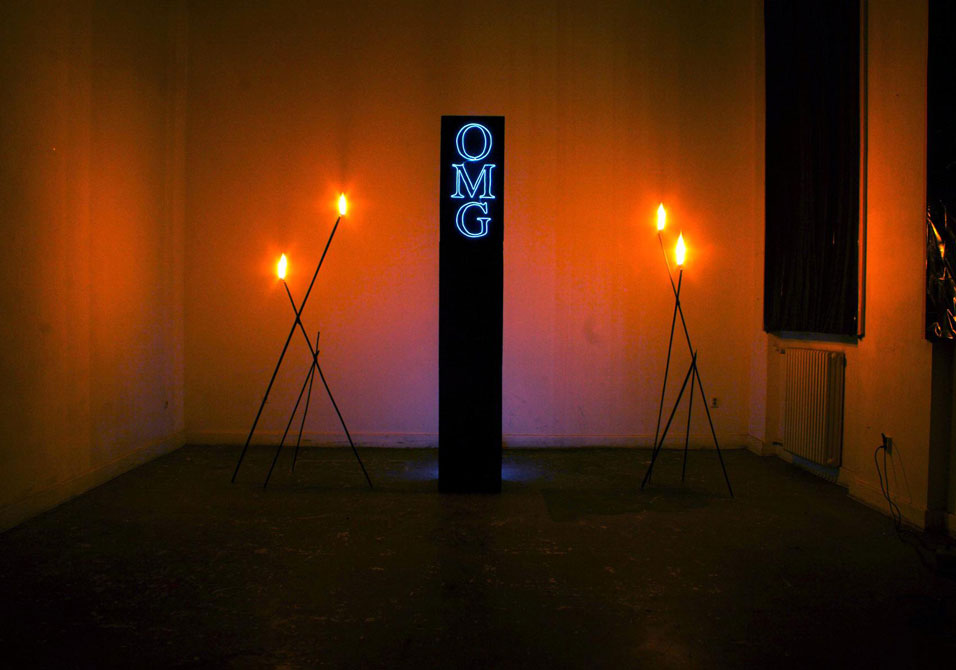 Is it sacrilegious to open a show titled "Younger Then Jesus" the week of Easter?  Presumably that was the provocation, along with the very idea of a generational show for artists under 33 at the New Museum.  After seeing the show, I can't say there's a strong argument for a generation of like-minded artists, but I believe we've come to expect pluralism.  For that very reason, most still shoot arrows in the dark towards some answer about what artists of the present moment are doing.  Everyone hits a different target.
My projection about our generation — I myself am younger than Jesus — was not even to be found in the New Museum exhibition.  The only thing that the New Museum seems to deserve some credit for is posing a question about the present moment at an opportune time. Coupled with the collapse of the art market, it is not inappropriate to be thinking, "What now?"  And that can very easily translate into "What IS now?" The New Museum, however, did not seem to have the answer.  (Which is actually just fine).
Here's how others summed up Generation OMG as represented by the New Museum show:
By now most people who are interested in architecture have learned that the Swiss architect Peter Zumthor has been named the 2009 Pritzker Architecture Prize Laureate.  I was psyched to hear this — I don't know a whole lot about architecture, but I did do some research on Zumthor awhile back for a project on the Slow movement that never came to pass, and I found his buildings, his ideas, and his focus on locality to be quite compelling. From Zumthor's book Thinking Architecture:
"I believe that architecture today needs to reflect on the tasks and possibilities which are inherently its own. Architecture is not a vehicle or a symbol for things that do not belong to its essence. In a society that celebrates the inessential, architecture can put up a resistance, counteract the waste of forms and meanings, and speak its own language. I believe that the language of architecture is not a question of a specific style. Every building is built for a specific use in a specific place and for a specific society. My buildings try to answer the questions that emerge from these simple facts as precisely and critically as they can."
The Pritzger Prize is being amply covered elsewhere, and I won't pretend to have fresh insight to add other than this small offshoot. While reading through the many well-deserved Zumthor accolades today, I was reminded of a photographer named Helene Binet whose work I have always admired but haven't thought about in awhile.
Binet is a celebrated architectural photographer. She's worked repeatedly with Zumthor and Zaha Hadid, Daniel Liebeskind, and Coop Himmelb(l)au among many many others. Interestingly most of the images of Zumthor-designed spaces on the Pritzker website that immediately drew me in were the ones that were photographed by Binet. She has a remarkable ability to capture the emotional and spiritual qualities of a given architectural space — a skill that's particularly important when it comes to an architect like Zumthor.
Of her own work, Binet has said,
"In the end, what I do is about feeling. Certain buildings, certain architects generate a strong emotion. It is hard to explain, but, if am I lucky, I can find this feeling, these emotions, slowly and quietly in the darkroom when my pictures come to light." (from Dream Life of Buildings: Helene Binet's Pictures, The Guardian, April 15, 2002)
In many ways architectural photography is an "invisible" genre because we tend to look right through it, forgetting that someone other than the architect is framing our view of the building. Photographers like Binet play a vital role in communicating architectural meaning, especially to the great unwashed like myself who don't know how to read a blueprint or schematic and who find scale models boring to look at. I might never get to see a Zumthor building in real life (and god knows could I use a trip to that spa right now), but Binet's pictures, and those of other equally gifted photographers, make me see what all the fuss is about.
In order to understand a work of architecture, we have to be physically present in the building or space itself. Or do we? Great architectural photography makes you wonder.
For access to (way better-looking than they are on this post) high-res photographic images of Zumthor's projects by Binet and other architectural photographers, visit this page on the Pritzker Prize website.