The Tate Modern after 5 years of looking like Pre-War Factory from the outside (after research it should since it was a retrofit
power Station
) will thanks to the architectural design firm
Herzog & de Meuron
actually have a look that resembles the inside.
The £100 million-plus expansion is designed to increase the space by up to 60 per cent for more displays and to help relieve overcrowding. The wing is scheduled to be completed by 2011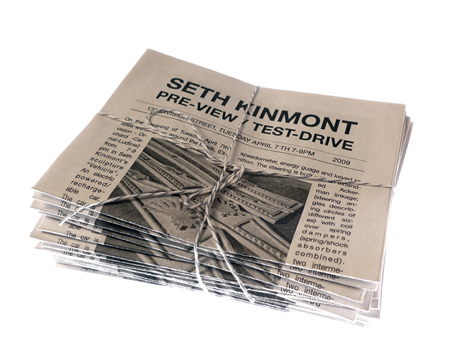 It's not very often that I actually pick up the postcards and flyers I see on the counter of the local coffee shop.  This one, however, caught my eye as it sat there and mocked the New York Times sitting next to it.  Apparently the artist Seth Kinmont knows how to grab the attention of his audience: give them lots of text and images in a clever package.  I expect the same from his electric car.
The car is powered by four twelve volt batteries and sports a set of other familiar amenities, you know, the usual disc brakes, rack and pinion stirring, headlights, air conditioning(!).  And just to throw in a little bit of a challenge, he's built the whole thing out of wood.  From the invite:
Tuesday, April 7th 7-9 pm 138 Division Street (Orchard/Ludlow)
On April 7th, the first in a series of three wooden electric cars will be on view and will be giving rides around the block during the opening hours. Space is limited, so if you are interested a ride, please arrive early to place yourself on the ride list.
On a related note, I objectively love the Project No. 8 website.
ArtBabble, the Indianapolis Museum of Art's new online site for videos about art and artists, goes public tomorrow (Tuesday, April 7th). The Beta site has been up for a few months by invitation only (which were not hard to get), and so far it looks pretty great.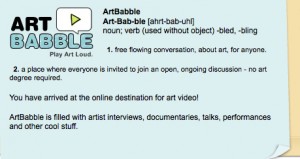 The Indianapolis Museum asked institutions including the New York Public Library, the Los Angeles County Museum of Art and the San Francisco Museum of Modern Art to contribute content that includes interviews with artists, profiles of museum professionals, and videos of exhibition works in situ. The strength of ArtBabble lies in its collaborations with other institutions–the more shared content, the greater its use-potential. It's a genius example of how centralized online content can benefit multiple institutions. It'll be interesting to see whether other museums clamor to join in, or choose instead to use ArtBabble as a model for their own online presences.
John Waters' upcoming exhibitions at Gagosian Gallery in L.A. and Marianne Boesky Gallery in New York will feature his series of movie stills titled "Children Who Smoke." Love it. Now I'm trying to think of other artists who depict children smoking (preferably real cigarettes, but I'll take Sally Mann's fake one too). I'm pressed for time and can only come up with a few examples, but I know there is oh so much more. Who else?

I recently came across MW Capacity, Chris Lowrance and Sam King's "painter blog for no-coasters," and if you're not already among its readers I encourage you to start checking it out on a regular basis.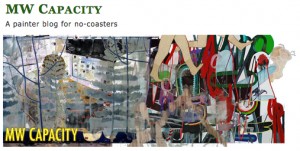 MW Capacity focuses on painting in the Midwest, and I love their approach: lots of images, very brief write-ups on the artists (and sometimes none at all, just pictures) and that's it. The blogs' readers take over from there in the comments, resulting in an online version of group crit that's surprisingly respectful and considered given our tendency on the internet to let the s*&t fly first and think about it later.
Today MW Capacity posted on Angelina Gualdoni's new work at Kavi Gupta (and have also covered her in the past, with a relatively large number of comments on the work in response). They also had an interesting group discussion on Jim Lutes. But no gang rapes allowed: the blog's policy is to take down posts if an artist doesn't want to be there. It seems to be a pretty friendly and laid back atmosphere, so I imagine having one's work featured would be something to feel excited about, not fear.