Some find these creepy, others strangely erotic. Check out the demo for the Digigrade leg extensions created by Seattle artist Kim Graham.
(via Boing Boing via TYWKIWDBI).
Rarely have I felt the sting of my own digital poverty to the degree that I did today, my first day at Art Chicago, which would have been so much more pleasant had I not been lugging a flippin' laptop around for hours (I thought they'd have Wi-Fi in the press room and I could blog every so often while on -the-go, but alas, there were no such free connections, and so my laptop was about as useful to me as the proverbial ton of bricks and quickly starting feeling that way). Rendering me even more the unwieldy dinosaur was the fact that I do not presently own an iPhone or similar small multipurpose lightweight phone and texting device that would allow me to Tweet my reactions to things on the spot, which would have saved time on the front end of things (or is that the back end? I don't even know, I'm so tired right now) and now that I'm home I don't have the energy to fully recap everything I saw in a manner that will do it all justice. Oh and did I mention that I also don't have my digital camera at the moment? Yeah. An iPhone would have helped with that too.
But apart from all that I thought NEXT was pretty great, and I spent my day exclusively there on the 7th floor of the Merchandise Mart, with plans to "do" the Art Chicago portion tomorrow (the latter being the part devoted to the more established galleries, while Next focuses on up-and-comers, emerging artists, the fresh and the new, etc.).
Art Chicago is extremely well-run and I thought the floor devoted to Next looked terrific. Clean, bright, and surprisingly spacious booths for the exhibitors. I felt like I could breathe and actually look at things, tho this, as with all Fairs, isn't the place to try and digest too many big ideas. This was my first time at Art Chicago, but they had plenty of super nice Mart employees stationed right when you walk in to guide everyone to the right place with hardly a blip of initial confusion. The first thing I did after checking in (and pouting internally about the lack of Wi-Fi) was zoom to the 7th floor to catch the first panel scheduled for that day, "Crisis and Opportunity: Programming and Exhibitions in the New Economy," which was part of the "CONVERGE Chicago: Contemporary Curators Forum" program.
I loved the set-up for NEXT Talk Shop, the area devoted to the panels and discussions. It's basically a lounge, with rows of chairs facing the speakers but some comfy couches and tables towards the side. It's not in a separate room but totally open to the rest of everything else, so that it's easy to drop in late or leave early without causing offense or undue commotion. A perfect way to stage these sorts of discussions in this context. The Crisis and Opportunity panel was great, and if I have the energy later on I'll post bullet points from the presentations and discussion, but I would encourage everyone attending the fair to check out at least one of the panel discussions scheduled in the NEXT Talk Shop area — it's comfy, the audio and visuals are working well, the speaker line up is fantastic, and it provides a nice sort of palette cleanser in between all the frenzy of the visual.
Except, NEXT isn't really frenzied at all, and that's what is so refreshing about it. I expect it will be a lot more crowded tomorrow and there were certainly plenty of people there today, but the booths were all concisely curated, and each focused on only one or two artists rather than the full slew of what a gallery has to offer. Don't miss the Goffo section of NEXT, which had a really fun, laid-back yet energized feel to it. There were a lot of great, ultra-affordable artworks, books, prints and small editioned pieces. Also in the Goffo section was Tara Strickstein's Jelly Roll: The Spectacle, which involved a cute girl (was in the artist herself? not sure) wrestling various volunteer (?) participants in a rubber pool filled with some type of silicone crystals. Scoops of the sweat-soaked, hair and skin-coated crystals were bottled after each performance and sold as multiples, although I neglected to ask for how much.
Once I get my hands on a camera I may go back and photograph some of the booths, but for now here are just a few of the artists whose work caught my eye in a good way, in no particular order. Consider this just a teeny slice of what there is to see (all of the images below are lifted, but these are the actual works that are on view at NEXT right now).
Ben Gest at Steven Daiter Gallery
Jesse McLean, "Somewhere Only We Know," (6 min. video), part of Gallery 400's special project for NEXT, "Better to light a candle than curse the dark."
Andy Harper at One In the Other Gallery, London (FYI, Harper's work needs a way-better pic than what I can presently provide):
Sarah McKenzie, Jen Bekman Gallery
Carlos & Jason Sanchez, Light + Sie Gallery
John Sparagana at CTRL Houston (he has a piece up at Tony Wight Gallery right now, too):
Sangbin Im at Dean Project
Florian Sussmayr, Nicholas Robinson Gallery, New York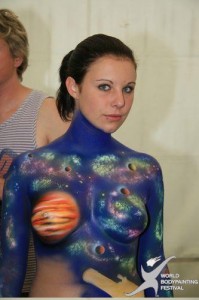 The World Bodypainting Festival is almost here and there is still time to get your tickets to Seeboden, Austria.
From their website:
"Since 1998 Europe's most colourful event has taken place every year in Seeboden, Austria.
The "World Bodypainting Festival" is the biggest art event in the bodypainting theme and thousands of visitors admire the wonderful work of the participants.
Aritsts from 40 nations worldwide come to this unique event and put body art into the mountain and lake scenery. "
"The fantasy ball "BodyCircus" is the main attraction in the festival week side events.
On the 15th July the medieval castle Sommeregg will be turned into a magical and mystical surrounding.
The visitors show up in fantasy costumes combined with bodypainting, decoration and masks up to extreme make up and fantasy fashion. "
More can be read at their site.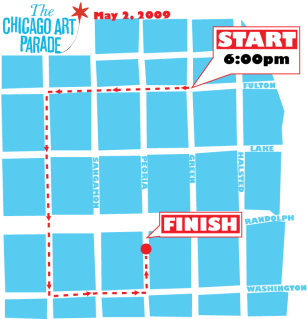 I first met Kevin Stanton several years ago at the old Western Exhibition's space. He was wearing a pair of gold Adidas Forest Hills. This detail probably doesn't matter but I was impressed with someone that could pull off a pair of gold shoes. Kevin has consistently organized awesome projects in both New York and Chicago so I was really excited to see what he had in store for the Chicago Art Parade.
Could you tell me a little bit about what one might see from the Art Parade on Saturday? Are there going to be floats? Can the audience participate?
The Chicago Art Parade will feature a huge array of art and performances created by over 170 local and regional artists. Don't be surprised to see two radical marching bands, Mucca Pazza and Environmental Encroachment, a small army of freak bikes, mermaids and pirates, fluxus performances, and some amazing sculptures. Not to mention the art cars in attendance, including a double-decker moster bus with a kitchen on the first floor and party on the roof, a U.F.O. drawn covered wagon, and a car that can be best described as a "magic laser." More than a few of the presentations will have audience participation.
How did the Art Parade come about? I saw that it was inspired by Deitch Project's Art Parade.
After collaborating with Dread Scott on a float for the Deitch Art Parade in New York, Ed Marszewski and I met to discuss this year's Version Festival. It was at those initial meetings in December of 2008 that the plan of producing an art parade in Chicago were worked out. The Chicago Art Parade differs from the Deitch Art Parade quite a bit. While the Deitch Projects hosts superstar New York artists, Chicago's parade is more interested in bringing local art communities together.
Is it at all connected with 2007's Carnival of Art on the River?
In the wake of The Carnival of Art of the River (also known as Art War), everything is influenced by the months of planning and community building that brought that project together. The Chicago Art Parade is the well mannered sibling of the Art War. However, we have some surprises planned!
The Chicago Art Parade
Saturday May 2, 2009 6pm
Begins at Fulton and Green
For more information please visit the Chicago Art Parade's site.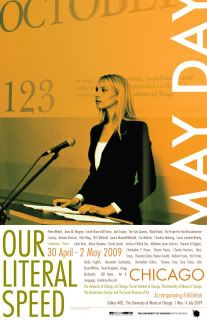 Our Literal Speed began last night. Finding a solid schedule has been semi difficult but below is a description of the series and some of the events I am hoping to attend. I think anything that is going to have Hal Foster with a drill team is probably worth checking out
"Our Literal Speed manifests the imperatives that materialize the theoretical and the pedagogical. No longer can we interpret forms of academic and artistic professionalism as neutral, abstract backgrounds to the aesthetic and performative. These activities have produced their own distinctive surfaces and procedures: the "aesthetic" has become discursive and "discourse" has become aesthetic.
Rather than a series of academic lectures, the conference/event is imagined as a kind of 'media pop opera' or 'administrative gesamtkunstwerk' that includes fluid and/or jagged transitions among scholarly presentations, panel discussions, artist's talks, performances, and an art exhibition within an academic conference. These emerging, hybrid forms demand a synthesis of collective activity (OUR), a self-reflexive examination of art history and its constitutive technologies (LITERAL), and an intense concern for the pace and texture of our movement through institutional mediation (SPEED). The project offers a temporary laboratory in which a concerned public can investigate non-formulaic, experientially vibrant and theoretically precise responses to the modes of distribution, consumption, and circulation that drive contemporary art."
Friday, May 1st
1:30pm – 4pm
Panel featuring Gregg Bordowitz, Julia Bryan-Wilson, Hannah B.
Higgins, Alison Knowles, and Joel Snyder
107 Kent Hall, University of Chicago
Exhibition opens at 8pm/Performances begin at 8:30pm
Works by: Academy Records, Gregg Bordowitz, Rainer Ganahl, Sharon Hayes, Jackson Pollock Bar, Hila Peleg, The Project for the New American Century, and The Size Queens
Gallery 400, University of Illinois at Chicago
400 South Peoria
Saturday, May 2nd
1:30pm – 4:30pm
Panel featuring Thomas Crow, Andrea Fraser, Boris Groys, Christine Mehring, and WJT Mitchell
Fullerton Hall, The Art Institute of Chicago
7pm – 9pm
Event featuring the South Shore Drill Team, Theaster Gates, Hal Foster, and Anne M. Wagner
107 Kent Hall, University of Chicago
9:30pm
Sharon Hayes will present "micro" "small" "phone" "voice" and other works in the lobby of the Smart Museum
For more information please check out Our Literal Speed's website.