Thursday
Albert Oehlen: A Vanguard With Decorum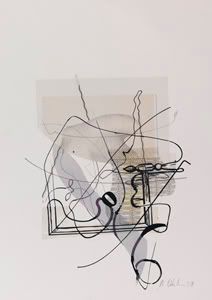 Opening!
May 14 5-9pm
May 14-June 27, 2009
Corbett vs Dempsey
1120 N. Ashland
Chicago, IL 60622
"This show will unveil Oehlen's stunning new series under the banner A Vanguard with Decorum. The exhibition will include 15 intimate, graceful drawing-collages on paper, a huge drawing based on the title of the show, and a spectacular new painting. Clearly related in their reduced palette and graphic quality to the computer works, these new pieces introduce an unforeseen modernist architecture while amping up the looping, curvaceous, linear intensity." via the website
Friday
Manifest Urban Arts festival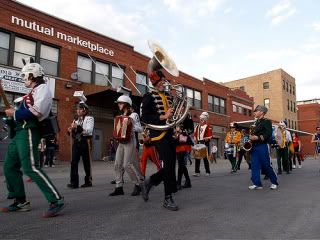 Various locations, between Roosevelt and Congress and State and Michigan. Map it here.
11am-10pm
Circus punk marching band Mucca Pazza kicks off the event at 640 S Wabash Ave at noon!
"Experience Manifest. Columbia College Chicago's urban arts festival celebrates the work of seniors and graduate students from every department on campus. Manifest 2009 will feature an artwalk & sale, music on four stages, screenings, readings, live radio, Web casts, the TICTOC Performance Art Festival, the Transmission art car exhibition, Spectacle Fortuna's parade of creativity." via the website
Check out the insane schedule of music, workshops, performances and exhibitions here. Get a pdf version of the schedule here.
Saturday
Weiner Takes All: A Dogumentary
Chicago premier!
Friday, May 15, 6:15 pm
Saturday, May 16, 5:45 pm
Monday, May 18, 8:15 pm
Gene Siskel Film Center
164 North State Street
Chicago, Illinois 60601
"The little-known world of wiener-dog racing is investigated with humor and charm in a film that appears to have (ahem) legs, based on the ecstatic audience response generated by its numerous festival screenings around the U.S." via the Gene Siskel website
You can check out the trailer here.
Grand opening of the Art Insitute's Modern Wing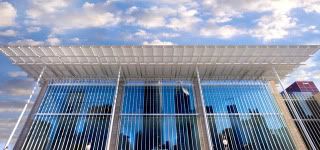 Free admission May 16-22
Grand opening May 16, 9am-5pm
Art Institute of Chicago
111 S Michigan Ave
Chicago, IL
"Celebrate the Modern Wing's public unveiling with AIC on Saturday from 9 a.m. – 5 p.m. Good times include a dedication with architect Renzo Piano at 9 a.m., a ribbon-cutting ceremony at 10 a.m., and live music/dancing from acts like Swing Gitan, Maxwell Street Klezmer Band, and Hubbard Street Dance Chicago. The grand opening exhibit is Cy Twombly's "Natural World", which will be on display through September 13 at The Abbott Galleries-the Modern Wing's special exhibition space located on the first floor." via the chicagoist
As part of the University of Chicago's Artspeaks program, Kara Walker will talk with associate professor of history Amy Dru Stanley. Click the link above for full details; tickets are $20 to general public, $5 to students with i.d.
Wednesday, May 13, 2009 | 7:30 pm
Kent Hall, Room 107
University of Chicago
1020 E. 58th Street
View map
From the University's website:
"Walker will reflect on her work in a presentation and dialogue with Amy Dru Stanley, Associate Professor, Department of History, who's research and teaching focus on capitalism, slavery and emancipation, and the historical experience of moral problems.

Known for exploring the raw intersection of race, gender and sexuality, Kara Walker unleashes the traditionally proper Victorian medium of the silhouetted figure. Her installations create a theatrical space in which her unruly cut-paper characters fornicate and inflict violent acts upon one another. With one foot in the historical realism of slavery and the other in the fantastical space of the romance novel, Walker's nightmarish fictions simultaneously seduce and implicate its audience. A 1997 recipient of the John D. and Catherine T. MacArthur Foundation Achievement Award and a 2008 United States Artists Fellow, Kara Walker's work has been exhibited at the Museum of Modern Art, the San Francisco Museum of Modern Art, the Solomon R. Guggenheim Museum and the Whitney Museum of American Art. Walker lives in New York where she is on the faculty of the MFA program at Columbia University."
An upward trend (age-wise) at the auction houses is underway; this week's New York magazine has an article by Alexandra Peers arguing that it's not necessarily about age vs. youth, but due instead to past over-productivity on the part of many younger artists.
"Something much more subtle than a classic boom-bust cycle is going on. The art world is punishing the overly prolific, those artists who responded (in retrospect, perhaps too hastily) to stiff demand by upping supply. "There's a winnowing," says artnet.com critic Charlie Finch. Who was especially productive before the recession hit? Murakami and Hirst, still both under 50, get singled out by critics, as do Cecily Brown, Dana Schutz, and a host of contemporary Chinese artists. Artists whose work is plentiful or sells in editions-including many photographers-are now seeing softer numbers than those for painters like John Currin. While veterans like Cy Twombly and Bruce Nauman continued to work at the same pace, others did more work to meet the needs of galleries that had satellites or partners all over the world."
Read the full article here. (Via ArtsJournal).
Quimby the Mouse, by Chris Ware. Music by Andrew Bird. Animation by John Kuramoto. A video made by Ware for "This American Life–Live!", in which an episode of the radio show was performed live onstage by Ira Glass and many of the show's regular contributors.
via Booooooom!

Quimby The Mouse from This American Life on Vimeo.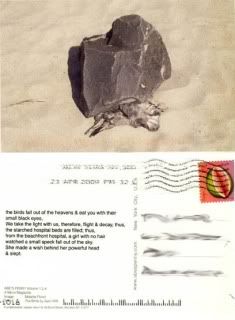 Today I came across a subscription service called Abe's Penny through Cool Hunting. Described as a "micro-magazine" the project consists of postcards that combine one artist with one writer. Over the course of a month a story unfolds.
via Cool Hunting:
Where did this idea come from?
Tess and I wanted to make something that would resonate without requiring a huge time commitment, or even much effort to enjoy. The postcard comes right to your mailbox so all that's left for you to do is read it. When the next one comes, people go back to the previous ones, so engaging with the work becomes a process, but still doesn't require much time.
What does Abe's Penny signify?
We were thinking of Dickens and serials and the Penny Press. We also talked about how, if you pared down a magazine to its core, you're left with images and text, so using the word penny made sense, as money's smallest form. We decided to call it Abe's Penny because it's self-contained and referential, like postcards.
Check out the entire set here