Are re-blogged links the blogger's version of the sitcom flashback episode? Uh, maybe, but in any case, here's a partial and purely subjective roundup of the past week in art, culture, etc. in Chicago and beyond, via a whole mess o' handy links, of course….
*Artists selected for the 53rd Annual Venice Biennale have been announced; find the list here.
*New City art editor Jason Foumberg has a nice recap along with some thoughtful analysis of last week's "The Invisible Artist: Creators from Chicago's Southside" panel discussion at the School of the Art Institute. UPDATE 4/4: There is some very interesting, enlightening, and pretty damn sharp back-and-forth going on in the comments section of this article by panel participants and others who strongly disagree with (or have misunderstood) Foumberg's assessment of the panel and the issues it addressed.
*The mass firings of adjunct fine art faculty at Parsons The New School for Design: blogger Hrag Vartanian's coverage has been some of the most thorough thus far. Check out his posts here, here and here as a start.
*Time Out Chicago writer Lauren Weinberg has a piece this week on the ways in which Musuems in Chicago and elsewhere are using social media.
*Big yawn: on the Twitter front, an update on @platea's Twitter happening I blogged about a few weeks ago. UPDATE 4/4: NewCity reported on what happened during the Twitter Island project discussed in that same blog post, here.
*A huge Pose slideshow available on The World's Best Ever.
*Tyler Green of Modern Art Notes provides an excellent, two-part summary of a rare Robert Frank public talk this week with National Gallery of Art curator Sarah Greenough; part one and two.
*Via C-Monster: The Architecture of the Drug Trade. A fascinating look at  the landscape of weed and the architecture of the grow house. Especially loved the comparison of the latter to Max's bedroom in Where the Wild Things Are.
*Paddy Johnson of Art Fag City writes for The L Magazine on why Jenny Holzer is not the patron saint of Twitter in her review of Holzer's Protect Protect Project, which originated at the MCA and is now at The Whitney.
*Via ArchitectureChicago: iTunes offering free download of the first movement of John Cage's 4'33".
* Get your art on at Chicago Artist's Resource (CAR)'s Creative Chicago Expo tomorrow (Saturday) from 10-4. Workshops and Consult-a-thons galore for individuals and arts organizations.
*And finally, the hermeneutics of "pin diplomacy": via Artnet Magazine, Madeleine Albright's pin collection to be shown at the Museum of Arts & Design in New York.  Pins weren't mere jewelry for Albright, they added a subtle layer to her diplomatic efforts.  She wore a bee pin when talks were getting pointed, a balloon pin when she felt hopeful, and a snake pin after Sadaam Hussein's people called her a serpent. I'm so there!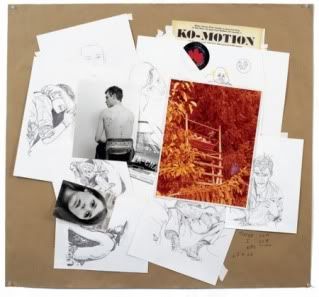 Yesterday, Collier Schorr had a book signing at Dashwood Books for her latest release "There I Was". In the fall of 2007 I had a chance to see "There I was" at 303 gallery. The show was a departure from Schorr's photographic work. Through drawings, photographs, source images, and letters Schorr retells the vivid story of Charlie 'Astoria Chas' Synder. While accompanying her father on a interview in 1967 , Schorr met the 19 year old drag racer and his "Ko-Motion" Corvette. By the time the article was released Synder had already been killed while fighting in Vietnam. Based on both facts and fantasy Schorr retells the last days of 'Astoria Chas'.
The Long Century has a small musing from Schorr about Synder and war films.
"I was talking to a friend about a scene in Full Metal Jacket and he said "that is my favourite war movie". Later, I thought, what does that mean? What does a favourite war movie satisfy? What makes it so desirable? All narrative cinema pivots on the transformation of a protagonist and so most war movies satisfy this requirement in spades. From An Officer and a Gentleman to Platoon, the young soldier is transformed into a man, either ruined by brutality or recused by structure, there is a simple pleasure in watching someone (other than oneself) abused into a potential killing machine.
…When I starting making drawing's based on a young friend of my father's who was killed after just on month of serving in Vietnam, I re-engaged with all those Vietnam movies I thought I loved and I no longer could love them. The fact that they were a fetish for me, and an ideal about masculinity that I couldn't afford to indulge."
Read the full article at This Long Century.
For more information and to pre-order a signed copy please visit Dashwood Books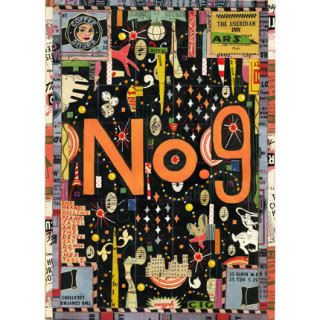 Big Rock Candy Mountain
New work by Tony Fitzpatrick
Dieu Donné
315 West 36th Street New York, NY
Apr. 1 – May 16
Opening reception for the artist April 1, from 6-8PM.
"Tony Fitzpatrick's collages are cobbled together from vintage print ephemera and handmade paper with splendor and precision; they are visual poems, reflecting on matters of place, history, and sense of being. Big Rock Candy Mountain delves deep into the transient nature of Depression-era hobos. Here, their language, ideograms, battles, and songs resound throughout Fitzpatrick's intimate works. His voice references both the historic and current, as the culture surrounding hobo lore may now become parallel to our own. The exhibition is a culmination of the artist's Lab Grant residency at Dieu Donné, and is on view from April 1st through May 16th, 2009."
For more information or to see some of the work visit Dieu Donné.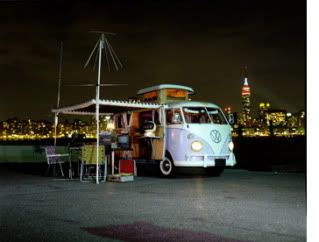 Broadcast Yourself
6:30 p.m. Wednesday, April 1, 2009
Lecture Hall 213,
next to Pratt Manhattan Gallery
144 West 14th Street, 2nd Floor
"Pratt Manhattan Gallery will present 'Broadcast Yourself,' a free public symposium in conjunction with the gallery's 'Broadcast' exhibition…Speakers will include NPR 'On The Media' host Brooke Gladstone, 'Broadcast' curator Irene Hofmann, and 'Broadcast' participating artists Gregory Green, Angel Nevarez and Valarie Tevere of neuroTransmitter, and Siebren Versteeg.
'Broadcast Yourself' will address the issues of power and control extended by traditional media outlets in contrast with the do-it-yourself attitude pervasive in the tech-savvy younger generation. Symposium panelists will also speak to the impact that radio and television can have in shaping the events of our time; how artists can directly engage, challenge, or subvert the structure and authority of broadcast media; and how our culture is shaped by the actions of individuals and artists."
For more information please visit Pratt's site.
Image above:
Gregory Green, M.I.T.A.R.B.U. (Mobile internet, television, and radio broadcast unit), Mixed media with 35-watt pirate FM broadcast system, 100-watt pirate television broadcast system, and internet broadcast system, 2000.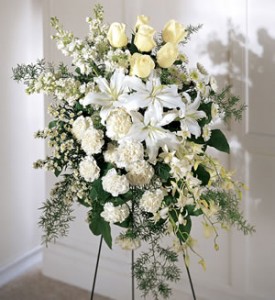 Yoko Ono while returning to Montreal on Tuesday to unveil an art exhibit celebrating the week 40 years ago she famously stayed in bed with her husband John Lennon in a hotel room high above downtown Montreal and slept in about peace died of massive trauma to the head when the "Yes Painting" complete with ladder & magnifying glass fell on her.
Ono was in the city for the anniversary of the 1969 bed-in, which is being marked by an exhibit at the Montreal Museum of Fine Arts, titled Imagine: The Peace Ballad of John & Yoko. The exhibit would have opened Thursday.
"Montreal means very much for me because it was a place where John and I created a very important statement," the 76-year-old artist told reporters at the museum on Tuesday right before saying "Oww oww that ladder is crushing my bones, get it off get it off, I have brittle bones from Coprophagia so this really hurts"
That went on for 30 minuets while local pedagogues and reporters documented and critiqued the latest and unbeknownst to them final performance art work by Ms. Ono.
Montreal's city coroner ruled that it was an accident but Mark Kostabi is wanted for questioning in relation to the event since as the Police Chief said:
"This seems like the kind of shameless promotional work that he would do" and followed up with "Plus I always wanted to meet him, I have one of his paintings over my desk, you know the one with the gray androgynous human figure in a empty room holding a odd but ironic object that fits nicely with the title, he's so handsome too."
Kostabi's lawyers have released a statement that he has a solid alibi since he has been in Rome for almost a decade doing nothing.
More to come as it unfolds this sad sad April 1st, 2009.