Sid Laverents died of pneumonia on May 6th at the age of 100. Who was Sid Laverents, you ask? From his New York Times obituary:
Mr. Laverents was a jack of many trades, a perpetual self-inventor. He played a dozen instruments and supported himself through the Depression as a vaudevillian one-man band; he was also a sheet metal worker who helped build World War II airplanes, a self-published writer, a Fuller Brush salesman, a sign painter, a carpenter and an aircraft engineer.

But he was best known for the more than 20 movies he made from 1959 until his death, as a member of the San Diego Amateur Moviemakers Club. They included nature films ( one about snails, filmed in his backyard), goofy comedies ("It Sudses and Sudses and Sudses," a "Sorcerer's Apprentice"-like tale about canisters of shaving cream run amok in the bathroom) and deadpan autobiographical stories, including "The Sid Saga," a four-part look at his own life, completed in his 80s.
Laverents' movie Multiple Sidosis was included in the National Film Registry in 2000, when Laverents was 92. You can watch it, below. But be forewarned, things don't start rockin' until halfway through the movie.
This brought to mind another, contemporary musician, Theresa Andersson, who is something of a one-woman band herself, in the true old-fashioned sense of the term. (Via Booooooom!).


I don't know — I'm just so freakin' charmed by them both. May the one man (ahem, person) band live on.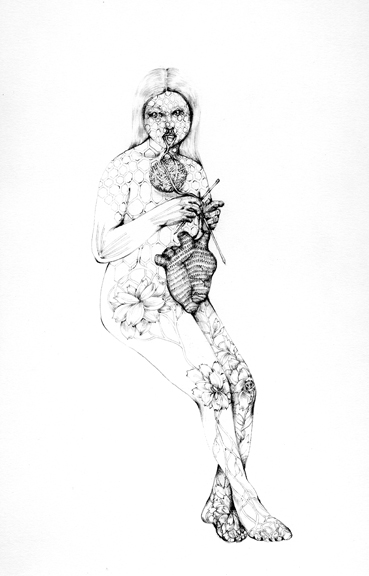 A few stories, blog posts, and interesting discussions in Chicago and beyond that are on my mind this week.
**Image credit: Shannon Keller, Knitter. Keller's work is currently on view at Show Cave in L.A. (via The World's Best Ever).
*CAA Study finds over-reliance on part-time faculty in American higher education.
*New York Times looks at how artists are adjusting to economic hardship.
*Edward Winkleman asks his readers why the view that art is 'unmasculine' still persists?
*Chicago artist and illustrator Lauren Nassef's "A Drawing a Day" still going strong.
*Joanne Mattera bites back after receiving a cease and desist letter warning her not to write about vanity galleries (a.k.a. 'pay to show' schemes).
*The architecture of 'evil lairs' at BLDGBLOG (via C-Monster). Makes me long for the days I still had time to play videogames.
*Chicagoist's report on the Society for News Design's conference and discussions about what's happening in the Chicago journalism scene. Very interesting write-up here, including follow-up comments.
*"The practice of art gets the criticism it deserves"–Great piece on how the internet is changing critics and art criticism by John Haber.
*Another good read on the above topic: "Arts Writing and 'The New Thing'" at Peripheral Vision. (Meg has also twittered numerous of-the-moment links on the topic of arts journalism this past week, make sure to check those out too).
That's all for now. I'm off to see Several Silences at The Renaissance Society.
The Future Is Now*

*And by now we mean in the 22nd century, which is just one number away really. The future is important to artsits since many of us are closet geeks and we like to know what tech we will be unable to afford in 2018.
The Apple future is oddly like the 1984 commercial you know: single minded, simple and dictatorial just with shinny white walls and a rainbow circle that hypnotizes you.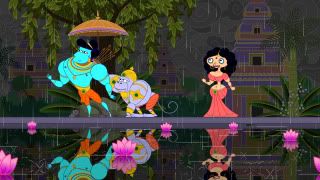 This morning I found an email from Richard Holland that simply stated "utterly awesome" with a link. I clicked on the link and found myself at the home page for the film Sita Sings the Blues. I had seen the movie poster while I was at the Gene Siskle Film Center and had thought about seeing it based on the animation. But as usual I was too lazy and forgot about it. On the front page you are greeted with a letter to the audience: "I hereby give Sita Sings the Blues to you. Like all culture, it belongs to you already, but I am making it explicit with a Creative Commons Attribution-Share Alike License. Please distribute, copy, share, archive, and show Sita Sings the Blues. From the shared culture it came, and back into the shared culture it goes." The film came about when Nina Paley was dumped by her husband after he had moved to India via e-mail. The film is a recreation of the Indian story The Ramayana.
Wired has a great interview with Nina Paley:
Wired: What is your movie about?
Nina Paley: Sita Sings the Blues is a musical, animated personal interpretation of the Indian epic the Ramayana. The aspect of the story that I focus on is the relationship between Sita and Rama, who are gods incarnated as human beings, and even they can't make their marriage work [laughs].
Wired: And that ties in with the film's second narrative.
Paley: Right, and then there's my story. I'm just an ordinary human, who also can't make her marriage work. And the way that it fails is uncannily similar to the way Rama and Sita's [relationship fails]. Inexplicable yet so familiar. And the question that I asked and the question people still ask is, "Why"? Why did Rama reject Sita? Why did my husband reject me? We don't know why, and we didn't know 3,000 years ago. I like that there's really no way to answer the question, that you have to accept that this is something that happens to a lot of humans.
Wired: And this whole movie was rendered on a laptop?
Paley: I started on a G4 titanium laptop in 2002. I moved to a dual 1.8-GHz tower in 2005, moved again to a 2-by-3-GHz Intel tower December 2007, with which I did the final 1920 x 1080 rendering.
view the entire interview here.
I just downloaded it and am looking forward to watching it after the Blackhawks play the Red Wings tonight. Yeah, I like sports.
I found this really cheesy commercial from the Art Institute while I was searching for a video of Sol Lewitt on Youtube. It was made in 1988 to commemorate the Daniel F. and Ada L. Rice Building. I sort of wish that this music would play in the lobby as you bought your tickets.