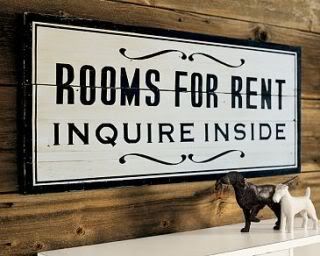 via Christopher Albert:
Artists are invited to re-envision the FOR RENT sign as one part of a series of installations and collaborations created by Christopher Albert as part of the annual 10x10x10 exhibit in Ellenville, NY. Every year, 10x10x10 invites 10 artists from 10 communities to create installations in 10 empty storefronts in downtown Ellenville, NY. Submitted signs will be incorporated in an installation for 3-4 weeks in beginning on July 11, 2009, the opening of the exhibit. The signs will also be part of a longer term online project. Artists will be fully credited online and at the exhibition site.
Details:
There is no fee for submitting work.
Anyone from anywhere can submit, and multiple submissions are welcome.
Two sizes of signs will be accepted: 12″x8″ and 19″x15″.
Signs should be created using a sturdy but flexible material. ie:
heavy card stock, poster board, watercolor, etc. (or even plastic or
vinyl if you choose to rework an actual For Rent sign.)
However you choose to treat the sign and which medium you choose to
use is up to you. The only requirement is that it conveys the spirit
of "FOR RENT" and that it should have an area in which someone could
write a phone # (no phone #'s will be written on the signs, but they
should have the space for it.)
Be aware that for installation purposes, signs will likely be attached
to a structure via pins through the corners of the signs.
Deadline for receipt of signs: Monday, June 22.
Drop off locations for signs will be set up in Beacon, Poughkeepsie
and Ellenville, NY. Signs can also be mailed to: Christopher Albert
1172 North Ave Beacon, NY 12508.
Please put your name, telephone, email and mailing addresses on the
back of the sign.
The signs will be returned after the conclusion of the exhibit.
If you have any questions or need more information, contact:
info@christopheralbert.com. Additional information will be
forthcoming at www.christopheralbert.com
I have always loved tiny toy people in their miniature plastic worlds. I was addicted to such stuff as a kid, and can't seem to stop myself from buying it for my own offspring, but this–this is beyond mere child's play. This transcends play into something almost Holy.
Just take a look at the moving Lego Pirate theater this guy in Athens, Greece, has made with Lego Mindstorms NXT and Lego Duplo pirate figures. Astounding. Then go to his site and get further blown away by his many "NXTfied"creations, including a Bionicle Robot Head, a revolving Christmas Tree, a Holo3Cycle, and so much more. (via BoingBoing via GeekDad).
The Wall Street Journal reports on the new works of art the Obamas are adding to the White House walls, their political implications, and the potential market effects for the artists they've selected (particular the lesser-known ones). From the article:
The Obamas are sending ripples through the art world as they put the call out to museums, galleries and private collectors that they'd like to borrow modern art by African-American, Asian, Hispanic and female artists for the White House. In a sharp departure from the 19th-century still lifes, pastorals and portraits that dominate the White House's public rooms, they are choosing bold, abstract art works.
The Obamas have great taste, no? A few examples…(the Ruscha is my favorite pick…so great!).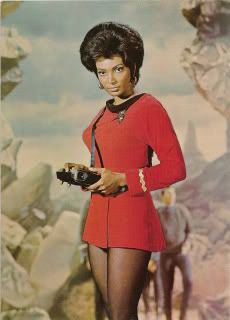 Has anyone gone to see the new Star Trek movie? Nichelle Nichols was a totally better Uhura than Zoe Saldana. She just looks so bad ass in that pic.
Here are some of the stories from this past week. Have a great three day weekend!