Today, while trolling around the web. I found a link from Eyeteeth about Andy Sturdevant's research into The Art Strike 1990-1993 on his blog South 12th.
"We call for all artists in the U.S. to put down their tools and cease to make, distribute, sell, exhibit or discuss their work from January 1, 1990 to January 1, 1993. We call for all galleries, museums, agencies, alternative spaces, periodicals, theaters, art schools etc., to cease all operations for the same period. Art is conceptually defined by a self-perpetuating elite and is marketed as an international commodity; the activity of its production has been mystified and co-opted; its practitioners have become manipulable and marginalized through self-identification with the term 'artist' and all it implies.' – YAWN
The proposed early-'90s Art Strike is an interesting and largely forgotten footnote in contemporary art history. I encountered it for the first time while doing some research with back issues of Artpaper, the paper of record for the 1980s and '90s art scene in Minneapolis-St. Paul. A full-page ad reproduced the text of YAWN's inaugural broadsheet, and listed various resources one could write to learn more. Two 'Action Committees' – one in London, one in San Francisco – were listed, as well as YAWN's mailing address in Iowa City, Iowa."
view South 12th here
view Yawn's site here
This weeks video pick is Gary Panter on VBS.TV. The five part series checks in with Gary to discuss all of the projects he has been a part of including Pee-wee's Playhouse, Dal Tokyo, and my personal favorite Jimbo. I would also highly recommend checking out the K8 Hardy interview and the comments if your looking for a laugh.
Herb and Dorothy. I'd like to see this film screened in Chicago. Has anyone seen it here? I didn't see any mention of an upcoming Chicago venue on the website. Please don't tell me I've missed it. The synopsis, from the film's website:
HERB & DOROTHY tells the extraordinary story of Herbert Vogel, a postal clerk, and Dorothy Vogel, a librarian, who managed to build one of the most important contemporary art collections in history with very modest means. In the early 1960s, when very little attention was paid to Minimalist and Conceptual Art, Herb and Dorothy Vogel quietly began purchasing the works of unknown artists. Devoting all of Herb's salary to purchase art they liked, and living on Dorothy's paycheck alone, they continued collecting artworks guided by two rules: the piece had to be affordable, and it had to be small enough to fit in their one-bedroom Manhattan apartment. Within these limitations, they proved themselves curatorial visionaries; most of those they supported and befriended went on to become world-renowned artists including Sol LeWitt, Christo and Jeanne-Claude, Richard Tuttle, Chuck Close, Robert Mangold, Sylvia Plimack Mangold, Lynda Benglis, Pat Steir, Robert Barry, Lucio Pozzi, and Lawrence Weiner.

After thirty years of meticulous collecting and buying, the Vogels managed to accumulate over 2,000 pieces, filling every corner of their tiny one bedroom apartment. "Not even a toothpick could be squeezed into the apartment," recalls Dorothy. In 1992, the Vogels decided to move their entire collection to the National Gallery of Art in Washington, DC. The vast majority of their collection was given as a gift to the institution. Many of the works they acquired appreciated so significantly over the years that their collection today is worth millions of dollars. Still, the Vogels never sold a single piece. Today Herb and Dorothy still live in the same apartment in New York with 19 turtles, lots of fish, and one cat. They've refilled it with piles of new art they've acquired.

HERB & DOROTHY is directed by first time filmmaker Megumi Sasaki. The film received the Golden Starfish Award for the Best Documentary Film and Audience Award from the 2008 Hamptons International Film Festival. It has also received Audience Awards from the 2008 SILVERDOCS Film Festival and the 2009 Philadelphia Cinefest. Palm Springs International Film Festival named HERB & DOROTHY one of their "Best of Fest" films in 2009.
HERB & DOROTHY Trailer from Herb and Dorothy on Vimeo.
Via Beautiful/Decay.
…I'll ask you to try this instead:
Go to your iTunes. Create a ringtone for John Cage's 4'33" (if you don't want to spend money for it on iTunes, you can find a free ringtone for 4'33" here).
Install that ringtone on your cell phone, and assign it to one of your frequent contacts. Keep it this way for at least a week (no cheating!).
That's it.
The Hamza Walker-curated group show "Several Silences" closes this weekend at The Renaissance Society, so if you still want to catch it, best get there soon.
Richard Hunt's terrific sculpture show at David Weinberg Gallery closed last weekend, but if you missed it there's another powerful selection of Hunt's work from the past 20 years on view at G.R. N'Namdi Gallery.
David Weinberg's space, the smaller of the two galleries, showed off the many paradoxical elements of Hunt's sculptures in a surprisingly effective manner. When I first walked in to that exhibition, the room felt overly crowded to the extent that I feared one of sculptures' edges might actually jab me (or I it). But it quickly became clear that, physically at least, there was plenty of room for all of us.
Hunt's work is full of surprises like that. Eluding easy formal classifications, his sculptures can't adequately be described as organic, nor are they exactly technological in nature. They're somewhere in between the two, where spiraling forms evoke the flow of waves or the whir of circular blades. One sculpture at N'Namdi recalls a stack of bones, human and otherwise; others have sharp, protruding hooks. The lines of Hunt's sculptures alternate between curving and jagged, their movement sometimes vertical, sometimes lateral, but always, always upwards.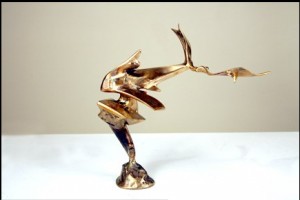 Stacks of things frequently rest atop stacks of other things, as if someone were trying to build a stairway to heaven by piling object upon object as high as the whole thing will go–an implausible and impossibly graceful agglomeration of broken wings, torn dorsal fins, discarded hand tools and shards of bone.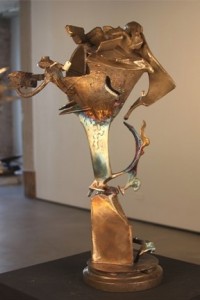 Hunt's sculptures may reach upwards, but they're far from dreamy. The often rapid transitions from one form to another doesn't suggest rebirth or regeneration so much as an effort to fit together, sometimes clumsily, that which already exists. In this Hunt's forms evoke the forward movement of history (be it an individual's or a nation's) as something precariously and pragmatically achieved, in fits and starts, over time.
The show is at G.R. N'Namdi Gallery (110 N. Peoria, Chicago, 312-563-9240) through June 30th.