I found this really cheesy commercial from the Art Institute while I was searching for a video of Sol Lewitt on Youtube. It was made in 1988 to commemorate the Daniel F. and Ada L. Rice Building. I sort of wish that this music would play in the lobby as you bought your tickets.
Watch the full commercial here.
From Holland Cotter's New York Times review of the New Museum's The Generational: Younger Than Jesus:
"But my point is that beyond quibbles about choices of individual works, [Younger than Jesus] raises the question of whether any mainstream museum show designed to be a running update exclusively on the work of young artists can rise above being a preapproved market survey. Removed from a larger generational context, can such a survey ever become a story, part of a larger history? (The same question applies to museum exhibitions that leave young artists out of the picture.) I'm asking. It's a complicated subject. I don't know the answer."
I have one possible answer to Cotter's question: look to exhibitions like Artists Run Chicago, which opened a little over a week ago at Hyde Park Art Center. Artists Run Chicago situates its 100+ works of art within a larger history, one that is as messy and complicated and compelling as any of the many terrific individual works that are on display.
Although the Hyde Park Art Center is definitely not a "mainstream museum," nor is Artists Run Chicago a generational exhibition, the show does survey a generation of sorts: ten years in the life of Chicago's alternative art scene as manifested in the countless exhibitions that have taken place in apartments, houses, and cheap storefronts and loft spaces across the city.
The minimum criteria for selection in "Younger than Jesus" was that an artist be under the age of 33. Britton Bertran and Allison Peters Quinn, the curators of Artists Run Chicago, looked not at the age or even the production history of individual artists but focused instead on the (recent) history of a particular kind of exhibition-making that Chicago artists arguably do better than anyone, anywhere, else.
Following a few self-imposed guidelines–in order to be invited to participate in the exhibition, for example, a space had to have been run by artists, to exist in the Chicagoland area, and it needed an exhibition track record of at least eight months between 1999 and 2009–Bertran and Quinn put together an exhibition that reflects the conditions of production within Chicago's alternative art scene. That scene is itself an ad-hoc, energetic, ever-shifting space of possibility and, let's face it, struggle. It isn't easy to run a space, even (and maybe especially) if it's out of your own home and totally on your dime.
After viewing Artists Run Chicago, it's hard not to start questioning some of the founding principles upon which sprawling group shows of emerging artists like Younger than Jesus are founded, starting with their tendency to frame artistic practice exclusively in terms of individualistic endeavor.
In this and other ways, Artists Run Chicago undermines simplistic notions of what constitutes a 'generation.' Is being part of a generation defined only by the year of your birth, or could it be alternatively circumscribed by who you hung out with and when, who your influences were? How long does a generation last? A decade? Or is as little as eight months enough–whatever time span is required for a group of people to make something that in turn spawns other things: namely, art. Sometimes the lifespan of a space is necessarily short, other times it lives long enough to become something of an elder statesman. Often, a space dies but germinates elsewhere in slightly different form.
Right now, Artists Run Chicago is blissfully short on documentation, which allows for treasure hunt-like wandering about the exhibition and sense of fresh discovery among viewers. For many people, a trip through the show is likely to provoke fond memories and personal anecdotes; for me, it was all new, and yet not once did I feel like an outsider, like someone peering through a window onto a scene that was purposefully cryptic or hipper-than-thou.
A show like this does need some explication, of course; I'm told an exhibition catalogue produced by Threewalls and Green Lantern Press is due in September will be published by Proximity magazine as a broadsheet with a map and timeline. It will include an essay by Dan Gunn along with interviews of the show's participants. I'm looking forward to connecting what I've already seen 'on the ground' to everyone else's stories, and to that larger history.
Last Friday while out and about I listened to architect Renzo Piano's interview on WBEZ Chicago Public Radio's 8:48 . I found the part of the interview where Piano talked about his personal relationship to art to be particularly memorable. When architecture critic Ed Keegan asked him what he looks for in an artwork, Piano replied:
"I learned not to think too much. I (look at) a piece of art the same way I listen to a piece of music. Just submitting myself to the subconscious. There is a moment where you have to accept that, to switch from rational to irrational, to instinct. In art…. you recognize something but you don't have to understand what you recognize. I was contemplating a beautiful Rothko. I love that artist, but how can you explain why you love that piece of art? It's just feeling inside. Of course you move, you stay ten feet then you get closer, five feet. Then you get away, far away, and every time you move your head, and your body, you understand and you discover something else. It's like a universe. It's fantastic."
You can listen to the full interview here. And here is a link to an image of the stunning Mark Rothko painting that's currently on view in the Art Institute of Chicago's new Modern Wing. To look at it up close is to feel like you're swallowing the sun.
Of course, now you can go to the Modern Wing and see it all yourself, in person, and for free until May 22nd!
Errol Morris the director of "Thin Blue Line" and "Fog of War" new film about the Abu Ghraib photos asks:
Is it possible for a photograph to change the world? Photographs taken by soldiers in Abu Ghraib prison changed the war in Iraq and changed America's image of itself. Yet, a central mystery remains. Did the notorious Abu Ghraib photographs constitute evidence of systematic abuse by the American military, or were they documenting the aberrant behavior of a few "bad apples"? We set out to examine the context of these photographs. Why were they taken? What was happening outside the frame? We talked directly to the soldiers who took the photographs and who were in …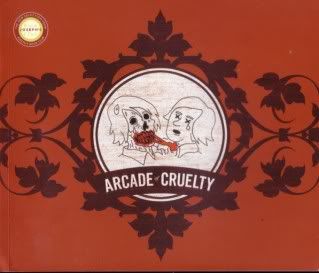 Up for grabs this week is a copy of Joseph Larkin's "Arcade of Cruelty. You know the drill email me (megonli@badatsports.com) and lucky number 11 will get the book.
via William Jones for Graphic Novel Reporter
"Crass-for-the-sake-of-crass comics usually go one way or the other; there isn't much middle ground. Either the author has a special touch that somehow makes the work funny despite the reader's better judgment or he doesn't, leaving a book filled with racist, homophobic, and/or simply offensive material, not only to the subject matter but good taste.
Joseph Patrick Larkin knows this, if the comic on page 237 of his Arcade of Cruelty is an indication. The comic is titled "Johnny Ryan's Response to 9/11," and it takes the aforementioned cartoonist of Angry Youth Comix to task for missing the point, this time without the apologies Larkin often offers with his style-imitation strips. It features a disgusting character pointlessly spewing the dirtiest possible language and really has nothing to do with 9/11, or anything else for that matter.
That's not to say Larkin is an upstanding member of the comics world himself. The strip in question appears in a section devoted to 9/11 comics, and not in the artsy Art Spiegelman sense, but in the making-jokes-about-it-and-people's-opinions-of-it sort of way. The rest of the book is littered with his deranged sexual ponderings (including a slew of jokes about rape), defacement of childhood yearbooks, and plenty of self-loathing. But Larkin seems to have the touch, using a tongue-in-cheek approach to give many of his strips a heavy helping of irony, with many of them truly at the expense of their author."