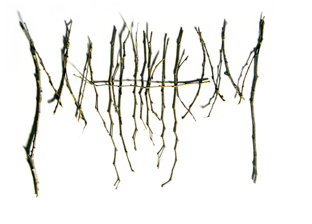 The Co-Prosperity Sphere, an experimental cultural center in the Bridgeport neighborhood of Chicago, will be hosting the Matchitehew Assembly, a music festival of sorts, on June 5th and 6th. The festival will be a two day, all-ages assembly of musicians from across the nation and otherwise, with styles ranging from traditional black metal to noise; a collection of extreme elements that encompass the spectrum of dark sound, which sounds a little LOTR to me, but could also mean a very good time. The assembly is not accepting sponsorship or promotion from any corporate company; groundwork for the assembly is volunteer-based, and the host location is non-profit. You should definitely pre-order tickets online here, and check out the really intense line up here.
The Co-Prosperity Sphere is located at 3219 S. Morgan in Chicago, Illinois.
Sometimes I think that art writers, before launching into a review of this or that exhibition, should overshare in the manner that's fashionable today and note the mood they were in whilst viewing the show in question. Such status updates would function as a form of disclaimer by revealing the external (or are they internal?) factors that may insidiously affect the reviewer's state of mind. Today, mine would have been:
plagued by a gnawing hunger
headachey
really need to pee (unsmiley face)
Who can say how this physical discomfort may have affected my take on Gallery 400's "Our Literal Speed: events in the vicinity of art and history" exhibition, but I'll tell ya, I thought the show was a hoot. Just to clarify, I'm talking about the exhibition that's up through July 4th, not the conference events that already took place over the April 30th weekend, which I couldn't attend. The exhibition is not a documentation of those weekend events but is pretty much a discrete thing-in-itself, although its conceptual links to the conference are obvious. Both exhibition and conference bill themselves as
"a kind of 'media pop opera' or 'administrative gesamtkunstwerk' that includes fluid and/or jagged transitions among scholarly presentations, panel discussions, artist's talks, performances, and an art exhibition within an academic conference….The project offers a temporary laboratory in which a concerned public can investigate non-formulaic, experientially vibrant and theoretically precise responses to the modes of distribution, consumption, and circulation that drive contemporary art."
It seems fairly clear that everyone involved was in it for the laughs (such as they are), while at the same time being perfectly serious. One of the exhibition's central visual conceits is that of the performance and the stage, with academicians and other arts professionals as the role-playing performers. But what we see in the gallery are empty and disembodied stages, while audiences (when shown) appear bored or distracted as they observe something that's been obscured from our own view. The audience in Sharon Hayes' single channel video "10 Minutes of Collective Activity," for example, fidget and yawn as they listen to an archival audiotape of Connecticut senator Abraham Ribicoff's controversial 1968 speech to the Democratic National Convention in Chicago, in which Ribicoff nominated George McGovern for President while violent street protests erupted outside.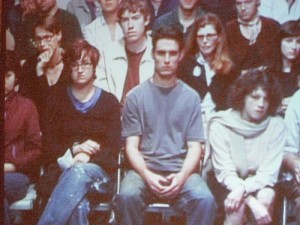 Even the people who are onstage appear alienated from the proceedings. Jackson Pollock Bar's "Picasso/Braque 1989," (2009), which is described as an "installed theory installation," reenacts a panel discussion with the art historians Edward Fry, Yves Alain Bois, Rosalind Kraus and Leo Steinberg that took place twenty years ago during the 'Picasso and Braque' exhibition at MoMA. The video and (barely audible) audio tracks are out of sync, because the voice track–based on an edited transcript of the original 1989 discussion–was recorded by one group of people and then acted out by a different group who essentially lipsynced the recorded discussion, giving voice and gesture to the text in puppet-like fashion. (The woman who performs Rosalind Krauss as a snippy, hair-flipping drama queen is hilarious, stealing the show when she apes lines like, "Your interpretation is wrong!" and "I find this repellent!" Ah, theory humor. You gotta love it.)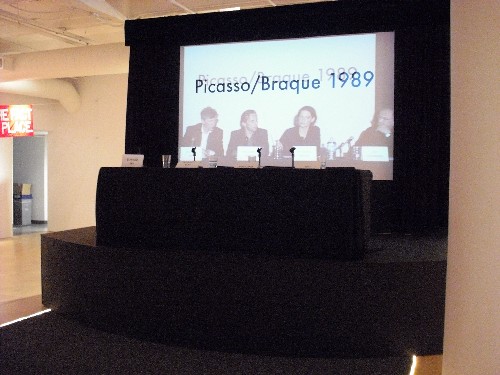 Critic Jan Verwoert (who's a dead-ringer for a certain parodic ex-SNL character) checks his cell phone while presiding over the mock-trial in Hila Peleg's 100 minute dvd, "A Crime Against Art," 2007 (click on the link for a brief clip). Peleg's film is based on a staged trial at an art fair in Madrid, which was itself fashioned after Andre Breton's mock trials of the 1920's and 30's. The idea is that an art crime has been committed, and there are "experts" and "witnesses" who take the stand to testify, but no one can get at exactly what the crime is, or who's responsible.
A stream of familiar buzzwords flow from the mouths of these critics and curators-cum-performers, like old friends from high school who you once thought were cool, but seem sort of sad and adrift now, twenty years later: words like 'agency,' 'strategical' (yep), 'opacity,' 'reification,' 'criticality.' My head was starting to ache from it all, but then again it could have been the hunger. I took off the headphones before Verwoert rendered a decision of guilt or innocence, but not before taking note of Bard College's Center for Curatorial Studies director Maria Lind's bright red fingernail polish. Did she get them done just for the trial, I wondered, or do they always look that nice?
A sense of the gamely absurd, of Beckettian tragicomedy, hangs over Our Literal Speed. I had initially thought it might not be worth it to see the show if all "the good stuff"– i.e. the live events–had already happened, but I now think I saw this exhibition under exactly the right conditions: several weeks after all the talks, events, and parties were over, in a gallery that was empty of live bodies (save for my own and those of a few staff members). My pounding headache and desperate need for food and coffee finally drove me from the gallery, but poor Rosalind, Jan and Maria were forced to remain there, their discursive performances replayed over and over in an endless loop, like Beckett's pantsless Estragon and his pal Vladimir, still out there somewhere waiting for Godot.
Estragon: I can't go on like this.
Vladimir: That's what you think.
Through July 4th, 2009 at Gallery 400.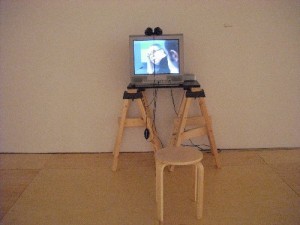 Here's what's got my attention, web-wise, so far this week:
*San Diego Museum of Art director Derrick R. Cartwright appointed director of the Seattle Art Museum.
*Art Institute of Chicago director James Cuno hopes to initiate massive fundraising drive for free Museum admission.
*No Boys Allowed: yearlong exhibition at the Pompidou Center is for women-only.
*Now on Vimeo: watch the NYFA Panel Discussion on 'How the Recession Has Impacted the Art World' (featuring Edward Winkleman, Sean Elwood, Stephanie Howe, Kay Takeda; via Edward_Winkleman).
*Scope Basil is only three weeks ago away, and still 'aint got no permit.
*"I spent a year asking why the contemporary art bubble was the biggest, bubbliest bubble of them all": Ben Lewis' The Great Contemporary Art Bubble preview clip on YouTube ( ART21's Ben Street has a funny post on the film too).
*Boing Boing writer Joel Johnson chides Wired Online for being clueless about the importance of online media–a great post, but look to the comments for the real dirt. (via ArtFagCity's Twitter).
*Speaking of Twitter, it could be coming to a t.v. near you.
*Grrr. Argh: Monster Kid Home Movies (via Boing Boing).
*Pierogi's famed flat files now searchable online. (via Art Fag City).
*A live conversation with a dead Andy Warhol, via psychic via webchat (via Rhizome.org).
*Beautiful/Decay needs YOU to help pick the theme for its next limited-edition publication. Winner gets a copy of the book. For free!
*Applications for the 2009 William H. Johnson Prize are now available. Due date is July 31st. (Via Artipedia).
Spectral Dragging, 2009 from Matthew Green on Vimeo.
Here comes our second installment of Tuesday's Video Pick where we pick a random video of an artist either talking about their work or video art. I was a little stumped on what to show this week so I put a request for videos up on twitter. Matthew Green hit me back with his video Spectral Dragging. "Spectral Dragging features a shaman-like Figure draped in a foil cloak walking in the desert. In his hand he holds a staff of surveying with which he detects and communicates with variations of himself displaced in time-space. As the Figure walks a circular path outlining a dimensional fold or vortex, our understanding of time and space at this moment and place stretches and bends. The friction between the intersecting dimensions causes a diffraction wake resulting in a hypnotic trance inducing shift in the frequency of visible light."
For more info check out Mathew's site.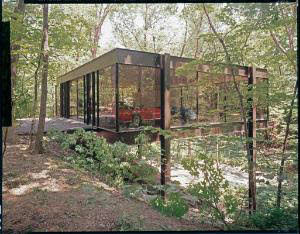 The suburban Chicago home (Highland Park) made famous in 1986 movie "Ferris Bueller's Day Off" is up for sale for $2.3 million.
At 5,300-square-feet the house was the fictional home of Ferris Bueller's friend, Cameron Frye. In the movie, Frye accidentally sends his father's Ferrari through one of the house's glass walls and into the woods outside.
The home is at 370 Beech Street, Highland Park.
Sudler Sotheby's International Realtor Meladee Hughes says being in the home is like living in the tree house. She says there's been a lot of interest from buyers already.
Hughes says there's a wall dedicated to the movie in the home's steel and glass pavilion overlooking a ravine. The wall includes behind-the-scenes photographs of Ruck and Matthew Broderick, who plays Bueller.