The NYT's Holland Cotter beats out Inga Saffron of The Philadelphia Inquirer and Sebastian Smee of The Boston Globe for the Pulitzah Prize (and its $10,000 award) for "distinguished criticism, in print or online, or both." Only 10 grand?? I always imagined an award like that would score you more.
Read more about it directly from The Pulizer Prize website and also at the New York Times.
Updated: whoops, rushing to get this post out pronto and misspelled Cotter's last name! My bad!
Update #2: My snark about paltry prize money aside, this is a big deal for Cotter and for newspaper art critics in general. As the L.A. Times' art critic Christopher Knight points out, Cotter is the first art critic to win a Pulitzer in 35 years, "since the late Emily Genauer of Newsday won in 1974." So bravo to Cotter. Newspaper art criticism may well be in its death throes, but at least not before one of the best of them has received this kind of recognition.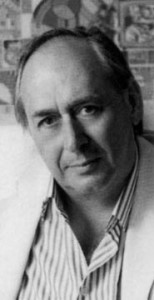 Renowned novelist J.G. Ballard died yesterday at the age of 78, after a lengthy battle with cancer. From the (U.K.'s) Times Online:
"(Ballard's) influence stretched across a modern world that he seemed to see coming years in advance.

His dark, often shocking fiction predicted the melting of the ice caps, the rise of Ronald Reagan, terrorism against tourists and the alienation of a society obsessed with new technology.

As Martin Amis once said of him: "Ballard is quite unlike anyone else; indeed, he seems to address a different – a disused – part of the reader's brain."

The bands Joy Division, Radiohead, The Normal, Klaxons and Buggles all wrote records inspired by Ballard stories.

Empire of the Sun, his best known book, was something of an anomaly for being an apparently straightforward account of his childhood in a Japanese internment camp during the Second World War, where he endured near starvation, death marches and regularly bore witness to death and brutality."
Read his obituary in the New York Times here.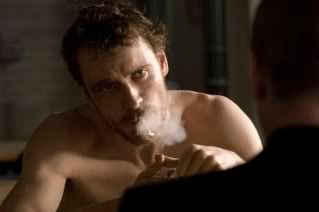 Last weekend I was able to check out Steven McQeen's highly acclaimed film Hunger. This is the first feature length film by the Turner prize winner, and it won the Caméra d'Or at Cannes this year. Although a re-examination of a deeply political history and event, I would say that the film itself is not overtly political. McQueen said about the film, "Hero or villain, that's for other people to decide. For me, it's one of those situations where I'm a filmmaker, and this is actually what happened in history, this is a true event. For me, this is what happened. I'm not here to judge the situation; I'm here to examine and document it." I really enjoyed how you were shown the consequences of the inmate's actions not just on the political level, but on a personal level. It wasn't purely about the political protest of smearing shit on the walls of the cell, but also about the man who was made to clean the shit off of the walls. Although the content of the film somewhat agonizing to watch on a human level, it was hard to miss how beautifully composed each frame was. At one point we see Sand's cellmate playing with a fly for several minutes. In other films the attention given to this could be jarring or to slow but it kept with the sense of slowness in the film that focused on the small gestures made by its characters. The film shifts perspective from Sand's cellmate to Sand's himself while he endures an excruciating 66-day hunger strike which ends his life. In a 17-minute long single take we see Sand's discuss his plan for a hunger strike with a minister.
Via Jeff Reichert for indieWIRE
"That 'Hunger' forces us to so openly speak about the rigor of its specific filmmaking choices is perhaps the thrust of its value as a work of art, especially in a sea of films and filmmakers that either claim to approach creaky realism via the unplanned moment or efface their creation entirely. 'Hunger' is coolly artificial, and openly betrays its creator's background in the art world—one could almost pull apart specific images (urine flooding from underneath the cell doors of Maze prison steadily joining into a single stream, the repeated superimpositions of birds flying through a grey sky, the constantly exposed flesh of the inmates) and array them on monitors around the walls of a gallery to near similar effect. Yet by narrativizing this collection, McQueen forces a discussion of his own stratagems (as would splitting it into pieces), a discussion that can't help but mirror the lengthy conversation around methods and message which anchors the film. McQueen's radical aesthetic and structuring decisions subtly re-politicizes 'Hunger' as a work intimately concerned with choices and consequences, the personal and political."
Check for screening and dvd release here
View the trailer here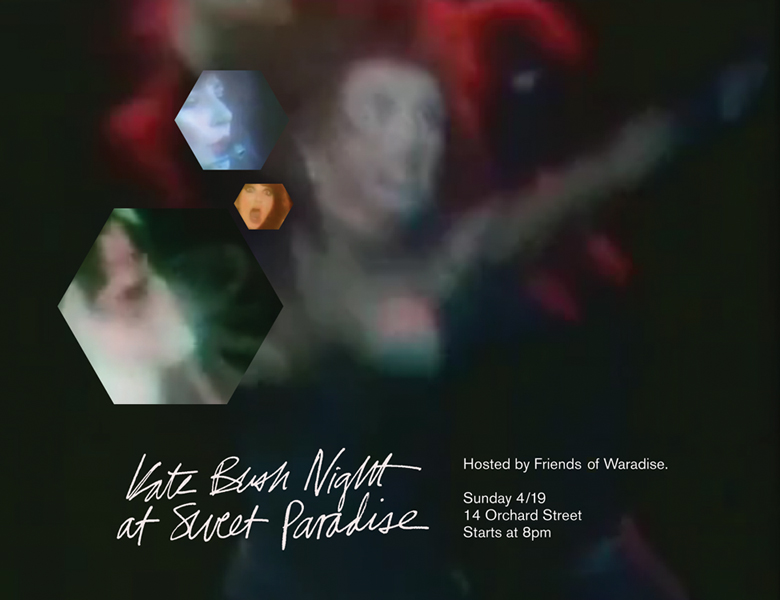 I have to take a moment of BAS time to mention this amazing way to spend a Sunday night.
Via Paper Mag:
"Several of us are banding together to start a new party – Kate Bush Night @ Sweet Paradise. We don't know if it will be weekly, monthly, or a one time thing, but we're giving it a test run this Sunday. We're positioning it as a semi-tongue in cheek counter to Sway's Morrissey night. And any excuse is a good excuse to listen to Kate Bush…"
Am I alone in thinking that whole Susan Boyle thing was a setup? Everyone's "surprise faces" looked sort of fake to me. ANYWAY, here's an otherwise Boyle-free, purely subjective round-up of art-world events, news stories, blog links and other stuff in Chicago and beyond that got me thinkin' this week….
* Literary theorist Eve Kosofsky Sedgwick dies of breast cancer at 58 (New York Times Obit.).
*In latest round of filings, Shephard Fairey turns tables on AP, accuses news organization of copyright violation. (Culture Monster).
*Ellsworth Kelly to install "White Curve," his largest wall sculpture to date, in the Art Institute's new Modern wing next week. The Art Institute will also add Kellys' "Tableau Vert" (a gift from the artist) and "Red Diagonal" (gift of Chicago collectors Howard and Donna Stone) to its collection (New York Times).
*"Class Pictures: Photographs by Dawoud Bey" opens at Milwaukee Art Museum.
*Gearing up for Art Chicago: Buckminster Fuller's Fly's Eye dome now on view at Merchandise Mart (no admission fee required). (The Skyline).
*Skip this page: a retrospective of Rhizome's splash page internet art now on view at Rhizome.org. (Art Fag City has a typically thoughtful review of it here).
*Across the board, museums face worsening crises. Artinfo.com has created a handy timeline of Museums and the recession (this last via Art21 blog; but, as blogger Kelly Shindler points out, the stats in the timeline need verification).
*Another walk-in pantry at Chicago's mini dutch takes place this Sunday from 12-3 (email Lucia to let her know you're coming). BYOB, $3 donation. What's on the menu? Quiche!
*All four seasons of PBS series Art21: Art in the 21st Century can now be viewed on Hulu. Also free for the grabbin': The Tate's media library on iTunesU.
*More "free" stuff: Sweepstakes contest for Damien Hirst lithos and "the chance" to win his original album cover painting for The Hours (via Animal). Now point me in the direction of the Ayn Rand compound, please.