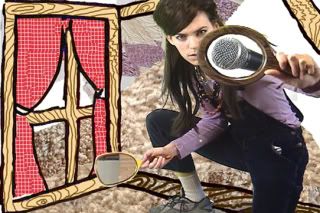 This Wednesday night kicks off a new performance from Wynne Greenwood in Seattle, WA. Her new piece entitled Sister Taking Nap: A Meditation About Human Evolution will be performed at On the Boards. Greenwood is best known for her Tracy + the Plastics performances where she performed as all three members, Tracy, Nikki, and Cola. In the video portion of the Culture for Pigeon album the band mates create music by opening Pringles cans or by waving a cape. After several years of performing as the band including performances at the Whitney Biennale and for Miami Basel Greenwood called it quits.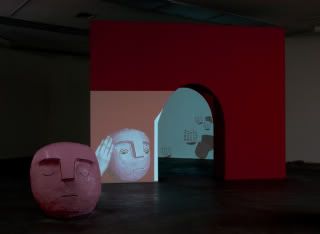 In the Spring of 08 Greenwood unveiled a new series of work at Susanne Vielmetter in Los Angeles that incorporated sculptures and installations into her "music" video, Big Candy."Sister Taking Nap is a one-act about human evolution where objects such as an animal cage, a suitcase and a TV double as small stages for posing the question: What must we give up in order to survive?" Recently Greenwood spoke with Miriam Katz for Artforum's 500 words:
"I'm interested in sculptures as sites of performance and interaction, and sculptures as performers. The suitcase, the TV, the animal cage, and the sleeping sister are set pieces that are to be stood on––I see them as personal stages. I started making the sculptural set pieces before I began to conceive the narrative of the performance. I wanted to make objects that had an objective and that had a role in determining how and even why someone interacted with them, moved around them, and had a relationship with them. The set pieces and narrative developed together, informing each other. The language that I use to talk about (and to) these pieces also helps determine their worlds. This is a sister taking a nap. Not just a woman taking a nap, or a person taking a nap, or a person sleeping. To me, a nap offers different, possibly conflicting realities. It suggests having time for a nap, but also need for one. A privilege and a right. Escape and renewal. A place between deep sleep and awake. Where dream and reality can get confused."
On the Boards
100 West Roy Street
Seattle Center (Queen Anne), Seattle
Opening Night: Wednesday, April 15, 2009
Closes: Sunday, April 19, 2009
Tickets: $18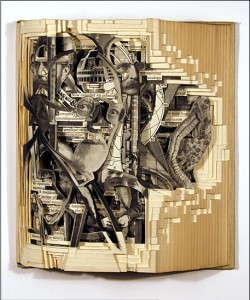 Brian Dettmer's sculptures are like steampunk versions of data clouds. Treating books as if they were bodies under investigation (the word 'autopsy' comes up frequently in discussions of this artist's work), Dettmer expertly fillets them, foregrounding certain pictures, words, and illustrations while excising others in order to highlight previously unnoticed relationships. The results are densely layered bibliophilic wunderkammer that are truly incredible to behold.
Dettmer's cuts are surgically precise, but they're also curatorial in nature. By transforming books into objects of pure contemplation and display, Dettmer destroys their ability to be useful in the manner they once were. At the same time, he invests them with new signifying potential. In this case, bodies of knowledge are made to display their own viscera in a simultaneous rather than sequential manner; it's not exactly like how we experience the Internet, but it certainly evokes it.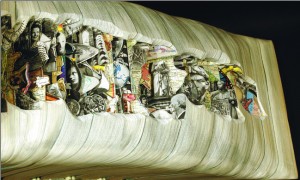 Dettmer's books can be  surprisingly provocative, too, stirring up all kinds of nostalgia, reverence, and even guilt about the fate of printed matter in the age of the iPhone, the Kindle, and the Vook. In the catalogue essay, portions of which have been excerpted in the gallery's press release, Antonia Pocock argues that Dettmer's book carvings "represent an impulse to resuscitate the tangible records of information that appear dead when faced with the dynamic, instantly adaptable media of the information era. Under Dettmer's hand, the rigid rectangle of the book dissolves into a chaos of new data connections."
Dettmer focus isn't solely on text, however. It's equally enamored of illustration, which in Dettmer's preferred choice of books–mostly of the encyclopedic or instructional kind–take the form of intricate woodcuts, line drawings, and schematics along with various forms of cartography. The Web is filled with images, but it's not an illustrator's medium. The three dimensionality of Dettmer's sculpturalized books reminds us of how the internet and the computer screen tend to flatten images, obliterating shadow and fine detail and making hand-drawn efforts largely irrelevant.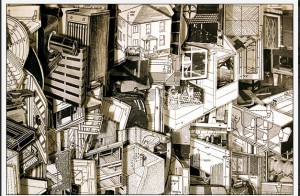 The exhibition also includes a two-channel video downstairs which provides insight into Dettmer's painstaking working process. Thankfully, the videos leave a lot of the how-to's unanswered, which keeps the mystery of it all alive. I didn't want Dettmer's process to be totally transparent –where's the fun in that? Instead, they remain, for me at least, Carrollian follies so strange and alluring I wanted to shrink myself down, crawl inside them, and explore.
Brian Dettmer's "Adaptations" will be on view at Packer Schopf Gallery through May 9th.
Wow. I thought this story might be cooling down, but instead it's exploding! Check out this link-filled update by Hrag Vartanian on the occupation & arrests at The New School over the mass firings of adjunct fine art faculty calling for New School President Bob Kerrey's resignation. UPDATE: (check out this website for statements issued directly by students and others involved in or sympathetic to the protests, rallies, occupation and other recent New School-related events).
Vartanian's following the events closely via news, blogs, and Twitter updates from those on the ground. The New York Times has background on the story, plus video of the arrests and photos of the protest.
On the social networking front….The National Museum of Contemporary Art (EMET) in Athens, Greece, presents Tag ties & effective spies, an online exhibition of internet art that takes a critical look at social networking. From the exhibition website:
Tag ties & affective spies is a critical approach on the social media of our times. What happens  when we are "tagging" , "posting" and "sharing" our experiences and opinions  in platforms such as those of Facebook, YouTube, flickr or del.icio.us? Are we  really connecting and interacting or are we also forming the content and the structure of the social web itself? The online works included, highlight the controversies of the web 2.0, commenting on the constant balancing between order and chaos, democracy and adhocracy, exposure and exploitation that it presents.
Curated by Daphne Dragona, the exhibition features works by Alessandro Ludovico , Christophe Bruno , Daphne Dragona, Gregory Chatonsky, Jodi, Jonathan Harris, Juan Martin Prada, Les Liens Invisibles, Paolo Cirio, Personal Cinema, Ramsay Stirling, Sep Kamvar, The erasers, and Wayne Clements. (Via Rhizome).
Marisa Olsen at Rhizome has a useful and generously-linked write-up on the show.
A subjective round-up of the week's art-world events, news stories, blog links and other happenings in Chicago and beyond that are of note or otherwise got me thinkin'.
*Deathtoll of L'Aquila earthquake in Italy is at 189; the earthquake injured over 1,000 and left thousands more homeless; extensive damage to architectural monuments and artworks in the area deal a severe blow to Italy's cultural heritage.

*Salander Gallery Director Steven Harvey pleads guilty to falsifying records (via ArtsJournal).
*Robert Delford Brown, performance artist and founder of The First National Church of the Exquisite Panic has died at the age of 78. (New York Times).
*Museum ethics smackdown: Donn Zaretsky's "What's Wrong with the AAMD's Deaccessioning Policy" vs. Christopher Knight's "What's Wrong with the Argument Attacking AAMD Policy." Go Christopher!
*Mies' Test Cell aka The Gunnery aka The Watchtower: whatever you call it, the Metra wants to tear it down. Edward Lifson tells us why we shouldn't.
*Economy hurting museum but attendance is up; Museums Do More With Less (Chicago Tribune).
*The Geography of Buzz. (New York Times).
*"I've Seen the Future, and It Belongs to the Dead": Edward Winkleman on whether deceased artists can bring the art market back to life.
*Getty Research Institute Acquires Guerrilla Girl Archives (Culture Monster).
*Ball-Nogues Studio (based in L.A.'s Echo Park) to design Elastic Plastic Sponge for Coachella this year.  It's a 250 x 25 foot sculpture made of plastic tubing that will mist water on overheated festival-goers, made in collaboration with students at the Southern California Institute of Architecture (Sci Arc). (via Culture Monster).
*Attention all K-12 art and media educators in Chicago, New York, and Los Angeles: applications for Art21's Art Educators 2009/10, "a yearlong professional development initiative designed to cultivate and support K-12 art educators interested in bringing contemporary art, artists, and themes into their classrooms," are available now.