Here's hoping Meg's sister "Peanut" Manuel kicks some ass at the US Boxing Championships!!
*Bruce Nauman's Topological Gardens wins Golden Lion for best Pavillion at Venice Biennale (Art 21).
*John Baldessari and Yoko Ono receive Golden Lions for lifetime achievement in Venice (Unbeige). Go Santa!
*Marguerite Horberg plans Porto Luz, a new artistic center for Bronzeville (Chicago Weekly).
*What to wear during an Orange Alert? interviews Green Lantern Press editor Tobias Bengelsdorf.
*This site could become indispensable: The Auteurs.com, which lets you stream hard-to-find foreign films directly to your computer. Pretty inexpensive, and some are even free (via Avant/Chicago).
*Google sends cease and desist letter to Yoooouuu Tuuube creator David Kraftsow: read Rhizome's interview with Kraftsow about it here.
*You need ideas? They got ideas, lots of 'em: Ideasonair.net (via Artipedia).
*Eight museum shows you won't be seeing in L.A. anytime soon (plus other cancelled shows across the country). Can someone scoop up MOCA's cancelled Luisa Lambri show and bring it to Chicago? Pleeeaaase? (Culture Monster).
*World of Warcraft: The Exhibition (via Provisions Library).
*Drawing the webiverse: The Internet Mapping Project (via boing boing).
*Even the Louvre is worried about its future now (Unbeige).
*I am so pre-ordering this: R. Crumb's upcoming Book of Genesis comic; excerpted in the New Yorker. (via boing boing, which has scans of the excerpt available on their website).
*Berwyn resident John Sisto discovered to have kept over 3500 religious artifacts and antiquities from Italy, 1600 of them stolen. (New York Times, Chicago Breaking News).
Africa covered a cappella has been done many times but never like this. Includes a cappella rainstorm in the beginning.
Painter Robert Colescott has died at the age of 83. From his New York Times obituary, by Roberta Smith:
"Mr. Colescott represented the United States at the Venice Biennale in 1997, the first African-American to do so. By then he was well known for pitting the painterly against the political to create giddily joyful, destabilized compositions that satirized, and offended, without regard to race, creed, gender or political leaning.
People of all colors haunt Mr. Colescott's paintings, mostly as chimerical stereotypes that exchange attributes freely. Their mottled skin tones often suggest one race seeping through another. Their tumultuous interactions evoke a volatile mixture of suspicion, desire, pain and vitality. His slurred shapes, wobbly drawing and patchy brushwork imply that no truths can be held to be self-evident, that life is mired in slippery layers of false piety, self-interest and greed, but also lust, pleasure and irreverence."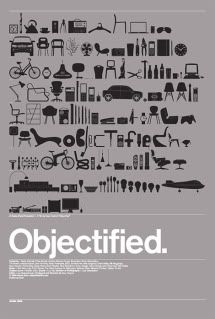 Last Saturday Lauren and I checked out Gary Hustwit's latest film Objectified at the Gene Siskel Film Center. I have to be honest, I loved Hustwit's previous documentary Helvetica, so I was really excited to see a new design documentary. The film asks the viewer to not only confront the idea that all of the objects we encounter in our day to day lives are designed but also who designed these objects. The all star  cast includes Chris Bangle, Davin Stowell, Dan Formosa , Dieter Rams, Nato Fukusawa, Jonathan Ive, Mac Newson, Rob Walker, and the entertaining Karim Rashid.
I enjoyed Dieter Rams', the former design director for Braun, list of what makes a good design. In essence , he believes a good design requires the least amount of designing. He names apple as one of the companies with the best design. As much as I enjoy apple products I wish the film felt less like an apple ad and investigated some more aspects of their designs. Like why are their computers designed in a way that makes them difficult to take apart and reassemble without destroying?
I felt like the movie was really easy to consume. Everything is very agreeable, even the geek chic soundtrack. I wished they went a little more into the topic of consumerism, though. In the end all of the designers are designing for a pay check, and this was touched upon, but I wanted to see a bit more of the marketing of goods that most people already own.
John Mahoney, summed up Hustwit's strengths in his post on Gizmodo, saying "But what's great (and where Helvetica also ruled) is that Hustwit is a master interviewer. He gets his subjects to speak about what can be a jargon and marketing-voodoo laden industry with total clarity and comfort that folks that didn't go to design school can comprehend freely. Ive, holding up the single aluminum block from which a unibody MacBook is hewn while trying to control his massive biceps, speaks about how designers are ultimately obsessive, borderline neurotic people. He can't look at an object anywhere without seeing the multiple layers of intent involved-who designed it, who it's designed for, what it does well. To Ive, it's an illness."

When Lauren and I walked out of the theater we both questioned what Hustwit would come up with next. According to the documentary blog, Hustwit has said that this film is in fact the second part of to a "design trilogy". I am excited to see what he has in store next, but doubt it could top Helvetica.
Check out Hustwit's twitter page to see where the film will be screening.
Objectified will be playing at the Gene Siskel at the Following times. For more info check out their website.
June 5–11
Fri. and Mon.-Thu. at 6:00 pm, 7:30 pm, and 9:00 pm;
Sat. at 3:00 pm, 4:30 pm, 6:00 pm, 7:30 pm, and 9:00 pm;
Sun. at 3:00 pm, 4:30 pm, and 6:00 pm