Huck Finn crashes the Venice Biennale: a habitable floating sculpture designed by the NY-based artist SWOON.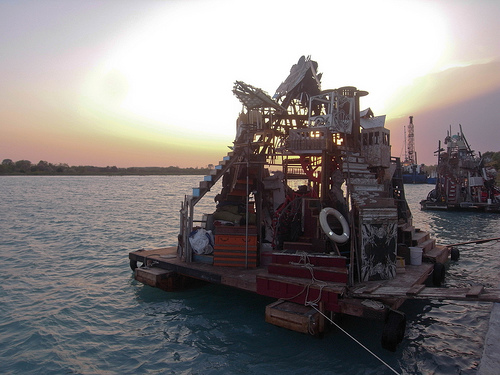 From the project's website:
"The Swimming Cities of Serenissima is a fleet of three intricately hand crafted vessels that will navigate the Adriatic Sea from the Litoral region of Slovenia to Venice, Italy in May of 2009. Designed by the visual artist SWOON, the floating sculptures are descendants of the Swimming Cities of Switchback Sea (Hudson River, 2008) and the Miss Rockaway Armada (Mississippi River, 2006 and 2007).

SWOON's boats are inspired by dense urban cityscapes and thickly intertwined mangrove swamps from her Florida youth. The Swimming Cities of Serenissima are built from salvaged materials, including modified Mercedes car motors with long-tail propellers. The boats' crew is made up of 30 collaborating artists from the United States.

As the Swimming Cities move toward Venice, the crew will collect and install keepsakes in an ark-like cabinet of wonders that will be on display on the boats when they arrive. Once in Venice, the boats and crew will offer intimate performances that incorporate music, shadow puppetry, and story.

The vessels are imagined as a hybrid between boats and bits of land broken off and headed out to sea. Watching them approach the shore is like seeing a floating city in the distance, as improbable as Venice itself. To the real life crew, the boats are a place of refuge – both a home and a way of moving through the world. To those who encounter the boats for the first time, they are a reminder that anything that can be imagined can be built."
You can follow their progress here and here.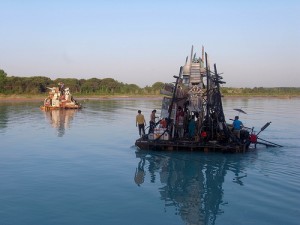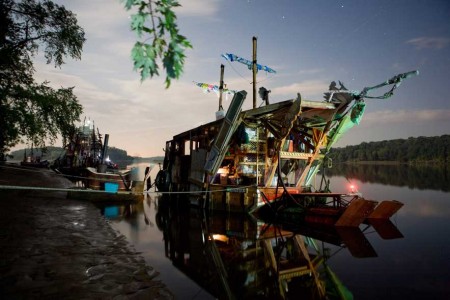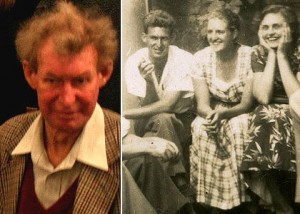 Sydney artist Cameron Sparks, 78, is being operated on in Royal North Shore Hospital after his 41-year-old neighbour allegedly attacked him in the backyard of one of their houses at Waverton. The latest reports are that his alleged attacker Peter Grayson, 41, was refused bail at Manly Local Court and has claimed to be suffering from paranoid schizophrenia at the time of the attack.
Mr. Sparks is in critical care and has recently gotten out of the OR.
Mr Sparks regularly showed his watercolours at the prestigious Macquarie Galleries, which has since closed. He also compiled a catalogue of the work of Australian artist David Davies.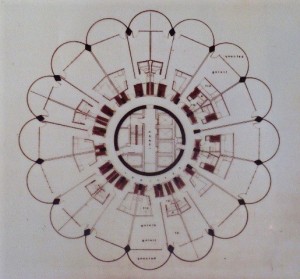 Here's what's caught my eye since last time we did this….
*Why not take Aderall? (Chicago Weekly).
*Forget the death of print–the revival of cassette tape is well underway.
*Joyce Owens tells President Obama to give living artists a shot at the White House.
*In second round of layoffs, MOCA cuts Robert Hollister, its director of registration and collections (Culture Monster).
*Muralist Frank Romero sues Caltrans over mural washout (Culture Monster, again).
*David Lynch launches online Interview project (via Boing Boing).
*New Chicago journal The Point wants you to read articles. Long ones. Printed on paper. Yeah I know! Crazy f&%ks. (Chicago Reader).
*Curator Jeffrey Grove to leave High Museum for Dallas Museum of Art (UnBeige).
*In the nick of time, Scope Basel announces new location (Art in America).
*A really interesting assessment of the etsy craft aesthetic on the artblog.
(above image credit: Bertrand Goldberg Associates. Marina City South Elevation, ca. 1962. "Marina City" on view at ArchiTech Gallery from June 5-August 29, 2009).

Today, while trolling around the web. I found a link from Eyeteeth about Andy Sturdevant's research into The Art Strike 1990-1993 on his blog South 12th.
"We call for all artists in the U.S. to put down their tools and cease to make, distribute, sell, exhibit or discuss their work from January 1, 1990 to January 1, 1993. We call for all galleries, museums, agencies, alternative spaces, periodicals, theaters, art schools etc., to cease all operations for the same period. Art is conceptually defined by a self-perpetuating elite and is marketed as an international commodity; the activity of its production has been mystified and co-opted; its practitioners have become manipulable and marginalized through self-identification with the term 'artist' and all it implies.' – YAWN
The proposed early-'90s Art Strike is an interesting and largely forgotten footnote in contemporary art history. I encountered it for the first time while doing some research with back issues of Artpaper, the paper of record for the 1980s and '90s art scene in Minneapolis-St. Paul. A full-page ad reproduced the text of YAWN's inaugural broadsheet, and listed various resources one could write to learn more. Two 'Action Committees' — one in London, one in San Francisco — were listed, as well as YAWN's mailing address in Iowa City, Iowa."
view South 12th here
view Yawn's site here
This weeks video pick is Gary Panter on VBS.TV. The five part series checks in with Gary to discuss all of the projects he has been a part of including Pee-wee's Playhouse, Dal Tokyo, and my personal favorite Jimbo. I would also highly recommend checking out the K8 Hardy interview and the comments if your looking for a laugh.