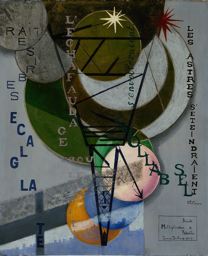 How much does gender equality matter when it comes to museum permanent collections? How much is 'good enough'?
I've been mulling these and other questions over the past week while following the discussion that's been taking place on Jerry Saltz's Facebook page and on a few art blogs that posted in response.
On Facebook, Saltz charged The Museum of Modern Art (MoMA) with practicing a form of "gender-based apartheid," based on the paucity of work by women artists hanging on the walls of the 4th and 5th floors of the Museum (the pre-1970 galleries). Here's what he wrote:
Of the 383 works currently installed on the 4th and 5th floors of the permanent collection, only 19 are by women; that's 4%. There are 135 different artists installed on these floors; only nine of them are women; that's 6%. MoMA is telling a story of modernism that only it believes. MoMA has declared itself a hostile witness. Why?
The subsequent discussions that take place in the comments are really interesting and if you aren't already aware of this whole brouhaha and want to be, I recommend you skim through it all and join in.
I have to admit I have mixed responses to the issue, as a post-post feminist or whatever the hell it is that I am. I think what I am, actually, is the lazy type of feminist who never thinks to count how many works by women artists are hanging on the walls of the museum shows I attend, including during my first visit to the Art Institute's Modern Wing.  So last week I went back again to take another look, and to get better sense of how the Modern Wing stacks up when it comes to issues of gender representation. (Note that due to lack of time I didn't take account of the work in the Architecture and Design galleries).
On the third floor containing the European and Modern Art galleries, I counted just four works by the following female artists: Maria Elena Vieira da Silva, Suzanne Duchamp, Nathalija Gontcharova and Leonora Carrington. On the 2nd floor gallery featuring Contemporary Art from 1945-1960 there was Joan Mitchell's gorgeous City Landscape from 1955.
(So-called Modern works by women in the Modern Wing are kind of tricky to account for, because the period is divided multiple ways, between works exhibited in the Modern Wing and those installed in the American galleries in the main building, where, for example, a number of works by Georgia O'Keeffe are installed).
Unless I missed it, no female artist has been given monographic (i.e. dedicated gallery or grouping) treatment in the Modern Wing in the way that Robert Ryman, Bruce Nauman, Robert Gober, Kerry James Marshall, Mel Bochner, Constantin Brancusi and several others have. The closest was Eva Hesse sharing a gallery with Richard Serra in the Contemporary galleries (There are two sculptures and a drawing by Hesse here).
Women fare better on the post-1960, Contemporary side of things, as would be expected.  Works by Mary Heilman, Ellen Gallagher, Sherrie Levine, Marlene Dumas, Cindy Sherman, Sue Williams, Cady Noland and Barbara Kruger hang in proximity to one another. In a gallery of contemporary paintings, there's one work each by Margherita Manzelli and Lisa Yuskavage. Elsewhere in the Contemporary galleries, there's a Vija Celmins near Sylvia Plimack Mangold's In Memory of My Father, an Agnes Martin and a Hanne Darboven (I actually missed the Darboven myself, but Lisa Dorrin mentioned it in the podcast and its listed as being on view on the AIC's collections page).
The first floor photography gallery has another largish cluster of female artists, including works by Jeanne Dunning, Barbara Kruger, Liz Deschenes (2 works, including one that's part of Gaylen Gerber's piece), Rineke Dijkstra, Zoe Leonard, Diane Arbus, and Patty Carroll (also part of Gerber's piece).
That's my tally of female artists currently on view the Modern Wing. (Though I tried to be meticulous, I might have missed one or two works–please let me know if I did). So, you know, overall not great, but not completely dismal either. Their representation of women artists in the pre-1960 Modern & European gallery needs beefing up, but the great thing about permanent collection hangings is that they can always be altered and revised, along with the stories they tell.
But the question that's really on my mind is this one: how much is "good enough?" Do male/female ratios always need to be close to 50/50 to get it right, or can the impact of female artists be measured in other ways, for example in the space and overall presence a female artist's work is given in a gallery installation (a la the juxtaposition of Hesse and Serra)?
I'm curious about what readers here think about "the female issue" when it comes to permanent collections, in Chicago particularly. I'm especially interested in what female art students (if there are any reading this) may have to say – are you thinking about male/female ratios when you cruise the Modern Wing?  Does it bother you that so few women appear in the pre-1960s galleries, or do you derive satisfaction from their collection in other ways?
Feel free to discuss your experiences at the MCA as well.
**Above image credit: Suzanne Duchamp, Broken and Restored Multiplication, 1918-19. Art Institute of Chicago.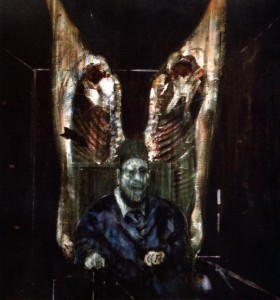 Looks like Francis Bacon is getting singed by the art press. The recently-opened Francis Bacon retrospective at the Metropolitan Museum of Art has critics seriously reconsidering this painter's legacy. Some excerpts, and links:
Jerry Saltz, New York Magazine: "…the Metropolitan's retrospective, like most Bacon shows, makes it clear that he kept working his theme until it became a gimmick. The calculated pictorial repetitiousness and lack of formal development wear thin. Except for a number of fabulous portrait heads and the astounding Jet of Water—made in 1988, just four years before his death, featuring an enormous streak of blue paint across an interior—Bacon's formula had grown stagnant by 1965."
Roberta Smith, New York Times: "The stately if cursory survey of Bacon's paintings that opened Wednesday at the Metropolitan Museum of Art suggests a more lasting pertinence: Bacon's depiction of the love that until a few decades ago dared not say its name, much less demand the right to marry. Bacon convincingly painted men having sex and sometimes making love. Whether this makes him a great painter, it certainly secures him a place in the history of both painting and art. He emphatically turned the male gaze toward males."
Peter Schjeldahl, New Yorker, (online access to the June 1st issue is paid only); here's an excerpt from the summary they make available: "Vamped with an eclectic mix of Expressionist tactics and decorative longueurs, Bacon now looks more prophetic than the Abstract Expressionists do about subsequent developments in art, starting with Pop and continuing through the so-called Pictures Generation. The key is his pioneering use of photographs and printed sources for his subject matter. While Bacon's work is routinely celebrated as an authentic reactive to the horrors and the dislocations of the Second World War, it can come off as a pageant of hangovers and refractory lovers. Bacon's striking formal innovations, in handlings of pictorial space, include swiftly limned cubical enclosures and evocations of proscenium stages, in which painted figures leap to the eye. His paintings, despite their extraordinary visual drama, thus lack a de Kooningesque sense of scale, which knits marks to the shape of the canvas and relates that shape to the viewer's body."
Sebastian Smee, Boston Globe: "…a lot of his work, with its teasing arrows and ashtrays, its syringes and swastikas, seems coyly involved in games of storytelling, and his drawing frequently feels flatly descriptive – exactly like illustration. Despite all that, I remember well the effect Bacon's work first had on me, as well as its impact on several friends who have gone on to become artists. His paintings combined abject violence with a kind of immaculate beauty in ways that teenage boys are probably predestined to find alluring. I may be fussier in my mind about what succeeds and what doesn't now, but I remain in awe of that early union of Bacon's imagery and my own teenage hunger for maximum impact."
And Jed Perl really hated it: "Bacon, who died in 1992 at the age of eighty-two, may well be the greatest exemplar of a wrongheaded tradition that we have ever seen. He had a knack for adapting all the wrong elements from all the right artists. He zeroed in on those moments when Van Gogh and Picasso were pushing their glorious anarchic energy to the brink of incoherence. This would have been fine, except that Bacon willfully ignored their ordering intelligence, preferring to sacrifice pictorial sensibility to literary sensationalism. What Bacon produced are not paintings, at least not satisfying ones. They are little more than rectangles of canvas inscribed with noirish graffiti: angst for dummies."
If you're in Chicago and want to see work by Francis Bacon, the Art Institute has one painting by Bacon on view in the Modern Wing: Figure with Meat, from 1964.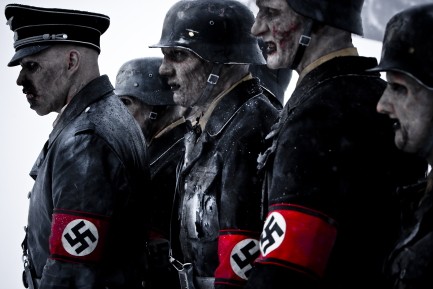 In this week's roundup we look at a video of crash test dummies (do you remember that horrible band? I know Richard does), the Venice Biennale, and some Nazi zombies, just to name a few. I don't know about you guys but I'm going on vacay next week. Anyone know anything good to do in Denver?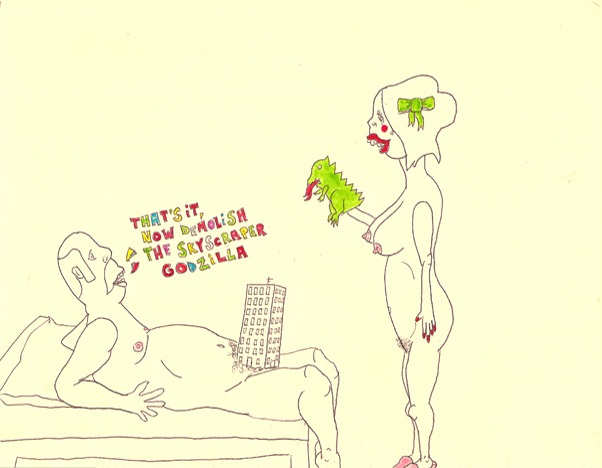 I recently had a chance to check out part of  BelieveInn's "Out of Towners" lineup, their current show, Ferris Bueller, featuring work from Porous Walker, with Gabe Levinson and Timothy Pigott. Ferris Bueller's Day Off was, coincidentally, the first (and probably the last) film I ever enjoyed on LaserDisc.
San Francisco–based Porous Walker said that he wanted  to bring to life parts of the film "that were never seen." When I asked him why this film in particular, he said "Because it's a great film, that's all, simple.  And because I knew Camerons house was going on the market so I hoped the two could somehow mesh and help promote." Artists with heart, that is what I like to see.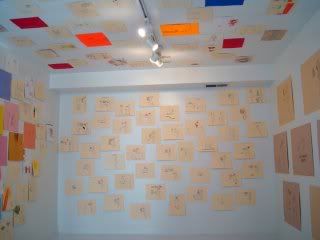 The BelieveInn space is the lower half of a house set back from the street. Three of the walls (and the ceiling) of the tiny immaculate front room was filled with Walker's drawings, which are pretty damn funny caricatures of naked women with sagging breasts and hair clips, and naked men with either very large, or very small, penises. Clean in form and raunchy in content, the illustrations are like the jokes that come right after fart jokes but before you find your dads Playboy. And who doesn't think about the cashiers at Trader Joe's without their clothes on, really?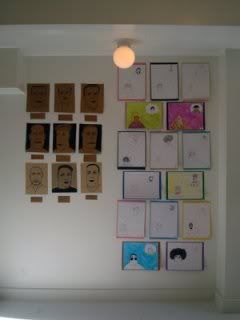 Gabe Levinson and Timothy Pigott's work was orderly installed on one wall, adding a nice grid counterbalance to the rest of the room. Pigott's portraits of "Characters Not in the Movie", consisted of head shot sketches of dweeby men referencing different details of the film. Levinson's piece, "Dudes Thinking About Dudes", were depictions of just that, kind of a one liner homo joke framed in construction paper.
Overall, the show feels like an articulate, very naughty boy's bedroom, and can pretty much be summed up in Levinson's paper plane installation instructions: 1) Tear out a page 2)Make a paper airplane 3)Aim it at someone's head 4) Don't apologize.
I missed the opening of this show, but I'm planning on catching the closing on June 21st from 1-4 pm.
I am really stoked to announce that Stephanie Burke will be posting her top picks for shows each week on BAS. All of us at BAS have followed her Gallery Crawl for some time now. For more info and to view the entire gallery crawl each week check out Stephanie's site. Thanks again to Lauren for letting us know what is going on around town until now, you can still see what she is up to with weekly reviews.
"Stephanie Burke (Nevada City, CA 1984) is a Chicago-based artist and educator. She recently received her MFA in Photography from the School of the Art Institute of Chicago. Recent exhibitions have included her MFA Thesis Exhibition at SAIC, the Rockford Midwestern at the Rockford Art Museum, and That's What She Said in association with Version09. She maintains a weekly listing of Chicago art events at thegallerycrawlandsomuchmore.blogspot.com."