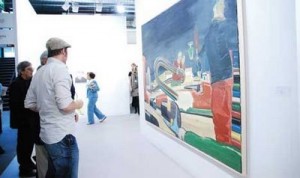 Wonder what the painting Brad Pitt bought looks like? Well search no farther, the Oil on Canvas by Neo Rauch entitled "Etappe" which sold for just under 1 Million USD is pictured below. I know there are strong feelings on either side of the fence with this but the early narrative on Basel this year seems to focus on "Buy! Cause everything's on sale and Europe hasn't seen a fire sale like this since Dresden." This only continues that take.
Read more everywhere but also here Also thanks to Britton Bertran for the heads up, Perez Hilton though? Really? 😛
Hey New York Times, I still love ya, but please, just shut up with all those pseudo-uplifting "joy of poverty" stories that you've been shoving down our throats lately. Here's a small sampling of what I'm talking about:
2/12/09: The Boom is Over: Long Live the Art!. This is the one where Holland Cotter told artists,
"…it's Day Job time again in America, and that's O.K. Artists have always had them – van Gogh the preacher, Pollock the busboy, Henry Darger the janitor – and will again. The trick is to try to make them an energy source, not a chore."
That bit has already been roundly ridiculed on various arts blogs, so I won't flog it any further. More recently, however, the Times published another of its attempts at an emotional pick-me-up, Tight Times Loosen Artists' Creativity (5/19/09), in which an artist named Liz Fallon from Portland, Me. is cited as an example of how artists are learning to exult in their new-found freedoms, now that they've stopped selling work and can support themselves with crappy part-time tele-marketing jobs:
"As for myself, freed from the constraints of creating for a specific buyer," Ms. Fallon wrote [in an email], "I've experienced my own surge in creativity and have been producing a great deal more than I used to. While it would be nice to still be getting paid for my work, the need to be more resourceful is having a beneficial effect on the arts community around me."

In a follow-up interview Ms. Fallon said she supports herself working as a customer-service representative for a direct-marketing firm, and that the lack of commissions has enabled her to pursue new projects, like illustrations of classic children's literature.

"Nobody wants me to do anything, so I'm just doing what I want," she said.
Can't offer a better retort than that already given by Susie Bright, who responded thusly during a related Facebook exchange (reproduced on the blog New Curator):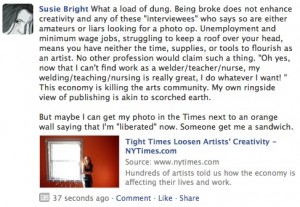 And again, on 6/9/09: Special Report: Contemporary Art: Getting Creative in a Downturn. Even the French are "getting creative" and (I love this) "rediscovering" drawing BECAUSE IT'S SO CHEAP.

"….In France, the slump has been marked by a return to traditional drawing, exhibited in a profusion of small-scale shows, often curated by art students….. Serghei Litvin Manoliu…said, "The golden boy approach to art is over." His show, the 21st Century International Drawing Fair, was a crisis-friendly, minimalist affair, offered unframed works for around $300, displayed on tables in a bare, loft-like space in the hip Marais district of Paris.

Unlike art produced mainly as a commodity for financial speculation, Mr. Manoliu said, "drawing requires excellent skills."

"The art world had lost every criterion of quality," he said. "I believe this crisis is a fabulous opportunity for the arts."
And then there are all the
slide shows
and
video portraits
of mostly fresh-faced, mostly recent art grads smiling brightly in the face of their own economic peril (unsurprisingly, all of the artists profiled are white).
I have time to read the new John le Carre, while nibbling at sweet tangerines in the sun. When a Sigur Ros album comes out, it fills my days and nights, resplendent. And then it seems that happiness, like peace or passion, comes most freely when it isn't pursued.
The Sigur Ros reference is the best part. It's important to be chic, even (especially!) in the midst of "troubled times."
Not everyone is merely a tourist in the land of lost opportunities. The Times has always been oblivious to material conditions outside of its own select, imaginary readership. And, (as Cotter would say), that's O.K. I expect that from The Times – it's why I and so many other people love it. I don't mind if they pimp me chairs that no way in hell I could afford. Just don't try to sell me on the idea that I should be happy about that.
God, I love cranks. I love a well-written rant even more. If I can find enough of them, I'll make this into a weekly series.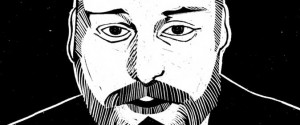 Today's rant (on internet chatter vs. newspaper reporting, among other topics) comes courtesy of comic book author Warren Ellis on Wired UK. (Via Bruce Sterling's Beyond the Beyond). This is just an excerpt, make sure you read the whole thing.
"….it's worth standing outside in the cold away from the internet and consider why print and newspaper/magazine structures still exist. Because reporting and editing are honest-to-God actual fucking jobs that don't get taught at the Huffington Post and the Daily Beast, and because all those faceless blog-networks infesting the Bay Area like tongue herpes have no interest in their minimum-wage blogmonkeys thinking about anything bigger than their hitcount. These things are fun and great for finding out about paedo-paramedics and Ukrainian porn, but they shouldn't be confused with informed reportage and actual thinking. My name's Warren Ellis. I'm a writer of fiction struggling with a world that's getting stranger faster than I can make strange shit up. I work for Wired UK. Nice to meet you."
Oh, nice to meet you too sir.
Apparently it's a new column, so Ellis is just getting started. Drink deep, if it's your cup of tea.
Here's hoping Meg's sister "Peanut" Manuel kicks some ass at the US Boxing Championships!!
*Bruce Nauman's Topological Gardens wins Golden Lion for best Pavillion at Venice Biennale (Art 21).
*John Baldessari and Yoko Ono receive Golden Lions for lifetime achievement in Venice (Unbeige). Go Santa!
*Marguerite Horberg plans Porto Luz, a new artistic center for Bronzeville (Chicago Weekly).
*What to wear during an Orange Alert? interviews Green Lantern Press editor Tobias Bengelsdorf.
*This site could become indispensable: The Auteurs.com, which lets you stream hard-to-find foreign films directly to your computer. Pretty inexpensive, and some are even free (via Avant/Chicago).
*Google sends cease and desist letter to Yoooouuu Tuuube creator David Kraftsow: read Rhizome's interview with Kraftsow about it here.
*You need ideas? They got ideas, lots of 'em: Ideasonair.net (via Artipedia).
*Eight museum shows you won't be seeing in L.A. anytime soon (plus other cancelled shows across the country). Can someone scoop up MOCA's cancelled Luisa Lambri show and bring it to Chicago? Pleeeaaase? (Culture Monster).
*World of Warcraft: The Exhibition (via Provisions Library).
*Drawing the webiverse: The Internet Mapping Project (via boing boing).
*Even the Louvre is worried about its future now (Unbeige).
*I am so pre-ordering this: R. Crumb's upcoming Book of Genesis comic; excerpted in the New Yorker. (via boing boing, which has scans of the excerpt available on their website).
*Berwyn resident John Sisto discovered to have kept over 3500 religious artifacts and antiquities from Italy, 1600 of them stolen. (New York Times, Chicago Breaking News).
Africa covered a cappella has been done many times but never like this. Includes a cappella rainstorm in the beginning.