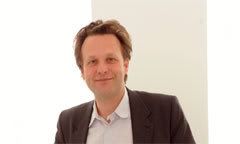 The Board of Directors of the Fondazione La Biennale di Venezia, chaired by Paolo Baratta, held a meeting on 7th April 2008 in which it nominated Daniel Birnbaum as Director of the Visual Arts Sector, with specific responsibility as curator of the 53rd International Art Exhibition, to be held in 2009.
Born in Stockholm in 1963, Daniel Birnbaum has been the curator of institutions and exhibitions at an international level, and has since 2001 been Rector of the Staedelschule in Frankfurt-am-Main in Germany, an international academy which concerned an assessment of traditional and contemporary art as well as the development of entirely new practices. Since 1998, he has also been a contributing editor of Artforum in New York, with which he has been working regularly since 1995. Since the early 1990s he has also contributed regularly to other magazines such as Parkett and Frieze [Read more]
Improv Everywhere, Richards favorite performance artists are at it again and this time they take the best day ever theme they did a year so so back for a small struggling rock band (that didn't turn out so well) and apply it to a little league game.
Not wanting to ruin the surprise for anyone but they really pulled out the stops for this event. So much so I am expecting a press statement that this event is the pilot for their new network television show starting in the fall of 2008.
Take a look, enjoy and check out some of their other hits which include the now infamous "Best Buy" event which was held at the Best Buy in lower Manhattan which I was recently in to get a video cable and is surprisingly cramped and dark to pull something like this off.
[Read more]
As all die hard fans remember (it took me forever to figure out which episode it was) Duncan was quite taken with what was then a little known song called "What Whtat in the Butt" by Samwell. The year was 2007 almost a year ago today and times were hard. We were at war unlike today, the economy was bad unlike today, oil was at a 60$ a barrel high unlike today & most importantly we gave horns a pitchforks to people like Scott Speh and others unlike today.
So to show how much has changed in a year we now have the song come full circle as a South Park parody. "What, What in the Butters" enjoy and know somewhere in the world Edward Lifson is taking a picture of me and adding horns and tail to balance everything out.
Sadly the title truthfully should read "Bad at Sports makes a mad dash in The Armory cause the phone is ringing and everyone wants you back to put out a fire" but "Goes to The Armory Show" gives it a more fun and lighthearted feel as I would have wanted the visit to be. Sadly this is the 21st century so in keeping with it; here is a caffeine induced breakdown of The Armory Show: 2008. [Read more]
Bad at Sports contributer Patricia Maloney will be leading a brown bag lunch discussion of her most recent curatorial project Make You Notice at the San Francisco Arts Commission Gallery this Tuesday April 15 from 12 – 1pm. San Francisco listeners should come check out the great work.
Make You Notice features video, photography and ephemera by four contemporary women artists who utilize performance in diverse practices, seamlessly integrating collaboration, activism, irony, and optimism into their work. The exhibition features the artists Lisa Anne Auerbach, Kate Gilmore, Laura Swanson, and Jenifer Wofford.
The San Francisco Arts Commission Gallery is one of many organizations currently showcasing artwork by women. Other exhibitions are:
The Way That We Rhyme, YBCA, March 29 – June 29
We Interrupt Your Program, Mills College, January 16 – March 16
Small Things End, Great Things Endure, New Langton, January 17 – March 15
Conduits of Labor, Queen's Nails Annex, January 18 – February 24

Women, Power, Politics, International Museum of Women, March 8 – December 31