Last Friday while out and about I listened to architect Renzo Piano's interview on WBEZ Chicago Public Radio's 8:48 . I found the part of the interview where Piano talked about his personal relationship to art to be particularly memorable. When architecture critic Ed Keegan asked him what he looks for in an artwork, Piano replied:
"I learned not to think too much. I (look at) a piece of art the same way I listen to a piece of music. Just submitting myself to the subconscious. There is a moment where you have to accept that, to switch from rational to irrational, to instinct. In art…. you recognize something but you don't have to understand what you recognize. I was contemplating a beautiful Rothko. I love that artist, but how can you explain why you love that piece of art? It's just feeling inside. Of course you move, you stay ten feet then you get closer, five feet. Then you get away, far away, and every time you move your head, and your body, you understand and you discover something else. It's like a universe. It's fantastic."
You can listen to the full interview here. And here is a link to an image of the stunning Mark Rothko painting that's currently on view in the Art Institute of Chicago's new Modern Wing. To look at it up close is to feel like you're swallowing the sun.
Of course, now you can go to the Modern Wing and see it all yourself, in person, and for free until May 22nd!
Errol Morris the director of "Thin Blue Line" and "Fog of War" new film about the Abu Ghraib photos asks:
Is it possible for a photograph to change the world? Photographs taken by soldiers in Abu Ghraib prison changed the war in Iraq and changed America's image of itself. Yet, a central mystery remains. Did the notorious Abu Ghraib photographs constitute evidence of systematic abuse by the American military, or were they documenting the aberrant behavior of a few "bad apples"? We set out to examine the context of these photographs. Why were they taken? What was happening outside the frame? We talked directly to the soldiers who took the photographs and who were in …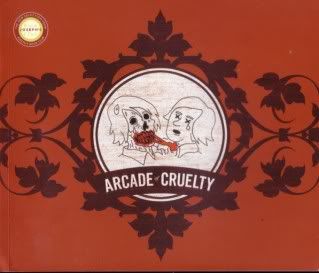 Up for grabs this week is a copy of Joseph Larkin's "Arcade of Cruelty. You know the drill email me (megonli@badatsports.com) and lucky number 11 will get the book.
via William Jones for Graphic Novel Reporter
"Crass-for-the-sake-of-crass comics usually go one way or the other; there isn't much middle ground. Either the author has a special touch that somehow makes the work funny despite the reader's better judgment or he doesn't, leaving a book filled with racist, homophobic, and/or simply offensive material, not only to the subject matter but good taste.
Joseph Patrick Larkin knows this, if the comic on page 237 of his Arcade of Cruelty is an indication. The comic is titled "Johnny Ryan's Response to 9/11," and it takes the aforementioned cartoonist of Angry Youth Comix to task for missing the point, this time without the apologies Larkin often offers with his style-imitation strips. It features a disgusting character pointlessly spewing the dirtiest possible language and really has nothing to do with 9/11, or anything else for that matter.
That's not to say Larkin is an upstanding member of the comics world himself. The strip in question appears in a section devoted to 9/11 comics, and not in the artsy Art Spiegelman sense, but in the making-jokes-about-it-and-people's-opinions-of-it sort of way. The rest of the book is littered with his deranged sexual ponderings (including a slew of jokes about rape), defacement of childhood yearbooks, and plenty of self-loathing. But Larkin seems to have the touch, using a tongue-in-cheek approach to give many of his strips a heavy helping of irony, with many of them truly at the expense of their author."
Thursday
Albert Oehlen: A Vanguard With Decorum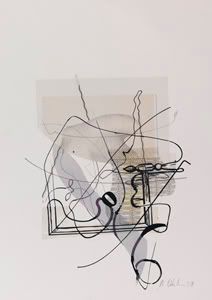 Opening!
May 14 5-9pm
May 14-June 27, 2009
Corbett vs Dempsey
1120 N. Ashland
Chicago, IL 60622
"This show will unveil Oehlen's stunning new series under the banner A Vanguard with Decorum. The exhibition will include 15 intimate, graceful drawing-collages on paper, a huge drawing based on the title of the show, and a spectacular new painting. Clearly related in their reduced palette and graphic quality to the computer works, these new pieces introduce an unforseen modernist architecture while amping up the looping, curvaceous, linear intensity." via the website
Friday
Manifest Urban Arts festival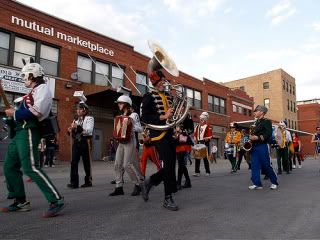 Various locations, between Roosevelt and Congress and State and Michigan. Map it here.
11am-10pm
Circus punk marching band Mucca Pazza kicks off the event at 640 S Wabash Ave at noon!
"Experience Manifest. Columbia College Chicago's urban arts festival celebrates the work of seniors and graduate students from every department on campus. Manifest 2009 will feature an artwalk & sale, music on four stages, screenings, readings, live radio, Web casts, the TICTOC Performance Art Festival, the Transmission art car exhibition, Spectacle Fortuna's parade of creativity." via the website
Check out the insane schedule of music, workshops, performances and exhibitions here. Get a pdf version of the schedule here.
Saturday
Weiner Takes All: A Dogumentary
Chicago premier!
Friday, May 15, 6:15 pm
Saturday, May 16, 5:45 pm
Monday, May 18, 8:15 pm
Gene Siskel Film Center
164 North State Street
Chicago, Illinois 60601
"The little-known world of wiener-dog racing is investigated with humor and charm in a film that appears to have (ahem) legs, based on the ecstatic audience response generated by its numerous festival screenings around the U.S." via the Gene Siskel website
You can check out the trailer here.
Grand opening of the Art Insitute's Modern Wing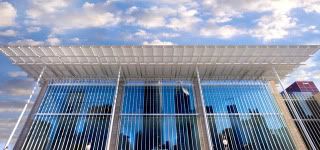 Free admission May 16–22
Grand opening May 16, 9am-5pm
Art Institute of Chicago
111 S Michigan Ave
Chicago, IL
"Celebrate the Modern Wing's public unveiling with AIC on Saturday from 9 a.m. – 5 p.m. Good times include a dedication with architect Renzo Piano at 9 a.m., a ribbon-cutting ceremony at 10 a.m., and live music/dancing from acts like Swing Gitan, Maxwell Street Klezmer Band, and Hubbard Street Dance Chicago. The grand opening exhibit is Cy Twombly's "Natural World", which will be on display through September 13 at The Abbott Galleries—the Modern Wing's special exhibition space located on the first floor." via the chicagoist
As part of the University of Chicago's Artspeaks program, Kara Walker will talk with associate professor of history Amy Dru Stanley. Click the link above for full details; tickets are $20 to general public, $5 to students with i.d.
Wednesday, May 13, 2009 | 7:30 pm
Kent Hall, Room 107
University of Chicago
1020 E. 58th Street
View map
From the University's website:
"Walker will reflect on her work in a presentation and dialogue with Amy Dru Stanley, Associate Professor, Department of History, who's research and teaching focus on capitalism, slavery and emancipation, and the historical experience of moral problems.

Known for exploring the raw intersection of race, gender and sexuality, Kara Walker unleashes the traditionally proper Victorian medium of the silhouetted figure. Her installations create a theatrical space in which her unruly cut-paper characters fornicate and inflict violent acts upon one another. With one foot in the historical realism of slavery and the other in the fantastical space of the romance novel, Walker's nightmarish fictions simultaneously seduce and implicate its audience. A 1997 recipient of the John D. and Catherine T. MacArthur Foundation Achievement Award and a 2008 United States Artists Fellow, Kara Walker's work has been exhibited at the Museum of Modern Art, the San Francisco Museum of Modern Art, the Solomon R. Guggenheim Museum and the Whitney Museum of American Art. Walker lives in New York where she is on the faculty of the MFA program at Columbia University."