I met Debora Delmar and Andrew Birk, co-runners of NO Space, at Cantina Riviera, on Chiapas in Colonia Roma. I recommend the lechon and the taco de pulpo asado, if they have it. We drank Dos Equis lager exclusively. In early February, in the midst of the Material Art Fair, No Space will present a show curated by Keith J Varadi at Bikini Wax in San Miguel. After establishing that they had moved to Mexico City from Bushwick, where Debora had lived at 538 Johnson Ave—you know, that house they go to in Girls—and Andrew had had a studio, I asked how the art scene in Mexico City differed from the art scene in Bushwick. After we talked, Andrew mentioned that they had no idea I was going to record our conversation and/or post it (in truncated form) online.

DD: There's not the culture here, like there is in Bushwick, of buildings full of studios. There's all these young kids coming out of art school, they're all in a building together, making work, and that becomes a stronger community. Even if the work is shitty, they're there.
AB: In a place like Bushwick, the bind is making work. I think with the arts community here, its bind is partying.
DD: There's also not much funding. The market isn't strong. There's rich people here, like Roma and Condesa are all full of rich kids who have come from rich parents—
JW: But having rich people doesn't necessarily mean that they're buying art. The Bay Area is full of rich people, none of whom are buying art. They're all buying—what are those jackrabbits with antlers?—jackalopes.
DD: It also goes hand in hand with the culture here. There is a lot of culture in Mexico, but that doesn't necessarily mean that there is an interest in contemporary art. I think that factors into there not being much of a market for young art, for what we're doing.
JW: What made you guys start NO Space?
DD: We were tired of going to every show and seeing always the same names. We wanted to contribute, to bring attention to other artists that we relate to.
AB: There's so many people living in this city, but there's so few galleries, and none of them want anything to do with the kind of art that we make. Everything's really fixed.
DD: Even outside of here, we have friends whose work we'd like to see shown here, to expose this kind of work that we like to other people from here. We don't want to be a gallery or anything like that.
JW: Why don't you guys want to be a gallery?
AB: We don't want to get this project confused with questions of money, because that changes the vision of things. With all the international artists that we invite to the show, I think the really cool parameter that we're putting is zero budget. What can you do with zero budget? The bigger we get in our own careers, the more we expect a budget, the more interesting and constricting the parameter of no money becomes, and the more creatively you have to respond. Actually, one of the things that I feel the most guilty about and that I'm kind of ashamed of, with the former No Space documentation, is that the photos are really nice. They're really white, they've been Photoshopped, and so on. I think the new thing that's going to happen is that documentation will just get shitty. I want to start using social media documentation more.
DD: We are always looking at websites like Contemporary Art Daily or whatever, or people just posting their work online. That's what we do, too. That becomes our approach to the way we're looking at art, the way we're thinking about where it will end, about where the image will end.
AB: Contemporary Art Daily is amazing, I love it, but it's changed the way we hang work, we photograph work, we make work, everything. You're making work so it goes on that website. You're hanging work so it goes on that website. You're photographing and processing that work so it goes on that website. What's the next thing that could possibly happen? It's making work that can't go on that website. Or photographing work in a way that they would never accept.
JW: What if someone wants to buy something that's being shown at one of your shows?
AB: Well, how can you stop that from happening? When we originally started, we didn't even ask prices of anything from any of the artists. If somebody was interested, we'd give their e-mail to the artists. We also decided to have no texts, nothing to read, because we were tired of the culture of walking into a show and having to read text to understand the show. People expect not to have to use their instincts to interact with the art, because there's a text there that does it for them.
JW: I was just reading something really nice about a problem in criticism regurgitating whatever it is that artists say about their own work. I think it's a similar problem to what you describe, where you read the wall text and you're like, oh great, that's what that means, or you go on the artists website and it's like, "I do x by doing y," and you're like, oh great, that's what that means, and then that artist's statement of "I do x by doing y" gets repeated by whoever reviews the show, or talks about it, and so actually it's really pointless that anyone made anything or went anywhere.
AB: It also creates this strata in which people who have less experience with art, or who know less about art history, or have less ability to place contemporary gestures into a grander context, depend on the text to understand art, as if these art objects don't relate to them or they don't have a point of entry in the art, which of course they do! If there's a shoe on a fucking tabletop in an art space, you have a pair of shoes, you're wearing them right now, and you have a table at your house, what do these things mean to you? How can you enter into the piece?
JW: Would you say that there's a through-going aesthetic through all the shows that you guys have produced?
AB: No.
JW: Do you think there's anything lost in this—not randomness, but all this variety? Does it create its own kind of homogeneity?
AB: All of the shows that we've put together come from my sensibilities about art that can be seen in my work, and Debora's sensibilities about art that can be seen in her work. It's not just totally floating. But I wonder. It could be. One thing's for sure: we're taking as many measures as possible to prevent us from capitalizing on this project financially.
DD: We like their art for a reason. Our choices come from us looking at other people's work and thinking, oh, this should be shown somewhere. It's not just about giving people a platform for the sake of giving them a platform. We don't want to have a tight curatorial thing, because we're not representing artists or something like that. Yes, of course there's common grounds between some of the artists, because they're young, but we've shown older artists, too, and we like that, for example we've picked Mexican artists that have careers outside, but their work doesn't really fit into the bigger dialogue here, the discourse.
JW: What is the bigger dialogue here?
DD: Kurimanzutto, 90s style political and social stuff.
JW: You guys are talking with a little bit of disdain towards politics in art. Am I hearing that right?
AB: Personally, I feel like if I wanted to make a change in politics, my career path would be inside of politics. I wonder if making a political art gesture to a bunch of rich people who have doctorates makes any political change. Or if talking about really, really poor, abject conditions in an art language that has nothing to do with the people that are living inside of those conditions has any effect. For me, art is its own language for itself.
DD: I understand why artists want to talk about politics, because there's so much shit going on, how can you not be affected by it? Of course! But I don't know, my interests in art became separate from those interests. Maybe art is political in itself, but for me illustrating doesn't really change or contribute so much to a change. If you were selling the pieces and giving the money for a good cause, maybe that would make more sense for me.
JW: I wonder if, at a certain point, art just serves to justify the existence of otherwise heinous individuals. Like, sure, I'm a wealthy financier who's making billions screwing the poor, destroying the middle class, blah blah blah, but look I've got this artwork, so it's cool. It kind of ameliorates their position in society.
DD: For example, the first show that Andrew and I had here, we had a show in this project space around here, and all of the students from the Esmerelda came with the teachers. They came from a pool party that they had all been at together, dressed in Hawaiian shirts—
AB: With leis and all that!
DD: —tons of people in Hawaiian shirts, and they were all super drunk, and they started yelling at me like "you're so superficial, this work has no meat, you're just a superficial bitch that has money and you don't care!" It was crazy. Even the teachers were yelling at us, telling us all this super mean stuff, until we found a way to kick them out.
AB: It was also kind of cool, because that shit just doesn't happen elsewhere. As much as we complain about the five teachers bringing their 75 students drunk as fuck to the show, and lighting off fireworks and shit in the hallway, that's also what's super cool about this place. Things are so infrastructurally underdeveloped that we can actually like build whatever we want here, and occupy positions in the landscape where there would be no space for us in other, more developed systems.
JW: How do you categorize NO Space? Can you?
DD: It's been referred to as a project space…
JW: But that seems so funny, because it doesn't seem like you have a project and it also doesn't seem like you have a space. And then, if you're a curatorial team, you're having this show in a couple weeks that is curated by Keith, so you're a curatorial team that's curating a curator…
AB: I like that!
DD: I like it, too! Because we're into what he's into. I just saw this documentary that came out about YouTube people starring in each other's videos to build audiences. It was on PBS maybe? It's called Generation Like. It explains about how likes mean power and money, in terms of influence, popularity, and so on. There was like this one kid who was a skater and he was really cool and really young, and he started getting all this money from brands to do his videos, and people wanted to take selfies with him, and put them on Instagram, because then if you're in a photo with this guy, you'll get likes. There's agencies for these people to place YouTube people with other YouTube people.
AB: Your agent talks to her agent and you guys co-star in a video, and all of your viewership goes to her account, and all of her viewership goes to yours, and you build something up together. That's kind of the way we're interested in working. Not to bring attention to NO Space, but to bring attention to artists that we don't otherwise have the means to make more available. It's a matter of taking the entire community and combining networks to form a platform for the artists.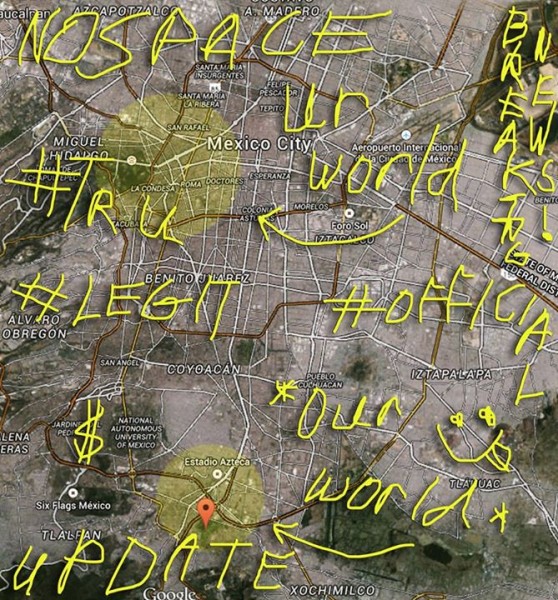 1. The Latest Sun is Sinking Fast at Hyde Park Art Center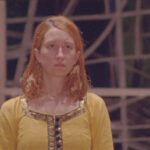 Work by Melika Bass.
Hyde Park Art Center is located at 5020 S. Cornell Ave. Reception Sunday, 3-5pm.
2. Visibility Machines at Gallery 400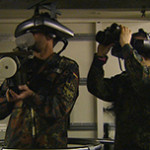 Work by Harun Farocki and Trevor Paglen.
Gallery 400 is located at 400 S. Peoria St. Reception Friday, 5-8pm.
3. Celebratory System at Kitchen Space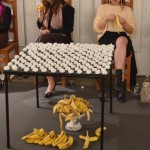 Work by Alberto Aguilar.
Kitchen Space is located at 2716 N. Monticello Ave. #1F. Reception Friday, 7-10pm.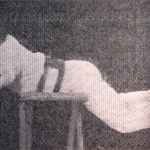 Work by Nick Bastis.
Regards Gallery is located at 2216 W. Chicago Ave. Reception Saturday, 4-7pm.
5. I Swear to Dead I'm Not God at Born Nude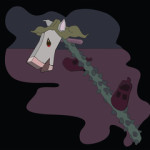 Work by Lali Foster.
Born Nude is located at 1711 S. Halsted St. #2. Reception Saturday, 6-9pm.
When reporting has become about shock, ratings and theatrics, and less about accurately and responsibly relaying news, reports like Steven Emerson's completely fictitious account of "no-go zones" are able to air as solid facts. Fortunately, since it was on Fox, no one with any intelligence believed it to be true, and it was derided immediately by the public. News dispersal is political, but how we filter it is by choice, accepting one view while ignoring others that conflict.
"The News" is a product which sells us ideologies and cars. It defines who we vote for and if the vote counted or not. It gets us angry, even violent, because it is the best theater America has offered the world to date. It is on the level of Shakespeare, NOT because of its eloquence or quick wit, but through its spin and ability to reach every public as if it is speaking directly to YOU, you red-blooded, hard-working freedom-loving educated and compassionate American. YOU, who are able to see the beauty of this land and defend its love of freedom, no matter how flawed, and understand that buying an assload of shit made in China at Christmas is what fuels our country. That our cars run on a full tank of freedom, and our Flag doesn't run on anything, because them colors don't run. Even if we only watch the news as a comedy show (cause network news is), we still get this shit filtered into our brains, flossing out logical thoughts with a steady stream of ticker tape spouting useless stock numbers and baseball scores, and real human lives lost compressed down to a number, marching along in the same rhythm of what Miley did what now.
The deprofessionalization of the news is such that even if you understand that a particular source is horribly skewed and the hateful vitriol can't be trusted, you still have the idea in your head. Abstraction from false facts create an image of the world that is as limited as our own vision. More than limited, as we can't see how much we are missing; we can only see certain colors or waves.
Real life must correspond with OUR vision, otherwise we contest it, fight it, protest it, bomb it, we shut them down, we come out on top, or our vision is taken under. More and more ideas get posted and reposted, linked and tagged to stay alive, climbing to the top of a neverending avalanche of information. In the end, the most popular will survive, which of course, may be the least truthful and  most biased version. "Facts" become as self aware as a 17 year old using social media, as if they can see themselves in the mirror, thinking what to change, how they are perceived. To know something to be true is to see it played back to us.  Since telecommunications have anchored its dick in the soil of the "greatest, best country God has ever given man on the face of the earth", we have been engaged in seeing ourselves act, do and live through the screen. This delayed portrayal may offer us viewpoints which we couldn't see in the moment, such as our physical selves as an other, instead of a disembodied entity we normally experience things as, and it may even show facts that have been ignored willfully or accidentally. Shit gets lost in the mix. The Bible was a delayed news source a few decades, and was altered for centuries after that. What happens is we become locked in an endless loop with our own image, the image of humans. Segregate it anyway you want it to make it an "us vs. them" situation, it still puts You on top, and why shouldn't it?
This loop, or feedback, as David Joselit calls it, responds as any reflection or copy does — it degrades more and more, every time it is recopied. Information gets subject to other advertisements, commentary; things are gleamed and obliterated to tell a different story.
As we take more and more selfies, our food "takes" selfies and our cats "take" selfies, and this crap thats not meant to have any life to it, just a response to boredom, or not having enough attention paid to you goes out there, with all the Fox and MSNBC shit, CNN and the Onion, weightloss tips and 13 celebrities with the best fake breasts and 7 best life hacks and this suburban mom just learned that you, yes, YOU are a goddamned asshole with too much privilege to be meaningful, but not enough to be powerful, and what he did next will shock you click bait bullshit. It flashes at us as we scroll, trying more and more to grab our attention. There is too much crap smacking us in the face, so that the real news that happens seems less and less like news, just more trash to bury under a steady stream of garbage. We'll post even more insipid crap to the interspace, a web of digital garbage that rivals the physical landfills, creating an alter universe. These images and content become creations of ours, abstractions of reality. It seems as though there is less interest in knowing what is actually happening the world than creating or defining it ourselves, no matter how painfully egoist or mundane it is. Standing in the way of spectacle just won't do.
Thanks to Jessi Patuano for the conversation, to Emily Gustafson for the inspiration, and to Dana Bassett, Caroline Picard, Jamilee Polson Lacy, Claudine Ise, Duncan MacKenzie and Richard Holland for the chance. Thanks also to Sarah Margolis-Pineo for getting the conversation started. Thank You.
Guest post by Lise Haller Baggesen.
Jetlag is the Devil's work!
Or is it a First World problem?
First World problems are the Devil's work and jetlag is the hands-on reminder that in this day and age it is never really enough, if at all possible, to be in one place at a time, when you can be all over the place.
A yuletide melt-down with your sister will tie you down claustrophobically to the here-and-now, where this house (or indeed country) is not big enough for the two of you, and have you gasping for a breath of fresh air. Luckily, on this crisp boxing-day morning, your muddy Heimat was transformed to a magical winter-wonderland, located somewhere between a secular Caspar David Friedrich and a Thomas Kinkade you can believe in. You are here now. On a cross-country train-trip with the seats across the aisle from yours occupied by a middle-aged couple with Down's syndrome. She is wearing a sequined sweatshirt with leopard motif very similar to something you recently saw in Kenzo's fall collection online, and he is the voice of reason as he is giving commentary on the trip:
It is really cold, it is freezing –it is below freezing. Look at the trees outside, aren't they pretty? Look how it is hanging from the trees. It was a good enough Christmas, good food. It was lovely, but now I am tired. You must be tired too, you should rest; we had an early start and we will be there soon enough. Just rest now. Isn't it nice?
Indeed.
With this buildup, Olafur Eliasson's Riverbed, at the Louisiana Museum of Modern Art (in Humlebæk just north of Copenhagen) cannot but disappoint –and yet it does. Traversing through the entire south wing of the museum, Eliasson walks 10.000 men, women and children all the way to the top of the hill and all the way down again. And when they were up they were up, and when they were down they were down, and when they were halfway up they were neither up nor down.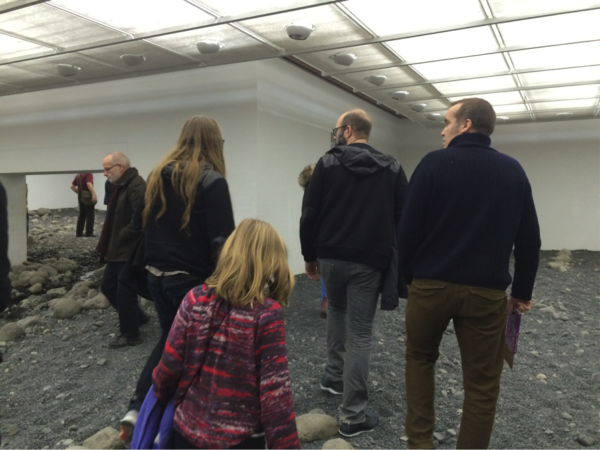 In real time, this hotly anticipated merger of nature as culture and culture as nature, of museum mystique and Iceland experience (or vice versa) is like Kate Moss up close: sexy and photogenic, but ultimately too thin and too shallow and too readily commercialized –the perfect extension or backdrop to the vastly expansive collection of sleek Scandinavian design objects in the museum shop. Nordic Light as commodity.
In another part of the exhibition we are given the illusion of a behind-the scenes look. Here, Atelier Eliasson's geometrical models are laid out in tasteful abundance; hexagons and dodecahedrons, spheres and pyramids in various stages and finishes are bathed in amber light, to theatrical effect.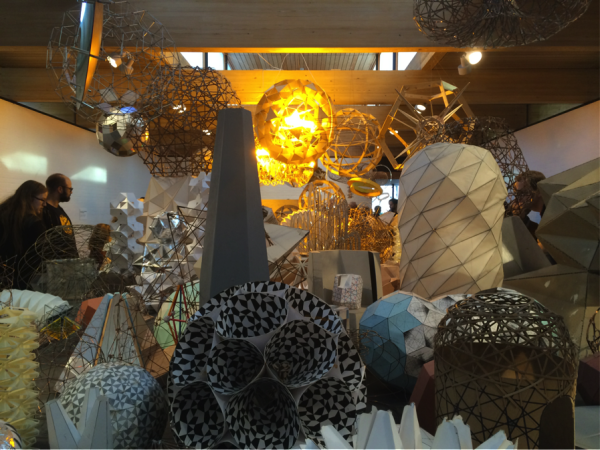 As we admire the display, my long time friend Lars (the sweet Swede) conspiratorially whispers in my ear an anecdote of how Eliasson politely declined the proposed budget for a project for AROS (Museum of Contemporary Art in Aarhus); this super model does not get out of bed for 2 million kroner!
Eliasson instead suggested they called him back when they got together the funds for a rainbow panorama on the roof…which they did and the results were truly double-rainbow-all-the-way-across-the-sky motherflippin' awesome – and this off course both is and isn't why we are here today—we want more!
Still it is smugly satisfactory to see how Eliasson is cut down to size in the museum's Kids Corner. Here glue guns, paper cones, and wooden sticks are lined up for one and all to create their own Eliasson for the Christmas tree, like the workshop of a scientifically ambitious Santa.
In summary, the exhibition does exactly what it says on the box; yes, it radically alters your experience of the museum's architecture and yes, it ambitiously challenges the museum as site and brings it back to its original narrative as a walk in the park. But paradoxically, there is nothing you can learn here you couldn't have learned from the privacy of your own home, experiencing the work second- or third-hand. There is no song of your self to be sung on this stage –only Eliasson's boastful, tinny earworm of the artist as brand.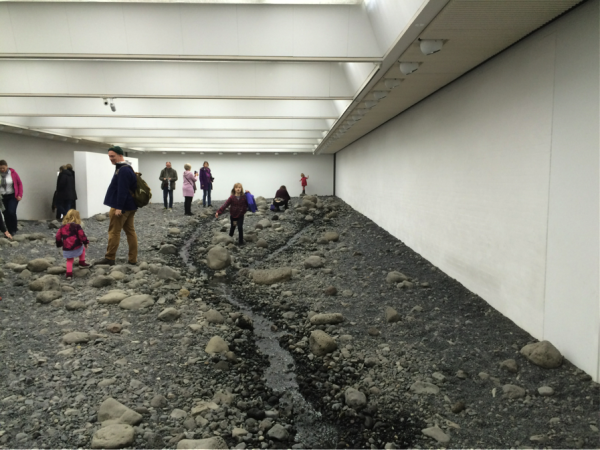 How different and deep in contrast it is to leave the Riverbed and delve into the nether regions of the museum; a subterranean catacomb, which—for a moment that lets forever be—is transformed into a life-affirming mausoleum containing the oeuvre of Paula Modersohn-Becker.
Everything is right here; from early academic studies—some a little heavy-handed or earnestly clumsy, others almost a caricature –to the self-assured work of a grown woman who has found her place in the world. These were unfortunately to be her last, as she died from an embolism at the tender age of 31, less than 3 weeks after having given birth to her first child, a daughter. A tragedy, and all the more so as this was a life event she had both anticipated and preemptively celebrated in her body of work. But let us not skip to the end quite yet.
At 16, she writes to her parents from England, about the St. John's Wood Art School: "I shall have lessons there every day from ten until four. At first, I shall be only drawing, beginning with very simple arabesques and other designs. If I progress, then I shall make charcoal sketches after Greek plaster casts […] If I advance further, I shall begin drawing and painting from live models."
With this simple program she sets herself a task, which she follows trough with devotion and bravura. Modersohn-Becker's lifework, as a fully equal member of the artist's colony in Worpswede, is remarkable in more ways than one. Her traveling to Paris on the New Years night between 1899 and 1900, her pioneer work as the first female artist to paint the female nude (including several nude self portraits), and her untimely death, is the stuff of myths.
But more impressive is the work itself. Not for its monumental scale or dazzling visual effects: the formats she administers are modest and never larger than life. Her palette is muddy as the northern European landscape from which most of them hail, and her brushstroke fat and fuzzy as if she is almost sculpting her paintings rather than painting them – or perhaps just pulling them out of the clay and pushing them back in – in one simple, matter-of-fact, gesture.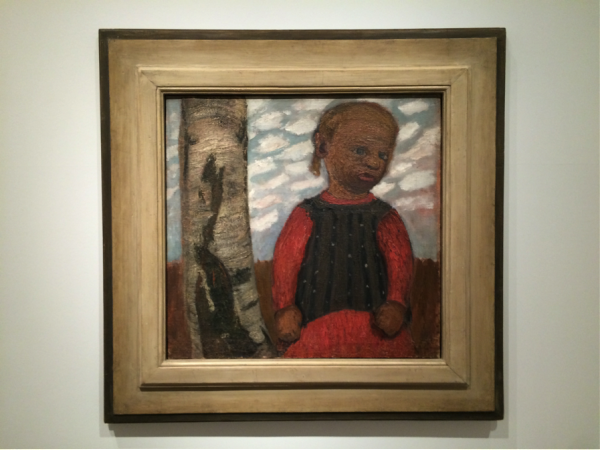 The self-portraits –though both peculiar and provocative in their time—are showing her neither as whore, nor holy. She is simply there, present, with her mental and bodily functions intact and fully alive. An important source of inspiration is Egyptian mummy portraits, which she studied in the Louvre and whose oblong format and frontal view she often employs—as if to remind us that in the midst of death we are alive. A longish amber necklace with large oval beads is a recurring motif that she paints in the same impasto ochre as the flat circular disk of her own iris, because they are both part of the same eternity. In painting after painting, her fat, terse, brushstrokes drag and push our own eyeballs around, as we follow their trail across the barren canvas and her own gaze as she travels across Europe.
She paints women and children first, not unsentimentally –because what would be the point of that? — But with no false modesty either: unflinchingly and always at eye level. Suckling babies find the teat with the unwavering conviction of instinct and all is in the world.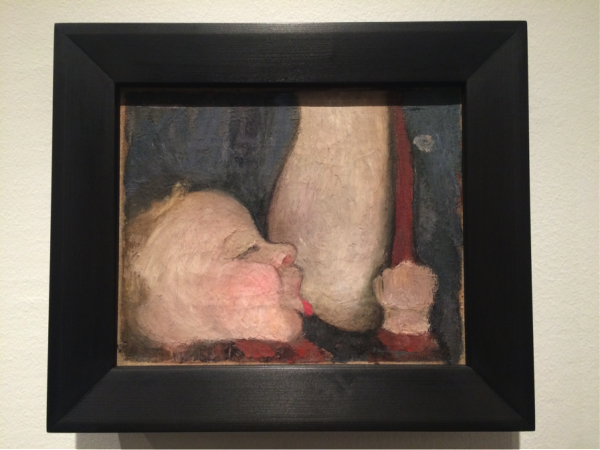 With her willing- and able- bodied being in and of this worldly world –a worldliness that combines the two meanings of the word and is both cosmopolitan and sophisticated as well as concerned with the earthly, terrestrial and mundane repetitiveness of this mortal coil— Paula Modersohn-Becher's life work is not only the perfect antidote to the spectacle of Eliasson's five-minutes-in-Iceland, but also to our jet-lagged existence. It is a poignant reminder that wherever you go there you are and you take yourself with you. Nowhere else but right here and right now could you get over yourself and make right by your sister, or could you be eye to eye with an amber oval disk that is both a smear of ochre paint and at gateway to your soul.

Lise Haller Baggesen left her native Denmark in 1992 to study painting in the Netherlands. In 2008 she relocated to Chicago with her family. In the meantime, her work evolved from a traditional painting practice toward a hybrid practice including curating, writing and immersive multimedia installation work. Her first book "Mothernism" was published by Poor Farm Press and Green Lantern Press in 2014.
This month I turn to Hilton Als, a novelist, theater critic at The New Yorker since 2002, and arts writer who most recently contributed to Robert Gober's MoMA museum catalogue with his essay I Don't Remember.
Novels, reviews, essays – all writings form his arc. Hilton continually negotiates cultural production, both in his blog Et Als and commissioned essays, as well as in his novels that are likewise autobiographical renderings of lived encounters. Writings end with a lasting impression of Hilton's voice, imagining that writings could hold the lasting impression of a face, bold-faced. In his most recent collection of essays White Girls, published in 2013, a page and a half long sentence begins, "I was an I, an opera of feeling with a very small audience…" about an early time in his writing career a couple of decades ago.
This beginning clause "I was an I" led me to ask Hilton about how he began writing, continues to write, since the time, and in the current time of "I was an I".
Erin: As a theater reviewer for The New Yorker, how does the process of reviewing theatrical performances inform your structuring of written narratives?
Hilton: I think I understand your question. I never think of writing as a "narrative." At first it's just words that are in my head that demand I put them down – in some kind of order, hopefully, that will make some kind of sense – eventually. I think my love of writing begins with my love of writing, and it can really be prompted by anything – a walk in the park, a drink with a friend, theater. I'm greedy for experience and that's what writing grows out of, really – experience, how the mind and heart respond to a given situation.
Erin: You were a student in Columbia University's art history program, during which time, you realized that you were a writer. Or, as you wrote in a later commencement speech at Columbia, "It didn't take Elaine and Ken long to suss out that I wasn't an academic, I was a writer." After graduating, did you begin writing autobiographically driven non-fiction, or did you first begin writing pieces of cultural criticism? Did one kind of writing facilitate the other?
Hilton: I never really thought of myself as a "cultural critic." I was just trying to figure out how to make a living! I was always interested in art history and worked in the department's office at Barnard. I was a terrible secretary since I spent most of my time writing my own stuff and not answering the phone if I didn't feel like it and just waiting for pay day. But it did teach me that I wasn't really cut out for a standard office job – I had to figure out what to do. I got a job at The Village Voice off the job board at Columbia. While at The Voice I worked as an assistant in the art department, and I started doing layouts eventually, and then I started writing for Erika Munk, who edited the theater section. So, it was all a question of staying open to experience and knowing what I DIDN'T want to do, or wasn't good at.
Erin: Can you say something about the nature of other people first recognizing your talent?
Hilton: Have they! Ha! I've been fortunate in that regard and must thank Owen Dodson, Ian Frazier, Kenneth E. Silver, and various teachers, like Jeffrey Waingrow, for letting me know I could do it because of the love I saw in their eyes. They loved my ENERGY, I think, and my gung ho attitude toward THEIR work, too. I was so interested in them, and the how do you do it? aspect of their lives that they could only teach me by sharing. And it was their sharing that made me feel as though I COULD do it. Their recognition of me as a person first and as an artist second made me feel seen as a whole person rather than an abstraction, albeit a talented one!
Erin: Are you interested in your blog, Et Als, operating as a public forum, where your observations are responded to by readers?
Hilton: I just love doing it! I like hearing and not hearing from radios in a forum that's free and open to all. I don't think FB's possibilities have been explored properly. The little essays I write are less about putting the squash on kitty pics so much as I want to open the form up to include words and thoughts AND kitties.
Erin: Do you view the blog as a scripting of later narratives to be developed further?
Hilton: Do you mean are they first drafts to a bigger thing? Maybe. I don't know. I just roll with it for now.
Erin: In reading your writings about performances, art exhibitions, movies, and books, I have never had the feeling that you were "sent on assignment". Chosen subjects always communicate as being chosen by you, even though I have to assume that you are required to cover timely events through The New Yorker and other publications. Do you look forward to writing about works that you have no connection to, and to forming an embrace or rejection of those?
Hilton: Oh, I'm sorry you feel that way! I don't do many things on "assignment." A lot of the people I write about I choose. The "assignment" aspect is you have a job and you have to come up with interesting stuff to talk about. But I never feel on assignment for The New Yorker, I just feel lucky to share my interests with other people.
Erin: In your commencement speech given at Columbia University in 2014, you say, "I've never believed, not for one second, that art is created out of avoiding the world and its various realities. If you avoid that, you avoid life, which is your source material, you dishonor all your ghosts in the sunlight…" Do you have an aversion to works of art that read as escapist? For you, what is an example of an artwork that is completely devoid of reality?
Hilton: No! I'm a sucker for fantasy, though I wouldn't go as far as loving Botero….I like pleasure just like the next guy. I think all art grows out of a certain reality – the emotional and psychic reality of the artist, certainly. Let's bring surrealism back! I miss it.
Erin: In reading your essay about Robert Gober, currently printed in his MoMA catalogue The Heart Is Not A Metaphor, you write that you want to become Gober to understand him. Is this process of writing about chosen people as a way to understand them a version of method acting?
Hilton: In a word, yes. I call my work method writing.
Erin: Do you have a writing routine that you subscribe to?
Hilton: I wake up, and if I am not dead I make breakfast and watch Wendy Williams. I love her. That gives me an hour to fret about my relative lack of humor. Then I get the pad and pencil out. That's the routine: doing it, day after day after day.