First we had a story on a visually harmless apple computer virus that gets the drop on your desktop. Then we had a episode that included the Helvetica independent film that came out and was a great watch. Take the two and put them together and you get the Bullet Speed Helvetica Dropclock Screensaver™ which will make everyone happy and macophiles feel warm in that special place we only point to on dolls.
Check it out and have fun, it can be downloaded here
From the website of the artist Ranjit Bhatnagar:
"Simple automatic instruments are constructed from local materials and objects on site. The system learns the sounds it can make by trying out its instruments, and then uses its range of sounds to try to reproduce the rhythmic and melodic qualities of sounds such as the voices of visitors. It then loops and alters these imitative sequences into improvised compositions. (That last part's not done yet, so you won't see it in the video.)
In this example, the source audio is a bit of the soundtrack from the movie Citizen Kane, and the noisemakers are a set of found object percussion machines and an electromagnetically fretted electric guitar."
The tech is pretty basic and the conversion to music is largely straight forward but the presentation of the idea is pretty sharp. I would love to see how well the system works with a high noise to signal ratio. Can it only make "music" in a relatively quiet room of two people talking or can it eliminate some white noise to find the melody of a large conversation.

Citizens of Oak Lawn, IL have a history of coasting through stop signs and in response the city installed smaller signs below their larger, legal counterparts to get motorists attention while providing them a tongue in cheek appeal to their conscience. The extra signs mimicked the red octagon shape only 1/3rd the size with slogans including "and smell the roses," "right there pilgrim" and "means you're not moving." instead of the word STOP.
The town's mayor and citizens found them funny, but there is a Local vs State conflict inherint in the act. The Illinois Department of Transportation claims that the signs violated the Federal Manual on Uniform Traffic Control Devices. Threatening to put federal funding for projects in the city on gold till they were removed. $1,700 worth of signs are now pulled down.
Pamela Michelle Johnson was one of the many (250) artists showing at this years Artropolis Artist Project and was kind enough to give a quick interview.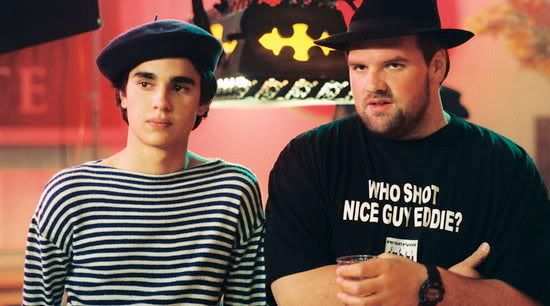 Via Brett Sokol for New York Magazine:
If the glory, freneticism, excess, and sunny evanescence of the current contemporary-art boom has a symbolic home, it's Miami Beach. Thanks to the appearance of an exponentially more fabulous Art Basel Miami Beach fair each December since 2002, the once-tattered resort town has gained a new sense of itself as an aesthetic destination that goes beyond the mere appreciation of a set of well-wrought silicone implants. Now members of the local Establishment, enamored with their smart new friends—collectors, artists, and curators from around the world—want to see if they can get them to stick around. It's partly about wishing to be taken seriously as a cultural alternative to New York and Los Angeles. But it's also a bet that fertilizing the creative class is good economic-development policy—especially in a city hit hard by the real-estate meltdown. Which is why a local developer and collector, Craig Robins, is starting a free postgraduate art program in Miami.
[Read more]