Although it sounds like I won't be missing much by not attending the Venice Biennale this year (oh hell, who am I kidding? or any year except one, when someone else was paying for it), based on some of the write-ups I've read, there are two events taking place there that I truly regret not being able to see for myself.
The first is Swoon's Huck Finn-style floating barge, which I blogged about a few weeks ago and which has received in-depth coverage in New York magazine. More than I want to see the thing itself, though, I think what I really want is to be friends with Swoon and her deck mates.
The second is Peter Greenaway's multimedia installation based on the Italian Mannerist Paolo Veronese's gigantic painting, The Wedding Feast at Cana. Now, Greenaway isn't someone I'd necessarily want to be buds with (I don't think I could keep up), but he's long been one of my favorite filmmakers (though I admit it seems a bit strange to talk about work like Greenaway's in terms of 'favorites,' like it's an ice cream flavor or something.) His early films, like The Draughtsman's Contract (1982), A Zed and Two Naughts (1985), The Belly of an Architect (1987) Drowning by Numbers (1988) and his most mainstream "commercial" success, The Cook, The Thief, His Wife and Her Lover (1989) are the films I know best; his later forays into installation and site-specific projects I'm less familiar with due to sheer lack of access to them.
Greenaway's take on Wedding at Cana is part of an ambitious multi-part project in which the filmmaker/artist plans to bring nine classic art historical paintings to life in a modern context. Greenaway has already created installations revisiting Rembrandt's The Nightwatch at the Rijksmuseum in Amsterdam (via Greenaway's film and an accompanying installation Nightwatching, made in 2006) and Leonardo's The Last Supper in Milan (in a 2008 installation titled The Last Supper).
Greenaway's "vision" of the Wedding takes place at the Palladian Refectory, the site where Veronese's painting was first situated. Now, however, a facsimile of the work, commissioned by the Giorgio Cini Foundation, exists where the original once stood. Greenaway's website describes the installation thusly:
"The Wedding at Cana facsimile, set in the original architectural context for which it had been conceived – the Palladian Refectory – offers Peter Greenaway the opportunity for an innovative and original interpretation via a state-of-the-art interplay of images, lighting, music, voices and sounds that will seem to emerge directly from the painting and the walls of the Refectory. The performance – a true multimedia event lasting about 50 minutes – makes spectators relive the episode of the marriage feast at Cana where Christ accomplished his first miracle, as narrated in the Gospel of John. Greenaway points out to the public the painting's scores of characters, from the servants preparing dishes, to the banquet guests, to the guests of honor – Jesus Christ and his mother Mary – seated at the center of the painting's architectural composition, in an on-going crescendo culminating in the narration's crucial moment: the miracle of water turning into wine."
Here's a small image of the Paolo Veronese painting that's under Greenaway's scrutiny: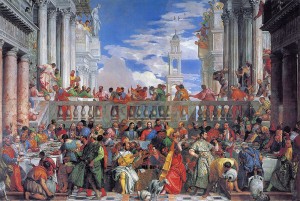 (click on the picture to be taken directly to the Wikipedia site containing a much larger file, which also gives you the ability to zoom in close on different parts of the painting).
There is an unofficial and no doubt surreptitiously shot video of the piece online to be found here; the quality is not great of course, but it gave me a little sense of what Greenaway is trying to accomplish. Better still, Roberta Smith has written a lengthy article on Greenaway's Venice installation for the NYT today; it contains a great full-color installation shot which I'm too chicken to lift and post here. And Wired U.K. posted a brief, tech-oriented interview with Greenaway about the project last week.
I'd like to make a special request to any of you out there who went or are planning to go to Venice, saw this installation, and would care to comment on it, good or bad. Make me jealous: tell me all about the piece. What was it like? Did you think it worked? Was it smart or silly, and/or did you enjoy it?
Thanks.
We thought we would try something new on the weekends. No reviews or commentary just some pictures of some of the openings we went to this weekend. Enjoy.
June 19th, 2009 – August 20th, 2009
325 West Huron
Chicago, IL 60610
For more info check out their site.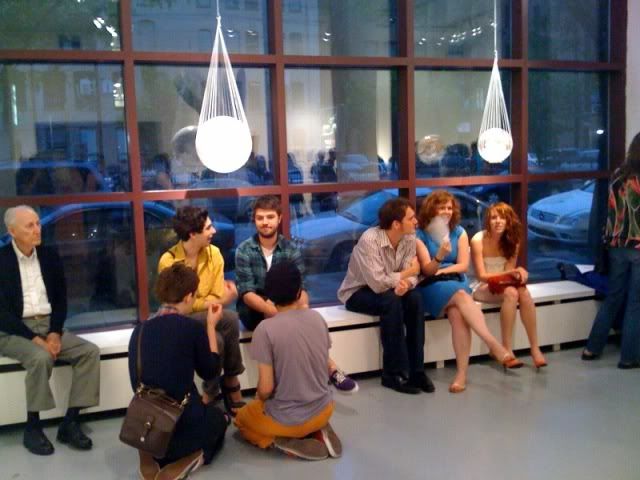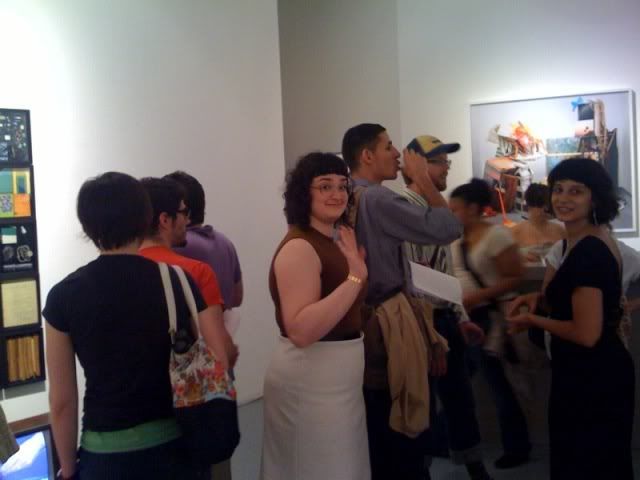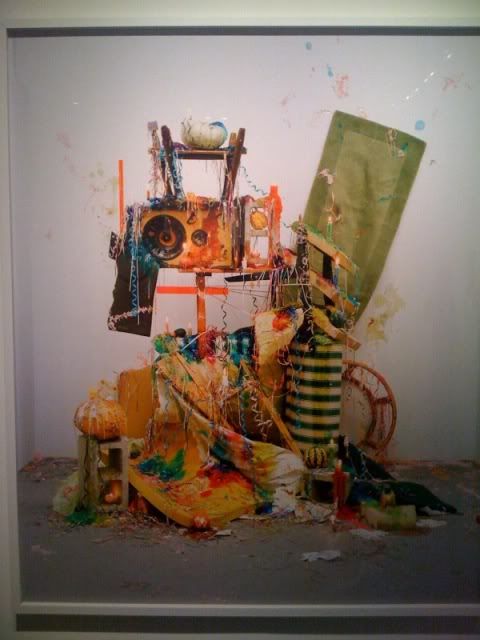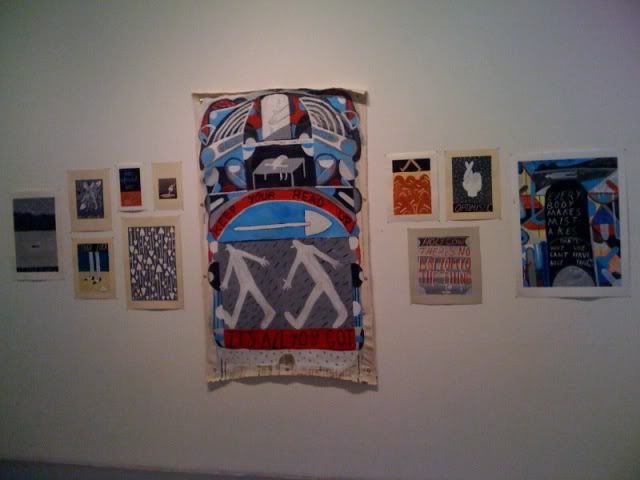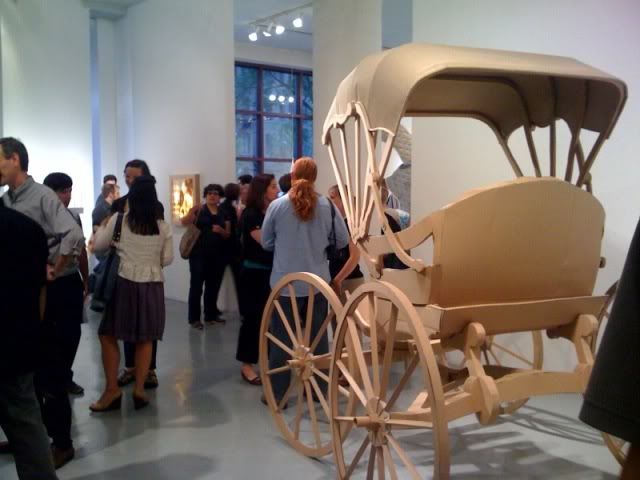 Artist Run Chicago is up until July 5th.
Hyde Park Art Center
5020 S. Cornell Avenue
Chicago, IL 60615
For more info check out their site.
June 19 – August 2, 2009
816 W. Newport Chicago, IL 60657
For more info check out their site.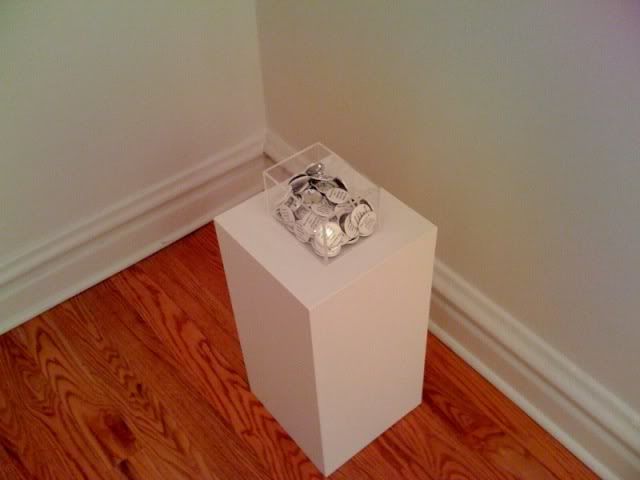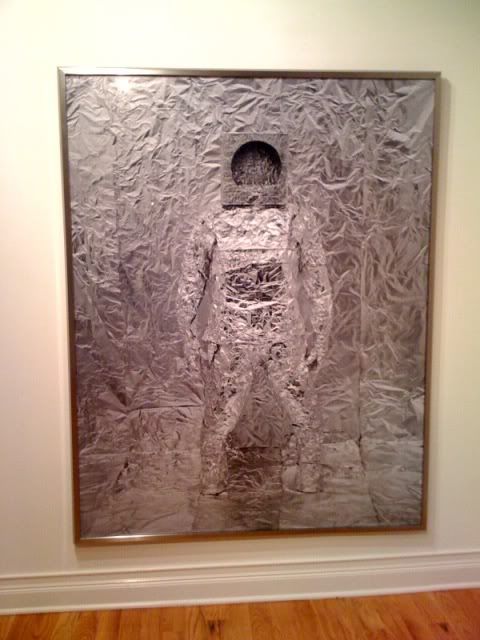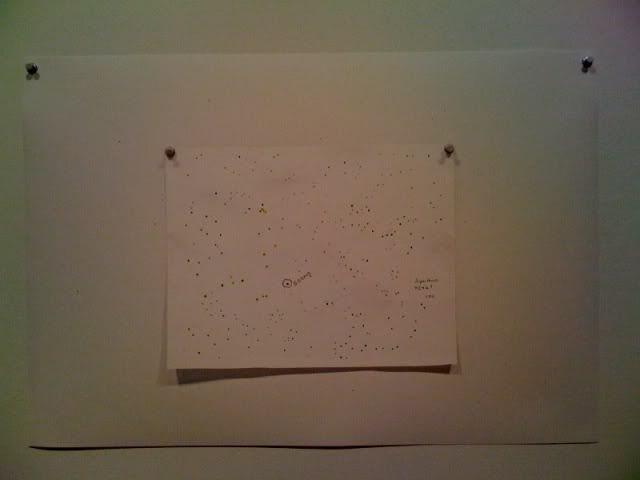 Twitter's getting all the type re: the Iranian election and its aftermath, but this nicely done (if substantively slight) little video (via Beautiful/Decay) produced by the Vancouver Film School makes a case for the role that blogs and bloggers have played in Iranian political dissent. Did you know that Iran is the third largest country of bloggers?
Iran: A nation of bloggers from Mr.Aaron on Vimeo.
UPDATE: Just saw this via Hrag Vartanian: Interactive Persian Blogosphere Map. It that shows the different types of bloggers active in Iran and the relationships bewteen them. You can zoom in and click on different sections (poetry, reformer, secular, or cyber-shia, among others) and it will take you directly to an example of that type of blog.