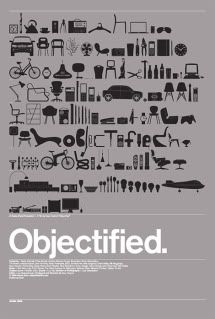 Last Saturday Lauren and I checked out Gary Hustwit's latest film Objectified at the Gene Siskel Film Center. I have to be honest, I loved Hustwit's previous documentary Helvetica, so I was really excited to see a new design documentary. The film asks the viewer to not only confront the idea that all of the objects we encounter in our day to day lives are designed but also who designed these objects. The all star  cast includes Chris Bangle, Davin Stowell, Dan Formosa , Dieter Rams, Nato Fukusawa, Jonathan Ive, Mac Newson, Rob Walker, and the entertaining Karim Rashid.
I enjoyed Dieter Rams', the former design director for Braun, list of what makes a good design. In essence , he believes a good design requires the least amount of designing. He names apple as one of the companies with the best design. As much as I enjoy apple products I wish the film felt less like an apple ad and investigated some more aspects of their designs. Like why are their computers designed in a way that makes them difficult to take apart and reassemble without destroying?
I felt like the movie was really easy to consume. Everything is very agreeable, even the geek chic soundtrack. I wished they went a little more into the topic of consumerism, though. In the end all of the designers are designing for a pay check, and this was touched upon, but I wanted to see a bit more of the marketing of goods that most people already own.
John Mahoney, summed up Hustwit's strengths in his post on Gizmodo, saying "But what's great (and where Helvetica also ruled) is that Hustwit is a master interviewer. He gets his subjects to speak about what can be a jargon and marketing-voodoo laden industry with total clarity and comfort that folks that didn't go to design school can comprehend freely. Ive, holding up the single aluminum block from which a unibody MacBook is hewn while trying to control his massive biceps, speaks about how designers are ultimately obsessive, borderline neurotic people. He can't look at an object anywhere without seeing the multiple layers of intent involved-who designed it, who it's designed for, what it does well. To Ive, it's an illness."

When Lauren and I walked out of the theater we both questioned what Hustwit would come up with next. According to the documentary blog, Hustwit has said that this film is in fact the second part of to a "design trilogy". I am excited to see what he has in store next, but doubt it could top Helvetica.
Check out Hustwit's twitter page to see where the film will be screening.
Objectified will be playing at the Gene Siskel at the Following times. For more info check out their website.
June 5–11
Fri. and Mon.-Thu. at 6:00 pm, 7:30 pm, and 9:00 pm;
Sat. at 3:00 pm, 4:30 pm, 6:00 pm, 7:30 pm, and 9:00 pm;
Sun. at 3:00 pm, 4:30 pm, and 6:00 pm
I am in Denver at the moment watching my sister box in the US National Championships.  I am heading over to the MCA Denver to check out their Damien Hirst and Anthony Goicolea shows. For Tuesaday's pick I chose Anthony Goicolea's Act of Contrition.
Hey all, BaS's own Kathryn Born's new blog for Chicago Now is up and running! Called Art Talk Chicago, it features reviews, gallery spotlights, friendly commentary on art in Chicago and guest posts by great Chicago arts writers like Paul Klein, who's posting a series on important Chicago artists who aren't exhibiting in galleries here, artist Dawoud Bey writing on government support for the arts, artist and Chicago State University's exhibitions curator Joyce Owens and Stephanie Burke (who's writing for us, too!). Stephanie also compiled two fabulous Google maps of Chicago's commercial and alternative art spaces for the site (just when I think I'm starting to get a handle on them, I see maps like these and realize I've barely scratched the surface).
Yay People! If you haven't already, go on over and check it out.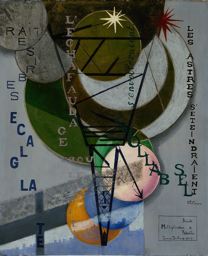 How much does gender equality matter when it comes to museum permanent collections? How much is 'good enough'?
I've been mulling these and other questions over the past week while following the discussion that's been taking place on Jerry Saltz's Facebook page and on a few art blogs that posted in response.
On Facebook, Saltz charged The Museum of Modern Art (MoMA) with practicing a form of "gender-based apartheid," based on the paucity of work by women artists hanging on the walls of the 4th and 5th floors of the Museum (the pre-1970 galleries). Here's what he wrote:
Of the 383 works currently installed on the 4th and 5th floors of the permanent collection, only 19 are by women; that's 4%. There are 135 different artists installed on these floors; only nine of them are women; that's 6%. MoMA is telling a story of modernism that only it believes. MoMA has declared itself a hostile witness. Why?
The subsequent discussions that take place in the comments are really interesting and if you aren't already aware of this whole brouhaha and want to be, I recommend you skim through it all and join in.
I have to admit I have mixed responses to the issue, as a post-post feminist or whatever the hell it is that I am. I think what I am, actually, is the lazy type of feminist who never thinks to count how many works by women artists are hanging on the walls of the museum shows I attend, including during my first visit to the Art Institute's Modern Wing.  So last week I went back again to take another look, and to get better sense of how the Modern Wing stacks up when it comes to issues of gender representation. (Note that due to lack of time I didn't take account of the work in the Architecture and Design galleries).
On the third floor containing the European and Modern Art galleries, I counted just four works by the following female artists: Maria Elena Vieira da Silva, Suzanne Duchamp, Nathalija Gontcharova and Leonora Carrington. On the 2nd floor gallery featuring Contemporary Art from 1945-1960 there was Joan Mitchell's gorgeous City Landscape from 1955.
(So-called Modern works by women in the Modern Wing are kind of tricky to account for, because the period is divided multiple ways, between works exhibited in the Modern Wing and those installed in the American galleries in the main building, where, for example, a number of works by Georgia O'Keeffe are installed).
Unless I missed it, no female artist has been given monographic (i.e. dedicated gallery or grouping) treatment in the Modern Wing in the way that Robert Ryman, Bruce Nauman, Robert Gober, Kerry James Marshall, Mel Bochner, Constantin Brancusi and several others have. The closest was Eva Hesse sharing a gallery with Richard Serra in the Contemporary galleries (There are two sculptures and a drawing by Hesse here).
Women fare better on the post-1960, Contemporary side of things, as would be expected.  Works by Mary Heilman, Ellen Gallagher, Sherrie Levine, Marlene Dumas, Cindy Sherman, Sue Williams, Cady Noland and Barbara Kruger hang in proximity to one another. In a gallery of contemporary paintings, there's one work each by Margherita Manzelli and Lisa Yuskavage. Elsewhere in the Contemporary galleries, there's a Vija Celmins near Sylvia Plimack Mangold's In Memory of My Father, an Agnes Martin and a Hanne Darboven (I actually missed the Darboven myself, but Lisa Dorrin mentioned it in the podcast and its listed as being on view on the AIC's collections page).
The first floor photography gallery has another largish cluster of female artists, including works by Jeanne Dunning, Barbara Kruger, Liz Deschenes (2 works, including one that's part of Gaylen Gerber's piece), Rineke Dijkstra, Zoe Leonard, Diane Arbus, and Patty Carroll (also part of Gerber's piece).
That's my tally of female artists currently on view the Modern Wing. (Though I tried to be meticulous, I might have missed one or two works–please let me know if I did). So, you know, overall not great, but not completely dismal either. Their representation of women artists in the pre-1960 Modern & European gallery needs beefing up, but the great thing about permanent collection hangings is that they can always be altered and revised, along with the stories they tell.
But the question that's really on my mind is this one: how much is "good enough?" Do male/female ratios always need to be close to 50/50 to get it right, or can the impact of female artists be measured in other ways, for example in the space and overall presence a female artist's work is given in a gallery installation (a la the juxtaposition of Hesse and Serra)?
I'm curious about what readers here think about "the female issue" when it comes to permanent collections, in Chicago particularly. I'm especially interested in what female art students (if there are any reading this) may have to say – are you thinking about male/female ratios when you cruise the Modern Wing?  Does it bother you that so few women appear in the pre-1960s galleries, or do you derive satisfaction from their collection in other ways?
Feel free to discuss your experiences at the MCA as well.
**Above image credit: Suzanne Duchamp, Broken and Restored Multiplication, 1918-19. Art Institute of Chicago.