Last week I read an interview with  Marina Abramović in Art Review and ended up spending my lunch hour watching some interviews and old performances of hers. This weeks pick is actually two different videos. The first is TateShots interview with Abramović. If your not familiar with the TateShots you should definently check them out.  The second video is "Rythm 10" (1973). This is probably not for the squeamish.
Jesus, I had to check the spelling of that last word like, four times. Those of you who enjoyed Duncan's conversation with James Elkins about the art Ph.D. a few weeks back might want to check out The Drawing Center Executive Editor Jonathan T. D. Neil's post today over at Artworld Salon: "What's wrong with "professionalization"?:
"What, I have to ask, is wrong with professionalization? What are we really criticizing when we deride the graduates of MFA and PhD programs for nothing more than simply having done what one would expect them to do, which is to go and learn about the enterprise in which they are interested? I suspect that lurking behind such statements lies a romanticized and outmoded notion of the artistic subject—which is to say, of the kind of subjectivity (autodidactic, at odds with decorum and the status quo, sometimes tortured, often difficult, always independent—i.e. an ideal of bourgeois bohemianism) that continues to cling to the definition of the "artist" today like some itchy fungus."
Interestingly, Neil's arguments in this post aren't nearly as nuanced and informed as were those that took place over here on the same subject, but I think he does usefully remind his readers that there's a difference (or at least, there should be) between 'academicization' and 'professionalization' when it comes to the pursuit of higher education among artists.
Just doing my part to spread the word around….
From the Pilsen Open Studios website:
18th St. Pilsen Open Studios Fundraiser/Silent Auction
Thursday June 18 from 6pm to 9:30pm


NATIONAL MUSEUM OF MEXICAN ART
1852 W. 19th Street

Tickets are available at the door or email colibri_alsina@yahoo.com
18th St. Pilsen Open Studios is an artist run art walk that takes place during the third weekend in October to celebrate Chicago Artist Month. For the last 5 years artists, galleries, spaces and cafes open their doors during special hours. Over 30 spaces, 60+ artists from Western Ave. to May St. and from 16th St. to 24th St.

We are happy to announce our fundraiser, Thursday, June 18, 2009 at the National Mexican Museum of Art, starting at 6 pm to 9:30 pm. There will be a silent and live auction with great artists donating their work who come from different parts of the world: United States, Mexico, Venezuela, Honduras, Brazil, Colombia, Panama, Puerto Rico and reside in the Pilsen area, or are invited to participate. This year we are featuring outstanding artists in the community who deserve recognition for their dedication, these are John Pitt Weber, Hector Duarte and Diana Solis. Other artists participating are: Robert Valadez, Salvador Jimenez, Alejandro Jimenez, Gabriel Villa, Angel Silva, Diana Solis, Jeff Abbey Maldonado, Guillermo Delgado, Magda Dejose, Patricia Peixoto, Roberto Ferreyra, Cesar Casas, Mark Nelson, Montserrat Alsina, Hector Duarte, Omar Valencia, Miguel Cortez, John Pitman Weber, Alejandro Romero, Eufemio Pulido, Alexy Garza, Victoria Cervantes, Pablo Serrano, Mariko Ventura, Miguel Angel Ramirez, Mario Jimenez, Expresiones-Artisticas and many more talented artists.

Foods and drinks provided by Mundial, Jumping Bean, Café Mestizo, Chef Victor Arrellano, La fogata, Chicago Mex Grill and other local cafes and restaurants.

Entertainment by:
Special preview presentation by Nina Yharid, performing artist visiting from Mexico, Pros Arts, Tarima Son and other surprising short performances throghout the night.

Ticket prices are:
$25 for adults
$40 per couple
$15 seniors/students
kids 12 and under: FREE
Hmm, this is an unexpected pairing. Matthew Barney and Elizabeth Peyton are collaborating on "Blood of Two," an installation to inaugurate the Deste Foundation's new location on the Greek island of Hydra.  It has its opening tomorrow. From the Deste website:
"Matthew Barney and Elizabeth Peyton will present a site–specific installation for the inaugural exhibition held in the island's slaughterhouse, a mysterious yet evocative location which will work as the new project space of the DESTE Foundation. The components of the installation will be realized together on-site and will be exhibited afterwards as one work. The exhibition marks the first occasion in which Barney or Peyton have collaborated.
Details of the project are being kept completely under wraps until the unveiling/opening, which of course is the exact right type of button to push with me — now I can't wait to see pictures of it, which is all I'll be able to get since my summer plans this year unfortunately don't include a trip to Greece. Here's the one picture that's been released: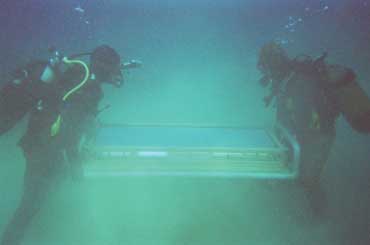 Oh wait–now, if I was a Cremaster Fanatic, perhaps I would have known that Peyton and Barney are friends. So maybe this pairing is not so unlikely after all? (Actually, I AM a big fan of Barney's Cremaster cycle, just not a "fanatic.")
The City Museum and Art Gallery in Bristol has been taken over for an exhibition by home-grown graffiti artist Banksy. More photos can be seen here