Before I moved to Chicago and before I became an intern at BAS I was an intern at the Los Angles based Gallery
Sixspcae
. Sixspace had made its roots in Chicago and was run by
Caryn Coleman
and
Sean Bonner
. One summer I had a chance to help out on an
Invader
show titled
RUBIKCUBISM
. After watching this video it made me reminisce my gallery attendent days in LA at their awesome gallery. I do not miss helping construct one of these pieces. I not only destroyed 20 Rubik's cubes but also glued my hands together.
I had the opportunity for a brief (and I mean super quick) walk through with co-curator Rachel Kalom of this show this past week. It opens tonight, and it is definitely worth checking out. I harassed Rachel with some questions about co-curating a show, and will share those answers and some pics from the opening later this weekend. From the press release:
Zolla Lieberman Gallery proudly presents a group exhibition addressing art making in an era of tightened belts and pinched pennies. Curated by Brian Gillham and Rachel Kalom and with works by Sarah & Joseph Belknap, Tom Berenz, Michael Cheatwood, Garrett Durant, Lucia Fabio & Robert Andrew Mueller, Shannon Goff, Nadia Hotait, Natalia Ivancevich, Sam Jaffe, Mark Khaisman, Austin Knierim, Jessica Labatte, Jesus Mejia, Phillip Orr, Vijay V. Paniker, Miriam Slager, Deb Sokolow, Katherine Webb and Jake Wells.
Opening reception: Friday, June 19th, 5-9pm
Zolla/Lieberman Gallery
325 W Huron
Chicago, IL 60654
www.zollaliebermangallery.com
zollalieberman@sbcglobal.net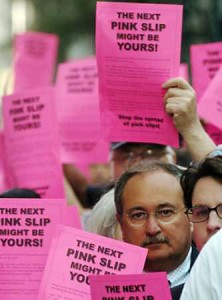 We just heard that The Art Institute of Chicago has laid of a good many of it's employees today and there will be a town-hall tomorrow where other cost saving measures will be announced.
To those who lost their jobs today, be sure to thank Alderman Burke…..
Office: 773-471-1414
eburke@cityofchicago.org
On behalf of everyone at Bad at Sports we know very well what this is like and hope everyone lands on their feet as quickly as this economy will allow.
This months edition of Artforum's 500 words comes from performance artist Kalup Linzy. The write up is totally worth checking out. I just spent the past hour or so watching Linzy's videos on Youtube, really entertaining.
"I SHOT TWO MUSIC VIDEOS FOR PROENZA SCHOULER, basically responding to the clothes, and we're doing a photo shoot. This is my first time working with high fashion. I've been researching photographs and looking at models; it's all pretty edgy, so I don't think the relationship between my work and Proenza Schouler is as distant as I originally thought. I've seen some pretty wild, risqué stuff in fashion photography. Now the question is: How can my work flow and meld into that?
I wasn't planning to shoot as many videos as I shot for my first album, SweetBerry Sonnet. I was more interested in developing a live performance, but when Proenza Schouler came to me and asked me if I wanted to collaborate, the idea for the videos just came to me."
Read the entire article here.
Make sure to check out Linzy's Youtube page.
Linzy also has a documentary that will focus on his participation in Prospect 1.
The L.A. Times' Christopher Knight reviews "Sight Unseen," an exhibition of photographs taken by legally blind photographers which is currently on view at UCR/California Museum of Photography. An excerpt from Knight's review:
"For making art, blind artists face a special conundrum with camera-work. Photography is an artistic medium that is without tactile surface properties. Mexican photographer Nigenda highlights the dilemma by punching descriptive text into his photographs of a nude woman with a Braille writer, colliding a textual code with a visual one. Some can "see" one, the other or both.

But the medium is also one whose most fundamental property is light. (As explained by William Henry Fox Talbot and Sir John F.W. Herschel, two of photography's 19th century inventors, the basic task of a photographer is "to arrest the action of light.") Blindness is an impairment of light perception, which several of these artists address by employing light-emitting devices, such as flashlights or copy machines..

Blind, of course, is also a word regularly used to signify a lack of knowledge. "Sight Unseen" is most successful in undercutting that notion. The show proposes that these photographs be considered more akin to Conceptual art than to traditional camera-work."
Although Knight's review is mixed (read the full piece here), do make sure to check out the exhibition's website (it won't let me link directly so just do the usual clicking to find it), which contains images, recorded commentary and essays for those who can't make it to the exhibition in person. Also note that I narrowly avoided making a really unfortunate pun just now.