I don't know why but I seriously can not stop laughing at this. Skip ahead to 1:25
I was leafing through my alma mater's quarterly magazine over the weekend and, while intending to flip straight through to the Class Notes and Obits like I usually do, I found myself absorbed instead by a fascinating profile of Pomona College Assistant Professor (and Northwestern University grad) Sarah Sood, a computer scientist whose research focuses on the emotional content of the blogosphere.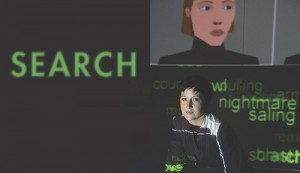 Sood is interested in connecting people via the stories they tell. For the past six years, she's been designing programs that enable computers to identify the emotional components of blog-based narratives. The results thus far have produced Buzz, a search and retrieval system that mines blogs for interesting and emotionally compelling stories.
If you're a Chicagoan, you may very well have seen Sood's work in 2005 when for a period of one year Buzz was displayed in the lobby of the Second City Theater. Taking the form of a multi-media theatrical installation, it presented four talking-head avatars, each of whom related stories derived from Sood's research. A description of the project can be found on Northwestern University's Infolab website, excerpted below:
"Buzz is a multimedia installation that exposes the buzz generated by blogs. Buzz finds the blogs which are compelling; those where someone is laying their feelings on the table, exposing a dream or a nightmare that they had, making a confession or apology to a close friend, or regretting an argument that they had with their mother or spouse. It embodies the blogger with virtual actors who externalize these monologues by reading them aloud."
Click the image below to be taken to a demonstration clip from the installation: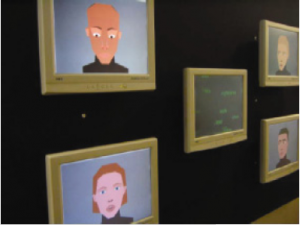 Sood also used the Buzz retrieval system to explore emotional reactions to Chicago landmarks (click here for demo):
While installations like Buzz provide entertaining diversions, Sood's next project promises to be far more rich in its possibilities. She is developing an "emotional-state search engine" that will seek out web content driven by one of six emotions: happiness, fear, sadness, surprise, disgust and anger. Writer Lori Kido Lopez, who authored the aforementioned profile of Sood, points out that the Buzz-based emotional search engine "is vastly different from a typical search engine." Lopez explains,
"If you put the words "happy" and "Obama" into Google, the sites that pop up include information about Obama's White House happy hours and a mix tape called "Obama's Happy Ending"-neither of which have distinct emotional content. Sood's goal is to be able to search for content about "Obama" but also to be able to specify that the stories are emotionally "happy"-and actually be able to come up with a list of articles where the writer is feeling joyous about the topic of Obama. These stories might include topics like the euphoria and love surrounding Obama's family, or excitement toward his message of change."
Sood hopes to have the website ready for public use by the end of this summer. I'm already thinking of emotional buzzwords and topics to pair them with…the possibilities are endless.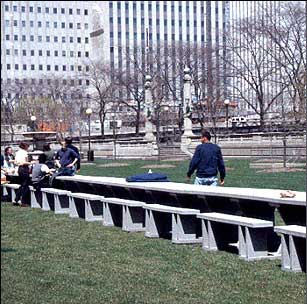 Chicago artist Dan Peterman's Running Table begins installation in Millennium Park's Chase Promenade today, and will be ready by Thursday, July 2nd, just in time for the Park's Independence Day picnic and musical festivities. The Table will be available for public use for the rest of the Park's 2009 summer season.
The one hundred foot long picnic table was first installed in 1997 in Grant Park.
Made from "the equivalent of two million recycled milk bottles," Peterman's table emphasizes the communal aspects of park experiences and public space in general.
Laurie Palmer described Peterman's Table in a 1997 issue of Frieze:
"On close inspection, the surface of the table is rough to the touch, chaotic and unfamiliar – the swirls and strings of re-melted plastic asserting themselves. Stepping back, you can see subtle undulations in the extruded panelling: unlike wood, once-again plastic remains supple – as thick as you make it, it will still want to sag. Like other works by Peterman made of recycled plastic and suggesting infinite progression, the table is of modular construction so that, by implication, it could keep going for as long as there is space to accommodate it. Supply of materials is not a problem, since what the table is in part designed to be used for – consumption – provides the raw material for its continual extension. Here, the modular form is interlocking, so that the table can't be broken up into separate tables of reasonable size-if you took it apart, you'd have slivers of tables, like puzzle pieces, a design feature that ensures the integrity of the idea. (The bench components, however, built into the overall design, are discrete, to allow for swinging the legs around, and some semblance perhaps of smaller groupings within the collective whole)."
You can read the full text of the Frieze article here, and more about Peterman's work and the Running Table here.
If you're a fan of The Museum of Jurassic Technology in Los Angeles, you should definitely visit the website for the Museum in a Shoebox.
Located at 15 Old Street in Old Town, the Museum in a Shoebox currently features Polaroids from the Sky: Clouds through the Ages, described as a major exhibition presenting the science and history of the skies. From the Museum's website:
"The exhibition also shows how skies have been depicted in art and literature. There are a lot of old paintings with golden frames on display. For over a year, the Museum has collected random polaroids picturing the sky. So far, the collection consists of more than 16 000 polaroids, which are all on display in the great exhibition hall."
Concurrently, the Museum is presenting Cardboard Seasons by Japanese animation artist Satoshi Nakashima, who creates two dimensional landscapes out of discarded cardboard. Prior to this, the Museum featured the popup architectural miniatures of artist Johanna Bruce.
Founded/created by the Swedish architect and artist Kristina Dalberg, the Museum in a Shoebox, its website notes, "is a museum of contemporary art, architecture and design. It presents both real and imaginary works by real and imaginary artists, thus blurring the line between fact and fiction."
Indeed, the Shoebox is just like most other museums–better, even. Designed by architect Aleksandr Kuznetsov (see what you come up with when you Google his name), the Museum has a gift shop, a restaurant, a large exhibition space and the gallery in a shoebox (a "smaller gallery for small exhibitions") plus a theater, a library, an auditorium and 10 seminar rooms.
The Museum in a Shoebox had its grand opening last month, with 5000 people in attendance. Cupcakes were served.
You can also check out the Museum in Shoebox on Facebook here. (Via Dezeen).
Man, this week sort of sucked. Not only did Farrah Fawcett and Michael Jackson die in the same day but there were layoffs in multiple museums and Kodak's Kodachrome was discontinued. Bummer. This weekend however is Pride weekend in Chicago so if you want to see what we at Bad at Sports do best, grab a drink with me in boystown. Let it be known that no one better fall off a float this year.
Have a good weekend everyone!