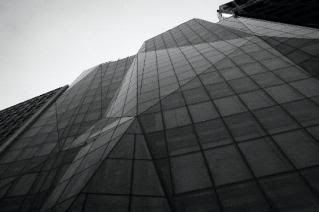 Yesterday we all saw the gossip on Proximity's blog about the laying off of almost all full time employees at The Spertus Institute of Jewish Studies. Time Out Chicago got on the case and spoke with Spertus spokeswoman Susan Baum about the rumors.
"…When asked about staff reductions, Baum would only say, 'There have been some changes made." She referred me to incoming Spertus president and CEO Hal M. Lewis, with whom I hope to speak later today.
Baum acknowledged, however, that in September, after the museum's current exhibition 'A Force for Change: African American Art and the Julius Rosenwald Fund' closes, the Spertus will only be open 'every other Sunday' and during special events. The museum may also be open one night each week and by appointment only, she adds, explaining that the schedule isn't fully set yet. (According to a statement on the Spertus' website, the museum will be open the second Thursday evening of each month.)…"
Read the entire article here.
I met Rachel Kalom at a queer book group that met at a bar. Not a ton of book-discussing went on, but we did manage to get drunk at 3pm one Sunday every month. When she told me that she was co-curating a show with her coworker Brian Gillham, I was really excited to see her take on the fancy shmancy space that is the Zolla/Lieberman Gallery.
I was relieved to see a show about the recession without a dollar sign or Wall Street reference. Instead was work that was clearly created in a time where money and labor and the global economy were being examined on the daily, or work that was complicated by the current economic climate.
The first piece you confront when you walk into the space is "Horse Drawn" by Shannon Goff, a life-size carriage a la Cinderella constructed completely out of cardboard. This piece, along with others like Vijay J. Paniker's ceramic works of to scale everyday objects (boots, paint cans, cheese whiz) and Katherine Webb's hand stitched portraits, all utilize a practice that is both labor intensive and skill based, and the resulting work is very easy on the eyes. I liked the almost optimistic feeling from these works; the confrontation between the acknowledgement of the intense amount of labor required and the ease of pure visual enjoyment. These pieces made me consider how I might not (well, I don't) look at a car and consider the labor involved the construction of it, but when I am in the space with a carriage made out of segments of cardboard by one person, I do consider the labor involved. I also was really into the different facets of "labor" examined. Webb's work focuses on her children and domestic spaces, and this executed in hand stitching brings to question women's work, and the artists role in her own home. Paniker's pieces could be mistaken for the actual things they represent, and exhibit skilled craftsmanship. Goff's carriage turns the artist into machine constructing fairy tale imagery.
It was nice to see work that was created before the shit hit the economic fan that was rendered more compelling in a context other than in which it was created. Tom Berenz's paintings of disaster imagery ("Flooded GM Dealership (Midwest Flood)" and " Dead S.U.V (Midwest Flood)") are given an even more somber tone post-bailout.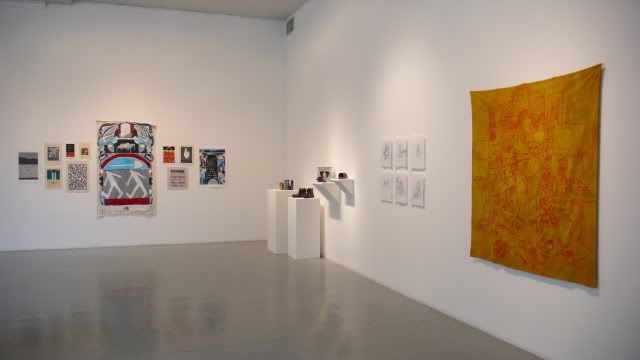 I think that this show was a successful balance of politics and aesthetic, inferred significance and cultural commentary. There was a rich visual texture of photography, video, painting, installation and sculpture. Thankfully every piece did not scream RECESSION DAMMIT but there was a delicate common thread throughout the entire show that made every piece seem to fit and add to the common and timely discussion.
I asked Rachel some questions about her experience with this show…

How did you come to curate this show?
I've been the gallery manager at Zolla/Lieberman for three years, and the owner of the gallery, William Lieberman, offered my co-worker Brian and I the opportunity last fall. We were given free reign to select the theme and artists and to co-ordinate all aspects of the show.

Can you tell me about the evolution of this show from the very beginning?
Early in the process we attended different open studios and exhibitions, and there were quite a few artists who stood out, but we were not certain of the connecting theme at that point. It wasn't until the spring that we developed the theme of the show. It occurred to me that the recession had become an elephant in the room during every conversation about the art world, and that we had an opportunity to examine that, even to celebrate it, rather than sweep it under the rug.
Are you more interested in the work created during this economic hard time or how the context of some of the pieces has shifted because of this?
I think these artists are each handling the concept of recession in different ways, and that variety is really compelling. Some are continuing their previous practices with a newly enriched sensibility (Shannon Goff and Deb Sokolow, for example) while others are recent art school graduates who have 'come of age' and developed their vision in the midst of a huge social shift (like Garrett Durant). I enjoy that there are differences in the way the recession theme applies to each artist's work, but that it is so consistently evident throughout the exhibition.
What is the most difficult thing about curating a show with so many artists?
Having seen the work in separate spaces, and in some cases only over email, it was a leap of faith that everything would work well together and in the physical space of the gallery. While we did a great amount of planning the placement of the show, a lot of that changed once we had the artwork and began installation. But it's a type of puzzle, and placing the show to maximize each piece of artwork was also one of the best aspects of the project. We have also used the gallery's space in a way that is very different from some of our more traditional exhibitions, and breaking out of seeing the space in that way was liberating.
What is the artist's role in the current economic situation?
I think these artists have embraced the limitations of the current economic situation, and that their works present cheerful possibilities for recession-era art making. In the bigger picture, I see their work reflecting the enthusiasm shown by many for taking up a simplified lifestyle.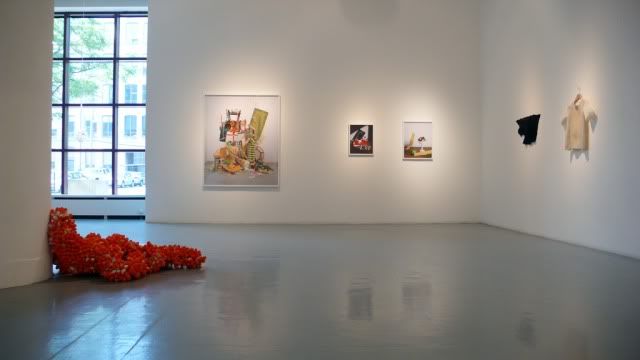 The show will be up until August 20th at Zolla/Lieberman, 325 West Huron – Chicago, IL 60610.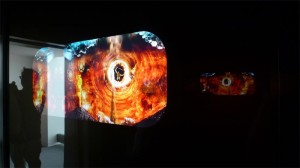 I wanted to post about Marco Brambilla's elevator installation at The Standard hotel in NYC a couple of weeks ago, but all the YouTube links looked super-crappy and stuttery on my relatively old iBook G4. A few days ago Lynn Becker of ArchitectureChicago Plus posted a link to Motionographer, which has a large-scale, gorgeous, smooth-running version of the video on its site. So on the off chance some of you might not have seen Becker's post (or visited her fantastic blog, which is a daily read for me), I'm posting the link again here (it can't be embedded, so click on the Motionographer link above).
Brambilla's installation consists of footage sampled from hundreds of mainstream and avant-garde films and assembled into a vertical photomontage representing a journey through Hell, Purgatory and Heaven viewed while hotel guests travel up and down the elevator. Read more about it, and see the piece itself, on the Motionographer website. It's pretty incredible.
Thanks again ArchitectureChicago!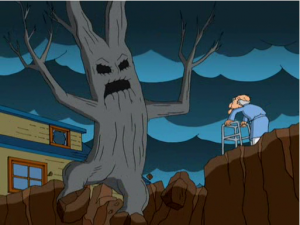 I'm overheated, sticky, and mega-crabby today, and what's more, a big goddamned tree just fell on my house. So here's the list, short and sweet:
*Jackson Pollock/Lee Krasner papers now available online at the Smithsonian
(via Two Coats of Paint).
*Nicola Twilley on The Tree Museum along a four-mile-long boulevard that connects Manhattan to the Northern Bronx parks (BLDGBLOG).
*A.K. Collings aka Neurartic doesn't like Daniel Liebskin's Villa (not quite on the level of a rant, but close).
*Tomorrow Museum on why teenagers read better than you do.
*Los Angeles County Museum of Fire reviews Larry Johnson at the Hammer Museum.
*Buffy vs. Twilight fem-crit mashup (via wired U.K.).
*Arts institutions call for slow-down on bill that would regulate deaccession practices (New York Times).
*Charlie Finch asks collectors to step forward and "Obamaize" the Art World (Artnet)–comments are closed on that post, but Edward Winkleman has discretely brought it up on his own blog — and invites you to comment there.
*Is America producing a new breed of digital Socialism? (Wired U.K.).
*Best of luck, friend: Barney Frank files bill to Federally decriminalize pot (via Richard Metzger); if you agree, show your support for Frank's bill here.
This week, Jana Leo's Rape New York, subtitled An Open Archive, went on view at Invisible Exports in New York City. The exhibition consists of boxes of photographs, documents, transcripts and other material relating to the artists' rape seven years ago.
The gallery's press release describes the project as follows:
The documents assembled here, seven years in the making, accompany the release of (Leo's) book RAPE NEW YORK. The archive consists of photographs from her emergency visit to the hospital, police reports, crime scene photographs, notes from her therapist, as well as records from the civil suit and other assorted items and documents related to the rape and the legal case that followed, none of which can be reproduced, or even reviewed without the victims' consent. The documents are kept in organized boxes to be retrieved by the archivist, not displayed on the gallery walls. The archive is not presented to the visitor; instead, each guest must fully identify oneself (photo ID is required), and request materials from the archivist. This way, the visitor takes responsibility for what's requested, making private again what was made public by Leo-the latest revolution in a cycle of public and private that began with the rape itself.
The outlines of Leo's project recalls that of a number of 1970's era feminist works dealing with traumatic exposure–Yoko Ono's Cut Piece (link is to a video of the performance) and 1968 film Rape come foremost to mind–but the heart of Leo's piece seems to lie within the viewer's decision to take responsibility, in a public way, for looking at material that is private in the deepest sense of the word. Does the artist's complicity in the exposure negate its voyeuristic qualities? Does the decision to study Leo's rape archives signal compassion, curiosity, or cruelty on the part of individual viewers? Perhaps, a bit of all three.
Lately I've been mulling over a bunch of questions that essentially revolve around blogging and personal responsibility. Yesterday I came across mention of Leo's show in a brief blurb on one of the art news blogs. I initially decided not to reblog the item, because there was only minimal information about the show itself. It felt sensationalistic, somehow, to just shoot the item out there once again without providing any further context. As coincidence would have it, this morning I randomly came across Caitlin Roper's lengthy and fascinating interview with Jana Leo on Bomb's blog, which contains a few reproductions of images and documents from the archive. Roper's piece, I think, provides enough background context to give Leo's project meaning even to those who can't see the show in person.
To be honest, I feel somewhat relieved that I don't live in New York and therefore don't have to decide whether or not I want to visit Leo's show and read her archives. I have an easy out, this time. But I did have to make the decision about whether and how I should write about it, particularly in the zippily superficial context of a blog post. So in that sense, I am still a participant in Leo's project, still accountable for my decision to engage it from a distance in the manner that I have.
Here's a last, chilling postscript. Eva Rhodes (nee Eva Majlata), the unnamed woman who was the subject of Ono's aforementioned film Rape, was bludgeoned to death in 2007 by one of her employees, set on fire, and buried not far from an animal sanctuary she had established in Hungary. Sukhdev Sandhu writes movingly about Rhodes' death, and Ono's film, here.