THE ARTWORKS Details from The Internal Slipping Out into the World at Large by Mariele Neudecker and Arrival at 2AM by Lead Pencil Studio (top left, top right); Lequita Faye Melvin by Roy McMakin and Without Room by Lead Pencil Studio (bottom left, bottom right).
The short of it (and trust me this is hard to boil down) is that a art duo out of Seattle by the name Lead Pencil Studio had been accused of "copycatting" other Seattle and International artist's work.
As can be seen in the photos two of their pieces have similar themes and executions. Does this imply intelectual theft, plagiarism, imitation, adaptation, or pastiche. How far can a work go in copying, what is original thought and more importantly (albeit I am sure more inflammatory in art circles to ask) which executed the concept better?
There is an ever increasing news article and discussion on the topic that can be found here what do you think?
A 16th century nude painting of the Roman goddess Venus has been banned from being part of the ad campaign for London's Royal Academy of Arts upcoming exhibition on 16th century German painter and printmaker Lucas Cranach the Elder. Officials are banning it for fear it's "exhibitionist" qualities could cause offense.
The promotional poster which was set to be displayed in the London Underground train system had transportation officials concerned since:
"Millions of people travel on the London Underground each day, and they have no choice but to view whatever adverts are posted there,"
"We have to take into account the full range of travellers [sic British] and endeavour [sic more British] not to cause offence [sic my god can't the British spell in English..... yes I know it's an off colour joke] in the adverts we display."
According to the London Underground, the poster breached its guidelines against ads that depict [Read more]
Mark your calenders cause Anti-Racism day is almost upon us. Well, kind of almost it is on March 21st…. Either way, to mark this UN sanctioned holiday the students of Oak Park High School in Winnipeg, Canada made the following PSA. You can read more here
Lori Waxman sent me a note today saying that I had too check out this blog and post something about it.  She was right.  I love the Sellout Blog.
It is the perfect blend of useful information and random "experience of life in the arts, style life dissections."
Other notable blogosphere art things…
Art Info Updated their site design and have been posting steadily and it is often worth checking out for Museum and blue chip level stuff.
Art Review magazine rebuilt their whole set up to be the most bizarrely exhaustive art site on the interweb.  Part Art Magazine, part Art MySpace, and part open source art blog, it proposes itself as all thing contemporary art.   It might be but it is so big it scares me and I open it an have trouble remembering what I was looking for.
I also have to mention New Art TV which is an all art, web oriented video "channel."  Because who doesn't want to watch Alex Katz talk about his boring paintings. (It is better then the paintings themselves)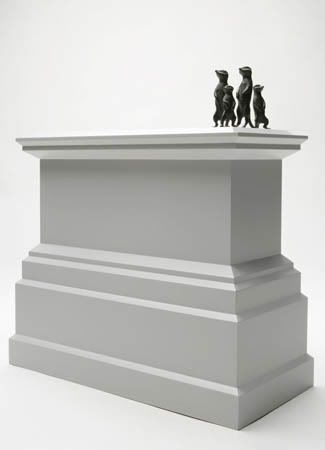 Tracy Emin has been in the news twice this past week. Emin is currently one of six artists being considered for a £300,000 ($436,717.30) commission for the fourth plinth in Trafalgar Square. According to London.gov, "The Fourth Plinth is in the north-west of Trafalgar Square, in central London. Built in 1841, it was originally intended for an equestrian statue but was empty for many years. It is now the location for specially commissioned art works." Emin's proposal is for a small cluster of meerkats standing on one side of the plinth.
Steve Henry, who is the creative director of TBWA, claims that Emin's proposal is totally jocking on an advertisement his company did for E.on which depicts a cluster of meerkats standing on boxes. Emin denies having seen the advertisement: "I haven't been influenced by any advertising campaign in my life. The fact is that I adore meerkats. I have drawings of meerkats from 12 years ago. I'm completely besotted by the creatures. A plinth is not a box … they have to be standing on a plinth as it's in Trafalgar Square."
Other artists being considered are Jeremy Deller, Antony Gormley, Anish Kapoor, Yinka Shonibare, and Bob & Roberta Smith.
In other news Emin will be inaugurating the Tracy Emin Library on February 18th in Uganda. The library will function as a center for adult literacy and computer skills, and will also serve 800 students between the ages of 12 to 18. Emin worked with the charity organization in order to build the library.