The Getty Museum on Fire? Not so far, according to the latest L.A. Times report. Thankfully the Center's evacuation seems to have gone smoothly. Sad to say, but this kind of disaster is a regular occurrence in SoCal, and it's not the first time the Getty's been threatened by advancing flames.  Here's hoping everything's back to "normal" quickly. For the rest of what's been happening so far this week, read on…
*Jason Foumberg of NewCity reports on the cessation of Individual Artist Grants this year, and in forthcoming years, from the Driehouse Foundation.
*Arts Stimulus Funding and the Art Economy: Hrag Vartanian at Art 21 explains it all for you (extremely clearly and well; especially useful for those of us who suck at math).
*In Chicago, interest in building a South Loop art scene is on the rise, but can it really happen in this economy? (Chicagoist).
*Art Baloney (via C-monster); but Regina Hackett's spirited arguments in defense of the much-maligned meat make for a far better read, imho.
*Lynn Becker does it again: my fave architectural blogger gleefully deconstructs the wedding photos of a fab young couple who got married at the Art Institute (Edward Lifson took the gorgeous pics). Edited to add: I only just realized that "Lynn" is a he! Whoops.
*Sequential Chicago: a new website devoted to the Chicago comics scene (via Windy Citizen).
*Chicago artist Todd Chilton interviewed at Neoteric Art (via MW Capacity).
*Artist Stephen J. Shanabroock's chocolate waterboarding sculptures, now on view at Daneyal Mahmood Gallery in New York (via Boing Boing).
*Sarah Jessica Parker talks to Artnet about her partnership with Bravo on The Untitled Artist Project (via Art Fag City, who also has an exclusive interview with the show's casting director Nick Gilhool).
*Gallerist/blogger Edward Winkleman's book "How to Start and Run a Commercial Gallery" to be released July 14th by Allworth Press. Click here to preorder the book on Amazon; Bad at Sports interviews Winkleman about running his own art gallery on Episode 169 of the podcast here.
*Check out the British Council and Whitechapel Art Gallery's The Fifth Curator competition, for aspiring curators outside the U.K.
*Still, I don't have one: app art for the iPhone and ipod Touch (Rhizome Inclusive). Here's what's thought to be the first music video shot on the iPhone.
For crying out loud, can everyone just give poor Jerry Saltz a break and leave the guy alone? How exactly did he become the Christ figure of the art press, the one we look to to Save Us, the guy that's gonna solve everyone's problems, including those of the venerable Museum of Modern Art? From Saltz's perspective, I'd imagine it's all want, want, want, whine, whine, whine, all the time. "Why doesn't Jerry have a blog?" "Why isn't Jerry preaching to the wretched masses outside of his own Church of Facebook? "Why isn't Jerry friending me faster?" (for that one, see comments beneath the post).
Jesus Christ (no pun intended), what if instead of ragging on Jerry, everyone focused on growing the communities they've got on their own blogs, Facebook pages, Twitters etc., and proceed with their own agendas from there?
In other words: ask not what Jerry can do for the art world – ask what *you* can do for *your* art world.
A few weeks ago we learned just how bad the Spertus Museum's dire financial woes are: in September they're cutting their visitor hours waaaaaay back, to just two Sundays a month, and are laying off almost all of their full-time employees.
Yesterday the NEA announced that 63 arts organizations would receive grants under the American Recovery and Reinvestment Act, and Spertus College was on its list, receiving a $50,000 award. The Field Museum, The National Museum of Mexican Art and the John R. and Eleanor R. Mitchell Foundation were also awarded grants.
These grants–totalling $2,925,000 and distributed among 63 museums and other nonprofit arts organizations–are given to "support the preservation of jobs that are threatened by declines in philanthropic and other support during the current economic downturn," according to the NEA website.
See the full list of institutions awarded this grant in FY09 here. The list of Illinois grantees is as follows:
Field Museum of Natural History
Chicago, IL
$50,000
John R. and Eleanor R. Mitchell Foundation
Mt. Vernon, IL
$50,000
National Museum of Mexican Art
Chicago, IL
Spertus College
Chicago, IL
As Lee Rosenbaum has observed on her blog culturegrrl, grants in the $25,000 – $50,000 range aren't enough to save many (really any) full-time jobs, but they do have, as Rosenbaum put it, "the symbolic value of underscoring that arts jobs do have a role to play in the nation's economic recovery."
Let's hope the grant is enough to allow the Spertus to continue some form of programming in the future rather than disappear entirely.
A few months ago on episode 192 of the Podcast, artist and Yale professor Rochelle Feinstein discussed at length a long-term project of hers that at the time had never been shown. Created during the period 2002-2005, this body of work examines (among other things) Michael Jackson as a cultural signifier of failure and redemption.
Feinstein's project did find a home. It's been on view in New York at Art Production Fund's APF Lab space since June 2nd (Jackson died on June 25th) and is titled "I Made a Terrible Mistake," which comes from the statement Jackson made the day after he infamously dangled his baby Blanket out a hotel window as fans cheered below.
The exhibition explores Michael Jackson's mistakes as "allegories of contemporary life, in both public and private orbits." From the APF's website:
When a mistake is acknowledged, an imperceptible process of transformation and redemption begin. Jackson, and this phrase, is one conceptual muse for this project. The other, Barry White, so emphatically unapologetic and generous in his promise of sensual redemption, died in the summer of 2003, while Feinstein was in the Art Production Fund Residency at Giverny. The conceptual collision of these two icons, sited at Monet's Garden, led Feinstein to draw upon this uber-synthetic Eden for the creation of "I Made a Terrible Mistake."
Feinstein's show is up through July 23rd. Be sure to listen to Duncan's in-depth discussion with Feinstein about Michael Jackson, celebrity, mirror balls, failure and redemption and other subjects on the podcast.
Feinstein's work has also been exhibited recently in Oak Park, Illinois at The Suburban; you can read a bit more about Feinstein's APF lab installation at Art in America here.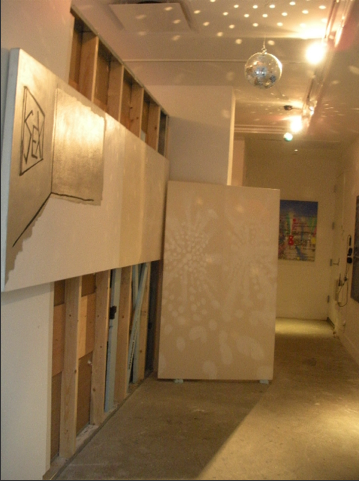 This is a very late video pick this week. I honestly couldn't make up my mind what to post. I watch so many videos a day but I had hoped for the TVP to be artists talking about their work or video art. This week's pick, I'm too sad to tell you (1971), comes from the late Bas Jan Ader.