If you're a fan of The Museum of Jurassic Technology in Los Angeles, you should definitely visit the website for the Museum in a Shoebox.
Located at 15 Old Street in Old Town, the Museum in a Shoebox currently features Polaroids from the Sky: Clouds through the Ages, described as a major exhibition presenting the science and history of the skies. From the Museum's website:
"The exhibition also shows how skies have been depicted in art and literature. There are a lot of old paintings with golden frames on display. For over a year, the Museum has collected random polaroids picturing the sky. So far, the collection consists of more than 16 000 polaroids, which are all on display in the great exhibition hall."
Concurrently, the Museum is presenting Cardboard Seasons by Japanese animation artist Satoshi Nakashima, who creates two dimensional landscapes out of discarded cardboard. Prior to this, the Museum featured the popup architectural miniatures of artist Johanna Bruce.
Founded/created by the Swedish architect and artist Kristina Dalberg, the Museum in a Shoebox, its website notes, "is a museum of contemporary art, architecture and design. It presents both real and imaginary works by real and imaginary artists, thus blurring the line between fact and fiction."
Indeed, the Shoebox is just like most other museums–better, even. Designed by architect Aleksandr Kuznetsov (see what you come up with when you Google his name), the Museum has a gift shop, a restaurant, a large exhibition space and the gallery in a shoebox (a "smaller gallery for small exhibitions") plus a theater, a library, an auditorium and 10 seminar rooms.
The Museum in a Shoebox had its grand opening last month, with 5000 people in attendance. Cupcakes were served.
You can also check out the Museum in Shoebox on Facebook here. (Via Dezeen).
Man, this week sort of sucked. Not only did Farrah Fawcett and Michael Jackson die in the same day but there were layoffs in multiple museums and Kodak's Kodachrome was discontinued. Bummer. This weekend however is Pride weekend in Chicago so if you want to see what we at Bad at Sports do best, grab a drink with me in boystown. Let it be known that no one better fall off a float this year.
Congrats Lumpen! 18 years and counting. Go celebrate at the Co-Prosperity Sphere tonight.
This week saw the Launch of the Guggenheim Forum.
Loyd Dobler vs. The Man. What's going to happen to the apartment scene if this keeps happening?
Glen E Friedman on the death of Kodachrome.

Arturo Herrera on Art21

Two things I love Cats and Documentaries: Cat Ladies (via C-Monster)
Artkrush showed us Kalup Linzy's new video for Proenza Schouler at Pitti W in Florence.
Art 21 announces who will be featured in season 5. Including Jeff Koons,Yinka Shonibare, Cindy Sherman, and Paul McCarthy to name a few.
Found footage of

Vaslav Nijinsky…or not...
Yinka Shonibare's new show opens at the Brooklyn Museum today. The New York time has a feature.

There were rumors over the Spertus laying off the majority of their staff.
Michael Jackson, the art muse.

Snoop Dog paying his respects to Michal Jackson the only way he knows how.
Art Fag City's Best Link Ever is seriously entertaining. I just wasted an hour reading

"Emails from an Asshole."
When Sex Wax met Damien Hirst.  (via The Worlds Best Ever)
The Met laid off 14% of staff instead of the estimated 10%.
Have a good weekend everyone!
'Sup ya'll. Drumroll please…
1. Three cheers for Futurism!?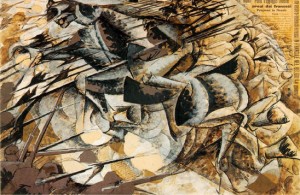 You've got to love an art movement obsessed with industrialized warfare who's adherents where so woefully incompetent at warfare that most of them died as soon as they set foot on the battle field. Remember dears, function before fashion on the battlefield. If you'd like to learn more about the Futurists, stop by Istituto Italiano di Cultura on Friday around 6pm. They'll be reading the Futurist Manifesto alongside contemporary music and dance commemorating Futurism's 100th B-Day. Hooray for Futurism!
2. Inflatable Art at Spoke!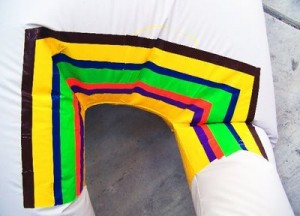 OK, so I don't think I've ever seen Claire Ashley's work before in person, but I looked up her website, and her performances look weird enough to warrant an in-person look. For Spoke she is creating a giant blow up mattress/wall/window voyeur object-thing. Apparently there will be a camera there to shoot people playing with it, so go play! You can have interactive art with no one to interact with it. Friday night from 5-7pm.
3. Everyone likes art raffles, right
Well my dear friends, it's time to say bon voyage and go to heaven. Not the dead people one, the one on Milwaukee. Harold Arts is raffling off art by their 2009 residents to raise money for the future Harold Arts Residency. That's a clean little loop if I ever saw one. So come, play the odds, and perhaps you'll go home with some art you like. Friday from 8-midnight.
4. The ultimate battle: the herbivore vs. the carnivore.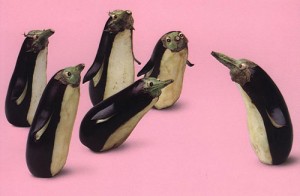 Dude, high five to Hyde Park Art Center and the people who put on Artist Run Chicago. They just keep having awesome stuff, why must it end? Well it's not over yet my friends, and this week they'll be holding the great "Fryvalry." Ya'll are invited to bring meat or veggies (whatever fits you persuasion) for Phillip Von Zweck and Kevin Jennings to grill up in the ultimate test of gristle vs. greens. It's just cool. Saturday afternoon, 3-6pm.
5. Indie films..
If you're looking for some fun Sunday evening, and have $10 to spare, you should head over to the Elastic Arts Foundation and check out some indie films. The screening was curated by Ehsan Ghoreishi and is being held to raise money for another film, Voices and Faces of the Adhan: Cairo. Voices… is a documentary about muezzins, and how soon, for the first time in over a thousand years, they're all going to be out of a job. Thanks technology, sometimes you suck. You can learn more here. Movies start at 7pm and go 'till 10pm.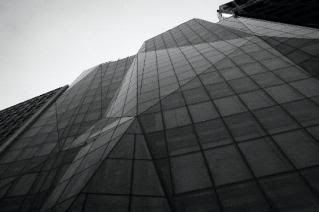 Yesterday we all saw the gossip on Proximity's blog about the laying off of almost all full time employees at The Spertus Institute of Jewish Studies. Time Out Chicago got on the case and spoke with Spertus spokeswoman Susan Baum about the rumors.
"…When asked about staff reductions, Baum would only say, 'There have been some changes made."'She referred me to incoming Spertus president and CEO Hal M. Lewis, with whom I hope to speak later today.
Baum acknowledged, however, that in September, after the museum's current exhibition 'A Force for Change: African American Art and the Julius Rosenwald Fund' closes, the Spertus will only be open 'every other Sunday' and during special events. The museum may also be open one night each week and by appointment only, she adds, explaining that the schedule isn't fully set yet. (According to a statement on the Spertus's website, the museum will be open the second Thursday evening of each month.)…"
Read the entire article here.
I met Rachel Kalom at a queer book group that met at a bar. Not a ton of book-discussing went on, but we did manage to get drunk at 3pm one Sunday every month. When she told me that she was co-curating a show with her coworker Brian Gillham, I was really excited to see her take on the fancy shmancy space that is the Zolla/Lieberman Gallery.
I was relieved to see a show about the recession without a dollar sign or Wall Street reference. Instead was work that was clearly created in a time where money and labor and the global economy were being examined on the daily, or work that was complicated by the current economic climate.
The first piece you confront when you walk into the space is "Horse Drawn" by Shannon Goff, a life-size carriage a la Cinderella constructed completely out of cardboard. This piece, along with others like Vijay J. Paniker's ceramic works of to scale everyday objects (boots, paint cans, cheese whiz) and Katherine Webb's hand stitched portraits, all utilize a practice that is both labor intensive and skill based, and the resulting work is very easy on the eyes. I liked the almost optimistic feeling from these works; the confrontation between the acknowledgement of the intense amount of labor required and the ease of pure visual enjoyment.These pieces made me consider how I might not (well, I don't) look at a car and consider the labor involved the construction of it, but when I am in the space with a carriage made out of segments of cardboard by one person, I do consider the labor involved. I also was really into the different facets of "labor" examined. Webb's work focuses on her children and domestic spaces, and this executed in hand stitching brings to question women's work, and the artists role in her own home. Paniker's pieces could be mistaken for the actual things they represent, and exhibit skilled craftmanship. Goff's carriage turns the artist into machine constructing fairy tale imagery.
It was nice to see work that was created before the shit hit the economic fan that was rendered more compelling in a context other than in which it was created. Tom Berenz's paintings of disaster imagery ("Flooded GM Dealership (Midwest Flood)" and " Dead S.U.V (Midwest Flood)") are given an even more somber tone post-bailout.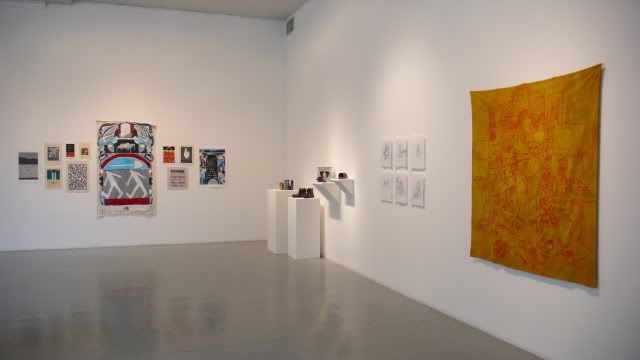 I think that this show was a successful balance of politics and aesthetic, inferred significance and cultural commentary. There was a rich visual texture of photography, video, painting, installation and sculpture. Thankfully every piece did not scream RECESSION DAMNIT but there was a delicate common thread throughout the entire show that made every piece seem to fit and add to the common and timely discussion.
I asked Rachel some questions about her experience with this show…

How did you come to curate this show?
I've been the gallery manager at Zolla/Lieberman for three years, and the owner of the gallery, William Lieberman, offered my co-worker Brian and I the opportunity last fall.  We were given free reign to select the theme and artists and to co-ordinate all aspects of the show.

Can you tell me about the evolution of this show from the very beginning?
Early in the process we attended different open studios and exhibitions, and there were quite a few artists who stood out, but we were not certain of the connecting theme at that point. It wasn't until the spring that we developed the theme of the show. It occurred to me that the recession had become an elephant in the room during every conversation about the art world, and that we had an opportunity to examine that, even to celebrate it, rather than sweep it under the rug.
Are you more interested in the work created during this economic hard time or how the context of some of the pieces has shifted because of this?
I think these artists are each handling the concept of recession in different ways, and that variety is really compelling.  Some are continuing their previous practices with a newly enriched sensibility (Shannon Goff and Deb Sokolow, for example) while others are recent art school graduates who have 'come of age' and developed their vision in the midst of a huge social shift (like Garrett Durant).  I enjoy that there are differences in the way the recession theme applies to each artist's work, but that it is so consistently evident throughout the exhibition.
What is the most difficult thing about curating a show with so many artists?
Having seen the work in separate spaces, and in some cases only over email, it was a leap of faith that everything would work well together and in the physical space of the gallery.  While we did a great amount of planning the placement of the show, a lot of that changed once we had the artwork and began installation.  But it's a type of puzzle, and placing the show to maximize each piece of artwork was also one of the best aspects of the project.  We have also used the gallery's space in a way that is very different from some of our more traditional exhibitions, and breaking out of seeing the space in that way was liberating.
What is the artist's role in the current economic situation?
I think these artists have embraced the limitations of the current economic situation, and that their works present cheerful possibilities for recession-era art making.  In the bigger picture, I see their work reflecting the enthusiasm shown by many for taking up a simplified lifestyle.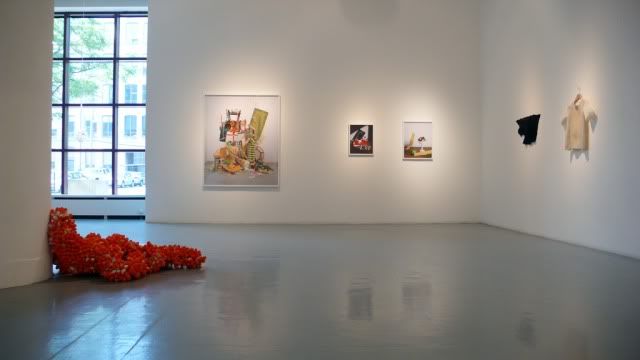 The show will be up until August 20th at Zolla/Lieberman, 325 West Huron – Chicago, IL 60610.