Theatrical sets allow for the real world to be transformed into the internal world. Against complete darkness, imagine a stage light illuminating one room within a house. Walls, hallways and exterior walls of the house are constructed out of the absence of light, while the walls of the living room are constructed out of illumination. The darkness hides the coming scenes from view, while the illumination presents furnishings in the current act – a sofa, table and chairs, a domestic preparation. This fabrication of a living room provides a model for the following stagings.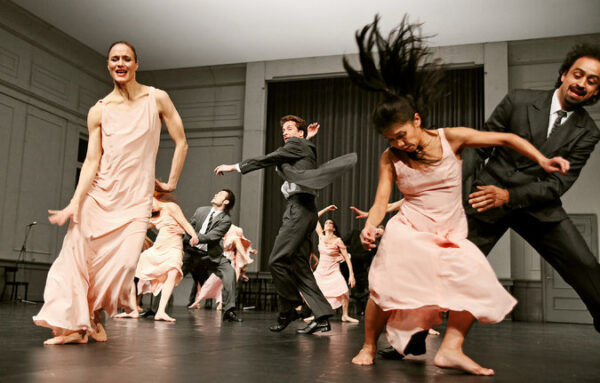 Kontakhof, Pina Bausch, performed at Brooklyn Academy of Music, 2014, photo credit: Oliver Look
"Is there anything deeper than surface?" I wondered, looking at one silken dressed dancer adjusting her dress, facing the audience as if they were her mirror. Having gotten herself together, she approaches with her dance partner, a suited suitor, whose arm she twists. The pair of dancers appear to be a couple, and the actions public humiliations, in as much as one dancer pulls the hair of the other, pokes the partner in the nose, bites the other's shoulder. In Pina Bausch's Kontakthof, dancers perform in a stage set as an empty hall with a window and door and row of chairs against three walls and small inset stage along the back wall facing the audience. Theatrically, the set is all that it needs to be, as minimally decorated as to provide a room inside of which action takes place.
On the other hand, it is a grand room.
The twenty-five dancers approach the audience from the back wall of the set, walking forward as a large mass, dressed as if attending a cocktail party. Sometimes a few dancers approach from within the mass – movements are directed towards the audience. And dancers perform acts on and for one another. They converse through tests of body language, as happens when a group of men surround a woman, patting, rubbing and pulling her limbs. As the dancers meet the edge of the stage, they run backward to the set's furthest wall again, forming a machine in rotation from front to back.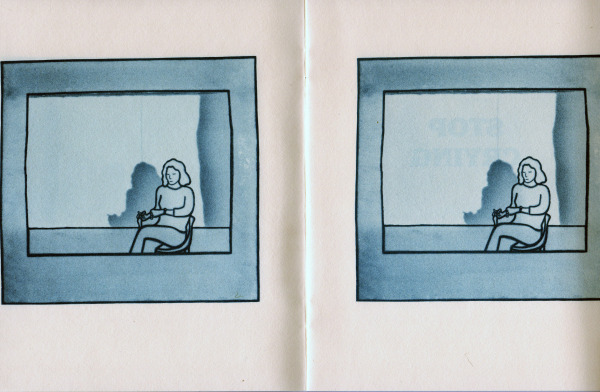 Stop Crying: A Performance, Ida Applebroog, 1981, staple-bound book
Kontakthof's starkness invigorated me to look through the illustrated books of Ida Applebroog, printed in the late 70s and early 80s, each book subtitled "A Performance" on the cover.
The performances inside consist of a single set and only rarely a set change, and a script of no more than two lines. The pages of each book are a repeated photograph of a monochromatic drawing of a scene. They have a cartoon look. For example, one print shows a woman sitting contemplatively alone, her shadow cast on the wall behind, the entire scene viewed through a box frame. The first of a three line script reads, "Stop crying."
Think of this as a theater, a small third floor affair. Operations are run by a single person, gamely but silently playing the parts of the director, lighting technician, actor and set designer.
Envision of the surface of a building. One might have a beige plaster front, another made from sedimentary rock, and a third obscured in a malaise of vines. These surfaces can be monologues as much as a slew of words can be: letters of discontent directed at the art world, for example, filling the lobby walls of the Institute of Contemporary Art in Philadelphia in the Readykulous by Ridykeulous installation called This is What Liberation Feels Like. Both commissioned correspondences and pre-existing letters of outcry from an exclamatory world fill the lobby. Letter writing appears just as what it is and in works of art as trope, both as a promise of a space for correspondence, and as the unfolding of particular resistance to an addressee.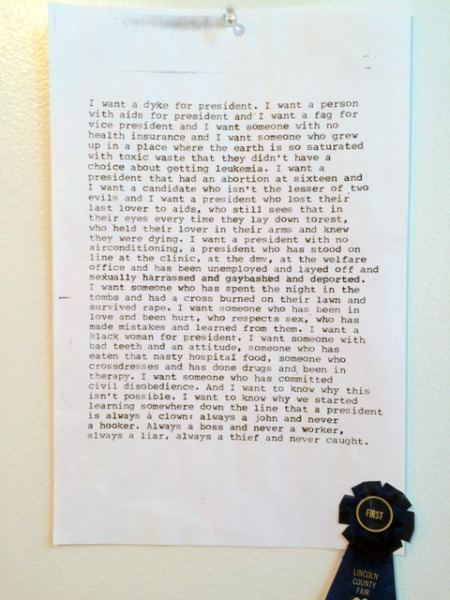 I want a President, Zoe Leonard, 1992, xerox, 14 x 8.5 inches, included in Readykeulous by Ridykeulous exhibition This is What Liberation Feels Like
A facade, like a one-sided conversation, is the staging of interiority. Currently on view in Aliza Nisenbaum's first solo New York exhibition at White Columns, among portraits of immigrants from Mexico and Central America, there is a painting of a letter, a pile of letters really, a bent paper pile. The writing is not identifiable, but the addresses of the correspondents appear, and drawings within the letters surface. Next to the letters, the flat, bent body parts of the sitters still manage to look solid, weighted. The bent ankles and limbs take the form of bent letters. Subjects look otherwise engaged, detached from being painted, but still. The two women of the painting Stephanie and Christina appear self-contained, as if entering this stage by having emanated from this fabric; henna-covered hands look woven from the thread of the pillows setting the scene.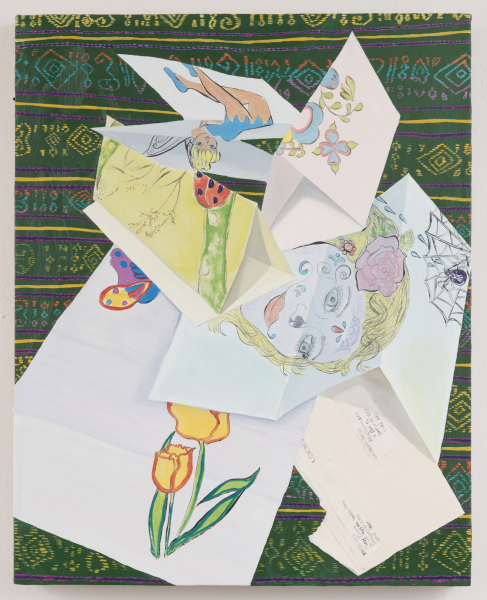 Tinker Bell, Aliza Nisenbaum, 2014, oil in linen, 20 x 16 inches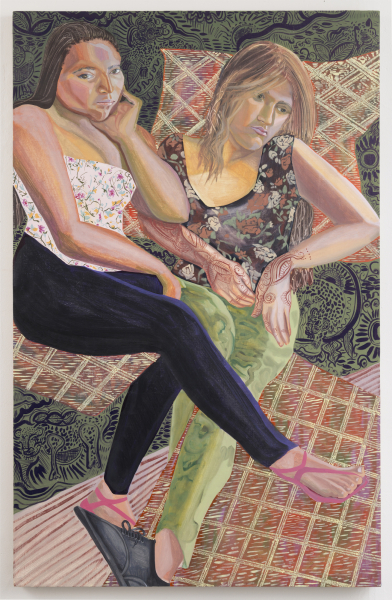 Stephanie and Christina, Aliza Nisenbaum, 2014, oil on linen, 51 x 33 inches
1. Richard Serra is an Important Latino Artist at Art in These Times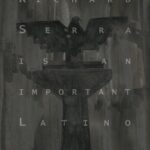 Work by Josh Rios and Anthony Romero.
Art in These Times is located at 2040 N. Milwaukee Ave. Reception Friday, 6-9pm.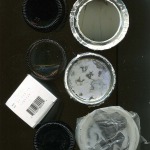 Work by Aline Cautis.
Regards Gallery is located at 2216 W. Chicago Ave. Reception Saturday, 4-7pm.
3. Earthtwerks & Other Celestrial Familiars at SideCar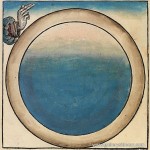 Work by Ortega y Gasset Projects.
SideCar is located at 411 Huehn St., Hammond, IN. Reception Saturday, 5-10pm.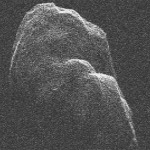 Work by Sarah and Joseph Belknap.
The Franklin is located at 3522 W. Franklin Blvd. Reception Saturday, 10-12pm.
5. Phalanstère at Julius Cæsar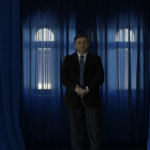 Work by Irina Botea.
Julius Cæsar is located at 3311 W. Carroll Ave. Reception Sunday, 1-4pm.
At the end of September, Richard D. James released his first album as Aphex Twin in 13 years. The resulting work, Syro, makes up for the long wait between albums. It is rich and complex, as every past album of his has been. But where Drukqs and previous albums have pummelled the listeners ear, Syro allows for listening at the passive level (something that had become completely absent in his work) and easily allows for intensive listening at the same time. Each track stands alone as a complete work, yet effortlessly bleeds into the next. It is nothing short of a masterpiece.
A masterpiece is proof of one's ability and rank within a creative system. It is a career benchmark, so one should suppose each subsequent masterpiece produced by a person must be of equal or greater value to the one before it. By definition, masterpieces are selective while contingent upon factors both fluctuating and rigid (an artist's personal navigation of a media, rules, techniques, history, etc.). The masterpiece is a defining moment, and defining moments are encapsulations of the past and a clear break with the present. Information moves at such speeds that while defining moments are there they can easily get lost in a sea of lesser moments, all of which are digitally archived before most of them can be absorbed. We are constantly scrolling downward in news feeds, seeing the more recent posting mixing with that of a few days before. Anything else is unearthed through keyword searches. Time is not experienced in the same way as it once was. According to Boris Groys "The archive is the site where past and future become reversible." 1
Consider a cell phone video posted on instagram as a legitimate artwork: it likely favors one specific idea or thought as opposed to consideration of everything available (how the shot is composed, camera angle, what is in the background, etc.) The lack of multiple edits means that it is one moment frozen in time, infinitely repeatable, and as in a gif, the format is the infinite repetition. It is a defined moment, but one that was chosen, specifically plucked out of the waves of information and content and chosen to become something new or reconfigured, sent out again into the sea of information.
More often, the works that may have only lived in the artist's studio in the past are coming out to the gallery — physical or virtual. Sometimes they gnaw at us, as we try to understand why we are so attracted to their roughness or incompleteness. Like any content on the internet, hierarchies in the art can be made, but are open to interpretation, as for everything seen there are at least three things missed. There is always more, and the more we see the more aware we are of how much we miss. Smaller artworks in this way will still define moments, but as the moments get smaller, or more compressed, they begin to reach the actuality of the present. In this way, artworks become possibilities for the future, not just manifestos. As possibilities have a more approachable conversational tone to them, a more casual art going experience that also allows for more works, more choice emerges and is less prohibitive because there is more available. Art becomes more democratic this way, while still remaining part of a market structure, playing at a more inclusive level.
So with more content being produced and disseminated, more masterpieces are being produced as well. Some of them we won't realize thats what they are for a few months or years. We are likely to look back at many of these more intuitive and immediate works and one day see them as masterpieces in their own right. So often, they are more arresting than the planned works that undergo revision after revision.
Earlier this week, Richard D. James released 30 modular synth tracks and unreleased material for free on soundcloud, calling it "a fucking racket". It is more noise than defined compositions, but what results are fragments, and reinterpretations of Syro's tracks, spontaneous recordings and serendipity. They are a small part of the whole of James' work, and more than providing an insight into his process, inform the whole by isolating individual ideas that have carried on throughout his career, as well as providing gems we would have never knew existed otherwise. Sometimes, a masterpiece can only happen through the seemngly cast off, the incremental, the undefined, the immediate or the unfinished.
Groys, Boris, "The Loneliness of the Project", New York Magazine of Contemporary Art and Theory, Issue 1.1, 2002
Many thanks to the artists who generously provided images for this essay, and apologies to those that I could not include. Thanks also to Haynes Riley via Ron Ewert for bringing the Groys article to my attention.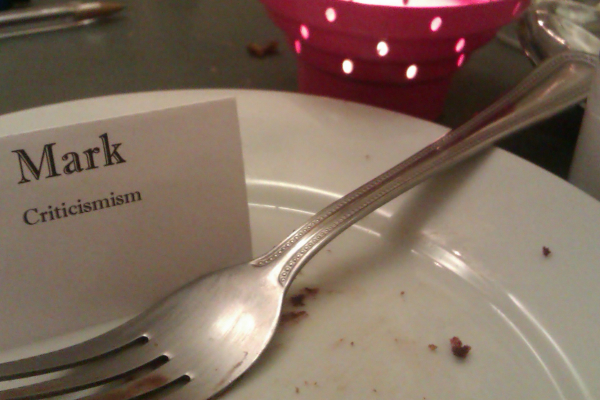 In the popular imagination, bookshops in Notting Hill may be where bumbling Englishmen meet Hollywood filmstars. Last night it was where a bumbling art writer, played by myself, got to meet some of the UK's most successful bloggers.
The venue was Book and Kitchen, who deserve props for the bohemian setting, mean jazz  soundtrack and fantastic three course meal. Since there's no such thing as a free meal, we bloggers were encouraged, between mouthfuls, to discuss our medium of choice.
You can check out the results on @blog10, an enterprising venture by a PR agency called Marmalade. There was a lot of talent and success in the room: from a book blogger who's landed a UK and US publishing deal (Ann Morgan) to a young vlogger who has the brands queueing up to feature on her profit-making lifestyle blog (Abisole Amole).
Thankfully, eclectic London blogger Katie Antoniou had plenty to say, recalling the time when blogs first emerged as the honest antidote to "bullshit" editorial. (Integrity, it seems, is still a blogger's best friend, even in the current climate of bribery and gifting.) "I don't have the ego for journalism," she explained, which seemed to resonate around the table.
Rona Wheeldon has a niche even more obscure than contemporary art. She is a flower blogger, who waxed lyrical about the potential for filming posts and hosting a YouTube channel. "Vlogs can show emotion!" she insisted, even though last time I checked, the written word can sometimes do the same.
Things turned comic when book bloggers Morgan and Kim Forrester revealed statistical spikes from wayward web users who stumble upon their sites in search of resources for  sex tourism. We laughed about it, but it was a reminder that despite its academic origins, the web is still not the best place for serious discussions. Nevertheless, with their literate audiences, both bloggers have built readership and communities within their crowded field.
Indeed it was widely reported that finding an audience and a network of peers could still be the number one reason for starting a blog. Even if in recent years comments are very hard to come by ("Who's got time to comment?" we asked). Time is an increasing issue, as one faces the introduction of a two speed internet where large web corporations choke smaller players. Morgan raised fears of losing the level playing field bloggers now enjoy.
Several of us bemoaned the encroachment of social media ads and promoted posts. The latest platform to introduce ads appears to be Instagram. Starbucks and UK supermarket Waitrose had reached out to a couple of the photobloggers among us. Although to be fair, their presence wasn't totally unwelcome. Amole revealed a thriving existence of the coffee giants' #redcups hashtag. She is relaxed about it.
As the meal drew to a close we took questions about blogging from twitter. One eager user requested three tips from each of us in turn. Find a niche. Use social media. Build a brand. The wisdom was flowing by this point. But perhaps interiors blogger Kate Baxter had the last word. Don't get into blogging to get free stuff or money. It probably won't happen. You may however one day be invited to a West London blogging salon. Things could be worse.
Mark Sheerin blogs at www.criticismism.com and can be found on Twitter.
By Kevin Blake
"Four score and seven years ago," is how my mind tells me to start every essay I sit down to write. This is my memory at work. I remember the tone of the words that follow in Lincoln's famous Gettysburg Address. I remember the cadence. I remember that it was taught as a triumph. As a novel speech from a novel man. I can see the address in a block quote in a semi-thick American history textbook. It was highlighted in blue with Lincoln's portrait in the top right corner of the elongated box, at the right side of the page, and at the end of a chapter covering the Civil War. I was given the task of memorizing the words and reciting it to my classmates, but all that remains are the first words. The image of the words. The feeling of time passed.
When I am staring beyond my computer screen–perhaps out the window–searching for the right words to begin with, Lincoln's words make up the phrase that my mind tells me to jot down. It seems as much a method of mocking myself for my own distrust in my ideas and the effectiveness of recording them in this way,  as it is a natural beginning. A way to set the tone. A point of abstraction. Only now am I realizing that the attention I have paid to it–in this introduction–may either eradicate its insistence in my writing regiment, or forever disturb any ingenuity it may have had. Today, the words are there and I'm responding to them.
I recently admitted to a habit of writing my articles the day before the deadline, and since then, I have been stewing over the probability of procrastination. I've been questioning my routine and routinely questioning the validity of the way I think, rationalize, and project my ideas. I am forever convincing myself that my ideas are valuable and that the time I have spent Not preparing this article, has been used to decompress the information that has consumed me in the month prior. I am often successful in my persuasion, however, there also exists an acute awareness that convincing is essential. Therein lies the paradox. Therein lies the necessity for crackerjack acumen–or the ability to form enterprise with intuition and memory despite one's rational concerns that may encourage otherwise.
I'm constantly waiting for a bolt of lightning to electrify my thoughts–to send a signal from brain to stem which results in an action–in this case writing. Molly Zuckerman-Hartung revealed to me the genesis of the lightening bolt as Hans Hartung's signature. He believed the lightning bolt was especially for him, and that its form (the zig-zag) represented spontaneity in a way that was true to the idea of what spontaneous action might look like–erratic pivot points descending from above a surface it will eventually contact. It will be surrounded by other bolts (they come in storms), and will offer the conscience a choice at every zig and every zag, eventually determining where the bolt will be grounded.
Last week I was struck at Devening Projects by the drawings of Monika Bartholomé. Before reading any literature about the work, I felt the drawings had allowed me to access very intimate spaces that were not only intimate in their portrayal of domestic interiors. Though there is ample information to suggest that these drawings are simple representations of the artist's habitation, a closer look reveals imaginative brushwork, a keen understanding of light, and most importantly, an uncorrupted investigation of memory.
My memory of the Gettysburg Address and the application of it,  is a corrupted memory in the way it has manifested in this piece of writing. It was stimuli that has since been captured, dismembered, and postulated as metaphoric reasoning. We reason from metaphors in our attempts to make sense of ourselves, our actions, other people, and the physical world around us. We engage in metaphoric thought processes simply because much of our experience is metaphorically structured, and it is from our experiences that we reason. It is through this type of reasoning that I have abstracted more rigid or formal strains of logical connections to perpetuate my ideas, and to understand Monika Bartholomé's drawings through my own narrow framing device.
When I visited Devening Projects, Bartholomé's drawings had the zigs and the zags of the lightning bolts. I could see choices being made. I could see the movement of the brushes as well as her hand, and I felt a connection to the impulses that drove those decisions. I envisioned the way the  brushes moved across the drawing surface and quickly made jagged sloping turns to radiate in a resting place. In each conglomeration of intuitive marks, a space would emerge. These spaces are ultimately derived from memory, but are defined by the hand's memory rather than metaphoric representations of existing places. The work seemed to be about the impulse to move the hand from one place to the next using a tool that makes a mark on paper and leaves a trace that creates a dilemma for the maker. This dilemma and the response to it, is how her images are made. Everything else is corruptible. Every attempt to create, rather than respond, would be a false step in the process of creation.
Looking at the drawings that materialize as living spaces, one can see how the hand's memory is as familiar as the mind's. Bartholomé makes repetitive decisions in similar situations. When she reaches an edge, one can see the pressure applied to the brush gradually subside. As the hand recognizes its place in space, it makes adjustments to the tool. The tool, in turn, responds with a trace of that impulse–a mark of muscle memory and the basis for the next drawing move.
Bartholomé has an incredibly efficient economy in her mark-making strategies. However intuitive it may be, it is also learned. The labor and reduction required to arrive at such simple, yet elegant, descriptions of space doesn't occur on a whim. In her essay, "The Eyes Following the Hand," Bartholomé describes the marks she makes: "…they do condense into pictorial language by means of abstract abbreviation…The lines bring something into the open that I once perceived, for the most part unconsciously and incidentally, and that is recorded here in whatever form. To be able to get what has been recorded, to the connections that the perceived thing entered into, and then create a place for it and be surprised by it–this is what interests me, among other things, in the medium of drawing."
Bartholomé's drawings seem to posit that metaphor is a pervasive, yet indispensable structure of reasoning that calls into question some deeply rooted views about the nature of knowledge and understanding. This balancing act is at the heart of her work. The artist is both visible and absent. The spaces are both intimate and ordinary. Recognizable and abstract. Reductive and chock full of imagery. These drawings are easy to get lost in, but only a few steps backwards will bring your eyes back to a reasonable place.
I'm at that place of reason right now after having written this piece. I'm standing in a place that is far enough from the image I have created, and it seems to make plenty of sense–at least to me. My distortions of Baratholomé's work are my attempt to regurgitate her production schematic–letting memory serve as the metaphor that describes the process.