This week's video pick is Bruce Nauman's Walking in an Exaggerated Manner around the Perimeter of a Square (1967-68). Paul Garcia of Not Coming to a Theater Near You has a piece about it. You should also check out their blog to see some of the other films and video art they have written about.
"Walking in an Exaggerated Manner Around the Perimeter of a Square represents a microcosm of the fundamental themes rooted in Bruce Nauman's colorful aesthetic: circularity, repetition, minimalism, body awareness, and post-structural linguistic theory. These themes are ingrained into what is essentially a ten- minute performance of epic banality; : Nauman deliberately traipsing foot over foot along the perimeter of a makeshift masking tape square several times, alternating between forward and backward movements. It's anti-film in a sense, the camera reductively operating only as a simple recording device, stripped of its power to manipulate the image and pared down to its base function as a dispassionate observer. All pertinent information is laid bare from the start; the title of the piece describes the entirety of the task that Nauman rigorously performs ad nauseam, simultaneously giving and taking instruction…"
Read the rest of Paul's article here.
Not anti-semitic writing, dummy, asemic writing. Har har. But seriously, I'm digging on both these things today. First, the idea of asemia, or more specifically of asemic writing as it pertains to art which, despite my proclivities for this type of thing, I'd never heard of before (so thanks, Bruce Sterling!). Asemic writing is defined as writing that has no specific semantic content. Not nonsense writing but writing without characters, writing that doesn't signify anything. Here are a few examples of asemic writing in art taken from a website devoted to such things, The New Post-Literate (but let's just bracket whole 'post-literate' angle of this for now):
And here are a couple of examples of my own take on the concept:
Then there's the semic, which, um, might not actually be a word, although I did find a definition for it online in the Dictionary of Difficult Words: "pertaining to a sign." Yeah, I'll take that. Evan Roth has studied the taxonomy of graffiti tags in Paris (a project sponsored by the Fondation Cartier in conjunction with its current "Born in the Streets" exhibition on graffiti art; I learned of this project via Provisions Library) and the results are fascinating, for those of us who don't make a regular study of graffiti markings, anyway. The project sets up a taxonomic system for graffiti lettering in Paris; there are apparently as many ways to spray an "A" and every other letter of the alphabet as their are thumbprints on taggers, which is a pretty cool finding indeed.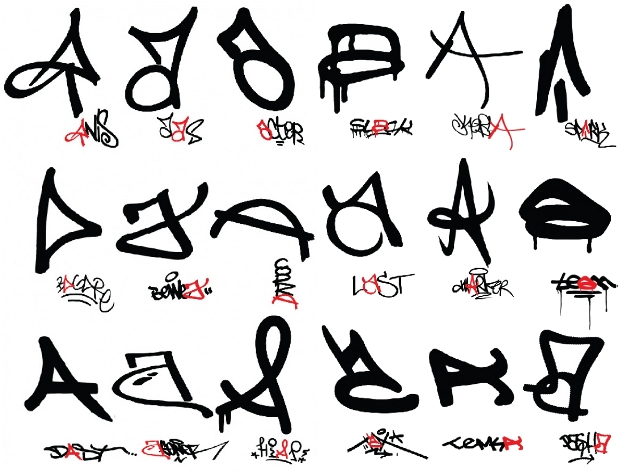 Check out the full details on Roth's Graffiti Taxonomy study here (for Paris) and also here (for New York City-based tag taxonomic studies).
Bad at Sports Summer Collection is up.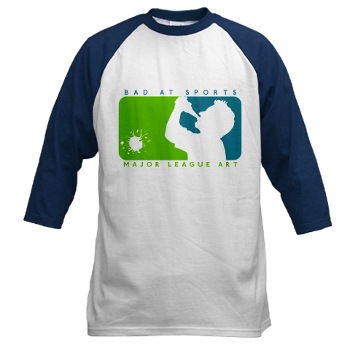 Jerseys, Shirts, Stickers, Magnets & the Party Poster can all be found here.
Take a look and have fun this summer with the beer, grills, sun and beach. It's only a few weeks before the Fall season and cooler weather. So make hay while you can!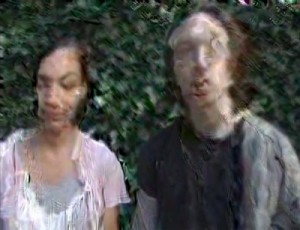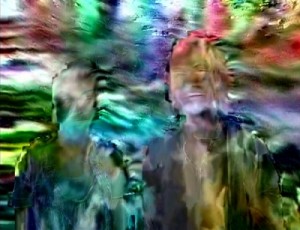 Tony Wight Gallery has become one of a handful of go-to galleries in Chicago where I consistently encounter paintings that get me to think more deeply about, well, painting. I hadn't given that same level of consideration to video art in awhile, at least until an encounter last Friday with Wight's latest offering, a 13 minute video projection titled Couple in a Garden by the French-born, NY based artist Antoine Catala.
I was initially put off by the gimmicky psychedelic trippery of Catala's piece, which uses datamoshing— visible information loss caused by extreme data compression–to make the image of two people standing in front of a garden appear to sag, swirl and drip like the juicy innards of a lava lamp. (Catala has used this same technique previously, to notable effect). Yet the soundtrack (by Ensemble/Olivier Alary) consists of a low-lying, atonal thrum that was just annoying enough to prevent me from mindlessly consuming these images as if they were, indeed, bottled within a lava lamp, mesmerized though I was by the disintegration and reconfiguration of the couple projected in front of me.
To be sure, there's nothing all that revolutionary about Catala's techniques here. Datamoshing has already been used extensively in music videos (see this post on Kottke for numerous examples), and yet, despite its cliches, I found Couple in a Garden exhilerating to watch, the more so the longer I stayed. At first, I busied myself with trying to figure out who was the boy, who was the girl, etc. etc., but it soon became much more interesting to consider the possibility that, when confronted with images like Catala's, such distinctions are beside the point–which, I think, is the point.
Among other things, Michael Jackson was vilified for his attempts transcend race, gender, and to some degree age itself by "datamoshing" his own body through radical surgical modifications. His death two weeks ago highlighted the pathos and futility of such efforts, but for me, Catala's Couple in a Garden recaptures the essentially Utopian thrust of that desire, and some of its underlying innocence as well.
You can watch a 3 minute excerpt of Couple in a Garden on Catalo's website here. The exhibition is on view through July 31st.
Want to keep up with Bad at Sports' own Duncan MacKenzie and Christian Kuras (who co-interviewed Mark Francis on Episode 197) on their artists-in-residential adventures at The Banff Center? Well, you can, you can. They're blogging all about it here, and if we're lucky maybe Christian will share his Twitter feed with us as well. In the coming weeks, they'll also have a Flickr site with pics, but for now, feast your eyes on their new light-filled studio space. More info on what Duncan and Christian are working on to come later; in the meantime, best of luck guys — work hard, play hard!