Alright, so last week was slow. This week is quite the opposite. There are a bunch of things going on. Because of that, I have decided, in response to my Top 4 of last week, to do a Top 6 this week. Don't like it, well, then you can just get out! For the rest of you, here it goes…
p.s. don't mind the pics, sometimes I have to make my own
1. The Chicago Project III at Catherine Edelman –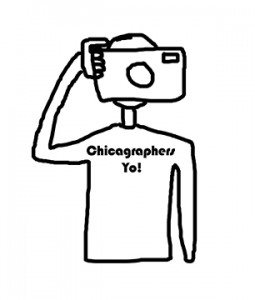 I generally avoid River North. Not because it's bad, per se, but simply because most of what I see there is somewhat boring and repetitive. Edelman is one of the exceptions (there are a few) that keep me coming back every now and again. Her fare is photo, and only photo as far as I've seen. I have yet to see something there I didn't like, and this upcoming show is no exception. On top of that, you probably know people in the show! Everybody likes seeing their friends work up in a nice gallery, right? Opening this week is The Chicago Project III. The Chicago Project is an online gallery Edelman runs of Chicago artists. Each year she selects work from it and puts on a live exibition. Selected artists this round include: Shannon Benine, Philip Dembinski, Bill Guy, Eric Holubow, Julie Meridian, Jason Robinette, James Rotz, David Schalliol, Daniel Shea, Sarah Stonefoot, Leasha Overturf and Alan Thomas. Friday night, get there early though, she closes her doors promptly at 8pm.
Catherine Edelman is located at 300 W. Superior St.
2. Size Matters!!! at Packer Schopf –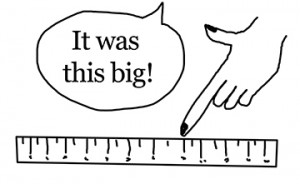 Huh huh…huh huh…ok, now that that's out of the way. Good old Packer's done it again. I like it when he does group shows from his stable. Most of what he shows there appeals to my taste, so going to a group show is like being a kid in a candy store. Or, in this case, an elephant store? Packer shows a lot of huge work, so for his, as his website says "Summer Group Show," he's trotting out the biggies for us to feast out eyes on. Featured artists include: Rebecca Ringquist, Mark Crisanti, Laurel Roth/Andy Diaz Hope (collaboration), Victoria Fuller, Jenn Wilson, Michael T. Rea, Jud Bergeron, Renee McGinnis, Don Cameron, Catherine Jacobi, David Hooker, Doug Smithenry & Krista Wortendyke. Stop by while you're in the West Loop Friday, opening's from 5-8pm.
Packer Schopf is located at 942 W. Lake St.
3. In Memory Of…A Love Story at Spoke –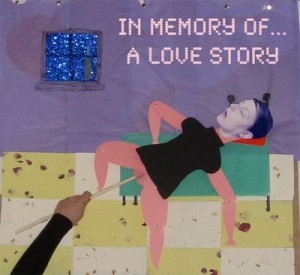 Hit number two for the West Loop. While you're hiking up the stairs at 119 to ThreeWalls, make sure you make it all the way to the top floor and head for Spoke. This tiny gallery, in (I think I'm remembering this right) the space formerly occupied by GardenFRESH, has been putting on exhibitions and durational performance pieces for about a year now. This round, they are hosting Karolina Gnatowski, who is performing In Memory Of…A Love Story. Pulling from Spoke's own website, the event is described as "an evening of classic rock, whiskey, puppetry and bitter sweetness as K.G. performs a tragic tale of romance." How could you possibly go wrong with that? Spoke is open Friday night from 6-9pm, the performance starts at 7pm. Again, be on time, that place is tiny, and it sucks having to listen to performances from the hallway.
Spoke is located at 119 N. Peoria St.
4. Dogcat: FBI (Feline Behavioral Institute) vs. Canine Fashion at Swimming Pool –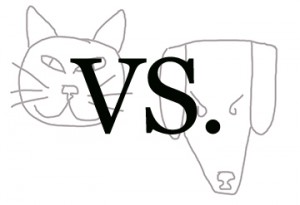 Now you can finish of Friday night with some good old feline (or canine) fun up at Swimming Pool. Located in Albany Park, it can be a bit of a trek from down town, but this show is probably going to be worth it. It is time for the ultimate battle between the self proclaimed "cat" people and "dog" people. Well, maybe not that, but get ready for a truck load of cat themed art, and a doggie fashion show. Now, I know what you're thinking: "a doggie fashion show?" Well, this is a doggie fashion show put on by pooch, and presumably, booze loving artists (pronounced ar-TEE-sts). Just watch your ankles, you don't want someone begrudgingly lifting their leg on your shoe while you admire the pretty kitties. Open Friday, from 8-10pm.
Swimming Pool is located at 2858 W. Montrose Ave.
5. Selections From the Fabio-Mueller Collection at Mini Dutch –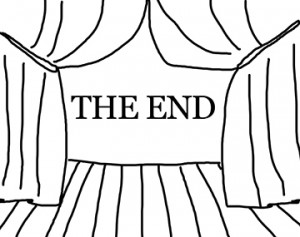 Saying good bye is always hard, and this is the last goodbye for Mini Dutch. Owner Lucia Fabio is shutting down and moving back to So. Cal, so this is your last time to check out this well-known apartment gallery. For her final show, Lucia will be showcasing work from her own collecting that she has acquired over the course of Mini Dutch's run. Artist work included in Fabio-Muller collection that will be on display: Daniel Anhorn, EC Brown, Blazo Calovic, Peter Hoffman, Andrew Holmquest, Mathew Paul Jinks, Carol Jackson, Stacie Johnson, Chris Millar, Liz Neilsen, Vivien Park, Caroline Picard, Mark Porter, Renee Prisble Una, Chris Shaefer, Shane Swindler, Matthew Whiting. This is a one night only event, Saturday night from 7-10pm.
Mini Dutch is located at 3111 W. Diversey Pkwy.
6. Nah Pop No Style at Roots and Culture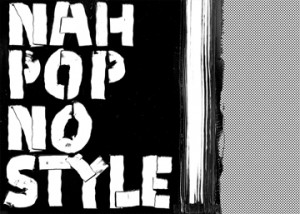 This is purely an allegiance to where I've lived selection. The subtitle of the show is Work by painters from Baltimore and Providence. My husband went to grad school at MICA, so I lived in Baltimore for a year. Weird-ass place, but there are defiantly a lot of good artists from there. I don't recognize any of the names, but I'm hoping I recognize some of the work. And hey, maybe they'll be serving Carmen corn again. B-more and Providence artists strutting their stuff at R&C include Lucy Campana, Chris Day, Alex Griffith, Andrew Goett, Thomas Harrington, Annabeth Marks, Clay Schiff, Quinn Taylor, Chloe Wessner, Kandis Williams and Blade Wynne. Show opens Saturday from 6-9pm.
Roots and Culture is located at 1034 N. Milwaukee Ave.
Julius Caeser is a space tucked into a warehouse; very small, very white, very tall ceilings, half a wall of exposed brick. The show, Hear Here, features collaborative works by Kaylee Rae Wyant and Jerome Acks III, that I had read in an essay on the back of the show poster by Wyant, sought to be both"critical and patriotic". Her essay questions artistic models based on 60s reactionary politics, and their relevance in the contemporary political climate. Interesting.
The show had a total of four pieces; two paintings, a beast of a sculptural canvas work in the center of the room, and a sculpture standing near the entrance.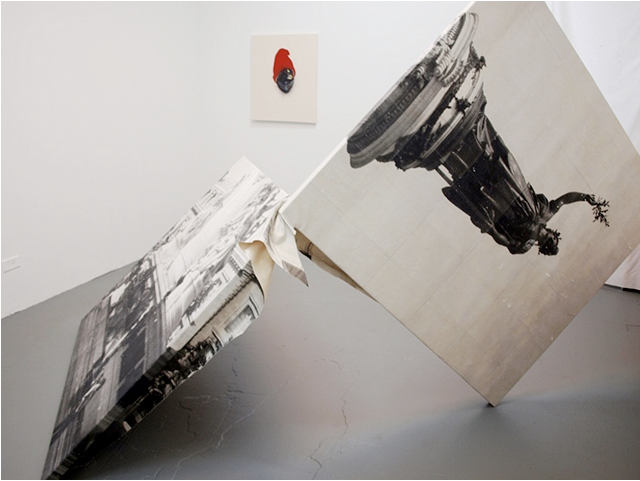 Red Hat appears to be a painting on raw canvas. Upon closer inspection, it is revealed that the gnome-like red hat is actually sewn into the canvas, and the face wearing the hat is thickly rendered in dark paint. The red insert interrupts the canvas, but it is so seamless that you could easily write it off as a straightforward painting. I find that in a lot of collaborative work there is some sort of a game of figuring out which hand created which aspect of the piece, and that was definitely not a part of this show, as far as I could tell.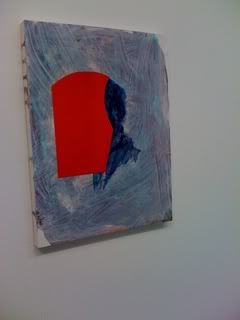 Making a Face (portrait of Simone de Beauvoir), is a classic bust portrait of (apparently) Simone de Beauvoir, and on top of this is a hard geometric shape of some red reflective material. Standing in front of the piece, my boobs were reflected back at me (I wonder what de Beauvoir would think…), and half of the bust painting behind it. This is a little too literal for me, implicating the viewer in the work through their reflection.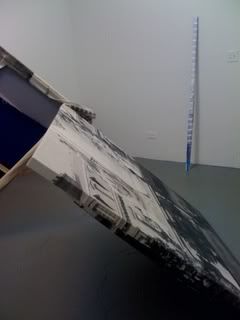 Liberatus Standing is free from the wall, constructed free standing on the ground, is made from canvas on stretchers but free from paint and dominates the space. The image is a pixelated photograph neatly stretched on the canvas, but with unfinished corners and edges. The piece feels really controlled in its rejection of convention, and uses the structure and language of painting to arouse feelings of revolution. It appears as though it has been twisted on itself, to the point where I had a hard time connecting the image as one in my head. However, I was most attracted to the side of the canvas that didn't have an image. The back was panels of solid colored material, red, blue, navy, gray, with the seams dangling thread. Visually I found this much more appealing, and even patriotic with its reference to symbolism, flag making etc.
In general, I enjoyed the artists using the structure of painting as a place that had a set of conventions and a history that could be manipulated and questioned, while still paying homage to those same conventions and history.
The show will be up until July 26th, and Julius Caesar holds openings on the first Sunday of every month from 4-7pm. Gallery hours are on Sundays from 1-4.
The Getty Museum on Fire? Not so far, according to the latest L.A. Times report. Thankfully the Center's evacuation seems to have gone smoothly. Sad to say, but this kind of disaster is a regular occurrence in SoCal, and it's not the first time the Getty's been threatened by advancing flames.  Here's hoping everything's back to "normal" quickly. For the rest of what's been happening so far this week, read on…
*Jason Foumberg of NewCity reports on the cessation of Individual Artist Grants this year, and in forthcoming years, from the Driehouse Foundation.
*Arts Stimulus Funding and the Art Economy: Hrag Vartanian at Art 21 explains it all for you (extremely clearly and well; especially useful for those of us who suck at math).
*In Chicago, interest in building a South Loop art scene is on the rise, but can it really happen in this economy? (Chicagoist).
*Art Baloney (via C-monster); but Regina Hackett's spirited arguments in defense of the much-maligned meat make for a far better read, imho.
*Lynn Becker does it again: my fave architectural blogger gleefully deconstructs the wedding photos of a fab young couple who got married at the Art Institute (Edward Lifson took the gorgeous pics). Edited to add: I only just realized that "Lynn" is a he! Whoops.
*Sequential Chicago: a new website devoted to the Chicago comics scene (via Windy Citizen).
*Chicago artist Todd Chilton interviewed at Neoteric Art (via MW Capacity).
*Artist Stephen J. Shanabroock's chocolate waterboarding sculptures, now on view at Daneyal Mahmood Gallery in New York (via Boing Boing).
*Sarah Jessica Parker talks to Artnet about her partnership with Bravo on The Untitled Artist Project (via Art Fag City, who also has an exclusive interview with the show's casting director Nick Gilhool).
*Gallerist/blogger Edward Winkleman's book "How to Start and Run a Commercial Gallery" to be released July 14th by Allworth Press. Click here to preorder the book on Amazon; Bad at Sports interviews Winkleman about running his own art gallery on Episode 169 of the podcast here.
*Check out the British Council and Whitechapel Art Gallery's The Fifth Curator competition, for aspiring curators outside the U.K.
*Still, I don't have one: app art for the iPhone and ipod Touch (Rhizome Inclusive). Here's what's thought to be the first music video shot on the iPhone.
For crying out loud, can everyone just give poor Jerry Saltz a break and leave the guy alone? How exactly did he become the Christ figure of the art press, the one we look to to Save Us, the guy that's gonna solve everyone's problems, including those of the venerable Museum of Modern Art? From Saltz's perspective, I'd imagine it's all want, want, want, whine, whine, whine, all the time. "Why doesn't Jerry have a blog?" "Why isn't Jerry preaching to the wretched masses outside of his own Church of Facebook? "Why isn't Jerry friending me faster?" (for that one, see comments beneath the post).
Jesus Christ (no pun intended), what if instead of ragging on Jerry, everyone focused on growing the communities they've got on their own blogs, Facebook pages, Twitters etc., and proceed with their own agendas from there?
In other words: ask not what Jerry can do for the art world – ask what *you* can do for *your* art world.
A few weeks ago we learned just how bad the Spertus Museum's dire financial woes are: in September they're cutting their visitor hours waaaaaay back, to just two Sundays a month, and are laying off almost all of their full-time employees.
Yesterday the NEA announced that 63 arts organizations would receive grants under the American Recovery and Reinvestment Act, and Spertus College was on its list, receiving a $50,000 award. The Field Museum, The National Museum of Mexican Art and the John R. and Eleanor R. Mitchell Foundation were also awarded grants.
These grants–totalling $2,925,000 and distributed among 63 museums and other nonprofit arts organizations–are given to "support the preservation of jobs that are threatened by declines in philanthropic and other support during the current economic downturn," according to the NEA website.
See the full list of institutions awarded this grant in FY09 here. The list of Illinois grantees is as follows:
Field Museum of Natural History
Chicago, IL
$50,000
John R. and Eleanor R. Mitchell Foundation
Mt. Vernon, IL
$50,000
National Museum of Mexican Art
Chicago, IL
Spertus College
Chicago, IL
As Lee Rosenbaum has observed on her blog culturegrrl, grants in the $25,000 – $50,000 range aren't enough to save many (really any) full-time jobs, but they do have, as Rosenbaum put it, "the symbolic value of underscoring that arts jobs do have a role to play in the nation's economic recovery."
Let's hope the grant is enough to allow the Spertus to continue some form of programming in the future rather than disappear entirely.