On this weekly roundup we check out Robogeisha, a surprisingly versatile robot, half a Century of Nuclear Explosions, and Brooklyn is burning. Actually this sounds like a rather apocalyptic roundup for Independence Day.

Buckminster Fuller closes This Sunday July 5th at the MCA Chicago.

Scientists tour Creationism Museum: "And there was a feeling of unhappiness, too, about the extent to which mainstream scientists and evolutionists are demonized — that if you don't accept the Answers in Genesis vision of the history of Earth and life, you're contributing to the ills of society and of the church." via Boing Boing
Plural Blog has a video of Half a Century of Nuclear Explosions. 2053 atomic explosions have occurred. frightening and yet strangle hypnotic.
The Museum of Forgotten Art Supplies.
Glasstire breaks down the reasons why Jerry Saltz should have a blog.

Fan made Persepolis 2.0 documenting the post elections in Iran.
C-Monster linked to a pretty awesome aritcle on the new territory of Chelsea from a 1996 New York Magazine acticle titled,  "Chelsea! It's the New SoHo! Maybe.
Brooklyn is Burning…"the one-night event takes gender bending to whole new heights, featuring the work of emerging artists interested in expanding the boundaries of sex, sexuality, the body and whatever is left in between." via Cool Hunting
Art Fag City speaks with casting director, Nick Gilhool of Bavo's new art reality show.
Robogeisha, narrated by someone that sounds eerily like Mike Benedetto . Ill take the Tengu Milk with the fried shrimp. via Sean Bonner


Here's what I'd go to, if I were you…
1. Co-Prosperity Sphere
Bert Stabler is bending you brain this 4th of July with SALAD-CHURCH-EXERCISE: A show about self-improvement through self-denial. With work by over 20 local artists, a massive salad potluck, and taglines like, "While large-scale organs of control, such as schools, hospitals, and prisons, enforce the social contract through a restriction of choice and a remote delegation of authority, personal or cultural techniques for redirecting and mastering libido, the inner primordial chaos we carry within, can be found in the options represented by salad, church, and exercise." How could you go wrong. You can take the Orange Line to Ashland, Saturday from 2-6pm.
For the day after Independency Day, lets raise our torn jean jacket clad arms an Question Authority! Mmm…high school. But seriously, Kaylee Rae Wyant and Jerome Acks are doing something cool over at Julius Caesar called Hear Here. Framed as work "examining the many ideals and complexities encompassing freedom, democracy and revolution" it should be interesting to contemplate after a flag choked day of "patriotism".
3. BEN RUSSELL
How many ways can you put your own name on a show? Well, if you are Ben Russell, as many as humanly possibly. How is "Ben Russell, presented by Ben Russell, at Ben Russell" for ya? Weird thing is, it ain't a solo show. Ben Russell is a new space in Pilsen, go there and check out work by Marco Kane Braunschweiler, Martine Syms, Paul Chan, Miguel Cortez, Roxane Hopper, Julie Rudder, and Kelly Kaczynsk are doing their performance piece at 9pm the opening night. Drop by for the Sunday opening from 6-10pm.
4. MCA
As a celebration of the closing of the Bucky Fuller exibition, the MCA is hosting Jen & Ira & You at the MCA Meet Buckminster Fuller Meeting the Hippies in Golden Gate Park, a performance piece by Jennifer Karmin & Ira S. Murfin. Ever wondered why hippies loved this son of the atomic age? Well, here's your chance to find out. The performance is free with the cost of admission, so if you get into the MCA free, you're good to go.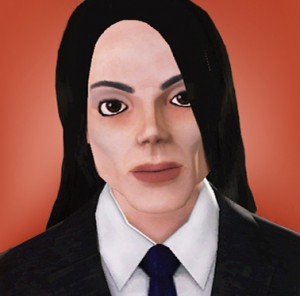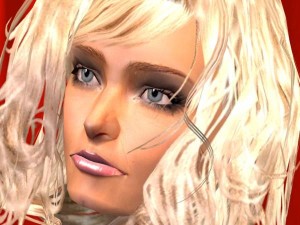 Did you ever play Wil Wright's computer game The Sims? In the earliest versions, the little folks (who speak a language called "Simmish") would say something that sounded like "me tyuhd!" and clutch at their heads whenever they needed you to send them to bed. That's how I feel right now: tyuhd. So here's a mini roundup of what's caught my eye lately. Nighty night.
*VVork has posted some of the most interesting Michael Jackson-referencing art I've seen over the past week, and not just by the usual suspects (i.e. Koons).
*Designer/artist Anna Schwamborn makes objects from, um, bits of her deceased relatives. It's actually quite beautiful.
*Social media artist @platea blogs at Art 21.
*Ex-MOCA curator Brooke Hodge on Millenium Park: "Chicago, known for its civic pride, has a lot to be proud of this year."
*The name isn't the only thing that's changing: Sears Tower going green (The Post Family).
*Artist Morgan Ritchie makes drawings based on Stephen Fry's Tweets (via newslite).
*Is this for realz? Australia bans Second Life (via Wonderland).
*Forget storytelling; try storytweeting (via Wired UK).
*House of Representatives approves additional funding for NEA and NEH.
*MOCA: Back from the dead.
Forget all the news about Chicago city arts grants, potentially major boosts to NEA funding, and all that other boring crap. I would be remiss were I not to inform Chicago artists about this fabulous opportunity, no? Bravo is launching a new counterpart to its Top Chef, Top Designer, put-12-aspiring-whatevers-into-a-weekly competitive-lineup-and-get-them-to-cry franchise, but this time it's devoted to makers of contemporary art. Finally, artists are getting their due!
The L.A. Times reports that, "according to the application instructions for potential contestants, the show's producers are looking for 'emerging or mid-career' artists who work in any number of the following fields: painting, sculpture, installation, video, photography and mixed-media."
Everybody thinks this show's gonna suck, but I actually have very high hopes for SJP's (that's Sarah Jessica Parker to those of you not in the celeb gossip loop) newest television venture. I didn't know she was into contemporary art, but I'm not interested in that angle of celebrity worship, Brad Pitt notwithstanding. Top Chef looked like it wouldn't work (who wants to watch a reality show about food, we all thought) and we were wrong, wrong, wrong. Hopefully, the naysayers will be disproved once again and we'll get some great television out of this.
Art Fag City is speculating that Matthew Higgs might be one of the judges (or maybe even the Top guy, a la Tom Colicchio?) but I truly hope this is not the case. Higgs is all wrong for this. Please God, let it be Schimmel instead. He's probably looking for a job right now, and he would be absolutely perfect. Now, who should they pick for his junior underlings? I can think of so many possibilities…but perhaps it would be mean to hazard any further guesses? Up here, anyway–but feel free to do so in the comments.
Now, getting back to the critical business at hand: the Chicago audition information is as follows:
Thursday, July 16, 10 AM – 2 PM, School of the Art Institute of Chicago, Sullivan Galleries, 33 State Street (www.saic.edu).
See you on the small screen.
I posted about this little gem of a film a few weeks ago here; since then, I've had a chance to view "Herb and Dorothy" (directed by first-time filmmaker Megumi Sasaki) and just as I'd hoped, it's terrific. It's screening in Chicago this weekend at the Gene Siskel Film Center, so here's your chance to see it too. The film has already been widely reviewed; I don't have anything more to add other than to note that I particularly enjoyed the brief but sensitive observations about the New York contemporary art collectors Herb and Dorothy Vogel made by Richard Tuttle, an artist whom I've rarely seen interviewed on camera.  Quite simply, this is a film about what it takes to be a great collector: not tons of cash, not connections, not a prescient view of the market. It's about a way of looking at art, exemplified by Herb Vogel's manner of staring down an artwork with a look of ferocious, devoted intensity. Don't miss it.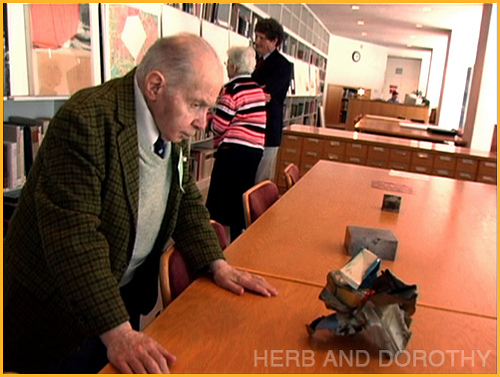 The film screens at the Gene Siskel Film Center on Friday, July 3rd at 6pm, Sunday, July 5 at 5:30pm and Tuesday July 7 at 6pm.