A few months ago on episode 192 of the Podcast, artist and Yale professor Rochelle Feinstein discussed at length a long-term project of hers that at the time had never been shown. Created during the period 2002-2005, this body of work examines (among other things) Michael Jackson as a cultural signifier of failure and redemption.
Feinstein's project did find a home. It's been on view in New York at Art Production Fund's APF Lab space since June 2nd (Jackson died on June 25th) and is titled "I Made a Terrible Mistake," which comes from the statement Jackson made the day after he infamously dangled his baby Blanket out a hotel window as fans cheered below.
The exhibition explores Michael Jackson's mistakes as "allegories of contemporary life, in both public and private orbits." From the APF's website:
When a mistake is acknowledged, an imperceptible process of transformation and redemption begin. Jackson, and this phrase, is one conceptual muse for this project. The other, Barry White, so emphatically unapologetic and generous in his promise of sensual redemption, died in the summer of 2003, while Feinstein was in the Art Production Fund Residency at Giverny. The conceptual collision of these two icons, sited at Monet's Garden, led Feinstein to draw upon this uber-synthetic Eden for the creation of "I Made a Terrible Mistake."
Feinstein's show is up through July 23rd. Be sure to listen to Duncan's in-depth discussion with Feinstein about Michael Jackson, celebrity, mirror balls, failure and redemption and other subjects on the podcast.
Feinstein's work has also been exhibited recently in Oak Park, Illinois at The Suburban; you can read a bit more about Feinstein's APF lab installation at Art in America here.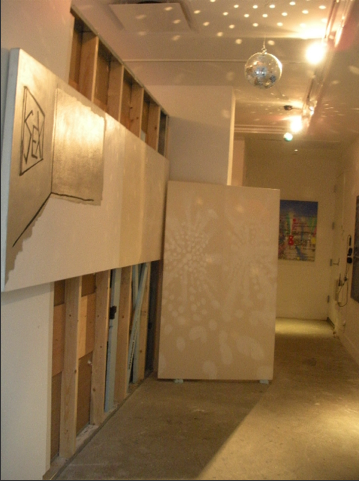 This is a very late video pick this week. I honestly couldn't make up my mind what to post. I watch so many videos a day but I had hoped for the TVP to be artists talking about their work or video art. This week's pick, I'm too sad to tell you (1971), comes from the late Bas Jan Ader.
Vancouver based photographer Dina Goldstein's new series Fallen Princesses takes a look at the classic fairy tale heroines of our youth from the vantage point of our later years and finds things not exactly as we remember them.
"As a young girl, growing up abroad, I was not exposed to Fairy tales. These new discoveries lead to my fascination with the origins of Fairy tales. I explored the original brothers Grimm's stories and found that they have very dark and sometimes gruesome aspects, many of which were changed by Disney. I began to imagine Disney's perfect Princesses juxtaposed with real issues that were affecting women around me, such as illness, addiction and self-image issues."
The series goes on exhibit in October.

Here are the Chicago-based collectors on the magazine's 2009 list, in alphabetical order as listed on ARTnews' website:
Neil G. Bluhm
Chicago
Real estate
Collection focuses on Contemporary art
Stefan T. Edlis and H. Gael Neeson
Chicago; Aspen, Colorado
Plastics Manufacturing (Retired)
Collection focuses on Contemporary art
Anne and Kenneth C. Griffin
Chicago
Hedge fund
Collection focuses on Impressionism; Post-Impressionism
Elizabeth and Harvey Plotnick
Chicago
Publishing and investments
Collection focuses on Old Master prints; Islamic ceramics
Penny Pritzker
Chicago
Real estate, hotels (Hyatt), and financial information
Collection focuses on Contemporary art
None made the magazine's Top Ten list. Interestingly, Chicago has just slightly fewer collectors on the list than the 6 boasted by Los Angeles (9 if you count those who have secondary residences in Southern California) as reported by Suzanne Muchnic on the L. A. Times' Culture Monster blog.
This is the first time in my life I have ever paid any attention to this list or its rankings–so take it for what it's worth to you.
Self Portrait Machine, by Jen Hui Liao, is part of an exhibition at the Royal College of Art. The machine takes a picture of the subject and then mechanically renders it. The subject's hands are "cuffed" to the machine (as pictured below) and then robotically guided across the paper. I like the retro-Cyborg aspect of this piece. You can see a video of the process here. (Via We Make Money Not Art).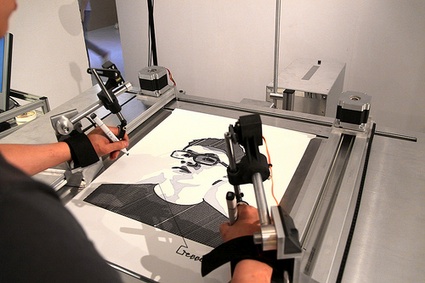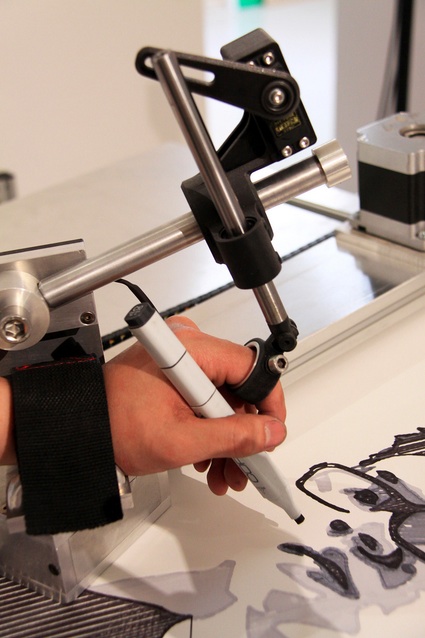 And then there's the Human Printer. From the website:
"The Human Printer creates unique, individual images each time it prints. Following the same process as a digital printer, the humanprinter generates the printed product by hand. Throughout the printing process the humanprinter assumes the role of the machine and is therefore controlled and restricted by the process of using CMYK halftones created on the computer."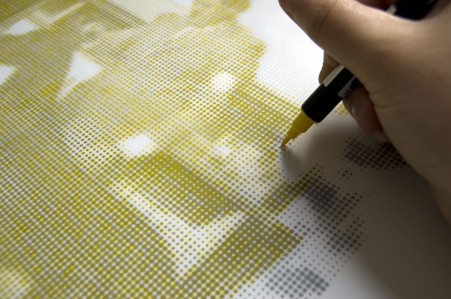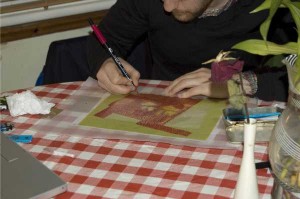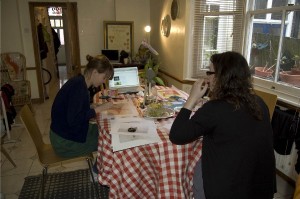 Email these folks with your jpegs, and they'll output black and white or color images for you, and post them on their blog. (Via The Daily What).