Want to keep up with Bad at Sports' own Duncan MacKenzie and Christian Kuras (who co-interviewed Mark Francis on Episode 197) on their artists-in-residential adventures at The Banff Center? Well, you can, you can. They're blogging all about it here, and if we're lucky maybe Christian will share his Twitter feed with us as well. In the coming weeks, they'll also have a Flickr site with pics, but for now, feast your eyes on their new light-filled studio space. More info on what Duncan and Christian are working on to come later; in the meantime, best of luck guys — work hard, play hard!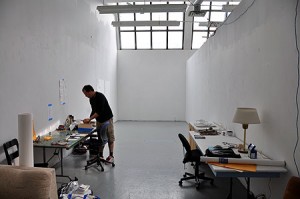 Seen enroute to 65 Grand this weekend.  This is one of the many great things about summer in Chicago. You can see these kinds of ad-hoc gardens everywhere, if you look for them.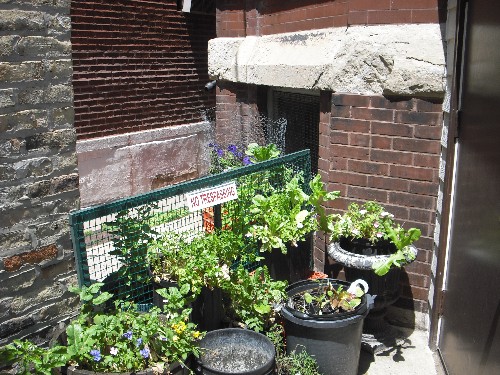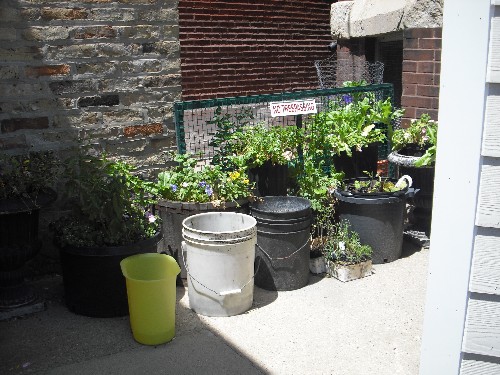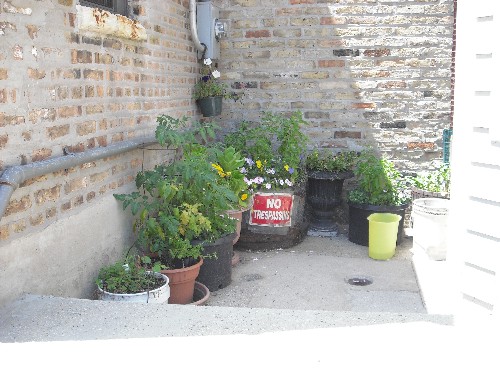 Coincidentally, this weekend I also came across a book of photographs by Brad Temkin titled Private Places: Photographs of Chicago Gardens. It's filled with images of modest urban backyards that look utterly familiar, unlike the glossy designer garden porn found in your typical home and garden magazines (though I love that too).  Private Places is a fairly expensive coffee table book that only people who can afford more than a pocket garden can buy, but thankfully Temkin has an extensive web site containing a number of large-scale examples from the book, along with documentation of numerous other photographic works. Temkin's "Private Places" series is not new (most of the shots were taken in the period 2000-2004), but it's new to me, and worth another look by those already familiar with it as we career past the midway point of Chicago's precious summertime season. I can already feel it slipping away.
(Click on these thumbnail images to be taken directly to Temkin's website and to fully zoom-inable pictures of the gardens below). UPDATE: Wow, I am out of it. Turns out that Temkin is showing his photographs in Chicago right now, in an exhibition titled Chicago Gardens: Past and Present at the Chicago Tourism Center, 72 E. Randolph Street (through August 18th). Find more info on the show here, and apologies for not being on this in the first place.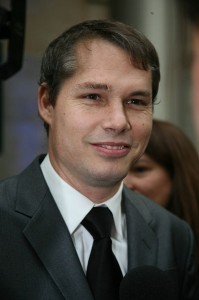 From yesterday's L.A. Times:
"The legal adventures of Shepard Fairey came to a head today when the L.A. street artist received a sentence of two years probation from a Boston court as part of a plea arrangement with prosecutors.

Fairey agreed to plead guilty to three vandalism charges in exchange for the prosecutors dropping 11 other charges. The artist pleaded guilty to one charge of defacing property and two charges of "wanton destruction of property" valued at under $250.

The judge also ordered Fairey to pay $2,000 to a graffiti removal organization and said that the artist cannot possess tagging materials except for legal art installations."
Although Fairey's Boston-related court case is over, his legal battle with the Associated Press over his use of Barack Obama's image is still ongoing. Read more on this story here and here.
I don't know about you but I am really stoked that this week is over. On this week's round up we check out the Somali pirates business model, what it is like to suffer from first person shooter disease, and yet another art gallery is shutting it's doors. I am heading over to the West Loop to catch some shows.  Hope I will see some of you out and about at openings. Take Care.
Alright, so last week was slow. This week is quite the opposite. There are a bunch of things going on. Because of that, I have decided, in response to my Top 4 of last week, to do a Top 6 this week. Don't like it, well, then you can just get out! For the rest of you, here it goes…
p.s. don't mind the pics, sometimes I have to make my own
1. The Chicago Project III at Catherine Edelman –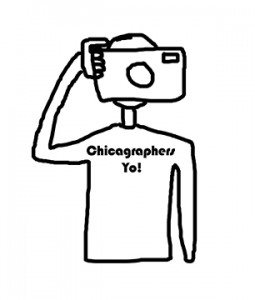 I generally avoid River North. Not because it's bad, per se, but simply because most of what I see there is somewhat boring and repetitive. Edelman is one of the exceptions (there are a few) that keep me coming back every now and again. Her fare is photo, and only photo as far as I've seen. I have yet to see something there I didn't like, and this upcoming show is no exception. On top of that, you probably know people in the show! Everybody likes seeing their friends work up in a nice gallery, right? Opening this week is The Chicago Project III. The Chicago Project is an online gallery Edelman runs of Chicago artists. Each year she selects work from it and puts on a live exibition. Selected artists this round include: Shannon Benine, Philip Dembinski, Bill Guy, Eric Holubow, Julie Meridian, Jason Robinette, James Rotz, David Schalliol, Daniel Shea, Sarah Stonefoot, Leasha Overturf and Alan Thomas. Friday night, get there early though, she closes her doors promptly at 8pm.
Catherine Edelman is located at 300 W. Superior St.
2. Size Matters!!! at Packer Schopf –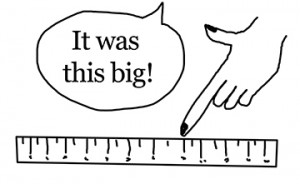 Huh huh…huh huh…ok, now that that's out of the way. Good old Packer's done it again. I like it when he does group shows from his stable. Most of what he shows there appeals to my taste, so going to a group show is like being a kid in a candy store. Or, in this case, an elephant store? Packer shows a lot of huge work, so for his, as his website says "Summer Group Show," he's trotting out the biggies for us to feast out eyes on. Featured artists include: Rebecca Ringquist, Mark Crisanti, Laurel Roth/Andy Diaz Hope (collaboration), Victoria Fuller, Jenn Wilson, Michael T. Rea, Jud Bergeron, Renee McGinnis, Don Cameron, Catherine Jacobi, David Hooker, Doug Smithenry & Krista Wortendyke. Stop by while you're in the West Loop Friday, opening's from 5-8pm.
Packer Schopf is located at 942 W. Lake St.
3. In Memory Of…A Love Story at Spoke –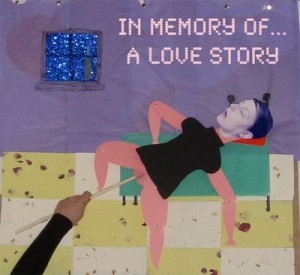 Hit number two for the West Loop. While you're hiking up the stairs at 119 to ThreeWalls, make sure you make it all the way to the top floor and head for Spoke. This tiny gallery, in (I think I'm remembering this right) the space formerly occupied by GardenFRESH, has been putting on exhibitions and durational performance pieces for about a year now. This round, they are hosting Karolina Gnatowski, who is performing In Memory Of…A Love Story. Pulling from Spoke's own website, the event is described as "an evening of classic rock, whiskey, puppetry and bitter sweetness as K.G. performs a tragic tale of romance." How could you possibly go wrong with that? Spoke is open Friday night from 6-9pm, the performance starts at 7pm. Again, be on time, that place is tiny, and it sucks having to listen to performances from the hallway.
Spoke is located at 119 N. Peoria St.
4. Dogcat: FBI (Feline Behavioral Institute) vs. Canine Fashion at Swimming Pool –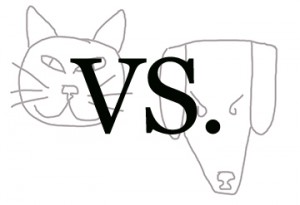 Now you can finish of Friday night with some good old feline (or canine) fun up at Swimming Pool. Located in Albany Park, it can be a bit of a trek from down town, but this show is probably going to be worth it. It is time for the ultimate battle between the self proclaimed "cat" people and "dog" people. Well, maybe not that, but get ready for a truck load of cat themed art, and a doggie fashion show. Now, I know what you're thinking: "a doggie fashion show?" Well, this is a doggie fashion show put on by pooch, and assumingly, booze loving artists (pronounced ar-TEE-sts). Just watch your ankles, you don't want someone begrudgingly lifting their leg on your shoe while you admire the pretty kitties. Open Friday, from 8-10pm.
Swimming Pool is located at 2858 W. Montrose Ave.
5. Selections From the Fabio-Mueller Collection at Mini Dutch –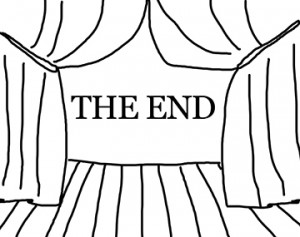 Saying good bye is always hard, and this is the last goodbye for Mini Dutch. Owner Lucia Fabio is shutting down and moving back to So. Cal, so this is your last time to check out this well-known apartment gallery. For her final show, Lucia will be showcasing work from her own collecting that she has acquired over the course of Mini Dutch's run. Artist work included in Fabio-Muller collection that will be on display: Daniel Anhorn, EC Brown, Blazo Calovic, Peter Hoffman, Andrew Holmquest, Mathew Paul Jinks, Carol Jackson, Stacie Johnson, Chris Millar, Liz Neilsen, Vivien Park, Caroline Picard, Mark Porter, Renee Prisble Una, Chris Shaefer, Shane Swindler, Matthew Whiting. This is a one night only event, Saturday night from 7-10pm.
Mini Dutch is located at 3111 W. Diversey Pkwy.
6. Nah Pop No Style at Roots and Culture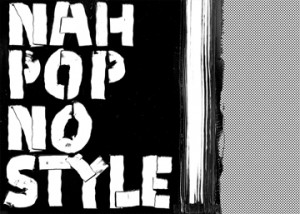 This is purely an allegiance to where I've lived selection. The subtitle of the show is Work by painters from Baltimore and Providence. My husband went to grad school at MICA, so I lived in Baltimore for a year. Weird-ass place, but there are defiantly a lot of good artists from there. I don't recognize any of the names, but I'm hoping I recognize some of the work. And hey, maybe they'll be serving Carmen corn again. B-more and Providence artists strutting their stuff at R&C include Lucy Campana, Chris Day, Alex Griffith, Andrew Goett, Thomas Harrington, Annabeth Marks, Clay Schiff, Quinn Taylor, Chloe Wessner, Kandis Williams and Blade Wynne. Show opens Saturday from 6-9pm.
Roots and Culture is located at 1034 N. Milwaukee Ave.