"Let the Televised Bitch-Slapping Begin!" (marshallastor.com).
It has felt like a rather slow week for art news. Here are some of the stories you might have missed this week via our twitter page.  On this weeks roundup you will find Japan's bad ass million dollar, robot flying Spiderman, the history of the pubic wig, and one young man's thoughts on the Walker art Center. Hope everyone has a great weekend. Maybe we'll see you at the Hyde Park Art Center on Saturday.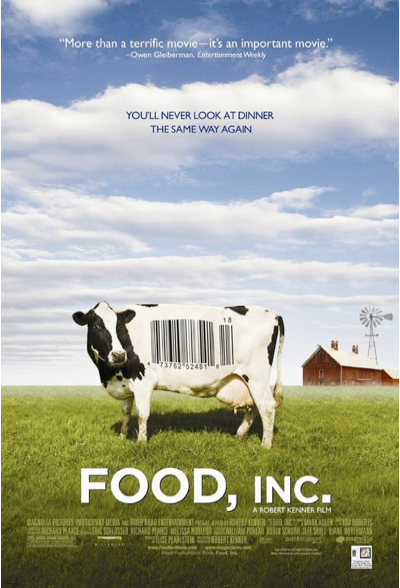 Food, Inc., by director Robert Kenner, made me feel stupid. It reminded me of every reason why I loved  Our Daily Bread, of 2006. Our Daily Bread exercised subtly and restraint, with very still, bleak vignettes of the monstrous places that produce the food we eat around the world. It does this without commentary, just offering a view of what is. Food, Inc. practices neither restraint nor subtlety. Each segment of the film is broken into segments that are announced with a title. As if we couldn't catch on that hey, now we're going to learn about corn.
If you have every seen more than one PETA video, or thought about the fact that high fructose corn syrup is in most processed foods, then this film will basically be a refresher for you. I picked up a few good conversation starters, like, if a cow were allowed to graze on grass for (I don't remember it exactly…) a whole bunch of E. Coli would be naturally eliminated from its gut. However, instead of letting cows graze, we prefer to wash the processed hamburger meat with chlorine, which also kills the virus. The breakdown of who owns what we eat was also interesting, as well as the fact that there are only three or four commercial slaughterhouses left in the entire United States.
The graphics were too cutesy and glossy for me as well. You would think a film that is focus on questioning how "natural" our food is would have more organic and basic feeling fonts and graphics, instead of super processed looking titles and animation. A lot of it felt very Disney-fied. Or maybe thats just me.
The "experts" were entertaining and knew what they were talking about. However, the selection was seriously limited. There was the bad corporation, the good farmer, the victimized small business owners, the granola hippie who went corporate, the sob story.
In general, the film was well researched, and would be great to show in an elementary or middle school. The issues are important and should definitely be given the space to be discussed. But, just a tip, if you doze off during the entire film, the directors conveniently end the film with a few minutes of bullet points of what you should have picked up during the course of the film. To summarize: buy locally, buy organically, eat seasonally, and try not to get E.Coli.
If you want to check out the trailer, you can see it here. But, if you haven't already, definitely check out its classier counterpart, Our Daily Bread.
Mike Andrews and Noah Singer of the Chicago-based art t-shirt company Imperfect Articles just let us know that for the next twelve days, they'll be adding a new t-shirt to their website store every day. Previously, these shirts were only available at art fairs (most recently Basel last month) but for the proverbial limited time only, you can grab one from wherever you are, starting with a shirt designed by Dublin-based artist Atsushi Kaga.  Here's what today's shirt looks like: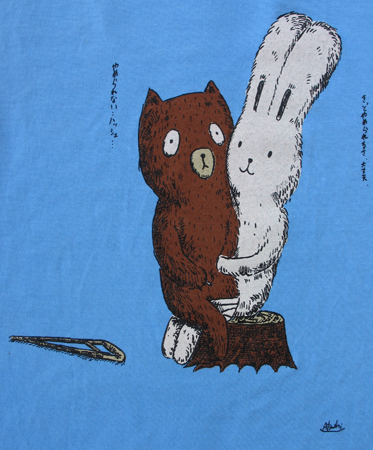 The text is printed in Japanese, but here's a rough translation:
Bear: "I can't quit smoking pot."
Bunny: "Yes, you can, you'll be fine."
Act now; there's only a limited number of this edition left in stock. Yeah, I know that's what they all say, but with Imperfect Articles you can believe it.  Click here to order. Check back with the website each day to see what new shirt they'll have up next.
If you want to learn more about Imperfect Articles' unique blend of art and commerce, IÂ  interviewed Noah Singer a few months ago for New City; you can read the article here.
I am so sorry to report, via The Los Angeles Times, that legendary architectural photographer Julius Shulman has died. From his obituary:
"Julius Shulman, whose luminous photographs of homes and buildings brought fame to a number of mid-20th century Modernist architects and made him a household name in the architectural world, died Wednesday night. He was 98.

Shulman, who had been in declining health, died at his home in Los Angeles, according to gallery owner Craig Krull, who represented him.

Starting with Richard Neutra in 1936, Shulman's roster of clients read like a who's who of pioneering contemporary architecture: Rudolf M. Schindler, Gregory Ain, Frank Lloyd Wright, Charles Eames, Raphael S. Soriano, John Lautner, Eero Saarinen, Albert Frey, Pierre Koenig, Harwell Harris and many others. His work was contained in virtually every book published on Modernist architects.

"He has a sense of visual bravura of composition," wrote the late Robert Sobieszek, photography curator at the Los Angeles County Museum of Art, "so that he can take a rather mundane house and make it look exciting, and take a spectacular house and make it look triply spectacular."

Shulman had "a profound effect on the writing and teaching of architectural history and understanding architecture, especially Southern California modernism," said Thomas Hines, UCLA professor emeritus of architecture and urban design. And Newsweek magazine's Cathleen McGuigan wrote that some of Shulman's photographs of modern glass houses in Palm Springs and Los Angeles "are so redolent of the era in which they were built you can practically hear the Sinatra tunes wafting in the air and the ice clinking in the cocktail glasses."
You can view a slideshow of Julius Shulman at work along with some of his most famous images here. Shulman was a Master whose images helped define architectural modernism in Southern California and beyond. He will truly be missed.