I have always longed to play an old-style D&D role playing game "live," as it were, ever since I was a kid and saw that TV movie starring Tom Hanks called Mazes and Monsters (any of you old enough to remember it?).  In it, Tom played a troubled game nerd who, along with his game-nerd friends (including a chick, which was cool for those times), found these secret deep twisty caves and decided to role-play Dungeons and Dragons in them, like for real. They all got totally obsessed by the game but in the end, poor Tom went crazy and had to be institutionalized because he literally got lost in the game world, unable to tell what was real and what was pretend. Because I want to share the absolute and utter amazingness of this movie with y'all, I grace you with this clip:
So anyway, I came across Brody Condon's work a few weeks ago on the L.A.-based experimental media blog Blur + Sharpen (written by the incredibly gifted writer and super-smart maven of medias old and new, Holly Willis, a former classmate of mine at USC's School of Cinema Television from way back when) and I've been fascinated with it ever since, largely because it seems to tap into a lot of the crazy that Tom was suffering from in the movie, that desire to transcend dull reality and experience something visionary and heroic, but Condon projects this desire into the era of video games rather than the book, paper and pen way of playing RPG's.
Condon is an American artist born in 1974 in Mexico, and is currently based in New York. His 2008 DVD Without Sun is a 15 minute compilation of footage found on the Internet of various random people tripping HARD on psychedelic substances. Condon's website describes the piece's focus as on "the exterior surface of the 'projection of self' into visionary worlds," noting that it was named after Chris Marker's classic video work Sans Soleil. Click on the image below to be taken to Condon's website and a brief clip of the video. If you're in Los Angeles this weekend, you can check out a live performance on July 18th at Machine Project that features two actors recreating scenes from Condon's video.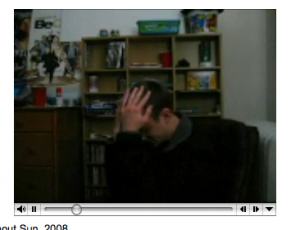 Death Animations is a three hour performance that also took place at Machine Project. Inspired by Bruce Naumann's 1973 work "Tony Sinking into the Floor, Face Up and Face Down", it featured nine dancers wearing video game type armor who recreate Naumann's performance in slo-mo as "high volume binaural beats" play in the background, apparently in an effort to induce some form of out-of-body experience among the audience and/or participants. (Click images below to be taken to a performance excerpt).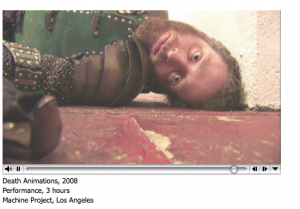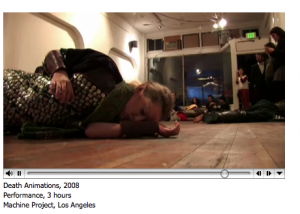 And Condon's Suicide Solution, 2004,  is a compilation of suicide scenes from various first- and third-person video games.  (Click image for video clip).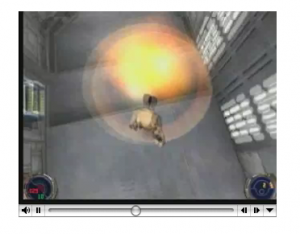 But what seems far coolest of all to me is this massive performance piece organized by Condon, titled TwentyFiveFoldManfestation and performed for three days straight at SonsbeekLive in the Netherlands. From the website:

"Combining the fantasy Live Action Role-Playing (LARP) subculture, public sculpture, and ritualistic performance art, Twentyfivefold was a series of physically and psychologically intense live games involving 80 players which evolved over the Summer of 2008. The events were organized by the artist Brody Condon for the Sonsbeek International public sculpture exhibition in the Netherlands.

Set in a distant future where civilization as we know it had almost been lost, players from different worlds met deep in the holy forest and inhabited a 40 feet high tower "in character" for 3 days at a time while worshiping invented deities embodied by the other artworks of the exhibition."
Here's a short clip documenting the performance:
Looks kind of amazing, right? If Condon ever wants to organize something like that in Chicago I am so there. Strangely, I see echoes of Mazes and Monsters in Condon's project. Going back to real life must feel pretty sucky after playing a fully immersive game like that. I wonder if any of the participants went crazy afterwards, unable to come down from the high of worshiping the broken mirror god. I'd be willing to take the risk.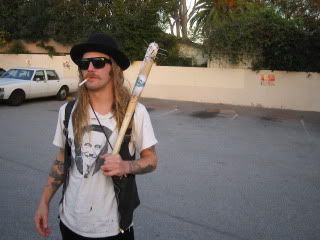 Spotted this news on AFC. It appears that artist Dash Snow died Monday night from a heroin overdose.
via Roberta Smith for the NYT:
"Dash Snow, a promising young New York artist, died Monday night at Lafayette House, a hotel in Lower Manhattan. He was 27 and lived in Manhattan. His death was confirmed by his grandmother, the art collector and philanthropist Christophe de Menil, who said that Mr. Snow had died of a drug overdose."
For more info check out NYT and Gawker.
This week's video pick is Bruce Nauman's Walking in an Exaggerated Manner around the Perimeter of a Square (1967-68). Paul Garcia of Not Coming to a Theater Near You has a piece about it. You should also check out their blog to see some of the other films and video art they have written about.
"Walking in an Exaggerated Manner Around the Perimeter of a Square represents a microcosm of the fundamental themes rooted in Bruce Nauman's colorful aesthetic: circularity, repetition, minimalism, body awareness, and post-structural linguistic theory. These themes are ingrained into what is essentially a ten- minute performance of epic banality; : Nauman deliberately traipsing foot over foot along the perimeter of a makeshift masking tape square several times, alternating between forward and backward movements. It's anti-film in a sense, the camera reductively operating only as a simple recording device, stripped of its power to manipulate the image and pared down to its base function as a dispassionate observer. All pertinent information is laid bare from the start; the title of the piece describes the entirety of the task that Nauman rigorously performs ad nauseam, simultaneously giving and taking instruction…"
Read the rest of Paul's article here.
Not anti-semitic writing, dummy, asemic writing. Har har. But seriously, I'm digging on both these things today. First, the idea of asemia, or more specifically of asemic writing as it pertains to art which, despite my proclivities for this type of thing, I'd never heard of before (so thanks, Bruce Sterling!). Asemic writing is defined as writing that has no specific semantic content. Not nonsense writing but writing without characters, writing that doesn't signify anything. Here are a few examples of asemic writing in art taken from a website devoted to such things, The New Post-Literate (but let's just bracket whole 'post-literate' angle of this for now):
And here are a couple of examples of my own take on the concept:
Then there's the semic, which, um, might not actually be a word, although I did find a definition for it online in the Dictionary of Difficult Words: "pertaining to a sign." Yeah, I'll take that. Evan Roth has studied the taxonomy of graffiti tags in Paris (a project sponsored by the Fondation Cartier in conjunction with its current "Born in the Streets" exhibition on graffiti art; I learned of this project via Provisions Library) and the results are fascinating, for those of us who don't make a regular study of graffiti markings, anyway. The project sets up a taxonomic system for graffiti lettering in Paris; there are apparently as many ways to spray an "A" and every other letter of the alphabet as their are thumbprints on taggers, which is a pretty cool finding indeed.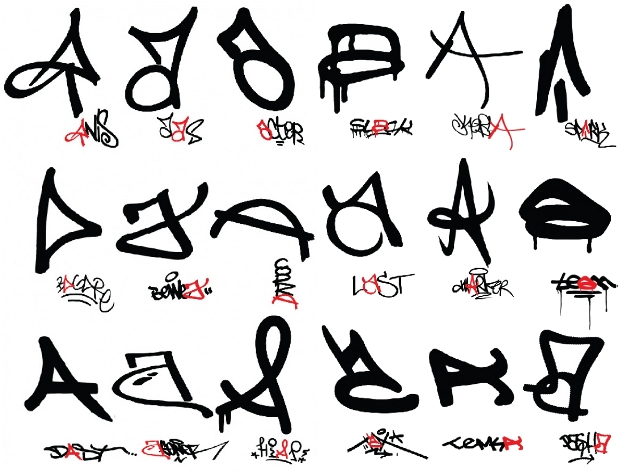 Check out the full details on Roth's Graffiti Taxonomy study here (for Paris) and also here (for New York City-based tag taxonomic studies).
Bad at Sports Summer Collection is up.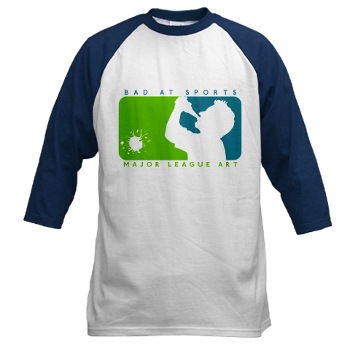 Jerseys, Shirts, Stickers, Magnets & the Party Poster can all be found here.
Take a look and have fun this summer with the beer, grills, sun and beach. It's only a few weeks before the Fall season and cooler weather. So make hay while you can!