Mike Andrews and Noah Singer of the Chicago-based art t-shirt company Imperfect Articles just let us know that for the next twelve days, they'll be adding a new t-shirt to their website store every day. Previously, these shirts were only available at art fairs (most recently Basel last month) but for the proverbial limited time only, you can grab one from wherever you are, starting with a shirt designed by Dublin-based artist Atsushi Kaga.  Here's what today's shirt looks like: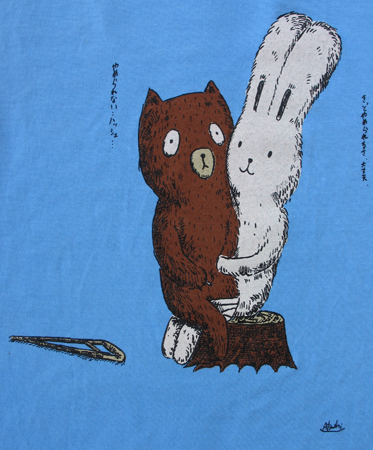 The text is printed in Japanese, but here's a rough translation:
Bear: "I can't quit smoking pot."
Bunny: "Yes, you can, you'll be fine."
Act now; there's only a limited number of this edition left in stock. Yeah, I know that's what they all say, but with Imperfect Articles you can believe it.  Click here to order. Check back with the website each day to see what new shirt they'll have up next.
If you want to learn more about Imperfect Articles' unique blend of art and commerce, IÂ  interviewed Noah Singer a few months ago for New City; you can read the article here.
I am so sorry to report, via The Los Angeles Times, that legendary architectural photographer Julius Shulman has died. From his obituary:
"Julius Shulman, whose luminous photographs of homes and buildings brought fame to a number of mid-20th century Modernist architects and made him a household name in the architectural world, died Wednesday night. He was 98.

Shulman, who had been in declining health, died at his home in Los Angeles, according to gallery owner Craig Krull, who represented him.

Starting with Richard Neutra in 1936, Shulman's roster of clients read like a who's who of pioneering contemporary architecture: Rudolf M. Schindler, Gregory Ain, Frank Lloyd Wright, Charles Eames, Raphael S. Soriano, John Lautner, Eero Saarinen, Albert Frey, Pierre Koenig, Harwell Harris and many others. His work was contained in virtually every book published on Modernist architects.

"He has a sense of visual bravura of composition," wrote the late Robert Sobieszek, photography curator at the Los Angeles County Museum of Art, "so that he can take a rather mundane house and make it look exciting, and take a spectacular house and make it look triply spectacular."

Shulman had "a profound effect on the writing and teaching of architectural history and understanding architecture, especially Southern California modernism," said Thomas Hines, UCLA professor emeritus of architecture and urban design. And Newsweek magazine's Cathleen McGuigan wrote that some of Shulman's photographs of modern glass houses in Palm Springs and Los Angeles "are so redolent of the era in which they were built you can practically hear the Sinatra tunes wafting in the air and the ice clinking in the cocktail glasses."
You can view a slideshow of Julius Shulman at work along with some of his most famous images here. Shulman was a Master whose images helped define architectural modernism in Southern California and beyond. He will truly be missed.
1. Allison Yasukawa & Nicholas Peterson at Second Bedroom/Medicine Cabinet –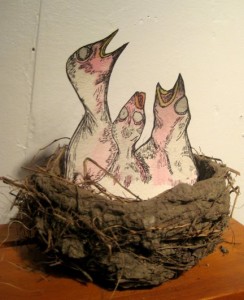 The combination of the two shows on display at Second Bedroom/Medicine Cabinet make this a top choice if you can make it to the south side. Allison Yasukawa's work in the Second Bedroom, according to the press release, deals with propos(ing) new forms of engagement with ethnography. Having a BA in Anthropology, I'm always curious to see how artists try and use it in work. In this case she's using memory mapping of Senegalese neighborhoods. Not sure what it will actually look like, but it sounds worth seeing. And while you're taking a piss, you can check out Nicholas Peterson's work. Basically, he draw's stuff, then sticks the drawings into found objects. According to Medicine Cab's blog "Nicholas' work explores the infrequent and mostly futile attempts of pre-industrial plant and animal life's re-entry into the post-industrial urban landscape." I buy it, do you? Opens Friday, from 7-11pm.
Second Bedroom/Medicine Cabinet is located at 3216 S. Morgan Street Apt. 4R
2. Unusual Suspects at 2612 Space –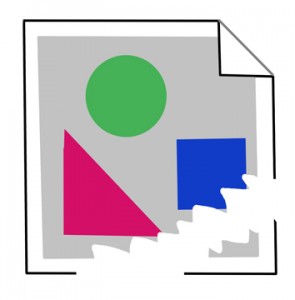 Casper, Ish, Risk, Uneek, Zore, Hyde, Tsel, Flash, Kingdom, Pilot, Rooster, Thor, Poem, Traz, Flex. With a line-up like that, you got to be curious. So's theses dudes (I don't know if they're all actually dudes) are working in a "certain amount of artistic isolation from the traditional art world." To me this whole think sounds like a thinly veiled attempt to have a graffiti (or whatever you kids are calling it these days) show. I hope I'm wrong, and it's something a bit more that that, or it that's what it is, then it's on a epic scale. One can always hope. And hey, there's an official after party. Head for 2612 Space, it's in the industrial wasteland, at 2612 W Nelson Ave, 3rd floor. Opening is from 8-11pm.
2612 Space is located at 2612 W Nelson St., 3rd Fl.
3. MP3II at Museum of Contemporary Photography –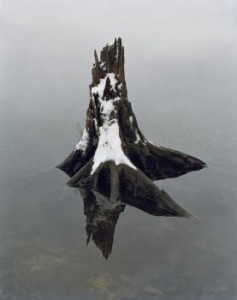 Time for MoCP to trot out some Chicago kids. It always makes me wonder at times like this, did Edelman and MoCP plan this? Two Chicago artist exhibitions for their regional collections, opening within a week of each other. Or is this just what happens in the summer? Well, whatever, at least the featured artists are good. MoPC's throwing up John Opera, Curtis Mann, and Stacia Yeapanis, three photographers making three totally different types of work. I don't know if they work "together" per-se, but I just approach it like three solo show. Come at it from that discretion, and you won't be disappointed. I don't know if there is an official opening, but if you want to hear the artists talk about their work, there is a gallery tour on the 23rd at 5pm.
MoCP is located at 600 S. Michigan Ave.
4. The Diorama Show at Home  –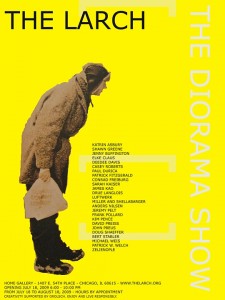 DIAROMAS! How can you not think they are awesome? Remember the gallery dioramas at Mini Dutch? Think of that multiplied. Now, this is all conjecture, considering the fact that Home Gallery only has the image of their announcement card on their website, not show/work images (come on guys, that isn't nice at all!), but I can hope. And with a line-up including: Katrin Asbury and Shawn Greene, Jenny Buffington, Elke Claus, DeeDee Davis and Casey Roberts, Deborah Doering, Paul Durica, Patrick Fitzgerald, Conrad Freiburg, Sarah Kaiser, James Kao, Drue Langlois, Luftwerk, Miller and Shellabarger, Anders Nilsen, Paul Nudd, Jeremy Pelt, Frank Pollard, Kim Pence, David Preiss, John Preus, Doug Shaeffer, Bert Stabler, Rachel Tredon, Michael Weis, Patrick W. Welch and Zelienople, there is no way you can go completely wrong. Come on, go geek out on the tiny details! Opening reception is Saturday from 6-10pm.
Home is located at 1407 E. 54th
5. Terence Hannum & Irena Knezevic at Vega Estates –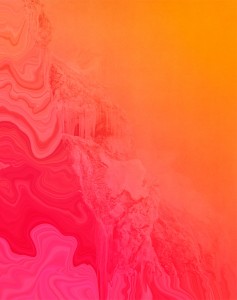 I can't really describe the work of Terence Hannum or Irena Knezevic, and that kind of makes me feel like a mental midget. So how 'bout some bio info instead. "Terence Hannum…performs music with the gothic folk quartet Unlucky Atlas and the experimental duo Locrian." "Irena Knezevic is a Serbian artist…Current areas of research are: secrets, involuntary movement, dream-wreck, liquidity, topical and tropical disasters, downward spirals, bright lights, vibratory inscription, record making, alternative modernist imaginaries and immanence in physical objects." Sounds good, 'eh? The work is worth seeing too boot. Opening Saturday from 6-10pm.
Vega Estates is located at 723 W. 16th St.
Short and sweet, here's what's caught my eye this week:
*The Art Newspaper interviews Bruce Naumann after he won the Golden Lion at Venice. (via Art Observed).
*Artnet analyzes the art stimulus package.
*Bloggers, take note: now you can filter Google image searches for those under a Creative Commons License.
*In New York: Slideluck PotShow XIII now accepting submissions (deadline is Tuesday, July 21st). The theme for this edition of the show is "Now."
*Dear Dash Snow, by William Pohida.
*The death of (porn) narrative.
*Ten weird ways to distribute music.
*Using Brian Eno's oblique strategies in the kitchen (via Things blog).
*West Coast Experimental film legend Chick Strand, a founder of film distributors Canyon Cinema, died last weekend at the age of 78. Read a moving tribute to her here, and a more in-depth profile of her in the L.A. Weekly here (this last, via Spout Blog).
*A trailer for the upcoming Rural Studio documentary at Unbeige.
*Do a good deed, help a new Chicago teacher stock his class with books (via Windy Citizen).
*I am deeply ashamed of myself for really wanting to see this movie: from the folks that brought you Jackass, The Wild and Wonderful Whites of West Virginia. See a trailer for the film below, and watch Richard Metzger interview its director Julian Nitzberg here. If this film ever screens in Chicago, someone please let me know. (via Boing Boing).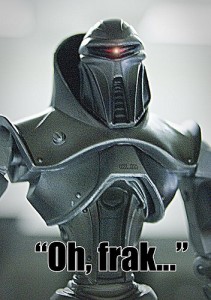 An interesting piece up today on ReadWriteWeb on the growth and development of Facebook and how it's changing the world. Some scary Godzilla/Hal/Ceylon overtones to blog writer Marshall Kirkpatrick's characterizations, prompted by Facebook's announcement today that it now has 250 million users. "If Facebook was a country," writes Kirkpatrick, "it would now be the 4th most populous place on earth. If it maintains this kind of growth there will be more Facebookers than people living in the United States by early November." Kirkpatrick goes on to suggest that the way we interact with Facebook is now "shaping the pattern of a substantial portion of human communication around the world," and cites two examples of the social networking site's cultural impact. One is privacy–Facebook is apparently trying to make the site (even) less private for its users by encouraging them to share their pages not just with Friends but with all 250 million Facebookers. The other is that, if I'm reading the piece in the right spirit (and believe me, I'm not), Facebook has the potential to go all Ceylon on our asses and like, take over. Or something.
Joking aside, the piece is worth checking out.  Not that I'm afraid or anything. I still haven't figured out the difference between posting on my own wall and posting on somebody else's, so I have a long way to go before the application can get close enough to eat my brain or impregnante me with its spawn or whatever else its evil makers might be planning in their evil little mansions right now.