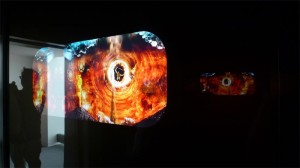 I wanted to post about Marco Brambilla's elevator installation at The Standard hotel in NYC a couple of weeks ago, but all the YouTube links looked super-crappy and stuttery on my relatively old iBook G4. A few days ago Lynn Becker of ArchitectureChicago Plus posted a link to Motionographer, which has a large-scale, gorgeous, smooth-running version of the video on its site. So on the off chance some of you might not have seen Becker's post (or visited her fantastic blog, which is a daily read for me), I'm posting the link again here (it can't be embedded, so click on the Motionographer link above).
Brambilla's installation consists of footage sampled from hundreds of mainstream and avant-garde films and assembled into a vertical photomontage representing a journey through Hell, Purgatory and Heaven viewed while hotel guests travel up and down the elevator. Read more about it, and see the piece itself, on the Motionographer website. It's pretty incredible.
Thanks again ArchitectureChicago!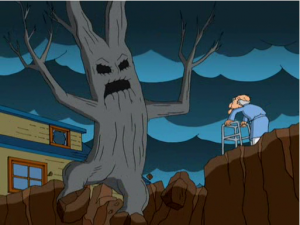 I'm overheated, sticky, and mega-crabby today, and what's more, a big goddamned tree just fell on my house. So here's the list, short and sweet:
*Jackson Pollock/Lee Krasner papers now available online at the Smithsonian
(via Two Coats of Paint).
*Nicola Twilley on The Tree Museum along a four-mile-long boulevard that connects Manhattan to the Northern Bronx parks (BLDGBLOG).
*A.K. Collings aka Neurartic doesn't like Daniel Liebskin's Villa (not quite on the level of a rant, but close).
*Tomorrow Museum on why teenagers read better than you do.
*Los Angeles County Museum of Fire reviews Larry Johnson at the Hammer Museum.
*Buffy vs. Twilight fem-crit mashup (via wired U.K.).
*Arts institutions call for slow-down on bill that would regulate deaccession practices (New York Times).
*Charlie Finch asks collectors to step forward and "Obamaize" the Art World (Artnet)–comments are closed on that post, but Edward Winkleman has discretely brought it up on his own blog — and invites you to comment there.
*Is America producing a new breed of digital Socialism? (Wired U.K.).
*Best of luck, friend: Barney Frank files bill to Federally decriminalize pot (via Richard Metzger); if you agree, show your support for Frank's bill here.
This week, Jana Leo's Rape New York, subtitled An Open Archive, went on view at Invisible Exports in New York City. The exhibition consists of boxes of photographs, documents, transcripts and other material relating to the artists' rape seven years ago.
The gallery's press release describes the project as follows:
The documents assembled here, seven years in the making, accompany the release of (Leo's) book RAPE NEW YORK. The archive consists of photographs from her emergency visit to the hospital, police reports, crime scene photographs, notes from her therapist, as well as records from the civil suit and other assorted items and documents related to the rape and the legal case that followed, none of which can be reproduced, or even reviewed without the victims' consent. The documents are kept in organized boxes to be retrieved by the archivist, not displayed on the gallery walls. The archive is not presented to the visitor; instead, each guest must fully identify oneself (photo ID is required), and request materials from the archivist. This way, the visitor takes responsibility for what's requested, making private again what was made public by Leo—the latest revolution in a cycle of public and private that began with the rape itself.
The outlines of Leo's project recalls that of a number of 1970's era feminist works dealing with traumatic exposure–Yoko Ono's Cut Piece (link is to a video of the performance) and 1968 film Rape come foremost to mind–but the heart of Leo's piece seems to lie within the viewer's decision to take responsibility, in a public way, for looking at material that is private in the deepest sense of the word. Does the artist's complicity in the exposure negate its voyeuristic qualities? Does the decision to study Leo's rape archives signal compassion, curiosity, or cruelty on the part of individual viewers? Perhaps, a bit of all three.
Lately I've been mulling over a bunch of questions that essentially revolve around blogging and personal responsibility. Yesterday I came across mention of Leo's show in a brief blurb on one of the art news blogs. I initially decided not to reblog the item, because there was only minimal information about the show itself. It felt sensationalistic, somehow, to just shoot the item out there once again without providing any further context. As coincidence would have it, this morning I randomly came across Caitlin Roper's lengthy and fascinating interview with Jana Leo on Bomb's blog, which contains a few reproductions of images and documents from the archive. Roper's piece, I think, provides enough background context to give Leo's project meaning even to those who can't see the show in person.
To be honest, I feel somewhat relieved that I don't live in New York and therefore don't have to decide whether or not I want to visit Leo's show and read her archives. I have an easy out, this time. But I did have to make the decision about whether and how I should write about it, particularly in the zippily superficial context of a blog post. So in that sense, I am still a participant in Leo's project, still accountable for my decision to engage it from a distance in the manner that I have.
Here's a last, chilling postscript. Eva Rhodes (nee Eva Majlata), the unnamed woman who was the subject of Ono's aforementioned film Rape, was bludgeoned to death in 2007 by one of her employees, set on fire,  and buried not far from an animal sanctuary she had established in Hungary. Sukhdev Sandhu writes movingly about Rhodes' death, and Ono's film, here.
I can't tell if this movie is going to be mind blowingly awesome or fall flat on it's face but I am really excited to check it out on Friday at Facets.
via Facets
"A middle-aged slacker living in a rundown, graffiti-ridden slum, Daisato's job involves being shocked by bolts of electricity that transform him into a stocky, stick-wielding giant several stories high who is entrusted with defending Japan from a host of bizarre monsters. But while his predecessors were national heroes, he is a pariah among the citizens he protects, who bitterly complain about the noise and destruction of property he causes. And Daisato has his own problems – an agent insistent on branding him with sponsor advertisements, an Alzheimer-afflicted grandfather who transforms into a giant in dirty underwear, and a family who is embarrassed by his often cowardly exploits. A wickedly deadpan spin on the giant Japanese superhero, Big Man Japan is an outrageous portrait of a pathetic but truly unique hero. Directed by Hitoshi Matsumoto, Japan, 2007, 35mm, 113 mins. In Japanese with English subtitles."
Showtimes:
Fri., June 26 at 6:30 & 8:45 pm
Sat.-Sun., June 27-28 at 2, 4:15, 6:30 & 8:45 pm
Mon.-Thurs., June 29 – July 2 at 6:30 & 8:45 pm
Tickets:
$9 general admission
FREE for Facets Members!
For more information please visit Facets site.

This weeks video pick is a brief gallery tour of Sophie Calle's 2007 Venice Biennale piece "Take Care of Yourself" at Paula Cooper Gallery. The show ended earlier this month.
received an email telling me it was over.
I didn't know how to respond.
It was almost as if it hadn't been meant for me.
It ended with the words, "Take care of yourself."
And so I did.
I asked 107 women (including two made from wood and one with feathers),
chosen for their profession or skills, to interpret this letter.
To analyze it, comment on it, dance it, sing it.
Dissect it.  Exhaust it.  Understand it for me.
Answer for me.
It was a way of taking the time to break up.
A way of taking care of myself.
For more Sophie Calle videos check out youtube's page.
For more info on the show check out Paula Cooper's site.