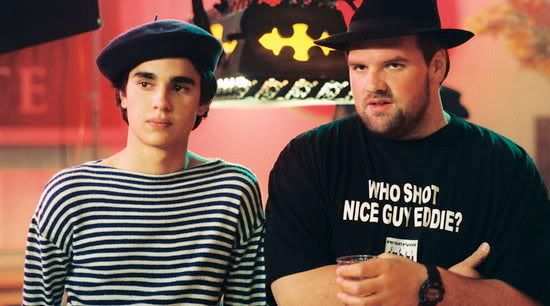 Via Brett Sokol for New York Magazine:
If the glory, freneticism, excess, and sunny evanescence of the current contemporary-art boom has a symbolic home, it's Miami Beach. Thanks to the appearance of an exponentially more fabulous Art Basel Miami Beach fair each December since 2002, the once-tattered resort town has gained a new sense of itself as an aesthetic destination that goes beyond the mere appreciation of a set of well-wrought silicone implants. Now members of the local Establishment, enamored with their smart new friends—collectors, artists, and curators from around the world—want to see if they can get them to stick around. It's partly about wishing to be taken seriously as a cultural alternative to New York and Los Angeles. But it's also a bet that fertilizing the creative class is good economic-development policy—especially in a city hit hard by the real-estate meltdown. Which is why a local developer and collector, Craig Robins, is starting a free postgraduate art program in Miami.
[Read more]
This just in from the New York Times. Hooray!
Biomaterial charges against N.Y. art professor dismissed.
BUFFALO, N.Y. (AP) — A judge threw out charges Monday against a college art professor accused of improperly obtaining biological materials for an exhibit protesting U.S. government food policies.
U.S. District Judge Richard Arcara ruled that the 2004 mail and wire fraud indictment against Steven Kurtz, a University at Buffalo professor, was "insufficient on its face."
Kurtz is a founding member of the Critical Art Ensemble, which has used human DNA and other biological materials in works intended to draw attention to political and social issues. His arrest drew protests from artists in several countries who called the charges an intrusion on artistic freedom.
"Obviously this is a weight off his back, but he still had to suffer through this for four years," said Kurtz's attorney, Paul Cambria. "The last thing this guy is is a bioterrorist."
[Read more]
From the New York Times:
MILAN — The two friends, both performance artists, hatched the idea about a year ago: wearing white wedding dresses, they would hitchhike from Italy to the Balkans to the Middle East to send a message of peace and "marriage between different peoples and nations."
But the message delivered by their performance piece was mostly sad and raw. After just three weeks on the road, one of the two Italian artists, Pippa Bacca, 33, was killed by a driver who offered her a ride.
Her naked body was found on April 11 in some bushes near a Turkish village after a suspect led investigators to the site. Although an official cause of death has not been given, local Turkish authorities said Ms. Bacca had been raped and strangled.
The killing has stirred broad public anger and grief in Turkey and Italy. Still, what Ms. Bacca would have wanted, her family and friends said, was her message of peace to live on.
"She thought that in the world there were more positive than negative people, and that it was right to be trusting," said Rosalia Pasqualino, a sister of Ms. Bacca, whose real name was Giuseppina Pasqualino di Marineo. "Trust is a very human factor, and she believed that to understand people, you had to get to know them."
[Read more]
Sneaker blog SlamXHype blogged about this a few days ago.
"Last year, Guillermo Vargas Habacuc, in the name of art, took a dog from the street, and starved him to death. Endorsed by the prestigious Visual Arts Biennial of the Central American, Habacuc has been invited to repeat this unbelievably cruel act again in 2008. We at SlamXhype stand with Arkitip Intelligence in boycotting this 'artist' and urge you to sign this petition to end this right now."
From the Yale Daily News:
Art major Aliza Shvarts '08 wants to make a statement.
Beginning next Tuesday, Shvarts will be displaying her senior art project, a documentation of a nine-month process during which she artificially inseminated herself "as often as possible" while periodically taking abortifacient drugs to induce miscarriages. Her exhibition will feature video recordings of these forced miscarriages as well as preserved collections of the blood from the process.
The goal in creating the art exhibition, Shvarts said, was to spark conversation and debate on the relationship between art and the human body. But her project has already provoked more than just debate, inciting, for instance, outcry at a forum for fellow senior art majors held last week. And when told about Shvarts' project, students on both ends of the abortion debate have expressed shock . saying the project does everything from violate moral code to trivialize abortion.
But Shvarts insists her concept was not designed for "shock value."
"I hope it inspires some sort of discourse," Shvarts said. "Sure, some people will be upset with the message and will not agree with it, but it's not the intention of the piece to scandalize anyone."
The "fabricators," or donors, of the sperm were not paid for their services, but Shvarts required them to periodically take tests for sexually transmitted diseases. She said she was not concerned about any medical effects the forced miscarriages may have had on her body. The abortifacient drugs she took were legal and herbal, she said, and she did not feel the need to consult a doctor about her repeated miscarriages.
Shvarts declined to specify the number of sperm donors she used, as well as the number of times she inseminated herself.
Art major Juan Castillo '08 said that although he was intrigued by the creativity and beauty of her senior project, not everyone was as thrilled as he was by the concept and the means by which she attained the result.
[Read more]