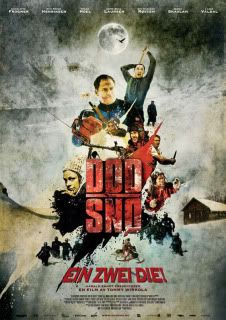 Tommy Wirkola's Nazi-zombie film Dead Snow looked as if it had everything needed to become a horror classic. But its predictable plot line and weak screen writing left much to be desired from the campy gore fest set in the mountains of Norway. The film follows 8 medical students as they relax during their Easter vacation. Before they even arrive at their remote cabin one member of their party, who decided to hike alone (obvious bad idea), is killed by the surprisingly swift zombies that inhabit the mountain. Billed as the next great horror film since Let the Right One In, the Norwegian film relies too heavily on film references and instead of expanding the Nazi-zombie sub genre.
Within the first night of their stay we learn from a creepy local that the village had been occupied by Nazis during WWII. Led by a treasure hungry Colonel Herzog the battalion pillaged the town of all of their gold. It wasn't long until the villagers rebelled and forced Herzog and his men into the freezing mountains. I had to wonder how they became zombies in the first place? Were they zombies to begin with? Did the cold make them zombies? Or did they encounter a zombie out in the mountain? None of these questions are addressed in the film but Wirkola does give some interesting attributes to his legion that separates them from other zombie films. For starters his zombies are abnormally fast  but only when it is convenient for them to be. They also are able to use objects like binoculars and weapons, and are equipped with a keen sense for prey/treasure.
Once I let my expectations fade away, (comparing it to Let the Right One In is truly an injustice) I actually began to enjoy the gross out humor that plagues the movie. At one point in the film two of the horny characters get it on in an outhouse while one is taking a shit. When the zombies arrive the female is pulled under the outhouse. The next time we see her she is covered in shit and about to be ripped to shreds.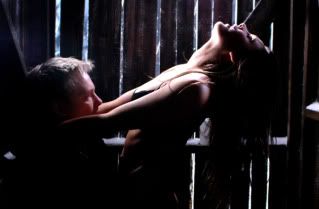 The film's flaws can be overlooked if you are into campy horror. If you want to see a film where a person's head is pulled apart and their brains fall on the floor then Dead Snow might be what you are looking for. If not, I would recommend skipping this film and catching Outpost, a less campy take on the Nazi-Zombie genre.
This week's pick is a 3 part documentary entitled Situationist International
via artstar11
"A video documentary combining exhibition footage of the Situationist International exhibitions with film footage of the 1968 Paris student uprising, and graffiti and slogans based on the ideas of Guy Debord (one of the foremost spokesmen of the Situationist International movement). Also includes commentary by leading art critics Greil Marcus, Thomas Levine, and artists Malcolm Mac Laren and Jamie Reid. Branka Bogdanov, Director and producer. NTSC-VHS 22 min. 1989″
You know, like Julian Schnabel-bashing was back in the day, before he started directing? I'm thinking yes. The unkindness of it all aside (and that makes for a very big aside, I know), Peyton does inspire some of the most deliciously evil descriptive sentences among those art critics who dislike her work. The latest example of anti-Peytonism comes from the normally polite Ben Street of Art21 blog. In his latest "Letter from London," he reviews Live Forever, the Peyton survey that made the rounds in the U.S. last year to mixed reviews (to put a positive spin on it) and is now on view at The Whitechapel Gallery in London. The Brits aren't taking any greater of a shine to her work than we did, judging from Street's review:
"I don't understand why anyone would like Elizabeth Peyton, but I also don't understand why anyone would like egg whites or Coldplay or The Shawshank Redemption, so maybe I'll never understand. Her first UK solo show at the Whitechapel Art Gallery is so fey and self-conscious that I had to crush a can of Bud against my forehead and punch the wall out of sheer repressed masculine frustration. The drive to the police station and subsequent waiting around for my lawyer gave me sufficient time to mull over Peyton's work. If I did like her work, what might I say about it? That its intimate scale and willful prettification of some of the nineties' butt-ugliest pop stars brings together teenage fandom and the tradition of 18th-century portraiture? That its objectification of sallow Caucasian male beauty strikes a blow for the female gaze? That the breathless swishiness of her paintbrush and contre-jour light effects create poignant elegies to the transience of youth? That Peyton's reimagining of Delacroix as the drummer in The Strokes and Napoleon as a Lower East Side DJ is somehow a radical reinterpretation of history? In Peyton's words, Napoleon was "a beautiful man and he had a big vision about life." Ever seen Elizabeth Peyton and Sasha Baron Cohen in the same room together?"
Yeah, o.k., granted. But what I want to know is, as chroniclers of their respective art scenes, what makes Dash Snow so "subversive" (see round up of Snow's obit coverage here) while Peyton is the freakin' devil? Was it Snow's semen-stained "Fuck the Police" thing? Is that really all it takes??
O, Art World. I will never understand your whimsical ways. At any rate, you can watch video footage from Peyton's New Museum show at Vernissage TV, to whom credit for the image below is also due.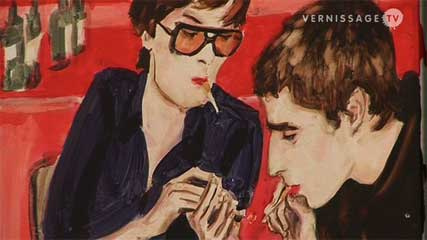 I'm back with fresh harangues! I haven't found any truly worthy candidates in awhile but yesterday the Chicago architecture critic Lynn Becker posted a screed that pleased me greatly in its justifiable outrage. One of Chicago's last 24-hour newsstands was torn down seemingly overnight by the French firm JCDecaux. Writes Becker:
"It's another pound of flesh being extracted by JCDecaux S.A., the French firm with which the city signed a 2002, 20 year, $200 million deal for a monopoly on the city's bus shelters. As with the recent parking meter deal, the Daley administration continues to turn control of Chicago's streets over to private interests, and now we have things like a new Pritzker Park in the South Loop, where a huge area has been left unlandscaped to provide JCDecaux a place to put one of the food concessions promised them as part of the deal.

Crain's Ann Saphir reported on Friday that the destruction of the Chicago Michigan newsstand was still another manifestation of JCDecaux's control, as they will be constructing their own replacement beginning "at the end of the month."

And, of course, while the city makes sure Decaux is taken care of, the newsstand's proprietor, Anil Modi, who works long hours to keep his business going, gets screwed. He apparently gets to return, but no matter how long it takes to build Decaux's stand, he'll receive not a penny of compensation for all the lost income, no doubt part of the city's strategy to just make him go away."
Make sure to read the full post at ArchitectureChicago Plus. UPDATE: The City has erected a new newstand for Mr. Modi in record time. Becker blogs about it in an update post here.
"Let the Televised Bitch-Slapping Begin!" (marshallastor.com).