I wasn't very familiar with Mark Dion's Travels of William Bartram – Reconsidered until about a month ago. For this week's video pick Dion returns to Bartram Gardens to install the objects he collected while on his journey.
"Travels of William Bartram – Reconsidered will examine the history and culture of 18th century American naturalists, John (1699-1777) and his son William Bartram (1739-1823). Using their travel journals, drawings, and maps, Dion plans to retrace the exploratory journeys of the Bartrams, in particular, William's expedition to northern Florida. Often Dion and his companion "explorers" will travel in the same ways the Bartrams did: by horseback, boat, and on foot."
For more info on the project check out the comprehensive project site.
The L.A. Times' Top of the Ticket blog asked Shepard Fairey what he thought of the Obama Joker posters that have appeared around the streets of L.A. and further proliferated online. Fairey makes it clear that while he doesn't at all agree with the anonymous poster artist's apparent right-wing political slant, he does give the perpetrator props for conveying the message concisely:
""The artwork is great in that it gets a point across really quickly," Fairey said. "The Joker is a sinister, evil character that can't be trusted. And if they want to make that parallel with Obama — bam."
Wait–shouldn't that be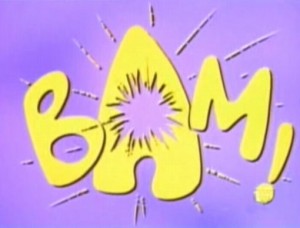 ???
On July 29, a fire destroyed one of the country's largest private collections of African and African-American art–more than 300 sculptures, paintings, photographs and works in other media by Kerry James Marshall, Nick Cave, Jacob Lawrence, Romaire Bearden, Kara Walker, Carrie Mae Weems, Yinka Shonibare and others. Prominent activist and art collector Peggy Cooper Cafritz was out of town when a fire consumed her Washington, D.C. home and burned it to the ground.
Over the weekend the New York Times ran a story on the fire that delves into the personal and cultural ramifications of this significant loss. As far as I could tell, the Times ran no pictures of the art or home that was destroyed, only "after" shots of the ruins. But when it comes to art and art collections, one needs to see what was destroyed in the first place in order to fully appreciate the significance of the loss. Oprah.com has an extensive slideshow of Ms. Cafritz's light-filled home, every corner bursting with one beautiful artwork after another (the slideshow is part of a feature on Cafritz that ran prior to the fire).
Courtesy of Oprah, below are two images of Ms. Cafritz's home: one showing a Soundsuit by Nick Cave (hanging above the stairwell) and another of Kerry James Marshall's sculpture Power to the People installed in the entry hall. A truly terrible loss.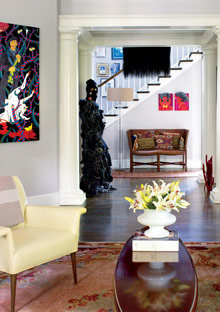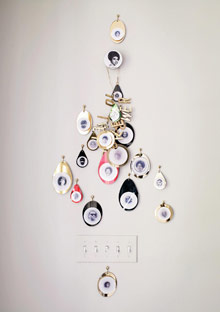 I've been having one of those Alice in Wonderland-type afternoons on the Internet where you happen upon something that fascinates you and whooosh! down you tumble, lost to the rest of the world for hours. Where did I fall? Into the Library of Congress' Flickr photostream, which boasts a particularly compelling trove of color images from the 1930s and 1940s. I was looking for images from Chicago from that period, and as I started sifting through the search results I was struck by how incredibly cinematic some of them they are. I even began to construct an imaginary narrative by pulling certain images out of the stream and mentally rearranging them like film stills from a lost movie about the Chicago trainyards in the 1940s. Kinda like this…
The cast of characters:
The main sets: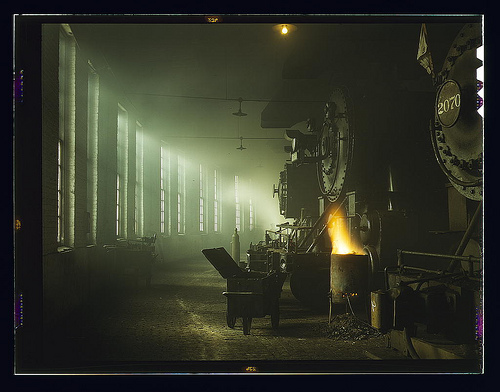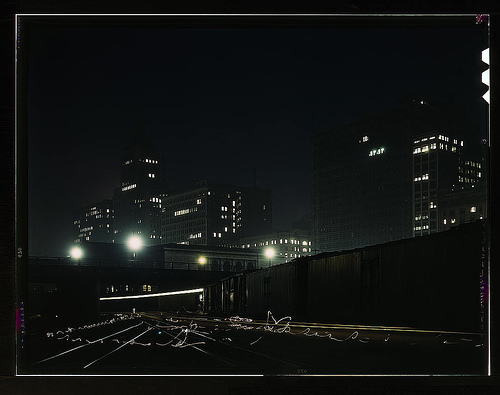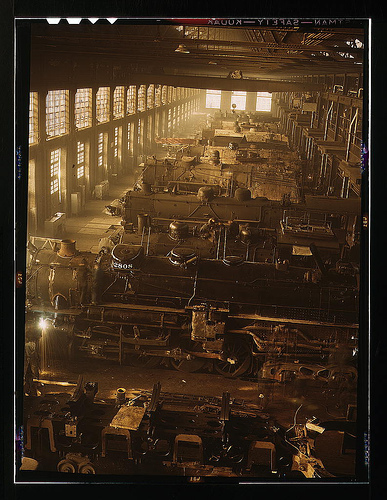 Wonder what this guy is up to?: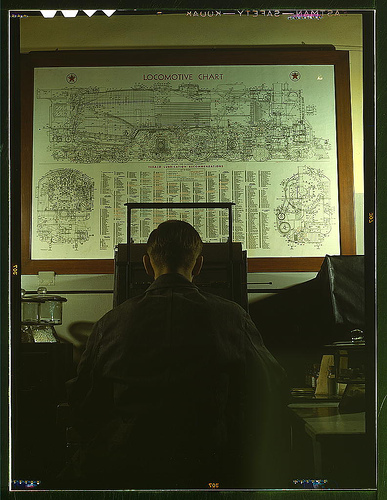 There's definitely a steampunk vibe to my imaginary film, but you can fill in your own narrative blanks. (Click on each image to be taken directly to its respective Library of Congress flickr page, where you can get the real historical details on each image.) All of the above photographs were taken by the amazing Jack Delano for the Farm Security Administration, established by FDR to aid small farmers and restore damaged land and communities ravaged by the Depression. Delano, in particular, is known for his compositionally striking photographs documenting the country's train system.
Visit the Library of Congress' Flickr stream to see many more incredible historical images from this period, many of which, like the above examples, are in vibrant color.