Nadia Plesner, a Danish 26-year-old art student, designed a T-shirt depicting a Darfurian child holding a Louis Vuitton bag with a Chihuahua on his shoulder in the vein of Paris Hilton. The image was printed on t-shirts to bring about increased attention to the plight of Darfur and the West's insistence to trivialize or overlook the issues there.
In February of this year the Marc Jacobs run House of Louis Vuitton issued a copyright lawsuit demanding $20,000 a day for each day she continued to use this image and reimbursement for legal fees. Plesner is scheduled to meet with Louis Vuitton in Paris with her lawyer on May 30th since she refused to comply.
New York Mag has a interview with Nadia Plesner that makes for an interesting read.
While the House of Louis Vuitton is busy spending thousands of dollars suing her instead of capitalizing on the moment by making a donation in her name to charity and realizing that parody/caricature and non competitive market copyright have a considerable barring on this "copyright" case. May Bad at Sports suggest other parody related/for profit targets for their attention.


SNL Season 31: Episode 10 – Where a copyrighted Louis Vuitton like background was used to parody a sweet sixteen skit.
Sue Chewy Vuiton again (and fail again) – If at first you don't succeed-waste court time agian.
Every Editorial Cartoon ever made that has a Louis Vuitton related caricature – Newspapers used to be for profit industries at one time.
Paris Hilton – A living caricature of a human being who is regularly seen with a LV handbag.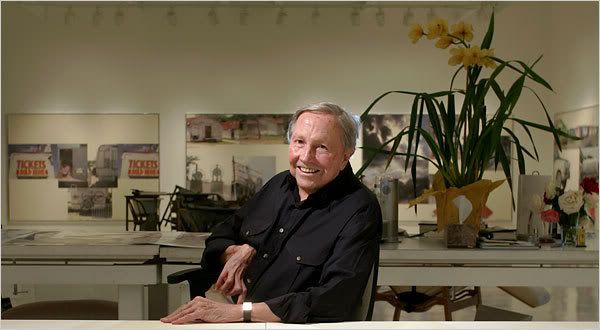 via MICHAEL KIMMELMAN for the New York Times:
Robert Rauschenberg, the irrepressibly prolific American artist who time and again reshaped art in the 20th century, died on Monday night at his home on Captiva Island, Fla. He was 82.
The cause was heart failure, said Arne Glimcher, chairman of PaceWildenstein, the Manhattan gallery that represents Mr. Rauschenberg.
Mr. Rauschenberg's work gave new meaning to sculpture. "Canyon," for instance, consisted of a stuffed bald eagle attached to a canvas. "Monogram" was a stuffed goat girdled by a tire atop a painted panel. "Bed" entailed a quilt, sheet and pillow, slathered with paint, as if soaked in blood, framed on the wall. All became icons of postwar modernism.
A painter, photographer, printmaker, choreographer, onstage performer, set designer and, in later years, even a composer, Mr. Rauschenberg defied the traditional idea that an artist stick to one medium or style. He pushed, prodded and sometimes reconceived all the mediums in which he worked.
Building on the legacies of Marcel Duchamp, Kurt Schwitters, Joseph Cornell and others, he helped obscure the lines between painting and sculpture, painting and photography, photography and printmaking, sculpture and photography, sculpture and dance, sculpture and technology, technology and performance art — not to mention between art and life.
Mr. Rauschenberg was also instrumental in pushing American art onward from Abstract Expressionism, the dominant movement when he emerged, during the early 1950s. He became a transformative link between artists like Jackson Pollock and Willem de Kooning and those who came next, artists identified with Pop, Conceptualism, Happenings, Process Art and other new kinds of art in which he played a signal rol
No American artist, Jasper Johns once said, invented more than Mr. Rauschenberg. Mr. Johns, John Cage, Merce Cunningham and Mr. Rauschenberg, without sharing exactly the same point of view, collectively defined this new era of experimentation in American culture.
Apropos of Mr. Rauschenberg, Cage once said, "Beauty is now underfoot wherever we take the trouble to look." Cage meant that people had come to see, through Mr. Rauschenberg's efforts, not just that anything, including junk on the street, could be the stuff of art (this wasn't itself new), but that it could be the stuff of an art aspiring to be beautiful — that there was a potential poetics even in consumer glut, which Mr. Rauschenberg celebrated.
"I really feel sorry for people who think things like soap dishes or mirrors or Coke bottles are ugly," he once said, "because they're surrounded by things like that all day long, and it must make them miserable."
Read the full article мебелиhere
THIS WEDNESDAY the City Council will be voting on a proposed ordinance that would ruin small clubs, small theater companies, and basically anything put on at a small venue (less than 500 people) in the city.
The ordinance would require anyone putting on small shows (even garage bands just promoting their own gigs) to be licensed as a "promoter" subject to a $2000 license fee and requirements for $300,000 liability insurance for any event. Contact your alderman now and let them know you don't want to see the arts strangled this way — Do you really want the only live art in Chicago to be comprised of performances of "Wicked" and farewell concert tours by 80s hair bands? Not that there's anything wrong with either –but don't you want choices, variety, and a city where artists are free to perform, struggle, succeed, and even fail? Whether you're a fan of open mike nights, spoken word, small theater groups, whatever … You need to speak up now, because all of these will bite the dust if this becomes the law in the city.
Tell your alderman that an ordinance like this would have guaranteed that Chicago could never have been the home of Second City or the Lookingglass Theater, or the launching ground for countless musicians, actors, and playwrights and poets, and that audiences and artists alike will suffer, and our city will become poorer in spirit, if this proposed ordinance becomes law.
To find your Alderman, follow the following link:
http://www.chicityclerk.com/citycouncil/alderman/find.html
And do it before Wednesday's vote!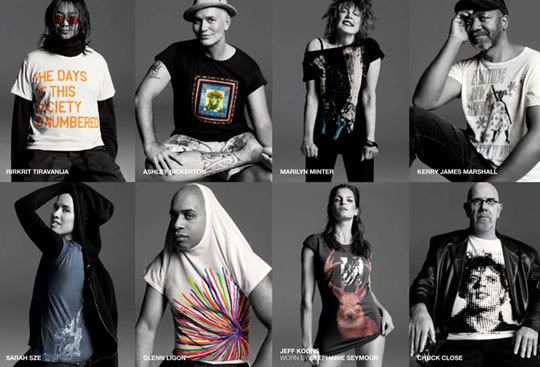 via highsnobiety
Building on its long history of supporting the arts, today Gap introduced Artist Editions T-Shirts, a limited edition collection of t-shirts designed by 13 of today's most influential contemporary artists, including Chuck Close, Jeff Koons, Marilyn Minter, Kiki Smith, Cai Guo-Qiang, Barbara Kruger, Ashley Bickerton, Kenny Scharf, Glenn Ligon, Rirkrit Tiravanija, Kerry James Marshall, Hanna Liden and Sarah Sze.
Gap worked in close partnership with the Whitney Museum of American Art and Art Production Fund to create the collection with the 13 artists, who are all previous Whitney Biennial participants. The Whitney Biennial is a special exhibition held every two years at the Whitney Museum of American Art that features the most important contemporary art in the United States. Gap is a proud sponsor of the 2008 Whitney Biennial.
The limited edition collection is available exclusively at select Gap stores in the U.S., Canada, the U.K. and franchise markets, as well as online in the U.S. at gap.com. It's also available at the Whitney Museum of American Art, the San Francisco Museum of Modern Art, the Museum of Contemporary Art Chicago, the Museum of Contemporary Art Los Angeles, the Walker Art Center in Minneapolis and at Colette, a Paris-based boutique. The t-shirts range in price from $28 to $38.