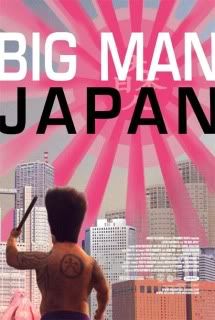 Big Man Japan at times felt as if it was two different movies. One made me laugh so hard that the people viewing it with me actually thought I was in physical pain. The other part, so boring I started to fall asleep. The mockumentary written, directed, and starring Hitosi Matumoto follows Daisato, a middle-aged slacker that has inherited the role of being the latest Big Man. How big is Big Man? About Godzilla size once he has been shocked with enough electricity. This process not only makes him the size of a building but also leaves him with a Don King hairstyle. Daisato is the descendant of the original Big Man who helped protect Japan during World War I. Unlike his father and grandfather, who were considered national heroes, Daisato is criticized by the citizens of Japan as being a nuisance and out of shape. It isn't until he meets a devil-like monster that leaves Big Man running for his life do people actually tune into his poorly rated tv show.
The seventy-five minute long film is way too long, and that is coming from a person that loves epically long films. Although there were a few moments when I chuckled during the slower scenes, most of the humor lies within the film's bizarre cast of monsters. They range from a smelly old monster from the suburbs to a nipple sucking child monster. The last 30 minutes of the film turns into a live action Ultraman-esque battle against the devil-like arch enemy. Accompanied by a team of American giants that yell "Justice" as they attempt to defeat Big Man Japan's archenemy the film ends with a critique of their performance.
Big Man Japan will be released on DVD Tuesday, July 28, 2009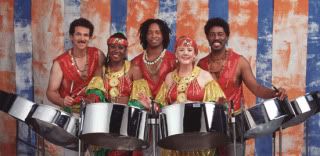 Friday's Links Roundup is now becoming Friday's Twitter Roundup. It just makes more sense. On this week's short roundup  we have drunk people in yoga positions (ouch!), The Renaissance Society posts a video with director Susanne Ghez, and I reveal that I was in a steel drum band in high school. Have a great weekend everyone.

Drunk People Yoga Positions. Entertaining in a sad way.
Oxymoron of the day: custom Channel motorcycle.
Watching a demo of the Augmented Reality app on Plural Blog.
Did anyone check out MP3 II: Curtis Mann, John Opera, Stacia Yeapanis at the MoCP this weekend?
I was in a steel drum band in high school. This brings back memories. (via TWBE)
RT: @RenSoc New RenSoc video: Director Susanne Ghez interviews artist Judy Ledgerwood.
Yes! Newberry Book Fair starts tomorrow. Be sure to check it out before it ends this Sunday
RT @ChiGalleryNews Randolph St. Market takes place in the West Loop this weekend. Happy hunting!
Zaha Hadid's delayed Burnham Plan Centennial pavilion in Millennium Park might still open in early August.
Top 5 is going to be short on words this week, since I'm not feeling well. My opening picks, in no particular order:
1. Iranian Short Films at The Nightingale Theater
Not only contemporarily appropriate, but controversial. Can't go wrong with that. $5 at the door, but it'll be worth it: Friday at 7pm. The Nightingale Theater is located at 1084 N. Milwaukee Ave.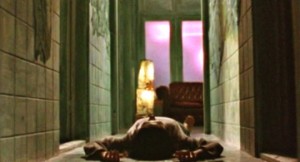 2. Run, Blago, Run! At Creative Rescue Organization
Making fun of that douche bag never gets old, and I'm not even from Chicago. Come see the most recent round art-based Blago bashing: Friday from 6 to 9pm. Creative Rescue Organization is located at 1925 N. Milwaukee Ave.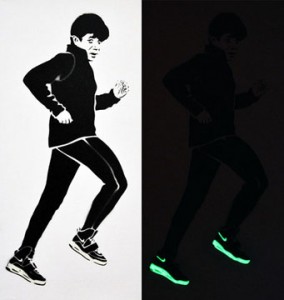 3. The Modern Day Diana at ARC Gallery
If you know me, you know why I'm interested in this show. Exploration of contemporary women hunters in America: Friday from 6 to 9pm. ARC Gallery is located at 832 W. Superior St.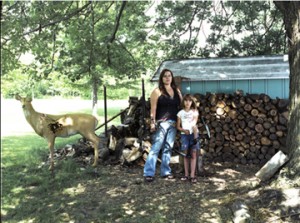 4. The Underground Railroad Project at Twelve Galleries
Sorry if this is a conflict of interest BAS, but I have to mention a good show when I see one. Walking the Underground Railroad, pretty bad ass if you ask me. Come see the product of Meg Onli's epic trip: Saturday from 7 to 10pm. Twelve Galleries is located (for this month) at 2156 West 21st Pl.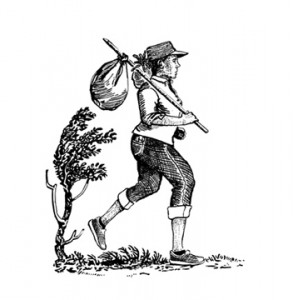 5. I have not painted in a year. I have been listening to my stereo. at The Suburban
Now, I admit, The Suburban is a bit of a trek, but they always seem to throw up something good and worth the trip. This round you get to see work by Keil Borrman, Bel Canto Designs, Malika Green, Alex Jovanovich, Divya Mehra, Virginia Poundstone, Amelia Saddington and David G.A. Stephenson: Sunday from 2 to 4pm.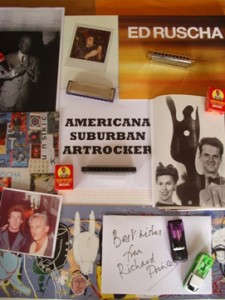 "Pilgrimage is one of the fundamental structures a journey can take–the quest in search of something, if only one's own transformation, the journey toward a goal–and for pilgrims, walking is work," writes Rebecca Solnit in the book Wanderlust: A History of Walking. Last summer artist Meg Onli (who, as you all know, blogs here at Bad at Sports and is an associate producer of the Podcast) discovered this for herself. Inspired by the perilous journeys taken by fugitive slaves along the underground railroad, Onli undertook her own pilgrimage by setting out on a 30 day, 440 mile trek that began in Montgomery County, Maryland, the birthplace of Josiah Henson (who inspired Harriet Beecher Stowe's 1852 novel Uncle Tom's Cabin) and ended at Dawn, a settlement in Dresden, Ontario that is the site of the cabin home Hensen eventually built for himself after his escape to Canada.
Onli's pilgrimage has both historical and personal significance; she undertook it, she has explained, "in search of my blackness." Her resulting Underground Railroad Project is both a record of that search and a conscious attempt to reenact and reconstruct a Black historical identity that has been (and is still, in Onli's case) realized in part by the act of walking.
Before and after the journey, Onli worked on a series of drawings that featured a "doppelganger" version of herself beset by fears and anxieties about the road ahead.  On the project's website Onli notes that this fictional version of herself makes reference to fugitive slave posters that typically depicted runaway slaves as solitary figures who, as Onli describes it, are "careless and literally running for their lives." The reality, of course, was that the road to freedom was made up of people helping other people, an informal network of human connections that required foresight, planning, ingenuity and steely resolve on everyone's part to succeed. The Underground Railroad was anything but a mad dash for freedom; to successfully navigate it, it was necessary to walk, not run.
Consisting of drawings, photo documentation and performance relics, Onli's The Underground Railroad Project will be on view in Chicago this Saturday, July 25th as part of the Twelve Galleries series of exhibitions. The opening reception is from 7 to 10 pm this Saturday evening at this address:
Twelve Galleries
2156 West 21st Place, 2nd floor
Chicago, IL 60608
If you live outside of Chicago, you can view photo documentation and extensive artist-authored commentary from this remarkable project on Meg's website here.
A postscript: prior to beginning her walk, Onli wrote a series of letters to companies such as AIG, Union Pacific and CSX that have profited from Antebellum labor asking them for project sponsorship. Onli saw this as a potentially symbolic gesture on the part of these companies, akin to that of reparations to African Americans for slave labor and its aftermath. A total of twenty companies received letters, but none agreed to participate.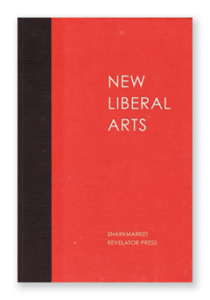 What general forms of knowledge are most important for people to have today? What fields of study have become irrelevant? Are there emerging areas of human inquiry that warrant greater (or even just some) inclusion in today's institutions of higher education?
These are some of the questions asked by Robin Sloane, Matt Thompson, and Tim Carmody, the founders and contributors to Snarkmarket. They've collectively offered some new takes on what has increasingly been dismissed as an outdated concept–namely, a generalized "liberal arts" course of study in college or university–by crowd-sourcing answers to the question of what a "twenty-first century way of doing the liberal arts" would be.  You can read some of the initial proposals here (scroll down to the comments).
Those ideas that made the cut have been compiled into a book, co-published with Revelator Press and titled New Liberal Arts, which aims to "expand and invigorate our notions of the liberal arts." Course proposals include "Attention Economics," "Inaccuracy," "Journalism," "Food," "Myth and Magic," and "Genderfuck." The book was first published in print form but is now available as a free downloadable .pdf that can be distributed and "remixed" freely.
In the spirit of the product itself, here's a free sample: a proposal for a course on "Brevity," written by Gavin Craig:
BREVITY

140 characters is the new 30 seconds. 30 seconds is forever.
Anything important is worth saying quickly. By the time it has been said, it is already the past, and so the saying must become a moment of its own. Brevity is urgency and modesty at once. Attention is the scarcest resource. Millions are dying and we have only seconds.
The right word is worth a thousand words.
Brevity is representation and not description.
Show and don't tell becomes a truth and not a cliché when video can be posted instantaneously. The message must place the reader in the moment, and since the moment is unavailable, the message must place the reader in the message.

Now.
(Not then, not later. There is no later.)
This is not the victory of form over content. The stakes are much higher than that.
If you want to download a copy of New Liberal Arts now, click here.