1. Allison Yasukawa & Nicholas Peterson at Second Bedroom/Medicine Cabinet –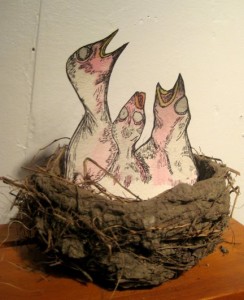 The combination of the two shows on display at Second Bedroom/Medicine Cabinet make this a top choice if you can make it to the south side. Allison Yasukawa's work in the Second Bedroom, according to the press release, deals with propos(ing) new forms of engagement with ethnography. Having a BA in Anthropology, I'm always curious to see how artists try and use it in work. In this case she's using memory mapping of Senegalese neighborhoods. Not sure what it will actually look like, but it sounds worth seeing. And while you're taking a piss, you can check out Nicholas Peterson's work. Basically, he draw's stuff, then sticks the drawings into found objects. According to Medicine Cab's blog "Nicholas' work explores the infrequent and mostly futile attempts of pre-industrial plant and animal life's re-entry into the post-industrial urban landscape." I buy it, do you? Opens Friday, from 7-11pm.
Second Bedroom/Medicine Cabinet is located at 3216 S. Morgan Street Apt. 4R
2. Unusual Suspects at 2612 Space –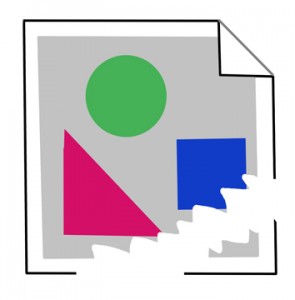 Casper, Ish, Risk, Uneek, Zore, Hyde, Tsel, Flash, Kingdom, Pilot, Rooster, Thor, Poem, Traz, Flex. With a line-up like that, you got to be curious. So's theses dudes (I don't know if they're all actually dudes) are working in a "certain amount of artistic isolation from the traditional art world." To me this whole think sounds like a thinly veiled attempt to have a graffiti (or whatever you kids are calling it these days) show. I hope I'm wrong, and it's something a bit more that that, or it that's what it is, then it's on a epic scale. One can always hope. And hey, there's an official after party. Head for 2612 Space, it's in the industrial wasteland, at 2612 W Nelson Ave, 3rd floor. Opening is from 8-11pm.
2612 Space is located at 2612 W Nelson St., 3rd Fl.
3. MP3II at Museum of Contemporary Photography –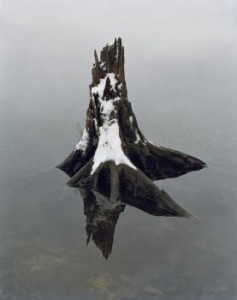 Time for MoCP to trot out some Chicago kids. It always makes me wonder at times like this, did Edelman and MoCP plan this? Two Chicago artist exhibitions for their regional collections, opening within a week of each other. Or is this just what happens in the summer? Well, whatever, at least the featured artists are good. MoPC's throwing up John Opera, Curtis Mann, and Stacia Yeapanis, three photographers making three totally different types of work. I don't know if they work "together" per-se, but I just approach it like three solo show. Come at it from that discretion, and you won't be disappointed. I don't know if there is an official opening, but if you want to hear the artists talk about their work, there is a gallery tour on the 23rd at 5pm.
MoCP is located at 600 S. Michigan Ave.
4. The Diorama Show at Home  –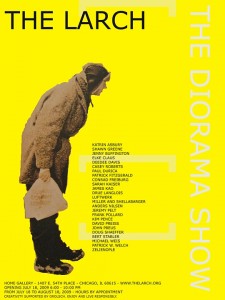 DIAROMAS! How can you not think they are awesome? Remember the gallery dioramas at Mini Dutch? Think of that multiplied. Now, this is all conjecture, considering the fact that Home Gallery only has the image of their announcement card on their website, not show/work images (come on guys, that isn't nice at all!), but I can hope. And with a line-up including: Katrin Asbury and Shawn Greene, Jenny Buffington, Elke Claus, DeeDee Davis and Casey Roberts, Deborah Doering, Paul Durica, Patrick Fitzgerald, Conrad Freiburg, Sarah Kaiser, James Kao, Drue Langlois, Luftwerk, Miller and Shellabarger, Anders Nilsen, Paul Nudd, Jeremy Pelt, Frank Pollard, Kim Pence, David Preiss, John Preus, Doug Shaeffer, Bert Stabler, Rachel Tredon, Michael Weis, Patrick W. Welch and Zelienople, there is no way you can go completely wrong. Come on, go geek out on the tiny details! Opening reception is Saturday from 6-10pm.
Home is located at 1407 E. 54th
5. Terence Hannum & Irena Knezevic at Vega Estates –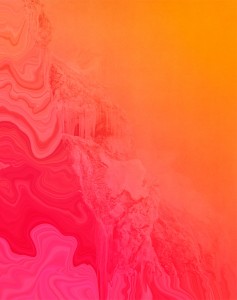 I can't really describe the work of Terence Hannum or Irena Knezevic, and that kind of makes me feel like a mental midget. So how 'bout some bio info instead. "Terence Hannum…performs music with the gothic folk quartet Unlucky Atlas and the experimental duo Locrian." "Irena Knezevic is a Serbian artist…Current areas of research are: secrets, involuntary movement, dream-wreck, liquidity, topical and tropical disasters, downward spirals, bright lights, vibratory inscription, record making, alternative modernist imaginaries and immanence in physical objects." Sounds good, 'eh? The work is worth seeing too boot. Opening Saturday from 6-10pm.
Vega Estates is located at 723 W. 16th St.
Short and sweet, here's what's caught my eye this week:
*The Art Newspaper interviews Bruce Naumann after he won the Golden Lion at Venice. (via Art Observed).
*Artnet analyzes the art stimulus package.
*Bloggers, take note: now you can filter Google image searches for those under a Creative Commons License.
*In New York: Slideluck PotShow XIII now accepting submissions (deadline is Tuesday, July 21st). The theme for this edition of the show is "Now."
*Dear Dash Snow, by William Pohida.
*The death of (porn) narrative.
*Ten weird ways to distribute music.
*Using Brian Eno's oblique strategies in the kitchen (via Things blog).
*West Coast Experimental film legend Chick Strand, a founder of film distributors Canyon Cinema, died last weekend at the age of 78. Read a moving tribute to her here, and a more in-depth profile of her in the L.A. Weekly here (this last, via Spout Blog).
*A trailer for the upcoming Rural Studio documentary at Unbeige.
*Do a good deed, help a new Chicago teacher stock his class with books (via Windy Citizen).
*I am deeply ashamed of myself for really wanting to see this movie: from the folks that brought you Jackass, The Wild and Wonderful Whites of West Virginia. See a trailer for the film below, and watch Richard Metzger interview its director Julian Nitzberg here. If this film ever screens in Chicago, someone please let me know. (via Boing Boing).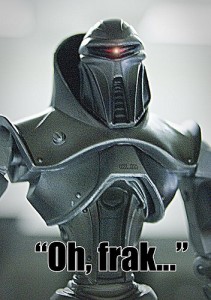 An interesting piece up today on ReadWriteWeb on the growth and development of Facebook and how it's changing the world. Some scary Godzilla/Hal/Ceylon overtones to blog writer Marshall Kirkpatrick's characterizations, prompted by Facebook's announcement today that it now has 250 million users. "If Facebook was a country," writes Kirkpatrick, "it would now be the 4th most populous place on earth. If it maintains this kind of growth there will be more Facebookers than people living in the United States by early November." Kirkpatrick goes on to suggest that the way we interact with Facebook is now "shaping the pattern of a substantial portion of human communication around the world," and cites two examples of the social networking site's cultural impact. One is privacy–Facebook is apparently trying to make the site (even) less private for its users by encouraging them to share their pages not just with Friends but with all 250 million Facebookers. The other is that, if I'm reading the piece in the right spirit (and believe me, I'm not), Facebook has the potential to go all Ceylon on our asses and like, take over. Or something.
Joking aside, the piece is worth checking out.  Not that I'm afraid or anything. I still haven't figured out the difference between posting on my own wall and posting on somebody else's, so I have a long way to go before the application can get close enough to eat my brain or impregnante me with its spawn or whatever else its evil makers might be planning in their evil little mansions right now.
I have always longed to play an old-style D&D role playing game "live," as it were, ever since I was a kid and saw that TV movie starring Tom Hanks called Mazes and Monsters (any of you old enough to remember it?).  In it, Tom played a troubled game nerd who, along with his game-nerd friends (including a chick, which was cool for those times), found these secret deep twisty caves and decided to role-play Dungeons and Dragons in them, like for real. They all got totally obsessed by the game but in the end, poor Tom went crazy and had to be institutionalized because he literally got lost in the game world, unable to tell what was real and what was pretend. Because I want to share the absolute and utter amazingness of this movie with y'all, I grace you with this clip:
So anyway, I came across Brody Condon's work a few weeks ago on the L.A.-based experimental media blog Blur + Sharpen (written by the incredibly gifted writer and super-smart maven of medias old and new, Holly Willis, a former classmate of mine at USC's School of Cinema Television from way back when) and I've been fascinated with it ever since, largely because it seems to tap into a lot of the crazy that Tom was suffering from in the movie, that desire to transcend dull reality and experience something visionary and heroic, but Condon projects this desire into the era of video games rather than the book, paper and pen way of playing RPG's.
Condon is an American artist born in 1974 in Mexico, and is currently based in New York. His 2008 DVD Without Sun is a 15 minute compilation of footage found on the Internet of various random people tripping HARD on psychedelic substances. Condon's website describes the piece's focus as on "the exterior surface of the 'projection of self' into visionary worlds," noting that it was named after Chris Marker's classic video work Sans Soleil. Click on the image below to be taken to Condon's website and a brief clip of the video. If you're in Los Angeles this weekend, you can check out a live performance on July 18th at Machine Project that features two actors recreating scenes from Condon's video.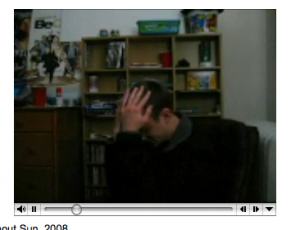 Death Animations is a three hour performance that also took place at Machine Project. Inspired by Bruce Naumann's 1973 work "Tony Sinking into the Floor, Face Up and Face Down", it featured nine dancers wearing video game type armor who recreate Naumann's performance in slo-mo as "high volume binaural beats" play in the background, apparently in an effort to induce some form of out-of-body experience among the audience and/or participants. (Click images below to be taken to a performance excerpt).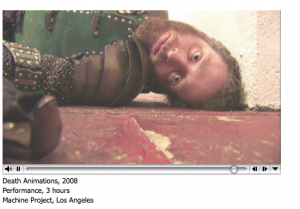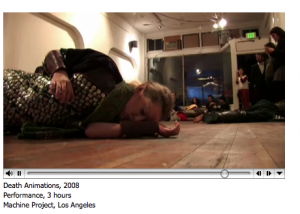 And Condon's Suicide Solution, 2004,  is a compilation of suicide scenes from various first- and third-person video games.  (Click image for video clip).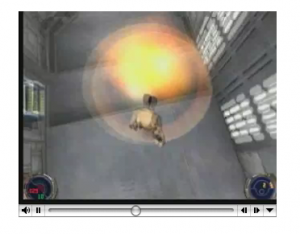 But what seems far coolest of all to me is this massive performance piece organized by Condon, titled TwentyFiveFoldManfestation and performed for three days straight at SonsbeekLive in the Netherlands. From the website:

"Combining the fantasy Live Action Role-Playing (LARP) subculture, public sculpture, and ritualistic performance art, Twentyfivefold was a series of physically and psychologically intense live games involving 80 players which evolved over the Summer of 2008. The events were organized by the artist Brody Condon for the Sonsbeek International public sculpture exhibition in the Netherlands.

Set in a distant future where civilization as we know it had almost been lost, players from different worlds met deep in the holy forest and inhabited a 40 feet high tower "in character" for 3 days at a time while worshiping invented deities embodied by the other artworks of the exhibition."
Here's a short clip documenting the performance:
Looks kind of amazing, right? If Condon ever wants to organize something like that in Chicago I am so there. Strangely, I see echoes of Mazes and Monsters in Condon's project. Going back to real life must feel pretty sucky after playing a fully immersive game like that. I wonder if any of the participants went crazy afterwards, unable to come down from the high of worshiping the broken mirror god. I'd be willing to take the risk.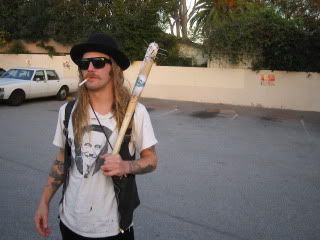 Spotted this news on AFC. It appears that artist Dash Snow died Monday night from a heroin overdose.
via Roberta Smith for the NYT:
"Dash Snow, a promising young New York artist, died Monday night at Lafayette House, a hotel in Lower Manhattan. He was 27 and lived in Manhattan. His death was confirmed by his grandmother, the art collector and philanthropist Christophe de Menil, who said that Mr. Snow had died of a drug overdose."