The battle continues with a suit filed today in Massachusetts state court. From today's New York Times:
"In their suit, the overseers, Jonathan O. Lee, Lois Foster and Meryl Rose, a member of the family whose donations created the museum in 1961, contend that Brandeis's plans to close the museum "contradict the charitable intentions" of the museum's founders, "abrogate Brandeis's promises that the Rose would be maintained in perpetuity" as a modern and contemporary art museum and violate its commitments to those who donated art to the museum. Brandeis officials were not immediately available for comment."
Read the full story here.
Over the last few days two news stories have assessed the recession's mostly grim impact on art galleries in various cities across the country. The L.A. Times' Suzanne Muchnic delivered the more positive of the two by focusing on the surprising opportunities, real estate-wise and otherwise, that the recession has brought to some L.A. dealers. Muchnic provides a rundown on the spaces that have closed over the past several months, including Anna Helwing Gallery, Lizabeth Oliveria and D.E.N. in Culver City and Mary Goldman Gallery, Black Dragon, the Project and Mesler & Hug in Chinatown. Forum, located in West Hollywood, and Carl Berg Gallery, in mid-Wilshire, have also closed. But other dealers, like Susanne Vielmetter, have found that drastically lower rents in desirable areas are allowing them to make big moves that weren't possible a few years ago. Read the full story here:
L.A.'s Galleries Reframe the Recession
A similar story by the AP contained less hopeful information. Focusing on Scottsdale, AZ, Santa Fe, NM, Portland, OR and New York City, writer Amanda Lee Myers (citing Artnet magazine) reports that in the past two years, 24 galleries in Manhattan–most of them in Chelsea–have shut their doors. In Santa Fe, the article notes, between 10 and 15 galleries have closed this year.
Read the Associated Press story here:
The Art of a Recession: Gallery Owners Struggling (AP story via Art Fag City).
A few weeks ago, Decider sent three real clowns to watch Bruce Nauman's installation Clown Torture at the Art Institute. The clowns, they were bemused. One reacted thusly:
"It's all self-inflicted," Williams says of the tortured clowns. "I can understand that most people can repeat themselves and put themselves in compromising positions. I think that's common to the human condition. But this makes me sad. I don't relate to the clown. It's sad that he's doing that to himself. This exhibit as a whole makes me sad because this is what scares people. It makes it hard for me."
If you haven't already read this, I recommend you do so. Gaining insight into the inner psyche of professional clowns is never a waste of time. Poor clowns. (Via Art21 blog).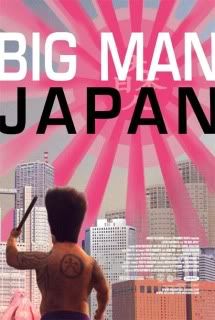 Big Man Japan at times felt as if it was two different movies. One made me laugh so hard that the people viewing it with me actually thought I was in physical pain. The other part, so boring I started to fall asleep. The mockumentary written, directed, and starring Hitosi Matumoto follows Daisato, a middle-aged slacker that has inherited the role of being the latest Big Man. How big is Big Man? About Godzilla size once he has been shocked with enough electricity. This process not only makes him the size of a building but also leaves him with a Don King hairstyle. Daisato is the descendant of the original Big Man who helped protect Japan during World War I. Unlike his father and grandfather, who were considered national heroes, Daisato is criticized by the citizens of Japan as being a nuisance and out of shape. It isn't until he meets a devil-like monster that leaves Big Man running for his life do people actually tune into his poorly rated tv show.
The seventy-five minute long film is way too long, and that is coming from a person that loves epically long films. Although there were a few moments when I chuckled during the slower scenes, most of the humor lies within the film's bizarre cast of monsters. They range from a smelly old monster from the suburbs to a nipple sucking child monster. The last 30 minutes of the film turns into a live action Ultraman-esque battle against the devil-like arch enemy. Accompanied by a team of American giants that yell "Justice" as they attempt to defeat Big Man Japan's archenemy the film ends with a critique of their performance.
Big Man Japan will be released on DVD Tuesday, July 28, 2009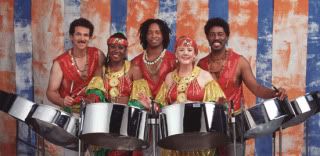 Friday's Links Roundup is now becoming Friday's Twitter Roundup. It just makes more sense. On this week's short roundup  we have drunk people in yoga positions (ouch!), The Renaissance Society posts a video with director Susanne Ghez, and I reveal that I was in a steel drum band in high school. Have a great weekend everyone.

Drunk People Yoga Positions. Entertaining in a sad way.
Oxymoron of the day: custom Channel motorcycle.
Watching a demo of the Augmented Reality app on Plural Blog.
Did anyone check out MP3 II: Curtis Mann, John Opera, Stacia Yeapanis at the MoCP this weekend?
I was in a steel drum band in high school. This brings back memories. (via TWBE)
RT: @RenSoc New RenSoc video: Director Susanne Ghez interviews artist Judy Ledgerwood.
Yes! Newberry Book Fair starts tomorrow. Be sure to check it out before it ends this Sunday
RT @ChiGalleryNews Randolph St. Market takes place in the West Loop this weekend. Happy hunting!
Zaha Hadid's delayed Burnham Plan Centennial pavilion in Millennium Park might still open in early August.