Those of you are brave and fond of the "dirty" words.  You might as well check out "Why The Fuck Not Ppodcast?"  Think of it  as a  more plat-formists, music oriented and bizarre Bad At Sports from Europe.
Ppodcast has a more aggressively open ended mandate for the project and offers sound artists and experimental musicians a platform for their stuff.
Also, they introduced me to Lily Allen and I think I'm in love.

This is an ongoing story that I will barely scratch the surface of but Bill Henson an artist/photographer living in Australia has over the last few days/week been having his work of 25+ years seized, closed down and put into legal doubt.
His work is largely inky black desaturated figurative photos of individuals in minimal or distant urban environments wearing either loose clothing or nude. The catch is that there are also nude teen age models included. [Read more]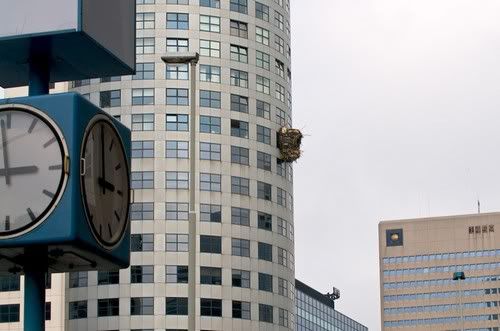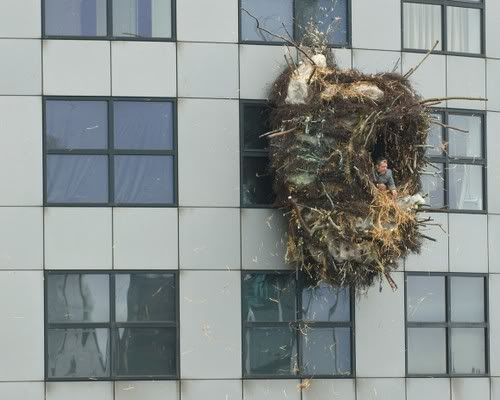 Artist Benjamin Verdonck is currently nesting on the Rotterdam Weena Tower. His performance "The Great Swallow" involves a nest, man, and a gaint egg.
Here's the YouTube video clip:

Nadia Plesner, a Danish 26-year-old art student, designed a T-shirt depicting a Darfurian child holding a Louis Vuitton bag with a Chihuahua on his shoulder in the vein of Paris Hilton. The image was printed on t-shirts to bring about increased attention to the plight of Darfur and the West's insistence to trivialize or overlook the issues there.
In February of this year the Marc Jacobs run House of Louis Vuitton issued a copyright lawsuit demanding $20,000 a day for each day she continued to use this image and reimbursement for legal fees. Plesner is scheduled to meet with Louis Vuitton in Paris with her lawyer on May 30th since she refused to comply.
New York Mag has a interview with Nadia Plesner that makes for an interesting read.
While the House of Louis Vuitton is busy spending thousands of dollars suing her instead of capitalizing on the moment by making a donation in her name to charity and realizing that parody/caricature and non competitive market copyright have a considerable barring on this "copyright" case. May Bad at Sports suggest other parody related/for profit targets for their attention.


SNL Season 31: Episode 10 – Where a copyrighted Louis Vuitton like background was used to parody a sweet sixteen skit.
Sue Chewy Vuiton again (and fail again) – If at first you don't succeed-waste court time agian.
Every Editorial Cartoon ever made that has a Louis Vuitton related caricature – Newspapers used to be for profit industries at one time.
Paris Hilton – A living caricature of a human being who is regularly seen with a LV handbag.