Timur Serebrykov, 27, of Pittsburgh, a guard at the Carnegie Museum of Art has been charged with slashing Vija Celmins' "Night Sky .12" a painting he apparently didn't like, damaging it beyond repair.
The museum's surveillance camera caught the vandalism on May 16, police said Thursday.
The 31-by-37½-inch oil-on-canvas painting of a black starlit night had a large vertical gouge in the middle and was damaged beyond repair & valued at $1.2 million according to a police affidavit.
Court documents indicate Serebrykov used a key or other implement to damage the painting because he disliked it.
компютри
So in an art world filled with talent the Driehaus Foundation has announced this years Chicago award winners.
Rumor has it this year was extra tough and all nominees and winners should be proud.
The answers as to who they are after the jump.
Driehaus Foundation Unveils Winners of 2008 Artist Awards
Driehaus Individual Artist Awards are the only unrestricted, annual awards for Chicago artists
CHICAGO – The Richard H. Driehaus Foundation is thrilled to announce this year's winners of the Individual Artist Awards: Jason Lazarus, Anne Wilson and Iñigo Manglano-Ovalle.
"This year's entries proved that Chicago artists are always innovating. I am extremely proud of the thriving artists' community we have in the Chicago area," said Sunny Fischer, executive director of the Foundation. "The Foundation supports local working artists, allowing their work to continue to enrich our communities."
The awards are given in recognition of the artists' past works, talent, commitment to the field and promise. This year the Foundation increased the amount of the cash awards. Each artist will receive $15,000 to use as they see fit. There are no restrictions on how the artists can use their cash awards.
Here is a brief introduction to the winning artists:
[Read more]
Those of you are brave and fond of the "dirty" words.  You might as well check out "Why The Fuck Not Ppodcast?"  Think of it  as a  more plat-formists, music oriented and bizarre Bad At Sports from Europe.
Ppodcast has a more aggressively open ended mandate for the project and offers sound artists and experimental musicians a platform for their stuff.
Also, they introduced me to Lily Allen and I think I'm in love.

This is an ongoing story that I will barely scratch the surface of but Bill Henson an artist/photographer living in Australia has over the last few days/week been having his work of 25+ years seized, closed down and put into legal doubt.
His work is largely inky black desaturated figurative photos of individuals in minimal or distant urban environments wearing either loose clothing or nude. The catch is that there are also nude teen age models included. [Read more]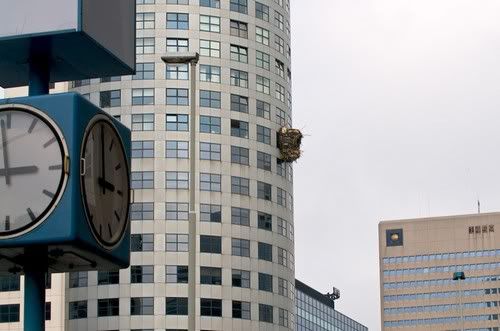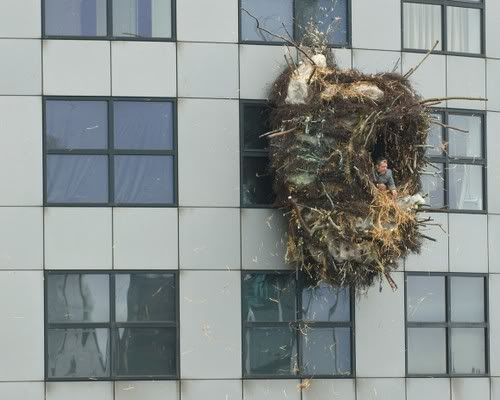 Artist Benjamin Verdonck is currently nesting on the Rotterdam Weena Tower. His performance "The Great Swallow" involves a nest, man, and a gaint egg.
Here's the YouTube video clip: