Last Monday, a woman Tweeted that her water broke moments after the event occurred. And it was a long Tweet too – close to the 140 character limit. I guess it was bound to happen. Now, to be fair, she's not just any woman, she's Sara Morishige Williams, the spouse of Twitter founder Ev Williams–probably the only person one would expect to Tweet at such a moment–and it was very early on in her labor. But still. I'm not one of Williams' Twitter followers, but upon learning of this news of course I had to know how far into the labor she got whilst hanging on to her iPhone (wow–you've gotta be pretty good with that thing if you're able to type on it with clenched fists).
Turns out, not too far. Her last Tweet before officially becoming a mother read: "Epidural, yes please." I can't help but think she kinda punked out by not Tweeting throughout the delivery. I mean, she's the wife of Twitter's CEO, for God's sake, shouldn't she feel some sort of cultural responsibility when it comes to this sort of thing?
Just kidding. Mostly.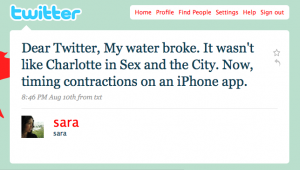 Hubble took the deepest look in the darkest patch of sky for a second time with even more sensitive lenses and measurements have predictably found the eternal quote to be true:
Audio clip: Adobe Flash Player (version 9 or above) is required to play this audio clip. Download the latest version here. You also need to have JavaScript enabled in your browser.
This time though it was able to use red shift relations to map the image in 3D.

Yes, you heard that right — the Dallas Cowboys are launching a new contemporary art program that, according to their press release, will be "an ongoing initiative to commission contemporary artists to create monumental, site-specific installations for the recently completed Cowboys Stadium."
In time for the first regular-season game against the New York Giants on September 20th, the entry ramps, staircases, pedestrian ramps, concession stands and other prominent areas of the team's new 1.5 billion dollar stadium will be adorned with works by a number of big-name artists, including Franz Ackermann, Mel Bochner, Daniel Buren, Olafur Eliasson, Annette Lawrence, Dave Muller, Matthew Ritchie and Lawrence Weiner, the organization announced last Friday. The Dallas Cowboys Art Program is funded entirely by Cowboys owner and general manager Jerry Jones and his wife Gene, who are both prominent contemporary art collectors.
Serving on the advisory board are The Modern Art Museum of Fort Worth's Michael Auping, Charles Wylie of the Dallas Museum of Art, Texas collectors Howard Rachofsky and Gayle Stoffel, and San Francisco art advisor Mary Zlot, among others.
I'm fascinated by this new program, and I even find it kind of heartwarming in a mom and apple-pie sort of way. And not only because of the discordant pairing of art and football (because really — why not?). It took real chutzpah on the Jones' part to focus not on cheesy murals of football heroes or the like, but on artworks that are sure to provoke bemusement on the part of some fans. But also, hopefully, a sense of genuine pleasure and even ownership will develop over time.
"Hey–let's walk through that weird light show again before going to our seats! It's by some artist guy with a funny name…I don't remember who, but the thing is so cool!"
That's good enough for me. It would be great, however, to see a slightly more robust representation of women artists among those included in this laudable new program's starting lineup. I mean, chicks dig football too. (Or some of them do, maybe not this one, but that's besides the point). How cool would it be to see a kick-ass Nancy Rubins sculpture installed on the premises, or a commissioned Jenny Holzer LED screen added to this mix?
Here's what Jerry and Gene Jones said about the program in last week's Fort Worth Weekly:
"From top to bottom, we're taking a whole new approach to what a national sports arena can be," said Jerry Jones. "Cowboys Stadium isn't just a place to go and see a game or a concert. It's an experience you share with your family and your community. That will include things that a lot of people wouldn't anticipate seeing at a stadium – like contemporary art. Football is full of the unexpected and the spontaneous – it can make two strangers into friends. Art has the power to do that too, to get people talking, and looking, and interacting. It's not just about what you see on the field or on the wall. It's about creating exciting experiences."

Gene Jones said, "We're breathing new life into a tradition that extends back to the Greeks and Romans, who integrated the art of their time in stadiums where the best athletes gathered to compete. The Art Program at Cowboys Stadium brings this dialogue between art and sport into the modern day. We're making it possible for some of the world's leading contemporary artists to create work on a scale unimaginable anywhere else and we're connecting new audiences with their work."
And here's the full list of artists included in the current program:
Franz Ackermann, Ricci Albenda, Mel Bochner, Daniel Buren, Olafur Eliasson, Teresita Fernandez, Terry Haggerty, Trenton Doyle Hancock, Jim Isermann, Annette Lawrence, Dave Muller, Matthew Ritchie, Gary Simmons, and Lawrence Weiner.
Thee Program will also sponsor acquisitions of work by Doug Aitken, Wayne Gonzales, Jacqueline Humphries, and a second work by Eliasson.
Get ready for lots of puff pieces in the Dallas papers about the head-scratching reactions football fans are having to the Stadium's newest occupants. You can read the press release that contains full details on the program here.
The King of Crayons is an out-of-work, narcoleptic criminologist (or at least that's what he says on his blog) who occupies himself by adding his own f-cked up twist to coloring book pages. "It's like photoshop without a computer!" the King exults. Oh, no, sir, your stuff is WAY better!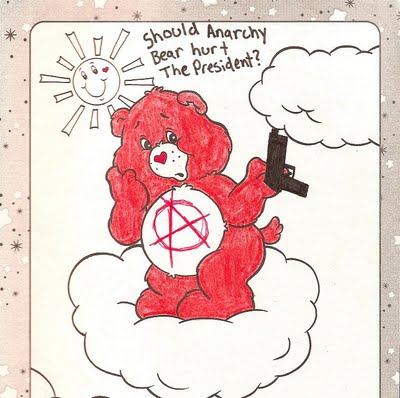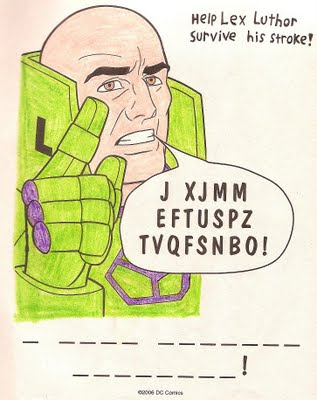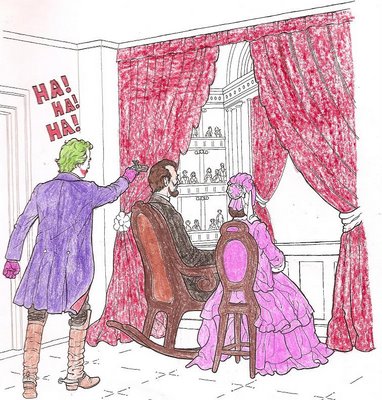 (via The Daily What)
I wasn't very familiar with Mark Dion's Travels of William Bartram – Reconsidered until about a month ago. For this week's video pick Dion returns to Bartram Gardens to install the objects he collected while on his journey.
"Travels of William Bartram – Reconsidered will examine the history and culture of 18th century American naturalists, John (1699-1777) and his son William Bartram (1739-1823). Using their travel journals, drawings, and maps, Dion plans to retrace the exploratory journeys of the Bartrams, in particular, William's expedition to northern Florida. Often Dion and his companion "explorers" will travel in the same ways the Bartrams did: by horseback, boat, and on foot."
For more info on the project check out the comprehensive project site.