On July 29, a fire destroyed one of the country's largest private collections of African and African-American art–more than 300 sculptures, paintings, photographs and works in other media by Kerry James Marshall, Nick Cave, Jacob Lawrence, Romaire Bearden, Kara Walker, Carrie Mae Weems, Yinka Shonibare and others. Prominent activist and art collector Peggy Cooper Cafritz was out of town when a fire consumed her Washington, D.C. home and burned it to the ground.
Over the weekend the New York Times ran a story on the fire that delves into the personal and cultural ramifications of this significant loss. As far as I could tell, the Times ran no pictures of the art or home that was destroyed, only "after" shots of the ruins. But when it comes to art and art collections, one needs to see what was destroyed in the first place in order to fully appreciate the significance of the loss. Oprah.com has an extensive slideshow of Ms. Cafritz's light-filled home, every corner bursting with one beautiful artwork after another (the slideshow is part of a feature on Cafritz that ran prior to the fire).
Courtesy of Oprah, below are two images of Ms. Cafritz's home: one showing a Soundsuit by Nick Cave (hanging above the stairwell) and another of Kerry James Marshall's sculpture Power to the People installed in the entry hall. A truly terrible loss.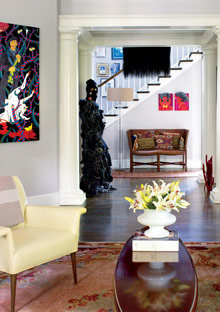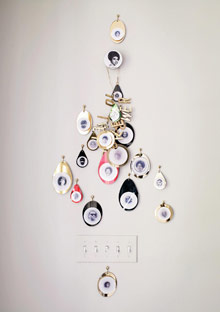 I've been having one of those Alice in Wonderland-type afternoons on the Internet where you happen upon something that fascinates you and whooosh! down you tumble, lost to the rest of the world for hours. Where did I fall? Into the Library of Congress' Flickr photostream, which boasts a particularly compelling trove of color images from the 1930s and 1940s. I was looking for images from Chicago from that period, and as I started sifting through the search results I was struck by how incredibly cinematic some of them they are. I even began to construct an imaginary narrative by pulling certain images out of the stream and mentally rearranging them like film stills from a lost movie about the Chicago trainyards in the 1940s. Kinda like this…
The cast of characters:
The main sets: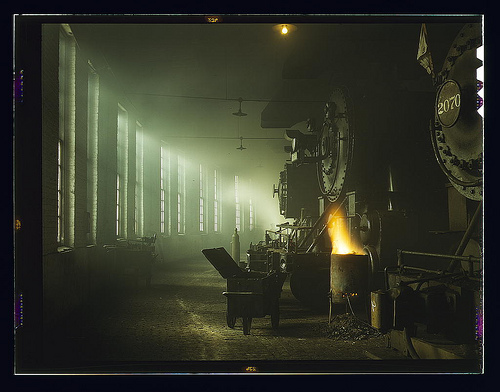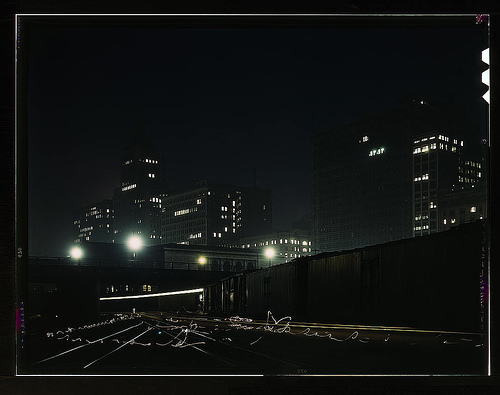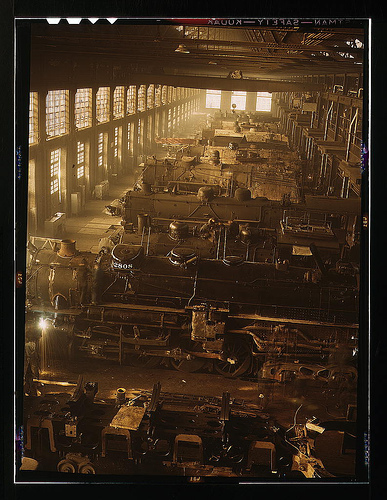 Wonder what this guy is up to?: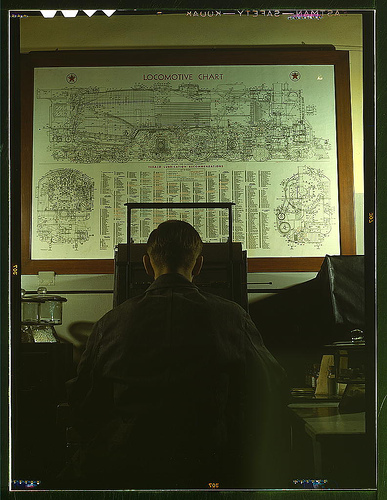 There's definitely a steampunk vibe to my imaginary film, but you can fill in your own narrative blanks. (Click on each image to be taken directly to its respective Library of Congress flickr page, where you can get the real historical details on each image.) All of the above photographs were taken by the amazing Jack Delano for the Farm Security Administration, established by FDR to aid small farmers and restore damaged land and communities ravaged by the Depression. Delano, in particular, is known for his compositionally striking photographs documenting the country's train system.
Visit the Library of Congress' Flickr stream to see many more incredible historical images from this period, many of which, like the above examples, are in vibrant color.
Check out these super fabulous 1950s and '60's era travel posters by illustrator David Klein (then learn more about Klein and see more posters by clicking the link to Grain Edit below). Love these. New York is very Tron, St. Louis is sorta McDonald's meets Bridget Riley, and the Air Cargo poster…well, I'm just grooving on the colorful floating pills. Up, up, and away! (Grain Edit, via Snarkmarket).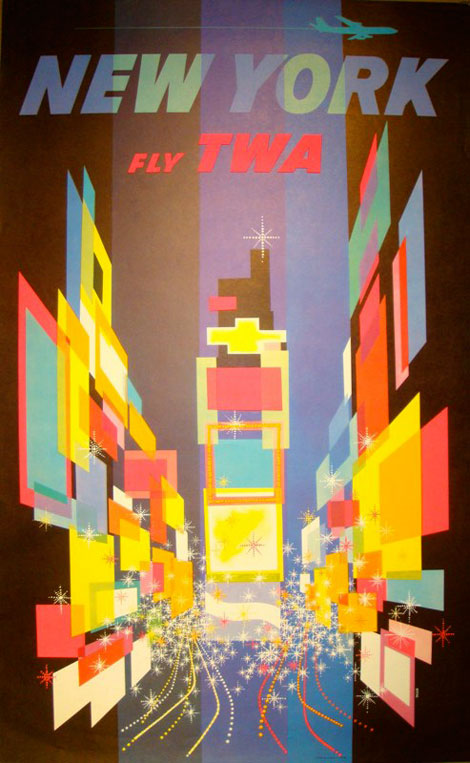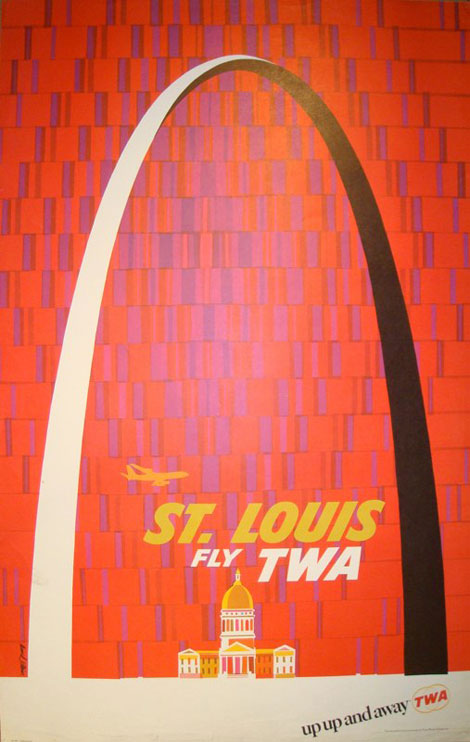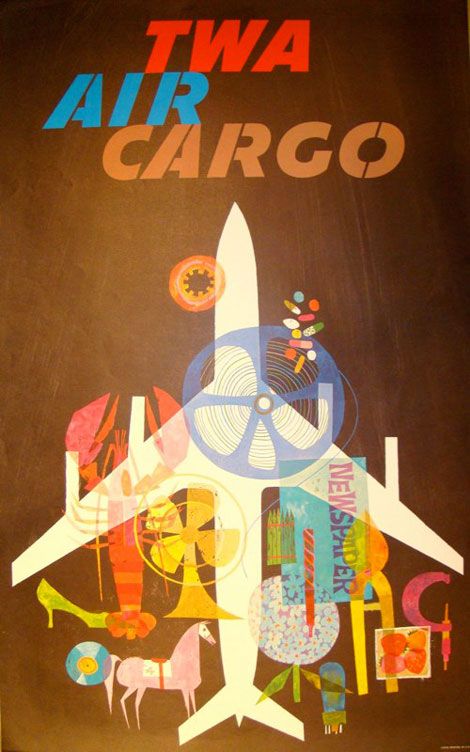 Hey look — a remake, or rather, a remix…or maybe it's more like a reinterpretation…or an 'enhancement'?? — of The Way in Which Things Operate, Deb Sokolow's large-scale drawing that was recently exhibited at the Spertus Museum. Whatever you call it — I kinda like it! The video is nicely edited, the voice characterizations are silly and great, and it plays up some of the inherent cinematic qualities of Deb's work. And of course, it was all done in fun, and with the artist's permission — in fact, the guy behind it is none other than Deb's cousin (who goes by the moniker Squirehogg on YouTube — sorry Sir, I couldn't find your real name anywhere to credit ya properly!).
I love the idea of a family member being so inspired by Sokolow's piece that he wanted to create an ancillary work to show how much he loved it. The audio track production reminds me a teeny bit of the hyped-up comic noir audio riffs Joe Frank was doing for So Cal's KCRW way back in the day.
Sokolow was interviewed on Episode 201 of the Podcast. Give it a listen if you haven't already! (Via Windy Citizen).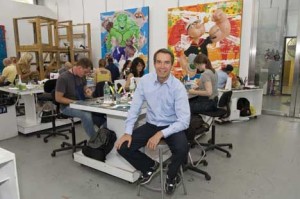 The Art Newspaper sat down with Jeff Koons, the antithesis of the Chicago Conceptual Art style to talk about the new work, his focus, the battalion of artists he has working for him to produce the work, the current exhibition at the Serpentine Gallery in London and his general take on art.
Read the full interview here.