Here's my picks, yo.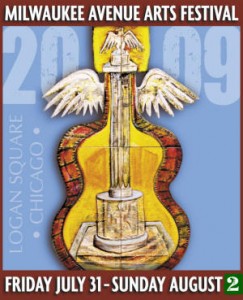 Just 'cus there are a ton of things going on of this 'Fest, there's bound to be something good happening. My suggestion: hit The Whistler and see Plural's installation. All along Milwaukee Ave. in Logan Square, Friday, Saturday, and Sunday from noon to 11pm.
2. Printer's Ball at Columbia College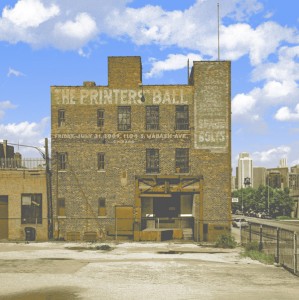 Columbia College hosts their 5th Printers Ball. It's gonna be huge, and it's free! Come see all things print! Friday night from 5-11pm.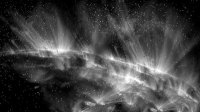 Their press release sold me. All things summer and all on fire. Come and celebrate your inner (or outer) pyro. Sunday 6-10pm.
4. Public Works at Andrew Rafacz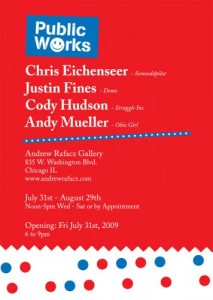 Four boys on display at Rafacz. The exhibition was organized by Andrew and Someoddpilot to celebrate Chicago artists who've played large parts in the local art and music scenes. Friday night from 6 to 9pm.
5. Double Closing Fun: Home and Golden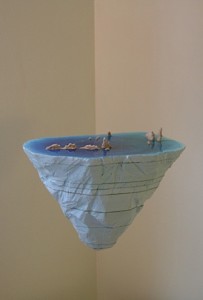 Jenny Buffington at The Diorama Show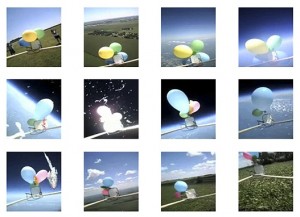 Aspen Mays
Two closing receptions are happening this weekend, both for good shows you should see if you haven't yet: The Diorama Show at Home Gallery, and Concentrate and Ask Again at Golden. Go by for one last horah. Home closing: Sunday noon to 3pm. Golden closing: Sunday 3 to 6pm.
Every once in awhile, it's good to have one of those "Come to Jesus" moments where you ask yourself if the work you're producing is really for you or for somebody else. Bad at Sports' Zurich correspondent Mark Staff Brandl (who reports on Art Basel for this week's podcast) has just completed a new video, "TV Art Evangelist," in which he (or rather, a miniaturized version of himself as an action figure), installed at the pulpit of an equally diminutive white cube "church" aka Brandl's Collapsible Kunsthalle, delivers a sermon "calling the artworld back to inspiration, away from hypocrisy and sophistry," as the artist himself describes it. This 16 minute long oration is both tongue-in-cheek and deadly serious in its intent. I love the wielding of a paintbrush in lieu of a microphone. Also check out the teeny tiny versions of Brandl's own paintings installed on the walls behind him–incredible. Watch the video, and then go check out Mr. Brandl's website to see larger versions of these paintings along with additional series of works, critical writings and news on upcoming projects.
Morning Glories 'aint so f-cking Glorious when they're crawling all over your backyard, swallowing everything else up in their huge pink maws. Part of this afternoon's checklist of things to do involves going into my backyard and peeling those tenacious pieces of shite off of all the other plants that are trying to gain a tiny foothold on our postage-stamp sized plot of land. On a related note, check out an incredible photo series by James D. Griffioen titled Feral Houses (via things magazine). Here's what else I've been reading about this week (with a bit leftover from last week).
*A chair inspired by obesity, designed by Charlotte Kingsnorth. Whoah. And, ick. (Dezeen).
*Louvre to open online database in English (NYT via Curated).
*Art Institute of Chicago now adding content to ArtBabble (New Curator).
*Cindy Sherman poses for Vogue's "Age Issue" (via AO Art Observed), numerous pics of Sherman's home are featured too. Somehow I always imagined her place would be messier.
*Most Unfortunate Headline Ever (but interesting article nonetheless): Stroke of Genius: 10 artists with abilities borne of brain damage.
*An Art Escort Service. This is a seriously good idea. Someone in Chicago should start up a company that tours out-of-town art lovers through our "underground" apartment gallery scene. Kissing on the lips verboten, of course. (via C-monster).
*"Invisible Books" aka books hidden within other books (NYT Book Review). Also, check out the archive devoted to this idea, compiled by the author of the Times' piece, here.
*Jen Graves discusses the overweening vulva that is "The Dinner Party."
*Cloud-seeding as art (we make money not art).
*Is the University of Chicago a secret portal to Harry Potter's Hogwarts? Oh, if only it were so! (Culture Monster).
*What it was like to grow up in Pierre Koenig's Case Study House.
*Props to my industrious little hometown: Valley Porn (boing boing).
I just got back from Justin Cooper's performance at the MCA. His week long series entitled Vay Kay is part of the Here/ Not There series. Tonight's performance was titled Crater. This performance involved a sound piece in the twelve by twelve space that was activated by people moving in front of the sensors. About 30 minutes into the sound piece the performance moved outside where there was a match between a 65 Million Year Old Dinosaur and British philosopher Thomas Hobbes
via the MCA:
"This is an interactive deconstruction of a family vacation argument using four invisible laser beams which crisscross the space. With multiple viewers moving through the space, the vocal laser beams are activated at completely random intervals to create a fragmented cacophony that refers to the memory of past experiences."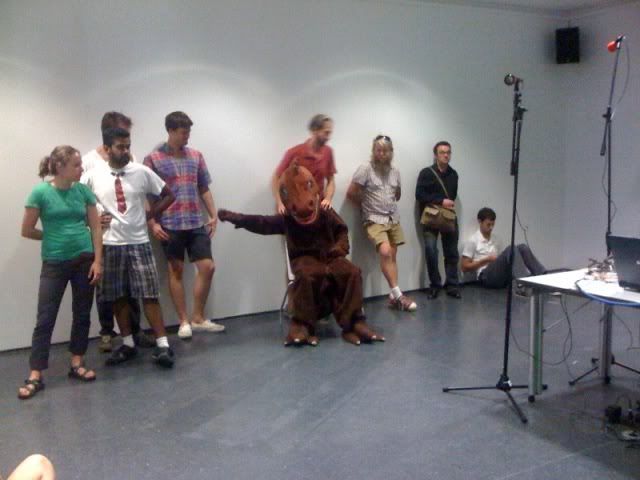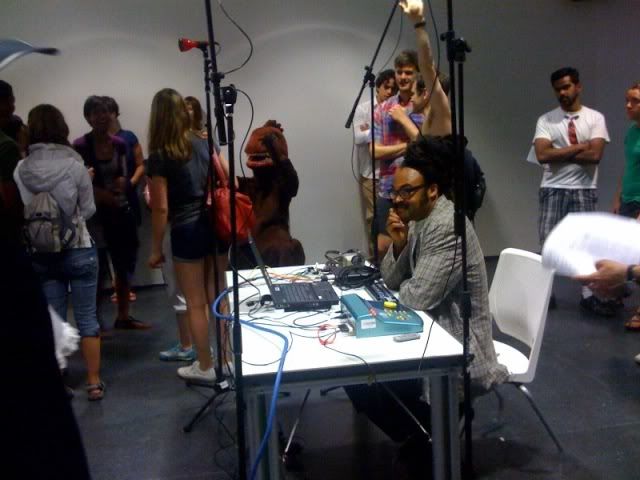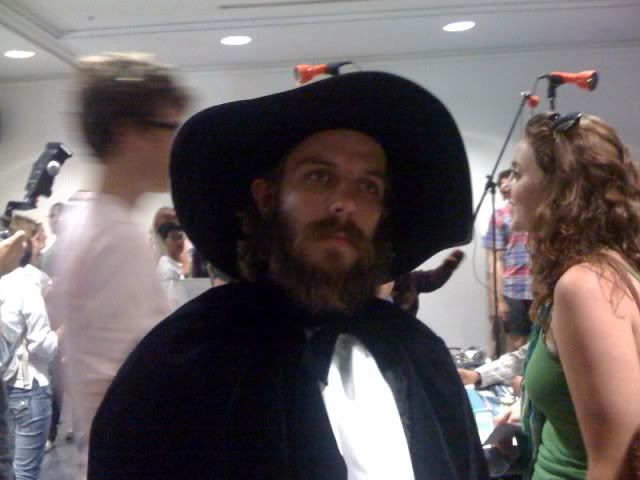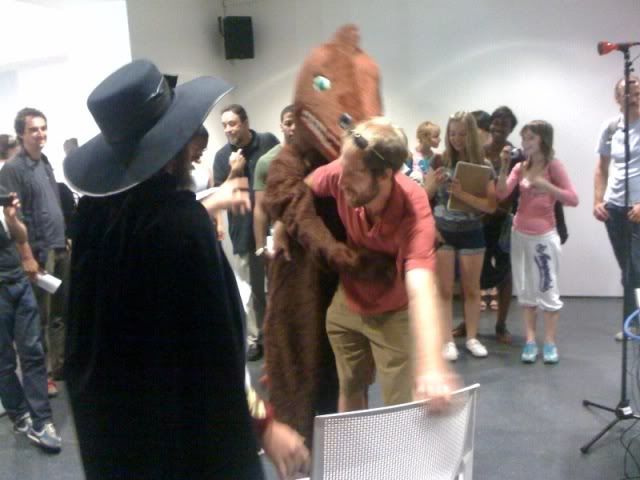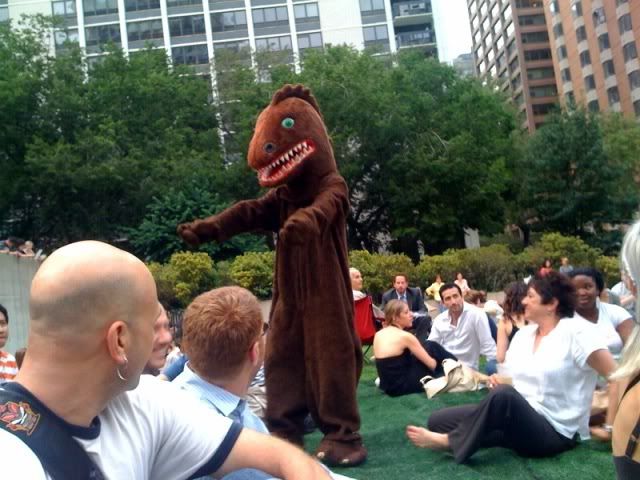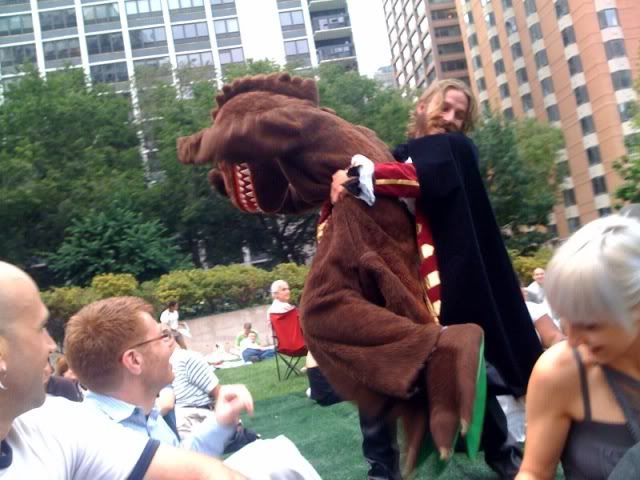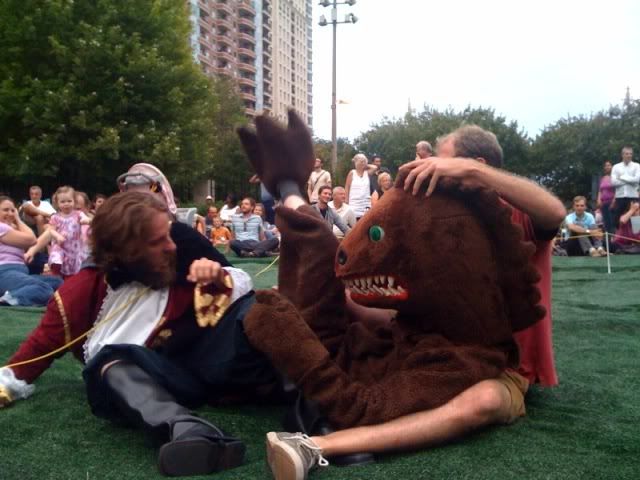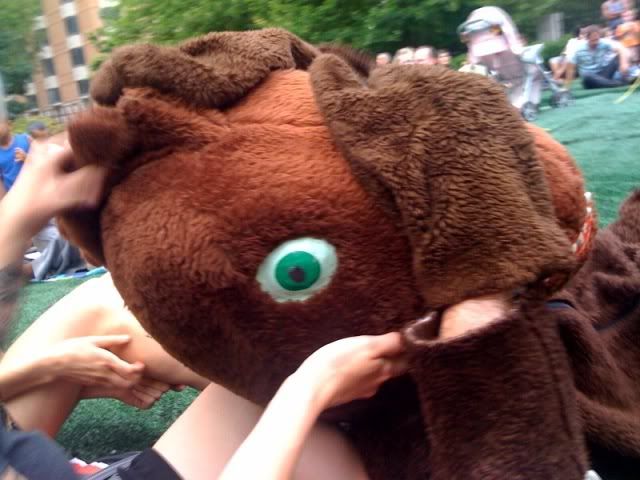 Justin Cooper: Vay Kay
July 28 – August 2
Justin Cooper presents four different performances: Crater, Sprinkle, Relax, and Crumple on the theme of the family summer vacation.
Museum of Contemporary Art
220 East Chicago Avenue
Chicago, IL 60611
Last night I was looking at work by contemporary Icelandic artists when I discovered the work of Egill Sæbjörnsson. This video, Ping Pong Dance (2006), borders on being annoying while still holding onto that stoner "whoa" factor. "An installation with objects, video and sound. Ping pong balls fly out of the buckets and perform actions that seem impossible in reality."
For more info on Egill Sæbjörnsson please check out his site.