A few weeks ago we learned just how bad the Spertus Museum's dire financial woes are: in September they're cutting their visitor hours waaaaaay back, to just two Sundays a month, and are laying off almost all of their full-time employees.
Yesterday the NEA announced that 63 arts organizations would receive grants under the American Recovery and Reinvestment Act, and Spertus College was on its list, receiving a $50,000 award. The Field Museum, The National Museum of Mexican Art and the John R. and Eleanor R. Mitchell Foundation were also awarded grants.
These grants–totalling $2,925,000 and distributed among 63 museums and other nonprofit arts organizations–are given to "support the preservation of jobs that are threatened by declines in philanthropic and other support during the current economic downturn," according to the NEA website.
See the full list of institutions awarded this grant in FY09 here. The list of Illinois grantees is as follows:
Field Museum of Natural History
Chicago, IL
$50,000
John R. and Eleanor R. Mitchell Foundation
Mt. Vernon, IL
$50,000
National Museum of Mexican Art
Chicago, IL
Spertus College
Chicago, IL
As Lee Rosenbaum has observed on her blog culturegrrl, grants in the $25,000 – $50,000 range aren't enough to save many (really any) full-time jobs, but they do have, as Rosenbaum put it, "the symbolic value of underscoring that arts jobs do have a role to play in the nation's economic recovery."
Let's hope the grant is enough to allow the Spertus to continue some form of programming in the future rather than disappear entirely.
A few months ago on episode 192 of the Podcast, artist and Yale professor Rochelle Feinstein discussed at length a long-term project of hers that at the time had never been shown. Created during the period 2002-2005, this body of work examines (among other things) Michael Jackson as a cultural signifier of failure and redemption.
Feinstein's project did find a home. It's been on view in New York at Art Production Fund's APF Lab space since June 2nd (Jackson died on June 25th) and is titled "I Made a Terrible Mistake," which comes from the statement Jackson made the day after he infamously dangled his baby Blanket out a hotel window as fans cheered below.
The exhibition explores Michael Jackson's mistakes as "allegories of contemporary life, in both public and private orbits." From the APF's website:
When a mistake is acknowledged, an imperceptible process of transformation and redemption begin. Jackson, and this phrase, is one conceptual muse for this project. The other, Barry White, so emphatically unapologetic and generous in his promise of sensual redemption, died in the summer of 2003, while Feinstein was in the Art Production Fund Residency at Giverny. The conceptual collision of these two icons, sited at Monet's Garden, led Feinstein to draw upon this uber-synthetic Eden for the creation of "I Made a Terrible Mistake."
Feinstein's show is up through July 23rd. Be sure to listen to Duncan's in-depth discussion with Feinstein about Michael Jackson, celebrity, mirror balls, failure and redemption and other subjects on the podcast.
Feinstein's work has also been exhibited recently in Oak Park, Illinois at The Suburban; you can read a bit more about Feinstein's APF lab installation at Art in America here.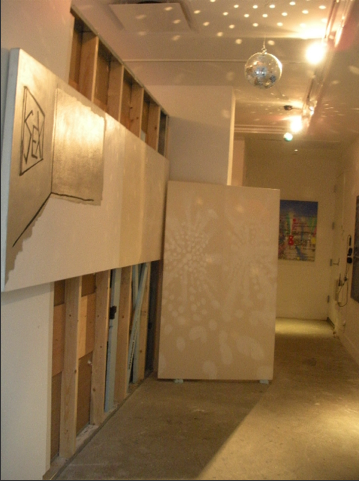 This is a very late video pick this week. I honestly couldn't make up my mind what to post. I watch so many videos a day but I had hoped for the TVP to be artists talking about their work or video art. This week's pick, I'm too sad to tell you (1971), comes from the late Bas Jan Ader.
Vancouver based photographer Dina Goldstein's new series Fallen Princesses takes a look at the classic fairy tale heroines of our youth from the vantage point of our later years and finds things not exactly as we remember them.
"As a young girl, growing up abroad, I was not exposed to Fairy tales. These new discoveries lead to my fascination with the origins of Fairy tales. I explored the original brothers Grimm's stories and found that they have very dark and sometimes gruesome aspects, many of which were changed by Disney. I began to imagine Disney's perfect Princesses juxtaposed with real issues that were affecting women around me, such as illness, addiction and self-image issues."
The series goes on exhibit in October.

Here are the Chicago-based collectors on the magazine's 2009 list, in alphabetical order as listed on ARTnews' website:
Neil G. Bluhm
Chicago
Real estate
Collection focuses on Contemporary art
Stefan T. Edlis and H. Gael Neeson
Chicago; Aspen, Colorado
Plastics Manufacturing (Retired)
Collection focuses on Contemporary art
Anne and Kenneth C. Griffin
Chicago
Hedge fund
Collection focuses on Impressionism; Post-Impressionism
Elizabeth and Harvey Plotnick
Chicago
Publishing and investments
Collection focuses on Old Master prints; Islamic ceramics
Penny Pritzker
Chicago
Real estate, hotels (Hyatt), and financial information
Collection focuses on Contemporary art
None made the magazine's Top Ten list. Interestingly, Chicago has just slightly fewer collectors on the list than the 6 boasted by Los Angeles (9 if you count those who have secondary residences in Southern California) as reported by Suzanne Muchnic on the L. A. Times' Culture Monster blog.
This is the first time in my life I have ever paid any attention to this list or its rankings–so take it for what it's worth to you.