Further on Christopher's post from this morning, here's more info on the Art Institute layoffs, from the Chicago Tribune:
"The Art Institute of Chicago has laid off 22 employees, or 3 percent of its staff, as part of a larger series of cost-cutting measures.

Spokeswoman Erin Hogan said Friday that the cuts were made across the board and take effect immediately. Employees were notified Thursday.

"Of course we did everything we could to not go to this point," Hogan said. "All departments have for months been reducing their operating budgets."

Hogan added that new Modern Wing, which opened last month, "has been incredibly successful and it's in part due to the success of the building that the cuts were not deeper."

In a statement issued Friday, the Art Institute said its other cost-cutting measures include a voluntary 10 percent pay cut for the director, a weeklong unpaid furlough for employees and a salary freeze. Public research hours at the Ryerson and Burnham Libraries will also be reduced, the statement said."
On this weeks roundup we check out the conservation of contemporary art, AFC's recap of Venice and Basel, and most importantly cats getting stoned via boing boing. Hope everyone has a great weekend and maybe well see you at galleries tonight.
Before I moved to Chicago and before I became an intern at BAS I was an intern at the Los Angles based Gallery
Sixspcae
. Sixspace had made its roots in Chicago and was run by
Caryn Coleman
and
Sean Bonner
. One summer I had a chance to help out on an
Invader
show titled
RUBIKCUBISM
. After watching this video it made me reminisce my gallery attendent days in LA at their awesome gallery. I do not miss helping construct one of these pieces. I not only destroyed 20 Rubik's cubes but also glued my hands together.
I had the opportunity for a brief (and I mean super quick) walk through with co-curator Rachel Kalom of this show this past week. It opens tonight, and it is definitely worth checking out. I harassed Rachel with some questions about co-curating a show, and will share those answers and some pics from the opening later this weekend. From the press release:
Zolla Lieberman Gallery proudly presents a group exhibition addressing art making in an era of tightened belts and pinched pennies. Curated by Brian Gillham and Rachel Kalom and with works by Sarah & Joseph Belknap, Tom Berenz, Michael Cheatwood, Garrett Durant, Lucia Fabio & Robert Andrew Mueller, Shannon Goff, Nadia Hotait, Natalia Ivancevich, Sam Jaffe, Mark Khaisman, Austin Knierim, Jessica Labatte, Jesus Mejia, Phillip Orr, Vijay V. Paniker, Miriam Slager, Deb Sokolow, Katherine Webb and Jake Wells.
Opening reception: Friday, June 19th, 5-9pm
Zolla/Lieberman Gallery
325 W Huron
Chicago, IL 60654
www.zollaliebermangallery.com
zollalieberman@sbcglobal.net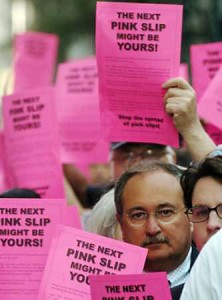 We just heard that The Art Institute of Chicago has laid of a good many of it's employees today and there will be a town-hall tomorrow where other cost saving measures will be announced.
To those who lost their jobs today, be sure to thank Alderman Burke…..
Office: 773-471-1414
eburke@cityofchicago.org
On behalf of everyone at Bad at Sports we know very well what this is like and hope everyone lands on their feet as quickly as this economy will allow.