Last week Edward Winkleman linked to a couple of art-related iPhone apps, and one in particular caught my eye because it sounded like exactly the sort of thing I need to make my gallery-going life in Chicago easier. It's called Artnear, and, with some beefing up of its Windy City listings, it has the potential to be an extremely useful tool for viewing art on the fly in this city.
In a nutshell, Artnear uses the iPhone's built-in GPS to locate those art venues that are nearest to your current location. Even better, each listing provides you with information about the gallery's current shows, along with its address and phone contact info. A link at the bottom of each listing allows you to click directly over to the venue's website. The Artist search tab gives you a list of artists who are currently showing in your city. The app's Calendar function was sort of buggy on my phone – I couldn't click open all of the days of the week– but in theory, it's supposed to provide you with a list of current and upcoming shows that are opening and (even more useful to me) closing during a particular week.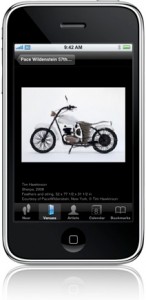 Artnear is free (there's a Pro version for $4.99, but for Chicagoans I'd definitely advocate sticking with the freebie version until they substantially increase the listings in our area). Hopnear, the company that puts out this app, has a page on the site for emailing your suggestions for venues they should add to future versions.  I emailed them this morning with suggestions for about five additional venues and was pleasantly surprised to receive a friendly thank-you email back just a few hours later. This is a good sign that the company is taking the feedback/user contribution part seriously — which I'd been a bit skeptical about after reading on Hopnear's FAQ section that the app is "designed to help busy people find the best, internationally recognized galleries regardless of their location. With out service you will no longer have to skim through a list of hundreds of galleries including antique shops or similar."
Although it's fine by me to ixnay the antiques, I think it's a really bad idea for the folks behind this app to try and prescreen so-called "quality" venues for its users. More listings, not less, is what makes an app like this really useful. As with any city, a lot of great art here is relatively easy to find, but what makes Chicago so different from other major art cities is the fact that so many quality shows take place at smaller venues whose publicity arm is mainly word-of-mouth.
In theory, apps like Artnear have the potential to radically level the playing field by organizing and centralizing all of this information via a single, portable device like the iPhone, and further hone in on relevant data by taking your current geographic location into account. It's a great little app with tons of potential — but if Artnear wants to become a truly indispensable tool for Chicago artgoers, its designers need to keep the uniquely heterogeneous spread of this particular city's art scene in mind. Here, bigger doesn't necessarily mean better.
There was a great article on the methods, equipment & logic behind doing war photography here and while the entire article is extremely interesting the camera equipment list might be of use to Artists who can live and die by digital photographs and the equipment involved. Here is what Teru Kuwayama who has shot for Time, Esquire & Newsweek carries: [Read more]
Not to beat it over your head but we turned four this week (cheer). To celebrate, Kathryn Born has posted a behind the scenes history of the BAS organization. In the post she demystifies how the show gets out every week, introduces you to some not so public members, and brings to light some achievements we have made along the way. Kathryn writes, "It has a larger archive of artists than PS1, and if you judge by the metric of "unique visitor" traffic, it has double the readership of the New Art Examiner at its peak."
On a side note: Did anyone else notice that in the first photo of Duncan, Amanda, and Richard you can clearly see lingerie in the window's reflection? Just an observation.
Read Kathryn's post here
The Cannes Lions International Advertising Festival, not to be confused with the Cannes International Film Festival, recently awarded Belgian agency Boondoggle with 5 awards this year. After winning such a prestigious award you would think they would be worth something right? Wrong.
Bloody freaking hell! I have been loosing my shit lately. Sorry for the delay of the Top 5, I know ya'll were standing around with baited breath to get the word from on high. Well, you weirdos, here you go, my Top 5 for this week:
1. Open House at Argonne National Laboratory!
WTF? That's not art you say? Shut up. The laboratory is open to the public for one day only, and since it seems like pseudo-science is all the rage in art these days, go over and get some inspiration. Or just head for the nanotech department and pretend like your living in The Diamond Age.
Saturday 9-4:30. Argonne National Laboratory is located at 9700 South Cass Ave. Lemont, IL.
2. Open House at…Open House?
Everyone likes new apartment galleries, right? Well, if not, move on to #3. If you do, check out this place. I cannot guarantee the quality of the show, or the quality of the place, but apartment galleries are always a crapshoot. Take a chance, you may be rewarded. The show (is it also titled Open House? Who knows?) is curated by Evan Lenox, Andre Lenox, and Lynnette Miranda, and features to work of a bunch of people I'm not going to name because I'd have to transcribe 'em all.
Friday 5:30-9pm. Open House is located at 3106 W. Fullerton Ave. #1.
3. Not Feeling Like Yourself? Head to Barbara and Barbara (they love you by the way).
This show seems like a crazy clusterfuck somehow involving Barbara & Barbara, The Post Family, and the (I quote) "man/beast continuum." How could you not be curious? A full Chicago crew to dazzle you, including Ben Speckmann, Timothy Pigott, Brian Yates & Tony Francesconi. Oh, and the show is called Pardon me, I am just not feeling like myself today, thus my silly title. Just thought you'd like to know.
Saturday 6-10pm. Barbara and Barbara is located at 1021 N. Western Ave.
4. Everybody's Got (More) Money Issues With InCUBATE
InCUBATE is closing down Everybody's Got (More) Money Issues at Mess Hall with one final meet-up kaBLAMO event. If you haven't kicked it with InCUBATE yet, you're missing out. They are the awesome crew that brought you Sunday Soup. Go and enjoy the final iteration of Everybody's Got (More) Money Issues and discuss how the hell were going to (financially) survive these days.
Sunday 6-9pm. Mess Hall is located at 6932 N Glenwood Ave.
5. Zummer Tapez at Roots & Culture
Yes, you get their banner as the photo. Why? No photo relating to Zummer Tapez on their site. Don't like it? Oh well. This seems like a fun way to spend an hour or two on Sunday night. The show consists of a video mixed tape by Kent Lambert. It has a "suggested donation" of $5, you know what that means, so if you want to cough up the cash, go see the show.
Sunday 8pm. Roots and Culture is located at 1034 N Milwaukee Ave.