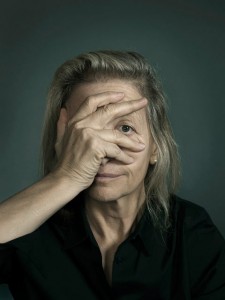 I wish Annie Leibovitz well and hope she gets her financial situation back on track and doesn't suffer the pain shared by The Beatles and Stones which is the never ending chase to put the genie (rights to your own work) back in the bottle once you have sold it. Aside from that I can't bring myself to shed a tear or show any shock over her situation.
If you haven't had a chance to read up on this, on July 29th Ms. Leibovitz was sued by Art Capital Group in the NY State Supreme Court for failure to pay towards a loan of $24 million that she took. The collateral for this was properties in Greenwich Village and in Rhinebeck, N.Y., her negatives and the rights to her photographs.
Essentially the bulk of her assets.
Now after failure to make the basic payments Art Capital Group has successfully pursued payment in the courts and is gaining access to the collateral with the goal of liquefying the assets to regain the funds. Ms. Leibovitz has not commented on the actions and I don't see any advantage to commenting but sadly it is reported that this is not the first time she has had problems making proper financial payments to clients or the state for taxes.
The point is this is not a rare case in the Art world, many many artists and creative professionals regularly take upon themselves financial responsibilities that they are ill prepared to handle or worse ignore all together. Only to learn that ignorance isn't a defense in the court and a lifetimes worth of work and struggle can be lost in the balance of a few or single bad financial decisions.
I know it feels like it is hard to find people to trust, or you don't want to have some "parental" figure limiting your decisions or options but the business side of art is as important in the long term if not in many ways more important in enabling great work to be produced and shared with the world.
Please take this opportunity to take a good hard look at your current situation if this current economy hasn't made you already and ask yourself are you properly taking care of your long term finances and are adequately planing for trouble and can personally handle that responsibility yourself. If the answer is no, find someone skilled who you can partner with to make sure you don't sign contracts or do expenditures you will live the rest of your life regretting.
Life in Art is hard enough, don't be your own worst enemy.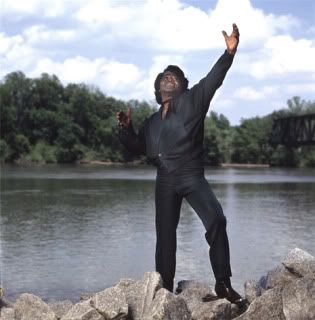 This week's roundup comes to you from my now semi empty apartment after a long day of moving. Here are the stories that caught my eye this week. Have a great weekend.
RT: @Lampo Illinois Arts Council FY10 budget is just $8M compared to $19.4M in FY07 – budget has plummeted more than 58% in three years.
James Brown was seriously bad ass. I wish I had half of his moves.  (via The Barstool Romantic)
MCA's chief curator, Elizabeth Smith,  steps down
Vogue takes a look inside Cindy Sherman's swanky pad and studio.
RT @KnightLAT Oops. Forbes magazine thinks Eli Broad helped to found a contemporary art museum in Chicago:
Going to go see Justin Cooper's performance at the MCA in a couple of hours. I'll post some photos tonight on the blog.
"I have odors in special places."
Reading @artfagcity's post on Bellwether's expenses and revenue loss.
Checking out the Get It Together Show on flickr.
Watching an awesome video of skateboarders in slowmo. via @hustlerculture
How did I miss the Thai western film Tears of the Black Tiger?
Star Wars + sports + a high school gym
Rob Roy Kelly American Wood Type Collection (via Post Family)
Proximity has posted photos from last weekend's openings.
RT: @artfagcity Merce Cunningham Dies at the age of 90.
Here's my picks, yo.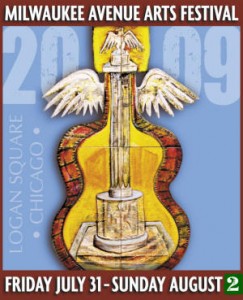 Just 'cus there are a ton of things going on of this 'Fest, there's bound to be something good happening. My suggestion: hit The Whistler and see Plural's installation. All along Milwaukee Ave. in Logan Square, Friday, Saturday, and Sunday from noon to 11pm.
2. Printer's Ball at Columbia College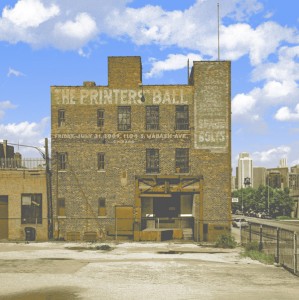 Columbia College hosts their 5th Printers Ball. It's gonna be huge, and it's free! Come see all things print! Friday night from 5-11pm.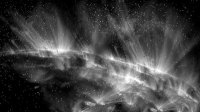 Their press release sold me. All things summer and all on fire. Come and celebrate your inner (or outer) pyro. Sunday 6-10pm.
4. Public Works at Andrew Rafacz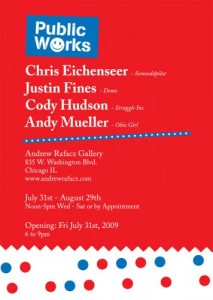 Four boys on display at Rafacz. The exhibition was organized by Andrew and Someoddpilot to celebrate Chicago artists who've played large parts in the local art and music scenes. Friday night from 6 to 9pm.
5. Double Closing Fun: Home and Golden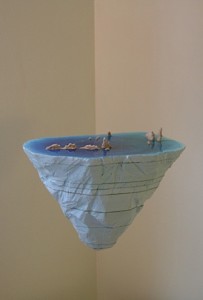 Jenny Buffington at The Diorama Show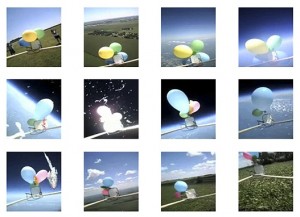 Aspen Mays
Two closing receptions are happening this weekend, both for good shows you should see if you haven't yet: The Diorama Show at Home Gallery, and Concentrate and Ask Again at Golden. Go by for one last horah. Home closing: Sunday noon to 3pm. Golden closing: Sunday 3 to 6pm.
Every once in awhile, it's good to have one of those "Come to Jesus" moments where you ask yourself if the work you're producing is really for you or for somebody else. Bad at Sports' Zurich correspondent Mark Staff Brandl (who reports on Art Basel for this week's podcast) has just completed a new video, "TV Art Evangelist," in which he (or rather, a miniaturized version of himself as an action figure), installed at the pulpit of an equally diminutive white cube "church" aka Brandl's Collapsible Kunsthalle, delivers a sermon "calling the artworld back to inspiration, away from hypocrisy and sophistry," as the artist himself describes it. This 16 minute long oration is both tongue-in-cheek and deadly serious in its intent. I love the wielding of a paintbrush in lieu of a microphone. Also check out the teeny tiny versions of Brandl's own paintings installed on the walls behind him–incredible. Watch the video, and then go check out Mr. Brandl's website to see larger versions of these paintings along with additional series of works, critical writings and news on upcoming projects.
Morning Glories 'aint so f-cking Glorious when they're crawling all over your backyard, swallowing everything else up in their huge pink maws. Part of this afternoon's checklist of things to do involves going into my backyard and peeling those tenacious pieces of shite off of all the other plants that are trying to gain a tiny foothold on our postage-stamp sized plot of land. On a related note, check out an incredible photo series by James D. Griffioen titled Feral Houses (via things magazine). Here's what else I've been reading about this week (with a bit leftover from last week).
*A chair inspired by obesity, designed by Charlotte Kingsnorth. Whoah. And, ick. (Dezeen).
*Louvre to open online database in English (NYT via Curated).
*Art Institute of Chicago now adding content to ArtBabble (New Curator).
*Cindy Sherman poses for Vogue's "Age Issue" (via AO Art Observed), numerous pics of Sherman's home are featured too. Somehow I always imagined her place would be messier.
*Most Unfortunate Headline Ever (but interesting article nonetheless): Stroke of Genius: 10 artists with abilities borne of brain damage.
*An Art Escort Service. This is a seriously good idea. Someone in Chicago should start up a company that tours out-of-town art lovers through our "underground" apartment gallery scene. Kissing on the lips verboten, of course. (via C-monster).
*"Invisible Books" aka books hidden within other books (NYT Book Review). Also, check out the archive devoted to this idea, compiled by the author of the Times' piece, here.
*Jen Graves discusses the overweening vulva that is "The Dinner Party."
*Cloud-seeding as art (we make money not art).
*Is the University of Chicago a secret portal to Harry Potter's Hogwarts? Oh, if only it were so! (Culture Monster).
*What it was like to grow up in Pierre Koenig's Case Study House.
*Props to my industrious little hometown: Valley Porn (boing boing).