Ready, set, go:
*The Victorian Poetic Home.
*The story behind Klan-themed Quilts.
*How to practice green visual criticism (via The Groundswell Blog).
*Most major art museums are still dramatically lacking diversity.
*Love, love love this: Little People: a Tiny Street Art Project; see above image for an example.
*Art21 has a really interesting article on the issues that arise when installing and conserving Jenny Holzer's works.
*White House Canvas: Rachel Somerstein analyzes an overlooked aspect of the White House's much-buzzed about new art picks: their unusual (for the White House, anyway) emphasis on Abstraction. (Via Hrag Vartanian).
*Eight cities whose future is in serious doubt.
*I'm a Photographer, not a Terrorist! (Via Boing Boing).
*In Malibu, California, someone actually busts out the phrase "go back to the Valley!" in all stupid seriousness. You go, L.A. Urban Rangers!
First LACMA's film program, now UCLA's arts library. Although the former is more high-profile, the latter is an equally precious cultural resource that's now at risk of closure. Over the weekend, the Los Angeles Times reported that UCLA is considering shutting down its arts library and merging its collection with "an existing facility at another library" as part of a cross-departmental effort to make up for what's estimated to be a $131 million budget shortfall.
The university confirmed to the L.A. Times that it is considering eliminating the library, which contains over a quarter of a million volumes in the areas of art, architecture, design, film, television, theater and more. An excerpt from the Times story:
"This doesn't mean we would stop serving the arts community," said Gary Strong, the university's head librarian. "We would do this from a different location. The fact is that we cannot support all of the separate libraries that we currently have."

Strong added that UCLA's chemistry library is also under consideration for elimination. No layoffs from the library staff are currently planned, he said, declining to elaborate on any other plans. "I don't know what's next in terms of the budget."

The UCLA library system supports 12 facilities on an annual operating budget of about $40 million, according to the university. A spokeswoman at UCLA said study teams are being organized to examine the operational effect of closing the arts and chemistry branches. "What will not change, however, is the Library's steadfast focus on offering collections and services," she said in a statement.
But many of UCLA's faculty strongly disagree with their spokeswoman's assessment. In a follow-up story today on the L.A. Times' blog Culture Monster, David Ng reports that two professors in the University's art history department, Steven Nelson and George Baker, have launched a campaign that includes a Facebook page and an online petition to garner support for keeping the library's collection right where it is. In a letter written to University library Gary Strong and signed by over 69 fellow faculty members, Nelson and Baker say that
"It is unconscionable that this library, one that services the myriad needs of hundreds of faculty and thousands of students in some of our nation's best departments in the arts and humanities could even be considered for closure."
Nelson told the Times that because the UCLA library system is operating near capacity, "There is nowhere to put the books and what will happen is that they will become inaccessible."
What Nelson probably means by the word "inaccessible" here is that the books won't be shelved in stacks but will instead be housed in an off-campus facility, available only by specific request. Anybody who's used a University library before knows what a huge pain in the ass that is, and what's more–if you've spent any amount of time researching you know how important is can be to flip through books in person or browse entire categories straight off the stacks. And of course, what's also being eliminated is study space, and a designated area that is named, labeled, and devoted exclusively to the arts on a campus where so much critical research and activity in these areas goes on.
This story is particularly shocking because UCLA's art, architecture and art history programs are so internationally prestigious. But then again — so was LACMA's film program, and that didn't seem to matter much.
Kathryn Born who is building a little corner of Art talk and opinion under the roof of the Chicago Tribune asks a lot of conversation starting questions every now and then to get the mind racing but most recently the Tribune home page front page story "Obama as The Joker: another image co-opted by conservatives because they don't have art of their own" has her taking the political zeitgeist by the horns and goring herself.
The question is do Republicans make decent let alone good artists and why are they incapable of making political artwork of merit. Mix that with a bit of background history on the Obama Joker image that came out over 2 weeks ago. It has been discovered that the image was first created by a Chicago History Student at U of I by the name of Firas Alkhateeb who made a faux Time Magazine cover with a photo of Obama photoshoped to look like the Joker. That image was put on his flickr account and then appropriated by a currently unknown person on the west coast and the Time reference was removed and the Tagline "Socialist" was put in it's place.
The question it seems is what is the role of Art in Politics, does political art have legs to have lasting impact as art or is it limited to only high water marks in history? Then finally what is the problem with Republicans and their inability to make quality political art? Are they too busy drawing paychecks to draw altogether? From one agitator to another, I salute Ms. Born and suggest a 2004 Siduri Sonoma County Pinot Noir which goes well with shoe leather as I well know from experience.
This week's pick features Olafur Eliasson discussing the importance of model making for his show, Take Your Time, currently on view at the MCA.
Take Your Time will be up until September 13th.
220 East Chicago Avenue, Chicago, Illinois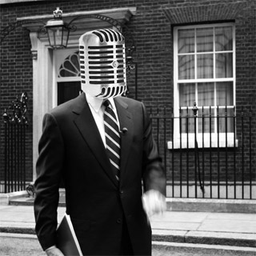 Heard any good Sound Art lately? I sure haven't. I did, however, download a pretty amazing iPhone app today, and it's made me wonder if the rise of augmented reality apps like this one will ultimately signal the end of institutionalized (i.e. gallery-bound) sound art as we've known it. RjDj incorporates the sounds of your current environment into its aural landscapes cum musical compositions, which aren't exclusively musical in nature.
The idea behind RjDj is that different musicians or artists create different "Scenes," some of which respond to your physical interactions with the iPhone device while others react to aural stimuli or to the relative speed of your body moving through space. Some are calming, others rev you up. The possibilities, as they say, are virtually endless. (Scenes are available for download on the RjDj website; some are free, some cost a few bucks, so artists who choose to sell their Scene stand to make a bit of cash).
But even beyond the crass monetary potential, the unprecedented degree of interactivity that augmented reality sound apps like RjDj offer the artist who works with sound, along with its relative ease of distribution and extreme portability, has the ability to radically reinvigorate (if not reinvent) sound art, which has been a pretty moribund art form for awhile now. Take, for example, Chicago Phonography's recent performance at the MCA (part of the Museum's Here/Not There performance series). Although I liked the collective's incorporation of Chicago city sounds into an ambient aural landscape, it was a largely passive experience, for the audience anyway. I'm not sure how much we got out of listening to a sound collage of Chicago city traffic, etc. when we could (and did) experience pretty much the same thing–with added layers of sight and smell–as soon as we walked out of the MCA's doors.
But if Chicago Phonography's performance were rejiggered a bit and distributed as an augmented reality app (and who knows — maybe they've already done something like this) think how different our experience of their project would have been. Instead of sitting in a museum watching a bunch of guys staring down at their laptops and PDAs we could have gone out and roamed the streets of Chicago ourselves, our eyes, ears, hands and feet jamming with and co-creating Scenes that these artists set up for us. Everyone's experience of the performance would be slightly different (as it always is, of course, but this would concretize those differences) and yet there would still be an underlying core that everyone shared.
RjDj also gives users the ability to record the Scene they're listening to, then upload and share it with others. Again, imagine the difference if, after listening to an augmented reality sound art piece, everyone returned to the original meeting space and shared their different "audio takes" of the experience with one another.
Of course, not every artist wants their work to be interactive. But there is something inherently subjective and interactive about sound art to begin with that seems to demand at least some degree of excursion into what augmented reality has to offer.
Visit RjDj's website here. I first read about this app via Bruce Sterling's always wonderful, and always just-a-little-over-my-head, Beyond the Beyond.