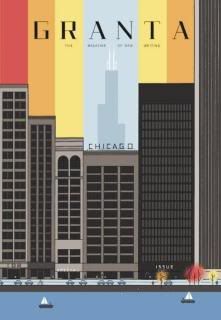 British publication Granta will be featuring the city of Chicago for its upcoming issue. Chicago based Chris Ware designed the very sweet cover. It sounds like a good issue to pick up if you are interested in what's going on in Chicago.
" In this video, Granta acting editor John Freeman introduces the issue, celebrating the city of Chicago, a cultural and artistic hub and home to some of the world's greatest writers and thinkers."
Introducing "Chicago" from Granta magazine on Vimeo.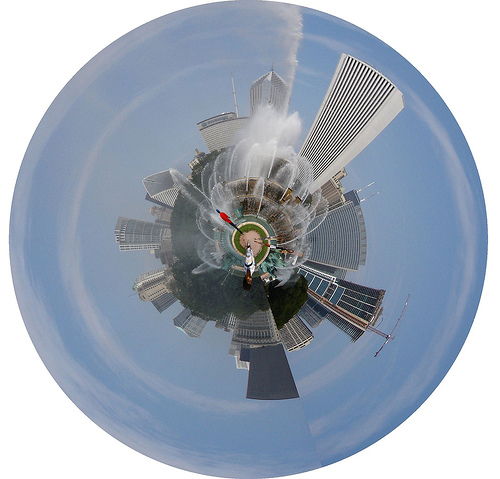 I'm utterly entranced by these "polar panoramas" — 360 degree panoramic images assembled to form a circular image that looks like a tiny planet. There's a whole Flickr group devoted to polar panoramas, along with the related "Create Your Own Planets" pool. The resulting images hold the same sort of magical fascination for me as do snow globes or the insides of mechanical time pieces. Behold, a few images from the Flickr pool, (there are too many gorgeous ones to pick from, so I've chosen only those panoramas based on images taken in or around Chicago – click directly on the image to be taken to the photo's original Flickr site). Can I go live inside one of these for awhile, please?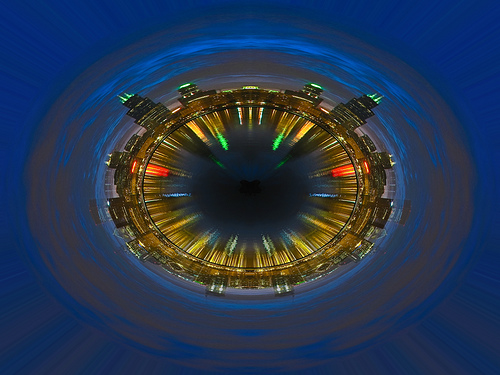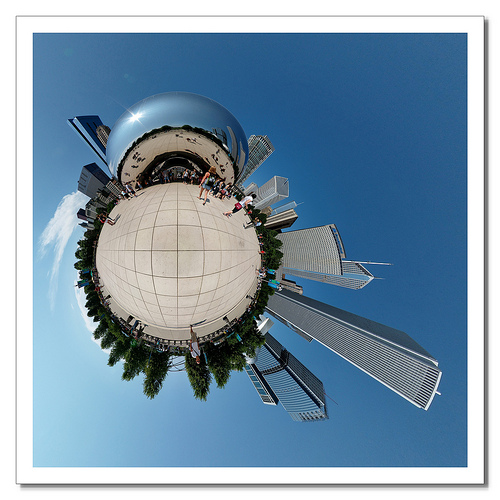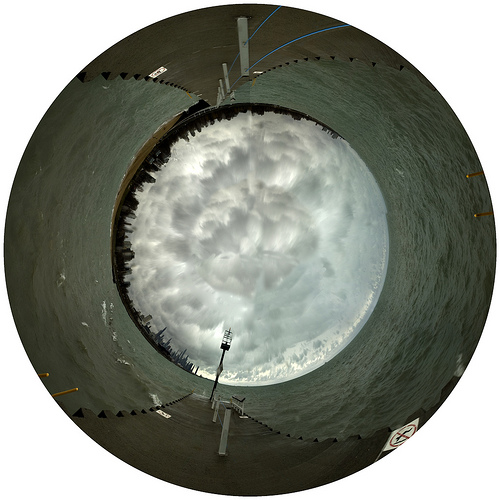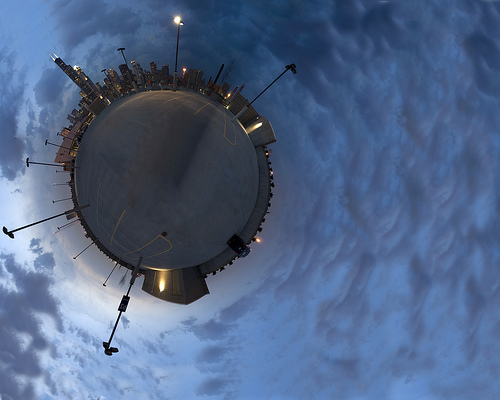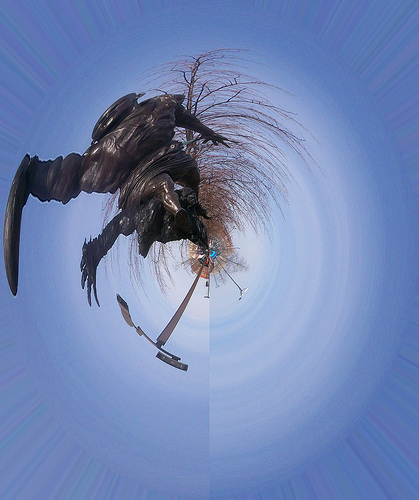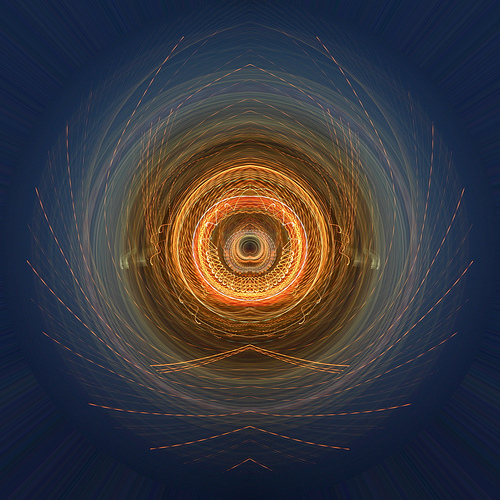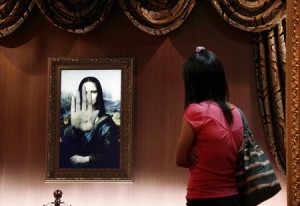 The World Classic Interactive Arts Exhibition opened in Beijing last week. Sounds more like a golf tournament than an art show, no? Among some sixty odd exhibits on view, there's a holographic Mona Lisa that answers questions from viewers in Mandarin ("Are you married?" "Yes, I am married, and my husband loves me so much!"), a gesticulating Jesus speaking to his apostles at The Last Supper, and various well-endowed Greek statues come virtually to life. Glimpse the madness via this brief video clip; it's in Russian, but that doesn't matter. (Via).
Michael Workman is retooling the Bridge Art Fair into the leaner, meaner Verge, which (like Bridge) will focus exclusively on emerging art. (Verge, you may recall, was also the name given to a section of artist-run spaces housed within Bridge). Verge will launch this year in Miami to coincide with Art Basel, December 3-6, 2009. Now, applicants to Verge will be selected by a top-notch curatorial team including Dan Cameron and James Yood — a process that, in an interview with Artnet last week, Workman likened to that of a biennale. (Application deadline is October 1st).
Here's Artnet's take on Workman's new venture:
"After expanding Bridge to two locations last year during Art Basel Miami Beach, in what many saw as overreach, Bridge honcho Michael Workman was compelled to dissolve the non-profit that oversees the fair earlier this year. Now, he has launched the Verge Art Fair to take its place. Verge bows at the Catalina Hotel in Miami Beach — a locale that happens to be Bridge's old haunt. "Verge," incidentally, was also the name of a subsection of Bridge focused on "artist-run spaces and projects," a concept that "didn't get used well" at Bridge, according to Workman, and is now being channeled in the Verge Art Fair's focus on "new and emerging art." The new affair promises 30 exhibitors, rather than the 60 showcased by Bridge last year.

If all this sounds dubious, Workman has enlisted a team that gives the undertaking credibility. He has ceded directorial control to Brooklyn-based artist Edouard Steinhauer (a frequent Bridge exhibitor), while fair participants are being chosen by a team consisting of curator Dan Cameron, collector Beth Rudin DeWoody, Yale School of Art associate dean Samuel Messer, Artforum critic James Yood, and Steinhauer. "It's more like the way you select things for a biennale," Workman says of the process, adding that the "orientation of this show itself is a radical departure" from Bridge. For info about the new fair, including prices for would-be exhibitors, see www.vergeartfair.com.

Last week Edward Winkleman linked to a couple of art-related iPhone apps, and one in particular caught my eye because it sounded like exactly the sort of thing I need to make my gallery-going life in Chicago easier. It's called Artnear, and, with some beefing up of its Windy City listings, it has the potential to be an extremely useful tool for viewing art on the fly in this city.
In a nutshell, Artnear uses the iPhone's built-in GPS to locate those art venues that are nearest to your current location. Even better, each listing provides you with information about the gallery's current shows, along with its address and phone contact info. A link at the bottom of each listing allows you to click directly over to the venue's website. The Artist search tab gives you a list of artists who are currently showing in your city. The app's Calendar function was sort of buggy on my phone – I couldn't click open all of the days of the week– but in theory, it's supposed to provide you with a list of current and upcoming shows that are opening and (even more useful to me) closing during a particular week.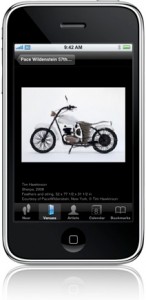 Artnear is free (there's a Pro version for $4.99, but for Chicagoans I'd definitely advocate sticking with the freebie version until they substantially increase the listings in our area). Hopnear, the company that puts out this app, has a page on the site for emailing your suggestions for venues they should add to future versions.  I emailed them this morning with suggestions for about five additional venues and was pleasantly surprised to receive a friendly thank-you email back just a few hours later. This is a good sign that the company is taking the feedback/user contribution part seriously — which I'd been a bit skeptical about after reading on Hopnear's FAQ section that the app is "designed to help busy people find the best, internationally recognized galleries regardless of their location. With out service you will no longer have to skim through a list of hundreds of galleries including antique shops or similar."
Although it's fine by me to ixnay the antiques, I think it's a really bad idea for the folks behind this app to try and prescreen so-called "quality" venues for its users. More listings, not less, is what makes an app like this really useful. As with any city, a lot of great art here is relatively easy to find, but what makes Chicago so different from other major art cities is the fact that so many quality shows take place at smaller venues whose publicity arm is mainly word-of-mouth.
In theory, apps like Artnear have the potential to radically level the playing field by organizing and centralizing all of this information via a single, portable device like the iPhone, and further hone in on relevant data by taking your current geographic location into account. It's a great little app with tons of potential — but if Artnear wants to become a truly indispensable tool for Chicago artgoers, its designers need to keep the uniquely heterogeneous spread of this particular city's art scene in mind. Here, bigger doesn't necessarily mean better.