How to explain my parents from lernert Engelberts on Vimeo.
I saw this over on Try Harder this morning and couldn't resist posting it. If only we all had the time and patience to explain to our parents what we actually did.
via Utne
"Somebody teach me Dutch now! The formula for a fabulous new Dutch internet series is simple: a visual artist is seated at a table with a work of his or her art, joined at the other end of the table by a parent. There is a brief explanation of the piece (with constant parental interruption) which leads into a sometimes rambling, sometimes heated conversation. There is just one problem: the producers of this brilliant experiment only inserted English subtitles into the first episode. Still, I keep watching. The universal language of a parent attempting to understand their spawn is universal and mostly consists of some variation of: "huh," "okay," or "nah." Enjoy!"
John Grande, an artist and former printer for Annie Liebovitz and Jack Pierson, among other well-known photographers, has made a series of paintings based on Cindy Sherman's Untitled Film Stills. Actually, they're more than just "based on," from what I can tell — they're painted versions of Sherman's photographs that seem to exist solely under the auspices of posing these questions (which I've lifted from a blurb on his gallery's website):
"What if Sherman had been a male painter producing the same images on large scale canvasses from the beginning? How would this have affected her acceptance in the art world and the market value of her work? And what happens when a third party intervenes in self portraiture? Is there something of the third party that brings an "otherness" to the work? How does the dialogue about "the male gaze" shift now that a male is producing the work? Does the fact that these images were initially produced as editions and now they are one of a kind objects have any relevance to the ongoing dialogue between painting and photography? And if photography was supposed to bring about the death of painting, and most paintings end up being viewed as photographs anyway, does a painting of a famous photograph champion photography or painting?"
Wow, them's a whole lot of questions that the paintings themselves appear in no way to address, other than by mere fact of their existence. There's a strange, sci-fi esque alternate history thingee going on there with the gallery's breathless series of "what if" queries that makes me giggle, I can't help it. What if Cindy Sherman was really Robert Longo posing as an elderly woman masquerading as a downtown artist ALL ALONG, how would that have affected the notion of the "male gaze," along with the art world's acceptance of Sherman's work? What if the death of painting was really the death of photography posing as the death of the Other? What then, by God, what then??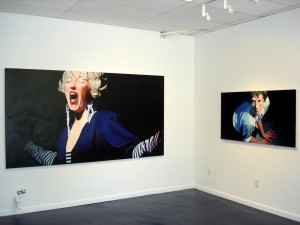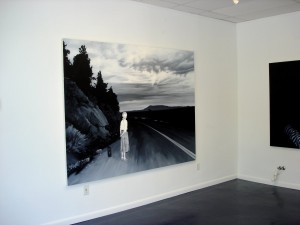 (Via Art21 blog).
Ryan McGinley will exhibit a new series of photographs titled Moonmilk next month at Alison Jacques Gallery in London. McGinley and a group of models/friends/collaborators went cave exploring aka spelunking in the nude (nudity is an essential aspect of McGinley's approach to picture-making, so there's nothing unusual about this aspect of the work). The resulting images are breathtakingly beautiful–Edenic, even, despite the underground setting–each of them classic McGinley in their portrayal of timeless youth, freedom and, importantly, in their emphasis on adventure. Indeed, when McGinley was interviewed by Bad At Sports, he spoke of the enduring influence of children's books on his work, particularly those that feature brave young kids setting out to explore the unknown. (I've always loved those types of books, too; the Wizard of Oz series by L. Frank Baum being my all-time favorites–I still read them before going to sleep when I'm going through a particularly stressful time in my life).
Images from the Moonmilk series have been ping ponging around the Internet lately, and when I saw them I was immediately reminded of Miru Kim's ongoing forays into various subterranean systems, including the Paris catacombs and the New York city subway. Kim's images feature her own nude body as the lone figure in these landscapes. Usually, though not always, Kim goes into these places entirely on her own, without the use of an assistant.
McGinley's photographs are more artfully composed than Kim's are, more mysterious and more expansive in their evocation of a hidden world waiting to be explored. Overall, they're just more "More." Kim portrays little about these cryptic worlds as being magical, even when she's posing in front of a modern-day "cave painting" of a starry night sky (one that's most likely been painted by an otherwise homeless underground denizen). Instead, she's interested in physically exploring an urban unconscious whose decrepit inhabitants and landscape have been "deleted," as she's put it, or otherwise repressed, like the scary monsters of childhood. Kim herself looks like a frightened animal in a lot of her shots: body crouched, clinging awkwardly against the wall as she painstakingly navigates these treacherous spaces.
The reasons why McGinley chooses to photograph his models nude is fairly obvious, given his overarching areas of interest; but Kim's choice to represent herself this way is more puzzling and problematic. In interviews she's explained that her use of nudity is an attempt to make her image less time and culture-specific, but that kind of logic doesn't really hold up given the loaded ways in which we already view the female nude in photography and elsewhere. For me, her decision to pose nude only makes sense when the photographs are viewed as a kind of performative image-making à la the work of Ana Mendieta.
Despite their shortcomings, there is something deeply powerful about Kim's underground explorations that makes them more provocative and ultimately of greater interest to me than McGinley's undeniably lovely ones. For one thing, there's an actual story behind each of Kim's images to be unearthed in the history of the place she's temporarily inhabiting. McGinley's are suggestive in regards to narrative, but their impact is largely mythic and iconic in nature. They're about FREEDOM, ADVENTURE and BEAUTY as they apply to those slim-limbed Caucasian twentysomethings who still have the time to travel around with and participate in McGinley's undoubtedly life-affirming projects. But even more compelling is the matter of the sheer guts it takes for a woman (or anyone, really) to explore such places on her own, never mind the nude part.
McGinley's photographs do inspire a certain sense of yearning, but for me, that desire feels uncomfortably similar to the kind that makes me want to go out and buy stuff to make my life (and me) look better. It's a desire that will always be unfulfilled. Kim's photographs, despite their sometimes clumsy literalism, make me think about the truly mind-expanding things that can happen when a shy young woman chooses to go out adventuring all on her own, into exactly those types of deep, dark, fairytale-type places that everyone is always telling you not to go into, or else.
Or else what?
Listen to Ryan McGinley interviewed by Brian and Patricia on Episode 141 of the Podcast. Miru Kim gives a talk on her "underground art" on the web video channel TED here.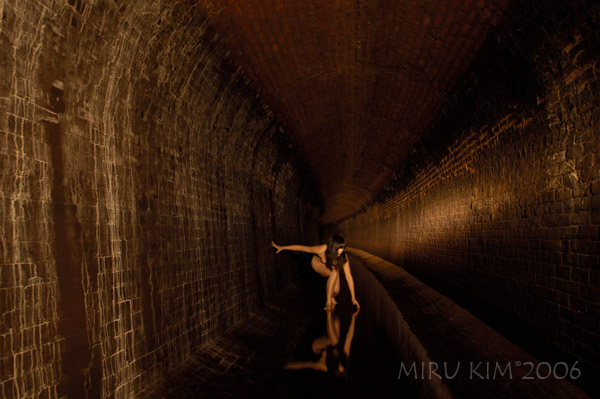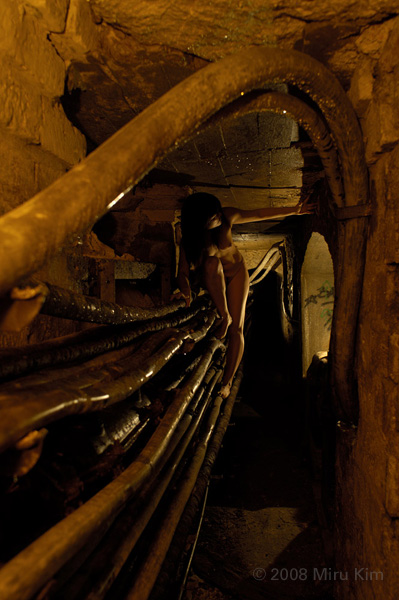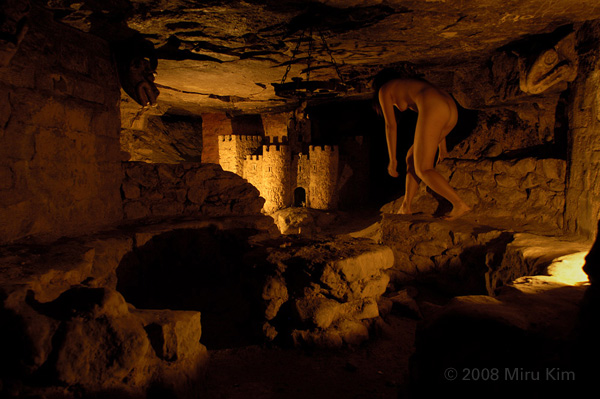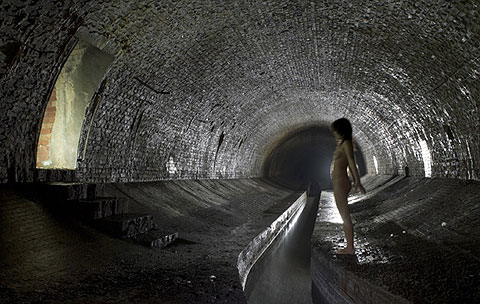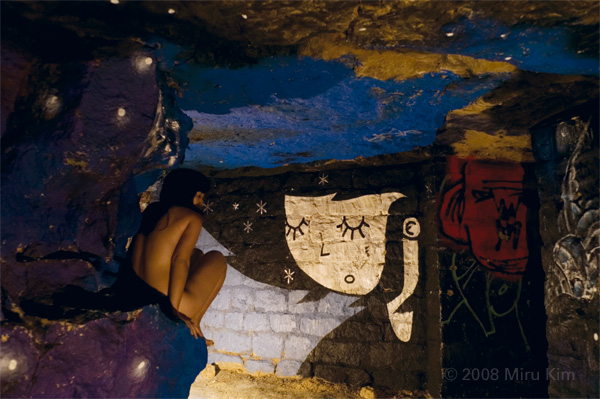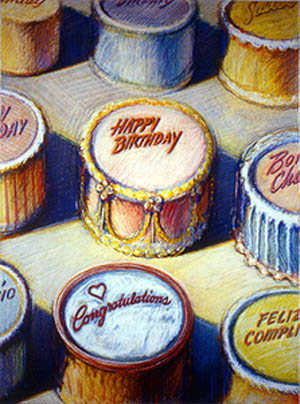 Tap tap tap.
Is this blog thing working again??
This week's podcast marks Bad at Sports' four year anniversary. Four years of weekly podcasts, people — not one missed show in 208 episodes. So incredible. On a personal note I want to say thank you to Duncan, Richard, Amanda, Tom, Patricia, Brian, Mike, Mark, Kathryn and everyone in front of the mike and behind the scenes who puts these shows together each week. I've only met a handful of you in person, but you've all kept me company, made me laugh out loud, nod my head in agreement, and make strange faces on public transit at one time or another. I've even had some heated arguments with a few of you–all in my head, of course. Point is, each week's episode never fails to keep me fully engaged, and that's been especially important for me as a Chicago-area newbie. Through their weekly podcast, the BAS crew provides a friendly entree into Chicago's art scene, which is notoriously difficult to map. Their weekly chatfests highlight the most interesting artists, curators, critics, and cultural practitioners in Chicago and around the country (and, thanks to Mark, in Europe as well) . What's so great about this particular podcast is that it makes you feel like you're part of the conversation just by listening. Bad at Sports represents everything that's unique and truly great about Chicago — they're a super-smart, unpretentious, no bullshit kinda crew. So if you read the blog but haven't listened to many of the podcasts–try it, you are guaranteed a good time. And if you happen to be new to Chicago, I want to especially encourage you to listen each week, and delve through their 208 episode archive. Start with those episodes that tap into your own particular interests (I guarantee that you will find more than one) and go from there. And don't forget — this art historical audio treasure-trove is absolutely free to access–though no one will mind if you're moved to donate every now and then.
Please check out this week's episode on The Stockyard Institute. Then, go explore a little! Below are just a few of my favorite shows from the archives (which I'm still working my way through) — please share yours in the comments!
Michelle Grabner, Part 1; Part 2
Miles Fisher is an actor that has had many roles over the last few years first in God's & Generals and most notably the parody he did on Tom Cruise a few months back. He also is a musician and the video he did for his latest song, a cover of the Talking heads "This Must Be The Place" is both a great remix and a killer video homage/parody of American Psycho. Needless to say if you have seen the film this is a video that is not safe for work environments but take a look.