Three Frames condenses feature length films into what is essentially a three-frame money shot (I'm using the polite term here)–animated .gifs consisting of only three film frames. There's something about the twitchy, jerkily repetitive results that's fittingly pornographic–each of these ultra compact micro-films instantaneously delivers what you came for. Although there's a bit too much emphasis on horror flicks (too obvious, imho), I find a number of these to be surprisingly compelling. Not to get too overly analytical of what's essentially a novelty web site, but some of these animations remind me of Paul Pfeiffer's early video works.
Three Frame's movie treatments actually work best when viewed in isolation from one another. You can also better judge which animations work best on the meta level of representing the spirit of an entire film in just the three frames.
They've even given the Three Frames treatment to The Fabulous Stains!!! Anyone remember that one? Anyone??
*Apologies, but I cannot remember where I learned about Three Frames. There should be a via credit here, and I've been searching through my .rss feed for the past hour trying to find the goddamn original link, and I've got to get on with my evening. Again, all apologies, I usually try to be careful about this.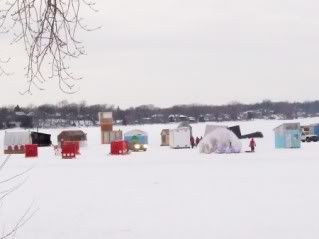 On this week's roundup we check out the always fantastic Chip Kidd discussing comic book covers, a chimpanzee reenacts a scene from the ring, and a call for proposals for the seventh art shanty project. Have a great weekend.
Chip Kidd on comic book covers.
RT @findings The Whitney lays of 8% of its staff, plans new satellite building near the Highline.
A Chimpanzee reenacting the Ring.
BAS favorite "Sita Sings the Blues" sourcefiles are now online. via boingboing
RT @hragv Oh graffiti, when did you become the hobby of rich people? "Though tagging, also known as graffiti-art…"
"Have you ever thought about the ironic fact that soft bread goes hard when old and hard bread goes soft?"
Daniel Fuller On Triple Candie's Maurizio Cattelan is Dead: Life and Work, 1960 – 2009.
Call for proposals for the Seventh annual Art Shanty Projects.
Is it necessary to see Guernica in 3D?
RT: TylerGreenDC Addressing the future of arts journalism — if there is one:
Leveraging Investments in Creativity (LINC), a decade-long national initiative to improve conditions for artists (which includes efforts to connect artists to greater health insurance options and maintain spaces for art and artists in community development projects, among others) is conducting an online survey on artists and economic recession. They're inviting artists to share their experiences under the current economic climate. It's all completely anonymous, of course, and the survey is being overseen by by Princeton Survey Research Associates International. More on the survey, from LINC's website:
Is the recession over for you, or still going strong? LINC wants to make sure the conditions artists are facing in the current economic climate are being heard and addressed.




LINC, in partnership with Helicon Collaborative, has developed the Artists and the Economic Recession Survey to invite artists to share their current experience. This survey will provide hard data for all of us who believe that arts and culture are important so that we can achieve the changes in policy, funding, and information dissemination necessary to improve the working lives of artists nationwide.
If you have 15 minutes or so, think about participating–you don't even have to leave your chair (if there's a computer in front of it, anyway). The wider the range of artists' voices, the more meaningful the survey's results (and the analysis that follows) will be. The survey closes on September 4th, 2009, so there's not much time left.
(Via College Art Association News).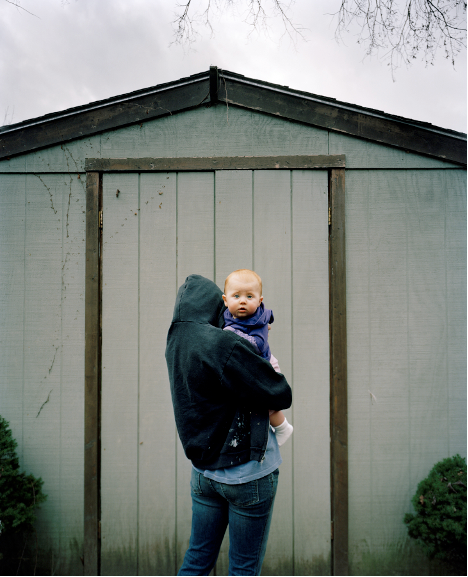 Jill Frank, who had a great show at GOLDEN just about a year ago, and now has a 12×12 up at the Museum of Contemporary Art in Chicago, will be giving an artist talk at the MCA this coming Tuesday, August 25th at 630pm. She was kind enough to answer a few questions for me, even though apparently she was in the middle of the woods.
What sports are you bad at playing?
All sports that require coordination. I like jogging because less can go wrong. However, I still run into tree branches and trip over potholes on a regular basis.
What was the first photograph that you ever took?
I remember taking a picture of this crawdad in my backyard, my friend was trying to hold it still for me and I was using a Polaroid camera.
Can you describe the evolution of your work?
I am interested in aligning images with actual experiences. I started with a project on my family, where we reenacted all of our most important memories for the camera, in a sense creating a more accurate family album. This included awkward, humiliating, embarrassing moments rather than the usual portraits. I moved from that project into photographing other people's undocumented experiences- (Psychodrama)- which involved advertising my project and looking for participants willing to share. I ended up with some really interesting people, and I learned a lot about how to document these incidents. I think the images became more about documenting a performance than making a pristine singular image of an event. Recently, I have been working less with individuals and more with groups of people and larger histories. I am really excited about this newer direction because it involves making alternate versions of culturally accepted images. I am interested in what seems to be missing from these iconic images: the awkwardness, the anxiety, the embarrassment of being human. I have included two of these newer works in the 12×12. One is Mother and Child #1, where the baby is not in a peaceful state; rather, it is exhibiting signs of anxiety at an early age.
What is the significance of creating images from your own memories, and how does this translate to creating images from collective memory (historical, etc)?
I think that images often serve as anchors for our experiences. It is really interesting to think about whether we or not we value the experience more or less if there is some visual document to serve as evidence. I want to facilitate a conversation with this project. As for the way it has moved from individual to more collective experiences, I think that historical events and collective memories can be just as subjective as our own personal memories. For me, this project questions the objectivity of the "original" image, and the authors and artists who made them. I also like to find room for my own spiritual curiosity inside the religious iconography. I am making these images work for me.
How did the transition in your work from creating images from personal narratives to historical, literary and biblical narratives happen?
I put the word out that I was looking for participants for the personal narratives, and I ran into several groups of people who were well-schooled in different religious histories. It was a very natural transition in which I learned a lot from the participants. I specifically enjoyed working with a group of students from Wheaton, Illinois who were extremely open to be a part of whatever strange idea I had.
Do you look at your work as documentation of performances or events, or more
as constructed portraits?
Both. I started out with very constructed portraits of the participants and moved into a looser, more documentary approach. Now I think of the performance as the most interesting aspect – the photograph as a document of the reenactment or the reinterpretation.
How has collaborating changed your work?
I enjoy meeting new people and learning about their interests and life experiences, so collaboration is very rewarding. I still make all of the photographs myself, but I have considered different approaches to this as well. Generally speaking, I can't imagine making images based only on my own experiences and interpretations; I am not that interesting! I think the most amazing part of the collaboration is the learning aspect.
What do you see as the failures and successes of photographic representation?
Well, I believe failure and success is relative to our expectations of the medium. The photographic image is the form of visual representation that most closely mimics the human experience, and it is through existing images that we gain an understanding of what may be worthy of representation. If there are pivotal moments in a person's life that go undocumented, are documented inaccurately, or events of historic consequence that are not photographed – it could be perceived as a failure.
Photography succeeds at specificity: things that our eyes are incapable of processing, a camera can render in permanent painstaking detail. I think this is a question of subjectivity- one person's idea of a successful photograph may not speak to another person's idea of that same moment in time. These conversations about the medium make you consider the larger questions surrounding the production of images.
Jill's work will be up as part of the UBS 12×12 New Artists/New Work program until the end of August.
This Saturday August 22nd is the last chance to see a two-person show at Spoke that uses multiple perspectives and narrative strategies to explore everyday life in the occupied territories. Tirtza Even and Toby Millman's exhibition addresses "the characteristics and consequences of the ongoing Israeli occupation on life in Palestine," according to the press release. I haven't seen the show yet–it's only open on Saturdays, and the last few weekends have been kicking my ass, childcare-wise– but I'm planning to this weekend. Luckily, Even and Millman both have well fleshed-out websites that enable me to preview their work here in order to entice you to visit, too–unless, of course, you're not a weekend slacker like I am and have seen it already.
Video and documentary artist Tirtza Even is on the Art & Design faculty at the University of Michigan. Her work focuses on "the less overt manifestations of complex and sometimes extreme social/political dynamics in specific locations such as Palestine, Turkey, Spain, the U.S., and Germany," as she puts it on her website. At Spoke, she's showing a 3-D animation that draws together multiple narratives of life in occupied territory. A recent video work, Once a Wall, or a Ripple Remains (2008) is part of what Even describes as an ongoing media project that examines "the shifting history" of this contested political and psychic terrain via a moving image pastiche of documentary footage, audio voiceovers, and various skewed perspectives. You can see excerpts from this and other related videos on Even's website.
Toby Millman's Stories from Palestine is a series of ink and cut-paper drawings captioned by narrative vignettes culled from his 2006 visit to Palestine. Many of the drawings were traced from photographs and maps produced by the United Nations Office for the Coordination of Humanitarian Affairs for the Occupied Palestinian Territories (maps that are always under revision, as they are updated every few months to reflect current situations in Jerusalem, the West Bank and Gaza).  Snippets from Millman's encounters with various Palestinians are interwoven, their elliptical relationship to the cut-out imagery complicating any straightforward "read" on life in occupied Palestine. The subject of Occupation is a complicated one, to say the least, making the need for a nuanced and multifaceted understanding of it all the more vital. This show looks quite promising in that regard, and I'm looking forward to seeing it.
Spoke is at 119 N. Peoria #3D, Chicago, IL 60607. Hours are Saturdays from 11a.m.-5p.m.