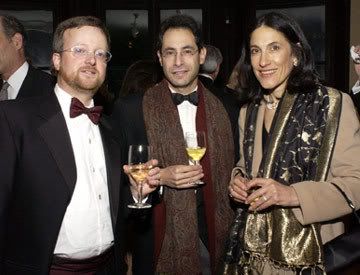 Yesterday I posted an entry about the Chelsea Art Museum's cancellation of their show The Aesthetics of Torture. It now appears that their Chief Curator, Manon Slome has resigned for "personal reasons". I had originally reported that CAM president Dorothea Kesser had made the decision. After reading the press release the cancellation appears to have been caused by Manon Slome.
Check the press release below:
Chelsea Art Museum
Home of the Miotte Foundation
556 West 22nd Street
New York, NY 10011
Tel: 212.255.0719
Email: contact@chelseaartmusuem.org
Press Release
We regret to inform you that Chelsea Art Museum's Chief Curator, Manon Slome, resigned this
week for personal reasons. Upon resigning, she unilaterally decided to cancel the exhibition
The Dialectics of Terror (formerly The Aesthetics of Terror) and informed all the participating
artists without prior discussion with Dorothea Keeser, Chelsea Art Museum's Founder and
President, or any Museum personnel.
Manon Slome and Dorothea Keeser had jointly approved the exhibition catalogue proof,
which was at the printer.
We regret that these events have left the artists in the exhibition in an undesirable situation.
In an effort to move forward, Chelsea Art Museum has begun reviewing applications to fill the
position of Chief Curator. Furthermore, plans are being made to advance the opening date of
a previously planned exhibition, in order to fill the gap in the exhibition calendar.
Francis Alÿs has a show opening this Sunday, Sep 28, 2008 at 4:00 pm at The Renaissance Society. He will be giving an artist talk from 5-6pm in University of Chicago's Cobb Hall. Cobb Hall is located directly below the Ren in room 307.
I saw Alÿs' show, Politics of Rehearsal at UCLA's Hammer Museum in Los Angeles last year and really enjoyed it. This artist lecture should be worth checking out.
The Renaissance Society is located on University of Chicago's campus at:
5811 S. Ellis Avenue
Bergman Gallery, Cobb Hall 418
Chicago, Illinois 60637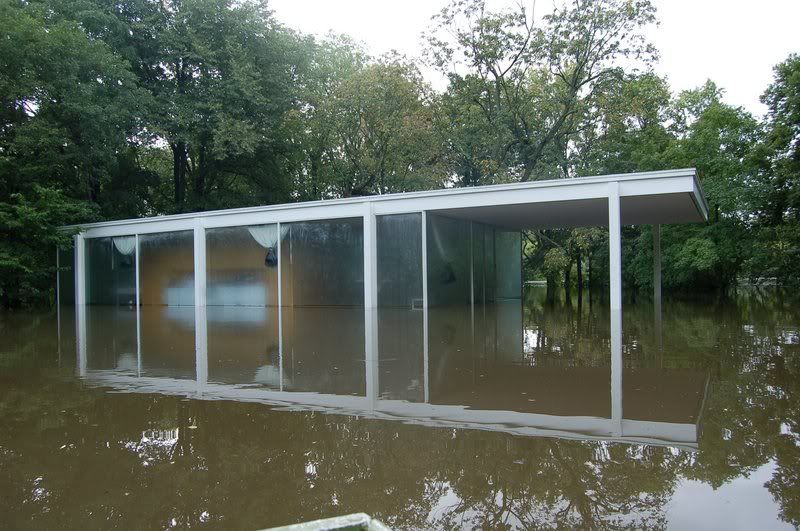 This is old news but still worth posting. Mies van der Rohe's Farnsworth House was flooded earlier this month due to heavy rains.
If you are interested in donating to help with preservation check out the Farnsworth House website.
Via the Farnswoth House website:
"Ludwig Mies van der Rohe's famous modern masterpiece, the Farnsworth House, fell prey to Mother Nature Sunday, September 14, as flood waters rose almost two feet over the top deck, entering the house. Built within the flood plain of the Fox River in Plano, Illinois, the house stands on columns five feet above ground which proved not high enough as record breaking rain amounts brought the river more than 14 feet above its normal level. More than eight inches of rain fell in two days as Tropical Storm Lowell passed through Saturday, immediately followed by the remnants of Hurricane Ike Saturday night and Sunday. Fox River waters rose quickly and by Sunday morning, September 14, they had breached the interior of the house by over a foot.
The house will be closed for tours until further notice. Staff will assess the damage immediately and begin discussions with the insurance carrier in an effort to begin clean-up immediately. Landmarks Illinois and the NTHP asks the public to please make a donation today to help support this massive effort to restore an architectural icon. "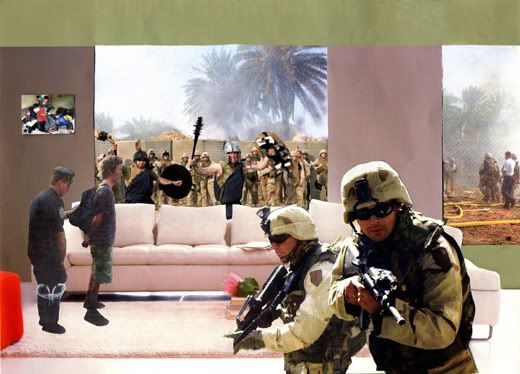 Art Fag City has just broke the news that The Chelsea Art Museum has cancelled their show The Aesthetics of Terror. According to the site, artists were informed yesterday of Dorothea Kesser's decision stating that she felt the show "glorified terrorism and showed disrespect for its victims."
Here is the roster of who was going to participate:
Josh Azzarella
Daniel Bejar
William Betts
Blue Noses
Jake + Dinos Chapman
Zoya Cherkassky
Jeanette Doyle
Harun Farocki
Coco Fusco
Johan Grimonprez
Kent Henrickssen
Jenny Holzer
Fransje Killaars
Jon Kessler
Yitzik Livneh
Naeem Mohaiemen
Claude Moller
Richard Mosse
Yves Netzhammer
Miguel Palma
Cristi Pogacean
David Reeb
Roee Rosen
Martha Rosler
Stephan Shanabrook
Ivana Spinelli
Avdey Ter-Oganyan
Jan Tichy
Sharif Waked
Catherine Yass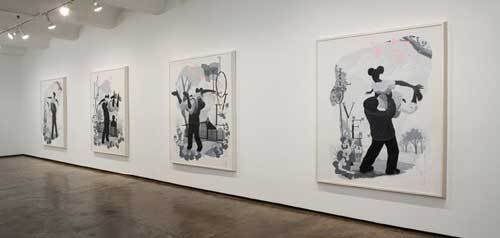 Art21′s blog has posted an interview with former BAS guest Kerry James Marshall. They sat down with Marshall while he was installing his show " Black Romantic" at Jack Shainman Gallery. The video on their website is worth checking out.

Below is an excerpt from the interview.
ART21: What's the relationship between your series of Vignettes (2003-07) and what's commonly referred to as post-black art.
MARSHALL: The work of African-American artists has for a long time been seen more as a kind of social phenomena instead of aesthetic phenomena. The social implications of the work — be it identity politics and things like that — seem to be privileged in terms of the way the work is received, as opposed to any kind of aesthetic project or intervention the work might be organized around. And so if you read any of the critique that was made around the Freestyle (2001) show at The Studio Museum in Harlem, you'll find an undertone that seems to suggest that the mainstream critical world and art aficionados were tired of this whole identity politics and multiculturalism moment.
If you examine the subjectivity that a lot of African-American artists address, it often has a kind of cultural, social, political, or historical angle to it. So for the mainstream to suggest that it was sort of tired of having to address those kinds of issues, then, what's really left for these artists to do if that's something that's meaningful to them? On some level, I thought maybe the only thing that was left to do was to make paintings about love. And to take a cynical approach to the concept of love, to the concept of the Vignettes (2003-07), so that they don't seem to directly address the social and political issues that had been relevant to me and maybe to a lot of other artists who want to make work.
I began by looking at a lot of 18th Century French painting — Rococo work — like Boucher, Fragonard, Bouguereau, and other artists who themselves are also critiqued but critiqued for a lack of political depth in their work, for the frivolity of the work and for the work being kind of saccharine and sentimental and overly puffy and flowery. I started to take those two things and see if I could put them together — to preserve a certain element of the social, political, and historical narratives that are still important to me, but also to deal with the sentimentality, frivolity, and excesses that are embedded in Rococo painting.
ART21: Why are they painted predominantly in black-and-white?
MARSHALL: One of the reasons I use the grisaille technique in those paintings was to deny a bit of the Rococo. If you take a genre of painting that's recognized for being pretty or flowery, but you want to start to do some other things, then you have to strip away some of those characteristics. One of the first characteristics is the over-investment in color that those pictures would have. So I stripped away the color, which reduces a certain amount of sweetness in the pictures. Black and white always tends towards a level of seriousness, and you can use it to avoid sentimentality when you're dealing with highly keyed chromatic kind of relationships. The only color note in there is the cartoony pink in the hearts. The pink is a way of refusing to deliver on all of the points of which grisaille is supposed to deliver. And I chose to paint the hearts pink specifically to emphasize the disconnection between the overtly romantic imagery in the foreground and the historical or political imagery in the background.
ART21: What advice would you give to younger artists?
MARSHALL: The drive to be relevant — not just for yourself and the people who like your work — has moved a lot of artists throughout time to do the kinds of things they do. If you look how artists became artists in the past, there were smaller numbers of people vying for positions in the royal courts and churches and atelier system. They didn't have five thousand people coming through the system back then. But now we have these graduate programs at universities that are putting out thousands of credentialed artists every year. And so what are these artists trying to do? They are all trying to get a gallery show. They're trying to get the grants. They're trying to get written about in the newspaper. They're trying to get their work collected. They're trying to do all of those things so they can keep on making their work.
Now the only way you can do that really is to distinguish yourself from what everybody else in the field is doing. And so if you were taught while you were in school that being a part of the club — being one of many amongst other artists — that that's somehow worthwhile, then how do you sustain your development and your productivity? What do you aim for?
Whatever it is you're aiming for has to be judged by somebody outside yourself as having a kind of value. But if you just leave that to people who are out there, who somehow supposed to know more about what you're doing than you do, then I think you are in a world of trouble. If you don't have any mechanism to determine to some degree what your chances might be of achieving the kind of success as an artist you want to achieve, then you're in deep trouble. And I think there is a lot that can be done. I think you can decide. And the way you decide is to know what it is artists are trying to do and what is meaningful to the discipline above and beyond what you think is meaningful to you as a person trying to express yourself.
This is why I say it's not about self-expression. If it were really just about self-expression, then that would require a receiver who is so sensitively attuned to your sensibility that they are capable of recognizing an intrinsic value — not in what it is you're doing, but who it is you are.